Push notifications are a bit of a minefield because while they're effective in a marketer's toolkit, they're often seen as invasive by users.
For a marketer, push notifications are another way of attracting user attention. For a customer, it's just another distraction.
They're often impersonal and interruptive. For a push notification strategy to succeed, marketers should understand the user experience — and build a strategy around that.
There are ways to leverage these notifications to get customers engaged with your brand. Since 80% of Internet users own a smartphone, and 42% have push notifications enabled, you have a greater chance of building top-of-mind awareness if you can get your push notifications right!
In today's blog, we'll take a look at push notifications: what they are, why they're important, and how marketers can build a brilliant push notification strategy.
What are Push Notifications?
Push notifications are a way to get messages to the customer's phone without them having to open any app first. For example, if you have the Facebook app installed on your phone, you'll get push notifications for new messages, friend requests, and so on.
Push notifications can also be reminders, regular updates, new feature announcements, and offers on products and services.
All these serve to keep you engaged with the apps on your phone, or the web platforms you recently interacted with.
Essentially, what push notifications do is grab your attention.
Companies use push notifications to drive users to visit their app or website and take action.
Instagram, for example, uses push notifications to update you when a person likes or comments on your photo. E-commerce platforms send push notifications when they have new deals or promotions so that customers buy quickly.
If done right, they're a great tool to improve customer engagement and website traffic.
This video offers a good explainer about the mechanics of push notifications.
There are three main types of push notifications:
Web push notifications: These show up on your desktop or laptop, mainly when you're active on your browser. They're used to increase website visits and engagement.
Desktop push notifications: These notifications appear on your desktop or laptop screens, mainly from the apps already installed on your system.
Mobile app push notifications: These notifications are also triggered by apps installed on your device. They're usually displayed on your lock screen, banner, or notification center.
Push Notifications vs Text Messages
A push notification is direct one-way communication between an app and its users. The app publishers can send these messages anytime, but the users (recipients) can't respond with a message. With text messages, recipients can respond and write a message back to the sender.
A push notification can only be sent if the user downloads the app and allows the app to send notifications. Text messages are sent to the phone number of the user, so they go to the Messaging app. They don't require a special application or permission.
How Do Push Notifications Work?
Push notifications appear as pop-ups — almost like thought bubbles — on a user's device. This device can be a phone, desktop, laptop, even a smartwatch. Here's how it works:
An app publisher uses a service (such as Google cloud messaging or third-party software) to send push messages to a smartphone user (their audience). Depending on their notification settings, users receive these messages on their devices.
When you download or install an app, it generally asks for permission to enable push notifications. If you opt in for them, you'll get alerts and updates from that app at any time. These messages are "pushed" to the client, hence the term.
Why use Push Notifications?
Push notifications might seem like a disruptive way of getting user attention, but they're also very effective. If done right, relevant push notifications can engage your user base, retain your audience, and increase click rates.
When you send push notifications that are strategically timed, they become extremely powerful audience engagement tools. For example, geographically aware push notifications sent when the user is close to a physical store can improve sales from that store.
Push Notification Strategy: 5 Best Practices
Now that we're aware of the benefits of a push notification strategy, here are five proven tips to help you design an effective push notification campaign.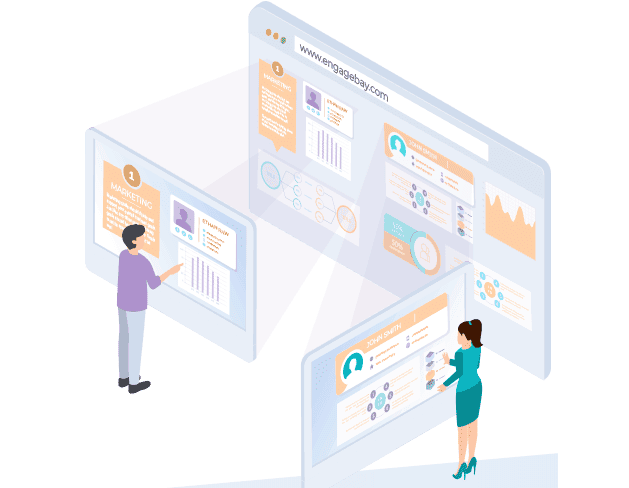 1. Try to build a relationship with your customer base first
Android and iOS users have different settings for push notifications. On Android devices, notifications are enabled by default, on Apple — they're not. The key to making sure that your push notifications are well-received is to avoid the default permission requests.
If a customer is not familiar with your product, they're not going to be receptive to receiving any messages from you. That's because your brand or company doesn't have their trust yet. It's important that you demonstrate the value of your product first before asking them to opt in.
2. Segment your audience base well
There's enough empirical evidence to argue in favor of audience segmentation. According to PushEngage (a popular push notifications service provider), segmentation can increase click-through rates by up to 218% depending upon the type of industry.
Some marketers simply don't like to segment their audience — they are fine with sending the same message to everyone on their list. As a marketer, your goal should be to present the right push notification service message to the right audience at the right time.
Also, you will never have a fully qualified audience. Finding the "right audience" needs work. The phrase "right audience" can further be divided based on their purchase history and interaction patterns with your brand's online assets.
While the actual number of audience segments that YOU identify may not be as many, segmentation still remains the primary tactic to do your marketing the right way!
To segment your audience the right way, try answering these questions about them:
What is their age group?
What is your primary demographic?
What are their needs and motivations?
Can you list their common and uncommon problems that you can solve with your product/service?
What are their general interests related to your business niche?
You also want to personalize the push notifications. Depending on the types of push notifications you send, you may be able to implement a deeper level of personalization.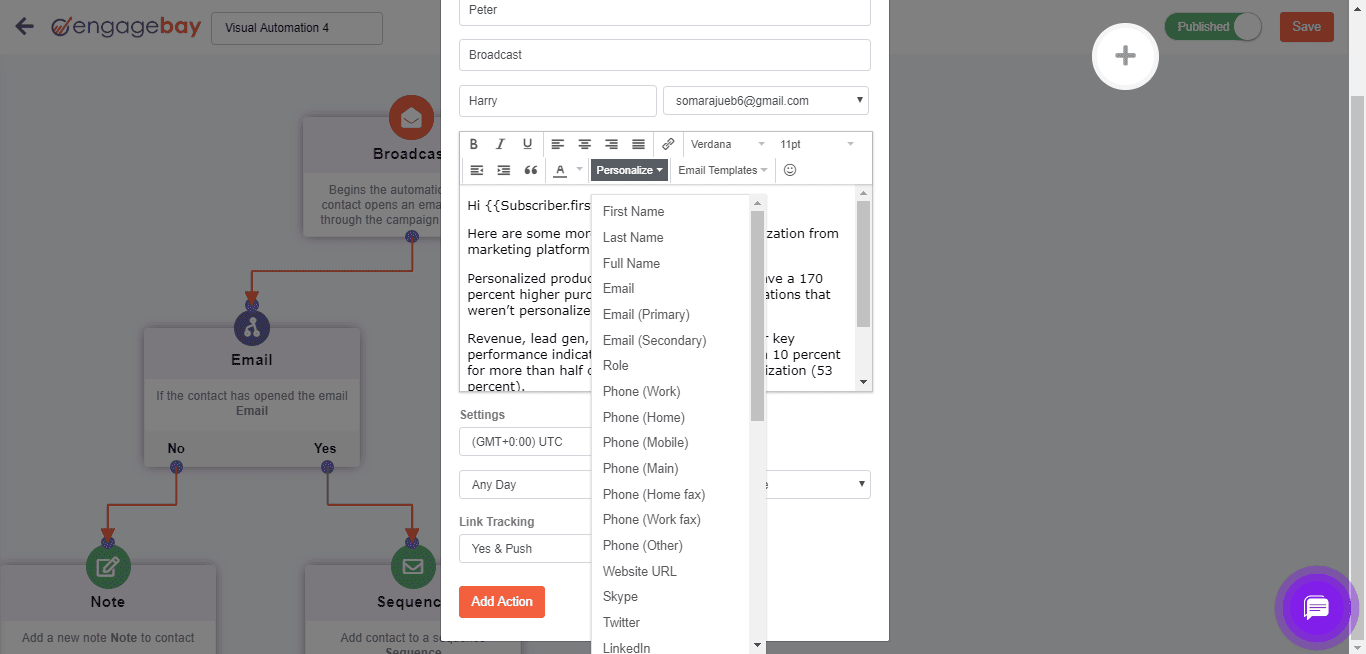 For example, you can send an abandoned cart push notification with the name, category, and image of the product.
Segmentation allows you to send relevant, customized, and timely app push notifications to each audience segment, thereby maximizing your chances of engagement and conversion.
Read more: What is Audience Segmentation in Digital Marketing
3. Select the right kind of push notification for each message
Technically speaking, push notifications are simple blocks of text with a headline, a subheadline, one or more CTA buttons, and (sometimes) a settings button.
There are several creative ways to use the structure of push notifications. If used well, they can stoke positive emotions. It can reinforce a sense of positive sentiment when they click on the CTA.
But which type of push notifications should you send, and for what purpose?
Let's see some creative ways to use push notifications.
Reminders
Sending reminders is a great way of ensuring that your users keep coming back to your app or website. For example, if your user hasn't filled out their profile, that's an opportunity for a reminder push notification.
If they saved some content in your app, you could remind them to check the saved links too. For example, a job search app could remind users to finish applying for jobs they saved.
Informational alerts
Is there a piece of breaking news that your audience should be tuned into? Remind them with a push notification. Have you just released an update to your existing product or maybe a brand new video program?
Push this information to them. People are busy enough in their work lives, your reminders could slowly become their handle to your industry.
Location-based services
This is arguably the best, most powerful use of app push notifications. To implement this notification, your app needs access to GPS location from the user's phone.
If your app provides a location-based service, read the user's location and send relevant content or offers that they can use in that area.
A travel app, for example, can share a blog on the history of a particular city when the user travels to that city. It can also share an article on amazing but little-known hideouts in that city.
We do recommend that you use these kinds of push notifications very carefully. Not all users will be comfortable with sharing location access, so plan your strategy accordingly, and take user permission.
Time-sensitive offers
Push notifications are also an ideal way to implement scarcity marketing reminders. Send them reminders when a time-bound offer is about to expire.
Don't go overboard with these end-of-the-deal reminders; it's very easy to send spam push notifications instead of genuine reminders with scarcity marketing.
Product recommendations
These notifications can be easily used for upselling and cross-selling in e-commerce industries. For example, if they are an app user who just bought a winter sweater, remind them to buy socks, mittens, and winter caps.
Want to make it a more personalized recommendation? Send them a push message that redirects to your best-selling product page so that they can place the order right away.

This page should include a link to the aforementioned search page, in case the users don't like the best-selling product.
An even more personalized recommendation would be based on the analysis patterns of the user. Since this recommendation will be tailored to the user's needs, they will find it hard to say no.
User-defined events
Are there specific events or points in your user's day that they would like to be reminded of? Give them full control over such push notifications on your app settings screen.
Reddit, for example, allows users to curate which type of notifications they can receive. Not only does it reduce spam, it also ensures that these notifications are always relevant and timely.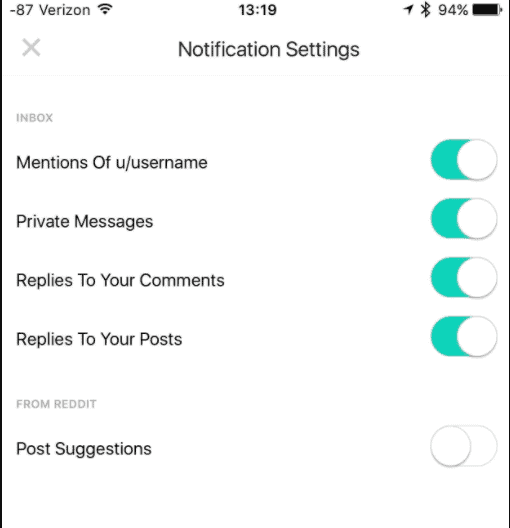 4. Offer easy opt-out options
Push notifications are strictly permission-based. That permission may be revoked at any time, so you have to make it easy for users to unsubscribe or opt out.
This way, the customer retains control over which notifications they receive, so you can target only interested prospects.
Make it easy for them to know that they can curate their user experience of receiving messages by changing permissions in their notification settings.
Read more: 15 Intelligent Ways Top Brands Use Exit Intent Popups
5. Measure your results
As with any campaign, it's important to measure and iterate your results. You can chart campaign outcomes to your company goals such as engagement rate, click rates, etc.
You can also measure the performance of each push notification by building it with unique tracking IDs and URLs.
There are several tools and platforms that allow you to measure the success rate of your campaigns — use them to optimize your push notification campaigns.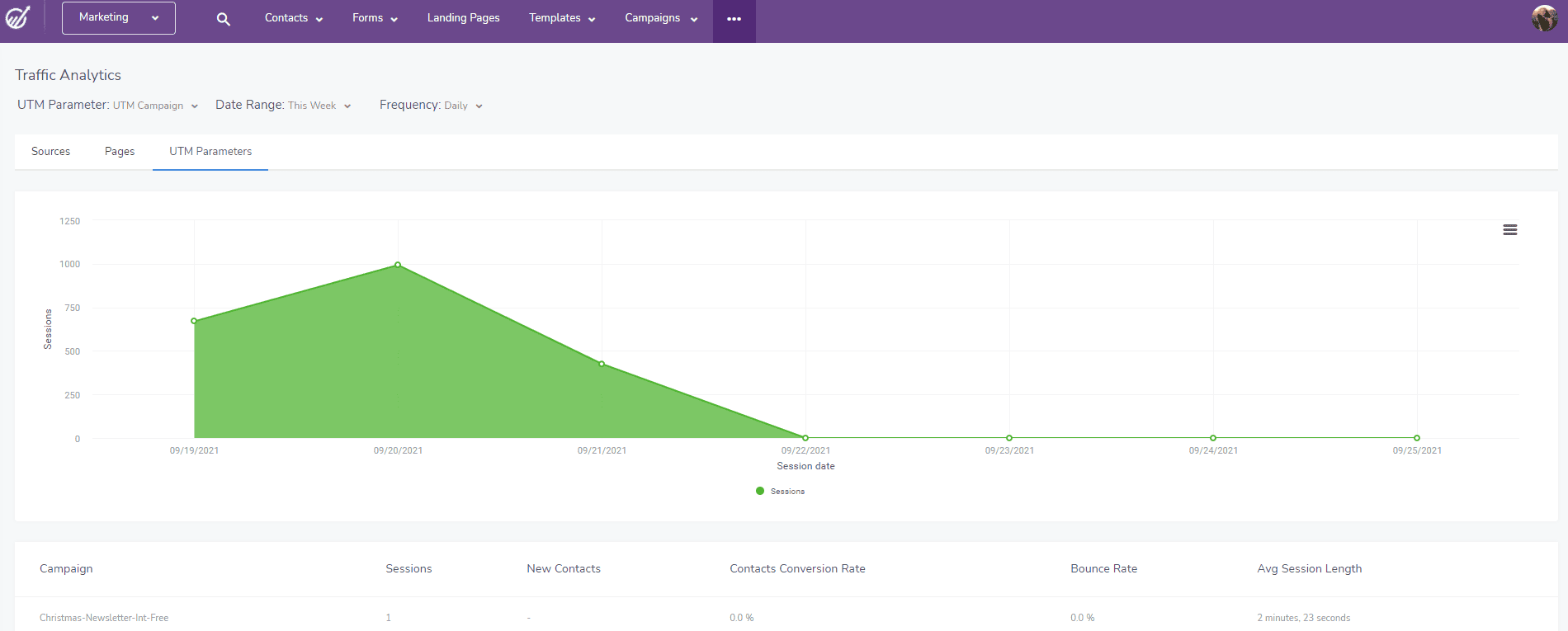 What Makes a Good Push Notification?
Push notifications are a true test of marketing creativity because you're working within character limits and image constraints. You have about 50 characters to make an impact on your customer's attention span.
Any effective push notification should be:
Relevant and engaging
Personalized and actionable
Consistent with brand values
News apps, for example, pique our curiosity by creating a narrative. The type of headlines they write can make you want to click on the notification to know more.
Spotify uses push notifications to update users about new music, playlists, and additions to the music catalog. The app also makes it easy to navigate to that particular page by including action buttons within the notification itself.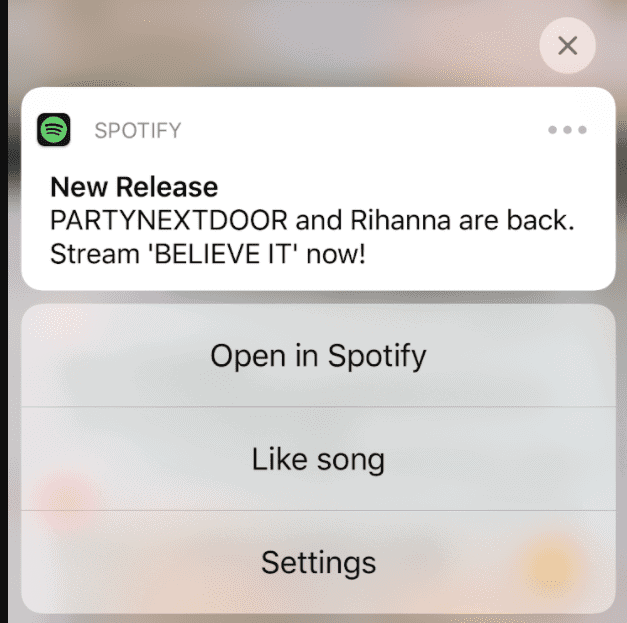 5 Common Mistakes to Avoid in Your Push Notification Strategy
In the end, push notifications (mobile, web, or mobile web) are about things you can add to make your relationship with the customer stronger.
So far, we have discussed five push notification strategy hacks that you can use to elevate your brand and help build a positive relationship with your users.
Now, let's take a look at some mistakes that any business owner must avoid in getting started with push notifications.
1. Too many push notifications
This is the most common mistake. It's also the one that causes users to disable notifications, so it hurts the long-term strategy as well.
Push notifications help you build a relationship with your customers in real-time; it can be tempting to send a lot of messages to ensure that you have their attention.
However, this can lead to an overkill where customers will choose to opt out altogether.
There's a balance between too few and too many and that's the point at which you will see conversions and improvement.
2. Impersonal, generic push notifications
Your user base is not homogenous.
Planning a push notification campaign that involves sending only generic messages will lead to poor results with your audience.
We mentioned the importance of smart audience segmentation in a point above — this will help you send only relevant messages to the right audience.
3. Push notifications at odd hours
When you're segmenting your audience, one important point to note is time-zone differences. If you don't automatically schedule your messages for a particular segment, chances are you'll miss out on getting their attention.
They might receive your notifications at odd hours or maybe when they are busy at work. Push notification, as a marketing channel, is not the same as email marketing. You cannot send any message at any time and hope people will open and read it.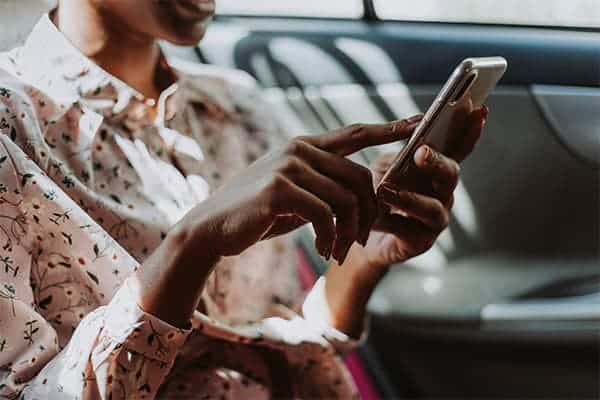 A good push notification strategy requires planning for timing and content. You need to analyze your users' in-app behavior data to know their most active timing.
Automation can help you build segmented lists, schedule notifications, and measure the progress of the campaign — all on one dashboard. You can also ensure that these messages reach them at the right time on their end, even if there's a time-zone difference.
Automating push notifications also helps when you have a new deal or offer to promote.
By sending scheduled messages at the right intervals, you can pique their curiosity about what you're promoting. Even if they don't always take the action, your users will still appreciate being in the loop about new updates and features.
4. Starting late with push notifications
Onboarding notifications are important because they help create the first impression about your brand. At the beginning of every relationship, you have to set up a unique welcome message to make sure their onboarding is smooth.
That is the only job of your first notification. Keep the notification copy simple and benefits-oriented.
Have a look at how Farfetch does it:
Sending a welcome or onboarding notification immediately after the app is installed has two direct advantages:
It elevates your brand to the top of the user's mind
It lays the foundation for a higher CTR (click-through rate) on your subsequent notifications
5. Not experimenting with rich content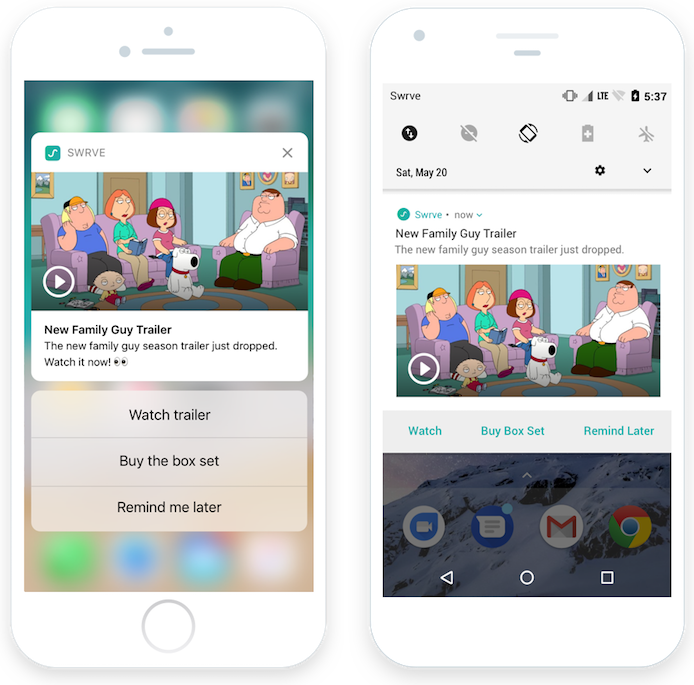 A push notification is not a text message, so you have plenty of room to experiment. To have a user's attention, your messages should be creative. Since smartphones allow for a lot of customization, you can play around with different types of notifications.
Amazon, for example, sends notifications with images about new product deals. By adding images, you can elevate your push notifications and make them more interesting.
An Apple push notification differs from an Android app, so it helps to keep these tips in mind:
On iOS, the images should be 1038 px X 1038 px. Images taller than 1038 px will be scaled down with padding to give them a square appearance.
On Android, it's best to use images that are between 800 px tall and 1038 px wide. Maintaining a landscape orientation to images will help here, because Android OS crops the images to a 16:9 ratio for most devices.
For a web push notification, you don't have to worry too much about size — but it's important that you design them in a way that they're attractive but not disruptive.
Wrap Up
There are quite a few reasons why you might want to use push notifications to sell products or services.
First, push notifications are an effective way to reach people who have already installed your app.
Second, push notifications can help you keep track of user engagement and see which notifications are getting the most attention.
Finally, push notifications can help you build a relationship with your customers by providing them with valuable information and offers.
But it's not easy to get the push notification strategy right. We hope this blog has helped you with some useful ways to refine your campaign.
If you'd like to know how EngageBay can help you market your products or services better (for free!), just sign up and we'll get in touch with you 🙂