A customer or client purchased a product or service, and now you're awaiting payment.
You want to send an invoice email, but you've never done anything of the sort.
Writing an email of this nature is an art. If you push too hard, you can alienate the customer or client and possibly deter them from doing business with you again. However, if you're too gentle, you could be waiting even more in limbo for your payment.
In this article, we cover:
How to write an invoice email
What to include in your invoice email
What to exclude in your invoice email subject lines
Some tips to get your payments in time 😅
What Is an Invoice Email?
Let's begin with a definition of invoice emails.
As the name implies, an invoice email is a correspondence between you and a customer or client concerning an invoice. Freelancers, entrepreneurs, and businesses typically send these emails.
You usually send the email shortly after issuing an invoice through a software or tool of your choice like Stripe, PayPal, or QuickBooks.
The email provides more context to the invoice, such as precisely what you're invoicing for and how much is due. You should also include the invoice number and the due date and ask if the customer or client has any questions.
An invoice email can also be a gentle nudge if the customer or client has yet to pay. Although many invoicing tools and software will send out automated invoice reminders via email if several days have gone by without payment, there's nothing wrong with following up with an email of your own.
This follow-up message will look slightly different from your initial email. You should mention that you sent an email regarding the invoice on X date, and now you're following up. Attach the invoice again so that if the customer or client missed it the first time, they can see it and address it now.
The following section outlines the steps to write an effective invoice email. In another blog post, we have templates for invoice emails, in case you feel the need 🙂
How to Write an Invoice Email in 8 Easy Steps
Now that you better understand the purpose of an invoice email, let's dive deep into the steps required to write one.
Step 1 – Generate the invoice
You can't exactly write an invoice email without the invoice, so that's your first order of business.
Using your invoicing tool of choice, open it up and create a new invoice. Input the customer or client's first and last name, email address, phone number, and business or residential address.
If you can select the font, use a clear, legible one in an easily readable size. Number the invoice (unless your invoicing tool or software does it for you automatically) and begin adding items to the invoice.
Depending on the order, you might have only one item you're invoicing for or several. Invoicing software and tools usually give you the option to write a description for each item in the invoice, so fill in pertinent details so the customer or client knows exactly what you're charging for.
Add the monetary value, double-check your math, and send the invoice.
Step 2 – Write the subject line of the invoice letter
Now it's time to open your professional email inbox, as you will write the invoice email.
Type in the recipient's email address, double-checking it for accuracy. Next, write the subject line.
We recognize this is not as easy as it sounds. Marketers and salespeople alike can struggle with subject lines, let alone small business owners and freelancers.
Don't overthink the subject line too much. You're not trying to write a viral subject line opened by thousands. You're addressing one person.
We recommend including the client or customer's name, the invoice number in the subject line, and your business name. You don't have to divulge the product or service the customer bought in the subject line, as sometimes, that's personal business.
Step 3 – Lead in politely
Okay, you've got your subject line done, so now you can write the body of the email.
First, you want to lead in. You don't have to say much here, just something like, "I hope this email finds you well" or "I hope your week is going well."
You can even ask, "how are you?" or simply say "good morning" or "good afternoon" followed by their name.
Step 4 – Provide the invoice details in the invoice letter
Once you've gotten the pleasantries out of the way, it's time to get down to business. Mention that you're attaching the invoice for the customer or client's latest purchase.
Include a few sentences or paragraphs about your terms and conditions, especially as they apply to late payments. For example, you might charge extra if the invoice is X number of days late.
Don't surprise a client or customer with this information. Present it front and center in the email so they know. This should also motivate them to pay their invoice faster, as they won't want any late fees.
After the terms and conditions, add a paragraph mentioning that if the client or customer has any concerns, questions, or comments, you'd be happy to address them. You can even provide contact information outside your email, such as a phone number and social media handles.
Mention when the invoice is due in the email so the client or customer has all the pertinent details.
Step 5 – Sign off the email
You're just about done now with the email body. Wrap up by signing off.
You can use any signoff you want, from "sincerely" to "best regards," as long as it's professional.
Read also: 14 Great Win-Back Email Examples Customers Can't Resist
Step 6 – Attach the invoice to the email
You mentioned attaching the invoice in your message, so make sure you do so. If you don't, you'll have to send an email immediately after, which can come across as unprofessional.
Step 7 – Proofread before you hit send
Read over the message, and double-check for errors such as mistyped email addresses, misspellings, grammar mistakes, lack of attachments, and so on.
If everything looks good, send the email.
Step 8 – Get paid
Now comes the best part. The client or customer sees the email, probably right after receiving the invoice, and should pay you expediently.
Read also: 12 Email Invoice Templates to Customize and Click Send
Tips for Writing an Invoice Email
As we mentioned in the intro, writing an invoice email is an art. The following tips will help you master that art form so you can begin getting paid promptly.
Use readable fonts
Whether compiling your invoice or writing an email about payment, you must use clear, legible fonts a customer or client can read. If they can't perceive what you're saying, they'll have to ask for clarification, which is a bit embarrassing for you.
It also delays your getting paid. You want to make it as easy to receive payment as possible, so use default font choices when you can.
At the very least, avoid flowery fonts. Custom fonts are just as bad, as not every client or customer might have those fonts installed, which will impact readability.
Always be cordial
It's a tough situation to ask for money, especially when it's late, but that doesn't give you an excuse to be rude. Keep your demeanor and words polite but firm when needed.
For example, if you clearly outlined your late payment policy, you shouldn't have any issues reinforcing said policy and charging extra if a client or customer doesn't pay the invoice by the due date.
If you remind a customer or client that you're requesting a payment before you do, they should especially be ready to pay when the invoice comes through.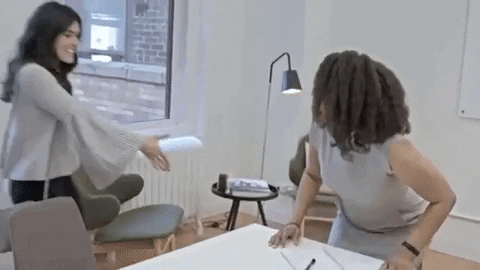 State the invoice payment date clearly
A client isn't a mind reader. You must tell them when the invoice is due in your email. Include the due date in the invoice itself. This way, they can't try to tell you they didn't see it, as it's in two places.
Don't be afraid to follow up, even several times
So what happens if your customer or client doesn't pay their invoice on time? Well, that all depends on the terms of your late policy.
Give the client or customer leeway for 24 hours, perhaps even 48 hours. Then, if they don't pay, apply a late fee (after fair warnings).
We recommend following up before that happens so the customer has ample opportunity to pay their invoice. As we discussed earlier, the body content of your email wouldn't change too much when sending a follow-up.
You should reattach the invoice and mention the invoice details in the body of your message. Restate the due date and reiterate your policy for late payments and how the customer or client will incur a charge if the invoice remains unpaid.
Don't be pushy in your language. You must always maintain professionalism.
Read also: 7 Payment Reminder Templates That Always Work
Conclusion
An invoice email accompanies an invoice to explain in more detail the contents. You can also use this message to share your late payment policy and encourage the customer or client to pay the invoice promptly.
The key to writing this email is being professional yet friendly, firm but never pushy, and cordial so you can encourage repeat business. Invoice emails are a great tool for small businesses and should positively impact your bottom line.