Oftentimes, marketers focus on converting new customers, which is excellent. Still, statistics show that 65% of sales are from existing customers. It makes sense to hold onto them for business success.
Win-back emails have proven to be a very effective means of reactivating lapsed customers and winning more sales. If those customers have not yet unsubscribed, a timely, well-crafted, win-back email is your golden opportunity to recapture their attention and close sales.
Here's how:
Win-back emails have a 460% higher conversion rate than promotional emails.
45% of people who open a win-back email are also likely to open future emails.
Existing customers are 6-7x more likely to purchase compared to new customers.
Acquiring new customers costs 5x more than retaining existing ones.
The average conversion rate for win-back emails is 10.34%, and the open rate is 29%, compared to the average email open rate benchmarked at 21.5%.
If you're asking, "What types of email campaigns win customers back?" You're in the right place. This article covers 14 great win-back email examples customers can't resist.
Let's begin!
14 great win-back email Examples customers can't resist
1. A little 'sincerity' can do the magic
If we are honest, sometimes the reason customers go cold on our emails is not because of a full mailbox. Perhaps something in our service or product didn't go well with them or perfectly suit their needs.
An email that articulates the changes and upgrades that have been made so far can be the string that pulls lapsed customers back to do business with you.
In the image above, Clear gives an update on measures they've implemented to make their services more convenient for users. Interestingly, they also include a 60 percent discount.
2. Be generous with discounts
What better way to win the heart of a price-conscious lapsed customer than offering a discount?
This has been an age-long practice that has worked to increase sales. An estimated 54% of internet users aged between 18-29 said a discount was critical in making their purchase decisions.
Include the discount you are offering in your subject line to increase your open rates and stand a chance of giving customers the needed nudge to return.
Land's End entices users to return with a 40% discount plus free shipping: that's a win-win!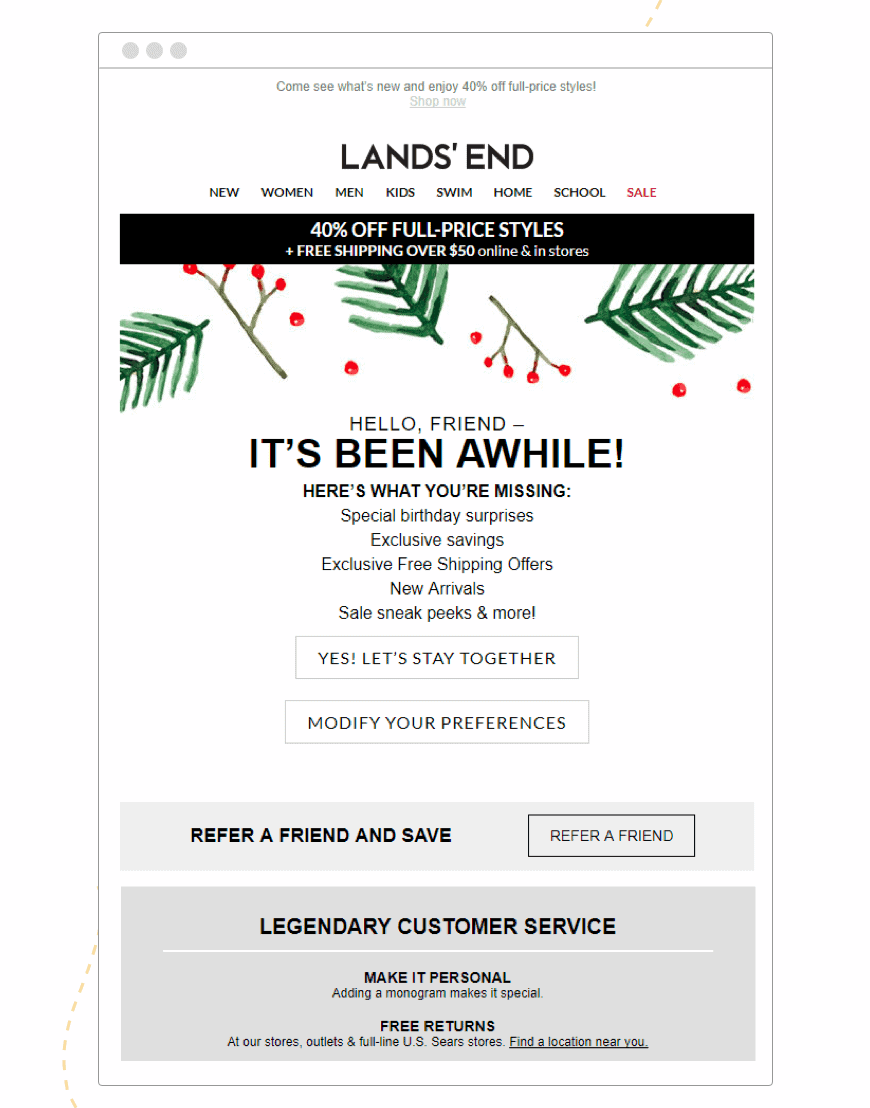 Notice that the email design carries all the needed information, and at the same time, the message is straightforward and clear. More so, they give reasons why it's important to stay on their list just to let the subscriber see what they are missing.
The 40% discount is boldly written to grasp the reader's attention. In addition, they leave the subscriber with a choice to modify their preferences and an option to refer a friend to save more.
The most impressive element of this win-back email example is the free return guarantee. It pulls away every customer's resistance unless they aren't at all interested in your product/services.
Read also: How To Write Discount Emails Like A Boss [+Templates, Examples]
3. Ask customers for feedback
To recapture the attention of an inactive customer, sometimes you need to do something a little out of the usual—customer feedback.
With a feedback email, you make customers feel special, knowing their satisfaction and opinions matter to your business.
You are more likely to get good engagements as people love giving feedback. Even if a customer remains inactive afterward, the feedback you've garnered can help you improve your general customer experience.
In the above example, Typeform first lets the reader know that their inactivity didn't go unnoticed. This triggers a special feeling in the mind of the customer.
Then, they went ahead to ask why the customer had been inactive and nudged the customer to take action. Typeform played it simple and humor-laced, making this win-back email example all the more effective.
N.B You can include an actual link for the customers to fill, especially for customers that have been inactive for a longer duration. The feedback helps in improving your services. Additionally, incentivizing the feedback survey will lead to more responses.
4. Offer help with thoughtful content
You can't go wrong arming your subscribers with content that adds value—more so when done creatively.
While doing this, it's vital to maintain brand tone and showcase your unique value proposition.
In the example below, Grammarly introduced "The Margins," a newsletter that helps customers achieve their writing and marketing goals.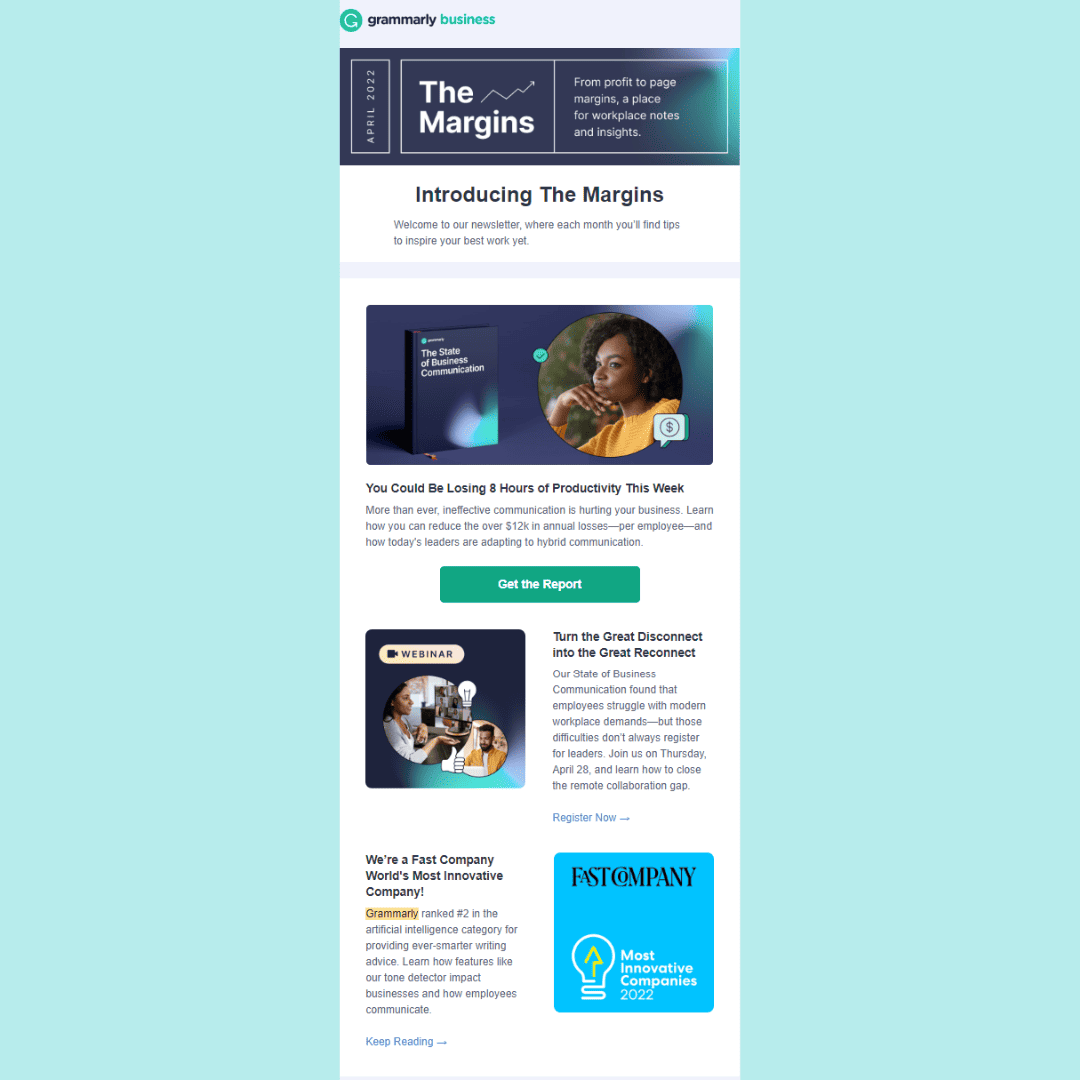 In this win-back example, Grammarly uses this newsletter to give subscribers tips to increase productivity.
Thoughtful content like this is a sure way to remain in the customer's mind or reactivate inactive customers. This may sound cliche, but it works…"Don't sell all the time, sometimes; offer help."
Read also: eCommerce Content Marketing and Why You Need It
5. Offer a gift
Ever received a gift from someone you initially planned to keep at a distance? How did it make you feel?
A bonus gift might be all you need to strengthen the relationship between you and that inactive customer.
This works better if you have a history of their abandoned carts. You can warm their hearts by offering them a product they are interested in or a complimentary product for their last purchase.
In the example below, Birchbox uses a catchy gift to warm inactive customers' hearts.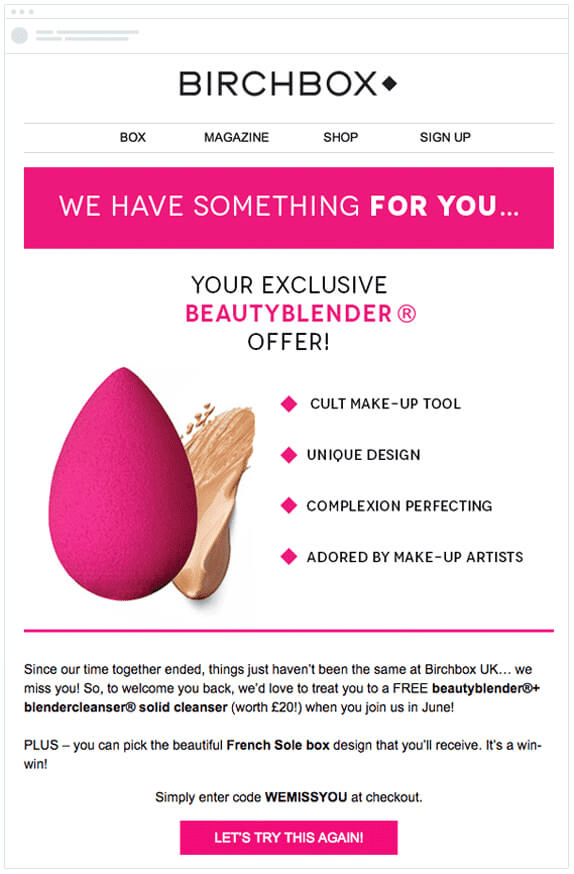 Birchbox offers simple but catchy gifts to capture the subscriber's interest. For example, a beauty blender and a face cleanser are simple but hard-to-resist gifts for any makeup artist.
The email also included a string of urgency: "…when you join us in June". This makes the subscriber more likely to jump into action.
6. Add a bit of FOMO
No one likes to miss out on a good deal, not even a lapsed customer. FOMO, which is an acronym for Fear Of Missing Out, is an age-long but effective strategy to spur customers to immediate action.
FOMO is an excellent technique because if a customer wants to buy a product, there are higher chances that they would hop on a flash sale before it runs out, hence, reconverting them.
This Baltimore Sun win-back email is a great example.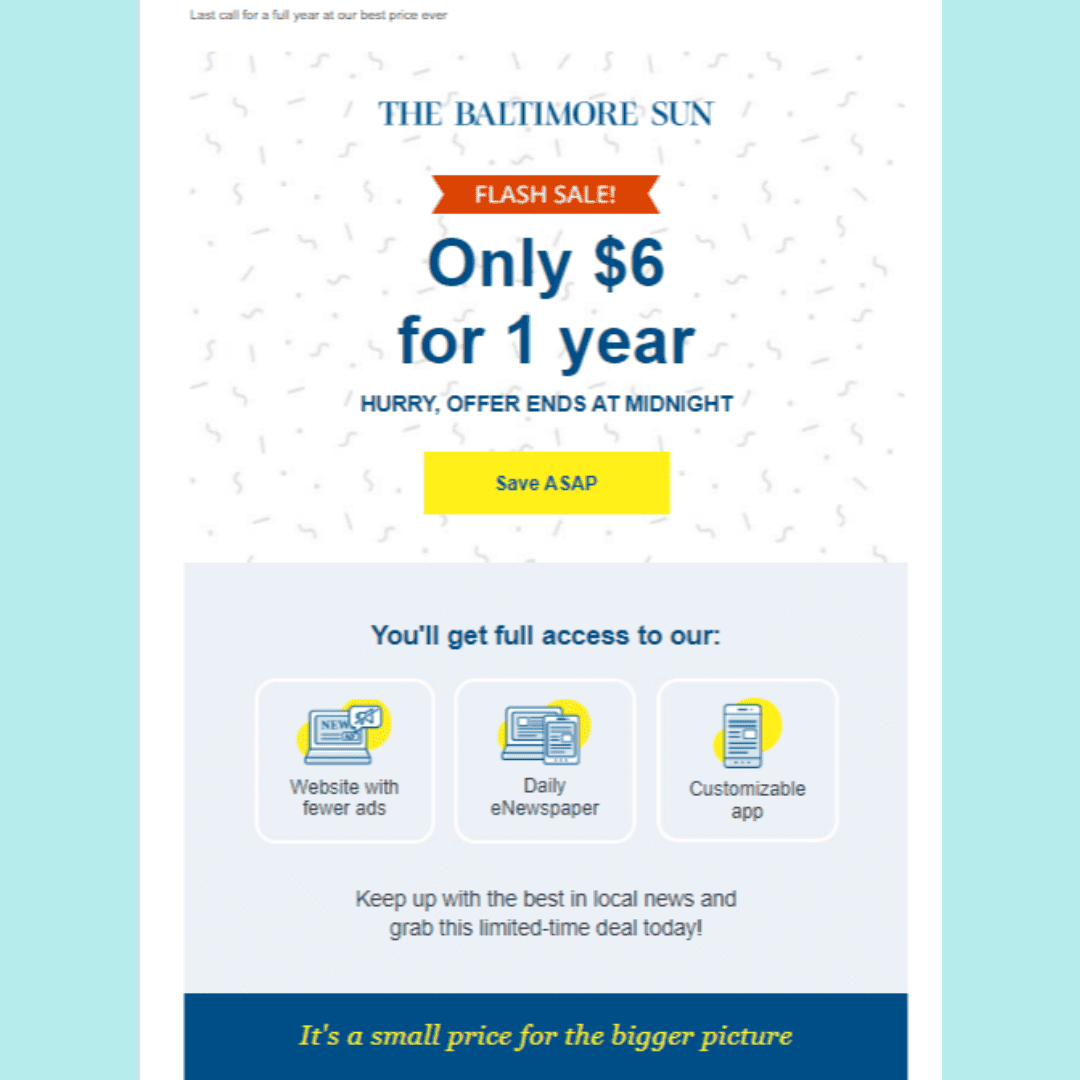 The Baltimore Sun, a daily news brand, creates fear of missing out in this example with a $6 offer for a full year, only if customers take action before midnight. They also remind the subscriber of the advantages of remaining subscribed to their list.
The CTA just below the flash sale also carries a sense of urgency "Save ASAP."
Read also: 10 Customer Service Email Templates for New CRM Users
7. Offer free shipping
According to Statista, high shipping cost is the primary reason customers don't complete their purchase. This data gives an idea of how valuable free shipping can be to a customer. Therefore, it's a good incentive to offer when reconverting inactive customers.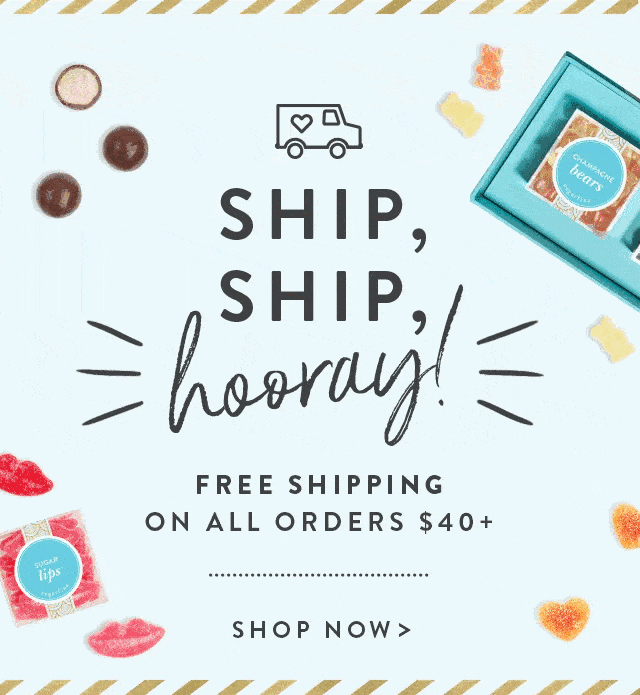 In addition to the free shipping offered in the email above, the email works because it is straightforward, has a fun interface, and includes a single CTA.
8. Send a birthday wish
Birthday anniversary messages are a subtle way to shake things up with inactive subscribers. People appreciate being cared for; your customers are not an exception.
Asides from the birthday wish or gift you may offer, the fact you remembered their special dates, creates that 'aww' moment. This will capture customers' attention and subsequently drive good email engagement, when done well.
Rent The Runway offers a good example in the image below.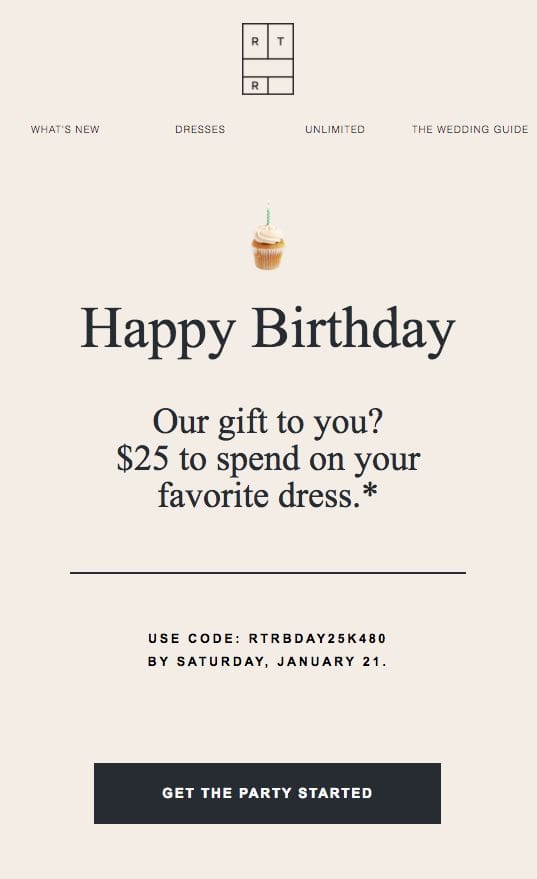 Rent The Runway keeps it concise and enticing with a simple Happy Birthday message and 25% off on the next purchase. The CTA is also catchy.
Read also: Secrets & Templates For a Perfect Gentle Reminder Email
9. Send a progress report
This win-back strategy shows the customer their achievements during their stay with you. A snapshot of customers' progress serves as a motivation to want to accomplish more. Be sure to make the email about recognizing and celebrating your customer's accomplishments, not selling a product.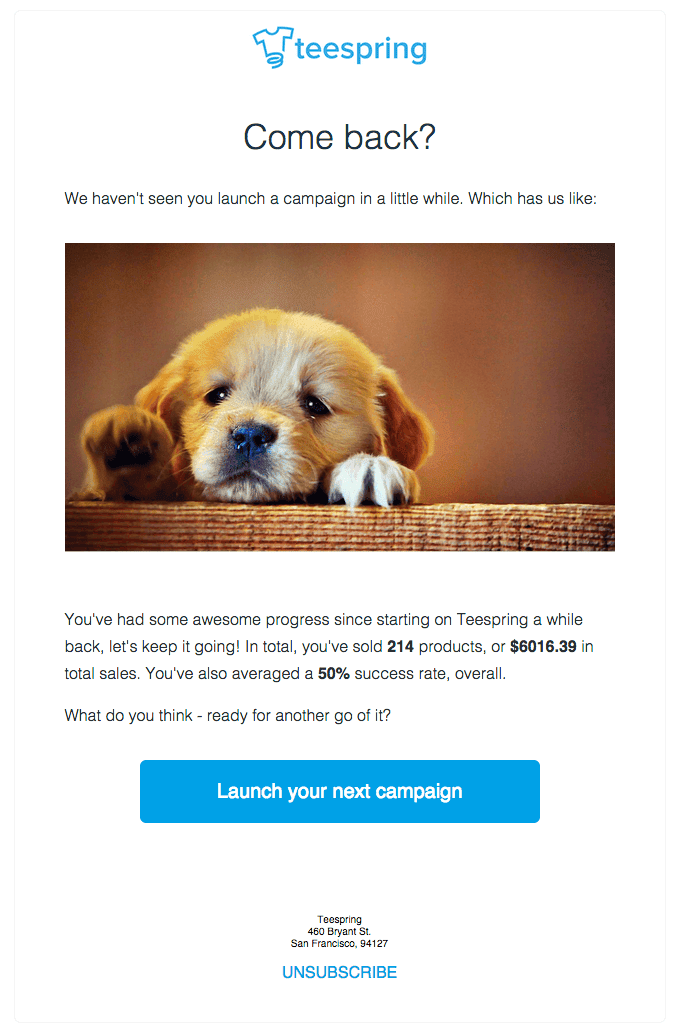 In Teespring's heartwarming email, the cute pet with a sad expression creates an emotional appeal.
In addition, they made it about the customer, highlighting what they've accomplished. And includes a clear CTA that urges them to launch their next campaign.
10. You can't go wrong with a sense of humor
Your emails don't need to be too rigid. Even though you are trying to win customers back, your customers are humans. So it's a good idea to use a light-hearted joke to connect with them
Most humor win-back emails work as they usually have an eye-catching subject line, which gives them a high open rate.
Check out this Halloween-inspired win-back email by Blue Apron.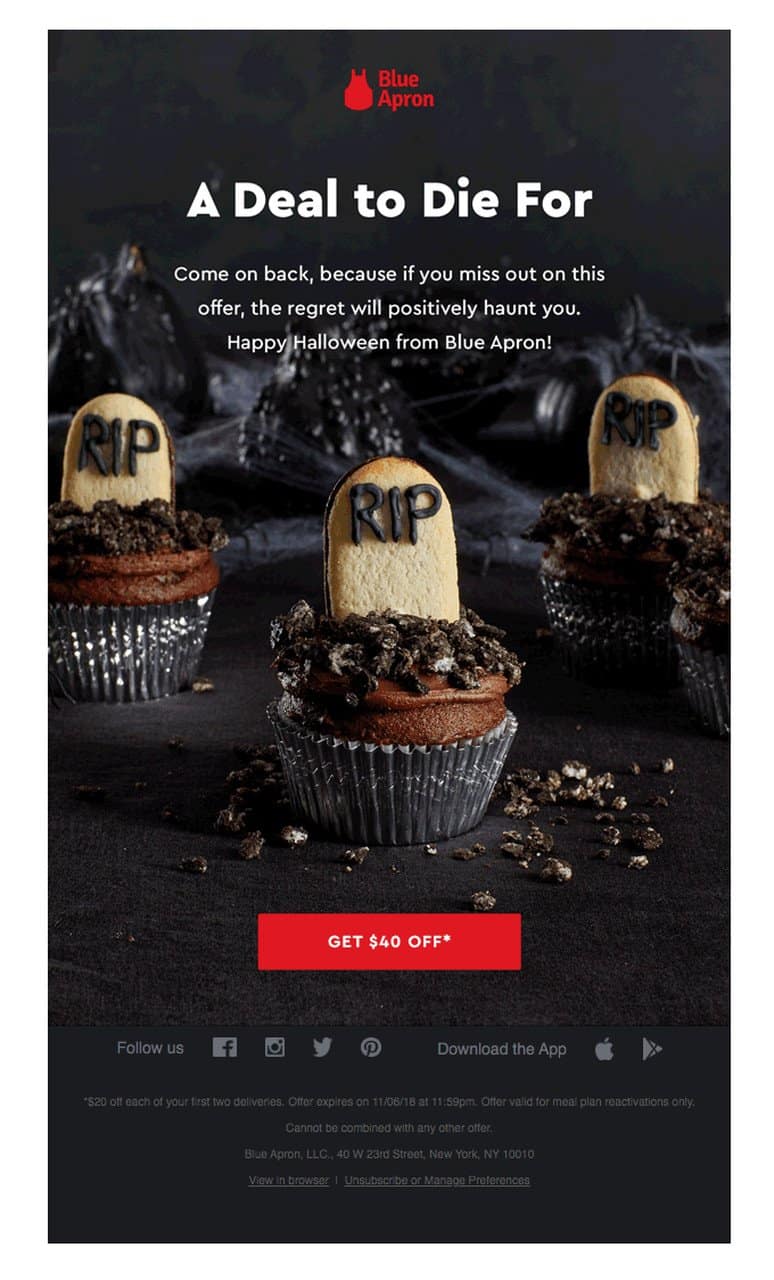 The color blend in this email and the creative concept are additions that make the humor stand out.
Read also: 45 Business Text Message Templates For Busy Bees
11. Launch a seasonal campaign
Rekindling bonds with inactive subscribers is easier during festive seasons. The downside, however, is customers usually get a surge of emails during those seasons because most business brands send similar festive email campaigns.
The trick, however, is to send it at a good time. Also, use an exciting subject line that conveys your message.
Seasonal campaigns get more open rates because people browse through their inboxes more often in such times. Leverage this and send seasonal campaigns.

Starry Station offers customers a 25% Black Friday deal in the win-back email example above. They also included 'FOMO' so customers can take immediate action. Additionally, this email example stands out due to its intuitive and sleek interface.
12. Give new products updates
Add a new product or design based on your subscriber's browsing history and demographics in this win-back email. With this, you can pique customers' interest to purchase or become active again.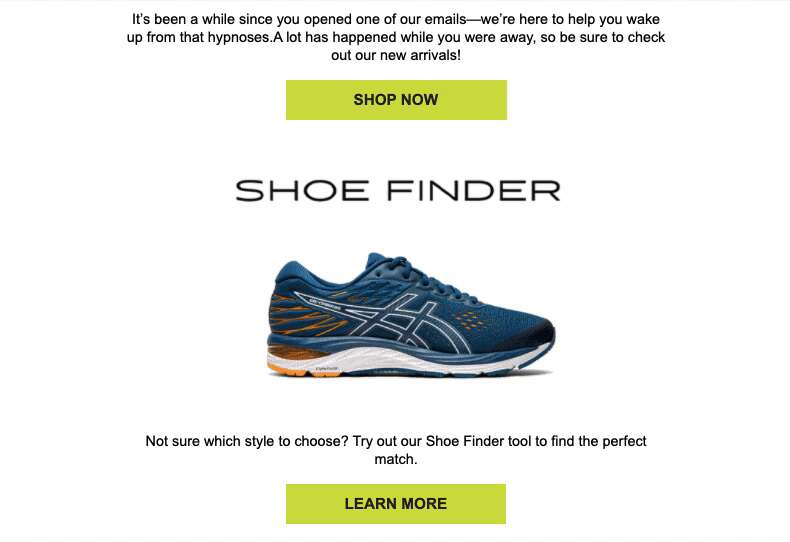 In the example above, shoe brand Asics does an excellent job informing customers of new arrivals. The shoe finder element makes finding the perfect shoe for customers easy and straightforward.
Read also: 7 Payment Reminder Templates That Always Work
13. Give a limited free trial
Customers want to buy from a brand they trust— or at least can trust. Giving a free trial or sample of your product or services can motivate reluctant subscribers to make a purchase.
This is applicable if your brand deals with high-value products or investments. However, this strategy works best for qualified leads interested in your product.
14. Give them a chance to opt-out
After trying all the above examples, if your subscribers still remain inactive, it's probably time to let them go. You can do this by sending them an opt-out email, so you don't have to manually delete them from your lists.
The opt-out win-back email works in two ways; firstly, subscribers who do not want to be taken off your mailing list will keep receiving your emails. And those who opt out will take an action to do so, and hence trigger your email marketing platform to automatically remove them from your email list, so you may have a smaller list but with a more engaged audience now.
We like how Urban Outfitters put it in their win-back email.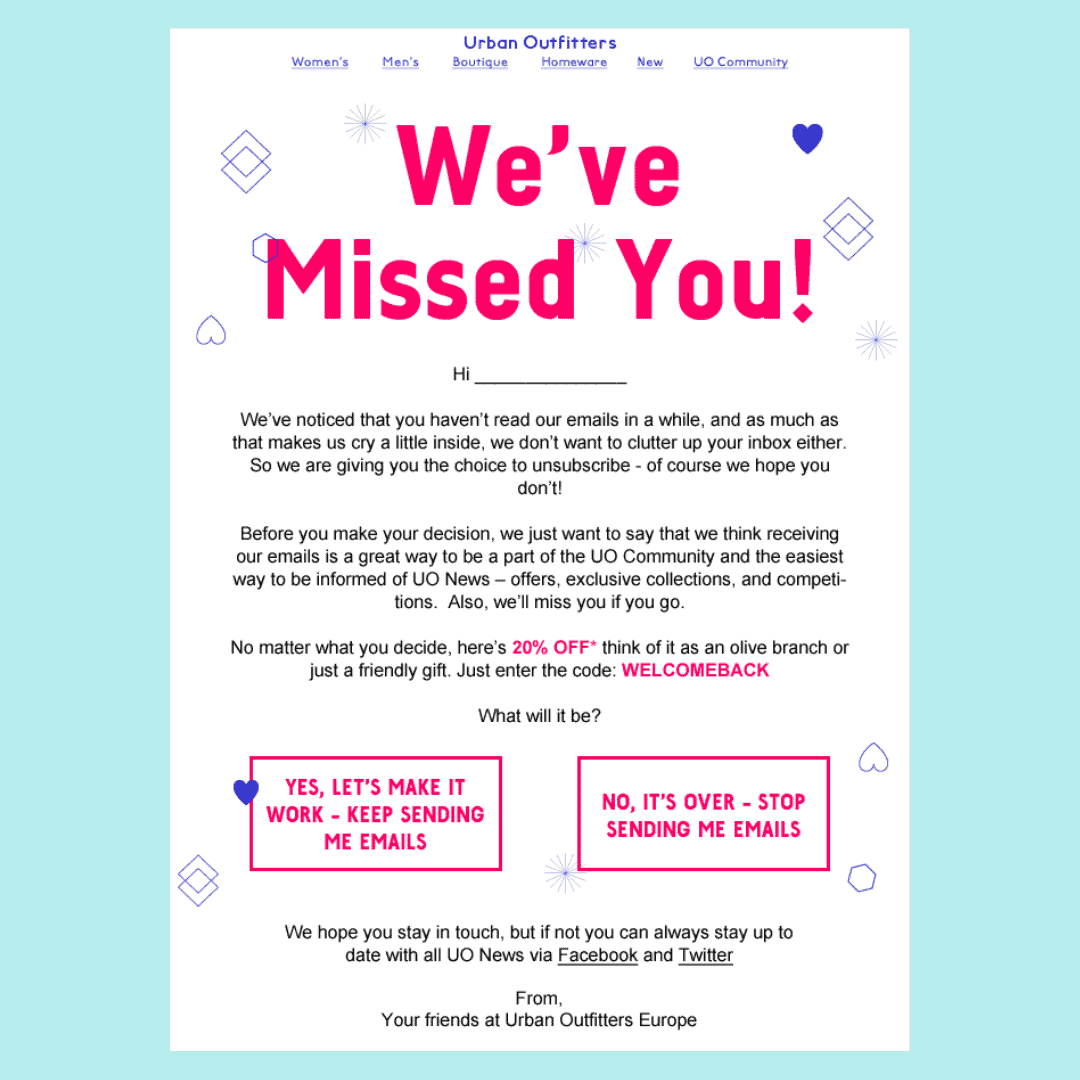 Instead of unsubscribing customers by themselves or giving them a time frame, Urban Outfitters leaves the ball in the customers' court.
But before the CTA, they let them know they wouldn't want to lose them, reminded them of what their brand is about, and even offered a 20% discount no matter their decision.
N.B it's best to segment your email list so you get the most out of your win-back email campaigns. For instance, customers who have been inactive longer may require more to win back than customers who just went cold.
On, EngageBay, you can build hyper-segmented campaign lists that update automatically based on set filters so your emails get to the right customers.
What is a Win-back email Campaign?
A win-back email campaign is a series of emails designed to re-engage lapsed customers who might have lost interest in your products.
With statistics showing that it costs 5 times more to attract a new customer than retain an existing one, win-back campaigns are crucial to a business's progress.
These emails vary depending on why a subscriber stopped engaging in your brand, which you may need to find out first. A good win-back email, however, reduces the rate of unsubscribes you get and reconverts inactive subscribers into loyal customers.
Why Are Win-back Email Campaigns Important?
On average, only 40% of email subscribers are active, and 6 out of 10 are inactive. This means that for every 1,000 subscribers a business has, about 600 are inactive and don't engage.
More inactive subscribers mean fewer open rates, which sends a bad signal to email service providers. This could make your email look unimportant and appear in the spam folder.
That's not all. A high proportion of inactive subscribers could potentially harm your business revenue and growth, so win-back email campaigns are crucial.
In addition, win-back emails help retain customers and prevent them from completely disengaging. By reaching out to inactive customers, you can remind them of the benefits they once enjoyed and give them a reason to return. This can result in increased customer loyalty and repeat business.
Also, win-back emails provide data on issues or concerns that may have caused customer disengagement. Analyzing this data gives you valuable insights into customer concerns so you can make necessary improvements to your products, services, or customer experience.
Read also: 18 Trending Email Marketing Campaign Ideas [+ Templates]
How To Measure Success For A Win-back Campaign
The primary goals for win-back emails are to increase customer engagement, repeat purchases and improve customer retention. You can use several metrics to check the success of a win-back campaign, but I'll stick to the non-vanity metrics in this post.
Open rate. This measures the percentage of recipients who opened the email. The content of your win-back email won't matter if you don't get your subscribers to open the email. Hence, capturing your recipients' attention with a compelling subject line and email preview is important. According to a HubSpot report, the average email open rate for retail is 40.6%.
Click-through rate (CTR). This indicates the number of people who clicked on at least one link in your email campaign. After you get subscribers to open your email, what next? You'll want to know if your content resonates with them and if they engage with your email. CTR is the metric that shows you whether or not your subscribers are engaging with your content. A high CTR is a good sign your subscribers aren't just opening your emails but are going a step further.
Conversion rate. Regarding revenue generation, the conversion rate is one of the most important metrics. It is the percentage of recipients who took the desired action, such as making a purchase. A high conversion rate indicates that the email successfully re-engaged and convinced customers to take action.
Customer retention rate. This is the total number of people who remain customers after a given period. The ideal customer retention rate is 85%, but this can vary from industry to industry. Want to improve your CRR? This blog post will be of great help.
Lastly, customer feedback and response can also be a valuable measure of success. Suppose customers respond positively to the win-back email, providing feedback or expressing gratitude for re-engaging with them. In that case, it suggests that the email was successful in re-establishing a connection and rebuilding trust.
Read also: 9 Customer Management Strategies to Boost Loyalty
How To Segment Customers For A Win-back Campaign
If you want to create win-back campaigns that actually 'win,' sending highly targeted emails is critical. One way to do that is by segmenting your customers.
There are two ways to segment customers for win-back campaigns.
1. Based on the total duration of inactivity
Using this method, you categorize customers based on their duration of inactivity.
90 days – This represents the total number of customers who have lost interest in your brand but aren't off the grid yet.
90-120 days – Customers at high risk of leaving your business due to prolonged inactivity.
120 and above – Customers who are off the grid and require more effort to win back.
The time frame for inactivity varies depending on your business model, customers, industry, and products and service offerings.
However, this customer segmentation method can be tricky because customer segmentation for win-back campaigns is not black or white.
For instance, you can't tag a customer as inactive because they haven't purchased in 3-6 months when you sell products that can be used for long durations, like a mattress or furniture set.
But if you offer a product or service that requires frequent use, perhaps daily, weekly, or monthly, you can term a customer inactive if they haven't engaged with your brand in 3-6 months.
2. Segment customers based on RFM analysis
The RFM analysis is an acronym for Recency, Frequency, and Monetary Value. This method is used to segment customers based on how valuable they are.
Recency: The length of time since a customer last engaged with your brand or emails.
Frequency: This is the total number of orders they placed over a given period.
Monetary Value: The total average order value over the said time.
The major benefit of this segmentation method is that it shows you your most valuable customers. This helps you channel maximum energy to your most valuable segments.
Additionally, you can gather all the necessary customer data and build customer segments easily on a good CRM software— like EngageBay (it is totally free to try out).
Once the data has been collected, build segments based on their specific characteristics and behaviors, like customer demographics, purchase frequency, and past engagement with the brand.
After segmenting customers, decide on an email template and craft personalized messages that resonate with each customer segment. For instance, if a segment stopped using a product due to a lack of features, the win-back email campaign could highlight new updates and improvements that have been made.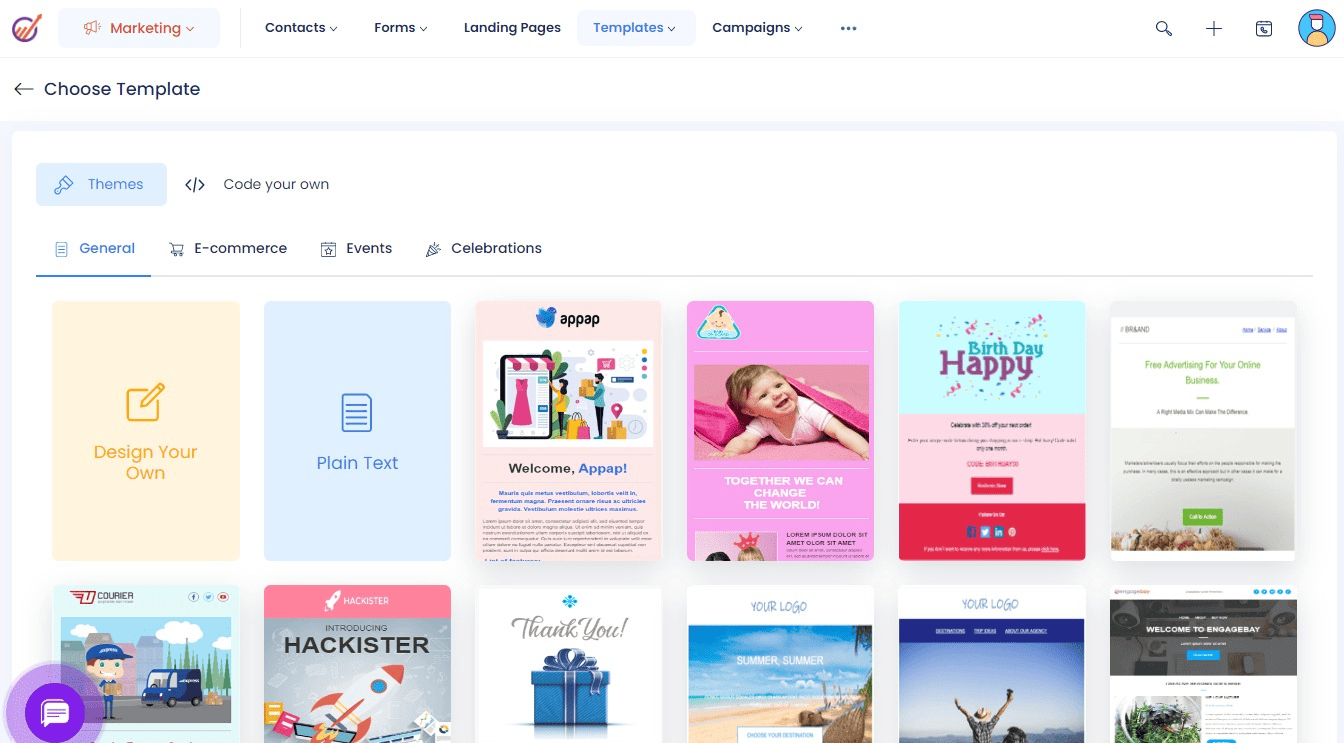 Tips For Building A Successful Win-back email Campaign
To create a successful win-back campaign, the following are necessary.
1. Personalize your emails. A report shows that 72% of customers engage only with personalized messaging. When trying to re-engage with inactive customers, you want to stand out in their inbox and increase the odds of them re-engaging with your brand. You can't achieve that by sending generic, one-size fits all emails. You need to go the extra mile and personalize your emails. For example, send different win-back emails to customers who have been inactive for different lengths of time or who have different buying behaviors. This level of personalization can greatly increase the chances of success in re-engaging with these customers.
2. Segment your email list based on customer behavior and engagement. This allows you to target specific groups with tailored messages that resonate with their interests and needs.
3. Provide value in your win-back emails. You can do this by offering exclusive discounts, promotions, or content that will incentivize customers to re-engage with your brand. Use a conversational tone in your emails to create a sense of connection with your recipients. It's essential to make them feel valued and appreciated. Additionally, ensure your emails are mobile-friendly, as many people check them on their smartphones.
4. A/B test your win-back campaigns. This helps you send the best version of your win-back email campaigns for better results. Test your subject lines, email preview, and email content to determine the best.
5. Monitor the performance of your win-back email campaign and make adjustments as needed. Additionally, don't judge the results of your win-back email campaign too soon because it takes more than just one email to win back a customer. So consider sending emails over time to increase your chances of winning your customers back.
Read also: Bounce Back Emails: What Are They And How To Fix Them
In Conclusion
Win-back emails are crucial to improve customer retention rates and increase sales.
However, building a successful win-back email campaign requires more than just putting words together. You'll need customer data to diagnose, segment, and send highly targeted emails.
EngageBay's CRM software allows you to automatically store unlimited customer data and build highly segmented lists for better email marketing results.
You can sign up for free or book a demo with one of our experts for more information.