In our introductory chapter of this guide, we delved into everything you need to know about leads. These are would-be customers who've not yet made the jump to buying your products or services.
Budget and pricing are often most important; the leads want to make sure they're going to get good value for what they spend on your brand. They also want to be sure your products or services will solve their specific problem(s).
By identifying these problems, segmenting leads, and sending them targeted content to nurture them, you can convert leads into customers. Your job isn't done yet, though.
Ideally, your company wants to have a steady influx of leads. This is because not every lead you get is going to work out, as we mentioned in Chapter 1. And that's okay. If you're pulling in new leads and converting a good number of them, you'll do well in your small business.
How do you get this steady influx of leads? You practice lead generation.
What Is Lead Generation?
The lead generation tactics that work for your small business can go stale soon. That's due to the ever-changing landscape of marketing and technology. According to Neil Patel, today, email marketing is the top online lead generation tactic.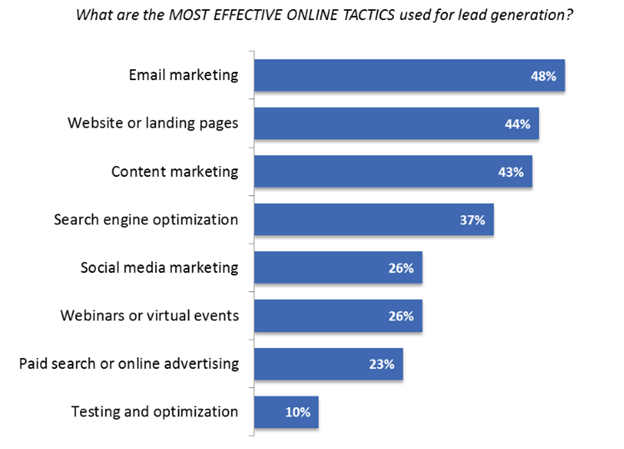 What Is the Importance of Lead Generation?
Why is lead generation so important to your sales and digital marketing anyway?
That's simple: Revenues.
You need to keep generating new leads to keep up the sales. Your current customers are buying your products or services, but it's not enough. You need new people who are also interested in your brand. That's what lead generation ensures.
Let's take a look at the top reasons why lead generation has become important in digital marketing, especially for small businesses:
Although a good lead generation campaign costs a bit, it's much more inexpensive than buying billboard, TV, and print ads. It's also a much more timely and trending way of marketing.
You can target your audience based on all sorts of criteria, such as their location, occupation, pain points, gender, interests, shopping behavior, and more.
Your return on investment (ROI) increases.
Along with digital marketing and technology changes, the buying process of customers has changed significantly.
People don't go to stores to learn about a brand these days; they visit business websites and take a call.
Social media can go hand-in-hand with your website. On platforms like Twitter, Facebook, Instagram, and the like, leads can easily communicate with your small business. On social media, they get a sense of your customer service and response. They can also read reviews and testimonials from other (hopefully) happy customers.
It wasn't always so easy. In the past, there were far fewer opportunities to learn about a company. There'd be brochures and catalogues, magazine articles, billboards, and radio and print advertisements but little else.
The wealth of opportunities to learn about a company today also provides more chances for a lead to make a purchase and convert. In the decades past, if a lead wanted to buy something from a company, they had to do all the work. They'd either have to send in a mail-order form, call a phone number, or drive to a brick-and-mortar store. Now, everything can be done online with a few clicks.
That said, the rise of digital marketing has made competition fierce for everybody. Every form of lead generation marketing you can think of, from social media to email marketing or content marketing, your competition is already on it. It means you have to work that much harder not only to capture the attention of your leads but keep them engaged with you until they convert, and even after.
How to Make a Lead Generation Strategy That Works
If you've yet to implement a lead generation strategy, you may run into some hurdles. You're far from alone. B2B marketing agency Bop Design surveyed businesses and asked what their most significant lead generation challenges were. Here are the findings:
More than half of the respondents said they didn't have enough time for lead generation. Sound familiar? Another significant portion said they have either an undefined sales process or a poor sales process. Yet another decent chunk of respondents admitted to not having quality leads (more on this later in the guide).
Other reasons worth mentioning were keeping up with growing technology, ROI calculation difficulties, and a poor website design.
You need to focus on the most effective lead generation strategies to get more leads, conversions, and a higher ROI. How? Here are some strategies you can employ today.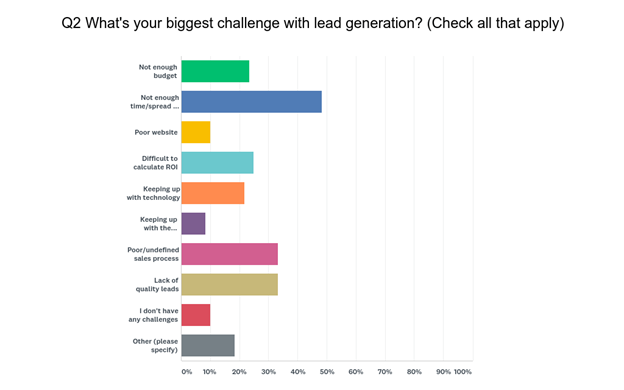 Redesign Your Website
Referrals and word-of-mouth are top (70%) ways for people to find your business. The second most common way (60%) is the company's website.
Your website must be a well-oiled machine through and through. What do we mean by that? Here are some characteristics of a website that converts:
Use high-quality images only. Research from SEO company BrightLocal highlights the importance of images on a website. According to them, up to 23% of leads get in touch only when the website has high-quality pictures. Not only that, if the images pop up in your lead's search results, 60% of the leads take those results more seriously.
The images you choose should be interesting and focused on the face. Seeing another human face fosters trustworthiness. Put images with faces wherever you can, especially your landing pages, opt-in pages, and testimonials page.
Animated exit pop-ups can grab the attention of an otherwise disengaged lead.
Hover-over mouse effects, when used sparingly, can also be effective. Maybe the button changes colors or moves. Who wouldn't want to click that? If said button happens to be a checkout button, well, now we're talking.
Include interactive content whenever possible, both audio or video.
Choose your website colors well. Many hues have psychological power, and you also want to concern yourself with color contrast. Two shades that are too close together won't be as appealing as colors that complement each other in contrast.
Don't fear negative or white space, which is the part of your website with nothing going on. You don't need to overload every page on your site with images, buttons, and text. Leave some space white for a nice contrast.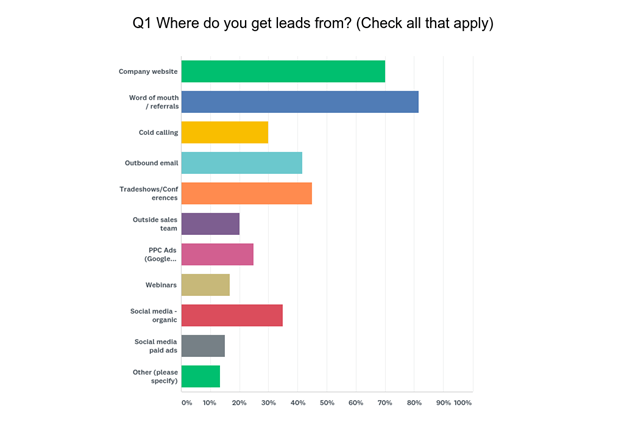 Don't Give up on Cold Calling
If you refer back to the chart from Bop Design, you'll see that some marketers still use cold calling as a lead generation tactic. We also talked about cold calling in Chapter 1.
Is cold calling dead then or is there still some merit to it? It's the latter. That said, cold calling can't be the only lead gen method you use. If you can, it's better to warm call. This is when you send an initial email to a lead and then reach out via phone. In this scenario, the lead is already at least somewhat familiar with you and what you do. That might make them more receptive to picking up the phone and chatting with you about your products or services.
Score Leads
Marketing automation software can be your best friend when it comes to lead generation. Once you start getting leads opting into your email newsletters, you have to segment them. Automation takes that segmentation a step further with lead scoring.
With lead scoring, you categorize your leads based on their willingness or likelihood to make a purchase. These leads would be considered more qualified.
As a lead continues along the customer journey and does different things, their scoring might change. You can add or deduct points based on their behavior. If, for instance, they unsubscribe to your email list, you'd drop points. If they completed your opt-in form, downloaded an offer, clicked a link, or even made a purchase, you'd add points. The points might vary based on the importance of each of those activities.
Make Killer Landing Pages for Lead Capture
Once you improve the design of your website, you have to make sure you have killer landing pages to match. Whether you use a template or you create your landing pages from scratch, you must give them their due importance; these are a major conversion tool.
For each product or service you offer, you must have a separate landing page. A lead may be redirected to your landing page by clicking on an ad or a social media link. We wrote a great guide on landing pages that's worth checking out. In this guide, we explore landing page types, templates, and best practices.
One thing we want to mention even here about your landing pages is that it's important for them to have lead capture forms of some sort. Whether these are opt-in forms or call-to-action (CTA) buttons, they should ask for the lead's contact information. This allows you to get the ball rolling, sending welcome emails and beginning the nurturing process that should lead to a conversion.
Offer Lead Magnets
One way to nudge leads toward making a purchase is by offering them a lead magnet. This offer should be made early, shortly after the leads land on your website for the first time. After all, you never know if they'll ever come back.
Lead magnets are like opt-in forms in a way. Instead of a lead just signing up to your newsletter when they give you their email address, though, they get something more valuable. It can be a webinar transcript, a few chapters of an eBook, a compiled resource, an exclusive infographic, or a report. Depedning on your type of business, you can also share interview transcripts, bonus tips, white papers, free trials, and training videos.
Conclusion
As a small business, you're always trying to improve the bottom line. To boost your ROI, the most important thing is to generate new leads. This way, not only will you have the revenue from your current customers, but from a continuous stream of new ones as well.
Lead generation can be challenging for some companies. If you count yours among them, it helps to try out many lead gen tactics. In the
rest of this guide
, we've shared enough information to help you create an effective lead generation strategy of your own, so keep reading.