When someone talks about the best email marketing tools, what is the first name that comes to mind? Probably Mailchimp! It is, after all, one of the most popular email marketing software.
Mailchimp is an email and marketing automation platform that helps engage customers better, leading to higher conversion rates. It helps create great content, generates real-time consumer insights, and automates your daily marketing workflow.
With over 250+ integrations, Mailchimp has been one of the most preferred email marketing tools.
However, today, many businesses are seeking to replace Mailchimp with other email marketing platforms. Why is it so? Let's find out.
Who Should Look for Mailchimp Alternatives?
Although once an industry favorite, businesses are now looking for alternatives to Mailchimp. There are various reasons for this.
Lack of a user-friendly pricing model, failure to keep up with innovation, and slow customer service have compelled many companies to look for other email automation platforms.
Moreover, Mailchimp is planning to increase its prices by 11% from February 2022 onwards, which may make it more expensive for small and medium businesses. It's already not the most affordable!
User Reviews of Mailchimp
Don't believe us? Here are a few reviews from Mailchimp users: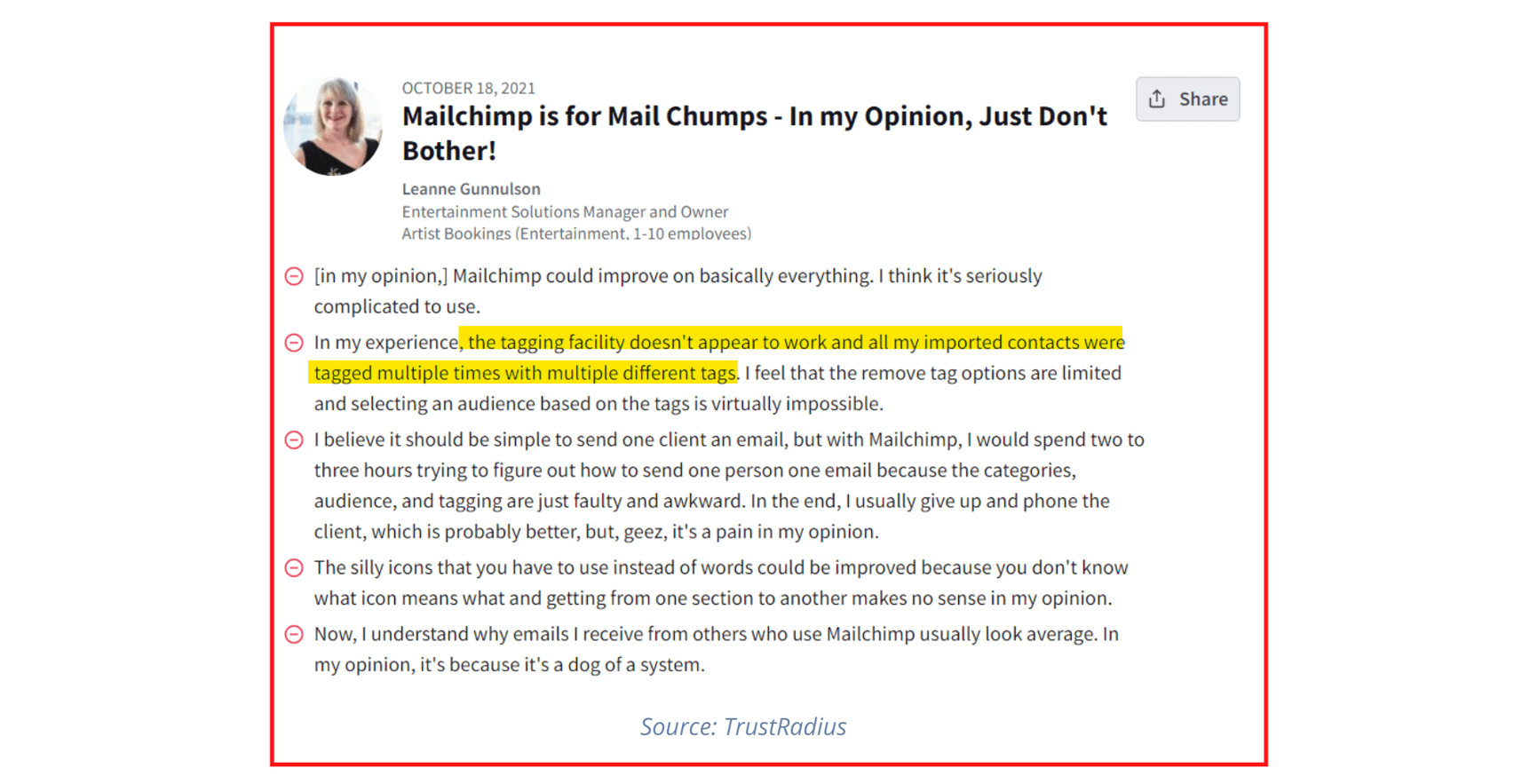 Fortunately, there are various email marketing platforms that provide services similar to that of Mailchimp, with advanced features and better pricing.
In this blog, we'll take a close look at 11 top Mailchimp alternatives.
How Does Aweber Compare as a Mailchimp Alternative?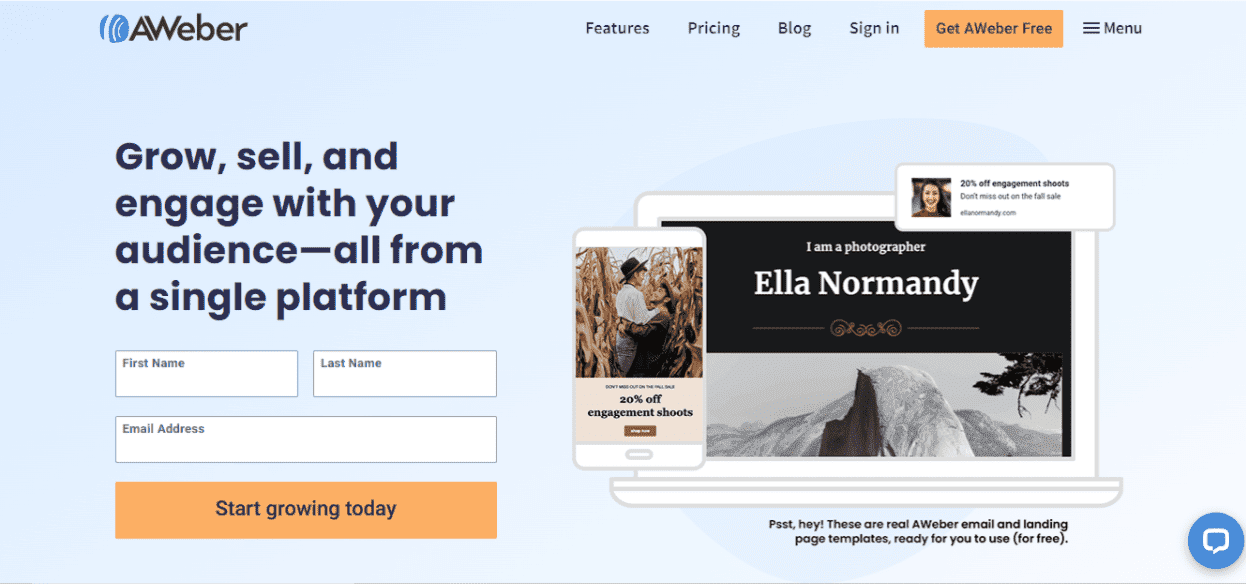 Aweber is an email marketing software that helps you connect with your clients better and boost revenue. It boasts of a range of services to help you create better and more effective email campaigns.
Features
Pre-built email templates help create engaging emails

A drag-and-drop editor helps you customize emails and web forms

Helps capture more leads through sign-up forms and landing pages

End-to-end control ensures that your emails don't end up in the spam folder
Pros
Best for small-scale businesses

Helps personalize emails to improve customer relationships
Cons
Charges both subscribed and unsubscribed contacts as billable subscribers

Difficult to import new contacts
Pricing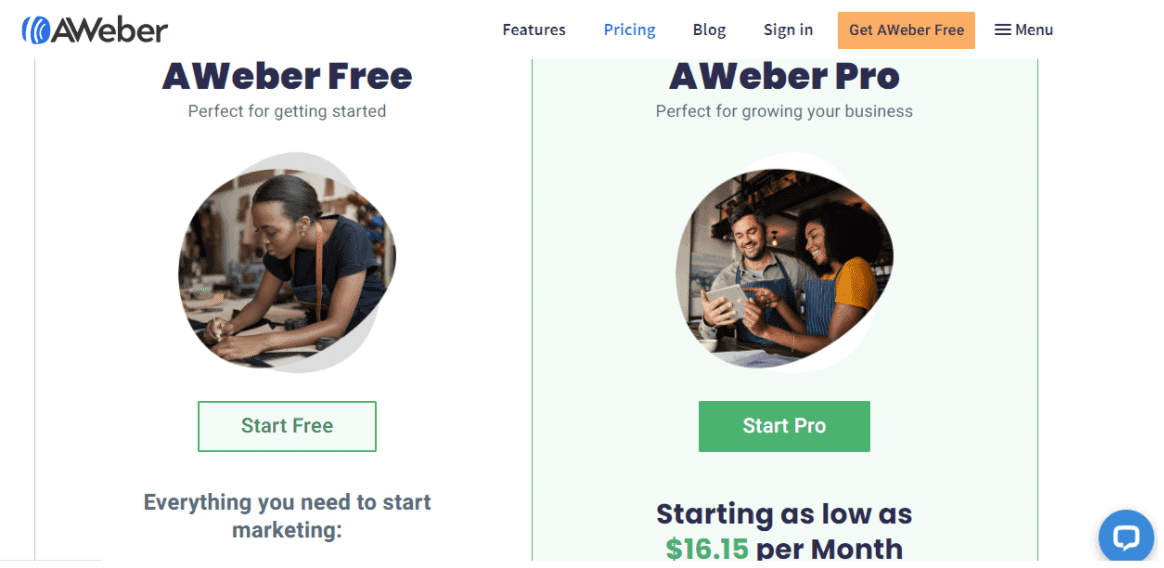 Aweber offers two plans: Aweber Free and Aweber Pro.
The Aweber Free is best for businesses with tight resources looking to send up to 3,000 emails per month. With this plan, you can get up to 500 email subscribers, landing page templates, web push notifications, drag-and-drop builder, in-built email templates, sign-up form builder, and newsletter creation.
If you don't want any restrictions on how many email subscribers you can get, go for Aweber Pro. You get access to advanced email automation tools, webpage and sales tracking, split testing, and insights into sales performance. The plan starts from $16.15 per month.
Read also: 13 Best Email Marketing Software to Grow Your Business
How Does MailerLite Compare as a Mailchimp Alternative?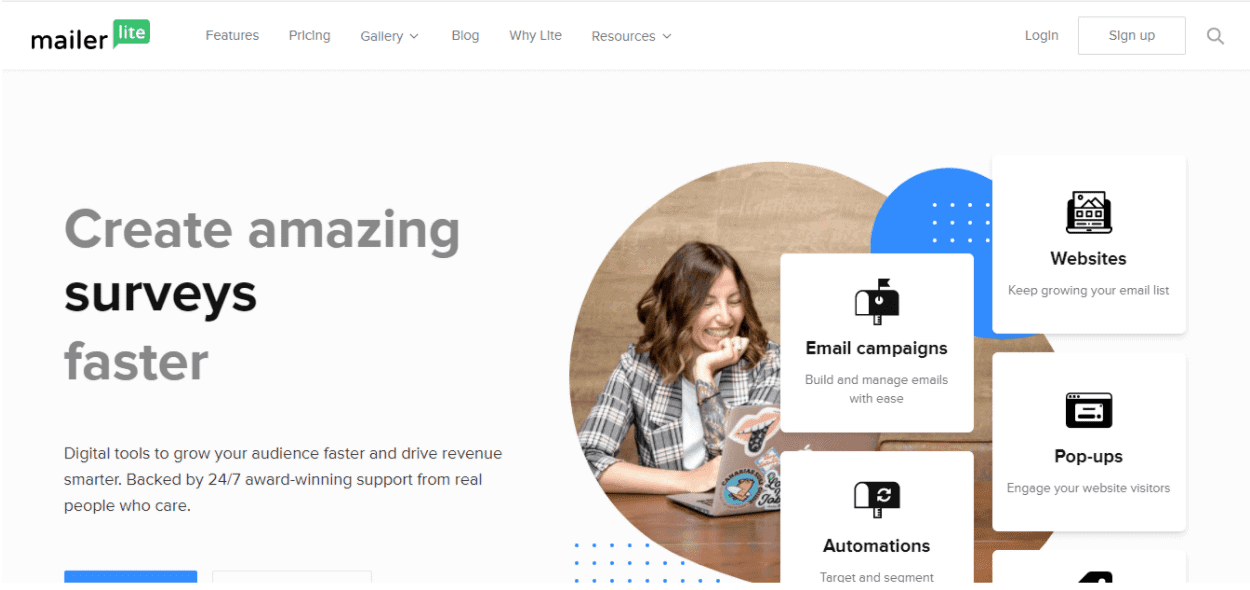 MailerLite is an email marketing software that helps you create engaging emails with ease. With its advanced email automation feature, you can send targeted and highly personalized emails, helping you convert leads in no time.
Features
The drag and drop editor helps you build creative yet professional newsletters using in-built templates

Built-in templates for website creation, landing pages, web forms, and embedded forms

Helps send targeted emails through audience segmentation, tagging interest groups, and promotion pop-ups

Helps optimize your email campaign using A/B split testing, auto resend, and time-zone based email delivery

Provides an overview of your performance with campaign reports, surveys, and click maps
Pros
Provides multiple options for designing mailers

The dashboard is easy to use and options are clearly mentioned
Cons
Lack of automatic data migration feature

Slow customer support service
Pricing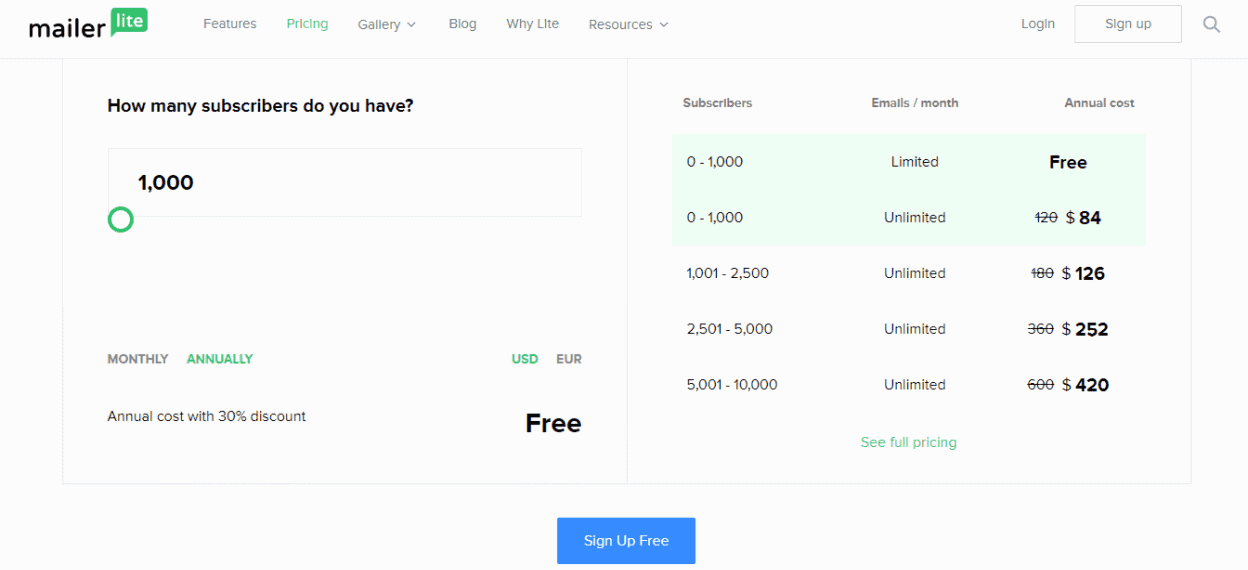 MailerLit's pricing model is based on the number of subscribers you have (sliding scale model).
For those who want no more than 1,000 subscribers, MailerLite offers a free plan. Under this plan, you can send a limited number of emails. However, for those who wish to send an unlimited number of emails with up to 1,000 subscribers, the plan costs $84 annually.
If you want up to 2,500 email subscribers, the plan will cost $126 per year. For more than 2,500 but less than 5,000 subscribers, you need to pay $252 annually. And if you wish to send emails to 10,000 subscribers, then the plan will cost you $420 a year.
Both the paid and free plans come with a range of features, including 24/7 email and live chat assistance, built-in editor and templates, file manager, landing pages, subscriber forms, embedded forms, email automation, advanced segmentation, auto resend, campaign tracking, and third-party integrations.
Why Choose EngageBay as a Mailchimp Alternative?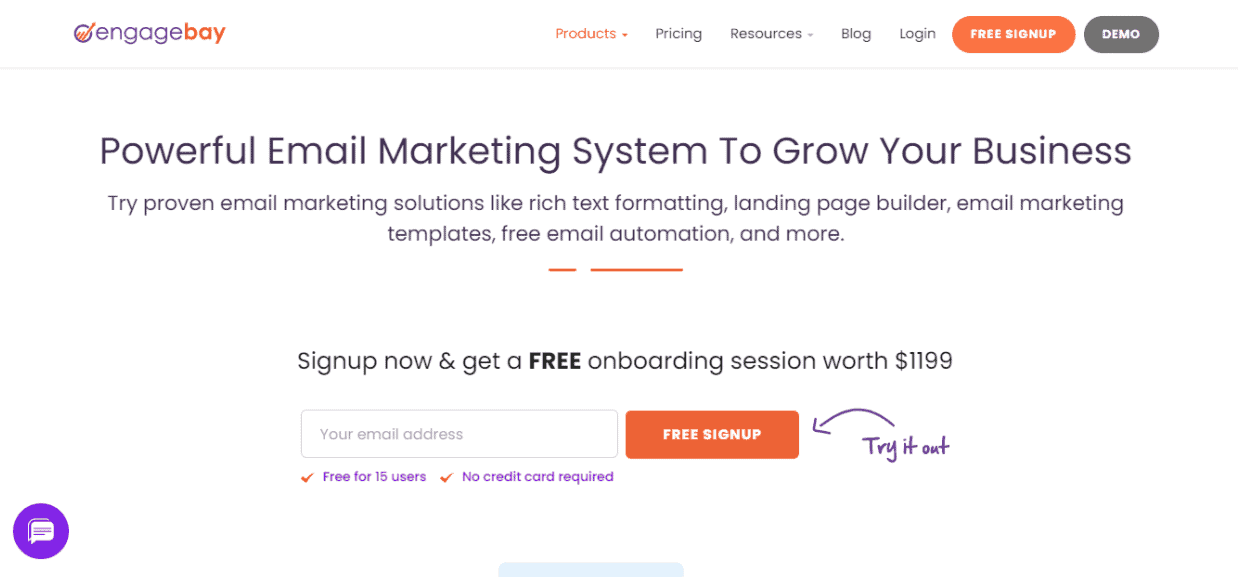 EngageBay is an all-in-one sales and marketing platform and makes for one of the best Mailchimp alternatives. One of its key services is email marketing, which helps you create and execute successful email campaigns seamlessly.
Features
Provides a variety of email marketing templates

The drag-and-drop builder helps you customize email templates as you need

Helps segment and target subscriber lists using various filters

Improves email personalization by adding contact attributes to emails automatically

Helps you track and optimize performance using key metrics
Pros
Simple and easy to use interface

Helps to easily organize a large number of contacts on a single platform

Well built email and landing page templates library
Cons
Contact search can be more intuitive
Pricing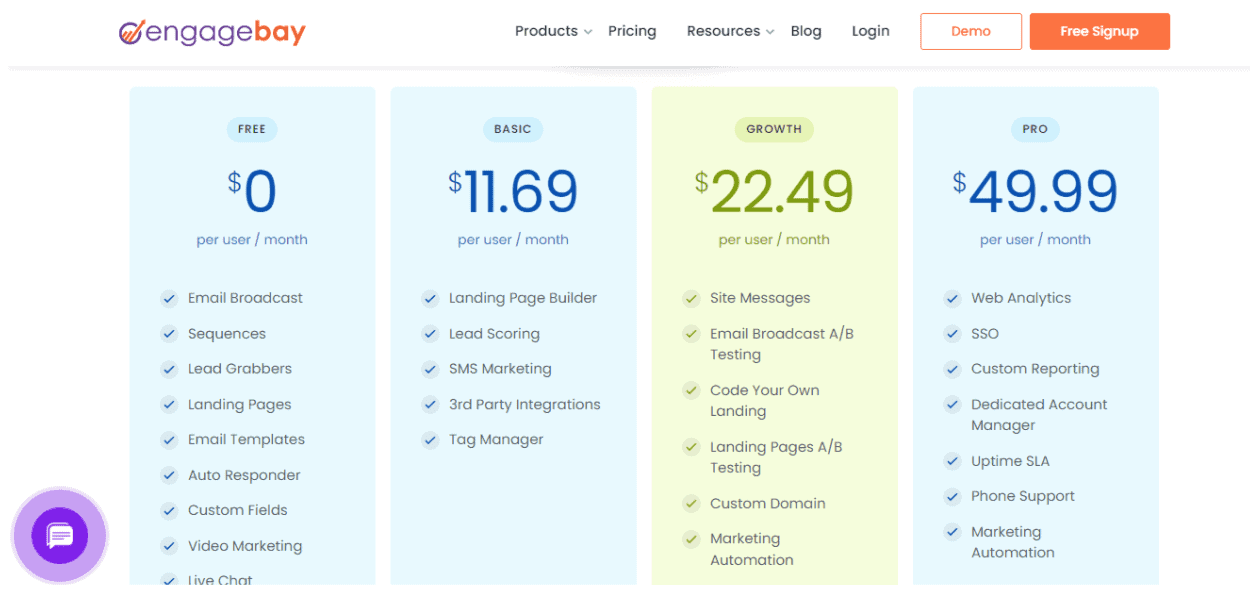 EngageBay has four types of plans to offer, including Free, Basic, Growth, and Pro.
Unlike Mailchimp, EngageBay's Free plan offers up to three email sequences that help you nurture your leads with ease. At the same time, you get access to features like email sequencing, broadcasting, landing page and email templates, autoresponders, live chat, and field customization.
In the Basic plan, you can set up newsletters and run email broadcasts. It also comes with a reporting dashboard, tag management, and other important marketing tools – all for $11.69 per user per month.
With the Growth Plan, you can buy additional services such as A/B testing, custom domain, marketing automation, and site messaging. The plan costs $22.49 per user per month.
And for those looking for advanced marketing features like custom reporting, web analytics, phone support, and a dedicated account manager, the Pro Plan is suitable. It is priced at $49.99 per user per month.
Read also: You Will Love These 15 Email Campaigns More Than We Do!
Why Consider ActiveCampaign as a Mailchimp Alternative?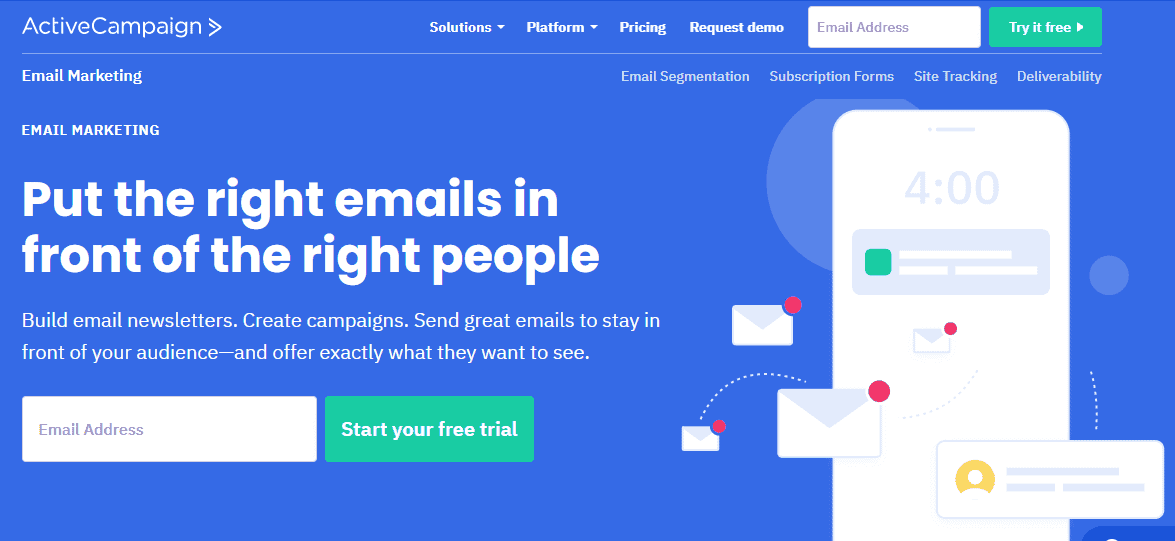 ActiveCampaign is an email marketing and automation platform suited to small businesses. It helps you automate and create engaging email campaigns with just a few simple clicks.
Features
Automates follow-ups by sending regular email reminders

Helps you find your most active contacts through lead scoring

The drag-and-drop automation builder helps set up automated workflows within minutes

Integrated with third-party apps such as Shopify
Pros
Helps add videos, images, and graphics to email templates

Helps manage emails, newsletters, and leads together on a connected interface
Cons
Better suited to a small business

Interface needs improvement
Pricing

ActiveCampaign comes with four pricing categories: Lite, Plus, Professional, and Enterprise.
With the Lite Plan, you can get a wide range of features, including email marketing and automation, drag-and-drop email builder, campaign reporting, segmentation, and site tracking. It costs $9 per month.
Under the Plus Plan, get additional services like 50+ landing page templates, contact scoring, SMS marketing, and customized branded forms and landing pages. The plan starts at $49 per month.
Along with email automation, if you want to personalize your website and get predictive lead scoring and marketing attribution, its Professional Plan will be ideal. It is available for $149 per month.
To get free design services, customized reports, and domains, choose the Enterprise Plan, which starts at $259 per month.
Read also: ActiveCampaign Pricing and Comparison with Other Alternatives
How Does Dotdigital Compare as a Mailchimp Alternative?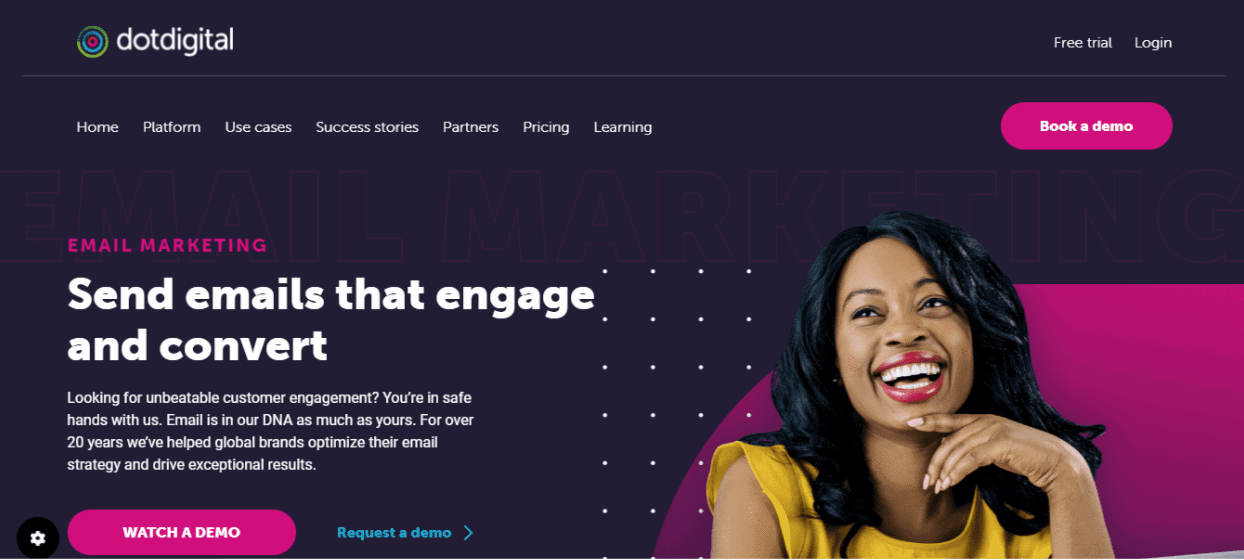 Dotdigital is an email marketing automation tool and an email builder. It helps you send targeted emails that help convert leads and attract new customers in no time.
Features
Helps you create data-driven email campaigns that deliver results

Keeps track of ROI and key metrics for sales performance

Helps you generate relevant content to target customers

You can easily customize email templates with its drag-and-drop editor tool

Optimizes send times to increase the chance of emails getting opened

Multivariate testing helps you compose targeted and personalized emails

Built-in email templates to help create engaging emails
Pros
Easy to create and send email campaigns

Helps determine customer base by determining key metrics for each email
Cons
Learning how to create email campaigns takes time

A/B hypothesis testing feature is limited
Pricing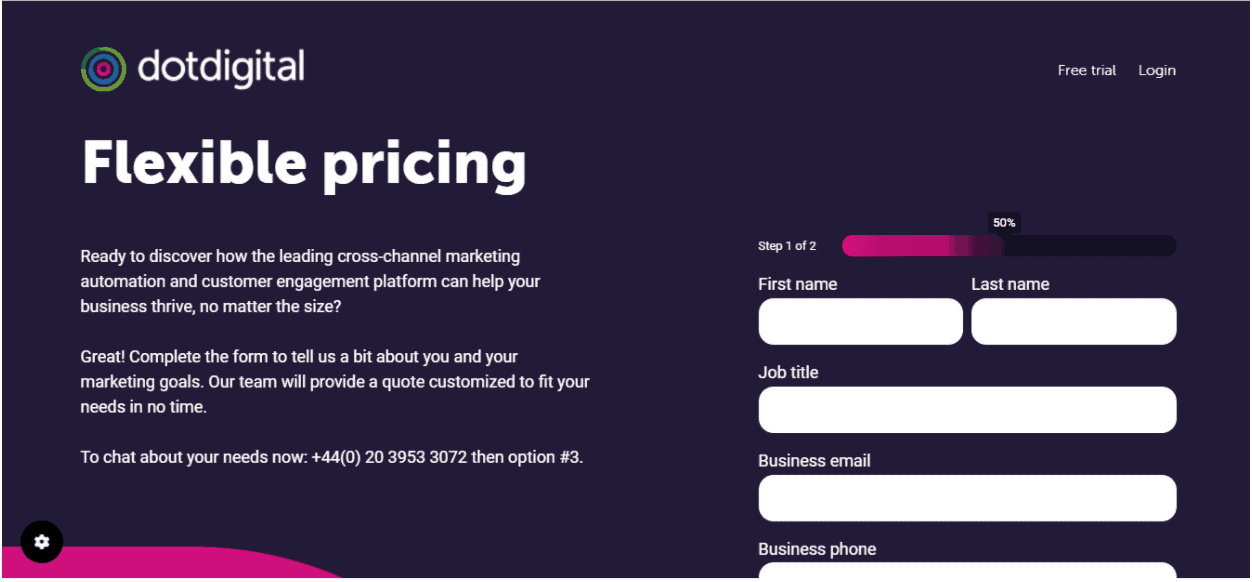 Dotdigital has a flexible pricing model, which helps you design your own plan. To avail of Dotdigital's services, businesses can simply fill out their details and subscribe to a plan that suits their needs.
How Does Mailjet Compare as a Mailchimp Alternative?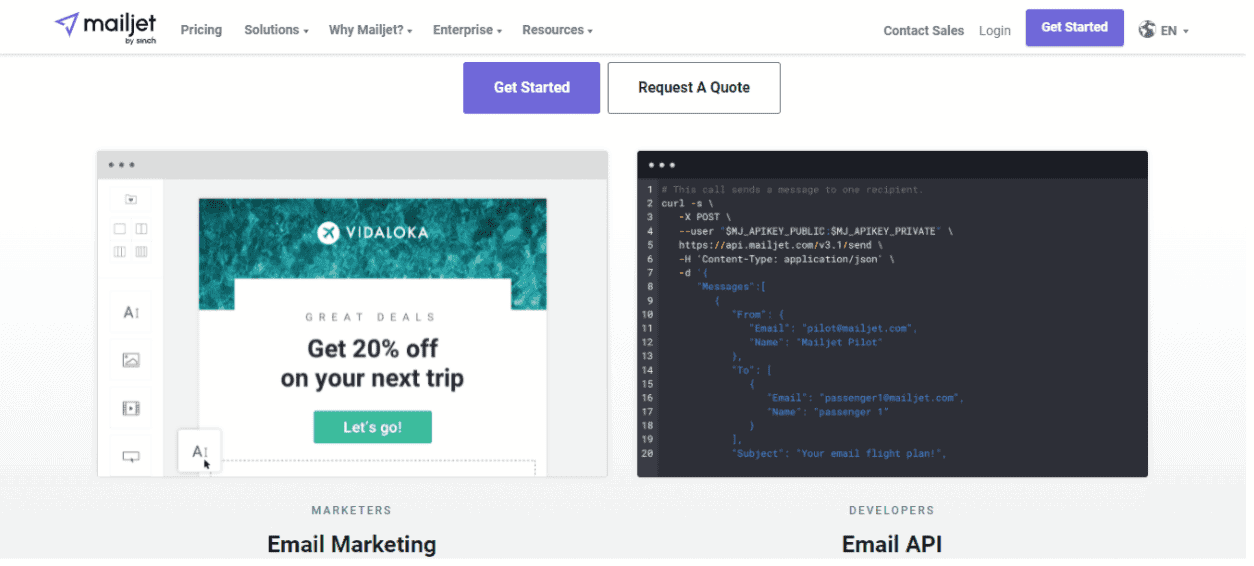 Mailjet is an email delivery service designed for marketing and developer teams. It is an all-in-one platform that helps you create, edit, and send your emails as a team.
Features
Helps create engaging emails within minutes using Passport, an in-built editor

Allows users to collaborate in real-time to create email templates

Contact management helps you segment your contact lists using filters

Email tracking tools help you track sales performance in real-time

Integrated with hundreds of third-party apps
Pros
Cost-effective email marketing software

Easy to set up
Cons
The unsubscribing feature only removes users from a specific email, not from all marketing emails

Dashboard interface needs improvement
Pricing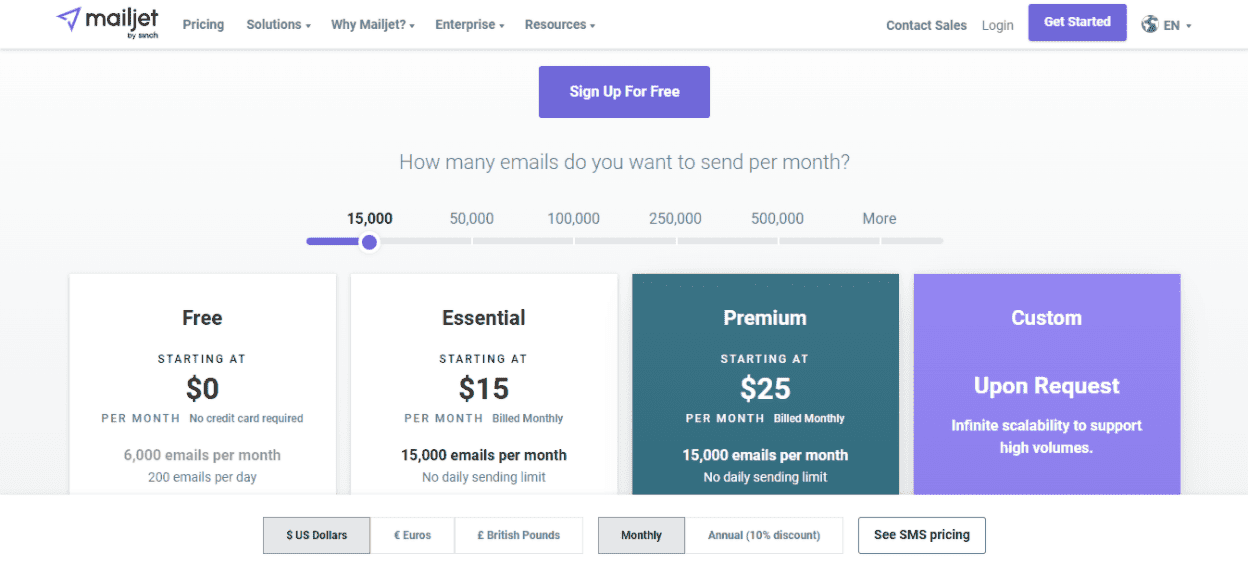 Mailjet has four plans that you can choose from – Free, Essential, Premium, and Custom. Although the pricing rises as your subscriber base increases, you can start from 15,000 emails and pay more later.
Under the Free Plan, you can send 200 emails daily. The plan gives you unlimited contacts, basic email statistics, and an advanced email editor.
The Essential Plan starts at $15 per month and allows you to send 15,000 emails per month. With this plan, you can avail of additional services like online customer support, segmentation, and email address validation.
To allow your teams to collaborate in real-time, the Premium Plan works best. Some of its key features include A/B testing, up to 100 email previews every month, marketing automation, multi-user access, and advanced statistics. It costs $25 per month.
If you have to send and receive high volumes of emails, go for the Custom Plan. It accompanies 24/7/365 customer support, a dedicated account manager, content analysis, and deliverability reports. To buy this plan, businesses can contact Mailjet's sales team directly.
How Does Sendinblue Compare as an Alternative to Mailchimp?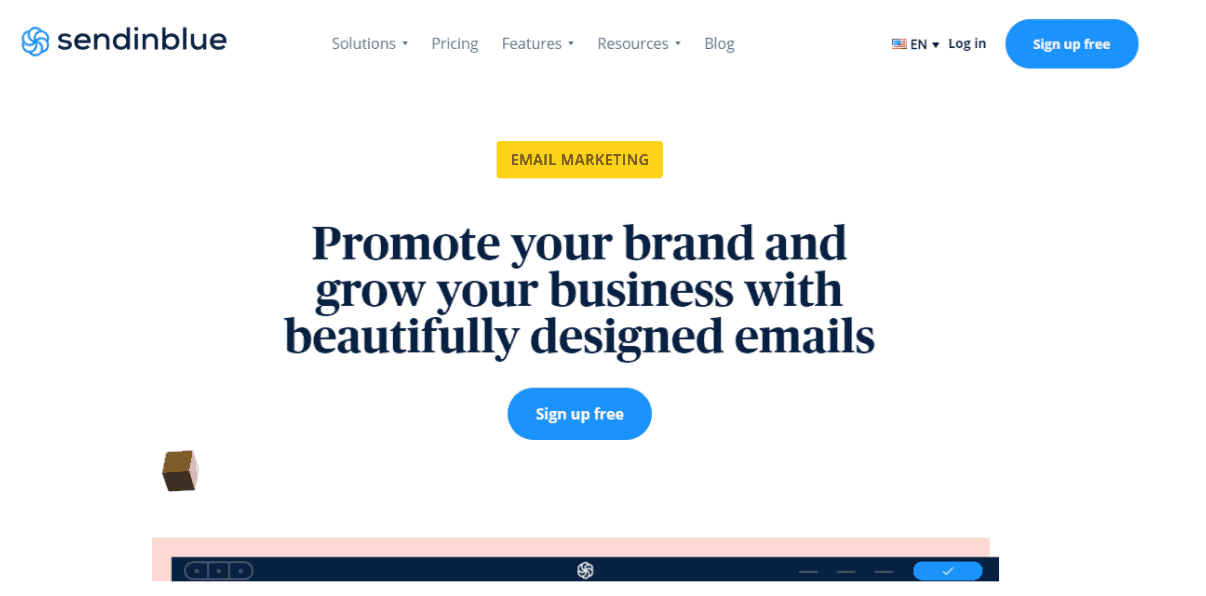 Sendinblue is an email marketing platform that helps you accelerate your sales strategy by personalizing every step of your customer's journey.
Features
Helps you create professional yet visually appealing emails through its drag and drop editor

Dynamic text for emails, making them more personalized

A/B testing ensures that your emails are sent to the right people at the right time

Contact list segmentation helps you send targeted emails to the target audience

Integration with Facebook Ads helps you add contacts to your database automatically

A shared inbox helps track customer history across teams
Pros
Easy to create and duplicate email templates

Helps import contact data seamlessly
Cons
Slow customer support

The interface may be slow to load at times
Pricing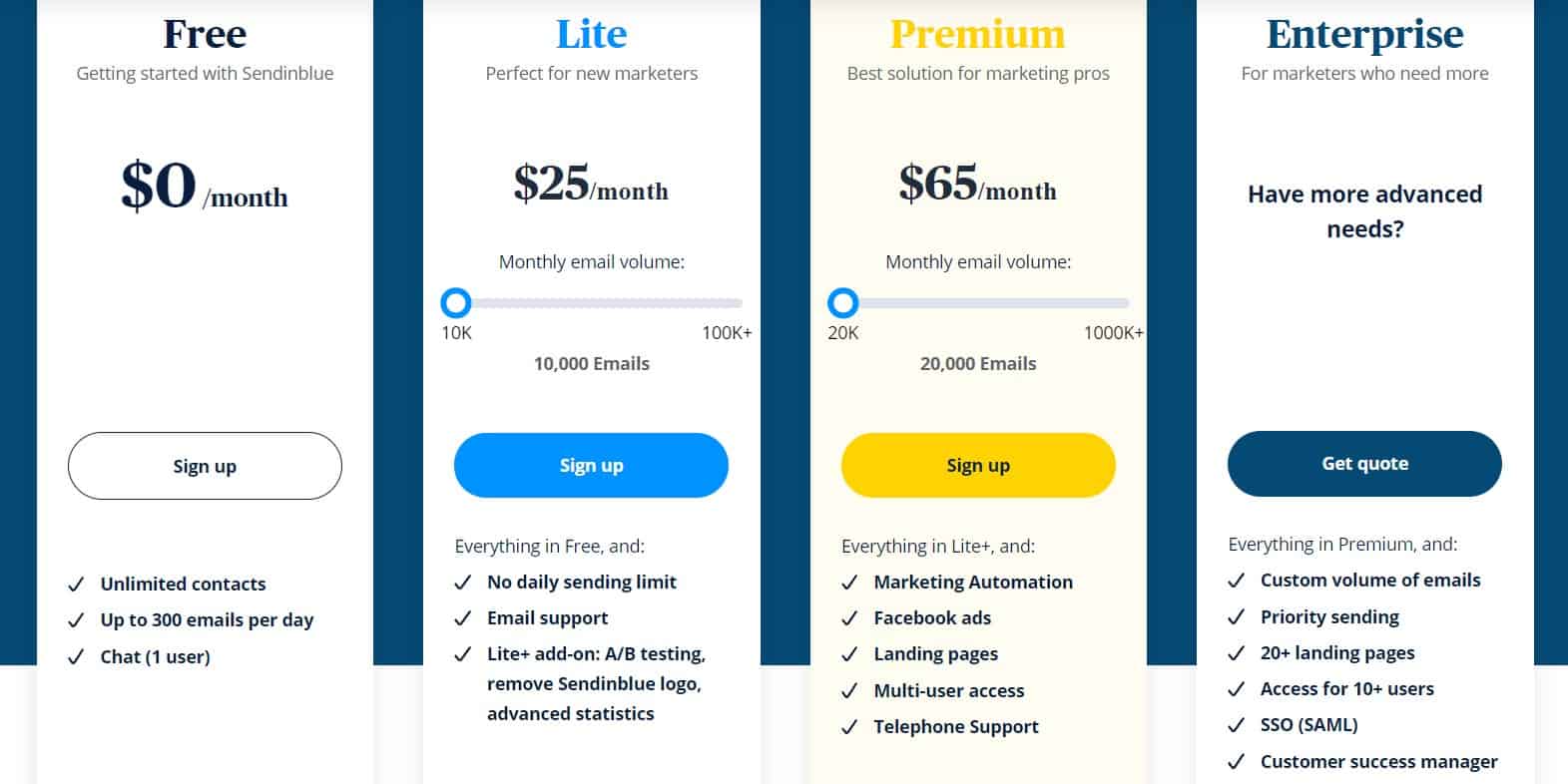 Sendinblue has four categories of plans: Free, Lite, Premium, and Enterprise.
If you have availed of the Free Plan, you can get features like unlimited contacts, sending up to 300 emails per day, and live chat for a single user.
For those who have just started as a marketer, the Lite Plan works best. It starts at $25 per month and comes with unlimited emailing, customer support, and A/B testing.
Its Premium Plan, available for $65 per month, offers additional services like marketing automation and Facebook ads integration to help grow your business revenue. It also enables multi-user access for growing teams.
If you have more advanced requirements, select the Enterprise Plan. You get priority support, customer success manager, priority sending, SSO, and email volume customization. To get this plan, you can contact Sendinblue's sales team directly.
How Does GetResponse Compare as a Mailchimp Competitor?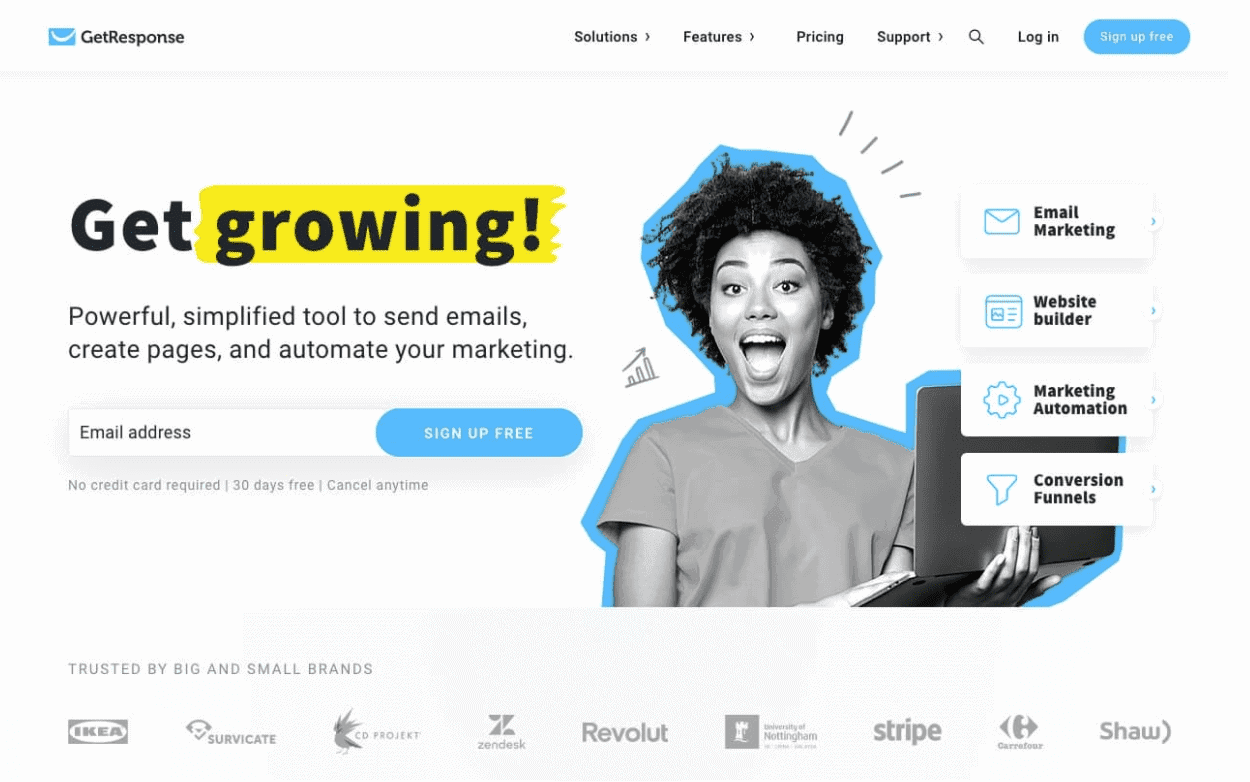 GetResponse is an online marketing software that helps you automate your marketing processes and send personalized emails in bulk.
Features
Helps users build permission-based emailing lists

Provides built-in email and landing page templates

Helps track sales performance with campaign monitor and basic reporting

Provides lead scoring and grading
Pros
All-in-one platform that helps streamline web and email content

Funnel builder helps you capture or squeeze pages to close sales faster
Cons
UI/UX interface needs improvement

While importing contacts to GetResponse, it does not tell which contacts were rejected
Pricing

You can choose any of the four plans of GetResponse: Basic, Plus, Professional, and Max.
A free plan is missing. However, you get features like autoresponder, unlimited landing pages, sales funnel, live chat, and Salesforce integration – all for $15 per month (Basic).
If you upgrade to its Plus Plan, you can run automated segmentation, deal with tag management, track web events, and build up to five sales funnels. The plan starts at $49 per month.
Under the Professional Plan, you can avail of unlimited custom automation workflows, unlimited sales funnels, and web event tracking. It has a price of $99 per month.
It also offers a customized Max Plan, where you get access to unlimited sales funnels, campaign consulting, and account migration support.
Read also: 5 GetResponse Alternatives You Should Choose in 2022
How Does Hubspot Compare as a Mailchimp Competitor?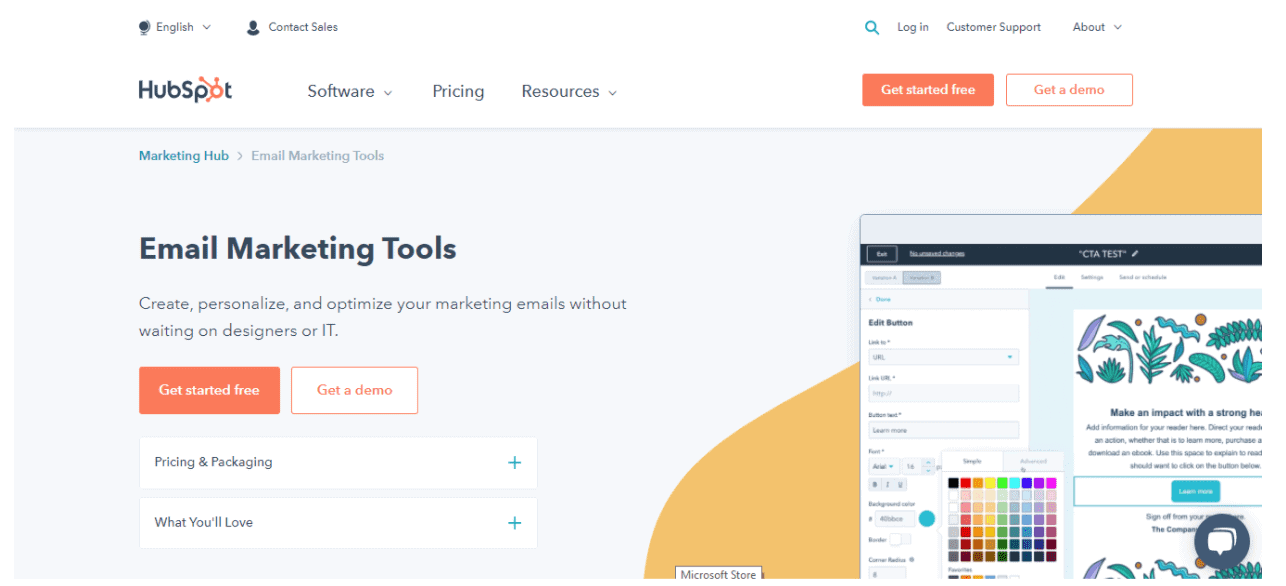 HubSpot's email marketing software helps you create, personalize, and optimize your marketing campaigns seamlessly. Backed by HubSpot CRM, this tool assures that your contact data is accurate.
Features
Helps create attractive email campaigns using built-in email templates

Enables personalize emails for increased clickthroughs

A/B testing and analytics help optimize email campaigns

CRM platform helps add and update customer database automatically
Pros
Customization is a simple and easy process

In-built features and tools are available for every aspect of your marketing campaign
Cons
Contact list processing takes a lot of time

Difficult to find overall campaign metrics
Pricing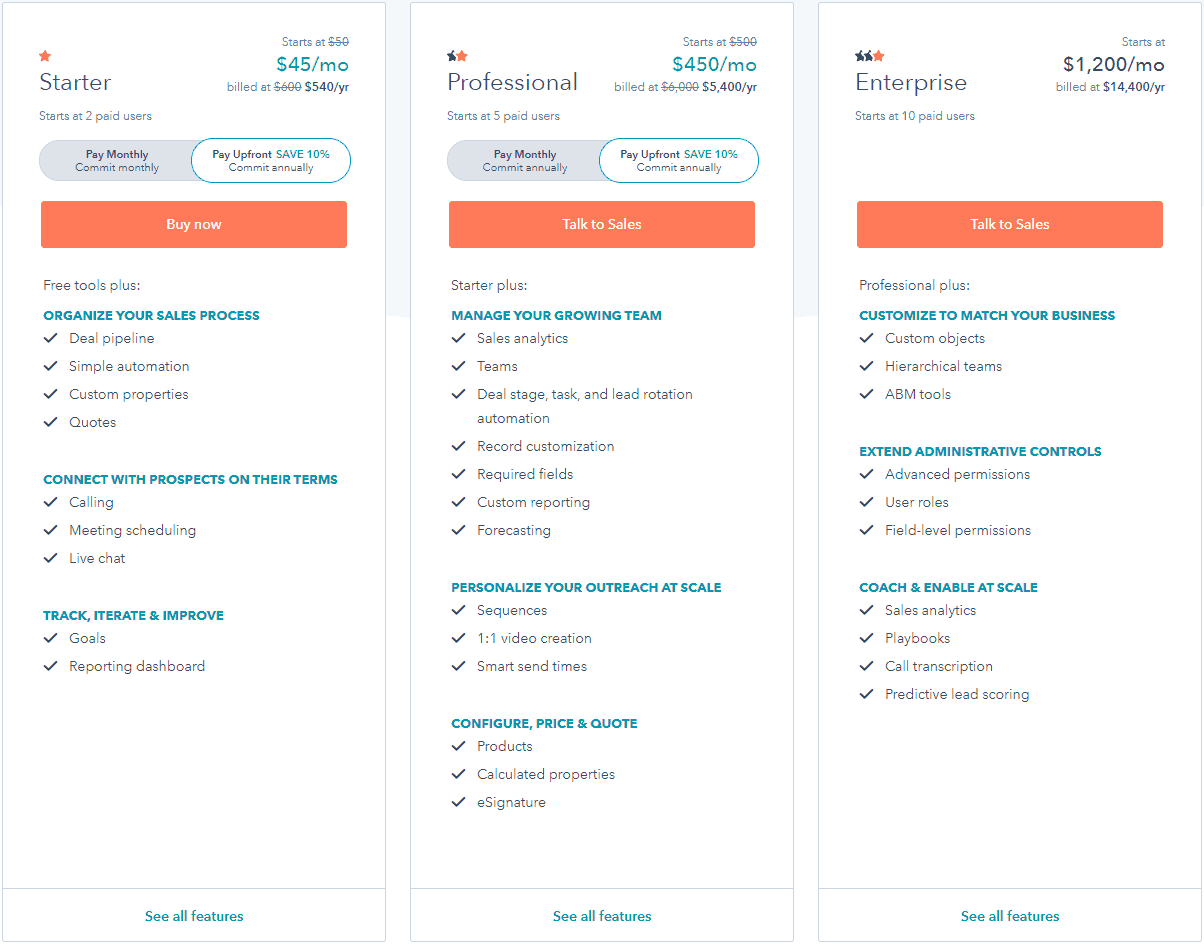 HubSpot's pricing model has three types of plans: Starter, Professional, and Enterprise.
With the Starter Plan, you will be charged $45 per month. It includes 1,000 contacts and features like live chat, email marketing, landing pages, and web forms.
If you want to run A/B testing of emails to understand which email works for your audience, you need to choose the Professional Plan. You get up to 2,000 contacts and start at $800 per month. In addition, you get more robust functionalities like dynamic personalization, multi-language content, contact and company scoring campaign monitor, and website traffic analytics.
Those who have more contacts will have to go for the Enterprise Plan. The plan costs $3,200 per month and offers additional services such as a single sign-on, email send frequency cap, multi-touch revenue attribution, and predictive lead scoring.
HubSpot pricing can be quite steep as you can see. HubSpot is hence best suited for large enterprises looking for a Mailchimp alternative.
Read also: 8 HubSpot Alternatives You Should Switch to in 2022
Why Consider Constant Contact as a Mailchimp Alternative?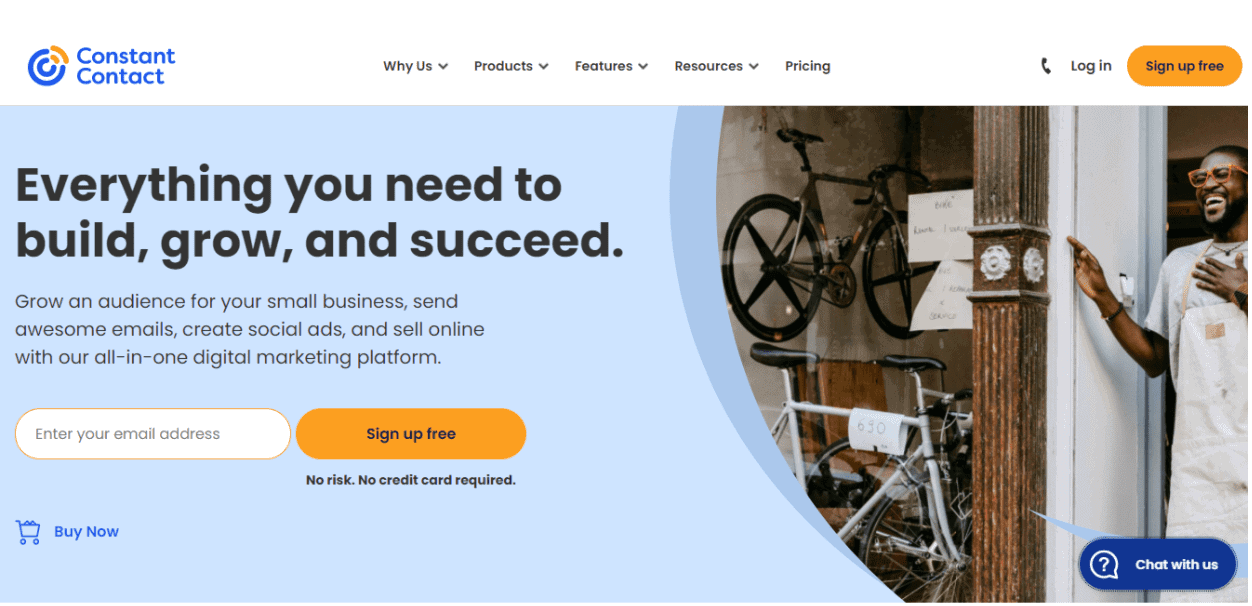 Constant Contact is an email marketing platform to help you grow an audience for your small business. It is an all-in-one digital marketing software that helps you create and send emails with automation, create social ads, and sell your products online.
Features
Provides a large number of built-in templates for emails, landing pages, and sign-up forms

Helps capture relevant contacts online and offline

Helps in effective targeting through audience segmentation

Integration with Google Ads, Facebook, and Instagram helps drive campaign traffic
Pros
Provides professionally designed email templates

Contact database helps to add and remove clients quickly
Cons
Mainly intended for businesses that have tangible products

Automated workflow setup takes time
Pricing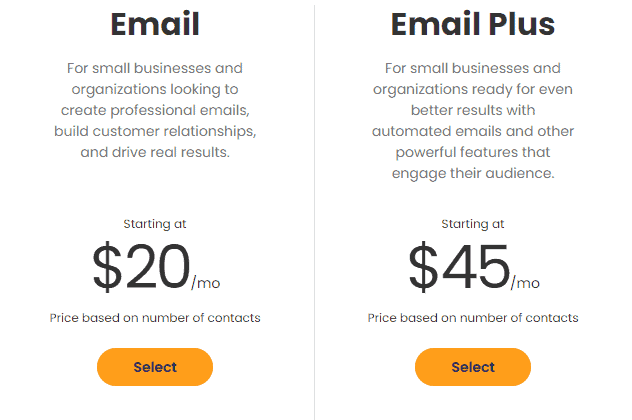 Constant Contact has two plans to choose from – Email and Email Plus.
Just for $20 per month, Constant Contact lets you send unlimited emails, which isn't the case with Mailchimp. Besides, the Email plan comes equipped with tools that help with real-time reporting, social posting, built-in email templates, phone and chat support, and customer list growth.
If you want to automate your entire email marketing campaign, you need its Email Plus Plan. You can also customize pop-up forms, create dynamic content, and carry out event and survey registration. It costs $45 per month.
Read also: Constant Contact vs Mailchimp vs EngageBay — A Detailed Comparison
How Does Moosend Compare as a Mailchimp Competitor?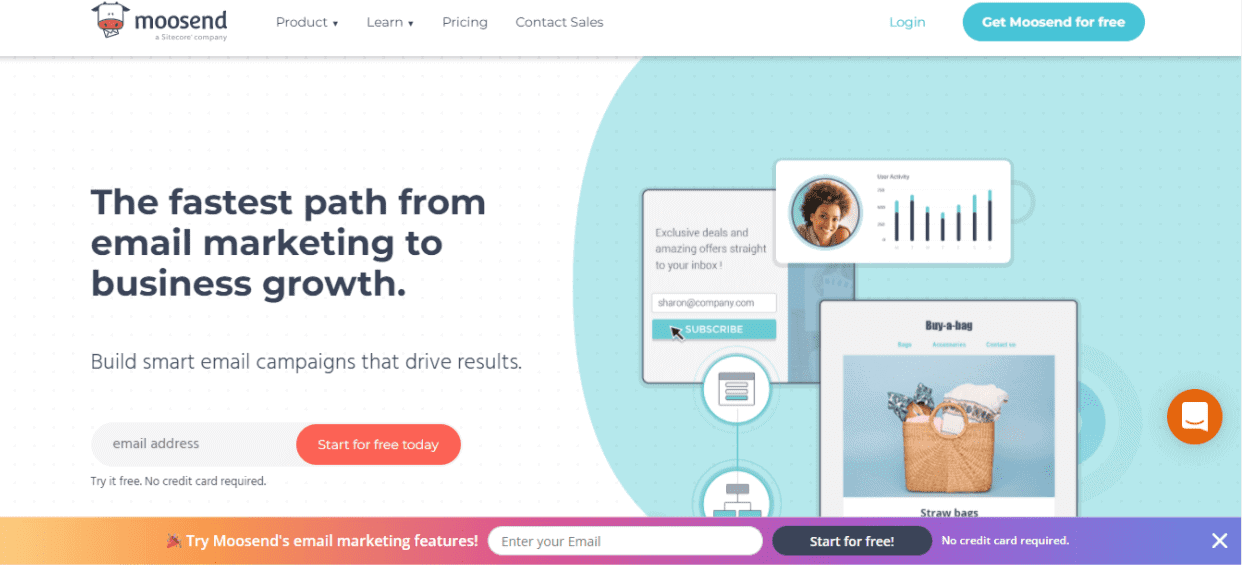 The last on our list of Mailchimp alternatives is Moosend. It is an email marketing software that helps you build smart email campaigns to drive revenue.
Features
Drag and drop email editor helps create customized email templates

List segmentation helps you send targeted and personalized emails

Data analytics helps track campaign performance

Landing page builder helps you build attractive landing pages
Pros
Best software for performance tracking and generating ideas through email marketing

Highly intuitive platform
Cons
Lack of dynamic email content creation feature

Customer support in the free plan is limited
Pricing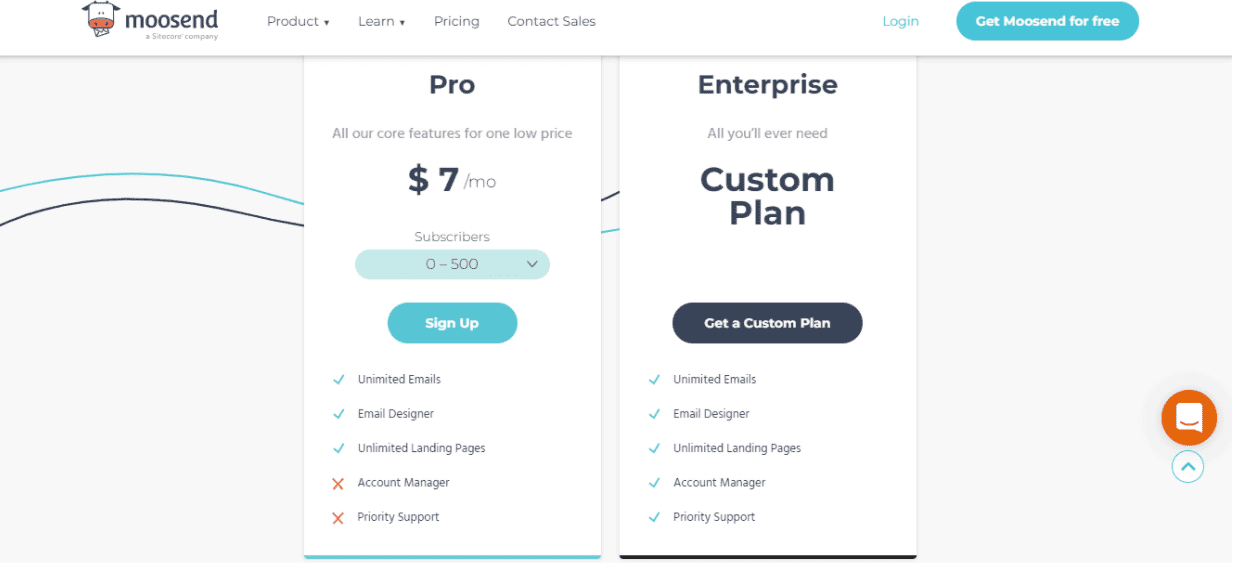 While Mailchimp limits you to 2,000 emails per day (with up to 10,000 monthly email send limit), Moosend Pro Plan allows you to send unlimited emails just for $7 per month. However, it limits you to 500 subscribers. You can increase the number of subscribers, but the price will increase too.
Moreover, you also get an email designer and unlimited landing pages.
Its other plan – Enterprise, is custom-made and gives you access to additional features like account management, transactional emails, and priority support.
If you are skeptical about using Moosend, you can go for a free trial. Moosend lets you test email campaigns, sign-up and subscription form builder, and landing pages.
Read also: Moosend Alternatives: Which Are the Best Tools to Consider in 2022?
Which Mailchimp Alternative is Right for You?
So, which Mailchimp alternative should you go for? While there are several alternatives that provide high-quality services at affordable prices, EngageBay stands out among them.
With EngageBay, you can not only create effective email campaigns but also execute successful sales and marketing strategies – all under one platform. Moreover, its email marketing tool helps you create personalized emails that are relevant and visually appealing.
What's more, EngageBay helps you organize a large number of contacts on a single platform while its free, integrated CRM platform ensures that your customer database is always up to date and accurate.
And with such an affordable pricing model, EngageBay comes as the best alternative to Mailchimp.
Read also: Mailchimp vs Constant Contact: What's Right for You?
Conclusion: Find Success by Switching from Mailchimp to EngageBay
It is a competitive market and Mailchimp has plenty of excellent alternatives. However, we believe that EngageBay's email marketing tool offers great value for money, especially for small business owners, agencies, solopreneurs, and bloggers.
We hope you found this blog useful. If you did, please tell us and share it with your friends too.
We also have a detailed guide on how to move from Mailchimp to EngageBay 🙂
If you have any questions related to email automation, just sign up for EngageBay here and book your free demo!