Email automation is a powerful tool that can help you save time, increase your productivity, and boost your sales.
Email automation allows you to create automated sequences of emails that are sent out based on a certain set of conditions.
For example, you could create an automated sequence that sends out a series of welcome emails to new subscribers, or an automated sequence that sends out an email reminder to customers who have not made a purchase in a while.
Email automation can be used for a variety of purposes, including lead nurturing, customer retention, and more!
In this blog post, we will discuss the basics of email automation, as well as some tips and examples to help you get started.
What is Email Automation?
Email automation is a process of using technology to automate the sending of email messages. Email automation can be used for a variety of tasks, such as:
Sending automatic welcome emails to new subscribers
Sending automated email reminders to customers who have not made a purchase in a while
Creating and managing email lists
Automatically responding to customer inquiries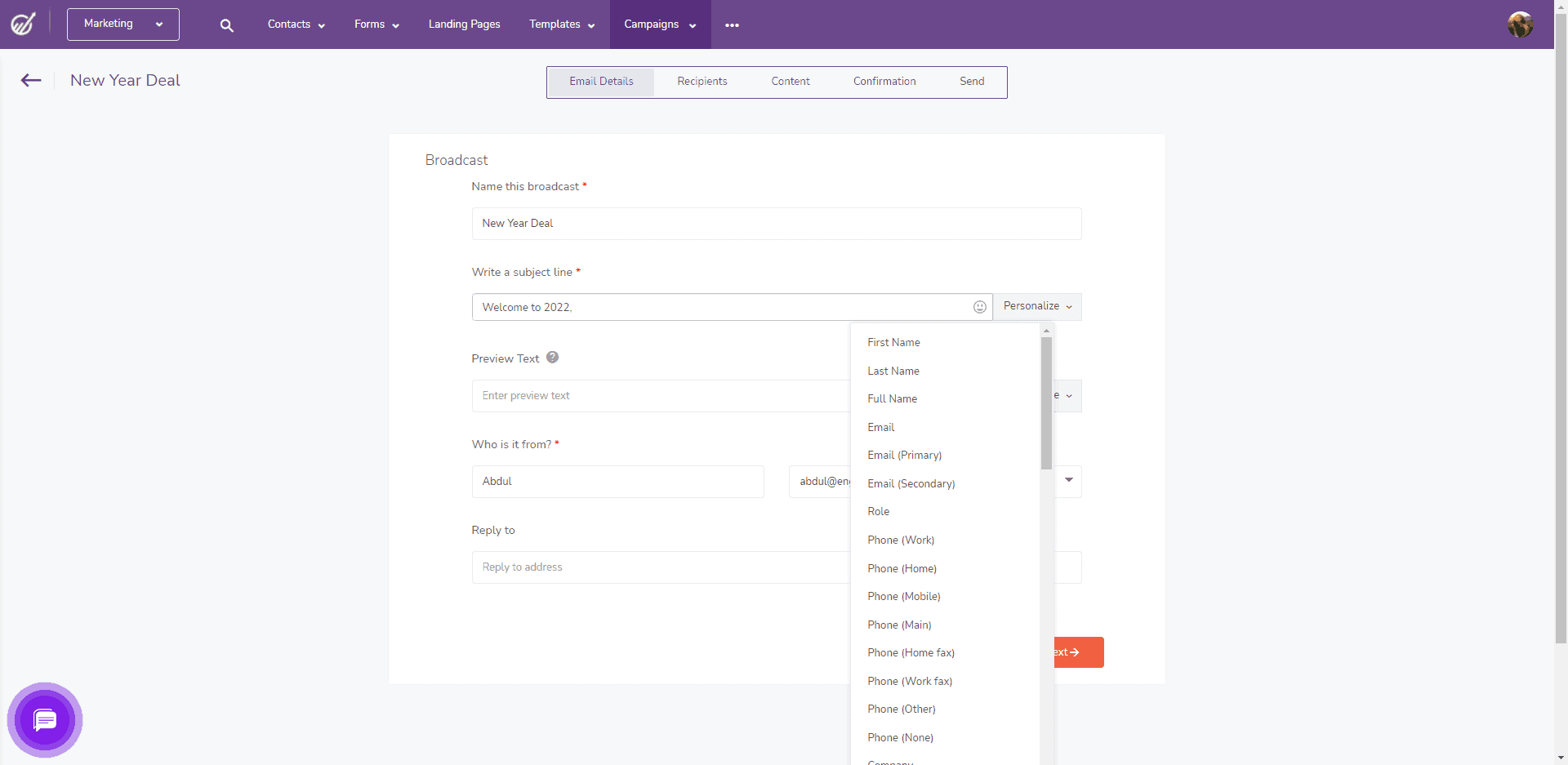 Common examples of email automation include welcome emails, onboarding emails, event announcement emails, survey emails, and transactional emails.
Today, an increasing number of firms are adopting email as a marketing automation tool.
A study has shown that 56% of businesses are already using email automation as part of their marketing campaigns.
Moreover, 40% of B2B companies consider leveraging email automation to scale their marketing efforts.
Besides automating repetitive tasks, email automation has several other advantages.
Read also: Secrets And Templates For The Perfect Gentle Reminder Email
Benefits of Using Email Automation Tool
Email automation can also help boost your sales by making it easier to stay in touch with your customers and prospects.
Let's take a look at the key benefits of using email automation.
#1. Creates Personalized Experiences
According to research, around 80% of consumers are likely to buy from a brand that provides personalized experiences. In addition, 72% of customers positively respond to only those marketing messages that target their preferences and interests.
For businesses, there is no better tool than email to build strong relations with their clients.
Using automation, you can send a personalized email to your customer whenever they take an action, such as purchasing a product, signing up for offers, or even browsing through your website.
You can even create a series of automated emails based on certain triggers.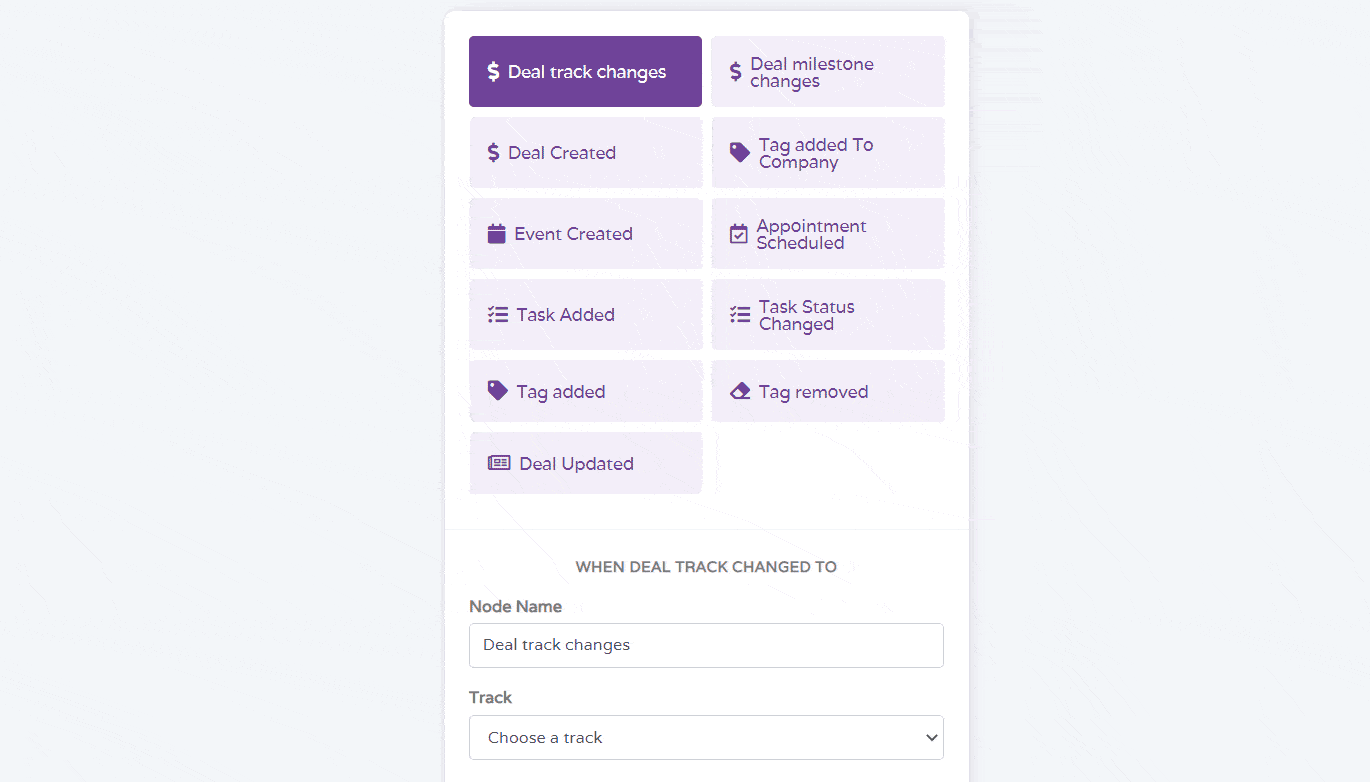 #2. Saves Time and Increases Productivity
An email marketing automation software saves time. Since marketing teams don't have to spend time sending emails and creating email campaigns, they can focus on more important tasks such as creating innovative content.
This, in turn, increases productivity, as employees are able to achieve more in the same amount of time.
#3. Helps in Brand Building
One of the major benefits of email automation is that it helps with brand building. Although email marketing is not a substitute for newsletters, it can complement it.
With newsletters and email marketing, you can increase your brand exposure and provide an additional communication channel for your customers.
#4. Improves Customer Retention Rate
A successful business is one that has a large number of loyal customers. Moreover, it is easier to sell your products and services to existing customers than to acquire new ones.
Using email automation, you can increase customer retention rates by staying in constant touch.
Since emails are automated, you don't have to worry about setting reminders or not following up with your clients.
Through email automation tools, you can schedule your emails and customize them to maximize impact.
Read also: 11 Best Marketing Automation Tools for Small Businesses
Tips for Effective Email Communication
While email automation is a great tool to improve customer loyalty, how do you ensure that your emails are making an impact?
Here are some tips that you can use for effective email communication.
#1. Track Customer Responses
Whenever you send an email to a customer, you have the opportunity to gather information about them.
You can find out when the customer opens your email, whether they browse through your website, whether they make a purchase, and uses an offer or not.
Accordingly, you can understand when to send customers emails and what kind of offers interest them.
#2. Create Automated Drip Campaigns
To build an effective email marketing strategy, you should create automated drip campaigns.
Drip campaigns automatically send important information about an organization, product, or industry.
With drip campaigns, emails are only sent to users who have demonstrated an interest in your brand.
#3. Choose the Right Email Marketing Tool
The most important step towards creating an effective email campaign is to choose a good email marketing automation platform.
You should opt for an email marketing automation software that boasts of features such as email automation capabilities, data analytics and personalization, and customizable email templates.
Luckily, you will find both free and paid email marketing tools in the market. Some of the top names include EngageBay, ActiveCampaign, Mailchimp, and more.
With an affordable email automation tool like EngageBay, you can get access to a vast range of in-built templates and various trigger-based automation.
#4. Segment Your Customers
Before sending out emails, you should segment your customers. A segmented subscriber list is the foundation of email marketing.
Through segmentation, you can send targeted emails to people. Ideally, customer list segmentation should be based on criteria like gender, location, interests, age, and so on.

Your email automation tool should also allow you to create customized fields and integrate them with any e-commerce or CRM platform that you use.
Moreover, customer segmentation helps create personalized campaigns that are user-specific.
#5. Send Personalized Welcome Emails
Once a prospect turns into a customer, it is time to show some appreciation. This, however, does not imply that you should send a generic thank you or confirmation email.
Welcoming new customers can include sending personalized welcome emails to your customers – greeting them with their names and highlighting their individuality.
The email could include offering personalized discounts and product recommendations based on user preferences.
Discover the most effective opt-in email strategies that will transform your subscriber list in our detailed article!
#6. Collect Customer Feedback
One of the best ways to improve your brand reputation is by gathering customer opinions. If you don't ask for feedback from your customers, you are likely taking a shot in the dark, in terms of serving your users.
Email marketing automation helps you collect user feedback in several different ways.
You can send highly specific requests for feedback on your products and services, and provide incentives such as cashback and discounts if users respond.
Examples of Excellent Email Automation
Now that you have looked at the basics of email automation and ways to create effective email marketing campaigns, here are some excellent email automation examples to get you started.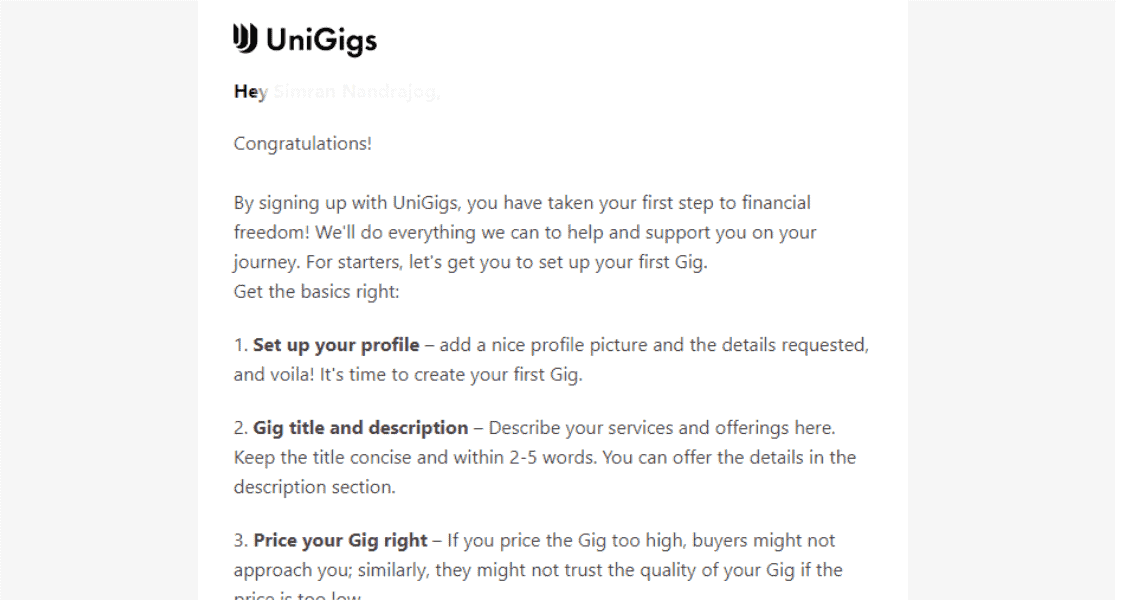 UniGigs is an online marketplace that connects freelancers with employers.
Once you sign up or register with UniGigs, you will be greeted with a welcome email.
Along with a congratulatory message, UniGigs also includes step-by-step guidance on how to get gigs on the website.
It's a nice practice to make the onboarding experience smooth for your users.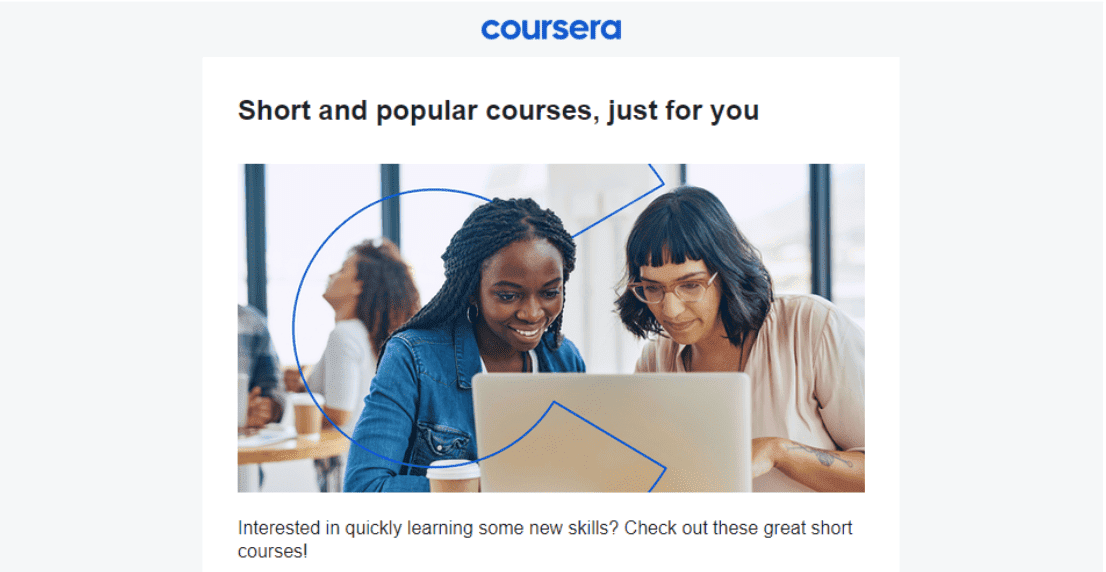 Coursera is an e-learning platform that provides a range of courses, both paid and free. These courses are both short-term and long-term and are usually taught in collaboration with various universities.
Once you have subscribed to Coursera, it sends out emails at regular intervals, informing them about the courses on offer.
The course recommendations are provided based on what kind of subjects customers have browsed and the type of courses they studied on Coursera in the past, if any.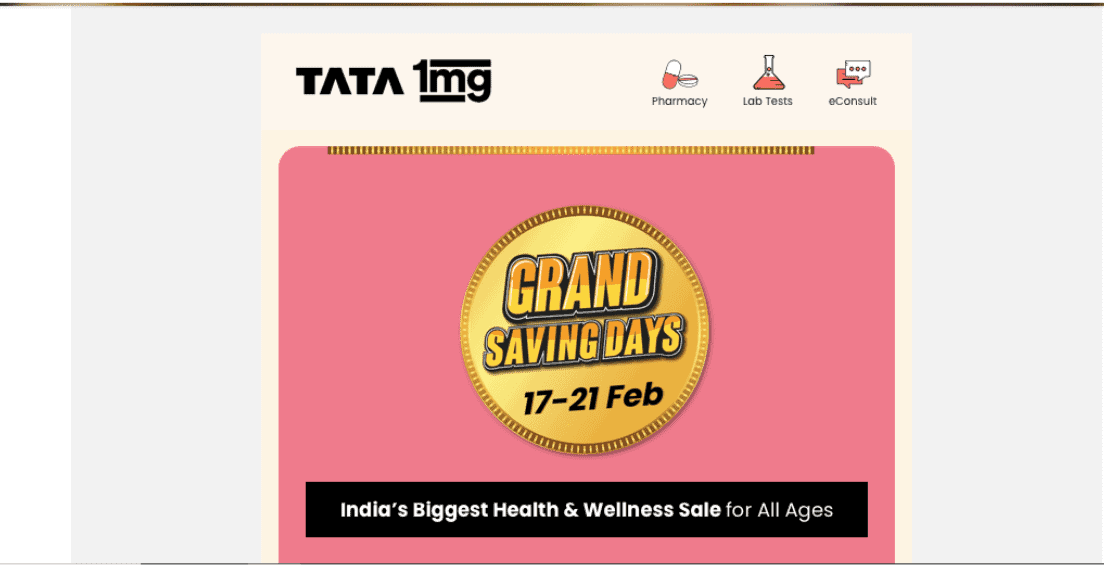 Tata 1mg is an Indian online pharmacy that sells a range of medicines and health products. The example here is that of a promotional email.
Here, the brand is trying to make its customers aware of 'Grand Saving Days,' a five-day-long sales campaign to promote its health and wellness products.
Moreover, the email also states that the campaign caters to all its users, indicating who its targeted audience is.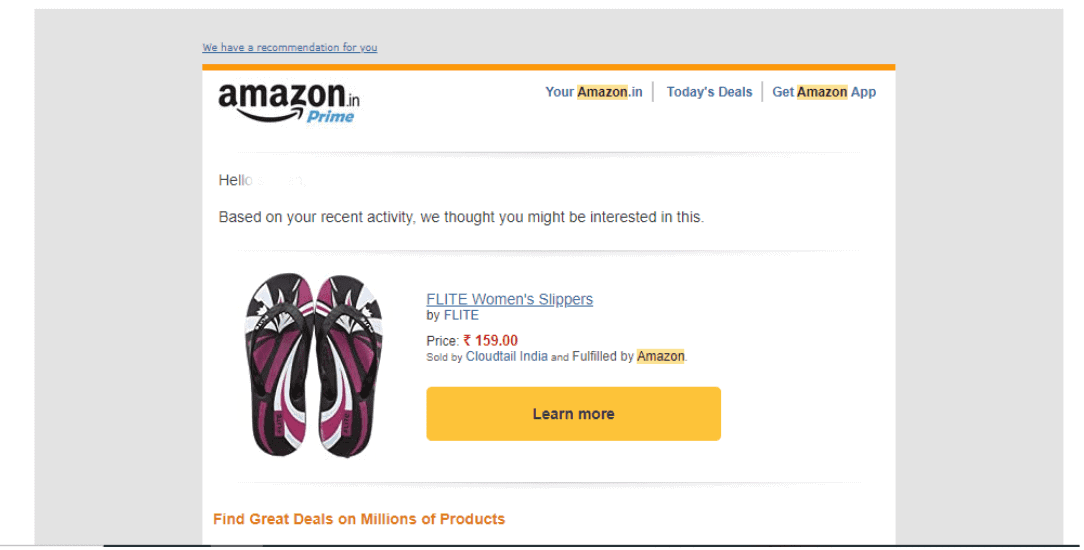 Amazon is an e-commerce website that sells a range of products and services.
The email automation example shown here consists of Amazon providing personalized product recommendations to its users.
Based on their past purchases or the products that they have browsed, Amazon sends emails that include suggestions on similar items.
This tactic is often used by brands to increase their customer retention rate.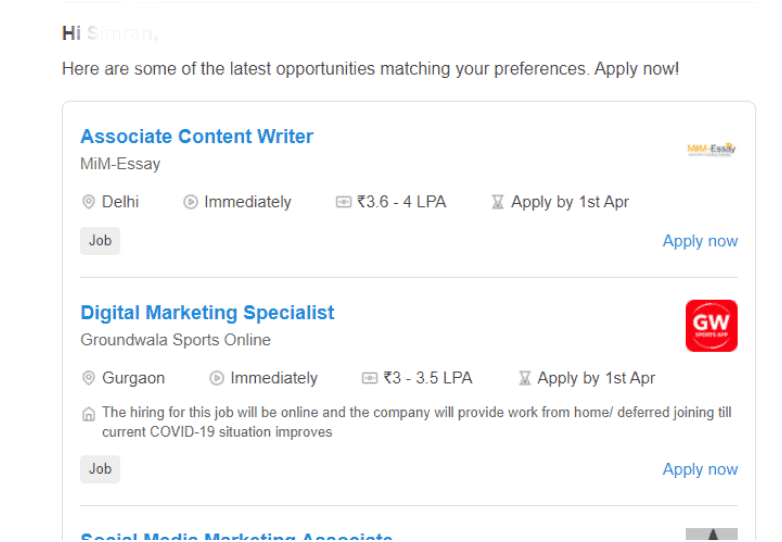 Internshala is an Indian online platform that helps students and professionals find internships and full-time jobs. Once you have signed up on Internshala's platform, it will send you regular emails on the jobs or internships that you can apply for.
These jobs or internships are based on your preferences such as location, salary range, and industry.
Further, the recommendations are based on the type of jobs that you have searched for in the past, on Internshala.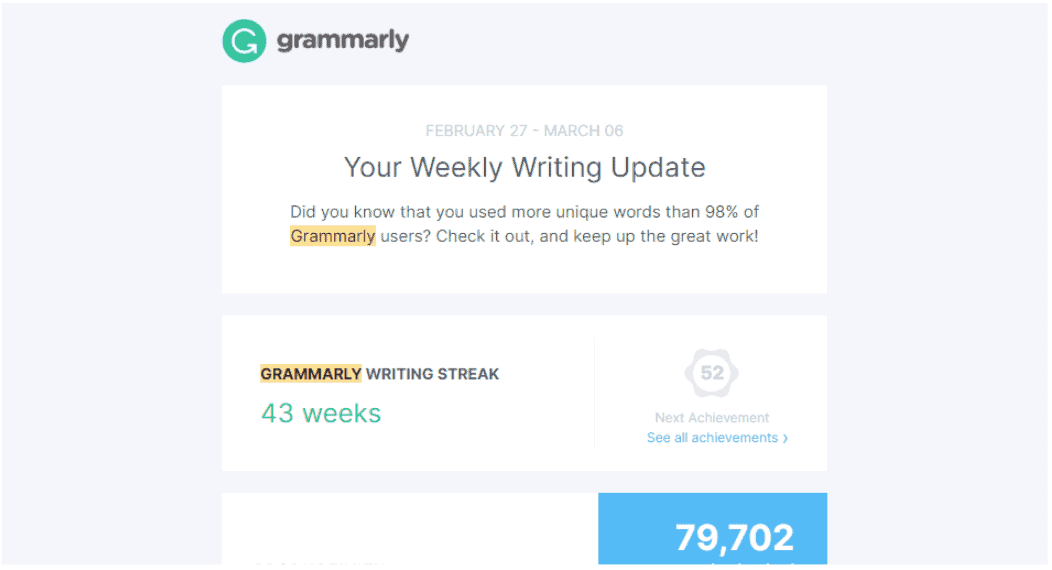 Grammarly is an online writing tool that helps users edit their documents. It helps you with grammar and sentence structure and is also a plagiarism checker.
Once you start using Grammarly, it sends you emails every week, regarding your writing progress.
These emails also include success metrics, in terms of the number of words written and how many unique words were used.
Such emails convince subscribers to use Grammarly more often and encourage them to write more.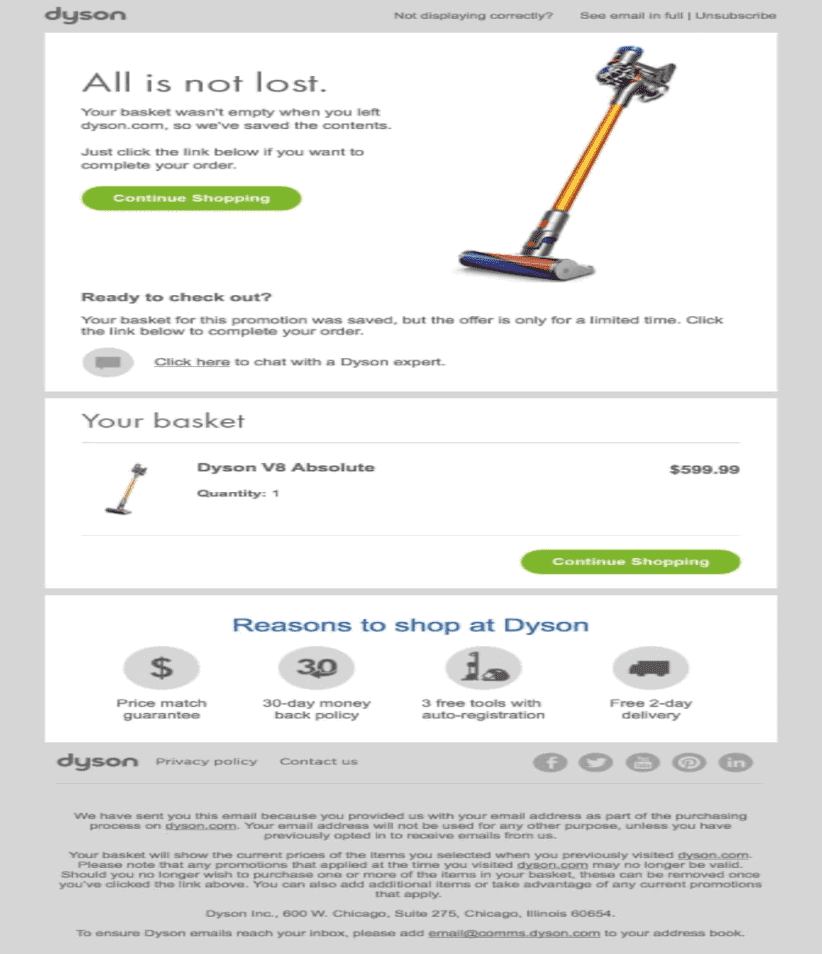 Dyson is a British household appliances company that has operations worldwide. The example shown above is that of an abandoned cart email.
Here, the customer added some products to their shopping cart but did not buy them.
Hence, Dyson sent out an email, reminding the customer of the product left in the cart. It also sent a reminder to purchase the product at a discount that was available for a limited period.
Moreover, there is a link to chat with a Dyson customer expert, in case of any purchase-related problems.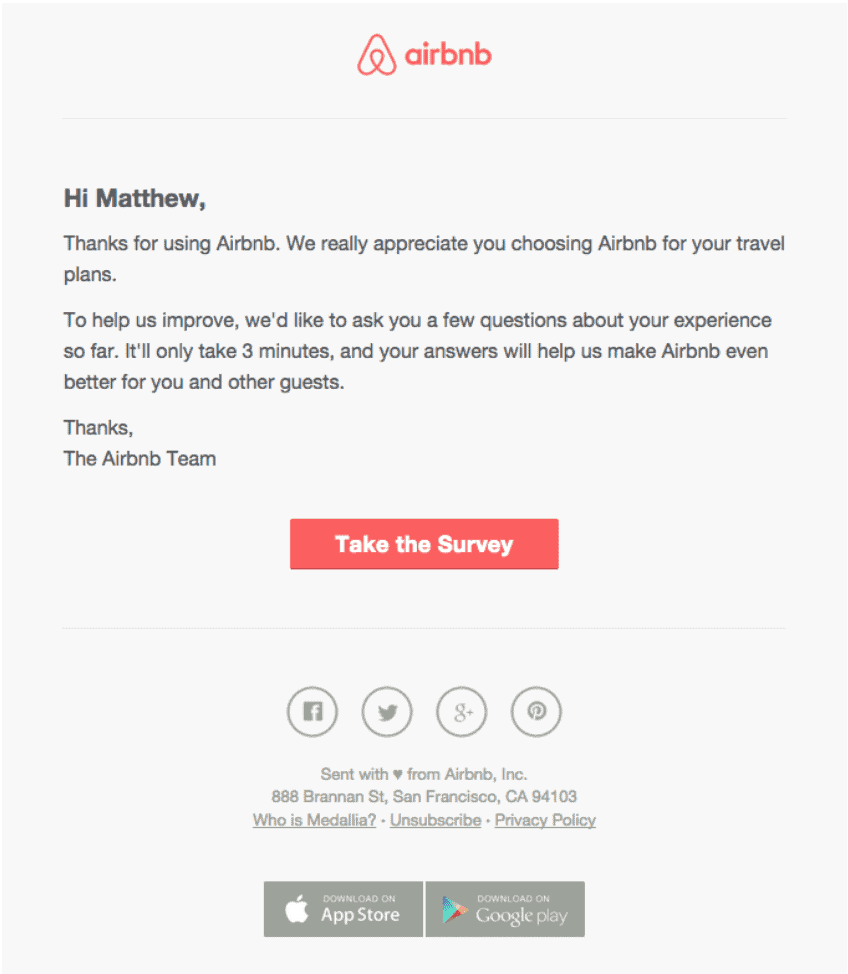 Airbnb is a US-based online marketplace for lodging and vacation rentals.
This email from Airbnb asks customers to share their feedback so that they can improve their stay the next time.
It's a win-win as it allows Airbnb to understand what they need to improve and at the same time, they are leveraging it to invite their customers again.
They ask questions about their stay, what they liked or disliked, and what improvements would they like to see in Airbnb's services.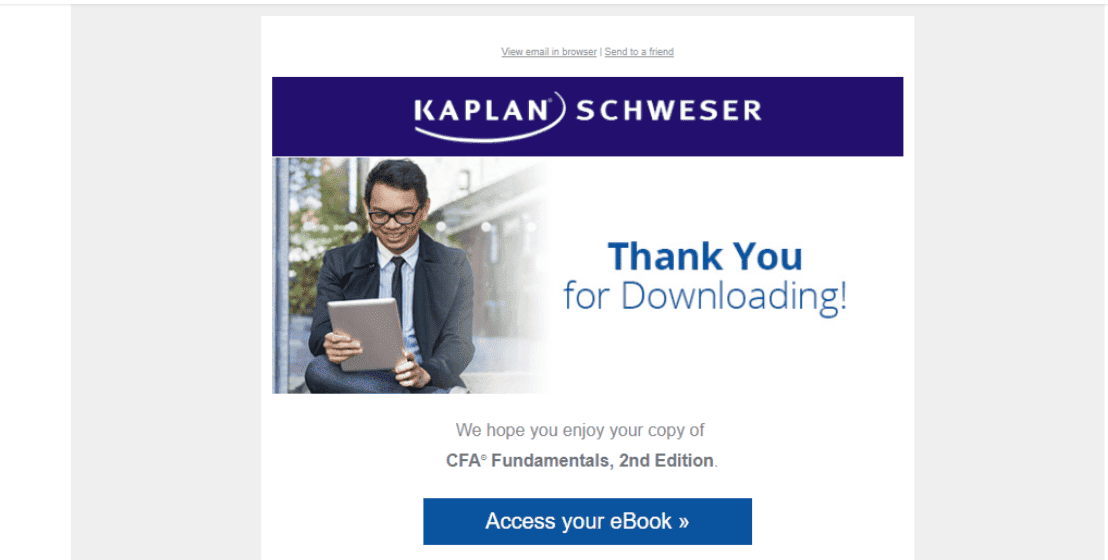 Kaplan Schweser is an e-learning company that provides study material for programs such as CFA, FRM, and CAIA. Here, the email sent by Kaplan is an example of a lead magnet.
Here, Kaplan is selling its study material for free, even before a lead is converted into a customer. Since lead conversion takes time, brands such as Kaplan try and offer something of value to their prospective customers.
Once a prospective client has signed up on Kaplan's website, it can then send emails that offer other products and services, along with any special offers or discounts.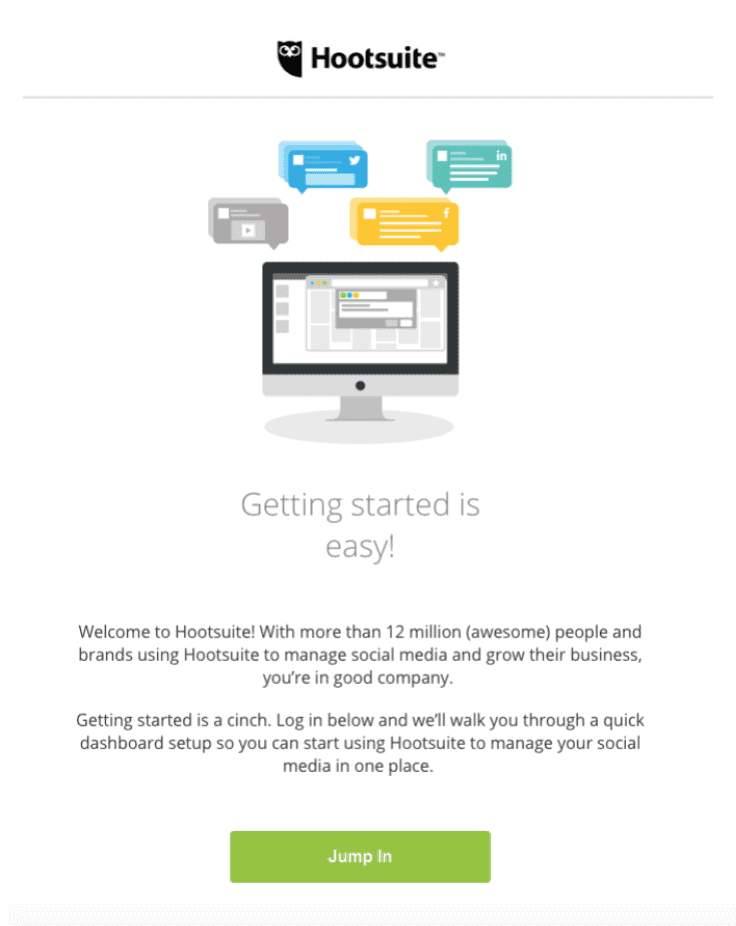 Hootsuite is a social media management system that helps you manage your social media handles through an integrated dashboard.
This is an example of a user onboarding email. Once a customer has signed up for Hootsuite, it sends out an automated onboarding email, which consists of a 'Jump In' link (which we think is a great CTA btw!).
Upon clicking the link, users are directed to the webpage that provides a detailed demonstration of how to use Hootsuite's services, along with setting up the dashboard.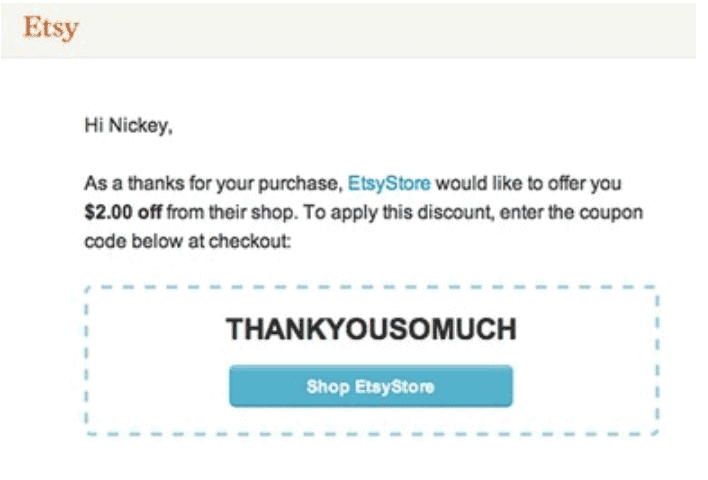 Etsy is an American e-commerce company that specializes in handmade items such as jewelry, clothing, home decor, and craft supplies.
Whenever a new or first-time customer makes a purchase from Etsy, the brand sends out a discount or promotional offer. This offer can be used by people whenever they make their next Etsy purchase.
This short and crisp email is a classic example of an automated new customer engagement email. It helps to build brand loyalty by convincing new customers to buy again from Etsy in the future. You also can build a website like Etsy yourself and start developing and earning in e-commerce.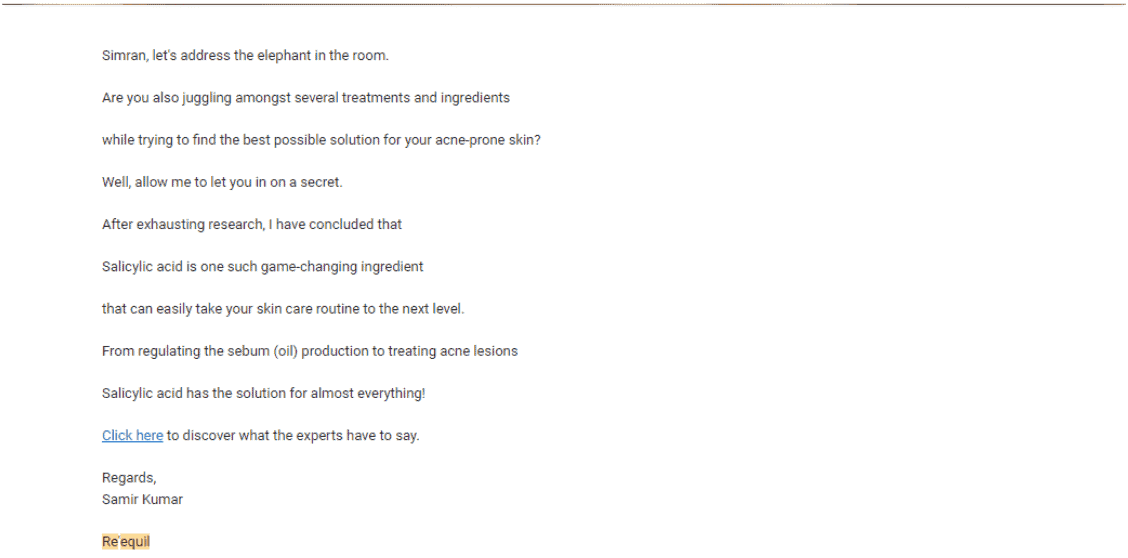 Re'equil is an Indian cosmetics and skincare brand. It is India's first online D2C cosmetic brand. Re'equil sends emails to their customers at regular intervals, which consists of informational content (like the one shown above).
The content usually explains the common hair and skin problems faced by people, the ingredients that are included in beauty products, and how they can help solve the problems.
At the end of the email, the readers are directed to Re'equil's website, from where they can buy from a range of its hair and skincare products.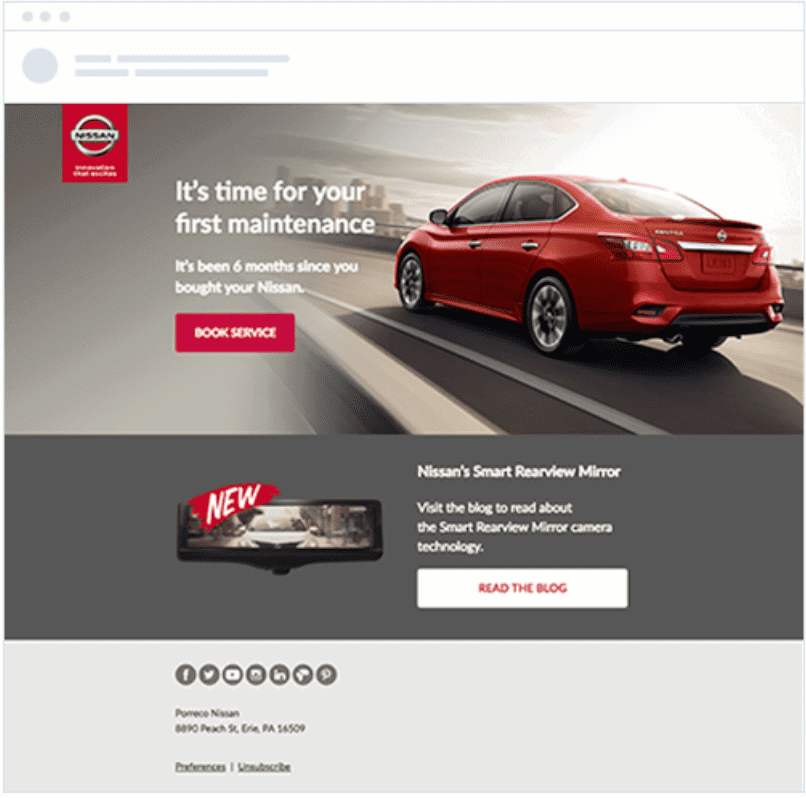 Nissan is a Japanese automobile manufacturer with operations worldwide. The example here is that of a reminder email sent by Nissan. Here, the brand is reminding its customers to book their car's first maintenance visit to the workshop.
Reminder emails are sent by brands to remind customers if they have any products left in their shopping cart, if they haven't made a payment, or if they need to avail of any additional services, as shown in the example above.
Read also: 17 Marketing Automation Workflows for Amazing Results
Conclusion
If you're looking to get started with email automation, or simply want to learn more about it, we hope this guide has been helpful.
Email automation can be an extremely powerful tool, and when used correctly, can save you a lot of time and energy.
As with anything new, there is a learning curve involved. To keep things simple, EngageBay offers users a clean and easy-to-understand email automation tool that even first-time users can make the most of.
If you'd like to give it a try, just sign up for free!