After trying all marketing tactics to drive traffic to your eCommerce site, the last thing you want is for your customer to abandon without completing the purchase. The fact that around 80% of online shopping carts are abandoned causes retailers to lose a whopping $18 billion in annual sales revenue.
If you want to recover lost sales, you must include abandoned cart emails in your eCommerce email marketing strategy. Well, cart abandonment emails have a 45% open rate. No kidding!
With the right abandoned cart emails, you can persuade such customers to come back and complete their purchases.
In this blog post, you can learn the craft of writing the perfect eCommerce abandoned cart email and see industry-leading examples and email strategies that convert.
Some of these email examples are from my own inbox, while others I've collated from the web. But before we get to the emails, let's understand why customers abandon their carts.
Common Reasons for Cart Abandonment
There are various reasons behind abandoned shopping carts. Baymard Institute did in-depth research and found the common reasons users abandoned their carts.
Some unavoidable cart abandonments are simply because users are comparing prices, saving items for later, browsing, etc.
But if you segment out the 'just browsing' section, there are a few more complicated reasons why users abandon their carts.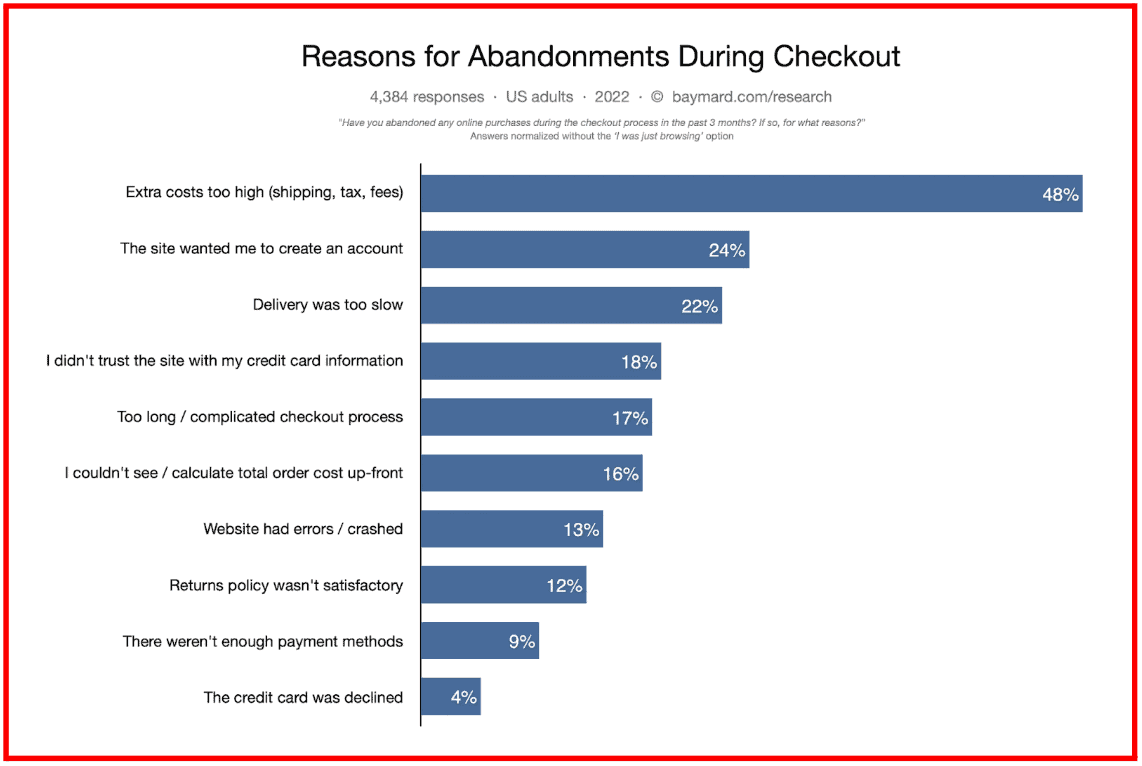 These cart abandonment statistics give you an opportunity to optimize the shopping experience for your consumers and reduce cart abandonment.
Why Are Abandoned Cart Emails Important in eCommerce?
Abandoned cart emails are sent to potential customers who have added products to their shopping cart but did not place an order. The intent of these emails is to re-engage and persuade buyers to complete the checkout process.
But why should you care about sending abandoned cart emails? Well, several studies have shown that sending reminder emails to buyers about incomplete purchases can lead to a 10.7% boost in conversion rates.
Nanoleaf, a green technology company that offers innovative LED and IoT lighting solutions, were able to convert 10% of the abandoned cart shoppers who received their abandoned cart email.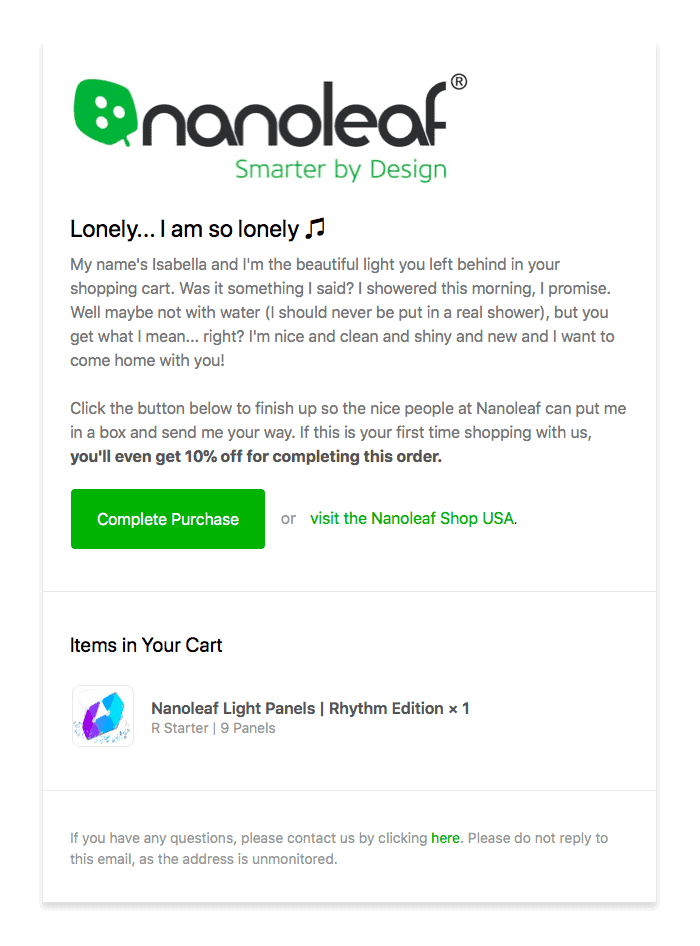 In fact, with further optimization of their emails, they now claim to recover 30% of the shoppers who receive them. Amazing, isn't it?
With rigorous testing, an automated platform, and data-driven insights, any eCommerce brand can create an abandoned cart recovery email that allows them to convert lost customers.
Before we even dive into how to create your own irresistible abandoned cart emails, let's look at some top examples to get inspired from.
Read also: eCommerce Email Automation: Practical Email Flows + Expert Opinions
10 Cool Abandoned Cart Email Examples To Learn From
Here are examples of good email marketing in eCommerce that we can all use for inspiration.
#1. Forever21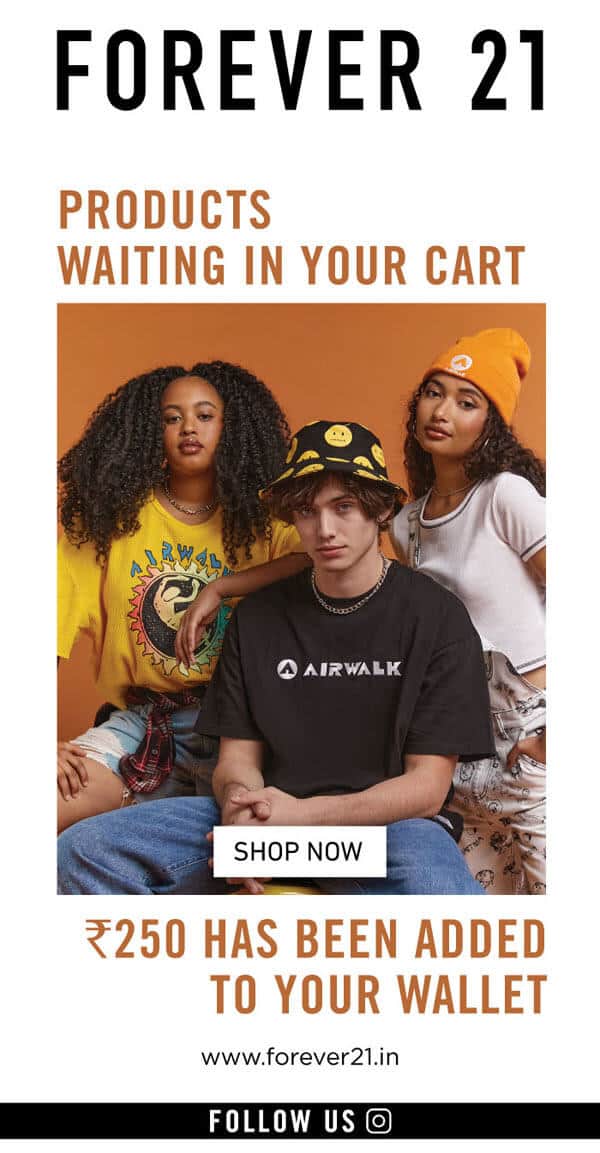 This one is right from my inbox. Forever21 is a multinational fast fashion retailer headquartered in Los Angeles, California, United States. The brand offers a wide range of men's & women's jeans, sweaters, tops & tees, dresses, cardigans & more.
After browsing through their collections, I added a few items to my cart but left without placing the order. The next day, I had this abandoned cart email in my inbox.
Well, did I buy it after that? Hell, yeah!
Why does this email stand out?
The discount was hard to resist, combined with my favorite item lying in the cart.
What this email did to me was quietly send me a reminder that I had a few items left in my cart. Besides, they really did amazing with the graphics, interesting enough to entice me to visit their store again.
#2. Purplle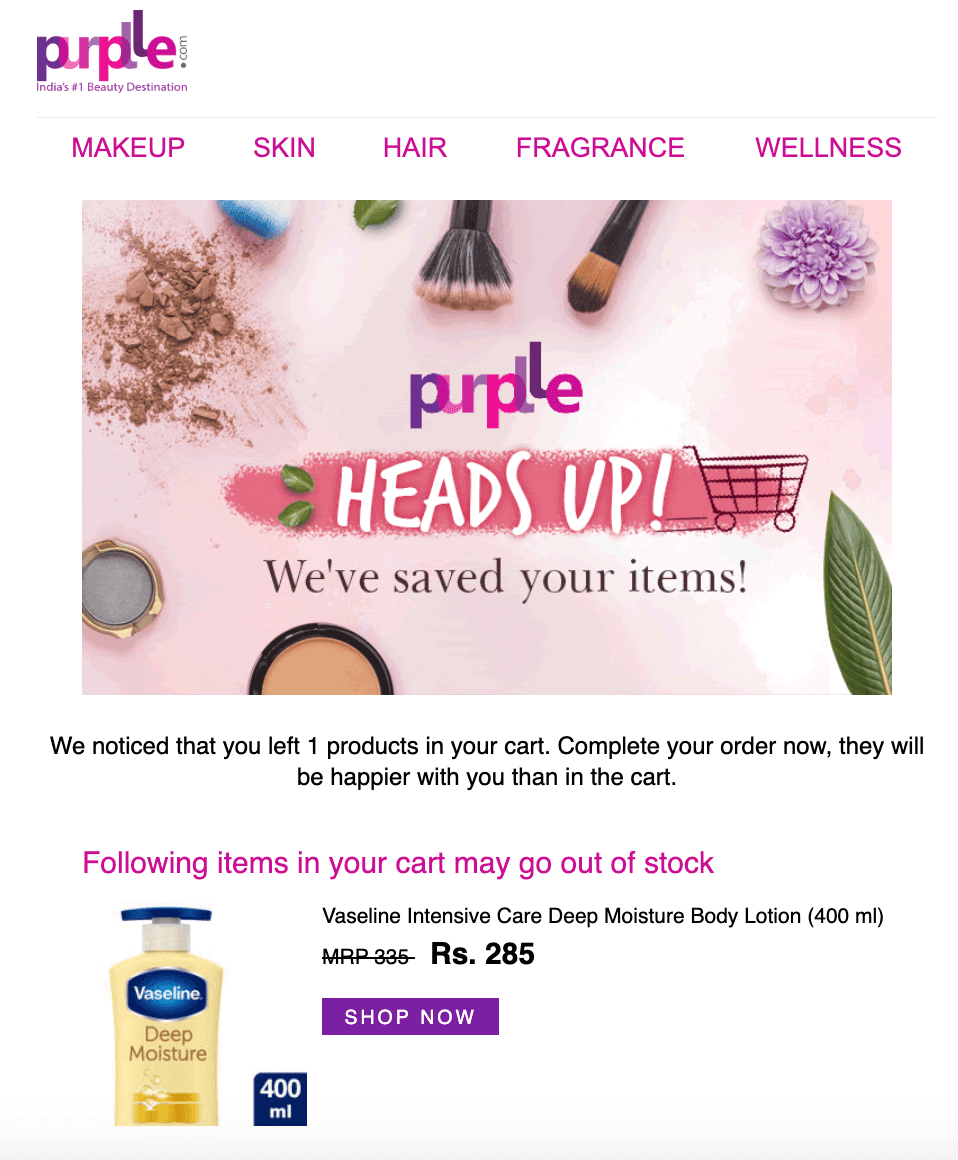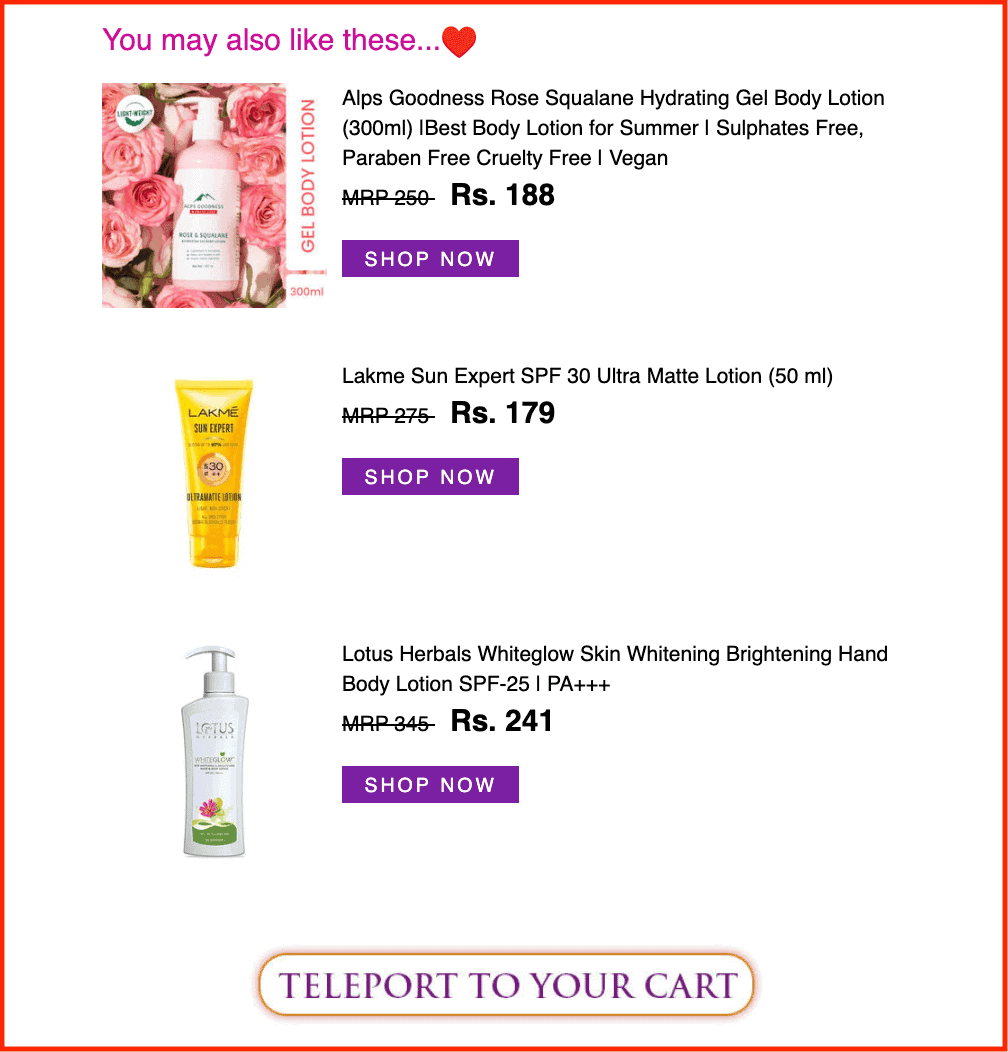 Here's another great cart abandonment email example from Purplle. Purplle is an eCommerce company that sells beauty, wellness, and fashion products.
Why does this email stand out?
To begin with, they added a gif that says, 'We've saved your items!' While giving discounts, they created a sense of urgency by adding, 'Following items in your cart may go out of stock.'
And the best part is that along with the items in your cart, they have also added a few product recommendations that you might be interested in. Product recommendations can be a reliable tactic to increase your average order value.
If you track your customer user behavior, include product recommendations and lift your conversion rate. However, do not add irrelevant recommendations; it will only drive your customers away.
#3. Amazon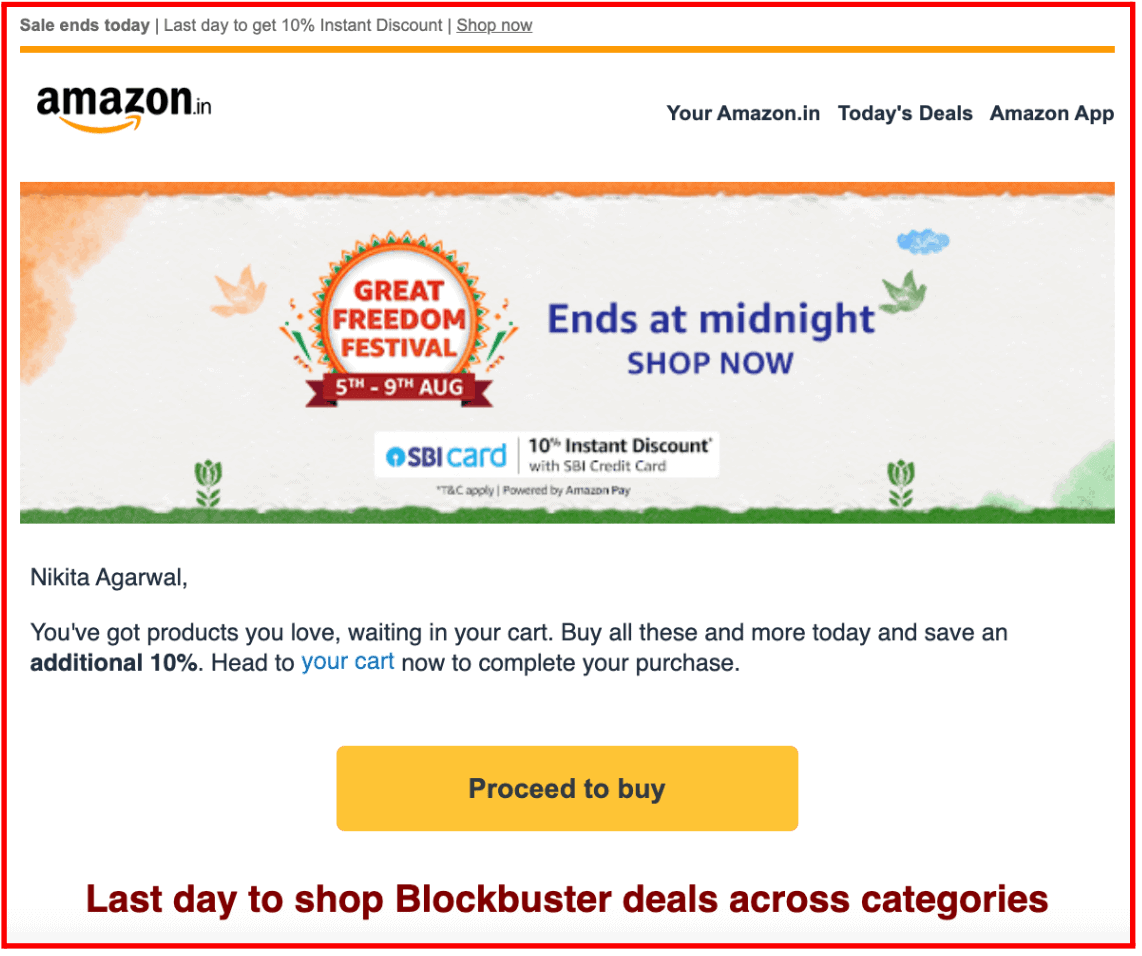 Amazon is an American multinational eCommerce company that deals in a wide range of products, including electronics, home decor, daily essentials, clothing, footwear, beauty and wellness, etc.
Why does this email stand out?
Amazon had a sale, and this eCommerce company used the opportunity perfectly to convince its customers to buy products they left in their carts. 'Save an additional 10%' is all you need to grab a consumer's attention and increase your chance of conversions.
Besides, the email didn't end there. The brand took the chance to promote the discounts in other categories while adding multiple CTAs in their abandoned cart email.
#4. Lifestyle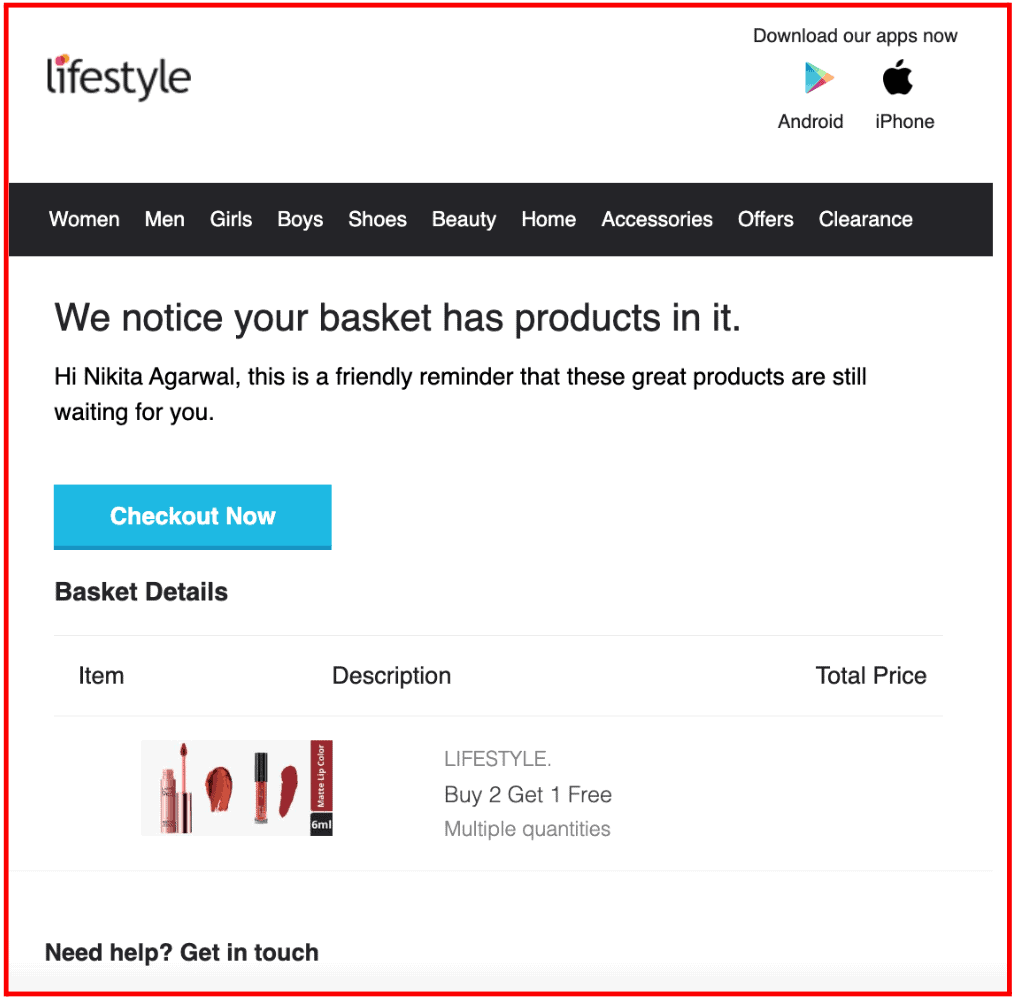 Another good example of an eCommerce abandoned cart email is Lifestyle.
Lifestyle is a retail fashion brand that originated in India in 1999. It is one of the most trusted retailers of unique, designer products in India and provides an exquisite range of branded clothes.
Why does this email stand out?
Well, this shopping cart abandonment email is basic yet stands out. What really caught my eye was its CTA button that says 'Checkout Now.' Without wasting its customer's time, it will straight away take you to the checkout page.
This type of email really works if this is your first abandoned cart email to them, and the chances are they are only interested in the products they originally added to the cart.
#5.PacSun
Pacific Sunwear of California is a US-based retail clothing chain that sells lifestyle apparel and swimwear for teenagers and young adults.
Why does this email stand out?
One of the reasons why PacSun's abandoned cart email is effective is because it uses a high-quality visual of the product that the customer wants to order. This gives them a fair idea of what the product would look like upon delivery.
Further, 'Oops! You left something in your cart' is an effective message reminding buyers about their pending orders. Next, the email also creates a sense of urgency by telling buyers that the stock won't last long and, thus, they should purchase as soon as possible.
#6. Kate Spade
Kate Spade is an American luxury fashion house founded in the year 1993. It specializes in handbags and designer jewelry.
Why does this email stand out?
There are various elements in the email that make it effective. The first thing that I noticed was its color palette. It has a contrasting color compared to the bag, making it stand out. Besides, the image of the finger pointing to the discount coupon helps customers easily navigate to how they can apply the code and get a reduced price.
Lastly, it gives our similar product recommendations in case the customers aren't interested in the original product they left in their cart.
#7. Dollar Shave Club
Dollar Shave Club is an eCommerce brand that delivers personal grooming products to its customers through the mail.
Why does this email stand out?
This cart email strategy is something different than usual. Instead of simply adding the items to the cart, they have used a bear to connect with their audience. The bear covering its eyes is interesting and fun to look at. The brand has also used a casual tone, which perfectly fits with its target audience.
If you scroll further, what really caught my attention was how they also included testimonials from previously bought customers. Enough to gain your customers' trust! Further, a clear CTA asking users to 'Join The Club' is certain to persuade them to click the link.
#8. Aldo
Aldo is a lifestyle brand for style-conscious shoppers, dealing in trending footwear and accessories.
Why does this email stand out?
The email starts with 'Psstt…can you get me out of this cart?' It feels like the items in the cart are directly talking to you. It also adds a tinge of urgency by saying it will not stay in stock for long. Act now, or you risk losing it.
Besides, they have used enough CTAs in their email 'Complete the Order' while also displaying the item they left in the cart.
#9. Rudy's Barbershop
Rudy's Barbershop is a chain of barber shops situated in Seattle, Washington.
Why does this email stand out?
On top of the email, it says, 'Your Free Shipping Is About To Expire,' which creates a sense of urgency among buyers to place orders as soon as possible.
Next, the line 'Don't Put This Off Like A Software Update' is funny yet effective in reminding customers that they should purchase before they lose out on the incentives.
#10. Business & Pleasure Co.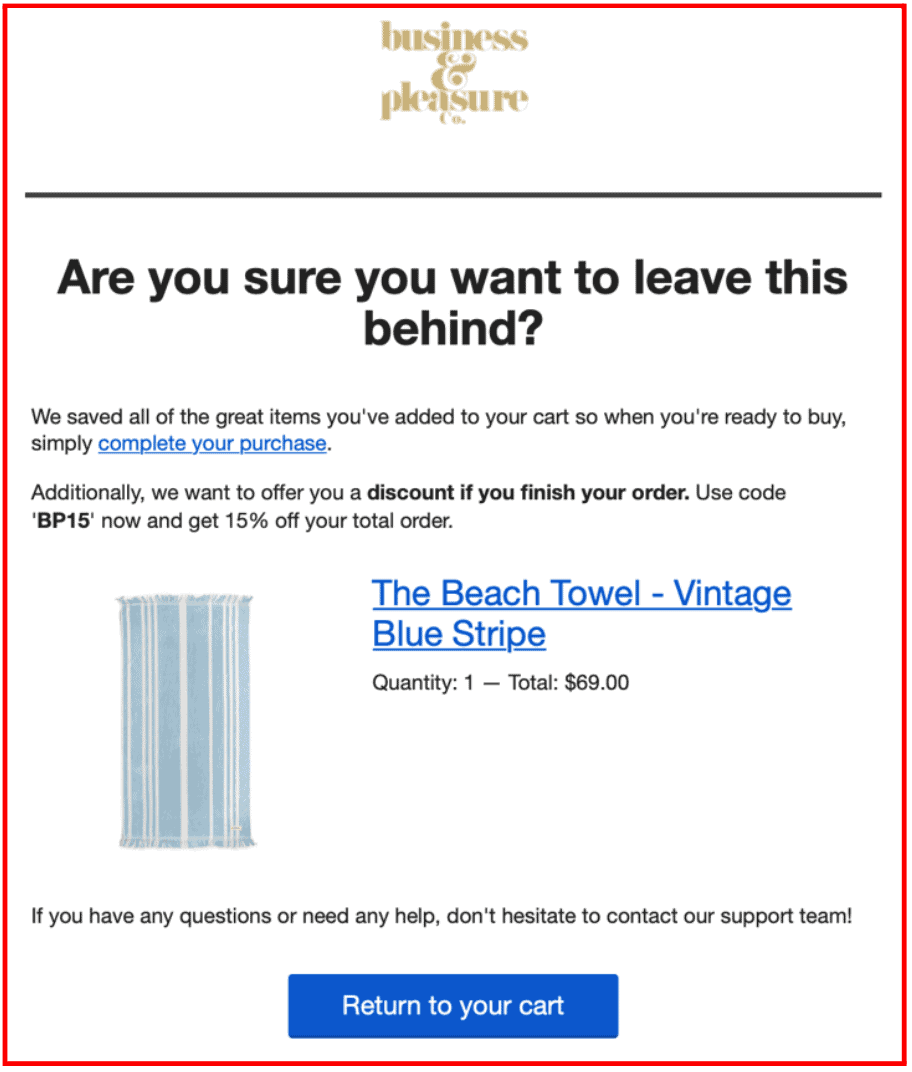 Business & Pleasure Co. is a well-known lifestyle brand specializing in beachwear and beach-related equipment.
Why does this email stand out?
The email text 'Are you sure you want to leave behind this?' makes people reconsider why they abandoned their shopping carts in the first place.
Besides, they have smartly added three CTAs without overbearing it. Finally, they added a discount code, increasing the chance of recovering lost sales.
#11. Nasty Gal
Nasty Gal is a UK-based brand that sells women's clothing and accessories.
Why does this email stand out?
In this email, there are no images, just text. This cart abandonment email clearly appeals to its target audience – the color and graphic is on point.
Besides, their words clearly convey the message to shoppers to complete their orders before it runs out of stock. Further, there are two CTAs in the email body, making it convenient for buyers to return to their carts.
#12. GoDaddy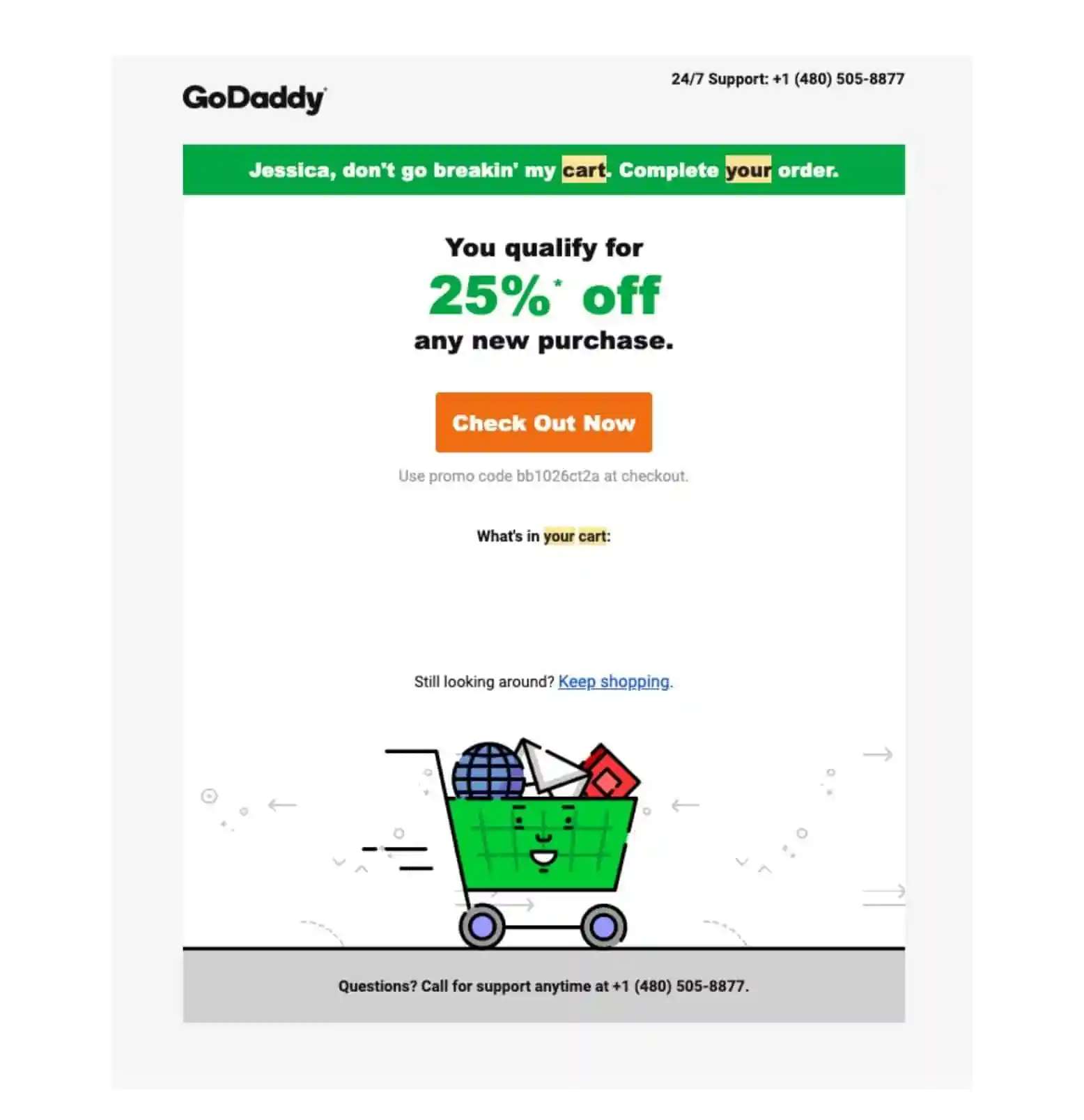 GoDaddy is a web hosting and internet domain service provider company.
Why does this email stand out?
The first thing I liked about this email was how they personalized it. They asked the recipient not to break their heart by not completing the order – a personal touch!
And further down the email, they added a discount coupon of 25% that can easily entice a user to buy if they left the cart because of the high price.
Furthermore, the CTAs are what caught my attention. One links directly to the cart, and the second takes you to their site if the customer wants to browse for more options. It is a short email with good elements for sure!
#13. Grammarly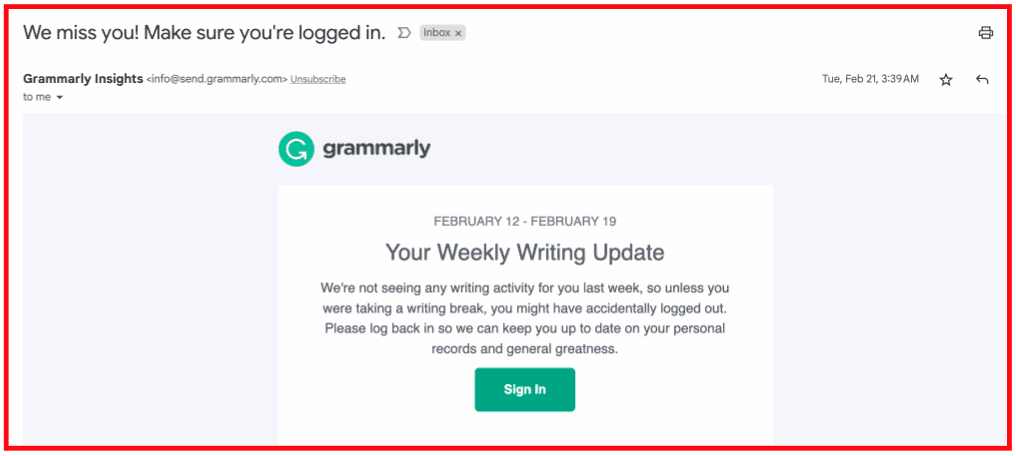 Grammarly is a cloud-based writing tool that assists users in reviewing spelling, grammar, punctuation, and plagiarism.
Why does this email stand out?
If you are a Grammarly user and haven't used it for some time, they feel you have abandoned them. That's why the classic subject line here works well: 'We miss you! Make sure you're logged in.'
The email is effective in persuading people to log in back or start using Grammarly in case they have taken a break from it. They directly added the 'Sign In' CTA button to help users log in without wasting any more time.
Read also: 5 eCommerce Email Personalization Strategies [+ Examples]
Smart Subject Lines for Your eCommerce Abandoned Cart Emails
You might have drafted an amazing abandoned cart email. However, it might not do anything if recipients aren't opening in the first place. That's why you need to be smart with your email subject line. Which ones would prompt users to click and read your email?
Here are some effective email subject lines that are a sure-shot way to increase clickthrough and open rates.
#1. 'Forgot Something' Subject Lines
When it comes to abandoned emails, the 'forgot something' is one of the most common subject lines used. Some examples of similar subject lines include:
Looks like you forgot something

You left something behind

Have you forgotten something?

Ready to buy? Complete your order now
#2. 'FOMO' Subject Lines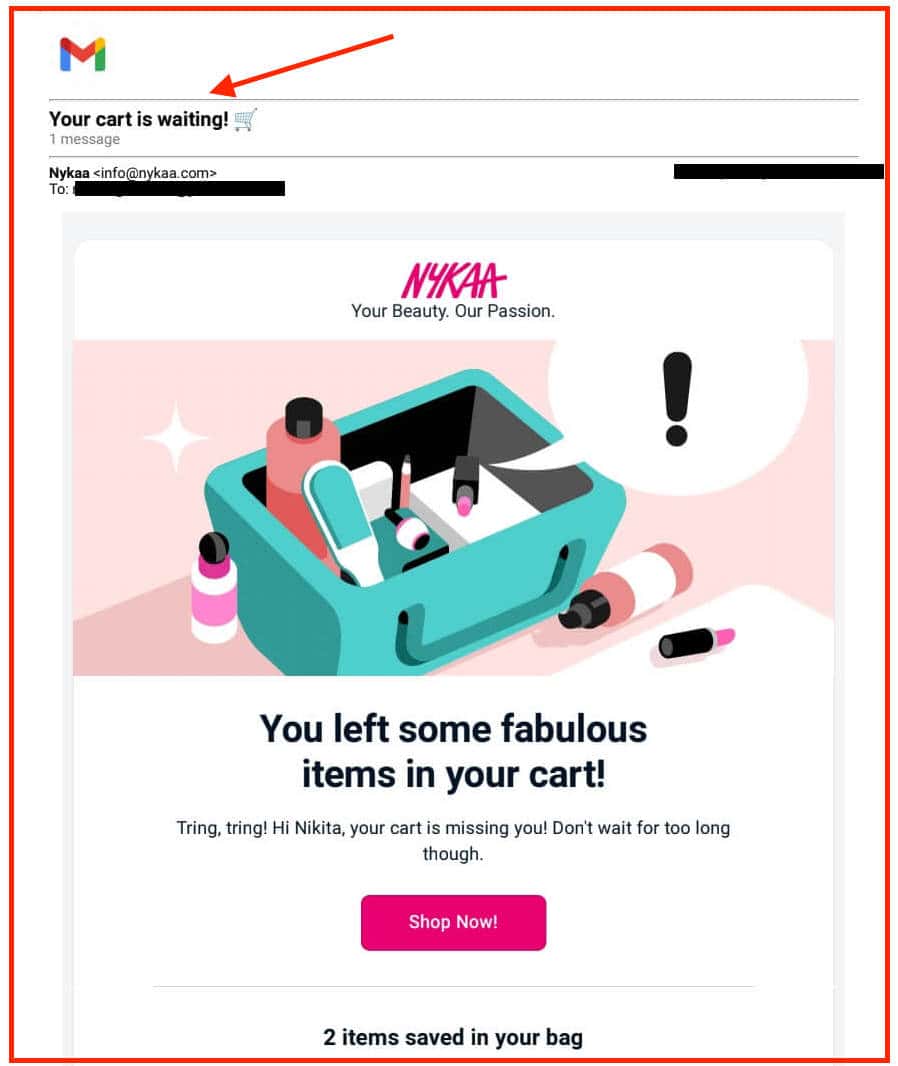 FOMO, or the fear of missing out, is typically used to create a sense of urgency regarding the availability of a product or service. Whenever a customer leaves something in their cart, FOMO emails are sent with the following subject lines:
Your cart is expiring

Last chance! Hurry till stocks last

[Name of the product] is selling fast. Complete your purchase now

Don't miss out! Only [number] of [name of the product] left in stock
#3. Personalized Subject Lines
Personalized email subject lines include the recipient's name and are known to have the highest conversion rates.
Some examples of personalized subject lines include:
[Name of the customer], did you forget something?

Still thinking it over, [name of the customer]?

Free shipping offer for [name of the customer]

[Name of the customer], complete your purchase with just two clicks
#4. 'A Little Nudge' Subject Lines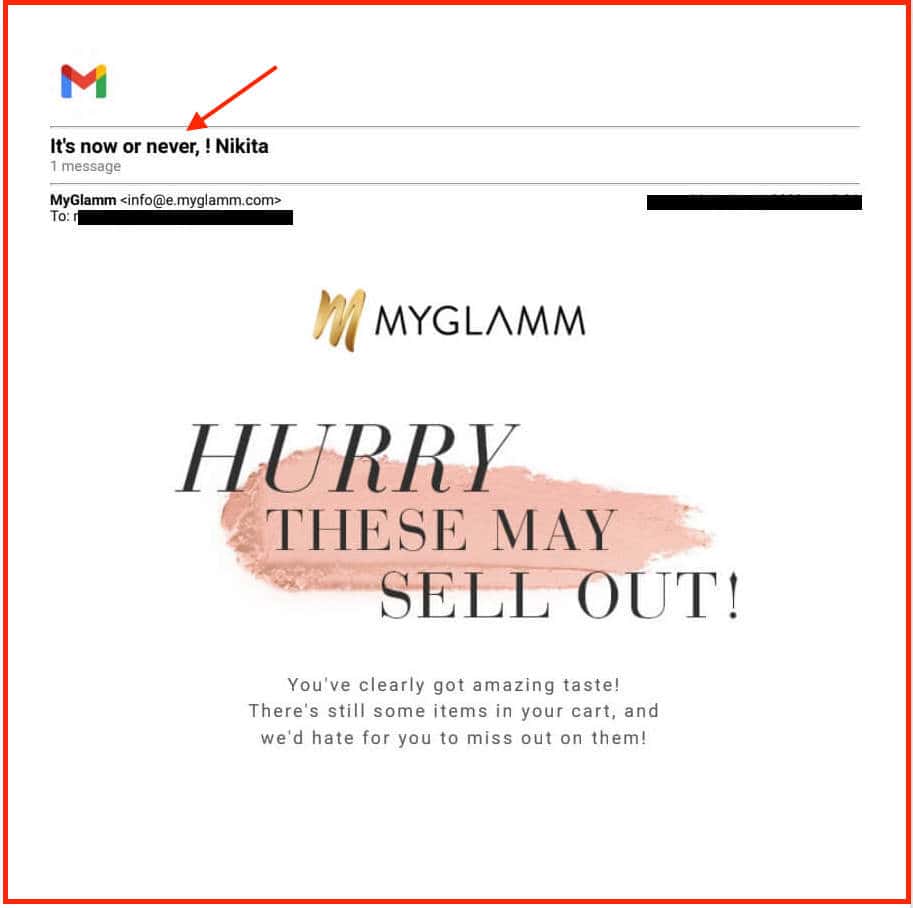 At times, customers add products to their cart and are in the process of completing the payment but then abandon it midway. In such instances, just a nudge is needed to persuade customers to go ahead and complete their purchase.
You can use the following subject lines to bring back lost buyers:
You are almost done

Your product is almost ready to ship

You are so close

Can I help you?
#5. Incentives Subject Lines
An incentives-based subject line draws attention to perks such as discounts, freebies, and bonuses. This is another tactic to convince shoppers to make purchases since these offers are limited.
Here is how you can create incentivized email subject lines:
Good News! Your cart price has dropped

Free shipping on your order

Get free shipping on [name of the product] today

[Discount] on [name of the product]
Read also: 7 Tips and Examples To Craft the Perfect Abandoned Cart Email
How To Automate Abandoned Cart Emails?
Trying to keep track manually every time someone leaves an item in their cart can be tedious and time-consuming. Besides, there are chances that you might miss out on sending abandoned cart emails on time and lose sales.
But the good news is that you can automate sending out cart abandonment emails at the right time. All you need is good email automation software and set up a trigger to send out automated emails.
Let's understand the process in detail.
#1. Choose the right platform
The first step to automating sending cart abandonment emails is choosing the right email marketing automation software. A good email marketing automation platform will allow you to easily set up an abandoned cart email automation that triggers when users add products to their cart but leave without placing the order.
#2. Design a template
Once you have chosen your email marketing software, the next step is to design a template. A good cart abandonment email template will include key elements, such as a powerful subject line, a list of abandoned items along with their images and order value, product features, and a clear CTA.
Based on how you plan to recover your lost customers, you can also include certain incentives such as discounts or phrases. eCommerce brands can easily use lines like 'limited availability' or 'hurry until stocks last' to create a sense of urgency among visitors.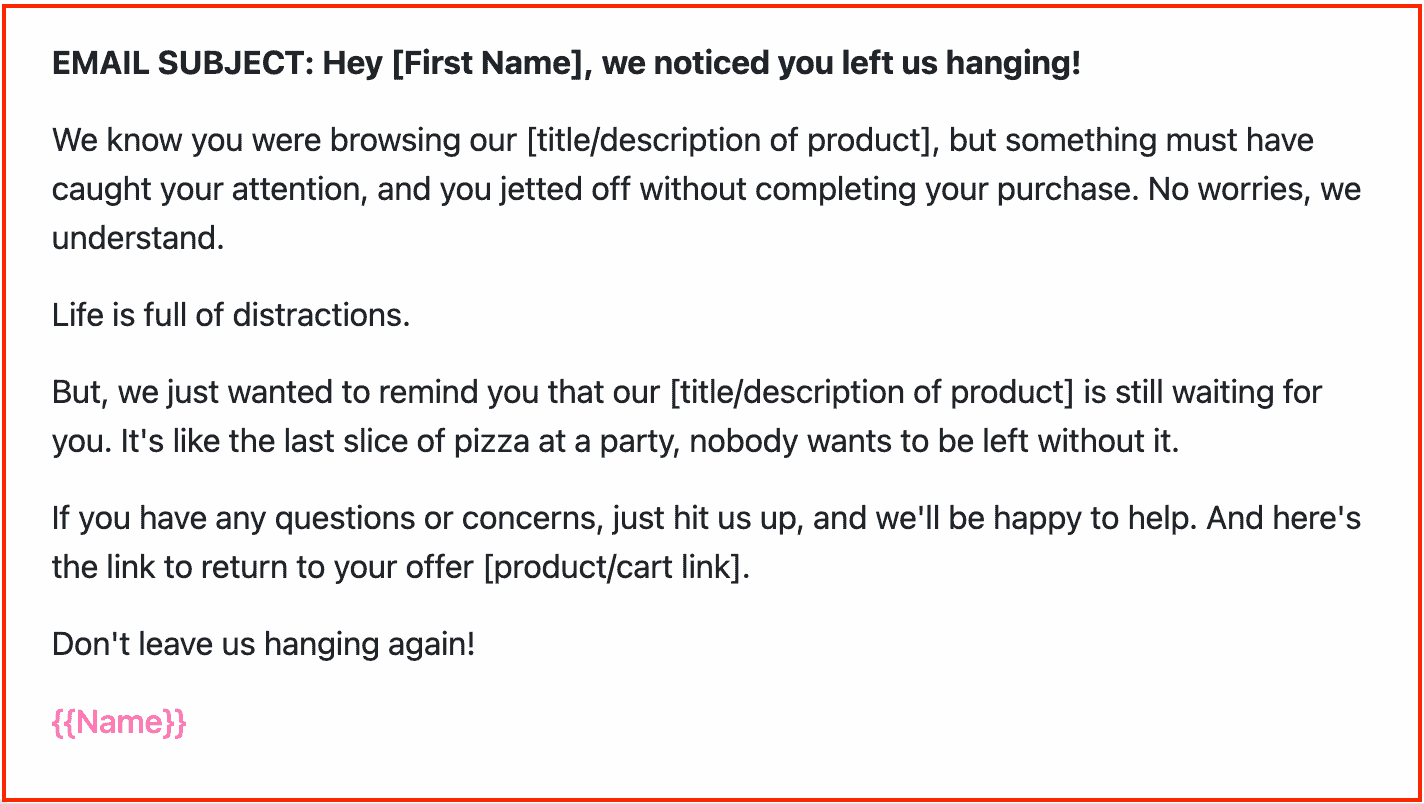 Once the template is ready, you can save it on your platform. By designing an abandoned cart email template, you can save time using the same email content whenever you want to remind customers about incomplete orders.
#3. Track the results
If a recipient doesn't respond to your first cart abandonment email, you send out the next one. Based on what actions a user takes, a good email marketing software like EngageBay allows you to set up an email sequence that sends out emails at intervals and increase your chance of recovering lost sales.
Further, you can improvise it per the recipient's reaction to the email. Track your email performance, run A/B tests, and see how your sales start soaring.
Read also: eCommerce Email A/B Testing Basics For Beginners
Best Practices for Writing eCommerce Abandoned Cart Emails
It's time to start writing the perfect abandoned cart email. Here is a list of some best practices to follow:
#1. Segment your customers
Customer segmentation is important in any email marketing campaign. It helps you segregate clients based on criteria such as age, location, income group, buying preferences, and so on, helping you create highly personalized email content tailored to the buyers' needs.
Since each client has different shopping habits, the same abandoned email content doesn't work for everyone. You can segment your customers on the basis of factors such as first-time or repeat buyers, purchase history, order value, product type, and location.
#2. Perform A/B testing
A/B testing involves comparing multiple versions of an email template to see which one yields the highest clickthrough rate, open rate, and conversions. You can make small changes for variation, such as color choice, text placement, etc., and see how recipients react.
A/B testing helps you optimize your abandonment emails with time and maximize your conversions.
#3. Include social proof
It's a good practice to include client testimonials in your abandoned cart emails to get high conversions. The client testimonials can be written in video form or simply a rating scale.
Looking at the positive reviews other buyers post boosts credibility and increases the probability of the customer placing an order.
#4. Add product recommendations
Besides reminding your buyers about products that are still in their cart, you can also provide them with recommendations on related or similar products. This might persuade them to add one of those to their cart, which, in turn, increases your sales.
However, ensure that the product recommendations are based on their buying behavior, preferences, browsing history, etc. Showing any random products they might not be interested in will yield no result.
#5. Optimize for mobile
Today, almost 81% of all emails are opened and read on mobile devices. But surprisingly, only 20% of email campaigns are optimized for smartphones and other mobile devices.
Most email marketers make the mistake of not optimizing email for mobile devices. So even when a recipient opens the email, it may look so clumsy and out of place that they immediately close it without reading it.
It affects the clickthrough rate and gives out false reports that the email content might not be effective when, in reality, it's the design and responsiveness of the email.
Read also: eCommerce Email Platform Integration: Top Tools To Try
Wrap Up
In eCommerce, abandoned cart emails are a smart tactic to recover many, if not all, lost sales. As an eCommerce business, you can't ignore the importance of an abandoned cart strategy in your marketing plans.
Start drafting a compelling card abandonment email and see how your customers turn up. If you are looking for affordable yet robust email marketing software, EngageBay is your best bet. Free for up to 15 users, you can contact the team for a demo.