January is significant for many businesses. It marks more than the start of a new calendar year but also the beginning of a new business quarter. It's a great time to implement changes you had considered the year prior to ensure an even more successful year ahead.
You must plan in advance to achieve your January marketing goals, and ideas can be scant at the end of the year amid all the holiday hoopla. That's why we have 17 cool January marketing ideas here to inspire your campaigns.
17 January Marketing Ideas to Help You sell more in the year ahead
1. New Year, New Stuff
As January gets underway, the long holiday breaks draw to a close and people come trudging back into the office in droves. Give them something to look forward to by opening the year with an email from your business.
You can send this email at two separate times, either as the year draws to a close in anticipation of the year to come or as the new year gets underway. Retailer J. Crew sent their email late into the year. Take a look at the verbiage.
The email has an appreciative tone throughout. You should emulate the same, thanking your customers for sticking with you throughout the year.
You should also use this email as an opportunity to indicate what kinds of plans your business has for the year ahead. For example, if you have a new product or service in the works, you might mention it in the email.
It's fine if your product/service still isn't finished. You don't have to share specs or photos yet; a mere mention of what's coming down the pipeline suffices.
This start-of-the-year email has several goals. For starters, you're trying to get your company top-of-mind again as your audience reprioritizes and prepares for another year.
Secondly, you're also trying to generate interest and excitement so your audience might open your messages with vigor throughout the year.
2. Support Inclusion and Diversity
January affords businesses many opportunities to embrace diversity and inclusion.
For instance, January 1st is Emancipation Proclamation Day, January 4th is Louis Braille's birthday, January 13th is Korean American Day, January 16th is Religious Freedom Day, and January 27th is International Holocaust Remembrance Day.
These are somber occasions, for the most part, and how your business handles them matters. You might post about them on social media or send emails to your audience but watch your tone.
You should still stick to your brand voice, but you want that voice to be more toned-down than usual. Use professional graphics that aren't too loud. Leave the sales language at the door.
3. Hop on the New Year's Resolutions Bandwagon
New Year's is the biggest January holiday by far, and the one that most people think about even as we leave January 1st behind due to the tradition of creating New Year's resolutions. These goals are always centered around improvement of some sort.
According to USA Today, the most popular resolutions for 2023 are as follows:
Get more exercise
Follow a healthier diet
Lose weight
Save money
Spend more time with family and friends
Reduce social media usage
Lower work stress
Lessen spending on living expenses
We'll talk more about this later, but it's best if you have a handle on which of these goals matters most to your audience so you can send them tailored content.
That will likely mean sending out several versions of your marketing materials, as some part of your audience might be more interested in losing weight and others in saving money.
Now is a great time to position yourself at the forefront if you have products or services to help your customers with one or more of the above goals.
Read also: Fresh February Marketing Ideas To Captivate Your Audience
4. Get on Board with National Blood Donor Month
National Blood Donor Month is all January long. This is a great addition to your January marketing campaign plans, as businesses of any size and in any niche can get involved.
Even a simple awareness campaign can be beneficial. You might send emails such as those seen here: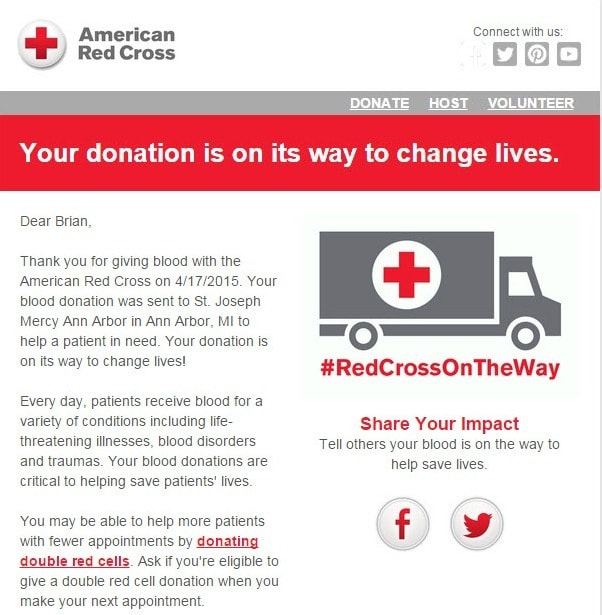 You can also post on social media throughout January, encouraging your audience to give blood.
Perhaps your company hosts a blood drive. This will draw out a good crowd, increasing signups and leads. You can also participate in a community blood drive and reap the same benefits.
An exclusive discount or deal will certainly get your audience in the mood to give. For example, you might offer 20% off their next purchase for customers with proof of donation.
5. Get into the Spirit on Day of Encouragement
National Day of Encouragement may have come and gone in September, but January brings Toad Hollow Day of Encouragement on the 26th. Toad Hollow is a fictional town created by Ralph C. Morrison and named after a Kalamazoo school.
As people get underway with their New Year's resolutions and return to work, they can certainly use some extra encouragement in January.
You might use Toad Hollow Day of Encouragement to motivate your audience to volunteer or donate. You could lead a workshop, as you share kindness when you spread your knowledge.
Even sending a simple motivational email to your customers on January 26th can be impactful, as it gives you a great reason to reach out if they haven't heard much from you since the start of the month.
Read also: 50+ March Marketing Ideas To Make Your Brand Unmissable
6. Commend Bravery on Martin Luther King Jr. Day
January 15th is Martin Luther King Jr. Day, a day memorializing the racial inclusion efforts of King. It sometimes falls on the 16th, as many get this day off work.
As the first break since the start of January, expect that your audience will greatly anticipate this day. Most people check their inboxes at least once per day, but since it's a long weekend for most, they might not stay on top of their emails as usual.
You might wish to send an email or make a social media post about the holiday the week before, such as the Friday before the big day, to increase the chances of your message being seen.
What kind of content should you post for MLK Day? You might ask your audience about their dreams. This ties in nicely with King's message and also gives you a chance to touch on Make Your Dream Come True Day, which happens on January 13th.
You can take an MLK quote and make it into a graphic and share that across Twitter, Instagram, or Facebook. You might send an email emphasizing King's values, or you can start an initiative around the holiday, maybe a community service program.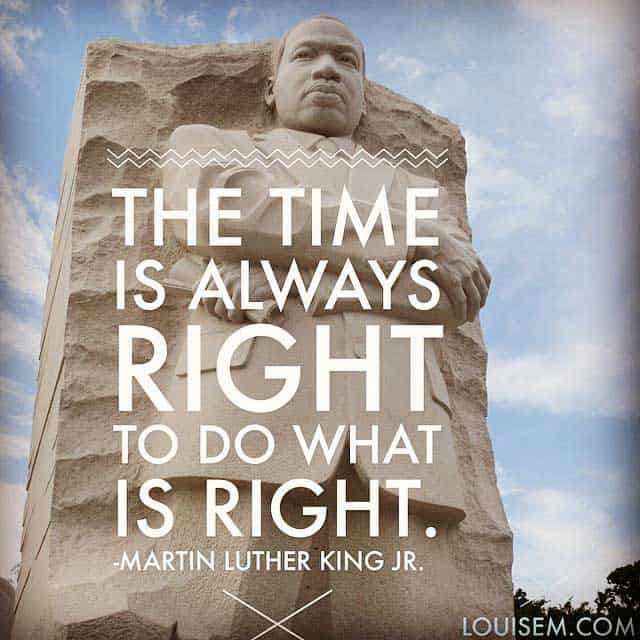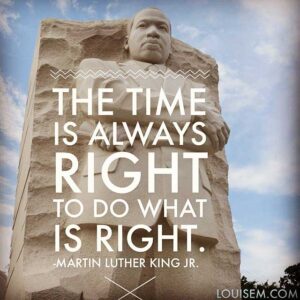 7. Share Holiday Roundups and Recaps
This next marketing idea is for the beginning of the month. Your well might be a little dry as you start the year, especially if you've taken time off, so why not start with something simple? For instance, holiday roundups and recaps!
People can take upwards of two weeks off between Christmas and New Year's. During these slow, cherished times, they're enjoying great food and company, spending time in the presence of friends and family.
You can expect your audience to be especially out of the loop during this time, which means they might have missed goings-on in your industry and your company specifically.
Putting together a roundup or recap of the year–whether just what your business did or the industry as a whole–is like a cheat sheet that will gear your customers up to get the new year off on the right foot.
Read also: 15 April Marketing Ideas to Make Your Business Blossom
8. Be Appreciative on National Compliment Day
If you're looking for an excuse to make a social media post or email as part of your marketing plan, you've found it on National Compliment Day.
This January 24th holiday is a great opportunity to tell your customers how much they mean to you. You can send an appreciative email or post a graphic on Instagram, as seen here. This post is simple but attention-grabbing, thanks to the bright pink background.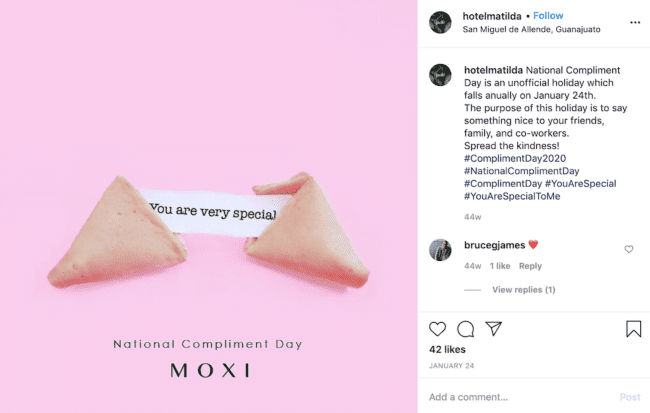 More than simply reminding your audience how much they mean to you, you can use National Compliment Day to encourage your customers to spread the compliments around.
You might also use this day to offer exclusive discount codes to email subscribers, VIP list members, referral members, or similar groups to show how grateful you are truly.
9. Pass Along Healthy Recipes
Keeping in mind everyone's goals to eat healthier, exercise more, and lose weight, this is also the ideal month to send healthy recipes through an email newsletter, weekly/biweekly email content, or social media.
Brands in the hospitality industry should especially jump on this idea, as it's a great way to tie your brand into the tips you share. However, you needn't only be involved in the food industry to share betterment advice.
After all, customers prioritize high-value content from the brands they follow. Healthy recipes as January gets underway certainly meet the criteria.
Read also: Spring To Success With These Vibrant May Marketing Ideas
10. Reconnect with Your Audience on Get to Know Your Customer Day
Has your business been meaning to survey your audience about what might have changed in their lives from one year to the next? January presents the perfect opportunity to do so on Get to Know Your Customer Day on the 19th.
Get to Know Your Customer Day isn't exclusively a January occasion. It recurs on the third week of April, July, and October too, which is good to keep in mind.
As the name implies, Get to Know Your Customer Day is all about businesses connecting with new and long-term customers.
Gathering information on your audience will allow you to send personalized, tailored content throughout the year and recommend products and services that solve their pain points.
11. Spread Excitement About New Arrivals
What does your company have planned for the year ahead? It's time to get your audience in the loop before January gives way to February.
By promoting your plans for the year, you might see an influx in website traffic and email signups. You'll have a good influx of leads to work with as the year gets started, and hopefully, you can turn them into conversions.
Read also: Stepping Into Summer: A Handy June Marketing Ideas Guide
12. Post Inspirational Quotes
You don't want to go too heavy with your social posts early in the year, as your audience is returning and returning. Major announcements could get missed, so infuse some value into your customers' timelines by sharing inspirational quotes, such as those seen here.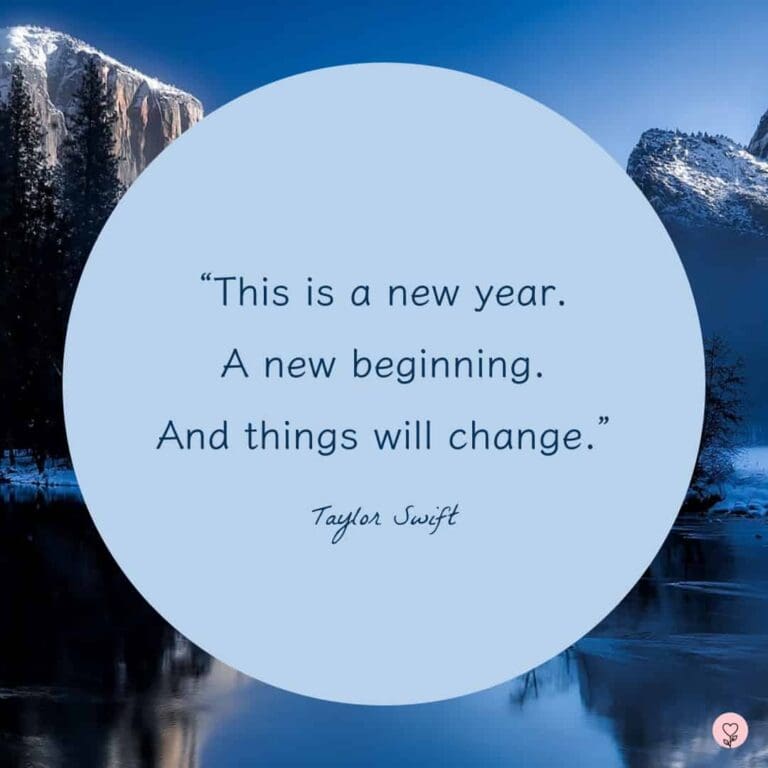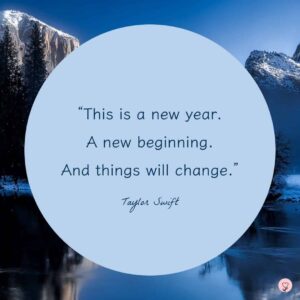 Your post could motivate your audience to give it their best. They'll remember where the post came from that helped them feel better about their day and follow you if they aren't already doing so.
13. Make Spirits Bright During National Have Fun at Work Day
Some people find their jobs more fun than others, but everyone deserves a day to enjoy themselves from time to time. That's what National Have Fun at Work Day is all about. It's time to let loose on the last Friday of the month, usually January 27th or 28th.
You might not be a personal part of your customers' workplaces, but you can still infuse the festive atmosphere of the day into your marketing materials.
For instance, you can send correspondence the day before with suggestions on making the most of the day, such as bringing in snacks or planning fun games to build camaraderie and trust among teams.
Do you know what else is fun for people? That's right, discounts. You should study the days on the January calendar in advance to decide which are worth running sales or exclusive deals for, but this could be a good one.
After all, you're having fun at work helping your audience save, so it's fitting.
Read also: Sunny Strategies: July Marketing Ideas for Bright Results
14. Run a Seasonal Promotion
Did you miss a couple of these very specific holidays? That's okay. You can always launch a seasonal promotion throughout January or for the first or latter half of the month. The duration is up to your business and what you can afford.
If you start the promotion at the beginning of the month, you can help your customers start their new year off right.
15. Introduce a Loyalty Program
Making the coming year better for your audience begins with expanding on the services you offer. For example, you could start a referral or loyalty program if your business doesn't already have one.
According to Exploding Topics, more than 85% of B2B buyers say that word of mouth is the factor that drives the most purchasing decisions. It's powerful stuff, as hearing recommendations from friends or family comes across as more trustworthy than the same from a company.
Referral programs give your audience a reason to keep coming back to your business. They'll want to recommend more friends, family, and colleagues to reap deals within your referral program, such as discounts, exclusives, and freebies.
The key to a successful loyalty or referral program is giving your audience what they want. These rewards should be limited to the referral program to motivate customers to join and participate.
Read also: August Marketing Ideas That Can Boost Your Brand Image
16. Embrace a Fresh Start with National Clean Off Your Desk Day
Every second Monday of January is National Clean Off Your Desk Day!
It's a great time for this holiday, as many people leave their desks a mess around Christmas when they know they'll be out of the office for a week or two. They figure they'll come back to it later.
However, it hampers one's productivity to return to a desk overfilled with clutter as far as the eye can see.
Remind your audience of this important holiday the Friday before, then send another email on the holiday itself. You can use the second email to provide tips for cleaning one's desk.
You can also conveniently promote your products or services if you're involved in cleaning or organization. Even if not, your customers will still appreciate the valuable content.
17. Extend That Attitude to a Fresh Inbox During Clean Out Your Inbox Week
January is all about fresh starts. That's why the last week of January is Clean Out Your Inbox Week in addition to National Clean Off Your Desk Day.
The inbox cleaning has a whole week because it can be a gargantuan task, let's be real. However, a clean inbox puts you in a productive mindset and ensures you have enough space in your inbox so you don't miss any important messages coming through.
You can post tips and suggestions on your blog or social media all week about tidying up one's inbox, setting up email filters, dumping spam emails, and other email etiquette.
Read also: September Marketing Ideas to Boost Your Bottom Line
Conclusion
January is a fantastic month to launch a new email marketing, social media, or content marketing campaign. You have so many small and large holidays to celebrate beyond New Year's Day that you can gear up your audience for a successful, positive month. We hope these marketing tips help you do just that!