Good meme creators are like the Shakespeare of the digital age. There, I said it.
While this may be a controversial statement, it is not that much of an exaggeration in this age of social media and viral internet memes.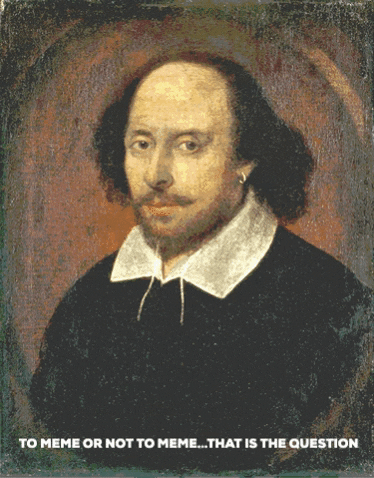 Not every day at work is going to be fun and easy. This is true of any profession. Being a marketer is no different.
And what do we do to cope with those rough days, when just about nothing is going your way? That's right, we turn to funny memes to make our day just a bit brighter.
Humor makes everything more bearable.
This is especially true with the younger generations (millennials and Gen Z) who have a wholesome meme culture built around the latest viral memes, pop culture references, and social media trends.
Dear fellow marketers, this is not an article about meme marketing.
We are here to help you take a break from that latest marketing campaign and time spent on your marketing materials. Our sole intention of being here today is to make you smile as you go about your day.
We have created and curated for you – the digital marketer – the most relatable and funniest marketing memes. Even we can't stop laughing over them!
So get off your CRM dashboard and open a meme generator instead as you prepare to read this blog. Without further ado, let's jump right into it.
After all, marketers don't have all day to look at memes 😉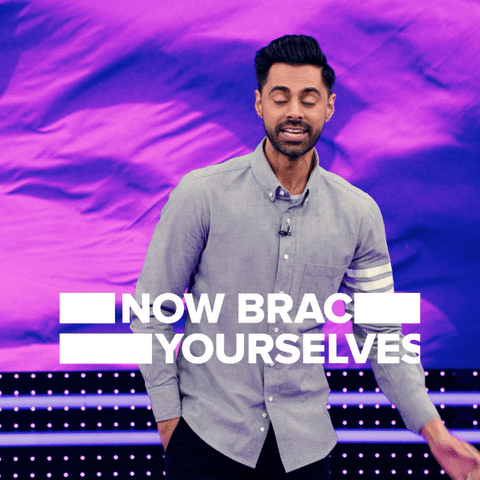 #1. You win at Google Analytics for the first time …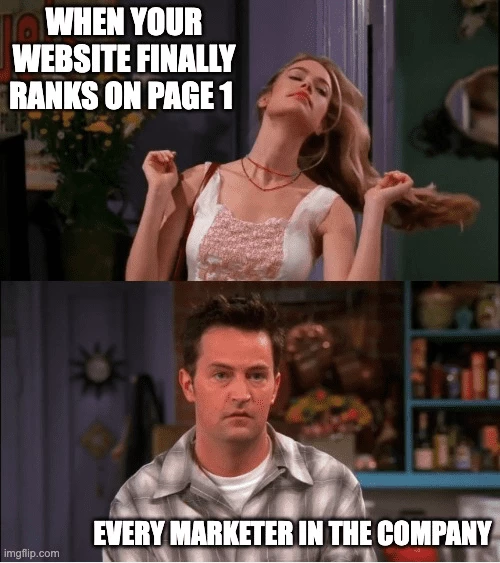 Who can forget this epic scene from the sitcom F.R.I.E.N.D.S.? The way Chander looks at cousin Cassie is hilarious.
Get you a marketer who looks at their ranking the way Chandler looks at Cassie. Every digital marketing agency knows the sheer joy and value of ranking on the first page on Google. It's almost the holy grail for any marketing strategy.
And what do you do when you've finally achieved it? Flaunt it like Cassie, of course!
#2. What people think marketers do vs what we actually do …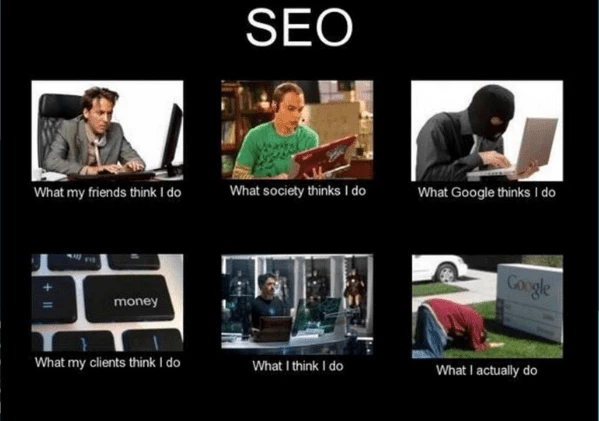 This one is a classic as far as digital marketing memes go.
No content marketer can survive without an SEO analyst's help. Our friends see us working all day long with little to show for it.
All the clients think we just rack up the bills during our innocent attempts to create viral marketing. Society thinks we are nerds, while Google thinks we are manipulating their algorithms (this is partially true though).
But all we end up doing is bow before the holy altar of Google SEO and Adwords.
Read also: Shopping on Your Mind? 15 Black Friday Memes Sure to Get You ROTFL!
#3. Budgeting problems that hit you after midnight …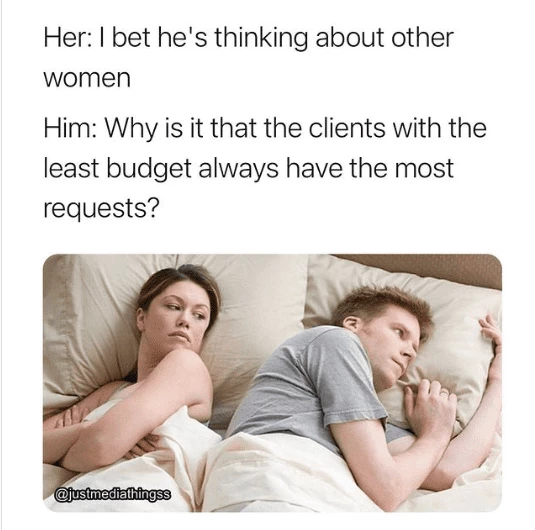 This is a great one we found on social media. This viral meme is for those of you who cannot switch off your minds at night. Nothing hits as hard as those 3 am anxiety sessions. Take it from this author, marketing memes can help you in this situation too.
We all know of those pesky budgeting problems. Rarely do the client expectations match up with their marketing budget. Oh, what we wouldn't do to increase the budget just a teeny-tiny bit!
Read also: 10 Funny Customer Success Memes That Every CSM Could Relate To
#4. When client feedback hits harder than Will Smith …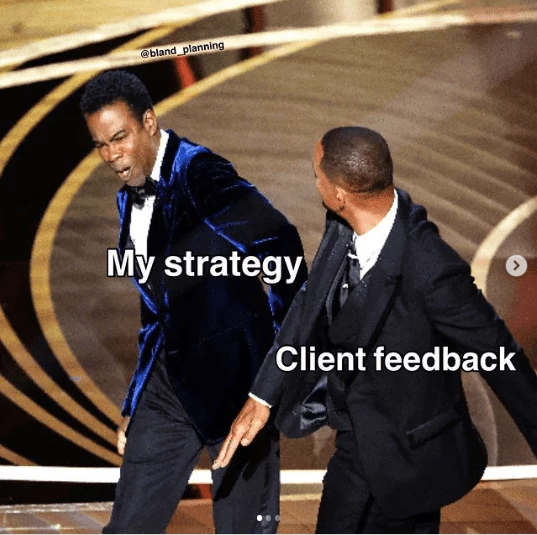 The Oscars of 2022 will forever be remembered through this popular meme. We all know that feeling when you think you have an amazing marketing strategy in place. But the client feedback just slaps you into a harsh realization.
And once it hits you, you are like Chris Rock having to go back to the drawing board to find new content.
Hopefully, you find new content that can boost engagement without causing physical harm! Remember to know your target audience well before presenting your strategies.
This is a lesson Chris Rock learned the hard way too 😉
#5. The excitement when someone engages with your content …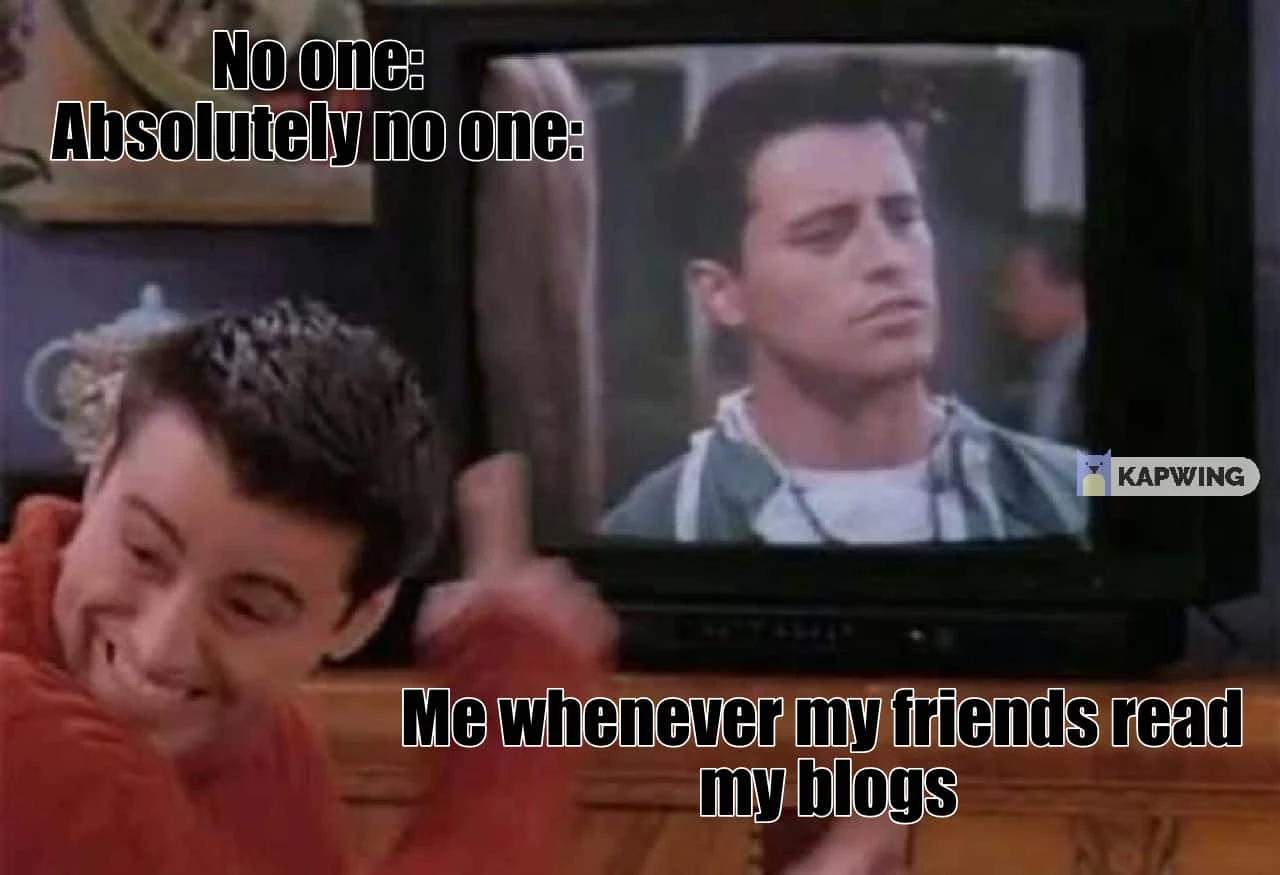 What is the point of social media marketing or content marketing when your target audience doesn't engage with your work, right? But we all have those friends who will read our most boring blogs and encourage us.
Much like Joey from F.R.I.E.N.D.S., in this popular meme template, we can't help but jump up and down in anticipation. After all, sharing is caring. Here's a special note of thanks if you do this for your marketer friends. You keep them alive through the bad days!
Read also: 5 Reasons Content Marketing is The Future of Your Business
#6. Can Sales and Marketing ever be friends?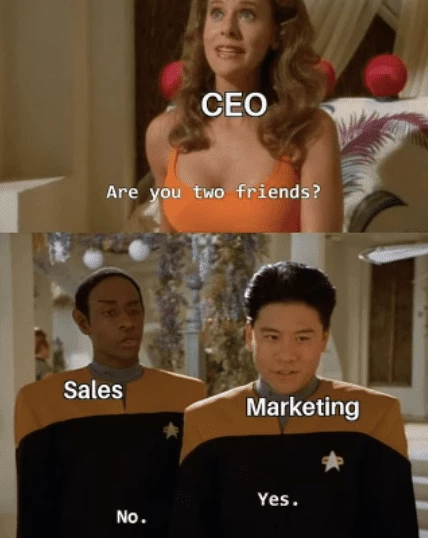 We all like to pretend that the sales and marketing teams get along just fine, especially during meetings.
But let's be honest.
Marketers and sales reps often don't see eye to eye. That's what this Star Trek marketing meme conveys so well.
Sure, both teams have shared goals like increasing brand awareness, moving potential customers through the sales funnel, etc. But can we just take a moment to laugh at the small tiffs that occur at work?
And continue to pretend that we're all good friends 🙂
#7 If content comes, can sales be far behind?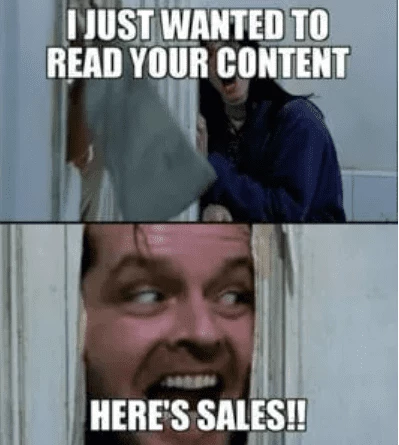 This is what your target audience may be thinking as they see those lead magnets and call to action buttons.
This hilarious meme is a nod to the movie The Shining.
Much like the poltergeist in a horror movie, those lead magnets are following you after every piece of content you read online. Erase those browser cookies, kids, or the sales demo team may even give you a call!
Read also: Feeling Down? 16 Motivational Memes to Crack You Up!
#8. Campaigns won't let you go out …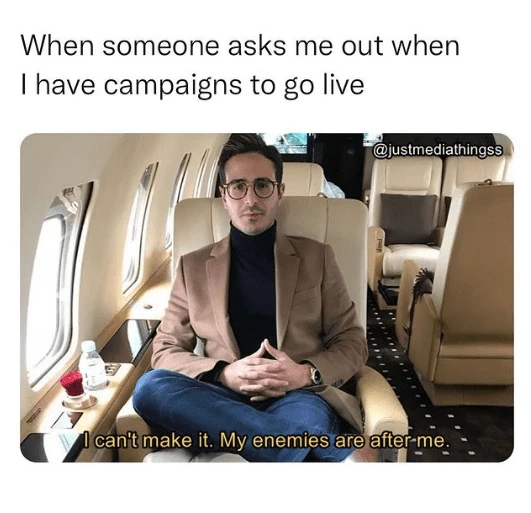 This hilarious meme is a reference to the popular Netflix show, The Tinder Swindler. And might we say, this is prime material if you want to use it for meme marketing.
Everyone in the marketing field has had those nerve-wracking days when their campaign is just about to go live.
During these times, our dating lives often take a break. We get off our personal social media platform to make way for our brand pages.
It's just a part of life. Much like the Tinder Swindler, we too end up running from our dates.
Read also: Customer Service Memes That Are So Good, It Hurts
#9. Hours of work, seconds of views …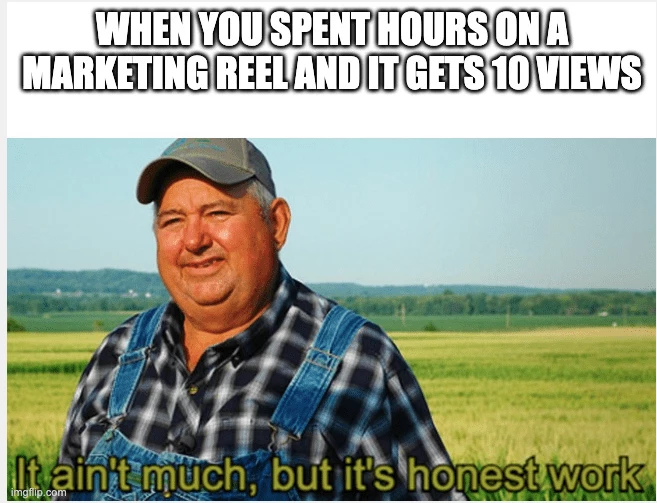 We all know how important it is to get views and grow followers on social media.
And some days, that just won't happen despite our best efforts. This original meme is a nod to this phenomenon that plagues all of us in marketing.
The meme template is borrowed from a US Agriculture department report and features farmer David Brandt from Ohio.
On the days when even your meme marketing strategies aren't working out, remember that it takes time. Nothing worthwhile is created without effort and time. Just like beautiful flowers take a long time to grow from seeds, your marketing strategies need time to bear fruit 🙂
#10. If Bernie Sanders was a lead magnet …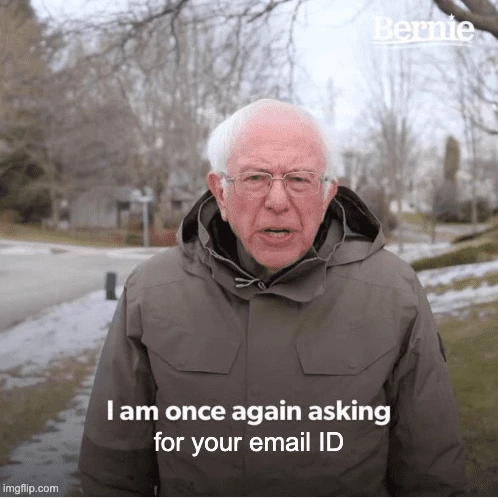 Bernie Sanders has been the subject of many a viral meme content. He may not be wearing cute mittens here, but this funny meme might just crack you up.
We all know how important it is for a digital marketing agency to build those email lists.
And we also know how people just do not want to give out their email IDs.
So the marketers must ask, and ask, and ask yet again!
#11. When Google Analytics is all you can think about …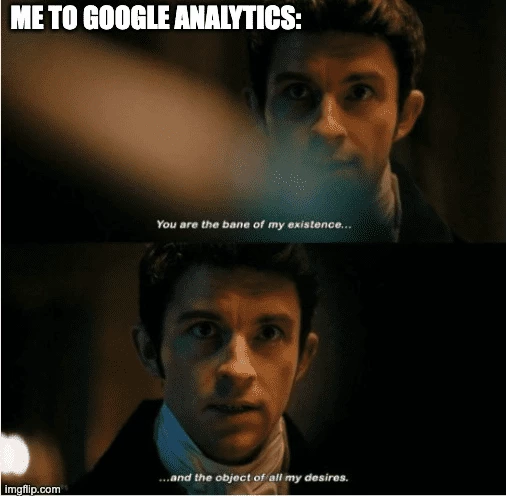 Everyone loves a feel-good romance. And lately, Anthony Bridgerton from the Netflix show Bridgerton has spawned countless memes.
His classic lovers-to-enemies romance can make even modern-day women swoon. This original content is for all the Bridgerton fans out there.
He often can't stand the very sight of Kate (his love interest on the show), just like how we marketers feel about Google Analytics sometimes.
It's a case of 'can't live with them, can't live without them' 😉
#12. Trolling other marketers as part of the job …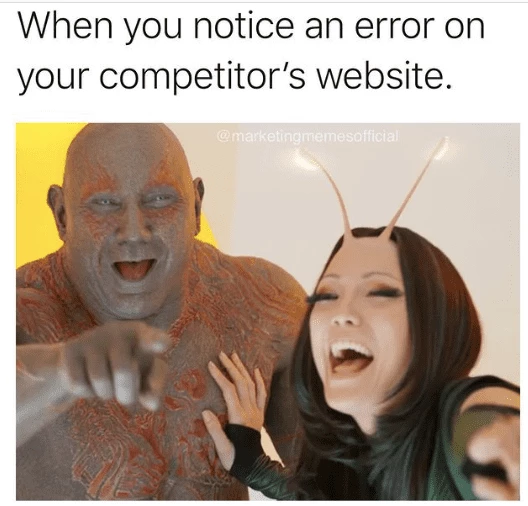 Whether you are working in a small business or a larger one, trolling your competitors is a great way to get a few laughs in private.
This tweaked version of an existing meme is hilarious. It features Drax from Guardians of the Galaxy, who is a crowd favorite.
#13. When you find that typo …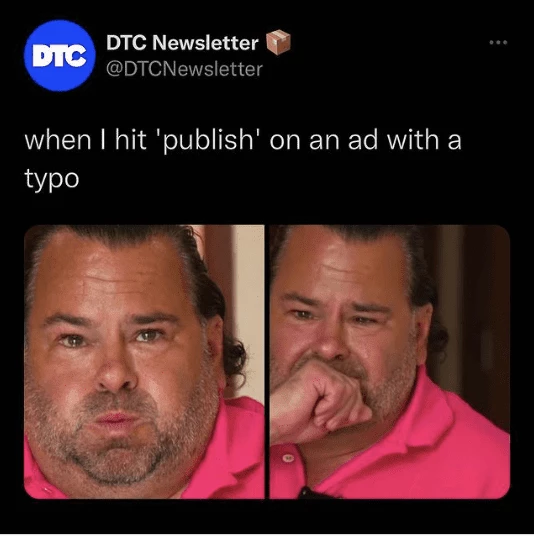 This is one of the most relatable marketing memes out there. We've all been in a situation where we've hit the 'send' or 'publish' button.
And then we find that one typo we somehow missed. Sure, you can always cover it up by saying that it was intentional and a way to boost engagement and user-generated content.
But you know the truth at the end of the day, even if your audience doesn't. This internet meme is a reference to Big Ed from the reality show 90 Day Fiance.
He's known for his social faux pas and lack of filters for his mouth. That's what we feel too when this happens!
#14. Just everyday conversations …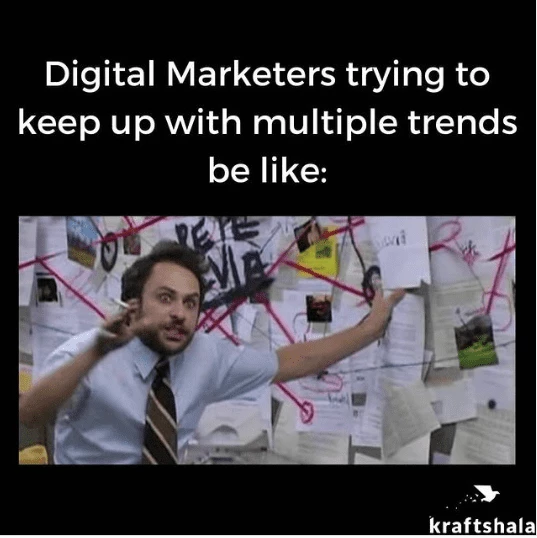 Digital marketing memes are becoming truly spot-on these days.
Everyone in digital marketing knows that they have to stay on top of social media and other trends.
And when we try to explain all this to our friends who aren't marketers, we end up looking a bit like this guy.
However, we can all take heart knowing that some of it will only make sense to us and that's perfectly fine too.
Read also: 18 Powerful Marketing Strategies to Grow Business Faster
Conclusion
I hope you had fun.
Are these original and viral marketing memes relatable?
Which was your favorite meme? Also, do you have any meme ideas that you'd like to share with us?
Let us know in the comments 🙂
If you'd like to know how EngageBay can make marketing easier for you, just sign up for free, and you'll hear from our sales 😉