It's that time of the year again! No, we don't mean Christmas or Thanksgiving, but Black Friday Sales!
We have stood in line at some point in our lives for those oh-so-tempting deals that are on offer! If you're planning to go on a shopping spree this year, you've definitely reached the right corner of the internet.
We've got some hilarious Black Friday memes, and a few Cyber Monday memes too as the cherry on the icing.
But hold on, where exactly did the name Black Friday come from?
Well, there are two theories.
One theory is that the "black" in Black Friday stems from the old bookkeeping methods, where profits would be recorded in black ink. So, companies started giving out great deals on Black Friday, hoping to stay in "black" for the rest of the year.
Another theory is that Black Friday was a term coined by overworked Philadelphia policemen.
In the 1950s, these cops had to take on twelve-hour shifts to deal with the beginning of the Christmas shopping season. They started calling this dreaded day 'Black Friday'.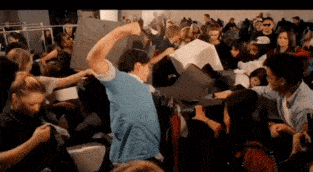 Whether you believe that Black Friday is nothing but a late-capitalist scam that would have Karl Marx rolling in his grave or you're just waiting to unleash the shopaholic inside you, we have a meme for every situation!
So, get your shopping cart ready and enjoy these memes.
1. When the Hype Begins Right After Thanksgiving Dinner …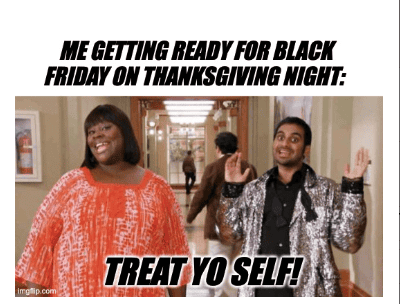 "Treat Yo Self" – what sweet words to hear, especially during the holiday season!
This meme is a reference to the famous sitcom Parks and Recreation, where the characters Tom and Donna take one day off every year simply to treat themselves to anything they want. No desire is too small or stupid on this day!
As soon as that Thanksgiving pie is done, some of us do get into this "Treat Yo Self" mode, just like Tom and Donna. So, go out there and buy yourself a treat. You deserve it.
2. When You Conquered Cyber Monday Like a Boss …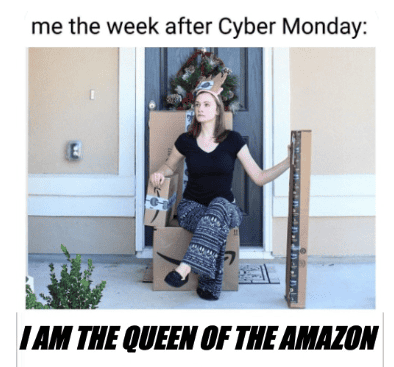 Some of us sure love those tempting bargains but do not love the hordes of crazy shoppers on Black Friday.
Cyber Monday was created for people like this to shop from the safety of their homes. With a simple click of a button followed by a drain in your savings, you can easily conquer those Cyber Monday sales.
We are all kings and queens of the Amazon on this day!
Read also: 7 Holiday Contest Ideas For Some Sweet Holiday Traffic
3. When You Had a Bit Too Much to Drink on Cyber Monday …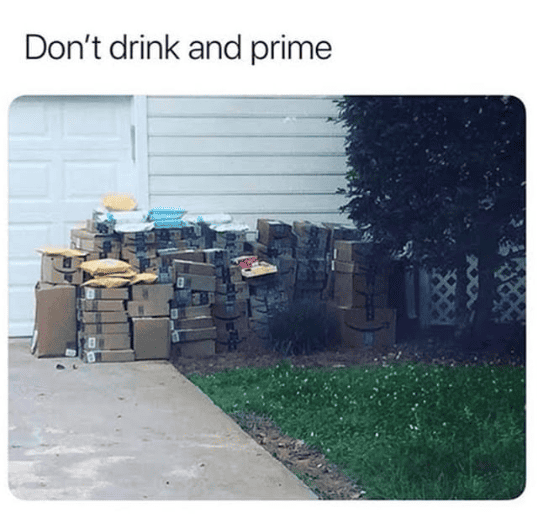 Well, don't say we didn't warn you!
We've all had that crazy drunk shopping spree at least once in our 20s. It's not our fault, really. Modern technology allows us immediate gratification without even having to go to the store physically, and we're here for it!
So, on Cyber Monday, don't pop open the next wine bottle before finishing your shopping. Hell, we sell our data to the big corporations every day, so we do deserve the best deals!
Read also: 9 Foolproof Black Friday Marketing Strategies For 2023
4. Retail Workers Deserve an Award, Surely …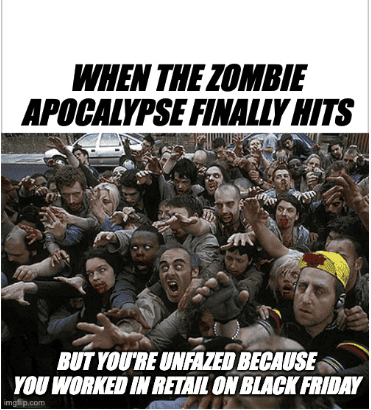 While Black Friday may be all fun for us, let's all admit that it can't be easy for those who work in retail.
Not only do they have to manage the crowds, they also have to deal with all kinds of people who are high on shopping and remain extremely polite while doing it!
So if you're one of the people working on Black Friday, we will definitely contact you for help during the zombie apocalypse. Y'all have already survived hell!
Memes can be more than just entertainment. Explore our collection of motivational memes and see how they can inspire you!
5. When Your Mother's Enthusiasm Was Cute Last Week, But Now It's Scary …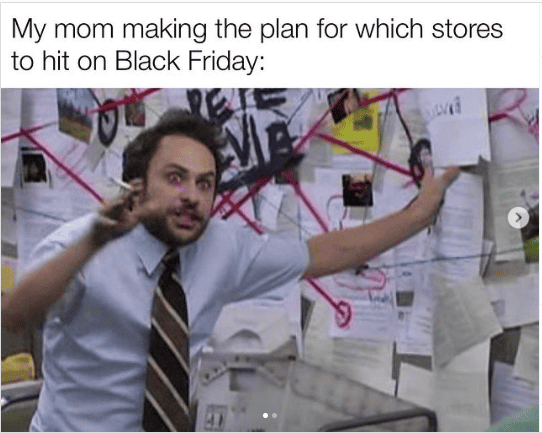 Some of the craziest shoppers can be in our own family! While their enthusiasm seems hunky dory in the beginning, it can soon tailspin into something elaborate and mildly crazy.
While we may be frightened, these family members are indeed a dream come true for retailers.
So support your family and keep yourself safe on the busiest shopping day of the year. They may even buy you some gifts.
Read also: Thanksgiving Landing Pages: Design Tips, Free Templates
6. When the Karens Have Been Lining Up Outside for Hours …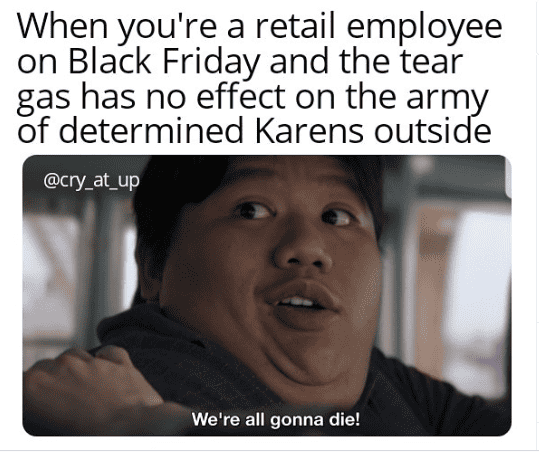 What's the scariest kind of Black Friday shopper, you ask?
It's the Karens, of course. And nothing is going to deter them from sweeping up those sweet deals like there's no tomorrow.
As for the retail employees, they always do their best to handle the situation with finesse. So a gentle reminder that if you're out shopping, don't be a Karen.
It costs nothing to be kind.
7. When Karens Can't Reach the Manager on Black Friday …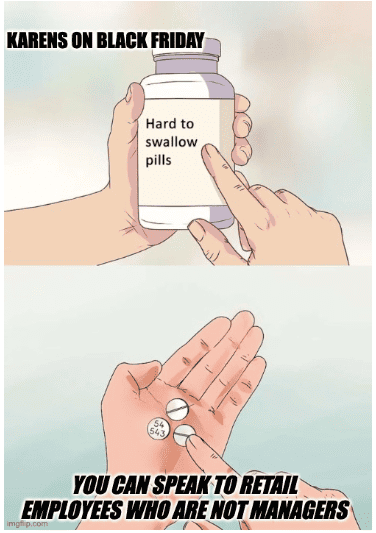 Here's yet another funny meme about the phenomenon of Karens.
But let's face it, it's hilarious to see them go about their Christmas shopping while they fume about not being able to reach the manager because it's so busy already.
Read also: 10 Examples of Black Friday & Cyber Monday Email Campaigns
8. When You Make it Out Alive After Surviving Black Friday Mobs …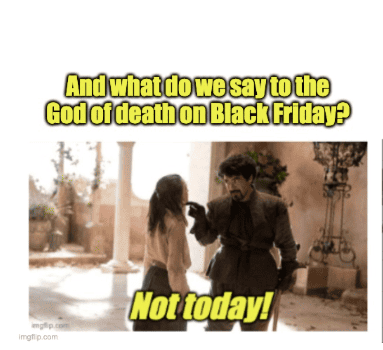 When you successfully navigate those hordes of deal-hungry shoppers on Black Friday, you can't help but feel a little bit like Arya Stark from Game of Thrones.
For optimum safety on Black Friday, make sure to map out the brands that you'd like to purchase from and have a game plan in place. It's the survival of the fittest out there, so be careful too.
9. When the Marketing Team Starts Feeling Like Oprah …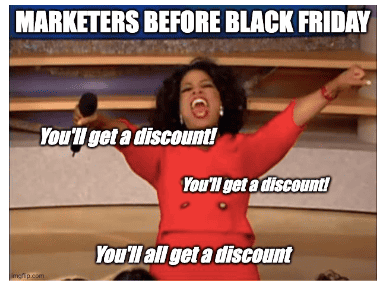 When you're a marketer who's trying to come up with the next, perfect big deal, you do start to feel connected to Oprah's spirit!
Hats off to those of you putting in the long hours and crunching those numbers to create the best deals for your loyal customers.
We are grateful for your services. And we do love 'em discounts, so keep up the good work!
Read also: 10 Funny Customer Success Memes That Every CSM Could Relate To
10. The Best Way to Lose Those Extra Thanksgiving Pounds …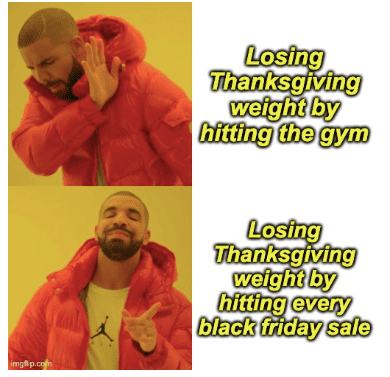 We're all worried about that pesky holiday weight that plagues us all.
And in the cold, sometimes we don't feel like hitting the gym. Well, the perfect solution to lose your holiday weight is simply hitting up all the Black Friday sales!
This is definitely a good deal, and a welcome side-effect of shopping till you drop!
Read also: Black Friday Marketing Emails: 9 Unique Examples
11. When You're So Near but So, So Far …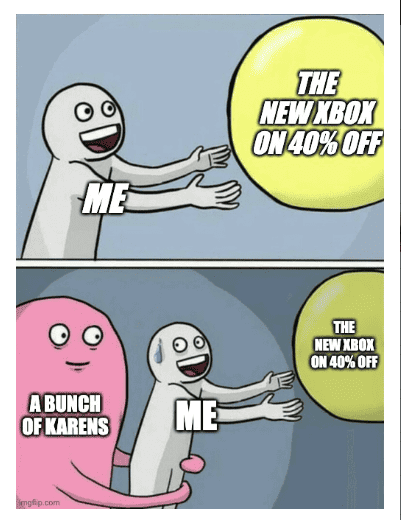 While there may be lots and lots of deals on Black Friday, let's admit it: there's often that one deal you just can't resist. You've been saving up money for that one big purchase for months, and your eyes widen at the discounted price.
But, those pesky Karens have a determination that would put most of us to shame. Often, there is a deadly Karen who is as fast with her shopping as she is demanding.
Many of us have been thwarted in our attempts to get that one product we really really wanted by a Karen. If this is your luck this year, you can always vent on social media and try again next year!
12. We All Have That One Cynical Friend Who Hates Black Friday …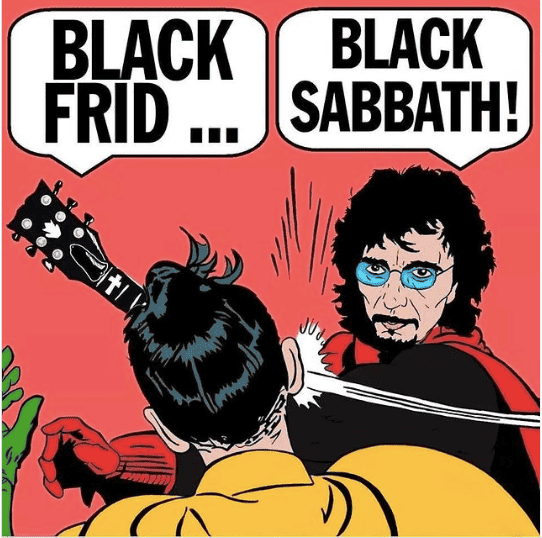 We all have that one friend who has literally zero interest in Black Friday! These are the people who hole up at home and won't even dare to venture outside during the Black Friday shopping season.
And while we may shop till we drop, we do enjoy their cynical humor during those hectic Black Friday shopping sprees.
Read also: 10 Creative Sales Memes to Help You Chuckle and Sell More!
Want to watch a video instead of reading? Here's Daan Kieft with some cool marketing ideas for your Black Friday promotions:
13. When Shopping is Not the Ticket to Marital Bliss …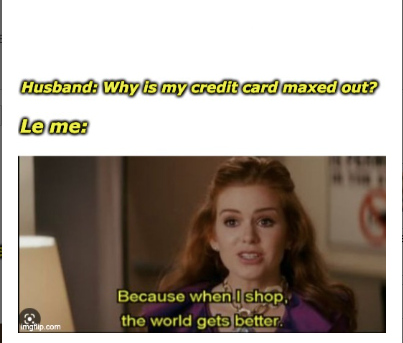 In this hilarious Black Friday meme, we are left feeling like the ever-charming Rebecca Bloomwood from the hit movie Confessions of a Shopaholic.
Much like Rebecca, we are also looking for that perfect green scarf that just calls out to us from those beautifully decorated retail store windows.
And yet, this may not lead to marital bliss, especially when you share finances with your partner.
But hey, if Becky can get her life together, we can fix these marital issues, too, with some time and effort.
14. When Black Friday Sales Got You Cheating on Your Bank Account …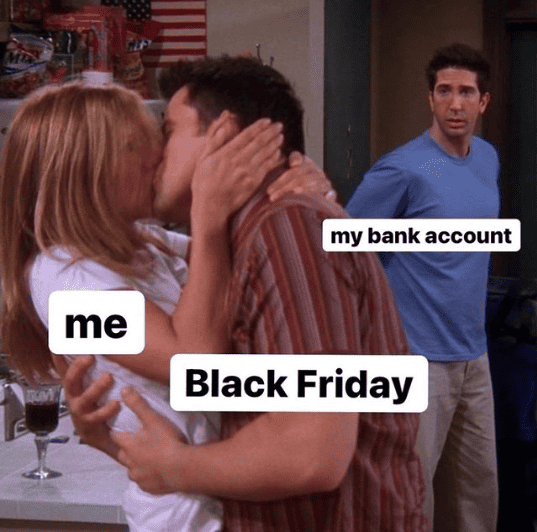 This funny Black Friday meme is a nod to the hit series F.R.I.E.N.D.S and depicts the scene where Ross finds his ex-girlfriend kissing his best friend, Joey.
But you and your bank account were never on a break! This is exactly the face our savings account would make if it found all our grandiose plans for a Black Friday shopping spree.
Read also: 11 Email Memes For Marketers: Because We Deserve to Laugh, Too!
15. When those Black Friday Deals Seem a Little Shady …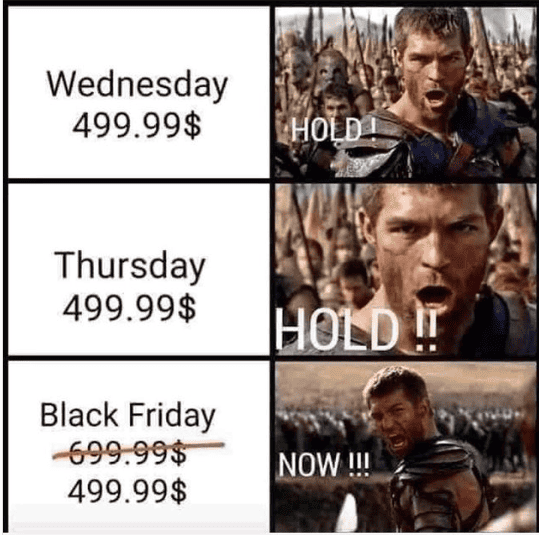 This hilarious Black Friday meme refers to those super shady deals we come across sometimes on Black Friday and Cyber Monday.
Much like a general leading his army to war, the retail companies really know how to make the deal look sweeter than it actually is. Botched data is at work in most of these cases.
Steer clear of these deals, ladies and gentlemen. We shall not be thwarted by the tyranny of the fake sale 😉
16. For the best experience, rotate your phone!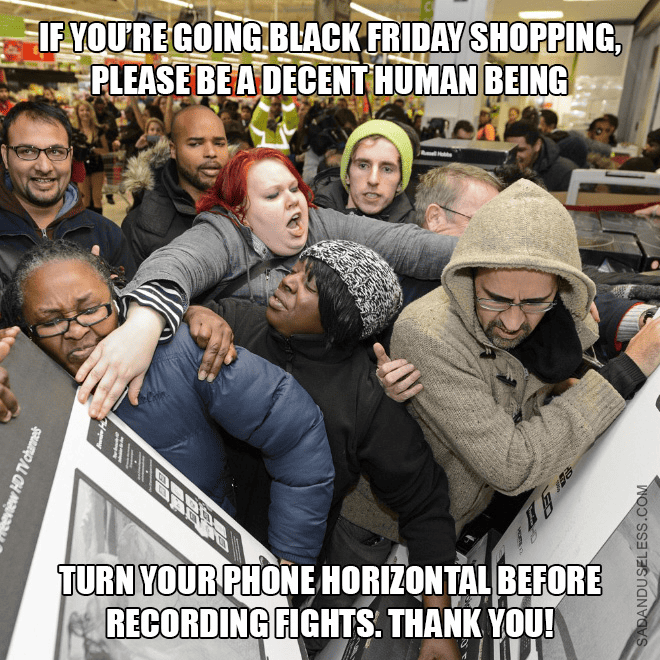 Oh yes! One thing more entertaining than the Black Friday sale is the usual Black Friday fights!
Nobody likes blurry, shaky action videos. Make sure to record 'em right!
17. Black Friday sale for everyone!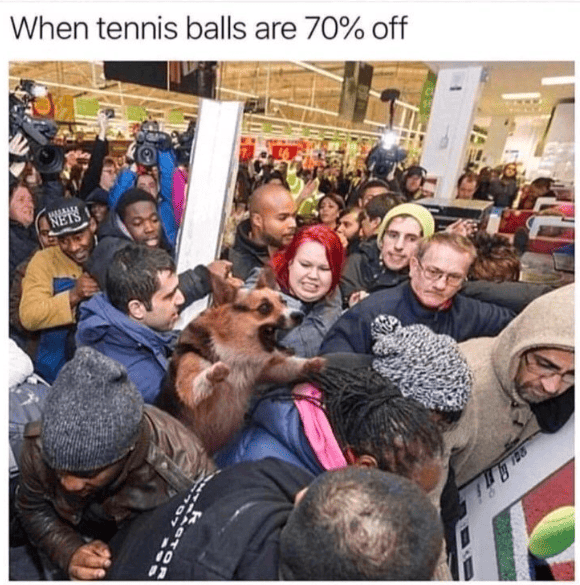 Who would've thought Black Friday sales are limited to homo sapiens, look at the doggy getting into action right in the middle of it! This happens at every Best Buy, Walmart, and even in your local supermarket.
18. Ble(ac)k Friday sale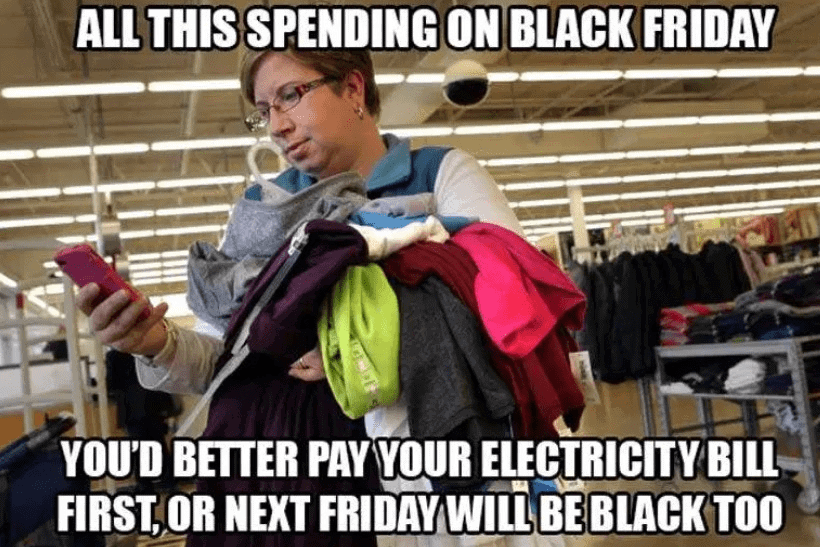 Shopaholics know what we're talking about here.
One minute your bank balance is aplenty, Black Friday comes, and poof, it's a empty!
19. (no) Thank you?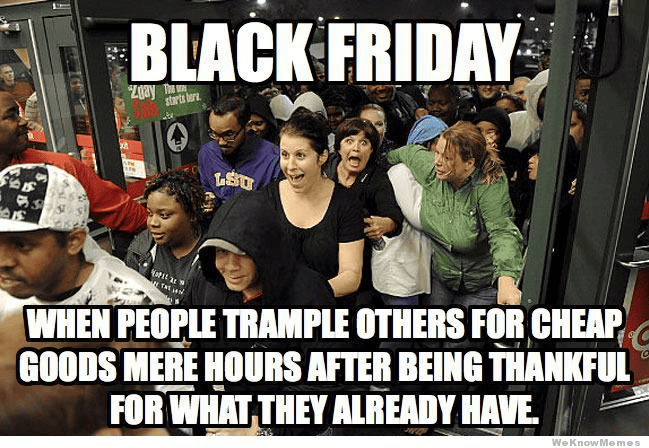 Thank you, God, for giving us everything. Yes, we are sooo thankful for what we have …
Cue 24 hours later… WE WANT MORE! There's no s(h)topping us NOW!
20. Shopping essentials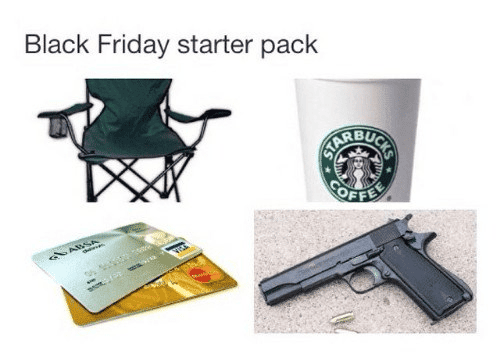 Make sure to stay hydrated during the Black Friday sale and with plenty of cards to back your shopping game.
But don't forget the most important thing of all: a handgun!
21. When your pants give you the side eye…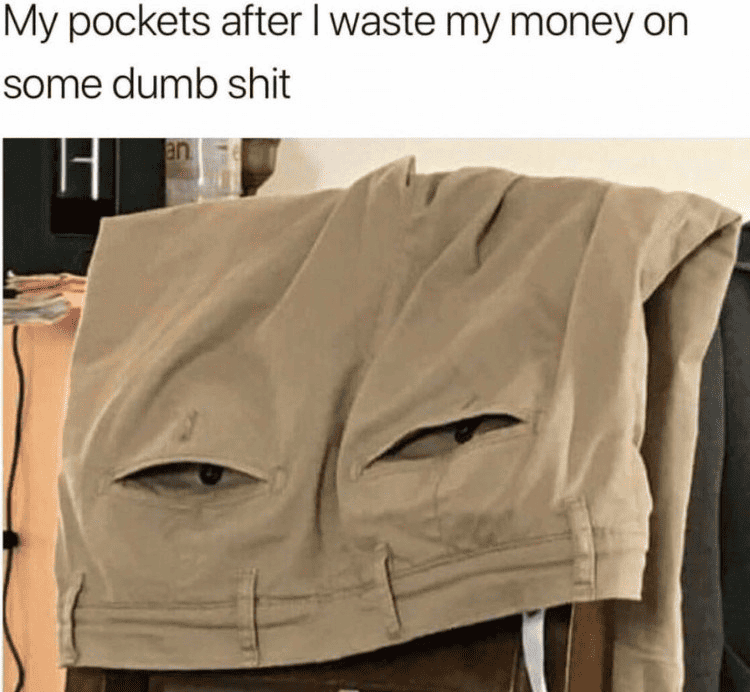 When your pants give you the bombastic side-eye, you know you've messed up pretty badly!
22. Zombie apocalypse much?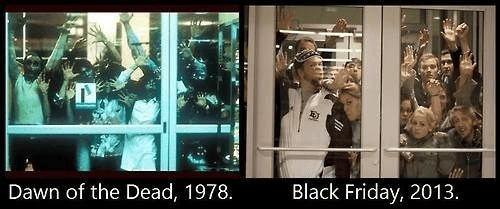 In Pam Beesly's voice, they are the same picture.
23. Talk about Black Friday dedication…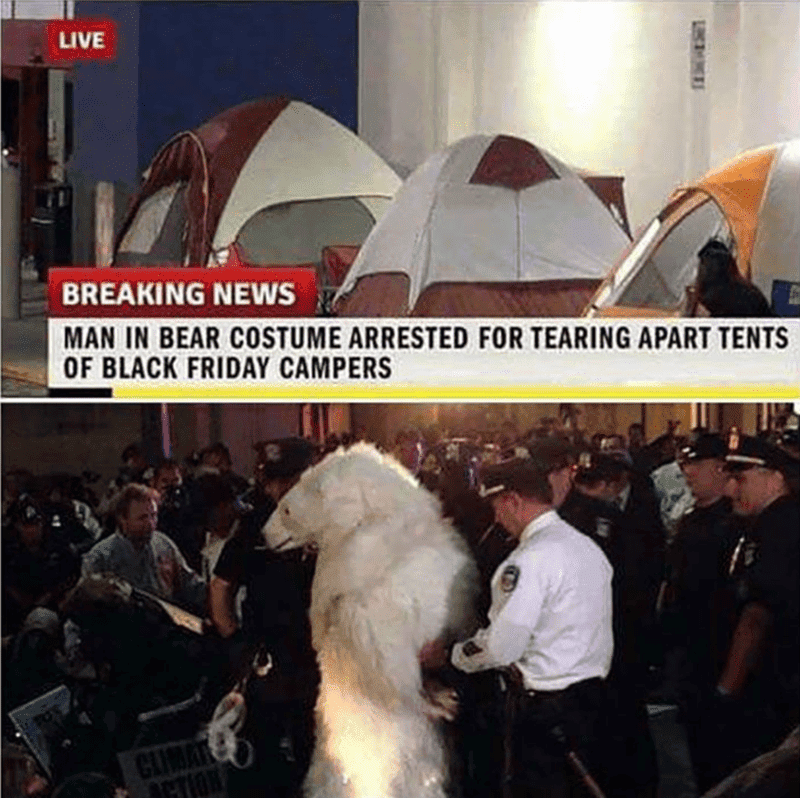 He bearly made it to the sale!
24. Bitch better have my money…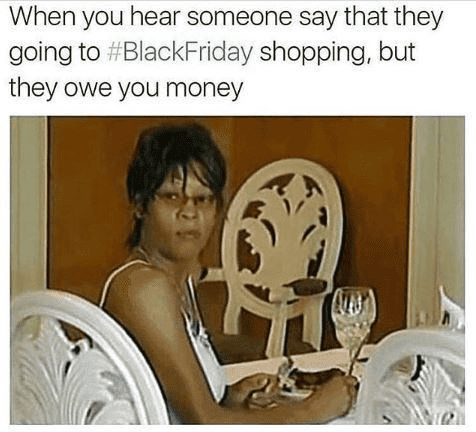 Hey, you!
Get my money first, then we could drain it together on the Black Friday sale!
25. Black Friday in Canada>> over the USA any day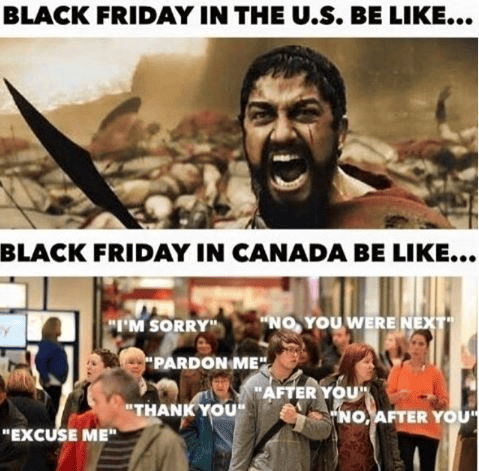 Unless you are into dog flights and fist fights, Canada is the best place to shop on Black Friday!
26. Ready, Set, Shop!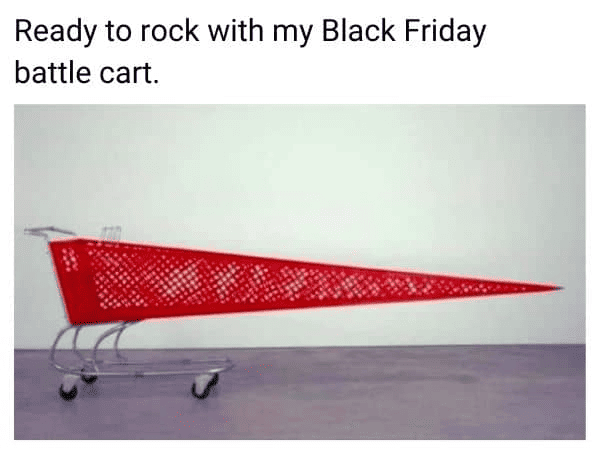 The only thing stopping you from your shopping spree is your cart (definitely not your card). The bigger and pointier the cart, the better you can shop and slice through other shoppers.
27. Health – 100, bank account – 100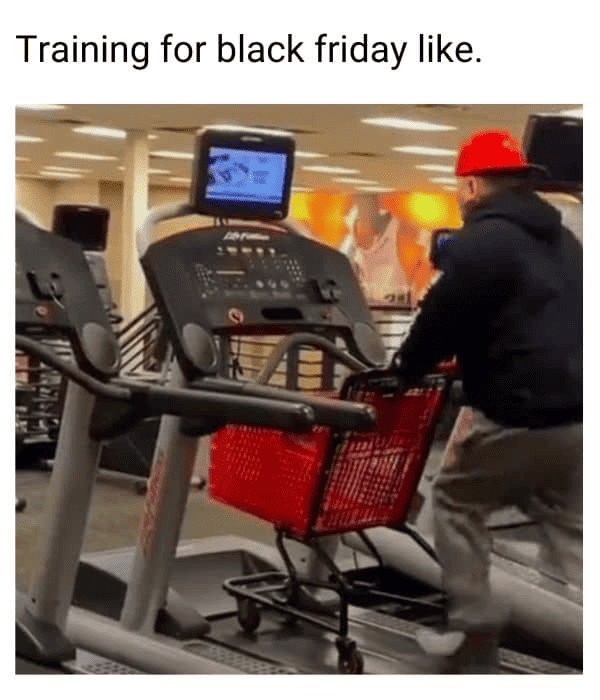 Black Friday sales will test you physically, it is important to stay at your physical best and leave the rest.
After all, health is wealth, right?
28. Black Friday new level of dedication unlocked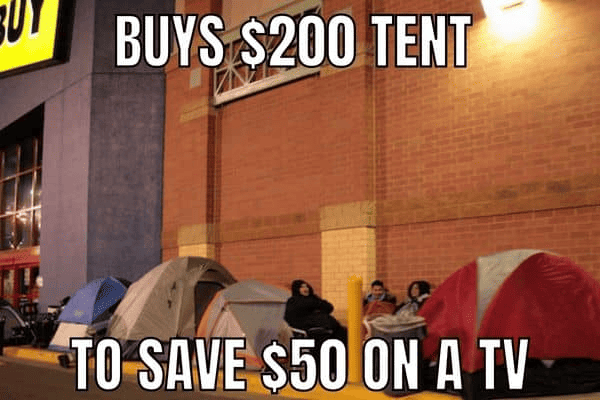 Hey, but money will come back, Black Friday sale won't.
29. When they use mind games on you…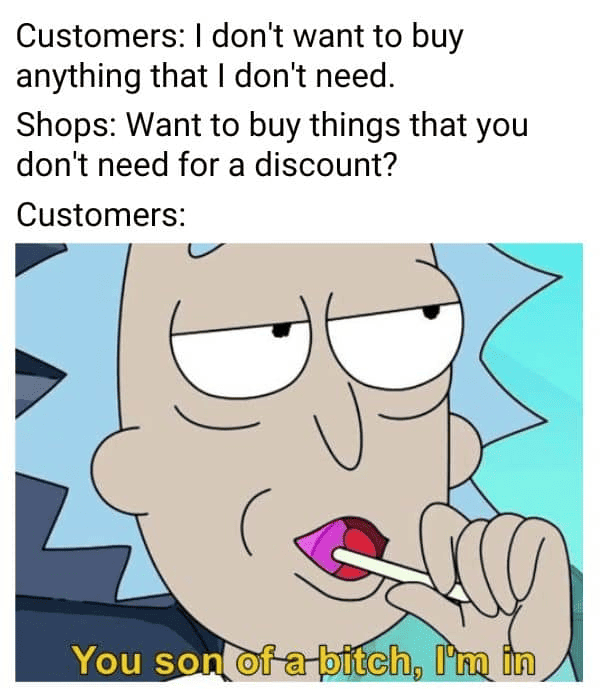 $99.99 is wayyyyyy less than $100 right?
We are SOLD!
30. Black Friday sale = World Evil Conference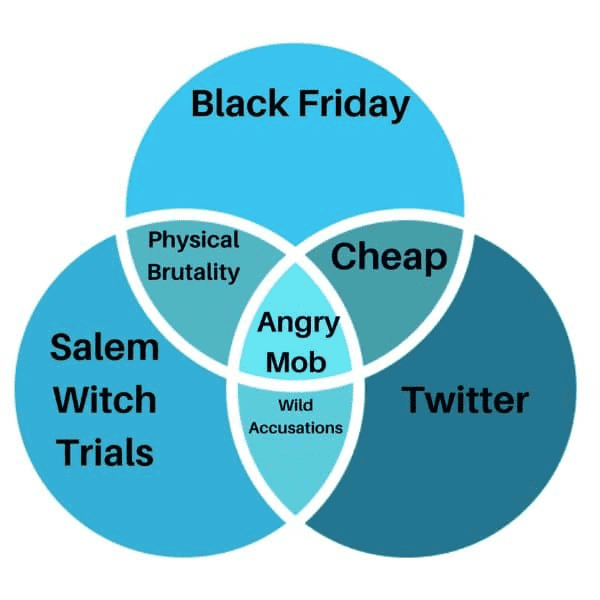 The good thing about Black Friday sale? Cheapest price for everything you (don't) need.
The bad thing? Where do we begin…
31. How to prevent a shopping hangover 101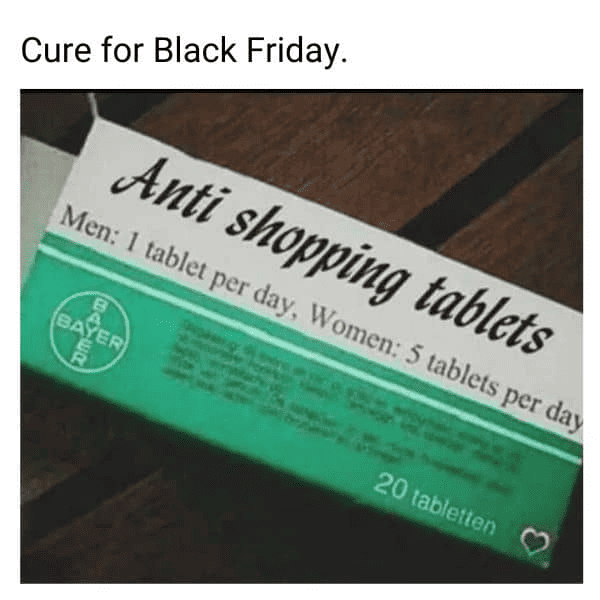 Prevention is better than cure. Especially for women on Black Friday…
32. Nobody wants bad luck on Black Friday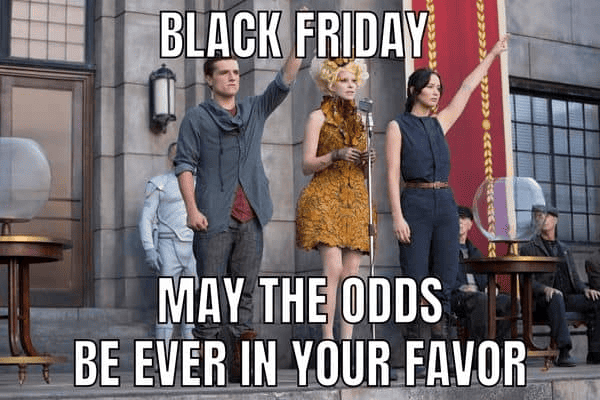 One thing you need more than your credit card on Black Friday is plenty of good luck and, of course, your handgun.
33. Black Friday fit check!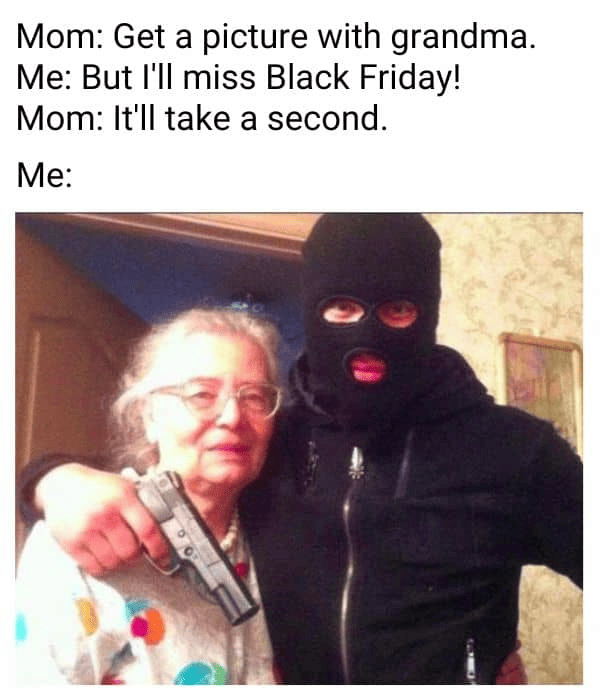 Nothing feels better than having the right fit for the perfect shopping day.
The guy above has got it all right!
34. Black Friday Online shoppers are Elite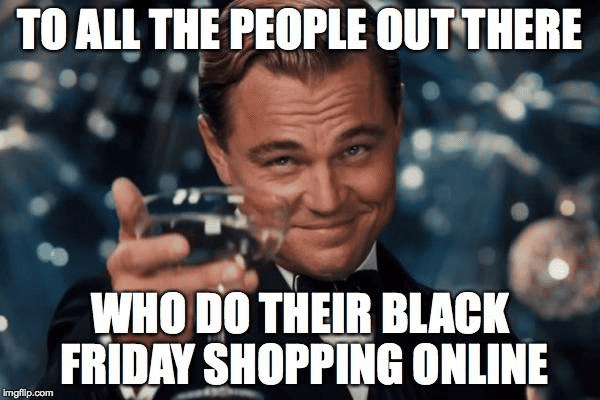 Some might disagree, as nothing beats getting physical and in the game on Black Friday.
The elitist crowd on Black Friday shops online, fight me on this.
Nothing brings more happiness than shopping in the comfort of my home.
35. Black Friday for Dummies 101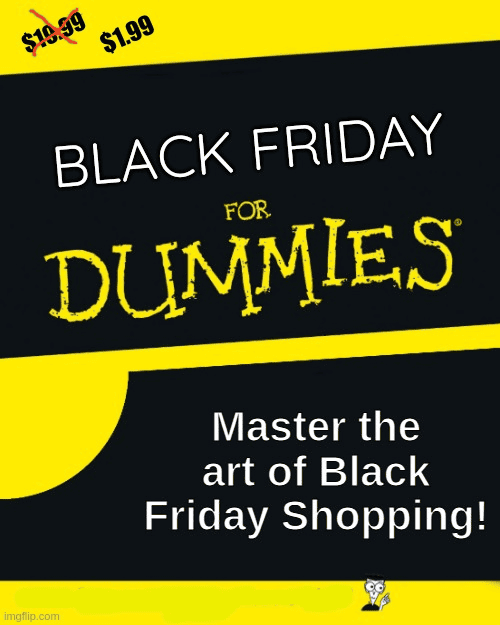 Buy this one: Black Friday for Dummies on sale this Black Friday!
Grab yours now!
Bonus Meme for Those Who Hate Black Friday and Cyber Monday Sales …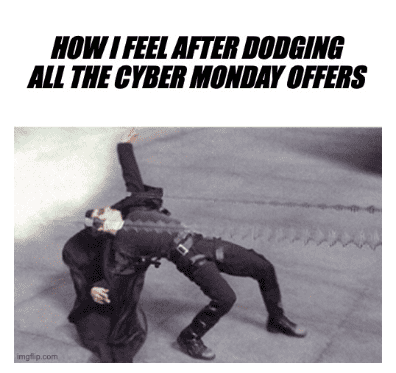 There are some of us who have sworn never to take part in all the Cyber Monday madness and take pride in it.
And yet, you may just be casually browsing the internet when that one sweet, irresistible deal pops up on your computer screen. After all, the big companies do have access to your shopping history, your undeleted cookies, and some personal information about you.
So, obviously, targeted ads galore during this season. And if you hold on to your willpower and successfully dodge these tempting deals, you are left feeling like Neo in The Matrix. The mental gymnastics it takes is indeed similar to Neo's classic moves from The Matrix.
Read also: 14 Evergreen, Relatable Marketing Memes
Goodbye, Then!
So, these were some of the most hilarious memes we could find on the theme of Black Friday and Cyber Monday. We hope you had a few moments of laughter during your busy day as you went through these funny memes.
But all jokes aside, we wish you a happy Thanksgiving and a great start to the Christmas shopping season.
If you are into meme creation, drop in your funniest Black Friday memes in the comments section below. We would love to see them! Let's double the laughter this shopping season 😄
Content revised by Haripriya.