Joining or even creating an online marketplace is a stellar way to reach a broader audience than relying solely on your own eCommerce.
While you can always use general platforms such as WordPress, Magento, and Shopify, these platforms can be a little too expensive for startups on a shoestring budget.
Here, we'll present some viable alternatives.
1. CS Cart Multi-Vendor
The eCommerce marketplace platform CS Cart Multi-Vendor is an on-premise marketplace platform that allows vendors like you to put your products out there online and then sell them to customers worldwide.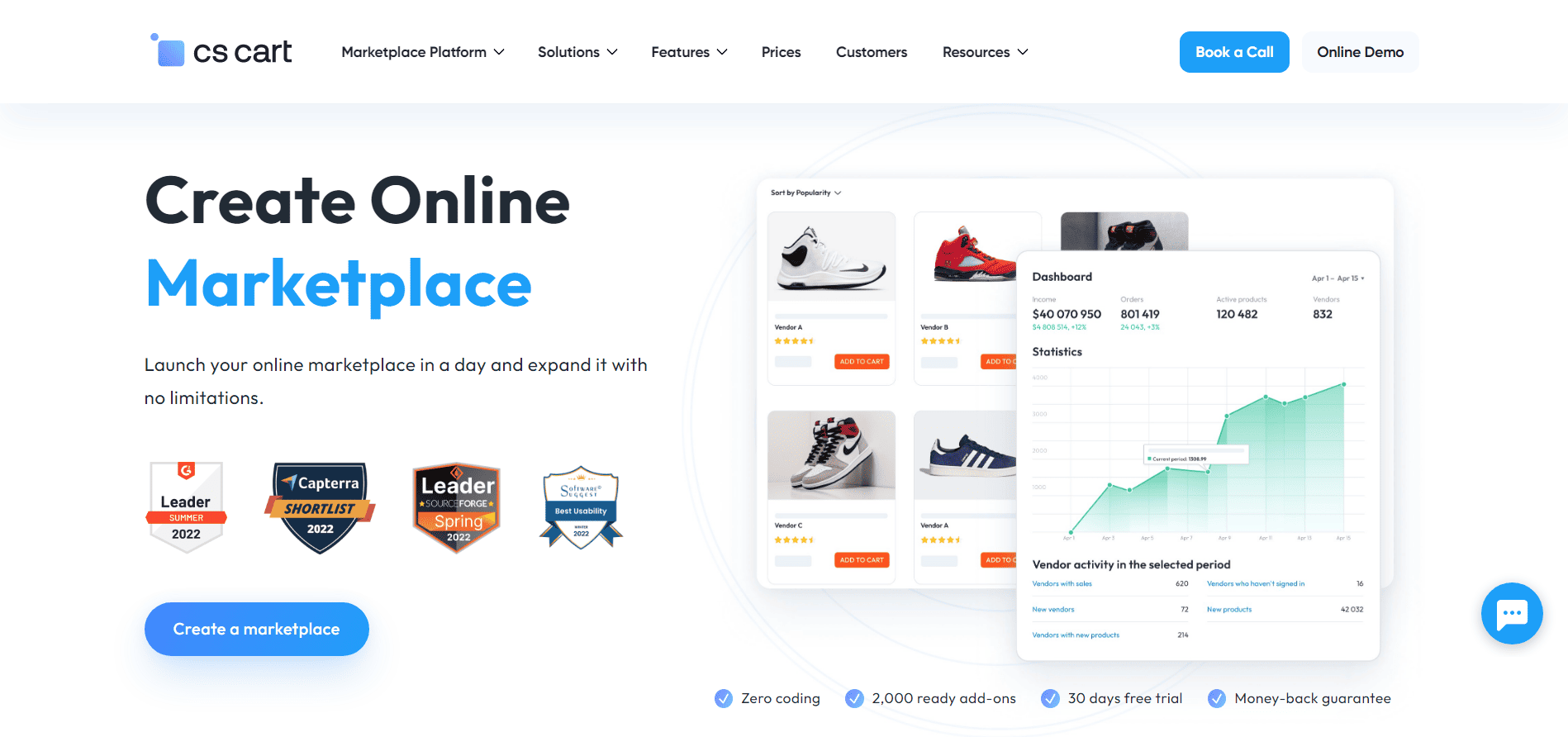 Here's an overview of the features:
Mobile app: Set up your very own Android or iOS mobile app for your customers to see what's going on with your marketplace. You can promote products or services (or discounts) using the CS-Cart Multi-Vendor toolkit.
Product delivery: Don't stress over the delivery of your goods. With CS-Cart Multi-Vendor, you can configure ship rates in real-time, track fulfillment as it happens, establish pickup points and stores, and calculate shipping.
Payment system: CS-Cart Multi-Vendor offers more than 70 payment methods, including Google Pay and Apple Pay. You can select from automatic or manual payments or set up vendor-to-admin payments.
SEO and marketing: Here's a surprise. CS-Cart Multi-Vendor even has SEO and marketing tools built right into the platform!
Order management system: Managing ongoing and fulfilled orders is a breeze within this software. You can use the admin panel to review advanced order management, authorize merchandise returns when needed, and create invoices.
Merchant administration system: Within the merchant administration system, you can review vendor ratings, vendor-to-admin payments, vendor plans, and more. There are even separate vendor panels.
Marketplace management system: CS-Cart Multi-Vendor is an efficient marketplace management system with multiple language settings, a message center, storefront customization, admin levels, and user groups. This makes CS-Cart a great marketplace platform for medium-sized businesses.
Pricing
CS-Cart Multi-Vendor offers a free trial to get a feel for its features.
You can select from four plans:
Standard for a one-time fee of $1,450
Plus for a one-time fee of $3,500
Ultimate for a one-time fee of $7,500
Ultimate Unlimited for a one-time fee of $12,500
Who doesn't like some extra cash? Discover the best passive income apps to boost your earnings in our latest article.
2. Yo! Kart
The multi-vendor Yo! Kart is agile eCommerce software with a customizable edge for your multi-vendor marketplace.
The software includes a series of pre-integrated APIs you already use and love, including QuickBooks, Google Maps, PayPal, Mailchimp, and Google Analytics.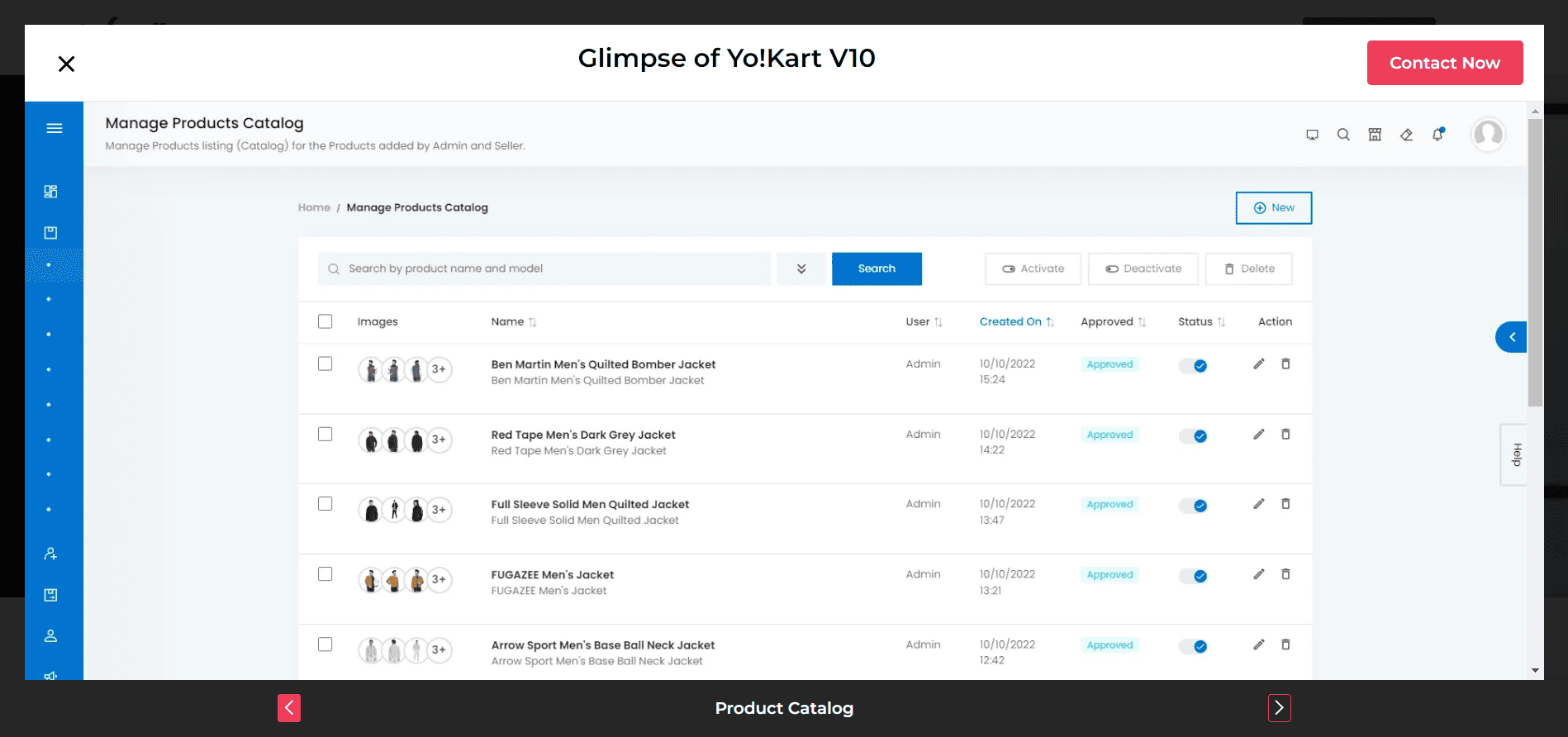 Here is an overview of its features:
Shipping management: Setting up shipping options is easy within Yo! Kart's shipping management system. You can even offer free shipping within the shipping management feature. This system naturally integrates with ShipStation API for the automation of shipping labels, shipping rate retrieval, and shipping and order management.
Shop management: Building your own eCommerce marketplace is exceptionally simple with Yo! Kart's quick shop setup feature. You can also go more in-depth if you wish with features such as product and catalog management, order management, and tax category settings.
eCommerce: Known for its easy-to-use navigation, Yo! Kart's eCommerce features make even marketplace beginners feel like pros. You can configure language and search options, filter products, and give customers the option to add products to their wishlists.
Marketing: Yo! Kart's marketing features are exceptional. The Share and Earn feature allows blog owners to make money by promoting shops and products within the marketplace. You can integrate your blog with the platform, and there's an included affiliate module as well.
Payments: Your multi-vendor marketplace payment options are plentiful with Yo! Kart. Payment options include e-wallet, credit card, cash on delivery, bank transfers, and many other pre-integrated payment gateways such as PayPal, Stripe, Amazon Pay, and more.
Reporting: How successful is your marketplace? Answering that question is easy when you can use Yo! Kart to track traffic, sales, visitors, social media traffic, conversions, and more.
Pricing
A V9.3 license for Yo! Kart includes four pricing plans with lifetime license costs:
GoQuick plan costs $999
GoQuick Boost plan is $2,499
GoCustom plan costs $7,499
GoCustom plan is custom-priced
Read also: 6 Handy App Engagement Metrics To Track Today
3. Sharetribe
If you're looking to build a marketplace quickly, Sharetribe is the marketplace platform to consider.
You can select from two products, either Sharetribe Go for building a marketplace platform in an afternoon or Sharetribe Flex for more advanced marketplace building.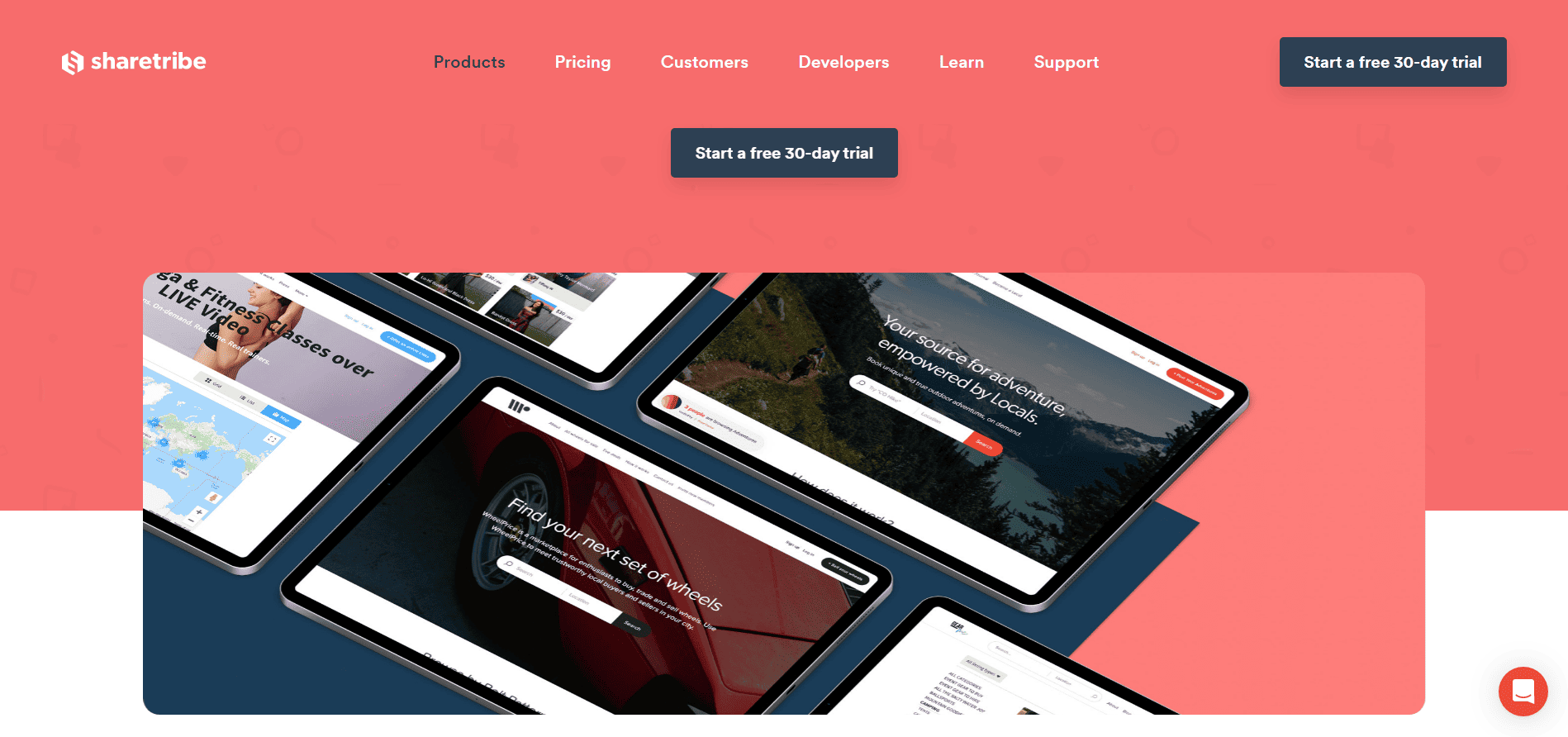 Let's look at Sharetribe Go first.
You don't have to know a lick of coding to build your marketplace. Sharetribe Go also has all the essentials your marketplace needs in the early stages, including order flow, listings and profiles, filtering, reviews, and payments, and all in a mobile-friendly platform too.
The admin tools give you optimal control over your eCommerce marketplace, and with built-in SEO, it's easy to spread your wings and fly. Analytics also allows you to track success.
Now let's take a look at Sharetribe Flex.
With Sharetribe Flex, you can custom-build a marketplace to support your growing needs.
Use custom web templates, scale your infrastructure over time, adjust settings in the admin console, track stock management and availability, and customize your data storage.
Built for developers, Sharetribe Flex features engineer support, code documentation examples, Figma and Sketch design templates, and developer coding in CLI and SDK.
Pricing
Are you looking to get started with Sharetribe? You can take advantage of free 30-day trials ahead of your purchase.
The Sharetribe Go pricing plans are as follows:
Hobby for $79 a month and 100 users
Pro for $119 a month and 1,000 users
Growth for $159 a month and 10,000 users
Scale for $239 a month and 100,000 users.
The Sharetribe Flex plan configures your transaction volume each month and then adds a monthly subscription fee to determine how much you'll pay.
Read also: Zapier Alternatives: Top 7 Platforms to Reduce Workload
4. Dokan
Lastly, we've got Dokan, a WooCommerce multivendor marketplace solution and WordPress plugin. With Dokan, you can build an Etsy, eBay, or Amazon shop.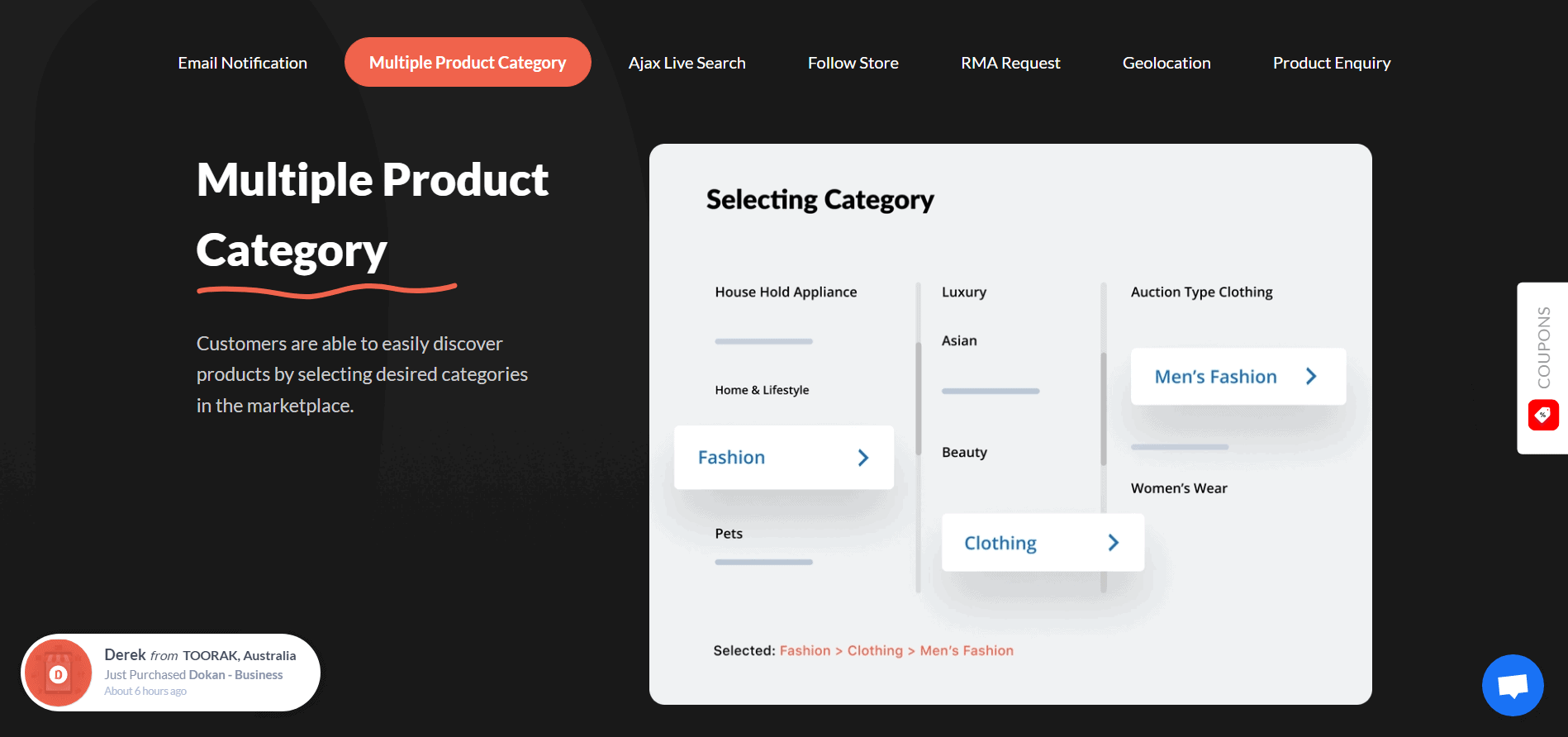 Let's go over the features:
Friendly front-end user interface: Dokan promotes its ease of use with a store front-end dashboard. The dashboard is completely customizable to deliver the experience you're looking for.
Limited access: Unless you have admin privileges, then Dokan restricts users from accessing the backend. This will give you greater peace of mind as your marketplace gets underway — making Dokan an affordable marketplace platform for small businesses.
Widgets: If you use Dokan Pro, you gain access to Dokani, a WordPress theme, and a slew of widgets.
Payment support: Whether you earn your cash through product-based commissions, subscription packs, or vendor commissions, Dokan gives you various ways to make that money.
Dynamic shipping: Dokan Pro offers users awesome shipping features such as ShipStation, Delivery Time so the customer chooses when their product is delivered, and Vendor Table rate shipping.
Reporting: As a vendor, Dokan produces front-end overviews, statements, and sales reports to put marketplace success into perspective.
Pricing
Dokan offers five plans (with yearly pricing):
Always Free plan costs $0/month
Starter plan costs $119/year
Professional plan costs $187/year
Business plan offers $349/year
Enterprise plan costs $649/year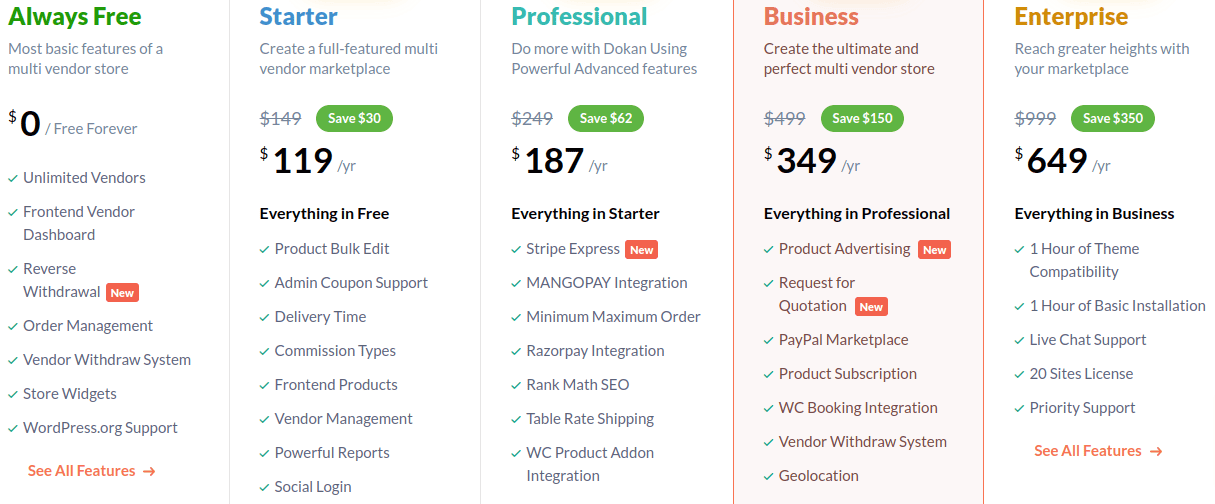 Read also: The Best Free CRM Apps, By Category (with User Reviews)
Conclusion
Finding the right marketplace app platform needn't be a struggle when you have so many exceptional options at your fingertips.
We hope you find your next marketplace platform from this list!
And if you'd like to try an eCommerce marketing automation tool, try EngageBay. More than 46,500 small business owners are loving it already 🙂