The holiday season, especially Thanksgiving and Christmas, is a time for giving and being thankful to your customers. So, delight them with exclusive rewards, mystery gifts, and prizes.
Are you wondering where to start?
No worries, we've got you covered. There are multiple strategies to incentivize holiday shoppers and boost sales, one of them being holiday promotions and contests.
We've curated some of the best holiday contest ideas that skyrocketed customer engagement for stores worldwide. In this article, you'll get to know about some good holiday contests and best practices for running last-minute holiday contests.
Let's go.
Common Questions About Holiday Contests
In this section, we answer some FAQs about holiday contests.
What is a holiday contest?
A holiday contest is a promotional activity run by eCommerce stores to increase customer engagement, generate word of mouth and drive sales.
Whether or not you get tons of traffic to your website the rest of the year, you can run contests and drive traffic during the holiday season.
Why should you run holiday contests?
The holiday season is a customer magnet; people shop a lot, and that leads to intense competition between sellers.
One way to stand out is to run a holiday contest; reward your customers with exciting gifts and they're more likely to shop from your business and even mention it to their friends, families, and colleagues.
Read also: 10 Christmas Marketing Ideas For Some Sales Magic✨
Who can run holiday contests?
Every eCommerce store looking to increase customer engagement, boost brand awareness and retain customers can run holiday contests.
Holiday contests help increase website traffic, so if you have any other type of business with a presence online, you will definitely benefit from that bonus holiday traffic.
How does a holiday contest benefit you?
This article is written for business owners looking to get some extra sales during the holiday season. If that's you, it makes sense for you to run a holiday contest, because:
Holiday contests grab attention easily and often increase online engagement by a lot
They generate word-of-mouth and help you acquire new customers. Many customers tend to share contests with their friends after they participate in them
They can boost customer loyalty
You can get organic traffic with holiday contests and hence a better ROI than buying ads
40% Off EngageBay Plans — Holiday Deal Closing Soon!
How To Run a Holiday Contest: Best Practices
You can run a holiday contest on your website, your eCommerce store, and your social media accounts. Try to ensure that the contests are interesting and relevant to your customer base.
Some holiday contest best practices are as follows:
Ensure that your gifts are relevant to what you're selling
Promote the contest via new landing pages; don't direct customers to the same old web pages
Use the most attractive CTAs — both in design and content
Keep the contest rules simple and easy to understand. Only then will your customers be eager to participate
Reward multiple winners, not just one
Don't skimp on the prizes. Contests with prizes higher than $1,000 get an engagement rate of 5.8% per 100 followers
Promote your holiday contest across multiple platforms. Also, send emails to keep your customers informed
The Best Black Friday SaaS Deals for 2022 (140+ Fresh Deals)
7 Holiday Contest Ideas
Now, let's look at what kind of holiday contests you can run to get some bonus love from your customers.
#1. Photo
The photo contest is the most common holiday contest in all eCommerce stores. Photos go toe-to-toe with the holiday season, especially Christmas.
Christmas is a time of joy, sharing, and togetherness. And let's not forget the decorations – the sparkling lights reflecting off the baubles, colorful stars, Christmas trees, etc., makes Christmas the most photographed holiday.
And that is what you do in your eCommerce store. Run a photo contest with a specific theme, like:
Best Christmas tree decoration
Best Christmas lights
Ugly sweater/jumper
Best snowman
Awkward Christmas selfie
Animals in Christmas outfits.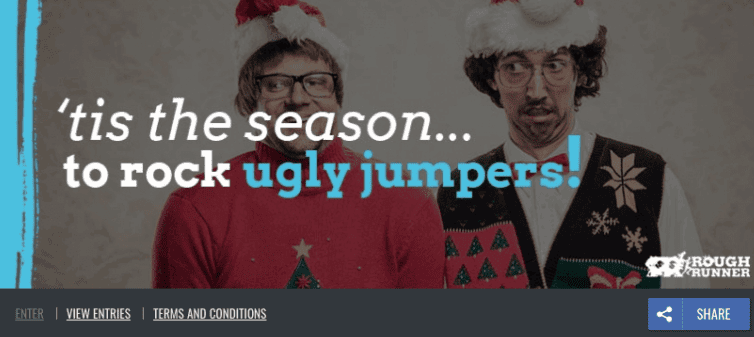 Photo contest best practices
Ensure that your photo contest has a unique theme
Offer tier-based rewards so that more customers can get rewarded
Make it easy for the customers to upload their photos
Include a social sharing button, so people can share your contest with friends easily
The most important practice is to allow customers to vote and choose the winners based on votes. Keep the voting process really simple and transparent.
#2. Video
About 89% of businesses use video contests to improve brand awareness. It is similar to a photo contest where you run a contest with a theme and ask customers to perform the task and submit the video.
Video contests are becoming extremely popular, and they can help you in several ways:
Higher customer engagement
User-generated content is trending these days
It's great for word-of-mouth
Here are some popular video contest ideas:
Finish the Christmas song
Dance with your recent purchase
Christmas dares
Quickest Gift wrapper
Before/After Thanksgiving dinner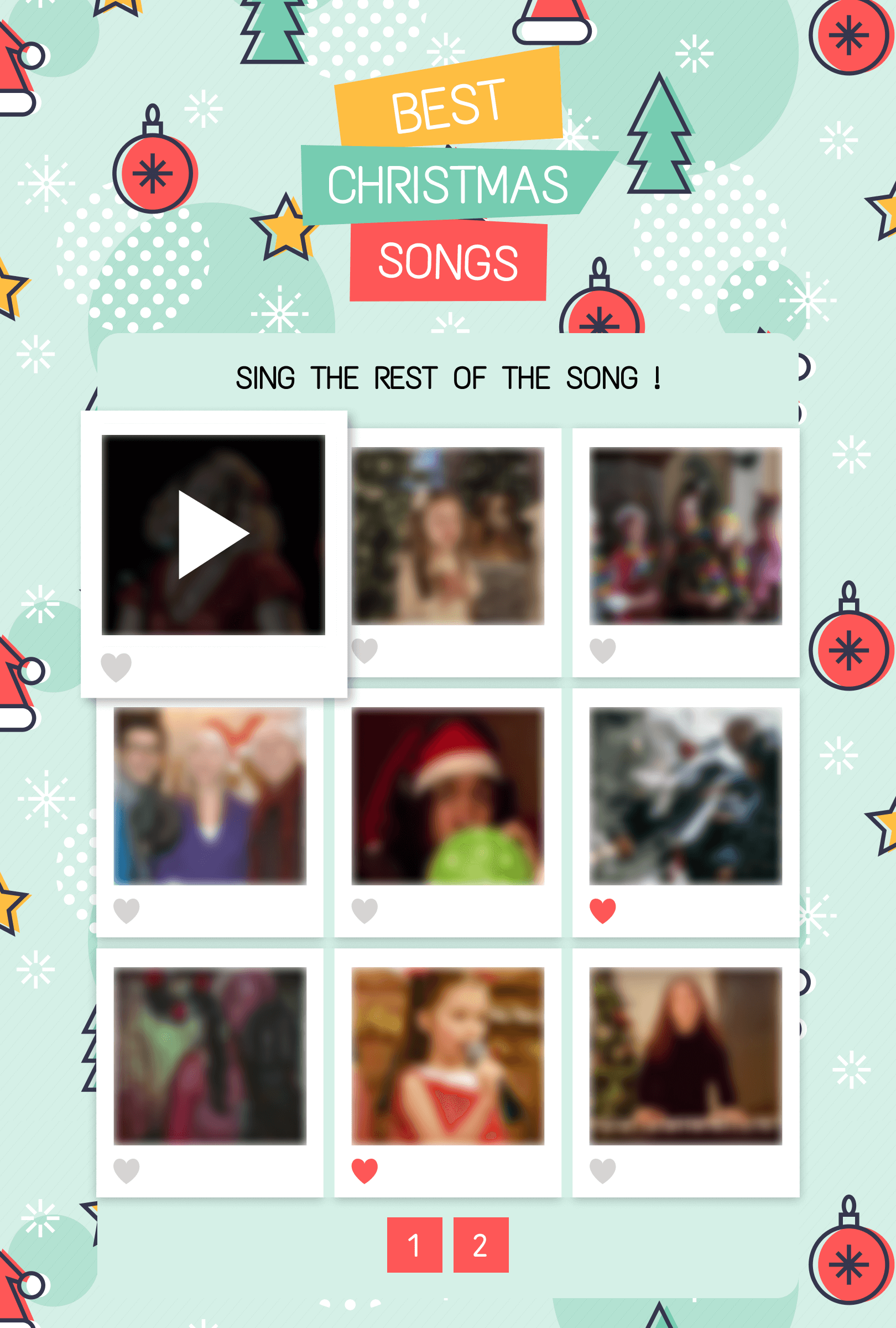 Video contest best practices
Set a time limit for the video
Share user-submitted videos from your social media accounts
Choose the winner by customer votes
Follow a strict deadline for submissions
Give a shoutout to the winner on your website in addition to social media
#3. Hashtag
When people want to search for a brand, a type of product, or even geolocation-based services on social media, they use hashtags.
Running a hashtag contest, especially during the holiday season, can boost your organic traffic.
Your ultimate goal while selecting your hashtag for the contest should be virality. So, choose a short, fun hashtag that you believe can go viral.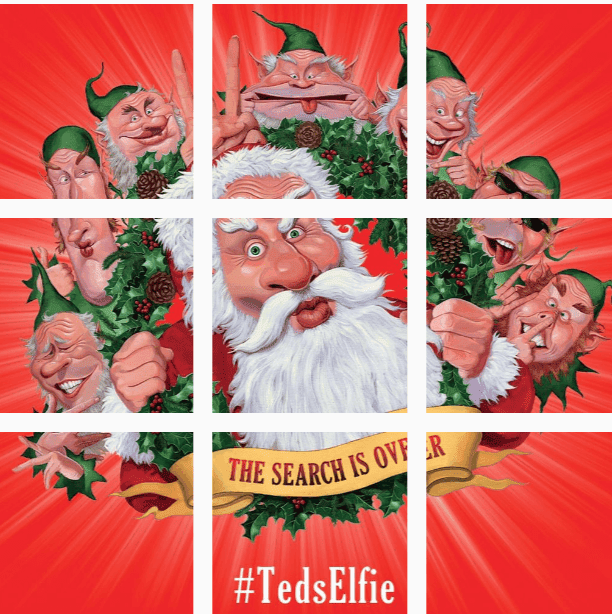 Ted Baker wanted to increase its customer engagement, so it came up with a hashtag contest – Ted's Elves.
Ted created 32 Instagram accounts and organized a Christmas-themed game where customers have to hunt for prizes and elves. Ted's Elves contest is a classic example of how to keep your customers engaged during the holiday season.
The contest went viral with 37K interactions and 14.5K entries. This is how you run a hashtag contest.
You can run a solo hashtag contest or couple it up with a photo contest or video contest; ask your customer to submit their pictures and videos using the hashtags and boost your brand awareness.
Hashtag contest best practices
Keep your hashtags crisp — avoid long words that can result in typos
Promote the contest everywhere you can
Keep sharing reminders about the deadline
Read also: How to Send Out Thank You For Your Order Email (Examples & Templates)
#4. Refer a friend
Did you know that customers acquired via referrals are 18% more loyal than customers acquired via other means?
Yes, that is the power of the referral program, and that's exactly why you must run a referral contest during the holiday season. Customers trust recommendations from their friends, so this type of holiday contest is an easy chance to gain new customers during the holiday season.
Here are the benefits of running a referral contest:
Generates organic word of mouth
Boosts brand awareness
Minimizes customer acquisition costs
Increases customer loyalty
Helps to retain existing customers
A refer-a-friend contest is the easiest way for a customer to get a discount, so the chances of the contest failing are only slim. If you haven't run one before, this season is the time you do it.
Referral contest best practices
Offer a reward to both — the one who refers, the one who is referred
Set a purchase limit to earn the referral reward
Add social sharing buttons for your customers to share the referral link
Provide a dynamic referral link for each customer
Set a contest deadline to prevent referral abuse
#5. Pinterest
Pinterest has become a popular marketing channel on par with Instagram and Facebook. It helps customers find fashion inspiration and ideas, and can also be used as an eCommerce marketplace.
A 'pin it' contest is more like a sweepstakes contest but is relatively new, and eCommerce stores haven't grasped it much. But it is a fun and interactive way to get your customers engaged.
As we said, it is more like a Sweepstakes contest where the customer has to perform simple tasks to win the contest.
Pinterest contest best practices
Learn the rules before running the contest
Create a hashtag for customers to pin their submissions
Explain the process clearly
Cross-promote the contest on multiple platforms
#6. Sweepstakes
You'd often come across sweepstakes in your favorite eCommerce stores. Though it is slightly different from a contest, it is still a valuable engagement-boosting activity for holiday season sales.
Unlike a contest, Sweepstakes is not a competition; it doesn't have defined rules to participate or win.
In Sweepstakes, the winner is selected by chance/probability, just like in a lottery.
Easy to run and easy to collect email addresses. This is why it is considered one of the best lead-generation tactics.
Sweepstakes best practices
Create enticing visuals to grab attention
Make it easy for the customers to participate
Offer eye-catching prizes to boost entries
Set a pre-defined probability to choose the winner
Build attractive social sharing buttons
#7. Gamification contest
Who doesn't want to have fun on a joyous occasion? A gamification contest is as simple as Sweepstakes; the only difference is that you have to play a game to win the contest.
The ultimate goal of a holiday contest is to get the customer engaged during the holiday rush, incentivize unique actions, reward customers and gain loyalty.
Gamification contest has the recipe for all that. You get engagement and loyalty, and customers get to win exciting prizes. Popular gamification contests used during holiday seasons are:
Spin the wheel
Scratch and win
Quizzes
Raffles
Scavenger hunt
Trivia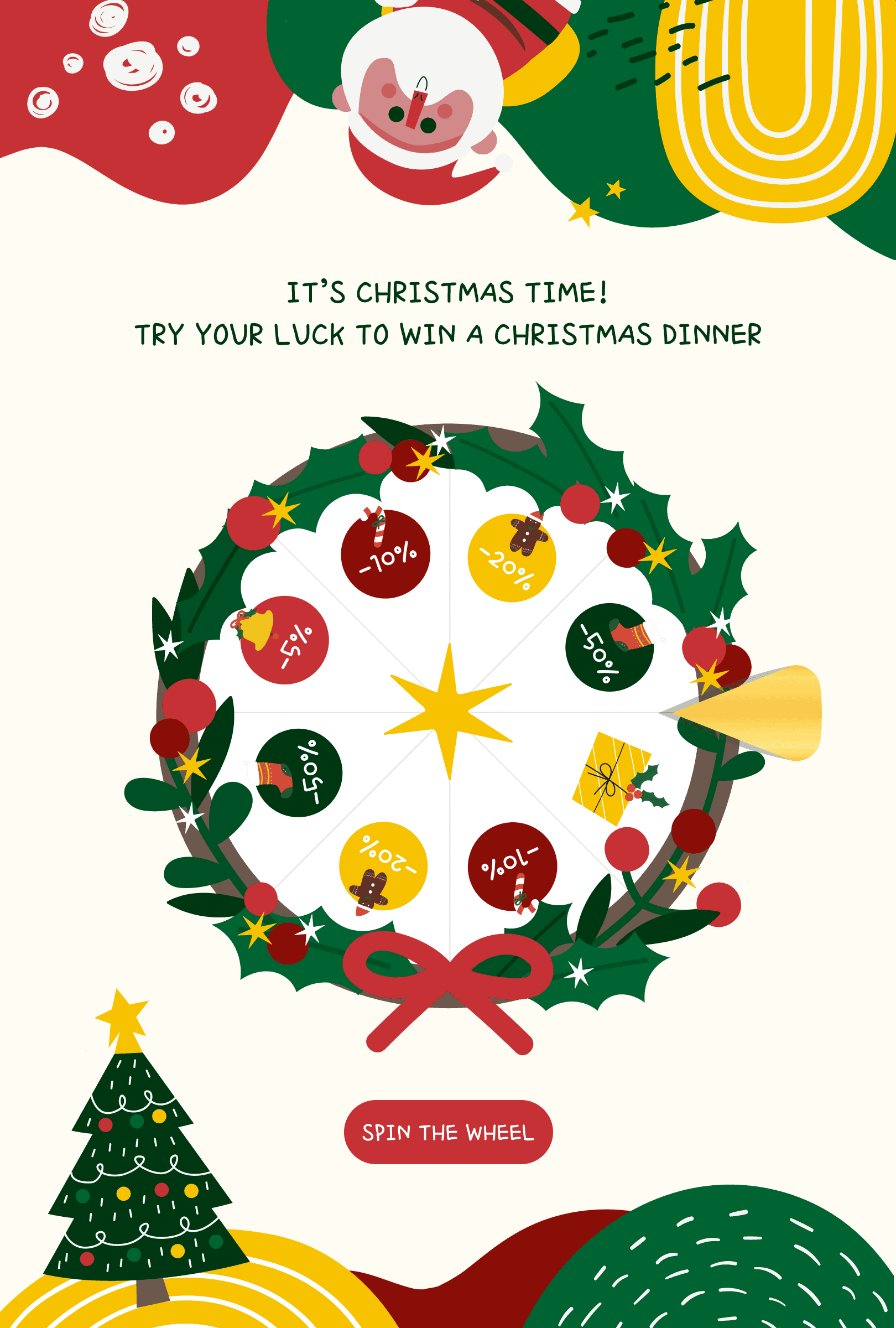 Here is a classic spin-the-wheel contest you see in most eCommerce stores. Or, you can be more creative and make your customer work for it using a clever puzzle-like game.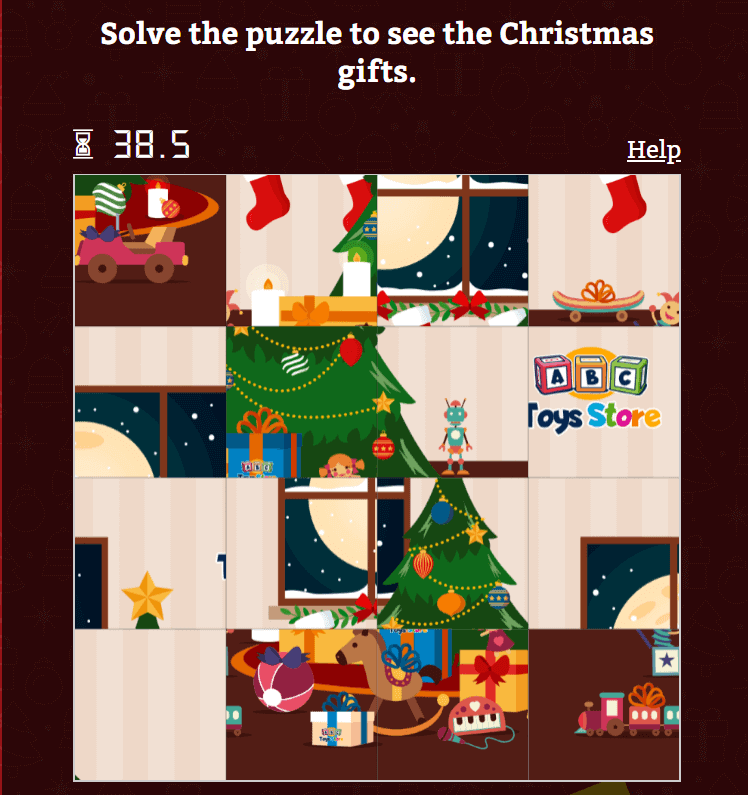 Gamification contest best practices
Ensure the theme of the game is relevant to the holiday
The game should be easy and fun to navigate
Promote it on the homepage of your website
Keep the rewards a surprise to increase engagement
Read also: 10 Examples of Black Friday & Cyber Monday Email Campaigns
Final Thoughts
A holiday contest is the easiest way to get some extra seasonal traffic and sales.
Keep up the holiday spirit and reward your customers with exciting gifts. This gesture will help your business in the long run.
Running a holiday contest is a smart way to boost customer loyalty, generate positive word of mouth, and acquire new customers.
Cheers!
Frequently Asked Questions
1. When is the right time to run a holiday contest?
The right time would be during the start of the holiday season sale, especially after Thanksgiving. That's when your online store will attract the most traffic.
2. How long should I run a holiday contest?
The duration varies from store to store; it depends on your customer base and the volume of traffic you attract. The recommended time is 30 to 60 days.
3. What kind of prizes should I offer during a holiday contest?
This is a season of giving; be generous with your prizes. Set your offers to 40% and above. Attractive prizes will influence word of mouth and loyalty.
4. How to promote my holiday contest?
You can promote it on all your social media platforms. Send emails to loyal, repeat customers and invite them to participate in your contest. It will amplify word of mouth and brand awareness.