A sales Customer Relationship Management (CRM) tool plays a vital role in the success of any business organization. If you're a business owner or an entrepreneur, we're sure you've come across Pipedrive.
Pipedrive is an excellent CRM solution for sales management, but it doesn't do the job for everybody.
Why?
For your business to grow and thrive, you need to consciously focus on the three key aspects: marketing, sales, and customer service. Pipedrive CRM offers only sales tools.
To save you some time, we've compiled this guide to show you the best alternatives to Pipedrive:
EngageBay
HubSpot

BIGContacts

ActiveCampaign
GetResponse
Insightly
Happy hunting!
What is Pipedrive?
Pipedrive is a sales CRM tool that offers automation, lead generation and qualification, communications tracking, insights, and deal pipelines. According to Pipedrive, the platform "helps you sell 28% more."

Pipedrive Features
Pipedrive CRM offers a lot of tools, but since it's a CRM tool built mostly for sales teams, it lacks the comprehensive functionalities that some other all-in-one CRM software come with. Let's look at the key features:
Lead Management
Pipedrive's CRM software allows you to qualify and score leads based on their journey through the sales pipeline and online behavior. You can set up custom workflows and targeted marketing campaigns to nurture and engage with new leads and retain existing ones.
You can also segment leads based on the acquisition channel and create personalized outreach campaigns.
Communication Tracking
With Pipedrive, you can track and view your communication history with your leads. It also notifies you when a lead has opened an email or SMS — this can help you score leads and send the right content at the right time.
In addition to that, Pipedrive automatically logs and updates all communication so that you can refer back when needed.
Read also: An In-Depth Look At HubSpot vs Pipedrive
Intuitive Interface
One of the biggest perks of Pipedrive CRM is its simple-to-use interface. The design is intuitive and easy to navigate, important for small businesses or sales teams.
Another advantage is that the platform is easily customizable. Teams can make changes as per their preferences and requirements.
Automation
Pipedrive offers several automation tools that can help you scale your sales processes. You can automate workflows, contacts, lead communications, and notifications to help you streamline your tasks.
Reporting & Analytics
Every CRM tool must be equipped with robust reporting capabilities. Pipedrive offers several custom dashboards and reports that can give you actionable insights into your sales performance and suggestions for improvements.
You can also create individual tasks or goals for your sales team members on a unified, common dashboard.
Integrations
As with most CRM options, Pipedrive offers several integrations to enhance the platform's capabilities. Users can integrate with Zapier, Slack, Google Meet, and 150+ tools to accelerate productivity.
Read also: 15 Sales Prospecting Tools For a Tight Budget
Pipedrive Pricing

Pipedrive offers four pricing plans, depending on your preferences and needs.
Essential
Billed from $15/month per user
Includes features such as Lead, deal, calendar, and pipeline management
Simple data import and easy customization
24/7 support and 275+ integrations
Advanced
Billed from $29/month per user
Includes features like full email sync with templates and scheduling
Group emailing plus open and click tracking
Workflow builder with triggered automations
Professional
Billed from $59/month per user
Includes features such as upgraded reports and visual dashboards
Revenue forecasts and win projections
Document and contract management
Enterprise
Billed from $119/month per user
Unlimited user permissions and teams
Tailored security settings and preferences
Implementation program and phone support
No feature usage limits
Read also: Pipedrive Pricing, Features, and Affordable All-in-One Alternatives
Pipedrive — Pros & Cons
No CRM software is perfect. As we mentioned before, Pipedrive is a sales-only CRM.
Let's take a look at the pros and cons of Pipedrive CRM — these points show why you need a Pipedrive alternative:
Pros
Intuitive interface, simple to use design
Accessible pricing plans for medium-sized businesses
Includes many sales management features
Custom reporting and dashboards
Pipedrive's excellent mobile app makes it easy for SMB owners and agents "stay on top of their CRM process" even on the go:

Cons
Is not an all-in-one CRM solution
Limited marketing functionalities
Does not offer high-level integrations
Limited scalability
No helpdesk and ticketing system
Expensive add-ons for lead generation, live chat, and web analytics
Lots of users also complained about the customer support (or the lack thereof):

Read also: CRM Functionality — 12 CRM Features That Fuel Growth Hacking
Top 6 Pipedrive Alternatives That Can Do More
If you're ready to make the shift, we recommend six Pipedrive alternatives worth considering: EngageBay, HubSpot, BIGContacts, ActiveCampaign, GetResponse, and Insightly CRM.
Let's look at the Pipedrive alternatives in more detail below.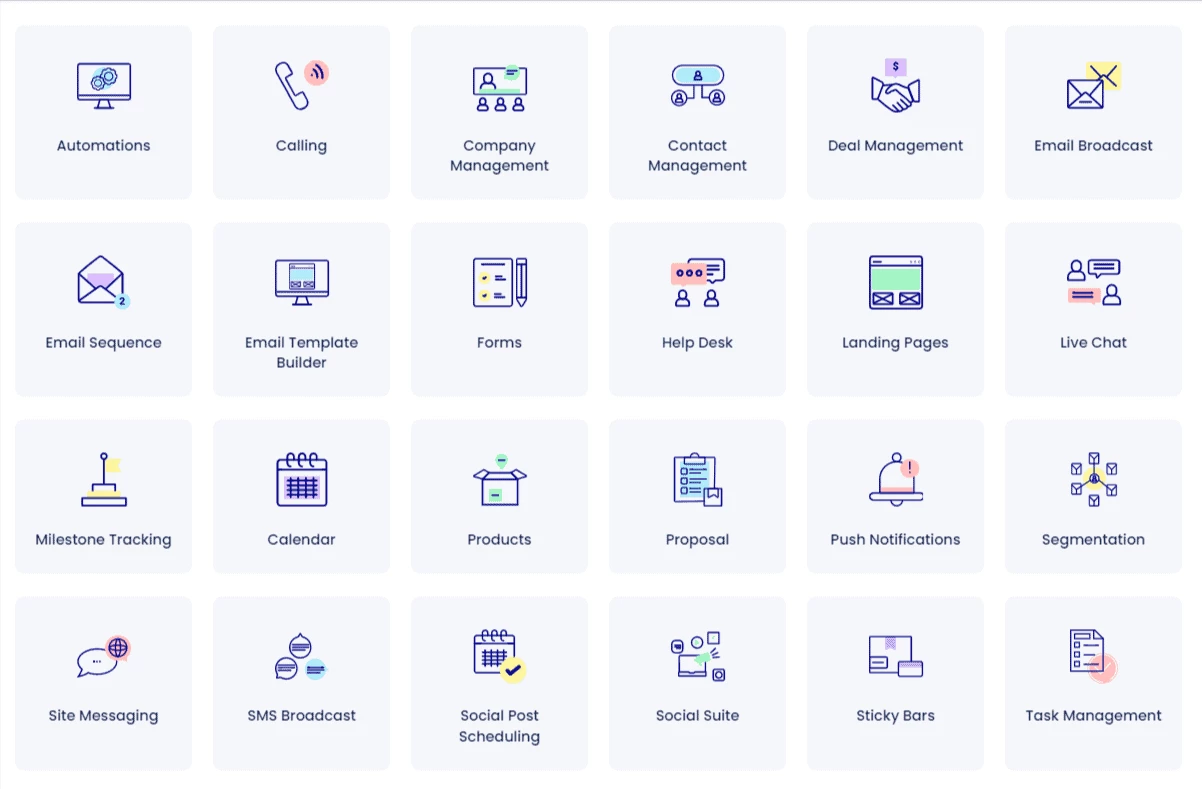 EngageBay is an all-in-one digital marketing solution. It's a feature-rich and versatile CRM software that offers plenty of tools for marketing, sales, and customer support teams.
Since it's geared towards small businesses and startups, the platform is scalable and adaptable. In addition, EngageBay's CRM is always free to use.
Advantages
Powerful reporting options
Live chat, helpdesk, and marketing support
Quick customer support
Affordable pricing plans without additional hidden fees
Free onboarding and migration services
EngageBay Pricing
EngageBay offers four plans: Free, Basic, Growth, and Pro.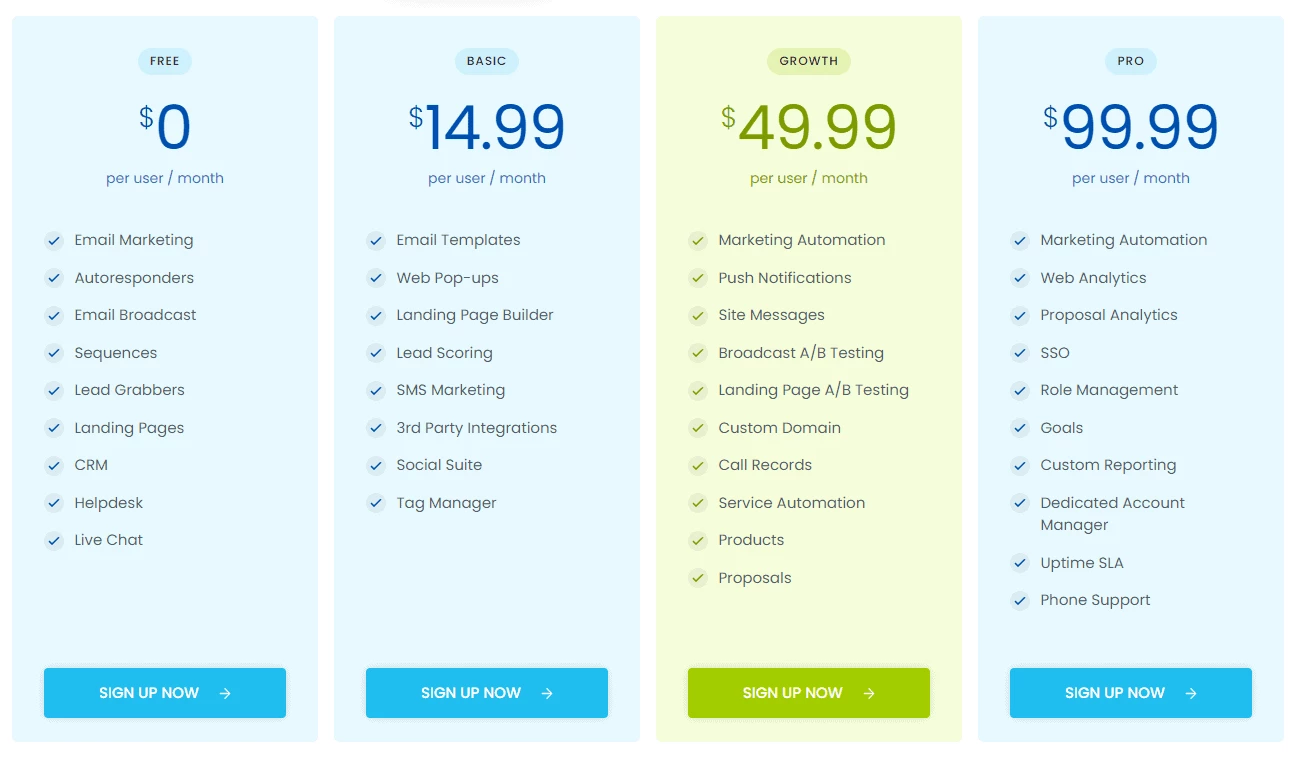 Free: Includes 500 contacts and 1,000 branded emails
Basic: Costs $14.99/month, includes 1,000 contacts and 3,000 branded emails
Growth: Costs $49.99/month for 10,000 contacts and 25,000 branded emails
Pro: Costs $99.99/month for unlimited contacts and 50,000 branded emails
All users get an additional 10% discount for annual subscriptions, and a 20% discount on biennial subscriptions.
EngageBay's users love our incredible and expert customer support, and our streamlined UI makes the platform pretty easy to use:

Pipedrive vs HubSpot vs EngageBay — Which CRM Tool is a Smarter Choice?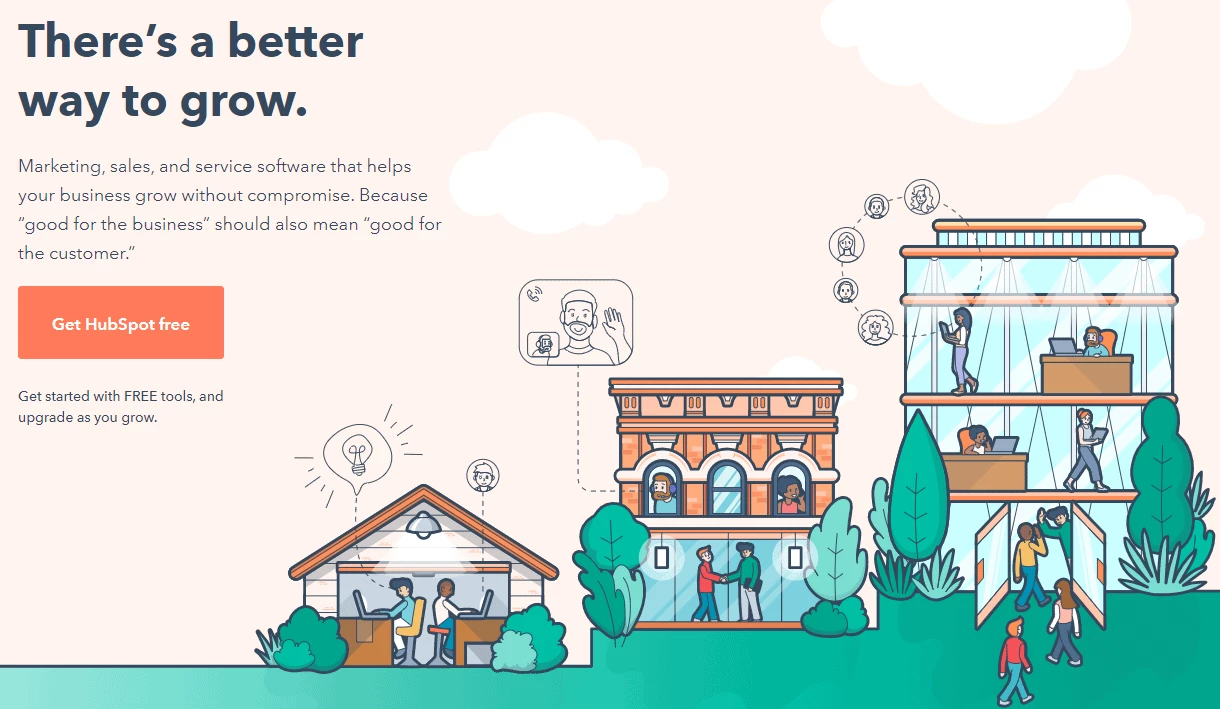 When it comes to CRM, HubSpot is the go-to software due to its pitch-perfect features. HubSpot divides its tools into the Marketing Hub, the Service Hub, and the Sales Hub.
Like EngageBay, HubSpot offers a free-forever CRM.
Advantages
Multilevel automation through powerful visual workflows
Drag-and-drop page editing tools, with the option to code for better precision and control
One of the best in the CRM industry
Free-forever CRM with limited tools
Pricing


HubSpot CRM Suite offers four plans:
Starter: $50/month for 1,000 marketing contacts
Professional: $1,780/month for 2,000 marketing contacts
Enterprise: $5,000/month for 10,000 marketing contacts
Read also: 8 Fantastic HubSpot Alternatives for Small Businesses

BIGContacts is a delightful and feature-packed CRM and email marketing solution designed to accelerate business growth. It offers contact, sales, and email management functionality to help you continually improve relationships with prospects and customers.
Advantages
Custom sales pipeline for effortless tracking and management of sales opportunities

Manage contacts, calendar, emails, and tasks from a single place

Automate follow-up for lead nurturing and task reminders

Intelligent reports & in-depth analytics

Webform connection for lead generation

Powerful third-party integrations
Pricing

BIGContacts has four pricing plans based on the your contact and file storage capacity requirements:
Big- $5/user/month

Bigger- $15/user/month

Biggest- $25/user/month

Enterprise- Custom pricing
Every plan offers email templates, calendar and workflow management, custom fields, tags, and more. The higher-priced versions offer advanced features such as automated follow-ups and social profile searches.
Read also: Pipedrive VS Monday: Which Is Better? A Side-By-Side Review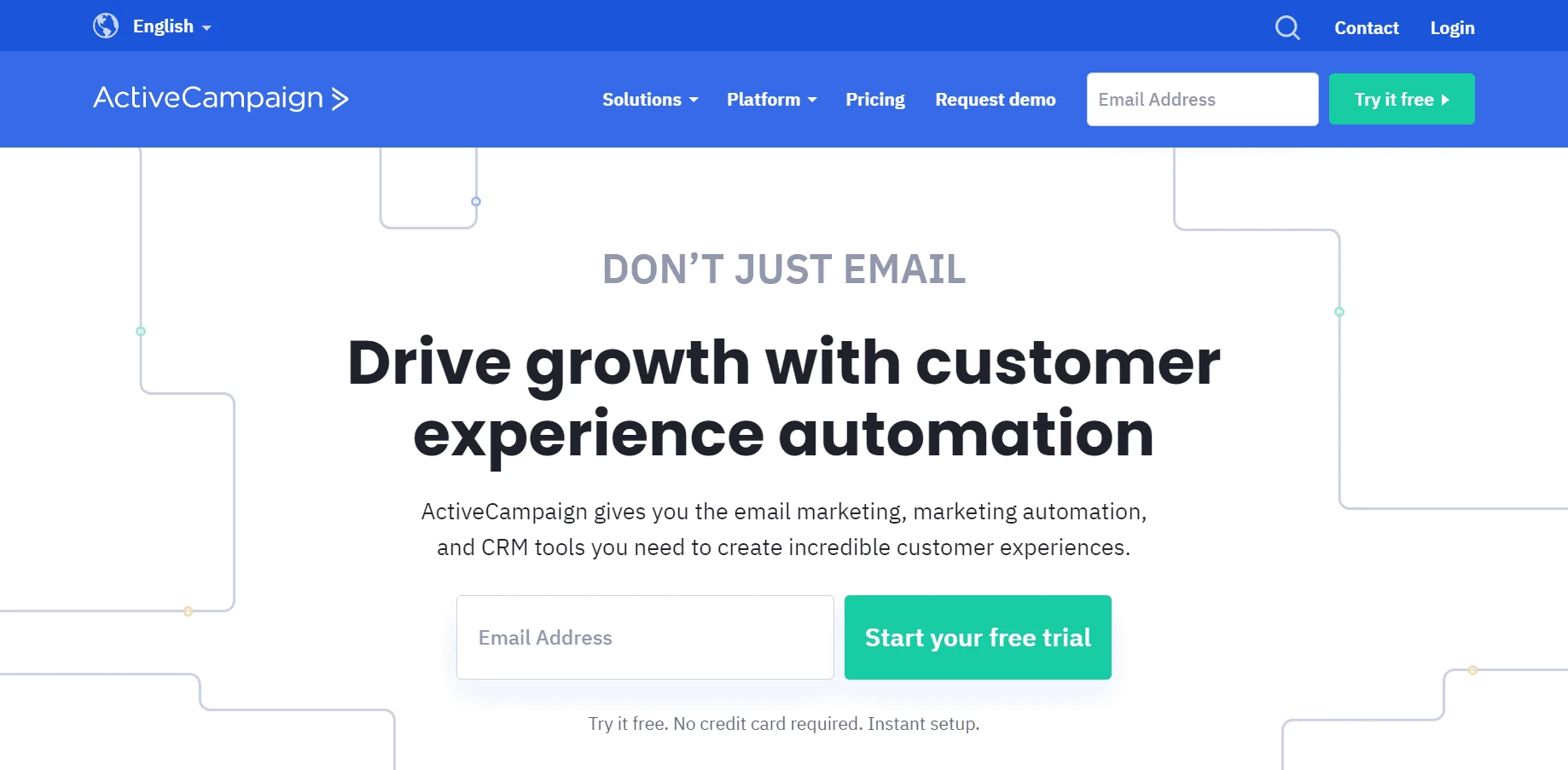 ActiveCampaign — another excellent alternative to Pipedrive — is an email marketing and marketing automation platform that gives small businesses tools and functionalities to drive growth.
It's mostly a customer experience platform, so all features are geared towards customer service teams.
Advantages
Advanced reporting and customization options
Offers CRM tools, though that is not the focus of the platform
Aimed at small to medium-sized businesses
A customer experience platform – you can create targeted email campaigns, nurture existing leads, and drive revenue by focusing on creating a customer-first experience
ActiveCampaign Pricing
ActiveCampaign has four pricing plans:

If you have 1,000 contacts, this is what you would pay each month, billed yearly:
Lite: $25/month
Plus: $49/month
Professional: $149/month
Enterprise: Custom-priced
The cost increases depending on the number of contacts you have.
Every plan has basic marketing and email marketing automation features. The more expensive plans offer advanced features and customization options.
Read also: ActiveCampaign Alternatives — 5 Similar Tools You Should Use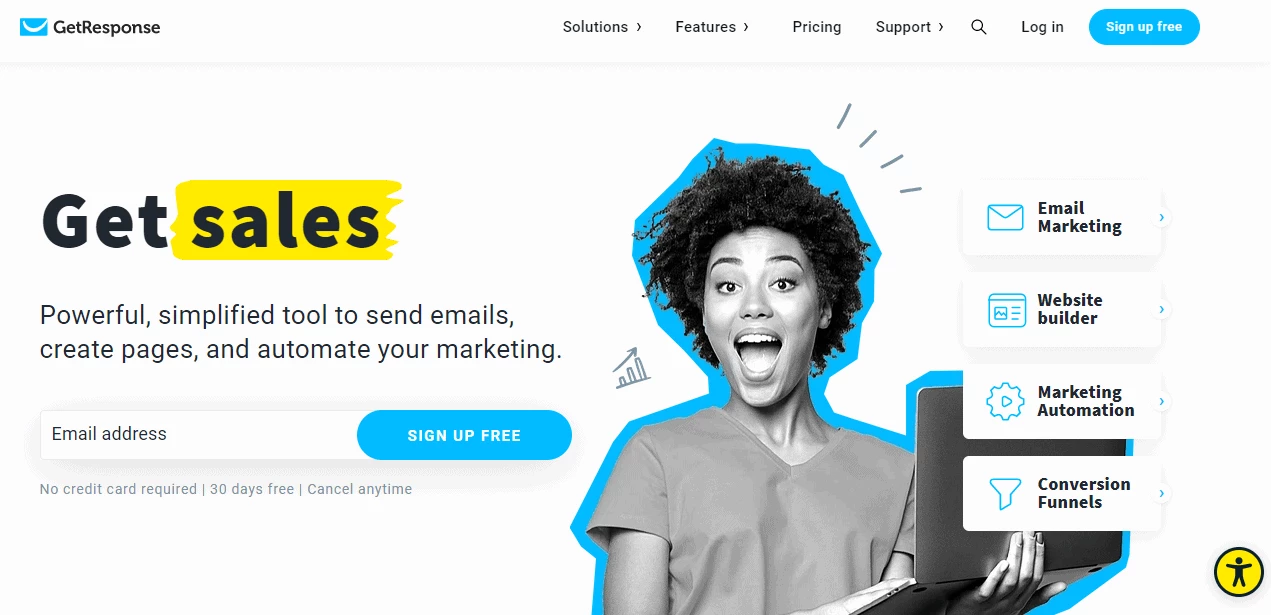 GetResponse offers solutions for all inbound marketing needs. This includes email marketing, landing page creator, webinars, paid ads, and live chat.
Advantages
Similar to EngageBay, GetResponse has a free-forever plan for new businesses; Includes a suite of free marketing tools
Advanced list segmentation, autoresponders, and custom workflows
You can also host webinars on GetResponse. The platform allows you to host unlimited webinars and send invites to a segment of your contact list
Web push notifications and chatbots are additional features offered by the platform
GetResponse Pricing

GetResponse has four pricing plans depending on your list size. For 1,000 contacts:
Basic: $15/month
Plus: $49/month
Professional: $99/month
The free-forever plan offers:
Email marketing
Website builder
Domain connection
Up to 500 contacts
Landing pages and sign-up forms
Some users found the platform difficult to use, especially during the initial stages:

Read also: 5 of the Best GetResponse Alternatives (Features, Pricing)

Insightly CRM is a unified customer relationship management software that aligns marketing, sales, and customer support teams on a common platform.
It is mainly targeted toward small business owners managing and executing marketing campaigns, building contact lists, and growing their audience base.
Advantages
Insightly CRM offers social media management. It also tracks and analyzes metrics based on media profiles
The platform is simple to use and has an intuitive interface
It also offers different products for specific marketing needs
Insightly CRM Pricing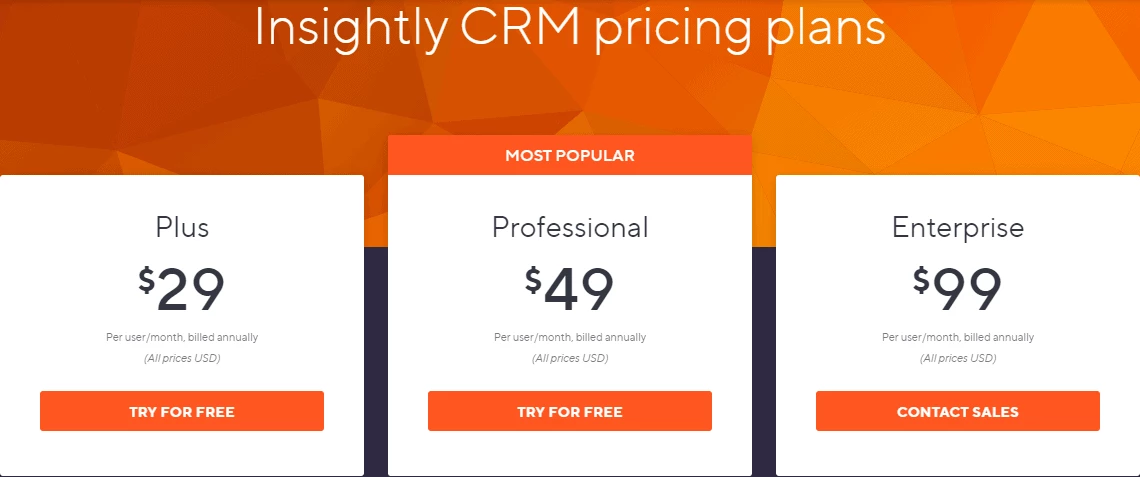 Insightly offers different marketing plans for each product: InsightlyCRM, Marketing, AppConnect, and Service. We'll take a look at the CRM pricing structure below.
Plus: $29/month
Professional: $49/month
Enterprise: $99/month
As you can see, there are no free plans, and the starting price is quite steep.
Read also: Insightly Alternatives — Better Tools to Consider
Honorable Mentions
The automation platforms we mentioned above are the best alternatives to Pipedrive. That said, it's only fair to mention other awesome CRM solutions that were shortlisted during our extensive research:
Salesforce CRM
Freshworks CRM
Zoho CRM
Read also: The Definitive Pipedrive vs Salesmate Review: Which is The Best CRM Solution?
Wrap Up
Shopping around for a CRM is tricky because it's all about finding the best fit for your company's needs. Many factors won't show up when you conduct initial research. Additional implementation costs and lack of training resources can be a significant hindrance.
All the Pipedrive alternatives we discussed above offer robust solutions.
Pipedrive is a good choice if you have a small sales team that deals with fewer leads.
However, if you're looking for a more comprehensive marketing automation platform that prioritizes customer engagement and support, you should try EngageBay.
EngageBay offers powerful features, including sales pipeline management, marketing automation, contact management, omnichannel marketing, a visual workflow automation builder, project management, mobile apps, knowledge bases — the list goes on.
We believe that the best way to know if you're making the right choice is to take the software for a trial run. Unfortunately, Pipedrive doesn't offer a free plan, although it does have a free trial for 14 days.
EngageBay, on the other hand, offers a free-forever plan with no expiry date and no credit card commitment.
Looking to make the switch? Reach out to us, and we'll set you up an account and a demo.