If you are considering or even using Pipedrive CRM, this article will tell you about the disadvantages of Pipedrive CRM and also offer you some Pipedrive alternatives.
Determining when it's time to switch your customer relationship management or CRM software is never an easy decision to make.
You may worry that the move would be too stressful or time-consuming; you could have concerns that it might take you too long to learn the new system.
These fears can become paralyzing, preventing you from taking action even if it's long since time to upgrade.
Whether it's a system's lack of features, a poor user interface, or less than desirable customer support that has you itching to make a change, right now is as good a time as ever to switch your CRM.
The year is just getting started, you're still in your first quarter, and any new projects and plans you have will probably come to be later in the year.
Some of the issues above may sound particularly familiar to you if you use Pipedrive as your company's CRM, especially the lack of features.
The cloud-based CRM and other services Pipedrive CRM offers seemed like such a good fit for your company several years ago, but now you need a service that's more comprehensive.
It sounds like this is the guide for you, as we're going to discuss in more depth all the features Pipedrive CRM is without.
We will also list out three viable alternatives to Pipedrive including EngageBay, as it has everything Pipedrive CRM lacks and more you need in customer relationship management software.
The Drawbacks of Pipedrive
Pipedrive is a sales-based CRM tool with sales pipeline management features like integrations, mobile app use, automation, communications tracking, insights, and deal management. It is truly a sales platform.
While they have a large audience base (with more than 90,000 companies as customers according to the Pipedrive website), there are some cracks in what's an otherwise nice-looking façade.
Let's explore some of the more glaring issues that come with using Pipedrive for long enough as your company's CRM.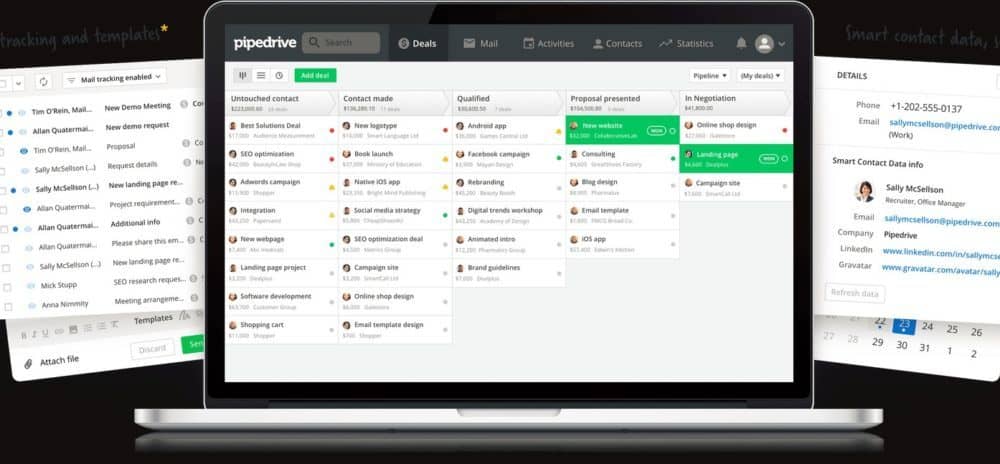 No Marketing Support
Apart from your sales team, your marketing team also relies on your CRM heavily, using it to leverage with your sales team, track past and current interactions with a lead or customer, qualify leads (and disqualify others), and nurture and engage with your audience.
The features included in the CRM should make the lives and jobs of your marketing team easier, not harder. Yet you may consistently deal with the latter should you continue using Pipedrive, as their CRM lacks marketing support.
Without this support, your company's marketing team may not do certain activities as efficiently as they could.
For instance, if your team travels, which your marketers may frequently do, and they attend roadshows or conferences, they might not get the full range of services they need from their CRM when on the go.
This causes missed leads, which negates the point of attending these events in the first place. They're not winning your company any new customers, but only costing you more money in the end.
Anything that kneecaps the success of your marketing team is something you'd want to wholeheartedly avoid. To that end, Pipedrive's lack of marketing support should be seen as a major issue.
If you switch to a more full-fledged CRM system like that offered by EngageBay, you can rest assured you'll have all the features you need to augment the work of your marketers so their productivity and efficiency never suffers.
EngageBay's marketing automation software helps online businesses streamline and automate marketing and sales processes and improve the overall efficiency

No Helpdesk
Here's a feature that a surprising amount of today's CRMs don't have, helpdesks. The same is true of Pipedrive CRM, so already, you're limiting the effectiveness of your marketing team and hindering your company's customer service capabilities.
Considering that exemplary customer service should be at the backbone of any company worth its salt, going without for even another day may be too long to wait.
A helpdesk answers the most burning questions your leads and customers have about using your products and services.
There are people behind the helpdesk, of course, mostly your customer service reps, and sometimes artificial intelligence or AI as well.
These people and bots will pick up phones, address tickets, and respond to emails so a customer's concerns get addressed promptly.
The best helpdesks have self-service features, like the above-mentioned tickets. The customer can reach out to your company without really communicating with anyone, which sometimes is the preference of the customer.
You move the ticket along to the right party and then close the query when the customer's question has been answered to their satisfaction.
It all sounds so simple and common sense, yet remember that Pipedrive does not have a helpdesk as part of its CRM.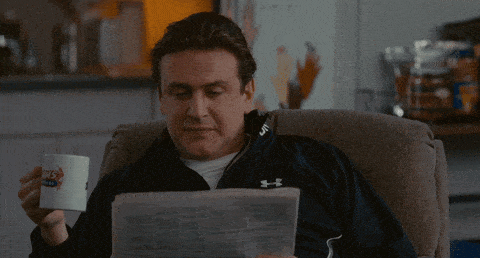 You will find a very inclusive helpdesk through EngageBay's CRM so you never have to leave customers fending for themselves when they need help with your products or services.
No Live Chat
Okay, so maybe you can rationalize to yourself that your company can get by without a helpdesk, but foregoing a helpdesk and live chat?
That's really limiting the ways in which you can communicate with your customers. Now if they want information or answers, they have to email you and wait upwards of one business day, sometimes several, before they can get a response.
That excludes weekends, which can push the wait even longer.
They can also call you on the phone, where they're stuck waiting on hold while trying to juggle their own lives and responsibilities.
If they get disconnected or accidentally hung up on, then they have to start all over again, but now in a far worse mood than when they called the first time.
It's much easier to just return the product and never deal with the company again than sit in phone purgatory.
A live chat–which can also be heralded by your customer service reps, chatbots, or a combination of the two–wastes far less time in the eyes of your customers.
Whether it's an evening, an early morning, a weekend, or another time that's not business hours, the customer can use the chatbot to get the information they need.
There's no waiting for an email and certainly no sitting on hold listening to muzak and growing more frustrated by the minute.
Your customers will gladly and happily discuss their customer service experience on social media and with others, spreading the word.
And yes, you guessed it right, Pipedrive does not offer live chat.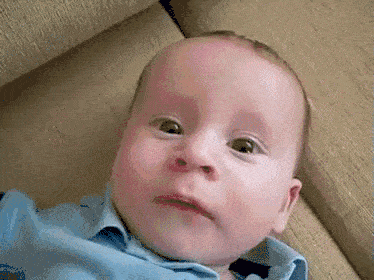 No 360-Degree Customer Overview
Just how well do you know your customers? If you're still using Pipedrive for your company's CRM needs, then probably not as well as you potentially could.
That's because Pipedrive insists its users forego a 360-degree customer overview, a feature that comes standard with EngageBay's CRM.
This full, engaging view lets you see every piece of information and data you have compiled on a particular customer.
For example, in a customer profile, you can review any notes or active tasks related to the customer, their lead score, their points of engagement, their personal interests, any social media profiles, your communication history, and the customer's contact information.
Enjoy 360-Degree customer view for deeper insights with EngageBay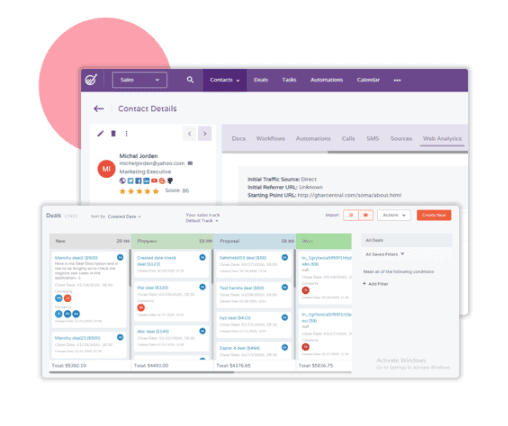 This data comes from your customer service reps, your marketers, and your sales reps, who all work to create and continually update this profile.
Now, you never have to question if your sales team or marketing team should reach out to a lead or customer first, nor do you have to wonder which pain points a customer has, as you'll know everything thanks to the 360-degree customer overview.
Well, that is, unless you continue using Pipedrive, as you don't get any of the above. Those features are included in EngageBay's CRM, which is always free to use. Doesn't now really seem like a good time for a CRM switch?
No Enterprise-Level Features
If you're shopping for dog food or shampoo at the grocery store, you don't want a middle-of-the-line product that's okay but not the best, right? Of course not, not when you can easily have the best.
Why should your CRM software be any different?
Enterprise-level features are the cream of the crop you're seeking, but they're not available in every CRM system.
As you can imagine, Pipedrive is one such CRM that lacks these high-level features. This is a shame, as there are trademarks of enterprise-level features that make them worthwhile for any growing company.
For instance, these features are often beloved for their great performance and their scalability. You always want your company to continue to expand, so scalable features are ideal, as they ensure you don't prematurely outgrow your CRM software.
Integrations with apps and services you already use is another trademark of an enterprise-level CRM. This is quite a handy feature as well since you don't have to discontinue the use of your favorite services and apps just because you're migrating your CRM software.
The privacy and security are above all some of the greatest perks of investing in enterprise-level software. With two-factor authentication, login policies that don't let just anyone in, strict permissions, user privileges, and data protection, you can feel confident that your CRM software is working hard for your security.
Lacks Powerful Reporting
The last point we want to bring up is one of great importance, well, at least if your company cares about having a record of past successes and failures (that should be every company, by the way).
Yet with a Pipedrive membership, you don't have the kind of powerful, detailed reporting you need to isolate trends and patterns within your data.
With EngageBay, if you provide the information, the CRM will do the rest, generating automated reports that are beautifully rich.
EngageBay's automated reports are beautifully rich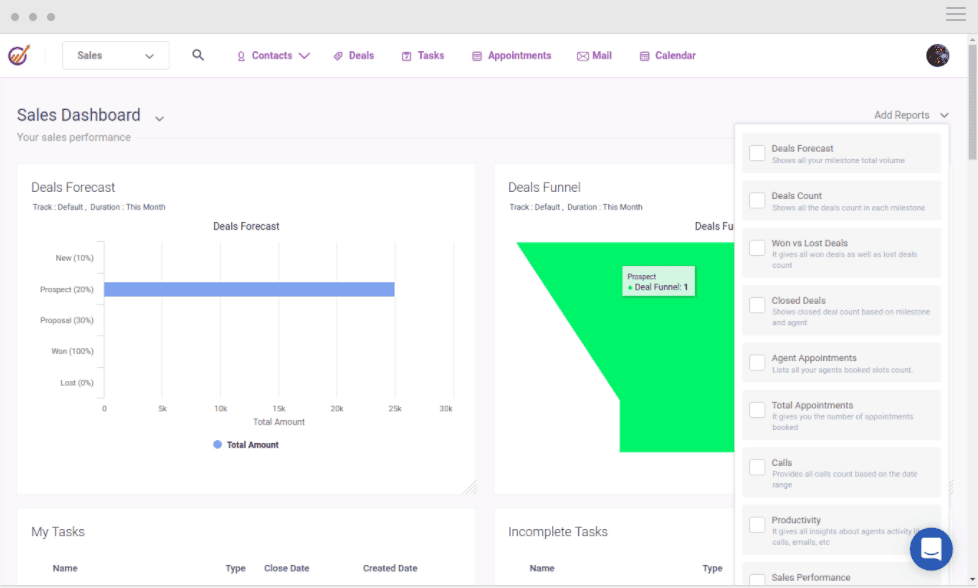 From campaigns from one month back to several years, you can cull the information that matters most to you so you can use it as a learning opportunity or a launching pad.
Therefore, it's time for you to look for better alternatives to Pipedrive.
3 Perfect Pipedrive Alternatives
By this point, you're convinced that you need an alternative to Pipedrive. This CRM simply isn't working for you anymore, so it's time to upgrade, but to which software?
There are three CRMs that we consider the best Pipedrive alternatives: EngageBay, HubSpot, and Insightly. Let's introduce these options in more detail now.
EngageBay
The first of the three Pipedrive competitors we think is very much worth considering is EngageBay.
This newer company was founded as an option for small and mid-sized business owners on a tight budget that didn't want to miss on sales and marketing features.
Not only is EngageBay an affordable service as a whole, but their CRM is always free, as we mentioned before.
Through EngageBay, you can get the kind of powerful reporting a company of your caliber needs, and you'll also enjoy a helpdesk, live chat, marketing support, a 360-degree customer view, a detailed sales dashboard, integrated calling features, email syncing, and automated data logging.
Take a look at the complete EngageBay product demo here:
HubSpot
Another free CRM that makes for a solid Pipedrive alternative is HubSpot. Yes, that's right, you can use HubSpot without paying a cent, although this only applies to their CRM services.
You get all the power the HubSpot brand promises with a wealth of features, among them a lead timeline that tracks notes, meeting history, email history, a call log, and other interactions you have with a lead from the beginning to the end of your sales pipeline.
You can also use HubSpot's CRM for automating log sales, syncing with Outlook or Gmail, automated customer interaction tracking, and a dashboard that displays your sales funnel.
This dashboard features performance tracking, quotas, contracts, open deals, closed deals, and a lot more pertinent information for your sales team.
Insightly
You may also give Insightly a try, as it has more features than Pipedrive's CRM.
Their software integrates with your favorite tools and apps, like Evernote, Gmail, MailChimp, Quotient, Proposify, Box, Xero, iCloud, and so many more.
Insightly even has mobile features since customers never stop moving, nor do your marketers or sales team.
Their business intelligence dashboard is shareable among fellow teammates, and it also has such features as goal progression, drag-and-drop functionality, sales leaderboards, revenue, projections, wins, leads, contacts, opportunities, open projects, and a calendar.
Insightly's CRM is not free to use even though they do offer a free trial, and the company mentions offering three different CRM plans for companies at different levels of growth.
Conclusion
If you prioritize customer service and satisfaction, then 2020 should be the year you finally drop your CRM membership with Pipedrive.
Not only do you not get a comprehensive, 360-degree view of your customers, but you also make communication for them harder as you lack a helpdesk and live chat.
EngageBay, which is a free CRM (Pipedrive is not), has the features you've had to go without as a Pipedrive CRM user.
You'll generate the most detailed reports yet, learn more about your customers, and make engaging with them far simpler than ever before. All that and you don't even have to pay for the CRM.
>>3 Agile CRM Alternatives You Should Switch To Now