What is Promotional Emails?
A promotional email is an commercial email campaign which usually offers incentives to drive sales and revenue for a business. The main aim of this form of promo campaign is to convince customers to make a purchase.
Whether you want to promote a brand new product, an existing product or an offer, promotional emails are one of the most effective ways to drive traffic towards your product page. Just creating a great promotional email is not enough. You need to ensure that the subscribers not only receive your email but also open and engage with it. Your main aim here is to make them purchase your product or service. To write a perfect promotional email, you need to follow certain guidelines. We have framed a few strategies and tips in this article that will help you design a great promotional email. However, before sending a promotional email, there is something called campaign segmentation that needs to be done to gain the best results.
What is campaign segmentation and why is it necessary to do  before sending promotional emails?
Email segmentation is basically a way of dividing all the subscribers into smaller groups based on certain criteria. Segmentation is generally used as a personalization tactic to deliver more relevant content to subscribers based on their interests, geographical location, history with the brand and various other factors. Rather than creating one single message for every subscriber, with segmentation, you send different messages to different users based on the group they are put in. A user can be in two or more categories depending on their interests. Some of the most common ways to segment your email lists are:
By gender
By location
By age
By purchase history
By interests and needs
By activity
According to a study by MailChimp, segmented email campaigns receive 14.31% more opens are a little over 100 percent more clicks than non-segmented email campaigns.
As you can see, it is highly important to segment your email list to ensure that you send promotional emails to only the recipients who are or who could actually be interested. Though segmenting will considerably reduce the volume of users who receive your email offering products, the recipients would be high quality leads and more likely to convert into a purchase.
Apart from an increase in sale, another advantage is that you won't unnecessarily annoy any of existing subscribers who aren't particularly interested in your product.
Moving on, here is a set of guidelines that you can follow while designing stellar promotional emails for your next marketing campaign.
1. Include the sender's name
Every individual receives a lot of spam messages daily. As of September 2018, spam accounted for 53.49% of the total email traffic. Because of various cyber attacks that occur, people get skeptical about an email if the sender's identity is questionable and immediately move it to their spam folder. According to Convince & Convert, 43 percent of the email recipients decide to put an email in the spam folder based on the email address or 'from' name.
To prevent this, you must ensure that you include your brand name in the email so they instantly know that it is not spam. You can either just include the name of your company (e.g. EngageBay) or making it a bit more personal by adding the word "team"(e.g. EngageBay Team). If you have more that one email campaign, you give a name to each one of it. (e.g. EngageBay Marketing Bay, EngageBay Sales Bay). You can also add a personal note by using the name of a representative along with the company name. (e.g. Kanishk from EngageBay).
It doesn't matter what approach you take. You just need to ensure that recipients find your email trustworthy and don't flag it as spam.
2. Keep your subject concise
Recently, Invesp CRO discovered that 47 percent of email recipients open an email based on the subject line alone. So if the subject of your email is poorly framed, your open rate will reduce drastically.
Your subject needs to be concise and should deliver maximum information in minimum words. A study by Invesp CRO found that emails with 6-10 words in their subject had an opening rate of almost 21%. However, a study conducted by Nectafy discovered that a subject should have 4 words at maximum. So, though the ideal length of a subject line is open to some interpretation, you can safely assume that your open rate will decline once the length of the subject becomes more than 10 words.
Your email subject line should be capable of invoking curiosity in the reader's mind because then they will open the email to gain more information.
Check out these examples of promotional emails where they have used concise subject lines.


3. Personalize the subject line
Instead of just a regular subject line, personalize it by including the customer's name and an intuitive greeting. Personalization plays a huge role in the performance of your promotional email. According to research conducted by Campaign monitor, Emails with personalized subject lines are 26 percent more likely to be opened than those with a generic subject.
Here is an example of a subject line that addresses a person using his/her name.



Such subject lines definitely grab a person's attention as opposed ones like these:



Moreover, you cannot send the same email to all of your subscribers. You need to take into account their jobs, preferences, interests, likes before sending them a promotional email. As stated previously, you need to segment your subscriber's list and send email catered towards the individual.
4. Taking care to prevent your promotional from going into spam
Certain words such as Free, Jackpot, Extra, Sale, etc if used in the subject line immediately tell you whether an email is genuine or spam.  You must have definitely received emails like these.




While you may not intentionally use such spammy words in your email, you may unintentionally use subject lines like these. Many ISPs would probably filter out your email and directly put it in spam if you use a lot of spammy words without even displaying them in the inbox. Moreover, recipients would not think twice flagging your email as spam if they think it is.
Previously, it was easy to identify spam. It used to generally contain words stated above, tell you that you won thousands of dollars or contain malicious attachments containing viruses. However, over a period of time, major email software programs have improved tremendously. Emails like these directly go to the spam folder. These days, people might put your content to spam even after willingly subscribing to the list. A recent study shows that 57% of the people mark a sender as spam if receive too many emails from them or receive content that is irrelevant.
Also, you need to keep a check on the frequency of promotional emails you send as it might annoy your subscribers. When a new user subscribes to your list, you can ask them how often they want to hear from you as based on that you can decide whether you should send them an email weekly or monthly.
Thus, it is essential for you to familiarize yourself with a bunch of spammy words and ensure that you don't use in your emails.
5. The main content of the promotional email
Once you have taken steps to ensure that people actually open your email, it's time to make the content interesting so they actually spend time reading it. Furthermore, you need to make the reader interested and actually motivate them to take action.
Though it is necessary to follow a logical flow for your promotional email, don't fit it into a mold as it might become predictable and can be boring for the audience. Keep your content intuitive and make it interesting.
Make sure that your message is in a conversational tone. It should seem as if you are actually talking to the reader. This would help your brand connect with the audience rather than just sending a monotonous message solely for the purpose of promotion. Yes, the main aim of the email is to promote your product but it is also essential to build relationships with customers.
Check out this example of Swiggy: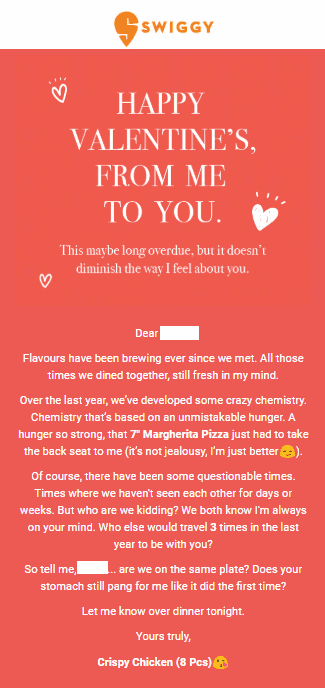 See how well Swiggy reminded me of the items I had ordered the most on their platform with this beautifully designed email on Valentine's day.
It is recommended to keep your write-up crisp and small. People do not prefer to read a promotional email that is very long. You have to make your point as quickly as possible. Before hitting that send button, you ought to check if there are some unnecessary words that can be removed.
6. Sell, don't force
The main reason why a ton of marketing campaigns fail is that they force their product on to their customers. However, you must understand that the essence of product email marketing lies in gradually building trust and relationship with your customers.
If you take the blunt "BUY OUR PRODUCT" approach, it could make people unsubscribe your list. Try to sell your product without being abominable. If you treat your customers as friends, you won't use dirty tactics to sell your product. Your main motive should be to sell your product to makes their lives better by being helpful, genuine and lovable, just like you would treat your friends and relatives. This approach would actually increase the odds of making a sale.
Check out this example of Dropbox: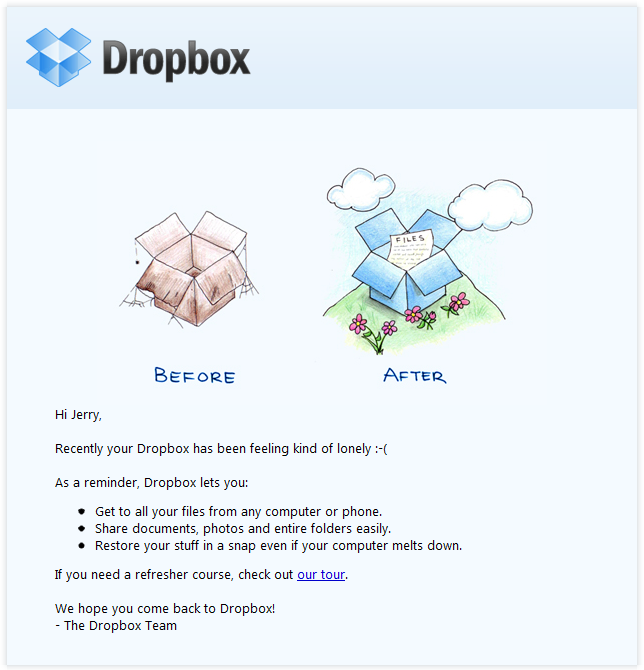 Source
Rather than explicitly describing the features of their product and intruding, it is simply reminding the recipients that the brand exists and how it could simplify their lives.
7. Make your content keyword-oriented
Hardly ever read anything in its entirety. Most of the times, they just scan through the text. If you want to grab their attention, you need to make your content that is scannable. In other words, generate your content around keywords that people would typically look for in an email.
So, instead of writing long paragraphs text, break your content into small manageable chunks that can be easily read or scanned.
Here is a nice example of such an email from Headspace.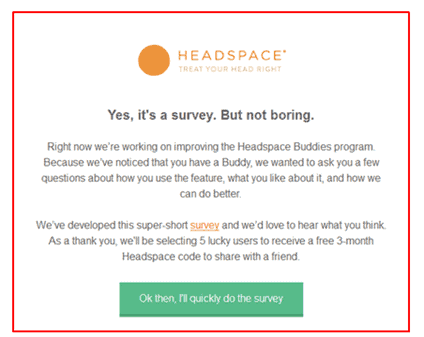 Source
8. Use graphical content
There is no denying to the fact that visuals attract people more than plain text. Moreover, graphics deliver content quicker and in a more effective manner. So including a few images is definitely a great idea to make it more intuitive.
According to research by Constant Contact, emails with two to three images generally receive the best click-through rates. In order to maintain a balance textual and visual content, your promotional email must contain 60% text and 40% images. As a matter of fact, nothing is absolute. Sometimes, companies just use a single image for the whole promotional campaign and still does the job.
Here is an example of DepositPhotos who have nicely used the image to convey their message with just 1 line of text.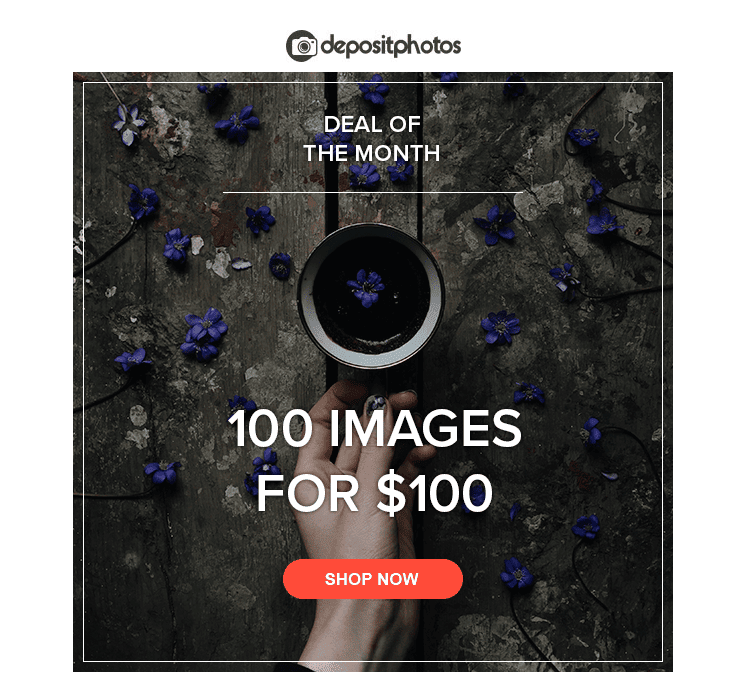 Source
You need to take care of the size of the images in your email. You should ensure that they look great on both, desktop as well as mobile devices.
There is a very little available for conveying your message and catch user's interest via promotional email. So any opportunity to convey meaning with an image should be used to the fullest. If there is a feature that you need to showcase, instead of describing how it works, just take some quality screenshots or create a GIF to display the action.
Here is an example of an email from easyJet where they have not only described the features of their app but also included a screenshot to portray its User Interface. Notice how elegantly they have used subtly used icons wherever possible.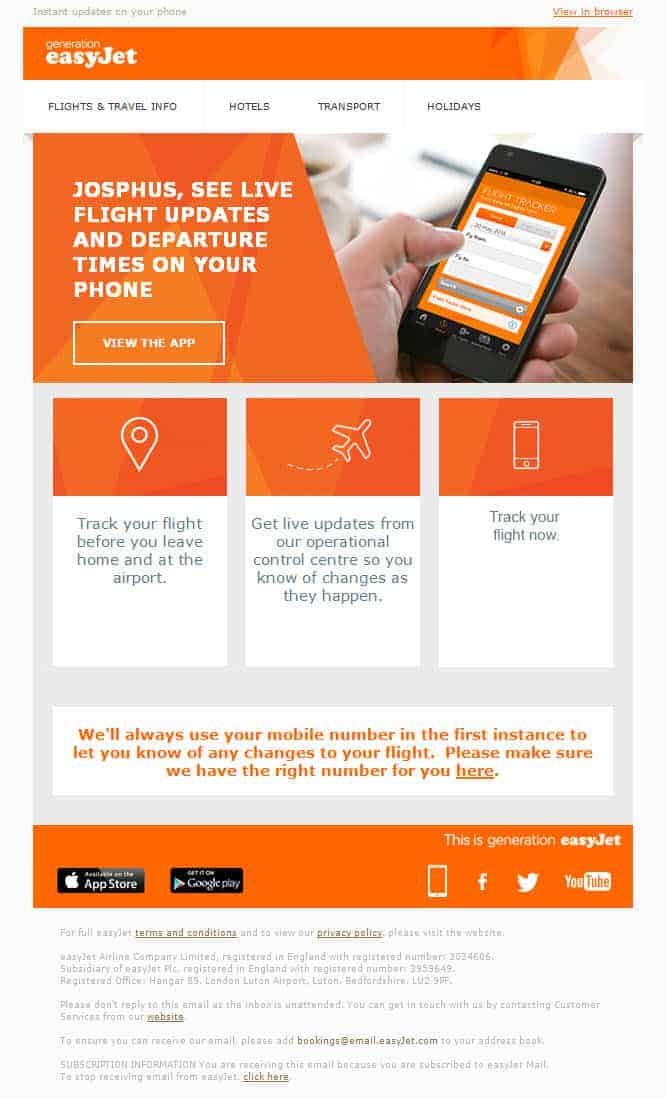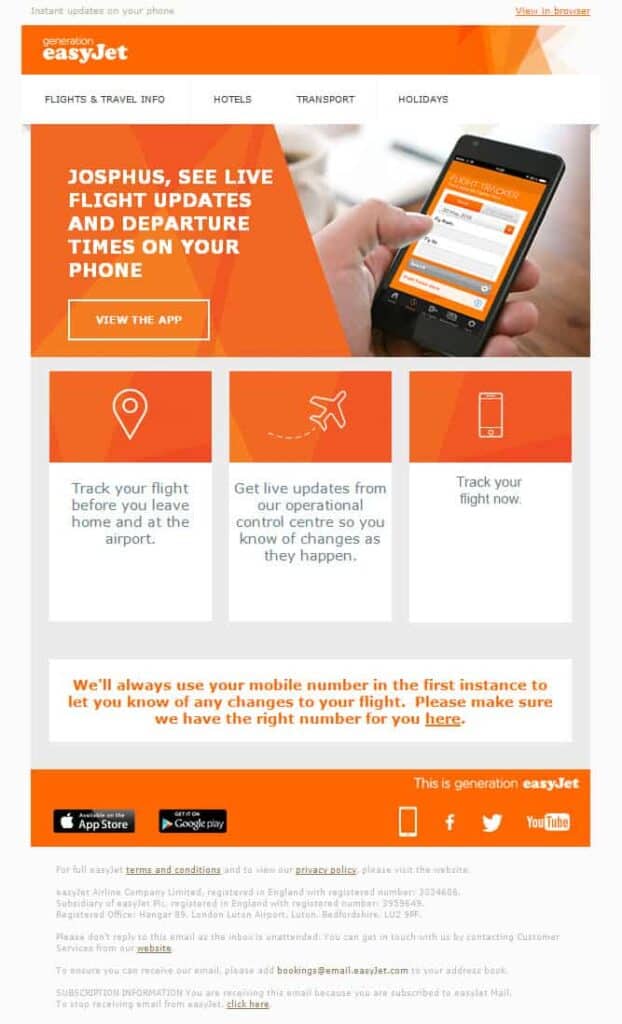 Source
Also, try to avoid using stock images as marketers have overused them in recent times and thus they have become very boring.
9. Make your email mobile friendly
According to a study by Litmus, 53% of the total email opens are via mobile devices. The number has rocketed by 500% from 2010 and it is going to increase even further in the coming years. To take care of this ever-increasing user base, you need to make your email mobile friendly.
Making an email mobile friendly means optimizing it to look great not only on desktops but also on mobile and tablet devices. In other words, you need to make your email as responsive as possible so that they look great on a wide range of devices. So, can either select pre-built mobile-ready email templates that make the best use of screen real estate smartphones provide, or code your email to be mobile friendly. The latter process is time-consuming and requires some coding skills.
We have already mentioned above that your subject line needs to be concise. However, along with that, you would also need to come up with a stellar pre-header text. It's is the pre-header text based on which your target audience decides whether or not to open the email and engage with it. Though it's length may vary depending on the mobile device and its operating system, on an average, it is around 40 – 50 characters in length. By keeping your pre-header text relevant to the subject, you can reach a wider audience and certainly boost your open and click-through rate.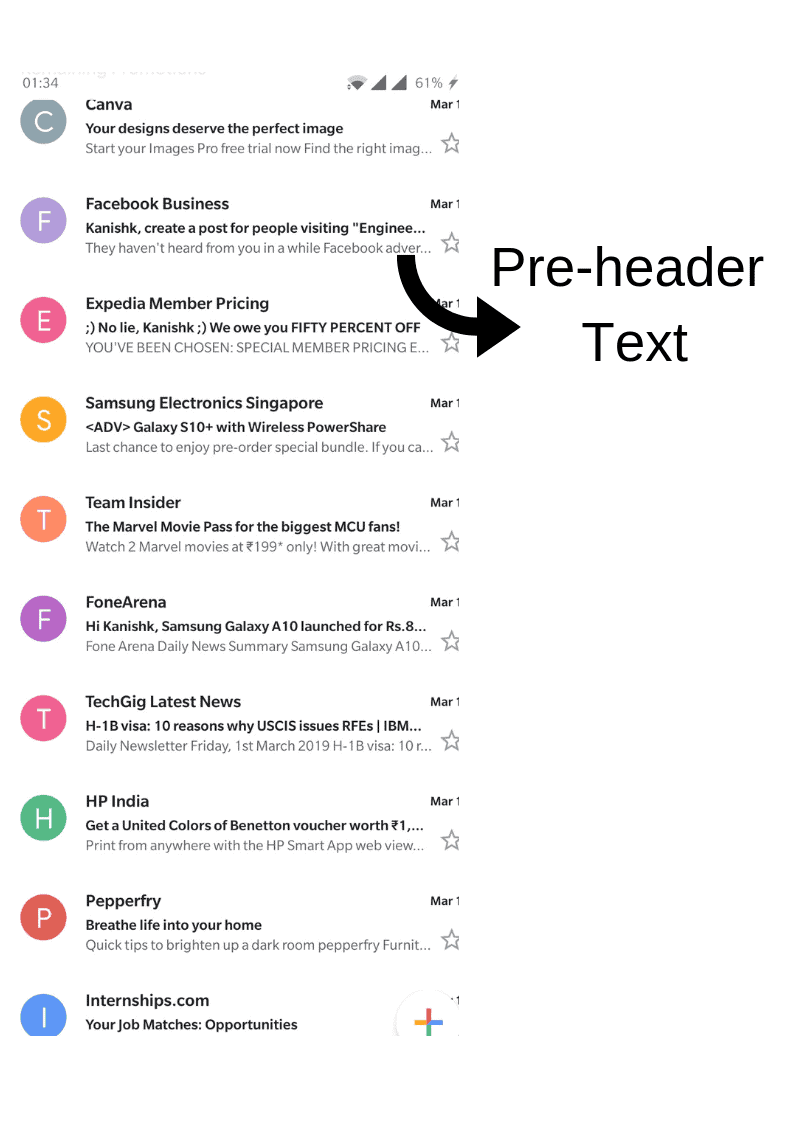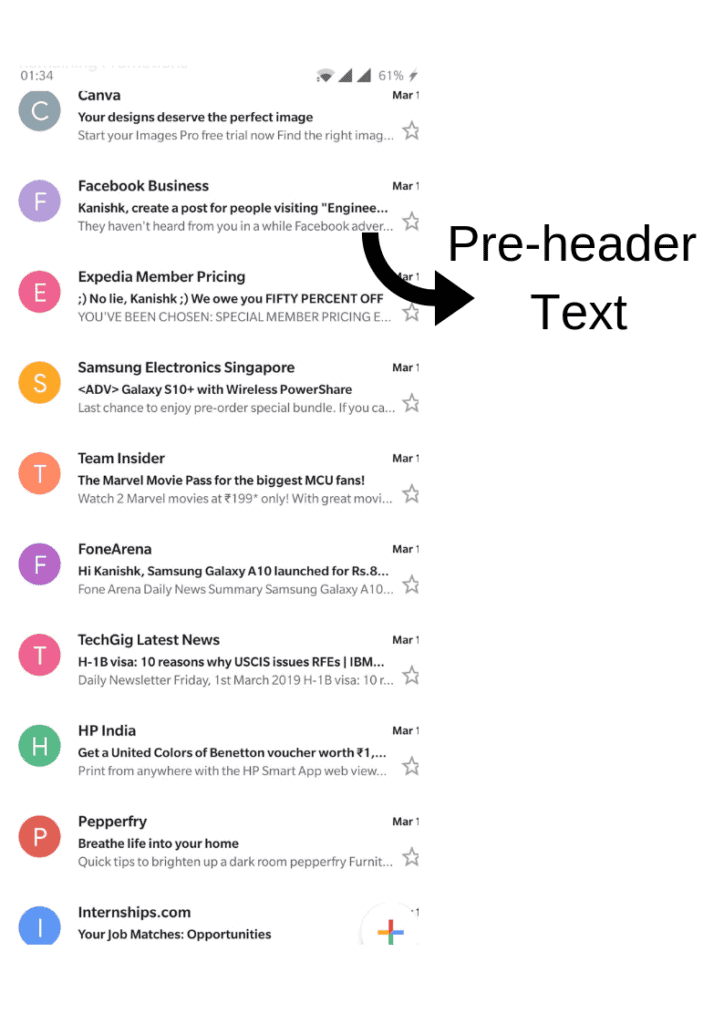 The call to action buttons in your promotional email need to be big enough for the user's thumb to reside. According to a recent study by MIT, the target button should be between 45 x 45 pixels to 57 x 57 pixels for the user's finger to fit perfectly. If the button is too small, the users probably won't click and in turn, won't convert.
10. Make subscribers actually interact with the call to actions
If you don't know what a call to action (CTA) is, it is basically a link or a button that redirected to a webpage that provokes a user to click. Though your the content and subject are essential to draw the user to the email, it is necessary to have a  compelling CTA so the users know where exactly to click to get more information.
In general, CTAs should have a bright color and should be placed such that they gain the attention of the reader. In most scenarios, it is appropriate to use buttons instead of link-based CTA as they are simply more eye-catching. Also, the color of CTA should be the one that is never or rarely used in your email so that it stands out from the rest of the content. Don't try to clutter your CTA with the rest of the content. Leave some white space around the CTA so that it stands out and draws attention.
Instead of using boring words like 'Submit', 'Click here', use more action-oriented phrases like, 'Reserve your spot', 'Download the brochure.
Keep in mind that most of your emails will be first opened on mobile devices. So, ensure that your CTA buttons are large enough for users to click.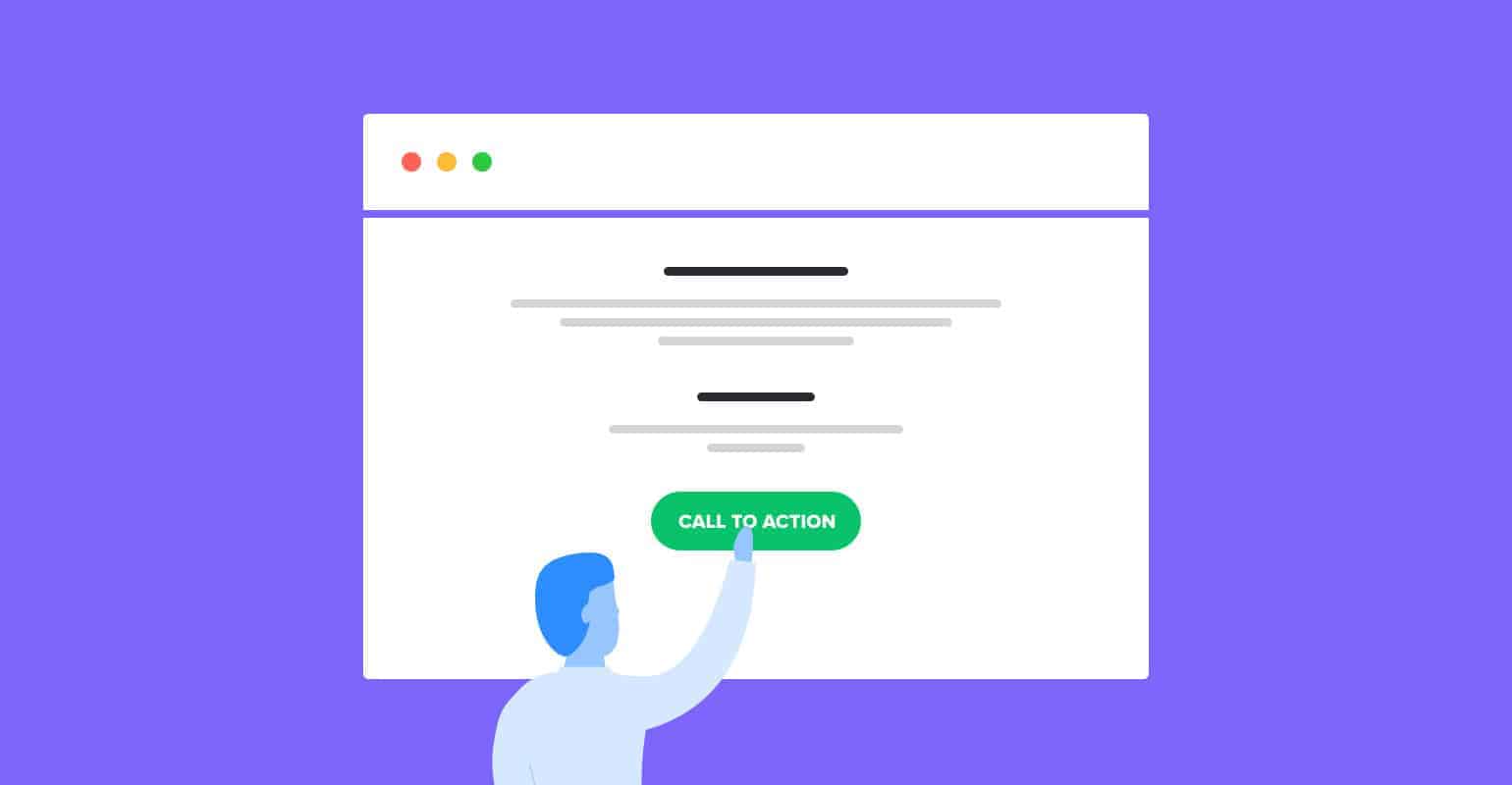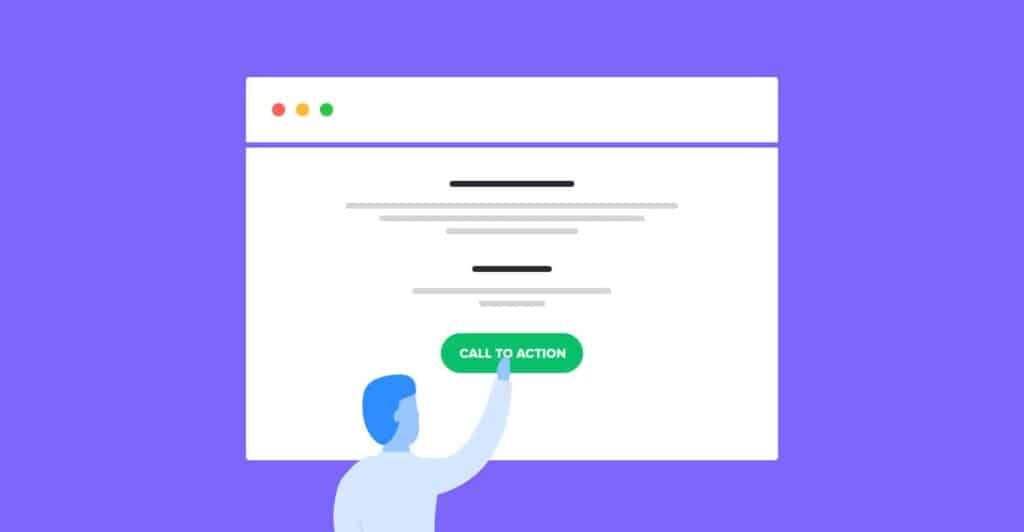 Source
Most of the times, it is good to have just one CTA. More CTAs can overwhelm your subscribers. If at all you need to put another CTA, make that all of them are pretty distinctive in terms of placement and colors.
Check out this example from Canva which just has a single clear CTA.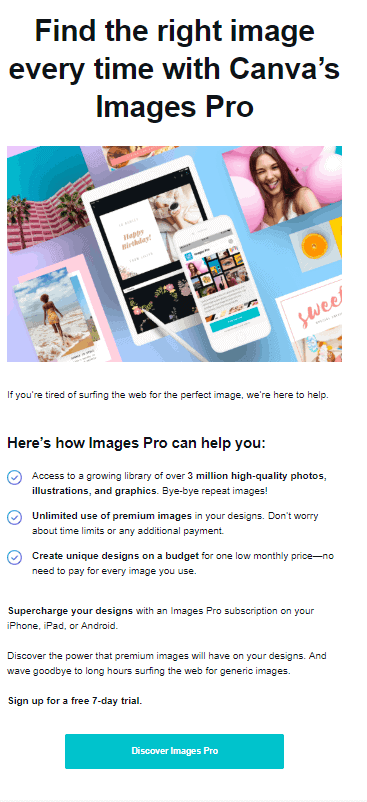 Here's another example of a promotional email sent by Paytm that has 3 call-to-actions each of which are pretty distinctive of one another.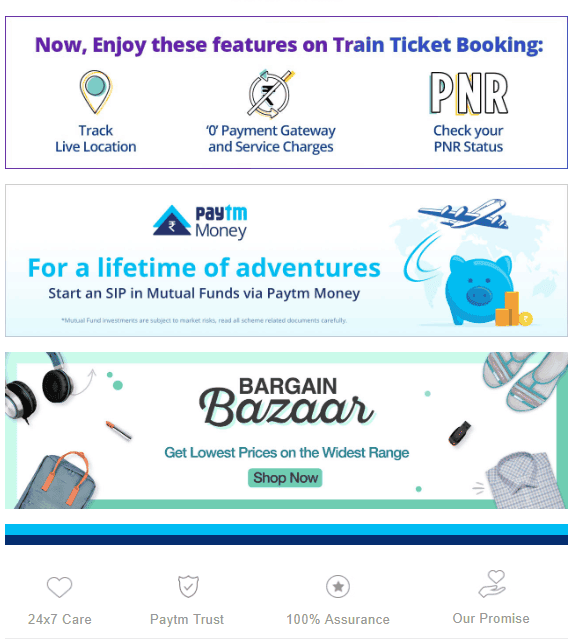 I hope this article gave you a brief insight into how to write promotional emails. Do we miss any point? Comment down your views below.