Client relationship management is a challenge for any business or firm irrespective of the industry or vertical. Law firms, particularly, need to maintain good client relationships because their business depends on it.
Managing client communications and relationships requires a lot of resources. This is where a law firm CRM can help. This software can vastly improve case management and client relationship management, and make handling large volumes of paper documentation easy.
If you run a legal clinic or a law firm, then you know how easy it is to lose track of information in piles of paperwork. Client follow-ups and communication also takes a significant amount of coordination.
In fact, 26% of legal service firms dread tracking their leads.
The problem is, without proper documentation and follow-up, a potential new client might fall through the cracks.
Legal CRM software solutions are designed specifically to meet the needs of law firms. Just as a company needs new customers, law firms need to sign new clients to keep growing their business.
This article will help you understand the benefits of law firm CRM, how it can help your firm, and choose the best one.
What Is a Law Firm CRM?
A law firm CRM (customer relationship management) tool or software is a suite of applications that helps you manage all your client relationships and interactions.
A CRM system streamlines all essential processes: you can document potential clients and current clients, store paperwork, organize and manage your staff, track business growth, and more.
Given the volume of data a law firm deals with on a daily basis, it's critical to invest in a platform where all data can be stored for each practice area, covering all aspects of business development.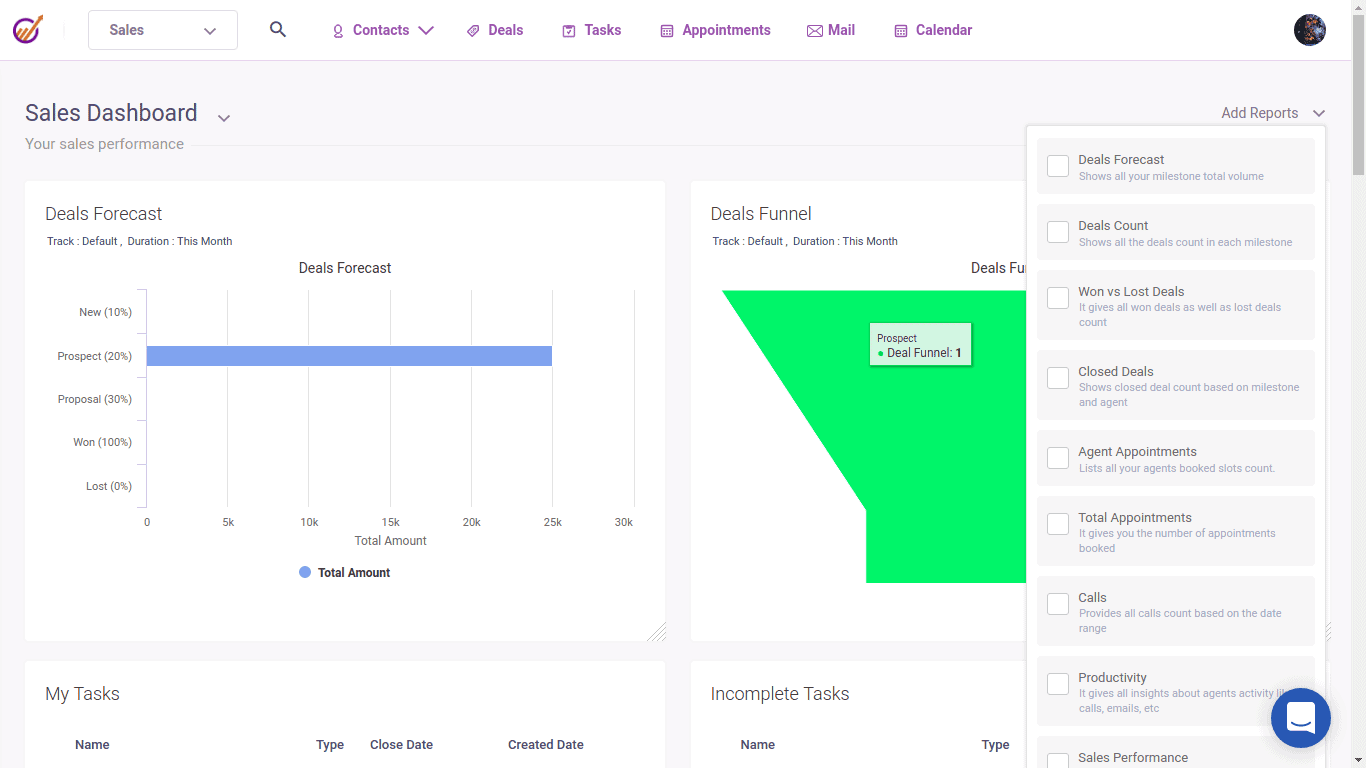 Why Does Every Law Firm Need a CRM Software?
A CRM software has a straightforward goal – improve your processes, and build stronger client relationships. In fact, about 84% of law firms saw an increase in their overall work efficiency using legal technology.
Whether you are a small law firm or a large one, using a CRM tool is a must.
Law firms are responsible for keeping track of a lot of paperwork – client intake, contact information, invoicing details, past conversations, and emails.
Even if you run a small firm, your staff can still struggle with managing it all.
Every law firm needs easy contact management, streamlined team collaboration, effective and quick communication with clients, and tech aid for productivity enhancement.
You can use different software applications for each of those.
OR,
Use a CRM for your law firm.
This can be a single platform to keep a tab on your legal team's tasks, improve communication with your clients and your team, and store all your legal documents on a cloud safely.
Maybe the system you have currently works for your legal firm. But what about the long-term? When your legal firm grows, so does your client base. Let's look at a few benefits of a legal CRM software.
EngageBay can be your free-forever contact management software, with automation features and 360-degree client views.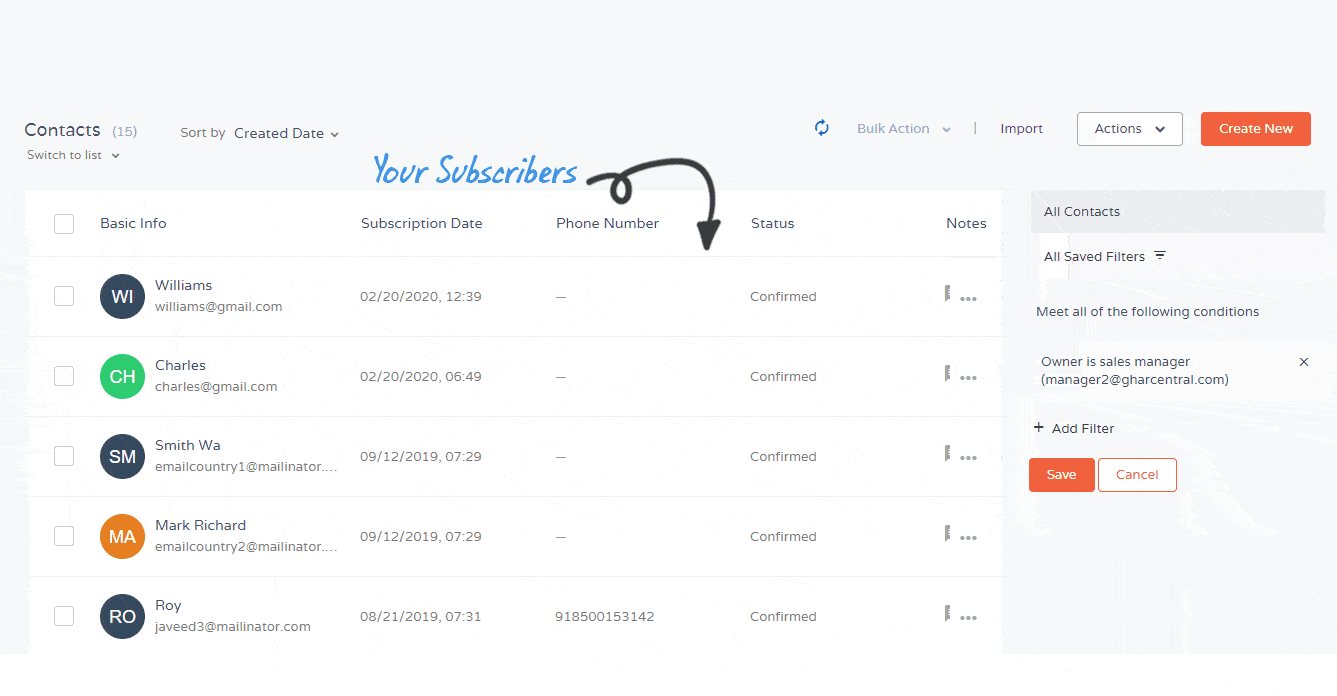 Benefits of Using a CRM for Lawyers
Let's talk about the most obvious ones first.
Manage Client Relationships Better
Your first job is to keep your existing clients satisfied while also prospecting for new ones.
It's important to structure the process of client intake to make sure that the paperwork isn't overwhelming or stressful. A legal CRM software can automate your client intake process and store it on a common dashboard. A law firm CRM can also help you keep your clients informed about any case updates and easily share legal paperwork with your clients.
In fact, many legal CRM solutions have pre-defined templates and forms for maintaining just these relationships.
Handle Your Staff Members Efficiently
When you are dealing with a large pool of employees or several people are involved in a single project, everyone must be on the same page.
A CRM tool for law firms can give you a holistic view of your team's activities.
You can easily schedule tasks for your staff, organize tasks, by practice area, and get insights into their performance.
A legal CRM software can also ensure your lawyers are not double-booked with different clients. With appointment scheduling and an in-built calendar, you can schedule team or client meetings without the need for any other app.
Manage All Documents Digitally
Many law firms are now shifting towards maintaining digital records of their clients.
If your law firm is also aiming to be paperless, then it's crucial to have an easily accessible portal where you can store all information.
Digitizing documents can be time- and resource-intensive, but a law firm CRM system will be able to store and organize all paperwork securely.
Furthermore, you will also save a lot of time and money.
Analyze Overall Performance of Your Law Firm
Another significant advantage of a CRM for law firms is its ability to track the overall performance of your business.
With legal CRM software, you can track your firm's performance across all areas of client service and relationship management.
You can keep track of various metrics and every practice area, including how many clients have hired your services, how many cases were closed, and which sources or channels are working best for your legal firm's client intake.
All this information can help you determine what needs to be improved in your case management.
The best CRM systems would enable you to visualize the results of these analyses in the form of charts and graphics that are easy to understand.
This way, you can spend more time on developing business development strategies instead of wasting time at manually tracking and analyzing business performance.
How to Choose the Right CRM for Your Legal Services Firm?
Not every CRM system will meet your law firm's requirements.
You need a legal CRM that fits right into your firm's budget and legal plus business needs.
The right law firm CRM platform will add value to your business and make operations easy. If it doesn't simplify your law practice management, then it's not a good investment.
When you invest in a client relationship management CRM, more than the features, you should focus on fulfilling your key objectives.
Are you looking for a CRM software to generate new leads, or as a workflow management tool? Do you want your CRM to help improve communication with clients, track and enhance business revenues and operations or only store sensitive documents?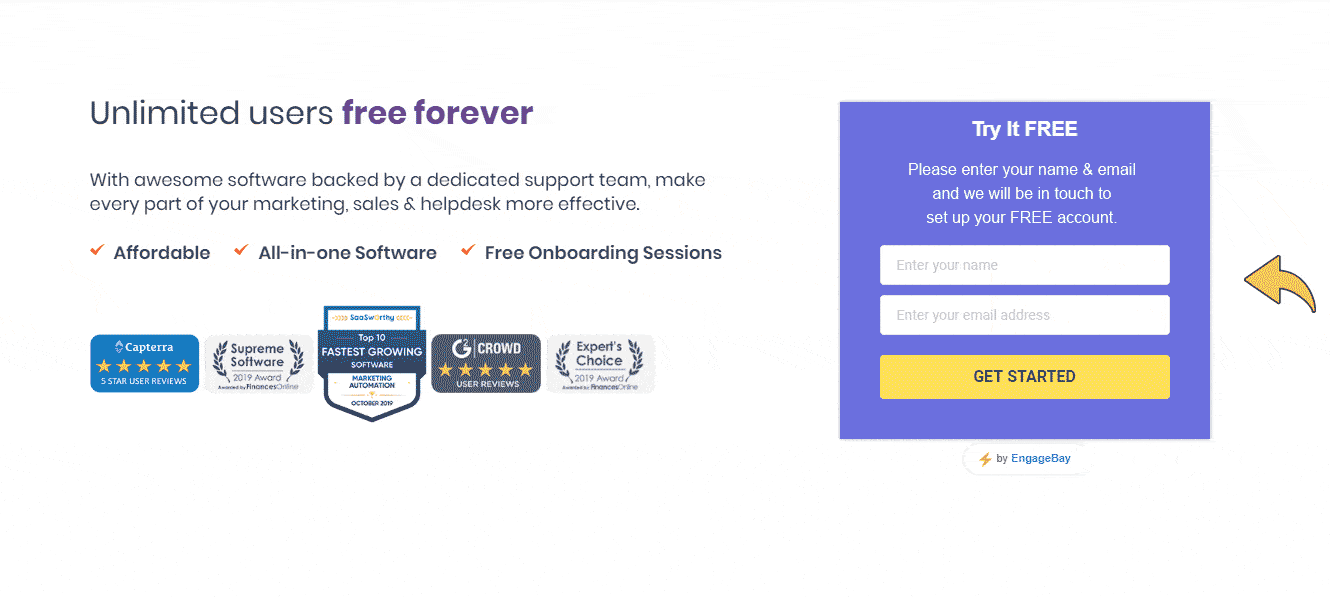 Once you figure out your firm's priorities, it's easier to shortlist a CRM software that is made for your core requirements.
Here are a few other factors to consider:
Budget
The whole purpose of using a law firm CRM solution is to increase efficiency and maximize your profits. If you're a small firm, then investing in an expensive CRM is not sustainable.
The pricing of the CRM must be affordable and reasonable. It shouldn't burn a hole in your pocket.
Vendor Reputation
You will be establishing a long-term relationship with the vendor.
Read their old testimonials and online reviews. Identify the pain points and check if those issues have been resolved.
You can also check how engaged they are with their customer base, and how the customer service experience is.
Integration
This might seem more like a feature, but the significance of integration can't be overstated. If your law firm CRM requires you to build custom integrations, you're at greater risk for security breaches and bugs.
In-built integration of different automation modules enables you to easily manage the different practice areas of your legal firm, without having to shuttle between a dozen apps.
5 Best CRM For Law Firms
Let's look at the top five legal CRMs that you can consider for your business.
EngageBay is flexible enough to suit the needs of a law firm.
This all-in-one tool offers a free CRM solution integrated with marketing automation features, so lawyers can easily store, update, and track their contacts database, documents, and pending tasks, and delegate to the software the entire process of client intake and management.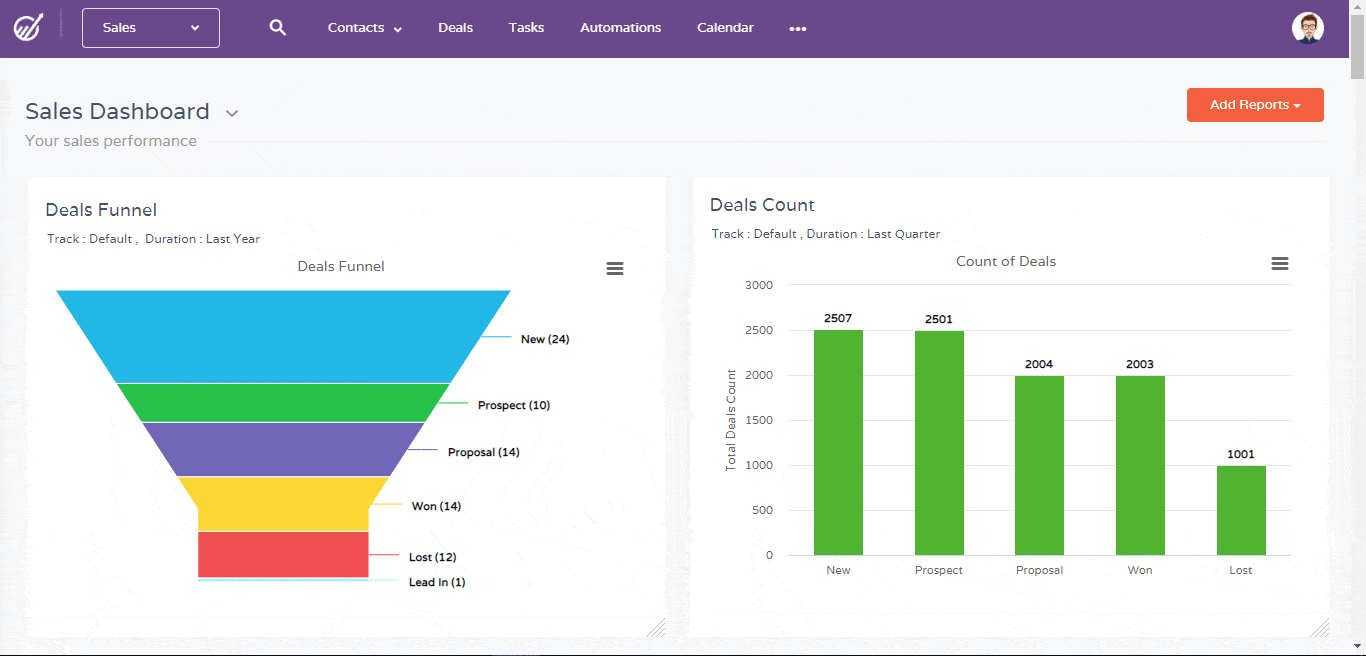 EngageBay has an excellent user-friendly user interface (UI) since it is designed for small business owners with no tech skills.
It can capture your leads from your website and prioritize them based on how well they respond to your emails or SMS, thanks to its AI-based predictive lead scoring. You can say goodbye to manual client intake.
This powerful software can also automate all your email broadcasts, email and SMS responses, task management, and service workflows.
Main Claim
EngageBay aligns marketing, sales, and support teams around a single 360-degree view of all clients. It offers custom fields to generate reports the way you'd like to understand your business performance.
Pros
Free to use forever
Pre-designed email templates that can be customized easily
Email sequences to convert more leads
Inline and popup forms to capture leads from your website traffic
Free onboarding
Integrated dashboard, unified solution
Automation for executing all business tasks and sending out alerts/updates
Cons
Not law firm-specific
Limited email templates designs
HubSpot offers a free CRM system that helps you scale your legal business by standardizing your workflow and automating repetitive tasks like data entry. You can set up drip campaigns and schedule follow-ups with your clients.
Its main purpose is to help companies generate more leads and nurture them by automating various marketing activities.
Main Claim
On its dashboard, Hubspot gives you an up-to-the-minute view of your entire sales pipeline.
Pros
Includes email marketing, sales, and service hubs all connected together
Works as an easy point of entry for law firms that have never used a CRM
Has a thriving community of users that provide active and reliable support
Built-in analytics and reporting solutions with insights into various activities
Can track client interactions across platforms
Cons
No law firm-specific functionality
Best suited for smaller law firms
Need to pay a monthly fee to access premium tools like Sequences and Prospects
The pricing plan is not very flexible
Insightly CRM allows you to spend time on building relationships rather than focusing on data entry.
Its key capabilities include lead routing, bulk email campaigns, and building complex workflow automation.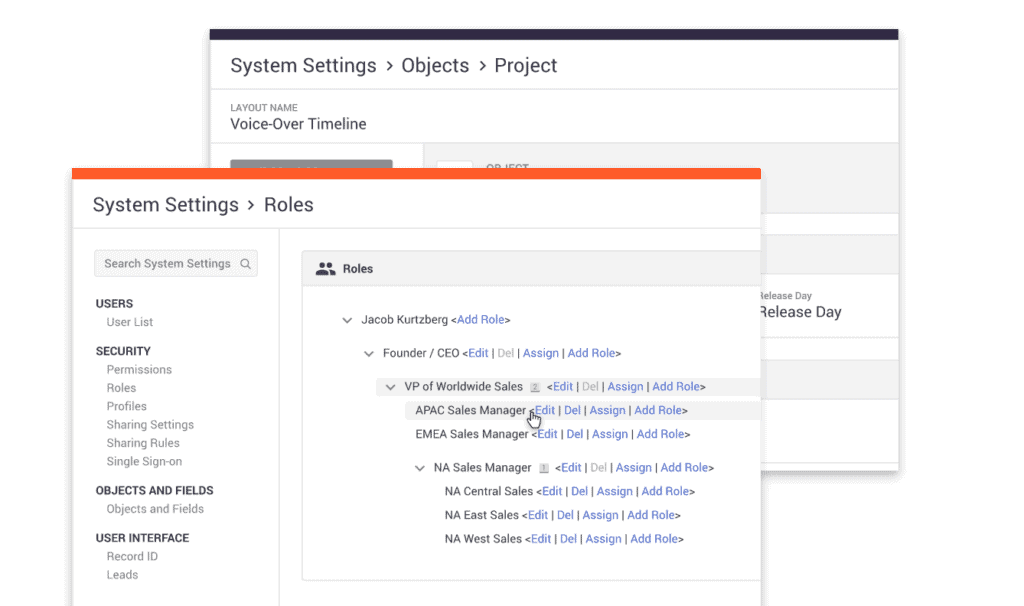 You can link your existing database to map and better understand complex customer relationships.
With business intelligence features, you can create beautiful data visualizations to discover insights that align with your business or service goals.
Main Claim
This CRM can help build personalized brand experiences by reaching out to potential clients at the right time with the right message.
Pros
Tracks lead information with activity timeline of email marketing campaign source, phone calls, emails, etc.
Builds and employs customized apps
Captures and manages any dataset of leads
Provides a personalized dashboard to track essential metrics
Supports two-factor authorization and encryption of data in transit and at rest
Cons
Troubled integration with third-party apps
Not law-firm specific
Can be considered expensive for its features
SugarCRM provides enterprise-class CRM tools for deployment on-premises.
This can be of use to large law firms. Large law firms may find this useful as the platform aims to improve internal collaboration as well as external outreach.

The solution offers a powerful reporting tool that can give you a chart view for 1,000 different metrics.
Additionally,it helps create business processes that combine human tasks with automated aspects of the workflow.
Main Claim
SugarCRM is a perfect solution for legal companies looking for maximum flexibility in customization.
Pros
A cost-effective solution as compared to other enterprise law firm CRM solutions
A highly versatile reporting system that helps with smart decision making
Easily scalable for adding new users and new modules
Highly customizable web interface
Offers a rich, intuitive, and easy-to-use interface
Cons
Not the best option for small- or- medium-sized law firms
Has a steep learning curve
Keap aims to increase your sales by combining the functionality of CRM, marketing, and sales automation into a single platform.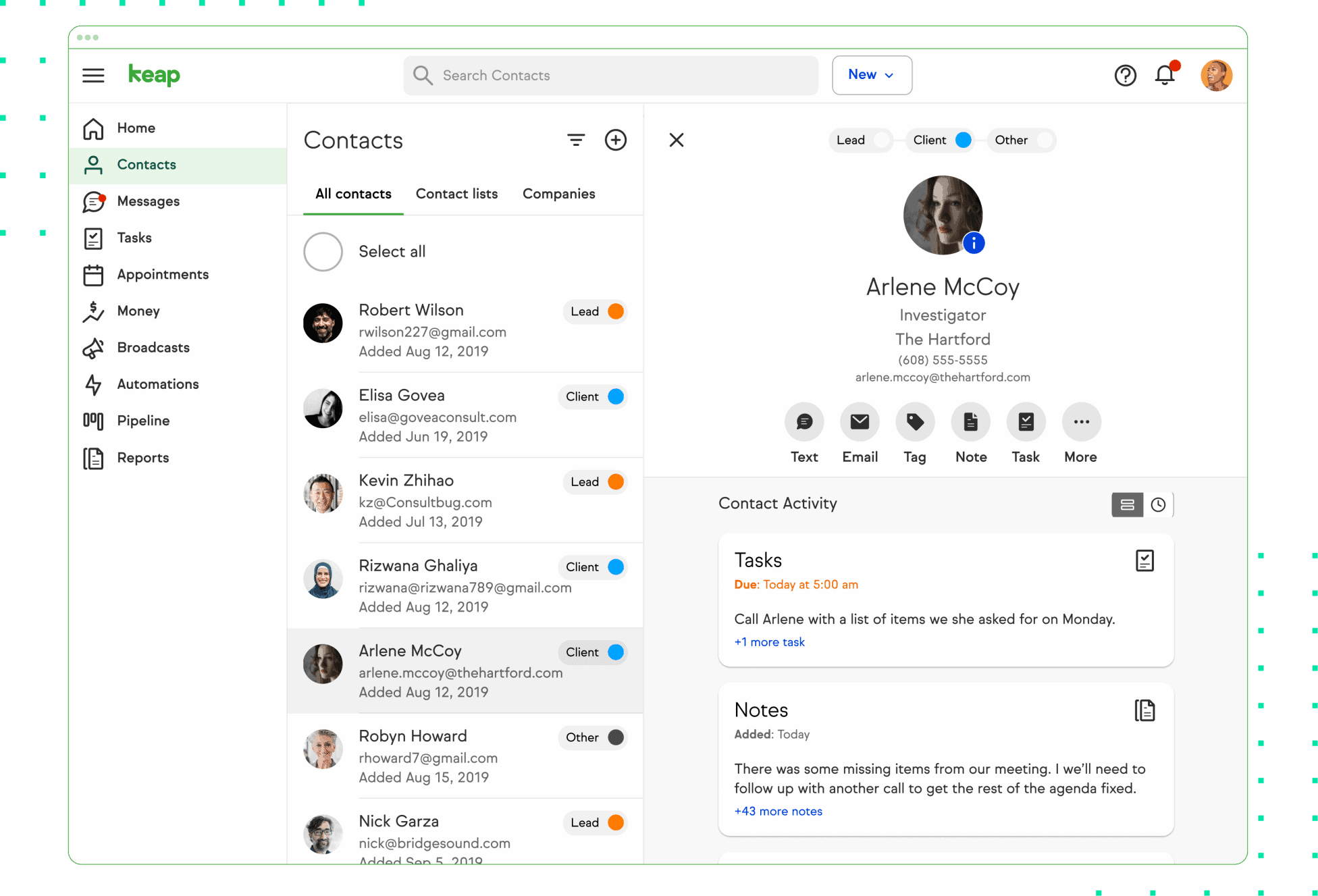 The platform makes it easy to migrate from your existing platforms that include ActiveCampaign, AWeber, ConstantContact, HubSpot, MailChimp, and Ontraport.
This law firm CRM tool was formerly known as Infusionsoft.
Keap helps automate the whole process of capturing and converting leads by providing personalized experiences.
Main Claim
Keap integrates with 1,000+ applications to help you manage your business in one place.
Pros
Offers call support and has built-in guides on its platform for easy training
Provides robust email tools to automate follow-up and close more deals
Powerful marketing automation tools that include A/B testing and lead scoring
Cons
Has a steep learning curve
Has a bit messy user interface
Can be expensive for a small law firm
Wrap Up: Which CRM Suits Your Law Firm the Best?
A law firm CRM streamlines all your legal service tasks on one platform.
These include storing mountains of paperwork in one secure cloud space, coordinating with legal assistants and clients, and tracking your contacts for any new information.
Searching for the right legal CRM doesn't have to be complicated. If you're clear on the functionalities you require,you can easily filter through the options we've given above.
EngageBay is the best free CRM solution for any legal firm.
It enhances team communication and ensures that all your clients receive important updates on time, with minimal effort on your part. You get tons of integrations, access to a knowledge base, security features and more – all for free.
Also, upgrading for advanced automation features costs only a tiny fraction of what most other tools charge.
If you want to know more about how you can tailor EngageBay to suit your law firm's needs, reach out to us and we'll schedule a demo.
Ready to skyrocket your travel agency's growth? Uncover the top CRM software solutions in our detailed guide!