The importance of customer satisfaction cannot be understated.
According to HubSpot, 93% of customers are likely to make repeat purchases with companies who offer excellent customer service.
Therefore, with all the marketing technology to choose from in the digital age, you should definitely include some customer service tools to deliver superlative customer support.
Remember that bad news spreads quicker than good news.
In today's world, social proof via customer feedback matters, so you should make sure that customer satisfaction or CS a top priority.
In this article, we'll discuss the importance of CS, and then we'll look at the best customer service tools and customer support software that small businesses can use to make sure that enhanced customer support is consistently delivered and to forge stronger relationships with people.
By the end, as small business owners, you'll not only understand the value of good customer service, but you'll know what it takes to help customers stay happy and consequently to enhance customer loyalty.
Why Do We Need Customer Service Tools?
It is obvious that every business needs customers. Therefore, without a responsive customer service team in place, no business can survive for long.
Customer service reps are at the forefront every time there is a need to fix customer issues and if trained well, they do their best to rectify the situation and make the customer happy again.
In many ways, they serve as a repository of information for all company-related questions and do the job of translating customer experiences to the product team.
In their journey towards growth and development, businesses notice that as the customer base grows, the number of problem reports also grows.
Along with the increasing number of reported issues, it becomes imperative to serve the customers instantly. Long wait times annoy today's customers, who are always looking for instant solutions to their problems.
For this very reason, it is necessary for your business to equip itself with the latest customer service tools that will support you in continuing growth.
Let's have a look at some stats:
It is 6-7 times more costly to attract a new customer than it is to retain an existing one.
95% of customers share bad experiences. While a single negative review can cost the average business an average loss of 30 customers.
So make sure you equip your customer service agents with the best customer service tools and avoid these problems.
What Makes a Good Customer Service Tool?
Well, to be honest, there's no 'one-size-fits-all' formula here. Every business as their unique customer service requirements, so this is a broad assessment of what to look for when choosing a customer service tool for your business.
So generally speaking, the following are some of the questions you can ask yourself to determine whether a particular software is valuable to your business:
Usability: Can the software be easily set up? Is the software smart and intuitive to use? Will the software be easy and enjoyable for your customer service agents to use as part of their daily workflow?
Effectiveness: How intrinsically does the software address the problem it's meant to solve? Is it a stand-alone, self-sufficient tool or does it need to be supplemented with other software?
Value: Does the tool give you value for your money? Does it fulfill a need or is it simply something that's a fad and fashionable to have? Will the software benefit both your customers and your customer service team?
Once you have answered these fundamental questions and are satisfied with the answers, you can safely purchase the tool.
What is customer satisfaction? And why does it matter?
Customer satisfaction or CS is a measurement that tells us how happy customers are with a company's product, customer support agents, and overall experience in their dealings with the company via various customer feedback channels. 
When you prioritize CS, you can nurture trust in your brand, which helps establish brand loyalty.
Not only will you earn repeat business, but you will attract new customers as the good word spreads.
Conversely, if you ignore the importance of customer satisfaction (CS), your brand image could suffer on account of negative customer feedback.
Luckily, in 2020, you have a lot of great customer service software such as Instant Messaging, a Self-Service Knowledge Base, etc. that make it easier to deliver excellent customer support and cultivate a brand image people will love.
Here's is an animated video which explains about what is customer satisfaction:
What are some customer service tools?
"If you do build a great experience, customers tell each other about that. Word of mouth is very powerful." – Jeff Bezos, Founder & CEO, Amazon
Jeff Bezos may preach about the great potential of word-of-mouth marketing, but that alone is not what made him the world's richest person.
Unlike the guys in Mad Men, the CEOs and marketers of today have a diverse arsenal of specialized tools and tech such as Instant Messaging, Social Media, a Self-Service Knowledge Base, etc. to help them deliver the best possible customer service.
15 Customer Service Tools to Improve Customer Satisfaction
Here are 15 customer service tools that can help bring you and your customers closer together.
Shared Team Inbox

SaaS Call Center

Help Ticketing System

Live Chat

Mobile Apps

Push Notifications

Instant Messaging

Social Media

Email Automation

Customer Portal

Self-Service Knowledge Base

Online Communities

Customer Satisfaction Surveys

Reports Dashboard

Integrations
1. Shared Team Inbox
To kick off our list of the best customer service tools, we have the concept of a shared inbox. 
Even with all the apps and various channels for communication available today, connecting via email remains a stalwart of modern business.
However, large teams continue to struggle with organizational problems, with emails often falling through the cracks, resulting in bad customer support.
One method of preventing this is to set up one customer support team inbox.
With all complaints and queries landing in one place, your customer support channels and team members can combine forces to ensure great customer support so that every customer is looked after.
There are some concerns that too many chefs can spoil the broth, as there is a distinct possibility that several people may respond to the same email.
However, the pros of a shared inbox largely outweigh the cons.
Swiss Non-Profit Organization PIECES found a way to use Slack to streamline their team inbox and ensure nobody was left behind.
Once you get up and running, your team will be able to align your marketing, sales, and customer service reps to offer better customer experiences.
A cloud-based customer tool like the ProProfs can be the key here. It offers the 'Agent Collision Detection' feature, which will not just save your time but also help you avoid sharing multiple replies to the same email. 
Another handy tool is Hiver – a helpdesk built for Google Workspace. With Hiver, teams can assign, track, and collaborate on customer emails, as well as run the most advanced analytics and automations from the Gmail interface.
2. SaaS Call Center
It may be 2020, but there are still a lot of consumers who are hesitant to make purchases online. Some people are more comfortable when they talk to an actual human first.
This is where a call center or contact center comes in.
By having people ready to answer the many questions prospective customers have, you can alleviate fears and instill the trust needed for purchase to happen.
And here's the thing most people don't realize:
You don't need a huge department full of people at desks dialing phone numbers or answering phone calls all day. Nor do you need to outsource the inbound calls to a company on another continent.
Why not?
Because of the cloud.
Software as a Service (SaaS) makes it easy for your business to shift call solutions, analytics, and customer relationship management software (CRM) to the cloud.
Studies indicate that more than 70% of companies believe all their apps will be SaaS by the year 2020, meaning more businesses will turn to a platform like EngageBay's call center CRM to take their business to the next level.
Just don't forget the importance of customer satisfaction when you move!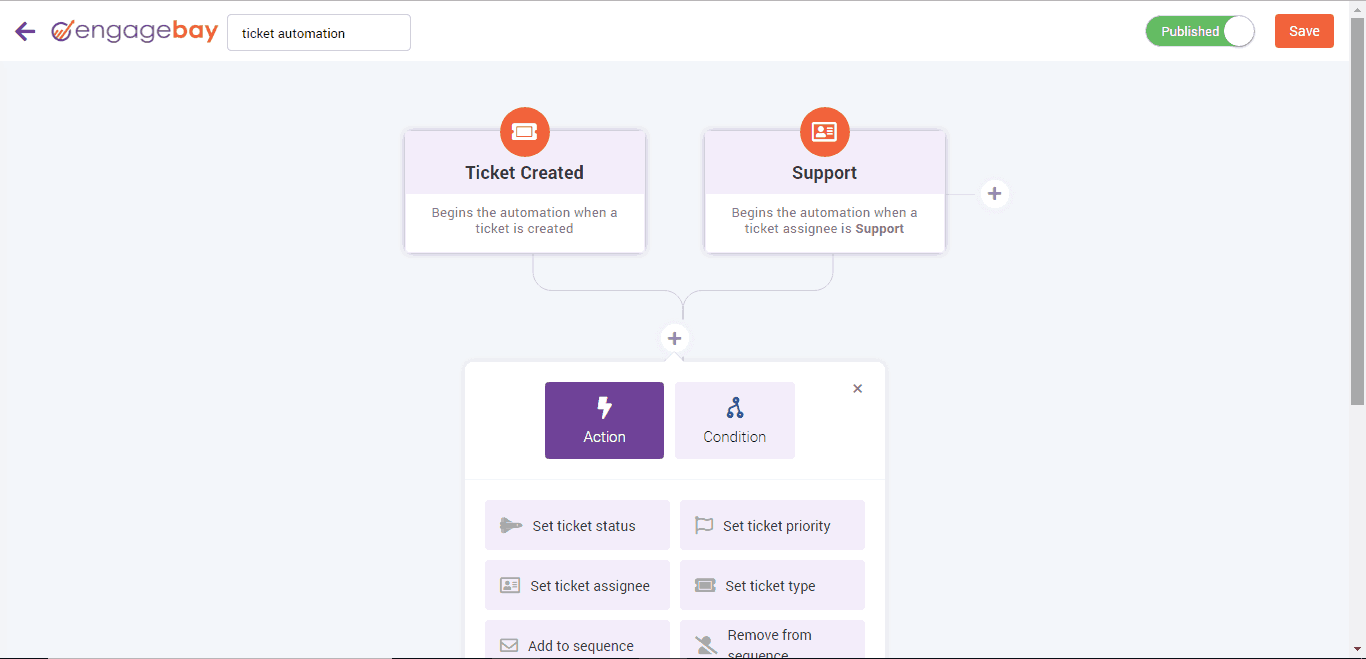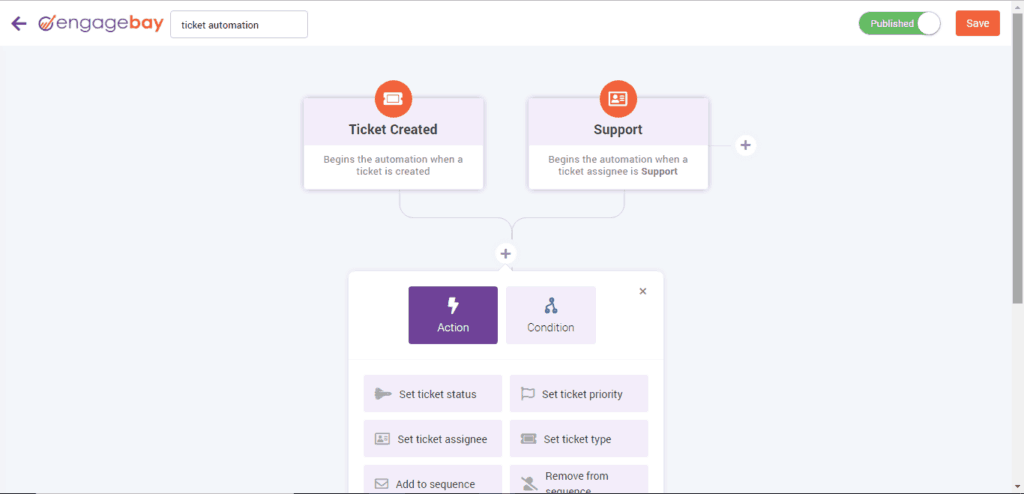 3. Help Desk Ticketing System
A few years ago, you may have encountered a frustrating problem that goes a little like this:
You have an issue with a product or service, so you contact the company. You explain the situation to one person, who then transfers you to another.

The next person knows nothing about the issue, so you have to explain everything again.

The problem is not resolved at first, so you must contact them again in a few hours, or perhaps the next day.

You call back and have to explain the whole situation again.
This scenario walks a tightrope between mildly frustrating and extremely infuriating.
Either way, it doesn't do much to deliver a good experience for your customers.
Thankfully, there are better customer support tools such as the help desk tools.
By using a help desk ticketing system, customers can get a quick answer to their problem.
Better yet, if there are a few steps and personnel involving in the road to resolution, the help desk support tickets help people track the issue along the way.
With help desk software, customers stay up-to-date with notifications about the progress, and your employees stay on-point, ensuring there is no confusion about the matter.
4. Live Chat
One of the best customer service software available today as part of the help desk system is live chat support.
It doesn't matter what your industry is, or who your customers are, a live chat system can set you apart from your rivals when it comes to delivering great customer support in real time.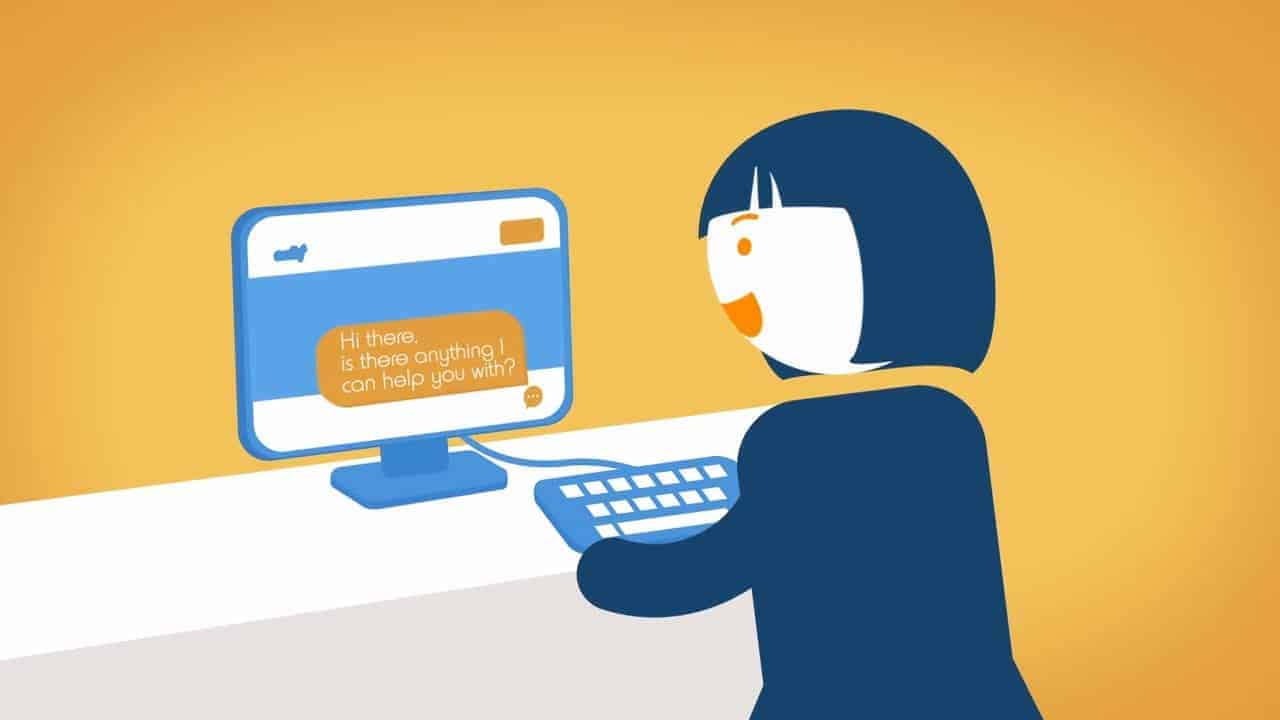 People want quick solutions. Offering a reply within 24 hours is not going to cut it any longer.
Live chat customer service saves your company time and money, and moreover, live chat support is convenient for customer interactions, allowing them to multitask while they get on-the-spot solutions via chat messages across the chat window within an instant.
In case you have any doubts about the benefits of live chat software, just consider the numbers:
Live chat delivers the highest levels of customer satisfaction – 73%, which tops communication via email (61%), and phone calls (44%).

More than 60%

of consumers say they will return to a company website that has a live chat service.
Guyana-based retail support call center GTT used live chat to reach higher levels of customer satisfaction, and they did it without having to hire a larger team.
5. Mobile Apps
Businesses all over the planet want to find more effective ways to connect with their audiences.
This has given rise to cross-channel marketing, where brands reach out to people on multiple mediums. One of the best channels to exploit is through the use of a mobile app.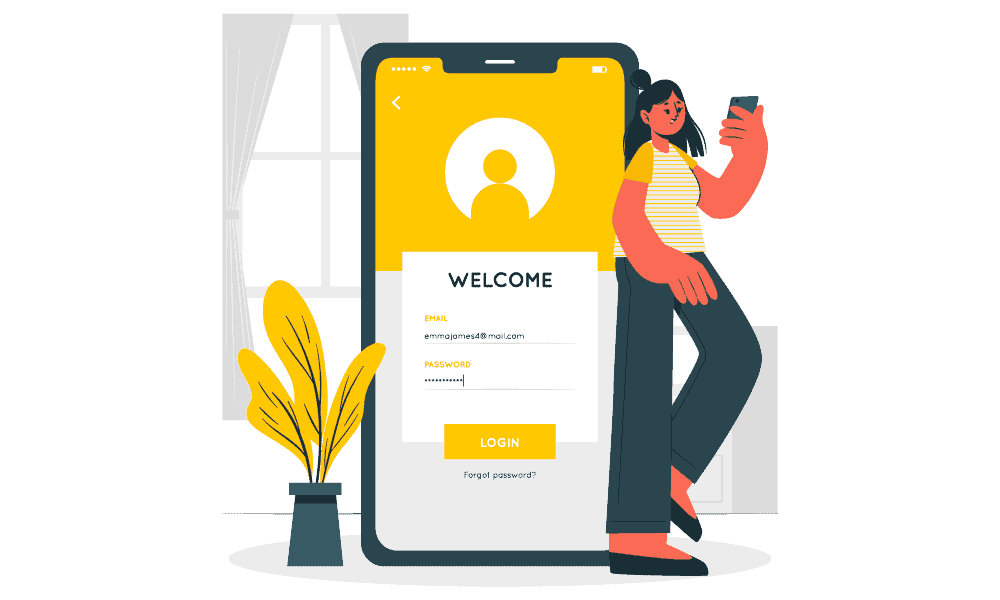 As much as 80% of consumers use their smartphones to do shopping, sometimes while they are within a physical store!
This is a massive part of the customer journey, and a dedicated app is a great way to streamline the experience.
Not only will this offer people a better user experience, but mobile apps also help to keep your brand top-of-mind when people are considering purchasing products from your industry.
Therefore, apps are good for satisfaction and brand awareness – it's win-win!
6. Push Notifications
If you go down the mobile app route, you may as well go all the way. Email sign-up boxes aren't as compelling as they used to be, which has paved the way for push notifications. 
This is one of the most overlooked customer service solutions today, but if you use it correctly, it can have a positive impact on your customers.
Whereas email sign-up requires time and effort, not to mention handing over personal information, push notifications are a simple one-click subscription to a company's news feed.
It's easy for customers, and great for companies, as they can build a following in a quick and easy way.
Once you have the list, it's possible to tailor personalized push messages based on the data you collect through the app.
French fashion company La Redoute used this tool to conquer their abandoned cart problem, boosting customer engagement with personalized messages that encouraged people to return and complete their purchases.
7. Instant Messaging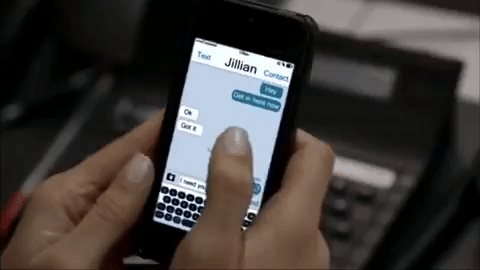 Live chat may be the go-to for many companies now, but customer service on instant messaging isn't a bad alternative. In some cases, it's an option that many customers prefer over live chat.
They still get the experience of a one-to-one conversation in real time, but there is no need to hang around waiting for a response.
Many companies are already advertising on apps like Messenger or WhatsApp, so customer service is a natural progression.
People can send messages and go about their day, replying in kind whenever a company responds, whether it be in 30 seconds, an hour, or the next day.
This offers a flexible way of resolving less-pressing customer problems, removing the need for expediency.
For smaller teams with limited resources, this is a solid middle ground between live chat and email services.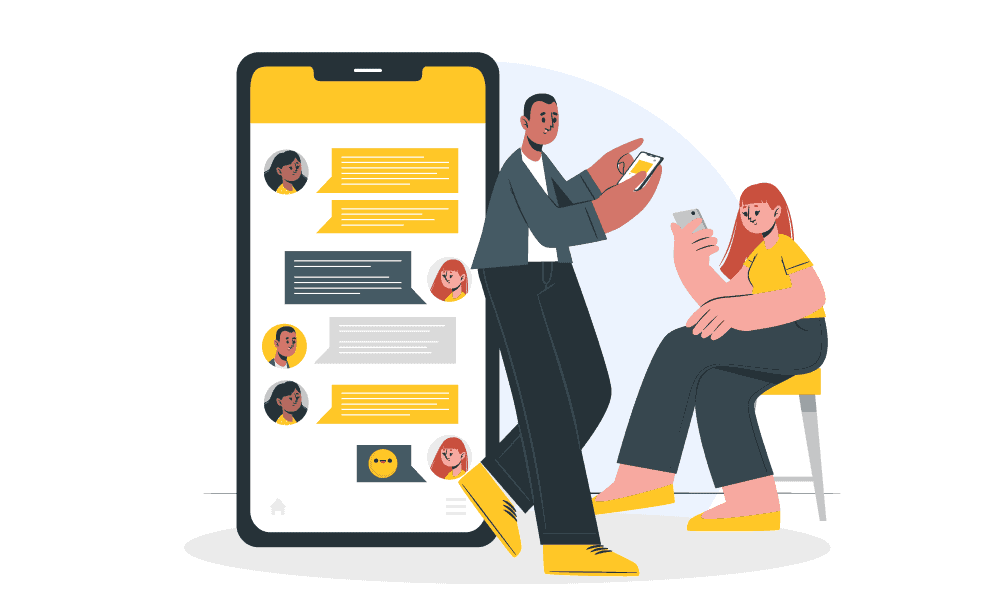 If you want to step it up a gear, you could use an AI chatbot for instant messaging customer service.
Customer service chatbots are a buzzword in the world of digital marketing, and with good reason. They are essentially automated customer service representatives that never have to sleep and can resolve millions of customer conversations simultaneously.
Irrespective of industries, prospects have questions that they want answered before they're willing to request an application or make a business decision, this is a super power.
Using a chatbot you can answer basic queries, conduct surveys and engage your site visitors without any human intervention. This will help you reduce the number of messy email chains and games of phone tag that you invariably get stuck as a customer service team and the end result for your business is faster customer support, and more engagement than ever.
It's a big leap, but as machine learning gets smarter over time, it could deliver a great return on investment (ROI) for you, and deliver great customer support at the same time.
8. Social Media
To say social media is a crowded playing field nowadays is a massive understatement.
While the competition deters many from even trying, the reality is trying is better than sitting on the sidelines.
Social media offers transparency for your business and it is known that customers can be wary of you if your business isn't on social media.
If your company's social media profile is a digital ghost town, it's akin to building an empty store in the middle of the jungle.
Nobody is coming, and if they do stumble across it, they probably won't stay around to look at the empty shelves.
Brands need to be active on social media. It is more than slapping up your logo and a few posts about a big sale.
You can use these platforms to forge relationships with the large online community, boosting your brand awareness, listening to the issues consumers have, and nurturing trust with prospects.
All of this can help you finetune your existing marketing and sales strategies.
When the time comes, your brand will be one people go to as they know and trust you because of the reputation you cultivated on social media.
About 70% of customers engage brands on social media for customer service reasons.
This doesn't cost your company much in terms of time, money, or effort. By comparison, the ROI is significant.
Dutch airline KLM created a social media hub to attract the online community of millennial customers.
They integrated instant messaging apps too, and it was this activity to improve their use of customer service software that helped them earn the reputation of being a 'social media airline'.
9. Email Automation
When we think of the most useful customer service software, marketing automation is near the top. Specifically, we can consider email automation.
The union of email and AI was a real game-changer when it came to the fore a few years ago.
Marketers rejoiced at the ability to send targeted, personalized emails to small segments of their wider audience.
Nowadays, it is the only way to do email marketing. You can create business emails in advance, then automate them to send upon specific triggers.
For example, when someone:
Subscribes to your newsletter

Downloads an eBook

Leaves an abandoned cart

Makes a purchase
When you have behavioral-triggered emails ready to go, your company can offer a personalized customer experience that people remember and respect.
For example, the popular American shoe company, Zappos utilizes triggered emails to quell any fears customers have after placing an order online.
They send a quirky automated email that confirms the order and lets the customer know when to expect delivery.
Research from SendPulse suggests that these types of emails increase clickthrough-rate (CTR) almost four-fold compared to traditional, generic emails.
EngageBay users can set up 'canned responses', which facilitate smoother, faster customer service communications in a similar way to triggered emails.
10. Customer Portal
Sometimes, people just want to take care of their own business! If your company provides a customer portal, then your customers can do just that.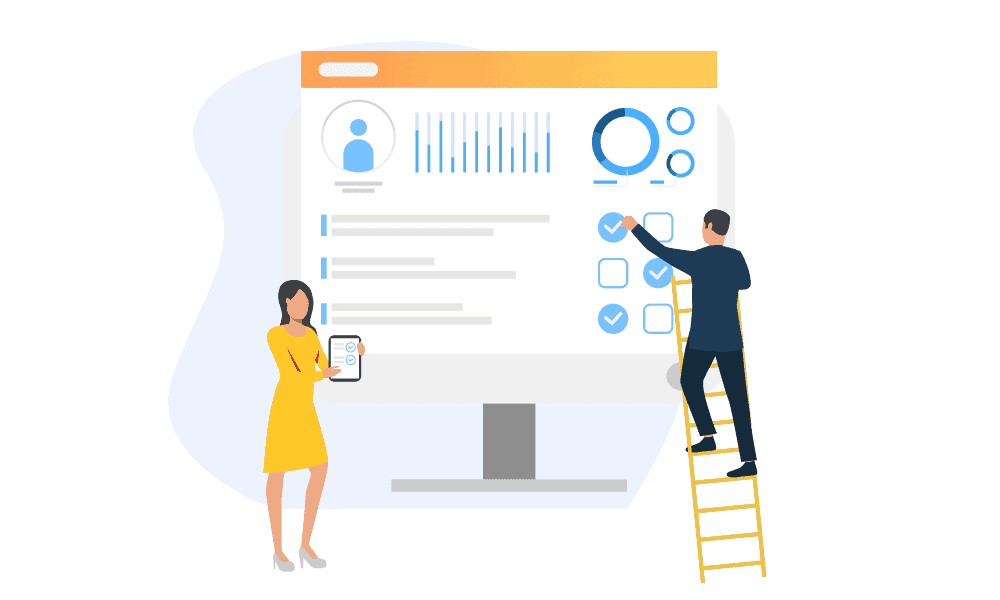 By offering a dedicated system within your website, customers have the freedom to access their own personal data for a host of reasons:
View purchase history

Save favorite items

Track orders

Seek personalized assistance
This service is great for customers, as they can solve issues on their own schedule, whenever is convenient.
They also have the independence and autonomy to review various orders, invoices, documents, and financial matters.
With EngageBay, your business will have a platform to monitor ongoing deals with customers.
This 'visual deal pipeline' allows you to track the progress of customer relationships and transactions in real-time.
11. Self-Service Knowledge Base
Another spin on the customer information portal is a self-service page or even a standalone website that acts as a knowledge base for your customers to peruse at their leisure.
This is the era of "Googling It", and people are always likely to search for solutions themselves before asking for help from another person or company.
And this is possible with a comprehensive self-service knowledge base software.
If you publish an extensive content hub such as a knowledge base that acts as a self-service help desk, two things will happen:
Customer experiences will improve with a knowledge base as people can easily find answers to common issues.
Your customer service costs will be reduced by offering knowledge bases as there is less need to deal with common issues and recurring problems.
UK tech company Dyson is most famous for its range of vacuum cleaners and hair dryers. Its knowledge base is customized depending on the user's country, which offers an easy and enjoyable user experience.
12. Online Communities
A study from the Aberdeen Group asserted that 85% of online communities use a formal strategy to nurture customer relationships, with the goal of creating loyal brand advocates.
Such a strategy is self-perpetuating, as your entire focus is about keeping your customer satisfied.
By focusing intently on providing the best possible customer service, you encourage more people to talk about their great experience. This, in turn, encourages more people to engage with your brand.
And so the cycle continues…
Nowadays, your brand can build a community on your website, on social media, or around your blog posts by creating community forums or exclusive membership suites that encourage discussion and interaction on interesting and important topics.
This can be a great customer support channel as well.
Harley-Davidson attracted over 1 million global members to the Harley Owners Group, fostering a close-knit community of like-minded spirits around their products.
13. Customer Satisfaction (CS) Surveys
Surveys are one of the most popular customer service software, and they've been in use for decades.
Long before marketing technology went mainstream, business owners understood the importance of CS, and so, clipboard surveys were a common tactic used to gather feedback from people.
Knowing your audience is a critical part of success. If you haven't figured it out yet, maybe it's time you asked.
Sending out a CS survey to gauge people's thoughts and feelings about your service can reveal some valuable insights. People tend to be more honest in these surveys compared to in-person.
Marketing guru, Neil Patel states that 86% of consumers are willing to pay more for better customer experience.
Surely then, your company should be willing to invest a little to find out exactly what it is that will make your customers' experience better?
Hilton Hotels are highly active with surveys and data, and they are reaping the rewards of their efforts.
Their surveys get a high response rate of 30%, helping them understand their customers better, and offer an enhanced service in return.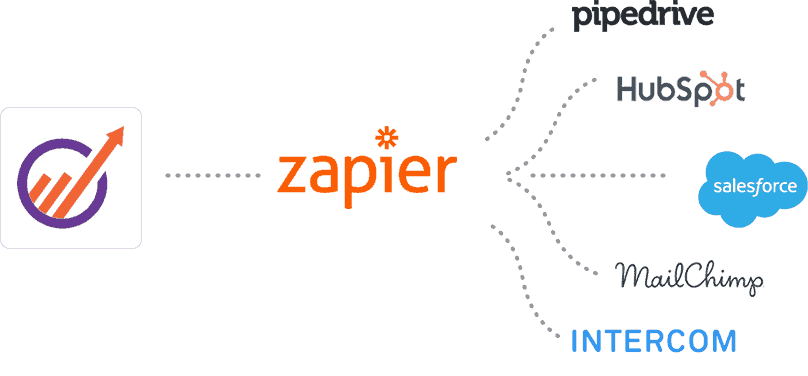 14. Reports Dashboard
Among the flashy apps and impressive tech that many customer service tools boast, you need something that may seem a little bit dull. However, we assure you that it's vital.
We're talking about reporting tools. 
Understanding the importance of satisfied customers is just the start, but to do something about it, you need to be able to collect, analyze, and monitor data across your various tools.
The best way of doing that is with a single, interactive dashboard that displays your critical metrics, providing quick insights you can use to track bottom-line performance and make smarter decisions.
It's easy to get overwhelmed with data. The secret is knowing what to track and to use it to improve your customer service.
With a dedicated reporting tool in your customer service tools, this is no longer a problem.
15. Integrations
The best CRM platform can give your business a unified platform that brings all the key departments together.
This does wonders for customer experience. However, even the best all-in-one platform has boundaries.
That being said, we live in a world where the best tech and customer service software can easily be integrated with one another.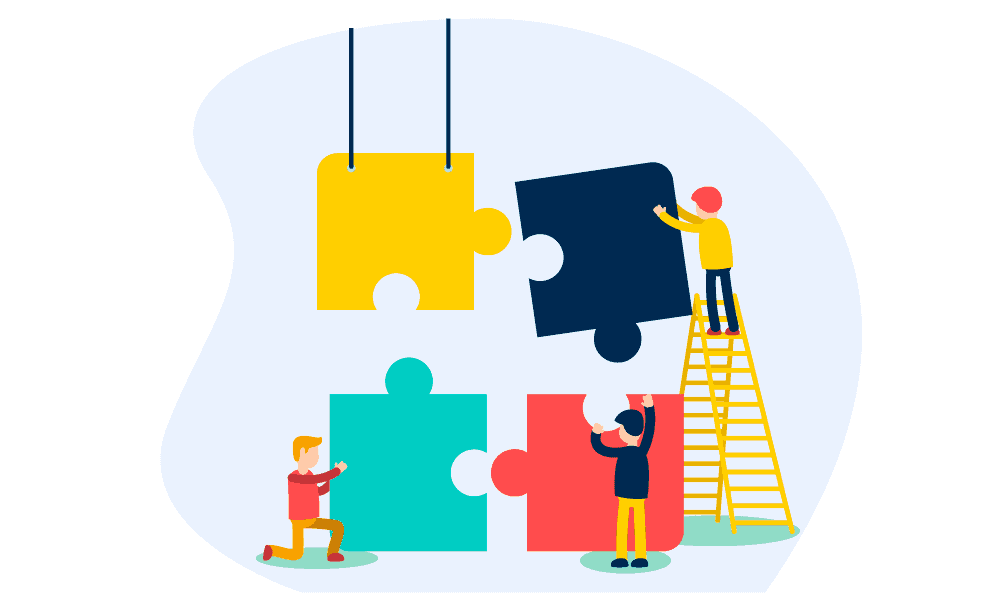 Consumers love devices that are able to transmit data to other devices.
EngageBay's partnership with Zapier makes it possible for your business to hook up your customer service platform with over 1400 apps. For example, you can integrate:
Google Docs

Gmail

Mailchimp

Slack

Shopify

Asana

Instagram
And many, many more!
As people get overwhelmed with apps and customer service software in a mobile-mad world, it's the companies that can offer a seamless, interconnected experience that will rise to the top.
Customer Service Tools Take Customer Satisfaction To the Next Level
When you're in business, it's easy to get obsessed with the product or service you offer, which can cause you to lose sight of what matters most – your customers!
The way we do business may be evolving as the world becomes more obsessed with technology and data.
However, the importance of CS hasn't changed.
Get your martech stack in order with some of the best customer service software available today, some of which have free trial options too, so you can tap into the power of data, and unlock valuable insights that will help you learn more about your customers.
When you look after their interests and aim to provide the best possible experience, your business will thrive. 
If you really want to maximize CS, you should unite your marketing, sales, and customer service teams with EngageBay.