Email is one of the most effective marketing channels with an average open rate of 20-25%. The statistics show that almost 81% of small businesses rely on email to acquire customers. 80% use email marketing to retain their existing customer base.
In other words, emails can convert prospects into clients. Once you have a list of prospects, the next step is to convert them from a potential customer to a loyal one. Sending a promotional email is the best tactic that businesses and marketers can use. Customers who buy products marketed through email spend 138% more than those who don't receive promotional emails.
Besides, email marketing has an ROI of 4400%. That's huge.
Promotional emails are a great way to provide value to an advertised product. If done well, they can convert several subscribers into paying customers.
In this blog post, we explain the concept of promotional emails in detail and share the best practices for drafting the most effective marketing emails.
What Is A Promotional Email?
A promotional email is usually part of a commercial email campaign that aims at getting the word out to potential customers about your product or service.
It offers incentives or coupons, access to exclusive discounts, or invitations to an invite-only event. It can include product offer emails, or new launches, or seasonal promotions.
The main goal is to move a potential customer through the sales funnel to a conversion.
Generally, the most common conversion is to get your prospect to buy your product or service. But it also includes other conversions such as downloading an ebook or taking a survey.
These promotional email offers are only valid for a limited number of days, creating a sense of urgency in your prospect's mind to take action.
Let's now understand how to segment your audience and draft promotional emails that convert.
What Is Email Segmentation, and Why Is It Important?
Basically, email segmentation is a way of dividing all the subscribers into smaller groups based on specific criteria.
Segmentation is generally used as a personalization tactic to deliver more relevant content to subscribers based on their interests, geographical location, history with the brand, and various other factors.
Rather than creating one single message for every subscriber, campaign segmentation enables you to send different messages to different users based on the targeted groups.
A user can be in two or more categories depending on their interests. Some of the most common ways to segment your email list are:
By gender
By location
By age
By purchase history
By interests and needs
By activity
According to a study by MailChimp, segmented email campaigns receive 14.31% more opens and a little over 100% more clicks than non-segmented email campaigns.
Email segmentation will help you cover more ground in your marketing campaign. Instead of sending out a generic mass message, you can deliver targeted, relevant promotional emails to certain recipients.
Another advantage of segmentation is that it allows you to identify your high-quality leads who are more likely to convert into a purchase.
How to Write a Promotional Email
Designing an effective promotional email is more than just marketing and advertising a product. It has to convince customers of the need for your product or service.
There are plenty of resources on the internet that can help you get started with your promotional emails, but we've already done the research for you.
Promotional Email Best Practices
Whether you want to promote a brand new product or an existing one, sending promotional emails is one of the most effective ways to drive traffic, increase brand recall, and achieve long-term growth.
However, you also need to ensure that your promotional email is catchy enough for your subscriber to open and engage with it. Your main aim is to get your recipient to make a purchase.
Here are a set of guidelines to follow while designing stellar promotional emails for your next email marketing campaign.
1. Know Your Goal
The most important thing to do before you even start crafting your promotional email is to define your goal — the one thing you want to achieve from a particular email.
It's best practice to have a single goal. Having a goal will help you focus on the key actions you want readers to take and build your marketing copy around it.
Every email promotion doesn't have to be about selling something. Sometimes, it must offer something that will help you nurture your relationships with them.
2. Include the Sender's Name
Due to the increasing cyberattacks, people are skeptical about an email if the sender's identity is questionable. They delete or move to the spam folder even without opening it.
According to Convince & Convert, 43% of the email recipients decide to put an email in the spam folder based on the email address or 'from' name.
That's why one of the promotional email best practices is to include your brand name in the email so that the recipient knows that it is not spammed.
You can either just include the name of your company (e.g., EngageBay) or make it a bit more personal by adding the word "team" (e.g., EngageBay Team) to it. If you have more than one email campaign, you can name each one of them—for instance, EngageBay Marketing Team, EngageBay Sales Team, etc.
The most preferred way of gaining attention is to add a personal note by using a representative's name along with the company name & their designation.
It doesn't matter what approach you take. You just need to ensure that recipients find your email trustworthy and don't flag it as spam.
3. Keep Your Subject Line Concise
Recently, Invesp CRO discovered that 47% of email recipients open an email based on the subject line alone. That means, if the subject line of your email is poorly framed, your open rate will reduce drastically.
Your subject line needs to be concise and should deliver maximum information in minimum words.
Besides, emails with 6-10 words in their subject line had an opening rate of almost 21%.
Even though the ideal length of a subject line is open to some interpretation, you should try to keep your email line as short and concise as possible. Furthermore, your email subject line is the first thing the user reads. It should invoke some sense of curiosity for them to open the email and read what it offers.
Drafting a subject line is tricky because you have to maintain a balance between curiosity and authenticity. It's important to be genuine when writing email subject lines. If it sounds like a clickbait or a PR pitch, customers are immediately going to delete it.
Check out these promotional email examples with excellent, concise subject lines.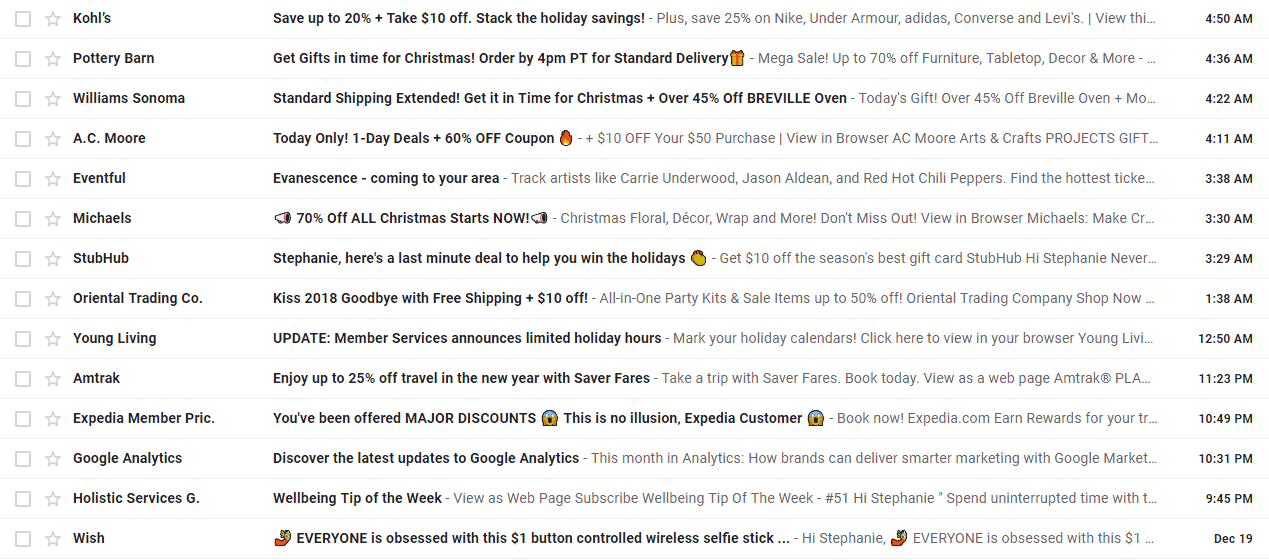 4. Personalize the Subject Line
According to research, emails with personalized subject lines are 26% more likely to be opened than those with a generic subject.
The best way to personalize emails is by adding the first name of the recipient. For example,
<xyz>, here's your special Black Friday discount.
When you add the first name, it makes them feel special. It shows that you know your customer and are willing to take the extra step to offer them the best user experience. 
In other words, personalization plays a huge role in the performance of your promotional email.
A personalized subject line also reduces the chances of your email ending up in the spam folder. The use of your company name and the sender's name adds credibility, which the email provider considers legitimate.
Another good practice is to avoid using marketing buzzwords, namely: Sales, Jackpot Offer, Extra Discounts, etc. They are almost always flagged as spam.
👉Empower your email marketing with the best trigger email strategies – learn more in our expert guide! 💪
5. The Main Content of the Promotional Email
You addressed your recipient with their first name, wrote a compelling subject line, and made them open your email. Now what?
It's time to make your content interesting so that they actually spend time reading it. Some of the things you need to consider:
Always include a CTA (call-to-action) button
Keep your content short & crisp
Use readable font style & size
Make it conversational
Give a proofread before hitting the send button
After reading your email, the user must be motivated to take further action.
Don't try to fit into a mold as it might become predictable and can be boring for the audience. Keep your content intuitive.
As with all marketing campaigns, promo emails require experimentation. It's important to keep your content fresh and relevant, otherwise it won't retain your customer's interest.
In other words, it should help connect your brand and audience rather than just sending a monotonous message.
The main aim of the email is to promote your product, but it is also essential to build relationships with customers.
6. Sell, Don't Force
The main reason why a ton of marketing campaigns fail is that they force their product on their customers.
I'm sure you must have come across emails that bluntly blurted out, "Buy Our Product."
The chances are that you have unsubscribed to their list. You need to try to sell your product without being abominable.
It's safe to assume that your company's email is just one amongst many in their inbox. You don't want to turn away potential customers by being intrusive. The goal here is to attract customers to your product or service.
The essence of product email marketing lies in gradually building trust and relationships with your customers.
If you treat your customers as friends, you won't use dirty tactics to sell your product. Your only concern should be how you can make your customers' lives better with your product. The product will automatically start selling.
7. Make Your Content Keyword-oriented
Another crucial thing to consider is that you need to make your content scannable.
Hardly any reader has the time to read the full text. People generally try to skim through important keywords that might catch their attention.
It helps to focus on a single message. Bold words that are important and sprinkle keywords in your email that people would typically look for in an email.
Besides, you should also break your content into small management chunks with lots of white space.
Avoid writing long paragraphs that are hard to scan. Cluttered emails can also cause customer's to lose sight of the mail's primary objective.
8. Use Graphical Content
There is no denying the fact that visuals attract people more than plain text. Moreover, graphics deliver content quickly and in a more effective manner.
Thus, including a few images in your promotional emails is definitely a great idea to make it more intuitive.
According to research by Constant Contact, emails with two to three images generally receive the best click-through rates.
In order to maintain a balance of textual and visual content, your promotional email must contain 60% text and 40% images. As a matter of fact, nothing is absolute.
However, while using images, you need to be mindful of their size. It should look great on both mobile as well as desktop.
Images are a great way to convey your messages and catch your user's interest without inserting too many texts.
If there is a feature that you need to showcase, instead of describing how it works, just take some quality screenshots or create a GIF to display the action. The human brain processes images faster than text; adding interactive GIFs or pictures is a great way to emphasize the email's goal.
Here is an example of an EasyJet promotional email where they have not only described the features of their app but also included a screenshot to portray its 'User Interface.' Notice how elegantly they have subtly used icons wherever possible.
9. Make Your Email Mobile-friendly
According to a study by Litmus, 53% of the total email opens are via mobile devices. The number has rocketed by 500% from 2010, and it is going to increase even further in the coming years.
If you want to increase your user base, you need to make all your promotional emails mobile-friendly.
Making an email mobile-friendly means optimizing it to look great not only on desktops but also on mobile and tablet devices. Your emails need to be responsive so that they look great on a wide range of devices.
The best way to optimize your email for mobile devices is by either using pre-build mobile-ready email templates or code your email to be mobile-friendly. The latter process is time-consuming and requires some technical knowledge.
PS: EngageBay's email templates are easy to use, customizable, and always mobile-friendly.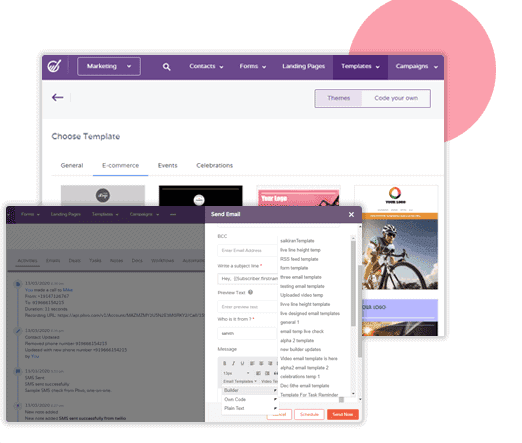 What's more, you need to take care of pre-header text too. It's the pre-header text based on which your target audience decides whether or not to open the email and engage with it.
Though its length may vary depending on the mobile device and the operating system, on average, it is around 40 – 50 characters in length.
By keeping your pre-header text relevant to the subject, you can reach a wider audience and certainly boost your open- and- click-through rate.
10. Make Subscribers Interact With the Call-To-Actions
A CTA is a link or a button that redirects users to a webpage.
It's essential to have a compelling CTA in your email copy so that users know where exactly to click to get more information.
In general, CTAs should have a bright color and should be placed so that they gain the reader's attention. In most scenarios, it is appropriate to use buttons instead of link-based CTA as they are simply more eye-catching.
Don't try to clutter the CTA button with the rest of the content. Leave some white space around the CTA so that it stands out and draws attention.
For this to work, you should use action-oriented phrases like 'Download the brochure,' 'Reserve your spot,' and more. Your CTA is an extension of the promo email content, so the CTA copy has to reflect that.
Keep in mind that most of your emails will be first opened on mobile devices. So, ensure that your CTA buttons are large enough for users to click.
Besides, the number of CTA to include in your email is purely experimental. However, if you have more than one, make sure that all of them are pretty distinctive in terms of placement and colors.
11. Proofread Your Emails Before Sending
This may sound so obvious, but you should proofread your email before sending it.
Having any grammatical mistakes or typos can leave a bad impression on your reader's mind.
Poorly written content can diminish your credibility and hurt your brand. There are various tools like Grammarly and Hemingway App that allow you to check your content for grammatical errors as well as spelling mistakes.
In fact, these apps also give a readability score to your content. You can accordingly edit your emails.
Another thing to ensure is that your email marketing software is glitch-free. Issues such as misplaced brackets, underscores, etc., will make your customers mark the email as spam.
Wrap Up
You can leverage promotional emails to boost your business — it's not rocket science.
When done right, they can increase revenue, improve brand credibility, engage customers for long-term and high-value returns, and nurture customer-led brand advocacy.
Now that you know the secrets of writing email copy that converts, check out our marketing guide that shares Fifteen Secret Hacks to Grow Your Email List.
For a more effective campaign, check out EngageBay's email marketing platform. It offers dozens of promotional email templates and key automation features such as automated email segmentation, autoresponders for quick customer service, SMS and video marketing, Live Chat, and even a landing page builder with templates and coding support.
EngageBay makes it easy for you to build effective marketing campaigns. With advanced reporting and analytics options, you can get deep insights about the performance of your emails and optimize them for the best engagement rates.
You can register for a free plan – no trial period or credit card required.
Happy writing!