As a business owner, how do you evaluate sales performance?
While indicators such as the revenue generated and profit earned can help understand financial performance, they do not provide any information on which sales or marketing strategies have worked and which haven't.
To better understand your company's sales performance, you need more than just numbers. This is where sales analysis comes in.
Sales analysis helps businesses identify and understand the performance of their sales team.
Using sales analysis tools, you can get an understanding of prevailing and future market trends, current and past sales, existing competition, and other metrics that can help improve your sales and marketing strategies.
In this blog post, we explore in detail the best sales analysis software, especially for small business owners, solopreneurs, and the like.
10 Top Sales Analysis Software for Your Small Business
Let us look at some of the best and most affordable sales analytics software for small business owners.
While we're not rating or ranking them in any order here, these are the tools you'll find rated best by small business owners going by most software review platforms.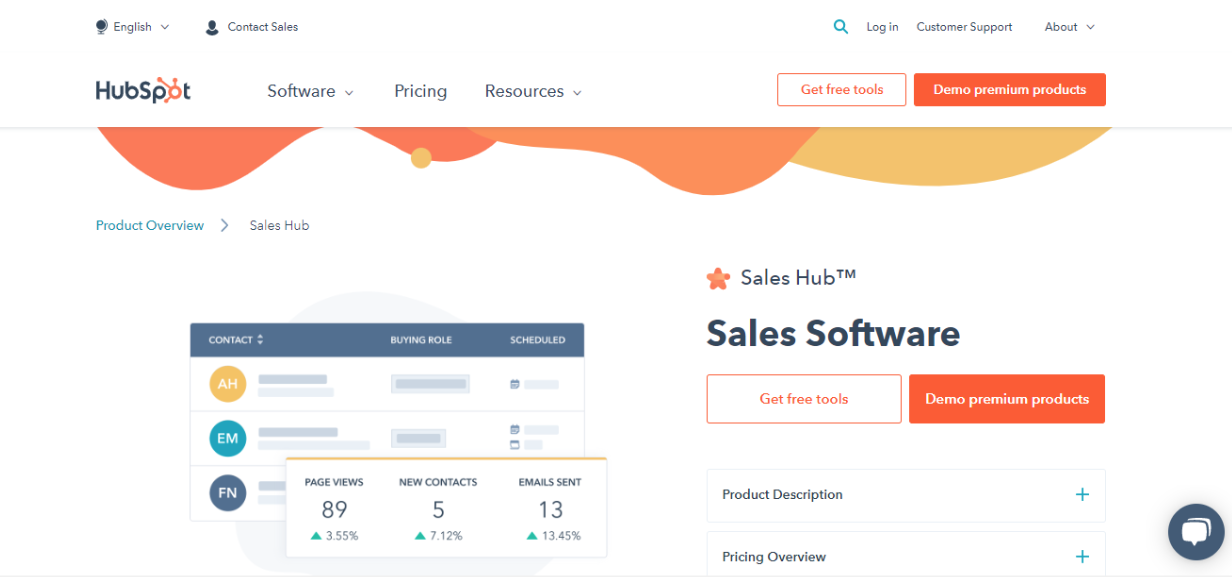 HubSpot's Sales Hub is an all-in-one sales and CRM platform that helps with your sales and marketing needs. Its Sales Hub aims to eliminate any roadblocks in your sales journey by including all the necessary tools in one place.
Some of these tools include built-in email templates, an email tracking feature, sales automation, live chat, meeting scheduler, pipeline management, and a mobile CRM app.
The sales analytics feature of HubSpot allows your sales team to get total visibility into sales metrics. You can get detailed insights into your sales pipeline, which helps better forecast performance.
What's more, using the sales analytics tool, you can not only get a picture of the overall revenue earned but also a breakdown of the sales generated at each stage of the sales funnel.
Furthermore, you can track leads as they move through the various sales pipeline stages, get real-time sales reports, build customized reports, and coach your sales reps to achieve their targets.
Pros
Advanced integrations for added functionalities

Provides several ways to collaborate with multiple teams to improve sales performance
Cons
Too many features can make it challenging to navigate through the platform

Only a limited number of emails can be sent in a single email sequence
Pricing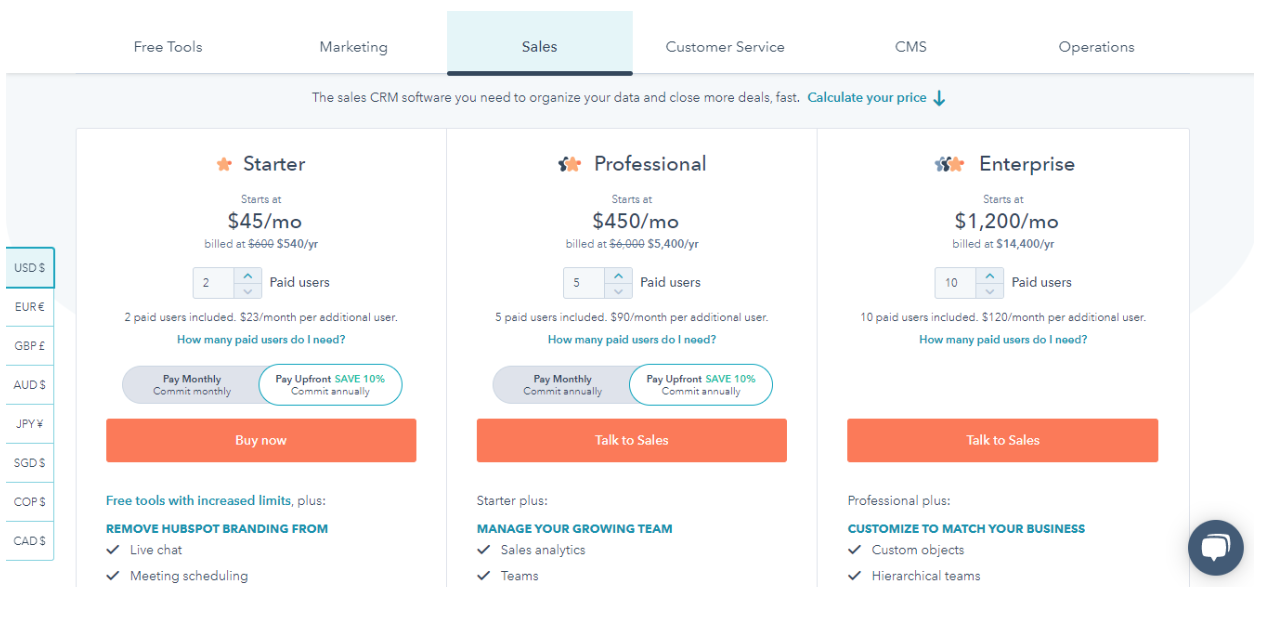 The HubSpot Sales Hub offers three types of pricing plans: Starter, Professional, and Enterprise.
The Starter Plan is the most basic one and starts at $45 per month. It includes two users and boasts features like live chat, meeting scheduler, conversation routing, task queueing, and email and in-app chat support.
Go for the Professional Plan to get additional features such as sales automation, record customization, custom reporting, and sales forecasting. This plan costs $450 per month and includes five users. Under this plan, you can avail yourself of tools like one-on-one video messaging, phone support, and eSignature.
For more advanced and customized features, the Enterprise Plan works best. It starts from $1200 per month and includes ten paid users. Some of the features include custom objects, advanced permissions, Playbooks, conversation intelligence, and predictive lead scoring.
---
Read also: What is HubSpot? Definition, Features, Pricing, Who it's Best for
---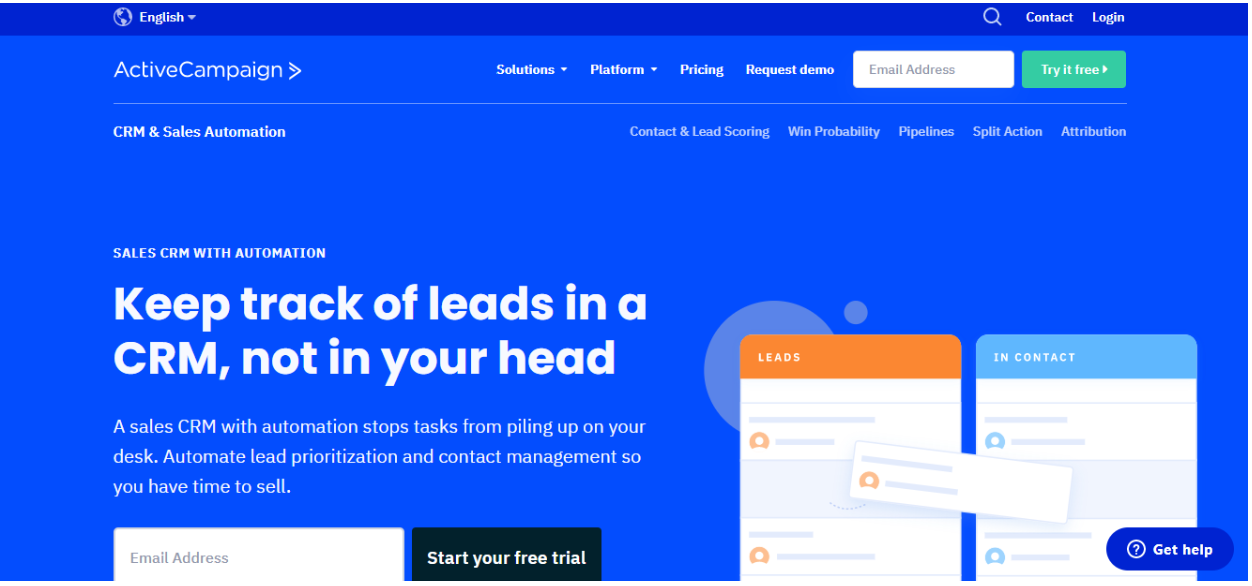 For those looking for tools that can help prioritize leads and automate the whole process, ActiveCampaign's sales CRM platform is best.
It offers predictive scoring that helps you segment highly qualified leads with less qualified ones and nurture them accordingly. Furthermore, it acts as a centralized platform for your contact database that gets updated automatically.
This helps you streamline your sales process, as you can view a lead's history on the contact database as well as get a complete view of your sales pipeline.
It also helps with automated task allocation and note creation. You can easily track the performance of your sales reps individually and of the sales funnel.
Pros
Automations make it easy to onboard new clients

Highly efficient and responsive customer service
Cons
User experience is not as intuitive as other sales CRM platforms

Generating reports can become challenging at times
Pricing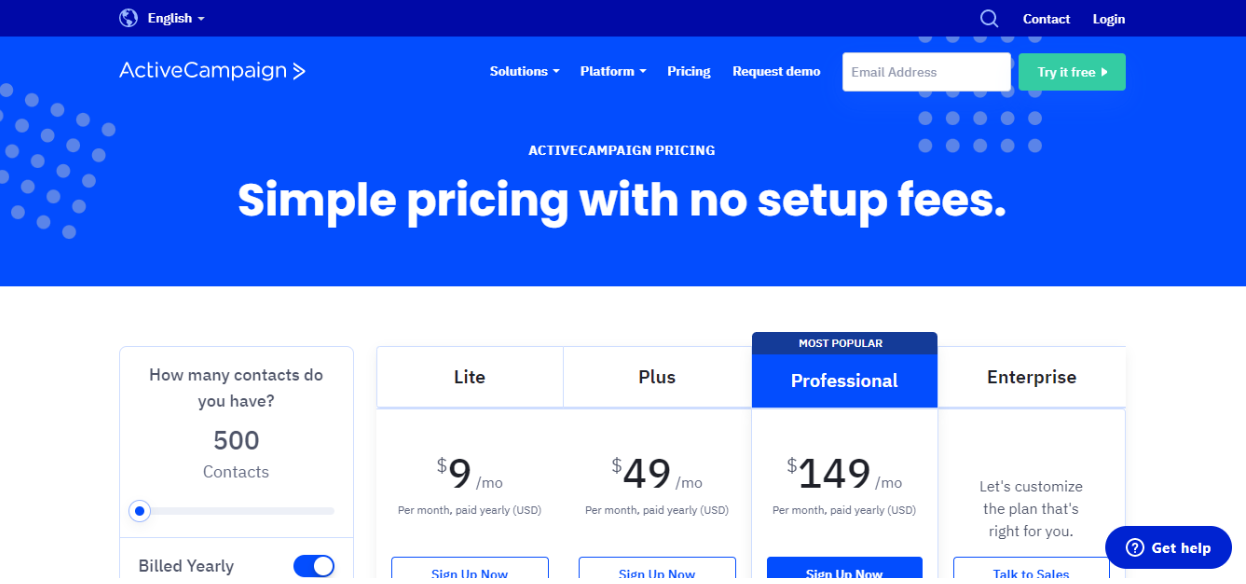 ActiveCampaign comes with four pricing plans, Lite, Plus, Professional, and Enterprise. The pricing depends on your number of contacts and starts at 500 contacts.
Under the Lite Plan, you can get tools such as sales emails, lead capture forms, segmented outreach, and lead importing. The plan costs $9 per month.
With the Plus Plan, businesses can avail of additional features, including lead scoring, task reporting, a mobile CRM app, inbox syncing with CRM, and SMS prospect nurturing, at $49 per month.
The Professional Plan is ActiveCampaign's most popular plan and starts from $149 per month. This plan includes sales engagement automation, split automation, conversion reporting, and win probability.
To get a customized plan, go for the Enterprise Plan. Here, you can get custom reporting, contact enrichment, and custom objects as some of the key features. To purchase this plan, companies can contact ActiveCampaign's sales team directly.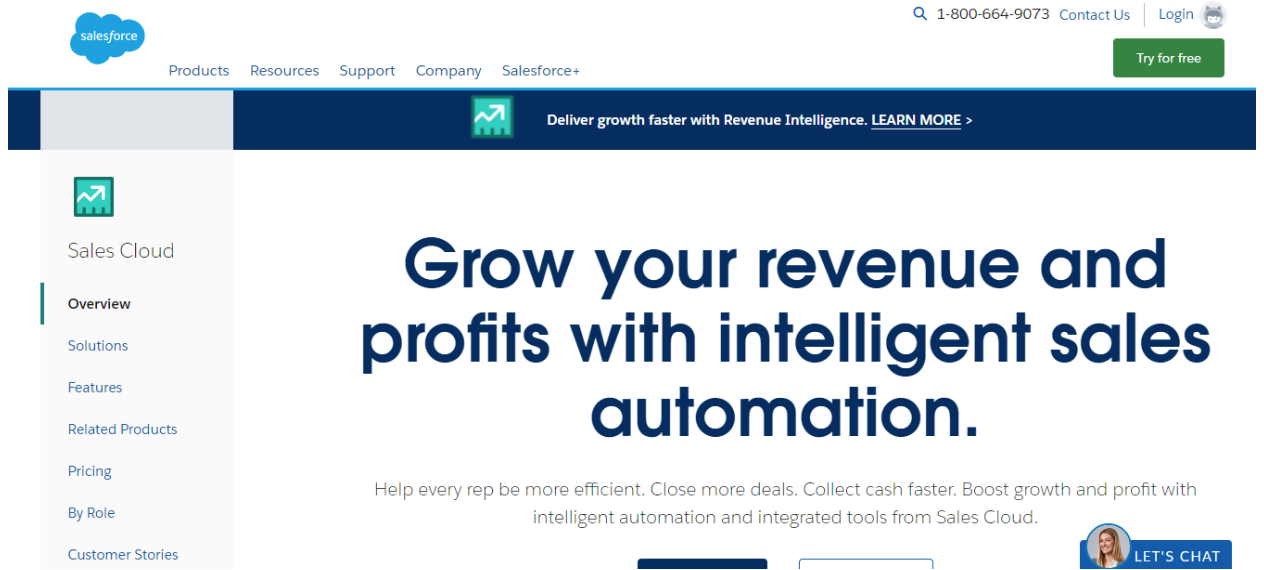 If you have an online business and want your sales teams to work from anywhere, the Salesforce Sales Cloud is for you.
With the Sales Cloud, you can record all your sales activity on a single platform. It gives a holistic view of your sales department that allows you to track whether the sales target is being met.
Moreover, you can track sales opportunities with a rich customer activity timeline and increase your revenue. What's more, measure your sales pipeline in real-time using the revenue intelligence feature and forecast sales to meet the market demand.
Pros
Helps create custom dashboards and reports

Allows employees at all levels to analyze and track sales data, helping them be on the same page
Cons
The interface takes too long to load

Sales automation needs to capture more in-depth engagement metrics
Pricing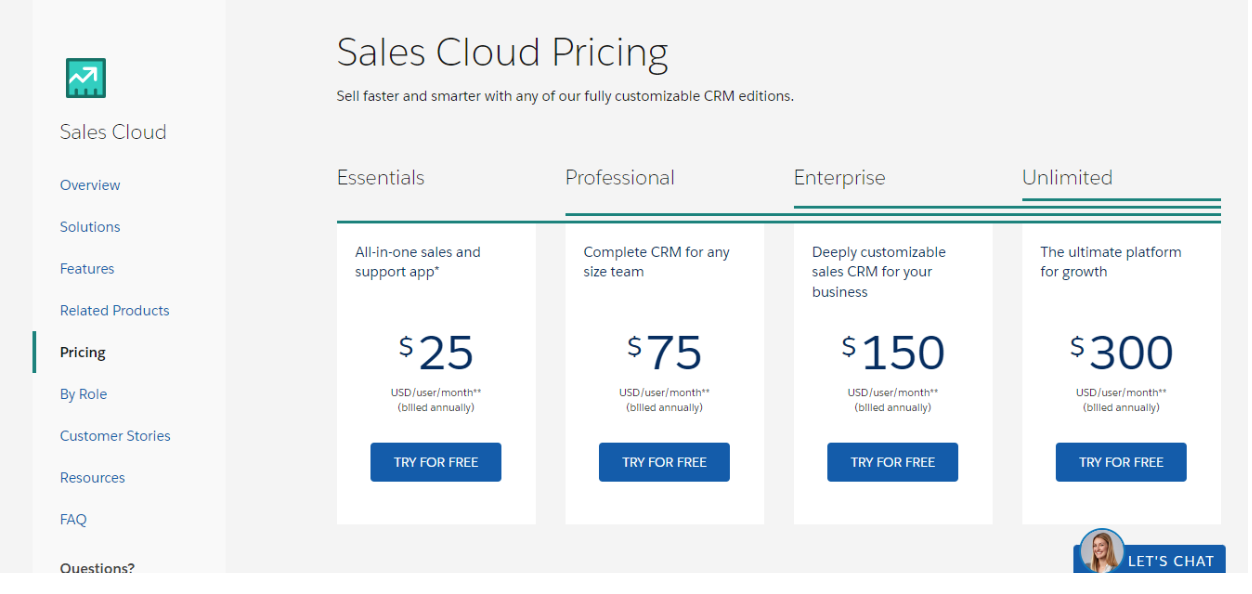 Salesforce's Sales Cloud platform has four pricing categories, Essentials, Professional, Enterprise, and Unlimited.
The Essentials Plan starts at $25 per user per month and includes account, lead, contact, opportunity management, and integrations with Gmail and Outlook.
Under the Professional Plan, you can get additional features such as sales pipeline and forecast management, lead registration, and collaborative forecasting at $75 per user per month.
The Enterprise Plan costs $150 per user per month and boasts a customizable CRM platform. It includes tools like enterprise territory management, opportunity splits, opportunity scoring, advanced reporting features, and unlimited, customizable applications.
For growing businesses, the Unlimited Plan works best. It starts at $300 per user per month and comes with sales engagement, sales insights, 24/7 support, work queueing, predictive forecasting, pipeline inspection, and conversation insights.
---
Read also: 16 Sales Dashboards That Make Sales Fun
---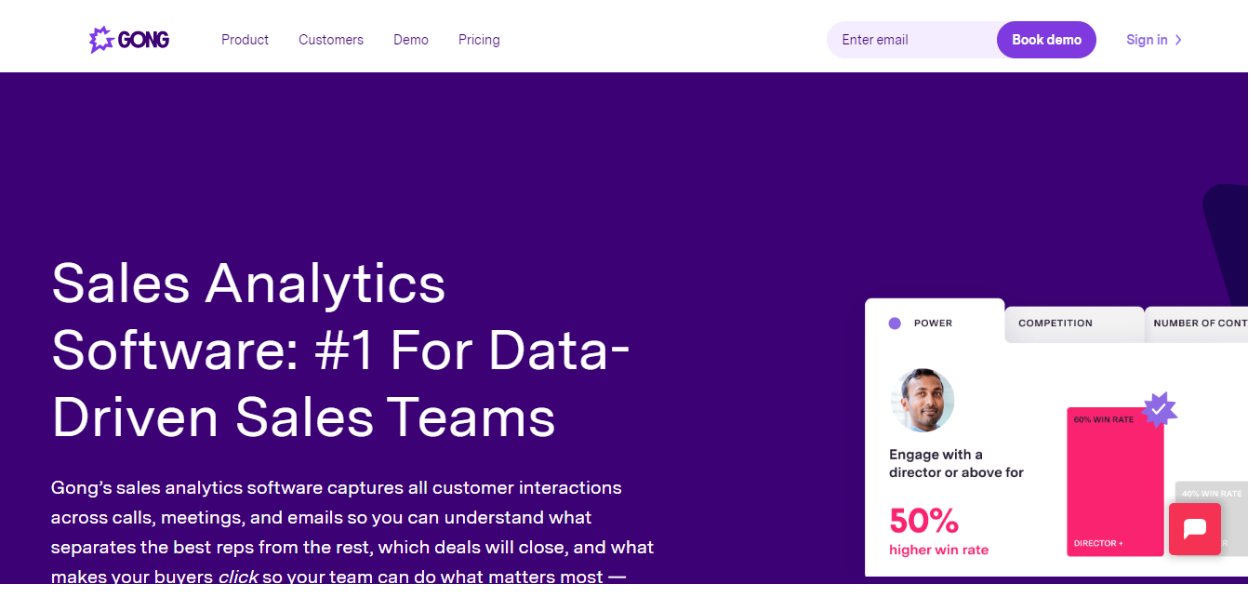 Gong is a sales and data analysis software that helps you achieve multiple goals on a single platform.
Using Gong, you can record all customer interactions across any medium, identify qualified leads, and understand how to secure more deals.
What's more, the platform lets you track the performance of your sales reps individually and get complete visibility into your sales pipeline. It's crucial for a sales manager to be able to keep track of everything that's happening within the sales department.
It automatically records all conversations between the salesperson and customers and speeds up the onboarding process. You also get step-by-step detail about analytics dashboards.
Pros
Helps record customer interactions from email, telephone, or any other medium

Helps to listen to calls from top sales performers and improve sales strategies
Cons
A limited number of integrations are available

At times, the calls take a lot of time to process
Pricing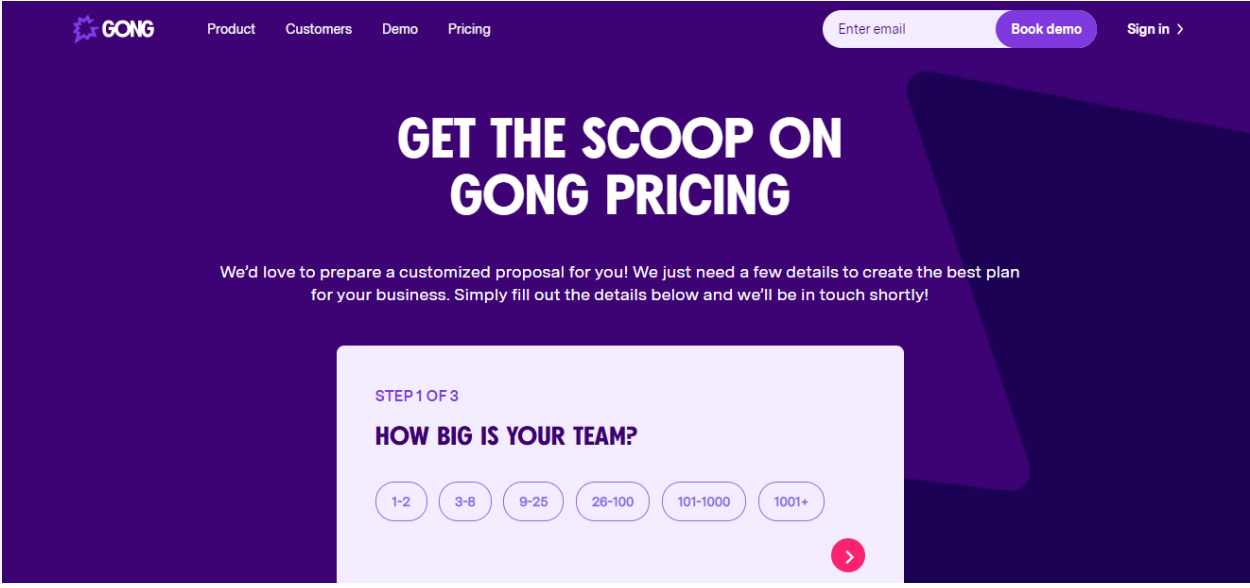 Gong's pricing plans depend upon the number of employees you have and how you sell your products.
Once you have entered details such as the number of team members, the medium by which you contact your clients, and your email address, Gong will contact you with the pricing best suited for your business.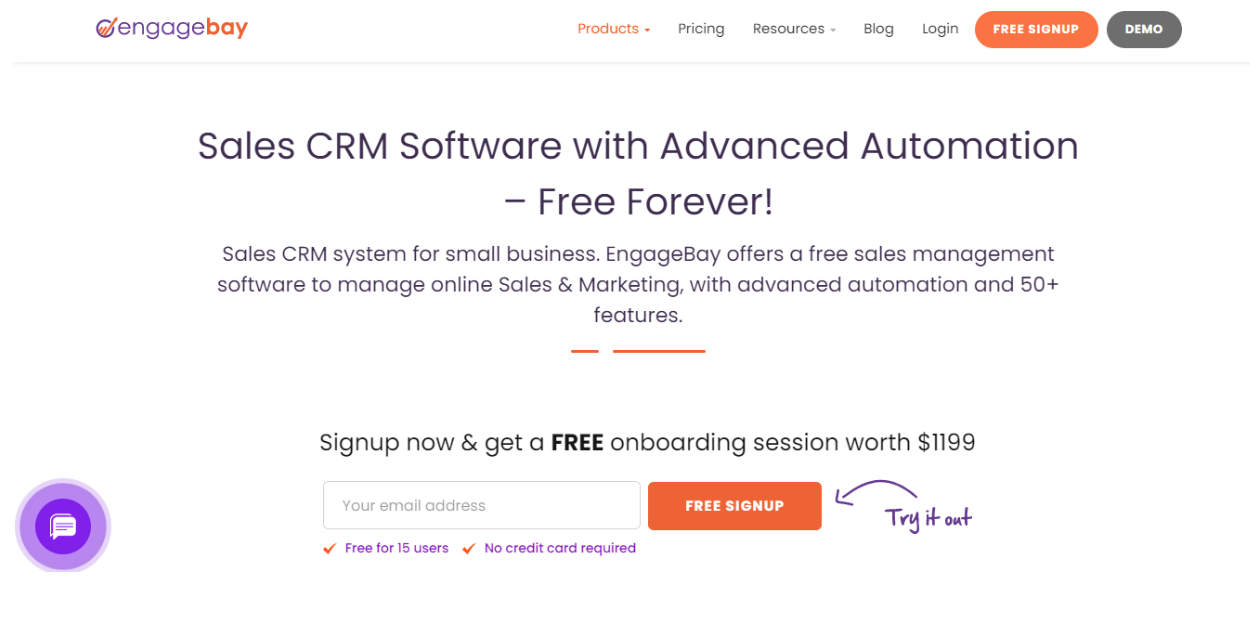 If you are a small business looking for an affordable sales analytics platform, look no further than EngageBay's Sales CRM software. The platform boasts a free sales management tool to help you manage sales and marketing online, along with advanced automation and more than 150 features.
EngageBay's sales analytics software helps you get useful insights into your customers.
You can get information on the time they spend on your website, the pages they visit most often, and when.
Its email tracker tool further helps you track your prospects' actions and when they engage with your emails. These tools can then enable you to determine how and when to target potential customers and which channels to use.
Pros
Helps combine the tasks of different systems on a single platform

Chrome plug-in helps add contacts at the click of a button on LinkedIn and Gmail

Provides deep insight into buyer behavior

Highly responsive customer service
Cons
Can have more email templates

Needs more native integrations
Pricing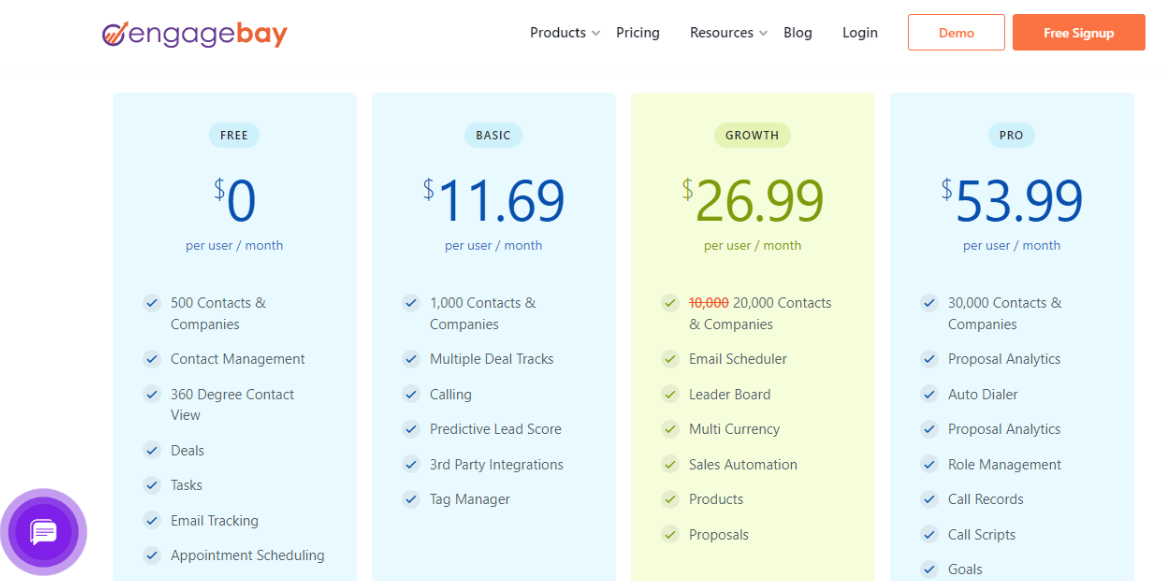 EngageBay provides four types of plans, Free, Basic, Growth, and Pro.
The Free Plan includes up to 500 contacts and has features like contact management, 360-degree contact viewing, email tracking, appointment scheduling, live chat, and GSuite integration.
Under the Basic Plan, you can avail up to 1000 contacts and get additional tools such as multiple deal tracking, predictive lead scoring, tag management, and various third-party integrations. It costs $11.69 per user per month.
To get features like multi-currency options, leaderboard, sales automation, and email scheduling, go for the Growth Plan. It includes up to 20,000 contacts and starts at $26.99 per user per month.
For large businesses, the Pro Plan is ideal. It starts from $53.99 per user per month and boasts tools like autodialer, proposal analytics, role management, call recording, custom reporting, and a conversational inbox.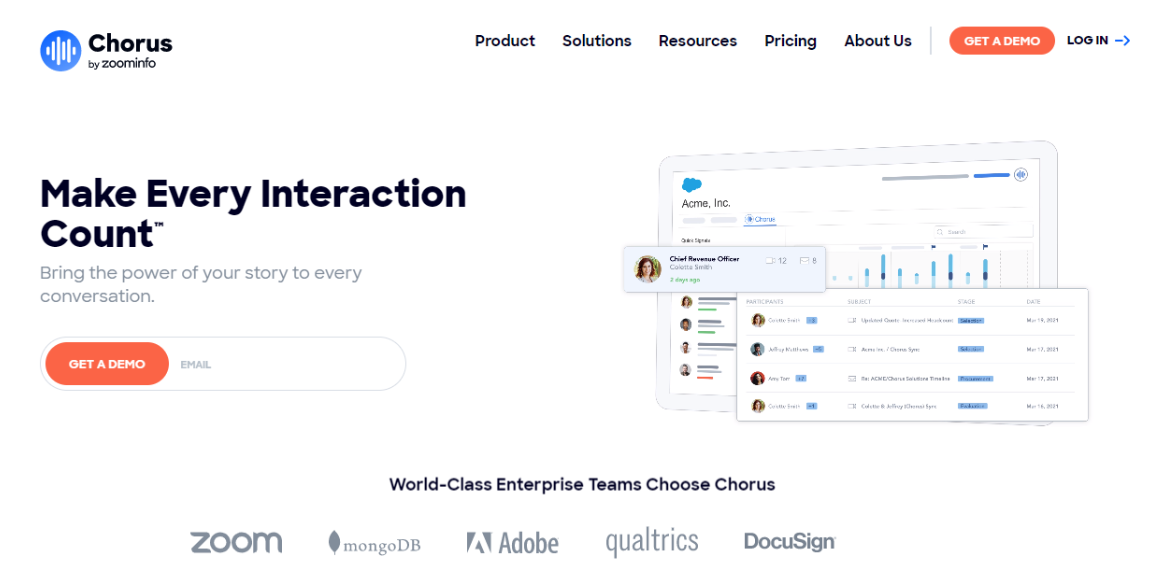 Chorus.ai's sales analytics software uses big data to generate insights into sales performance.
With Chorus.ai, you can create greater visibility by recording and analyzing client interactions, track consumer behavior, identify and replicate winning sales strategies, and find any roadblocks and address them immediately.
What's more, the platform has a feature called relationship intelligence that helps your team move deals faster and gain actionable insights into your buyers' sales journey.
Pros
Intelligent and robust tool for recording and tracking conversations

Helps sales teams follow up on key points
Cons
At times, accessing recorded calls of team members can be difficult

The integration with Zoom and Gmail doesn't seamlessly connect every time
Pricing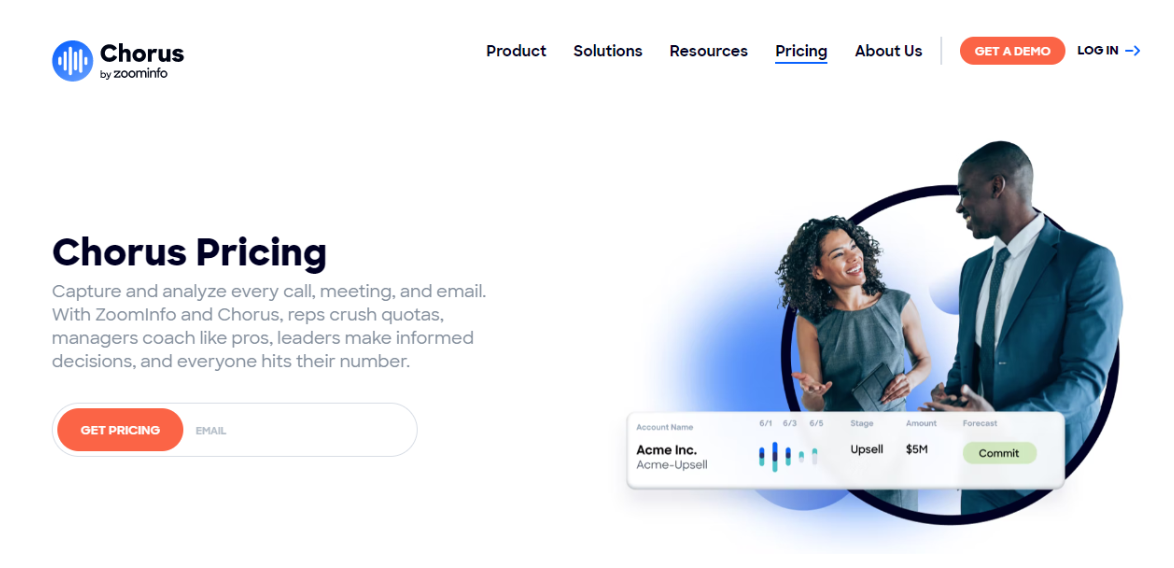 Chorus.ai helps you avail of customized plans depending upon the size and needs of your organization. All you need is to provide them with your email address, following which Chorus.ai's sales team will get in touch with you.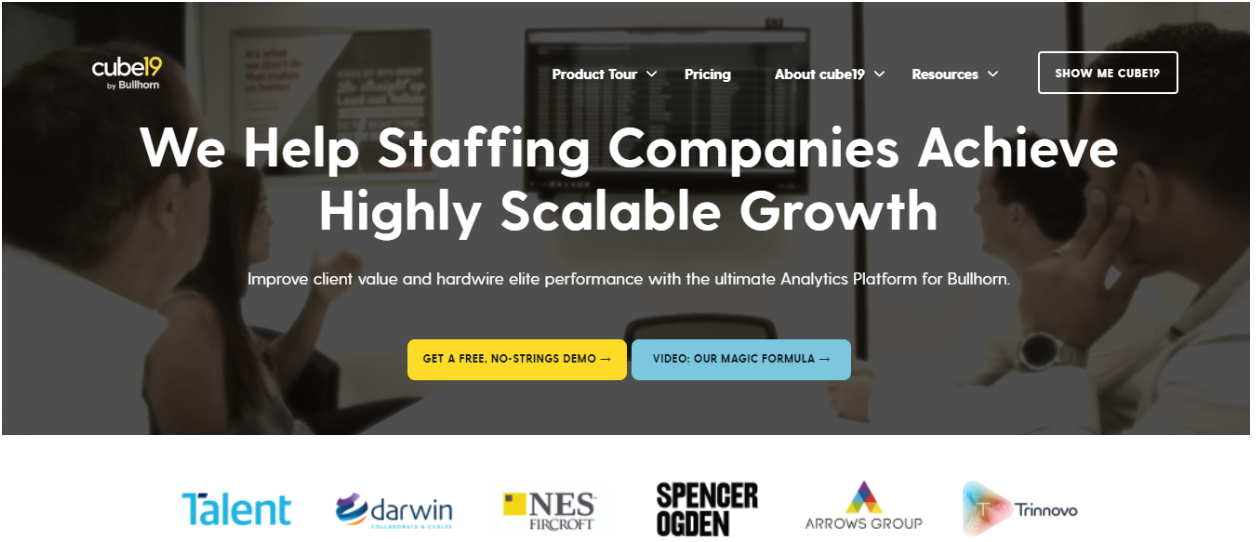 Cube19 is one of the best sales analysis software that helps improve your sales teams' performance and improve client relationships.
With Cube19, you can gain actionable insights into your sales reps' performance and ensure that they are on the path to achieving the desired revenue targets.
With a centralized database, all your sales team members can access data, helping them become more efficient and productive.
Cube19 also helps you get full visibility into real-time actions and understand what strategies will work best for your company. Some of its top clients include Talent, Arrows Group, and more.
Pros
Helps customize consumer databases

Helps compare and contrast against past sales performance
Cons
Lack of pipeline forecasting feature

UI/UX interface needs improvement
Pricing
Cube19 has four categories of plans, cubeLite, cubeX, cubeEnterprise, and cubeUltimate.
The cubeLite Plan starts at $18.82 per user per month and includes tools like data configuration and full visibility into your sales pipeline.
With the cubeX Plan, you can get more tools such as sales forecast and leaderboard at $37.64 per user per month.
Under the cubeEnterprise Plan, users can get marketplace analytics, a drag-and-drop creation tool, a sales gamification platform, and compare and contrast sales performance. It costs $75.28 per user per month.
To get a customized plan, the cubeUltimate Plan works best. It consists of advanced functionalities like customized data configuration, leaderboard scoring, job process tracking, and data visualization for thorough sales analysis.
---
Read also: 9 Sales Email Automation Tools That Don't Cost a Bomb
---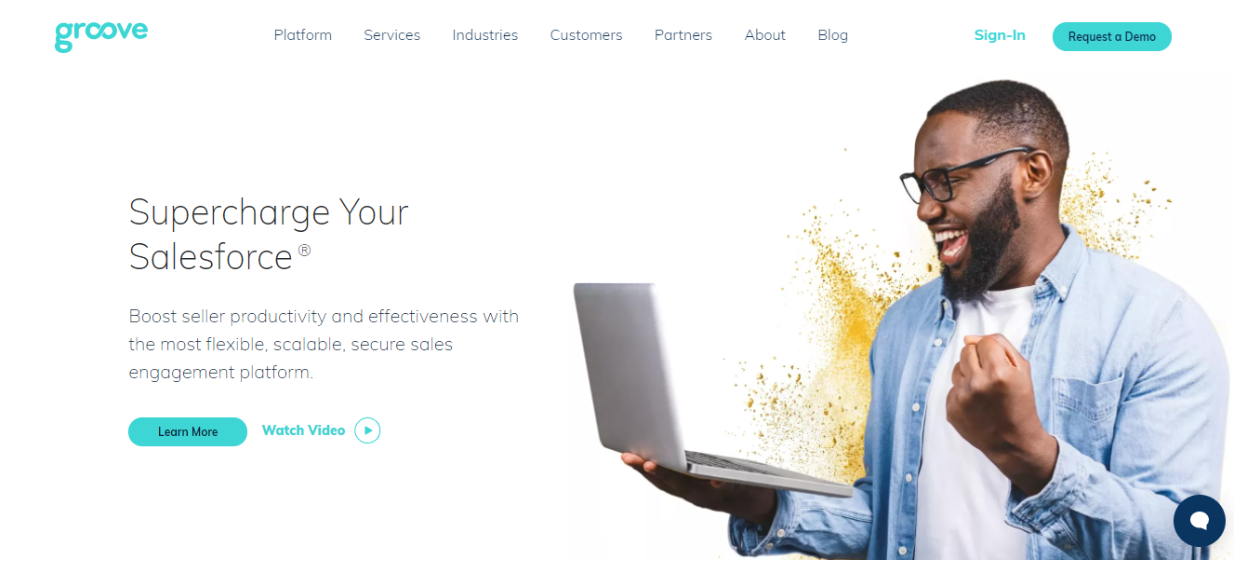 If your main objective is to increase the productivity of your sales team, Groove is the best sales analytics platform for you.
Groove is integrated with Salesforce that enables you to scale and customize your company's needs to serve your clients better.
The software automates workflow, giving your sales reps 20% of their time back to focus on activities that drive results.
It also provides insights into activities that are driving your revenue and eliminates any sync errors.
Pros
Easy to navigate

Helps track activities as well as the time spent on each activity
Cons
Limited CRM capabilities

Task sharing can be a challenge
Pricing
To get a quote, businesses can contact Groove's sales team directly.
---
Read more: The Sales Analyst Job Description at 25 Top Companies
---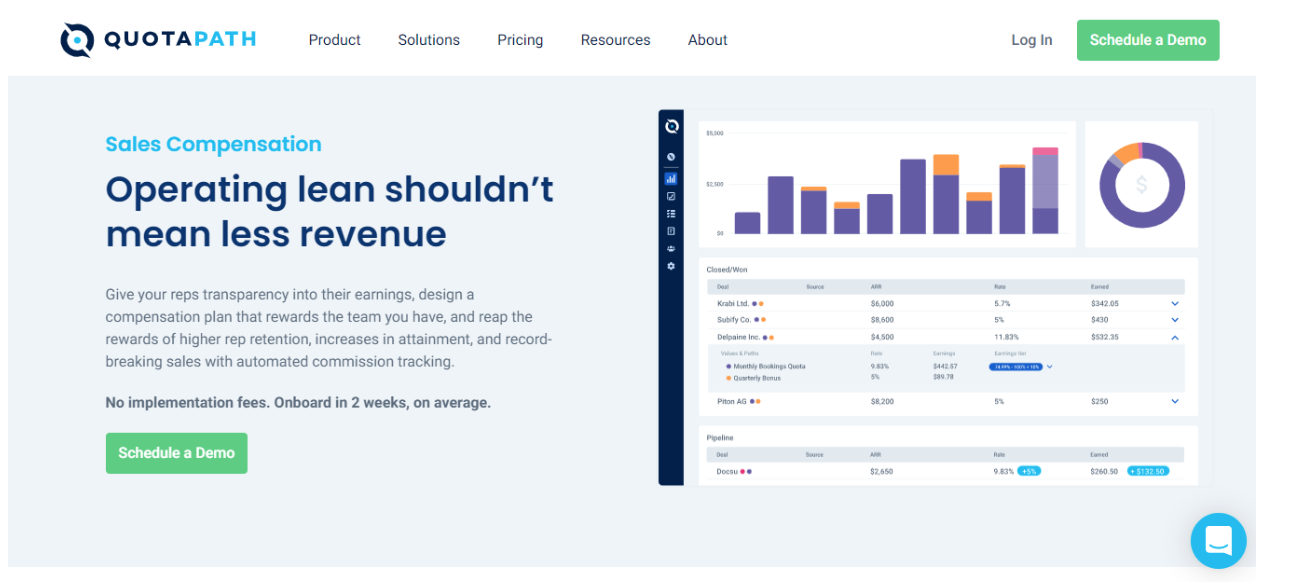 QuotaPath is a sales analysis software designed to improve the performance of your sales reps.
The platform provides your sales team with transparency into their earnings and creates a remuneration plan that rewards them according to their performance.
Using QuotaPath, you can gain real-time insights into sales forecasts and streamline the commission process using admin control and deal flagging features.
What's more, QuotaPath is integrated with HubSpot, Close, and Salesforce, helping you import data easily.
Pros
Helps streamline and provides access to each sales rep about their commission plan and structure

Easy and quick to implement
Cons
Customization can be improved

The interface can be slow to load at times
Pricing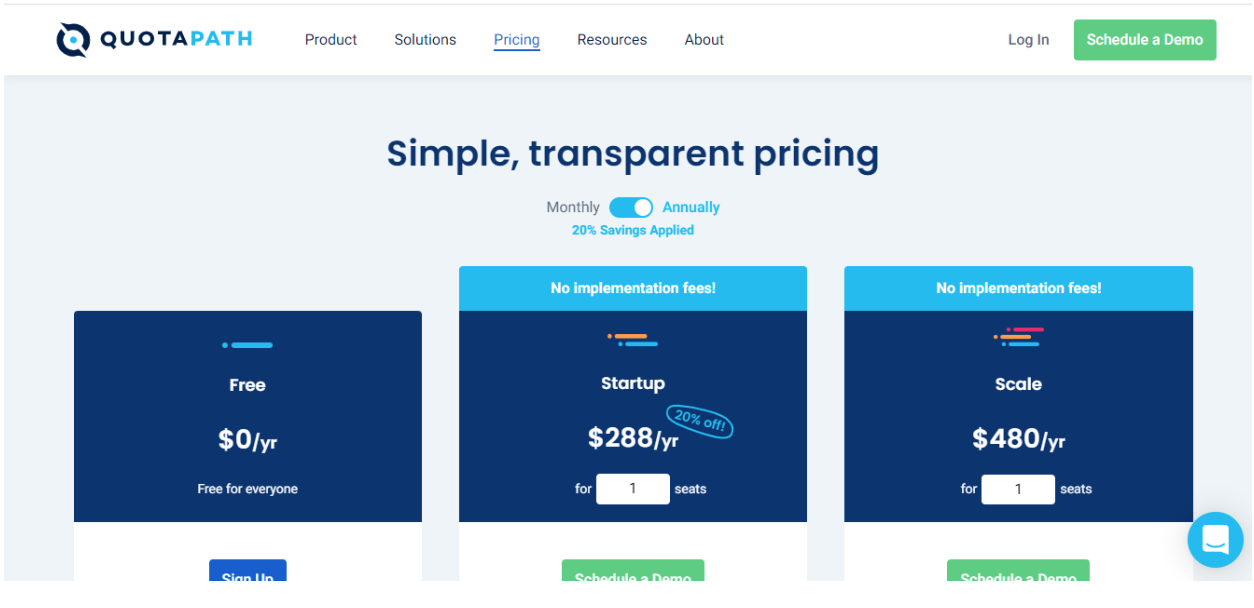 QuotaPath has three pricing plans, Free, Startup, and Scale.
The Free Plan is QuotaPath's forever free plan and helps track personal earnings, forecast future earnings, set personal targets, and integrate with any CRM software.
The Startup Plan costs $288 per year and allows you to track the earnings of reps, generate reports on their earnings, approve and track any earning discrepancies, and select global currency options.
With the Scale Plan, you can avail of features such as attainment leaderboards, flag deals, create payment schedules, verify compensation plans, and build and manage teams. It costs $480 annually.
---
Read More: Sales Analysis: Definition, Types and Why It's Important for Business
---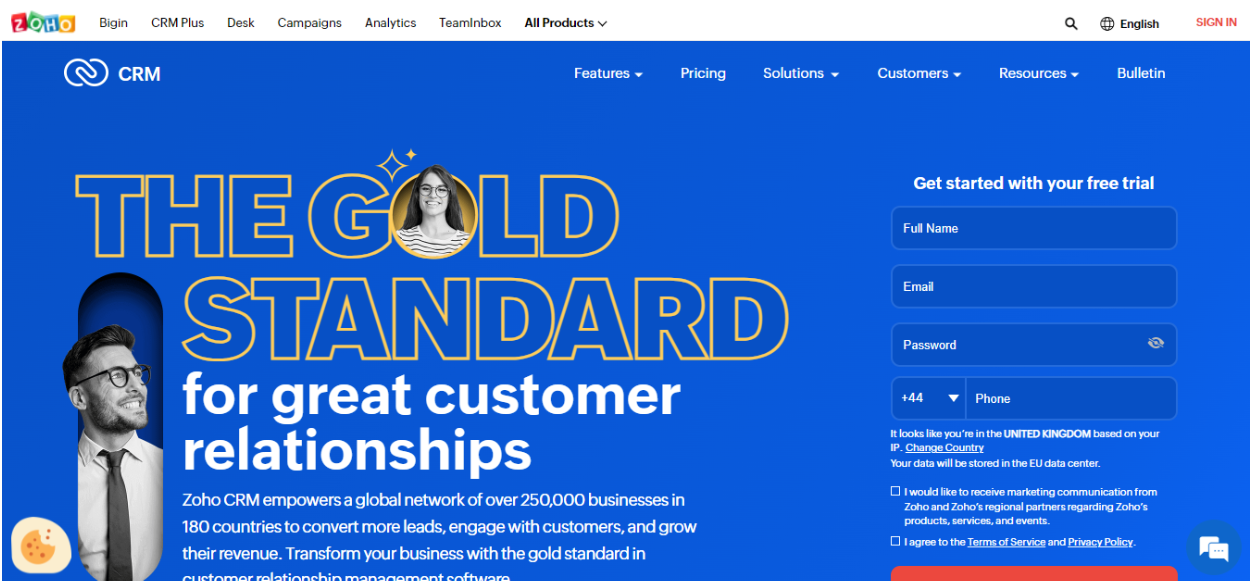 ZohoCRM's sales analytics tool is an all-in-one platform that helps you achieve multiple goals on a single platform. With Zoho, you can access your customer database from anywhere, helping you get in touch with them anytime.
The platform provides you with real-time notifications whenever a client interacts with your business and helps you find the best time and platform to get in touch with them. It automates various administrative and repetitive tasks, streamlines the lead nurturing process, helps filter data, and creates multi-dimensional sales reports.
Using built-in charts, you can also visualize your sales performance and analyze time-based sales metrics using cohorts.
Pros
Affordably priced

Provides real-time information to determine the priority of leads
Cons
Takes time to import and sync data

Social media integration needs improvement
Pricing
Zoho has four plan categories, Standard, Professional, Enterprise, and Ultimate.
The most basic plan is the Standard Plan which costs $15.06 per user per month. It has features like workflow automation, multiple sales pipelines, mass emailing, and customized dashboards.
To get additional features like web-to-case forms, inventory management, and validation rules, go for the Professional Plan. It starts from $22.58 per user per month.
The most popular plan of Zoho is its Enterprise Plan, which costs $43.91 per user per month. The plan has tools including multi-user portals, advanced customization, CommandCenter, and Zia AI, Zoho's AI-powered conversational assistant.
For those looking for advanced tools like enhanced feature limits and advanced business intelligence, go for the Ultimate Plan. The plan comes with a 30-day trial and starts from $52.69 per user per month.
---
Read also: 7 Sales Management Tools to Build the Perfect Sales Team
---
Conclusion
Out of all the sales analytics software we have discussed here, which one of them is the best? For a small business owner, EngageBay seems to be the best bet.
First, its affordable pricing model can't be ignored. Unlike many platforms, EngageBay has a forever-free plan that provides up to 500 contacts along with a host of features to help you get started.
It is ideal for individuals, small teams, and newly launched enterprises. EngageBay's next plan, the Basic Plan, costs $11.69 per month, while its most expensive plan, the Pro Plan, is affordably priced at $53.99 a month. The Pro Plan provides up to 30,000 contacts and boasts of a range of advanced features that businesses can customize according to their needs.
Second, EngageBay's sales analytics software enables you to accomplish multiple functions without having to switch between dashboards. You can generate customized sales performance reports, set goals, forecast revenue, and make phone calls, all on a single platform.
The software also enables you to understand consumer behavior better by allowing you to track their actions over email. This helps you improve lead nurturing and targeting, as you are aware of when they engage with your brand and through which channels.
Third, EngageBay is quite easy to set up and use. It has a highly intuitive and user-friendly interface that helps your sales teams understand quickly understand what tools they require to perform various tasks.
There are also free onboarding sessions and highly responsive customer service if you or your team members face issues with the platform.
Lastly, EngageBay's integration with over 150+ apps like Zapier, Xero, Mailgun, Sendgrid, and so on makes it the best sales analytics software for small businesses.