WooCommerce and Magento are two powerful eCommerce platforms with unique capabilities. They have excellent features that can help you build, grow, and manage your online store.
If you're running a small brick-and-mortar store, you need an eCommerce platform that's easy to use, affordable, and has the basic features that will help you interact with your customers.
But, if you own a large-scale enterprise, you may need a more scalable option with advanced features that will help you handle increased orders and sales.
This review covers the capabilities of both WooCommerce and Magento, and the pointers (e.g., ease of use, security, payment gateways, pricing, etc.) that will help you identify the perfect fit for your business.
What Is WooComerce?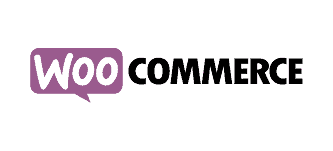 WooCommerce is an open-source eCommerce software built as a plugin on WordPress. It is a widely used platform that helps you build your online store with the WordPress content management system (CMS). Also, it is beginner-friendly, customizable, easy to set up, and suitable for store owners who have little or no knowledge of web development.
The intuitive and customizable features allow you to set up a system for promoting and selling your products or services (digital or physical) across various channels. Since it is built on WordPress, it uses tons of WordPress themes, plugins, and features to boost its functionality.
Although it's a free open-source platform, you still need paid plugins for your online store to become fully functional.
Read also: EngageBay Adds Integration with WooCommerce
What is Magento?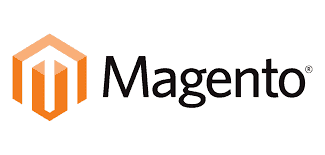 Magento (now Adobe Commerce) is a more extensive open-source eCommerce platform, owned by Adobe, that helps you build, grow, and manage your online store. The system is written in PHP programming language and it is the perfect fit for users who are experienced in web development.
Magento is a complete, flexible, customizable, and scalable platform well-suited for both medium and enterprise organizations alike. The system gives you full control over your online store, helping you make custom changes to expand its functionalities.
Magento offers two significant products:
Magento Open Source:

This option is free to download and use. It offers the basic eCommerce features needed to start and build your online store.

Though free, you're responsible for the cost of the domain, hosting, maintenance, etc. Moreover, you may need extra paid extensions and plugins for full functionality.

Magento Commerce:

This is the premium version and it comes with cloud hosting and support. Being a well-suited option for large eCommerce stores, it offers top-tier features and capabilities.
You can host both products on the cloud using Amazon Web services or on-premise using your computer's server.
Read also: BigCommerce vs Magento: Features, Pricing, and More Compared
WooCommerce vs Magento: A Complete Comparison
WooCommerce and Magento share similar features that help merchants manage and build their online stores. However, some of these features may have some drawbacks or may not be suitable for your business model.
Compare both platforms using these markers and pick out the perfect fit for your eCommerce store.
Ease of use
Your eCommerce platform should be easy to set up, manage, and maintain. With a complex system, it may take more time to understand and manage workflows. This can affect your online store's functionality and decrease your sales.
Since both platforms are open-source, they may require more work for a complete newbie to set up and manage. However, they have proper documentation and guides that provide easy navigation and accessibility. Merchants who have little to no experience in web development will require an easier and quick-to-manage platform.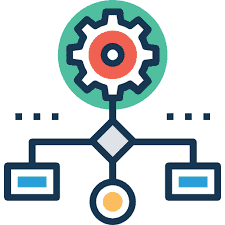 WooCommerce ease of use
Being a self-hosted platform and plugin on WordPress, WooComerce is easier to use as opposed to Magento. Since it is built on WordPress coding, you cannot use it without WordPress. This will make it a bit difficult for new users to navigate.
Nonetheless, a setup wizard can guide you through the process. With over 55,000 WordPress themes and plugins, you have extended functionalities and more control over your online store.
If you need an online store with basic features, you may not need web development skills, as WooCommerce provides easy-to-use plugins and functionalities to help you start. However, more custom and advanced functionalities may require some knowledge of HTML and CSS.
Magento ease of use
Magento is more complex and it requires a level of experience in web development. It is a flexible platform with a clean user interface, expanded scalability options, and limitless customizability. However, it has a steep learning curve as it is written in PHP.
To set up your online store, you need some level of experience in web development for setting tasks, developing page layouts, integrating extensions, and carrying out other technical processes. Although Magento provides online training resources to guide you, it may not be feasible for a complete beginner.
You can, however, hire a professional web developer to handle the technicalities of building your online store ground up. It is highly recommended for merchants who can afford the services of a developer or manage and maintain the complexities that come with it – it is not a suitable option for beginners.
Read Also: 8 Reasons Why Every Small Business Needs an Easy-to-Use CRM Software
Security
A secure eCommerce platform will save you the stress of trying to fix damages that may arise as a result of cyberattacks and malware. Also, it will protect your customer data and website reputation, and give your customers a good buying experience.
While some platforms have pre-built security measures, others may require you to take extra steps for enhanced protection.
WooCommerce security
Being a plugin on WordPress, WooCommerce depends on it for security. Any security vulnerability on your WordPress hosting service (via themes or plugins) can harm your site.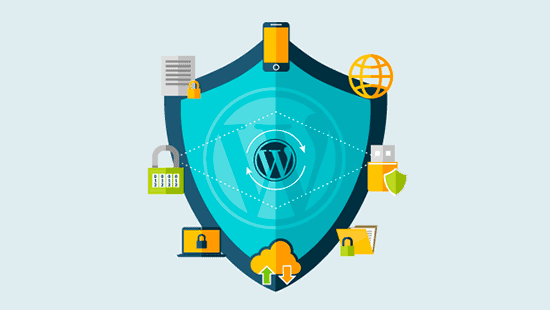 Nonetheless, it is a secure platform and you can add an extra layer of security by installing third-party security extensions and plugins. You can, as well, carry out personal protective measures like using a strong password, purchasing an SSL certificate, backing up your data regularly, and so on.
Magento security
Unlike WooCommerce, Magento requires fewer plugins for protection. This reduces the risk of security breaches from too many third-party tools, making it a more secure platform.
Magento has built-in security measures and extensions tailored to secure your online store from malware, cyberattacks, and other security vulnerabilities. It regularly updates and releases dedicated security patches to resolve detected security issues, scan for threats, and monitor your site.

As much as this is a more advanced process, it is difficult to implement as it requires the services of a professional developer. If you can, however, afford to hire an experienced developer, Magento would be a more secure option.
Scalability
How can Magento or WooCommerce handle increased orders or traffic? Some eCommerce platforms have certain limitations that may not allow you to scale faster. And when your eCommerce store expands with these platforms, you may have to go through the stress of migrating your data from one tool to another.
If your online store has the potential of expanding quickly within a short timeframe, you need an eCommerce platform with extended scalability options.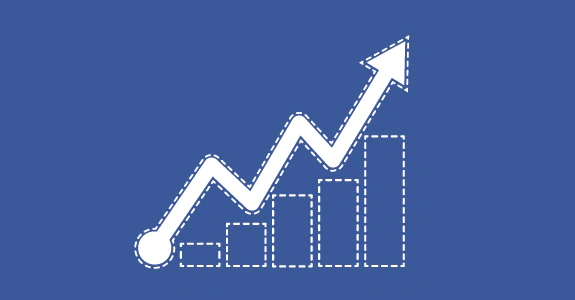 So, how scalable are WooCommerce and Magento?
WooCommerce scalability
According to WooCommerce, there are no limits to the number of products a business can manage. There are several beginner-friendly extensions you can use with WooCommerce to expand its functionalities and accommodate your online store as it grows.
However, you may need the services of an experienced developer to install some plugins and extensions. Moreover, WooCommerce doesn't have built-in features that can help you scale, so you have to use third-party plugins and extensions. These external tools can slow down your site or affect some of its functionalities.
Nonetheless, WooCommerce, being an affordable option, can help small businesses scale and manage increased traffic.
Magento scalability
Unlike WooCommerce, Magento is a more scalable option with built-in features giving you less need for too many third-party plugins and applications. It's a good fit for enterprise organizations, as they would need an eCommerce platform that can enable them to process thousands of orders daily without crashing.
Although Magento gives you great opportunities to scale faster, it's not always easy to implement. You will need the services of an experienced web developer to handle certain tasks like managing backups, upgrading to a dedicated server, site optimization, and other technicalities.
It is well-suited for large-scale businesses with a sufficient budget. If you, however, run a small business, you may need the relatively affordable extensions on WooCommerce.
Apps, Plugins, and Extensions
Third-party applications, plugins, and extensions extend the functionality of your eCommerce store, giving you access to unique features across several channels. Both WooCommerce and Magento can integrate with some of your favorite apps and plugins.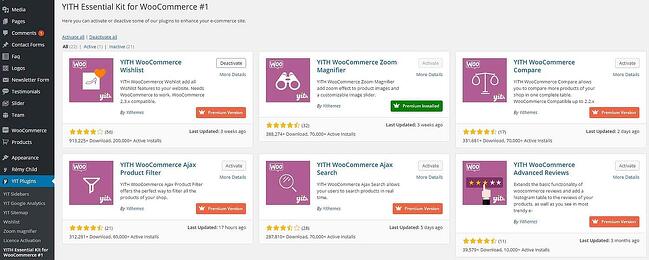 WooCommerce plugins and extensions
WooCommerce has tons of third-party plugins and extensions that enhance your operations. Some of these plugins include OptinMonster, SeedProd, AffiliateWP, LiveChat, etc. They are relatively affordable and most of them are easy to set up, requiring little or no coding skills.
Moreover, since it runs on WordPress, it gives you access to more than 55,000 WordPress themes and plugins. These plugins and extensions may be free or paid.
Magento plugins and extensions
Magento expands its functionalities with a wide variety of both free and paid extensions and add-ons including Magento 2 One Step Checkout, Better Blog, and Magento 2 Quick Order. Although they may be more complex and expensive, they are more advanced than that of WooCommerce.
Moreover, you can create custom or specific plugins if you cannot find the equivalent in the Magento marketplace.
However, a few problems may rise during periodic updates and maintenance. You will need a level of technical knowledge to modify and make the necessary changes.
Read also: eCommerce Brands: 10 Brands to Watch in 2023
Marketing
One of the major ways to reach your customer is through a well-planned marketing strategy. As part of the marketing mix, search engine optimization (SEO) and a good content strategy can help you drive traffic to your online store.
Both WooCommerce and Magento have excellent features and tools that enable you to create content and drive traffic with SEO.
WooCommerce marketing
Since WooCommerce is built on WordPress, it utilizes marketing and SEO features for publishing and promoting content. Moreover, you can add landing pages, craft valuable blog posts, send targeted emails, and carry out social media campaigns with plugins, extensions, and other third-party applications.
You can also add extra and custom elements by writing shortcodes. Some plugins and extensions can help you connect with various affiliate programs to increase your reach and drive more sales.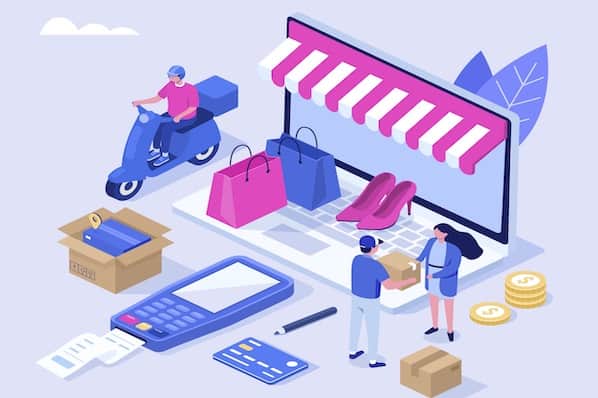 Magento marketing
Magento doesn't come with so many built-in marketing features. However, you can extend its capabilities by adding both free and paid extensions to enhance your marketing processes. Magento, though complex and difficult to implement, has more advanced SEO features than WooCommerce.
Since Magento is self-hosted and doesn't have blog features by default, it needs an external content management system (CMS) or a custom blog extension for writing and publishing blog posts.
Read also: 9 Amazing Marketing Automation CRM Software [Comparison Table]
Payment Gateways
As an eCommerce store owner, you need fast and reliable payment gateways that will not only let your customers make purchases but also, let you receive your money without hassles, regardless of the channel.
Both platforms don't process payments directly – they integrate with third-party services that help you send and receive payment across various channels.
WooCommerce payment gateways
WooCommerce lets you accept payments via 4 major payment methods: bank transfer, checks, card payments, and cash on delivery. By default, the payment gateways may include Stripe, WooCommerce Payments, and PayPal.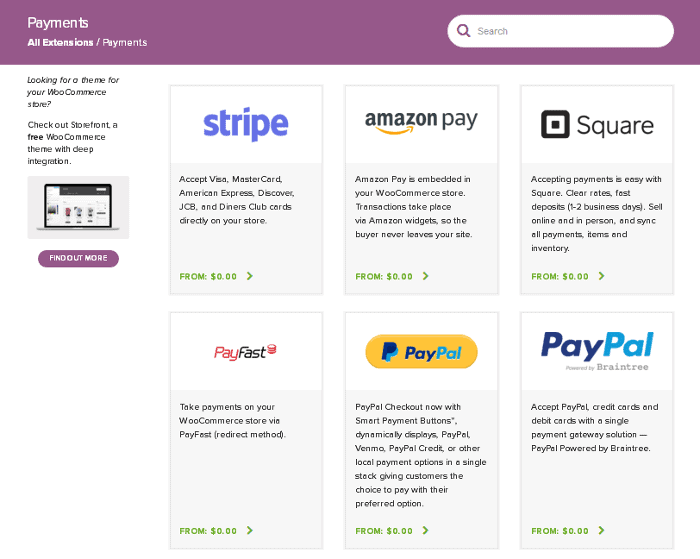 You can, as well, use suitable plugins and extensions to add other payment services like Square, Braintree, Authorize.net, Apple Pay, Amazon Pay, etc.
Magento payment gateways
Magento offers 6 major payment methods including card payments, check, cash on delivery, purchase order, bank transfer, and zero subtotal checkout. The 2 main payment gateways are PayPal and Authorize.net. You can, however, add more gateways like Amazon Pay, Stripe, Square, Google checkout, etc.
You will need to hire an experienced developer to build the custom payment options using Magento API. Some of these extensions may be free or paid and have more advanced capabilities.

Read also: 7 Professional Payment Reminder Templates That Always Work
Pricing
The price of any software you use can have either a positive or negative impact on your business. Businesses on a low budget would rather settle for more affordable options than chase more pricey alternatives, regardless of the functionalities.
Since both are open-source platforms, you may likely pay more for the additional features, plugins, and extensions you use to expand their functionalities.
So, which pricing model is best for your business: WooCommerce or Magento?
WooCommerce pricing
WooCommerce is a more affordable option, as there are several free plugins and features to help you get started. But you still need to purchase a domain name, hosting service, SSL certificate, and themes.
Moreover, you cannot run your online store efficiently with the free features. You will need to purchase premium extensions and plugins to enhance your functionalities. And there's no definite pricing for WooCommerce users – as you add more plugins, your prices go up.
As you scale faster, it may become difficult to manage your increased traffic with the added tools.
Magento pricing
Magento is a more expensive option. Being a self-hosted platform, you need a hosting service and proper integration with several other applications to make it functional. Also, if you have little or no experience in web development, you need the services of a developer to build and manage your online store.
If you don't have the required skillset and budget for this, Magento isn't the perfect option for you. Magento also offers other premium editions, like Magento Commerce, that come with expanded functionalities. The platform is well-suited for enterprise organizations with enough budget to withstand the steep pricing models.
Like WooCommerce, there are no definite pricing plans. The more extensions you add, the more expensive it gets.
Read also: The Best CMS for eCommerce
Pros and Cons
WooCommerce pros
It's quick and easy to setup

Compatible with the most popular plugins

Great shopping cart and catalog system

Affordable and suitable for small eCommerce stores

Has a wide variety of payment options
WooCommerce cons
It cannot be used without WordPress

No pre-built SEO features

Can slow down your website

Security can be breached at times

Some third-party plugins can be expensive even with their basic offerings


Magento pros
It has more advanced features

Expanded scalability options and limitless customizations

Highly secure platforms

Great SEO features

High customizations and designing capabilities for developers
Magento cons
It is very expensive to set up and maintain

Has a steep learning curve

Features and functionalities may be difficult to understand

Not suitable for smaller businesses

Can only be hosted on dedicated servers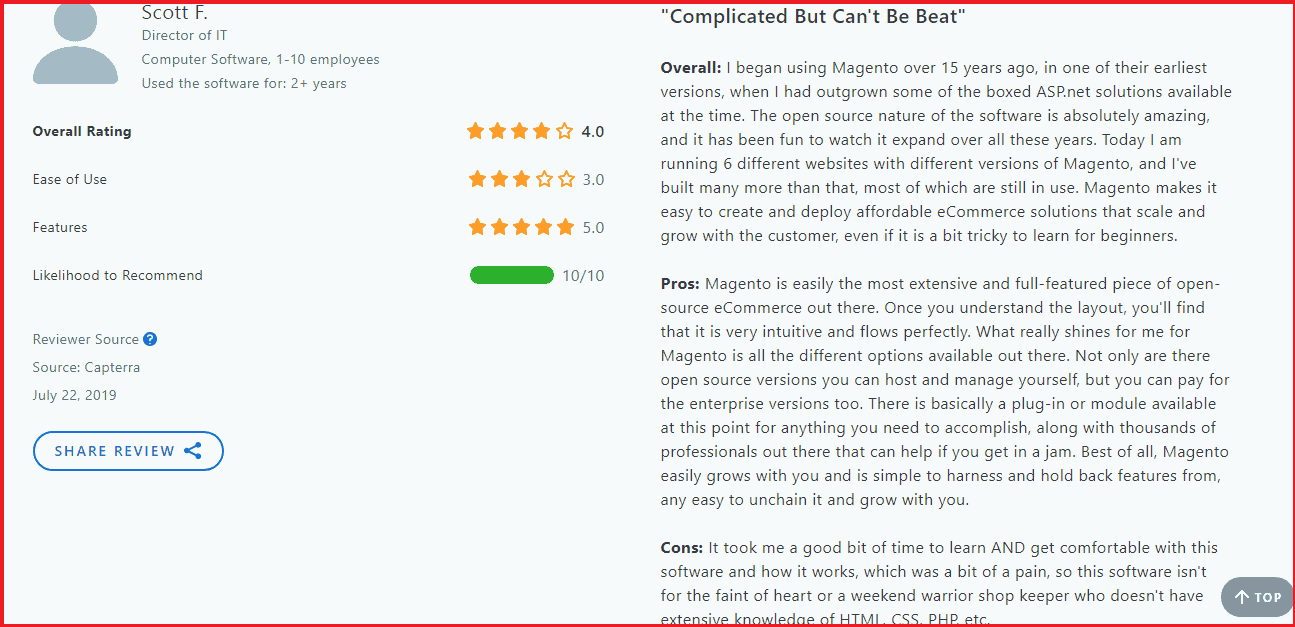 Affordable E-Commerce Marketing Automation Tool – EngageBay
Some eCommerce marketing activities like sending emails, reaching out to your customers, resolving, issues, and many more can be time-consuming and boring. This eats up the time meant for building stronger relationships with your customers and attending to other urgent business activities.
A manual workflow may lead to inefficiency and lack of productivity but by integrating your online store with eCommerce marketing automation software, you can handle all repetitive and mundane tasks on autopilot. This gives you more opportunities to reach out to potential customers, build better relationships, and increase sales.
EngageBay, the all-in-one CRM software, is one affordable eCommerce marketing automation tool. It has unique features that help you run and manage your online store. Some of these features include cart abandonment recovery, retargeting, transactional emails, email A/B testing, etc.
Both WooCommerce and Magento integrate perfectly with EngageBay.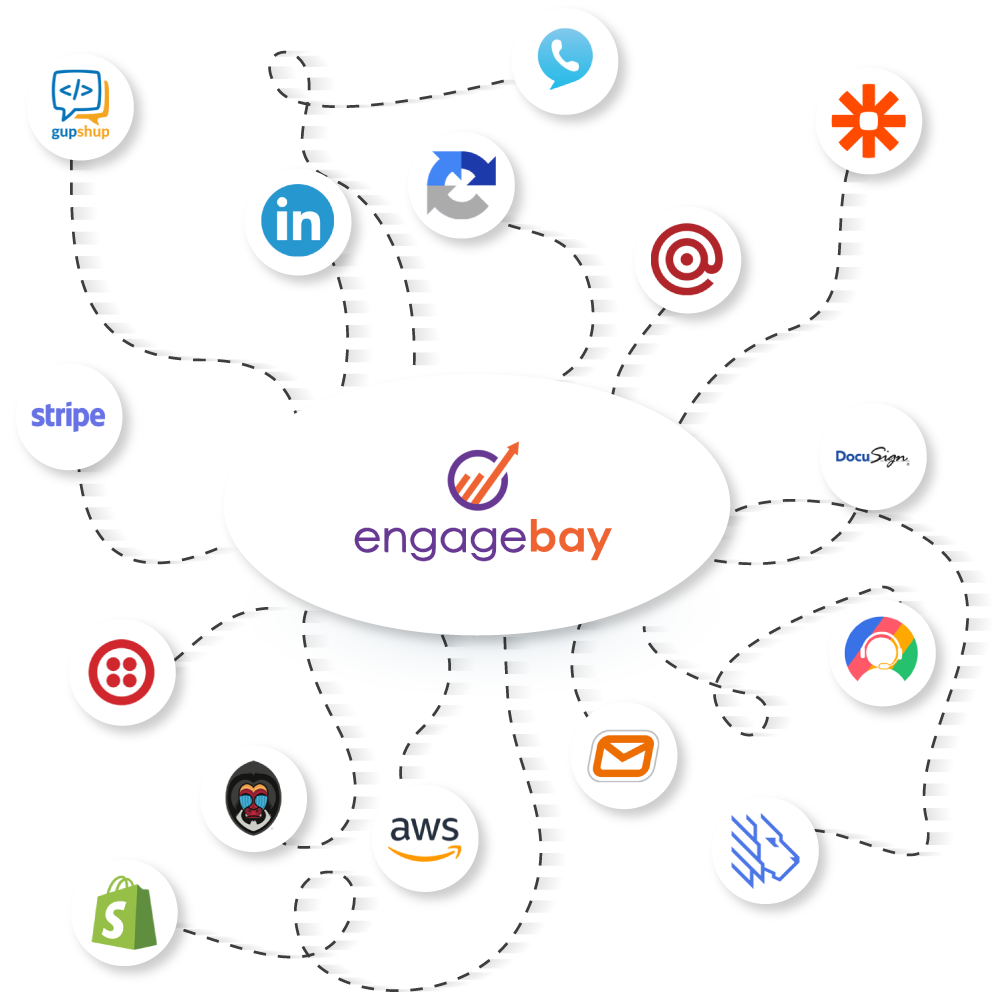 EngageBay has a free plan and demo that allows you to navigate through the platform to understand some of its features. Sign up for free or book a demo to get started.
EngageBay pricing
Free – $0
Basic – $14.99/mo (paid monthly), $13.79/mo (paid yearly), and $12.74/mo (paid biennially)
Growth – $49.99/mo (paid monthly), $45.99/mo (paid yearly), and $42.45/mo (paid biennially)
Pro – $99.99/mo (paid monthly), $91.99/mo (paid yearly), and $84.99/mo (paid biennially)
Read also: 7 Powerful eCommerce Marketing Automation Strategies + Tools
Bottom Line: Which Tool is Best for Your E-commerce Store?
WooCommerce is the perfect fit for small and medium businesses while Magento is more tailored for enterprise organizations.
Since small business owners may not have a sufficient budget for building and managing their online store, Magento wouldn't be the best option.
With the free and relatively affordable plugins on WooCommerce, you can start with the basic functionalities. And as you scale, you can increase your functionalities by adding the necessary extensions.
Magento, though expensive, is a more advanced software for enterprise organizations.
So, as you build your online store with these platforms, you can further simplify your workflow by integrating a marketing automation tool like EngageBay to handle your major marketing activities on autopilot.
👉Learn from the best ecommerce brands and their success stories – dive into our in-depth guide today! 🚀