Thanks to technology, people like to shop sitting from the comfort of their homes. 
Instead of strolling from one showroom to another, consumers today browse and compare their options online before buying a vehicle. 
This is where automotive CRM comes into the picture. 
Using an auto dealership CRM, you can assist your potential customers through their complex buying journey. 
In other words, an automotive CRM platform can help you put those buyers behind the wheel.
If you are a car dealer looking to run your dealership smoothly, you are at the right place. 
This article will help you understand the benefits of using automobile CRM and provide the best options to choose from. 
Let's get started. 
What's an Automotive CRM?
An automotive CRM, or customer relationship management, is a suite of applications that integrates various aspects of your business processes — including marketing, sales, and customer service — into a single platform. 
It is designed to cater to the unique buying journey of car customers. 
A car dealer CRM streamlines the sales process to increase your overall operational efficiency. 
EngageBay Sales CRM software captures every lead interaction and helps build strong customer relationships to convert more deals.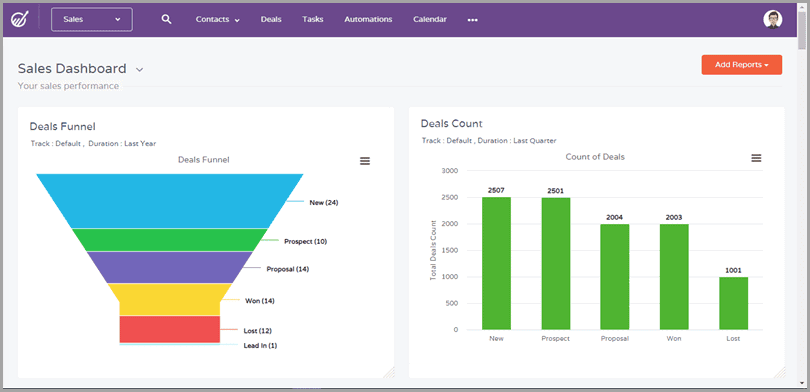 Why Does an Automotive Dealer Need a CRM?
Buying a car, or any other vehicle for that matter requires money upfront. 
That's why it's crucial to earn their trust first if you expect to make a sale. 
You can do that by creating an omnipresence channel and interacting with your potential buyers across various customer touchpoints. 
Having an auto dealership CRM system makes it easy to maintain a detailed database of all your interactions in a single place. 
Not just that, but it helps dealerships speed up their sales process by allowing your sales reps to respond to customers' needs promptly. 
Auto CRM helps automotive businesses visualize a 360-degree view of the lead profile. 
This includes every interaction and engagement from different channels, such as calls, emails, and other sales activities. 
The contact database stores information on historical customer and vehicle data, cost of ownership, vehicle demographics, and much more. 
Besides, most automotive CRM can fetch siloed customer-related data from your Dealer Management Systems (DMS) to eliminate the need for duplicate entry of customer data. 
In essence, car dealer CRM software provides various tools that your automotive business can use to enhance operational efficiency and increase sales revenue. 
Benefits of Automotive CRM
Using an automotive CRM can help you skyrocket your monthly sales figures. 
Let's look at some of the key benefits of good CRM software: 
Keeps Your Contacts and Leads Organized
Almost every company has created an omnichannel presence to reach out to a wide range of audiences. 
Thus, dealerships get leads from several platforms, including social media channels, website forms, online ads, offline ads, third-party lead providers, their OEMs, or just the old-fashioned walk-ins. 
An auto dealership CRM stores all your leads information in one place. It also helps you understand which channel is the most effective one. 
Besides, you can have an entire conversation history over the course of years right at your fingertips. 
EngageBay's Contact Management Software empowers your sales team to have meaningful engagement and communication with your prospects.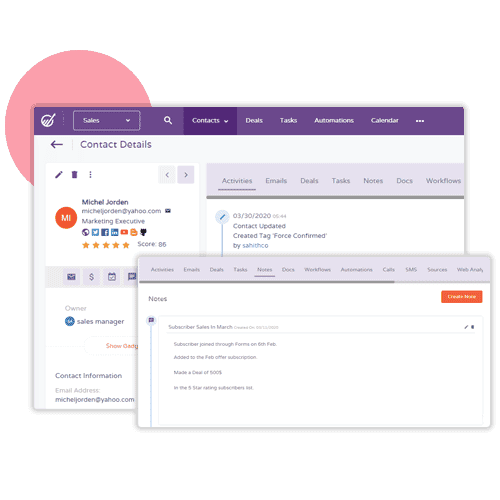 Helps With Marketing Management
Another significant advantage of the automotive CRM platform is its ability to run targeted, personalized campaigns across various channels.
It segments users based on various factors, including demographics, buying behavior, and others. 
You can run email campaigns in an effective manner to generate and nurture your leads. 
It allows you to automate follow-up activities like direct mailing to ensure that you don't miss any leads. 
Besides, these car dealer CRM produces real-time statistics about lost sales, closed deals, campaign results, and much more. 
Helps With Deal Management
Auto CRM ensures that you can leverage every touchpoint during your sales process. 
You can create a standardized workflow that guides your leads through the sales pipelines. 
The entire workflow process can be automated and streamlined to increase the productivity of your sales teams. 
Most advanced CRMs are powered by AI that helps with predictive planning and suggests the most profitable actions. 
EngageBay Deal Management System gives complete visibility of your deals across various stages and quickly pushes them through different sales stages.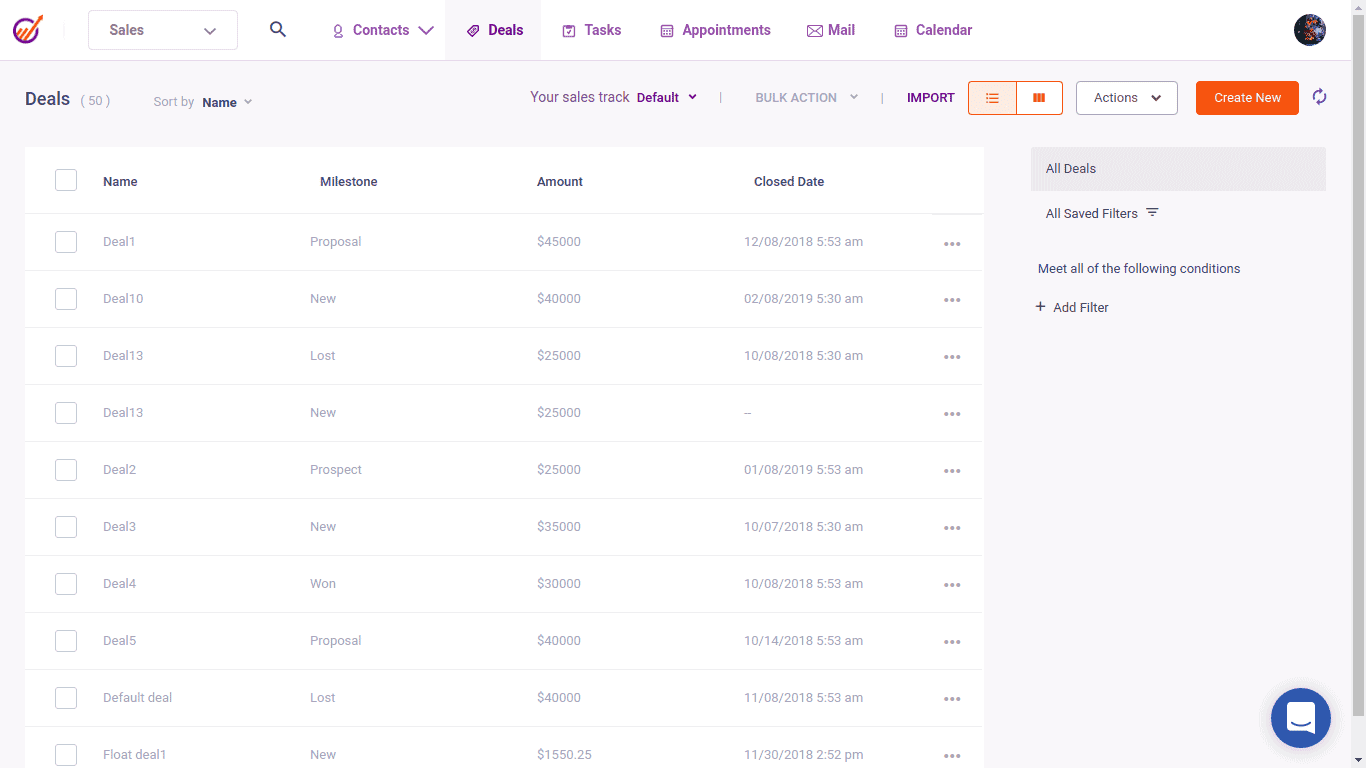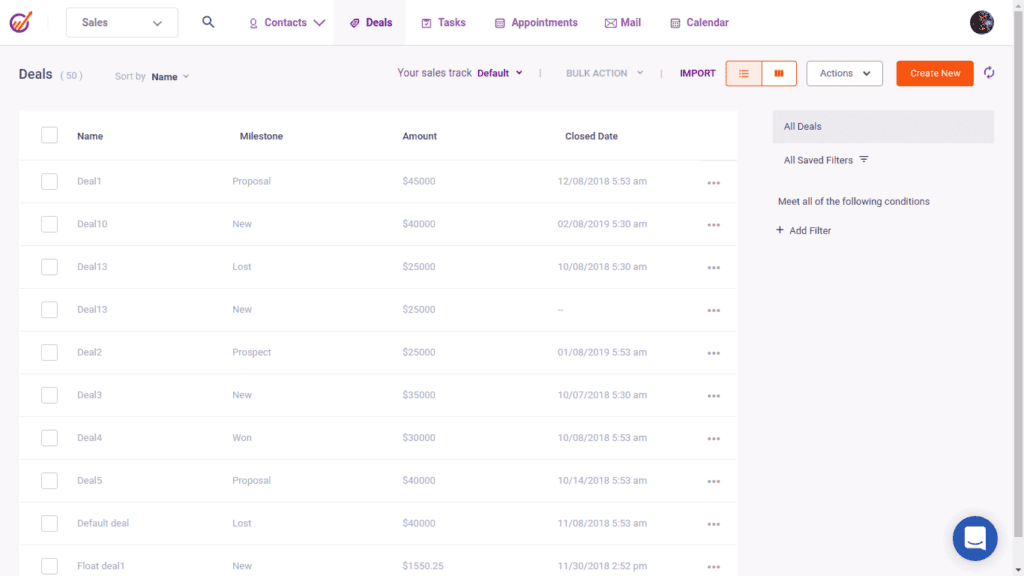 Establishes a Clear Line of Communication
An automotive CRM can document every interaction and communication with your leads from various platforms into a single place.
It includes email, text, calls, or walk-in — you can store every single conversation. 
In other words, it streamlines the communication process by giving you immediate access to all previous conversations with a lead. 
It also ensures that every sales rep is on the same page while interacting with a lead. 
Maintains Compliance
The job of a salesperson requires them to call several leads in a day to nurture and convert them into paying customers. 
You can imagine how many customers get unwanted calls daily, disrupting them from whatever they were doing. 
Thus, the Telephone Consumer Protection Act (TCPA) was passed to regulate telemarketing calls, pre-recorded calls, and text messages. 
You need to have your customer's consent to keep communicating with them via phone calls, emails, or text messages. 
An automotive CRM can ensure that all your dealership/customer communication is TCPA compliant and help avoid penalties
Key Features of an Automotive CRM
The best set of automotive CRMs are those that help you manage your auto dealership business with efficiency and increase productivity. 
Not every CRM is the right fit for your business. 
Here are the few key features to look for while evaluating your auto dealership CRM system: 
Contact Database
This is an essential feature of a good CRM that should provide a searchable database to store client's information and all the relevant documents. 
Even better, when a contact management system can give you real-time access to the complete customer journey and help you make informed decisions. 
EngageBay Contact Management System notifies your team to get in touch with high potential prospects at the right instance. 
Interaction Tracking
You can either log all conversations manually or choose to automate with phone and email system integration. 
Your auto CRM can easily integrate with third-party applications and document each conversation held by phone, live chat, email, or in person. 
Depending on the type of CRM, it can also track all your engagement on social media platforms — Facebook, Twitter, etc. 
Reporting
Automotive CRM tools can help track your sales rep's performance and that of the entire department.
It checks the overall productivity based on activities logged in the system. 
It monitors various KPIs, including the number of cars sold monthly, identifying the hottest model that is selling fast, and more. 
Furthermore, these reporting tools also help run an analysis to help with forecasting and tracking commissions. 
Task Management
As a sales manager, automotive CRM makes it easy to organize all your tasks and assign them to your team members. 
It can, in fact, automatically create recurring to-do lists and activities. 
You can even set up workflow-specific tasks, enabling you to achieve more in less time and maximize the profit. 
Moreover, you will never miss out on important tasks.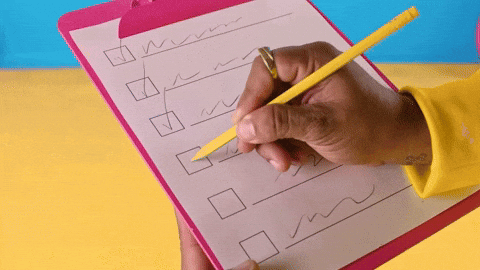 Inventory Management 
Most advanced automotive CRM offers inventory management that allows dealerships to keep track of their stocks. 
It becomes easy to manage a large fleet of vehicles, especially if there is more than one lot at multiple locations. 
Besides, you can even track specific models of a vehicle. 
Best CRM for the Automobile Industry
If you want to stay ahead of your competitors, you need the right CRM for your dealership. 
We have seen small- and- medium-sized companies often struggling with choosing the right automotive CRM. 
The problem lies in the fact that they aren't big enough to handle a CRM. 
But whether you are a small entity or a large corporation, using an automotive CRM can impact your sales experience. 
The following section will discuss the five top CRM for the automobile industry that you can consider using.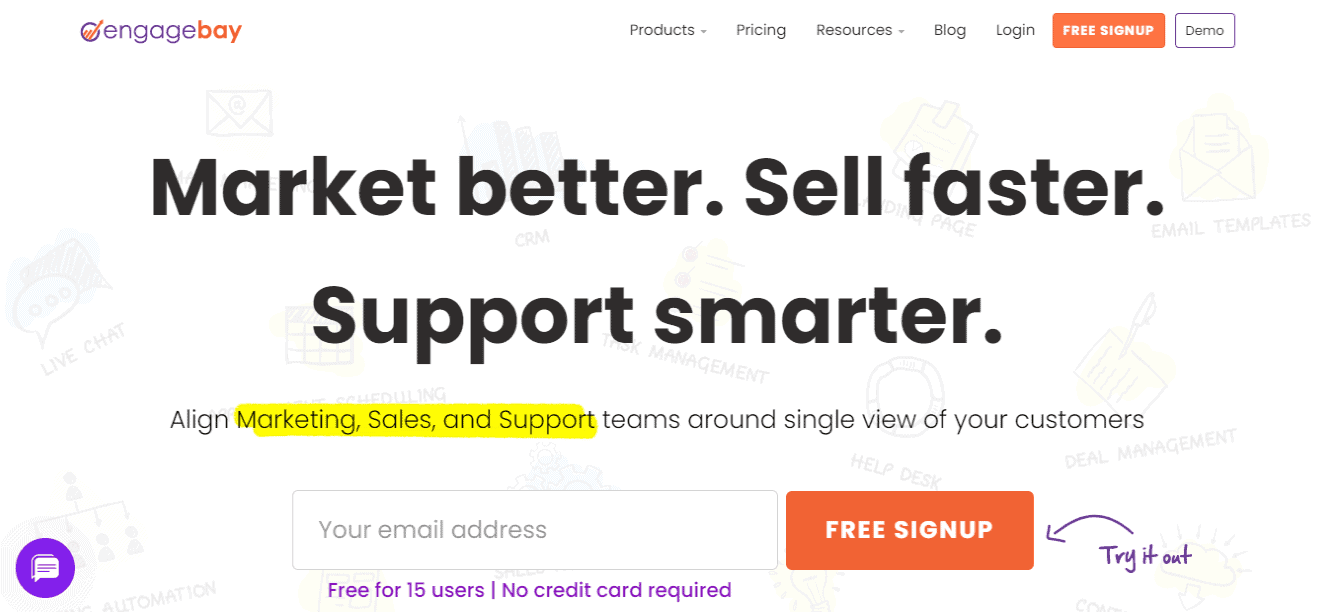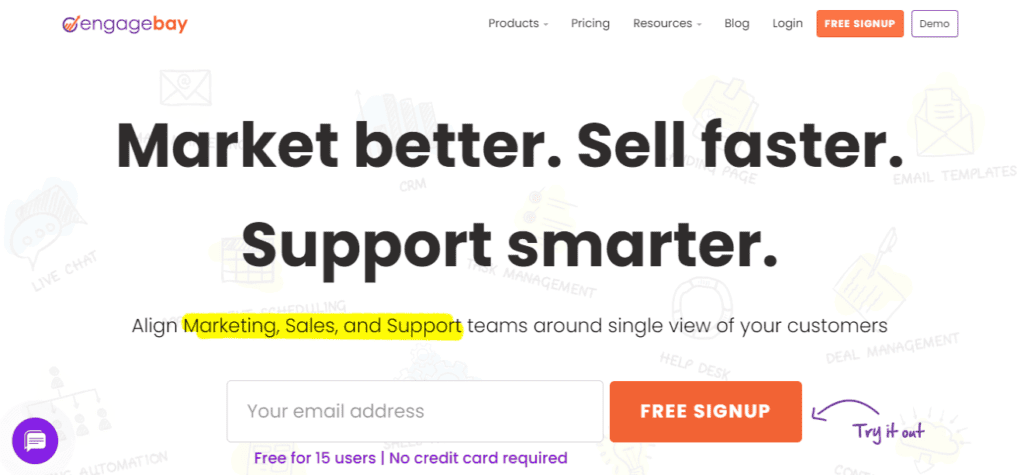 EngageBay's free automotive CRM offers an extensive list of features that includes real-time reporting and analytics to help with market demands forecast and insights for making informed decisions. 
Trusted by over 28,000 customers, EngageBay has served some of the top companies in the industry. 
What Does EngageBay's Automotive CRM Include?
EngageBay's automotive CRM can capture all your leads and prioritize them with the help of lead scoring.
It helps your sales agents deliver perfectly every time on every call using EngageBay Call Scripts. 
You can even receive and make calls to your contacts without ever leaving your CRM. 
The best part is that the solution is completely free for unlimited users.
You can easily integrate the system with EngageBay's marketing tools or any other third-party applications.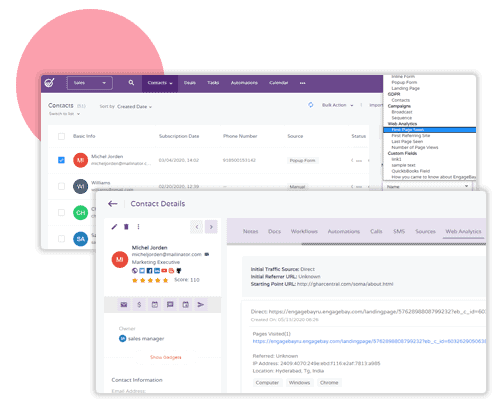 Summary
If you are a small automotive business or an independent contractor, EngageBay Sales CRM is the best option. 
Besides, it is backed by a dedicated support team to provide immediate assistance with technical issues.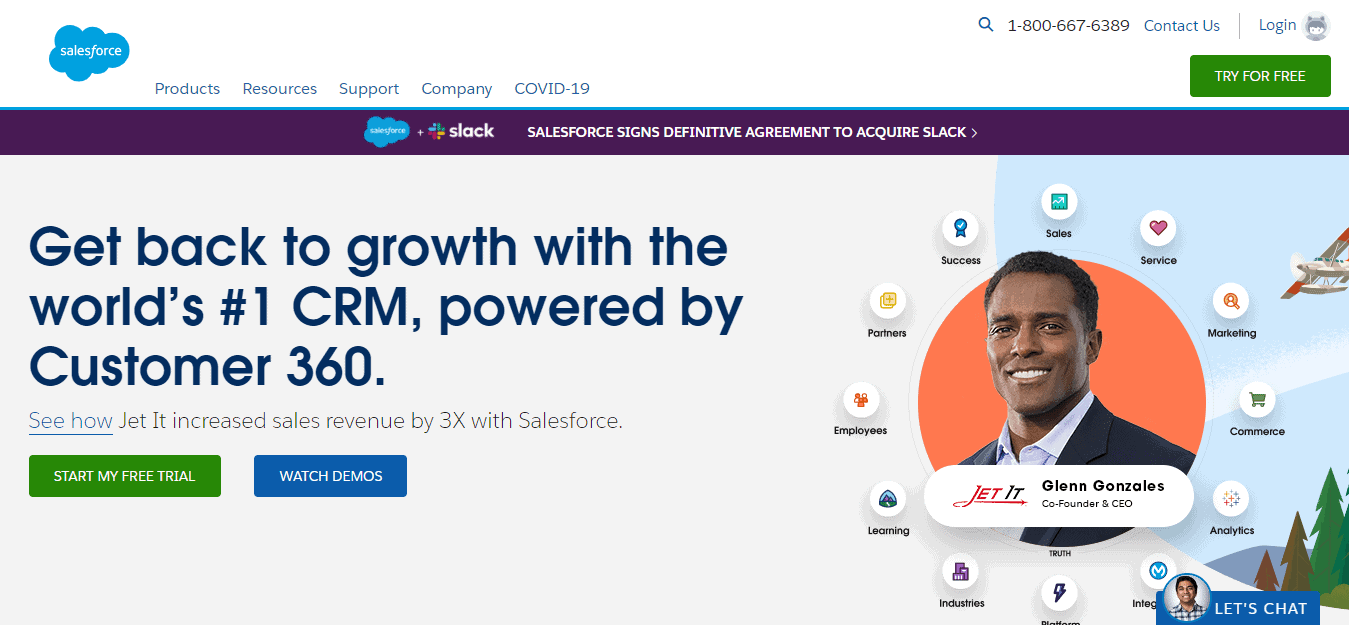 Salesforce offers a cloud-based, AI-driven CRM that helps with the next best actions for your sales agent to take. Its AI-powered Sales Cloud Einstein prioritize opportunities by predicting their chances to turn into a car buy and notifying your team immediately. 
It provides full-fledged digital workplaces for everyone in sales, including sales reps, customer success reps, and sales managers.  
What Does Salesforce Sales Cloud Include?
Offering one of the best automotive CRM, Salesforce has been ranked #1 for the SalesForce Productivity and Management Applications. 
Some of its other capabilities include allowing sales reps to call a client directly from the browser. 
Its reporting and analytics functionality helps keep track of your sales agent's performance and overall productivity. 
The system allows you to customize the dashboard based on your car dealership's needs.
It offers four plans: Essential ($25 per user per month), Professional ($75 per user per month), Enterprise ($150 per user per month), and Unlimited ($300 per user per month).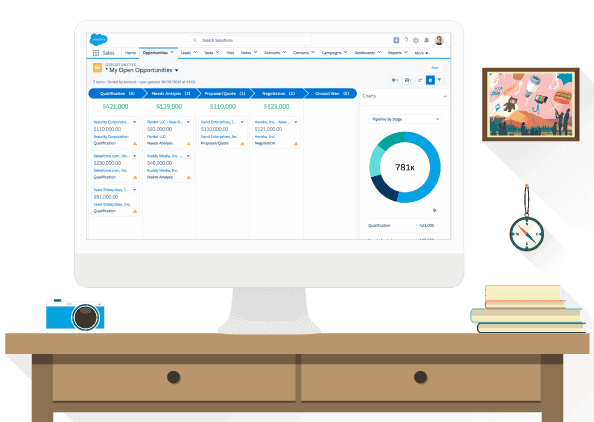 Summary
Salesforce's Essential plan is good for small car dealership business. 
However, it has a drawback — once you start expanding, you don't get the option to integrate with other applications. 
That means you would have to completely shift to a new automotive solution or upgrade to its expensive plans.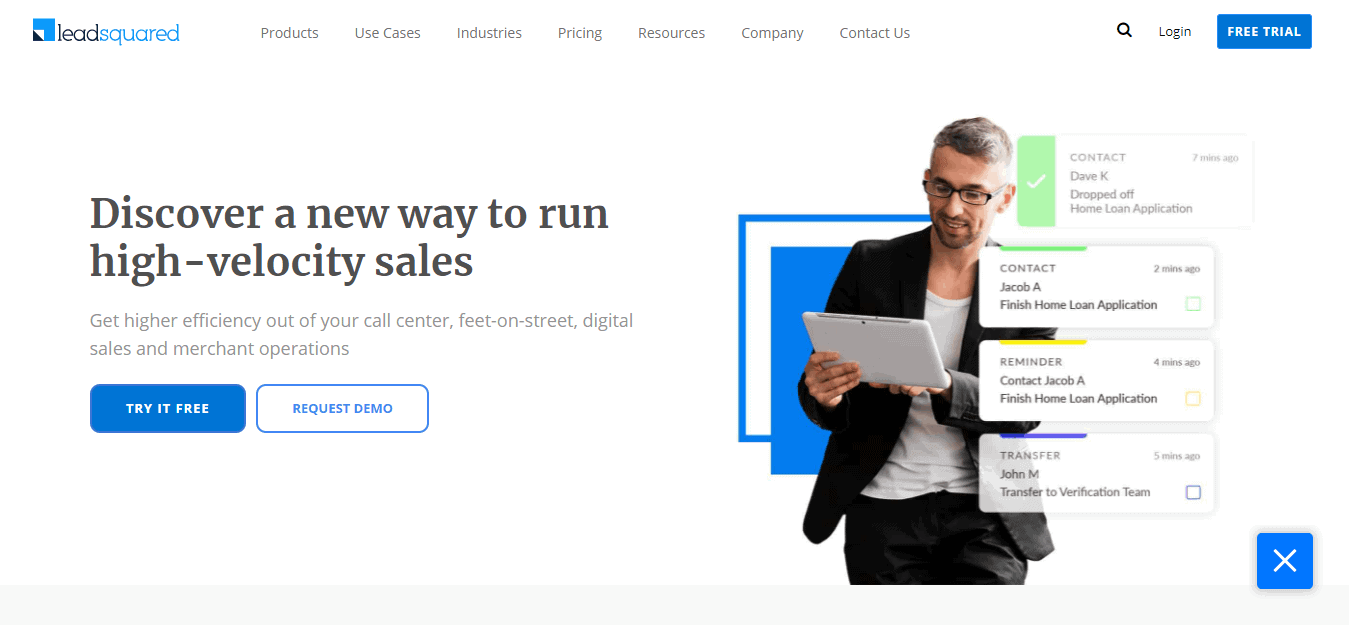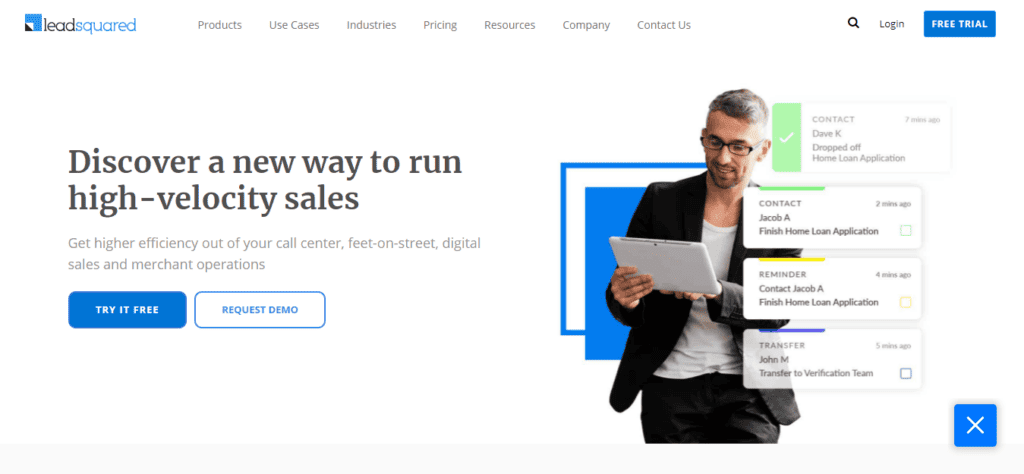 Leadsquared offers a suite of integrated tools to help meet car dealers' needs specifically. Its key capabilities include lead capturing from different online channels and auto-distributing them to the right consultant and showrooms. 
Some of the top names in its clientele list include OLX Cash My Car, Zoom Car, Bollinger Motors, and more. 
What Does LeadSquare's CRM Include?
LeadSquare CRM helps market and sell your car dealership business more profitably while improving your customer's experience. 
The system can track each interaction that you have with vehicle buyers — including phone calls, email or text interactions, test rides, or communication through any other channel. 
It gives you an opportunity to increase efficiency with lead qualification, scoring, and guiding you about required sales actions. 
LeadSquare Sales CRM offers four pricing plans starting at $1250 per user per month. 
Summary
Leadsquared can be a good option if you have car showrooms at multiple locations. 
It can distribute your prospects based on the prospect, agent, or dealership/showroom attributes – like the location or zip code of the buyer.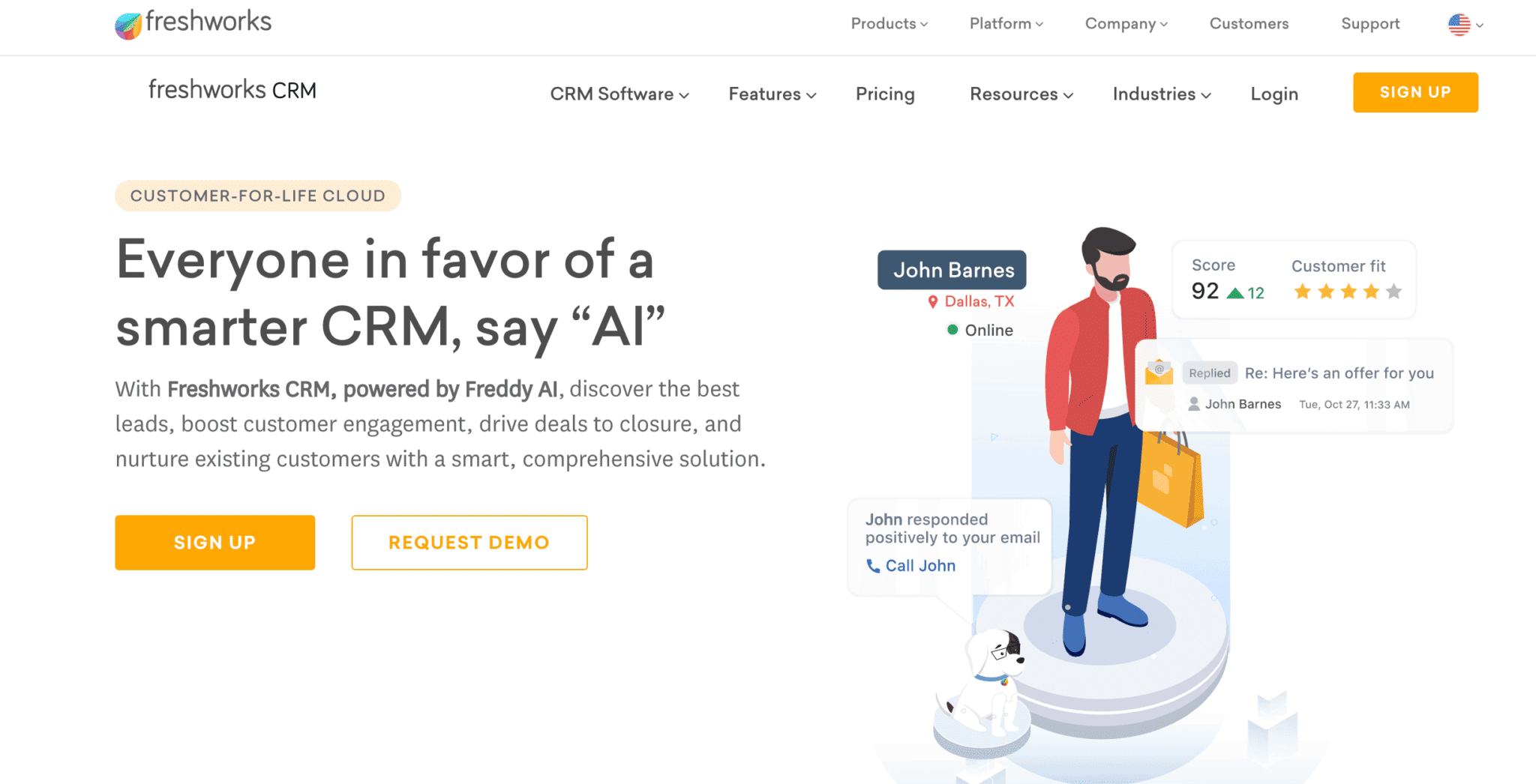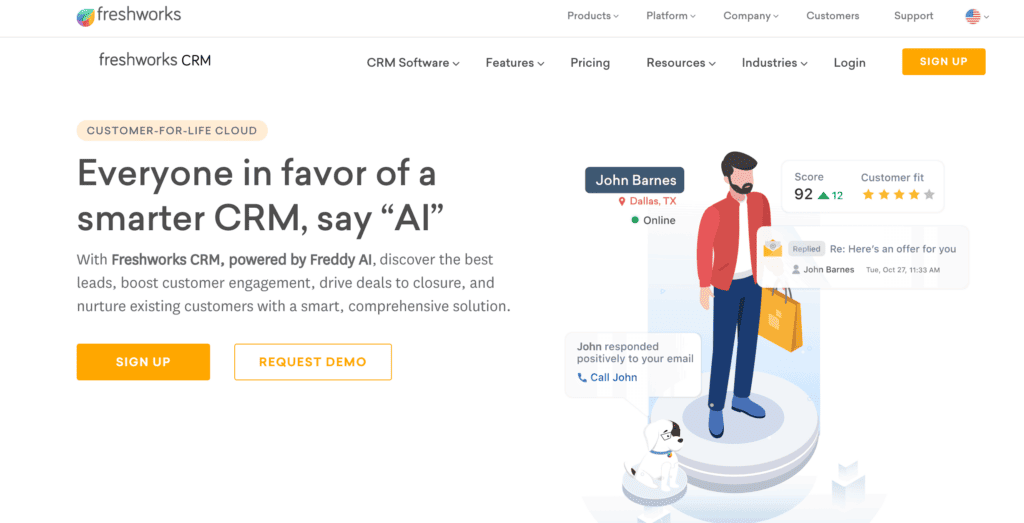 Freshwork Sales CRM is equipped with a variety of features to streamline your entire sales process. 
It includes tools to help attract visitors and convert them into leads by turning your website into a lead generation machine. 
Companies like Dunzo and PharmEasy use Freshworks CRM to run their operations. 
What Does Freshworks' CRM Include?
Freshworks automotive CRM is powered by AI intelligence named Freddy that helps your sales team focus on the right lead to close more deals. 
It gives you insights across various stages of your sales pipeline. 
The best part is that it analyzes every deal to guide you with the next best actions. 
However, its forecasting functionality is only available with the Enterprise plan that starts at ₹9,199 per user per month if paid annually. 
Otherwise, you can opt for its Growth package available for ₹2,099 per user per month. 
Summary
Freshworks offers a free automotive CRM plan with 24*5 customer support available via phone & chat for startups. 
However, you will not get AI-based insights with the free plan.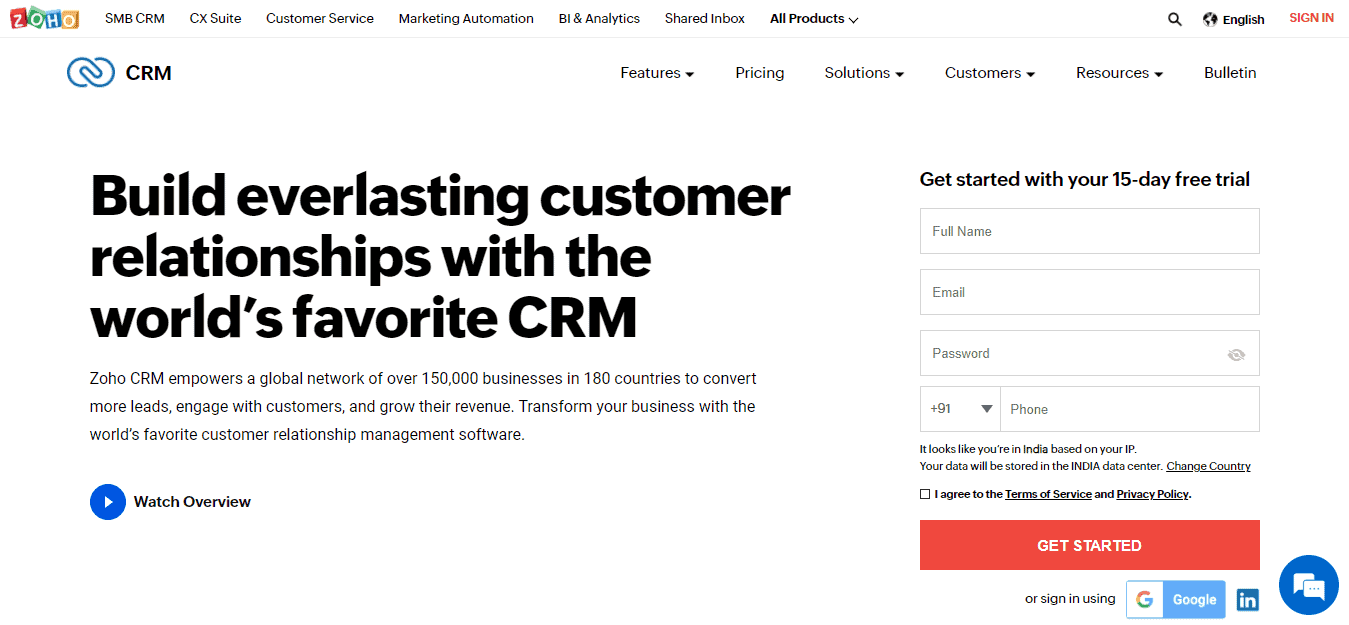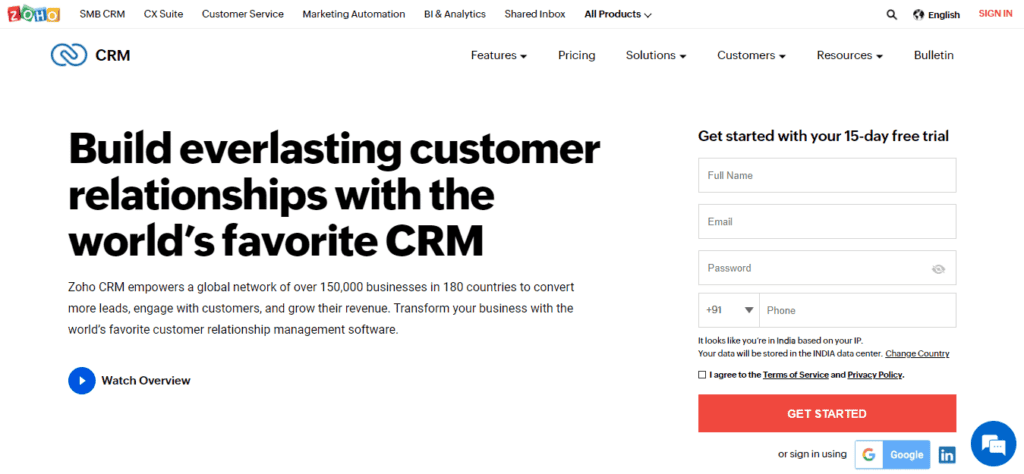 Zoho CRM empowers car dealership businesses with a power-packed CRM software that helps in engaging with your leads and converting them into customers. 
It is here to transform your business by automating every aspect of your business and cut out time-intensive, repetitive tasks. 
What Does Zoho CRM Include?
Zoho CRM streamlines your lead nurturing process and provides real-time reports and insights to help make smarter business decisions. 
Its AI-powered sales assistant Zia helps with advanced lead and deal predictions. 
It sends out intelligent alerts when it's the best time to contact your leads based on your past successful interactions. 
Zia AI is accessible through the Enterprise Plan that starts at ₹2,400 per user per month. It also offers advanced customization and mobile SDK & MDM. 
With its simple, intuitive user interface, Zoho CRM makes for a minimal learning curve. 
Summary
With its Standard Plan available for ₹800 per user per month, Zoho CRM can be a costly affair for a small- or- medium-sized dealership business. 
Wrap Up
To conclude, increase your car sales by implementing automotive CRM into your business.
With the right tailored automotive CRM solution like EngageBay, you can maximize customer value and increase profitability.