System errors. Questionable billing practices. Poor customer support. These are but a few of the complaints thrown up by users of Freshworks on high-authority, trusted platforms like G2, Capterra, TrustRadius, and others.
We're not saying that's how it goes for everybody — of course, Freshworks has a lot of happy customers too, but many users are unhappy, and looking for other options.
That's why we have compiled this list of 15 of the best Freshworks alternatives. In this blog post, we'll explore:
EngageBay
Pipedrive
Insightly
AWeber
Drip
HubSpot
Salesforce
Zoho
Zendesk
Microsoft Dynamics 365
SugarCRM
ServiceNow
Oracle NetSuite
Copper
Bitrix24
Let's begin.
Why Do Businesses Need a Freshworks Alternative?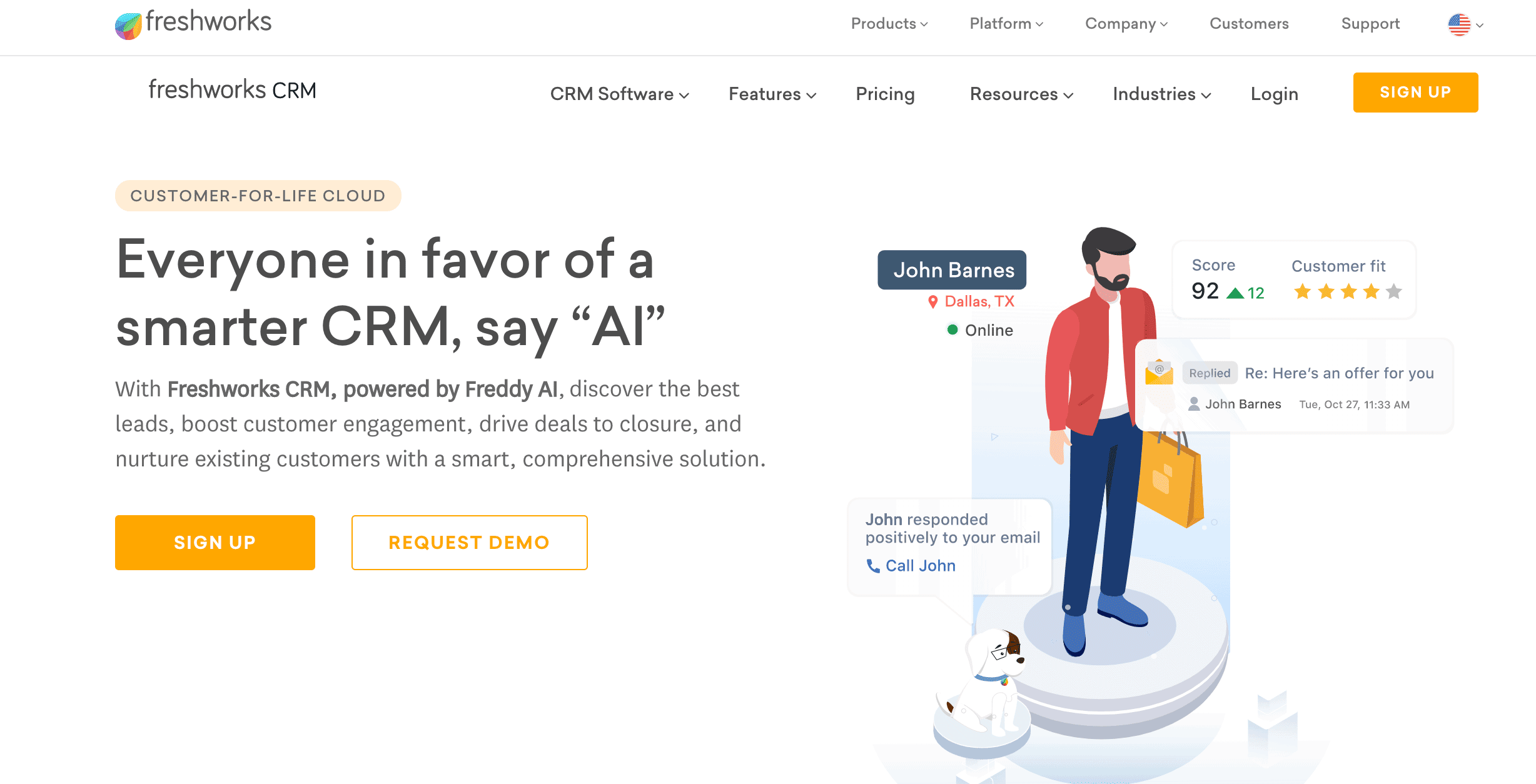 Users have had complaints — all described in online reviews — about Freshworks' software. Here are some such issues:
As you add more data, program loading speed slows down
The software is very difficult to use even if you're more experienced in CRM software
The customer service is lacking
The basic, inexpensive plans are rarely enough for even small businesses, yet the more expensive plans are too costly
User Reviews of Freshworks
Here are some reviews describing the issues users have faced with Freshworks: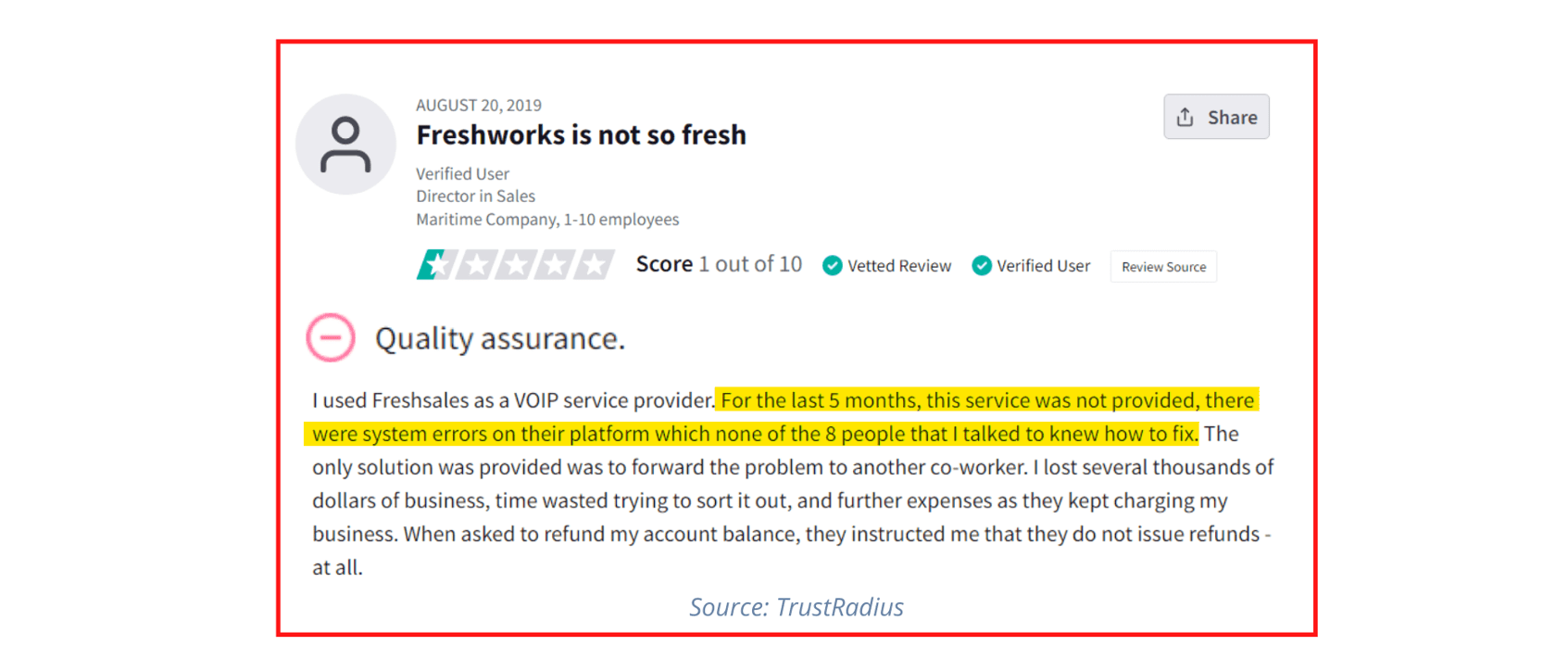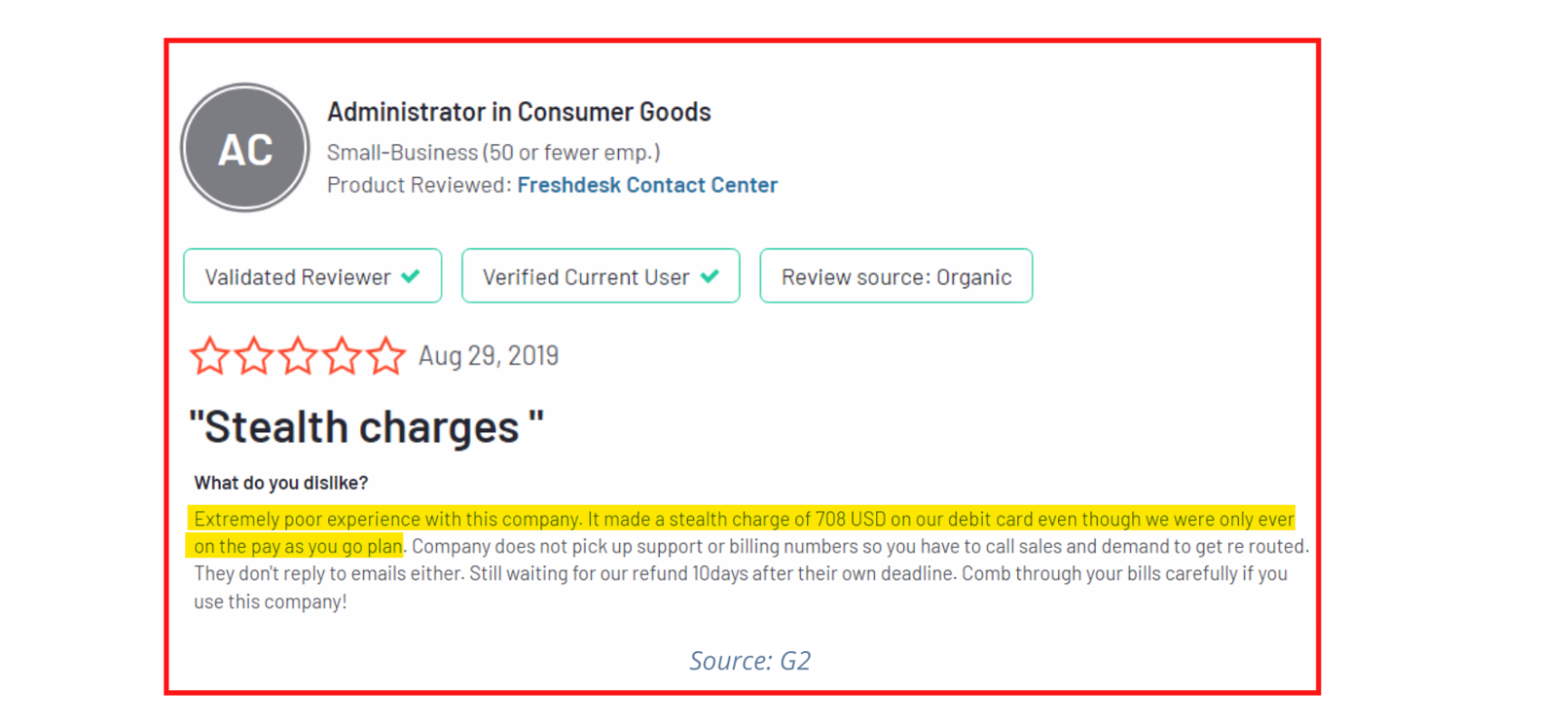 Fortunately, your options are far from limited to only Freshworks.
The Top 15 Freshworks Alternatives
If you know where to look, you'll find plenty of lower-priced yet still efficient CRM software options that rival Freshworks.
Today, we're going to look at 15 such options: EngageBay, Pipedrive, Insightly, AWeber, Drip, HubSpot, SugarCRM, Oracle NetSuite, and more.
We'll go one by one, discussing the features and pricing for each software so you can select the one that's friendliest for your small business budget!
#1. EngageBay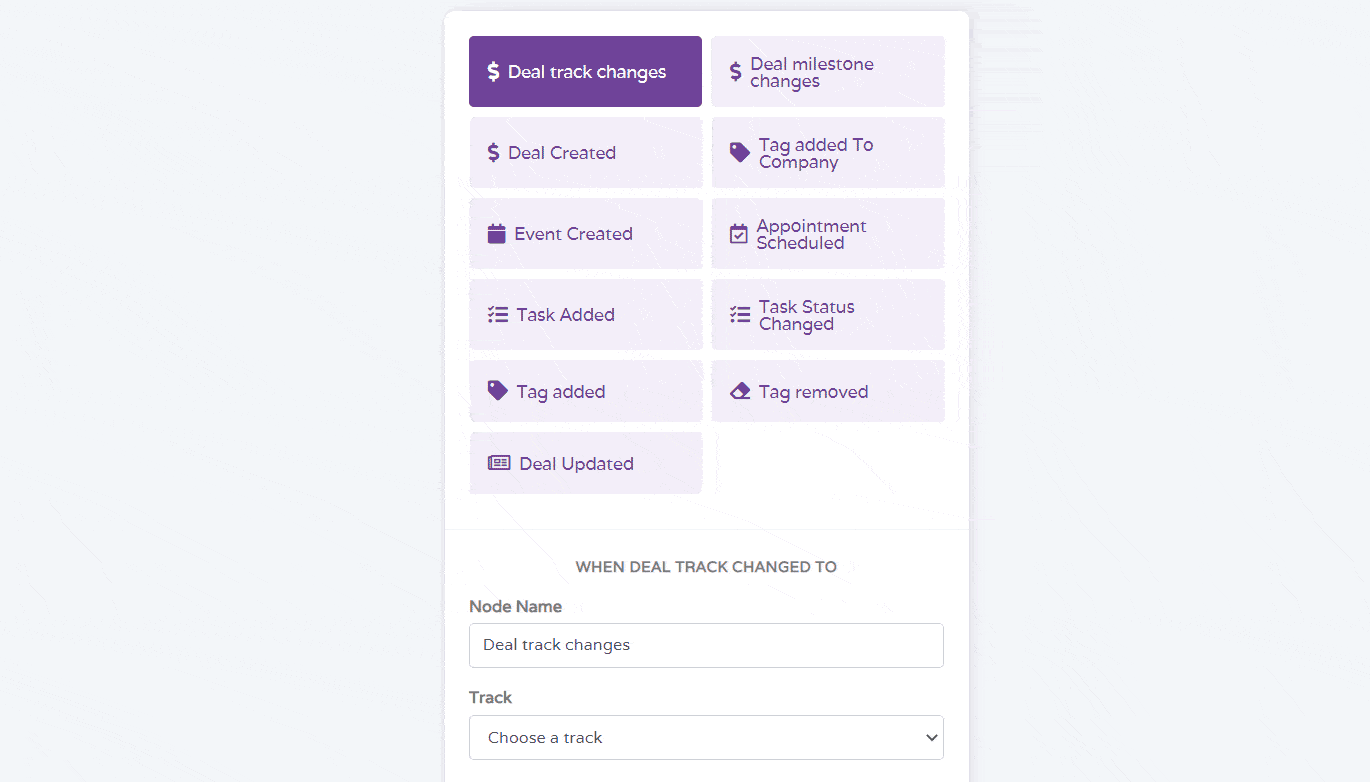 Let's begin with a CRM we most highly recommend on this list of Freshworks alternatives: EngageBay.
The founders of EngageBay were frustrated with the marketing, sales, and CRM solutions available for startups and small businesses.
Software like HubSpot CRM was and continues to be too expensive, so EngageBay was created to fill in the gaps. EngageBay is a highly affordable all-in-one marketing, sales, and customer support software with free integrated CRM.
Features
What is it about EngageBay that makes it such a worthy contender to Freshworks? EngageBay's CRM has the following features:
CRM Telephony: To paint a fuller picture of your leads and customers, tracking phone calls and records are important. EngageBay's CRM features call integration through CRM Telephony. You can make phone calls within CRM, take notes, and record them — all these calls are automatically logged.
Lead scoring: Rather than manually score your leads, EngageBay's CRM can automatically do so for you. The software's lead scoring system determines which leads might be qualified, reviews their level of engagement, and then encourages you to follow up with them at just the right time. This could increase your conversion rate.
Third-party integrations: Unlike some CRM software that doesn't play nicely with other tools, EngageBay's CRM integrates with most of your favorite third-party tools, software, and apps.
360-degree customer view: With EngageBay, understanding your customers inside and out has never been easier. The 360-degree customer view is holistic, allowing you to review customer and lead data on both macro and micro levels.
Inventory management: Track which products and services are available and in what quantities using EngageBay's inventory management feature.
CRM and email syncing: EngageBay's email integration saves all your email communication in the CRM. The 2-way email sync lets you manage all your email accounts, including Google and Outlook, from within the CRM.
Interaction management: No interactions will fall through the cracks when you're using EngageBay, as their end-to-end interaction management records everything from lead or customer inquiries to order placements, deal closures, and more.
Automation: Any worthwhile CRM will feature automation, and EngageBay is no exception. From lead scoring to email sending, social media posting, contact management, data sorting, meeting scheduling, and more, EngageBay can automate it all.
Sales reporting: The data-rich analytics produced by EngageBay will offer deep insights into the performance of your company.
To learn more about EngageBay's software, we recommend you check out this full product demo video:
Pricing
The best part about EngageBay's CRM by far is that it's absolutely free!
Yes, we mean it. Unlike Freshworks CRM, which only allows you to try its CRM for three weeks without paying, EngageBay's CRM is always free.
Here's the pricing:
Free: $0/month
Basic: $14.99/month
Growth: $49.99/month
Pro: $99.99/month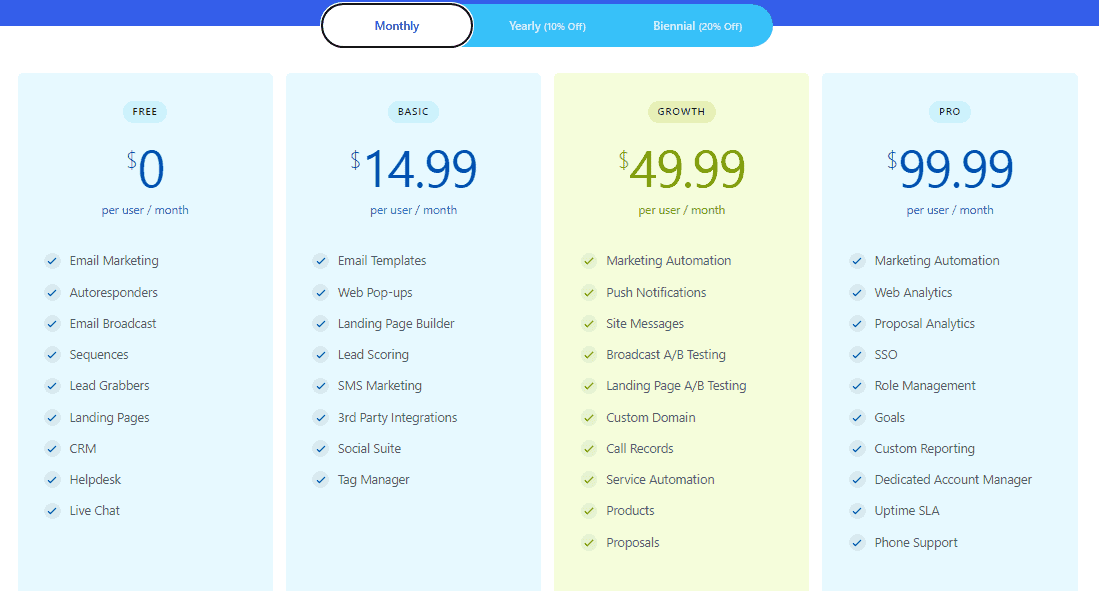 Here are the features included with EngageBay's Free plan:
1,000 emails a month
500 contacts
Reports dashboard
Integration with Office 365, Outlook, and Gmail
Live chat
Social suite
Email tracking
Predictive lead scoring
User activity
Appointment scheduling
Tasks
Deals
Lists
Tag management
360-degree customer and contact view
With the Basic plan, you get these additional features:
3,000 branded emails per month
1,000 contacts
Custom deal milestones
Calling minutes
Up to 5 landing pages
Group management
Canned responses
Ticket macros
The Growth plan bundles in these extra features:
25,000 branded emails a month
10,000 contacts
Proposals
Time zone-based deliveries
Triggers
Automation and workflow nodes
Email sequences
Leaderboards
Email scheduling
Call reports
Custom deal trackers and milestones
Calling minutes
If you want it all, the Pro plan has:
50,000 branded emails a month
Unlimited contacts
Custom reports
Goals
Conversational inbox
Call scripts
Call records
Role management
Proposal analytics
Compare pricing and features for EngageBay and Freshworks CRM
#2. Pipedrive


Your second option for Freshworks alternatives is Pipedrive, a pipeline management tool and CRM.
Founded in 2010 in New York, Pipedrive is a great sales CRM and is quite intuitive to use.
Features
Let's take a closer look at what Pipedrive has to offer.
Automation: Pipedrive allows you to automate your daily sales tasks through the 'Smart Contact Data' feature as well as task automation.
Sales Assistant: The Sales Assistant included with Pipedrive produces report graphs and other analytics. The Assistant also offers recommendations on how to automate your sales funnel and even tips for better performance.
Communications tracking: The contact management feature brings all relevant communications in one place, including sales documents, calendars, phone records, and emails.
Deal and lead management: Pipedrive's sales pipeline lets you create custom fields as well as visual pipelines and deals. Managing your leads and open deals will be much easier.
Integrations: Pipedrive integrates with useful third-party software, including Gmail and Google Drive.
Activity reminders: From mobile app push notifications to emails and in-app reminders, you'll get timely reminders about new deals, alerts, and customized reports.
Pricing
Although Pipedrive doesn't offer a free plan like EngageBay, its pricing is still affordable for small businesses:
Essential: $11.90 a month per user
Advanced: $24.90 a month per user
Professional: $49.90 a month per user
Enterprise: $74.90 a month per user
With the Essential plan, you have access to a surprising number of features, including:
Gmail Chrome extension
Google Drive syncing
Microsoft and Google calendar and contact syncing
Client location displayed on maps
Auto call logging
Caller ID tied to activities and deals
Real-time syncing
Native iOS and Android mobile apps
AES-256 encryption and compliance with SOC 2
Two-factor authentication
Device and user access logs
Open integrations and API
User and company goals
Activity and deal reports
Sales Assistant
Activity reminder notifications
Basic meeting scheduler
Custom fields and pipelines
The Advanced plan includes the above and adds on these features:
Web-to-mobile calls
Single sign-on logins
Important fields
Smart contact data
30 workflow automations
Customizable signatures
Document open tracking
Two-way email syncing
Pipedrive recommends the Professional plan for larger businesses, as it offers:
Advanced contact and deal visibility settings
Security rules
Security alerts
Security dashboard
Team goals
Team management
Revenue forecast reports
Custom reports and fields
Lead reports
eSignatures
Group emailing
#3. Insightly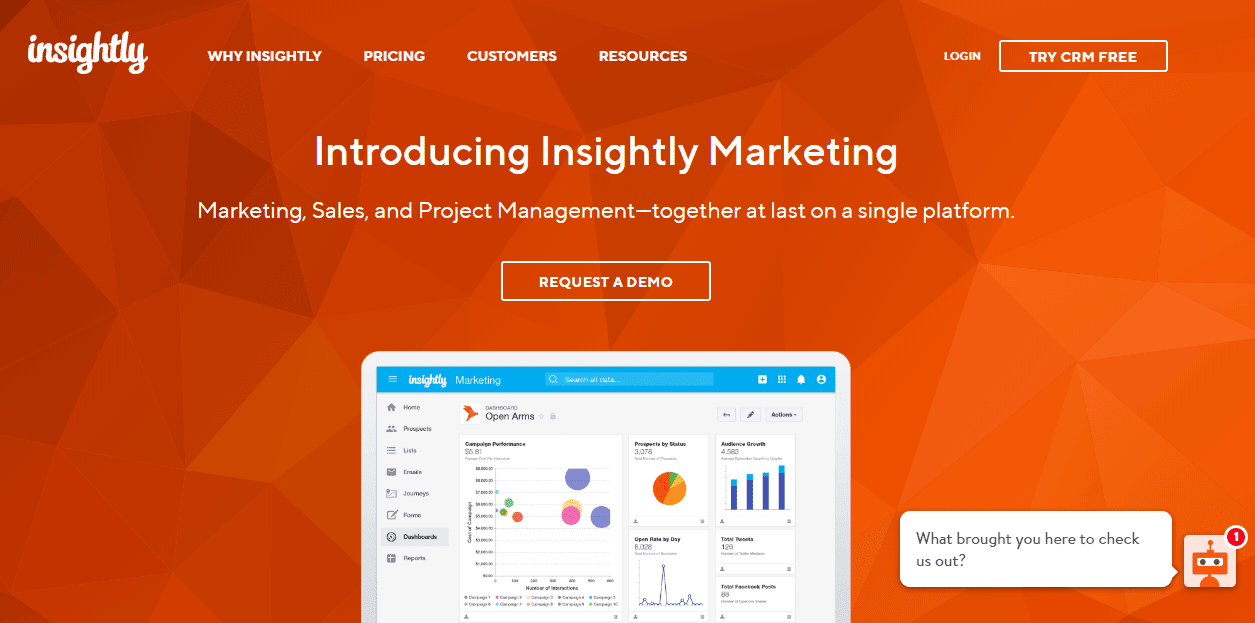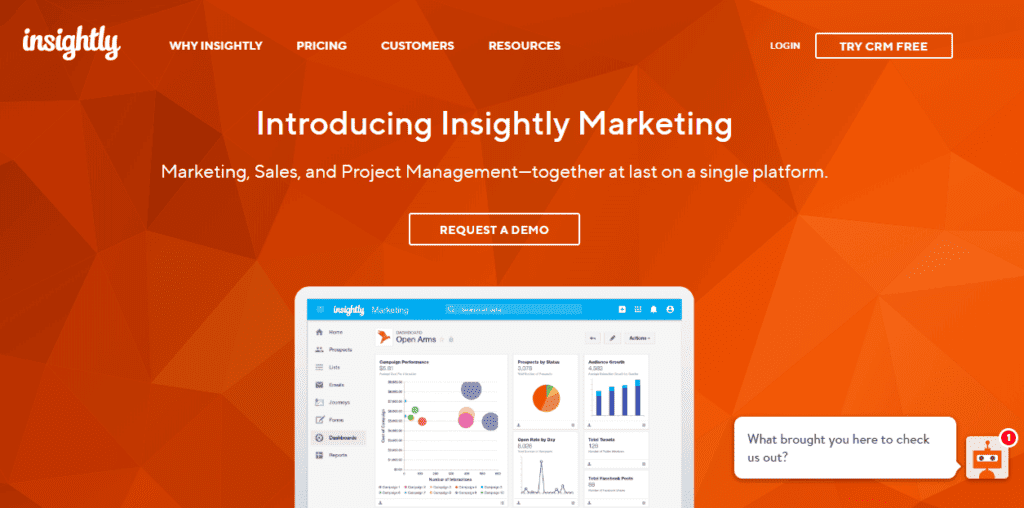 Insightly is third on our list of Freshworks alternatives. Since 2009, this San Francisco-based business has been a trusted choice for salespeople and marketers alike.
Features
These CRM features are included with Insightly:
Mobile app: The Insightly mobile app, available for iOS and Android, allows you to track your projects and update them quickly.
Custom app building: Take your CRM further with custom apps that you can build from scratch using Insightly. This feature lets you add reports, dashboards, workflow automation, calculated fields, and validation rules to any app.
Dataset modeling and management: With dataset modeling, you can segment your data and craft personalized email marketing campaigns.
Email tracking: Insightly lets you send emails through their CRM, track and save them, and even review open and click-through rates.
Automation: The workflow automation through Insightly can be used to automate mundane tasks, follow-ups and reminders, and streamline post-deal steps.
Lead routing: Learn more about your leads when Insightly tracks related meetings, calls, emails, and campaign sources.
Data visualization and metrics: According to Insightly, their analytics include built-in business intelligence. The dashboards are shareable and feature drag-and-drop functionality.
Integrations: Insightly integrates with many tools and apps you probably already use, including PandaDoc, Mailchimp, QuickBooks, Xero, Google Apps, Gmail, and Microsoft Office 365.
Pricing
Insightly offers three plans:
Plus: $29/month
Professional: $49/month
Enterprise: $99/month
The Plus plan includes:
Custom emailing and report scheduling
Configurable reports
Business intelligence dashboards
Convertible win opportunities
Project processes
Calendar syncing
Milestones task tracking
Integrated project management
Mobile voice notes, calendar and contact integration, business card scanning, and mobile data syncing in real-time
Opportunity management
Sales team assignments
Custom sales processes
Email templates
Mass emails
Lead management
Event and task management
For a step up, here's what's in the Professional plan:
Configurable webhooks
Custom objects
Full workflow automation
Business intelligence dashboards
Outbound emailing scheduling
Lead routing and assignment
The most expansive plan is the Enterprise plan, which comes with all the above as well as:
Serverless lambda function scheduling
Dynamic page layout rules
Lambda function execution
Custom apps on mobile and web platforms
Calculated fields for all objects
Customized validation rules
Unlimited real-time insight cards
50 business card scans on mobile
#4. AWeber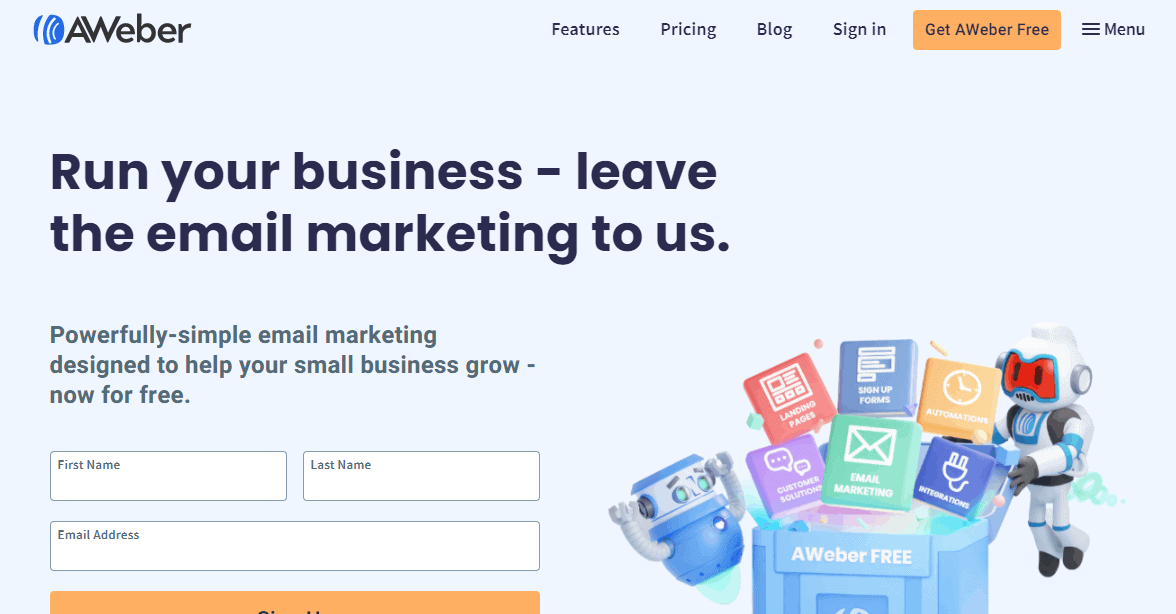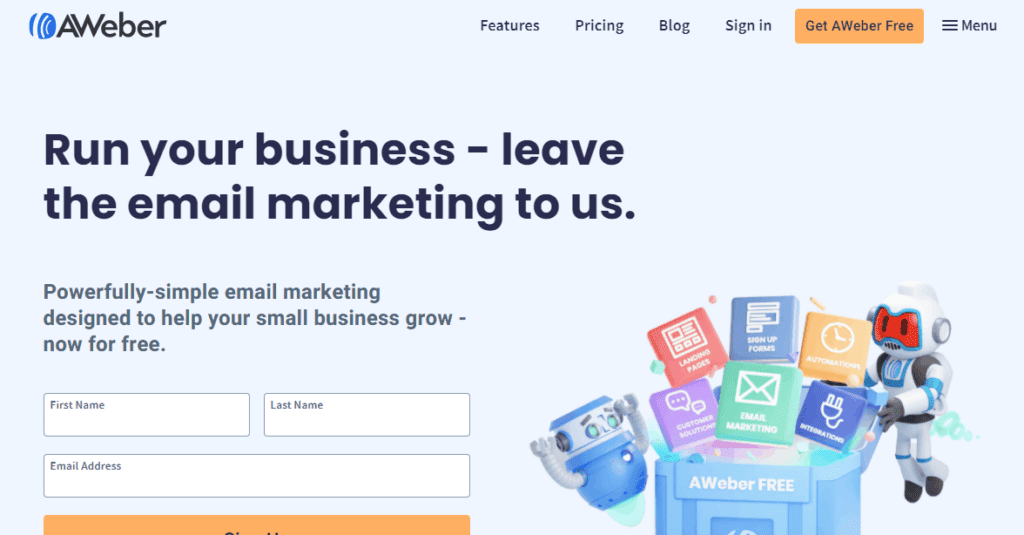 If you're still considering your Freshworks alternatives, AWeber is one you should look into. A long-standing email and small business marketing service founded in 1998, AWeber also offers automation and CRM features.
Features
Here is an overview of those features:
Mobile apps: Choose from three AWeber mobile apps and streamline your marketing and sales objectives on the go. Curate lets you design stunning newsletters, AWeber Atom expands your email list, and AWeber Stats lets you track analytics in real-time.
List management: The subscription management features included with AWeber are sign-up form building, targeting and segmentation, and contact management.
Mobile reports: Share analytics among your whole sales team with pre-built reports on your analytics dashboard. Even mobile reports are available.
Automation triggers: Save more time with automation workflows and email triggers.
Integrations: Connect AWeber to all sorts of CRM tools and software such as Satori, ContactUs, LiveAgent, Salesforce, Konnektive CRM, 1CRM, 17hats, and BigContacts.
Pricing
Keeping things simple, you have your pick of two pricing plans with AWeber: Free or Pro.
The Free plan only offers 500 subscribers. After that, the Pro plan is based on a sliding price scale that increases as your audience grows. Here's what the monthly pricing looks like:
500 subscribers – $19
2,500 subscribers – $29
5,000 subscribers – $49
10,000 subscribers – $69
25,000 subscribers – $149
The Free plan comes with the following features:
Free migration
Integrations
Analytics
50,000 messages to send
50,000 subscribers
Unlimited users
Purchase tagging
Sales tracking
Services and products selling
Basic analytics
Custom domains
Facebook Pixel tracking
Google analytics
Video landing pages
Landing page templates
Hosted broadcast archives
AMP emails and HTML emails
Dynamic content
Email templates and email builder
Newsletters
3,000 emails a month
Of course, you get more for paying, such as these exclusive Pro plan features:
Unlimited message sending
Unlimited subscriber collection
Email sales tracking
Webpage tracking
Advanced analytics
Sending to custom segments
Signup form and email A/B testing
No AWeber branding on landing pages or emails
AWeber Ecommerce
Branded email click-track links
Behavioral automation
Unlimited emails a month
#5. Drip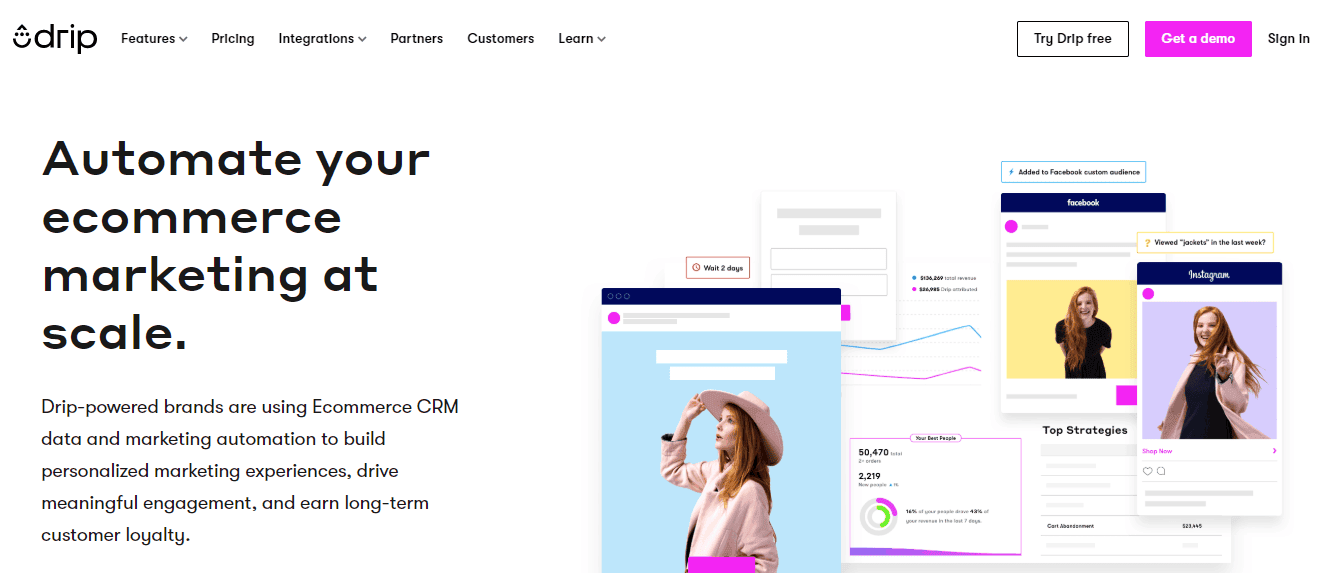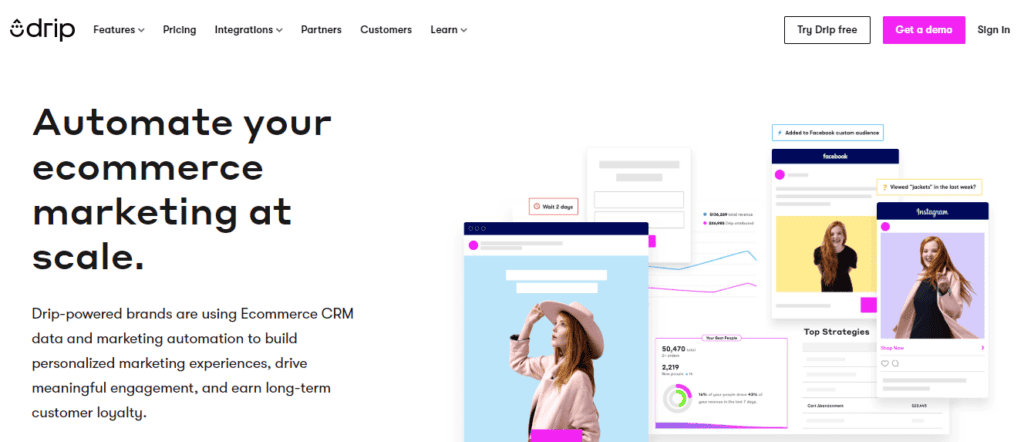 The next CRM on our list is Drip, a marketing automation and e-commerce service for salespeople and marketers.
Features
The following features are available with a subscription to Drip:
Workflow A/B testing: Is your sales workflow really as effective as it could be? With workflow A/B testing, you won't have to guess anymore!
Insights dashboards: Review your current and past sales (and marketing) campaigns using Drip's expansive insights dashboard. You'll glean all sorts of useful metrics.
Automated revenue attribution: Who's the biggest seller on your sales team? To answer that question, use Drip's automated revenue attribution.
Deep segmentation: Segment your audience from a sales-minded perspective through filters including products, purchase patterns, communication history, and more.
Integrations: Drip integrates with a host of apps and tools, including Shopify, Privy, Facebook Custom Audiences, ThriveCart, Magento, and Justuno.
Pricing
Drip offers a free trial period but no outright free plan. Their pricing is dependent on how many customers your small business has. If you pay monthly, here are the fees to use Drip per subscriber:
500+ contacts – $19
700+ contacts – $29
2,500+ contacts – $39
3,000+ contacts – $49
3,500+ contacts – $59
4,000+ contacts – $69
4,500+ contacts – $89
5,000+ contacts – $99
6,000+ contacts – $109
7,000+ contacts – $124
8,000+ contacts – $139
9,000+ contacts – $154
10,000+ contacts – $169
Read also: 11 of the Best Drip Alternatives (Features, Pricing, Pros and Cons)
#6. HubSpot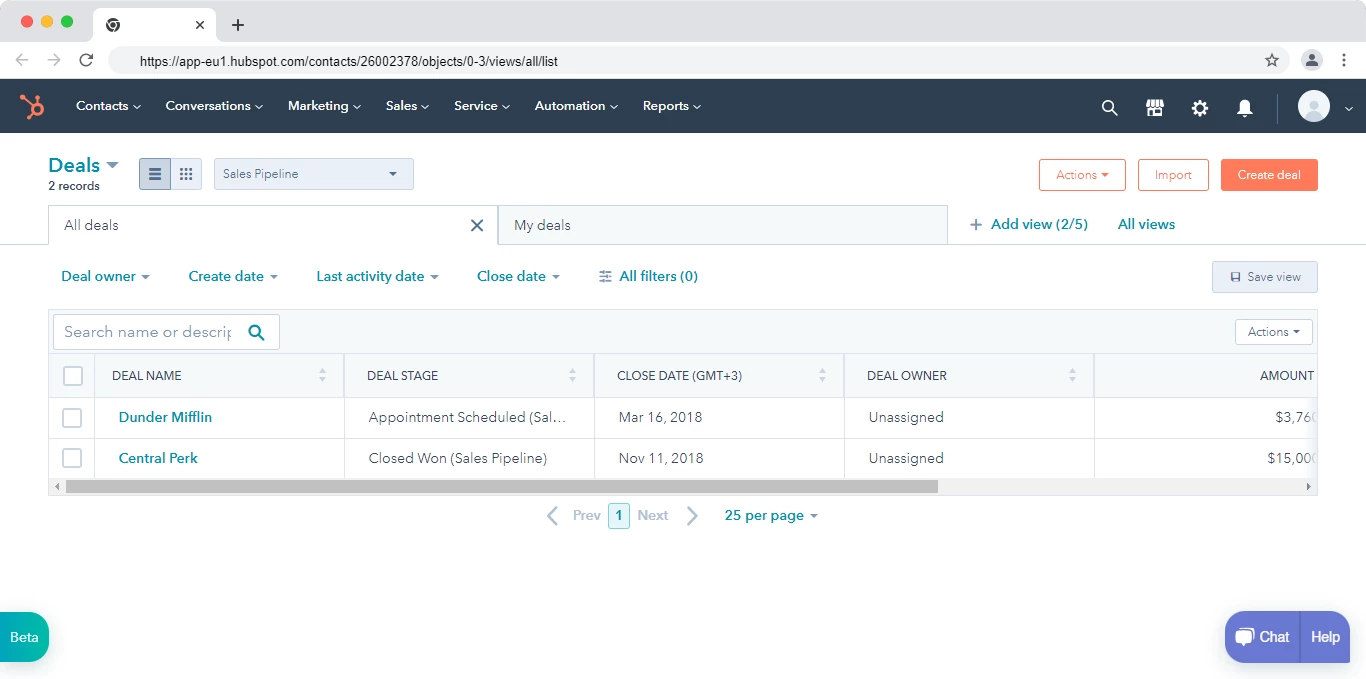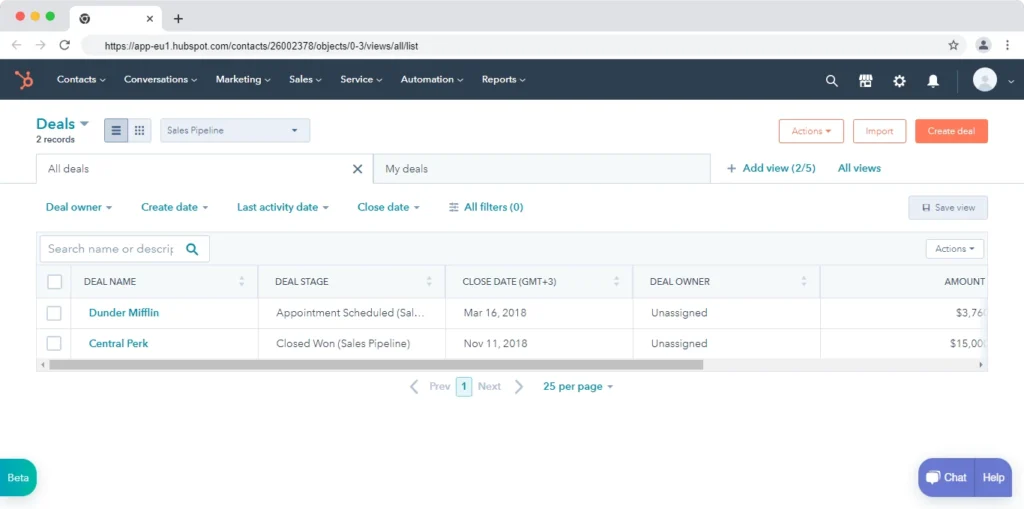 Freshworks? You'll forget all about it once you begin using HubSpot's business resources, tools, and software. From the Marketing Hub to the Sales Hub and the Service Hub, HubSpot has a solution for any type of business.
Features
Why switch from Freshworks to HubSpot? Here are some features that make the choice clear.
Free CRM: The reason that so many people try HubSpot is for its free CRM. Bring all your audience data to one centralized dashboard to gain insights into who your leads and customers are so you can refine your selling approach.
Email templates: Write killer sales and marketing emails and combine them with HubSpot's email templates to send emails your audience can't help but open. You can personalize and optimize your email content using HubSpot.
Sales automation: Create automation workflows to reduce instances of manual sales tasks. HubSpot allows you to use personalization for tasks such as email so it's like you were there manually hitting the send button.
Website builder: Build a five-star website ahead of your next campaign with HubSpot. You can browse website themes and templates and use the drag-and-drop website builder for simple, efficient design.
Pricing
HubSpot has only two pricing plans, and neither are low-cost. The Professional plan costs $800 a month on an annual billing plan, and the Enterprise plan costs $3,600 a month.
Included in the Professional plan are these features:
Form automation
Ad retargeting
100 custom reports
100 blogs
SEO optimization
CTAs
Omnichannel marketing for 300 workflows
A/B testing
Email health insights
Content strategy
Live chat
If you decide to pay more for the Enterprise plan, you can enjoy everything in the Professional plan and:
YouTube analytics integration
Customer journey analytics
Field-level permissions
Salesforce custom object syncing
Partitioning
Predictive lead scoring
Behavior event reporting and triggering
500 custom reports
15 audiences for ads
1,000 omnichannel marketing automation workflows
200 calculated properties
Website traffic analyses
Team email
200 currencies
Email marketing
Landing pages
Social media marketing
Video hosting
Read also: 14 Surprisingly Awesome HubSpot Alternatives
#7. Salesforce
According to Salesforce, 98 percent of its customers achieve their ROI goals with Salesforce's services. The suite of products Salesforce offers includes a bit of everything, from sales to marketing and service tools.
Features
You should change your mind about Freshworks after seeing what Salesforce has to offer.
MuleSoft: Salesforce's automation tool, MuleSoft, automates tools for better customer experiences. You can use four tools within MuleSoft: Flow Orchestration for multi-user processes, MuleSoft RPA for repetitive tasks, MuleSoft Composer for Salesforce for connecting data and apps, and MuleSoft Anypoint Platform for APIs and integrations.
Customer 360: Customer 360 is another great feature from Salesforce. You can gain real-time data on customers, including their history with your small business and insights into their behavior.
Sales automation: Use intelligent-based automation to drive sales processes forward, saving time that you can use to work on new leads or build loyalty among existing customers.
Pricing
Here's an overview of Salesforce's costs:
$25 per user per month for the Essentials plan
$75 per user per month for the Professional plan
$150 per user per month for the Enterprise plan
$300 per user per month for the Unlimited plan
The Essentials plan has the fewest features, only the Salesforce Mobile App, opportunity management, email integrations, lead management, and account management.
The Professional plan unlocks features like rules-based lead scoring, collaborative forecasting, and lead registration.
If you want approval and workflow automation, you must pay for the Enterprise plan, while the Unlimited plan is the only one with 24/7 support.
Read also: Is Salesforce a CRM? A Simple, In-Depth Guide
#8. Zoho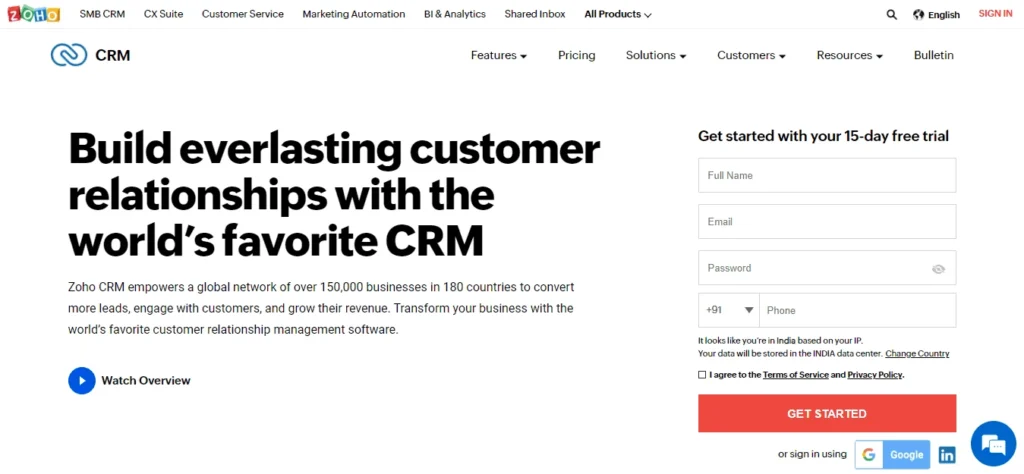 Zoho's cloud software should change your mind about using Freshworks. For one, Zoho's services are designed for companies of all sizes. The software also scales, as Zoho offers enterprise solutions.
Features
What kinds of features are packed into the cloud software suite? Let's review.
Mail: Zoho's email hosting service promises high-level privacy and security with S/MIME message encryption. You can also receive your own professional domain name and take your email on the go with Zoho's mobile app.
CRM Plus: Go the extra mile for your customers with CRM Plus, Zoho's advanced CRM option. Driven by AI, CRM Plus is ideal for sales and marketing teams looking to streamline processes.
Thrive: Zoho's growth automation platform Thrive includes affiliate and loyalty programs driven by AI. You can kickstart a referral marketing campaign!
Social: Zoho is also a social media manager. Schedule social posts, formulate a content pipeline with a content calendar, and review social media campaign progress anytime with real-time data.
Email marketing: Transform your email marketing campaigns with Zoho. Personalize your email content, automate when you send your emails, and ensure their delivery within this software.
Pricing
Zoho prices its software on a sliding scale based on the number of business contacts you have. If your small business has 1,000 contacts, here's a snapshot of what Zoho's pricing looks like:
Free: $0 per month when billed annually
Standard: $5.25 per month when billed annually
Professional: $9 per month when billed annually
The Free plan has these features:
Basic newsletter templates
Basic template layouts
Drag-and-drop template editor
Template library
Custom sign-up forms
Marketing calendar
Upgrading to the Standard plan introduces these features:
Advanced newsletter templates
Inbox preview
A/B testing
No Zoho branding
Basic automated workflows
If you choose the Professional plan, you can use the following features:
Email attachments
RSS campaigns
Advanced mail listing segmentation
Contact tags and scoring
Customizable pop-ups
Dynamic content
Email batch sending
You can also pay as you go with Zoho.
Read also: Zoho Alternatives: 15 CRM Solutions For Smart Sales Teams
#9. Zendesk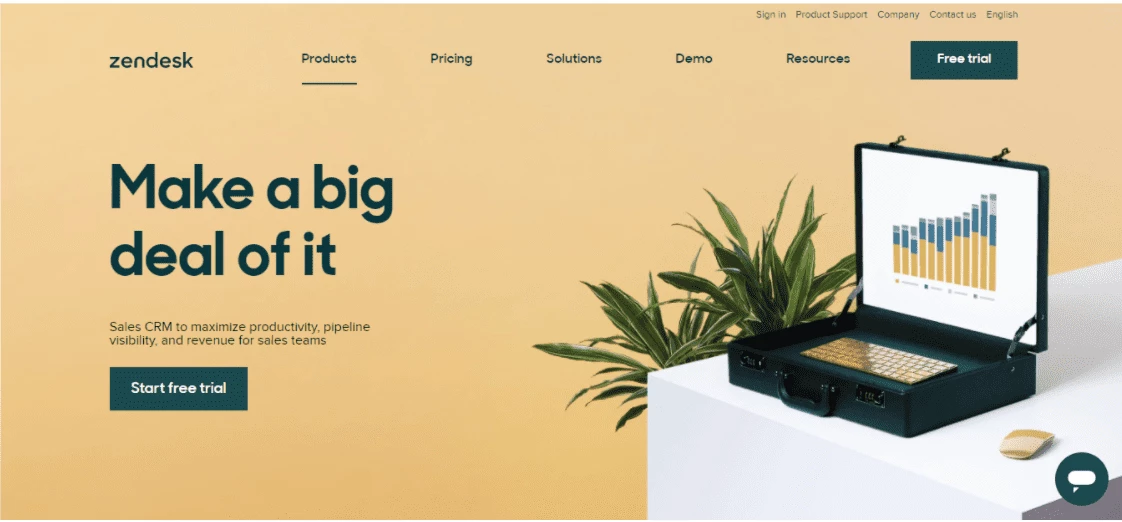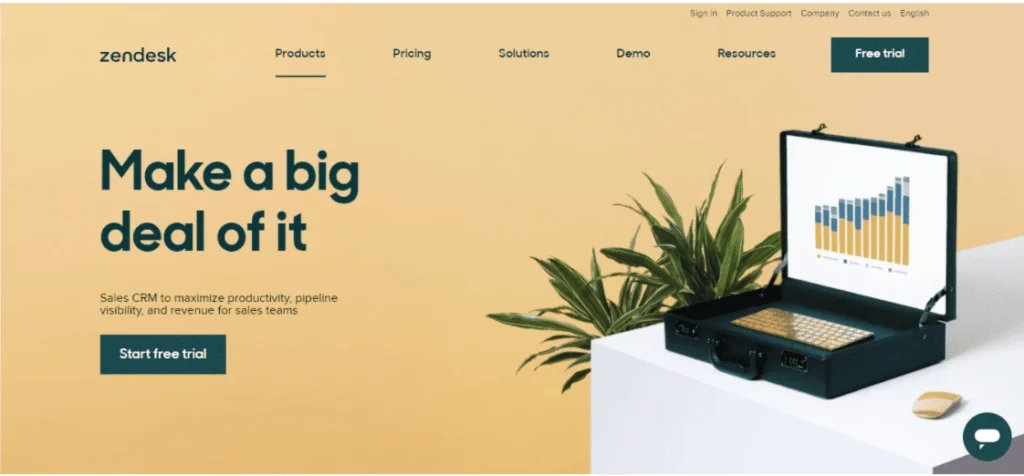 Zendesk calls itself the "champions of customer service." Those are some mighty big shoes to fill, but we think Zendesk does the job better than Freshworks. As you explore its features, you should agree!
Features
So what are those features? Here is what Zendesk brings to the table.
Ticketing system: Zendesk's ticketing system is a major part of any efficient customer support service. You can customize the ticketing system and optimize operations.
Live chat and messaging: From social channels to mobile apps, business channels, and your website, take your messaging further with features like live chat, multichannel communications, and personalization for your audience niches.
Reporting: Zendesk reporting gives you richly detailed insights into your ongoing campaigns so you can continue growing.
Pricing
Zendesk's sales solutions have a separate pricing tier than its other services, so we'll focus on the sales pricing. You can try any plan for free before purchasing.
Team for $19 per user per month on an annual plan
Growth for $49 per user per month on an annual plan
Professional for $99 per user per month on an annual plan
The Team plan introduces these smart features:
Adoption and onboarding resources
Core APIs
Public integrations and apps
Pre-built sales dashboard
Offline mobile access
Text message and call tracking and recording
2 gigabytes of storage per user
Appointment and task setting
Email integration and tracking
Two custom sales pipelines
Continue expanding what Zendesk can do with the Growth plan features:
25 prospecting credits a month per user
1,000 enrichment credits a month per user
Price and product book
Advanced activity reports
Goal tracking and sales forecasting
Custom dashboards and sales reports
Adoption and onboarding resources
Premium and core APIs
Pre-built sales dashboards
Offline mobile access
5 gigabytes of storage per user
The Professional plan has everything you need to use Zendesk, including the features above and:
Company hierarchy
Advanced permissions and roles
Task automation
Deal and lead scoring
150 prospecting credits a month per user
3,500 enrichment credits a month per user
10 gigs of storage per user
Read also: Zendesk Alternatives – 10 Best CRMs for Small Businesses
#10. Microsoft Dynamics 365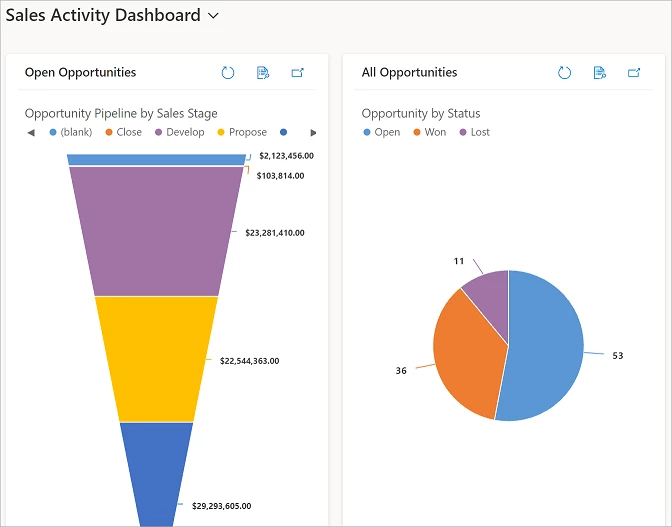 Microsoft Dynamics 365 is a software solution to consider instead of Freshworks if you're interested in lowering costs and improving efficiency. You can use supply chain, finance, service, sales, and marketing tools within Microsoft Dynamics 365.
Features
Here is more information on the services available through this exceptional Freshworks alternative.
Customer intent predictions: What will your customers do next? It needn't be a guessing game anymore when you can use Microsoft Dynamics 365. This tool produces AI insights to drive your business forward and grow your customer base.
Automation: The sales process can be fraught with complications. By automating sales tasks, you can simplify projects and earn back more time for nurturing leads and closing more deals.
Productivity tools: Dynamics 365 includes a suite of productivity and collaboration tools for bringing teams together.
Pricing
As an SMB, here are the costs for Microsoft Dynamics 365 service:
Sales Professional: $20 to $65 per user per month
Customer Service Professional: $20 to $50 per user per month
Business Central Premium: $100 per user per month
Business Central Essentials: $70 per user per month
If you're only interested in Microsoft's sales services, here's an overview of the costs:
Microsoft Viva Sales: $40 per user per month
Microsoft Relationship Sales: $162 per user per month
Sales Premium: $135 per user per month
Sales Enterprise: $20 to $95 per user per month
Sales Professional: $20 to $65 per user per month
Read also: Top 10 Financial Advisor CRM Tools For Perfect Client Management
#11. SugarCRM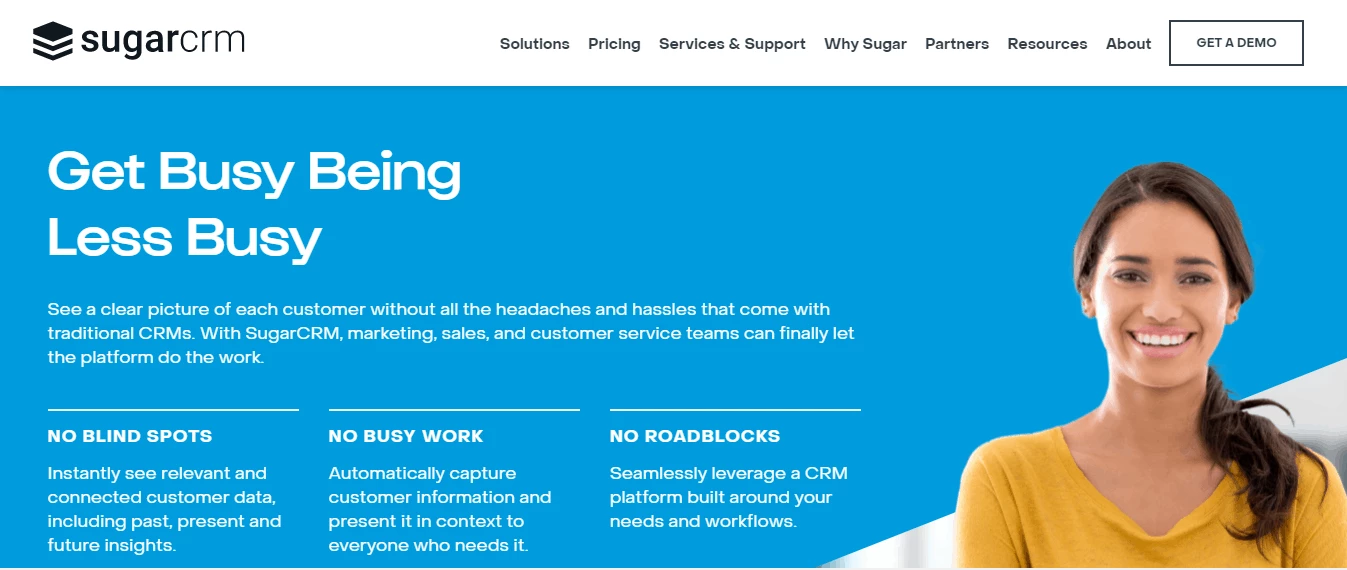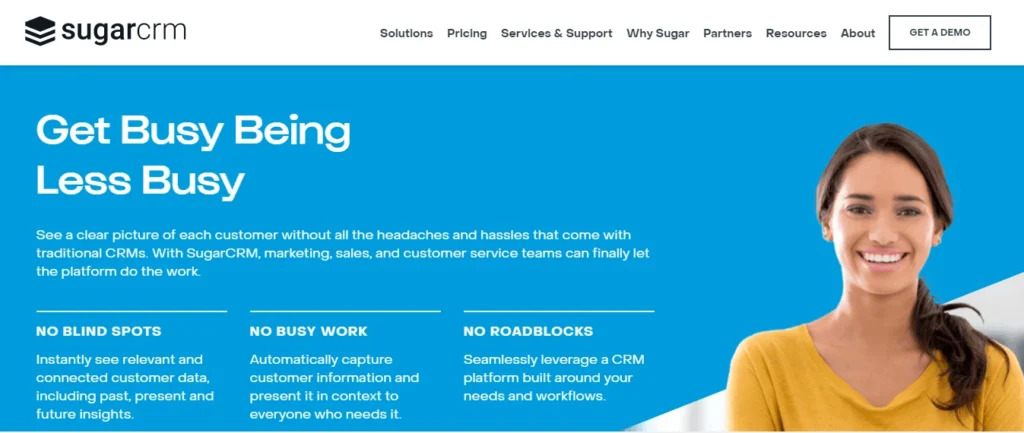 The Silicon Valley-based SugarCRM augments the basic CRM that Freshworks is known for. The software also has marketing and sales solutions, including automation for shaving time off your day-to-day.
Features
Let's examine SugarCRM's features.
On-premises CRM: The fully customizable on-premises CRM from SugarCRM puts you in the driver's seat, as you have full control. You can use all SugarCRM APIs within the CRM, automate business tasks, import data from a variety of sources, and better understand the customer journey.
Customer service: With SugarCRM, you can improve the productivity of your service agents, lower service costs, and boost customer satisfaction.
Marketing automation: SugarCRM's marketing automation works across multiple social media channels to connect with your audience where you'll naturally find them. Generate bulk emails, landing pages, and conversion forms using drag-and-drop features. Engage prospects and analyze ongoing marketing campaign data.
Sales automation: Bolster your sales team with automation. SugarCRM can analyze data to present insights, improve customer communication, take care of renewals, and help your reps better understand the customer journey.
Pricing
SugarCRM prices each of its services differently. Here's what you need to know:
Enterprise: $85 per user per month on the annual plan
Serve: $80 per user per month on the annual plan
Sell: $49 per user per month on the annual plan
Market: $1,000 per month for 10,000 contacts
If you want to take your selling further through SugarCRM, it has separate sales-related pricing plans.
Sell Essentials: $49
Sell Advanced: $85
Sell Premier: $135
The Sell Essentials plan includes these features:
Business process management
Teamwork and collaborations
Omnichannel communications
Mobility
Pipeline analytics
Forecasting
Analytics and reporting
Subscription management
Quota management
Pipeline management
Quote management
Opportunity management
Lead management
Contact management
Account management
Here are the extra features you can use with a Sales Advanced plan:
Calendar and mail integration
Intelligent opportunity prioritization
Intelligent lead prioritization
Business process management
If you upgrade to the Sell Premier plan, you get everything above and:
Revenue and pipeline optimization
Predictive forecasting
Geomapping
Data enrichment and newsfeed
Guided selling
Read also: SugarCRM Pricing and 20 Great Alternatives [+Features]
#12. ServiceNow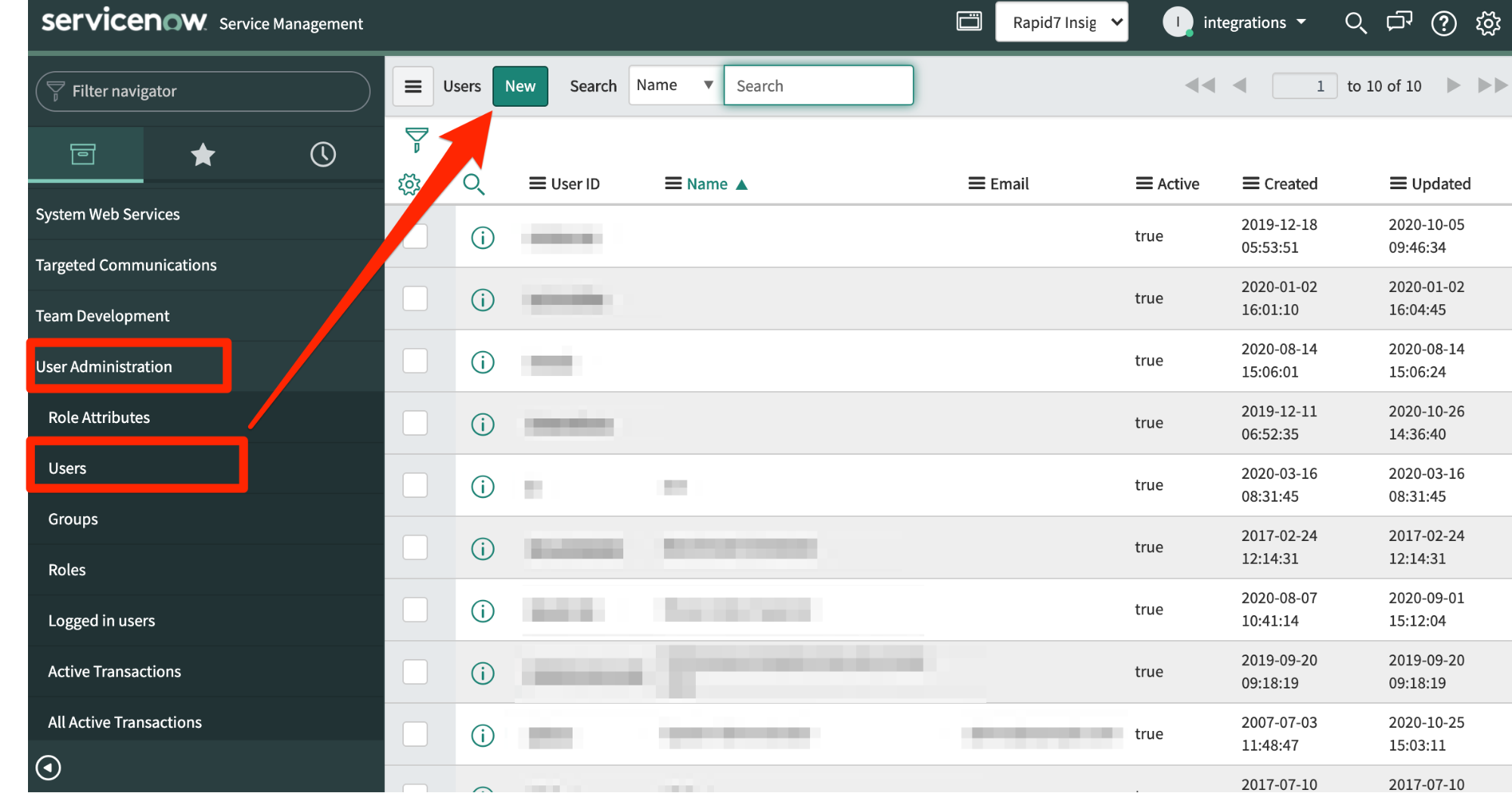 With workflows for creators, customers, employees, and IT, ServiceNow has more of what most companies want. It could be just the alternative to Freshworks you've been searching for.
Features
Let's shine the spotlight on some ServiceNow features that make this software worth seriously considering.
Customer service management: The CSM platform ServiceNow offers features automation, data modeling, and a mobile app for taking insights on the go.
Automation: ServiceNow's automation engine allows you to create basic to complex automation workflows for simplifying many tasks around the office.
Order management: When orders come through, use ServiceNow's order management feature. You can monitor ongoing orders through fulfillment, send order forms, produce product detail pages, establish price lists, and create a product catalog.
Pricing
ServiceNow only divulges its pricing through a custom quote.
Read also: 8 Incredible Ontraport Alternatives & Their Key Features
#13. Oracle NetSuite


Oracle NetSuite serves a variety of industries, including digital marketing, advertisers, financial services, nonprofits, consultants, healthcare, IT services, retail, and more. Its services have the backing of the beloved Oracle brand.
Features
Let's report on the features Oracle NetSuite is best known for.
CRM: The NetSuite CRM for managing suppliers, partners, and customers includes salesforce automation, partner relationship management, sales forecasting, marketing automation, commissions, and quote management.
Omnichannel commerce: Oracle's omnichannel commerce platform, NetSuite Commerce, is a point-of-sale tool for streamlining commerce and business operations so you can personalize the customer journey with cross-channel experiences.
Analytics: Assessing your sales and marketing successes through NetSuite SuiteAnalytics enables you to make confident decisions about the future of your business. The KPIs on the dashboard are embeddable, while the reports as a whole are customizable.
Pricing
You can sample Oracle NetSuite for free before committing to a paid plan. The monthly pricing starts at $99 a month, but Oracle doesn't share NetSuite pricing on its website.
Read also: 12 Best Cloud-Based CRM Software for Small Business
#14. Copper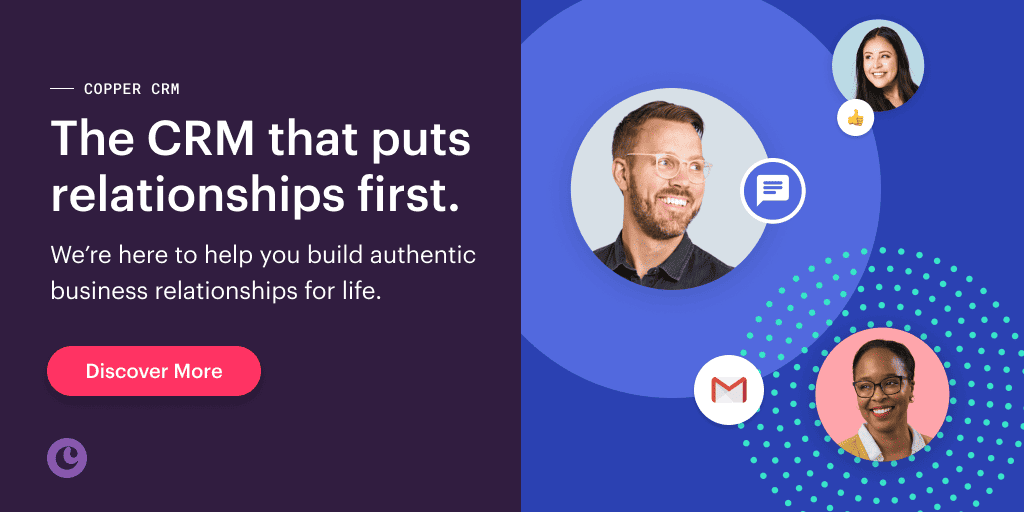 More than 30,000 companies use Copper, from brands like Clio to Ideo, Shipt, S'well, Udacity, and more. Its solutions serve technology services, real estate firms, media agencies, consultants, and corporate development leaders.
Features
Should you give Freshworks the boot and try Copper instead? You can better make that decision once you see Copper's features.
Deal tracking: When a hot deal is on the horizon, it's Copper to the rescue. Its deal-tracking capabilities, including time-based tasks and reminders, make it simple to stay on top of deals and convert leads before they go cold.
CRM: Copper's CRM­–which is also accessible on the free Copper mobile app–is part of the brand's partnership with Google. Integrate with Workspace and watch how seamlessly you can schedule meetings with prospects, import contacts, organize files, and find customer data.
Automation: Copper's sales automation feature uses workflows to take care of tasks. The software can even suggest potential contacts based on the contents of your email inbox, saving you time in lead generation.
Email marketing: Take a more hands-off approach to email marketing with Copper. Its marketing automation and custom email templates make it easier to create and send emails that generate responses.
Pricing
Here is more information on Copper's pricing:
$29 per user per month for the Basic plan
$69 per user per month for the Professional plan
$134 per user per month for the Business plan
The Basic plan includes Google Workspace integration and these features:
Copper community
Live chat support
Single-sign on
Data exporting and importing
Opportunity slippage
Deal management
10 custom fields
Custom pipelines
Comments and mentions
Reminders
Team collaboration
Activity logging
File uploads
Note-taking
Data Studio and Google Sheets integration
Google Drive integration
Google Contact syncing
Google Calendar syncing
Gmail file, contact, and email syncing
Google Chrome extensions
Mobile, Chrome, and web apps
2,500 contacts
For more features from Copper, the Professional plan includes everything above and:
Multi-currency support
Team permissions
Activity insights
Custom reports
Template library
Unlimited custom fields
Automation
Merge fields
Email templates
Bulk emails
Developer API
Zendesk, Slack, QuickBooks, Mailchimp, DocuSign, HubSpot, and Zapier integrations
15,000 contacts
Bulk up your sales and marketing with the Business plan, which has:
Premium support
Personal onboarding
Email scheduling
Lead scoring
Website tracking
Drip campaigns and email sequences
Embedded integration SDK
Ad and form integrations
LinkedIn integration
Unlimited contacts
Read also: Copper CRM Pricing & Comparison With Top Small Business Software
#15. Bitrix24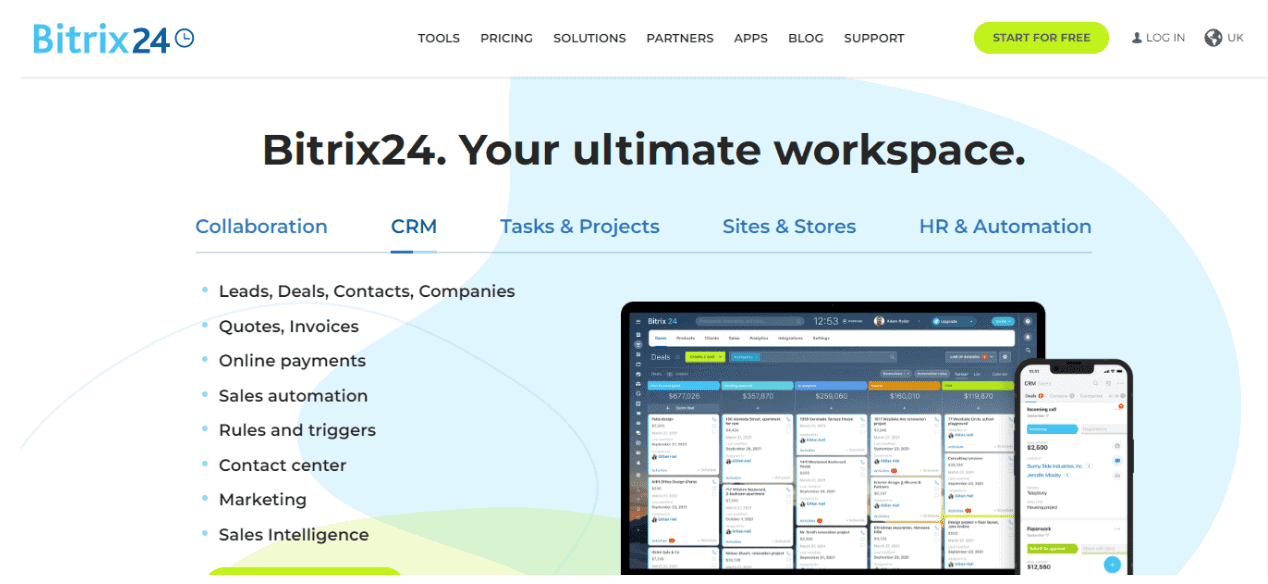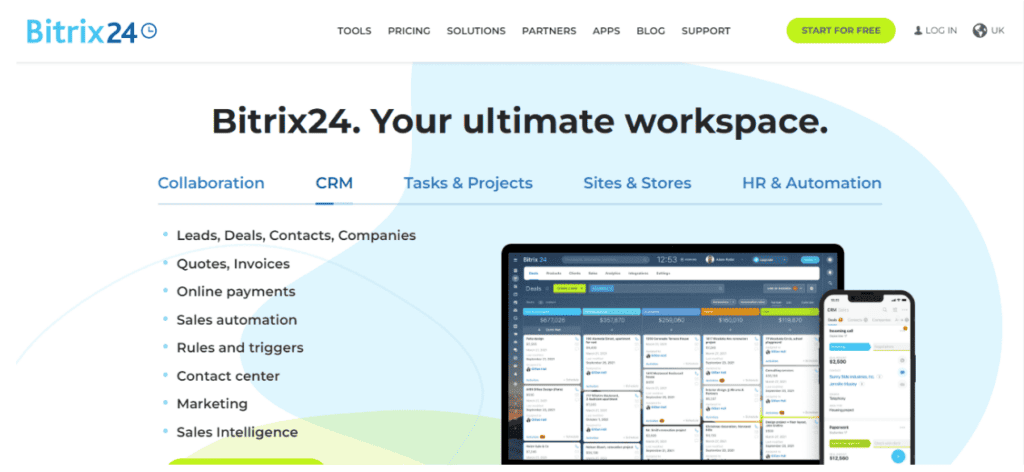 Bitrix24 could solve your marketing, customer service, and sales needs if you're unhappy with Freshworks. You can boost management, mobility, communication, leadership, and productivity with this software.
Features
The range of tools Bitrix24 offers should impress. Let's look at some that rival what you'd get in a subscription to Freshworks.
CRM: The single-platform, one-stop CRM from Bitrix24 is available for free. Use features like video conferencing, document sharing, online time clock, project management, VoIP telephony, live chats, automated workflows, marketing campaigns, landing page building, automated lead management, and analytics.
Collaboration: Bring your sales team and marketers together with Bitrix24's collaboration features. Create a newsfeed that updates in real time, complete with reactions, badges, and likes. Poll employees and communicate through videoconferencing and chat.
Websites: Bitrix24's visual website builder will create an amazing site for you in under 30 minutes. Use templates to get you started and make adjustments and customizations until your site shines.
Pricing
Bitrix24's pricing plans are as follows when billed for a year:
$0 for the Free plan
$49 a month for the Basic plan (for five users)
$99 a month for the Standard plan (for 50 users)
$199 a month for the Professional plan (for 100 users)
The Free plan has some good features to get you started, such as:
Private, public, and one-on-one chats
5 gigabytes of online storage
Calendar
Company social network feed, workgroups, appreciation badges, and video announcements
Tasks
Once you begin paying for Bitrix24 with the Basic plan, you can use the features above and:
HD video calls with screen sharing, audio and video recording, background blurring, and encryption
Webmail with one inbox per user
24 gigabytes of online storage
View documents
Integration with Microsoft Office, Office 365, and Google Docs
Five users
The Standard plan adds more features still, including:
100 gigabytes of online storage
Event planner
Five email inboxes per user
Company social network polls and announcements
Public file sharing in Drive
Collaborative editing of documents
50 users
The Professional plan is the most jam-packed, as it includes more of what Bitrix24 has to offer:
1,024 gigabytes of online storage
10 email inboxes per user
Read also: 10 Easy To Use CRM Tools (Features, User Reviews, Pricing)
Conclusion
Your small business or startup doesn't have to depend on Freshworks if their customer service or slow software tools have left you feeling iffy.
The 15 CRM platforms we covered in this blog post have sterling reputation, better pricing, and comprehensive feature sets.
We recommend getting started with EngageBay. This all-in-one CRM is always free, and you can use a wealth of marketing and sales automation features to help your revenues grow!
Even the Pro plan — with all its bells and whistles, and unlimited contacts — costs under $100. Isn't that a steal?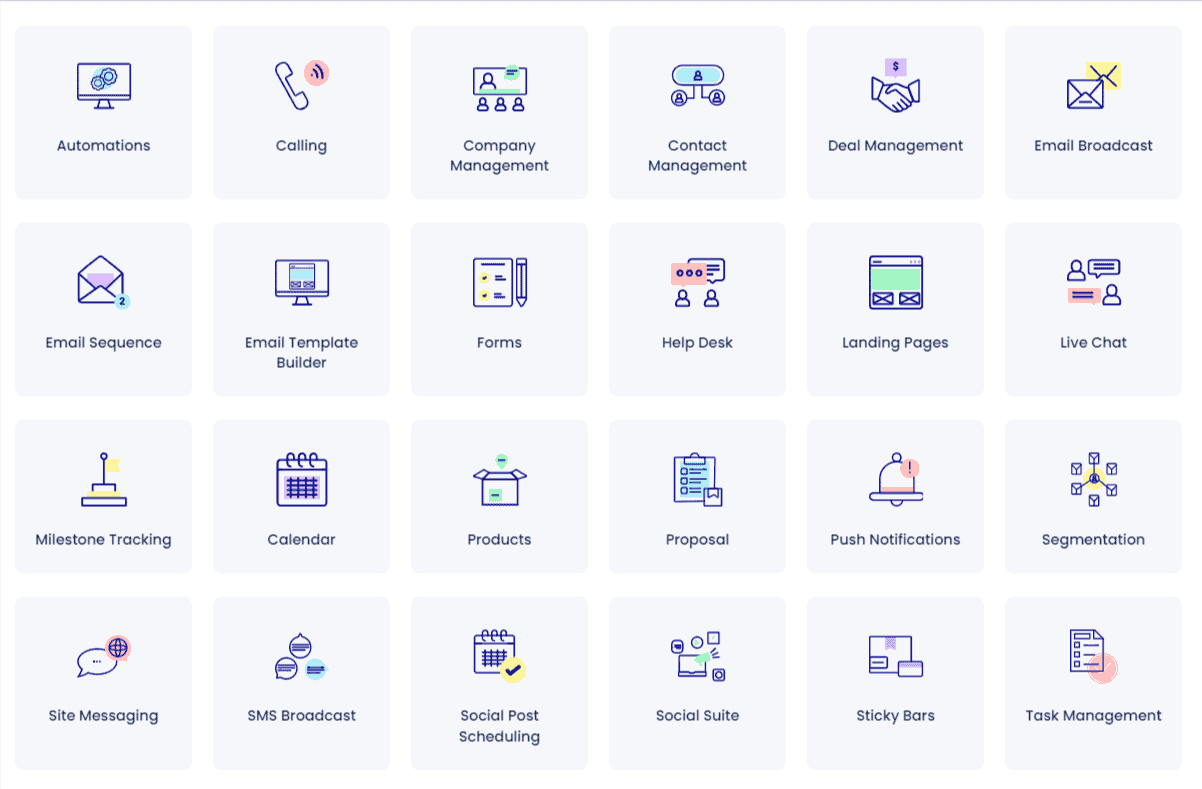 Sign up now, or book a 30-minute demo with one of our experts.