Workflow automation is a way to automate tasks in software. Workflows are just the automated tasks you want to be performed by computers, such as sending an email with a coupon code when someone subscribes to your email list or downloads one of your lead magnets on Facebook.
Workflow automation means that you can create these workflows and then have them executed automatically without having to manually re-do it every time. Workflow management systems help optimize business processes across various departments within organizations through scheduling, monitoring, reporting, and auditing of business process execution.
There are many benefits of workflow automation, like improved employee productivity and engagement, increased customer satisfaction rates due to better service delivery times, decreased operational costs from automating repetitive tasks, and improved business processes through the automation of manual tasks.
Workflow automation is a great way to streamline your workflows across all departments within your organization as well as with other software platforms such as the social media you want to advertise on.
In this blog post, we'll go into detail about what workflow automation software can do for your business. We'll explore the ways automated workflows can help organizational departments like sales and marketing, IT, HR, accounting, and finance.
We'll also share key steps for you to create efficient automation workflows on your own.
What Is Workflow Automation?
Workflow automation is, as the name implies, a way to automate your workflows. Automation workflows are simply automated tasks that you want to be performed repeatedly and consistently by computers.
Let's say for example that every time someone subscribes to an email list or downloads a lead magnet from one of your websites on Facebook you would want to send them an email with a special coupon code. Automated workflows are the way you can do this automatically in Facebook Lead Ads, MailChimp, EngageBay, or any other workflow automation software.
Workflow automation is what will push your business or marketing team forward by making it possible for everyone to run their own personalized workflows without having to rely on IT or development resources.
Workflow automation tools are also great for getting teams to work together because it allows them to build their own 'workflows' without having the need of coding skills or technical knowledge.
Your business can grow at great speed using workflow automation as it can make sales, marketing, customer service, and other important departments more efficient with less effort from you: the CEO or the business owner.
With automated workflows, you can always stay on top of things and get real-time, visual reports on company-wide performance. 
Essentially, workflow automation will reduce human error and hence improve sales and revenues.
EngageBay offers marketing automation tools with easy drag-and-drop use, so you always get work done quickly.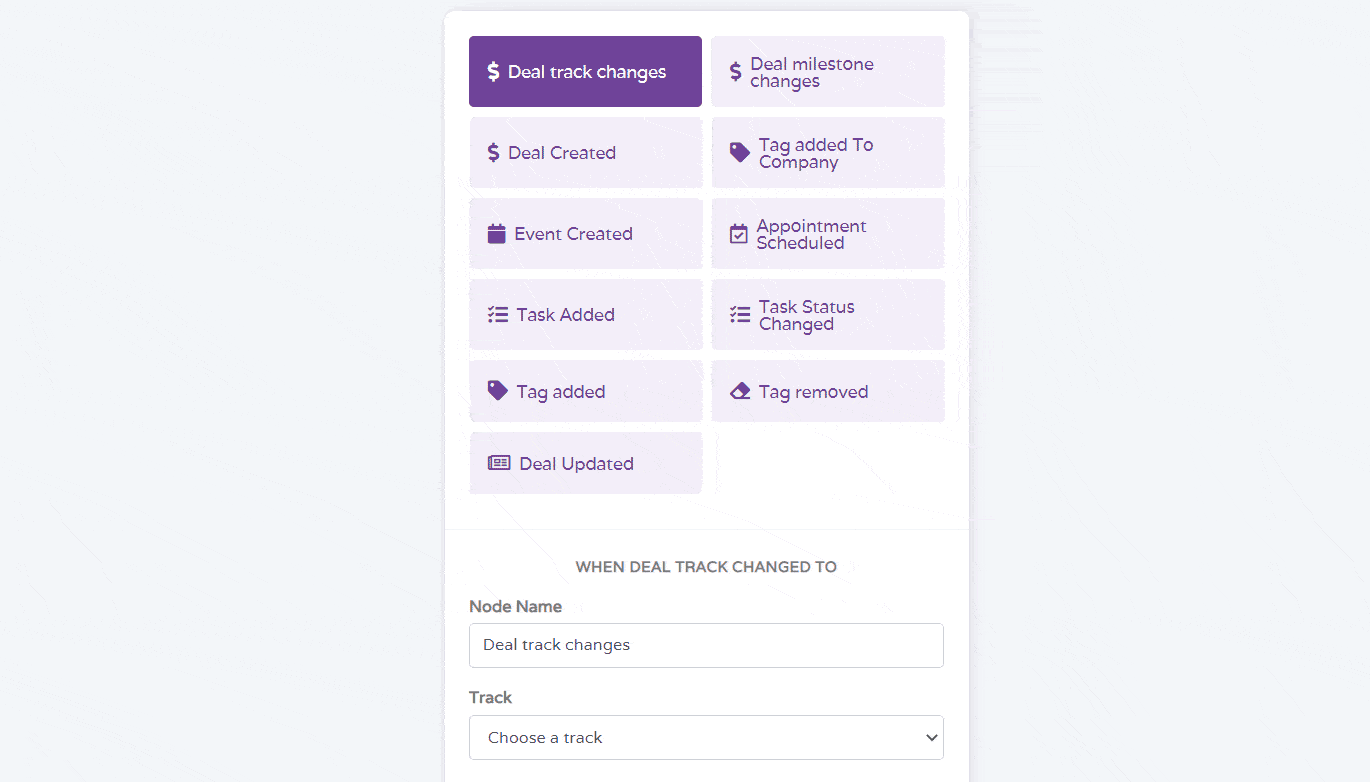 What All Does Workflow Automation Software Do?
Workflow automation software helps automate every aspect of business processes, from marketing to human resource operations and sales deals. 
Let's explore how each business department can benefit from automating its day-to-day workflow. 
1. Marketing and Sales Automation
Workflow automation can be used to automate a lot of repetitive tasks. 
For instance, every time a new lead signs up, an automated welcome email can be sent. In fact, a whole email sequence can be set up to nurture your prospects with offers.
EngageBay's email sequence enables you to automatically deliver a series of emails to your customers at fixed intervals. 

What's more, you can schedule your entire social media calendar and automate social media posting. 
2. Human Resource Automation 
When you acquire new talent, the whole onboarding workflow process can really be time-consuming. 
From collecting the new joinee's information to sharing the company's policies with them, it can take up a lot of time. 
A workflow automation software will automate the process of manually entering employees' personal data, like contact details, social security numbers, and other information, into the payroll system.  
The software ensures compliance with all business processes and improves workflow visibility.
3. IT Automation
The IT department has a lot on its plate — from sharing updates on the status of each project to managing key IT assets of the business. 
All these processes and more can be automated with the help of workflow automation software. 
Besides, you can automate the workflow process of assigning tickets for support requests, avoid duplicating support tickets, and track usage trends. 
4. Accounting and Finance Automation
Do your employees often complain about delays in their expense reimbursement? Or do you have a pile of documents lying on the table waiting for your attention? 
You can easily automate various processes related to accounting and finances, such as building forms, scheduling auto-payments for recurring invoices, automating approval processing, and much more. 
Another reason to automate your workflow is that humans are prone to making calculation errors. For instance, if an employee's salary is wrongly calculated or the tax amount deducted is incorrect, it can result in hefty fines. 
You can easily create an intelligent payroll management workflow and integrate all the data with your current accounting system. It will save you a lot of time and effort and eliminate the risk of human error.
👉Transform your marketing efforts with these 17 proven automation workflows! Your results will thank you.
Why Does Your Company Need Workflow Automation?
Intelligent software have penetrated the business world to automate workflows and bring in more efficiency to business processes. 
Customers' expectations are increasing, and companies are under tremendous pressure to deliver best-in-class customer service. 
Automation is the key to meeting your customers' demands and staying ahead of your competition. 
Here are a few reasons why you should seriously consider workflow automation: 
Speeds Up The Audit Process
While reading this, there are chances that you have a huge pile of files lying on your desk. 
Regardless of the industry, every business has to run an audit to ensure the authenticity of all documents. 
Companies generally keep track of physical copies, which again can be a cumbersome business process. But this can be easily solved by digitizing your files and using digital signatures. 
Workflow automation keeps track of any edits or changes made to the documents — all with a click of a button to run a quick audit. 

Improves Quality of Service
When an employee has to perform the same boring tasks every day, it can affect their morale. 
Instead, provide them the opportunity to perform challenging and new tasks daily by automating mundane tasks. It will keep them motivated and boost their productivity. 
Besides, when employees are motivated, it directly impacts their work productivity. 
Businesses report at least a 12% to 15% rise in productivity after using marketing automation workflow software.
Reduces Error and Saves Times
Live chats can be automated for some common responses, a contacts list with the same trait can be automatically created, and a lot more like this can be achieved when you use workflow automation software. 
Automation today is in more places than we can imagine. You can use it to re-route the customer calls to the right person directly. You can even use it for data entry, approve leave requests, and much more. 
Workflow automation saves hours of time that is otherwise spent waiting for the approval of a person. Besides, humans errors are inevitable even when people are careful. 
Reducing human intervention in tasks like auditing and data entry will result in accuracy and save time. 
Creates a Backup of Your Data
Another reason to use workflow automation software is that it creates a backup of all your important data. 
Isn't it a tremendous threat we're all facing today? Data can be breached and lost anytime, and you're always better off having a secure backup. 
What if you don't need to pay separately for this backup on cloud storage?
A comprehensive workflow automation software (like EngageBay) will create an automatic backup of all your data.
This means peace of mind, and at no extra cost!
Provides Insights into Business Processes
Quantifying your business performance and tracking the progress of every sales task is the only way to stay on top of things when it comes to meeting revenue targets. 
Creating an automated workflow helps you keep a complete tab on company-wide performance. It can easily keep track of all the files, customer communication, and every single sales project. 
In other words, it helps gain real-time visibility into business progress. 
Users can easily extract information and view it all from one dashboard. The software can generate reports on the number of tasks completed and delayed, production estimates, running time, and much more. 
Read also: 6 Marketing Workflow Software: What's the Best One? (Brief Reviews)
How Does Workflow Automation Help CRMs?
Your CRM or customer relationship management system has a lot of features that help streamline your business processes. 
Workflow automation should be among them — a CRM solution without workflow automation no good in this age. 
We all know how crucial the details are when it comes to customer interaction. When an agent engages with a lead, the CRM software automatically provides a comprehensive understanding of the lead profile — their contact information, interests, and browsing activities. 
When workflow automation is integrated with CRM, you can easily set up rules or actions to create workflow automations for your day-to-day customer engagement tasks. 
EngageBay CRM nails this very workflow process.
It allows you to trigger an automation when a user performs a certain action or a customer meets a certain condition. You can further tie that trigger to another related condition and automate the action your software should perform then.
For instance, send follow-up emails to customers who contact you about a query and then just vanish!
Read also: Business Management Software Key Features Explained
How to Automate Your Sales Workflows?
Now that you know why you should automate your workflow, let's look at some of the sales activities that you can automate. 
A salesperson has a lot on their plate — from nurturing leads to converting them into customers. Their role doesn't end there. In fact, they are responsible for delighting their customers to build a good rapport with them. 
Workflow automation can give them extra time and allow them to focus more on strategizing. 
1. Automate Repetitive Sales Tasks
Using workflow automation tools like EngageBay, you can create hundreds of workflows. You can use it to automate time-consuming tasks within your sales department and give your sales reps more time to focus on selling. 
Here are simple steps to create a workflow in EngageBay.
i. Go to the Sales dashboard.
ii. Click on the three dots (…) right next to the Calendar. 
iii. From the drop-down menu, select Workflows.
iv. In the upper right corner, click Create Workflows.
v. Set a unique name for your workflow. Press Continue. 
You can then start adding the Action or Condition from the list to your workflow automation. You can even edit, delete, or make an automated workflow inactive, any time you want. 
2. Automate Calls Tracking With Your Prospects
Now that you know how to create a workflow, let's look at different sales-related tasks that you can automate. 
By synchronizing your phone calls with the CRM, the latter automatically saves all call data and lead profiles. 
Using EngageBay's sales CRM, you can directly place a call from the dashboard. It even pops up all information about the customer you are calling — from notes, past conversations, and tasks associated with them to their latest lead score.

3. Automate Deals Follow-Up 
Automated workflows can make the software send you reminders about upcoming calls with a prospect at just the right time. It also allows you to schedule emails or send out emails automatically when a trigger is met. 
After all, it can be hard to keep track of each lead manually.
With EngageBay's workflow tool, you can easily set up any automation and follow up with your leads at the right time. 

Read also: Sales Force Automation Guide To Help You Get Started
5 Steps for an Efficient Workflow Automation
Workflow automation helps you run your business in an efficient manner. But how can you make the most use of automation? 
Here is a five-step guide to help you create a workflow to add value to your business processes. 
i. Identify Repetitive Tasks
The first step is to identify the area that has repetitive tasks.  You can automate those tasks and create an ideal workflow. 
While creating a workflow for the same, consider the key benefits in terms of time and money saved. This will help you clearly understand and support your idea of business process automation. 
ii. Define Business Goals
Once you identify which processes take up a lot of time, you can define what you wish to achieve when you create an automated workflow. 
Use your current manual workflow as the benchmark and then identify the objectives you can achieve by automating everyday tasks.
For instance, when you build automated workflows, you can reduce performance analyzing time, optimize your process, and focus more on core strategizing. 
iii. Choose the Right Workflow Automation Solution
Your next step is to select the right automation workflow solution that can help you achieve your desired business outcome. 
The latest trend in the industry is choosing cloud options that require less investment and provide good flexibility. 
EngageBay's marketing automation workflow tool has a simple and easy-to-use interface. It needs no tech skills.
iv. Train Your Employees
Employees are generally resistant to change. As their manager or employer, it's your duty to explain how these new technologies will bring efficiency to their work. 
Make them understand how it will benefit them and organize adequate training sessions for all. They shouldn't have a hard time understanding your workflow solution and using them. 
In essence, it provides a clear transition path from the current manual process to the new automated system. 
v. Monitor Performance and Improve Your Workflow
Once you have created your workflow, the process doesn't end there. You need to continuously monitor it and provide feedback on the process based on its usage. 
This will help you identify any bottlenecks, if any, and can help you further improve your workflow. 
Read also: The 5 Best CRM for Startups in 2021
Wrap Up
Cisco Systems automated its CRM process and eliminated 75,000 customer calls per month. The company saved over $270 million annually in operating expenses!
In today's business landscape, you need to be agile and adaptive to stay ahead of your competition. Just look at Cisco, right?
You can't afford to get stuck doing things manually when there are such smart automation software available to buy, and so easily.
A powerful workflow automation software with integrated CRM can save you hundreds of hours, and millions of dollars.
Try EngageBay for FREE today and transform your business today!