To much surprise, the term 'chiropractor marketing' has become a thing.
With such intense competition in the market, chiropractors are constantly looking for innovative ways to attract new patients.
Did you know that there are over 67,787 chiropractors in the US as of 2022?
And on average, 2500 chiropractors graduate every year.
After talking to a few chiropractors, one thing I found common was everyone tries to lure in more clients by using the same old, standard marketing tactics.
They lack the skills to market themselves in a unique manner that would highlight their expertise in the industry.
Are you here for the same reason?
Fret not, I've listed out the top 11 strategies that will take your chiropractor marketing to the next level and will add more than $100 per month to your revenue.
11 Chiropractic Marketing Strategies To Attract More Clients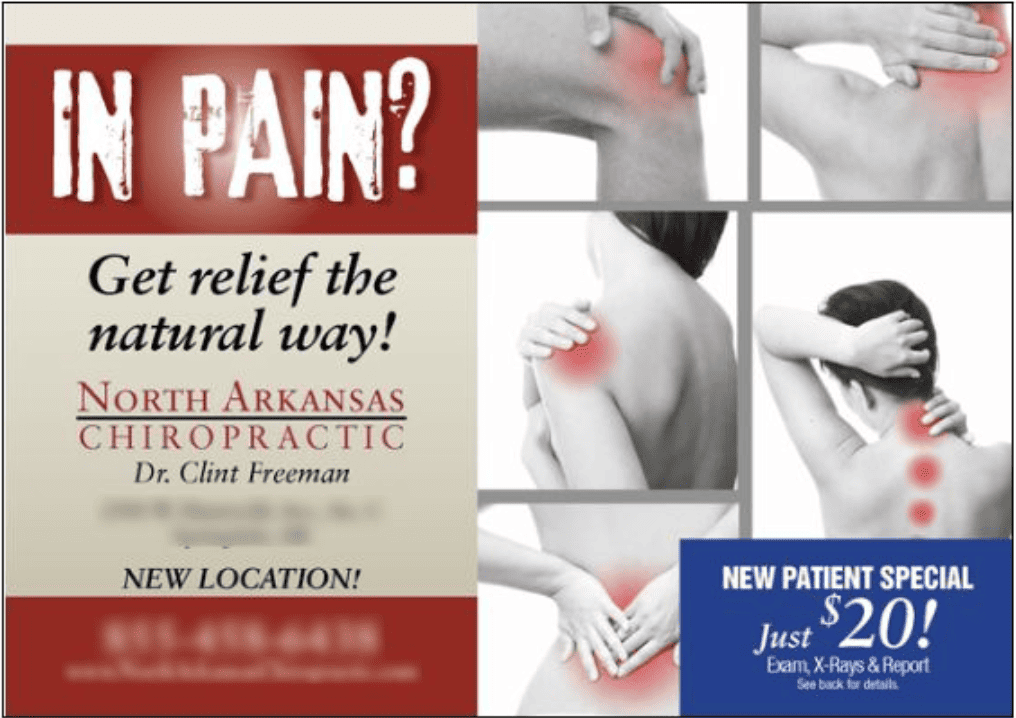 Chiropractor marketing is specifically designed to help chiropractors reach out to more patients and grow their businesses.
In fact, the chiropractors' market size is estimated to reach 17.93 billion by 2025.
Let's look at some great marketing strategies that you can start deploying right away.
#1. Target your customers using demographic data
The first step to building a targeted chiropractic marketing campaign is collecting data on your customer profile – location, age, gender, education level, fitness and wellness, and buying preferences.
This data will help you segment your audience and send personalized offers and updates about your business.
For instance, you would want to display a wellness workshop for kids to the parents and not to single men or women.
This is why data collection and segmentation are crucial to running effective marketing campaigns.
You can easily extract this data from your social media account or website visitors.
Read also: What Is Audience Segmentation & What Is Its Impact on Marketing
#2. Create an impressive website
Do you want your future patients to trust you? Create a website.
64.6% of US consumers said they would strongly prefer a company with a well-functioning website.
A website is a great place to showcase all your skills, expertise, and past work to gain your prospects' trust.
When an old patient leaves a review on your website, it helps establish credibility and gain confidence in your service.
In fact, you can also display the success rate of your services offered so far.
Apart from building a rich interface, the main challenge is to smartly display all relevant information, such as services offered, prices, location, and contact details, without making it look cluttered.
Read also: 9 Awesome, Proven CRM Techniques to Improve Your Marketing ROI
#3. Use Google Ads
When done correctly, Google Ads can go a long way in fetching more traffic to your website.
This, in turn, has a high probability of conversions and attracts more patients.
With Google Ads, you can get your website to rank at the top of the search results, helping people find you easily.
In addition, Google Ads help you optimize your ads and choose the keywords and phrases that will land you maximum searches.
And the best part is that you only have to pay if someone clicks on your ad.
#4. Leverage content marketing
Content is king, and for the right reasons.
If you leverage content in the right manner, you can help your prospects find your services easily.
Your content marketing begins with having a website and social media presence.
Once your website is ready, you can start posting articles to educate your audience about your services and their benefits.
You can even create more informative articles on precautions, food diet, exercise charts, and more.
These articles will keep your visitors engaged, and may end up registering for your services if needed.
The same blog posts can be used to promote it on social media. Take small snippets of text and create social media posts around it.
Besides, you can create impactful videos that will leave a positive impression in your audiences' minds. And ultimately, it will result in word-of-mouth advertising.
Read also: 14 Small Business Marketing Truths No One Bluntly Tells You
#5. Go live on social media platforms
Another important chiropractic marketing tactic that you must add to your list is social media marketing.
Today young and old generations alike use social media to stay connected to their friends and families.
In fact, the number of people signing up on social media platforms like Facebook, LinkedIn, Instagram, and others is increasing.
Find out where your ideal customers are and run paid ads on that particular platform.
You can even go live on these platforms to engage with your audiences directly and answer all their queries about your services.
Furthermore, you can invite another expert to your live sessions where you discuss a topic in detail and answer your audiences' concerns at the end of the session.
Read also: How to Become a Top Contractor in 2022: 10 Proven Strategies
#6. Organize free educational events
Besides expanding your digital reach, a successful chiropractic marketing strategy involves getting in touch with prospective clients in person.
Inviting people to your free educational workshops is a great way to know your prospects and interact with them directly.
When you organize and host such events, it helps establish you as an expert in chiropractic and the health and wellness community in your area.
These events can either be organized at your clinic or at a larger venue.
Here, you can introduce people to your company, the chiropractic services offered, and why they should avail of them.
Moreover, you can use the platform to answer any questions and concerns that people might have regarding chiropractor services.
Once your workshops start gaining popularity, you will have more people coming in.
You can then choose to conduct sessions on specific topics in chiropractic and provide attendees with printed materials that include information about your practice.
Read also: Marketing Automation Best Practices for the Non-Technical Marketer
#7. Build a mobile app
A study has shown that over 92.1% of internet users access the web using a mobile phone.
The use of smartphones is increasing day by day. That's why you need to be where your audiences are.
Start with building a mobile-responsive website so that they can easily access and navigate your website on a smartphone.
Besides, you should create a mobile app for your services. It should allow your clients or patients to easily access all the services you are offering, make payments, and more.
Having a mobile application will help clients get in touch with you faster and schedule appointments more quickly.
#8. Build your online reputation
While including client testimonials on your website is great, you should also look for reviews on other websites.
Find out what your patients are saying about you and your services. Keep an eye on other review sites and social media platforms.
Encourage your patients to leave positive feedback on your website and other platforms.
Furthermore, show that you care about your clients by addressing any negative comments and assuring them that the issue will not happen again in the future.
Read also: Five-Star Reviews: What Does It Take to Get High Marks from Your Audience?
#9. Attract new leads using email marketing
Another chiropractic marketing tactic to add to your list is email marketing.
Despite the emergence of social media marketing, email continues to be the preferred medium for people to engage with businesses.
Use email marketing to nurture your leads – send out informative newsletters discussing concerns with the diagnosis, treatment, and prevention of musculoskeletal system disorder.
Use this opportunity to establish yourself as an expert in your field.
Besides, you can even send out promotional offers for a limited period for availing your services.
Read also: 5 Reasons Content Marketing Is The Future Of Your Business
#10. Show your unique proposition
One way to stay ahead of the competition is by finding out your company's unique proposition.
This could be anything, ranging from spa to specific chiropractic services not offered by other local clinics, discounts offered on subsequent appointments, and so on.
Whatever makes you different, make sure you promote it extensively so that your clients and prospective clients are aware of it.
#11. Get involved with the local community
Last but not least, make sure that you are actively involved with your local community. Not only does it act as free promotion for your company, but it also shows that you care about the community.
Besides hosting in-person events, you can regularly donate to good causes, sponsor local events, conduct a free chiropractic session, or create a scholarship for local students.
You can promote these events by adding an 'Events' page on your company's website and updating it as and when a new event occurs.
You should also inform customers through email and social media handles to ensure participation in large numbers.
Read also: New Email Marketing Trends — Automation and More
Wrap Up
Having a successful marketing strategy is key to a chiropractor's success.
With technology, you can easily streamline and automate your workflows, which increases your operational efficiencies.
For instance, using a free CRM like EngageBay, you can easily use pre-defined templates, customize as per your needs, and set up email sequences for your contact list.
With the right use of technology and a solid marketing strategy in place, get ready to take your chiropractor business to new heights.
EngageBay boasts of a free plan for up to 15 users. Get a demo.