As a contractor, one of your biggest concerns is getting a steady inflow of clients.
No matter how good you are at your job, how do you convey that to your potential clients?
Contractor marketing is specifically designed to help contractors generate leads and increase revenue.
This particular marketing style focuses on strategies that help you project yourself as an expert in your market, create an omnichannel presence, and gain trust.
Some ways to do that are gathering customer testimonials, building a portfolio, and more.
In this article, we'll discuss the nuances of contractor marketing in detail:
The importance of contractor marketing

Tips on how to become a successful contractor
Why Is Contractor Marketing Important?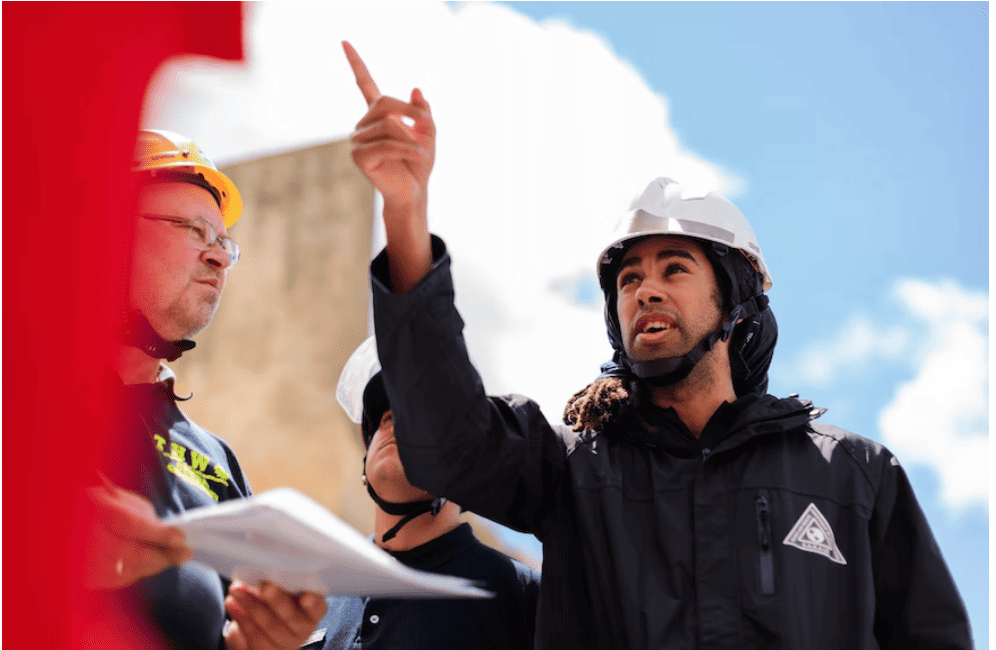 As a contractor, you must create your online presence across various channels, from Google to Facebook and Instagram.
That's why you need a well-defined contractor marketing strategy so that you can put yourself out to your audience and drive them to improve conversion.
There are various other reasons why you need to focus on contractor marketing while defining your business goals. Let's look at some of them.
#1. Helps streamline your marketing efforts
First, contractors today need to use multiple marketing channels to get in touch with clients. Thus, none of them can operate in isolation.
Now that can be challenging.
Contractor marketing helps you to streamline your sales and marketing strategies.
Using a single contractor marketing platform like CRM, contractors can seamlessly integrate their marketing campaigns across various channels together.
From social media to content marketing and paid advertising, you can manage all your marketing efforts from a single dashboard.
It increases efficiency and improves the productivity of contractors.
Read also: Behavioral Targeting: The Future of Digital Marketing
#2. Saves time and money
Contractor marketing helps seamlessly integrate multiple marketing channels on a single platform – thus, all the efforts are combined.
Each internal marketing activity is directed towards a common objective, i.e., generating revenue.
Besides, using powerful marketing tools helps properly allocate resources, resulting in the optimization of cost and effort.
#3. Improves brand awareness
Contractor marketing focuses on putting out your expertise online.
One best way to do that is by creating a website or sharing an online portfolio that showcases all your projects and their results.
Your portfolio is personalized based on your target audience. Using tools, you can even run paid advertising to promote your brand and track its performance.
It helps you identify areas of improvement and create more effective strategies to generate more leads.
Once your audience becomes aware of your brand, it helps you get more clients faster.
Read also: 9 Brand Awareness Strategy Ideas
#4. Get more qualified leads
Contractor marketing not only helps you reach more people faster but also helps get the right leads.
It helps build a roadmap where you define your target audience, and based on their interests, behavior, and other factors, you run a well-designed campaign to attract more deals and customers.
With tools like EngageBay, you can prioritize your leads based on the score derived after tracking your leads' behavior.
This increases your chance of closing more deals in less amount of time.
#5. Builds strong client relationships
People interact with your content daily; it helps builds stronger client relationships.
This step is useful in building a loyal customer base, as you can get feedback from customers on the content they want to see and the products and services they want.
By responding to the audience's feedback, it shows that you care, helping you build brand loyalty and generate valuable leads for your company.
#6. Improves SEO rankings
If you want to build a strong online presence, it is crucial to boost your search rankings. Contractor marketing focuses on the right keyword to help generate the right kind of leads. Plus, it ensures that all your content is optimized for search engine rankings.
Read also: Waterfall Marketing: The Definitive Guide For 2022 (8 Phases Explained)
10 Best Tips To Become A Successful Contractor
We will now look at some of the best ways to market successfully like a pro.
#1. Get client testimonials
Putting out customer reviews is one of the easiest ways to position yourself as a successful contractor.
Positive testimonials from former clients assure prospects of the quality of your services and build trust.
Start by contacting previous clients through email or phone call, and ask them to leave a review of your company on your website or other review aggregator websites such as Google Reviews.
Getting a video testimonial describing their experiences working with you will add more to your credibility.
#2. Build a fast, effective, and mobile-friendly website
If you want to build a strong online presence, it is important to have a user-friendly and effective website.
Research has shown that 56% of people don't trust a business that doesn't have a website.
Considering that potential customers would want to look at a company's landing page before choosing to avail of their services, you can't afford not to have a website or have an outdated one.
Besides, people spend around five hours daily on their smartphones, and 70% of web traffic comes from mobile phones.
If you want to improve your site traffic and visibility, make sure your website is mobile-friendly and has a rich user interface.
Read also: How To Build a Killer Marketing Automation Strategy
#3. Create an effective digital marketing strategy
Even after putting all their efforts into creating a website and gathering customer testimonials, contractors often complain of having no leads.
This is because they forget to put an effective digital marketing strategy in place that can yield them some results.
For instance, if you are running paid ads, you need to have a well-designed website where you can direct your leads and have them sign up for a form.
Or, if you are regularly posting on social media, you need to include a CTA that drives your audience to take some action.
If you perform your different marketing efforts in siloes, get ready to be disappointed.
That's why it's important to define your goals clearly and plan your campaigns accordingly.
#4. Use pay-per-click advertising
A study has shown that for all product-related website searches, paid ads receive 65% of all clicks.
Pay-per-click advertising, known as PPC, helps contractor marketers rank their web pages on the first page of search engines.

Here's an example of how Zepmeta ads appear when you search for contractors who can help with repair services.
If you want to increase your online presence in a short span of time, PPC can help.
Whenever a user searches for a keyword or phrase you want to show your ads for, the search engine results display your ads at the top of the page.
This will drive traffic to your website and help you attract clients faster.
#5. Increase traffic through Search Engine Optimization
Search engine optimization, or SEO, is essential if you want your website to appear higher in search results.
While hundreds of factors contribute to SEO, it begins with choosing the right keywords and optimizing your content for the same.
Target long-tail keywords such as 'commercial flooring contractors in Newark, NJ,' 'contractors in Newark,' or 'commercial flooring contractors.'
This will increase your chance of ranking and assist your prospects in discovering you easily.
Undoubtedly, SEO is one of the most valuable digital marketing tools and can help fetch huge traffic to your website.
#6. Contact leads through Social Media Marketing
Another effective contractor marketing strategy is social media marketing, enabling you to get in touch with your audience directly.
By creating an effective social media marketing strategy, you can deliver content that is tailored to your audience's needs and keep them engaged.
You can ask them questions, address their queries, and keep them updated about any offers or newly-launched services.
While there are several social media platforms to choose from, use the one that will help you get in touch with the maximum number of people.
Find out where your target audience is hanging out the most.
Let's say you are looking for commercial office space to renovate, you can run ads on Twitter, LinkedIn, and Google.
It's always best to run a combination of both organic and paid marketing to yield effects for a longer period and not just the short term.
Read also: B2B Email Marketing Examples From Billion Dollar Companies
#7. Leverage email marketing
Despite the emergence of social media marketing, many clients still prefer to interact with businesses through email.
A study revealed that 44% of email recipients placed an order after receiving a promotional email.
If you are looking to generate leads with minimal investment, leveraging email marketing is a good idea.
Moreover, if your business depends on repeat sales, email marketing campaigns are a great way to get the attention of potential as well as existing clients.
With email marketing, you can onboard customers, keep them updated with the latest offers, and increase brand awareness.
#8. Use video marketing
To build website authority, incorporate video marketing as one of your digital marketing strategies.
Websites with relevant video content get higher conversions.
First of all, it helps establish brand authority. When a prospect sees a real human face behind a testimonial, it adds up to your credibility.
Second, people have claimed that videos help them better understand the product or service.
You can create videos on your product or service tutorials or an overview of your brand.
All in all, it gives you an edge over your competitors.
Read also: Grow Your Business Revenue 100X Using Chiropractor Marketing
#9. Start local
Before you decide to scale up, start small.
What does that even mean?
Well, what I'm trying to say is an effective contractor marketing strategy is to create content that is geo-targeted.
In my previous point, I mentioned targeting long-tail keywords. And if you had noticed, one of them was 'commercial flooring contractors in Newark, NJ, specifically for people living in the Newark area.
This helps filter your leads and help generate qualified ones.
Once you have established your authority in a certain region, it becomes easier to target another location and build your presence there faster.
#10. Know your customers
What is the one factor that separates you from your competitors?
What unique value proposition do you offer clients?
If you want to stand out, you need to clearly define your company's vision and understand what you can do differently than others that no one else is doing in the market.
It starts with choosing a niche and establishing yourself as an expert in that field.
You don't want to come out as a business of all trades but excel in nothing.
Once you establish your authoritativeness over one field, clients will eventually trust you in different arenas of your service too.
Look at how Honeywell, a top contractor in the US, is doing it.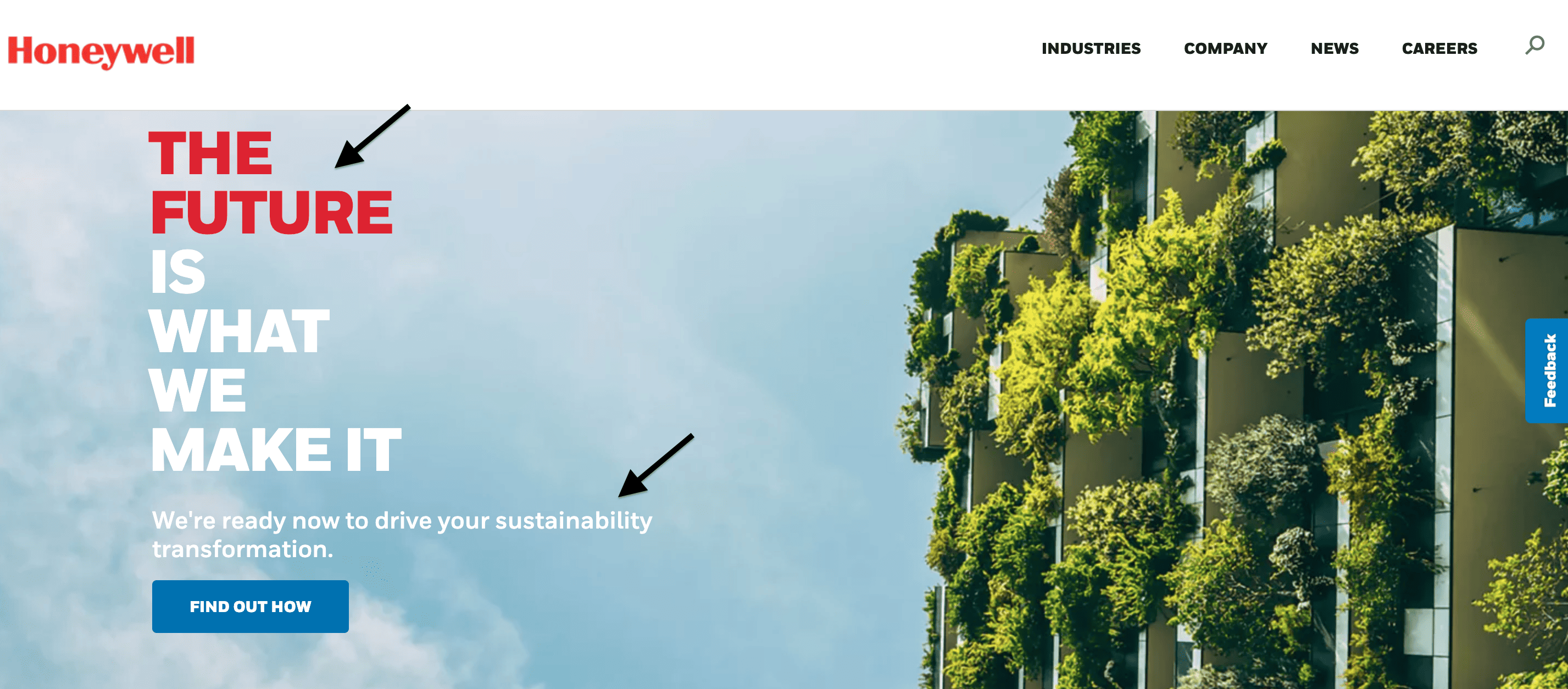 They have carved a niche for themselves by undertaking 'sustainability transformation' – saving the earth for the future generation.
So talk to your customer, do market research, and find a gap that you can turn into your marketing opportunity and generate more contractor leads.
Read also: Mid-Funnel Marketing: A Succinct Guide [Definition, Strategies]
Wrap Up
Contractor marketing is designed to help contractors like you excel in what you do and worry less about generating leads.
Using a sales CRM like EngageBay, you can automate and streamline various marketing activities that allows you to save time and focus more on other essential tasks.
Besides, you can even leverage omnichannel marketing and predictive lead scoring that helps you generate leads faster and close more deals.
In fact, there are built-in email templates for contractors that will help you set up and run email campaigns in no time.
If you need any help setting up your contractor marketing platform, you can sign up for a free demo.