If you're a non-technical marketer, you may think marketing automation is just for tech geeks.
That couldn't be further from the truth.
Marketing automation can help anybody set up and manage their campaigns, pipelines, and workflows.
It helps automate many of the tasks you do every day as a marketer.
In this blog post, we're going to share marketing automation best practices that the most non-technical marketer can implement to drive great results.
What is Marketing Automation?
Marketing automation is the process of automating entire marketing campaigns with automation tools – from the beginning phase where the prospect is a cold lead to the point where they make a purchase, and even beyond that.
In other words, marketing automation can help define the journey your users go on based on the actions they take.
Before we dive into the rest of the article, watch the video below for a simple overview of what marketing automation is and how it can help streamline your sales process.
10 Marketing Automation Best Practices for Everybody
Marketing automation helps with lead generation, lead scoring, and nurturing leads over weeks, months, or even years. It also helps your business keep track of and measure the overall effectiveness of all your marketing campaigns.
To start implementing marketing automation for your business, you need to monitor and collect your customer data through various interactions: emails, SMS, website visits, social media, etc. This helps you create a 360-degree overview of each customer.
Cool thing is, you don't have to do any of this yourself. Set up the workflow in a good marketing automation tool and it'll do it all for you.
Marketing automation helps you send personalized marketing messages to every existing and potential customer even when you're not around to check your inbox or click 'send'.
But that's not all. Marketing is a tremendously fast-growing field of work, and marketing automation is accelerating that growth.
So, let's look at 10 marketing automation best practices that can make it easy for you to reach and engage your potential and current customers, and hence grow your business.
#1. Start with the end in mind
Let's get highly technical software and tactics out of the way. First of all, it's important for you to decide on your end goal with marketing automation. As a non-tech marketer, you need a roadmap to get started.
Are you looking to convert existing leads by nurturing them with emails? Attract the right leads to your pipeline? Or it could be as simple as improving your brand awareness.
Whenever you're planning to launch a new marketing campaign, keep that ultimate goal in mind.
Amit Raj, the founder and CEO of The Links Guy, agrees that tracking goals consistently is key to setting up successful marketing automation campaigns.
Amit says,
It's important to have a way to quantify success against targets on the fly as marketing works to generate the leads required to achieve sales goals, and the right marketing automation systems will help.
Amit thinks dashboards are an excellent way to track progress over time.
Marketers may use predictive analytics to spot trends in data that suggest ways to enhance results.
An ideal marketing automation tool should include analytics and reporting to the level that you can get a comprehensive presentation of what's going on, what's working and what's not.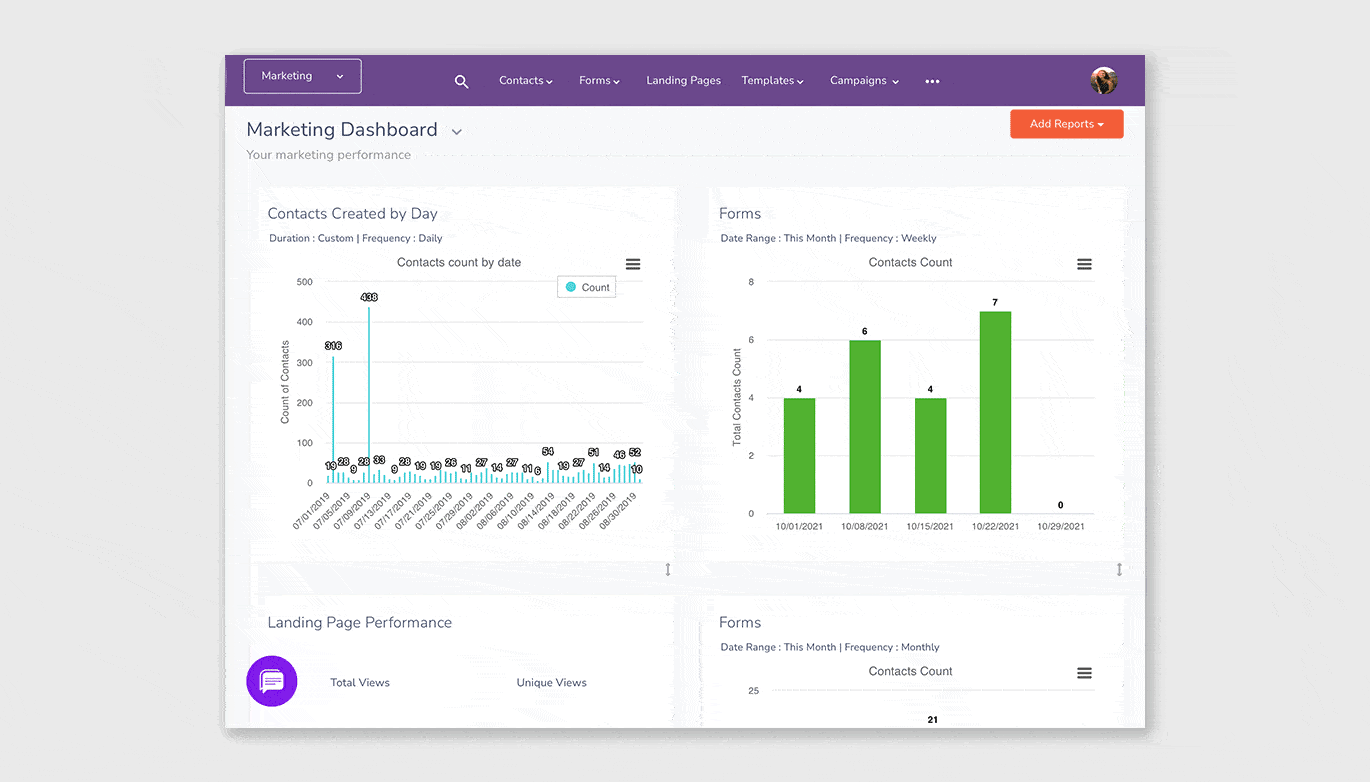 #2. Create Buyer Personas for targeted marketing messages
Once you've determined your goal, it's time to identify who your potential customers are and get a good understanding of your leads.
There are many ways to acquire traffic and various marketing channels to look into: social media, paid ads, organic traffic, etc.
But don't make the mistake of attracting leads without a target audience in mind – if you do that, your contacts lists will be filled with leads who won't engage with your marketing messages.
Start outlining your target customer by creating buyer personas. A buyer's persona is a fictional representation of your ideal customer. Create an avatar of your ideal customer, outlining who they are, what they do, how they feel and think, etc.
Here's an example: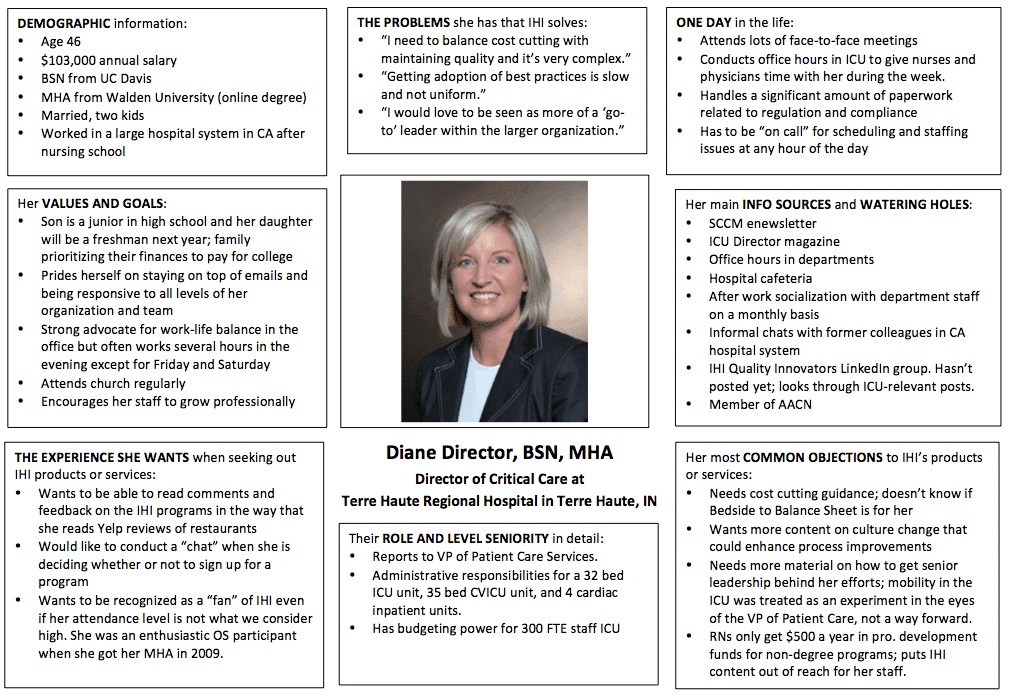 Adam Wood, Co-Founder of RevenueGeeks, says,
The goal is to ensure that you're creating campaigns with your target demographics in mind. This is best accomplished by developing buyer personas for your organization. Once you have a comprehensive understanding of your target audience, you can adjust the content of your automated marketing campaigns to their needs and avoid sending generic messages.
You get this data by conducting market research. This can be through interviews, surveys, website analytics, insights from sales or customer success teams, etc.
It doesn't have to get technical. Firstly:
Analyze the data of existing customers through various market research methods or ask your sales team; they deal with customers' problems on a daily basis. Make a note of what made your customers convert initially.

Then, capture all the data and use it to create a detailed document outlining their characteristics, including details like their goals, motivations, pain points, and demographics.

Give your ideal customer a name and add a face if you can to visualize them better.

Use this buyer persona to create targeted marketing messages that attract your ideal customers into your funnel.
The more detailed you're about it, the easier things get and the more effective your marketing campaigns will be.
👉Set your business apart with a stellar marketing automation strategy. Learn how to build one from our detailed guide.📈
Read also: The Beginner's Marketing Automation Checklist [101]
#3. Use automation workflows to score your leads
All leads are not created equal and a lot of them won't convert. In fact, according to statistics, 79% of marketing leads never convert into sales. Lack of lead qualification and nurturing is the common cause of this poor performance.
It's important for businesses to eliminate low-quality leads and keep track of the ones that are ready to move on to the next phase. That's called lead scoring.
Lead scoring allows you to measure the qualification and maturity level of each lead you generate for your business. Using this system, you can find qualified leads that are ready to convert. It ensures that you're focusing on high-quality prospects at all times.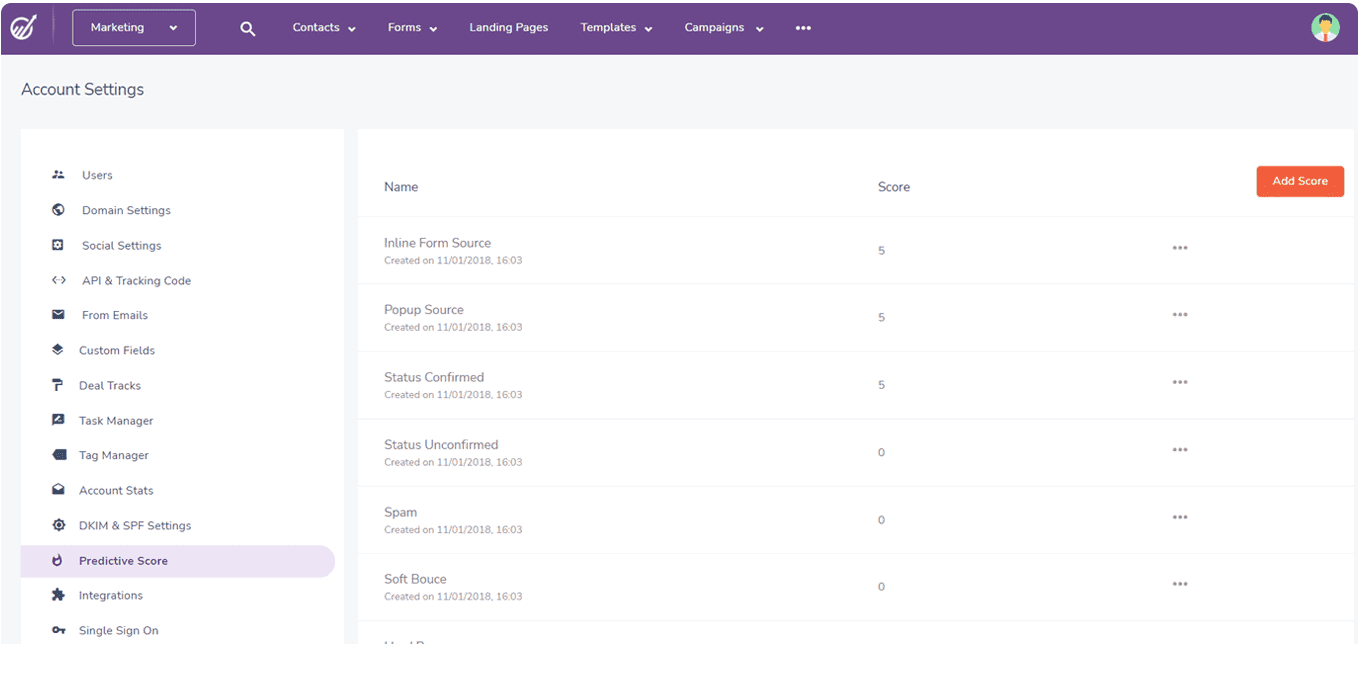 Examining and updating lead scoring criteria is one of the best practices for any non-tech marketer looking to improve their marketing.
Marketing automation tools help you easily qualify potential customers by analyzing your customer data. To start qualifying leads, start by gathering various information about your prospect. Look at factors like demographics, behavioral data, email, and social engagement information.
After you've gathered all this information, it is time to move forward with the lead scoring process. Next, identify the qualities of your ideal customer and assign points to their actions.
For instance, if a lead has visited your website numerous times and is engaging with your content, they might be considered 'hot leads'. You could score the prospect 50-100 points.
On the other hand, a lead who signs up but has not continued to make a purchase or engage with your website or blog content may be regarded as 'warm', and scored 10-20 points. This is just an example scenario.
You can see a lot many more 'conditions' like that in the EngageBay dashboard screengrab below: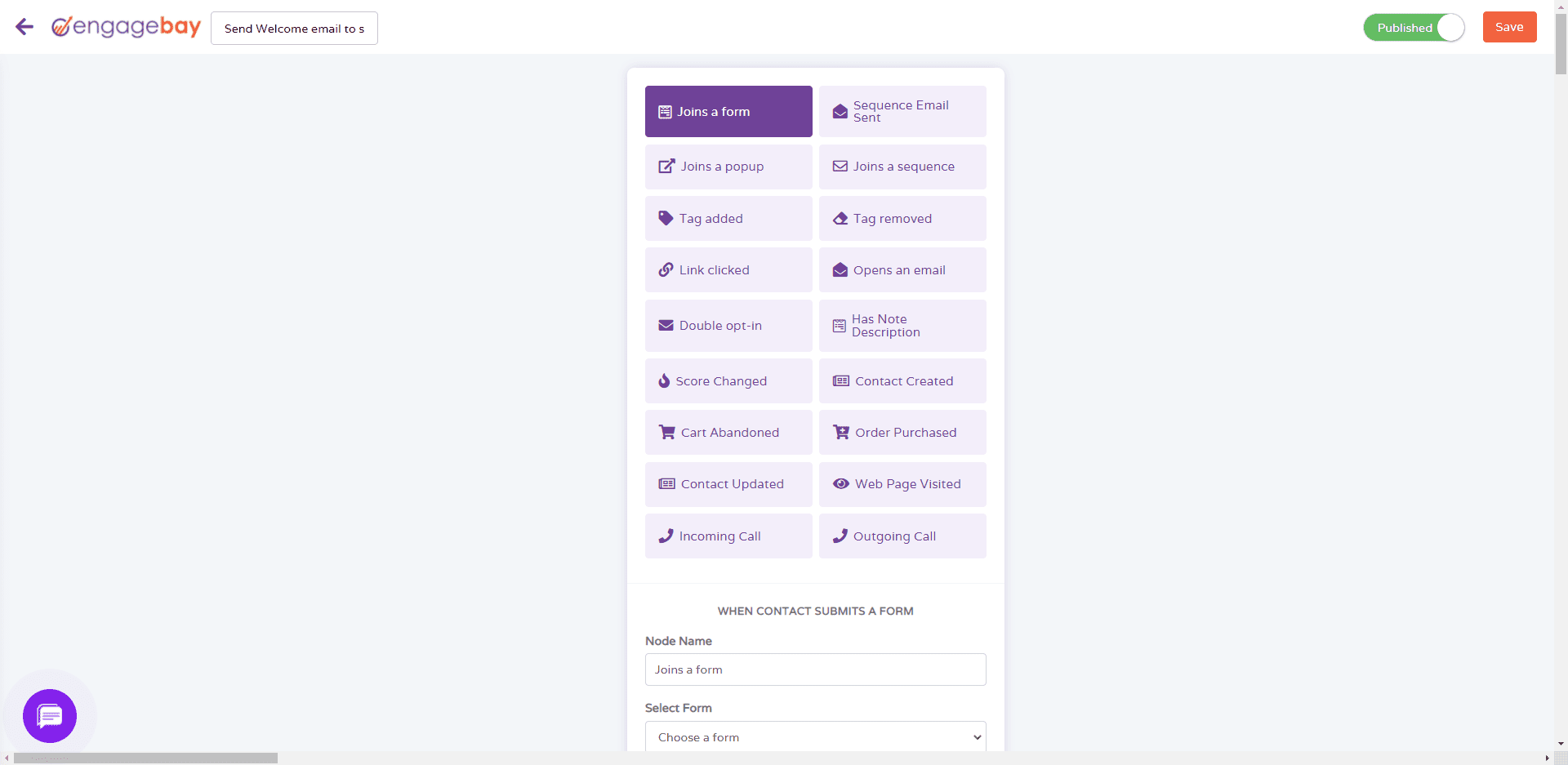 Your marketing automation system might not be 100% accurate and may require a few adjustments from your side.
Also, it's crucial to keep in touch with warm leads as they have a chance of turning hot when engaged well.
In fact, a study from Gartner found that 70% of leads are lost due to poor follow-ups from brands. It takes multiple touch points, especially in B2B marketing automation, to convert a prospect into a customer.
Instead of keeping track of your leads through traditional spreadsheets, use a CRM tool like EngageBay to store all contacts for easy access and a 360-degree view. It eliminates the hassle of manual upkeep of customer data.
Read also: A Short and Sweet Guide to Content Marketing Automation
#4. Automate more than just email marketing
While there are a few similarities, marketing automation is a little different from email marketing.
Email marketing is pretty much limited to email, i.e., email automation and segmentation, and doesn't offer a deeper insight into customer analytics.
Marketing automation, on the other hand, captures and tracks your customer's interactions from every stage of the journey they go through with your business. It includes insights such as their behavior, preferences, and actions across channels.
However, when email marketing is combined with a marketing automation platform, it can help deliver targeted messages at all stages of the customer journey.
As part of your digital marketing strategy, it's essential to figure out what is the highest priority for your business.
If you're looking to nurture and engage your leads with newsletters, then email marketing automation is the right fit for you.
But if you're looking to analyze your customer behavior and preferences, it might be time to prioritize multichannel marketing, and automate more than just sending emails.
Unlock the full potential of your marketing efforts with our guide on the most effective strategies!
#5. Map out the customer journey for targeted marketing
In addition to scoring your leads, you'll also need to map out the customer journey.
Analyze what information your prospects are searching for in each stage of their buying journey and what their typical buying cycle looks like. It may be something like this:
Awareness: The prospect is just being aware of their problems and is seeking a solution.
Consideration: The prospect is comparing existing solutions and considering if you're the right fit.
Decision: The prospect has converted into a customer (or not).
Sounds too simple? That's right. Buying journeys have evolved over the years and aren't as simple as signing up for a free demo and then converting into paid customers.
These days, people spend time researching all the options available, and make detailed comparisons before they make a decision. They also rely quite a bit on reviews from other customers.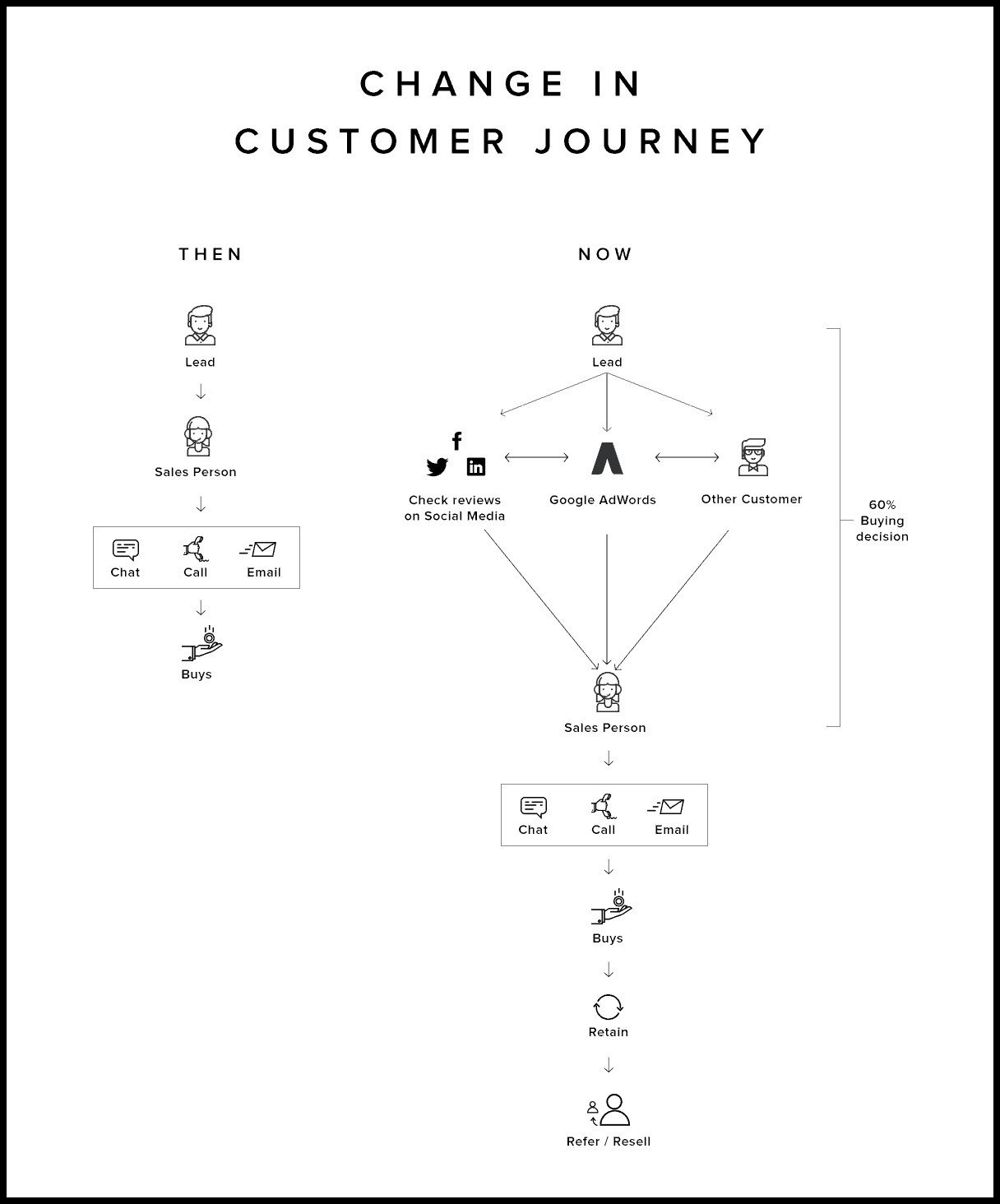 Travis Lindemoen, Managing Director of Nexus IT Group, believes that creating a customer journey map should be one of the first and essential stages of creating an automated marketing campaign.
He says,
Your target audience's expectations will never remain steady. Customers' expectations change as they progress from discovering your business to becoming committed customers. Every automated campaign you run should simply reflect this by providing your target audience with the appropriate content and contact information for each stage of the process to aid in their progression.
For instance, you may set up a series of informative and automated welcome emails to be sent to new subscribers. These emails shouldn't be trying to upsell. This type of content can help you gain the trust of prospective customers.
However, the buyer's journey does not end when a lead becomes a paying customer. Good customer experience after the deal is made is key to ensuring continued loyalty and positive word-of-mouth.
If you have not created marketing content to engage customers after they've made the purchase, you should start right now.
5 Reasons Content Marketing is the Future of Your Business
#6. Automate Collecting Client Feedback
Customer feedback is essential in the nurturing stages of the buyer's cycle. According to American Express, customers are likely to spend 17% more on a company that has good customer service.
As your website visitors progress toward becoming buyers, capturing and analyzing their feedback gives them a great user experience, which in turn improves brand loyalty.
But manually gathering your customer feedback is a slow and tedious process. That's where a great marketing automation tool comes in.
You can set up a live chat widget on your website for free with EngageBay to send quick personalized responses to your customers and enable your sales team to build meaningful and lasting relationships with your customers.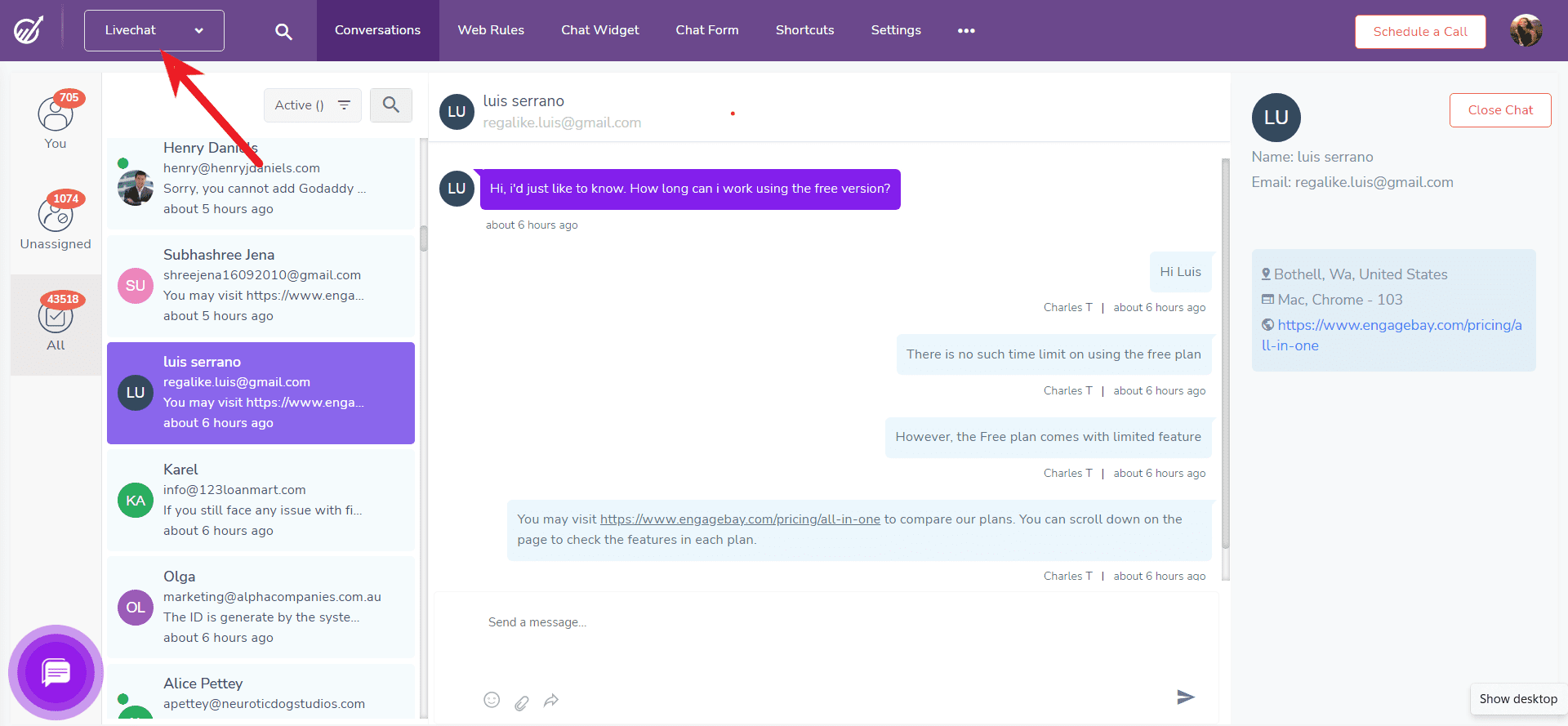 Amy Bos, Co-Founder and Chief Operating Officer of Mediumchat Group, was able to improve her marketing efforts by automating client feedback and survey responses.
She says,
As we are a psychic chat platform, we are incredibly customer-centric. Getting feedback in an easily digestible format to the right members of our team was a cumbersome and slow process. We found integrating Zapier with our feedback surveys enabled us to get information in real time, speed up our process, and adjust our marketing efforts where necessary.
Read also: 7 Powerful eCommerce Marketing Automation Strategies + Tools
#7. Use marketing automation to publish and send out content
Paul Mallory, Co-Founder of Consumer Gravity, thinks content marketing is crucial in lead nurturing, and automating this marketing process can be very beneficial.
Paul says,
Brands need to create engaging content according to the stage of the buyer's journey. By doing this, brands can carefully stimulate leads before sending them off to sales. At this stage, automating marketing content ensures that your leads receive the right content at the right time.
You can also automate your social media posts using tools like Sprout Social or Hootsuite. Spending a few hours to create and schedule good content is one of the marketing automation best practices that need no tech skills.
Using a marketing automation tool to run automated email campaigns saves you so much time. You can use tools like EngageBay to build automated email sequences.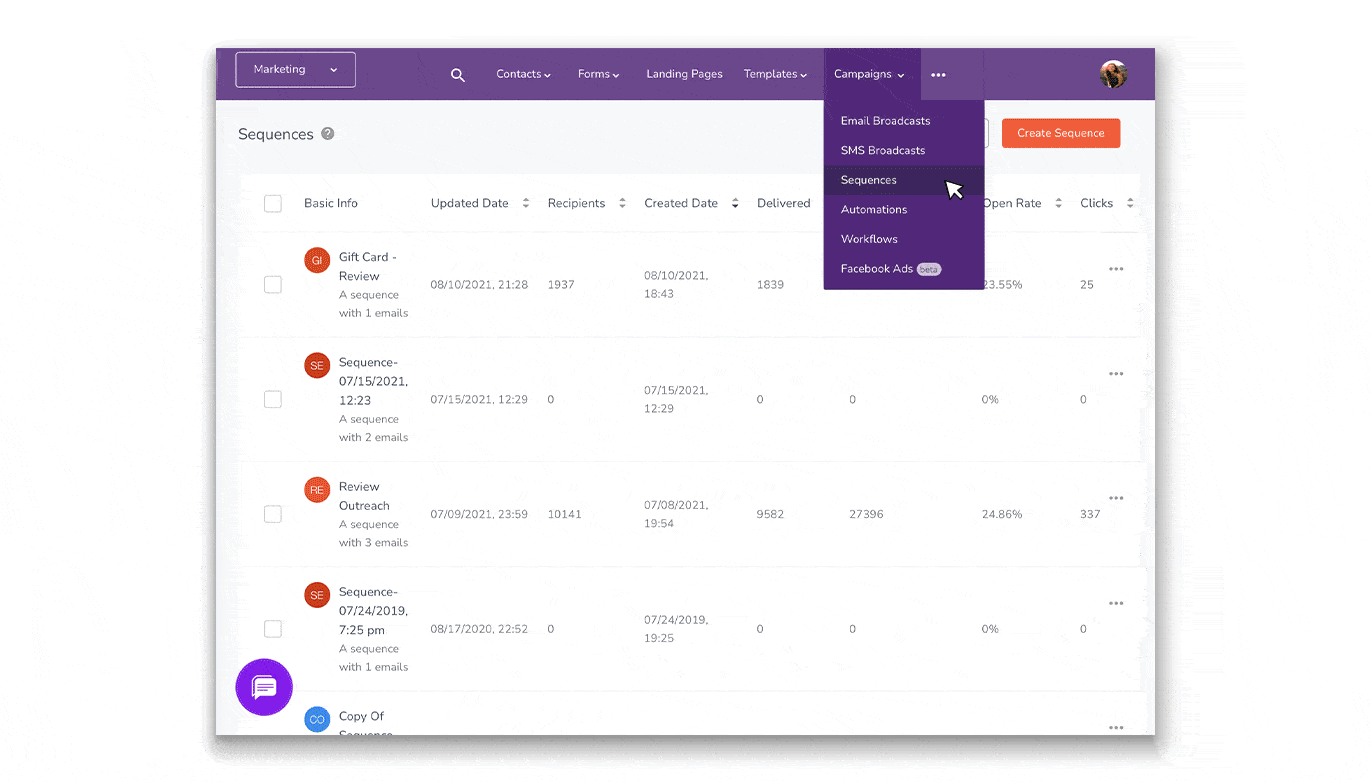 Read also: The Ultimate Guide To B2B Marketing Automation In The Digital Age
#8. Make your marketing campaigns personalized and consistent
According to statistics, more and more customers (69%) want a personalized and consistent customer experience across multiple channels, both physical and digital. However, few organizations are following through on it.
Personalized content and messages help drive conversions.
Here's an example of a personalized email: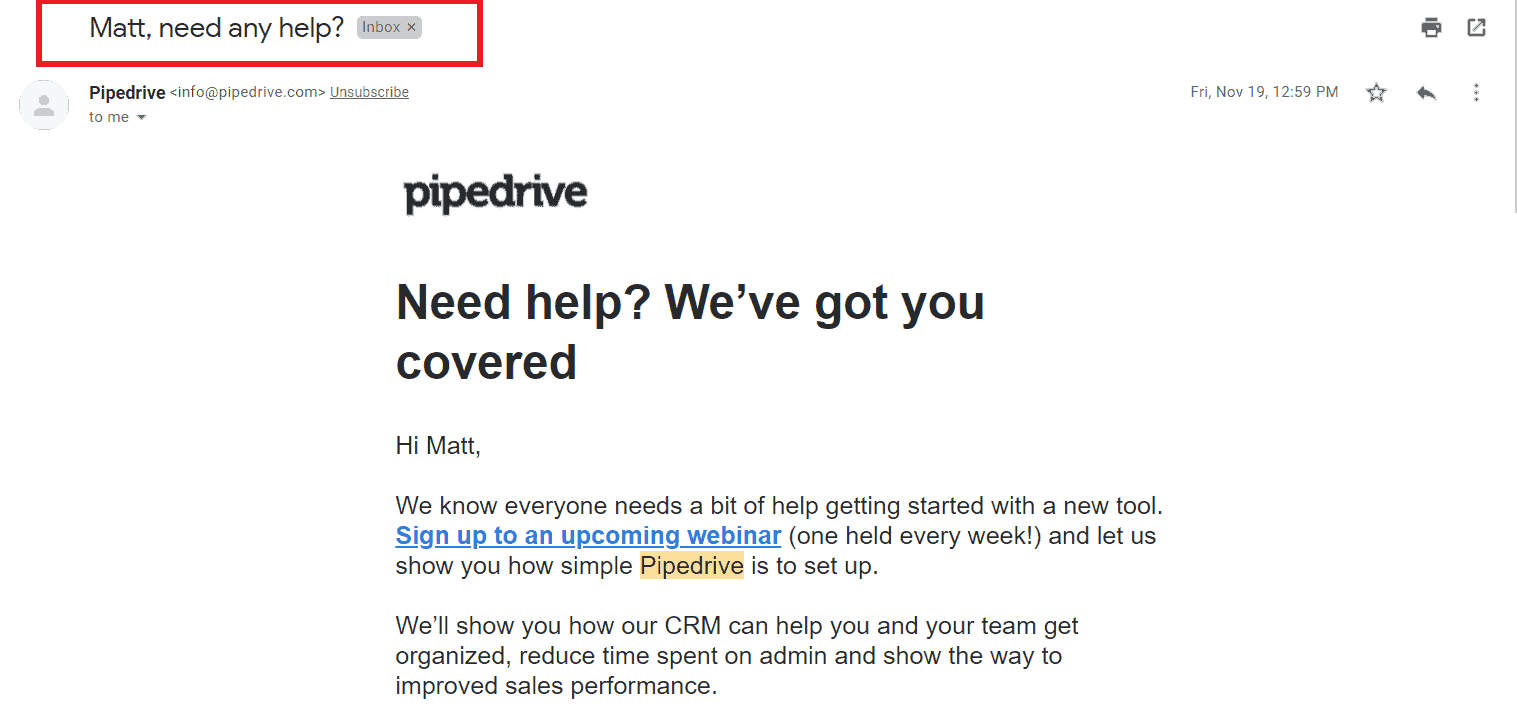 One of the best practices for adding a personal touch to your messages is to gather some data in your opt-in forms and build lists you can segment.
David Bitton, Co-Founder and CMO at DoorLoop, suggests that B2B marketers should make use of marketing automation tools to gather enough insights about their audiences and segment them to deliver highly targeted messages.
David says,
Prior to marketing automation, we would send out generic email campaigns that frequently wound up unopened. Simply said, we didn't have enough data to make email campaigns highly targeted to each prospect. We needed more data to work with to optimize every email campaign and boost open and click-through rates…


… however, manually extracting this data is a complicated and nearly impossible task to complete effectively and efficiently. Automation enabled us to access needed data such as consumer behavior and preferences, which helped us segment our lead list and deliver highly targeted and precise emails with information that will genuinely engage and provide value.
Marketing automation tools like EngageBay help you personalize your marketing messages by offering many options, like the name of the lead, their role at the company, their social media or contact information, the sales deal they're part of, and so on.
You can also create your own custom options to personalize your messages: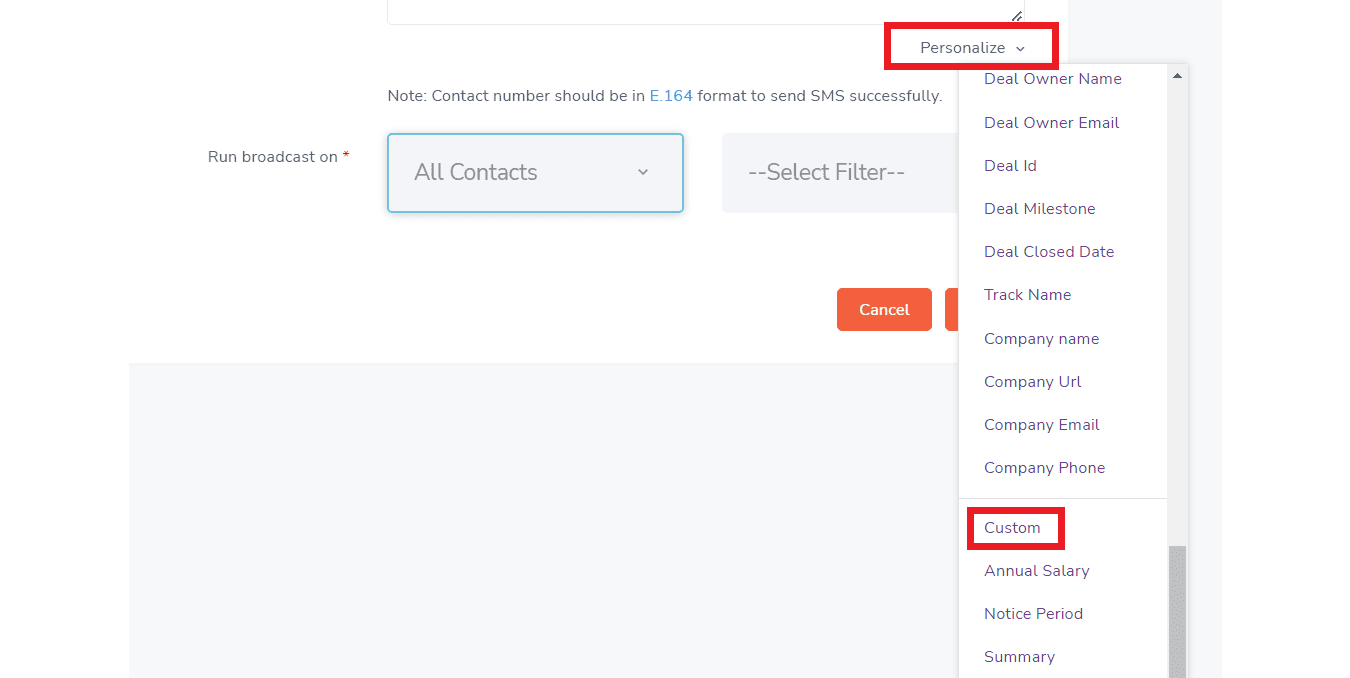 #9. Optimize your marketing content with A/B testing
You've launched your marketing automation campaign. Now what? You have to analyze the performance to see whether it's hitting your marketing goals, and then optimize your marketing content. A/B testing helps with that.
James Angel, Co-Founder of DYL, recommends that non-tech marketers looking to achieve growth with marketing automation should monitor their progress on a regular basis.
He says,
Set and forget is a marketing automation blunder I see all too frequently. Don't be tempted to sit back and let the platform handle everything once you've set up your automation. Continue to track your progress to see what's working and what isn't…

… What was the total number of leads generated by your campaign? How many leads did you pass on to sales? How many conversions resulted as a result of it? These findings will assist you in fine-tuning your strategy and making necessary changes to your workflows.
👉Say goodbye to manual marketing efforts! Implement these 7 top eCommerce marketing automation strategies and tools today!
Read also: Cracking The Marketing Automation Process [A Guide For Beginners]
#10. Start small and work your way up
As a non-tech marketer, switching to a fully automated marketing platform can seem daunting. That's why you should start with what you've got and work your way up to using more technical automation features.
In fact, Jason Resnick, an email marketing automation expert and founder of NurtureKit, recommends that non-tech marketers think through their process step by step, write it out and then perform it manually first before putting together the automation.
James Parkinson, Head of Marketing Content at Personnel Checks, says,
An ideal place to start is to take a look at your existing processes and identify some tasks you're familiar with and repeat regularly. Then recreate them as automated sequences on the platform. This is a great way to learn how everything works as you are working with a process that you already know well. You can then build from there, adding more complex sequences and triggers.
Marketing Automation KPIs You Need Like Coffee (Must-Have)
Conclusion
Marketing automation can help streamline your marketing efforts. When done right, it can increase the conversion rates of your marketing campaigns.
The most important takeaway is to set measurable marketing goals and start small. Non-tech marketers should prioritize their goals first before exploring the vast variety of marketing tools out there.
We also recommend you check out how EngageBay can help automate and improve your inbound conversion process.
Go ahead and sign up for free, or just schedule a free product demo.