Almost any marketer can agree they want more traffic on their website.
After all, with traffic comes more customers, and with customers comes an influx of sales. That's more revenue for you.
To inspire this increase in traffic, you've probably reworked your homepage a thousand times. You have an advertising budget as well for your digital marketing efforts including social media and general Internet ads.
Sure, these methods work to get you more traffic, but there's something else you can do that doesn't cost you a cent, just your time. If executed correctly, you could double, sometimes even triple the traffic to your website.
What is it?
Content marketing
That's right. The same blog posts you write weekly or biweekly can drive up your site traffic in a big way. How? We're glad you asked. In this article, we'll share our best content marketing tips. Each is incredibly actionable so you can employ them right away and start reaping the benefits. Remember, there is no substitute for high-quality content.
So before you set yourself content marketing goals, here are a few tips to get started:
1. Begin with Awesome Keyword Research
As part of your content production strategy, you should have an editorial calendar. There are different tools that allow creating great calendars or, for example, you can use ready-made content marketing templates. Here, you plan out which articles will appear on your blog and when. You should also host semi-often brainstorming meetings with members of your company to come up with fresh ideas.
If you're stumped on what to write next, turn to keyword research. Not only can you find an endless supply of ideas from doing keyword research, but your articles will go further and earn you more traffic.
When you do deep research into the keywords that get the most hits, you can ensure the articles you write on this topic will perform equally well. You'll also feel greater confidence in your audience's interest in the articles you produce. Since the keywords you focus on rank so highly, someone out there is searching for them. That means people want to read about these topics.
When it comes to doing keyword research, lots of marketers use Google Keyword Planner.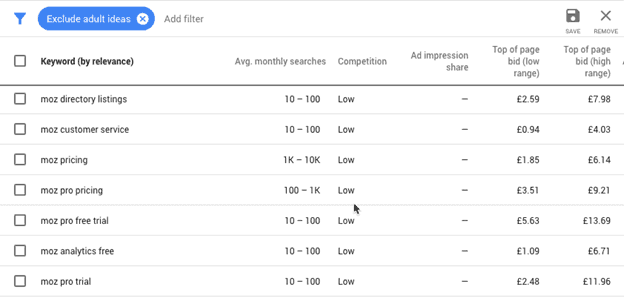 Image courtesy of Ahrefs
This paid service is a standard among marketers, but it's far from your only option. There's plenty of free keyword research tools out there if your company can't find room in the budget for this area of content marketing innovation.
2. Sharpen Your Headline-Writing Skills
What's in a headline? Oh, just everything.
A headline tells someone all they need to know about your article. Look at it from the perspective of your customer. They see two headlines. One is "5 Fast and Insanely Easy Ways to Grow Your Email List" and the other is "Tips on Growing Your Email List." Which would you click?
Using numbers and promising benefits are two ways to write compelling headlines. Here are some other tips you should use if you're not already:
Don't give it all away. If you can tempt people to click by ending a headline with an ellipsis, this creates a sense of mystery. The customer wants to know the rest of what you've insinuated, so they read the blog post.
Ask questions, especially interesting ones. An offbeat question will pique a reader's curiosity and get them in the mood to click.
Use keywords in the headline. That keyword research you did can pay off big time. If your keyword naturally fits in your blog post headline, then include it in there! Watch as more traffic rolls in.
Get a little negative. This may seem counterintuitive, but research proves it works. By using words like "worst" or "never" in your headlines, you can see more engagement with your content. Just don't be too negative, as no one likes reading upsetting, depressing content all the time.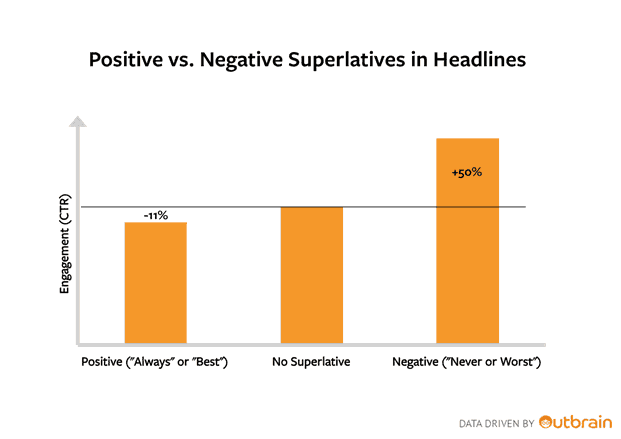 Image courtesy of Outbrain
3. Become a Master Storyteller
While content marketing tips are often catered around promoting your posts, never forget: content is king.
What does that mean? You shouldn't ever let good content fall by the wayside, even in your eager attempts to build traffic.
You might not think of writing your blog posts as crafting a story, but you should. While we're not saying to fictionalize your writing, you can introduce many great storytelling elements in your posts. These are the same writing techniques that keep people staying up all night flipping through a novel. They'll want to read your valuable content as fervently.
How do you write more like a novelist and a little less like a blogger? Here are some great tips:
Write anecdotally. Use a story that seems unrelated to prove a later point.
Weave in the stories and experiences of your audience into your content (with their permission, of course).
Get descriptive, especially when writing about a setting. Make the reader feel like they're in that place or situation with you because you've written about it so vividly.
Share personal stories and tidbits as appropriate.
4. Write Guest Posts or Roundups
Do you ever look at other marketer's websites and wish you could have as much traffic as them? Would having a portion of their traffic make you feel better?
You can go about getting this traffic using two methods. The first is guest posting. While we've explained the concept many times on this blog, let's go over it again now. With guest posting, you find a site you want to write for. Influential marketers are best since they have a big reach. You don't want this marketer to be so big they don't bother responding to you, though.
Make a list of marketers you'd like to work with. Then write them a pitch via email. Propose a working relationship where you produce a single blog post (maybe more, if you're lucky) for their site and they do the same for yours.
Not everyone will respond to your pitch, and that's okay. If can find even a few marketers willing to work with you, that's a great start.
Guest posting gives you more traffic in that your content gets introduced to a whole new audience. In turn, this other marketer gets acquainted with your audience.
Your other option is producing roundup posts. These lists act as awesome resources for your audience. Perhaps you write about the most influential marketers of 2018 (or 2019, even though the year's not over yet). You'd have blurbs about each marketer and include links to their social media.
These posts don't necessarily draw in traffic on their own. To really maximize your traffic potential, you have to do outreach.
5. Don't Do Plain Ol' Outreach…Make Videos
Your content has gone live on your blog. If it's a roundup list like we just described, then you need to let other people know it exists.
Most of the time, when it comes to outreach, marketers use email. They can mass message all the marketers and influencers in their roundup posts one by one. In the email, they ask the influencer to share the content among their audience. This is where the traffic boon comes from.
There's just one problem with emails. Okay, several problems. A busy marketer or influencer gets tons of emails. They might mean to respond to yours but forget because another task distracts them. Sometimes even well-intentioned emails accidentally get torpedoed in the spam filter.
The next time you do a round of outreach, try a different approach. Make outreach videos instead. In the interest of saving time, each video should be 30 seconds to a minute long. That's because, for each influencer on your list, you have to make an individual video for them. You should personalize it and then tailor your message to the influencer/marketer's interests and audience.
This is one of our favorite content marketing tips because it comes out of the left field but can have a major impact on your site traffic if successful.
6. Make Lead Magnets in Conjunction with Your Content
Another of our top content marketing tips should serve you quite well as your work to double your traffic. The tip? Use a lead magnet.
You've just spent all this time writing a phenomenal blog post. Now you're doing outreach, social promotions, and other means of getting it out there. With a lead magnet, you can extend the life of your post, getting more traffic and conversions in the process.
Let's say your post was about WordPress. A lead magnet like this would work perfectly.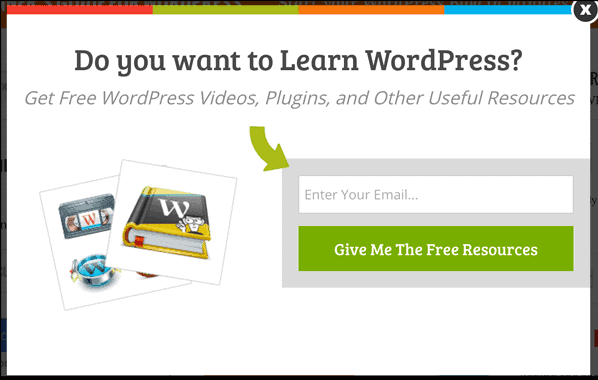 Image courtesy of DigitalMarketer
7. Use Content Remarketing
Another tactic you can try for drawing in more traffic is content remarketing. You may also hear this called behavioral remarketing.
If you've failed to convert customers or increase traffic in the past, content remarking serves as a second chance. You review your would-be customer's online behavior and actions and then create advertising and innovative content specifically targeted to them.
Not every marketer will convert 100 percent of the leads and prospects they come across. It's just not gonna happen. Content remarketing gives you the chance to draw these leads back in with amazing articles, blog posts, resources, lists, and other stuff your leads care about. Once they're back on your site, it's then your job to convert them to customers.
8. Promote Those Share Buttons
Here's a simple thing you can do to double your traffic that almost seems a little too simple. Social sharing is a buzz and very effective. Do you have sharing buttons on your site? Here's what we're talking about.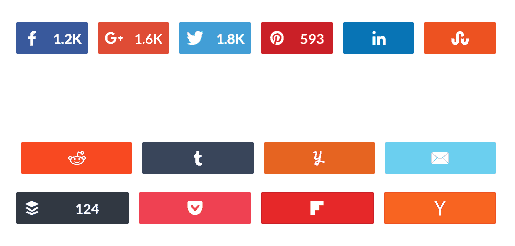 Photo courtesy of AccuWeb Hosting
If not, you need to change that. These sharing buttons should feature especially prominently at the end of your blog posts. This way, if one of your audience members reads something they particularly like, they can share it with their friends, family, colleagues, and anyone else they know.
Another of our simple but effective content marketing tips is to ask for shares. Yes, that's right, just ask! At the end of each blog post, you might write something like this: "Did you enjoy this article? Be sure to share it!"
By accompanying a statement like that with the share buttons, you make it easier for customers to spread your content around. You can also use a branded link shortener to create memorable, short URLs that are easy for your readers to share. Combining this with your own self-promotion and your content can go further than it ever did.
9. Don't Write in Passive Voice
You want to present only the best of the best in terms of the writing on your blog, correct? One way to do that is to avoid passive voice.
Now, unless you majored in English or think of yourself as a grammar snob, passive voice won't really offend your readers. What it will do is make your message fuzzy.
As a writer honing your craft with each post, the Hemingway App will become your best friend. It's a free-to-use service, but you can also pay to download the app and edit faster. The Hemingway App will point out your past-tense sentences so you can make them, well, a thing of the past.
10. Stick to Evergreen Content
The last of our content marketing tips also has to do with writing. We just talked about this in another recent blog post, but you should always strive to write evergreen content. Create content that resonates across the board.
What exactly is evergreen content? Like the evergreen tree that inspired its namesake, evergreen content never goes out of season. It's timeless. Writing a list of the top 10 marketing trends for 2019 may land you lots of clicks at the end of 2019 and the beginning of 2020. However, a post like this has an expiration date, and it's a pretty short one.
Evergreen content doesn't focus on year-based content. There are no trends. You can write this article today, dig it out five years from now, and its content should still apply. If not, then it's not evergreen.
As a marketer, you can't always write evergreen content. That's okay. While your blog doesn't need to contain exclusively evergreen posts, try to pepper them in when you can. You can always pull them out of the archives, dust them off, and promote them all over again to earn more traffic.
Conclusion
Successful content marketing allows you to achieve your goals of doubling your site traffic. If you're not quite sure where to start with your writing, we recommend any of the 10 content marketing tips we shared in this article.
Whether you focus more on your headlines, storytelling, or outreach, you can achieve your content marketing strategy goals as well as your goals for more traffic with well-written content. Good luck!