It's no secret that content is king in the age of the internet. What may come as a surprise, however, is just how important content marketing has become for small businesses and startups.
According to a study by Content Marketing Institute, content marketing now generates three times more leads than outbound marketing efforts such as cold calling, email blasts, or print advertising.
And leads generated from content marketing are also far more likely to result in sales.
In this blog post, we have 10 proven content marketing tips that can help you get awesome results. You'll learn about:
Effective keyword research
Making videos
Using lead magnets
Storytelling …
… and much more!
What is a content marketing strategy?
If traditional marketing (like ads) was about telling your customers you are good at what you do, then content marketing strategy is about showing your customers that you're good at what you do.
Traditional marketing talks at people. Content marketing talks with them. ~ Doug Kessler
A content marketing strategy is a game plan in which businesses use and deploy online content (including written, audio, or video content) to achieve their business goals.
The key focus of all successful content marketing efforts is to attract, retain, and grow a clearly defined target audience at every stage of the process.
When it's done right, it shows off your company's expertise and keeps your target audience engaged and loyal even at every step of the sales funnel.
Why is a content marketing strategy important?
We're glad you asked. Companies promote their products or services all the time, but most of the content they use for these promotions isn't relevant or particularly valuable to the target audience.
This is the gap that can be closed with the right content marketing campaign.
Remember that we now live in a world where your audience will ignore your content if your content ignores them. Content creation has to be based on these realities, no matter the content type.
If that's not clear enough, here are some sound reasons why a successful content marketing strategy is important for your business:
Establish yourself as a thought leader in your field.

Great content will help establish your brand as a trustworthy expert in your industry. You can start by offering a free resource with all the basic information, and then lead to paid content as well.

Increase sales with little spend on marketing. A good content marketer can generate leads without much extra spending. If your budget allows for it, marketing automation will also help you increase sales and make tasks like sending emails, social media posting, and direct messaging a lot faster and easier.
Retain your audience.

According to Salesforce, it's cheaper to retain customers than it is to acquire new ones. By executing the right content strategy and building valuable community engagement, you can leverage content marketing to retain all your important customers, instead of hunting for new ones.

Build brand loyalty.

This is a no-brainer. With a better-equipped content marketing strategy, you can create a consistent message, a uniform brand voice for your customers. This adds up to improved brand awareness and high levels of brand loyalty in the long run.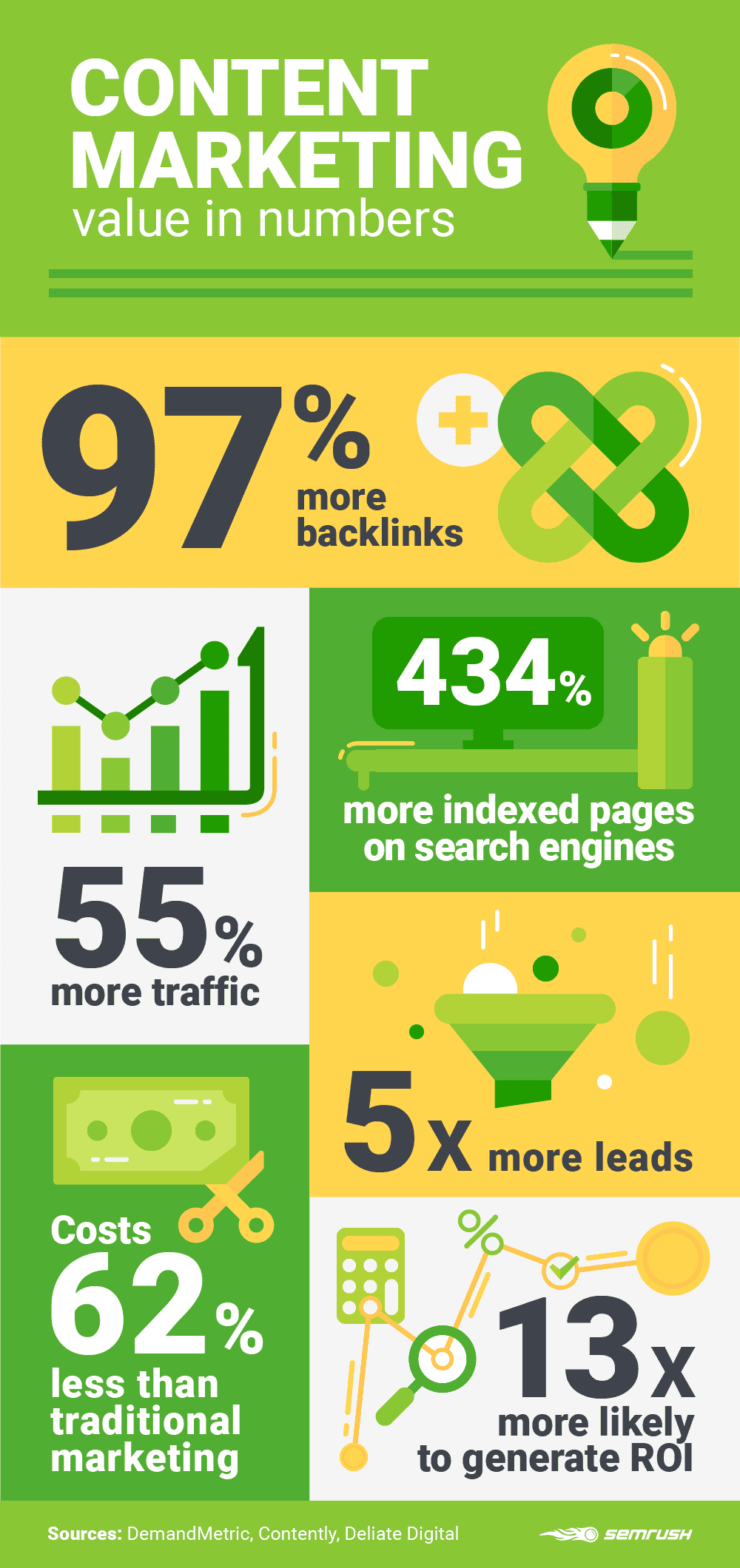 Source: SEMRUSH
How will content marketing change in the future?
Visual content and video marketing are emerging as the most preferred medium for content marketing, and this trend is expected to continue.
Let's talk about what else is important and set to grow in the future of content marketing:
Customer-focused Content: Content marketing is also about offering value to your customers. Great content that can empathize with the audience and put the customer's needs first is likely to gain more traction with customers. Be it email marketing or social media marketing, all relevant content should focus on the customer first.
Mobile Optimization: Mobile usage has grown seven-fold since 2017, and this upward trend is expected to continue. In the future, some of your quality content may not generate leads or views if it remains inaccessible through mobile phones.
Interactive Content: 62% of marketers already use interactive content, and this has proven to increase customer engagement quite well. Interactive digital content is trending now and may just be the type of content your ideal customer is looking for.
10 Essential Content Marketing Tips for the Smart Marketer
Here are some content marketing tips that you can use to add value, find success and become a content marketing pro in your organization.
#1. Begin with Extensive Keyword Research
If you're stumped on what to write and the meme below resonates with you, your best bet is to start looking for the latest keyword research strategies.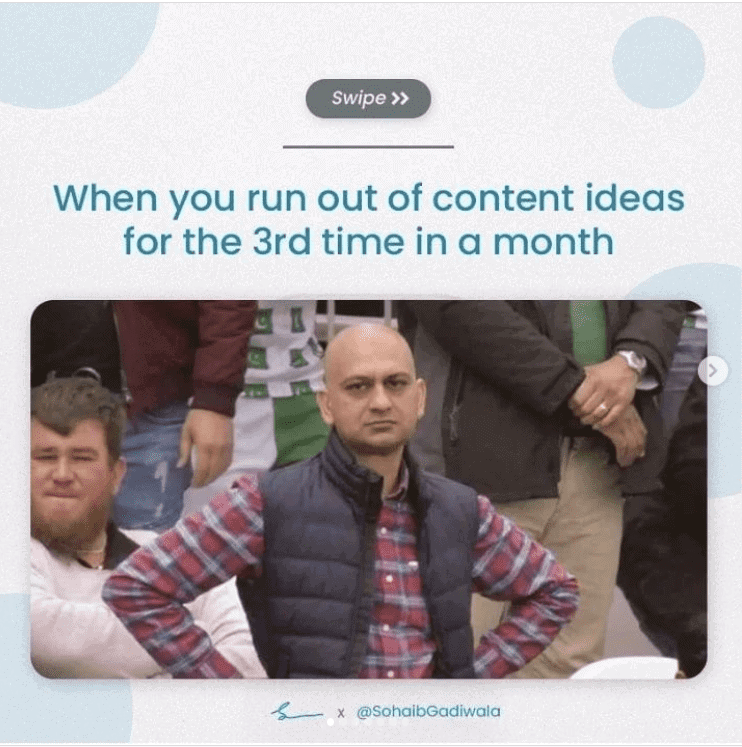 Not only can you find an endless supply of fresh ideas from keyword research, but your articles will go further and earn you more traffic.
Since the keywords rank so highly in the search engine, it means people are searching for them. That means potential customers who want to read about these topics.
And for you, that means retaining audience interest and staying on top of search or Google trends API.
When it comes to keyword research, lots of marketers use the Google Keyword Planner.
This paid service is a standard among marketers, but it's far from your only option. There are plenty of free tools for keyword planning, and some of them are good.
As part of your digital marketing efforts, you should have an editorial calendar.
Some tools allow creating great calendars, or you can just use ready-made content marketing templates.
Unleash the power of top marketing strategies to skyrocket your business growth – explore our comprehensive guide now!
#2. Sharpen Your Headline-Writing Skills
What's in a headline? Oh, just everything.
A headline tells someone all they need to know about your article, social media post, or any other digital content.
Look at it from the perspective of your customer.
Which article would you open and read if you see two headlines like these:
"5 Fast and Effortless Ways to Grow Your Email List"

"Tips on Growing Your Email List"
Note: Using numbers and promising benefits are two ways to write compelling headlines.
Here are some more headline writing tips:
Don't give it all away. Create a sense of mystery. Share some interesting information in the headline but keep a lot more withheld .
Ask questions, especially interesting ones. An offbeat question will pique a reader's curiosity and may get them in the mood to click through your content.
Use keywords in the headline. If your headline omits the keyword, the reader may get the impression that the content isn't what they were looking for. At the same time, see to it that the keyword doesn't make the headline sound awkward. With the use of AI content writing tools, you can find generate alternative heading topics that would help you in testing out different options.
Get a little negative. This may seem counterintuitive, but research proves it works. By using words like "worst" or "never" in your headlines, you can get more engagement with your content. Needless to say, you should do this once in a while and not for every headline you write.
Keep it short. Google search results will ignore long headlines. Even while posting on social media, nobody has the time to read a long headline. While you're at it, pay attention to your title tags.
Tone it up. The tone of the headline matters a lot. Try to create a sense of urgency, a solid reason that would make your target audience click on the link, and now. For instance, look at the headline of this video:
3. Become a Master Storyteller
While content marketing tips are often catered around promoting your posts, never forget: content is king.
What does that mean? You shouldn't let high-quality content fall by the wayside in your eager attempts to build more traffic.
You might not think of writing your blog posts as crafting a story, but you can and should do this. Great storytelling techniques are what will keep your audience glued to your valuable content.
How do you write more like a novelist and a little less like a boring or commercial blogger? Here are some great tips:
Write anecdotally. Use a story that seems unrelated to prove a later point.

Weave in the stories and experiences of your audience (with their permission, of course).

Get descriptive, especially when writing about a setting. Make the reader feel like they're in that place or situation with you.

Share personal stories and tidbits.
#4. Write Guest Posts or Roundups
Guest posting is an incredibly efficient way of boosting your traffic. Guest posting gives you more traffic in that your content gets introduced to a whole new audience.
Also, the marketers writing guest posts for your website can get acquainted with your audience.
Begin by identifying the influential marketers that you could work with, and send them a pitch via email. Try to find marketers who are influential but not so influential that they don't respond to your pitch.
In your pitch, propose a working relationship where you will produce a blog post, video, reel, or podcast for their page and they do the same for yours.
Once you have established a mutually beneficial relationship through content creation, you may also explore opportunities for podcast monetization, such as sponsorships, advertising, or premium content for subscribers.
Remember that not everyone will respond to your pitch, and that's okay. If you can find even a few marketers willing to work with you, that's a great start.
Your other option is producing roundup posts.
These lists act as awesome resources for your audience. You can write about the most influential content marketers of the past year, or topics more related to your blog or business.
There are certain content elements you must include in a post like this.
For the example of a 'roundup' post about the most influential marketers, you'd have blurbs about each marketer and include links to their social media.
These posts don't necessarily draw in traffic on their own. To maximize your traffic potential, you may have to do some outreach.
Read more: Inbound Marketing Guide — Definition, Stages, and Strategy
#5. Don't Do Plain Ol' Outreach … Make Videos
Your content has gone live on your blog. If it's a roundup list like we just described, you need to reach out to everybody you've featured in your roundup post.
Most of the time, when it comes to outreach, marketers use email.
There's just one problem with emails. Okay, several problems.
A busy marketer or influencer gets tons of emails. They might mean to respond to yours but forget because another task distracts them. Sometimes even well-intentioned emails accidentally get torpedoed in the spam filter.
The next time you're thinking of an email marketing campaign, make outreach videos instead.
To keep it crisp, each video should be just 30-60 seconds long.
Personalize the videos and tailor your message for the influencer or marketer's interests and audience.
This is one of our favorite content marketing tips because it comes out of the left field but can have a major impact on your site traffic, if successful.
Read also: Say Aaah … 11 Jaw-dropping Dental Marketing Ideas
#6. Make Lead Magnets with Your Content
Another one of our top content marketing tips should serve you quite well as your work to double your traffic.
The tip? Use a lead magnet.
You've just spent all this time writing a phenomenal blog post or some other long-form content. Now you're doing outreach, social promotions, and other means of getting it out there.
With a lead magnet, you can extend the life of your post, getting more traffic and conversions in the process.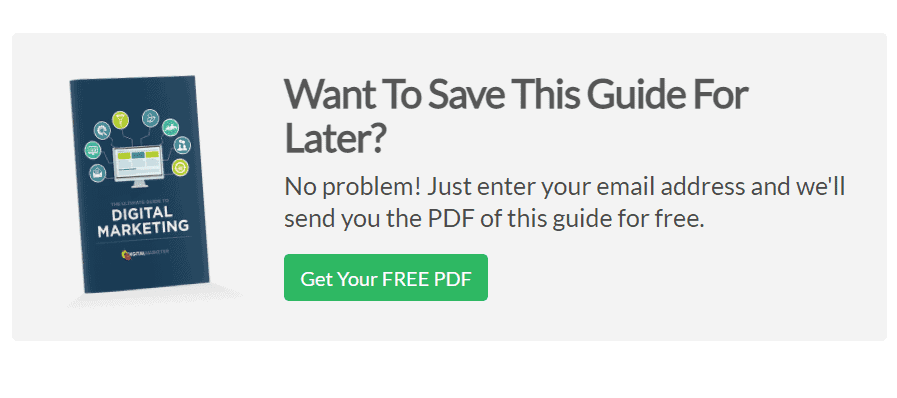 #7. Use Content Remarketing
Another tactic you can try for drawing in more traffic is content remarketing. This is also called behavioral remarketing.
If you've failed to convert customers or increase traffic in the past, then content remarketing is your second chance.
Review your potential customer's online behavior and actions and then create ads and innovative content specifically targeted to them.
Not every marketer will convert 100% of the leads and prospects they come across. It's just not going to happen.
Content remarketing gives you the chance to draw these leads back in with exciting articles, blog posts, resources, lists, social media posts, and other stuff your leads may care about.
Once they're back on your site, you can try again and convert them.
8. Promote Those Share Buttons
Here's a simple digital marketing tip you can use to boost your traffic that almost seems a little too simple.
When your posts or a featured snippet of your content get shared on social media, it generates a buzz.
Do you have sharing buttons on your site? If not, you need to change that.
These sharing buttons should feature especially prominently in all of your blog posts.
This way, if one of your audience members reads something they particularly like, they can share it with their friends, family, colleagues, and anyone else they know.

Another simple but effective content marketing tip is to ask for shares. Yes, that's right, just ask!
At the end of each blog post, you might write something like this: "Did you enjoy this article? Be sure to share it!"
By accompanying a statement like that with the share buttons, you make it easier for customers to spread your content around.
You can also use a branded link shortener to create easy, short URLs for social media sharing.
Read also: Content Marketing Funnels: The Key to Unlocking Your Brand's Potential
9. Avoid the Passive Voice
You want to showcase only the best of your content to your customers, right? One easy way to do that is to avoid passive voice.
Now, unless your audience has majored in English or is a bunch of grammar snobs, passive voice won't offend your readers. What it will do is make your message fuzzy, unclear.
For a writer honing their craft with each new content piece, the Hemingway App can be of great help.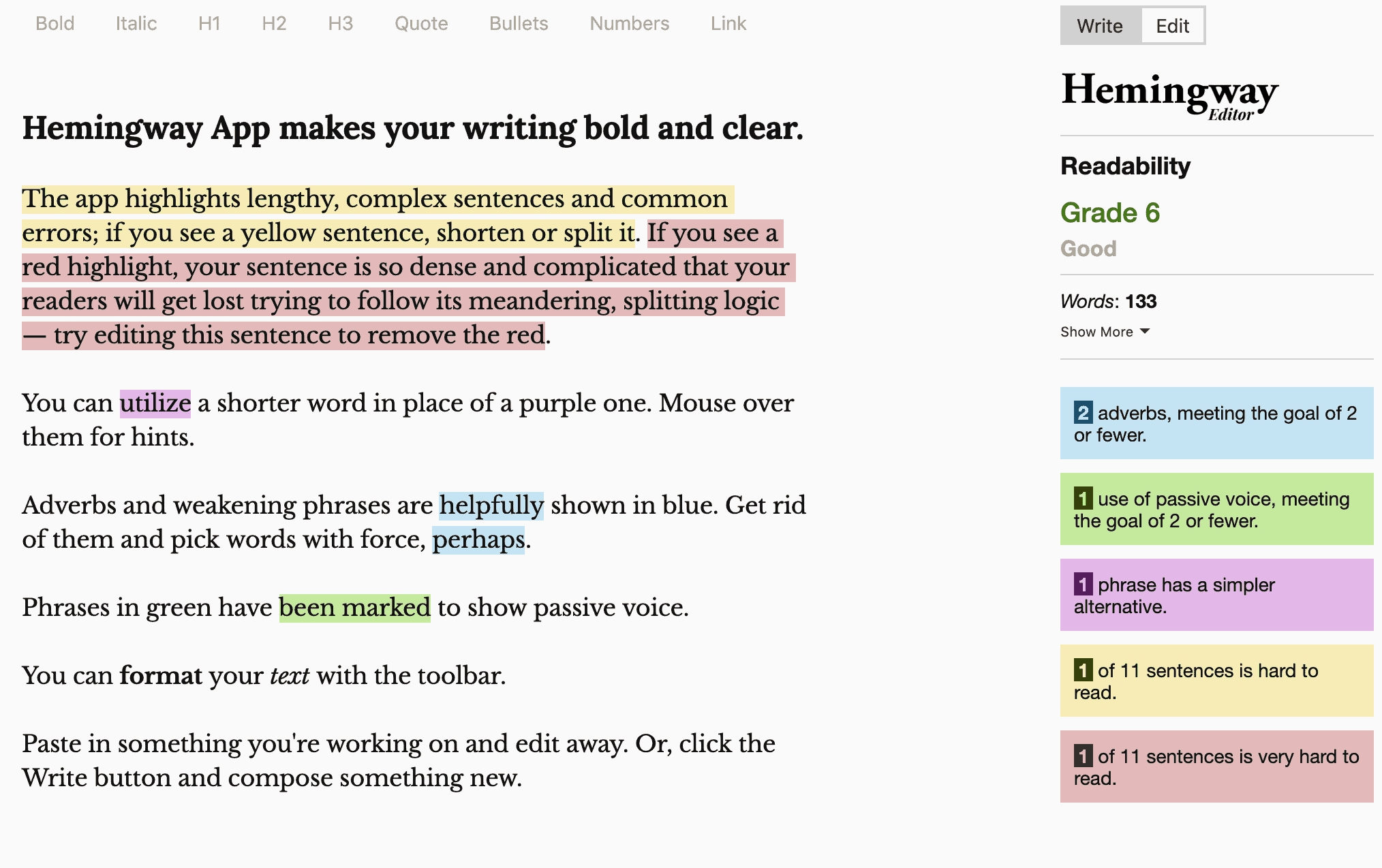 It's a free-to-use online platform, but you can also pay to download the app and edit your content faster.
The Hemingway App will point out your past-tense sentences so you can make them, well, a thing of the past 😉
Read also: How to Get Started in Freelance Digital Marketing [Guide]
10. Stick to Evergreen Content
The last of our content marketing tips also has to do with the kind of content you'll be writing. Remember: you should always strive to write evergreen content.
Create content that resonates across the board and can be relevant for a very long time.
Like the evergreen tree that inspired its namesake, evergreen content never goes out of season. It's timeless.
Writing a list of the top 10 marketing trends for 2023 may land you lots of clicks in the year. However, a post like this has an expiration date, and — let's face it — one year is a pretty short life for a piece of content you may have worked hard on.
Evergreen content doesn't focus on seasonal trends. You can write this article today, dig it out five years from now, and its content should still have weight, substance, relevance.
If that's not the case, it's not evergreen content.
Of course, as a marketer, you can't always write evergreen content. That's okay. Your blog doesn't have to be filled exclusively with evergreen articles, but do try to pepper some in whenever you can.
The best thing about evergreen content is that you can always pull these articles out of your archives, update them a bit, and promote them all over again on social media and via email to get more traffic.
Read more: A Short and Sweet Guide to Content Marketing Automation
Conclusion
These are some of the best tips for your content marketing strategy we could think of.
Investing in a content marketing plan can be among the best things you can do for your business.
If there are some other content marketing tips that you think we should include here, feel free to comment below.
If you want to know how EngageBay can help your content marketing and email marketing workflows, just sign up for free and we'll get in touch!