You're looking for an email marketing service that fits the limited budget of your small business or startup.
Admittedly, this hasn't been as easy to do as you thought it would be. One service you're still contemplating using is ConvertKit, but is ConvertKit pricing too high for your small business?
Rather than find out the hard way by subscribing to their software, we'll inform you in today's post. First, we'll delve into ConvertKit's pricing plans, then take a closer look at some competitors, including EngageBay, AWeber, and InfusionSoft.
By the time you're done reading, you'll know which of these services is the best choice for your small business budget.
How Much Does ConvertKit Cost?
We've discussed ConvertKit on this blog a lot recently, such as this post. Thus, we'll keep the description of their services brief.
ConvertKit is an email marketing service for online creators. Their biggest standout features include landing page design, email design, email sign-up forms, and email automation.
But what do ConvertKit pricing and details look like in 2020?
Well, that depends on which of ConvertKit's three plans you select from. These plans are the Free, Creator, and Creator Pro plans. Let's take a closer look at each.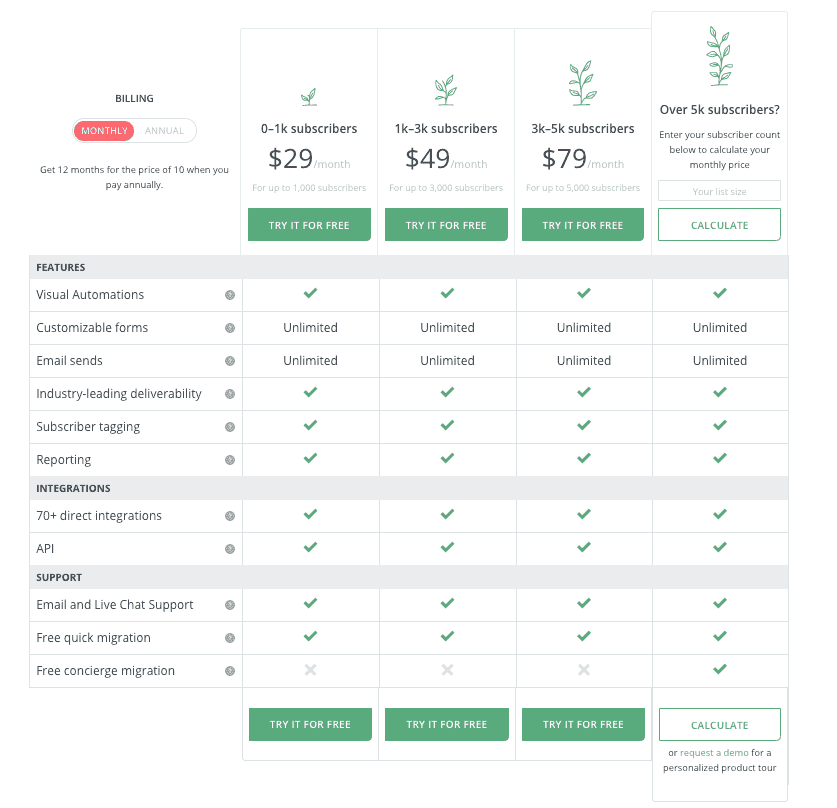 ConvertKit Free Plan Pricing
The most affordable plan is always the one in which you pay $0. For ConvertKit, that's the Free plan. This plan is permanently free, and you can sign up without a credit card to get started.
Like many free plans, ConvertKit does limit you on what you can do. You can only manage 1,000 subscribers at a time. You also lack integrations, premium support, email sequences, and automated funnels.
Here are the features available as part of this plan:
Subscriber tagging
Custom domain name
Email broadcasts
As many forms and landing forms as you wish
According to ConvertKit, their Free plan is ideal for those companies that are just beginning to build an audience.
ConvertKit Creator Plan Pricing
When your small business grows to the point where you need to manage more than 1,000 subscribers, you might upgrade to the Creator plan. Before committing,
ConvertKit gives you the option to use the Creator Plan features free for 14 days on a trial basis.
The features of the Creator plan include the addition of integrations, premium support, email sequences, and automated funnels.
You also get the Free plan features rolled into your plan as well as free migration.
The free migration lets you switch seamlessly from your current marketing tool to ConvertKit through their guidance.
ConvertKit charges on a sliding scale based on your subscribers. Here's ConvertKit pricing for the Creator plan according to subscriber count:
1,000 subscribers – $29 a month
3,000 subscribers – $49 a month
5,000 subscribers – $79 a month
10,000 subscribers – $119 a month
15,000 subscribers – $149 a month
25,000 subscribers – $199 a month
45,000 subscribers – $319 a month
ConvertKit Creator Pro Plan Pricing
The most expansive ConvertKit pricing plan is the Creator Pro. Here are the features available to you with this plan:
Newsletter referral system access
Email broadcast redirect links
Facebook custom audiences
Priority support
Subscriber engagement scoring
Deliverability reporting
Team invitations
The features from the Free and Creator plan are also yours to use as you see fit. ConvertKit will help you migrate for free with the Creator Pro plan, just as you got with the Creator plan.
Like the Creator plan, ConvertKit charges you for the Creator Pro plan by your number of subscribers. Here's the breakdown:
1,000 subscribers – $59 a month
3,000 subscribers – $79 a month
5,000 subscribers – $111 a month
10,000 subscribers – $167 a month
15,000 subscribers – $209 a month
25,000 subscribers – $279 a month
45,000 subscribers – $447 a month
You can try the Creator Pro plan as a free trial or as a personalized demo for the higher pricing tiers.
It's worth noting that both the Creator and Creator Pro plans can support more than 900,000 subscribers. At that point though, you'd have to pay a custom price.
How Does ConvertKit's Pricing Compare to Their Competitors?
If you stick to a few thousand subscribers, then ConvertKit is not terribly expensive. Growing your business more does jack up the prices, which get incrementally higher and higher as you add subscribers.
For that reason, you'd like to investigate some ConvertKit competitors before you make up your mind. As we said in the intro, we'd consider EngageBay, AWeber, and InfusionSoft as three very viable ConvertKit alternatives.
We'll go over the pricing for each of these services in this section as well as what you get for your money. You can then use that information to compare the competitors against ConvertKit pricing.
#1. EngageBay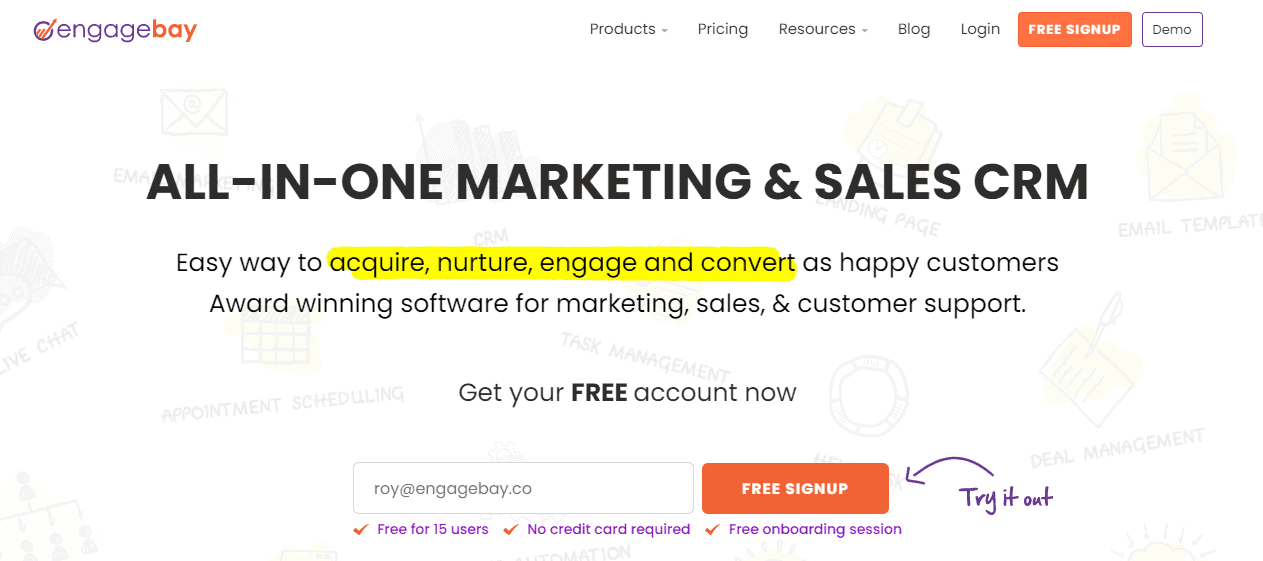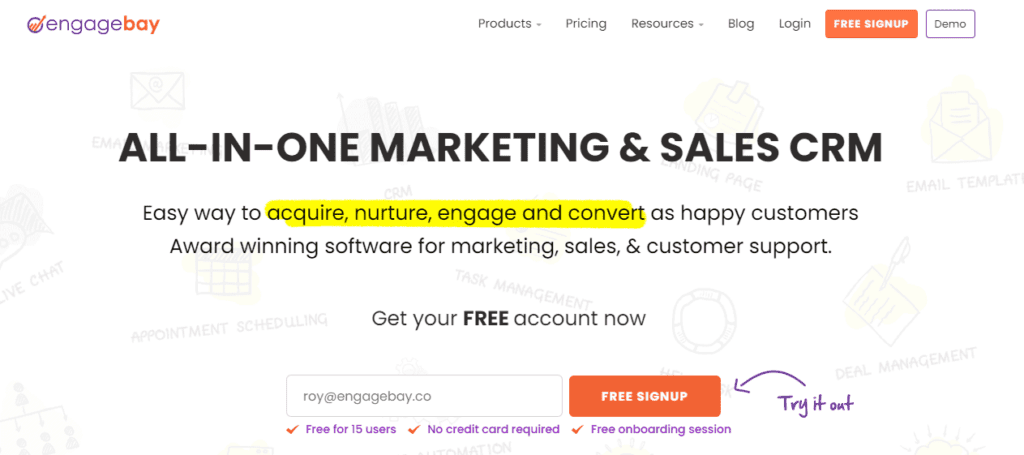 EngageBay is an all-in-one marketing and sales CRM solution. Their products include the Service Bay, CRM & Sales Bay, Marketing Bay, and All-in-One Suite.
Considering you're looking for email marketing services for your small business, we'll home in on the Marketing Bay.
Every product from EngageBay is divided into four plans: Free, Basic, Growth, and Pro. Here's the pricing of each plan in the Marketing Bay as well as which features you get.
EngageBay Free Plan Pricing
The Free plan from EngageBay­–like ConvertKit's–is always free. For $0 a month, these are the features you can use:
1,000 branded emails
1,000 subscribers
Segmentation
Embedded forms
Email template builder
Autoresponders
Social suite
Reporting dashboard
Live chat
Facebook Ads
Landing page builder
Newsletters
Email sequences
Lists
Predictive lead scoring
Web pop-ups
Tag management
Social suite
Custom fields
Video marketing
Desktop notifications
SSL landing pages
1 gigabyte file storage
File repository
Chat and email support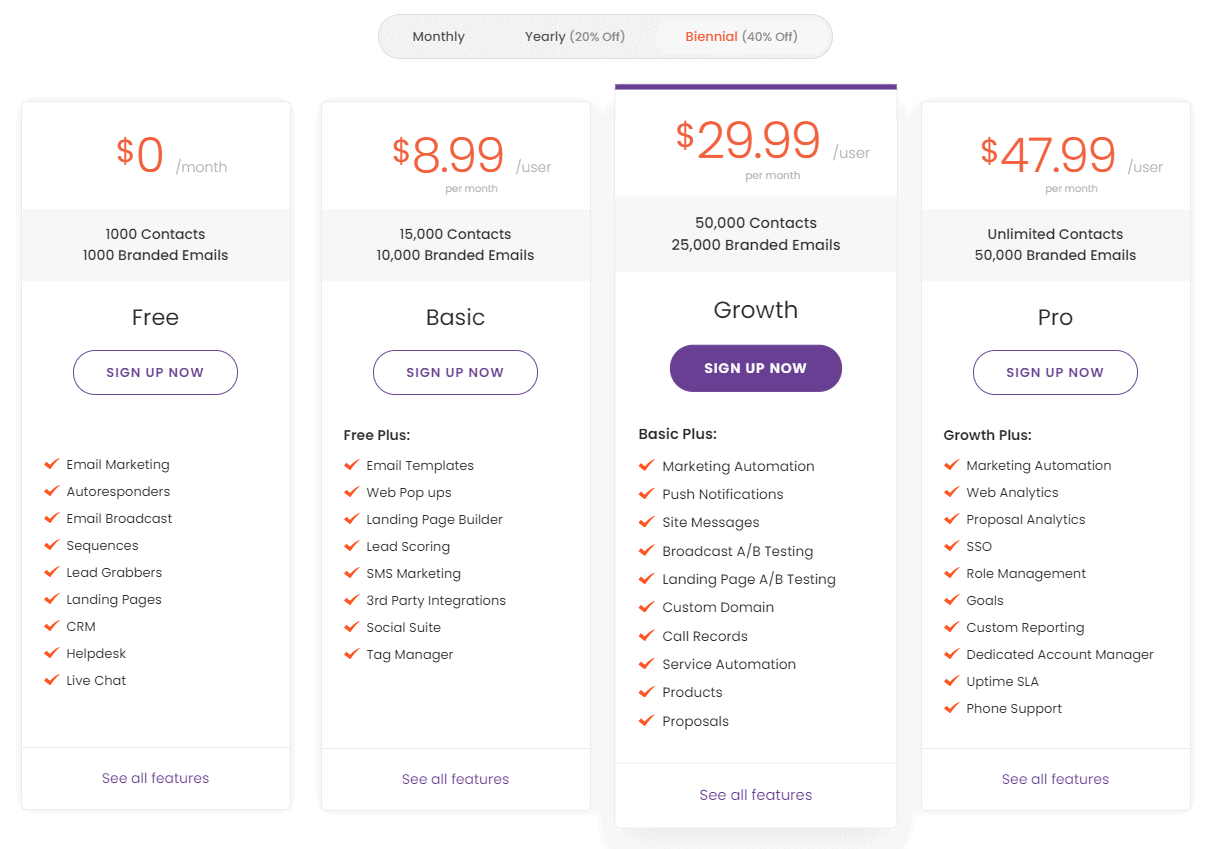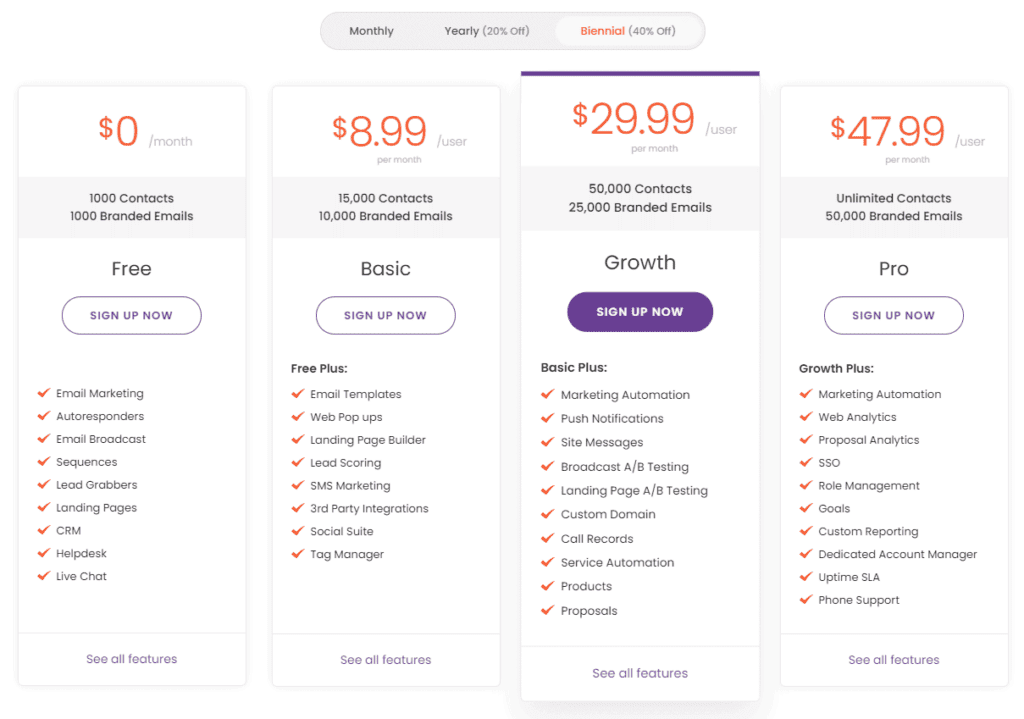 That's quite an exhaustive list of features available for a free plan, and certainly more than what you'd find with the equivalent ConvertKit plan.
EngageBay Basic Plan Pricing
The Marketing Bay's Basic plan starts at $12.99 a month per user for 10,000 branded emails and 10,000 contacts.
EngageBay Growth Plan Pricing
By doubling your contacts to 20,000 subscribers, the Growth plan can accommodate you. This plan starts at $24.99 per month for each user and also lets you send 20,000 branded emails.
Besides all the features listed above, this plan adds the following:
5 gigs of file storage
Site messaging
A/B testing for email broadcasts and landing pages
Workflow and automation nodes
Landing page coding
Push notifications
Marketing automation
Web rules
Triggers
Email delivery based on time zones
Free onboarding
Dedicated account manager
SSO
EngageBay Pro Plan Pricing
When your small business becomes a little less small, consider EngageBay's Pro plan. You can now send 30,000 branded emails to 30,000 contacts, and all for $49.99 a month per user.
Every feature in the Marketing Bay is at your fingertips, including these features exclusive to the Pro plan:
20 gigs of file storage
Custom landing page domains
Custom reporting
Web analytics
Role management
Team hierarchy
Phone support
You can sign up for a demo of EngageBay's services before you pay for one of their plans.
#2. AWeber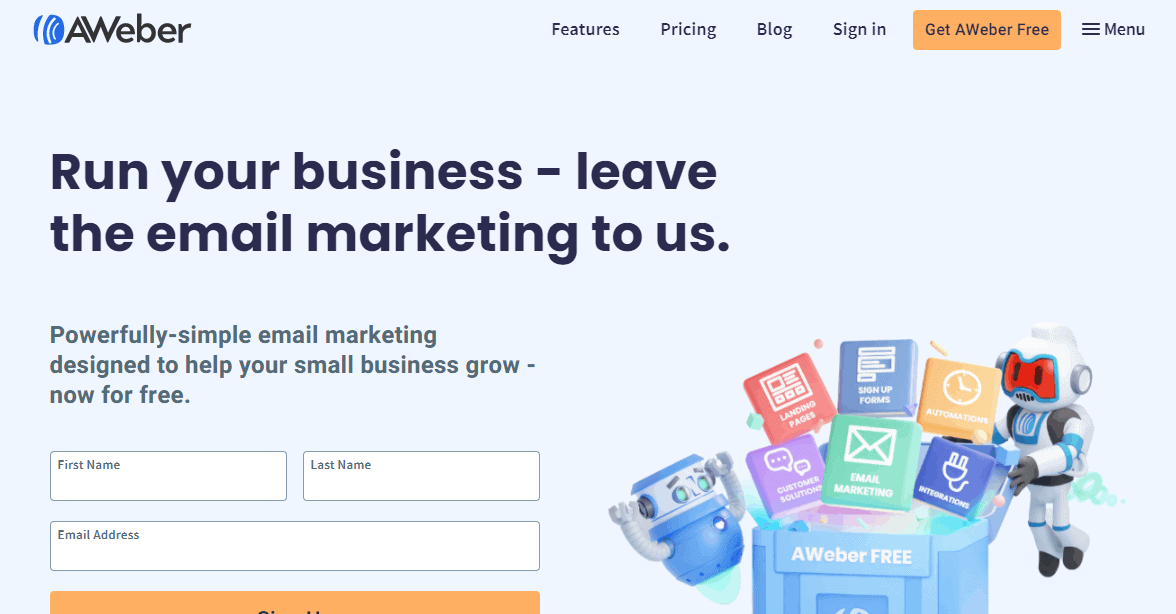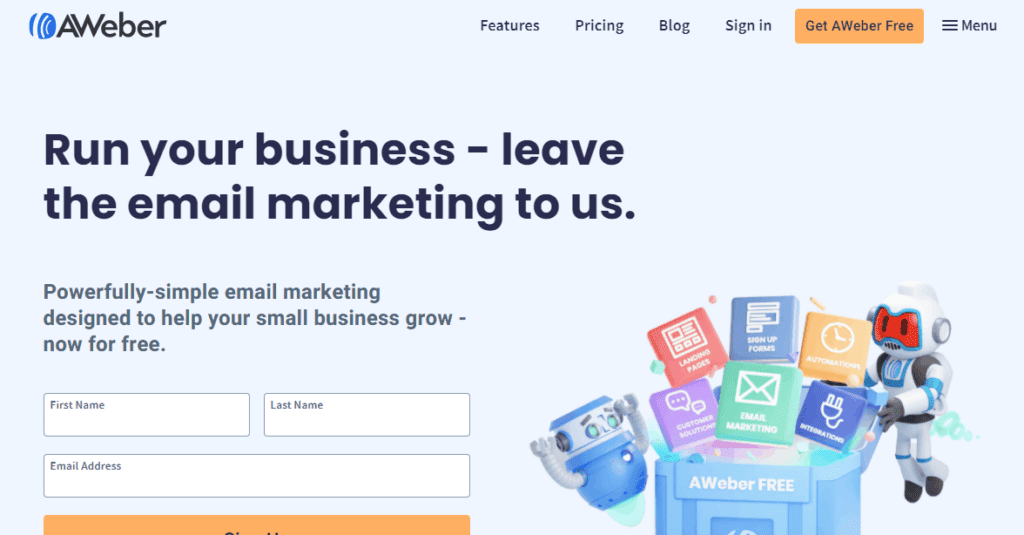 AWeber strives to make email marketing easy so you have more time to run the other facets of your business. They also keep their pricing simple, giving you one of two choices, the Free plan or the Pro plan.
Let's take a closer look at both plans.
AWeber Free Plan Pricing
As you would have guessed by this point, AWeber's free plan is absolutely free, $0 a month for as long as you're a subscriber.
Compared to EngageBay and ConvertKit, you can add even fewer subscribers under AWeber's free plan: only 500 contacts. That means you probably won't be able to use this plan for long.
Here are the email features available to you for $0 a month under this plan:
3,000 emails a month
Newsletter creation and sending
RSS to email
Email templates
Dynamic content
Hosted broadcast archive
Email automation
List profile
Drag-and-drop email builder
HTML emails
AMP emails
Professional image library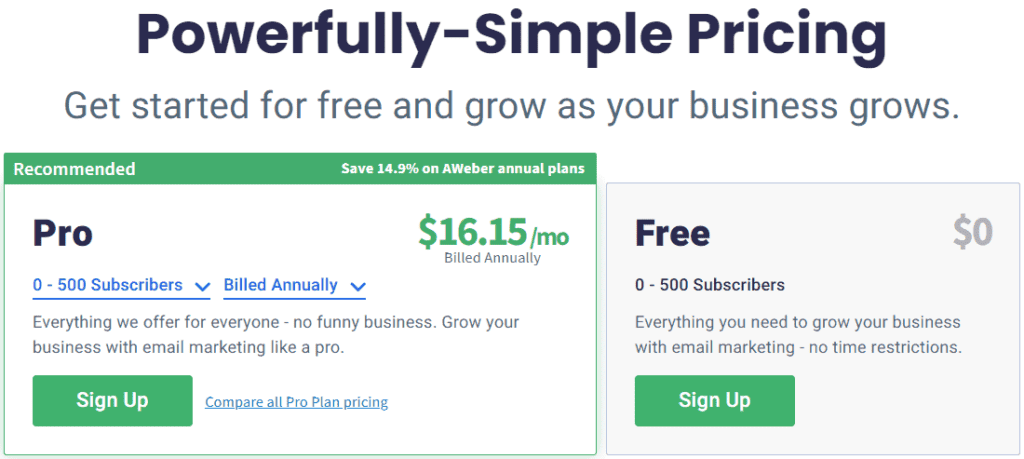 AWeber also offers these features as part of the Free plan:
Unlimited landing pages, including video landing pages
Custom domains for landing pages
Facebook pixel tracking and Google Analytics
List-building WordPress plugins and sign-up forms
Basic segmentation and tagging
Basic messaging and subscriber analytics
Ecommerce Solution Integration
Unlimited team users
Integrations
Free migration
24/7 chat, email, and phone live support
AWeber Pro Plan Pricing
The Pro plan is a paid option where you're charged per subscriber. Before we get into pricing, let's talk features. Besides the above Free plan email marketing features, the Pro plan also unlocks these email features:
Unlimited subscribers
Unlimited list profiles
Unlimited emails
A/B testing for emails
Branded click-tracking links
Behavioral automation
No AWeber branding
Here are the other features outside of email marketing available as part of the Pro plan:
No branded AWeber landing pages
A/B testing for sign-up forms
Custom segmentation
Advanced account, audience, and messaging analytics, including webpage tracking
Ecommerce purchase tagging, cart abandonment, and sales tracking
Web push notifications for subscriber collection, analytics, and message sending
AWeber lets you try the Pro plan for free as part of a trial. If you do decide to pay, it's by subscriber count, as we said. Here's what the pricing looks like:
500 subscribers – $19 a month
Up to 2,500 subscribers – $29 a month
Up to 5,000 subscribers – $49 a month
Up to 10,000 subscribers – $69 a month
Up to 25,000 subscribers – $149 a month
InfusionSoft (Keap)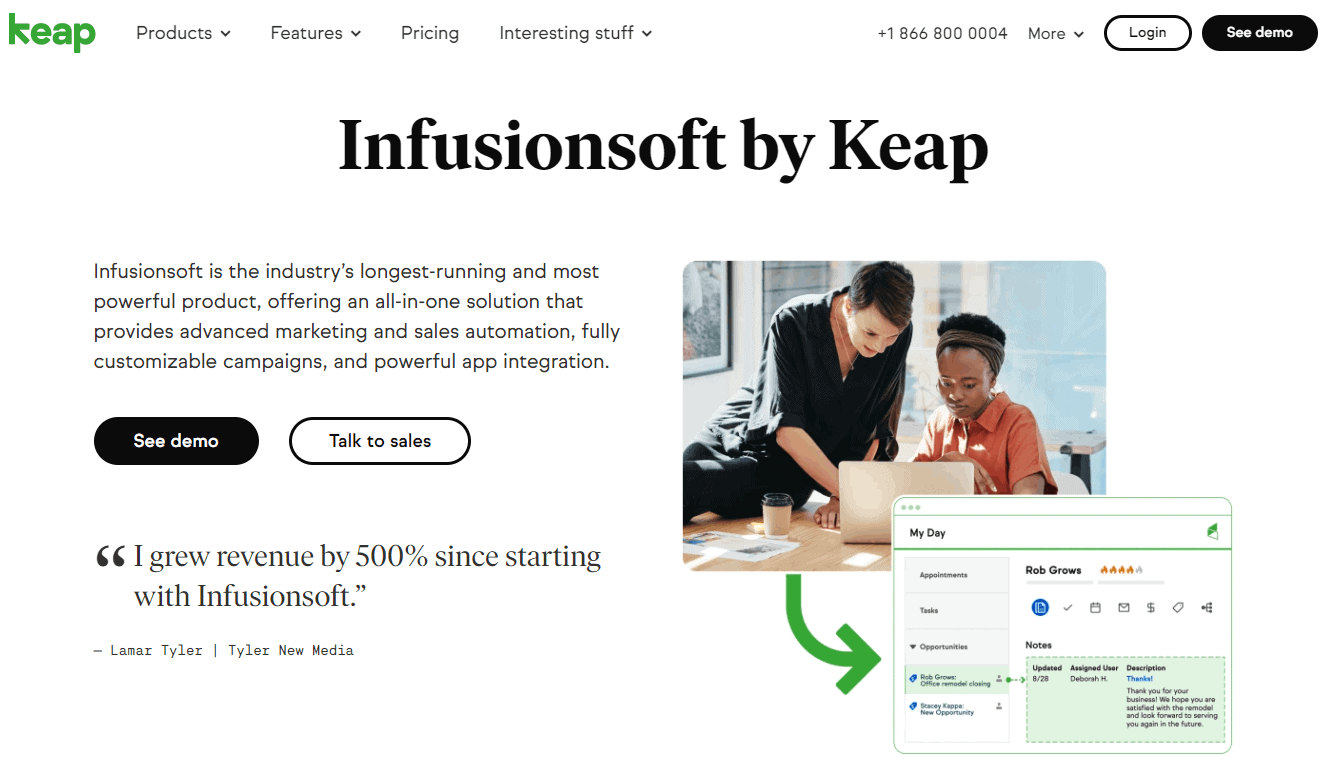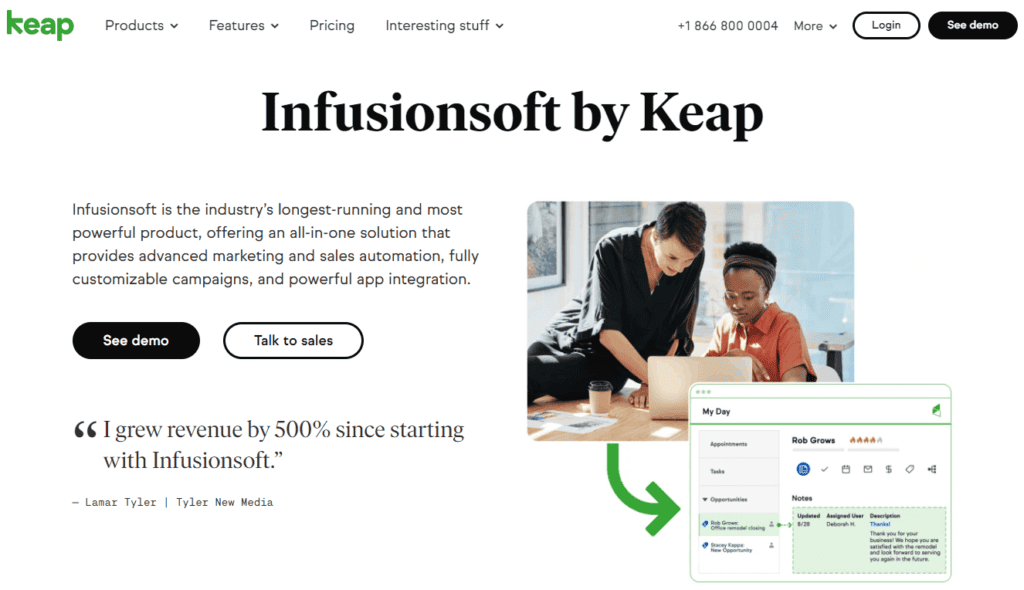 The last ConvertKit alternative we want to discuss is InfusionSoft, which is today known as Keap. With tools for marketers, salespeople, and business owners who need CRM, Keap divides its services into three products.
These are Keap Grow, Keap Pro, and Infusionsoft.
Each plan has its own pricing. To note, unlike every other email marketing service we've discussed today, Keap offers no free plan.
Keap Grow Pricing
Keap Grow is intended for new businesses and startups according to the Keap website. This option starts at $79 for 500 contacts and one user.
The Keap Grow plan includes the following features:
Contact management
Saved contact lists, filters, and searches
Basic web forms
Contact segmentation through tagging
Tasks
Mobile app access
Email marketing
Email syncing with Outlook and Gmail
Phone line and SMS messaging
Easy automation and reminders
Basic smart forms
Limited API integrations
Reporting with default user roles
Data migration support
Expert phone support and chat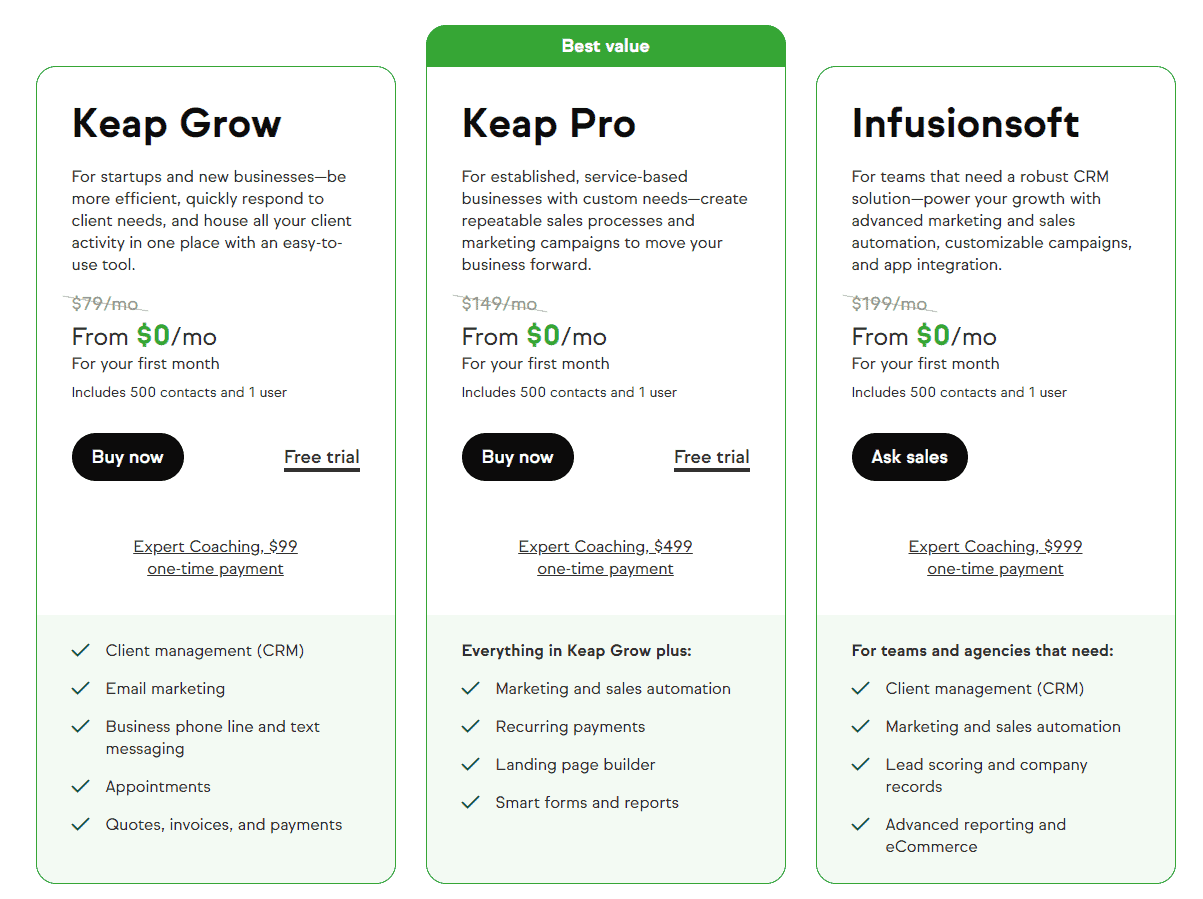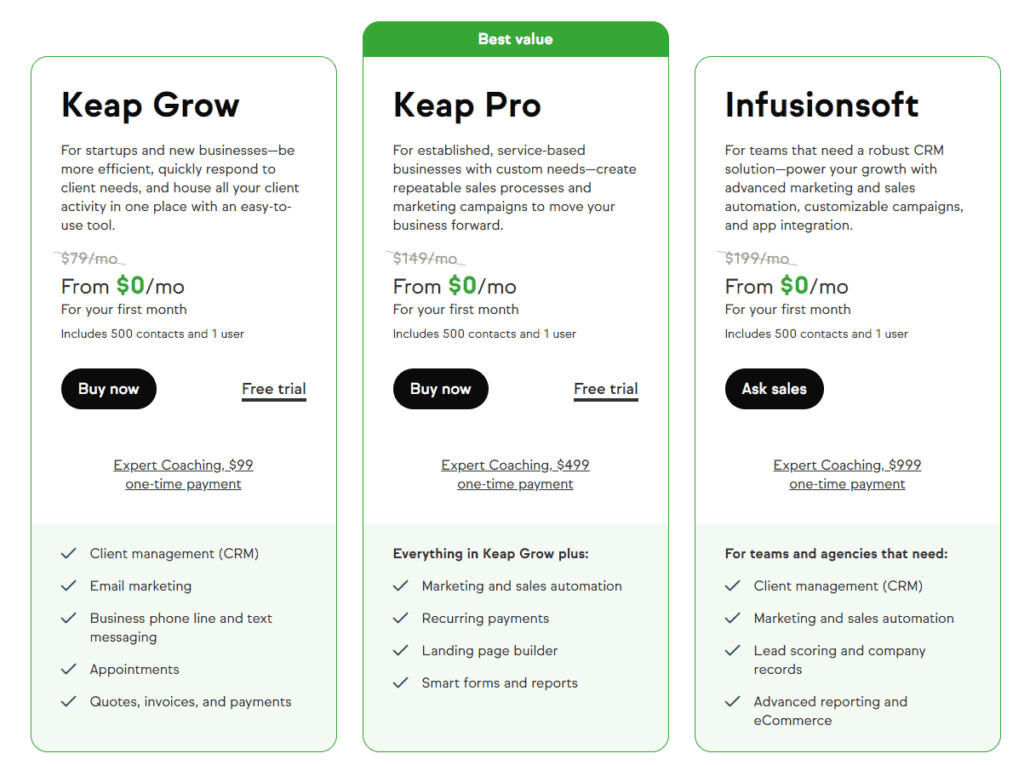 Keap Pro Pricing
The Keap Pro plan is intended for service-based "established" companies, says Keap. This plan starts at $149 a month for 500 contacts and one user.  You can use all the Keap Grow features as well as:
Advanced web forms
Company records
Landing pages
A/B testing for email marketing
Pipeline automation and campaign builder automation
Full API integrations
Infusionsoft Pricing
Your last pricing option for Keap is the Infusionsoft plan. Starting at $199 a month for 500 contacts and one user, you should have everything you need, including these exclusive features:
Lead scoring
Custom dashboard
Advanced smart forms
Reports with custom user roles and affiliate management
Adding More Contacts with Keap
Now, you're probably wondering what you should do if you need more than 500 contacts, as that's a pretty limiting number.
Keap does let you add more contacts for an additional monthly fee to your bill. Here's that pricing:
1,000 extra contacts – $30 a month
5,000 extra contacts – $130 a month
10,000 extra contacts – $200 a month
25,000 extra contacts – $300 a month
50,000 extra contacts – $350 a month
You can also add more users without necessarily buying more contacts. That costs $30 per user.
Which Is the Most Affordable ConvertKit Alternative?
ConvertKit pricing isn't bad, but you can now see there are more affordable options out there. Which of these services is the most affordable?
Keap is definitely out. Their monthly prices might not look that much higher compared to ConvertKit pricing and the alternatives we've discussed, that's true.
Remember though that there's some fine print, as you're limited to one user and 500 contacts per plan. You'd have to spend hundreds of extra dollars a month for more contacts.
When you consider that Keap also has no free plan, ConvertKit is the more reasonable alternative of the two.
AWeber has a Free plan for small businesses and startups on a budget. You also get a handful of useful features all for $0 a month.
The downside? You can only manage 500 contacts max on the Free plan. A small business will outgrow that number of subscribers sooner than later.
AWeber's pricing is a good deal cheaper than ConvertKit's Creator Pro plan and on par with Creator plan pricing.
You're looking for the most affordable email marketing service, not one that's priced about the same as ConvertKit. There's only one of the three ConvertKit competitors we discussed that's the most inexpensive, and that's EngageBay.
You'd pay $12.99 a month per user for 10,000 contacts with an EngageBay subscription. ConvertKit's Creator plan­­–the more low-priced of the two paid plans–costs $119 a month for the same number of contacts.
You'd have to add nearly 10 users on EngageBay's plan to pay as much.
EngageBay's Free plan is also incredibly robust. You can add 1,000 contacts and use many email marketing features without paying a cent.
Between those great features and the free CRM, EngageBay is a widely comprehensive, complete service for startups on a budget.
Conclusion
If you're a small business or startup, then you're pinching pennies very tight. ConvertKit isn't the most expensive email marketing service out there, but it's not the cheapest, either.
It may be too much for your limited budget.
EngageBay's all-in-one sales and marketing suite could be just the solution you're looking for. The Free plan EngageBay offers is one of the most generous around, as it's rife with services you'd usually have to pay a good sum to use.
With free CRM too, you can take your small business growth further using EngageBay!