The email marketing industry has seen a lot of change over the last year.
Today, there are more options than ever if you're looking to set up email broadcasts, build beautiful landing pages, convert more customers from email drip campaigns instead of paid ads, and so on.
Although many new ways of reaching customers have come up, email marketing still remains the most effective strategy.
The return on investment is about 40X!
But choosing a great email marketing software for your business is easier said than done. That's why we've written this awesome and detailed guide for you.
In this guide, we'll compare Convertkit vs Mailchimp vs EngageBay along the following lines:
User interface
Customer support
Forms and landing pages
Email builder
Audience segmentation
Pricing
All three of these email marketing tools offer drag-and-drop email campaign builders and integration with popular business applications like Zapier and WordPress.
With these email marketing automation platforms, you can easily create opt-in forms, website popups, gather contact details automatically from other apps, and scale your marketing.
To begin with, let's take a quick look at each of these three email software.
What is ConvertKit?
Convertkit is an email service provider (ESP) — one of the fastest-growing email software, in fact. It's also a solid Mailchimp alternative. Convertkit positions itself as an email marketing solution for content creators.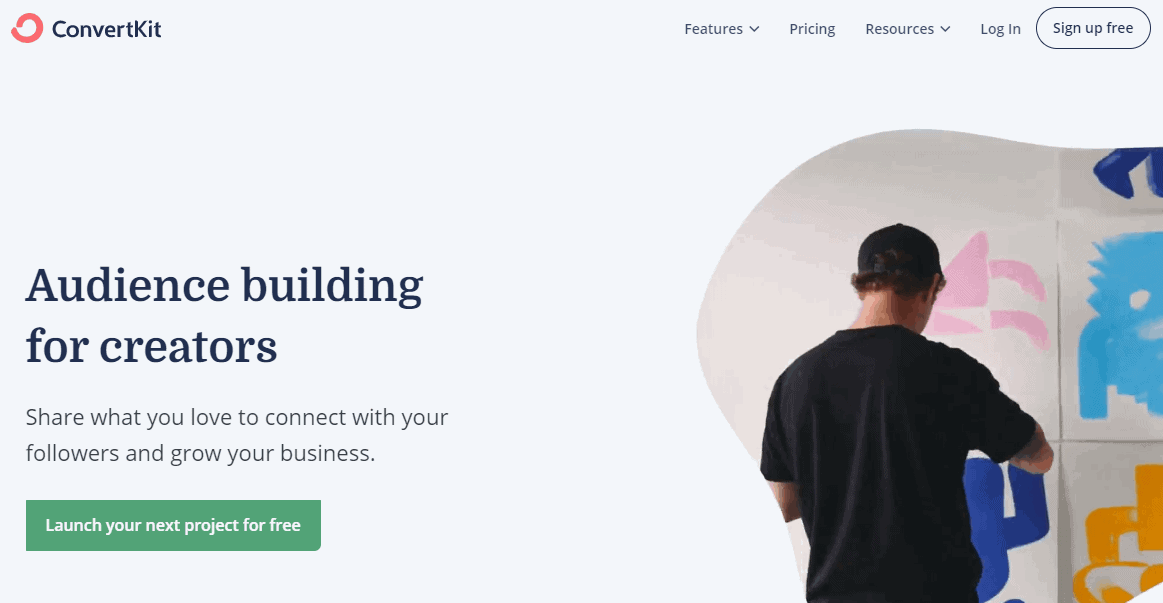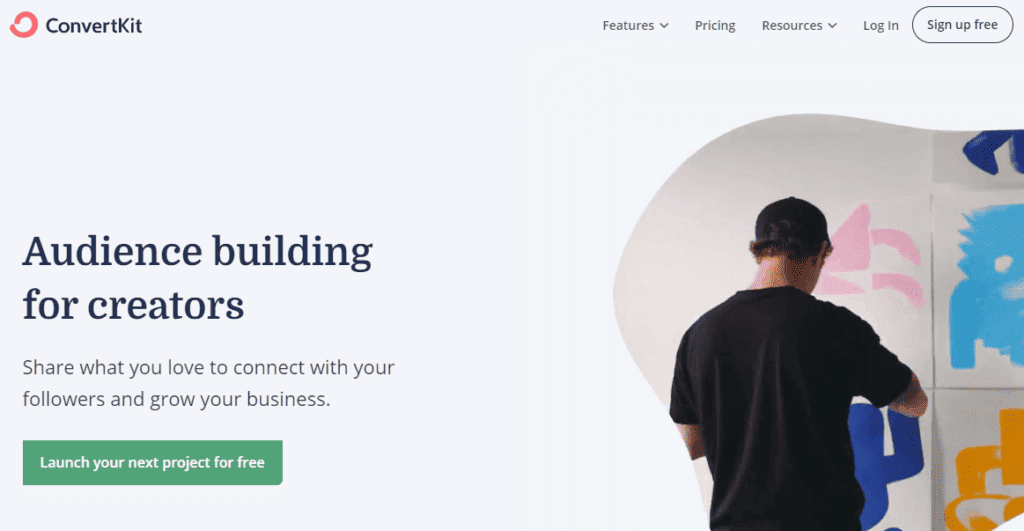 It has become a popular email marketing tool mainly because it is easy to use and has a ton of marketing automation tools. The platform also offers other features such as landing pages and sign-up forms.
Since Convertkit's target audience is online content creators, it doesn't offer a lot of features that a full-fledged business might need.
What is Mailchimp?
Mailchimp is one of the most prominent players in the email marketing space.
The software is built for small and established businesses. Mailchimp is popular among agencies and marketers because of its versatility and intuitiveness.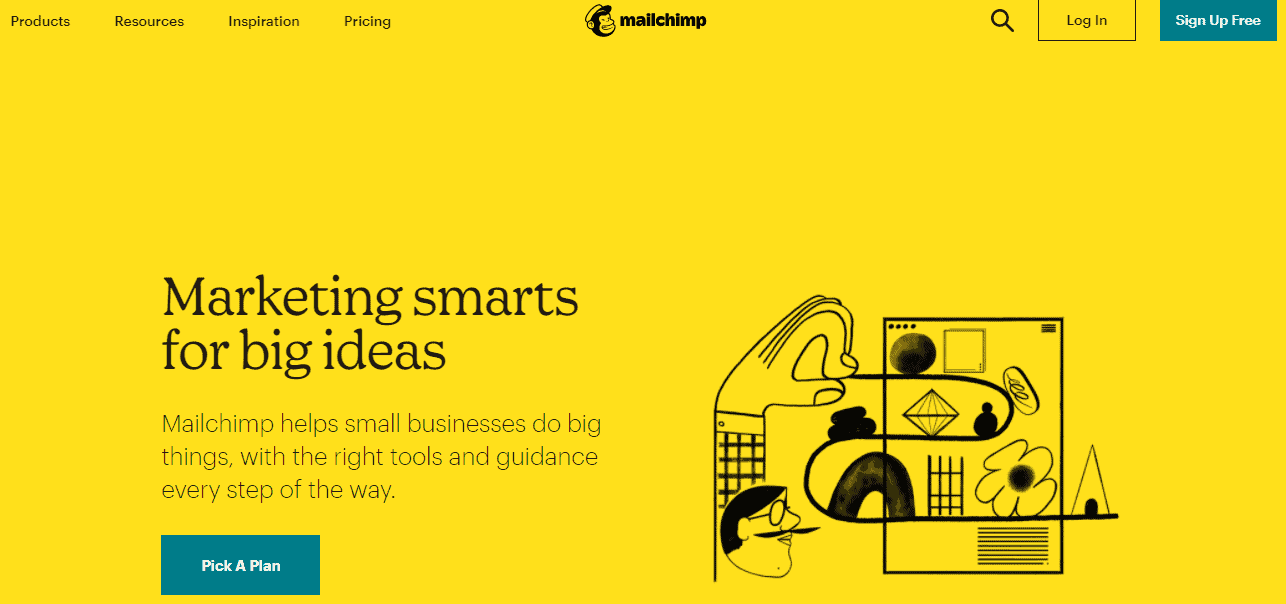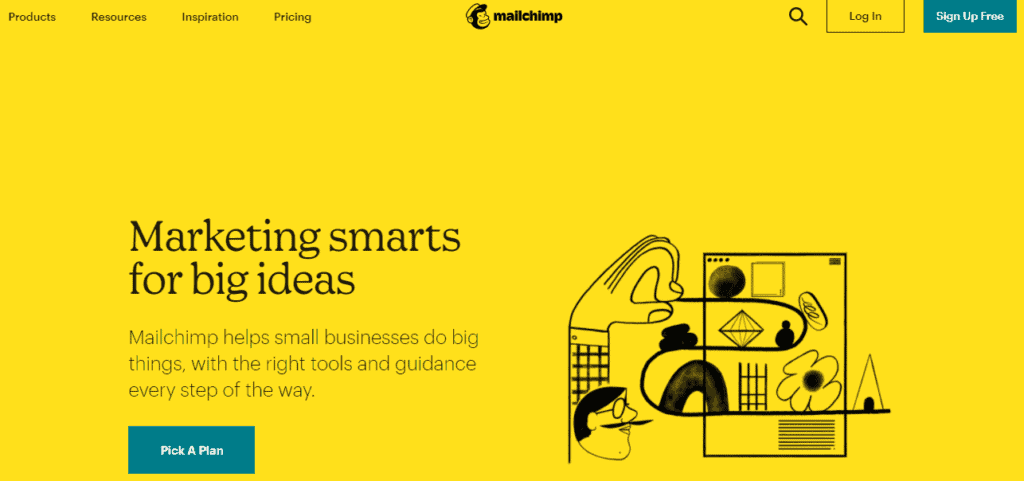 Customers can send and track email campaigns, promote their products, and boost customer engagement.
The platform also offers advertisements, automated emails, social media marketing tools, and AI-assisted creative content.
For email campaigns, Mailchimp has a library of pre-built templates that users can edit and customize.
These same templates may be used in automated email workflows and drip campaigns.
If you want to watch a video comparing Mailchimp with ConvertKit, watch this:
What is EngageBay?
EngageBay is an all-in-one digital marketing suite that offers tools for sales, marketing, and customer support.
EngageBay is ideal for small-scale companies and businesses that need tools to market their products and services, capture and nurture potential customers, and offer consumer support.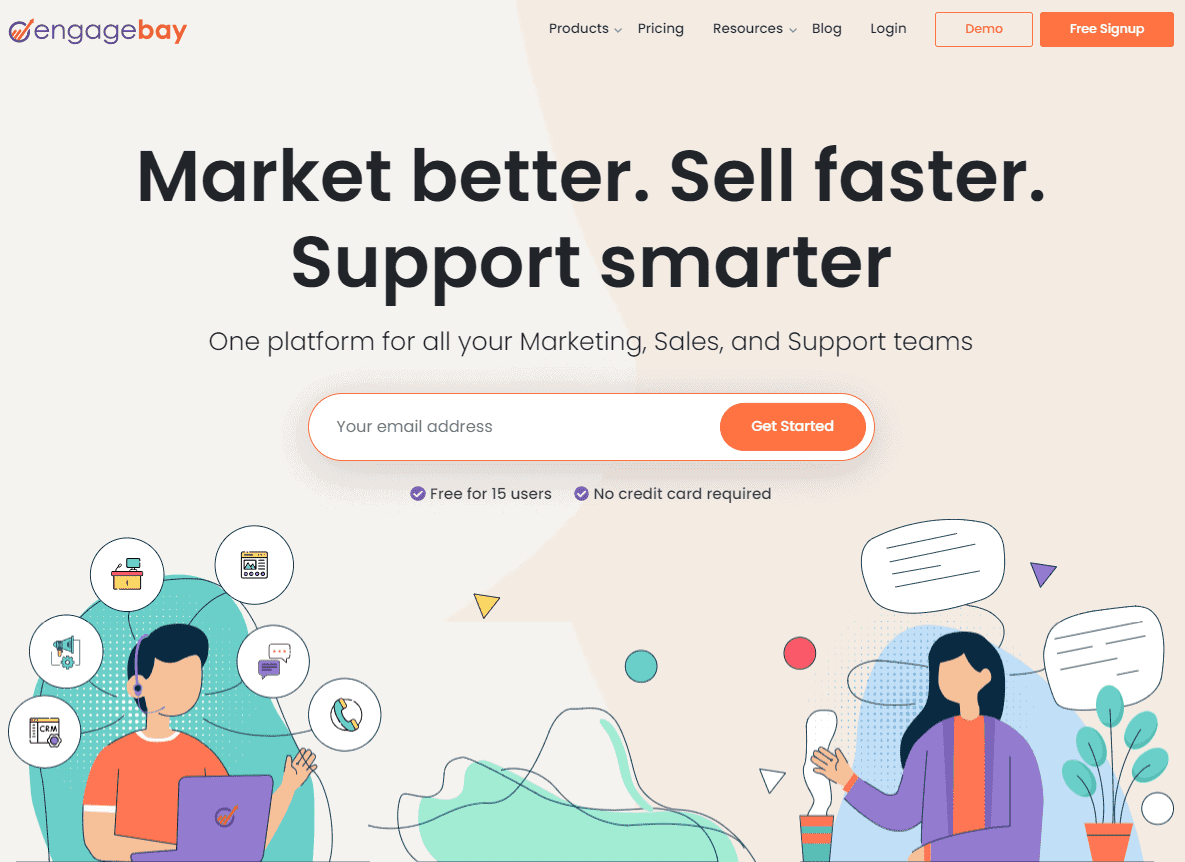 With EngageBay, businesses can align their marketing, sales, and service requests on one platform.
Marketing teams can manage contacts and audiences, trigger email campaigns, enable notifications, design landing pages, and sign-up forms.
The sales dashboard offers tools for effective lead management. Sales teams can visualize all the deals, automate recurring tasks, schedule online appointments, and analyze real-time sales reports.
The free customer support solution has features that include a helpdesk, LiveChat, canned responses, autoresponders, and a full-fledged ticketing system.
Support teams can track unlimited customer service ticket requests, chat with customers 24/7, and organize various support groups around the most important customers or products.
Read also: Promotional Email — How To Write Emails That Convert
Convertkit vs Mailchimp vs EngageBay: Product Comparison
In this section, we'll compare ConvertKit vs Mailchimp vs EngageBay on areas like UI, segmentation, landing page builders, pricing, and customer support.
Once you're through with this section, you'll know which software suits your business the most.
Let's get started!
#1. Convertkit vs Mailchimp vs EngageBay: User Interface
Convertkit User Interface
Convertkit has a user interface that has a bit of a learning curve. Its interface design is for content creators; most tools are made for email marketing instead of e-commerce.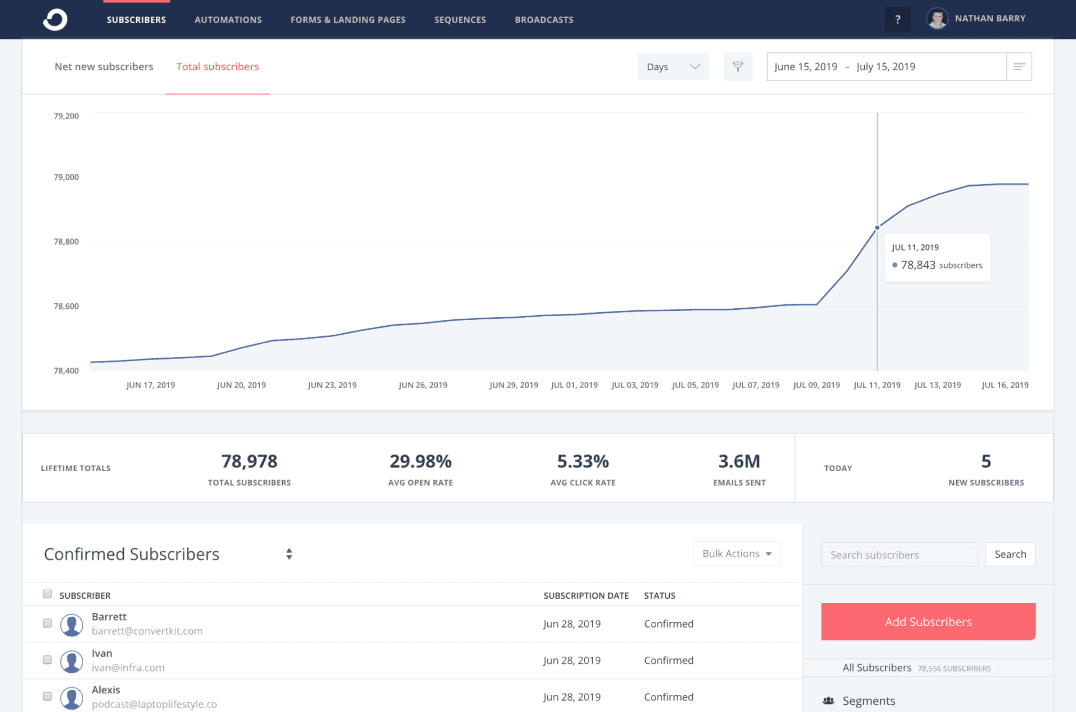 The software has five main sections:
Subscribers: This list contains people who have subscribed to an email list.
Landing Pages & Forms: There are options for creating customizable landing pages from templates.
Broadcasts: A broadcast is a one-time email campaign sent to subscribers.
Sequences: A sequence is an automatic email campaign — much like a drip email.
Automations: Marketing automation works as autoresponders based on triggers. For example, if a business wants to send an email to someone who has clicked on a link, this feature helps.
The Report and Analytics tabs are not visible at first glance — instead, they are present under the broadcasts tab.
Read also: GetResponse Pricing — A Comparison with More Inexpensive Alternatives
Mailchimp User Interface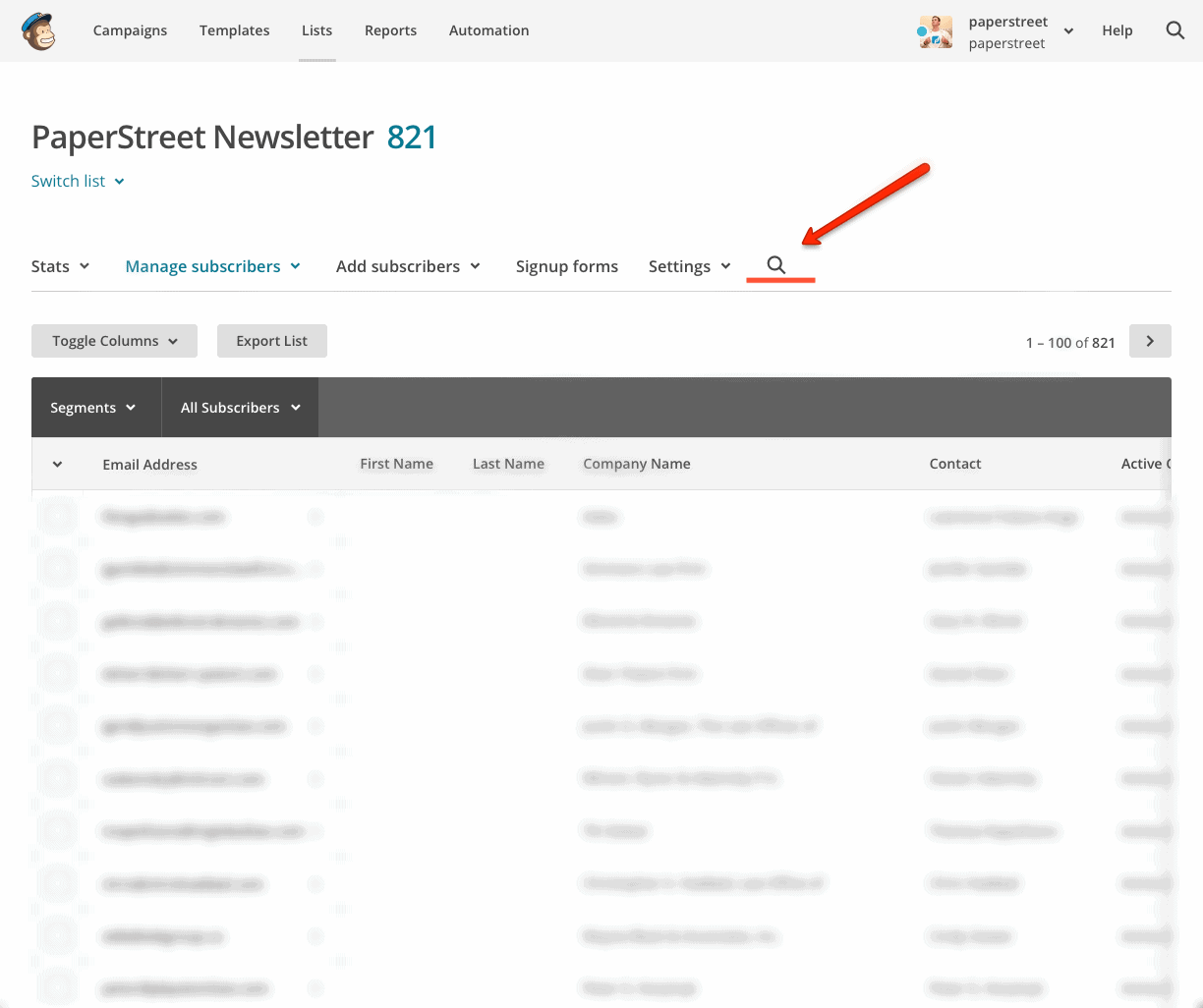 Mailchimp is user-friendly in terms of navigation and set-up.
Mailchimp guides are useful — especially if you're a novice email marketer. However, the dashboard can feel cluttered because they have a ton of features all placed in one section.
In terms of interface, Mailchimp uses simple and familiar language so that anyone can use the software.
The platform is easy enough to use mainly because the marketing components use a drag-and-drop tool.
EngageBay User Interface
EngageBay is an all-in-one digital marketing solution.
A CRM software that is feature-rich and versatile, EngageBay offers plenty of tools for marketing, sales, and customer support teams.
The platform has a simple, easy-to-use interface with simple names for features like campaigns, email broadcasts, marketing automation, etc.
The design of the platform is easy on the eyes — users can switch between marketing, sales, and support dashboards seamlessly. All tools, with user guides, are available as part of a drop-down menu.
Read also: CRM Functionalities Comparison — Zoho vs HubSpot vs EngageBay
#2. Convertkit vs Mailchimp vs Engagebay: Customer Support
Convertkit's Customer Support
Convertkit offers good support options. Users can contact customer support through a tab on their dashboard or through the website.
The customer service team is available on chat and email five days a week.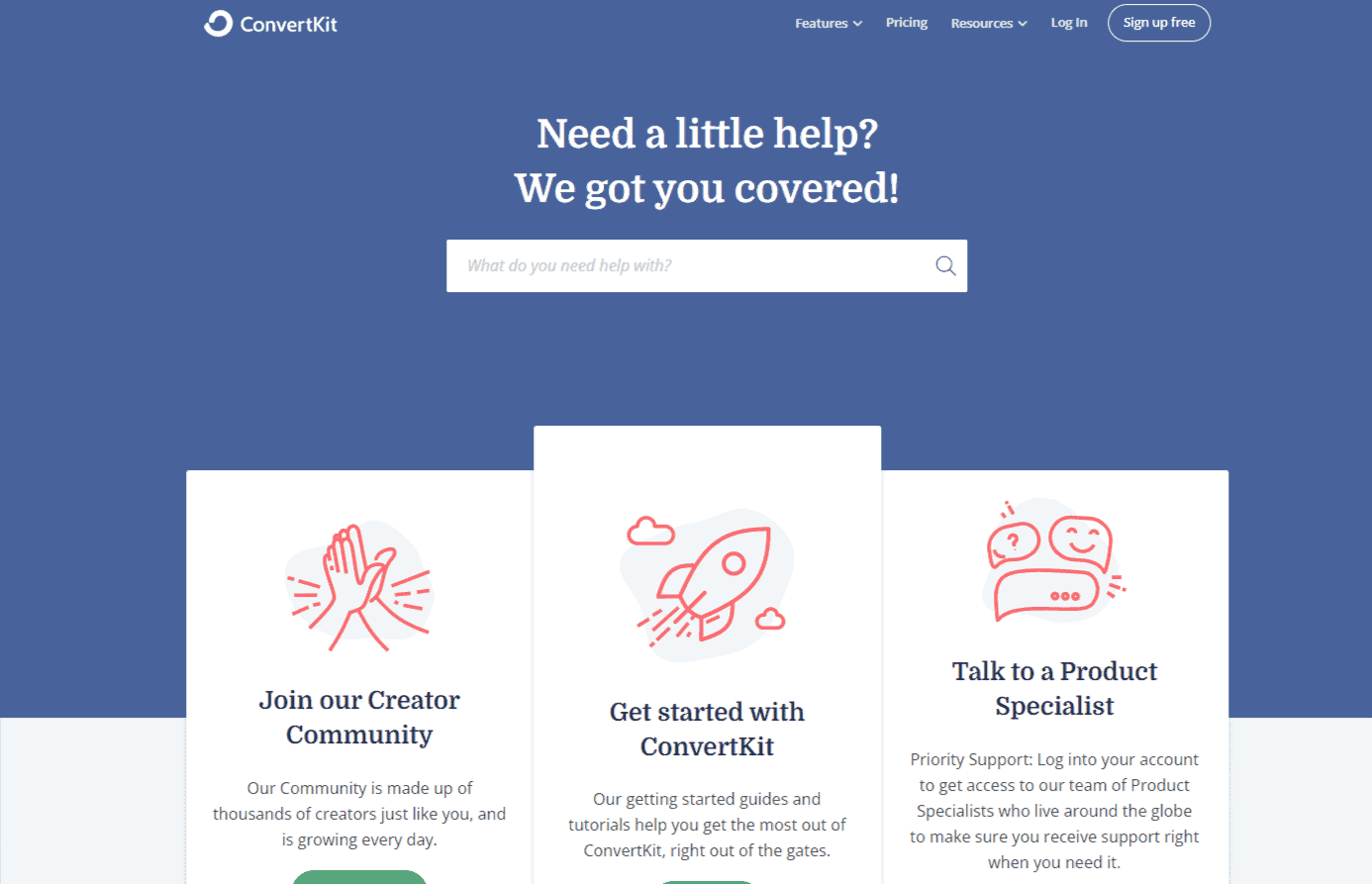 On weekends, customer support isn't available 24/7. Customer support options are limited on weekends which can prove problematic for global teams.
In addition to customer support, the platform also offers options for forum participation and user guides.
Customers can also browse the knowledge base: articles, demo videos, and user guides can help resolve most of the queries.
Mailchimp's Customer Support
Mailchimp and Convertkit are comparable when it comes to customer support as they offer similar options.
Mailchimp loses points in terms of customer support access. The subscription plan limits the availability of options.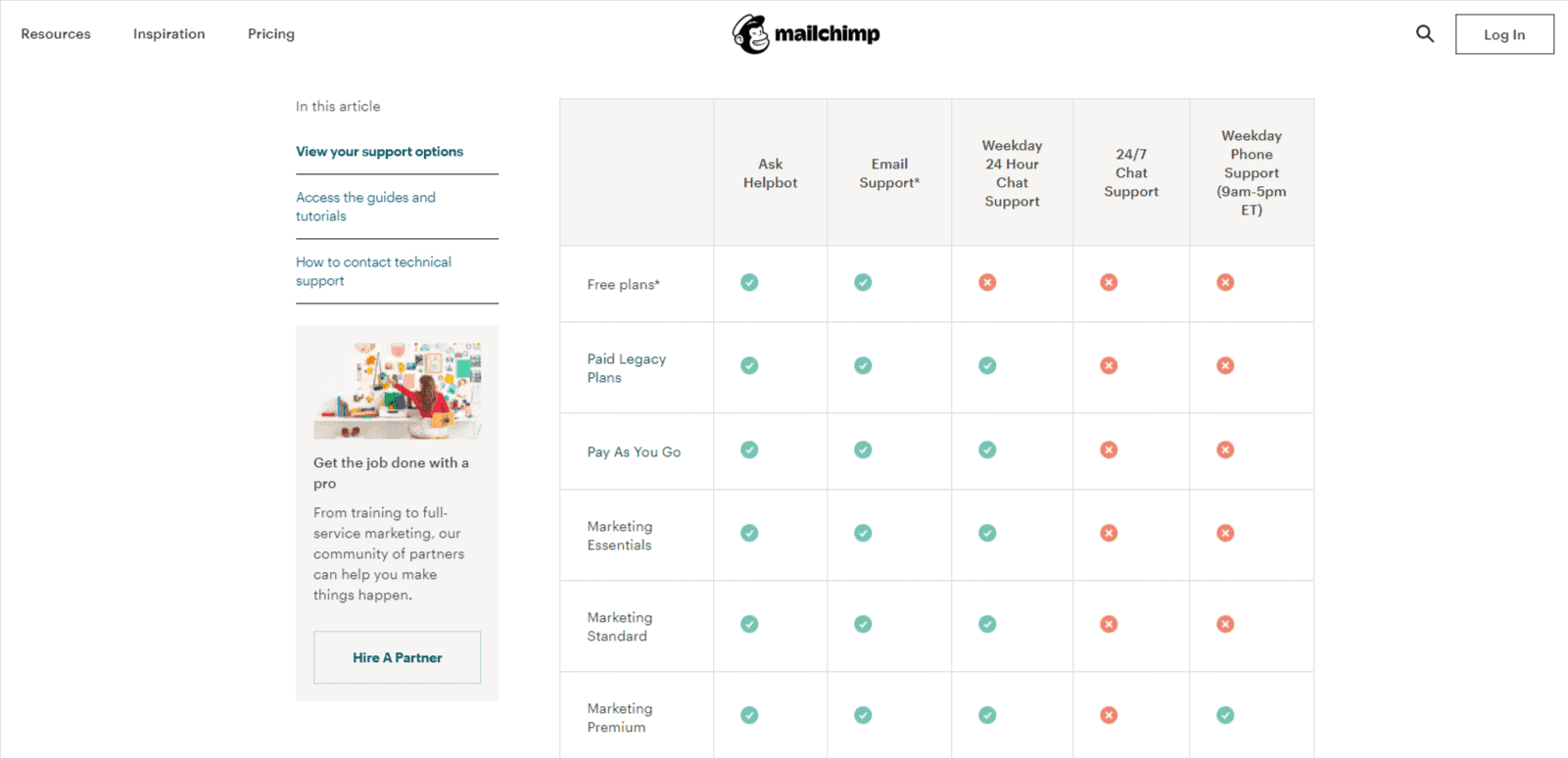 A free plan user of the platform will not have access to Mailchimp's 24/7 chat support system. Phone support is available only for the highest subscription plan.
However, the platform offers a detailed knowledge base. The articles and demo videos are comprehensive and can resolve most queries.
EngageBay's Customer Support
EngageBay also has a robust customer support system.
There are options for phone support and a callback. Users can also email their questions or queries to a dedicated email address.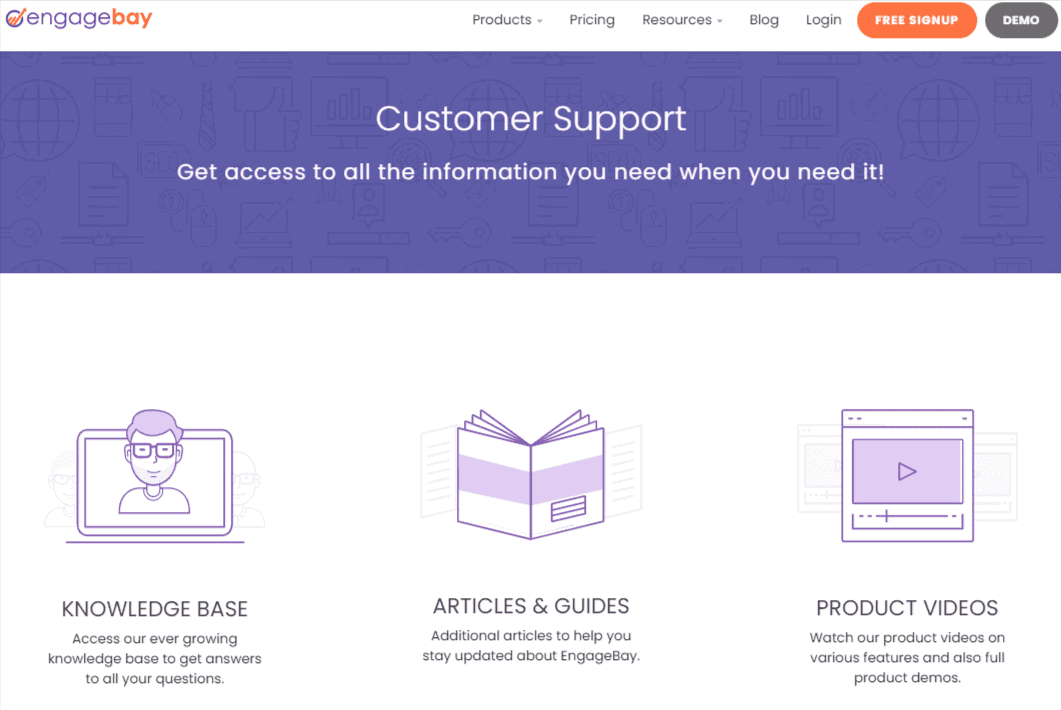 The knowledge base has articles and guides sectioned into marketing, sales, and customer support modules.
Each module contains articles and demo videos that can help users figure out the answers to their queries.
Read also: ActiveCampaign vs. Mailchimp vs. EngageBay For Email Marketing
#3. Convertkit vs Mailchimp vs EngageBay: Forms & Landing Pages
Landing pages and form builders have become commonplace with many email marketing platforms.
Convertkit, Mailchimp, and EngageBay offer great options for creating responsive landing pages.
Convertkit's Forms & Landing Pages
Convertkit has a library of 50+ customizable templates for building landing pages.
The landing page and form functionality are pretty solid — they're easy to set up even without prior coding or designing knowledge.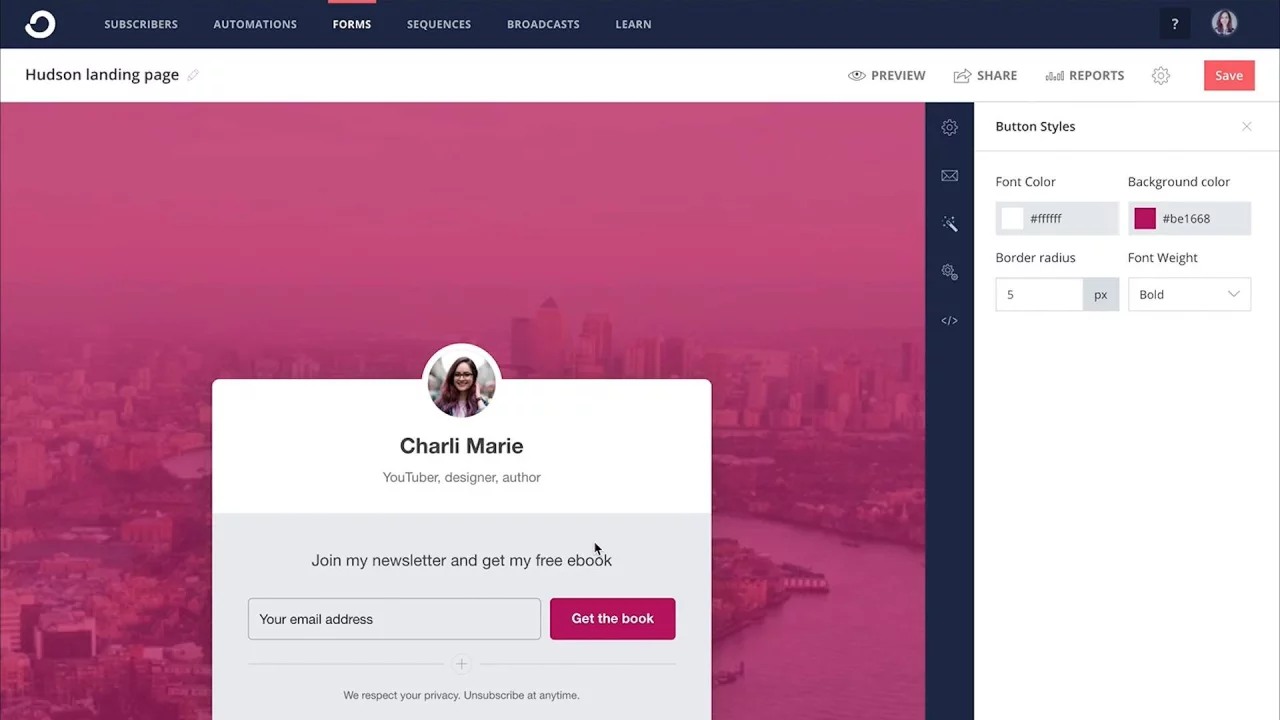 Convertkit allows users to embed forms directly on their websites or as pop-ups. Users can also use plugins like WordPress or Optin without losing subscriber details.
Landing pages in Convertkit are an optional feature.
The landing pages are hosted on a separate, stand-alone page. Users can edit these templates as per their needs.
👉Is ConvertKit the right choice for your business? Uncover detailed insights about ConvertKit's pricing and features in our detailed blog post.🚀
Mailchimp's Forms & Landing Pages
Mailchimp's form builder, in comparison, is a bit tricky to navigate.
That could be because the platform doesn't emphasize lead generation. However, Mailchimp does offer options to build web forms and landing pages.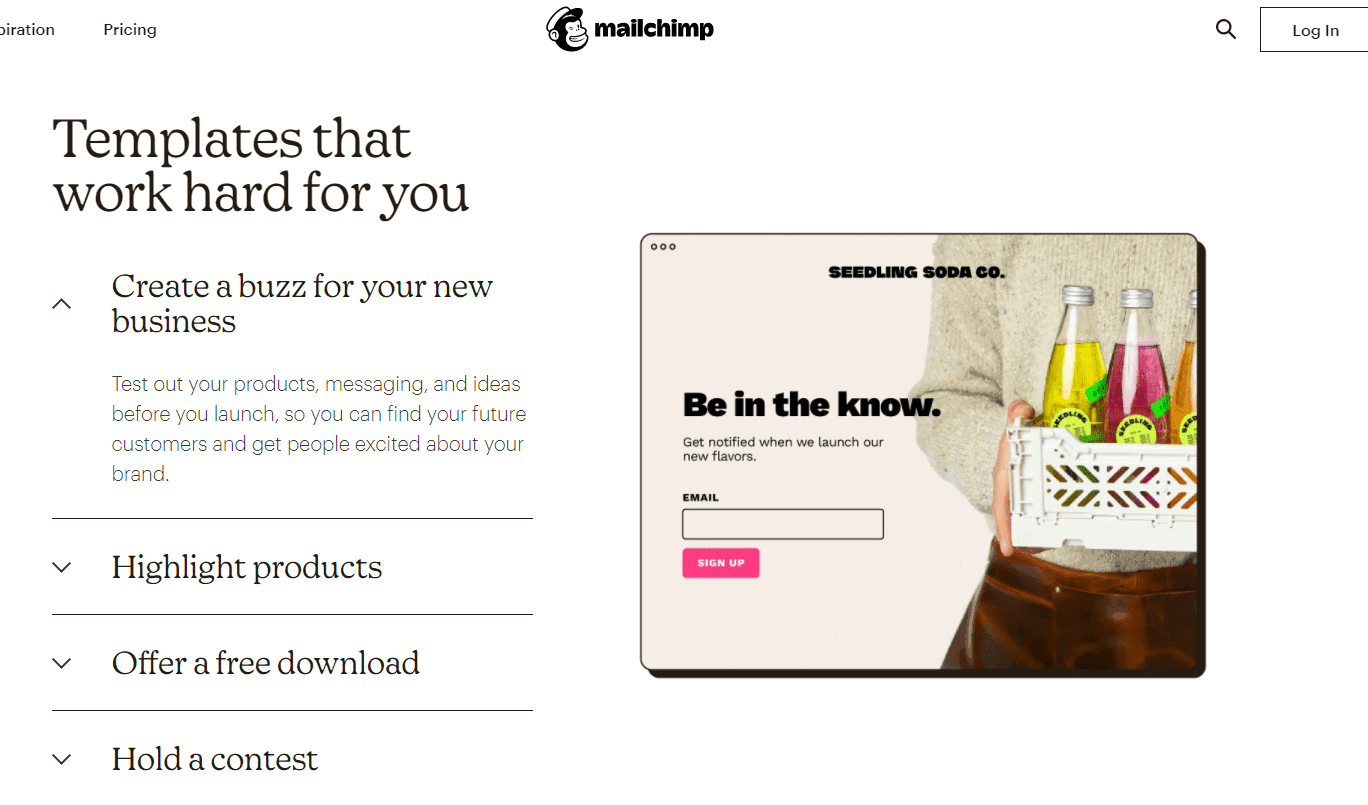 To build a form, users must navigate to the Embedded forms tab. The users get redirected to a page that contains a code. This code can be copy-pasted on the website to embed the form.
Landing pages are relatively more manageable. The visual editor speeds up the process; users can select from templates and drag-and-drop content blocks.
Both Convertkit and Mailchimp offer landing pages and forms that are intuitive and mobile-friendly.
EngageBay's Forms & Landing Pages
EngageBay's form and landing page tool come as part of the Marketing bay.
The platform offers a simple drag-and-drop editor that is customizable and responsive.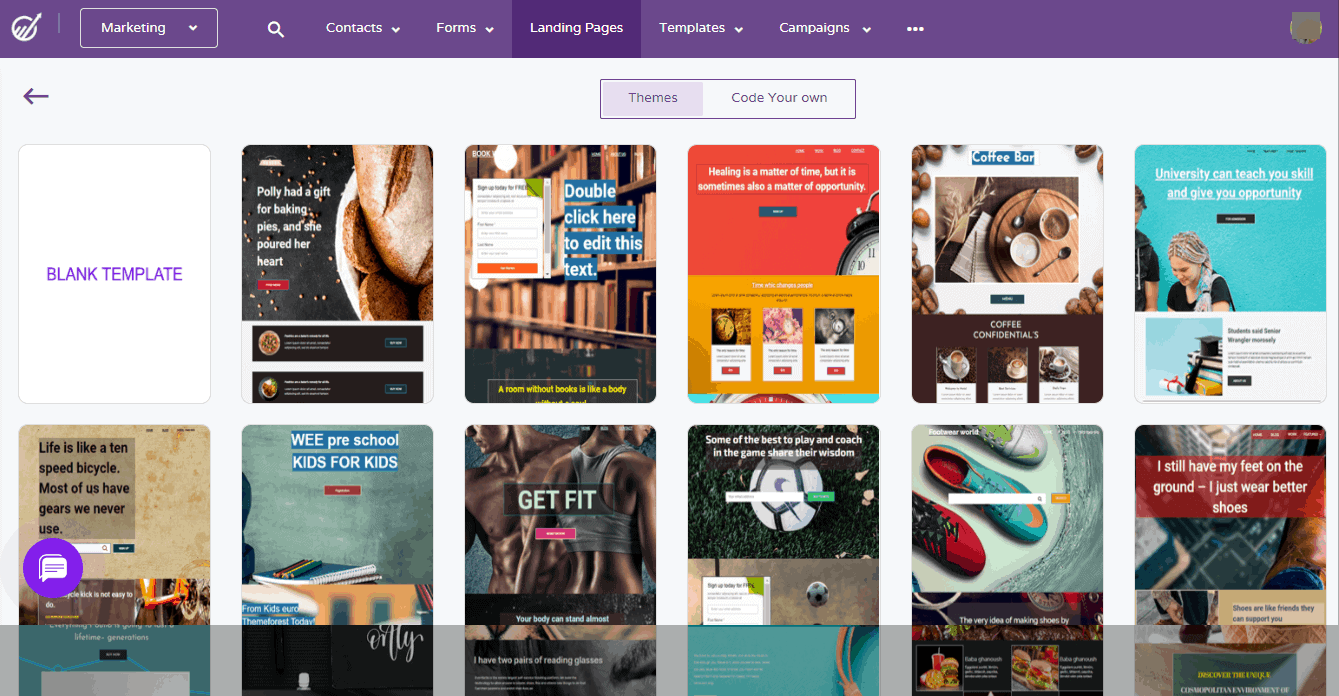 Users can choose from a collection of hundreds of templates, or create from scratch through the drag-and-drop builder. For more control, users can also upload HTML files and even use Rich Text Formatting. With just a single click, users can make their pages responsive for mobile users.
EngageBay's landing pages are flexible and offer a variety of options. Users can set meta-titles and descriptions; this helps boost SEO rankings.
In addition to the landing page builder, users also get access to marketing automation options, lead capture forms, and more.
Read also: 12 Great Landing Page Optimization Practices — The Ultimate Guide
#4. Convertkit vs Mailchimp vs EngageBay: Email Builder
Convertkit's Email Builder
Convertkit's email builder is easy to navigate, but that's because there aren't many options.
The platform is heavily text-based — meaning that users can only edit font size and type, change colors, and upload photos.
There aren't any email templates to choose from — the default is a plain-text email.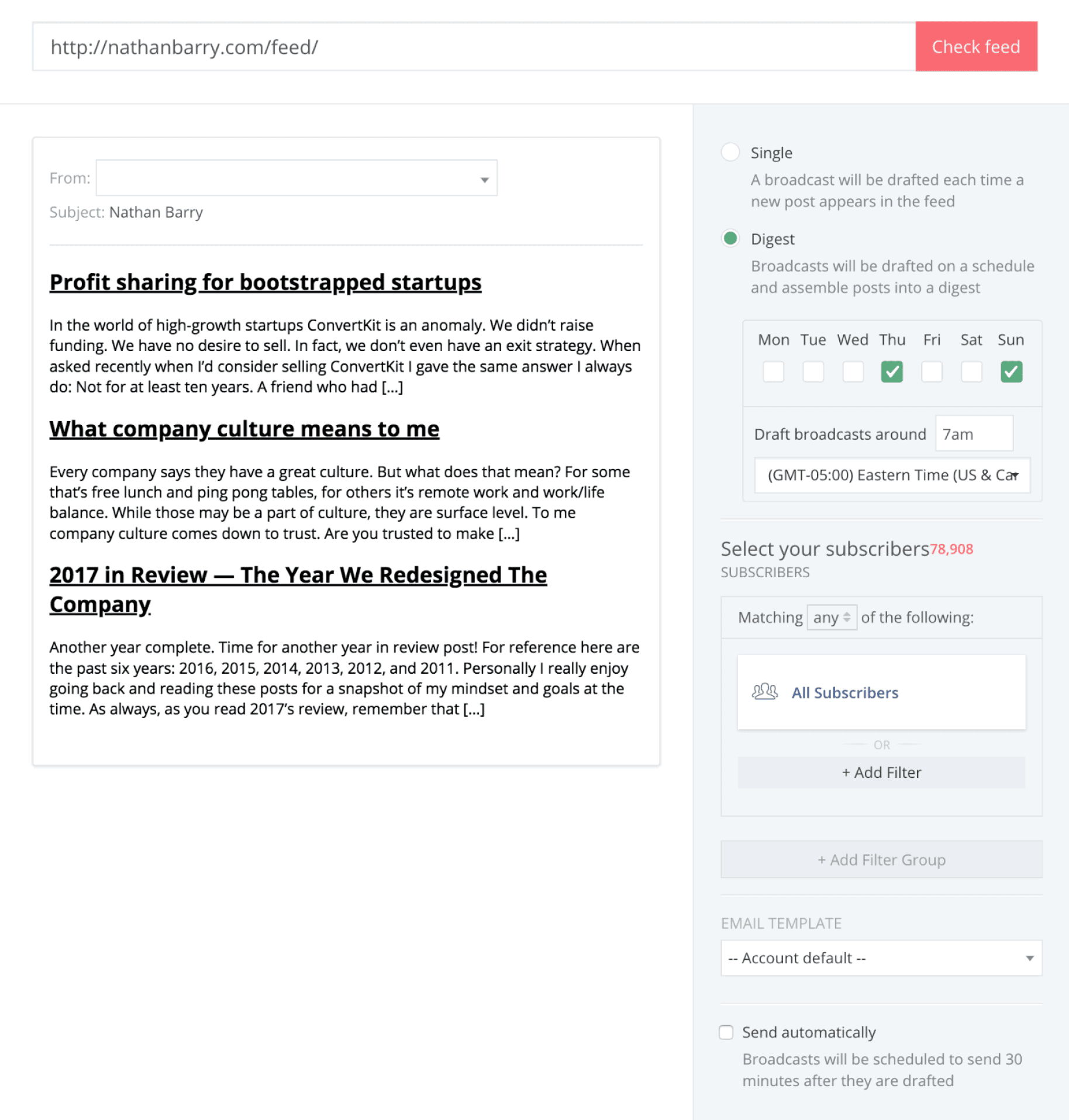 Mailchimp's Email Builder
On the other hand, Mailchimp offers a lot of visual and aesthetic options for designing email bodies.
The platform uses a drag-and-drop editor that allows users to reformat and edit content blocks. Users can also upload a custom code if needed.
The template library is vast — there are over 100 theme-based templates that are responsive and mobile-friendly.
These templates range from newsletters to holiday invites.
EngageBay's Email Builder
EngageBay's email builder is similar to Mailchimp's. Both offer visual options and drag-and-drop functionality.
In EngageBay, users have the option of customizing preset templates or creating an email form from scratch.
The template library is theme-based and organized into sections (newsletters, sales announcements, etc).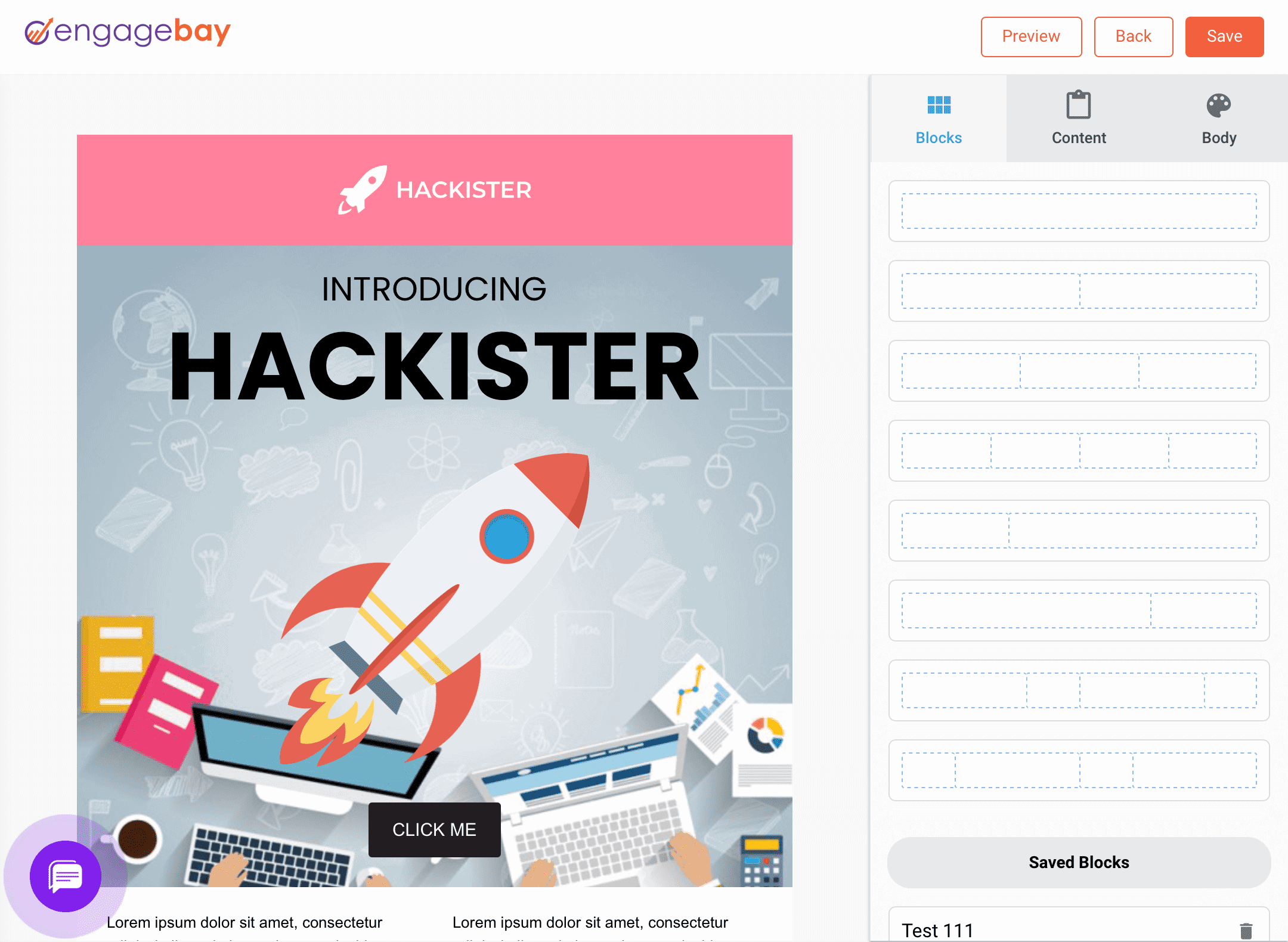 The visual editor uses content blocks, making it easy for non-designers to rework or edit the layout. The template allows for easy photo and video uploads that are saved in a convenient media repository.
Users can also code their own template if needed.
For users who want a greater degree of personalization, EngageBay might be the best bet.
Mailchimp's free plan limits how many templates a user can edit. On the other hand, EngageBay allows access to all the templates with unlimited editing options.
Read also: 6 Marketing Workflow Software — What's the Best One? (Brief Reviews)
#5. Convertkit vs Mailchimp vs EngageBay: Audience Segmentation
Let's now look at how the three email marketing tools fare against each other. We have made a detailed EngageBay, Convertkit, and Mailchimp comparison on features like lists, segmentation, and filtering.
Convertkit's Audience Segmentation
Convertkit doesn't offer list management. Instead, when a user uploads contacts, they're all stored in the same place.
However, Convertkit does have options for tagging and segmenting contacts. Users can create contact groups with the same tag or segment.
Mailchimp's Audience Segmentation
Mailchimp does offer list management. Users can upload contacts into different lists. You can also tag your contacts and separate them into segments for more efficient and personalized email marketing, making Mailchimp an effective marketing tool for content creators.
However, duplicate contacts in different lists still get added to the quota.
Read also: 10 Best Trigger Email Marketing Campaigns (+ 5 Top Software)
EngageBay's Audience Segmentation
EngageBay's list management is two-fold. The platform offers contact segmentation as well as list management.
Contacts can be added to either static lists or smart lists. Smart lists are automated: they enable real-time updates based on customer behavior. EngageBay also lets you create multiple lists.
Users can segment their contacts based on criteria such as user behavior, demographics, company, etc.
EngageBay has more options when it comes to contact management and audience segments.
For businesses that have lots of leads with varying demographics, sources, and behavior, EngageBay is the best bet.
#6. Convertkit vs Mailchimp vs EngageBay: Pricing
Convertkit's Pricing
Convertkit offers a free 2-week trial after which you will have to upgrade.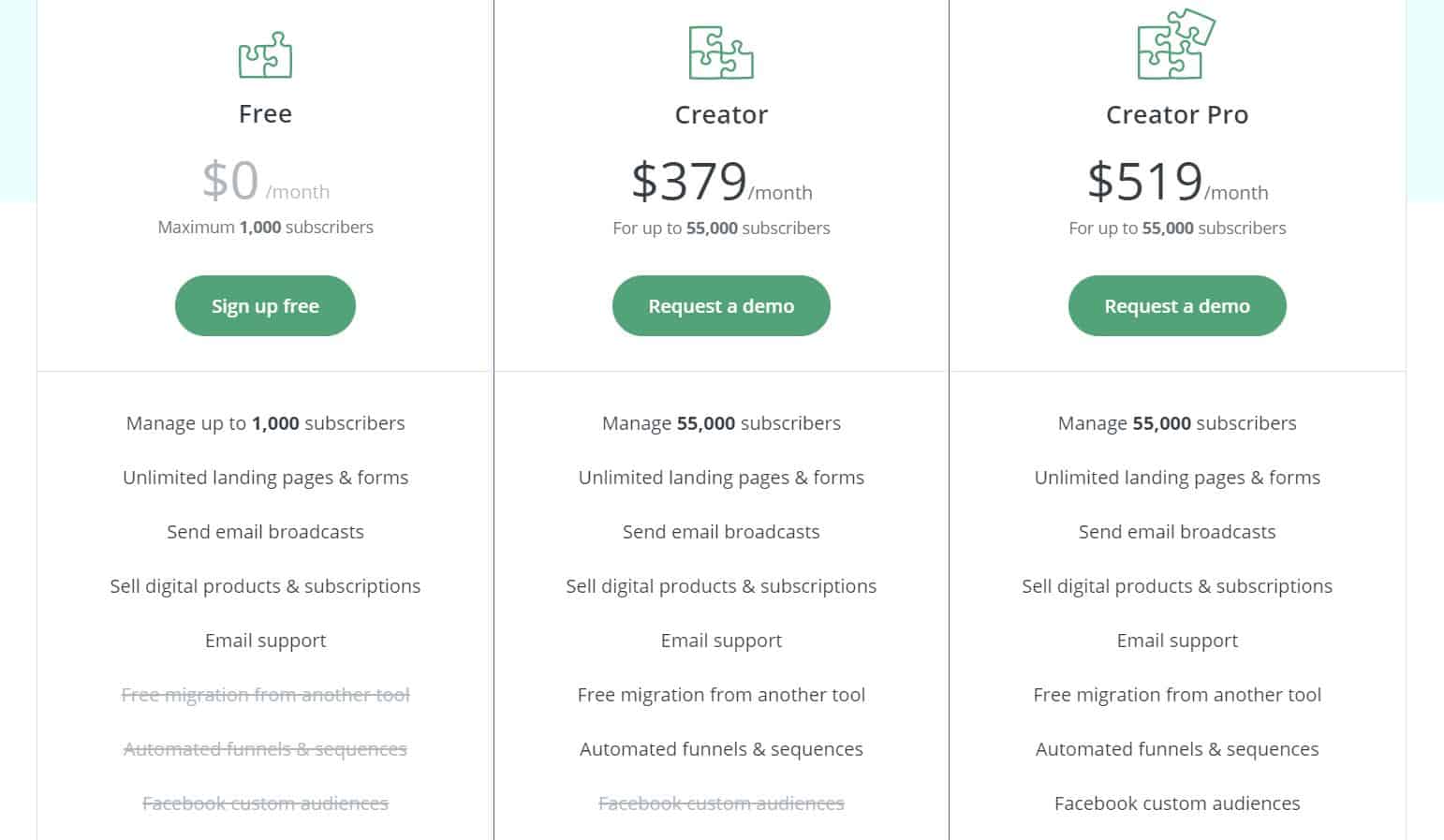 There are two plans:
Creator: Starts at $29 per month.
Creator Pro: Starts at $59 per month.
The above-mentioned pricing is for 1,000 subscribers. Convertkit pricing is based on a sliding-scale model, so you'll have to pay more as your subscribers increase.
For 55,000 contacts, the Creator Pro package starts at $519 per month.
👉Want to find a Convertkit alternative that's better suited to your needs? Check out our article on the top Convertkit alternatives.👌
Mailchimp's Pricing
Like Convertkit, Mailchimp offers a free plan for up to 10,000 emails and 2,000 contacts.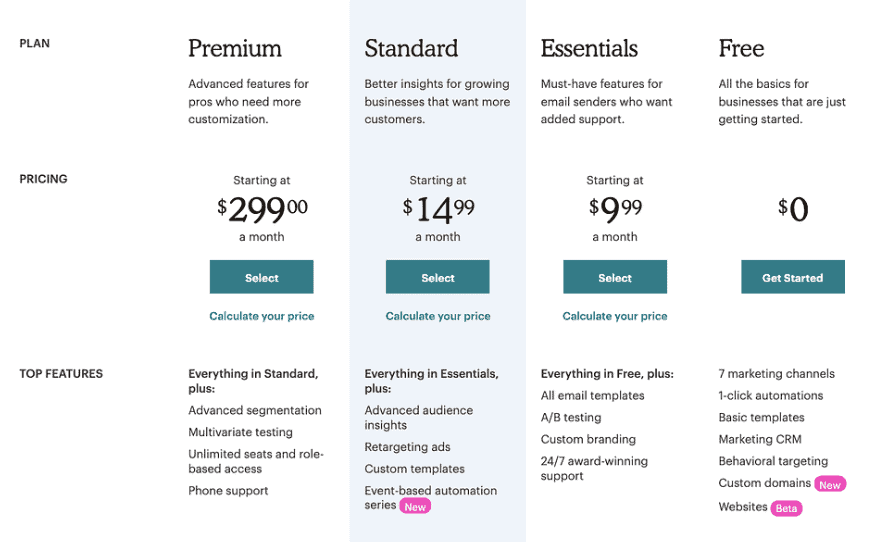 There are three pricing plans:
Essentials: This paid plan starts at $10.20 per month
Standard: The Standard paid plan starts at $15.24 per month
Premium: This plan starts at $304.82 per month
These prices are for a small number of contacts. For 50,000 contacts, the Premium plan starts at $609.64.
Looking for a more flexible solution to Mailchimp? Our article on the top Mailchimp alternatives will help you find the perfect fit.
EngageBay's Pricing
EngageBay's pricing depends on whether users want to buy the whole suite or just one tool.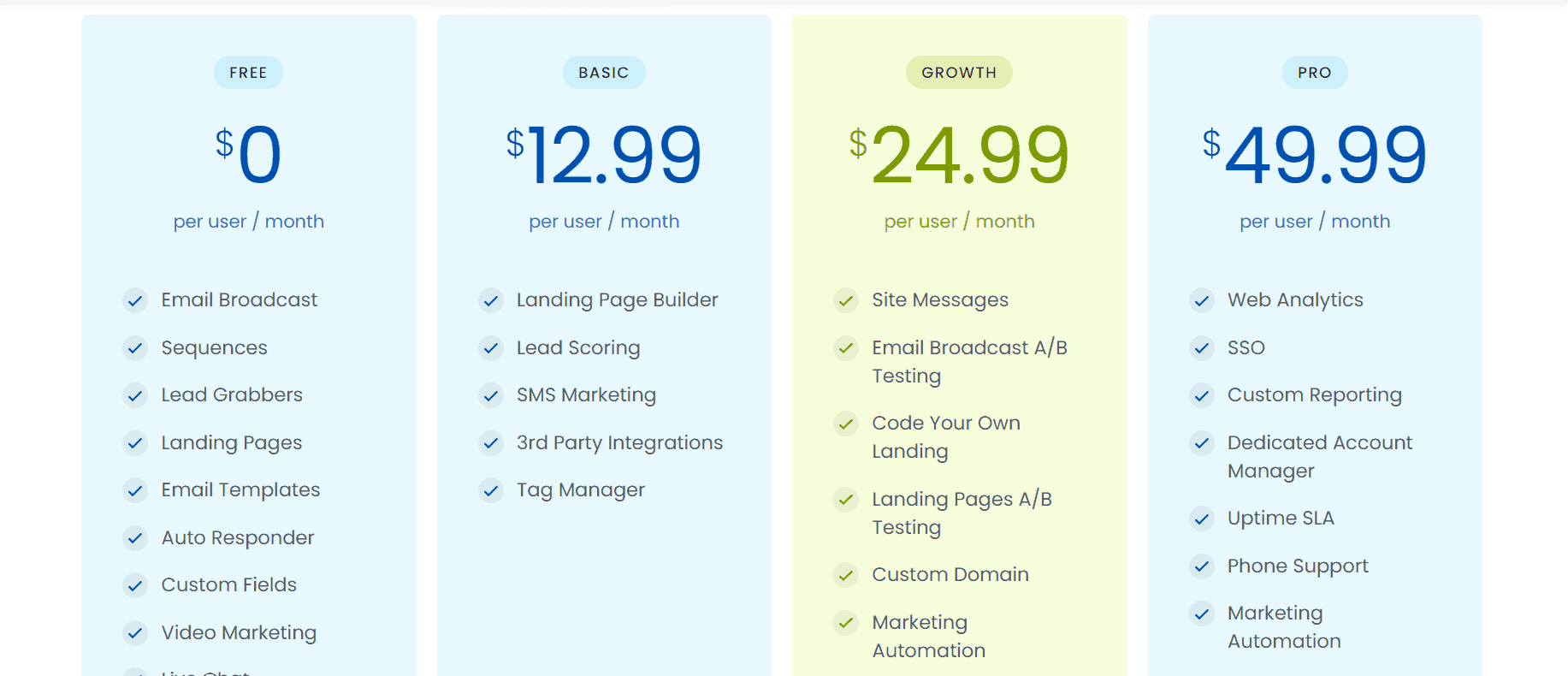 The EngageBay CRM has a free (forever) plan for up to 500 contacts and 1,000 branded emails. Even the free plan has tons of features, including live chat, integration library, targeted emails using personalization, sequences, and so much more.
The paid plans offer visual automation workflows, sales funnel management, A/B testing, timezone-based deliverability, and much more.
For the All-in-One package, the plans are:
Basic: $8.99 per user/month
Growth: $29.99 per user/month
Pro: $47.99 per user/month
For Marketing, Sales & CRM Bay:
Basic: $7.79 per user/month
Growth: $14.99 per user/month
Pro: $29.99 per user/month
Unlike Mailchimp and Convertkit, EngageBay's pricing is fixed, which means you don't have to pay more as your subscriber base grows.
The All-in-One Pro package offers unlimited contacts and 50,000 branded emails a month without extra charges.
EngageBay also offers a 20% discount on annual subscriptions and a 40% discount on annual subscriptions.
None of the three email marketing tools offer unlimited emails.
Read also: 9 Proven B2B Email Marketing Best Practices for Beginners
Convertkit Vs Mailchimp Vs EngageBay – Which Tool Should You Choose?
Now that we've seen the ultimate comparison of Convertkit vs Mailchimp vs EngageBay, it is time for you to choose.
All three email marketing software can do wonders for your small business.
Convertkit is a marketing tool aimed mainly at bloggers and online content creators, Mailchimp is for e-commerce, and EngageBay is for small businesses of any kind looking to scale.
There's a catch, though.
Both Convertkit and Mailchimp operate on a sliding scale model. This means you have to keep paying more as your contacts grow.
You might end up paying hundreds of dollars for a platform that initially cost you a single-digit number!
EngageBay is obviously the best option: you get all the features of Convertkit and Mailchimp, and some more, and at a price that is truly incredible.
For starter plans, it doesn't seem like much of a difference, but when you scale operations and you have about 50,000 contacts or more, you'll be paying anywhere between 1,000% to 1,200% more for Convertkit and Mailchimp.
We don't think you'd like to do that ?