Every day, more and more startups are popping up all over the world.
It's a great time to be an entrepreneur because there is so much opportunity for growth in this industry.
But with so many new companies being created each year, it can be tough to find the best CRM software for startups to suit your needs.
That's why we've compiled a list of five CRM platforms that we think are perfect for any startup: Hubspot, EngageBay, ActiveCampaign, Pipedrive, and Keap.
In this blog, we'll go into detail about what makes these ones stand out from the crowd of CRM products out there.
We'll also talk about the key features these CRMs offer entrepreneurs looking to grow their business.
Of course, we'll share some quick pricing plans too, so you know how much you'll have to shell out for each package.
What is CRM and How Can it Help Your Startup Grow?
CRM basically means customer relationship management and it often refers to a software solution that can help you win at customer satisfaction.
CRMs are designed to help businesses grow, by providing them with the tools and data they need to better understand who their customers are.
This can help your startup tremendously because it means you'll be able to know more about your customers and what they want.
This knowledge is great for improving customer service, retention rates, and building a brand image around your startup.
It can help with word-of-mouth, which is super important for young entrepreneurs and companies just starting out.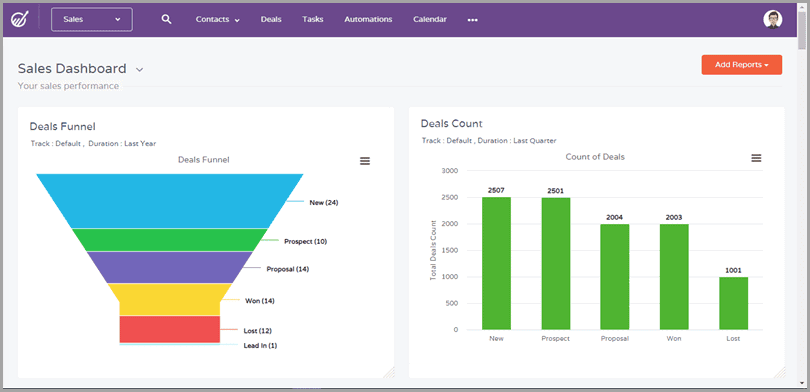 Overview of CRMs for Startups
Finding the best CRM solutions for startups can be a little daunting because there are so many options out there.
We'd say the best CRMs for startups in 2021 include Hubspot, EngageBay, and ActiveCampaign.
Hubspot is an all-inclusive solution designed to help entrepreneurs build their business from scratch. It offers a strong suite of sales tools, a marketing automation software, and integrations with third-party applications like WordPress.
Plus, it has tons of features like chatbot integration for Twitter or Facebook Messenger, and personalized customer experiences through surveys, live chats and web forms.
That said, HubSpot can cost you thousands of dollars a month!
EngageBay starts at just $7.79 per month and offers super valuable features such as conversion tracking analytics (complete sales funnel), email marketing automation, deals pipeline, Live Chat, social media monitoring, and more.
This new but smart software can help your startup or small business grow to new heights in 2021 itself.
ActiveCampaign is one of the most popular email marketing platforms, especially for startups and entrepreneurs. Active Campaign offers a variety of plans at different price points that can work well for companies of any size – from $11 per user per month to over $500 per user per month.
It comes packed with features such as customer communication tools that help your team collaborate more efficiently, goals segmentation and tracking, unlimited CRM data storage capacity, and detailed analytics so you can measure the effectiveness of all your campaigns.
Top 6 Features to Look for in the Right CRM for Startups
Here are the top six features you should look for in a CRM for startups:
Accessibility – Accessible CRM platforms make it easy to update your records anywhere, anytime. You should be able to get into the system from a laptop, desktop, or mobile device with ease.
Intuitive Interface – It's about more than just aesthetics when it comes to an intuitive interface. A good CRM should have features that are designed in such a way that they're easy for you and your team members to understand without any training.
Data Storage Capacity – CRMs must be flexible with the storage they allow, and have enough room for your startup to grow its database over time.
Customization – As your startup grows and you have thousands of customers, your team will struggle with personalized marketing or sales pitches. Look for a CRM solution that's big on customization.
Mobile-Friendly – Your team should be able to work remotely, so it's important for your CRM system to be mobile-friendly.
Lead Scoring – The better you know your leads before they become customers, the more opportunities to upsell and increase customer lifetime value. Look for a CRM software that comes with lead scoring at no or little cost.
Five of the Best CRMs For Startups In 2021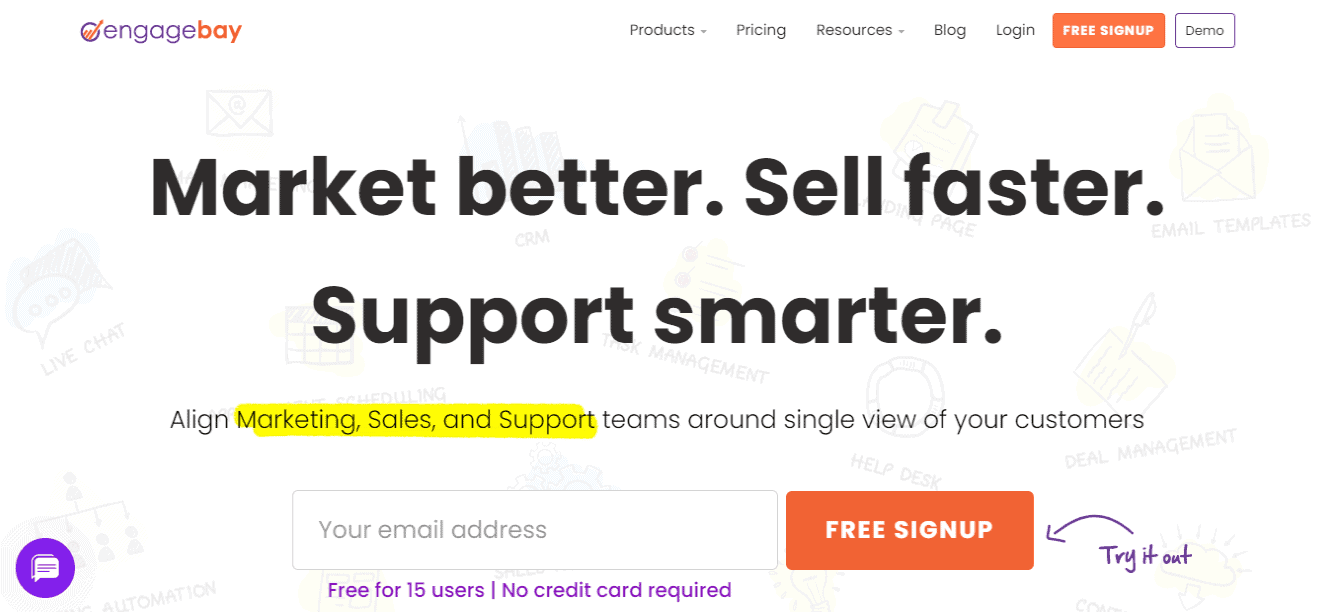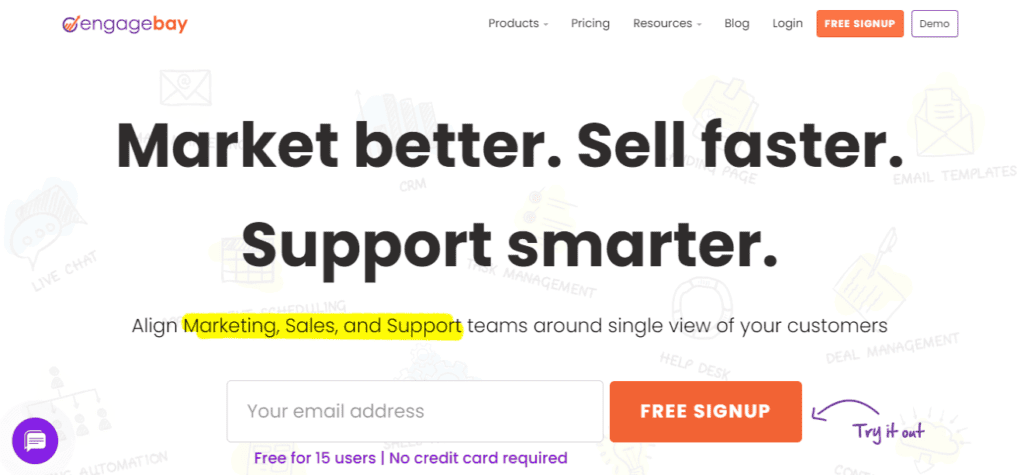 EngageBay is the most affordable and integrated all-in-one CRM software that startups can get in 2021. It's perfect for small and medium-sized businesses.
The software comes with all the features your startup would need to grow in business.
We're talking automation tools for marketing and sales, easy-to-use drag-and-drop builder for email templates and landing pages, a visual deals and sales pipeline for revenue tracking and predictions, and integrated Live Chat.
EngageBay can help you grow your revenues by up to five times by marketing the right product to the right customer at the right time.
More than 30,000 companies around the world trust our product, and we just got started!
The Marketing and Sales Bays offer a wide range of powerful features that can help you automate your marketing campaigns, manage leads, and turn them into returning customers.
You can set up drip campaigns to send relevant emails to a segmented contacts base.
EngageBay offers predictive lead scoring so you can engage with marketing-qualified leads easily.
There's Live Chat to interact in real-time with your web visitors.
You can A/B test each key element of your emails, web forms, and landing pages.
EngageBay's marketing automation tools are affordable, scalable, and super easy for beginners to use!
This CRM software offers the highest return on investment, period! There's a free-forever plan, and you can always upgrade to our highly affordable, customizable paid plans.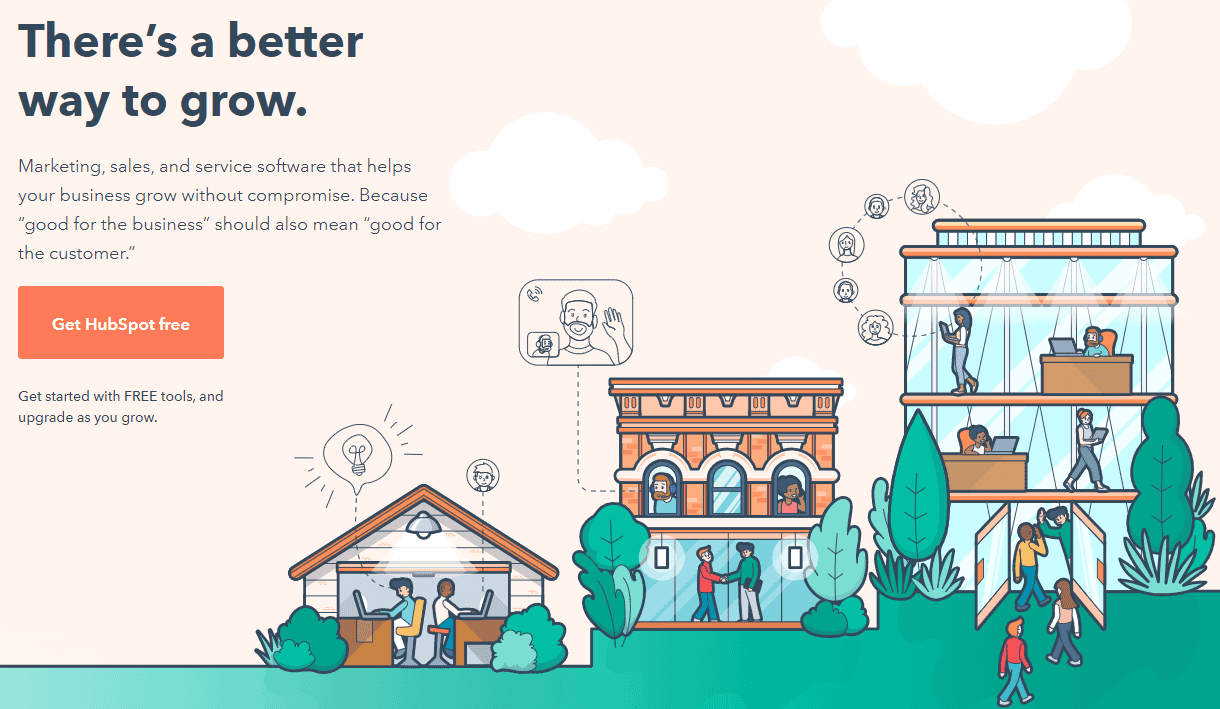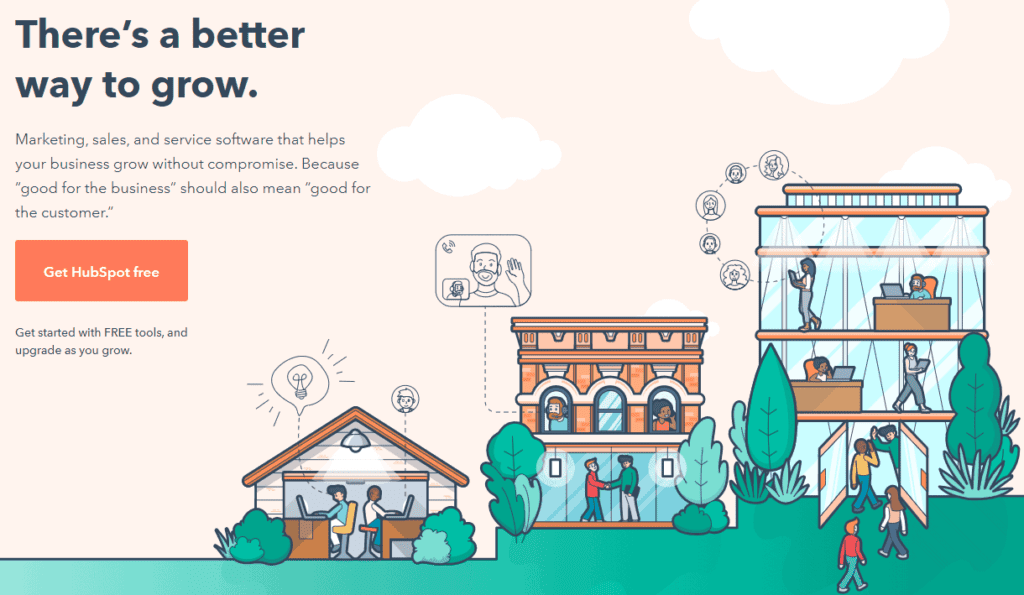 HubSpot is the inspiration for many of the CRM software that are popular today. It is among the oldest and most trusted tools, with several global corporate giants using HubSpot to automate their marketing and customer service tasks.
HubSpot offers a plethora of features, including marketing automation, sales workflow automation, and automated email campaigns.
This CRM solution is easy to integrate with other marketing and customer service tools, so you can share data between apps (Google Sheets, Slack) and boost your company's growing operations.
Essentially, this marketing automation software helps you find the right audience. It can help you convert more visitors into customers and run complete inbound marketing campaigns from one platform.
HubSpot CRM is free, so you can get started without much cost. However, when you scale, say, for 10,000 contacts, it'll cost a bomb (at least $3,200 a month).
The basic package lacks some features that are necessary for managing a full-fledged business – reporting dashboards with charts to track data in real-time or AI capabilities to make sense of large amounts of data.
For the automation features we've mentioned, HubSpot plans start at $800/month.
You can upgrade to Enterprise plans and access many other advanced features such as lead scoring, marketing analysis tools, revenue management, customer journey analytics, and more.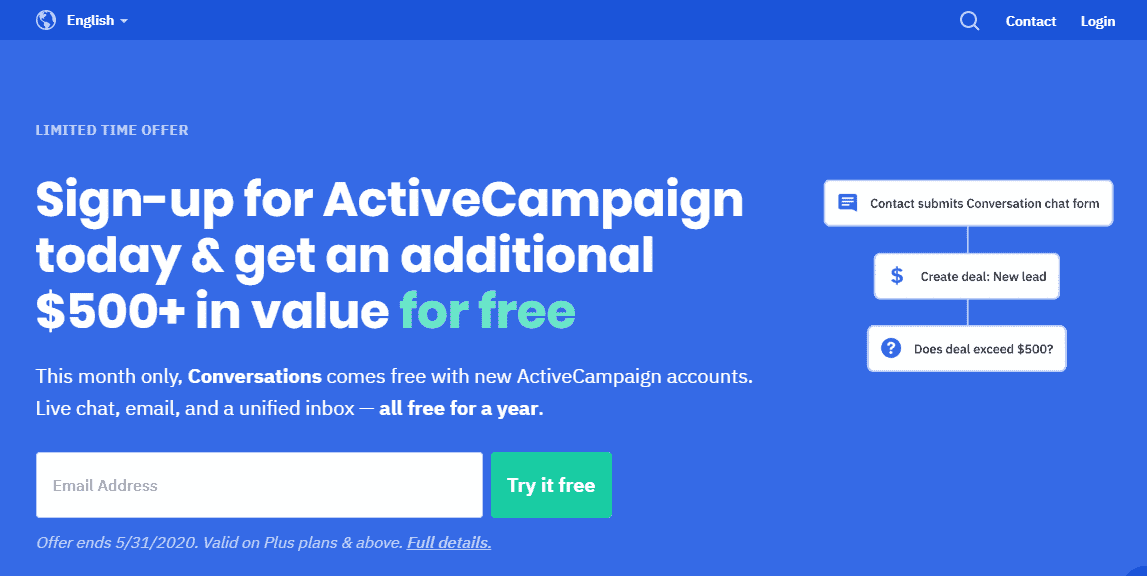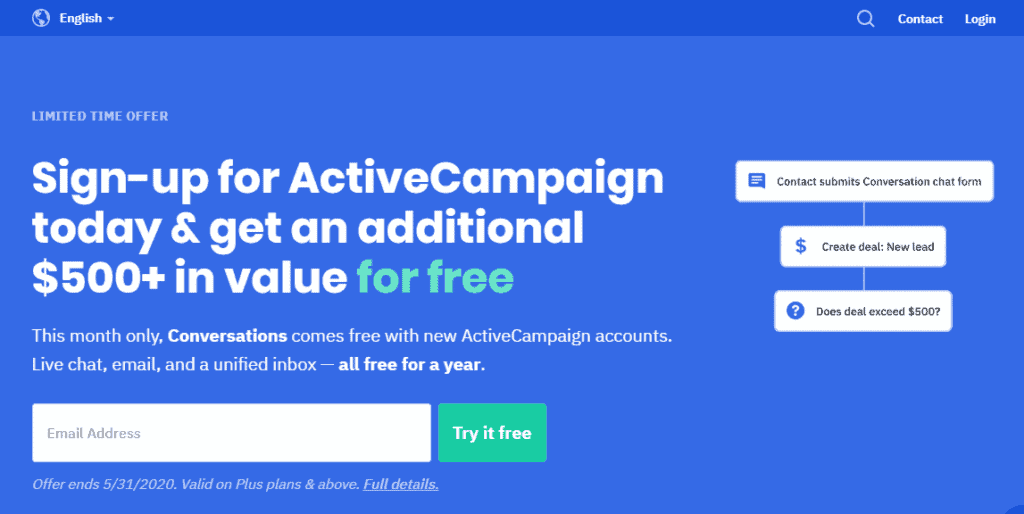 ActiveCampaign is one of the best all-in-one marketing solutions around today because it's affordable and powerful.
There's plenty of marketing features for startups, like drip email campaigns, webinars and web forms, and easy integrations across popular business platforms such as Mailgun, Zapier, LinkedIn, and Gmail.
ActiveCampaign offers a 14-day free trial. Plans start at just $15/month but can go all the way up to 499/month for 10,000 contacts.
This CRM offers marketing analytics, automation of your marketing workflows, project management tools, and marketing analytics reports, among many other features.
ActiveCampaign's dashboard is easy to navigate through and they have an excellent tutorial of what each feature does when you log in for the first time.
Key features of ActiveCampaign include:
Unlimited emails
Marketing automation
Analytics
Automation of workflows
WordPress integration
Customer behavior tracking
Contacts segmentation with AI
Marketing campaign manager
Integrations with 850 apps
Social media management
Support for marketing KPIs
ActiveCampaign is a comprehensive CRM with a whole lot to offer to startups and small businesses, but it can also get pricey as you scale.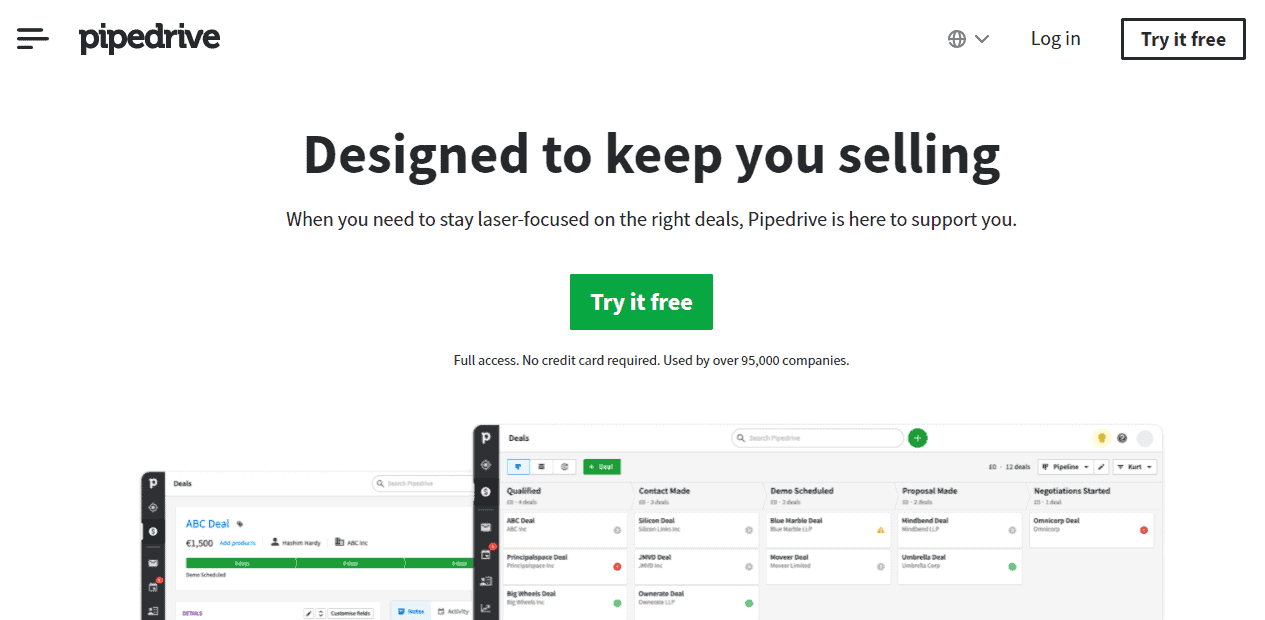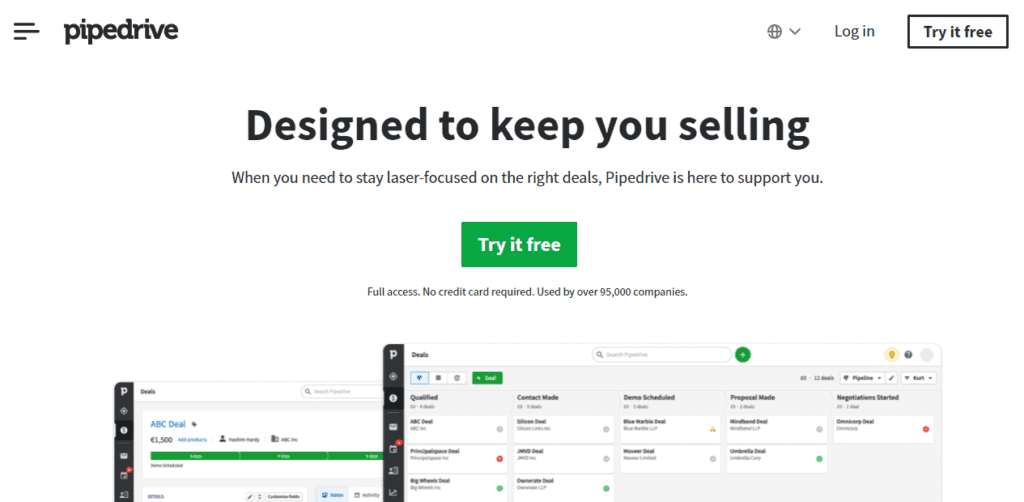 Pipedrive is a CRM software for startups that offers incredible customer service features like contact records, tasks, notes, and support tickets.
It integrates seamlessly with other marketing automation tools to keep your workflow streamlined. The CRM has an easy-to-use interface and a free 14-day trial.
Pipedrive is super flexible and is a great option for startups that need many marketing automation capabilities in one place.
You can make multiple sales pipelines with customizable, unique stages relevant to a specific product or service.
Essentially, Pipedrive lets you stay on top of things without needing an army of highly skilled workers.
You can customize data fields and workflows for your distinct business processes as they evolve over time. The CRM has mobile apps for Android and iOS devices, which means you'll have access to all its features from anywhere.
This marketing automation system also features lead scoring, which takes into account the key information from social media profiles of customers when assigning points. This can help a lot in qualifying new leads.
Pipedrive is a CRM that's specifically designed for the needs of startups and small businesses. It offers a minimalistic design, which makes it easier to use on mobile devices as well.
The best thing about this software is its affordability: you only pay per user as opposed to paying upfront for the entire team.
Pricing starts at $12.50/month when billed annually.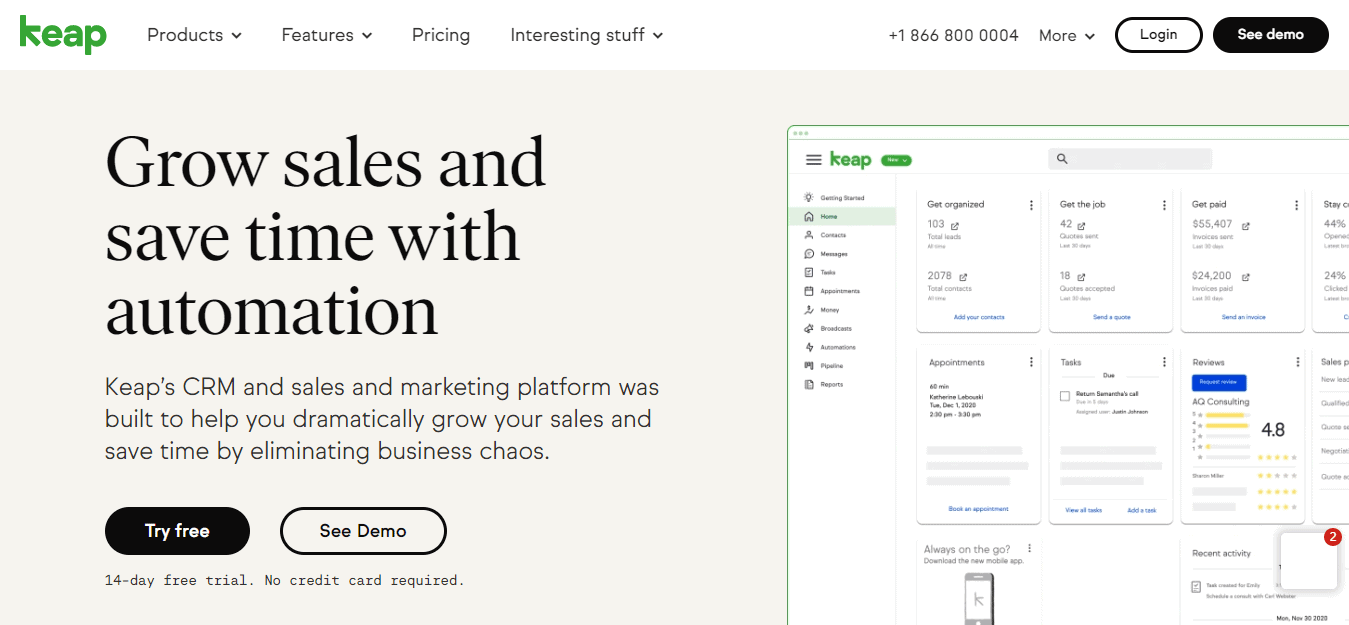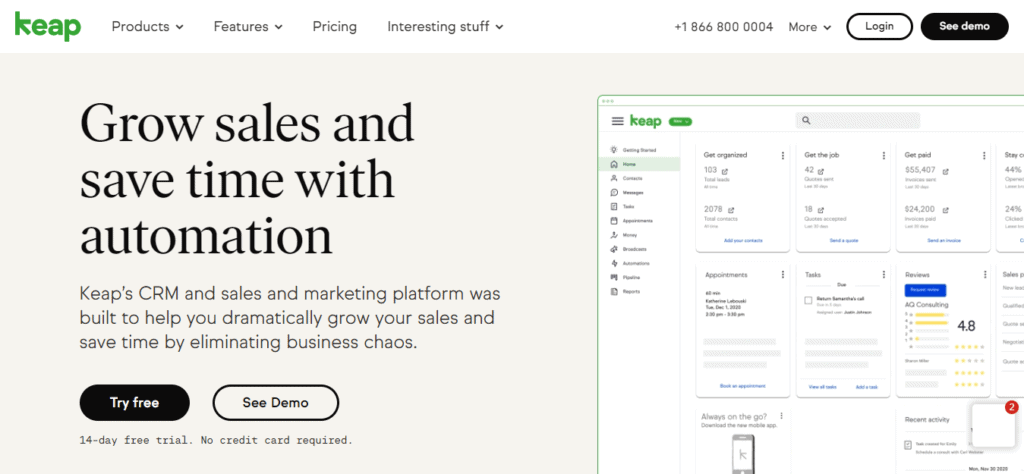 Keap is an excellent option for young entrepreneurs looking to spend their time running their business instead of managing customer data in a comprehensive but complex CRM system such as Salesforce or HubSpot.
If you want a simple solution to scale business operations with a CRM that offers a drag-and-drop interface and marketing automation, this can be a top choice.
You can trigger your email marketing campaigns based on customer behavior.
You can set up any number of marketing campaigns for new and old customers, with tailored email marketing messages.
Keap allows you to import your contact lists from spreadsheets, business card scans, other CRMs or custom forms on your webpage.
It's very easy then to build a centralized contact record that will soon reflect all the customers in your company.
Keap has an excellent customer support team, available 24/7.
Key features of Keap include:
Email Automation – Tracks who is viewing what content; sends automated emails and responses based on the actions of your customers.
Contact Management: Tracks and manages marketing communications to all of your leads, contacts, customers or prospects.
Marketing Campaign Builder: Allows you to create marketing campaigns with a drag-and-drop interface that makes it easy to build custom automation.
Analytics: Helps you discover trends in marketing through data mining on email activity by keyword, company size and other filters.
The pricing starts at $56/month, but increases after the first five months. For 10,000 contacts, the Lite plan costs $196/month.
Also, onboarding requires a paid coaching for an additional $499.
Why You Should Invest in A Good CRM
We hope that in this blog post, we have shared a bunch of really good options for you to choose your pick.
A startup needs to invest in a smart CRM solution. It will help you organize and grow your startup. CRMs can also streamline operations and make remote/distributed work more efficient.
Whatever the role of a marketing person in your company, there is a CRM feature that fits their needs nicely.
Without a CRM tool, your sales and marketing teams will have a hard time meeting their targets.
CRM software saves your marketing team tons of hours every day by automating marketing tasks like lead generation, email marketing campaigns, social media marketing (integrating with Facebook, LinkedIn, etc.), and more.
Investing in a good CRM tool makes a lot of sense when you understand all the benefits your startup will get.
No CRM tool can do all the work for you, but any powerful CRM will help your startup boost its productivity and scale business operations.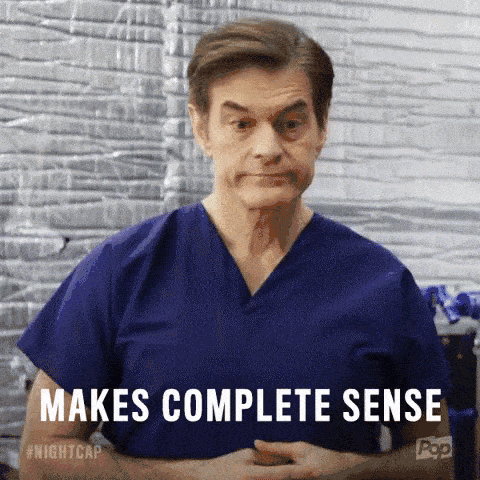 Wrap Up
CRMs can be great to help your small business keep track of all the details that come with customer relations.
To figure out if a CRM solution is something that will benefit your team in their day-to-day work, consider these quick questions:
Are you unhappy with your current methods of keeping customer and business information organized?
Can your communication with customers improve in streamlining and speed?
Does it seem like your work processes are not working smoothly and efficiently?
If yes, a CRM software is just what you need!
When deciding what CRM software will work best for your startup, keep these six points in mind:
The CRM tool should integrate all areas of marketing — social media marketing, lead generation campaigns, email marketing, etc.
The CRM software should come with no hidden costs.
It should be easy to use – must have an intuitive interface.
There should be a free plan or trial for all features.
You should get 24/7 support.
The CRM should integrate well with other business tools.
What we've explored here are all great choices, but we think that HubSpot and EngageBay are the clear winners.
In terms of features, it's hard to pick one over another; both fit the needs of a startup, but HubSpot can get super expensive for small businesses with not much of a marketing budget.
EngageBay offers one of the most affordable CRM systems for startups on the market today.
This can be your all-in-one CRM solution, with a lifetime free plan and unlimited scope to scale.