Is your small business or startup still searching for its ideal email marketing platform?
Maybe you've tried AWeber and felt it wasn't the right platform.
That's fine.
We've compiled four of the best AWeber alternatives for small businesses and startups on a tight budget:
EngageBay
ConvertKit
GetResponse
Sendinblue
Each of these AWeber competitors offers similar services, sometimes with superior features and lower price points. We'll discuss the best features of each of these email marketing services as well as their prices so you can decide on the best platform for your small business.
Happy reading!
An Overview of AWeber's Features and Pricing
Founded in 1998, AWeber calls itself a "powerfully-simple email marketing" platform and is designed for small businesses.
Let's first take a closer look at the features and pricing of AWeber. This will allow us to make a fair comparison between AWeber and EngageBay, ConvertKit, GetResponse, and Sendinblue.
AWeber Features

These are the features included as part of AWeber's email marketing services:
Multiple mobile apps: Use AWeber Stats for analytics on the go, AWeber Curate for making and sending newsletters, and AWeber Atom for list-building.
Contact management: Categorize and manage contact lists for targeted email sending.
Sign-up form builder: Create both desktop and mobile-friendly sign-up forms to drive engagement.
List targeting and segmentation: Send more tailored content with contact list segmentation features.
Pre-built reports: Pre-built reports focus on actionable best practices.
A/B Testing: Choose the most responsive version of your emails and other communications with split testing.
Concierge migration: AWeber will take your existing contact lists and migrate them for free.
Integrations: AWeber has a long list of integrations in areas like webinars, video, surveying, social media, lead generation, landing pages, eCommerce, CRM, and content management.
AWeber Pricing
If you're not sure if AWeber is the email marketing solution your small business or startup needs, you can download a free trial.

AWeber offers two pricing plans: the Free plan and the Pro plan. The Free plan is always free, but you're capped at one list profile, 3,000 emails a month, and 500 subscribers. Here are the features of the Free plan:
Live chat, email, and phone support around the clock
Free migration to AWeber
Integrations
Account and team management with unlimited users
Ecommerce Solution Migration
Basic message and subscriber analytics
Basic email sending to segmented lists
Subscriber tagging
WordPress plugins
Sign-up forms
Facebook Pixel tracking
Google Analytics
Video landing pages
Access to the AWeber image library for building emails and landing pages
Landing page and email templates
Hosted broadcast archives
AMP emails
Dynamic content
HTML emails
RSS to email
Newsletter sending
Email automation
The Pro plan is priced on a sliding scale. If you're billed monthly, here's how the Pro plan pricing goes up as you add more contacts:
500 contacts – $24.99 a month
Up to 2,500 contacts – $49.99 a month
Up to 5,000 contacts – $54.99 a month
Up to 10,000 contacts – $74.99 a month
Up to 25,000 contacts – $154.99 a month
Paying for the Pro plan gives you access to all Free plan features above as well as:
Web-push notifications, analytics, send messages, and subscriber collections
Purchase tagging
Cart abandonment messages
Sales tracking
Webpage tracking
Advanced account and audience analytics
Advanced messaging analytics
Custom segment email sending
A/B testing for sign-up forms and emails
No AWeber branding on landing pages or emails
Branded click-track email links
Behavioral automation
You can also create unlimited list profiles, send unlimited emails, and add unlimited subscribers.
On the flip side, AWeber is not the ideal platform for many businesses. AWeber's automation is quite basic, and it offers lesser features than some of the competitors.
In addition, AWeber's templates look outdated, and its RSS to Email feature does not operate well with the drag-and-drop editor.
User Reviews of AWeber
Here are some user reviews of AWebeber that point out a few issues:



4 of the Best AWeber Alternatives
Now that you're more familiar with the services AWeber offers as well as its pricing, let's discuss AWeber alternatives: EngageBay, ConvertKit, GetResponse, and Sendinblue.
1. EngageBay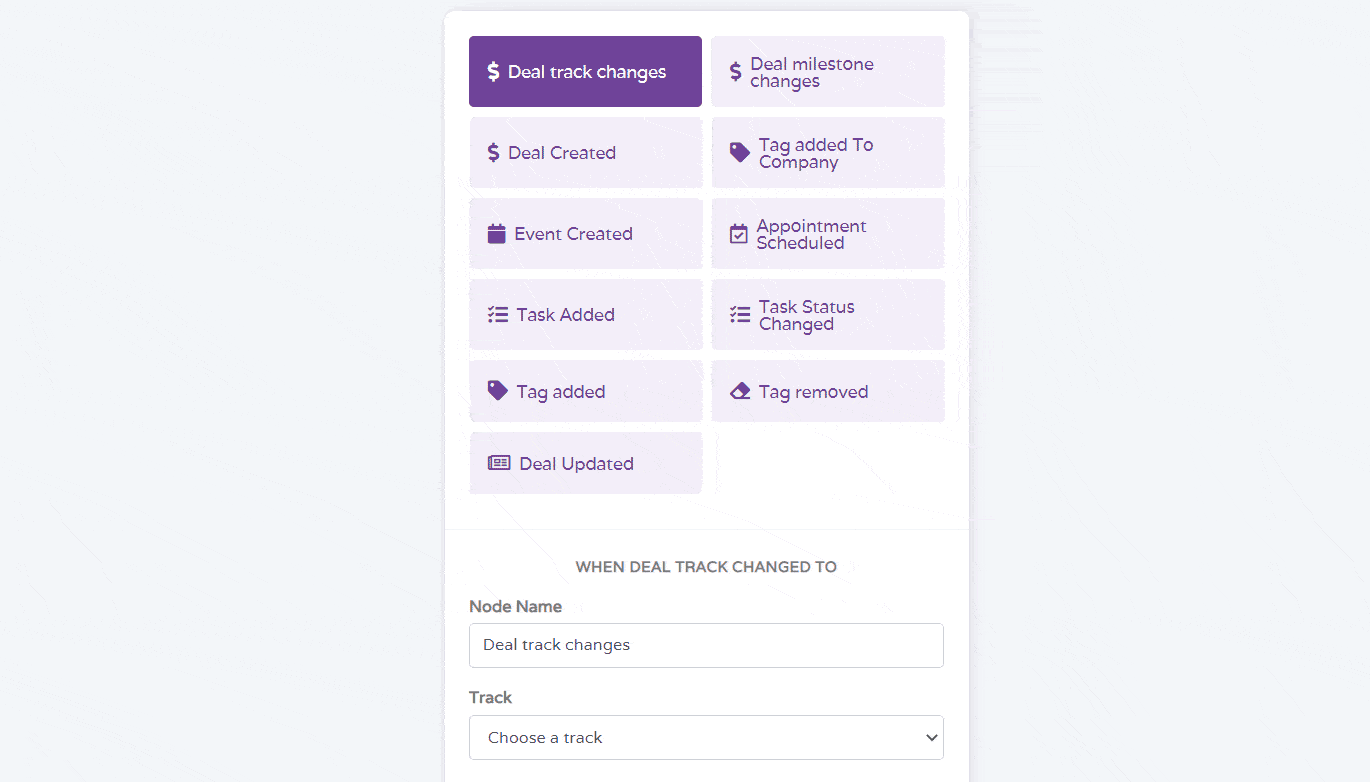 The first on our list is the emerging favorite, EngageBay. If you haven't heard of it before, just read this detailed review.
Created as an all-in-one solution for small businesses and startups looking for comprehensive sales and email marketing software, EngageBay is a great HubSpot and AWeber alternative.
EngageBay's marketing services are neatly categorized into the Marketing Bay, one of the four products EngageBay offers. The other three products are the All-in-One Suite, the CRM & Sales Bay, and the Service Bay.
EngageBay's Top Features
Here are some of the key features of EngageBay:
Video Marketing Templates: Create customized video thumbnails sure to grab attention with EngageBay's rich, innovative Video Marketing Templates. You can embed your custom Vimeo or YouTube thumbnail in your emails or hyperlink using the shortened, tidy video URL.
Rich templates for emails, landing pages, and lead capture forms: Predesigned templates for emails, landing pages, and lead capture forms make it easier than ever to send responsive and appealing communications to your leads and customers.
Marketing automation: EngageBay lets you automate your small business SMS and email marketing campaigns from start to finish. You can set up email sequences, schedule email sending times, and automate welcome messages and follow-up emails for more engagement.
Site Messaging: The Site Messaging feature will keep you on top of your interactions with your audience in a convenient, easy-to-use way. You can select the imagery, layouts, icons, and colors for each audience segment so all your interactions are sorted and personalized.
Free onboarding: AWeber isn't the only email marketing service with free onboarding. EngageBay offers it for free when you sign up.
Here's a quick video about EngageBay:
EngageBay Pricing
EngageBay offers four plans — Free, Basic, Growth, and Pro.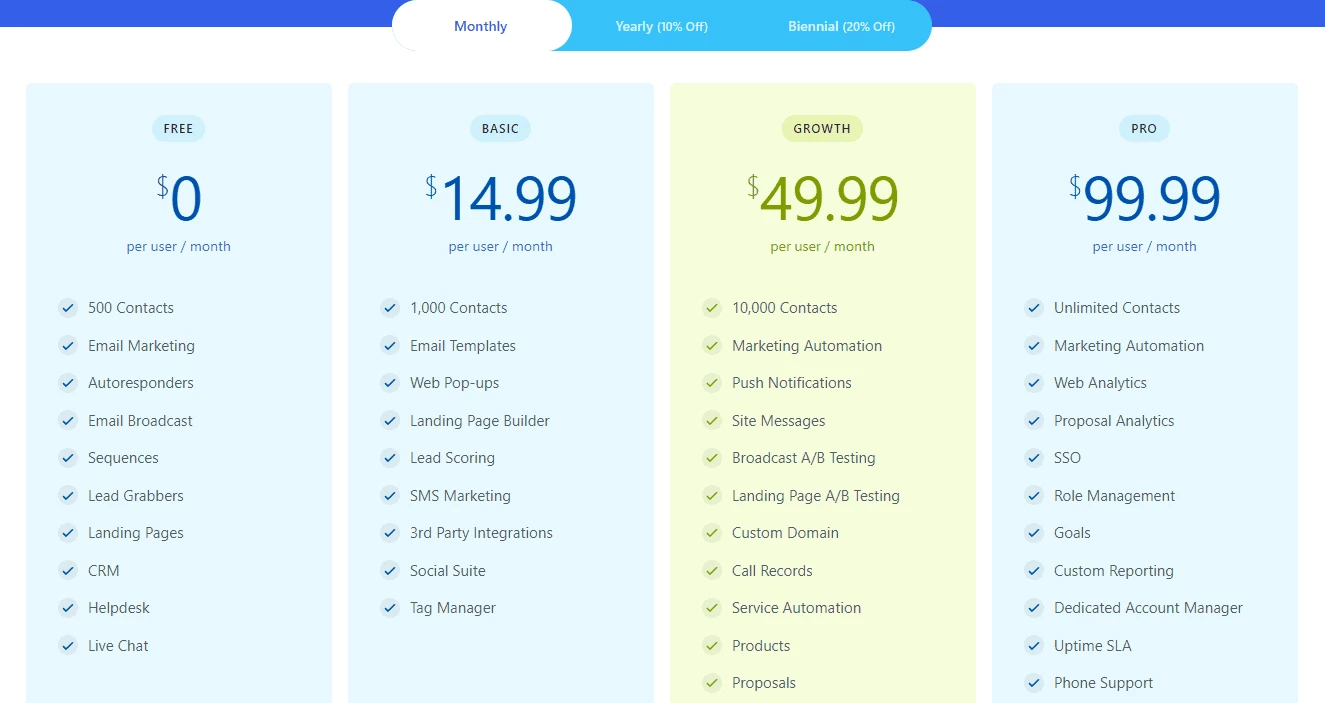 The Free plan is free forever, offering 1,000 branded emails and 500 contacts per month. Here are the features:
Email sequences and broadcasting
Newsletter sending
Landing page builder
Facebook Ads
Video marketing
Notifications
Reporting dashboard
Social suite
Auto-responders
Email template builder
Web pop-ups
Embedded forms
Predictive lead scoring and segmentation
The Basic plan starts at $14.99 a month with 3,000 branded emails and 1,000 contacts.
If you need more features (including marketing automation, A/B testing, and timezone delivery), you need the Growth plan which costs $49.99 per month.
The most encompassing plan, the Pro plan, lets you send 50,000 branded emails and store unlimited contacts for $99.99 a month. Here are some of the exclusive features of the Pro plan:
Role management
Custom reporting
Landing page custom domains
Web analytics
Email delivery based on time zones
A/B testing for landing pages and email broadcasting
Landing page custom coding
Automation and workflow nodes
Site messaging
Marketing automation
Read also: AWeber Pricing, Limitations, Features, Pros and Cons [Tables]
2. ConvertKit

ConvertKit's Top Features
Another on our list of AWeber alternatives is ConvertKit, an email service provider that caters to an audience of "online creators" — making it the best AWeber alternative for YouTubers, bloggers, and influencers.
Here is an overview of some of ConvertKit's most comparable features to AWeber:
Email automation: Automate your emails with ConvertKit's funnels, where you choose the rules and ConvertKit does the rest.
Customized audience segmenting: The ConvertKit filtering system lets you separate your audience segments your a plethora of filters.
Landing page and email designer with templates: Browse through ConvertKit's templates for landing pages and emails and then customize those templates to reflect your brand image.
Email sign-up forms: Take your sign-up forms further with lead magnet delivery, custom fields and designs, templates, and an unlimited number of forms.
ConvertKit Pricing
ConvertKit prices its services into three plans: Free, Creator, and Creator Pro.

The Free plan is always $0, giving you access to these features:
1,000 subscribers
Subscriber tagging
Email broadcasting
Customizable ConvertKit domain
Unlimited traffic
Unlimited forms and landing pages
The Creator plan includes the following features:
More than 1,000 subscribers
Integrations
Premium support
Automated email sequences and funnels
Tagging for subscribers
Advanced email broadcasting
Depending on how many contacts your small business or startup has, the Creator plan pricing differs. Here's an overview:
1,000 contacts – $29 a month
3,000 contacts – $49 a month
5,000 contacts – $79 a month
10,000 contacts – $119 a month
15,000 contacts – $149 a month
20,000 contacts- $179 a month
35,000 contacts – $259 a month
45,000 contacts – $319 a month
55,000 contacts – $379 a month
The Creator plan pricing goes all the way up to 90,000 contacts, in which you'd pay $3,999 a month.
The third plan, the Creator Pro plan, includes everything offered by ConvertKit. Here are some of the standout features:
Priority support
Newsletter referrals
Subscriber engagement scoring
Email broadcast redirect links
Team invitations
Deliverability reporting
Facebook custom audiences
Here's the breakdown of the Creator Pro prices per the size of your contact list:
1,000 contacts – $59 a month
3,000 contacts – $79 a month
5,000 contacts- $111 a month
10,000 contacts – $167 a month
15,000 contacts – $209 a month
20,000 contacts – $251 a month
35,000 contacts – $363 a month
45,000 contacts – $447 a month
55,000 contacts – $519 a month
At 9,000 contacts, you'd pay $4,299 a month for ConvertKit's Creator Pro plan.
Read also: 8 ConvertKit Alternatives That Make Sense For Small Business Owners
3. GetResponse

Our third AWeber alternative to consider is GetResponse. This email marketing tool is intended for those who want to run an online-based email campaign.
GetResponse's Top Features
Here are a handful of GetResponse's email marketing services:
A/B testing: Compare email subject lines with A/B testing to see which email might perform better among your audience segments.
Email personalization: Through custom dynamic content, you can adjust your email language, CTA, and images using smart HTML features.
Email builder: GetResponse offers many templates with more than 5,000 Shutterstock images, all licensed for your use.
Automation: Automate more of your marketing workflow with features like automated blog digests, automated email sending, and autoresponders.
Advanced analytics: Track the success of your email campaigns, including email bounces, clicks, and open rates. You can also view GetResponse's analytics on mobile devices.
Integrations: GetResponse integrates with lots of the same tools as AWeber. These include Facebook, PayPal, WordPress, Instagram, Stripe, WooCommerce, BigCommerce and Shopify.
GetResponse Pricing
GetResponse has four pricing plans: Free, Email Marketing, Marketing Automation, and E-Commerce marketing.

The Email Marketing plan includes these features:
Facebook Ads
Unlimited lead funnels
One sales funnel
Unlimited automation templates and landing pages
Autoresponders
The Email Marketing Plan starts at $19/month for 1,000 contacts and goes all the way up to $539/month for 100,000 contacts.
The Marketing Automation plan starts at $59/month for 1,000 contacts and offers:
Marketing automation
Event-based automation
Webinars
Advanced segmentation
Contact scoring
Sales funnels
The E-Commerce Marketing plan starts at $119/month for 1,000 contacts and offers:
5,000 stock images for templates, 40 funnel templates, 700 web form templates, 180 landing page templates, and 220 email templates
Social Ads Creator with Instagram Ads and Facebook Ads support
Automation builder
Contact scoring
Custom workflows
Abandoned order recovery
Contact tagging
Drip campaigns
Automated birthday emails, thank-you emails, and welcome emails
Surveys and web forms
Email inbox previews and A/B testing
Custom DKIM
Perfect timing and time travel email features
Visual email editor
Autoresponders and newsletters
Read also: 5 of the Best GetResponse Alternatives (Features, Pricing)
4. Sendinblue

The fourth excellent alternative to AWeber is Sendinblue. This digital marketing suite includes services like CRM, Facebook Chat, SMS, and email.
Sendinblue's Top Features
The following Sendinblue features are on-par with AWeber:
Landing pages and sign-up forms: Customize the creation of both landing pages and sign-up forms so they feel more personalized to your audience segments.
Marketing automation: Automate email sending, audience segmentation, and other parts of your workflow to save more time.
Advanced analytics: An email heat map boosts engagement while real-time stats and KPIs like open and click-through rates paint a full picture of your email marketing campaign success.
Integrations: Sendinblue uses plugins and API for its numerous integrations.
Sendinblue Pricing
You can also select from one of four plans if you're thinking about trying Sendinblue. These are the Free, Lite, Premium, and Enterprise plans.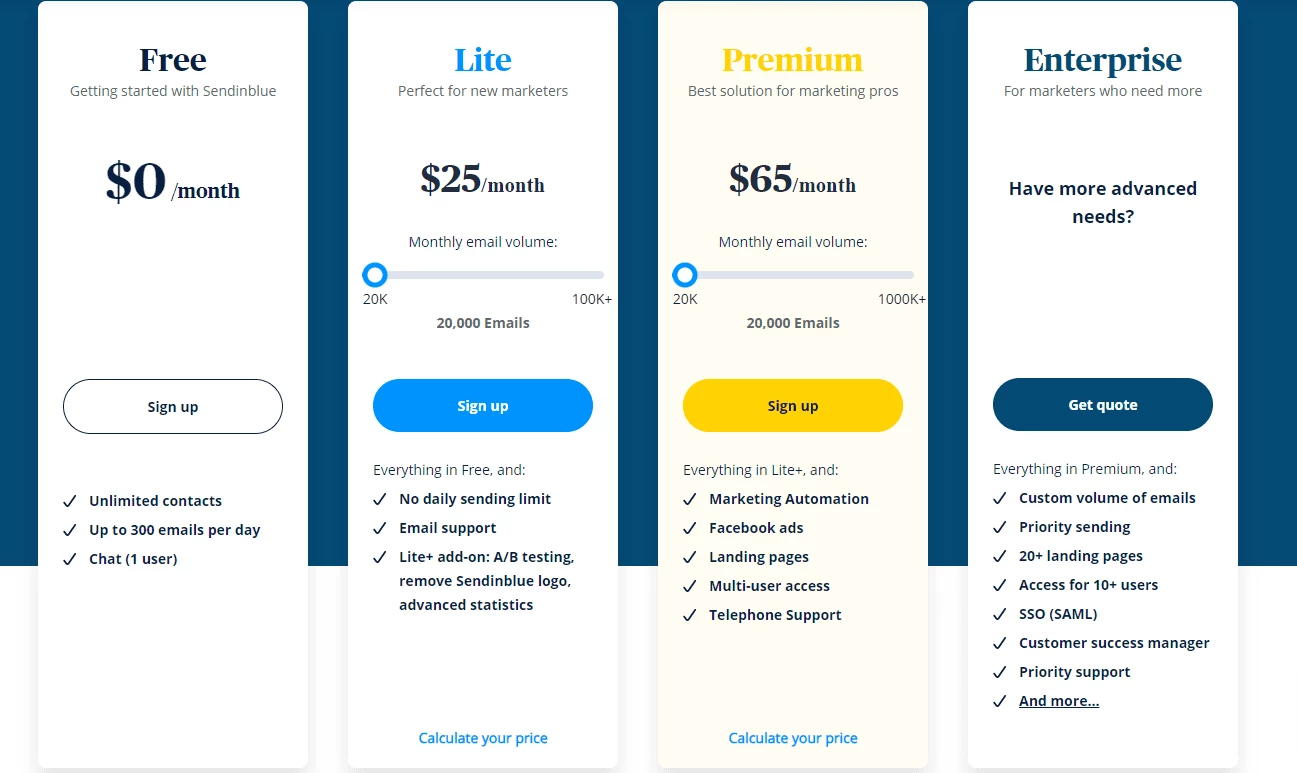 The Free plan is $0 and includes these features:
300 emails a day
Unlimited contacts
Email support
Real-time reporting
Page tracking
Workflow editor for marketing automation
SMS marketing and transactional email automation
Custom sign-up forms
Advanced segmentation
SMS and email personalization
Email templates
Email designer
The Lite plan starts at $25 a month to send 100,000 emails. The Premium plan, which Sendinblue recommends for marketing pros, costs $65 a month for 1 million emails.
If you're interested in the Enterprise plan, it's custom-priced. Here are the features you'd get with this plan:
Advanced email analytics
Heat map reporting
Unlimited landing pages
Send time optimization
No Sendinblue logo
A/B testing
Read also: 5 of the Best Sendinblue Alternatives (Pricing, Advantages)
Conclusion
AWeber is a comprehensive email marketing platform, but it's far from the only one out there.
If you're looking for an option that lets you add more contacts without a huge monthly fee, that's EngageBay.
EngageBay offers many services that you'd find in AWeber, as well as those you don't. These include EngageBay's Video Marketing Templates, which let you engage with your audience through a very popular medium today – video.
Even the Pro plan with unlimited contacts and a suite of advanced features costs just under $100!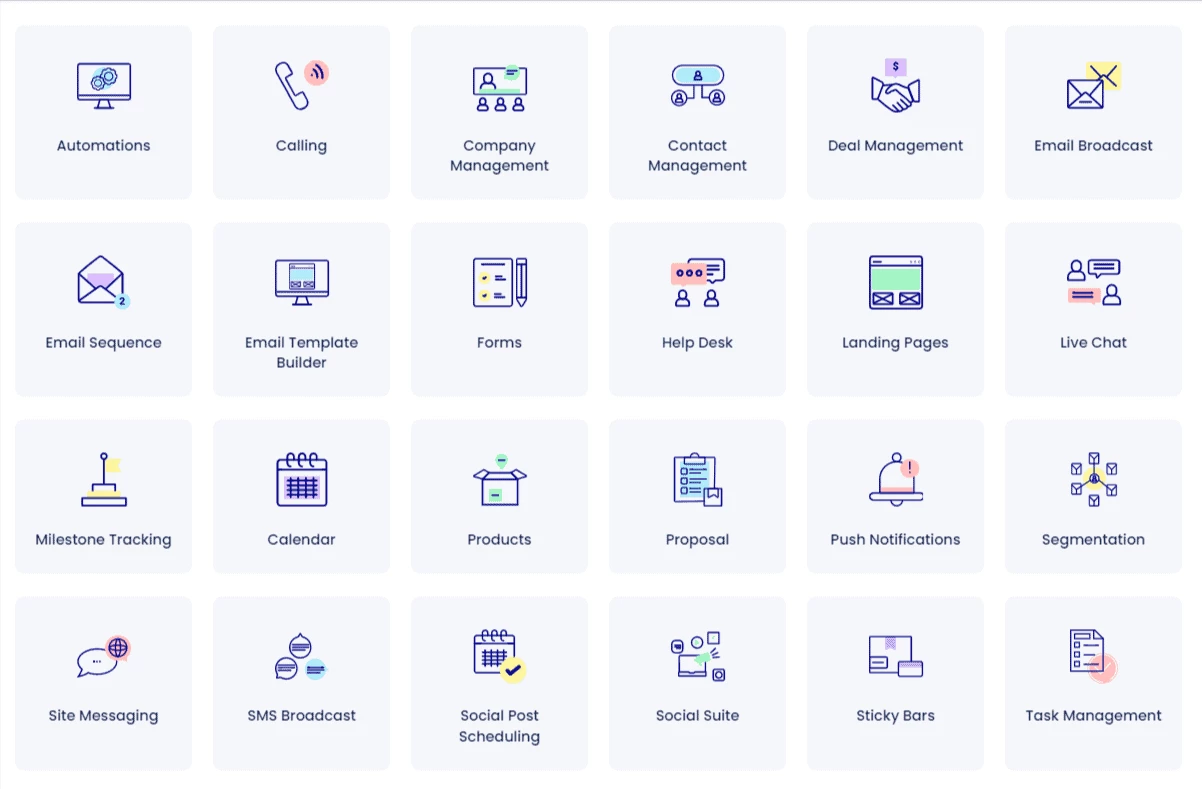 EngageBay is definitely the email marketing platform to choose if you want a solid AWeber alternative! Try the software — we're sure you'll agree.
Sign up now or book a 30-minute demo with one of our experts.