Is your company about to buy its first CRM? Perhaps you're looking for a CRM upgrade, and Keap or Infusionsoft was recommended to you. Before you commit, you're curious about Infusionsoft pricing and whether this solution fits your small business or startup budget.
Going without a CRM is not an option for your business, nor is spending an arm and a leg on this sales and marketing solution. That's why you're shying away from HubSpot, but is Keap really the next best solution?
In today's post, we will explore Keap's services, its pricing, and several of the downsides to using Keap. We'll even recommend a CRM alternative that might better suit your budget as a small business.
Let's begin!
What Is Infusionsoft (Keap)?
First, let's discuss more about Infusionsoft by Keap.
Once known as Infusionsoft, the company today is referred to as Keap. Keap is a marketing automation and CRM solution that has three products in all.
These are Keap Grow, Keep Pro, and Infusionsoft. Let's explore all three of these Keap products in more detail now.
Keap Grow
If you're interested in controlling your Keap or Infusionsoft cost, then the solution you might gravitate towards is Keap Grow. This is, after all, the least expensive of the three products.
Keap Grow includes the following services:
Insights and reports: Gain access and insights into company operations with administrative reports, billing and order reports, sales reports, and marketing reports
Payments and invoices: Maintain control over your money with Stripe, WePay, or PayPal
Proposals and quotes: Keep the sales pipeline moving as planned with pro quotes, proposals, and estimates
Marketing automation: Automate marketing duties, including email sequences
Sales pipeline: Create and manage your sales pipeline using automation
Appointments: Have leads and customers schedule appointments that sync with your Google Calendar and/or Outlook when booked
CRM: Use Smart Forms, message personalization, client interaction history, and email automation as part of Keap's CRM
Integrations: Integrate with a slew of services, among them WordPress, ThriveCart, Typeform, QuickBooks, OptinMonster, Leadpages, Outlook, Gmail, Instapage, and Zapier
Keap Pro
For the bigger businesses that need more services and don't mind spending the money on Keap or Infusionsoft pricing, Keap Pro is right up your alley. Here's an overview of the features included within this product:
Lead capture: Generate more leads and then use Smart Lists for lead management
Recurring payments: Instead of having to track down invoices, recurring payments ensure you have a reliable cashflow
Smart Forms: Akin to Smart Lists, Smart Forms let you add new leads to your CRM
Sales pipeline: Keap Pro also includes a sales automation pipeline for customer management
Automation: Automate everything from workflows to email marketing, campaigns, and more
Infusionsoft
The third product in the Keap family is known as Infusionsoft. This is the most inclusive product of the three. This means that, when it comes to Infusionsoft pricing, you can expect this product to be the most expensive.
Let's take a look at what's included:
Automation for sales and business growth: Keap says their Infusionsoft product can help you grow a scalable online business and make your sales process more simplified
Lead conversion: Keap also states that most of its users–82 percent–saw a boost in conversion rates through services like the Campaign Builder, customized messaging, automation, and lead segmentation
More leads: You may also have more leads through automation, a landing page designer, and lead segmenting and scoring
How Much Does Infusionsoft (Keap) Cost?
Perhaps one or more of the features of Keap has caught your attention. Now you're interested in looking into Keap or Infusionsoft CRM pricing.
You have your pick among three Keap or Infusionsoft pricing plans depending on whether your company buys Keap Grow, Keap Pro, or the Infusionsoft product.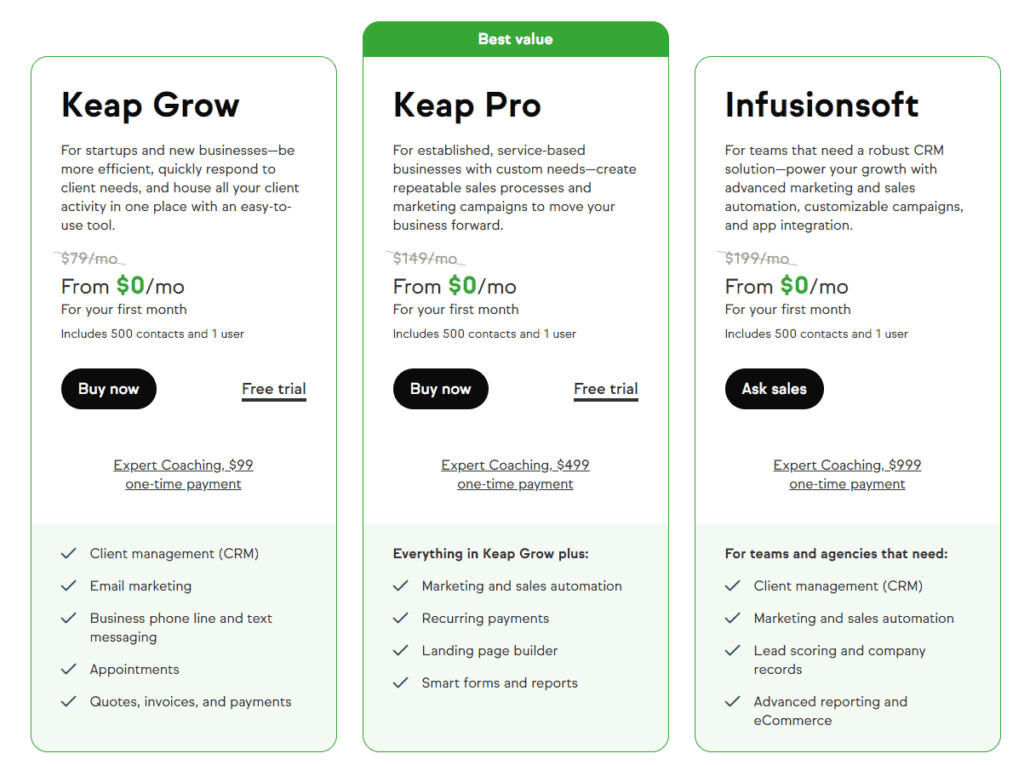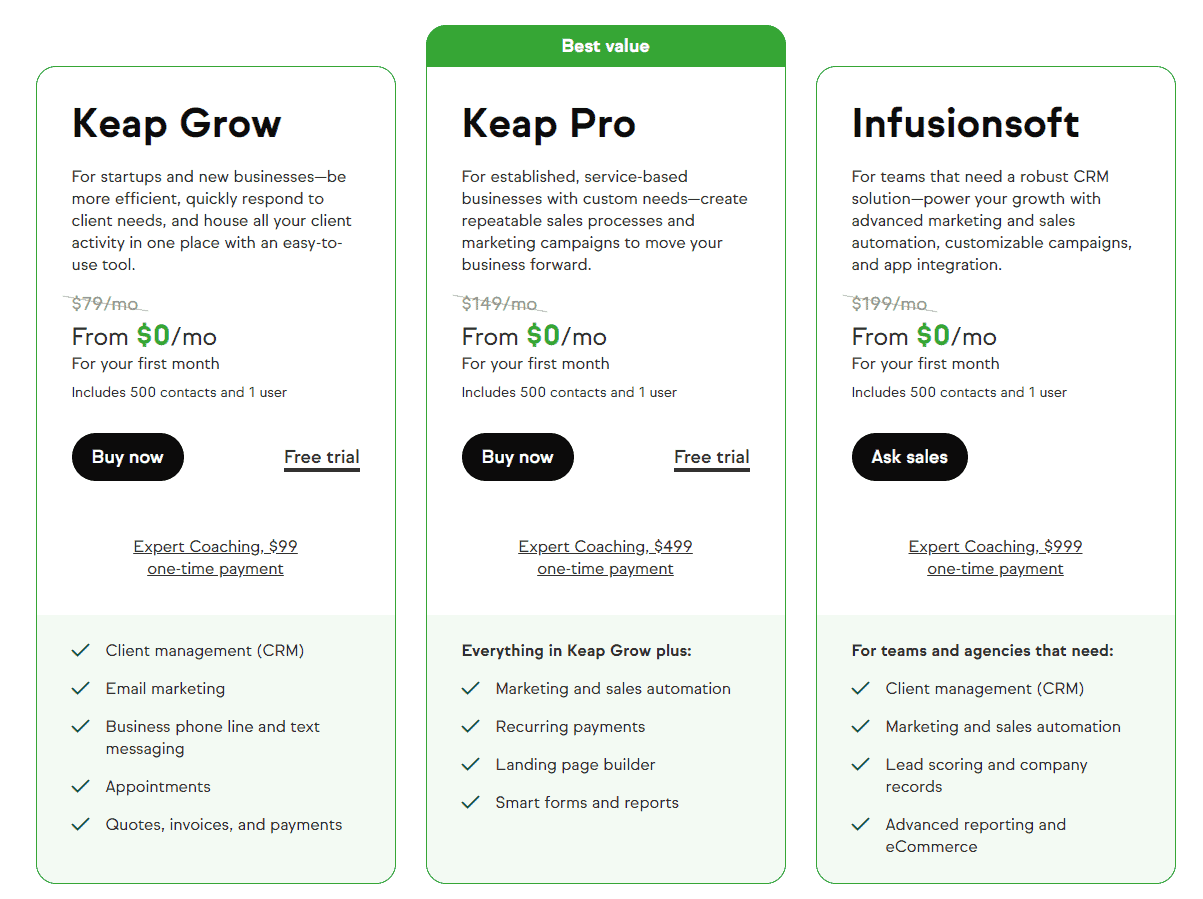 Keap Grow Pricing
You can use any of the Keap products on a trial basis before you decide you'd like to commit to Keap or Infusionsoft pricing, Keap Grow included. After that, you're stuck paying monthly for as long as you're a Keap Grow subscriber.
Keap Grow gives you access to 500 contacts a month for one user. As a recap, you can also send invoices and quotes, schedule appointments, use business text messaging and a phone line, and utilize Keap's email marketing and CRM.
You'd pay $79 a month for Keap Grow. If you wanted Expert Coaching on top of your subscription, that's a one-time payment of $99.
If you find that 500 contacts are too few, during checkout, you can customize your Keap Grow plan. Adding 1,000 contacts to the 500 you already have is $30 a month, 5,000 contacts are $130 a month, and 10,000 contacts would be $200 a month.
One user is not many, so you might want to put a second or third employee at your company on the Keap Grow plan. If so, one extra user is $30 a month, two extra users are $60 a month, and so on. If you wanted 10 users as part of the Keap Gro plan, you'd pay an extra $150 a month.
Keap Pro Pricing
The Keap Pro plan also lets you pay $0 over your initial trial. Then, your Infusionsoft pricing is $149. That monthly fee is for one user and 500 contacts.
Yes, that's the same number of users and contacts as the Keap Grow plan, so why use the Keap Pro plan instead?
You get more features. Besides everything included with Keap Grow, you also add on smart reports and forms, a landing page builder, recurring payment, and automation for sales and marketing.
Besides, you're not stuck with that plan forever. Like with the Keap Grow plan, you can also customize your Keap Pro services…for a fee.
You're still paying $30 extra for each user and $30 to add more contacts, so you'll want to tread carefully.
Oh, and the Expert Coaching is available for the Keap Pro plan, but for $499.
Infusionsoft Pricing
The third plan for Keap is Infusionsoft. This includes everything you get in Keap Grow and Keap Pro as well as eCommerce and advanced reporting, company records, lead scoring, automation, and CRM.
Like the other two products, you can use Infusionsoft for free, but only for a trial. Then the plan costs $199 a month after your free trial ends.
A bit surprising is how you still only get one user and 500 contacts even if you're paying for the premium Infusionsoft pricing.
You can request the Expert Coaching, but it's $999 as part of the Infusionsoft plan, which is way outside of most startups and small businesses' budgets. Also, if you wanted to explore custom pricing by adding more users or contacts, you can't without contacting a Keap sales rep.
That suggests adding more users and contacts is going to be expensive.
The Downsides to Using Infusionsoft (Keap)
That's our overview of Keap or Infusionsoft pricing as well as what you get for your money. If you're still debating whether Keap is the right CRM solution for your business, check out this list of downsides.
Few Advantages from One Pricing Plan to Another
You'd expect to get more features by paying extra, and Keap does deliver in that regard. Usually though, a CRM software lets you add more contacts and users per month as you go higher up on the pricing tier list.
That's not the case with Keap. No matter which plan you pay for, you're limited to one user and 5,000 contacts to start.
That's only because you can then turn around and shell out even more money to double up on your contacts or users. Keap won't give you that option for free because it means losing out on money for them.
Is it a smart business practice? Maybe, but it does limit those clients who can afford Keap. For instance, your small business or startup may find that Keap is now too expensive for you.
The Cheapest Plan Leaves You Wanting for Features
The Keap Grow plan may be aimed at companies looking to grow, but you sure are lacking the features that would make it easier for that to happen.
You only get basic webforms with the Keap Grow plan. You're also missing landing page design, lead scoring, a customizable dashboard, A/B email testing, recurring payments, checkout pages, and order forms.
If you want to automate campaign building, you must pay for Keap Pro. The same is true if you want to automate your sales pipeline or generate reports.
Can your company operate without some of those features in your CRM? Maybe at the very beginning, but as you grow, you'll find the answer is no.
Onboarding Fees Get Expensive Fast
Let's take a moment to discuss the Expert Coaching Keap offers its new customers.
To reiterate, the Keap Grow Coaching is $99, the Keap Pro Coaching is $499, and the Infusionsoft Coaching is $999.
If you're parting with $1,000 for Infusionsoft pricing, what are you getting in terms of coaching?
Here's a list for your perusal:
eCommerce setup
Advanced sales pipeline setup
Custom scoping
Zapier integration help
Advanced workflow, campaign, and email migration
QuickBooks, Outlook, and Gmail integration help
Free tech and customer support and training webinars each day
5 one-on-one expert coaching sessions
Admittedly, by spending $499 for Keap Pro Coaching, you get all the above except for the eCommerce and advanced sales pipeline setup. You also only get 3 one-on-one expert calls.
If you're paying for Keap Grow, you get the least as part of your inexpensive coaching. You'll have help migrating contacts, including through QuickBooks, Outlook, and Gmail. You can also use tech support and webinars, but you get a single call with an expert coach.
Whether such brief assistance would be of any value to your company will depend, but it's an expensive gamble to take.
Which Infusionsoft Alternatives Should You Consider?
If Keap or Infusionsoft pricing has you feeling uncertain of proceeding in that direction, keep in mind you can look into other Infusionsoft competitors instead.
At EngageBay, we consider our service one of the top Infusionsoft or Keap competitors. Take a look at this chart to see how we stack up to Keap.
EngageBay has many unique features you won't find with any Keap or Infusionsoft pricing plan, among them:
Account-based marketing
Social media suite
SMS and calling
Live chat
Helpdesk software
You can only get those services with EngageBay, making it a viable competitor to Keap.
EngageBay kisses those onboarding fees goodbye, offering its customers 24/7 customer support without the same prices of using Keap. Even better is that EngageBay's CRM is free. That makes it a feasible option for small businesses and startups.
With the free EngageBay plan, you can send 1,000 branded emails to 1,000 contacts. That's already more than you get with any Keap plan, and all this for free when you sign up with EngageBay.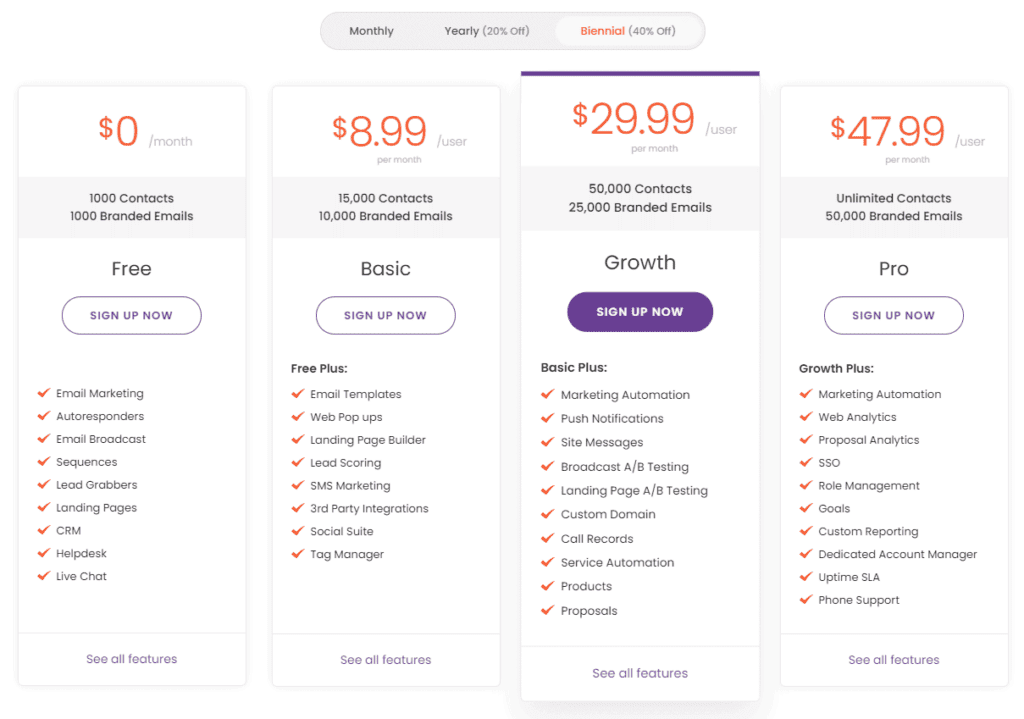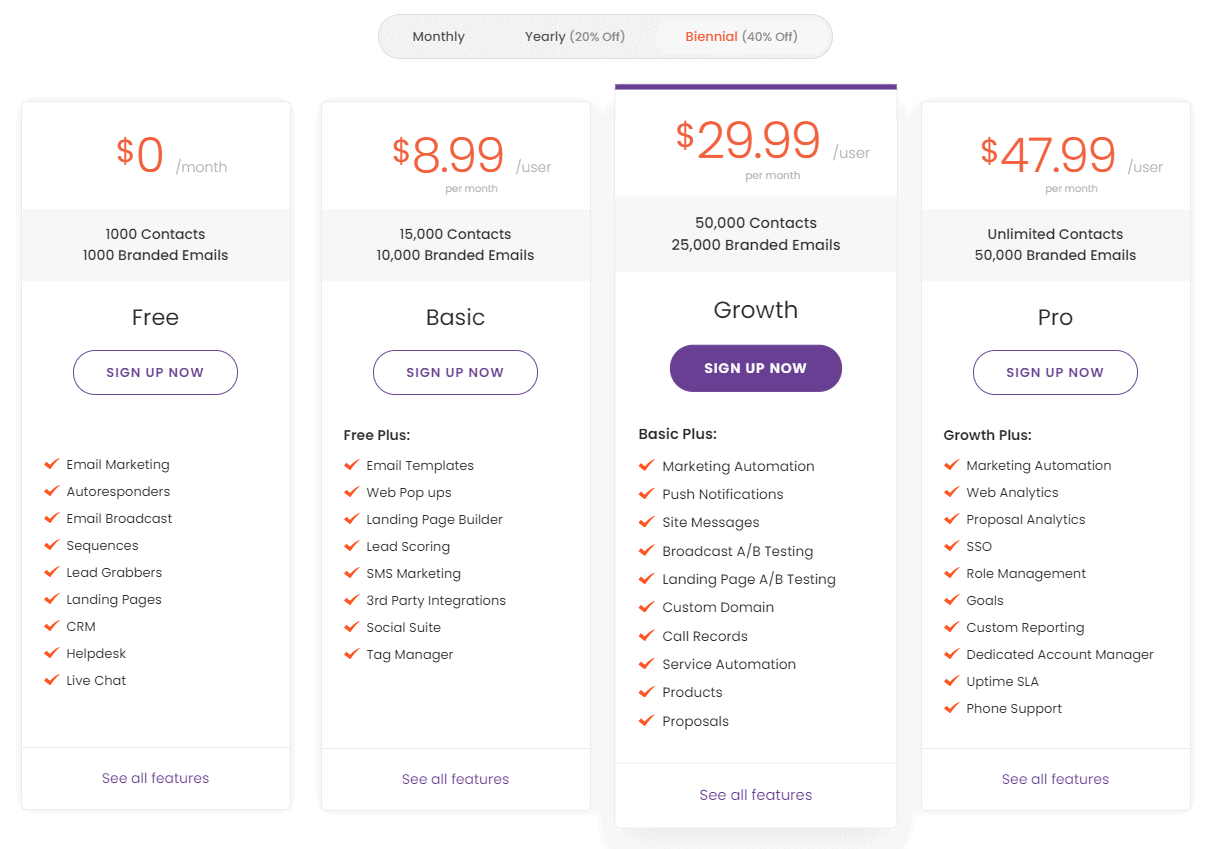 The free CRM also includes features such as:
Conversational inbox
Integration with G Suite
Tasks
Yes, you get way more features than what you'd find with the cheapest Keap plan, which is Keap Grow. Remember, you won't pay a cent for any of the above features when you use EngageBay, and that's month after month and year after year.
If you need to upgrade, EngageBay scales with your business at a far more reasonable rate than Keap. The Basic plan costs $7.79 a month and lets you send 10,000 branded emails to 10,000 contacts.
Even if you buy the most expensive EngageBay CRM plan, that's for $29.99 per month for 30,000 branded emails to 30,000 contacts.
Conclusion
Keap or Infusionsoft is a well-known sales and marketing solution with CRM. The problem lies with Infusionsoft pricing, which is high.
You're capped at 500 contacts a month and one user for any plan unless you pay extra per contact and per new user. This makes the semi-fair Keap prices at least twice, sometimes thrice higher than what the company advertises.
EngageBay is a much more affordable Keap alternative with a free CRM that grants you 1,000 contacts a month. Already you're getting more than Keap without paying anything.
EngageBay's CRM could be just what your small business is looking for!