Let's start the blog with a quote, shall we?
"The purpose of a business is to create and keep a customer" – Peter Drucker.
When you're just starting out, it makes sense to have spreadsheets, manual registers, and separate free apps to get your business going.
But as your business grows, it becomes cumbersome to manually do everything, making it hard to keep track and convert customers. As Peter Drucker said, businesses must focus on customer acquisition and retention.
This is where a CRM system comes in.
After reading through the article, you'll have a good understanding of the following topics:
What is a CRM system

How do CRM systems work

The importance of CRM systems

The benefits of CRM systems

Challenges during CRM implementation

Choosing the right CRM
Happy reading!
What is a CRM System?
A CRM system is a fundamental requirement for any business – irrespective of size, location, and type.
Let's take a deeper dive.
What Does a CRM System Do?
It helps businesses improve customer relationships by keeping track of interactions, updating customer information, and managing their accounts.
And the end result?
You build a deeper understanding of your customers and improve loyalty, resulting in better customer lifetime value.
There are various types of CRM systems: operational CRM, analytical CRM, and collaborative CRM. We won't go into the details in this blog.
Here's a short video to visualize how CRM works:
Read also: CRM Process — Everything You Need to Know
Who Uses CRM Systems?
In general, there's no hard and fast rule: any company with customers needs a Customer Relationship Management (CRM) system.
In reality, though, it gets a little bit more complicated.
Firstly, any business with a sales team requires a CRM system to help identify trends and understand customer behavior. They can then use this information while selling products and services, cross-selling, and upselling.
Secondly, any business that uses marketing can benefit immensely from implementing a CRM system. That's because CRM systems offer personalization, segmentation, and targeting options to help you tailor marketing campaigns.
Thirdly, businesses that need better efficiency and productivity should use a CRM system as it offers powerful automation capabilities.
Finally, businesses that want to prioritize their customers need a CRM system, as it offers tools to help you deliver exceptional support.
But more on the benefits later.
Read also: 9 CRM Best Practices for Small to Large-scale Businesses
How Do CRM Systems Work? (+Example)
At its core, a CRM system collects customer data and parses it into valuable data using an integrated approach. It combines marketing, sales, and customer service to form a cohesive entity.
Enough with the jargon 🙂 Let's take real-life examples to illustrate the point.
Let's say you own a car dealership. To improve audience reach, your marketing team has decided to launch an on-site event.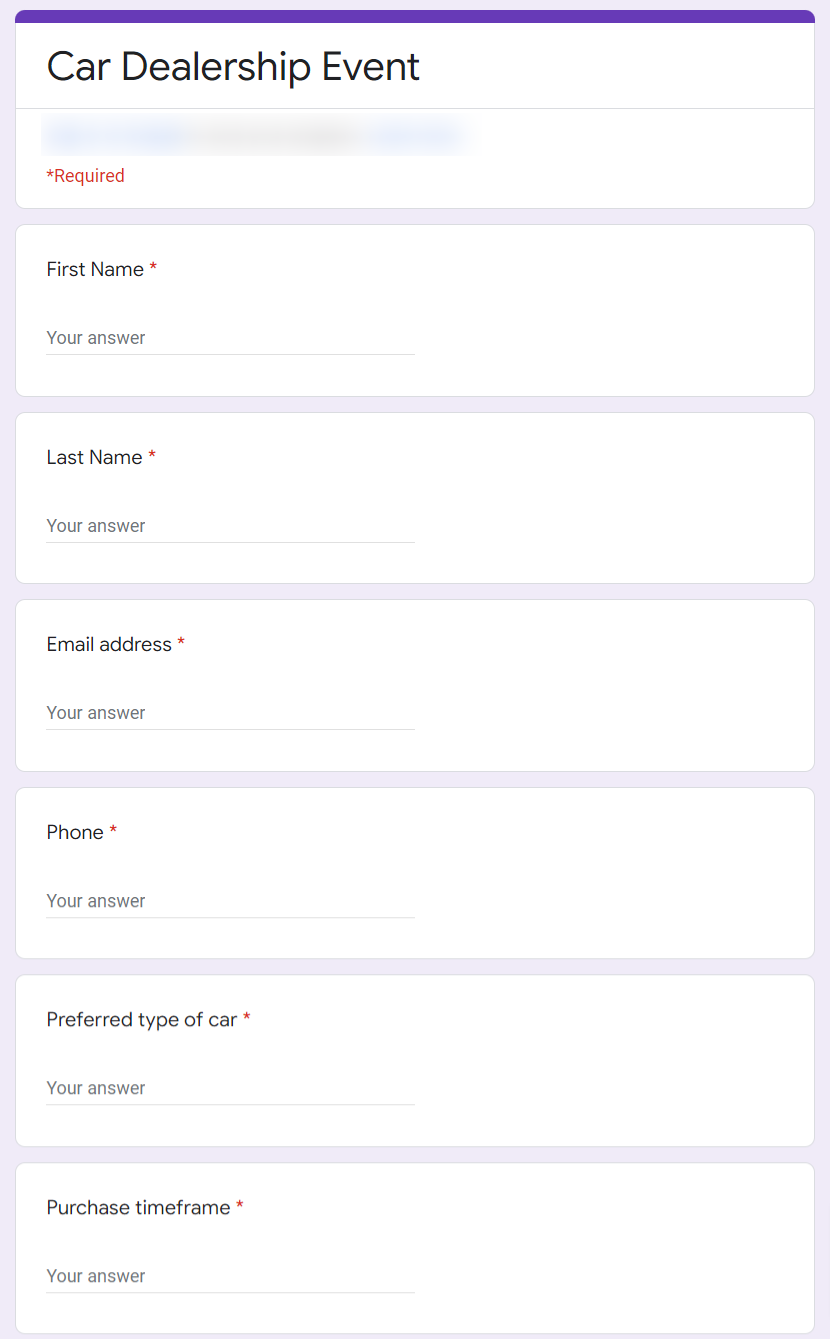 As a result, event-goers need to fill out a form with a couple of questions (preferred car, finance requirements, etc.) to get a ticket. This form is connected to the CRM, which stores the data and triggers various automation sequences based on responses.
For example, leads that mentioned a shorter timeframe would be more receptive to your messages and hence can be tagged as 'hot leads.' These leads would enter a high-priority automation sequence.
On the other hand, leads that mentioned a longer timeframe can be added to the 'nurturing' list and subject to drip campaigns with information and resources to help them move closer to making a purchase.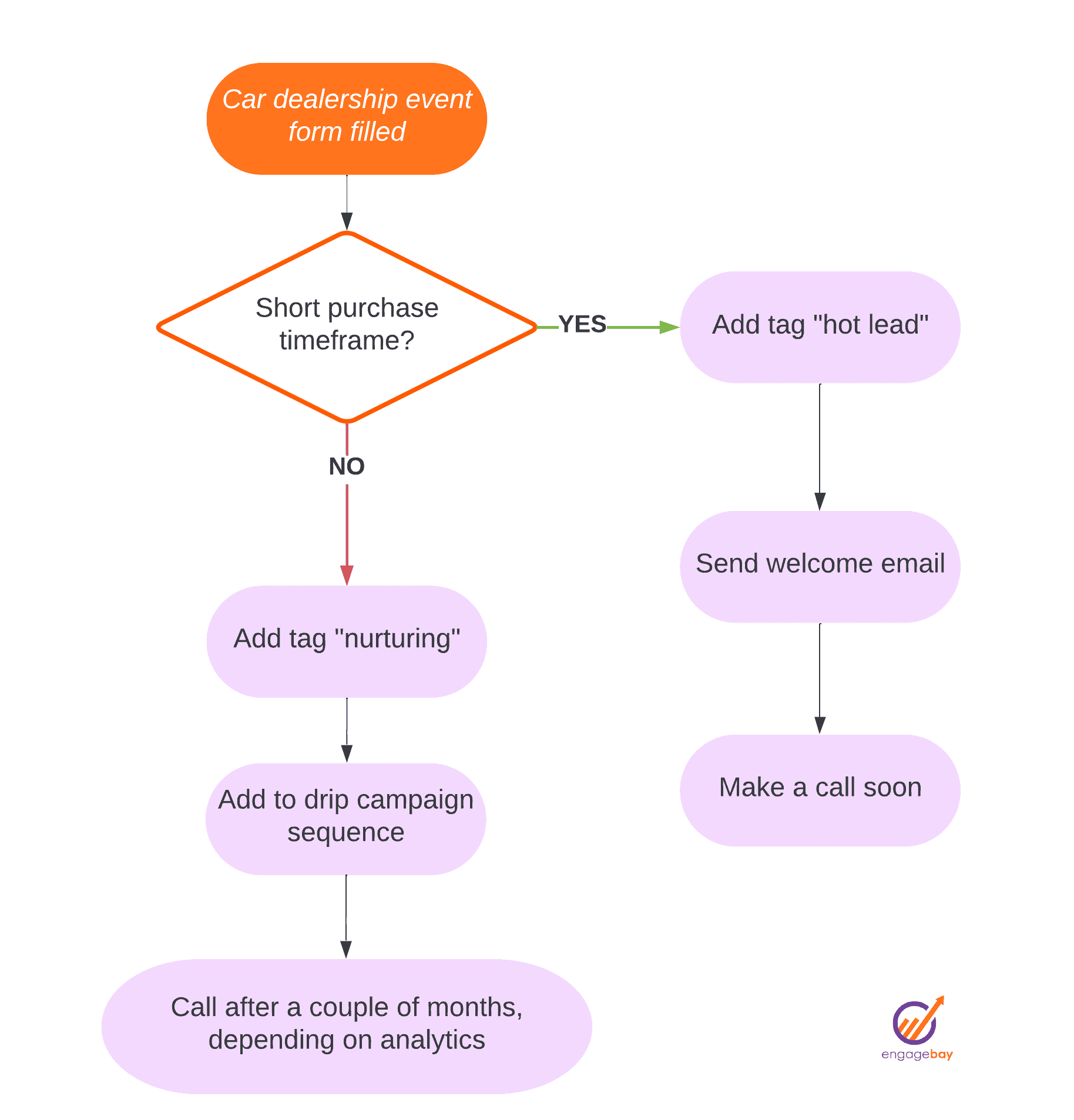 Granted, this is fairly simple automation. In reality, you need to take into account the preferred car type, financial situation, location, and more.
But you get the idea, right?
Here, the CRM not only collects important customer information – it lets you take useful actions through insights, automation, and management.
Read also: The 8 Biggest Benefits of Cloud-Based CRM
Why Are CRM Systems Important?
Let's now look at the importance of CRM systems.
In Addition to Operational Management, CRM Can Assist With Customer Retention
A CRM system can help businesses manage orders, shipping, and invoicing through various tools. But more importantly, it helps in customer retention.
How, you ask? Let's take a look.
Gone are the days when businesses had a monopoly over certain sectors, and customers had few choices.
These days, businesses need to provide awesome customer support to make them stay. In fact, businesses lose 71% of customers due to bad customer service.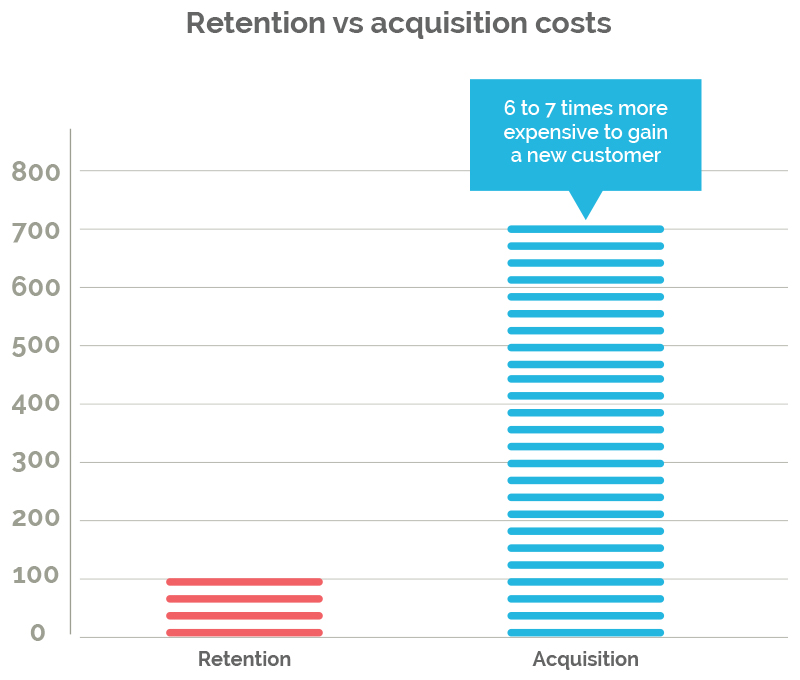 A CRM system can help you retain customers by helping you personalize your marketing campaign, and this shows that you care about your customers. In addition, CRM systems keep track of everything to help support reps follow up quickly (whoever likes repeating the same issue constantly?).
Read also: 6 No-nonsense Examples of Customer Relationship Management
Customers Will Get Better Support if You Use a CRM System
The secret to keeping your customers loyal to your business?
Customer service.
A study has shown that around 64% of customers feel having a positive customer experience with a brand is much more important than pricing when making a purchase.
By streamlining and automating your customer service processes, a CRM system can help reduce response times and improve FCR (First Contact Resolution).
Also, a CRM system offers omnichannel communication, meaning your customers can initiate their conversation through phone and follow up with email – without having to start from the beginning.
This feature of CRM is revolutionary and has paved the way for a customer-centric business approach.
Read also: The Ultimate Guide To Developing Customer Service Skills
Data From Your CRM System Can Improve Sales and Marketing Efforts
Personalization is the new black.
That's what a CRM system does for marketing – it personalizes and tailors campaigns for each customer.
Consequently, this helps you identify your target audience.
CRM systems use the data collected to segment your audience and figure out hot leads to roll our marketing content to. In addition, CRM systems use historical data to extrapolate and forecast trends, which can be used by the marketing team to target and attract new customers.

Along the same lines, CRM systems can help the team manage their sales pipeline, push leads down the funnel – and, most importantly, help close deals.
Closing deals, after all, is the only way businesses can make profits.
Plus, sales teams can use CRM systems to find opportunities for cross-selling and upselling.
Read also: 6 No-nonsense Examples of Customer Relationship Management
A Good CRM System Helps Keep Customers Engaged
With so much competition out there, your business needs to keep customers engaged if you want them to stay loyal to your brand.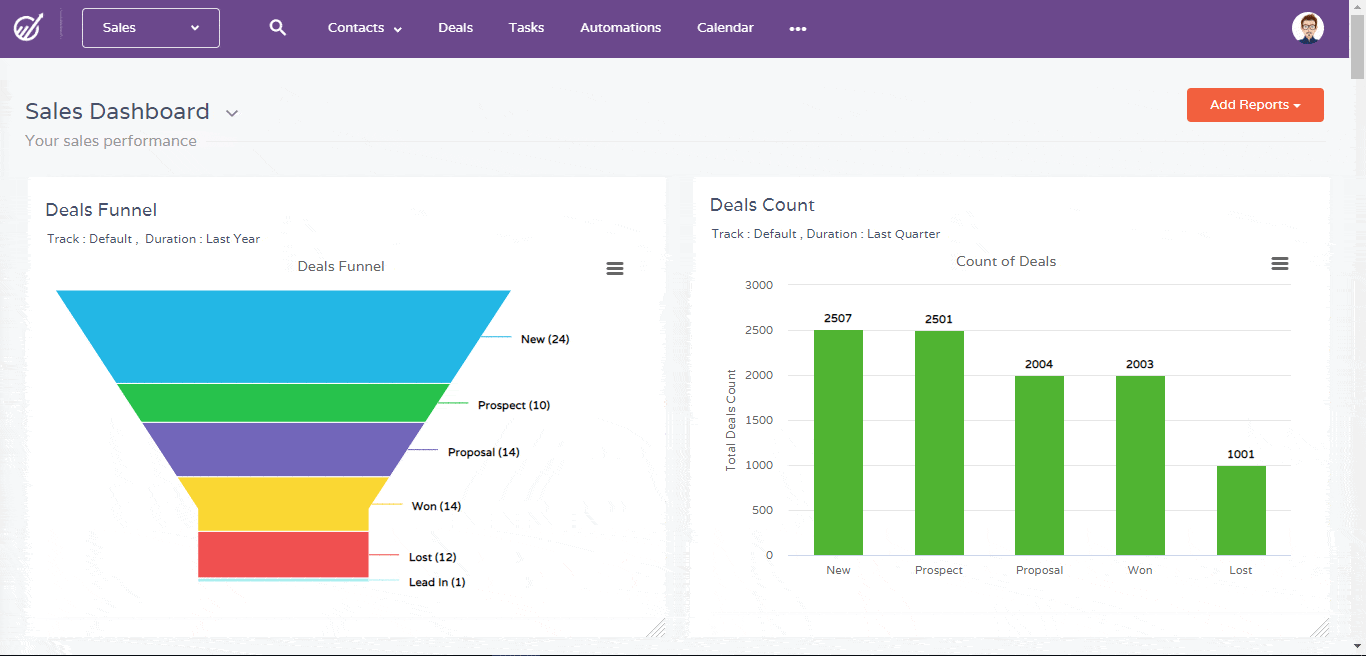 Here's how a CRM system helps keep existing customers engaged:
Personalize emails

Launch drip campaigns to nurture leads

Manage customer loyalty programs

Omnichannel customer support

Automate follow-ups
Using a CRM Improves Workflows and Streamlines Communication
CRM systems also help improve workflows and streamline communications within the company.
Task management can help prioritize tasks, add deadlines, assign and reassign tasks to various members, and so much more.
It also offers dashboards with performance charts of each member so you can have a bird's eye view.
Role management streamlines information and tool access, streamlining CRM data flow and improving security.
Moreover, CRM systems like EngageBay go one step further: they offer gamification and leaderboards for sales teams to motivate them to perform better.
Wait, what is a CRM database? Learn everythning you need to know in our expert guide!
The Benefits of Using a CRM System
Relationships act as the 'glue' that holds the link between customers and your business. Here's a list of the key features of a CRM system and its benefits.
CRM Feature

Benefit

EngageBay

Contact management

Collects, stores, and tracks customer information. Both marketing and sales teams can then use this data to launch personalized marketing, push prospects down the funnel, and close deals.

✔

Omnichannel marketing

An omnichannel strategy connects all channels seamlessly – this improves customer lifetime value (CLV) and increases sales.

67% of customers use multiple channels to complete a single transaction – and businesses that don't adopt this strategy are "driving in the slow lane."

✔

Automation

CRM automation streamlines complex workflows, improves productivity, enhances customer satisfaction, and above all, lets you focus on the bigger picture.

✔

Analytics

Analytics quantify sales and marketing data to help you figure out what it takes to convert prospects into paying customers – they, after all, are the lifeline of your business.

✔

Lead management

Businesses must bring in leads before they can even consider closing deals.

Lead management ensures that no leads fall through the cracks – it can even filter out hot leads so your sales team can focus on them.

✔

Segmentation

Segment your audience into different lists based on various factors – this lets you launch campaigns that reflect customers' preferences, values, and interests.

✔

Personalization

74% of online

customers get annoyed when businesses send offers or ads that have nothing to do with them.

Personalization keeps customers engaged and reduces churn rate.

✔

360-degree customer view

A 360-degree view of your customers lets you capture each micro-moment and establish an individual's entire path to purchase.

You can then use the information to create buyer personas, deliver personalized content, and more.

✔

Ticketing and helpdesk

68% of customers

believe businesses exert a positive brand perception when they offer proactive customer service.

A dedicated customer support platform helps your support team deliver exceptional support through proactive and reactive means.

✔
A great CRM system benefits everyone – let's see how.
The Benefits of CRM for Business Owners
Business owners tend to benefit the most from implementing a CRM system:
Better organization: A CRM system brings together customer data, multiple teams, powerful tools, and integrations – all in one place.
Streamlined communication

: A good CRM system offers 2-way email, internal communication, and conversational inboxes to help you communicate with your team and customers with ease.

Team collaboration: The centralized database of a CRM system unifies marketing, sales, and support teams – improving productivity and efficiency.
The Benefits of CRM for Employees
In addition to helping small business owners manage their internal processes and customer interactions, CRM systems also play a major role in improving the lives of your employees.
Your employees don't need to have spreadsheets, communicate through email, contact your customers manually, or use dozens of software for various uses. An all-in-one Customer Relationship Management software like EngageBay does it all.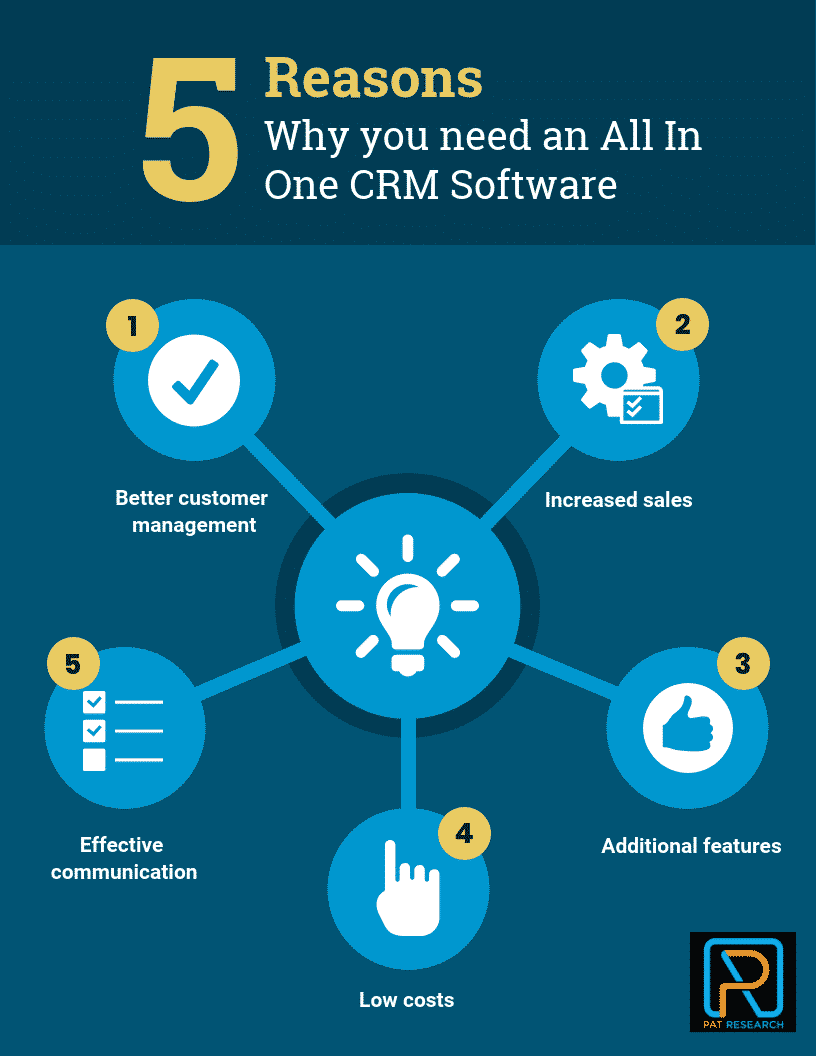 This breaks down communication barriers and mitigates data inconsistencies.
Most importantly, all your employees can be on the same page.
Let's now take a look at how CRM systems help individual teams.
Read also: 11 Best Marketing Automation Tools for Small Businesses
The Benefits of CRM for Sales Teams
We've mentioned it before, and we'll mention it now.
Sales teams have one of the most important (and admittedly arduous) tasks in any organization: closing deals to bring in revenue.
Without a good small business CRM system in place, chaos ensues. That's why CRM systems are so helpful:
Pipeline management helps you convert prospects into customers.

End-to-end customer interaction management, right from inquiry all the way through deal closure.

Complete view of your customers to help sales reps understand customers better.

Monitoring sales activity to keep track of progress and forecast future sales.

Offers resources to help each sales rep move prospects towards the end of the sales funnel.
Here's a cool infographic to help you understand the benefits of CRM systems for sales teams: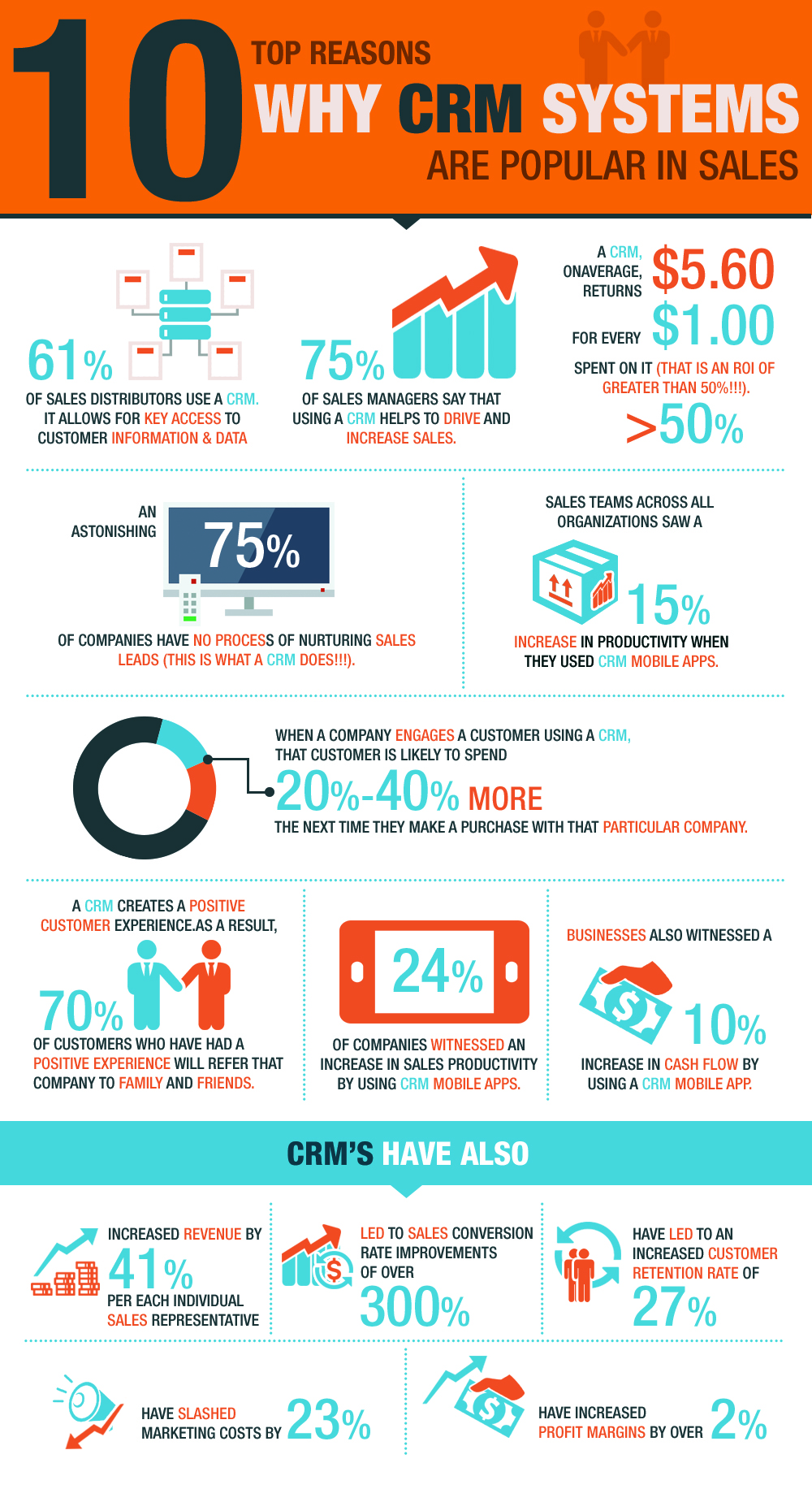 The Benefits of CRM for Marketing Teams
Before a sales team can work its magic, a business's marketing team has to bring leads into the funnel.
Marketers must promote their products and services as much as possible without being pushy. Plus, mass non-personalized emails are a massive turn-off for customers.
This is where a CRM system shines through.
A marketing CRM system helps capture leads, analyze user behavior, nurture them through various means, and ultimately hand them over to sales when the time is right.
Read also: 6 Steps to Create Your CRM Strategy (+How to Track It)
The Benefits of CRM for Customer Service Teams
Another fundamental part of any business, and one that is often overlooked, is customer support.
Most companies offer good support during a customer's purchase but fail to do the same post-purchase. This is why many businesses have high attrition rates.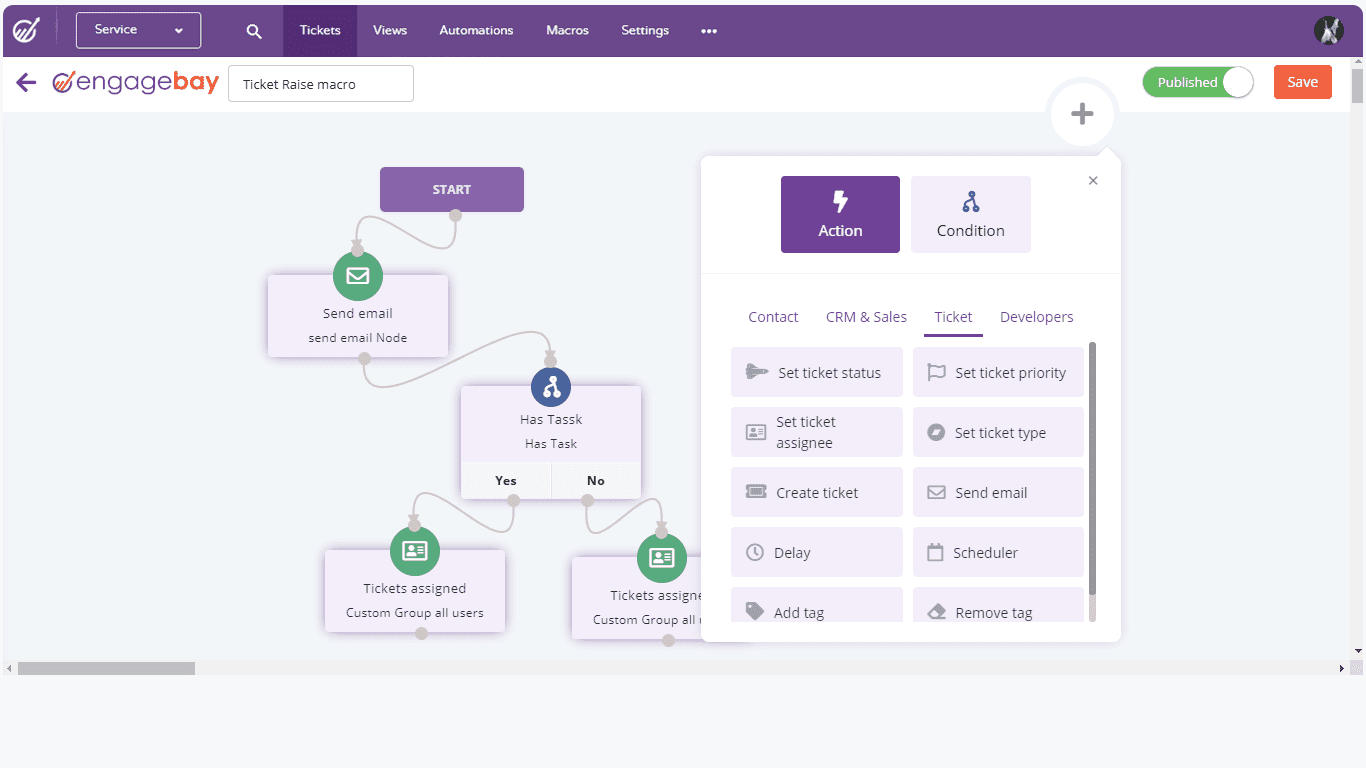 A CRM system offers a plethora of tools, from ticketing, prioritization, helpdesk, live chat, and more. Tools like ticket routing and reassignment ensure that the ticket reaches the right team.
In addition, automatic logging saves all the interactions so that the new rep can pick up without starting from scratch.
Read also: What Nobody Tells You About CRM ROI: A Thought-Provoking Guide
The Benefits of CRM for the Organization as a Whole
Now that we've seen how a CRM system helps each entity individually, let's find out how it impacts the organization as a whole.
It brings together all the teams and unifies them through a single viewpoint of the customers.
Another excellent benefit of CRM systems for organizations is that it eliminates the need for multiple platforms:
This reduces costs

Removes multiple onboarding

Consolidates data into one place

Improves productivity

Reduces the need for technical resources – you don't need multiple technicians taking care of various platforms

Most CRM software are SaaS, meaning you don't have to manage anything in-house
Even so, there are challenges that you (most definitely will) come across while implementing a CRM system. The following section is a mini-guide to help you avoid common pitfalls.
Read also: CRM Experience — How Customer Satisfaction Tools Get Business Success
Challenges That Companies Face With CRM Implementation
Here are five key challenges you (and your employees) may face during CRM implementation, and the solutions to overcome them.
Let's get started.
Challenge #1: Convincing Your People To Change
The issue: If you are a startup with a relatively young workforce, transitioning to a CRM system will be easy. Convincing older employees, on the other hand, is a whole new game. Implementing a CRM system means you need to overhaul everything, which may lead to resistance.
The solution: You need to encourage your employees to learn as a team and help each other understand the new system – in no time, even reluctant team members will understand the immense benefits of having a digital CRM system.
Challenge #2: Getting Approval From Management
The issue: Another significant hurdle of CRM implementation is getting management to approve – mainly due to concerns about the technology, disruption to existing business processes, and pricing.
The solution: You need to address their concerns and convey how CRM systems can add value to the company by showing how competitors have successfully made the transition.
Challenge #3: Leaving Favored Software Behind
The issue: Even if you managed to convince your people to migrate, there still exists a looming challenge – getting what they left behind in the new system.
The solution: Implementing a CRM solution does not mean discarding existing platforms. An integrated all-in-one software like EngageBay brings all teams together through dozens of native integrations and over 1,000 CRM integrations through Zapier.
Check Out EngageBay's Integration Library
Challenge #4: Cost and Time of CRM Implementation
The issue: CRM implementation does not happen overnight. Depending on the size of your company, the amount of information, and the depth of implementation, it takes anywhere from days to months to complete the transition. You also need to invest in training, maintenance, and more.
According to a review by Harvard, although $1.3 trillion was spent on digital migration in 2018 alone, around a whopping $900 billion of it was wasted!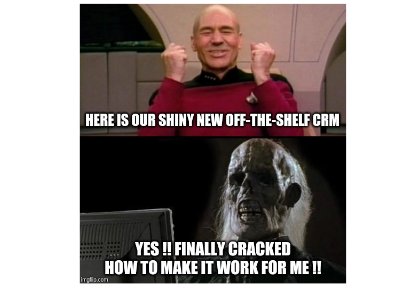 The solution: According to studies, the ROI of implementing CRM is quite high, with a yield of around $9 for every $1 spent. You need to keep short- and long-term goals in mind when choosing the right CRM system for the long-term, and then devise a strategy that maximizes productivity and minimizes expenses.
EngageBay is one of the best CRM software for small businesses as we don't charge anything for migration and onboarding – making it easier for businesses to implement.
Navigate the world of CRM automation software with ease. Our detailed guide gives you an overview of the best options available.
Challenge #5: Choosing the Right CRM
The issue: Choosing the right CRM is not easy: it is difficult to keep changing (as we've seen through the challenges above). We've encountered businesses that splurged tens of thousands of dollars on the wrong CRM.
The solution: Take a diligent approach, decide what functionalities your teams need, predict how fast your business scales, and define your workflows. Above all, never rush the implementation.
Read also: 9 Challenges of CRM Implementation & How to Dust Them Off
Wrapping Up: Choosing the Right CRM for Your Business
We've seen the importance, benefits, and challenges of using a CRM system. Let's now address 'the elephant in the room:' how do you implement the same for your business?
There was a time when CRM systems were exclusive to MNCs and corporations with deep pockets.
Nowadays, any business can implement CRM and reap the benefits.
But there's a caveat: you need to choose the right CRM.
There are dozens of excellent CRM software in the market today, all promising the best. For small businesses, EngageBay is the way to go.
Why?
It offers an integrated all-in-one marketing, sales, and customer support software with a highly intuitive UI.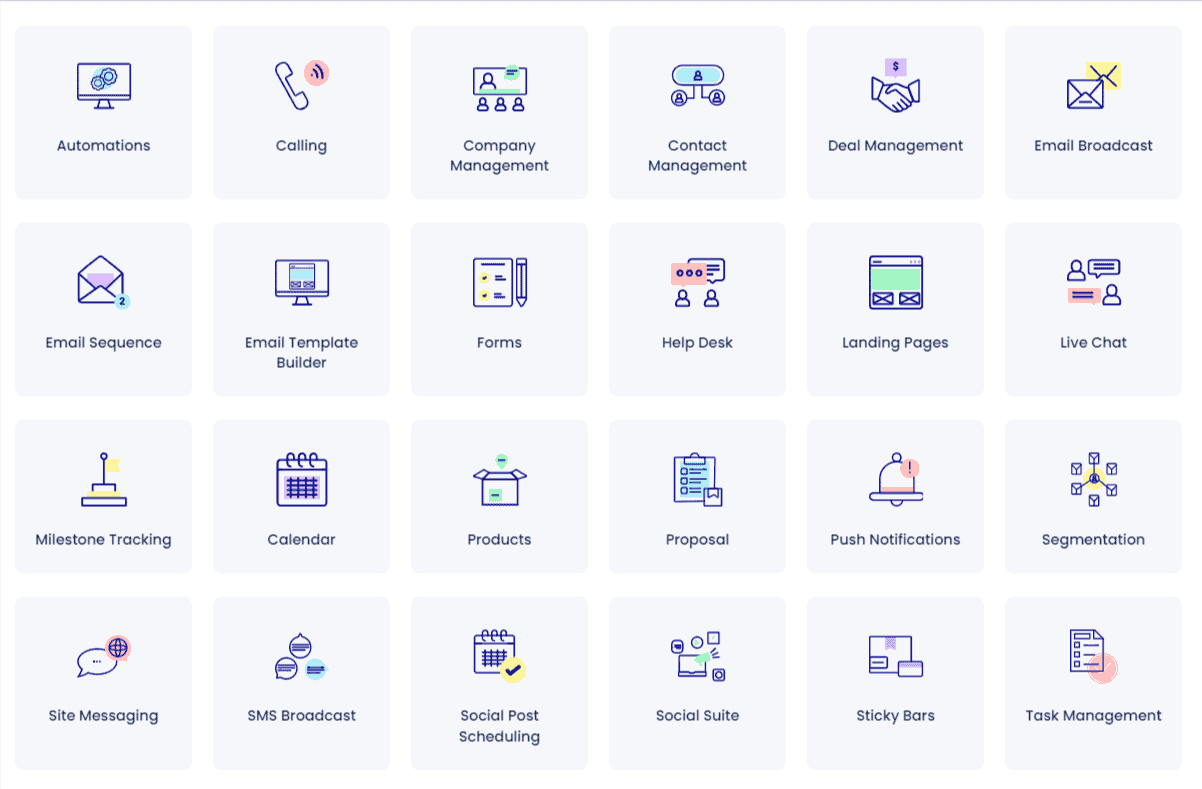 It's quite affordable too. EngageBay also offers free migration and onboarding services, meaning you can quickly onboard your employees without lengthy and costly implementation.
The CRM platform remains affordable even after you scale your business: EngageBay's Pro plan with unlimited contacts, mobile CRM, and a suite of enterprise-level features costs just $99!
This is what Tommy D, a professional trainer and coach, had to say about EngageBay:
"Everything and more than I need. I did extensive research before picking Engagebay and they haven't disappointed me."
Sign up for the free version, or book a 30-minute demo with our experts today.
Ciao!