What is operational CRM?
Before we start discussing operational CRM, it is important we first understand what CRM software is. 
Customer Relationship Management or CRM software helps an organization get closer to its targeted market. The organization can better its relationship with its prospects and customers by using CRM's processes and technologies, which combine the multi-faceted working of an organization. CRMs organize data from customer support, sales and marketing, and tech support. Later, this data can be used to formulate and monitor strategies. 
More than 90% of all companies with an employee scale greater than 10 people use CRM software. According to a Thomsondata report, CRMs will become the largest software products in 2020.
CRM solutions help in
Making more sales

Helping customers make the right decisions

Bringing the organization and the customer closer

Improve sales efficiency

Improve company profitability
More and more companies are switching to CRM; the adoption rate has improved from 61.6% in 2013 to 67.8% in 2018.
However, not all CRMs are alike. A CRM system has special features to cater to the different needs of a company. Depending upon their features, CRMs can further be divided into three larger groups.
Kinds of CRM platforms
There are 3 kinds of CRM software – Analytical, Collaborative, and Operational.
Analytical CRM splices the data that you have and derives meaningful information from it. Decision-makers use this analysis to make better decisions for customer retention, acquisition, etc. Analytical CRM tools work behind the scenes and drive the organization forward.
As the name suggests, Collaborative CRM is used to improve inter-management and collaboration levels among teams. This tool helps in assigning tasks, keeping tabs on who is doing what and allows you to share contact and lead information among other necessary data between team members.
Operational CRM is customer-facing and helps in the acquisition and retention of customers. An organization's sales, marketing, and customer support departments are interlinked and fundamental to great customer service. This CRM takes care of all the "operations", which would ultimately promote better customer satisfaction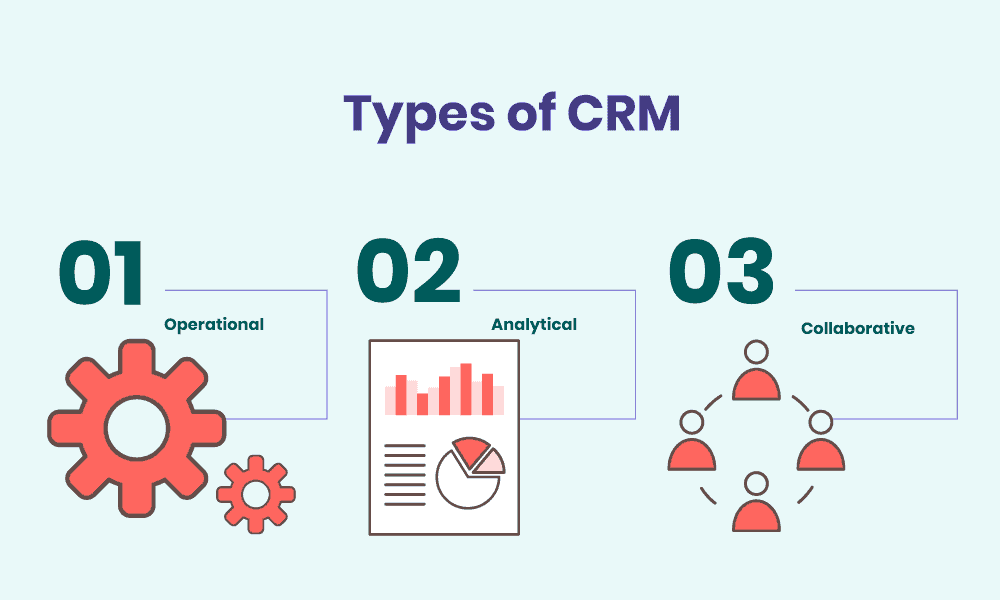 Operational V/s Analytical CRM
We understand that the basic definition could get some people into confusing operational CRM for analytical CRM, however, these two CRMs have very different features and Modus Operandi. 
The main difference between Operational and Analytical CRMs is in the term of their respective uses and objectives. The reason behind a product makes the cut. 
A typical operation CRM makes processes smoother and more efficient. With this type of CRM, you achieve more but with fewer steps.
Generally speaking, this CRM streamlines customer interactions with sales and marketing. This CRM is also about service automation- the art and science of efficiency.
The fundamental objective of this CRM is ultimately to drive leads and then sales.
However, you could think of Operational CRM as a more intuitive and robust platform to draw a comparison with Analytical CRM. 
Analytical CRM provides the data to the decision-makers. It is the cornerstone of all business processes. Without this crucial information, your sales and marketing people won't know much about their customers.
Analytical CRM splices the data of the organization and arrives at meaningful information. It works in the background and is all the time supplying useful information to decision-makers.
Therefore, while operational CRM works in the forefront, analytical CRM runs in the background. While analytical CRM too is important for the purpose of data finding and extraction, in this article, we only focus on operational CRM.
To understand what makes this type of CRM omnipotent, let us look into what makes it come to life. 
Parts of Operational CRM
People Management
Lead Management
Sales Force Automation
Customer Service
Marketing and Sales
Business Reporting and Analytics
Before we look at the components of this type of CRM, here is a rundown of what constitutes a general CRM software.
People Management
How to use the right people at the right time for the right function? This question has often helped organizations find the best usage of their resources, and your CRM needs to provide you the solution.
Lead Management
How to keep track of all the leads and distributing them among your salesforce? Since CRM systems deal with clients and lead management, this becomes an important area for them to organize and process effectively.
Sales Force Automation
SFA tool tracks customers, interacts with prospects, forecasts sales, and processes sales as well.
Customer Service
This function assists customers in making informed choices while buying products. Customer service comes into the play when a consumer is at the brink of making a purchase or after the purchase, when they may have complaints or reviews. CRM provides the right management to deal with them smoothly and efficiently.
Track, prioritize, and solve customer support tickets in minutes using EngageBay CRM.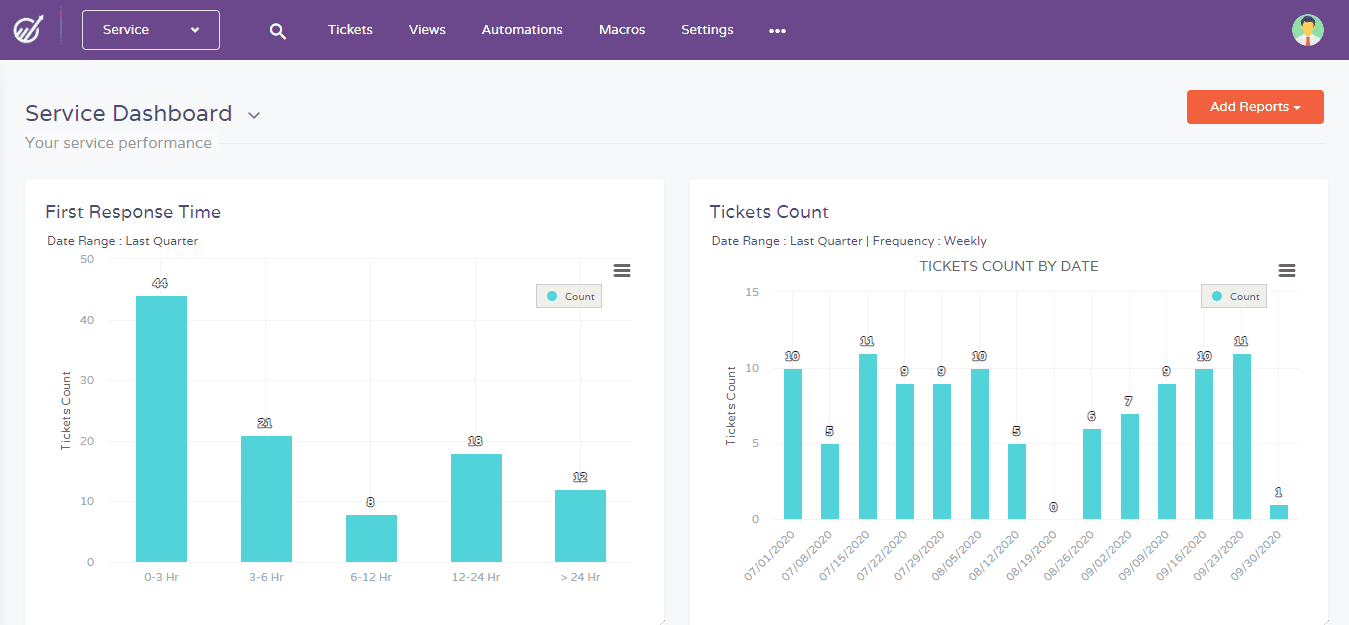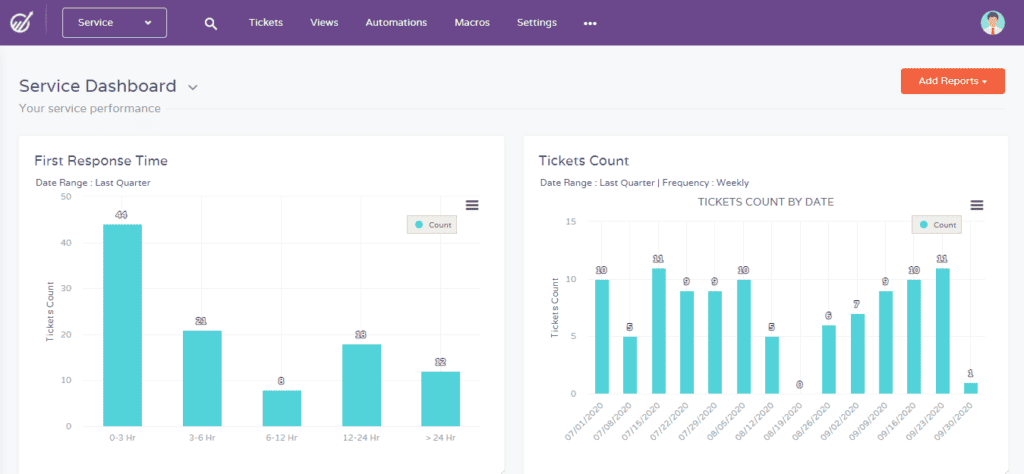 Marketing and Sales
While marketing promotes products, sales teams actually go out and sell all those products. A good CRM would naturally help your teams get the most done in the least time. Perhaps, some CRMs would go the extra mile and establish better coordination between the two departments of your organization.
Business Reporting and Analytics
Business reporting tells the position of your company and its products in the market at a given time. Analytics, on the other hand, studies the market trends and suggests which products are likely to fit in with these trends.
CRM was needed to know more about customers on a deeper level. Many companies in the 70s and 80s felt that existing business models weren't enough for understanding their customers.
ACT! was the first company to have rolled out the first customer management solution. Launched in 1986, this product was actually a digital Rolodex and was meant to store customer data. In the late 1980s, many other vendors like Goldmine pushed their own versions of CMS platforms.
In the early 1990s, Brock Control Systems took the first step towards the modern-day CRM software. It re-designed the earlier CMS systems and made them more customer-friendly.
Today, more than 74% of businesses think CRM helps in customer service. 
However, the need for Operational CRMs arose in the last few years, as automation and Artificial Intelligence were exploring their role in the world of technologies and software systems. People realized why settle for just data when you could let your machine do all the work? Today, customizability, automation, and flexibility are having a field day as CRM tech gets more and more operational every day.
If we were to dissect the composition of this type of CRM, we would get these three prominent constituents: 
Sales

Marketing

Customer Service
EngageBay is an integrated marketing, sales and service automation platform with a buil-in CRM.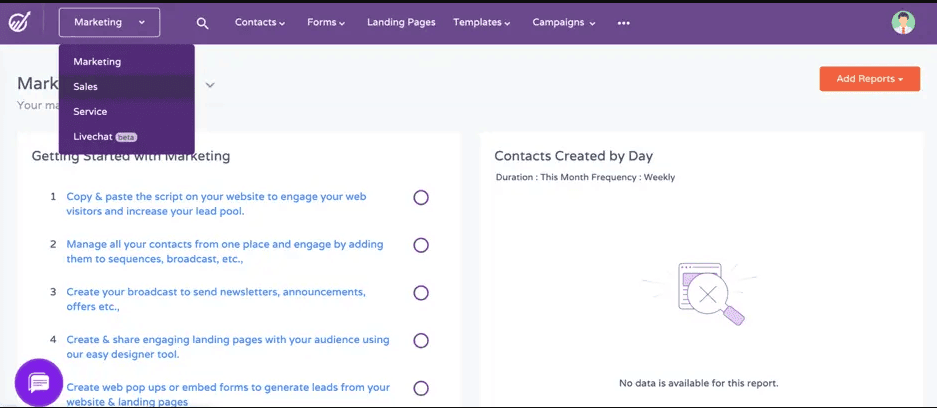 These three departments bring the revenue that fuels business. A great product falls flat on its belly even if one of the three constituents is missing. 
Come to the picture with a good CRM, and you have automatic machinery, which runs all the operations of sales, marketing, and customer service efficiently. How it does that, we will get to that in a while. However, this is what you can accomplish when your three most crucial departments are running at power in sync: 
More sales

More loyal customers
To achieve these twin objectives, your CRM software performs the following functions;
Your CRM makes all the customer interactions fluid, agile, quick, and more productive. There are no rough edges to your customer interactions. Marshall all the data that you have easily and without having to switch back and forth between spreadsheets and charts.
When you have an excellent customer interface, you can convert more leads into customers. Make your new customers into loyal ones and watch your sales graph soar.
These are some of the more visible benefits of using this CRM; more and more organizations are embracing it for more sales and customer retention.
A 2017 study revealed that 25.3% of respondents agreed that their CRMs improved sales force efficiency and productivity.
Now, let us understand how this kind of CRM works. It helps you get more sales by delving deep into the data provided by analytical and collaborative CRM systems, this is common knowledge! However, now we shall take a closer look by diving into the mechanical system of this CRM system.
How an operational CRM works
Marketing campaigns
Sales Activities
Support and Service
Sales Automation
Using CRM for Marketing Automation
Support Automation
Operational CRM helps organizations to interact with their customers by connecting and supporting sales, marketing, and customer service functions. Call centers and data aggregation centers use this type of CRM widely.
It is estimated that 90% of organizations with more than 11 employees use this form of CRM.
Mostly, it is used in services, tech companies, consumer organizations, retailers, etc. Let's look at some of the areas where this CRM works.
1. Marketing campaigns
Operational CRM kicks in the moment you start your marketing campaigns.
You can fill in your CRM database with the contacts that you get in webinars, events, direct marketing campaigns, contests, SMS-based campaigns, etc.
In a webinar, make your CRM bucket by asking people to fill in the various online forms they get while landing on your website.
Plan, automate and execute successful marketing campaigns to drive revenue growth with EngageBay CRM.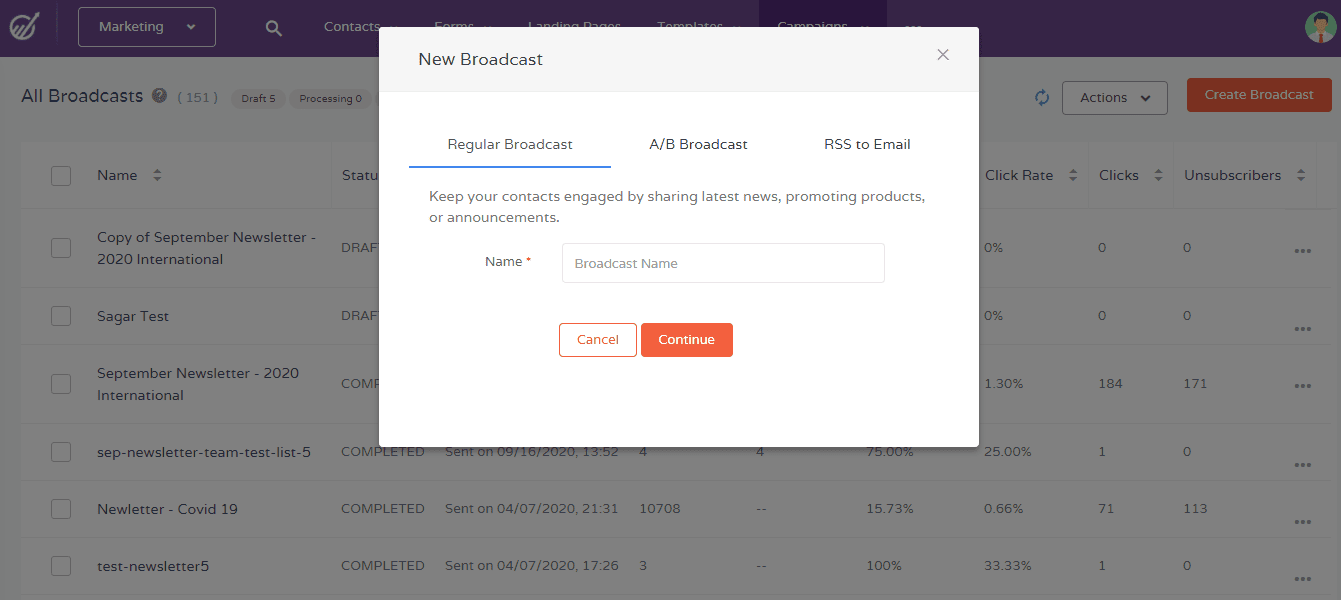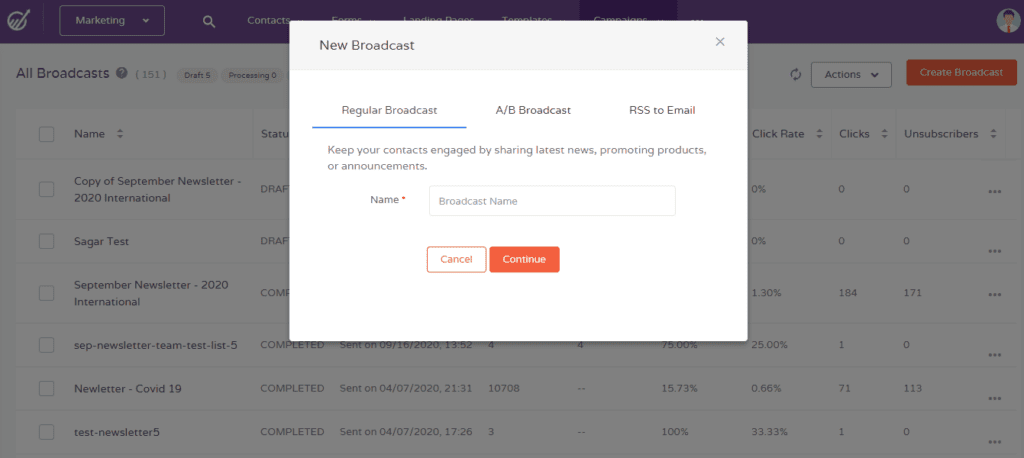 This data can support your existing email campaigns. In this context, we'd suggest you to consolidate your existing CRM platform with your ongoing email blasts to achieve better ROIs and consistency.
Some studies have shown that email campaigns powered by CRM can deliver a whopping 4,400% ROI.
2. Sales Activities
Your sales activities and CRM system can work together to produce high-value results. Let's take the example of a salesman pitching to sell a high-end computer to a prospect.
The salesman got this prospect from one of the marketing campaigns and this prospect information includes name, address, telephone number, email id, etc.
Now he enters the prospect's name in the CRM to find whether the latter is an existing customer. If the answer is yes, he tries to upsell another machine to the same customer to get a higher price, and hence, value. Of course, this salesman first tries to determine the requirements of his customer. This too is where an operational CRM helps.
With the existing shopping behavior and expense pattern available, a good salesman can easily process the present condition of a consumer.
If this prospect is entirely new, the salesman would try to sell other products as well (cross-selling) such as a printer.
While doing all this, all the data is fed in the company CRM to keep an updated record of this new customer.
In this context, it is important to have a robust CRM in place. According to a HubSpot study, 23% of respondents said manual data entry is the biggest pain point while using an outdated CRM.
Fully integrated CRMs would capture all your leads from various social media and website automatically, depending upon their activity, their interest would be analyzed and suggested as "hot leads".
3. Support and Service
After the sale has been made, the salesman hands over his customer to the service and support staff. At the time of the handover, he documents everything the customer needs. Since in this case, the customer is buying a computer, the salesperson records all the requirements of his customer including model, type, configuration, memory, accessories, etc.
This document must record all the information faithfully. Anything missed will lead to a loss in revenue and reputation.
Until a few years ago, support and service staff did not have access to the same information that sales and marketing had. However, in recent years, all customer-facing departments have access to customer data.
Today, there is seamless communication between sales, marketing, and customer service. If you have a help desk software, you can integrate it into your current CRM platform for smooth interaction between sales and service.
4. Sales Automation
A good CRM does much more than pass on normal leads to your sales reps. It can identify high-value leads, automate initial contacts, and eventually, set up sales meetings.
With a robust and intuitive CRM system in place, you don't really need bulky phone books and diaries. Your sales process can be automated with just one click on your mobile device or computer. Track your past sales data, detect cross and up-selling opportunities and you get to do much more with your CRM database. With the recurring and mundane tasks of data entry or follow-ups automated, your salesperson gets to spend more time on the real task of productivity.
Automate tasks, increase productivity, boost sales & grow revenue using EngageBay CRM.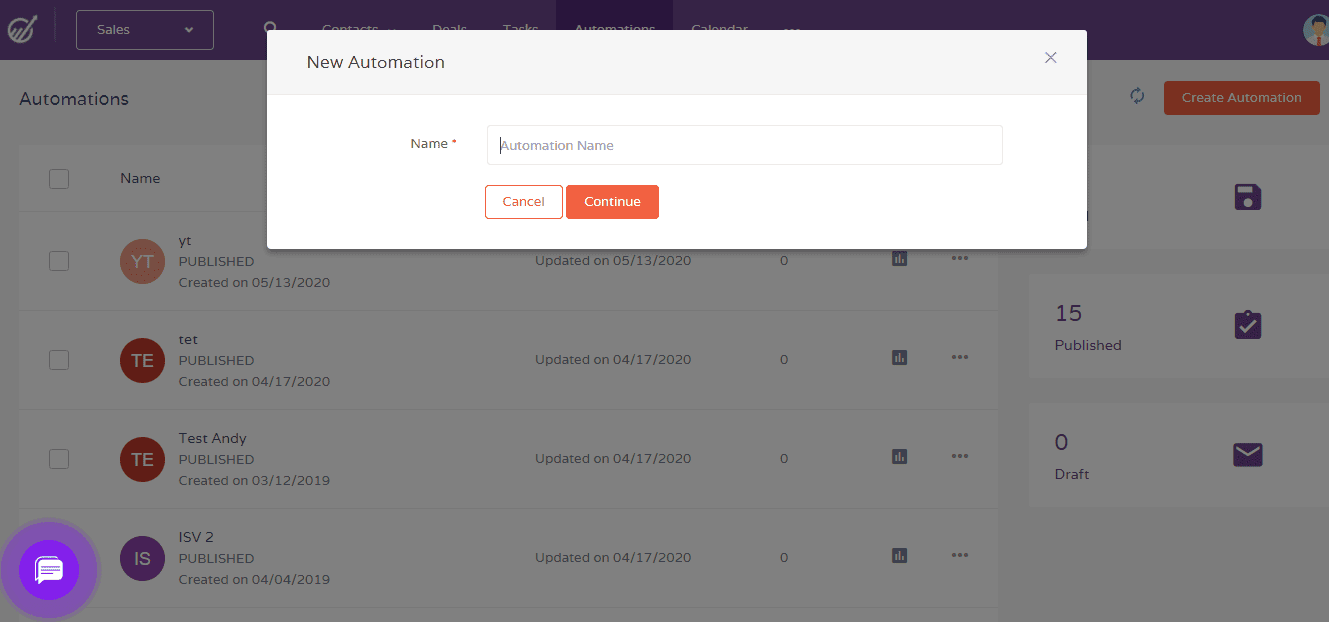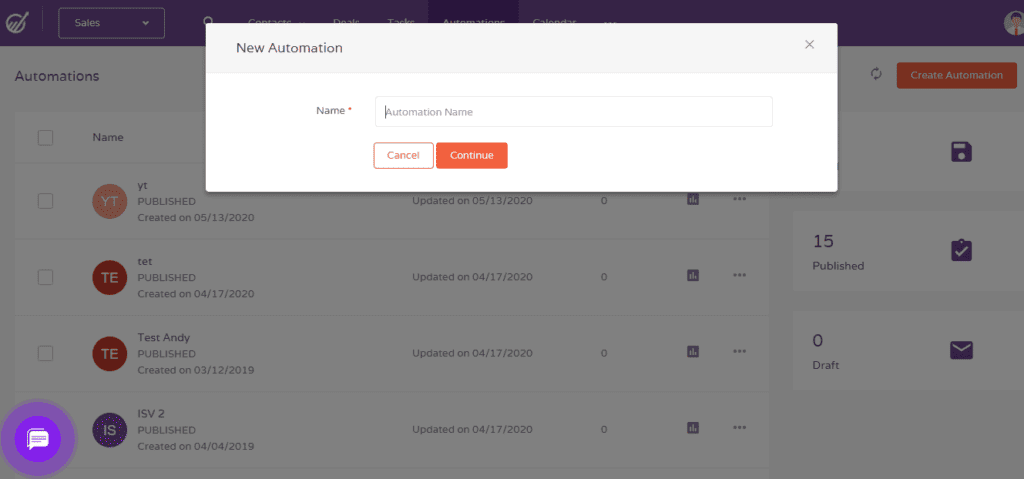 Moreover, you can trust your operational CRM to be smarter than just a 'round robin' arrangement when it comes to sorting leads within the team. Your CRM also knows who is the best performer and can be programmed to pass more important assignments to our most trusted man. 
A study by Aberdeen Research Group indicates that organizations that used automated sales processes generated 217% more ROI than laggards. The same study shows that further investment in this type of CRM may generate 52% more proposals.
5. Using CRM for Marketing Automation
Your operational CRM can help your marketing people analyze rough data and come up with helpful information. This information enables marketing teams to create stories around their campaigns and enable the customer to buy.
EngageBay's Marketing automation helps small businesses automate marketing and sales tasks and various workflows to generate leads, close deals, and grow revenue faster.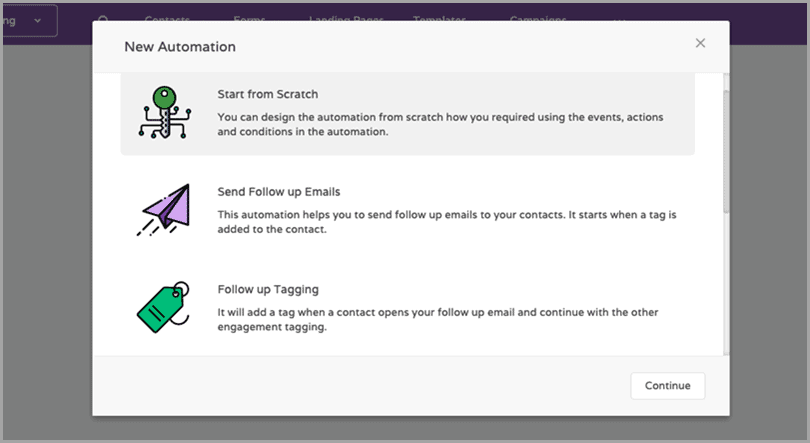 Marketing automation isn't meant to coerce the customer to buy. It has two objectives, each of them intertwined;
Enable marketing teams to break complex data points and derive marketing insights

Use these insights to create an environment for the customer so that he buys the product after digesting those insights. Moreover, automation can help you send out personalized bulk emails and messages to get the message through.
How is marketing automation critical?
79% of the CMOs surveyed said the top consideration for implementing marketing automation was to augment revenue.
6. Support Automation
You may want to automate your support function as well. Let your CRM enable customers to solve their problems themselves, raise tickets, and even escalate their queries to the next level. This platform can also let customers update their payment information, generate invoices, and even answer some survey questions.
These answers could reveal some powerful insights to you. With the help of automation, you could send out reminders, receipts, and more to assure your customers they are in safe and smart hands. 
Thus, if you have read so far, it will not be bold speculation that your operational CRM becomes your whole sales funnel and much more. It would be easier to think with the help of an example I have waiting for you.
Example of how operational CRM works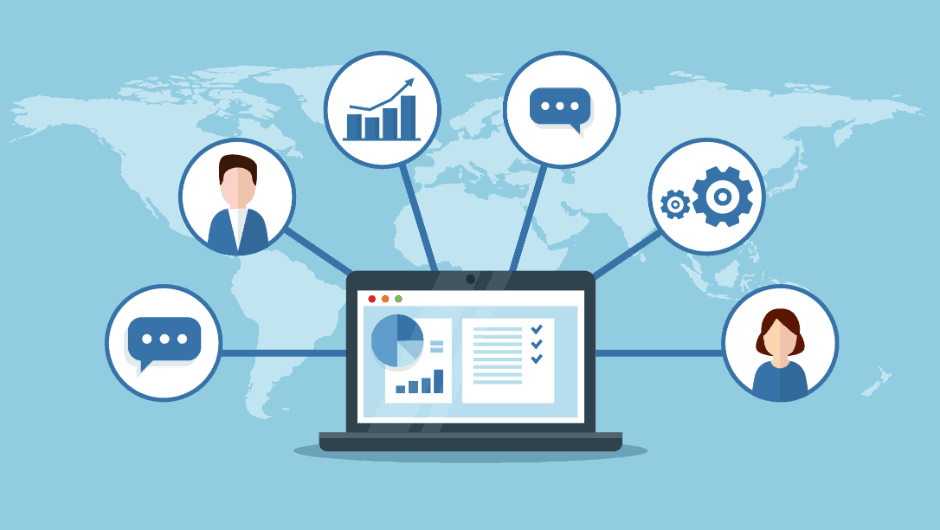 Let's take the example of a car company A to understand how it deploys operational CRM.
When A participates in an auto expo, it runs a small touch-my-car experiential campaign at its stall. All those who want to touch A and even drive it too, need to fill in a form.
The information in all the forms is fed to a central database that splices applicants in terms of age, marital status, gender, and occupation. Based on this information, A starts an automated marketing campaign directed toward these prospects.
A prospect who responds to this campaign is contacted and his details are conveyed to a telecaller.
Based on the conversations between the telecaller and the prospect, the latter's information is then given to a sales rep. This rep meets the prospect and closes the deal. The details of the deal are simultaneously recorded in the company's CRM platform, which is later communicated to the service and support staff.
If the customer has an issue and calls A, the support staff can solve his query by looking up at the purchase quality. 
This is just one of the many scenarios via which the CRM you choose will help you.
Advantages of operational CRM
Refining marketing process
Inter-departmental communication
Cross-selling and upselling opportunities
Driving ROI
Increasing customer satisfaction
Market leadership
Gaining Valuable Insights
Companies are embracing this type of CRM for their significant and visible benefits. What are they?
1. Refining marketing process
One of the most visible benefits of this CRM is that you can deep dive into your customer persona. With such robust CRM software, you can assign your prospects to 3 main buckets- customers who would buy, likely customers, and those who will never show up. 
According to Criteo, website visitors who are retargeted are 43% more likely to convert as customers. This stat is relevant for likely and reluctant customers. 
With the help of customized messages, you can target each of these 3 customer groups. 
You can also identify buying trends across categories, age-groups, genders, and even geographies. With this CRM, you can target each of these filters effectively. 
2. Inter-departmental communication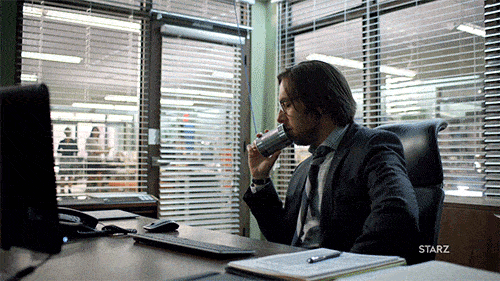 It is no secret that effective inter-departmental communication shores up your company's productivity. Operational CRM improves inter and intra-departmental communication significantly. 
According to this research, 75% of all employers rate collaboration as being very important for productivity. 
When employees of the same team or department have access to the same data, they are much more likely to participate in the sales and marketing process more enthusiastically. There is a caveat though; organizations need not provide the same levels of access to all their employees. Access should depend upon the role of each employee in the company. 
3. Cross-selling and upselling opportunities
If you are selling various inter-related products, then this type of CRM can provide you with several cross-selling and upselling opportunities. You can use these opportunities on the basis of the customer data stored in your CRM. 
Let us say, you are in the business of making and selling cars. Mr. X comes in one day and buys one of your models. Now that he is in your database, you can send him periodic offers on car-accessories, car-maintenance, and even new models. This is how cross-selling and upselling works in general. 
35% of all Amazon revenues come via cross-selling and product recommendations. Studies show that shoppers that clicked on recommended products are 4.5 times more likely to add those to their product carts. 
If you don't have an operational CRM tool yet, we'd recommend you to get that right away. Your sales reps can use it to recommend new products and upgrades to their existing customers. 
4. Driving ROI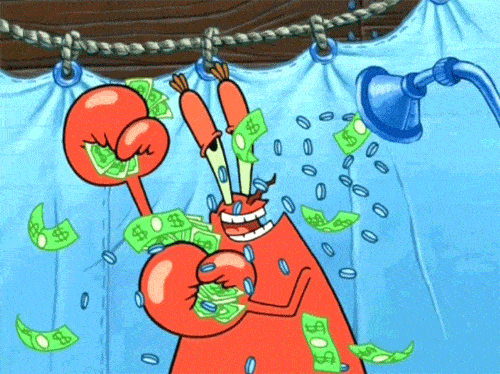 The simple reason why more and more organizations are taking to the CRM trend is that it drives up your Return on Investment. Some studies have concluded that for every $1 that you invest in this CRM, you get 8x revenue. The ROI is 8:1 here. 
Let's look at those features of this tool that drive your ROI up;
Data centralization that helps in organizing all your critical information in one central place for effective use later on. While this may sound like a small help, this saves a lot of time and loss of important things later. 

Segmentation helps you put customers in specific buckets and makes it easy to send customized messages. Why this works is easy to understand since each type of customer requires a special treatment customized and hand-made for them.
Lead scoring helps you prioritize your prospects and further helps to allocate your resources. This metric answers this question, ' Who is my most important customer?'
Pipeline management: This is about being able to deal with various projects at a single team with limited manpower. In every organization, there are multiple deals happening simultaneously. Moreover, you have the same people coming into the picture for every deal at different points. You can make several pipelines for your deals to track the progress. This will help you dodge confusion and bring more discipline. Let's say, you have 10 sales reps in your team, and you want to map their progress. With this tool, you can find out who is working optimally, and who is lagging behind. This way, you can finetune your sales team's performance. 

Email marketing has been proven to deliver a very high ROI to marketers. Some

reports

suggest that for every $1 spent on email marketing, you get $38 as returns. If your CRM runs distant from your email marketing functions, it makes business sense to bring both the tools together. With this new synergy, you can send personalized campaigns, check mail open rates, and click-throughs to your website. 
Tracking productivity: If you have a good operational CRM, you can track a whole lot of marketing activities such as calls made, emails sent, the number of notes made, tasks completed, and meetings attended. 

Inventory management: Drive your productivity by checking how many SKUs are in your warehouse, which products are selling and which ones are not, manufacturer details, pricing, etc. 
5. Increasing customer satisfaction
A good operational management tool can drive up customer satisfaction levels. More customer satisfaction means higher customer loyalty. 
Customers don't want to repeat themselves, and they don't want to raise the same complaints again and again. To counter that, you could always implement an omnichannel marketing plan. However, that too would need to hop on the wagon of a CRM.
A good Data Management System will help you keep your data concise and useful, however, a good CRM would make use of that data. With an effective tool, you can anticipate customer complaints on the basis of their past interactions and smoothen any rough edges. 
90% of people who took part in this survey said that customer satisfaction leads to brand loyalty. 
6. Market leadership
One of the most obvious but least talked about benefits of using a fully equipped CRM is that you gain market leadership. 
You can become a leader in not just sales or market shares, but also in areas like profitability, customer satisfaction or even employee satisfaction. 
For example, if you know which products are selling right now and can anticipate the ones that might sell in the future, you can finetune your production pipeline. With a good CRM in place, you can sell the right products in the right volumes and at the right price. This helps in freeing up your product shelves from non-performing products/ brands. This is one example of gaining category leadership with the help of this type of CRM.
7. Gaining Valuable Insights
Your CRM can also become a barometer of your company's health. 
This tool can also enable you to look at all the aspects of all your customer-related touchpoints and find out any weak areas. For example, if this tool tells you of high customer churn-outs but your staff is unable to handle them, perhaps it is time to retrain your customer reps in that area or perhaps, there is a flaw in one of your products that stops customers from coming back to you. 
To summarize, effective CRM can deliver several benefits to your organization. The right tool can increase your ROI, improve customer satisfaction, and also retain your high-paying customers. 
In simple terms, an operational CRM is the backbone of big business and it is just what is missing from a layman business.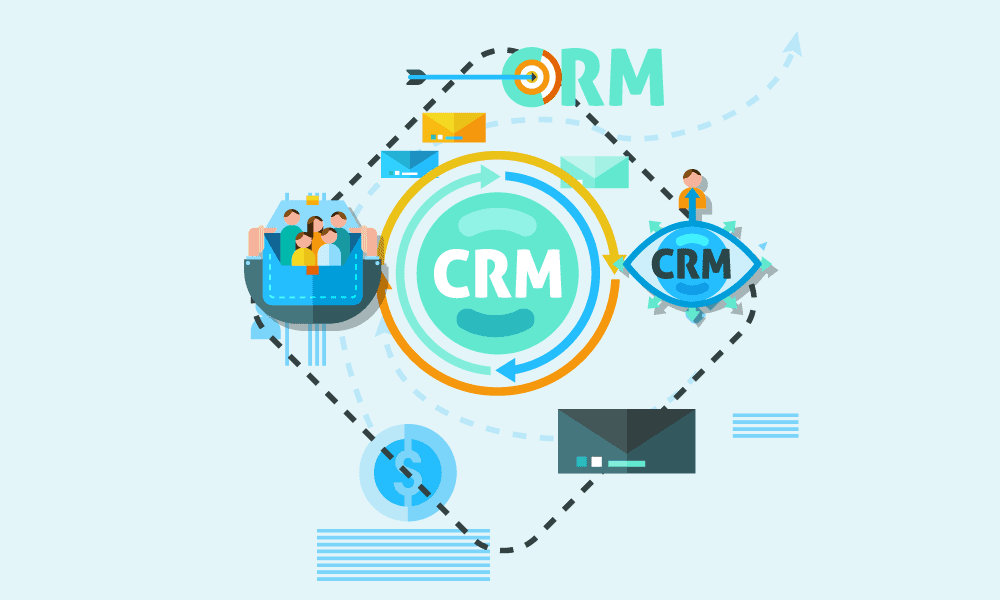 Examples of operational CRM
So far, we have seen what an operational CRM is, what it can do, how it helps, how it enhances your sales process, and more. However, the question remains: What now? 
You may be interested in getting your hands on the best tech out there, so which is the best CRM?
This is a difficult question to answer since, with CRM, there is no universal size. To each, their own!
Located at one end of the spectrum are the giant multinationals who have millions of customers and thousands of SKUs. On the other side are small business enterprises that have just started up, and they have limited needs.
Here we look at some of the more popular CRM tools, their features, and what distinct advantage they offer.
EngageBay
This is where you get the best of all worlds with immense possibilities for automation, customization, and integration. A simplified 360 view and an easy interface for even the non-techies to have a good time using the ops.
Nothing is a challenge with this CRM, the makers have created a platform for you to easily access all the functions, coupled with email marketing, sales, customer support and other features that make this a hot favorite among budding entrepreneurs. 
Instead of having to pay for each product separately, you get an option to make your own business kit with EngageBay. furthermore, considering all the perks they pack in at your service, it is the most reasonably priced CRM right now.
EngageBay also provides easy porting options and integrations with other platforms. To know more about the pricing and the respective packages, you can click here!
HubSpot
HubSpot CRM is for those companies that don't want to spend too much time logging in their data. This customer relationship management tool centralizes all the customer and user data in one central place.
You can easily view and manage your sales pipeline by watching your lead movements there. Intuitive in design, and easy to use, HubSpot is ideal for small to medium companies (10-200 people).
This CRM can be installed on native iOS devices, Android, Windows, cloud, SaaS, and web platforms. There is a demo product available too.
HubSpot is used by more than 50,000 websites in the United States alone.
Centra Hub CRM
The one thing that works for Centra is customization. Plus, you can integrate this platform with sales, marketing, and service departments for superior performance.
Automate lead generation, and use this platform to nurture your small and incipient business units.
Centra Hub CRM is a cloud-based platform that can work for small, medium, and large organizations.
Unlike HubSpot, this CRM doesn't have a free product. Plans start at $8.99 per user. This platform can be installed on all devices including Mac.
Zoho
Zoho can work for small and large size organizations and has a complete customer lifecycle relationship management solution. You can manage sales, marketing, inventory, and other critical business processes from one central platform.
Zoho has free as well as paid versions. Its paid version starts with $12 per user. This platform is supported by native iOS, Android, Windows, cloud, web, and SaaS platforms.
Product training is delivered by online training, documentation, in-person, and webinars.
Zoho CRM is probably the 3 rd largest selling product in the software market. It is estimated that the software part contributes to half the annual revenue of Zoho Corp.
Salesforce CRM
This operational customer relationship management tool is perhaps the largest selling software in the world.
The biggest distinguishing feature of this platform is that you don't need to set up any infrastructure. All you need to do is open an account and log in.
Salesforce is meant for small, medium, and large companies. One of the biggest trusted partners of KFC, this platform has been around for a while. More than 150,000 companies use this tool to manage their sales daily.
There are free and paid tools for businesses. If you run a small business, you can run the free account and see the value
Salesforce provides to you. Paid plans are available from $25 per month per user.
Vtiger CRM
Vtiger is a good catch for small to medium size organizations that have agile sales teams and are geared toward marketing ROI. If you value your customers, then Vtiger CRM is not going to disappoint you.
This CRM platform is used by over 300,000 businesses all over the world. Send automated SMS and marketing campaigns, manage your lead pipeline, spot deals and close sales on the go. It is an excellent tool for collaboration, fixing meetings and forecasting sales.
Vtiger has free and paid plans. If you are just starting out on CRM, start with the free plan and then graduate to the paid one that costs $10/ month/user.
Vtiger supports native iOS and Android platforms, Windows, cloud, SaaS, and web platforms. It doesn't run on Mac devices.
Training can be delivered via online, in-person, webinar, and documentation.
SAP CRM
This CRM is better suited for marketing and sales teams in any organization.
Launched by SAP, this platform delivers marketing insights and streamlines critical business processes across and beyond customer touchpoints.
SAP CRM doesn't have a free plan, though you can try it for free. Paid plans start from $58 per month per user. 
This platform can only work on cloud, SaaS, and Web platforms and is appropriate for very large business organizations.
Emerald CRM
This customer relationship management tool is geared toward tourism professionals. Emerald CRM covers all the touchpoints of the value chain and provides customized solutions to all its users.
Since this CRM is modular in design, it can be adapted to individual environments. You can assign tasks, set up calendar reminders, and automate your email campaigns using Emerald CRM.
This Germany-based CRM platform doesn't have a free plan. However, it does have a trial version, and once you are satisfied, you can graduate on to the $500/ user one-time fee.
CRM is an ever-changing field and more and more features are getting added to the standard tool. There can be no limit to your range of choices when it comes to operational CRM.
Now that you know our top-picks for CRM, you may be wondering which one to go for? Ideally, the choice is all yours to make!
You can call the shots depending upon your requirements and finance. however, you don't have to call a blind shot. Most software in the business offers a free trial period, you could sign up and try using the channel extensively throughout the trial period. 
Some providers would go the extra mile by helping you with induction and introduction. For instance, EngageBay is 24*7 there for you, shall you encounter a hiccup. To start your journey of expansion, leverage a good Operational CRM today.