Sales force automation may seem contradictory for a field that relies on the human touch, but it's essential to your sales process. While sales is indeed a people-oriented profession, incorporating automation into your sales operations can significantly enhance your team's productivity and effectiveness.
By streamlining various activities and managing crucial tasks, sales force automation software empowers your team to focus more on building relationships and closing deals.
According to a research study, sales representatives only spend 35% of their time actually selling. The rest of the day is taken by repetitive, administrative tasks. This directly impacts productivity, which is why automation tools are such a necessity.

If you're a growing business, you must have come across Customer Relationship Management (CRM) software. CRM has become a fundamental tool for businesses of all sizes to effectively manage their interactions with customers, streamline processes, and improve overall customer satisfaction.
However, it's important to note that CRM goes beyond just customer management—it also encompasses sales force automation (SFA) systems.
If you haven't already implemented a sales force automation system as part of your sales processes, we highly recommend delving into this in-depth guide to understand its immense benefits and potential impact on your business.
The global sales force automation software market is expected to reach $7,773 million by 2023, owing to increase in need for tracking mechanism, rise in investment on IT infrastructures, and surge in need to streamline the sales processes. (Allied Market Research)
This guide will demonstrate the need for sales force automation systems for your teams, SFA features and benefits, and how you can find the right SFA system for your business.
What Is Sales Force Automation (SFA)?
Sales force automation, or SFA, is the automation of key steps in a sales process, using automation tools, which are often software-as-a-service (SaaS) products. By using sales automation software, sales teams can automate most of their repetitive tasks and organize their workload in a way that helps them focus more on making direct sales.
The practical reasons for using sales force automation software are to reduce the amount of time salespeople spend on manual tasks, and redirect their focus towards nurturing fruitful, long-lasting customer relationships.
For example, sales force automation software helps your teams automate sales tasks like the following:
Finding the leads that are the most qualified and thus viable, because they have a higher chance of buying.

Generating reports using accurate data and metrics, so a sales rep doesn't have to spend all day (or even several days) shooting in the dark.

Assigning leads to the right members of the sales teams, so the most qualified sales reps handle the highest-priority leads.

Automatically scheduling appointments online to free up everybody's time.

Tracking the

sales pipeline

— sales pipeline management

agents receive alerts when leads make their way through the pipeline.

Automating time-consuming parts of the sales processes, like

sending welcome emails

or follow-ups.
The below image perfectly demonstrates why many sales departments are not able to meet their quotas and efficiency ratings.
Why Is Sales Force Automation Important?
Sales automation can boost productivity and increase sales by 30%. When you optimize your sales processes, you automatically improve your company's revenue.
The video below summarizes a few benefits of implementing sales automation.

Let's look at some more benefits of sales force automation in detail now.

Saves time
There's only so many hours in a day and when your sales people spend most of those hours completing administrative tasks, they neglect their actual job of selling.

The reps themselves may not even realize how little time is left for sales activities until they see their weekly or monthly sales numbers and stop to wonder why these are so low.
By automating routine tasks, your sales people will have more time to focus on the essential aspects of their job.
Increases revenue
Manual tasks may seem simple but they take up a lot of time. SFA tools and systems can automate the sales process and that reduces sales-related costs. This is undoubtedly one of the best sales force automation benefits.
Your sales team can spend that time effectively — by closing more deals and winning new customers. Furthermore, when you reduce administrative workload, you ensure that your sales structure is a streamlined, revenue-driven process.
Introduces opportunities for cross-selling and upselling
Every salesperson knows that cross-selling and up-selling is the key to maintaining a consistent revenue above the threshold.

The opportunities for cross-selling and upselling exist in many sales scenarios. If done properly, cross-sells and upsells can increase your company's revenue by 30%. However, when a sales agent gets bogged down with administrative tasks and other duties that don't make the company any money, they end up depriving the business of better revenue opportunities.

Sales force automation systems can help you keep track of the entire customer journey — what your customers have bought, why they've bought certain products and not others, which sales rep made which sales, and so on.
You can then identify plenty of opportunities, and nudge your customers to become more receptive to buying other products from your business.

Image credit: Jilt.com
Provides actionable insights and data
Your sales force automation systems can track customer interactions and activities to give a complete overview of your sales cycle. SFA tools can provide actionable insights that can help sales teams and sales managers draft the right sales strategy to increase sales.

For example, sales force automation tools know your customers' buying history and trends, and can predict opportunities for future sales based on that. Additionally, they can also help your sales personnel understand when exactly they can pitch new products to their customers.
Read also: Top 10 Tools You Need to Empower Your Sales Team
Key Features of Sales Force Automation
By this point, you're likely considering a sales force automation tool or software for your company so you can leverage the power of sales automation software for your sales department.
SFA tools offer a wide range of functionalities and features. In fact, many of them won't be of any use to a small business. Here, we've compiled a list of essential features that all SFA tools should have for the optimum automation experience, no matter the company size.
Contact Management
Your sales folks know it and you do as well: your contacts are everything. These are the leads who eventually become your customers, even repeat customers.
However, a bad introduction or poor customer interactions between a lead and a sales representative could kill the deal before it ever really gets off the ground.
This functionality ensures that your teams have the right tools for creating, storing, and building a contact database that offers relevant information, quickly and easily. Contact management in SFA also involves keeping track of inbound and outbound client communication.
Mobile Usability
Your sales agents are busy people. Besides the administrative tasks they handle as well as their own sales activities, they also probably travel to earn your company even more sales.
You want your teams to have a portable sales office on their phone — that way, sales agents can update lead statuses and opportunities in real-time, close deals, and manage workflows, on the go.

If a lead makes a purchase or otherwise progresses through that sales pipeline, the salesperson should receive instant alerts and notifications to their smartphone or mobile device.
Detailed, Real-Time Metrics
In sales, things can change in the blink of an eye. The whole sales department can benefit most from metrics that are continually updated in real-time then.
These metrics will allow the reps to see such critical data as currently open deals, qualified leads, won deals, lost deals, and revenue by week, month, year, or even quarter.
If you use a CRM system, these reports can be in ever greater detail. Automated report generation with sales automation saves your sales reps a lot of time that can be better utilized elsewhere.
There's also a lower rate of human error, as the automation will produce perfect reports every time.
Sales Forecasting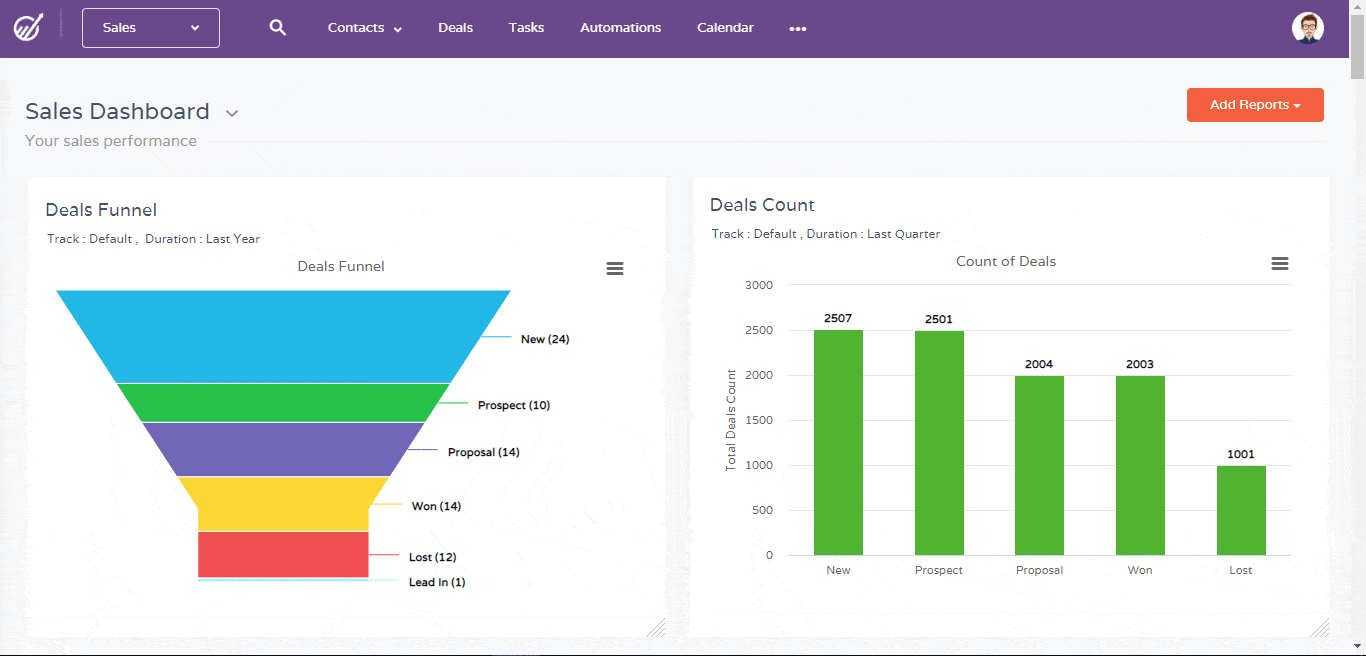 Sales forecasting offers managers and reps quantitative data that can predict future revenue and close rates.
Using CRM sales force automation, it's possible to review past sales data to inform what the future will look like. These forecasts are based on mathematics rather than just intuition or well-wishing, so their accuracy is greater.
You can set sales goals for your company and even budget according to the numbers.
Pipeline management
Pipeline management refers to the process of managing the entire sales cycle, from identifying prospects, managing leads, forecasting sales, and maintaining relationships post-sales. Opportunity management is another sub-functionality that complements pipeline management.

Automating key touchpoints in the sales cycle helps minimize lost opportunities, sales process breakdowns, and miscommunication.
Automated data entry
Data entry is a time-consuming task. Anything that involves typing can be automated.

Sales force automation tools can help create proposals, draft emails, manage post-sales calls, and other outbound communication.
Workflow management
Automating workflows can help manage lead generation and management, especially if your sales team is geographically diverse. Automated workflow management through SFA tools simplifies the sales process.

Sales reps and managers can create workflows and use a unified system to manage activities, store data, track team performance, and engage with sales employees.
Read also: Top 5 CRM Software for Startups (Pricing, Features)
Sales Force Automation Vs CRM
We've spoken about CRM software before and you might be wondering if you have to choose between CRM and sales force automation for your business. There is no need to choose either sales force automation software or customer relationship management software. These two systems can work together to optimize your sales process and to boost sales and profitability.

CRM data can be integrated into SFA tool software to track sales trends and opportunities across different services and customer profiles. Similarly, sales force automation software can help marketing and customer support teams understand queries and resolve issues faster.

However, there are a few key differences between CRM and sales force automation.
A CRM is customer-centric. While sales force automation tools help sales reps manage their time, a CRM focuses more on collating information based on past client interactions. A CRM system helps you strategize on how to prospect clients, SFA tools automate that process.
The biggest advantage to having a CRM is the fact that it is accessible remotely. While sales force automation systems do offer mobile usability, some tools don't have the option of updating data automatically. Integrating SFA tools and CRM provides sales teams real-time information, even if it's updated by the marketing or customer service team.
In a CRM system, marketing automation features are already included. When paired with an SFA tool, teams can maximize client opportunities — sales and marketing teams can collaborate on outbound communications like drip emails, notifications, etc.
Image source: Rolustech
To reiterate, discussing the different features between CRM and sales force automation software is not with the intention of having you choose one over another. We recommend you go for a CRM automation solution because that'll help you build a foundation for a stronger sales strategy.
Read also: Business Automation Software Can Save Your Company. Here's How
4 Main Sales Processes That You Can Automate
If you'd like to see some examples of sales force automation in action, here are a few you can use to get started.
Automated Meeting Scheduling
Whether it's to set up a meeting among the sales teams or between a potential customer and a salesperson, sales force automation software makes it possible, especially if the software has a CRM.
You'd want to use a meeting tool such as the free HubSpot Meetings or EngageBay's free meeting scheduling software to make your own booking link for all members of your teams.
These links are customizable so each rep has their own individual link for connecting via meetings and appointments. The links are embeddable into email signatures. Even your marketing team can use booking links as they engage with and nurture leads.
Schedule appointments faster by publishing your calendar online. Get more appointments and stay productive.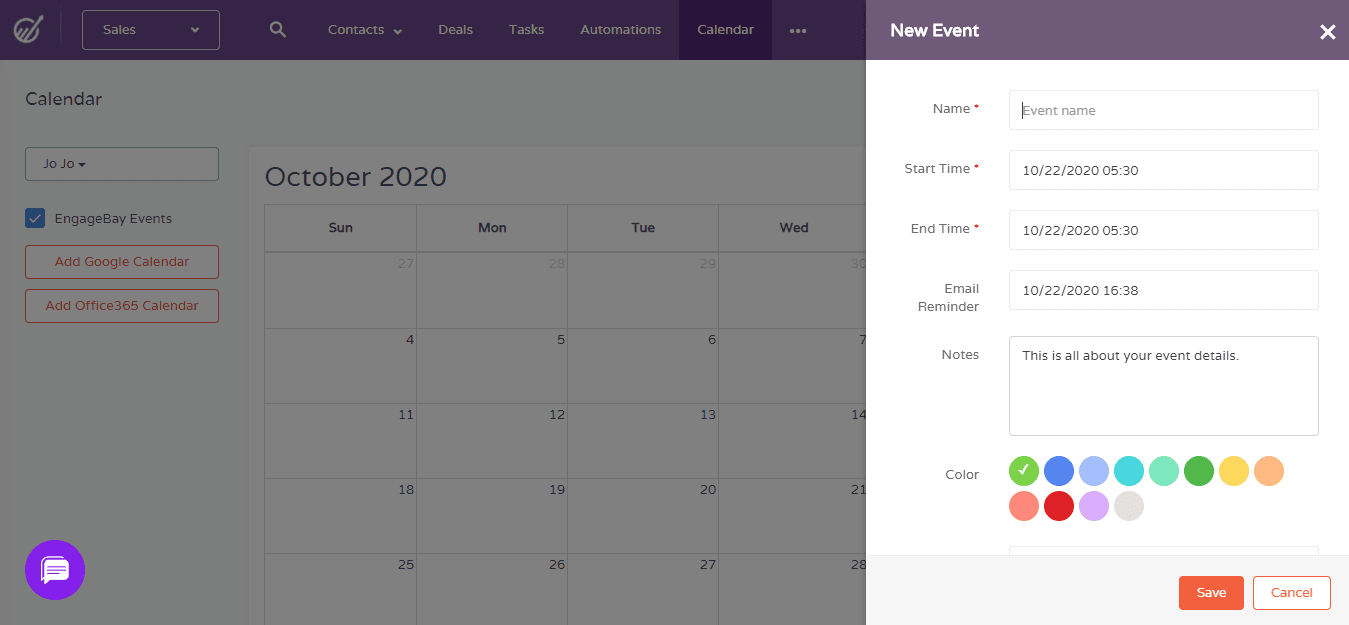 Automated Sales Collateral
Sales collateral or materials include content designed to connect with the lead and encourage them to make the sale.
These materials can take a very long time to put together, which means your sales representatives are not focusing on earning money.
To automate sales collateral, try opening a folder on Google Drive that's shared among the whole sales department. The whole point is to open up the collaborative possibilities so creating these materials becomes a shared job that gets done faster.
You'll end up with a robust library of content that will draw in leads and begin the process to convert them into buying customers.
Automated Record Creation
Record keeping and data entry are time-consuming administrative tasks your sales teams may seem saddled with.
With a CRM, you can establish a series of tasks that will automate records creation.
Your sales representatives should have different tasks established each time a lead clicks onto the pricing page. Then, should the lead request a demo, your rep should make a deal for that. As the demo trial nears its end, a follow-up automated task will successfully make the record.
Automated Reporting
We talked before about how valuable automated reporting can be in saving your sales teams time and reducing human error. An integrated CRM and SFA system can track past sales trends and interactions and create accurate reports based on quantitative data.
This will give sales managers all the necessary information to evaluate the team's performance and create plans that can improve the company's sales numbers.
Read also: Top 9 Salesforce Competitors And Alternatives [Comparison Tables]
Wrap Up
When selecting the best sales force automation software for your company, it's crucial to consider your goals and understand how your sales process operates. With numerous options available in the market, each offering its own set of benefits, it can be overwhelming to make the right choice.
However, there are key factors to consider in order to make an informed decision.
First and foremost, prioritize tools that are intuitive, scalable, and easy to implement. The usability and user-friendliness of the software are essential as you want your team to quickly adapt and utilize the system effectively.
Scalability is also crucial to accommodate your company's growth and evolving sales needs. Ensure that the tool can grow alongside your business without significant disruptions or limitations.
Look for sales force automation software that offer essential features such as pipeline management, lead tracking and scoring, opportunity management, and lead generation capabilities.
These functionalities will provide your sales team with the necessary tools to effectively manage and nurture leads, track opportunities, and drive conversions. A comprehensive sales automation solution should streamline the entire sales process and provide valuable insights for informed decision-making.
While some companies opt for a customized CRM software that incorporates sales force automation, this option tends to be expensive and inflexible.
Instead, consider using a platform like EngageBay, which offers an integrated CRM along with a wide range of sales automation functionalities. EngageBay provides a cost-effective solution that combines the benefits of a CRM and sales force automation in one unified platform. This allows for seamless data integration, improved collaboration, and efficient sales processes.
EngageBay's sales automation features are designed to increase your team's efficiency, productivity, and overall sales performance. By automating repetitive tasks and providing powerful workflow automation, EngageBay can save your team valuable time and effort, allowing them to focus on building relationships and closing deals.
With EngageBay's free forever plan, you can even opt for a trial run of the software to assess its suitability before committing to a paid version.
If you have specific requirements or would like a more personalized demonstration of EngageBay's capabilities, their team is available to provide assistance.
They can guide you through the platform, help you tailor it to suit your unique business needs, and showcase how it can optimize your sales processes effectively.
In summary, selecting the best sales force automation `for your company involves understanding your goals, evaluating key features, and considering factors such as usability and scalability.
EngageBay offers a comprehensive solution with integrated CRM and sales automation functionalities, empowering your team to achieve higher efficiency, sales productivity, and sales success. Reach out to EngageBay for a demo and explore how their platform can be tailored to meet your specific business requirements.