Let's talk about the sales process in this article.
Working in sales means there is the freedom to be your own boss while still having a fixed income without going through the rigors of entrepreneurship.
You can work without a certain structure while maintaining coherence in your daily work schedule. The word 'Sales Process' may well be an irrelevant jargon that students of sales theory may use.
There is also a creative aspect in solving problems for your prospects, who may not trust you instantly. Especially in B2B sales, the sales cycles are longer and the actual process of making a sale can get chaotic. 
In this article, we aim to help sales newbies, intermediates, and experts eliminate this uncertainty of disorganized sales by using a pattern of sales tasks called a Sales Process. 
You can use a structured and organized sales process to 
Organize how you conduct sales and reduce the chaos

Understand your own existing sales process
Customize your sales procedure
Implement your sales process and optimize it to get the maximum profit out of it 
Use your CRM software to its full capacity by automating your sales process
Salespeople are constantly responding to a hypercompetitive market and have to challenge themselves to be more empathetic to prospects' needs, so a well-defined sales process needs to be in place.
It's a buyers' market now and control is, largely, with them. As a salesperson, you merely respond – unless you are in thick with them and have years of a business relationship.
The fundamental steps of the sales process have transformed completely in the past decade.
What is a Sales Process?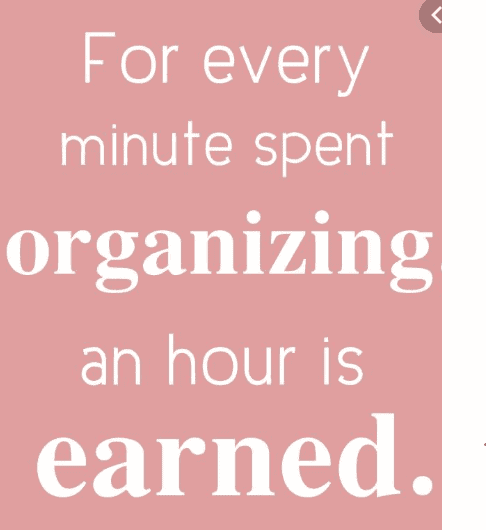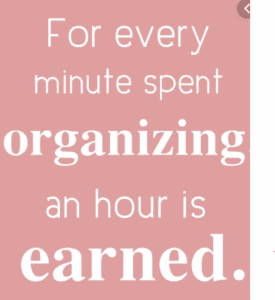 To start understanding this sales process, first, we have to set our priorities that help guide our decisions as we build the sales process. 
The priority (or the challenge) here is to design a sales process that can fit the freedom of your Sales team while still giving the owners an organized handle of the Sales function. 
Defining a Sales Process
A sales process is defined as a sequence of various defined stages of selling a product/service. These steps bind existing chaotic sales mechanisms and turn them into an organized sales system. 
Organizations can create a sales process to attain predictability of sales, simplify lead management, simplify deal tracking, and expedite deal closing.
To help explain the need for a sales process, I am going to use the analogy of cooking – particularly cooking vegetable curries.
The reason I am selecting curries is that the process of cooking vegetable curries is roughly like a typical sequence of sales procedures (and not because it's the only thing I know how to cook!).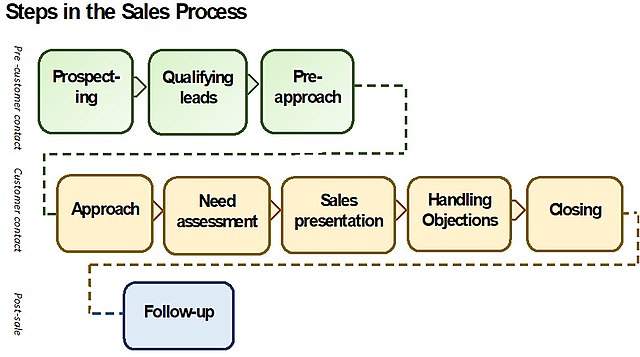 The first step is to get the freshest veggies. This is analogous to finding prospects that want to buy what you are selling right now – not after a few weeks or months, but right now. 
For those who are not ready to buy immediately, we will keep them on hold and not delete them from our CRM database.
Then we prepare the veggies (chop, boil, steam them or create some kind of paste).
This is similar to understanding the prospects' level of knowledge and their current state of operations with regards to the product/service you sell. In the real world, it's called Lead Nurturing.
We then use this knowledge to position our product/service and then pitch it. We pitch it in a favorable manner in a way that makes them think of our offering as the best solution in the market.
This is a lot like sprinkling simmering veggies with spices in the pan and then letting them cook.
Negotiation is about making tiny adjustments in the budget or offering to develop the relationship into a win-win deal for both parties.
In our curry-cooking analogy, this is like tasting the final dish to check if the taste is as desired.  
Once the cooked curry is ready to be served; you have won your deal and given your company a new client.
Each of these steps is tied to the next. For example, if your veggies aren't fresh, they may take longer to cook, get burnt quickly, or may taste like something you never expected before. 
When you are learning to cook for the first time, it's better to go by the recipe book. A sales process is your recipe in the sales field.
Sales process steps that everyone follows
Preparation and Research
Prospecting and Lead Qualification
A Detailed Discovery
Solution Presentation
Objection Handling
Deal Closing
Post-Close Stage
Whether you use spreadsheets or a CRM to track your sales, familiarity with a typical 7-step can help you develop confidence in your selling ability. 
The Seven Steps of the Sales Process – A Video:
Here are those 7 steps:
Preparation and Research
The rule is simple: If you don't know, you can't grow!
The research part of the sales process is also unofficially called knowledge discovery. Your research will focus on
The industry of your product/services and its current state. 

Your company's competitors and their position in the market. 

The special features your product/service offers. 

The exact benefits of your product/service 
Users care about features too but to convince them to shell out money from their pocket, benefits take center stage.
Understand your potential buyers and their key pain points and map them to the features that your product/service provides.
The solution created by the product/service for those pain points becomes a part of your benefits.
Prospecting and Lead Qualification
After product and market research, finding interested people in any industry is the easier part actually. 
You can find engaged inbound leads acquired through smart content marketing efforts across a variety of online channels. You can engage with people in your industry in offline events too.
To qualify these leads and decide whether to pursue them, you will need a small set of personas of your model customer. 
The goal of this stage is to find people who are inclined to immediately buy the product/service that you are selling.
Marketing and sales teams must agree on the exact challenges of your prospects and what type of content they are most likely to respond to. This helps in directing the efforts of your Sales team.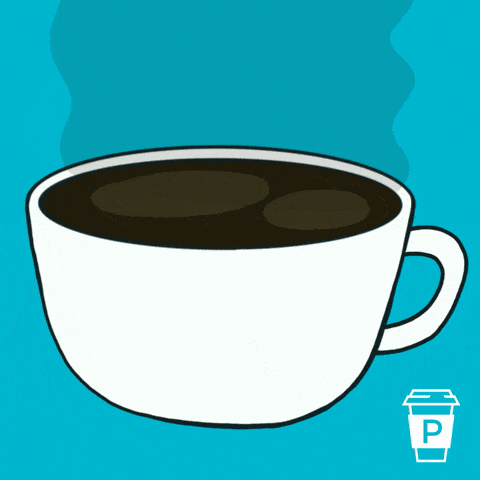 A Detailed Discovery
Once you have found qualified (i.e. most-likely-to-buy-quickly) leads, you still have to understand their exact situation so as to understand how you can help them. 
Are they first-timers in your niche who will make their first major investment?

Are they veterans of the industry who are looking for a better option to what they currently use?

What is the probable deal size?

What value will it create for both companies if the partnership is successful?
Insights like these (and others) are the goals of the detailed discovery phase. The goal is to help tailor your solutions to the exact results they expect from partnering with you. 
A personalized approach increases the chances of closing sales quickly. 
Solution Presentation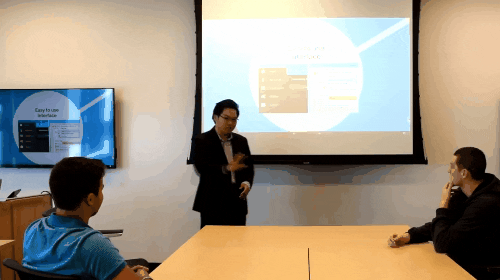 By the time you have to present your solution, you should know their exact problems and you know how your solution will help them. Stitch them together and you have a simple but highly effective presentation.
The default mode of all salespeople working on any specific deal in this stage, however, should be that of a trusted advisor. Arrogance and cockiness might just kill your deal even if you do have the perfect solution.
You have to continue to put your prospects first regardless of the deal value. While the exact phase of knowledge discovery has ended, you may still get a lot of crucial insights from the presentation meeting.
The very first thing that a B2B Sales Presentation meeting reveals is the team of decision-makers. You will individually target them during the closing phase.
Before that, you will use the presentation meeting to gauge the individual concerns of each of them.
Objection Handling
If the presentation part of the sales process goes south, you will have a lot of objections coming your way.
Practicing empathy can help the sales team listen to your prospects better and find ways to handle their objections in an effective way.
Crucially, this is where your marketing team can help you create content to help overcome objections. 
Deal Closing
By this time, leads are ready to make a positive/negative decision meaning that a threat of rejection still looms large in the sales process.
While it sounds simple, closing the deal often involves negotiation and further creative problem solving for your lead. 
If it gets too complex for the potential buyer, they might ask for a second round of presentations specifically on answering their exact questions or objections.
Convert every opportunity with Deals in EngageBay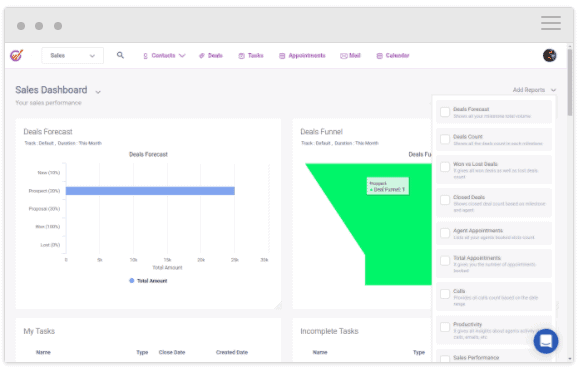 Sometimes, deals fall through even during the closing stage. This can be due to unforeseen problems or disagreements over the overall deal or the specific parts of it.  
Post-Close Stage
Once the deal is closed, the sales team has to follow-up with the prospect-turned-client a few days/weeks after the execution starts.
The objective to gauge if the client's onboarding process was smooth or are there any more problems that the sales team can help resolve for them.
Clients who have trusted you recently are always willing to refer you to more prospects. These referrals come through word-of-mouth marketing and are usually easier to convert. 
The sales team should also stay in touch with the clients to provide them updates, conduct regular "relationship health-checks", and generally to keep the relationship fresh.
While going by the book definitely has its advantages, you (or your company) can create a customized version of this process.
Why Sales Process and Sales Methodology are not the same?
Sales Process is a series of steps you undertake to manage lead nurturing and conversion on an end-to-end scale. 
Sales Methodology is the philosophy that governs how we execute each of those steps. It can also be called a Sales Rulebook that reflects your company's accepted and forbidden sales practices at each step. 
In smaller companies, sales methodology lies in an ad-hoc format across the Sales team.
Why is the Sales Process important for your Sales Team?
Find and eliminate bottlenecks
Avoid getting lost with different leads
Guide sales newbies to manage and amplify their sales creativity
Re-orient your company's sales approach toward customers' needs
Understand the causes of failed or stalled deals
Shorten your sales cycle by getting more qualified leads
Improve forecasting and thus sales confidence
Keep the sales pipeline healthy with regular follow-ups
Enable better customer service right from day one of interaction
"It is not the strongest or the most intelligent who will survive, but those who can best manage change" – Charles Darwin
Most small businesses do not start with a formalized sales process since they don't want an overhead for a handful of sales team members. 
When your business grows in size, a lot of things get repeated and their workload on your team can grow exponentially and the sales process requires a shift.
This is where the sales process can help a growing sales team. If you ask the most experienced sales teams, they will sing praises for how a formal sales process helped them in their early days.
However, when you adopt a sales process and incorporate an all-in-one CRM, your team will go through a sales process change on a large-scale. 
Here are some pointers to help your team realize the benefits of and improve the sales process.
Find and eliminate bottlenecks
With a formalized sales process to conduct sales, the team can direct their efforts toward what's really helps to move leads across stages of the sales pipeline.
An accurate picture of the deals funnel helps increase conversions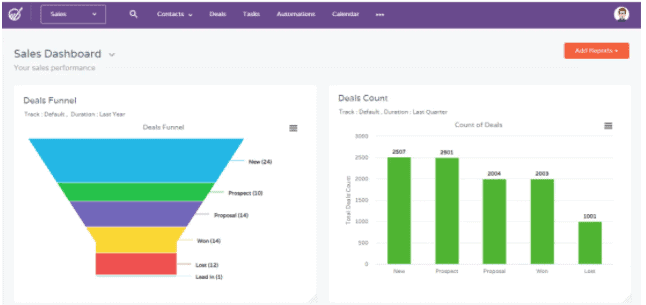 Wasteful activities causing the bottleneck can be exposed and eliminated. The team gets more time to focus on tasks that truly move the needle on their targets.
Avoid getting lost with different leads
Like a map, a formalized sales process helps salespeople stay on track within the sales cycle.
For example, if a potential client hints at expanding the agreement, you will know what to do since the deal value (and hence the deal's priority) has increased. You can move to close the deal much faster.
An organized sales map helps you course-correct the sales process when needed and helps self-direct your efforts. Combined with a sales methodology, it becomes a sales-tracking and deals management framework.
Guide sales newbies to manage and amplify their sales creativity
In the sales process, each deal starts at a certain stage depends on the sales qualification criteria it fulfills. With a well-organized CRM, you can see the status of all deals at a glance on a single screen. 
Users can also tag prospects according to the attributes and segment identifiers as a part of the sales process. Filtering information based on these pre-identified tags helps analyze deals of individual categories in detail.
For first-time sales agents, this is immensely helpful. It gives them a naturally organized way of tracking deals without mixing them up or forgetting their details.
What it does not do, is dictate exact methods of work; the agents are free to apply their creativity to manage or apply this sales strategy more effectively.
Re-orient your company's sales approach toward customers' needs
Customer orientation means your sales approach should reflect what customers want to buy when they want to buy it, and how. 
The beauty of Sales is in its human connections and a relationship-based interaction model.
Unless you don't know your potential customers, you won't be able to create a relationship with them and your Sales numbers will be subpar.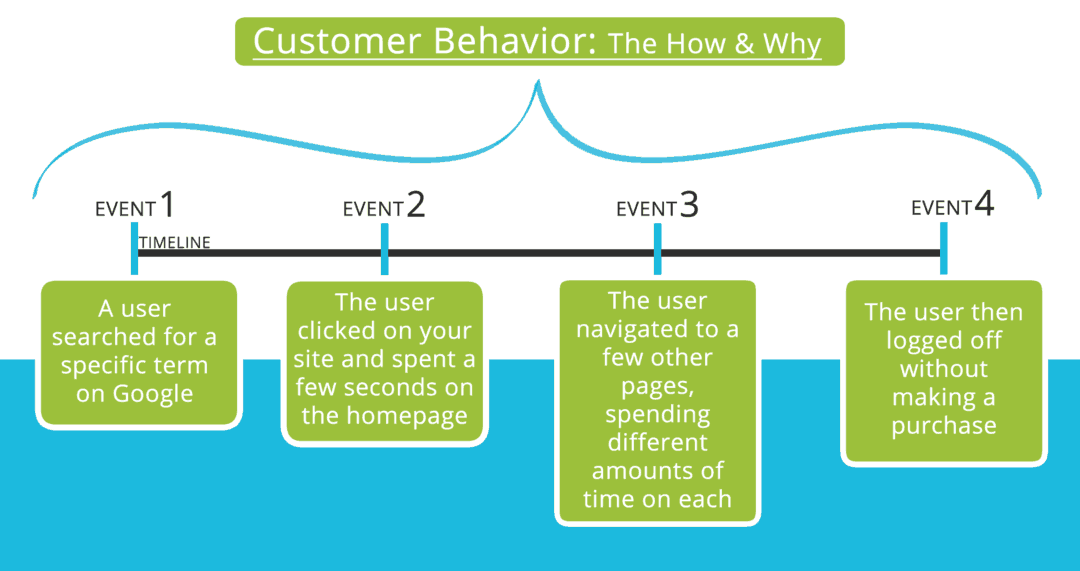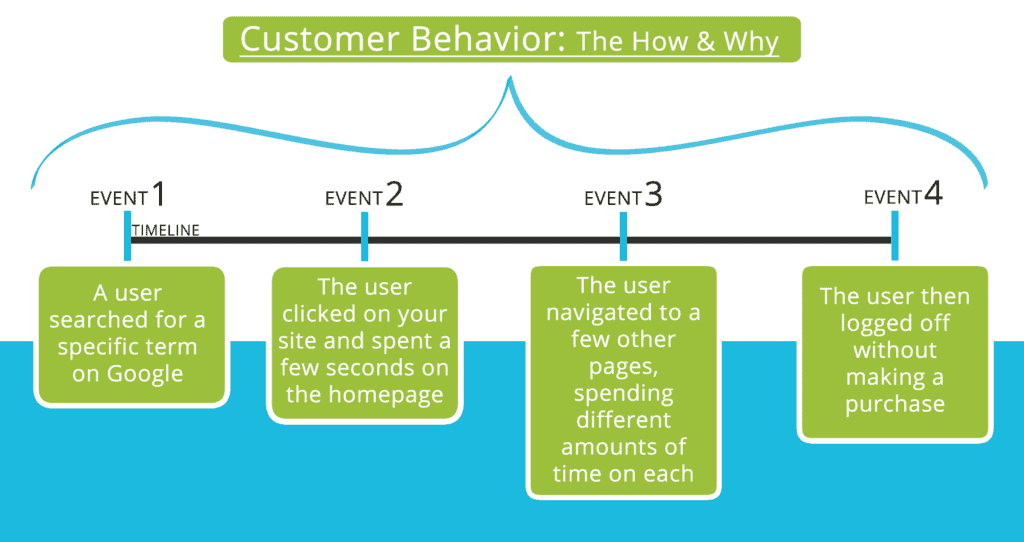 Take this as an opportunity to incorporate insights into potential customers into your sales process.
Asking questions that help you uncover your lead segments and better understand their immediate and long-term needs and buying habits as a part of the sales process. 
Understand the causes of failed or stalled deals
The ability to understand the details of each deal (through segment tags and deal filtering) provides a unique opportunity to uncover the patterns behind your bad deals. 
With each deal, you can also see what led these deals to their current state.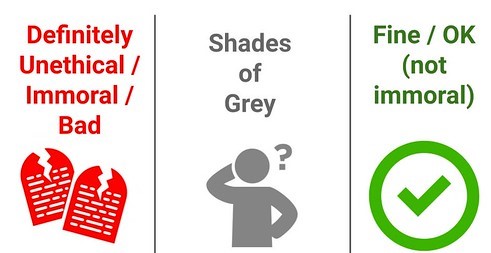 By combining the general and specific deal insights, you can understand why the deals are stalled and what can you do to move them along.
You can recognize mistakes that caused deals to fail or get stalled. The resulting knowledge helps mature your sales to avoid these mistakes.
Shorten your sales cycle by getting more qualified leads
The 2018-19 Sales Performance study by CSO Insights Research found out that the number of B2B Sales Cycles taking over 4 months to close – was over 70%.
In some cases, the cycle stretched across the whole year!
To close deals faster, salespeople must focus on larger deals that they can close quickly. 
How can we improve our sales process to achieve a shorter sales cycle?

The answer is simple – find leads who are ready to buy within less than the average sales cycle in your industry. 
Intelligent lead scoring, provided by most modern CRM systems, will also enable the extraction of highly targeted leads out from your CRM. 
Because an organized sales procedure helps you score leads deals more efficiently, the sales team becomes adept at identifying signs of bad leads over time. 
Improve forecasting and thus sales confidence
Sales confidence can be defined as how well the predicted sales revenue and actual sales numbers match.  Sales managers who can predict the outcome of their deals more accurately have higher sales confidence. 
If the sales numbers are considerably lower than the sales forecasts, it indicates that something went wrong in a large number of deals.
With an organized sales procedure, the sales team knows exactly which deals they must focus on to get a shorter sales cycle.
This allows sales managers to predict the overall revenue much more accurately and have higher sales confidence in their teams. 
Keep the sales pipeline healthy with regular follow-ups
Recall that sales is all about relationship building.
To keep the relationship alive, regular follow-ups cannot be missed. A smart CRM system provides tools to organize your sales management by automating follow-ups and scheduling follow-up reminders in the agent's personalized schedule during the sales process. 
An organized and powerful CRM has many more features that we have discussed here.
EngageBay's powerful CRM helps you manage sales like a boss

Enable better customer service right from day one of interaction
Sometimes salespeople can get pushy and no prospect likes that. A customer-focused sales activity can keep that in check. 
Your customized sales procedure will include information about your prospects' needs and buying behavior baked right in. The sales agent will know exactly what information to provide at what time. 
This means the sales agent knows when to lend an empathetic ear to ensure the deal keeps moving toward the finish line. 
How to create a sales procedure that works for your sales team
Identify the core value proposition
Map the strategies and techniques used by your best performers
Create a documented playbook for sales
Use Train the Trainer technique to get senior management buy-in
Make the sales process repeatable
When introducing a new sales process to your sales team, you cannot implement something totally new which they have never been aware of. 
The advantage of a customized sales workflow is two-fold:
To overcome transition anxiety in your team

To extract the maximum efficiency out of the specific implementation of your new sales process
Here are some steps and sales strategies you will need to create that fits snug with the rest of your organization. 
Identify the core value proposition
Your core value proposition is an answer to the question "Why should so do business with you?". This isn't always asked directly but it is implicit to answer this when approaching a lead for the first time. 
To grab your listeners' attention, you cannot bore them with a run-of-the-mill sales pitch. 
There are two key ways to think out an answer to this question:
Even before you begin analyzing your current sales processes, you have to analyze what the market is offering and how. This is essentially Step 0. If it sounds the same, hire a sales copywriter to help you differentiate your pitch from your competitors.
Use words that your customers use to describe their problems to customize your generic sales pitch. A lot of pre-approach research is key to find the exact problems of each and every lead. Find the interviews going of key decision-makers. Find as many specifics as you can about the current state of their business and their industry. There will come a point where you will saturate because different styles may work for multiple different companies.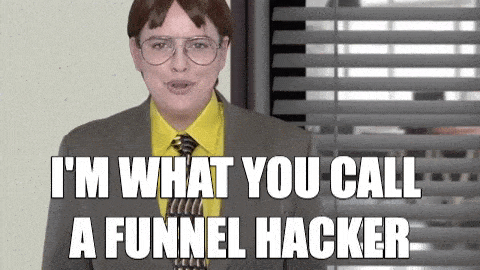 Map the strategies and techniques used by your best performers
Chances are your team is already doing something good but not all members of your team are practicing (or are even aware of) them. 
Assessing each top sales agent's strategies helps create a central repository of tips and tricks that you can share with the rest of the team.
It's a form of knowledge exchange that demolishes silos in your team!
You can also simply gather the top performers and have them demonstrate their best practices through a demo. 
Create a documented playbook for sales
Documenting all your sales strategies in a playbook ensures the preservation of knowledge for the future. It also aims at quickly scaling up new salespeople by introducing them to the ways of the company's business. 
Periodic updating of this knowledge (i.e. your company's sales methodologies) is also essential. 
Use Train the Trainer technique to get senior management buy-in
Often sales processes stay on the shelf collecting dust because the sales agents are not really using or learning from it. They're busy doing things as they have always done.
One of the keys to team-wide change adoption is exposing the higher-level sales managers to the exact methodologies.
If the sales agents have a problem in the field, they go to their managers. If the managers were not a part of the sales process themselves, they won't be able to relate to the field agent's problems. 
If they are involved in training, they will not only understand them quickly but also will provide a better solution quickly. This reduces internal friction among sales team members. 
Because sales managers are both – in the field and in the office, they bring an operational as well as the customer's perspective to the sales process. Thus, the sales process becomes a lot simpler.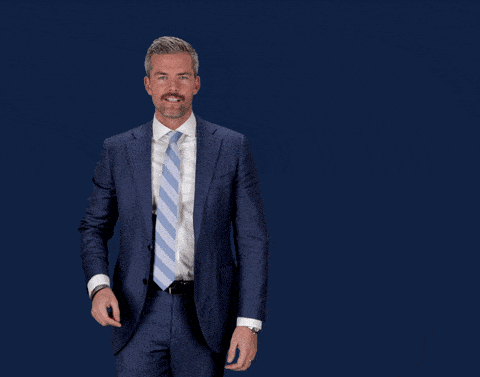 Make the process repeatable
Do your sales agents regularly go off track from your standardized sales process? If your sales team has to look for outside solutions often, it's not exactly a very good sales process.
Making it repeatable means making sure all eventual possibilities are covered. The structured sales process might make it difficult to enjoy the freedom of sales if the steps are complicated to execute.
So, simple and quick take-and-go mechanisms are a must!
If you want agents to have access to this whenever and wherever they want, invest in an online learning management system that stores all the information and resources in a secure way.
A mobile-friendly LMS unlocks the freedom of access for sales agents. 
How to implement a sales process
According to Sales Benchmark Index, if your sales process is implemented it can result in
Win-rate increase of 24%

Sales cycle time reduction by 20%

Average sale price improvement of 15%
In this section, we will be talking about how to implement, measure, and improve your sales process.
The core principles we will use are applicable to the entire sales process regardless of the CRM you use.
How to automate your sales model?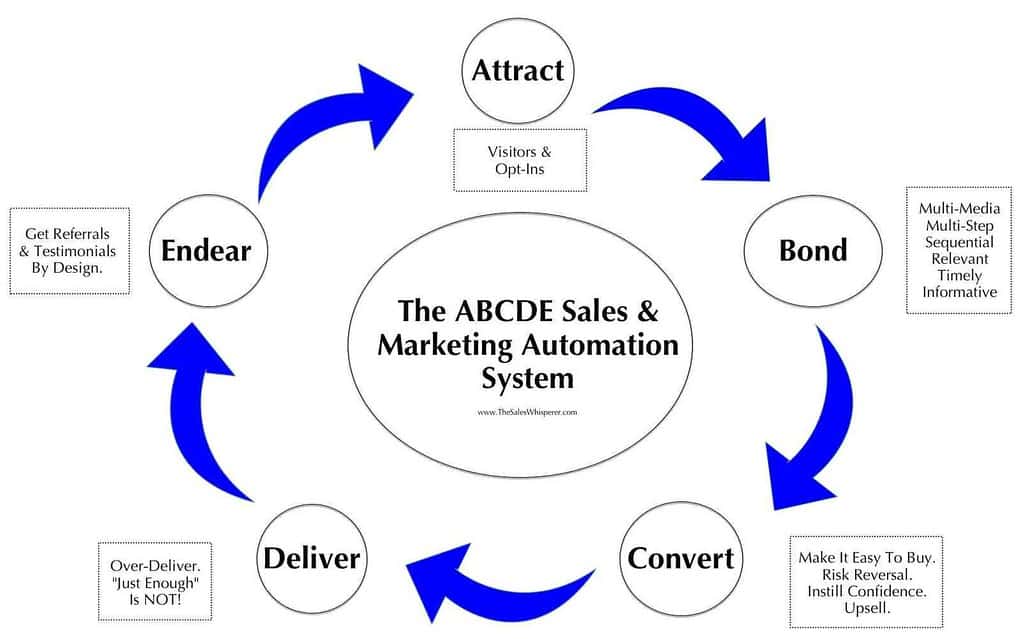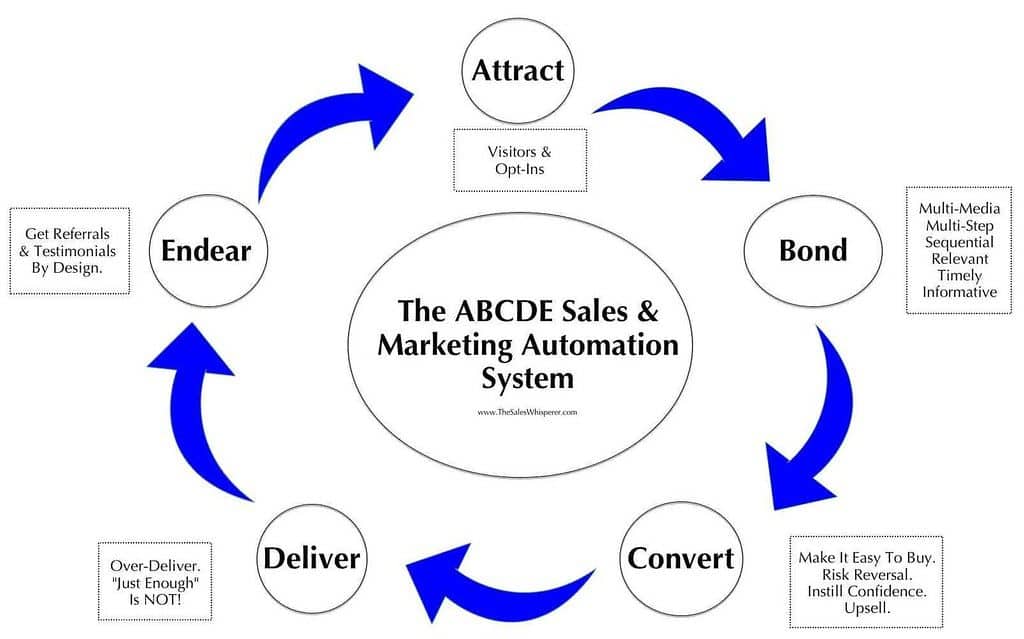 With EngageBay (or indeed any other CRM), the advantages are clustered into two groups based on the sales steps you want to execute:
You can automate your tasks 

You can automate communication procedures across your sales cycle. 
As CRM takes care of the sales automation, you get more time to spend on actually important tasks that can directly improve your bottom-line. 
In terms of task automation, CRM helps you create automated action sets, also known as automated workflows that are executed as a chain reaction of the sales agent's task execution. 
You need to work only once to set these workflows up and they run automatically (and tirelessly) after that. 
For example, if the deal closes, an automated workflow can be set up to:
Update the lead's identifying tag to "customer"

Send them welcome email sequences
Send them a form (via email) for their feedback

Your sales pipeline would have different leads at different stages of their cycle. With automation, an automated communication workflow could be set up to send emails based on their status in the pipeline. 
Here are a series of steps that will help you materialize the stages of your sales:
1. Create a sales pipeline in your CRM with a 1:1 mapping to the stages of the sales process you created in the last stage you might need multiple pipelines if your company sells more than one product/service.
2. Define goals to mark stages complete. For each stage, answer the question: What actions need to be finished during each pipeline stage for the stage to be marked complete?. Enter these answers as stage-completion goals in the CRM so they can be marked complete automatically based on actions the sales agents take on the lead. 
3. Define pipeline and agent assignment criteria that help CRM automatically resolve which deal goes into which pipeline and is assigned to which sales representative.
4. Create tasks based on your sales methodology – such as "detailed discovery call", "create presentation", and others – that will help the sales representative complete the stage. Reverse engineering your stage completion goals will help decide these tasks. 
5. Design your automated personalized email sequences based on different goals such as onboarding education, lead nurturing, weekly update newsletters.  You may need a copywriter(s) and graphic designer(s) to help create rough wireframes for the same
6. Setup these email workflows into your email automation platform. With EngageBay, we offer free training that helps growing businesses take ownership of their growth.
Set up intelligent email workflows with EngageBay's email automation platform

How to measure and improve your sales process
1. Application Rate
2. The conversion rate for each stage and their individual tasks
3. Win rate
4. Segment-wise size of deals
5. Accuracy of your sales forecast data
6. Length of the sales cycle
Measuring your sales helps you generate critical data to enable sales managers to monitor the whole sales process.
Monitoring helps gain insights into periodic sales improvement initiatives and adjust the sales process flowchart accordingly. 
Following metrics are key to improving your sales over time and must, therefore, be measured:
1. Application Rate
If your sales agents do not understand or use the sales process, it indicates something went wrong somewhere in the whole sales process.
Although, it's a soft measure meaning that its exact numbers may not be objectively measurable. 
Without a 100% rate of adoption, all the other metrics won't be accurate enough to depict a clear picture of your team. 
Ask questions such as:
Do each and every one of your sales agents quickly explain the whole sales process back to you?
When asked about a particular deal, can they explain its status in terms of this sales process i.e. do they understand the low-level impact of every high-level task assigned to them in the sales pipeline?
These questions will help you get an almost-complete picture of how well your sales team is adapting to the new sales process.
2. The conversion rate for each stage and their individual tasks
A stage-by-stage conversion rate report (also called a "funnel report") will help you examine the whole pipeline for bottlenecks. 
You get to see the exact tasks that your sales teams are executing well and which ones are difficult for them to execute with full efficiency.
From this report, you can extract certain key conversion rates that matter the most for the completion goal of each stage.
By focusing on low-performing key tasks for each stage, you can begin to resolve these sales bottlenecks.
3. Win rate
A low win rate is a result of a lack of qualified leads, poor nurturing of qualified leads, or poor execution of the sales process by the specific sales reps. 
To measure the win rate, use the full funnel report to drill down to understand which specific reason contributes to your current win rate measurement (and how). 
As explained earlier, the easiest trick to ensure your win rate improves is to incorporate the tasks of high-performing reps into your sales process. 
4. Segment-wise size of deals
Segment your closed deals and arrange them in groups based on who closed it, the location of the client, products/services sold, lead source, and so on.
Review the average amount of deals in each category.
Low and average deal sizes mean that salespeople handling those deals are not closing the highest-value deals.
Interviewing them helps you drill down to the causes of underperforming deals. By getting them to learn from high-performing sales reps, you can work on winning large deals consistently. 
Particularly, if you have a SaaS product, you can increase the ticket size by asking them to upgrade to a better plan to get higher benefits.
5. Accuracy of your sales forecast data
A smart CRM's forecast reports follow the pattern of win rate fluctuations over the pipeline size and predict deal win rates across different time periods. 
For a brand new sales process, rich sales forecast data may be difficult to come by. But once you have enough data, you can examine the patterns and take steps to bring actual sales numbers close to your forecast.  
6. Length of the sales cycle
A smart and simple CRM can also bring a lot of context into the length of your sales cycle. 
Successful and unsuccessful deals – examine all of them and see what insights you can glean from them. Usually, it's because of poor lead qualification criteria that unqualified leads stay in the system for long. 
If you see low win rates at the end of the pipeline, apprising all the decision-makers of all the important information is essential; you don't want them to argue with each other. 
In Conclusion
It only takes a few determined people to get the best results out of the sales process. Formalizing an undocumented sales process works all sorts of magic.
Remember this when constructing your own sales process:
It shouldn't go from top to bottom. They are much more likely to follow something they helped create rather than a practice shoved on to them by their bosses.