Customer relationship management or CRM software provides insights into your customers that render your marketing efforts more meaningful and productive.
You can also use this software to strengthen your preexisting customer relationships. This is true for both small businesses as well as large ones.
It's no surprise then that CRM often intersects with other areas of marketing. For instance, there are CRM email marketing campaigns.
What Is CRM Email Marketing?
CRM email marketing is simply reworking your email marketing campaign in your marketing platform with the addition of customer relationship management software.
Given that CRM allows you more efficient audience segmenting, better lead targeting, generation and nurturing, and more personalization, the best of both sales and marketing, we recommend you give it a try if you're not already doing so.
The Advantages of Integrating CRM and Email Marketing
1. More Effective Segmenting
2. Third-Party Software Integration
3. Email Personalization
4. Alerts for More Useful Follow-ups
5. Improved Lead Nurturing
6. Customizable Email Marketing Templates
7. Social Media Integration
8. Email Marketing Automation
9. Mass Email-Sending
10. Detailed Analytics
In fact, if you're not already using CRM, you could be missing out on optimizing your sales process.
According to the sales automation software brand Nutshell, for each dollar you put forth towards CRM, you could earn $8.71 back for your efforts.
Email marketing automation can also make you more money.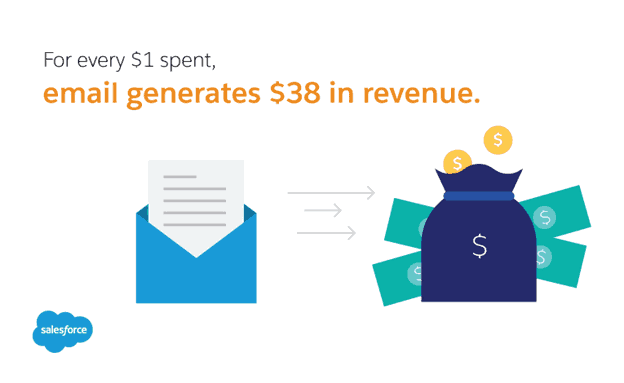 Image courtesy of Nutshell
Not only that but your sales teams benefit, too.
The accuracy of sales forecasts can go up (42 percent), as can sales productivity (34 percent) and sales in general (29 percent).
Having CRM data at your fingertips can even reduce the length of your company's average sales cycle. Nutshell says that the cycle can be cut by eight percent and sometimes as much as 14 percent!
If you're interested in CRM email marketing automation or CRM email marketing management, we recommend you read this article.
In it, we'll outline 10 ways CRM can aid you in creating your best email marketing strategy yet.
1. More Effective Segmenting
Segmenting your audience is a crucial part of any marketing campaign.
This is how you handpick which members of your audience would be most receptive to what you're selling.
The best CRM email campaigns should begin with detailed segmentation for the desired results.
The days of having to manually sort your leads and customers into various buckets are over.
Whether you use marketing automation features, CRM, or a combination of the two, segmenting your audience just became easier.
Not only is segmentation simpler today, but it's possible to hyper-segment your audience.
With more demographic info filtering in through your CRM features, you can split your audience based on their location, their buying history, their age or gender, or even their personal interests.
According to CRM solutions provider SuperOffice, hyper-segmentation in your email list can help your company in many ways. Take a look at their chart below.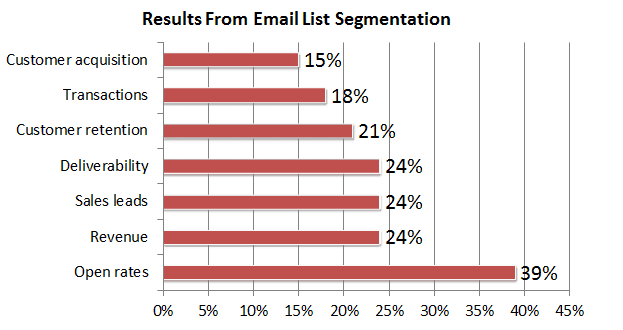 Of those they surveyed who used email list segmentation through CRM, open rates increased for 39 percent of them.
Revenue was also up for 24 percent of respondents, as was sales leads and deliverability.
Transactions increased by 18 percent, and customer acquisition by 15 percent.
Those numbers are not shabby at all. Your company can see similar results, and it all starts with using CRM to segment your audience.
2. Third-Party Software Integration
CRM software plays nicely with many other tools you might already use.
There's our CRM at EngageBay, email marketing software through GetResponse or MailChimp, and Zapier, a favorite option among the available marketing automation tools today.
Oh, we offer a free trial option as well.
Being able to have all your favorite software available at your fingertips from one centralized platform is incredibly convenient for you.
There's time saved since you don't have to log in from one software to another.
That allows you to get more done, be that CRM email marketing campaigns or other marketing processes.
If your CRM doesn't integrate with the third-party tools like you want it to, don't despair.
You can always use the developer API included with many CRMs to make your own integrations your way.
Some CRM companies call this feature extension and other add-ons, but it's all referring to the same thing.
Read also: Nonprofits CRM – Using Your CRM for Fundraising and More
3. Email Personalization
We've shared the stats in several articles about the benefits of email personalization, so we won't do that again.
What we will say is that personalizing your emails is a necessity in today's marketing landscape.
CRM lets you do basic personalization, such as adding your customer's name in the email subject line as well as the opening line of the email.
You can also take your personalization so much further.
With the segmentation and the customer data you've gathered using a sales CRM, you can target emails to their exact interests.
You can break it down simply if you want.
Let's say you're a clothing retailer. You can send your female audience email offers for women's clothing and your male audience email offers for men's clothing.
If you wanted to get more specific, you could. Knowing what you do about some of your female audience, those who live in Florida may be more interested in your tank tops, shorts, and sleeveless dresses.
For those customers in colder parts of the country, you can advertise your outerwear and sweaters.
You could also use a customer's past shopping behavior to shape future emails.
If you have a male customer who bought a suit from you before, then when you get new suits in, you might email them about this.
If you have another male customer who purchased your shoes, you wouldn't send them an email with suits.
It'd be more shoes instead. This is great for positive customer experience as well.
This chart from Super Office is a good reminder of why it pays to personalize your emails.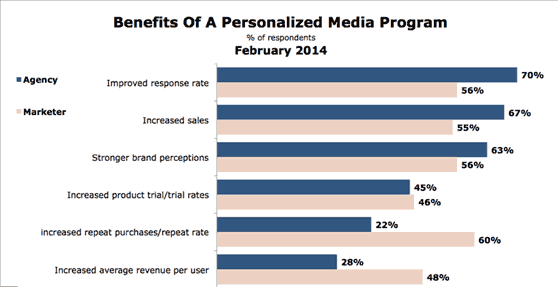 4. Alerts for More Useful Follow-ups
When you send out marketing emails to leads and customers, how do you know when these messages are opened and read?
How do you know when or if a customer clicks a link and which one they're clicking? You don't unless you somehow have x-ray vision.
B2B CRM can give you the kind of x-ray vision you seek.
With alerts that are sent to you via the software in real time, you never have to miss an important moment on your customer's journey.
When the customer receives your email and opens it, you'd get an alert in real time. If they click on links, you'd get receive an alert.
These alerts can be used for more than just opening and clicking through emails.
If a customer checks out a video you provided in your email, you have the power to know about it.
The art of the follow-up email is just that, an art. It's as much about timing as it is about content.
If you can send your follow-ups at precisely the right time—after an email gets opened or that video gets seen—and the messages are personalized to customer behavior, it's like hitting a home run.
While your customers may not always be receptive to this type of follow-up, most will be.
That could boost your open rates, click-through rates, conversions, and even ROI.
👉Unlock the full potential of your email marketing with our guide on the most effective trigger email strategies! 🔓
5. Improved Lead Nurturing
Everyone wants more nurtured leads, but that starts with having a steady flow of leads in which to nurture.
According to Venture Harbour, a marketing resource, lead gen is still a struggle. In a 2017 report, they shared this interesting chart lifted from HubSpot.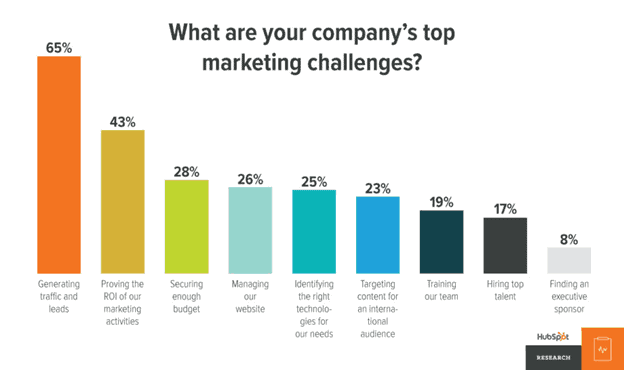 In it, 65 percent of marketers reported that lead gen and traffic gen were their biggest issues. This was followed by boosting ROI, which 43 percent of respondents had trouble with.
If you're in the camp where you too struggle with lead gen, CRM and email marketing software can be very useful.
Having more information about your leads allows you to figure out what matters most to them. Are they a freelancer that needs more opportunities? A business person just starting out who needs more knowledge?
These people are all members of your audience but they don't have the same problems. You wouldn't want to send a small business resource list to a freelancer. It wouldn't help them much.
By using CRM software and identifying what your leads' biggest pain points are and then presenting your product/service as a solution, you can start the lead nurturing process.
Part of nurturing is also presenting engaging content, follow-up emails, and other targeted messages.
CRM opens the door for you to write engaging email campaigns.
Through marketing automation, you can ensure your messages go out at the right time, boosting their chances of being positively received.
6. Customizable Email Marketing Templates
Litmus Software, Inc., an email marketing tools company, shared some stats on email design in 2018.
When surveyed the year prior, 44.1 percent of marketers believed that interactive email experiences would be the biggest design element of the year.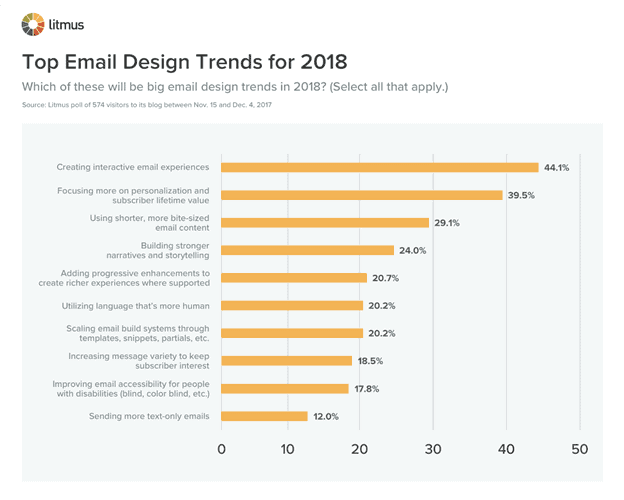 Indeed, we've talked many a time on this blog about the importance of interactive emails.
Shopify resource Oberlo writes that it's possible to see a 300-percent boost in click-through rates by putting videos in your emails alone.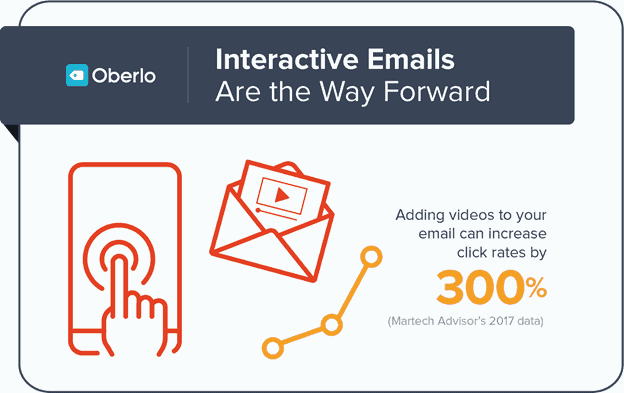 Videos are just one interactive element. You can add little mini-games: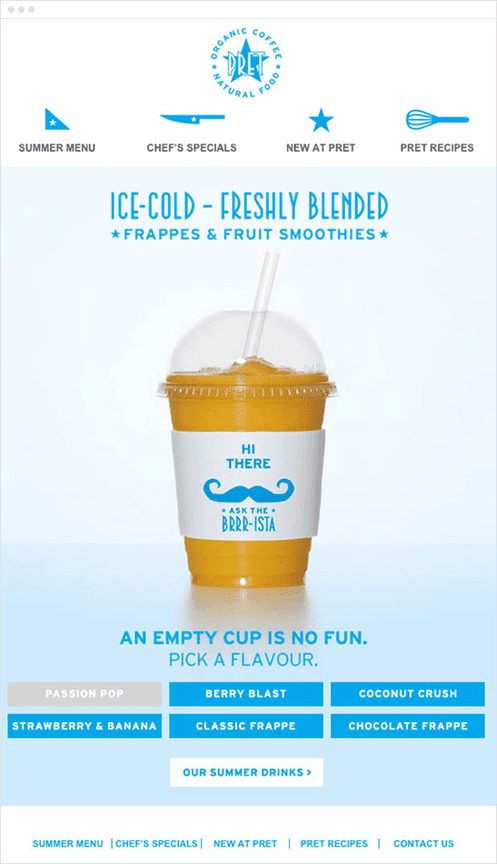 Tappable elements: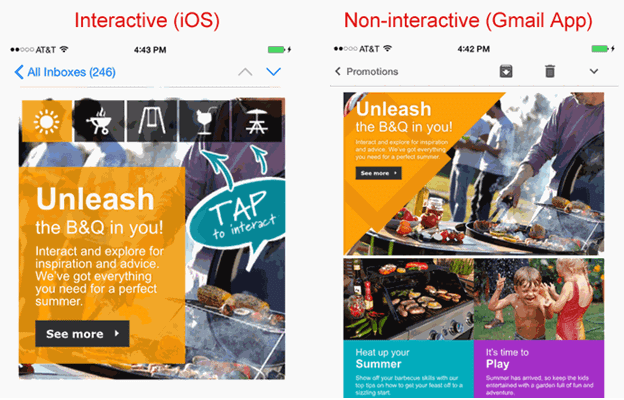 Or scratch-offs: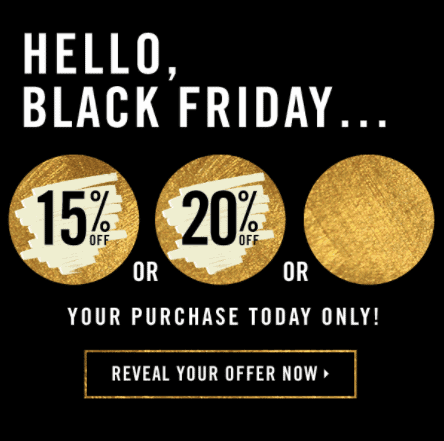 CRM can help you create the interactive emails of your dreams using customized templates.
Even though you're adding more complicated design elements, CRM makes it easy so you can drag and drop, and place everything the way you want it.
You don't even have to have the complicated coding knowledge to make emails that convert.
7. Social Media Integration
Social media and email, although not always used together, can pair up beautifully.
Take a look at this image case study Neil Patel shared.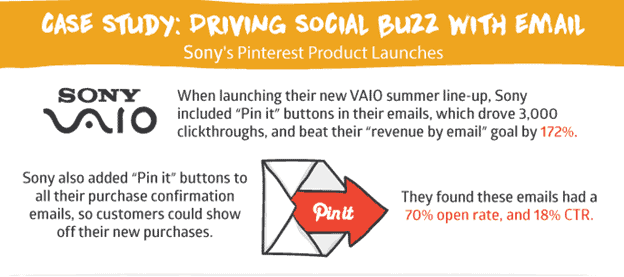 In the case study, Sony decided to integrate Pinterest into their emails about their upcoming VAIO.
When they added Pinterest buttons to their messages, they had higher click-through rates (18 percent), open rates (70 percent), and email revenue (172 percent).
CRM makes it so you can replicate the same results with your own email marketing campaign.
There's no reason to stop at Pinterest, either. You can let your customers tweet juicy quotes to Twitter or share them on Facebook.
If you add videos to your emails, you can use a dedicated YouTube channel to embed these videos.
8. Email Marketing Automation
Another topic we talk about frequently on this blog is email automation.
By pre-writing your subject lines and email bodies, you can set up a marketing automation process that sends out your messages at specific times.
This gives you the freedom to step away from the computer and enjoy your life.
You also don't have to be awake at the crack of dawn or until late into the night ensuring your emails go out at the right time. Email automation done with the right email marketing tools is a blessing in a busy marketer's life.
When it comes to your CRM email marketing campaigns, automation can also play a key role.
We mentioned before about how a good follow-up email is almost as much about timing as it is about content.
You never have to worry about an ill-timed email when you have CRM and marketing automation working on your side.
When the customer performs a trigger, be that abandon their cart or click your pricing page, you can automate a follow-up.
Some CRM software even lets you customize these triggers to fit your contact database better.
Instead of solely automating email, you can also automate other important duties to save time.
These include call management, contacts management, marketing outreach, sales progression, and other workflows.
It combines the power of both sales and marketing.
9. Mass Email-Sending
Another benefit of using CRM tools for your email marketing is you can now deploy huge amounts of emails at one time.
Of course, we're not just talking about one email to everyone on your contact details list.
You already hyper-segmented your audience, so everyone is getting something a little different.
You might send internal emails to your sales and marketing teams or write about new promotions to your loyal customers.
You could attempt to reach out to unresponsive former customers, re-engage abandoned cart customers, and convert leads.
From sales emails to newsletters and new product announcements to discounts, all these emails can go out at the same time with CRM bulk emails-sending as a result of combining your CRM system with email marketing tools.
10. Detailed Analytics
If you're using CRM to help deploy your email marketing campaigns, then you might as well continue using it to track the success of those campaigns.
The analytics provided by CRM system is often visual. You can review charts and graphs that help you grasp what you did correctly and what you can improve on more for next time.
Also, CRM analytics are known for their huge data storage capacities.
Even if you have a major campaign or several campaigns going at once, your software can handle it.
From web analytics (including social networks) to event monitoring, profitability analyses, and third-party data reviews, CRM analytics paint a comprehensive picture.
You even get predictive modeling that can identify what your company should focus on in the future. That can reduce financial risks.
Conclusion
CRM email marketing campaigns are well-informed, highly targeted, predicted, and planned for.
Through both CRM and marketing automation, it's possible to segment your audience, schedule emails, and do mass blasts to your audience buckets.
You can also integrate third-party software, social media, and customized alerts for effective follow-up emails and help them move up the sales pipeline quicker.
Finally, CRM is known for its detailed analytics, which is both historical and predictive. Most analytics are highly visual as well.
We hope that after reading this article you have a better understanding of how important adding CRM to your own email marketing campaigns is for your business needs!