How do you feel when you acquire a new customer? Excited? Of course.
But before sealing the deal with the lead, you went through many stages. Perhaps you called, texted, and emailed the customer. These are tough, considering that you need to repeat the process to acquire more customers. And you're not alone!
Customer acquisition isn't easy for many marketers. Why? Because it requires many touchpoints which come under a lifecycle marketing strategy.
These strategies vary across every business, however, the goals remain the same – increase revenue, have more brand evangelists, and convert new leads.
While turning a lead to a customer is good, something is better – customer retention.
According to KPMG:
Customer retention drives 52% of a brand's total revenue compared to 45% from customer acquisition.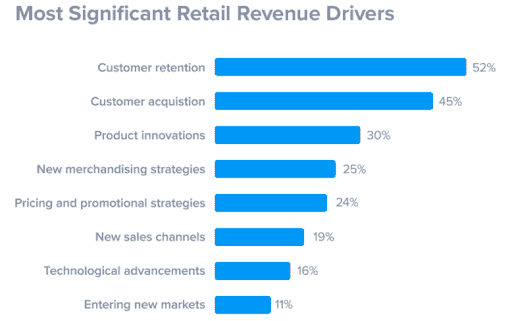 Source: Superoffice.com
But despite the benefits of customer retention, statistics show it's still a significant challenge for many businesses. Here are some:
61% of retail companies say their primary challenge is customer retention.

9% of businesses lose customers to the competition when they don't take customer retention seriously.

Customer retention loss has risen by 37% due to poor customer service since 2016.

The customer retention challenge is a 75 billion dollar problem for industries around the U.S.
These are enormous challenges. But there's a solution, which is, engaging your customers through lifecycle marketing software continually. Do you need to try all the customer lifecycle marketing software? No. We've reviewed the best.
In this post, you'll learn:
What lifecycle marketing software is

The benefits of using a lifecycle marketing software

How to choose the right customer lifecycle marketing software

The features, pros and cons, and pricing of the 12 best customer lifecycle marketing software
Ready to dive in? Let's explore the basics quickly.
What is Customer Lifecycle Marketing Software?
Lifecycle marketing software is a tool that allows you to understand how customers interact with your business at different stages of the customer journey. This tool provides data-driven insights for reducing your churn rate and increasing your customer lifetime value.
What are the Benefits of Customer Lifecycle Marketing Software?
Customer lifecycle marketing software tracks buyers' habits, purchase history, post-purchase experience, and general engagement across multiple channels. Actionable measurement and reporting of these metrics guide you in creating detailed customer profiles.
These profiles help you segment and create targeted messaging for buyers.
By analyzing the attributes of customer segments, your CLM software drives your brand to execute marketing messages that:
Also, CLM software integrates with other marketing tools and grants access to multiple users of customer-facing teams. This allows team members to deliver a consistent message irrespective of the customer's communication channel (social media and customer service hotlines, and more).
Read also: 7 Great Customer Lifecycle Marketing Strategies to Make More Money
How to Choose the Right Customer Lifecycle Marketing Software
The best customer lifecycle software is one that addresses your business needs. When selecting a lifecycle marketing software, you need to consider:
The nature and size of your business

Specific integration, automation, or analytics features you need

Ease of using the customer lifecycle software

The reputation of the software provider

Affordability of the marketing software

Robustness of customer and sales process data you want to track

Integration with SAP ERP systems, and so on.
But regardless of your business type, your preferred customer lifecycle software should provide these basic functionalities:
Email automation and SMS marketing

Easy of data gathering

Customer retention and reactivation tools

In-depth analytics and split testing capabilities

Quick and efficient customer support
Now you know how to select a customer lifecycle marketing software. So, let's examine the best CLM software.
#1. Salesforce Marketing Cloud
Salesforce Marketing Cloud offers you a suite of marketing automation, analytics, customer lifecycle, and segmentation tools. These tools help you create personalized buyer interactions across various channels — chat, socials, email, SMS, and ads.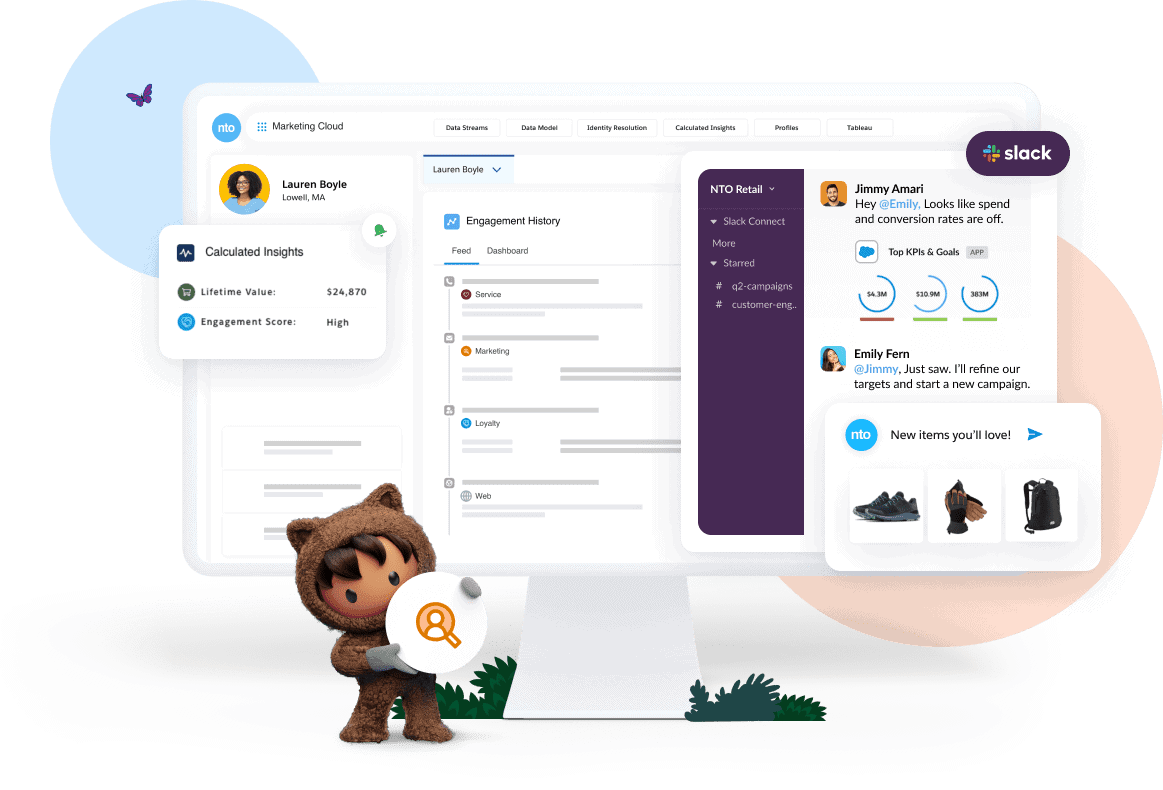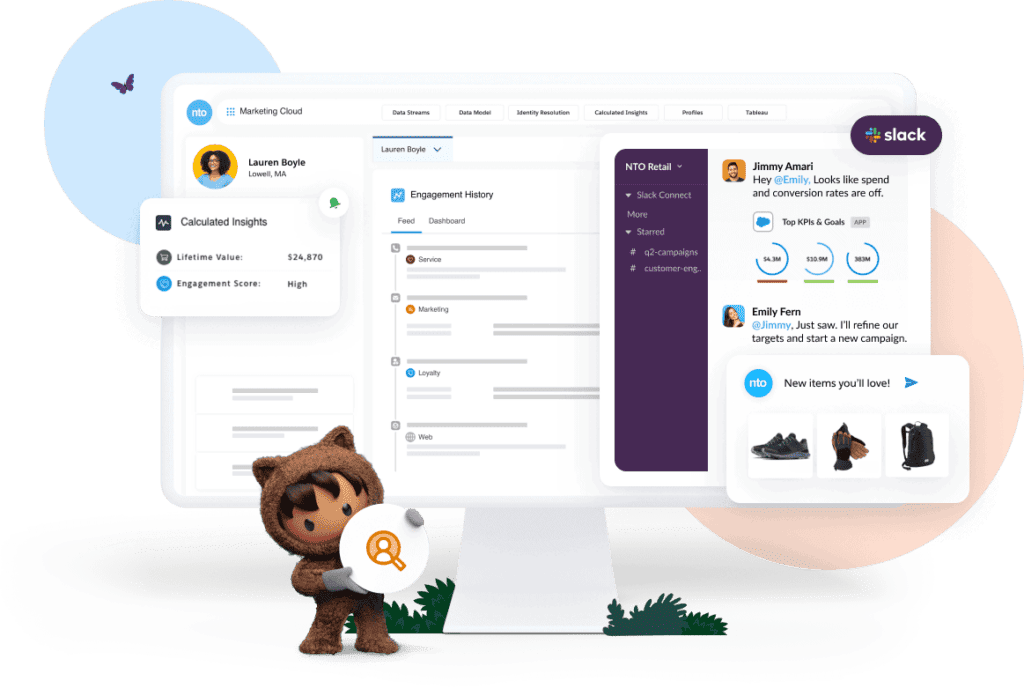 Source: Salesforce.com
Marketing Cloud also allows businesses to integrate with several CRMs. This enables sales reps to see where their messages went in their sales pipeline quickly. Additionally, you can use this customer lifecycle software to upload offline data, automate Facebook ads, and manage content creation.
Key features of Salesforce Marketing Cloud
Customer 360
The core CRM platform — Customer 360 — integrates with Slack. It allows one-on-one engagement with a customer across multiple touchpoints of the business. This helps marketing, sales, and service teams to view and effectively manage customer journeys throughout the customer lifecycle.
Customer profiling
The Salesforce Customer Data Platform (CDP) takes the guesswork out of personalization. It gives you access to the customer data you need to segment clients into common groups. This helps you engage better, nurture, and convert prospects at different stages of the buyer journey.
Automated CRM and Optimization
You can use Journey Builder on the Marketing Cloud to automate personalized event-triggered customer engagement, like exit-intent pop-ups. This customer lifecycle software also has an email and ad studio with many easy-to-personalize emails and ad templates.
Analytics and Reporting
Salesforce Marketing Cloud monitors business channels like social media. You get actionable reports on your campaign results, brand health, and customer experience through AI and machine learning analytics. It also tracks your KPIs, investments, and decisions on the same platform.
Supports Multiple Deployment Methods
You can deploy Marketing Cloud as a cloud-based SaaS solution or desktop software. This means you can access the Marketing Cloud from multiple platforms like smartphones, Linux, Windows, and macOS systems.
Salesforce Marketing Cloud pricing
Marketing Cloud pricing is pretty high. Pricing starts at $400 for lifecycle marketing-related plans.
G2 average rating:

3.9/5.0
(3,665 Reviews)
Pros and Cons of Salesforce Marketing Cloud
| | |
| --- | --- |
| Pros | Cons |
| A suite of products to manage your entire customers' lifecycle. | Has tricky UX issues and sometimes duplicates data. |
| Supports an extensive client database | Too pricey for a small business. |
| Easy onboarding, use, and training. | Not the best customer support, according to Trustpilot reviews |
Who is Salesforce Marketing Cloud Best Suited for?
Salesforce Marketing Cloud is suitable for a wide range of B2B and B2C product and services companies, as well as nonprofits.
Read also: Top 9 Salesforce Competitors And Alternatives [Tables]
#2. HubSpot
HubSpot is a complete marketing automation and lifecycle marketing software like Salesforce Marketing Cloud. It is a cloud-based CRM platform with sales, service, marketing, and content management software tools — called hubs.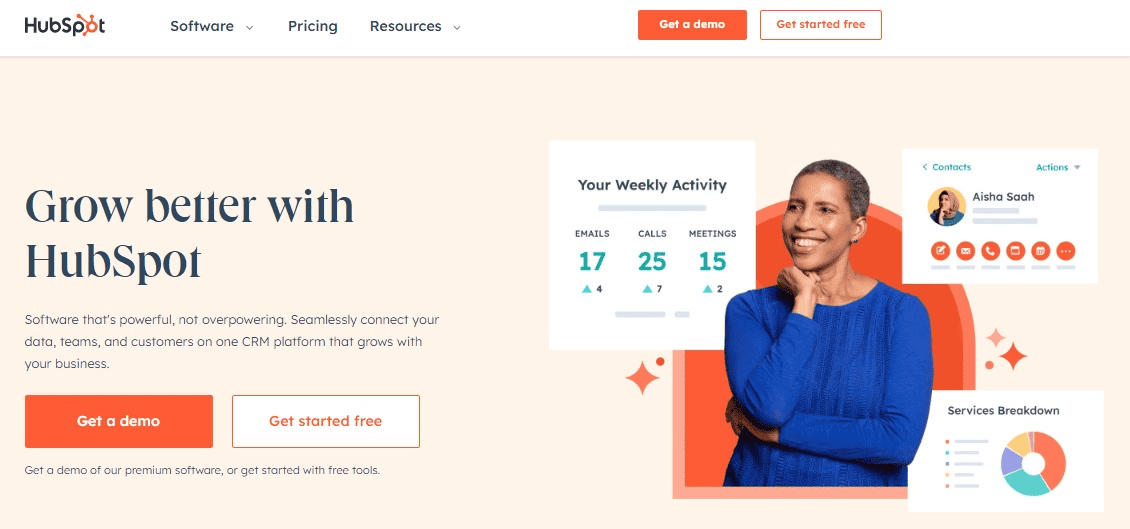 Although HubSpot focuses on inbound marketing, it qualifies as a lifecycle marketing software. Why? Because it collects, stores, and analyzes large amounts of client data on its CRM software. This customer lifecycle software also tracks and reports many performance metrics for marketing, sales, and customer relationship interactions.
Key features of HubSpot
Integrations
HubSpot has lots of popularity because it can seamlessly integrate with several third-party tools on the App Market. Some of its most popular integrations include Shopify, Stripe, Gmail, Outlook, Zoom, etc.
Customizable CRM
HubSpot provides a customized database for collecting and storing contacts, companies, deals, and tasks. You need this to achieve better segmentation. You can also automate this process on the database platform to enable profiling, merging contacts, and eliminating duplicate leads.
Dashboard and reporting
HubSpot allows you to build custom dashboards and reports. This allows your team to access all the analytics and reporting they need in a single canvas.
Email Marketing Automation
HubSpot's email marketing automation allows you to deliver relevant messaging to your audience and boost your pipeline. This customer lifecycle software has lots of email templates that you can modify. Also, HubSpot uses a lead's history and activity to configure the timing for distributing emails.
HubSpot pricing
HubSpot subscription is in tiers for its entire suite and each hub. Regardless of the tier you need — free, starter, or enterprise — HubSpot isn't as pricey as Salesforce Marketing Cloud. Paid plans start at $45/month. However, the price rises steeply to $800 and $3200 for 1,000 and 10,000 contacts, respectively.
G2 average rating:

4.3/5.0
(7,239 Reviews)
Pros and Cons of HubSpot CRM
| | |
| --- | --- |
| Pros | Cons |
| A large user community, excellent support, lots of training materials | Confusing pricing system with paid tiers |
| It has a user-friendly interface | Limited access to tools and features with a free account |
| Flexible pricing | The price for premium features hits the roof once your business starts growing |
| Access to a free plan | No customer support on the free plan |
Who is HubSpot Best Suited for?
HubSpot is suitable for sales, marketing, and customer support professionals across multiple levels — small and medium scale, corporate and large enterprises.
Read also: 9 Top HubSpot Competitors That Cost a Lot Less
#3. EngageBay
EngageBay is a cloud-based customer lifecycle marketing software with great functionalities like HubSpot. The difference? It is the most affordable of all lifecycle marketing software.
This software has an army of product features that makes email marketing, CRM, help desk, lead generation, landing page creation, social media marketing, and marketing automation seem easy. That's why one digital marketing manager said, "EngageBay – An Impossible dream – Realized…" Another called it – "Best Unknown Marketing Automation Platform."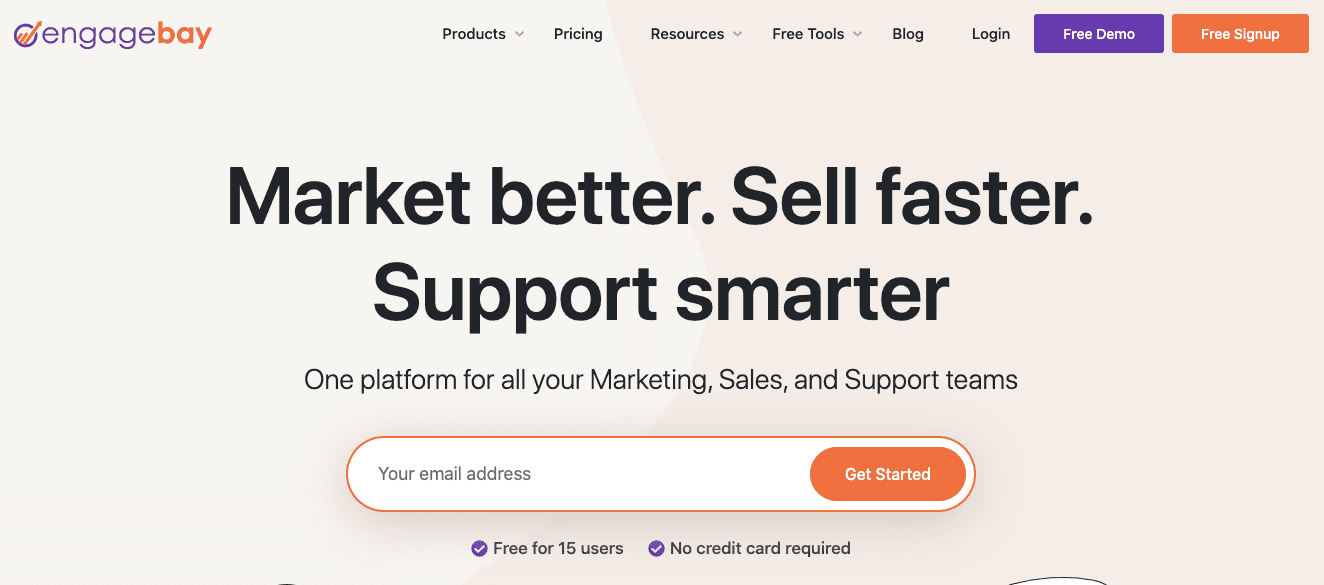 EngageBay allows you to collect and manage all of your customers' data from one single dashboard. EngageBay also integrates with several marketing apps like BulkSMS, Zapier, WooCommerce, QuickBooks, Twilio, Exotel, Mandrill, Xero, Shopify, etc.
Key features of EngageBay
360 Degree Customer View
Engagebay gets you a complete view of your potential customers and their relationship with your brand at every touchpoint. This helps you to hand over the best quality leads to your sales team for maximum conversion.
Sales Automation Tools
Engagebay has lots of valuable sales automation tools you can use to track won and lost deals, add contacts, book appointments, score leads, and so on. The sales intelligence tool helps you track customer behavior like link clicks, opened emails, and more. The tools help you to build a complete sales funnel.
Streamlined Lists for Better Lead Close Rate
EngageBay has a "static list and smart list" feature. These lists separate your contacts into smaller groups based on similarities and common data points. Lists help you stay organized and target customers better.
The smart lists continuously refresh themselves with new contacts that match the list's filter criteria and remove the contacts that no longer meet the criteria.
On the other hand, static lists are snapshots of contacts that meet specific filter criteria when the list was created. They do not refresh themselves.
Analytics and Reporting
Engagebay's reporting module helps you customize and generate reports and analytics on sales figures in a meaningful way. You can also get reports on your best-performing marketing content. With this, you become aware of what's working, improve it, and increase your revenue.
EngageBay pricing
EngageBay is the most affordable customer lifecycle software without complex pricing. Pricing starts at $8.99 per user.
G2 average rating:

4.6/5.0
(113 Reviews)
Pros and Cons of EngageBay
| | |
| --- | --- |
| Pros | Cons |
| The free plan has almost all premium features | Limited email design templates |
| The most affordable customer lifecycle software | It requires a learning curve like every lifecycle software. But quick and patient online support makes this less of a chore |
| Free customer onboarding and $0 extra for additional technical support | The manual guides aren't yet detailed |
| Highly-responsive support team | API integrations need some work |
Who is EngageBay Best Suited for?
EngageBay is suitable for small business owners and companies of all sizes – B2B, B2C, e-commerce, and enterprise brands.
Read also: CRM Functionality: Zoho vs HubSpot vs EngageBay
#4. Pega 7
Pega 7 is quite different from other CLM software on this list. It is a web-based automation platform and lifecycle marketing software that optimizes complex customer lifecycle journeys for enterprise-level users.

Data and project management apps powered by the Pegasystems software achieve BPM (business process management), CRM, Case-based Management (CBM), AI, and robotic process automation functionalities across multiple channels. Together, these features integrate to help you personalize customer experiences and deliver targeted messaging to your users.
Key features of Pega 7
Cross-team CRM
Apps designed for automating, segmenting, and personalizing customer relationships can integrate with the Pega Pulse solution to enable users to share client and business data across different locations and teams.
Low-code App-building Environment
Reusable models on Pega 7's layered architecture allow you to build custom apps without in-depth coding knowledge.
Real-time Business Intelligence
You can access real-time data of current client interactions, last actions, and recommended activities to provide an engaging client experience. This is possible with the Pega 7 real-time intelligence platform. This platform uses adaptive analysis, predictive analysis, and many business rules to decide on every user's next best engagement strategy.
CLM Optimization
Pega's BPM and case-based management platforms help you automate tasks and workflow using RPA solutions to optimize customer lifecycle management. Automated access to data and customizable desktops improve business process implementation and customer interaction.
The software achieves this by visualizing customer data, establishing their position on the client lifecycle, and delivering targeted marketing messages.
Automated Engagement
The Pega 7 platform has chatbots and AI virtual assistants that manage your conversations on Facebook, email, SMS, and Alexa. These digital assistants improve the customer experience by providing what a customer wants, making client suggestions, and completing tasks.
Pega 7 pricing
Pega 7 offers different editions of its platforms and bundles for specific solution areas. Editions have varying costs depending on the size of your business or solution areas you need to manage.
The Enterprise Starter pricing starts at $90 per feature. However, there's a 30 day free trial period with minimal features, including the lack of access to premium features.
G2 average rating
:
4.2/5.0
(216 Reviews)
Pros and Cons of Pega 7
| | |
| --- | --- |
| Pros | Cons |
| Mobile-friendly deployment and implementation | Poor integration with non-Pega-built apps |
| Customizable platform | No-code development is limited by how many pre-built models you can use in your project |
| Time-saving with no-code app development | Requires extra spending to deploy custom developments |
| Omnichannel client data collection | There's a steep learning curve for non-developers |
Who is Pega 7 Best Suited for?
Enterprise CRM end-users and BPM app developers in IT, banking and Fintech, marketing, service, nonprofits, and more will find this as a helpful tool.
Read also: AWeber vs Mailchimp and Other Email Tools
#5. ChurnZero
ChurnZero is a cloud-based customer lifecycle software for boosting the customer fulfillment rate of subscription businesses. The software features valuable tools for reducing the rate of customer churn.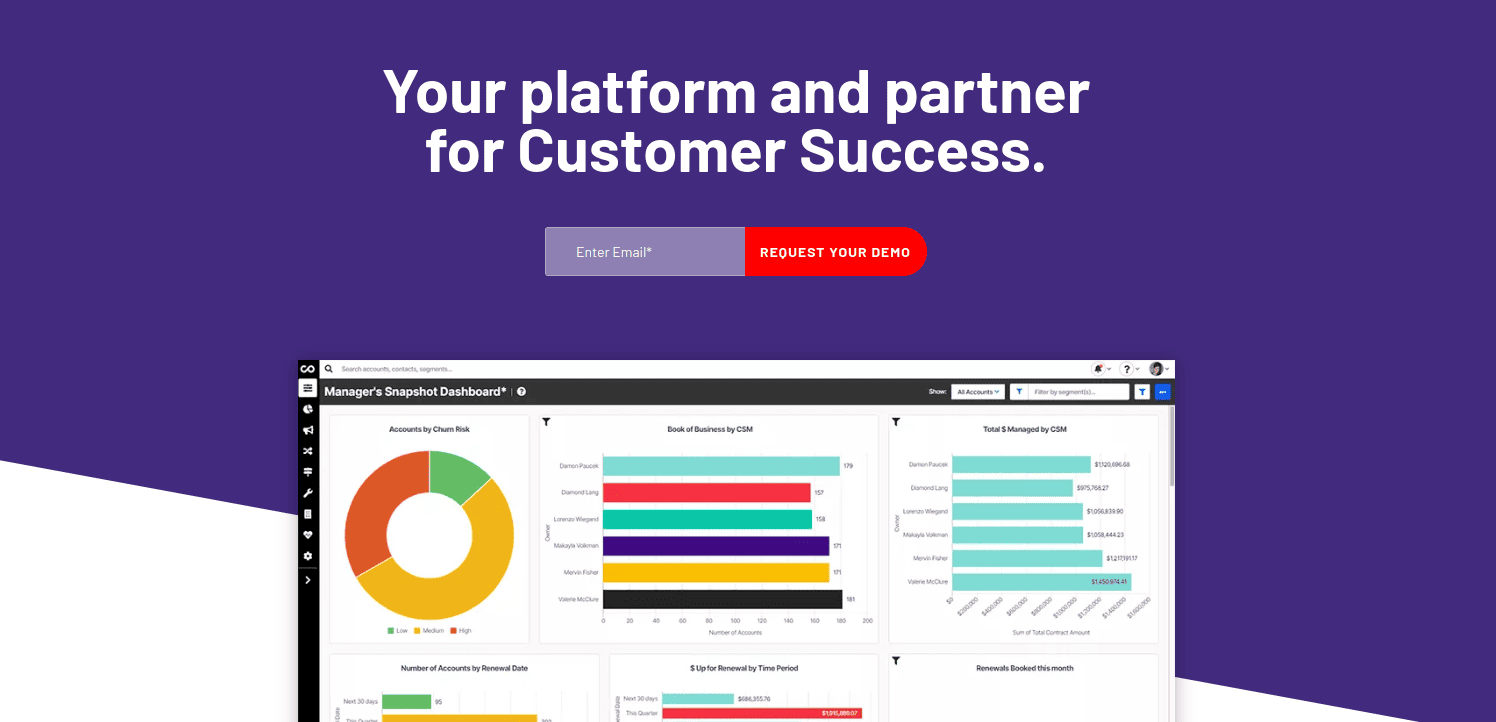 Also, it manages onboarding, reactivation, customer engagement, product usage tracking/analytics, segmentation, and more. Plus, it integrates with other tech tools like Salesforce, NetSuite, Intercom, HubSpot, and more.
Key features of ChurnZero
Customized Dashboard View
ChurnZero allows you to customize your dashboard and visualize the KPIs most relevant to you. This allows you to optimize your strategies after identifying what's working and what's not. Additionally, you can share the dashboard access with members of your customer-facing team. Hence, team members and executives can safely access and share valuable insights concerning your customer lifecycle marketing strategy.
Mobile Support
ChurnZero supports on-the-go access on mobile platforms via Android and iOS apps to manage customer service cases instantly as they appear on the customer profile. Plus, real-time alerts help you to view and attend to customer support needs.
Reporting
You can use ChurnZero to monitor customer health scores, get account insights and track other success metrics. Doing this allows you to stay on top of your churn rate reduction strategy. ChurnZero's analytics engine collects and analyzes customer success indicators through interactions, uploaded data, and surveys. These actionable insights from these data ensure the personalization and automation of content and recommendations.
Customer Segmentation
ChurnZero breaks down your extensive client list into related segments based on customer journeys, preferences, and behavior. This feature allows you to effectively communicate important information to entire segments — instead of individual accounts — at once, without sacrificing personalization.
ChurnZero pricing
ChurnZero has not provided a set price for this product, typical for some software service brands. They set up your business's customer engagement and retention software based on what you need.
G2 average rating:

4.7/5.0
(509 Reviews)
Pros and Cons of ChurnZero
| | |
| --- | --- |
| Pros | Cons |
| Dedicated platform with a simplified user experience. | Email template builder is unavailable |
| Easy onboarding and training | There are no real-time Churnscore updates. Thus, you have limited ability to make immediate decisions on an account's status |
| Excellent customer service and training support. | Notes and tasks must be account-specific. |
| Scalable product development to include updates based on user recommendations. | Limited user autonomy in managing custom fields. |
Who is ChurnZero Best Suited for?
ChurnZero is more suitable for small and medium-sized businesses running a subscription-based B2B model.
Read also: 24 Vtiger Alternatives: Boost Your Business Growth
#6. ActiveCampaign
ActiveCampaign has one of the most advanced automation features, making it a great option for those needing powerful automation capabilities.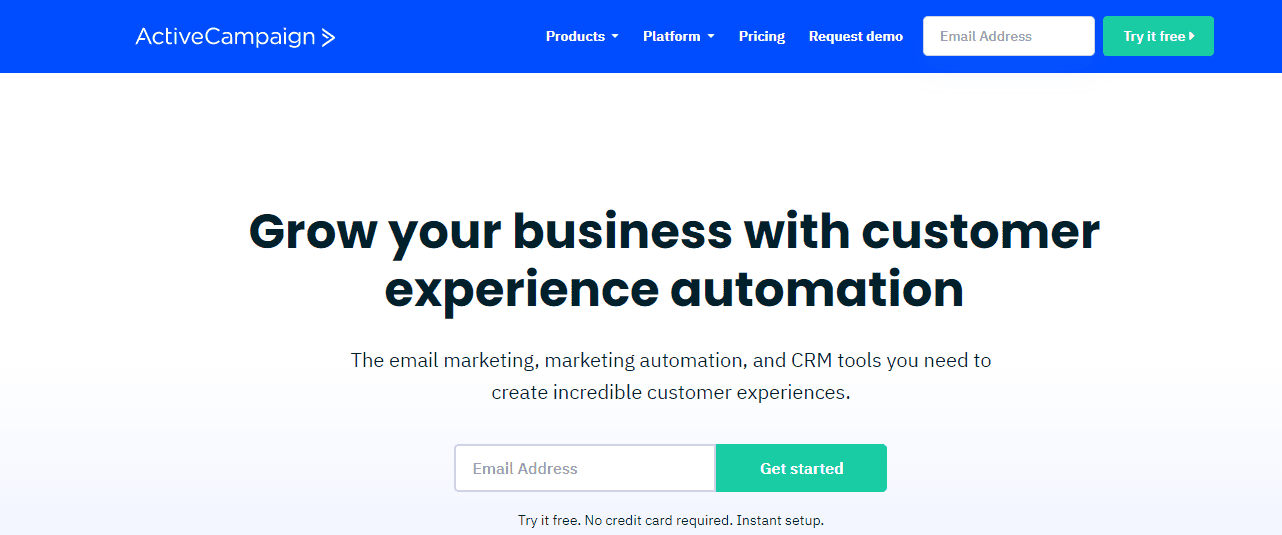 Key features of ActiveCampaign
Email marketing
ActiveCampaign offers a really easy-to-use subscription form for lead capture and then helps you manage all your contacts in one place. In addition, you also get advanced website visitor tracking tools to help you gather visitor behavior. This can then be used to create automations based on user actions for curated content and marketing campaigns — making it a great lifecycle marketing software.
Sales automation
ActiveCampaign's sales process helps you automate mundane tasks, view a customer's complete history, and manage sales through efficient, intuitive sales pipelines.
Marketing automation
With ActiveCampaign, you can create welcome emails, assign tags, qualify leads, and more. In addition, ActiveCampaign offers automatic task assignment preset automation templates.
ActiveCampaign pricing
ActiveCampaign offers three plans. Pricing starts at $93/month for 1,000 contacts.
G2 average rating: 4.5/5 (10,200 reviews)
Pros and cons of ActiveCampaign
| | |
| --- | --- |
| Pros | Cons |
| Supports multichannel marketing | Expensive, especially as the number of contacts increases |
| Powerful automation builder | Limited customizations for email templates |
| Intuitive, easy-to-use platform | Search feature needs improvement |
Who is ActiveCampaign suited for?
ActiveCampaign is best for medium businesses and enterprises looking for a CRM with advanced automation and integration capabilities.
Read also: 11 of the Best ActiveCampaign Alternatives (Features, Pricing)
#7. Mailchimp
Mailchimp is a useful email marketing, lifecycle marketing, and automation tool. Incepted in 2001, the simple email marketing tool transformed into a comprehensive marketing automation solution.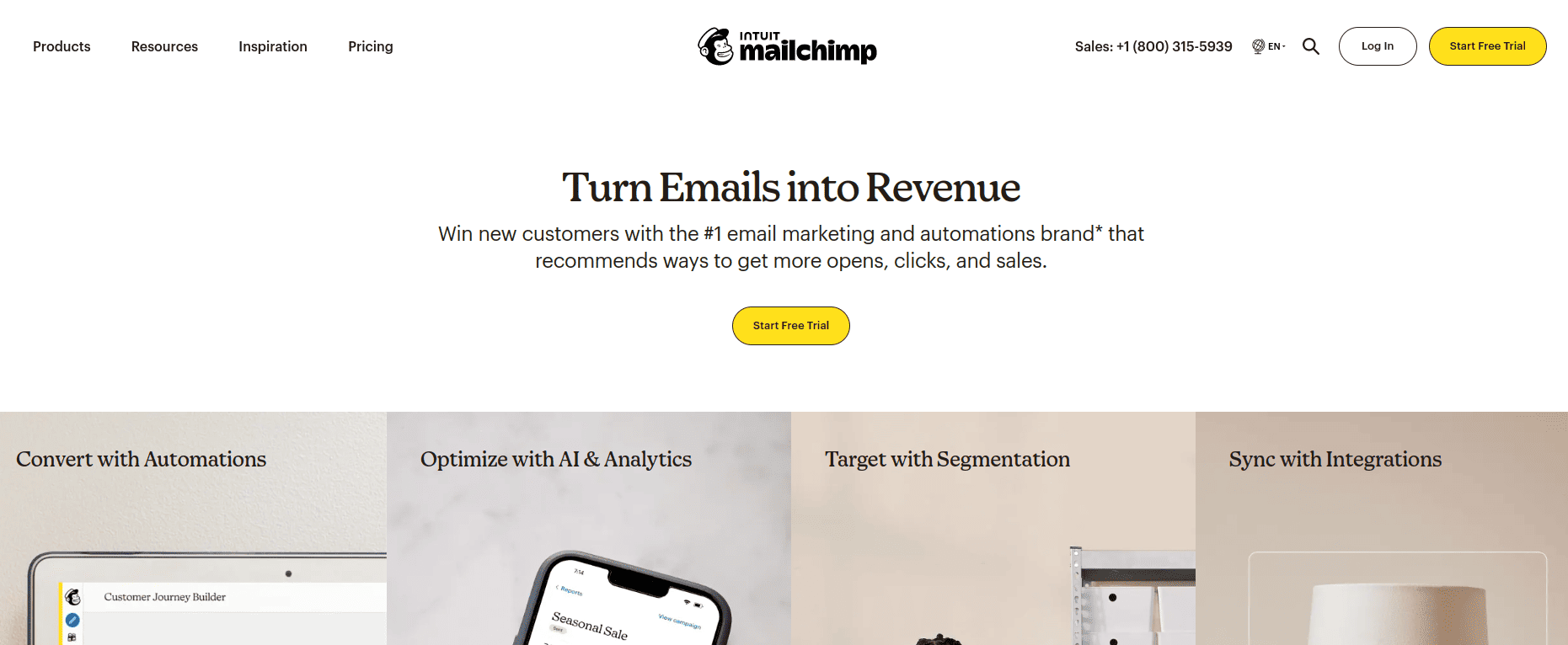 Key features of Mailchimp
Contact management
Mailchimp offers more advanced contact management features, including list building, segmenting, tagging, and grouping.
Templates
Mailchimp offers pre-built templates, an HTML editor with import options, and a drag-and-drop visual builder.
Marketing automation
At its core, Mailchimp offers marketing automation with pre-built journeys – including welcome emails, promotional emails, and transactional emails.
Mailchimp pricing
Mailchimp has four plans, including a free plan. The paid plans start at $11 for 500 contacts. Mailchimp's Premium plan starts at $299/month for 500 contacts.
G2 average rating: 4.5/5 (4,969 reviews)
Pros and cons of Mailchimp
| | |
| --- | --- |
| Pros | Cons |
| Offers free-forever plan | Not enough templates |
| Good email automation platform | Becomes expensive as your contact base increases. |
| Intuitive, easy-to-use platform | Does not have scheduled publishing |
Who is Mailchimp best suited for?
Mailchimp is best for e-commerce businesses and for users needing a social media management tool.
Read also: How Does Mailchimp's Pricing Compare To Its Competitors?
#8. Marketo
Adobe Marketo is an enterprise-level lifecycle marketing software designed specifically for enterprises. Marketo claims itself as the 'world's largest marketing automation' platform, with automation, ABM, lead development, content, and more.
Key features of Marketo
Sales and marketing
Marketo offers sales intelligence tools to help you gather sales insights. In addition, you get account profiling using AI-based workflows.
Analytics
Adobe Marketo offers enterprise-grade data insights and analytics, including advanced customer journey touchpoints and journey analytics. Plus, multi-touch attribution lets you measure your campaign performance and effectiveness.
Cross-channel marketing
Marketo's cross-channel marketing helps coordinate engagement across channels. Social media marketing offers advanced campaign management, personalized messaging, and sweepstakes. To help understand how your campaigns fare, Marketo offers real-time behavior analysis, too.
Marketo pricing
Marketo offers four plans: Growth, Select, Prime, and Ultimate. You have to get a quote from their sales team.
G2 average rating: 4.1/5 (2,356 reviews)
Pros and cons of Marketo
| | |
| --- | --- |
| Pros | Cons |
| Great customer service, and great community | Not suitable for SMBs |
| Powerful, large-scale, enterprise-grade automation | Expensive |
| One of the best for enterprises | Limited reporting options |
Who is Marketo best suited for?
Marketo is best suited for enterprises and corporations that need powerful automation and complex workflows.
Read also: SaaS Marketing Automation Explained (+ Top 5 Tools)
#9. Customer.io
Customer.io lets you create personalized messaging journeys easily without the need for complex automation software. With feedback, re-engagement campaigns, welcome sequences, and more, Customer.io lets you sell faster. — making it a great lifecycle marketing software.

Key features of Customer.io
Segmentation
Customer.io offers powerful segmentation capabilities, including grouping by personal attributes, pages viewed, products, campaign behavior, and more. You can then use this segment for campaign triggers, conversion goals, and custom lists.
Ad audiences
With Customer.io, you can sync segments to Google and Facebook Ads, and then retarget your customers with the best ads.
Automation
Customer.io offers rules-based visual workflows to help you automate routine tasks. You get various options, including data updates, automatic multichannel messaging, delays, flow controls, and more.
Customer.io pricing
Customer.io offers three paid plans, starting at $100/month. The Premium and Enterprise plans offer HIPAA compliance.
G2 average rating: 4.2/5 (204 reviews)
Pros and cons of Customer.io
| | |
| --- | --- |
| Pros | Cons |
| Good segmentation features | A bit expensive |
| Clean UI | Limited number of integrations |
| Good collection of delays and automation conditions | No free plan |
Who is Customer.io best suited for?



Customer.io is a marketing-only platform and is great for individuals and marketers looking for a good automation platform.
Read also: Account-Based Marketing vs Marketing Automation: A Guide
#10. Intercom
Intercom is another lifecycle marketing software boasting 68% faster response time, multichannel marketing, automation, and more. Intercom calls itself "the only AI customer service solution you need."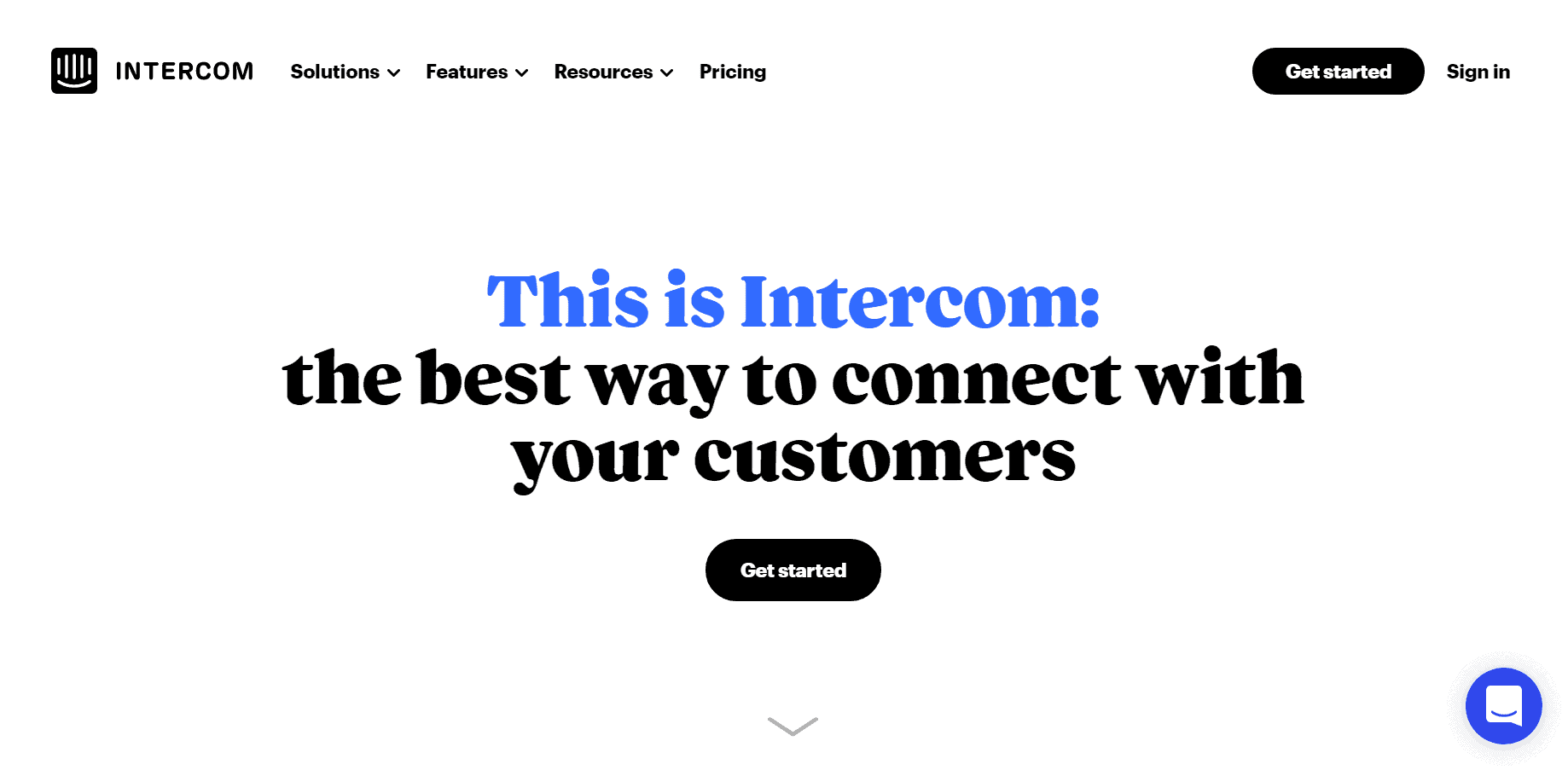 Key features of Intercom
Automation
AI-powered automation bots use advanced AI language models to solve complex problems with accuracy. According to Intercom, this can instantly resolve 50% of customer queries with accurate resolutions.
Inbox
Intercom lets you collaborate with your team, streamline workflows, and connect with your customers from the same inbox. Intercom also offers rich insights about customer interactions, inbox usage, and more.
Messaging
Intercom offers a consistent brand image across all the touchpoints. With zero code, you can customize everything and configure it to your needs. Intercom also offers CSAT with an easy interface.
Intercom offers three plans, starting from $74/month. The lifecycle marketing software does not offer a free plan.
G2 average rating: 4.5/5 (2,740 reviews)
Pros and cons of Intercom
| | |
| --- | --- |
| Pros | Cons |
| Well-designed and clean UI | Expensive, with charges for custom bots, tours, and more |
| Ability to create custom chatbots | Over-priced add-ons |
| APIs and integrations | Poor customer support |
Who is Intercom best suited for?
Intercom is best suited for SMBs that want a powerful customer experience software.
Read also: 13 Robust Intercom Alternatives To Transform Your Customer Experience
#11. Autopilot (Now Ortto)
Autopilot (Ortto) is another cool marketing automation software with built-in lifecycle marketing features.
It is one of the best visual marketing software – diluting the complexity of large automation workflows.

Key features of Autopilot (Ortto)
Customer data platform
Autopilot offers complete customer data in real-time and instant event-based analytics for in-depth insights. This helps you execute personalized campaigns backed by accurate data.
Analytics
Autopilot offers ten different visualization options to help you visualize reports. You can also break down data using aggregates and then build multi-step funnels – thus helping you understand your customers better.
SMS messaging
You can also use Autopilot's SMS marketing feature to deliver personalized content and marketing material directly to your customers. Autopilot supports 19 regions and offers sender ID to brand SMS messages.
Autopilot pricing
Autopilot offers two plans, starting at $99/month. They also offer plans for startups, enterprises, and NFP organizations.
G2 average rating: 4.3/5 (564 reviews)
Pros and cons of Autopilot
| | |
| --- | --- |
| Pros | Cons |
| Automation templates | Expensive |
| Visual customer journeys | New version is buggy, according to reviews |
| Visual project management | Basic features |
Who is Autopilot (Ortto) best suited for?
Autopilot is best suited for marketers needing a visual lifecycle marketing tool. While other CRM software are more text-based, Autopilot has gone the visual way, with visual customer journeys, templates, and project management.
Read also: 15 Inspiring Salesflare Alternatives: Discover Your Ideal CRM Solution
#12. Omnisend
Omnisend is another great e-commerce marketing automation software for small and medium businesses, e-commerce owners, and online retailers.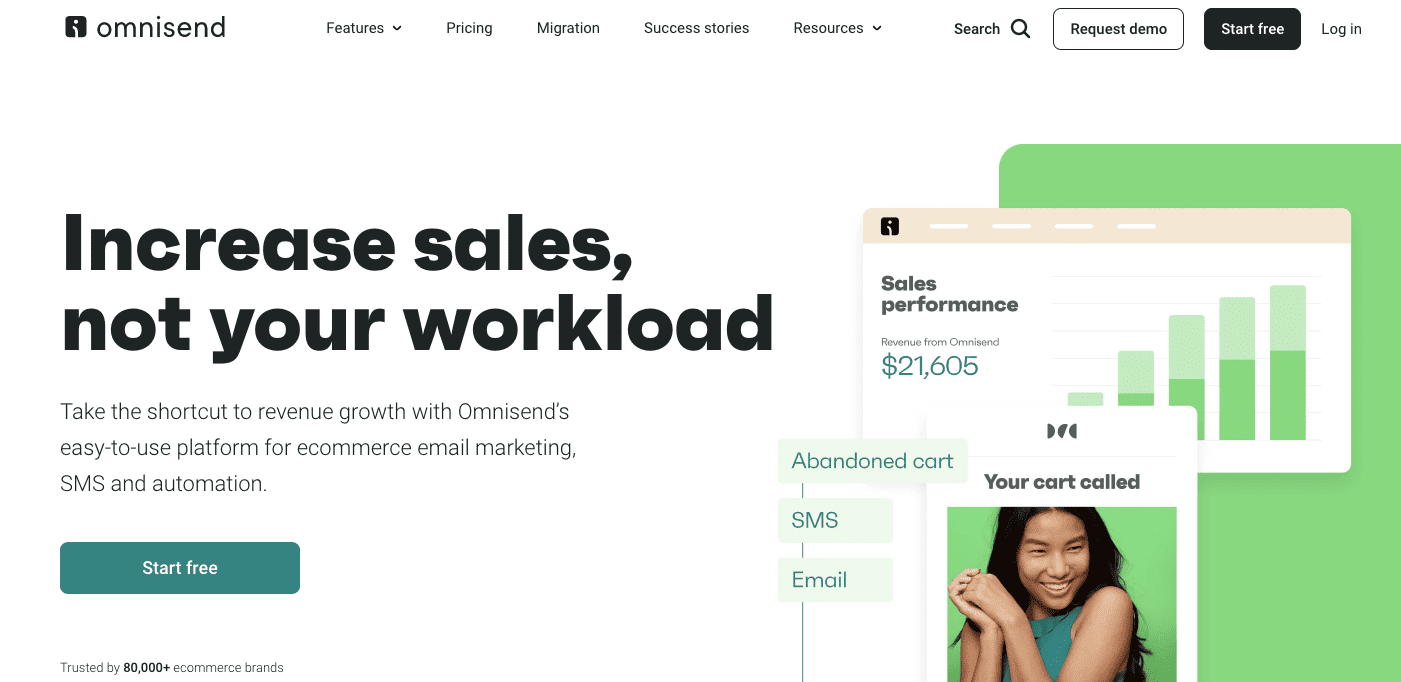 Key features of Omnisend
Segmentation
Omnisend lets you segment your audiences based on factors like shopping behavior and visitor actions – this helps send tailored messages for better conversions.
Email marketing
Omnisend also lets marketers create personalized campaigns without the need for any coding knowledge. Plus, Omnisend's drag-and-drop editor offers dynamic content blocks to help create campaigns easily.
Channels
Omnisend also offers omnichannel marketing across multiple channels, including email, phone, SMS, social media, and the web. It also generates reports with various KPIs that lets you measure how effective your campaigns are.
Omnisend pricing
Omnisend offers two paid plans and one free plan, with paid plans starting at $16/month.
G2 average rating: 4.5/5 (815 reviews)
Pros and cons of Omnisend
| | |
| --- | --- |
| Pros | Cons |
| Powerful automation | Limited built-in email templates |
| Easy to use | No push notifications for iOS |
| Centralized database | Data input must be done from scratch for social media campaigns |
Who is Omnisend best suited for?
Omnisend is perfect for e-commerce businesses as it offers custom email automation workflows.
Read also: 14 Omnisend Alternatives For Smart Email Marketing & More
Wrapping Up
It is crucial to choose a suitable lifecycle marketing software because switching CLMs could be tiring. For instance, HubSpot doesn't allow you to cancel your subscription early. Once you're in a contract, you're locked in. No cancellations. No refunds.

This is why you need to take your time to decide on a suitable lifecycle marketing software. However, you can't examine any of the software on the sidelines. You have to purchase the product, use a free trial (if available) and decide on the one that works for you.
But again, some of the software has significant limitations with free trials. And sometimes, you get zero support on the free trial plans.
If you need an all-in-one marketing suite that doesn't have these bottlenecks, then you should try EngageBay.
EngageBay allows you access to numerous premium features, even on a free trial. Plus, it is insanely affordable, and you have unlimited access to a quick and responsive support team.
30,000+ EngageBay customers couldn't be wrong.
Maximize your marketing impact without breaking the bank – dive into our guide on the top 10 free marketing tools today!