Follow-up emails are a powerful instrument that can help you bring in new business, convert leads, build lasting relationships, close deals, and ensure the satisfaction of your leads and customers.
However, it can be challenging to get your recipients to open their email, respond to it, and take the desired action.
Research shows that incorporating an email sequence in your marketing campaign can boost your contacts' average reply rate from 9 percent to 13 percent.
And your email marketing campaign would be incomplete without follow-ups. 
Your follow-up emails should be relevant, eye-catching, and provide value to the recipients.
Give them a compelling reason to respond, take action and get in touch with you.
What Is A Follow-Up Email (And Why Should You Care)?
A follow-up email is a business-related correspondence that companies send to their subscribers, prospective clients, existing customers, etc.
It figures out the next plan of action with potential customers and motivates them to leave feedback and review, schedule a meeting, purchase a product, choose a paid plan, etc.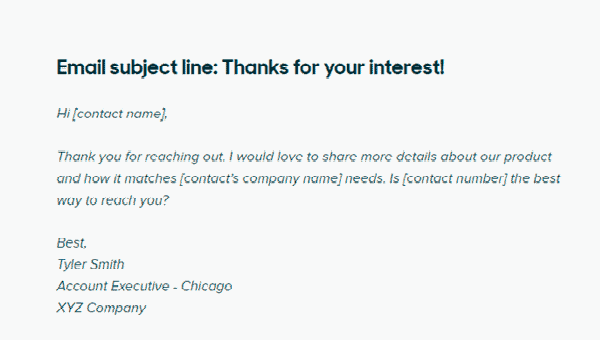 Furthermore, follow-up emails also allow businesses to address their customer's pain points if they express dissatisfaction with their products/services.
Get the context right, and always have a strong CTA and an enticing subject line to pique the reader's interests.
Also, to determine the most appropriate time to send out your emails so that your recipient opens them. 
Naturally, a follow-up email's goal can vary, depending on the respective business nature and industry.
For example, you may decide to send a follow-up email to appreciate a manager for leading a job interview.
You can also leverage follow-up emails to brief the meeting goals with your team.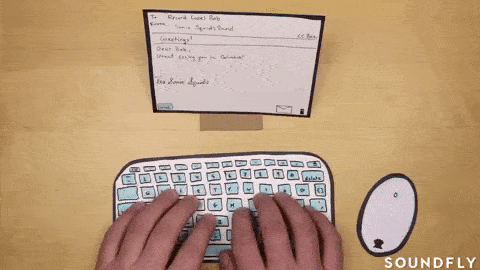 Here are why follow-up emails are crucial for businesses:
Drive conversion
Use follow-up emails to ensure that your message reaches your clients.
It adds value to the overall customer journey, enhances their experience, and ultimately boosts conversions.
Build customer loyalty
A follow-up email helps you gain your audience's trust and build loyalty.
Take this opportunity to demonstrate a customer-centric approach and show them that you care. 
Filter out the right audience
The follow-up emails essentially allow you to filter out the right audience and then connect and engage with them to convert them into your customers.
You can know which recipients are more likely to connect with your brand by gauging their actions and responses. That way, you can better target your intended audience.
5 Follow Up Email Examples To Fix Your Follow Up Process 
It can be pretty tricky to write a follow-up email that adds value to your message and makes your recipients open and respond immediately.
Here is a round-up of some of the best examples from across industries:
Follow-Up Email With A Prospective Client
This template example is addressing a prospective client.
When a potential lead opens your email, it's an opportunity for you to tell them more about your offerings.
Explain to them how your products and services can solve their personal or industry-related problem. 
Typically, the follow-up email is triggered when your prospect does something on your website or interacts with your business in any way.
This is a clear indication that they are interested in initiating a conversation, and you have the go-ahead to engage them naturally.
Here, you have a chance to hook them in for good by offering stellar service and information that could make the client's life easy. 
Follow Up Email Addressing Pain Point
Want to get your recipients to open an email and respond to it?
Zapier does a great job at implying in their follow-up emails that their recipients might have a problem they haven't explored yet.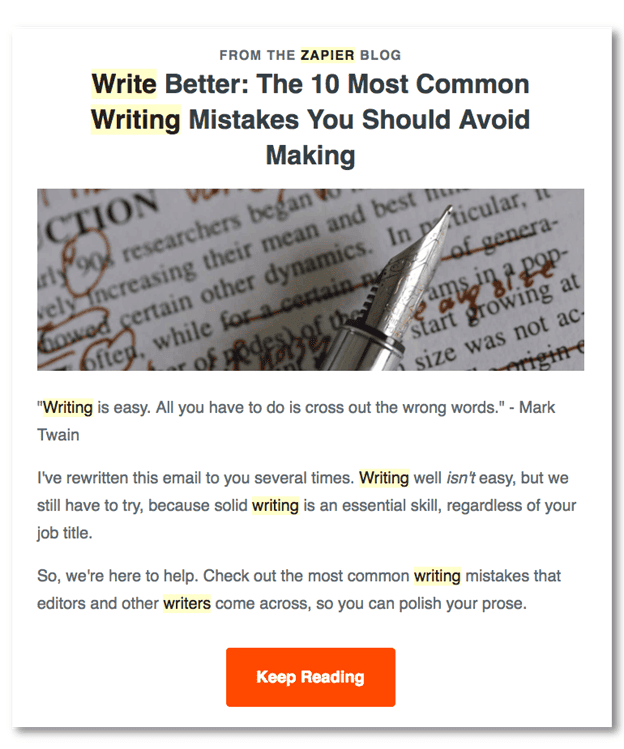 To make things better, they also offer practical solutions in subsequent emails.
This specific email template solves possible problems and helps recipients find a satisfying workaround by introducing them to their services.
You can use the above follow-up email template when you want to address the challenges and concerns of your customers.
It's a classic example of the Problem-Agitate-Solve (PAS) approach to writing email copy.
This involves: 
Identifying a problem that your customers struggle with

Reminding them of their need to solve it

Offering them a solution
The above email smoothly moves through all three phases and delivers a quality call to action. 
Follow Up Email To Induce Action  
This is a no-nonsense follow-up email that shows the recipient all the great products and offers they miss out on, compelling them to take some kind of action.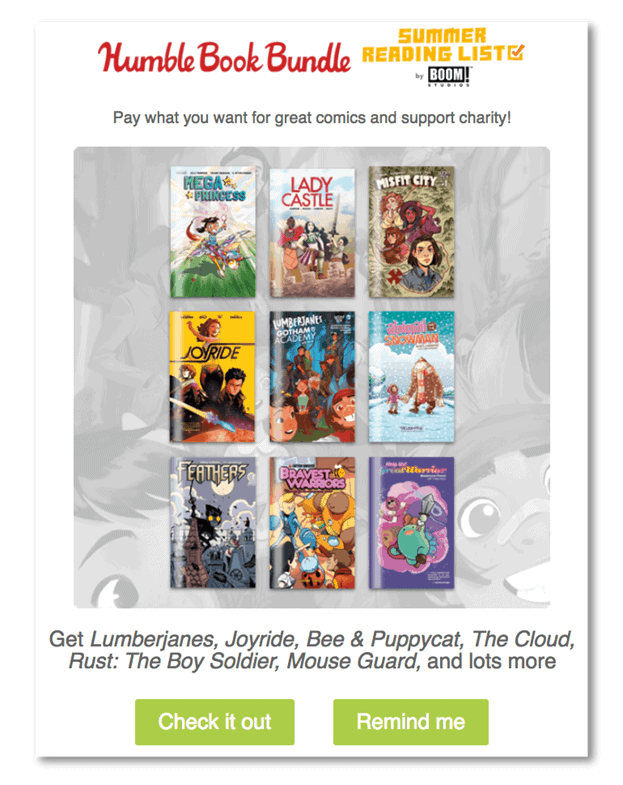 Humble Bundle is a digital video games store that asks email recipients if they'd like a reminder to buy, in case they aren't buying now.  
Even if you have a fantastic offer for your audience, it's imperative first to capture their attention.
In the above email, the "Remind Me" link directs the users to a landing page and shows the following message: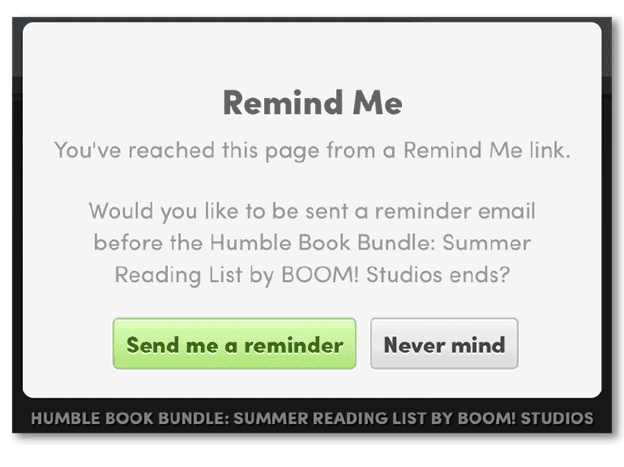 Such CTAs can better help you connect and attract your audience and get your desired results and induce action.
That's because you aren't pressuring them to 'Buy Now' but letting them hit the purchase button when they are good and ready. 
Follow Up Email For A Quick Survey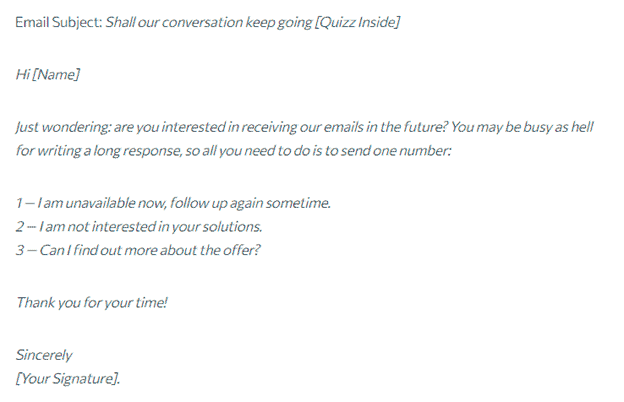 Source: NetHunt
Here is another excellent follow-up email template.
This shows an effective way to jog your prospect's memory about your business and get some information via a pop-quiz. 
The copy is short yet appealing, and that ensures higher conversion rates.
The email:
is brief and require only a few seconds to respond

shows respect and helps everyone save time

is interactive and gets people to tell you their answer 
Follow Up With To Connect Up With Your Clients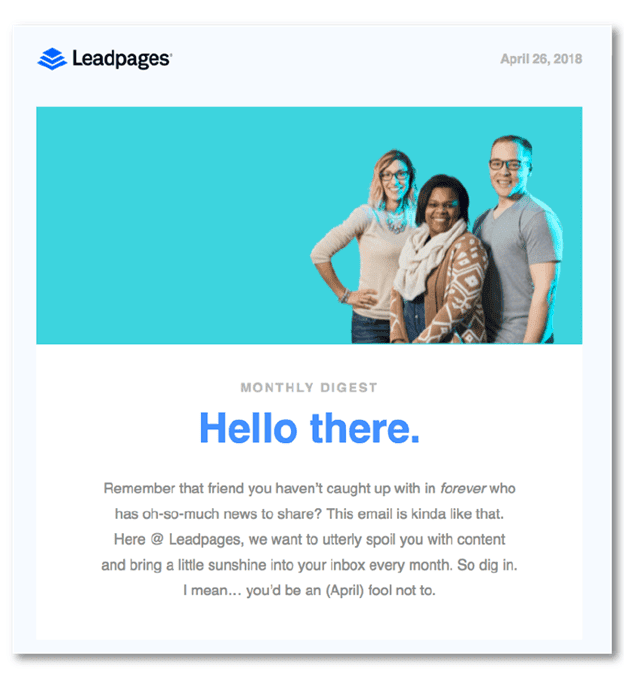 The above example by Leadpages aims to reconnect with their existing customers.
They have clearly nailed the conversational tone.
The message smoothly leads the readers to the primary purpose of the email message.
Keeping it conversational and interactive, Leadpages tactfully reminds their prospective customers about their business and entices them to leverage their resources.
The email script and makes sure it is crafted perfectly, that it is conversational and engaging.
Now, it's time to create and update your follow-up messages.
You can use the examples above as inspiration and check out further examples here:
4 Follow Up Best Practices To Follow
It is challenging for brands to craft and send out follow-up emails to their audience.
However, you can't always be particular about your contacts as they have different motivations and interests.
Here are some of the email marketing best practices to implement in your follow up emails:
#1. Set Up Email Automation
Creating and sending manual follow-up emails isn't exactly easy.
But automating the email process makes it manageable to send out follow-up emails to your customers and enhance their overall experience with your brand.
Email automation lets you draft, circulate and monitor follow-up emails.
It's an effective medium you can leverage to send out emails to massive scale addressees.
Automated emails can significantly help your brand shine through and ultimately boost your business ROI.
EngageBay's Marketing automation software helps small businesses automate marketing and sales tasks and various workflows to generate leads, close deals, and grow revenue faster.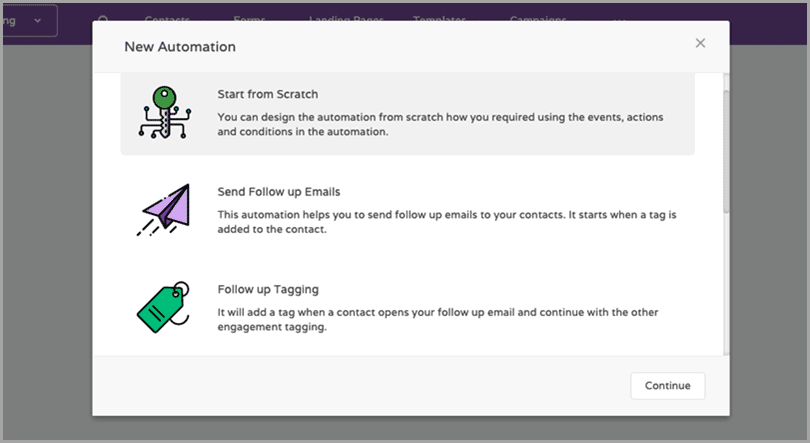 #2. Create Compelling Subject Lines
It is vital to make sure that you create compelling and relevant subject lines for your emails. 
It encourages the recipient to read and follow through with the email. 
That way, your recipients can better understand the value and benefits you are likely to provide them within your email.
An intriguing email subject line can help you break through the clutter and get the reader's attention.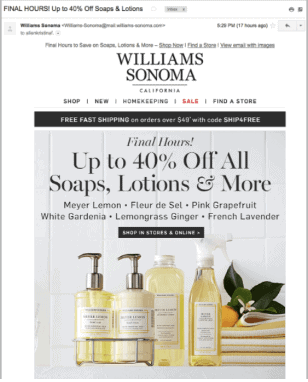 Source: Williams Sonoma
#3. Include Enticing Calls To Action In Subject Line
People don't like to go through the details of every single email that they receive in their inbox.
Since every recipient first interacts with the subject line, creating and leveraging relevant and enticing CTAs in your subject lines can boost the follow-up emails' open rates.
It is indispensable to offer them something like the following example from Sumo does in their subject line.
It delivers to their readers something valuable that grabs their attention and articulates the core message concisely.

Source: Sumo
#4. Craft A Strong Yet Impactful Message 
The ultimate feature of effective emails is a compelling message for the readers.
A follow-up email is a valuable instrument in enticing your recipient to take the desired action. And this depends on how powerful and impactful your message is.
After all, it's a good incentive for your audience to get them to interact with your brand. 
For instance, if you decide to send out follow-up emails to all new subscribers, you can provide them additional value by your message.
Perhaps you can offer them easy access to a guide, online course, blog, or an article that might interest them.
But remember, it is essential to make sure that you keep your message clear, genuine, and precise to achieve your email's primary purpose.
Read also: 11 B2B Sales Techniques Your Business Should Use
Wrapping Up
The success and effectiveness of your email marketing campaigns eventually depend on following up with your customers.
Hopefully, these excellent follow-up email examples can help you create your own follow-up sequence that gets results.
To enhance your email marketing efforts, you can also use an email finder to get valid email addresses. 
When you draft a follow-up email,  remember to focus on providing value, keeping it brief, and add a solid call to action.
That's all you need to do to see your inbox flooded with responses.
Author Bio:
Will Cannon founded Signaturely to reduce the back and forth involved in paperwork. But he also swears by a great follow up email to wrap up a project.