Why is it that the most talked-about B2C email marketing tactics don't apply in a B2B setting?
B2B email marketing needs to consider the person who, while they're reading your emails, is in a business context, and as such is making decisions based on that context. This is quite different from the persuasion tactics that many people talk about as being effective for B2C marketing channels.
In this blog post, we will discuss what makes for a B2B email marketing campaign that drives results. Here are some b2b email marketing examples as a next step.
Why no one buys after reading one email
Consider the scenario of a person from a cruise line subscribing to your list. People don't want to invest in a new cruise ship on an impulse or because of a single email. You need to deal with long buying cycles, and as such a series of emails spread over a long period of time that is well planned and based on event triggers geared toward lead nurturing would be a better option. In other words, marketing automation would form the core of this process.
Why content sells better
An analysis conducted by Admitter a Dutch email marketing agency found that in 90% of cases the call to action link more info converted better than calls to action like "try me now" or "buy now." This would indicate that content or informing your audience before selling works better in most cases, especially if the information is aligned with the interests of the recipient.
What content to provide
In other words, in most instances, people want to be informed and read relevant and engaging content. Most people aren't going to convert because of engaging content, but they do want to know more about your expertise. Also, at each stage of the buying cycle, people want to make themselves aware of different kinds of information, as the table below from Brainrider shows.
If your customer is asking:
What's my problem?
How do I fix my problem?
Are you right for me?
They want:
Education and thought leadership
Solutions and product suitability
Credentials and decision support
What to share with them:

Trends
Benchmarks
Analyst coverage
101 Education
How-to guides
How are other people solving this?

What is the solution and how does it work?
Solution comparisons
Pitfall analysis
Readiness and suitability assessments
How do I choose a vendor?

Pricing
Bench strength demonstration
Case Studies
ROI/TCO
How to buy
Working with us
How to target your content: aim for the DMU
For your B2B email marketing to work, you'll want to get the right audience on to your email list. It is, on the face of it, natural to think that you would need to go after likely decision-makers, such as the directors of a company or its CEO. However, titles often mean very little today. For example, if you do a search on LinkedIn and use "CEO" as a filter, how do you distinguish between the owner of a restaurant, a CEO of a startup, and a CEO of a cruise line?
To get the right audience on to your list, you will need to use other criteria as well. Company size on its own is likely to be a better criterion for finding the right kind of audience. Also, it isn't often that decisions are made by a single individual, so you may need to target multiple people in an organization. This group of people is at times referred to as the Decision-Making Unit (DMU) in an organization.
A DMU will often consist of people with varying responsibilities who will each look at your emails from their own perspective. In order to effectively engage each of these individuals, list segmentation becomes vital. Your best email messages can then be crafted to look like and speak to each of these individuals and the challenges they face.
Best practices to build an email marketing strategy that works in 2020
Resonate with your tone
The tone of your email sets expectations, as the first impression you make significantly impacts your email recipient. B2C emails often display a tone that's designed to grab a recipient's attention, with calls to action like "buy now," "sign up now," and so forth. This tone can also be entertaining and visually appealing.
By comparison, B2B email marketing is more about fostering relationships and providing a trusted solution in a way that you'd like the recipient to value. The setting of defined b2b email marketing benchmarks is very helpful.
Personalize the message
In a study conducted by Experian Marketing Services, personalized subject lines make it easy to boost email open rates by 29.3% across industries. So whether it is a welcome email or a marketing one, you'll need a personalized subject line for the best results.
Personalization of emails has come a long way since the days when "Hi [first name]" was a common practice. In fact, today an email marketer has access to a wide range of tools and data to personalize messages based on where a person is in their buying decision. This works wonders every time for the open and click-through rates of emails.
Personalize every part of the email and send it in a click. Track and analyze your results.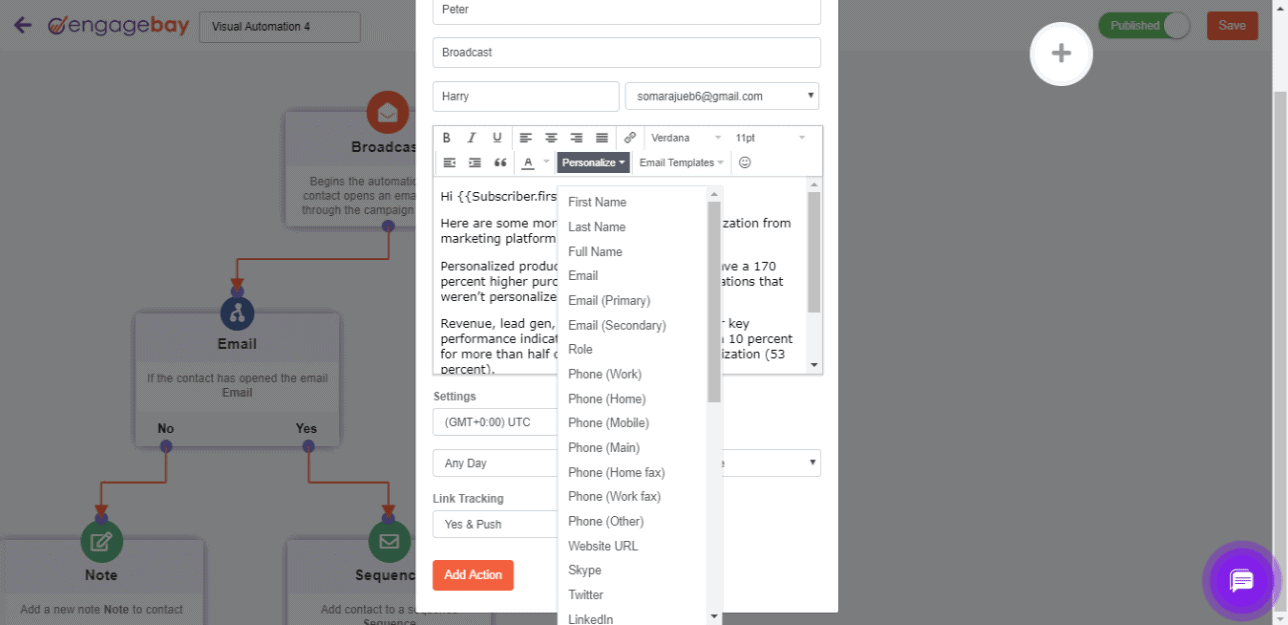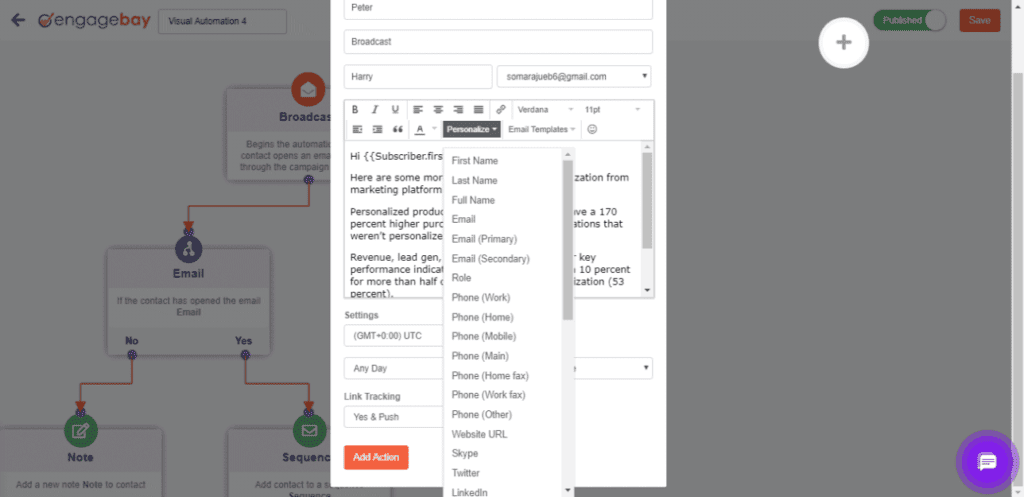 Guessing who your target audience is and what they're looking for will not yield results. Your existing clients can provide information and data that you need to be able to identify the clear yet common characteristics of your ideal customers.
This "clear yet common characteristics of your ideal customers" is often referred to as a buyer persona. This persona can include details such as a person's title, industry, demographic, psychographic, and geographic information, along with other data points. Depending on your business, you may have one or more buyer personas.
What do these buyer personas allow you to do?
They allow for better B2B email marketing campaigns, as your emails can be:
Highly personalized and targeted
Sent at an appropriate time for your audience
Allow you to use other relevant channels to get the message to your desired audience
Here are a few ways to use that data to help develop your B2B email marketing best practices:
Use contextual subject lines that set the right expectations about the content of your email.
Ask relevant questions so your audience has relevant options to act on.
Segment your list based on time zones, so customers receive messages at the right time.
Categorize your list based on your different personas.
Set up trigger emails based on lead behavior.
Use timely but limited follow-ups.
Craft subject lines that pique the interest
Research shows that 64% of people open an email based on the subject line alone.  Obviously, then, subject lines play a critical role in the open rates of any email campaign.
Check out a few email subject lines from a few publications that I came across recently:

While the interests and nature of your audience determine to a large extent what will or won't work for your audience, here are some principles by which B2B email subject lines can be crafted better:
Ditch spam words and symbols in your subject line.
Aim for 17-to-24 characters.
Keep your subject line short, ideally 3-to-5 words.
Include at least 1 emoji in your subject line.
Include a number.
Write the subject line in the title case.
Include 3 or more emotional words and/or symbols in your subject line.
A/B testing subject lines will provide the data you need to make informed decisions in the future, but this email subject line tester will also be of help in getting recipients to open your email.
Validate your emails
There isn't much point to your best email marketing strategy if your emails don't reach the intended recipient's inbox, right? Invalid emails and email bounces off recipients' email addresses affect the overall effectiveness of your campaigns. They also endanger your email-sending reputation.
To prevent many emails from negatively affecting your sender reputation, it's important to make sure to use an email-cleaning tool. Such a tool will help to verify email addresses and ensure that your emails have a greater chance of reaching their intended inboxes.
A robust B2B email marketing software can do wonders. A tool like EngageBay can help in that department.
Include a call to action
87% of B2B marketers use email marketing B2B to nurture and generate leads. Your emails are a key part of building an ongoing conversation with your audience. That said, they need to do more than just remind customers that you exist.
How do you do that, then? For one, you can include a call to action to visit your landing page or give customers a few options to continue the dialogue with you. Calls to action can take the form of a question, the sharing of relevant resources, choosing an option based on where the customer is in the buying decision, etc.
Having a call to action in your email templates isn't going to be enough, though. The context in which it's presented also matters. In other words, the copy before the call to action plays a critical role in whether customers will follow through on the action you're encouraging.
Here's an example from Thinkific that sends out the email below with the following subject line: "Are you a business coach?"
Notice the specific nature of the call to action, which displays as a button to take them to your landing page: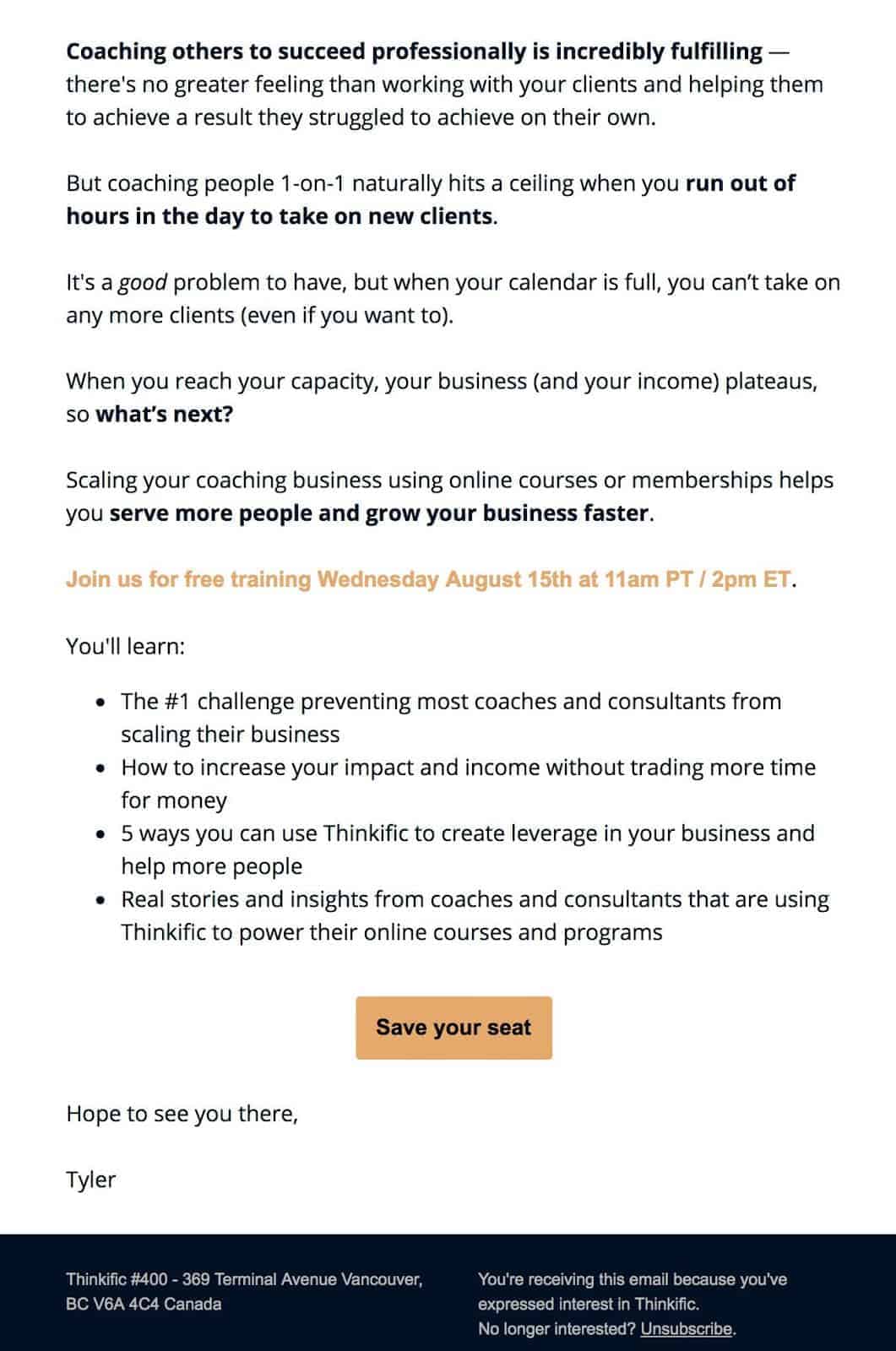 How to create a call to action:
Your CTA has 3 key elements to consider: the action you want readers to take, the words used, and the design of the CTA.
Express the CTA clearly so it answers the question: "What's in it for me?"
The location of your CTA matters, to ensure that it's visible so that the customer doesn't have to scroll too far in order to find it.
Your email content matters and should lead to a natural call to action.
Provide clear directions so that the CTA answers the following questions: "What they should do?", "Where will they go?", and "Why they should follow through?"
If using images for CTAs, ensure that alt-tags and other ways of expressing the CTA are obvious even when email clients use image blocking.
Readers tend to click on logos and pictures, so make sure that these images are linkable, or readers are liable to think that your email is broken.
Segment your list around interest levels
If you need to keep your email content on point, then it's only natural that you also need to segment your list based on your audience's interest levels in your brand. This is quite true given the world we live in and how discerning we've become in allowing people access to our inbox.
By segmenting your list based on interest and communication preferences, you have the opportunity to deliver a new email experience that's personally relevant and increases the likelihood that the recipient will actually do something with it.
So, how do you gather the information you need?
To get started, ask them a few questions upon signing up that will gauge their interests, priorities, and preferences.
Time it right
Timing can play a critical role in your B2B email marketing best practices in 2018. While the best times differ for each audience and business, the data from your analytics and email service provider can help you to acquire the information you need to understand the right time to send your email.
Another aspect of timing is understanding where in the buying journey the recipient is at. This can subsequently determine the kinds of follow-up emails that need to be sent. For example, if a person watches a video or webinar, it's likely that they're interested in that particular topic. So, it provides the opportunity and makes sense to follow up with a phone call or email to continue the conversation.
Keep messaging on point
When people subscribe to your email list, they're probably eager to hear from you, but that doesn't mean you can be sending emails to them whatever you want. To build a relationship with the new subscribers, you need to keep your messages on point and relevant to the context that propelled people to sign up to your list. In other words, it boils down to creating the best email content that's centered around your audience's interests.
For example, the marketoonist by Tom Fishburne sends out regular cartoons around topics that marketers can identify with. Check out the "Watching the Numbers" cartoon email below: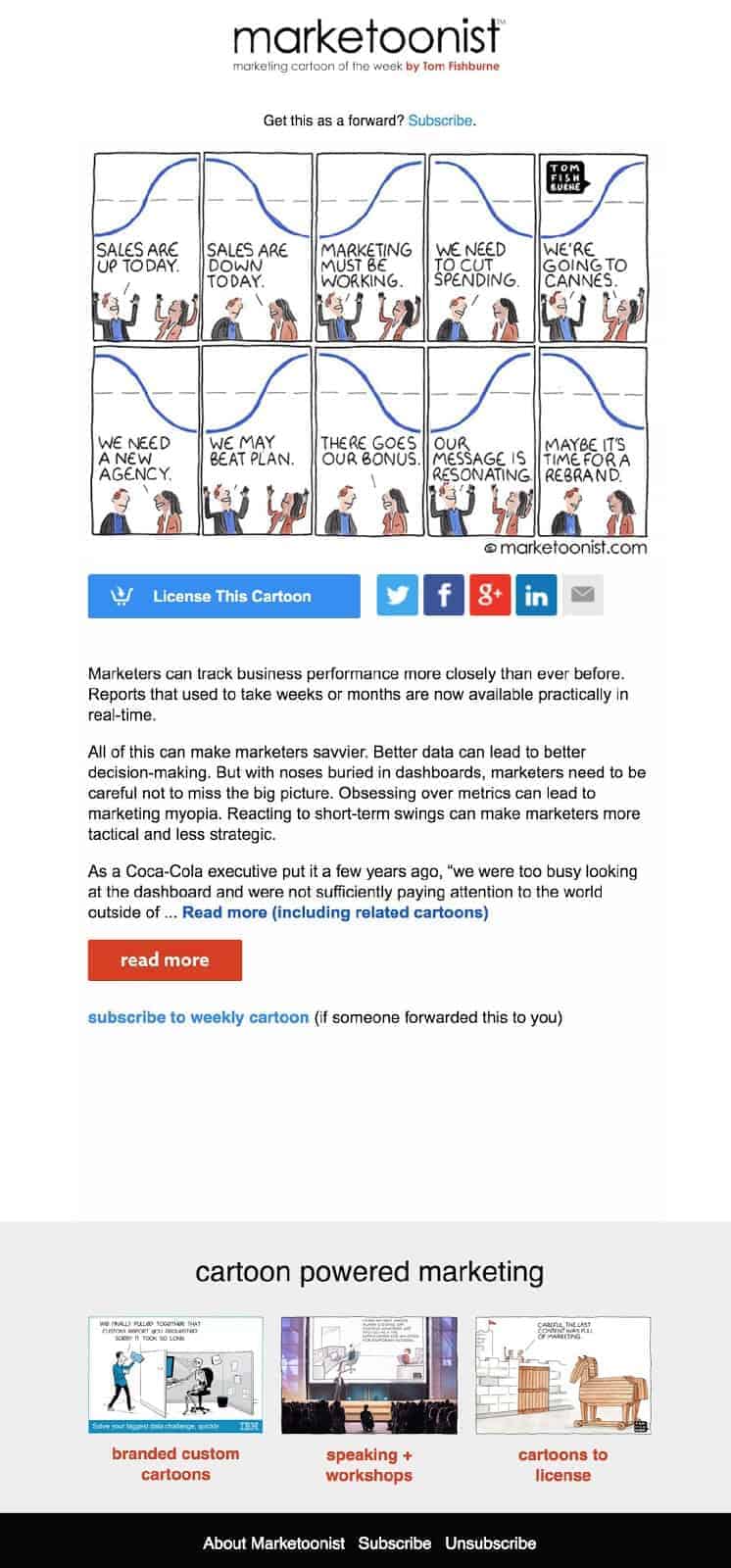 Here are a few tips to help keep your content on point:
Send marketing emails only when you have something of value to share.
Keep your messages clear, simple, and concise.
Write great copy (if you need help, hire a professional writer to do it).
Go easy on sales-oriented messages.
Allow every email subscriber to customize the types and frequency of the messages they receive.
Invest in a great design that will grab your readers' attention from the get-go.
Cross channel coordination and automation
For B2B marketers, marketing automation has emerged as a key trend that can help your business. With customers using multiple channels and sources to get information utilizing omnichannel marketing for your messages makes sense. Experiences that people have outside of the email channel affect whether they will stay subscribed to your list or not.
Jill LeMaire Redo, VP of Digital Strategy and Insights at Epsilon, says:
 "It is the coordination and integration of all marketing communication tools, avenues, and functions into a seamless program that maximizes the impact on consumers while minimizing costs."
Daniel Burstein, Senior Director of Content & Marketing at MarketingSherpa and MECLABS Institute, says:
"Every interaction your customer has with your brand—through email, but also through any other customer touchpoint—will impact the success of your best email marketing program because it will impact customer satisfaction and brand perception.
For example, half (50%) of satisfied customers often or always subscribe to a company's email list, but less than a quarter (23%) of unsatisfied customers subscribe to a company's email."
A strong value proposition will help ensure that your automation and coordination efforts are geared around the customer's needs. In other words, offer a seamless customer experience.
Automation in B2B email marketing service can be a great way to acknowledge the action that customers or prospects have taken and reduce the chances of them feeling confused, uncertain, or frustrated after the fact. In other words, using of automation is probably the best way to build customer relationships.
EngageBay's Marketing automation software platform helps small businesses automate marketing and sales tasks and various workflows to generate leads, close deals, and grow revenue faster.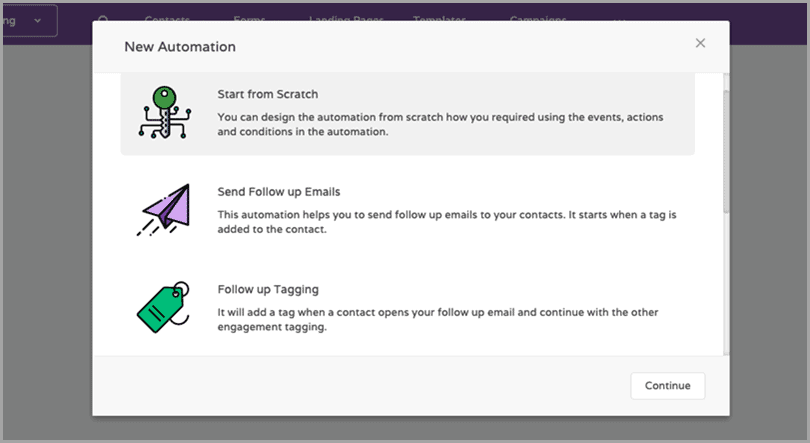 Putting it together
Assuming that you're targeting your audience correctly, get started by gathering metrics from your email campaign, and then consider the areas that show suboptimal performance. You can work on improving those areas via A/B tests. A/B tests have proven to be quite helpful for this purpose.
In other words, you need to develop B2B email marketing best practices that suit your specific audience and business needs, as opposed to applying what works well for other businesses. The best practices covered above will provide a basis for getting you started or to improve your email campaigns.
The EngageBay Resources Center is chock-full of helpful guides, like this one all about email marketing automation guide.