As your small business grows, you need a comprehensive customer relationship management software or CRM that can handle everything that is to come for your company.
From contacts management to automation and more, you don't want to be left wanting features.
You also need a CRM that's scalable, but not to the point where the cost of service gets so high that you can't afford the software anymore.
If you're stuck between Pipedrive, HubSpot, and EngageBay as your CRM of choice, we're here to help you get unstuck.
In this article, we'll pit Pipedrive vs. HubSpot vs. EngageBay and declare one clear winner.
To do that, we'll compare CRM features one by one to see which comes out on top.
We'll also discuss which CRM solution is the most reasonably priced for startups and small businesses.
Pipedrive vs. HubSpot vs. EngageBay Overview
Before we get into all that, here is a quick introduction to all three CRM software solutions.
Pipedrive Overview
The pipeline management and sales CRM tool Pipedrive has been a favorite of salespeople and marketers since 2010.
Their sales pipeline includes unlimited custom fields and visual pipelines with color-coded deals.


In their CRM, you can send and receive documents like contracts and proposals.
You can even e-sign docs for convenience.
Use an activity calendar, auto-schedule meetings, record call transcripts, create and manage contacts, and review communications in your sales email inbox all through Pipedrive.
Pipedrive's automation features are activity reminders, Smart Contact Data, workflow automation, and their AI Sales Assistant.
HubSpot Overview
A service, sales, and marketing solution, HubSpot may be known for its gargantuan service fees, but its CRM is free.
In HubSpot, you can review the latest business events in your reporting dashboard.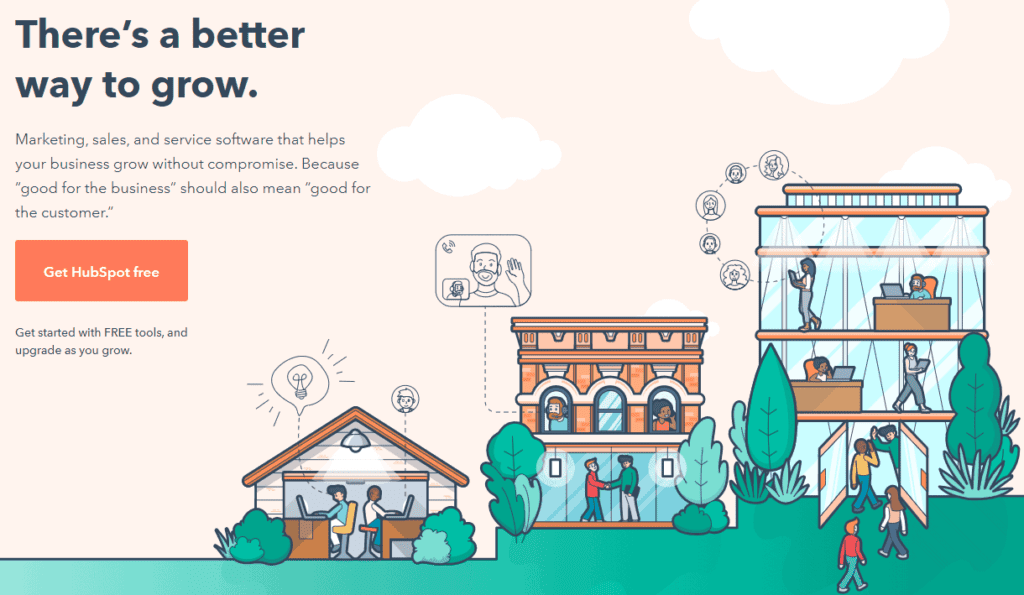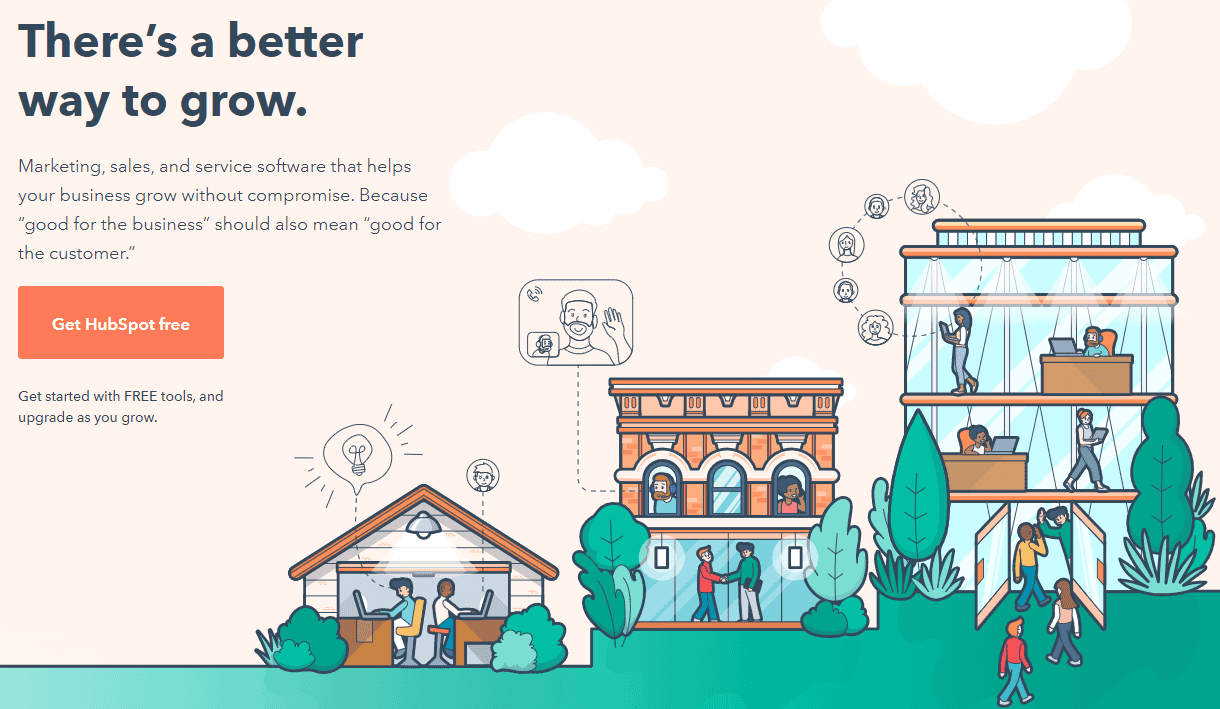 You can also create deals and forms and track your success until your deals are closed.
Add email marketing services to your sales campaign in the CRM.
Pipeline management and contact management ensure you can watch your leads and customers alike at all stages of the sales funnel.
Communicate among your staff with team emails and track customer communications in the conversational inbox.
EngageBay Overview
The all-in-one small business solution EngageBay was founded in 2017.
Like HubSpot, EngageBay's CRM is free.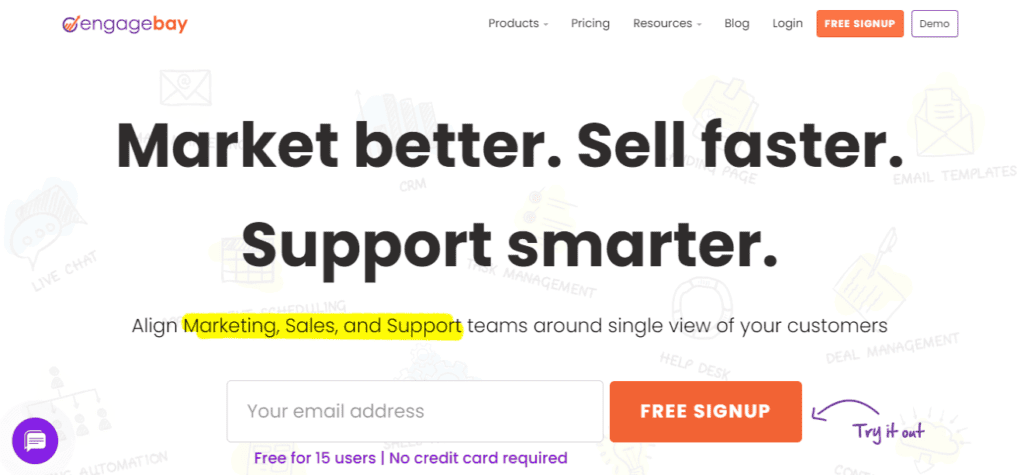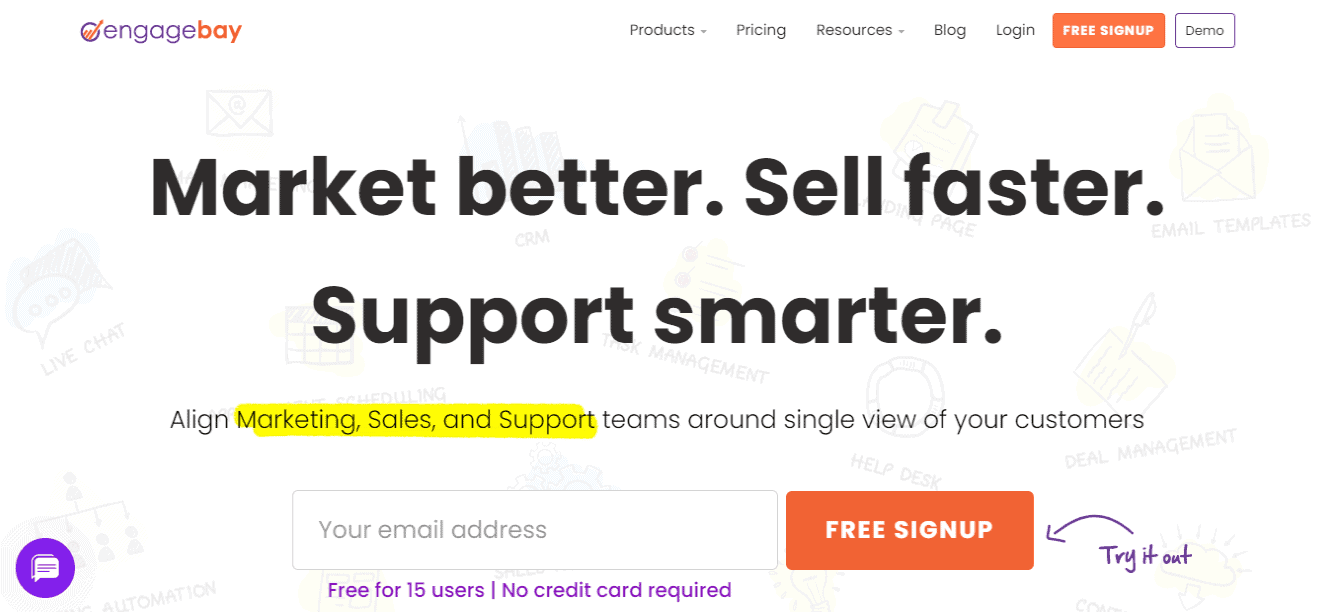 It's part of their CRM & Sales Bay, one of four products you can choose from.
CRM Telephony adds context and data to your phone calls.
Score your leads in EngageBay's CRM, create sales team leaderboards to add a competitive edge to everyday business, and use automation for a bevy of activities, data-logging among them.
EngageBay's CRM email syncing makes a copy of all your outgoing emails so you can create more comprehensive customer data logs.
The reporting dashboard paints a clear picture of where your successes and failures lie with graphs, charts, and tables.
Here is a full product demo of EngageBay that's worth a watch!
CRM Features Your Business Needs: Which CRM Comes Out on Top?
Now let's really get to comparing Pipedrive vs. HubSpot vs. EngageBay.
In this section, we'll go feature by feature to see which CRM solution of the three is the most valuable.
Lead Scoring
Scoring leads is a must as you strive to grow your customer base, but it's one of the most time-consuming parts of operating a business.
Not so with the right CRM.
Most CRM software can manage your leads and automatically score them using criteria of your choosing.
HubSpot provides predictive lead scoring, in which their software uses past lead information to assign values to new leads.
The only issue with this feature is that it's not available in HubSpot's free CRM.
You can't even use it with any of HubSpot's paid plans outside of their high-cost Enterprise plan.
EngageBay has a Lead Scoring System that helps your small business find more qualified leads.
These leads are different from your everyday prospects, as qualified leads are readier to buy from you.
Even better, it takes only one click to identify these valuable leads in EngageBay's CRM.
You select the lead parameters that matter most to your small business when filtering leads in EngageBay.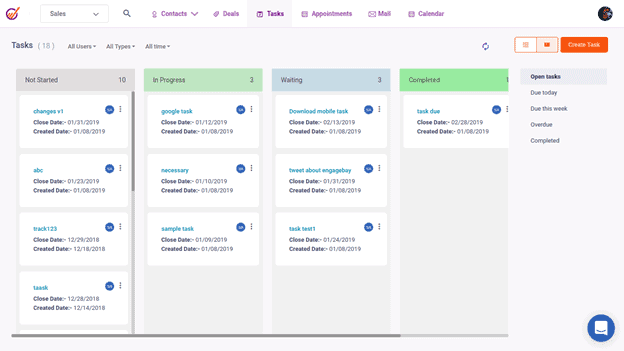 Whether that's lead geography, income, marital status, or education level, EngageBay's Lead Scoring System segments leads the way you want to.
Even better is that the Lead Scoring System works for current contacts and customers as well.
You want to retain the most loyal customers, especially as a startup, and with EngageBay, doing so is easy.
Automation
All companies only have 24 hours in a day, so how is it that Fortune 500s can achieve so much more than your business?
Part of it is sheer manpower while the rest is time-saving practices like using automation to do routine tasks.
With less busywork among your small business team, you'll feel like you have twice the manpower even without twice the employees.
Pipedrive lets you automate within its CRM in the following ways:
Receiving push notifications in the Pipedrive app, through email, or in the software
Creating deals after adding a contact
Sending emails
You can make automation workflows within Pipedrive that are customized to your small business needs.
Once you begin using Pipedrive's automation features, its AI tool called the Sales Assistant can suggest ways to make your automation even more efficient.
HubSpot has both sales and marketing automation features, but again, they're not necessarily included as part of the free CRM.
You can create automated email sequences with personalization tokens that may increase email open rates.
Automation workflows within HubSpot also come in handy for data management and deal creation as well as automating more of your day-to-day tasks so your schedule is clearer.
Team notifications get sent straight to you as your lead moves through the funnel so you never miss a profitable moment.
In EngageBay, you can automate plenty of your routine tasks.
Watch your lead move through the funnel and automate parts of their progress.
Let EngageBay's CRM track your call and email logs automatically so you don't have to waste precious minutes anymore.
Create task rules and EngageBay's CRM will take care of the rest, making the tasks for you and then reminding you and other staff members to take care of the open tasks.
Automate all your meeting scheduling too.
Don't forget to automate your marketing tasks in EngageBay as well, including:
Pop-ups and forms
Prospect tracking
Email personalization
Lead and customer segmentation
Lead scoring
Drip email campaigns
Contact Management
Pipedrive lets you see where your inbound leads come from, such as from an organization or a currently active deal.
The moment you get a new lead, Pipedrive can send you a notification by email. Import your leads from prior spreadsheets or other CRM software.
Learn more about your contacts and categorize them with ease using Pipedrive's Smart Contact Data, a one-click feature that culls pertinent information on your leads.
That data includes social media platform usage such as Twitter and LinkedIn.
Pipedrive's Live Chat is always looking for new leads for you, and it can take care of qualifying these leads as well.
Make customizable web forms within Pipedrive to guide leads to the next stage of the sales funnel.
HubSpot's free CRM offers content management features, including ticketing and prospect tracking.
In EngageBay's CRM, tracking contacts couldn't be easier.
You can use multiple channels to connect with your audience and receive updates in real-time on what your leads are doing within the sales pipeline.
You get contextually rich information on your leads and customers, including contact details, the most recent communications or interactions you've had, task history, call notes, social media presence, and the lead or customer's response rate.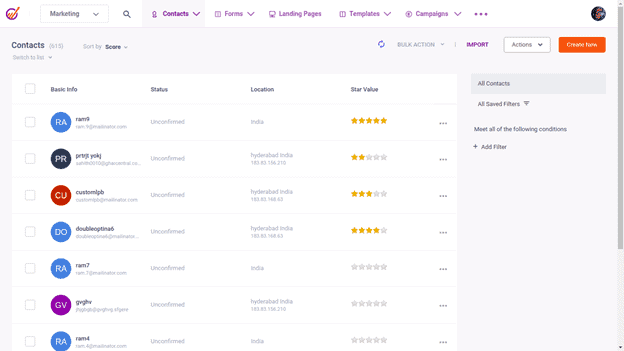 This gives you a unique 360-degree view of your contacts.
EngageBay's CRM has a single email inbox for your team to use that integrates with all your favorite email tools (more on integrations a little later).
Pipeline Management
Has your small business lost one too many leads or customers along the way because your sales funnel was so unorganized or you had no method of tracking customer progress?
A good CRM can change that.
Between Pipedrive vs. HubSpot vs. EngageBay, let's compare pipeline management features.
Pipedrive's sales pipelines are customizable from the ground up.
You can include a deal, deal value, predicted close date, and win probability in the pipeline.
By color-coding deals, including the ones that aren't going so well, your sales team can prioritize tasks.
The HubSpot pipeline dashboard allows for an unlimited team of users and up to one million contacts.
EngageBay's sales pipeline is visual so it's easy to understand and disseminate.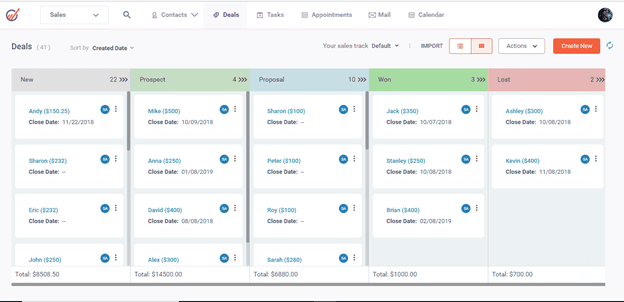 You can track the number of open deals, how many current leads you have, which projects are in the proposal stage, how many deals you've won, and how many you've lost.
Reporting
Did your latest sales and marketing campaign excel or fail?
To answer that question, you must look at the data.
Pipedrive's CRM-led reports are customizable.
You can include information like how many leads you've won, which activities drove your company forward, and how much revenue you earned.
This information is presented as part of a visual dashboard within the Pipedrive CRM.
You can cherry-pick which metrics go into the visual dashboard and then share this information with other key salespeople or marketers.
HubSpot has a similar visual dashboard that tracks ongoing sales activity.
From individual salespeople's respective performances to the overall productivity of the team, you can see all the metrics your small business cares about.
EngageBay takes it a step further with gamification.
This will inspire your sales team members to do their best so they can reach the top of the leaderboards.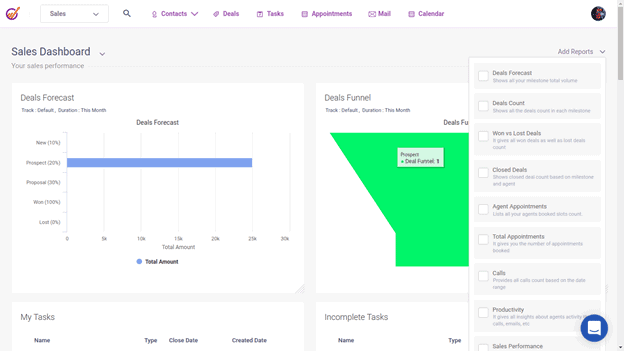 Custom dashboards in EngageBay's CRM put the reporting power in your hands.
You can even use EngageBay to automate report delivery.
EngageBay lets you produce deal funnel reports and growth reports to focus on different metrics.
Integrations
Integrations make your CRM even more effective.
Here are the CRM integration options Pipedrive has available:
Maileon Sync
Formstack Documents
ClientPoint
HubSpot 2-Way Contacts Sync
Quickdialog
Paycove
Salespanel
Call Tracker
Business Card Reader
Wappalyzer
Infobip Notifier
Timely
EasyCalendar
Front
Zoho CRM 2-Way Contacts Sync
The following CRM integrations are available through HubSpot:
Salesforce
Ontraport
EasyCalendar
SoPro
Pipedrive
Wazzup
StarfishETL
Crystal
ConnectWise Manage
io
Zendesk Sell
Brainshark Scorecards for CRM
CRM Perks WordPress Plugin
Zendesk
Servetel for HubSpot CRM
Bitrix24 CRM
Capsule CRM
EngageBay integrates with these CRM tools:
LinkedIn
JustCall
QuickBooks
Stripe
Xero
Pipedrive vs. HubSpot vs. EngageBay Pricing
Now let's examine another huge factor in selecting between Pipedrive vs. HubSpot vs. EngageBay: CRM pricing.
Pipedrive CRM Pricing
Pipedrive offers no free services, including CRM.
The Essential plan starts at $12.50 per month.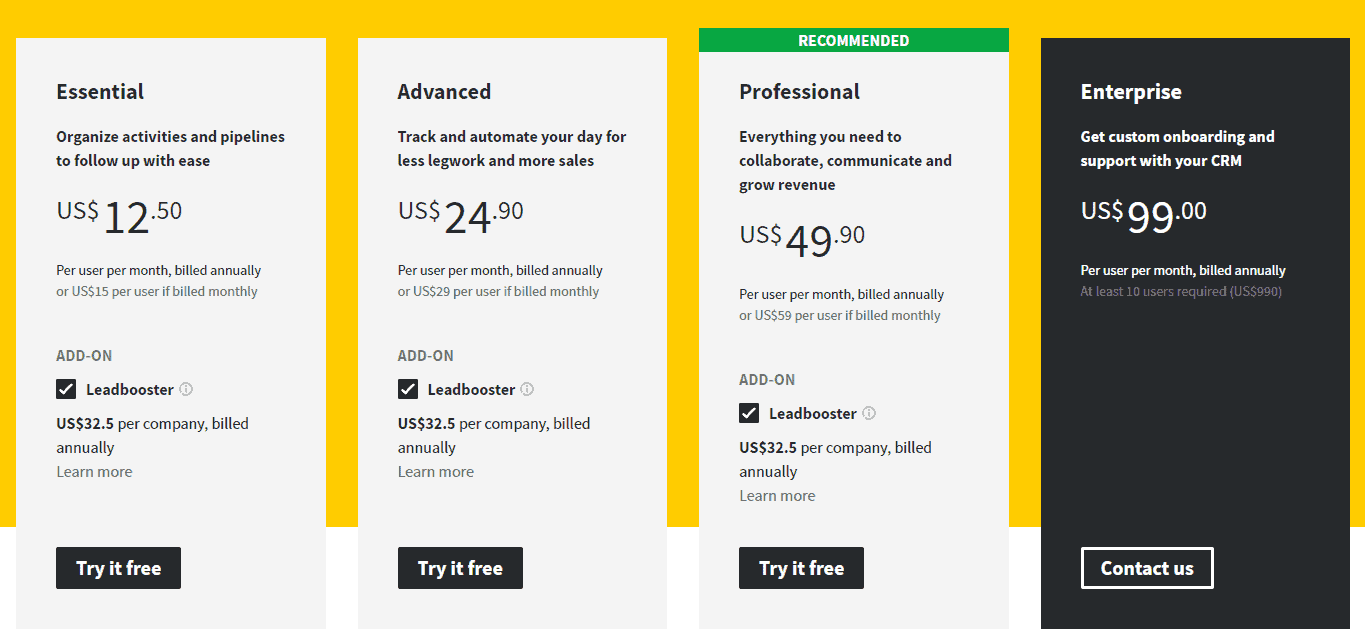 You get such CRM-related features as:
Deal management
Custom pipelines
Custom fields
Export and import data
Deal rotting
Contact management
Email inbox
Basic meeting scheduler
Calendar view
Activity reminders
Sales Assistant
Webhooks and API
Activity reports
Deal reports
One visual dashboard
The Advanced plan is $24.90 per month and adds these CRM features:
Two-way email syncing
Custom email templates
Email click-through and open rates
Auto-filled templates
Custom signatures
30 automaton workflows
Smart Contact Data
Pipedrive's Professional plan costs $49.90 per month.
Besides the above CRM features, you also get:
Group emailing
eSignatures
60 automation workflows
Lead reports
Custom reports
Unlimited visual dashboards
Team goals
The Enterprise plan at $99 a month includes support and custom onboarding with your CRM.
You also gain access to these exclusive features:
Unlimited document open tracking
Unlimited eSignatures
100 automation workflows
Unlimited visual dashboards
HubSpot CRM Pricing
HubSpot's CRM is free, but remember, its features are limited.
If you find that you need more out of HubSpot, you might pursue their CRM & Sales product.
The Starter plan is $45 per month, the Professional plan is $500 per month, and the Enterprise plan is $1,200 per month.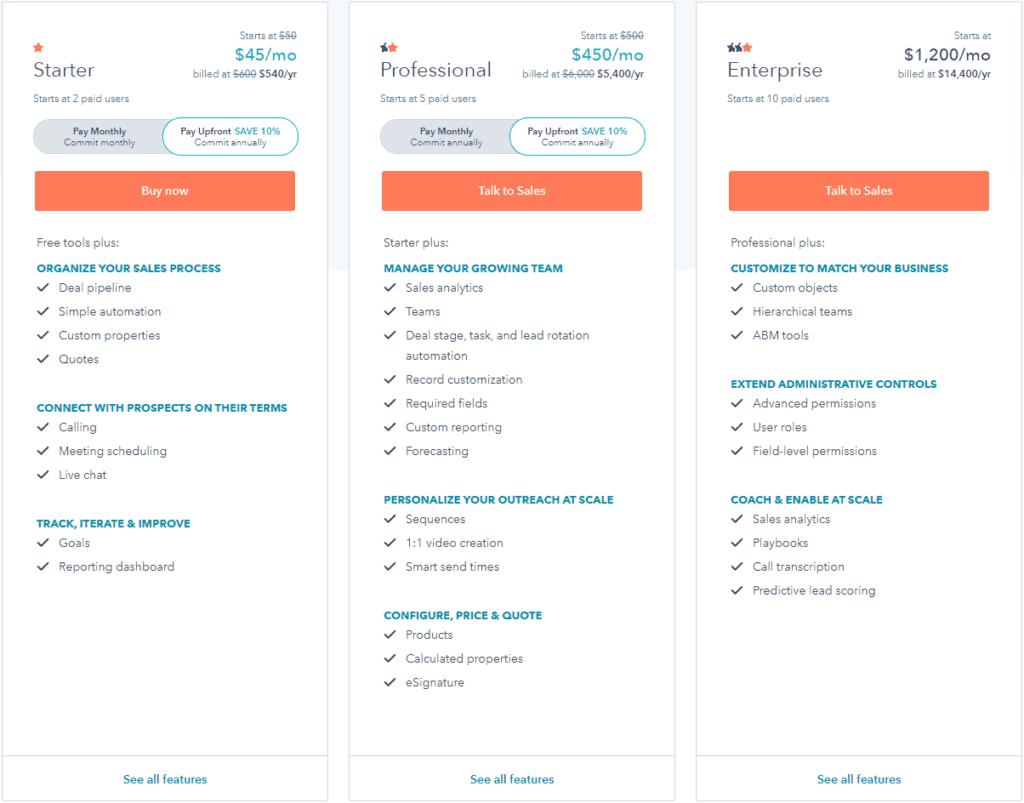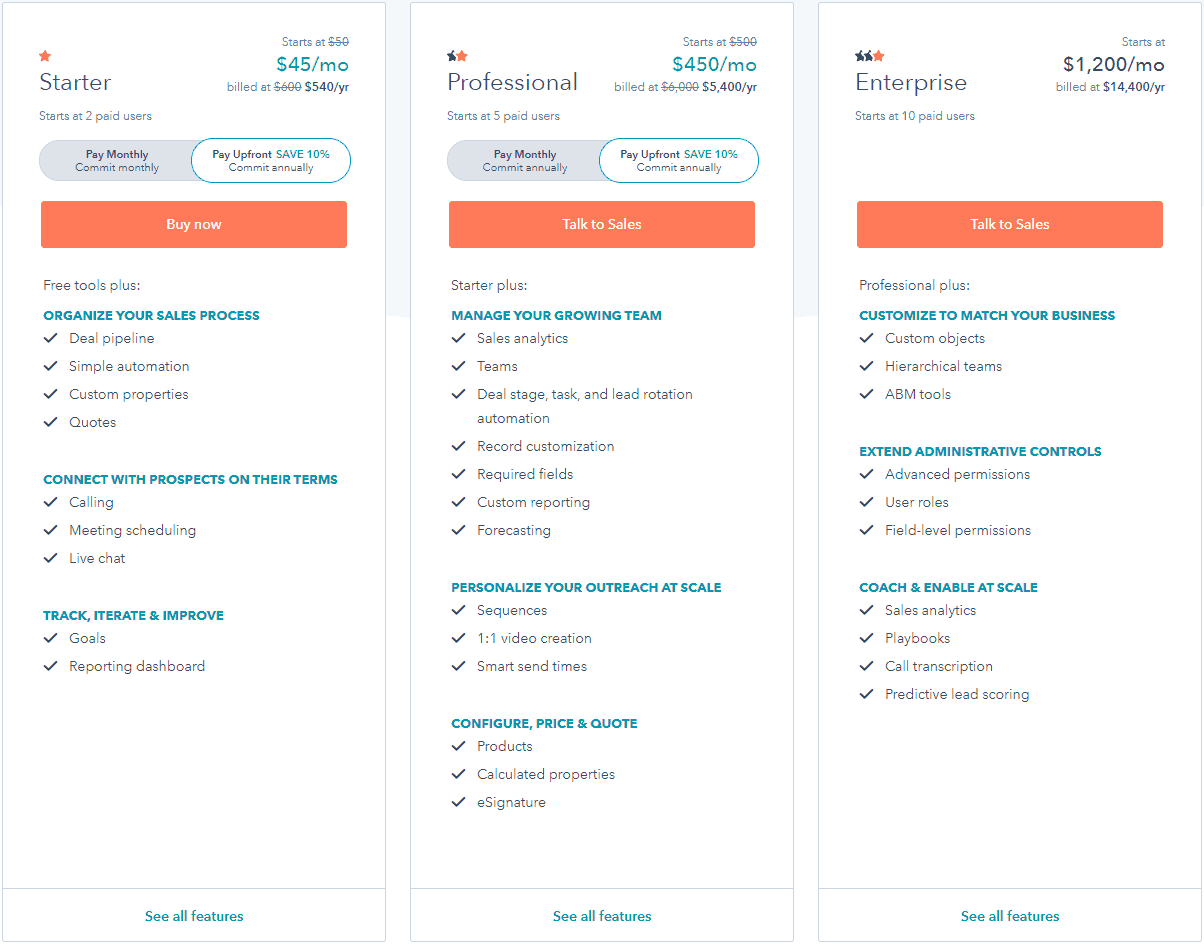 Here are the kinds of features you can unlock with the paid HubSpot plans:
Conversational bots
Team emailing
Email scheduling
Email notifications and tracking
Email templates
Documents
Meeting scheduling
Reporting dashboard
Deal pipeline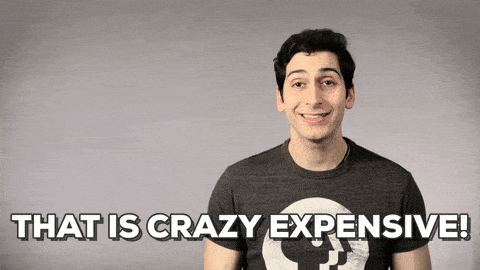 EngageBay CRM Pricing
EngageBay's CRM is free forever. If you wish to get even more use out of EngageBay, their CRM & Sales Bay product has four pricing plans.
All prices are per individual user.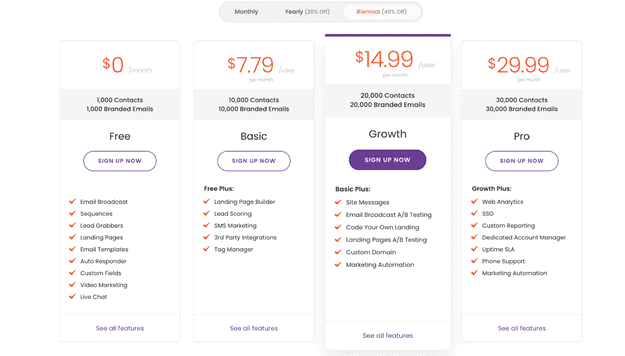 The Free plan is $0 per month and includes CRM features such as:
1,000 contacts
1,000 branded emails
360-degree contact view
Lists
Deals
Tasks
Appointment scheduling
Forms and pop-ups
Email tracking
Reporting dashboard
The Basic plan is quite affordable at $12.99 per month.
You get the above CRM features and the following:
10,000 contacts
10,000 emails
Calling minutes
Custom deal milestones
For the small business that's progressing, try the Growth plan for $24.99 a month.
This plan includes these CRM features:
20,000 contacts
20,000 emails
Call reports
Custom fields
Email scheduling
Leaderboards
Email sequences
Automation workflows
Triggers
Proposals
The Pro plan at $49.99 has the most CRM and sales features from EngageBay, including everything above as well as:
30,000 contacts
30,000 emails
Proposal analytics
Call records
Call scripts
Goals
Conversational inboxes
Custom reporting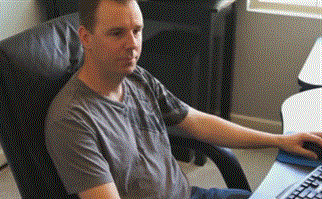 The Verdict
In the battle of Pipedrive vs. HubSpot vs. EngageBay, one winner has emerged.
That's EngageBay.
Unlike HubSpot's free CRM, which lacks the features a small business needs for long-term growth, EngageBay's free CRM has more of what you need.
Their pricing plans–if you do choose to pay–are much more affordable than HubSpot's, especially for a fledgling small business.
Checkout our latest article:
HubSpot vs. Mailchimp vs. EngageBay: Which Tool Worth Spending Money?
Constant Contact vs. Mailchimp vs. EngageBay: Which Tool Is Better?