Every marketer knows that landing pages are the building blocks of their marketing campaigns, but it's not always easy to build an effective one.
You can either invest hours of manual labor into building a high converting landing page or use the right software that will help you build optimized pages in seconds.
Landing page optimization tools make it possible for you to create a lead generation form without having any coding or design skills. You can customize your landing page with a drag-and-drop editor and A/B test different elements on your website.
In today's blog post, we'll discuss the top landing page optimization tools in detail, with their features and their pricing plans.
The Importance Of Landing Page Optimization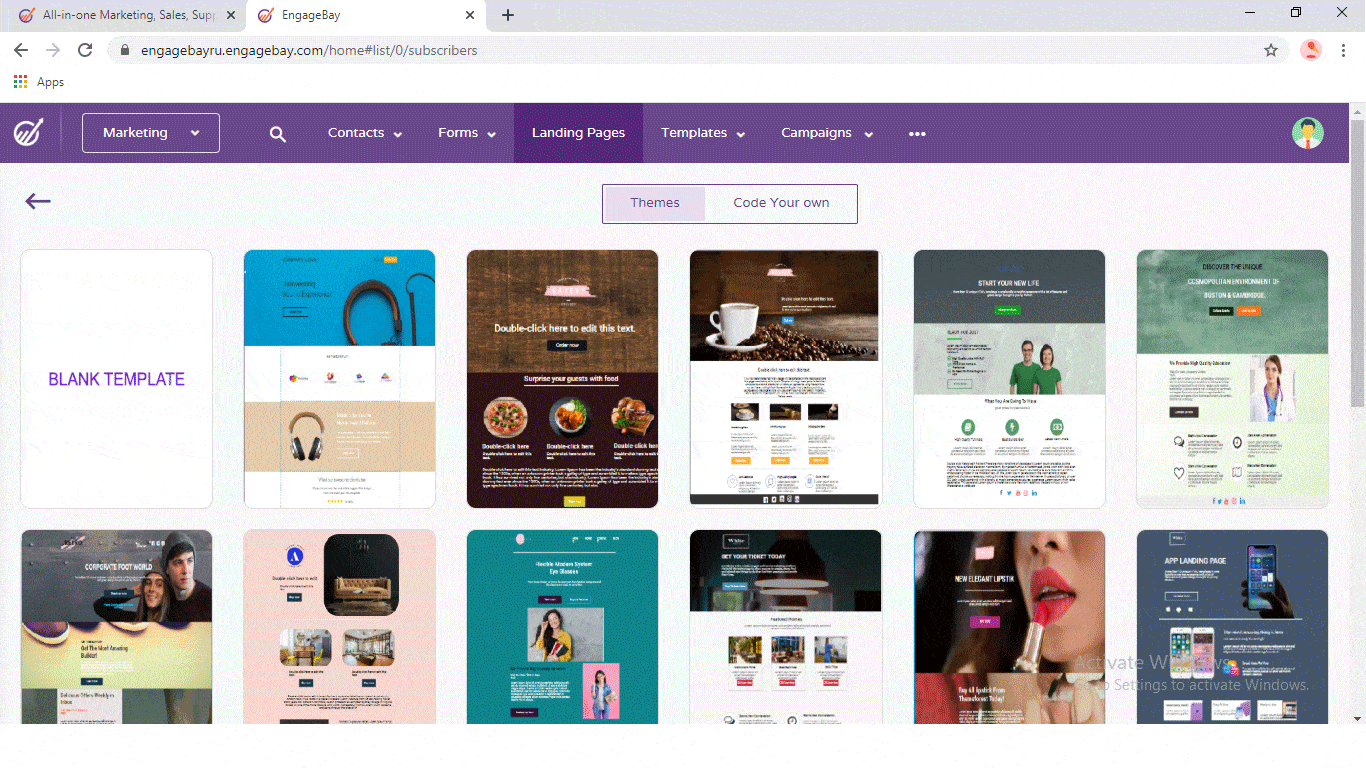 A landing page is built to sell, convert, and retain. Since conversion is the weakest link in marketing — you want your landing page to be designed in a way that encourages a visitor to sign up for your product or service.

Clear, simple, and consistent copies will convey the value of your product and build a brand identity.
Sometimes, visitors don't convert immediately. Having a credible brand identity will make them more receptive to remarketing and retargeting efforts.

You can also add user reviews and testimonials as a means of social proof.
Since landing pages mainly focus on specific goals and results, a good landing page will also help in short-term search engine optimization (SEO).
Top 7 Landing Page Optimization Tools
We have no order or ranking here — just read on and pick whichever landing page tool you like best. Our list of top landing page optimization tools has:
Hotjar
EngageBay
Instapage
Visual Website Optimizer
Leadpages
Unbounce
CrazyEgg
Hotjar is a smart landing page optimization tool that maps out how users are interacting with the elements on a landing page. If you want to track and analyze user behavior, then Hotjar is one of the best landing page builder tools you can use. It can also be used for landing page surveys.
You can use Hotjar to analyze which element is likely to get the most engagement, and which one drives a visitor to leave your landing page. Since the tool uses real-time session recordings of visitor behavior, you can use its analysis to improve the content, design, tone, etc.
Hotjar can also be used for A/B testing.
You can use Hotjar to:
View customer response to specific landing page elements in real-time

Track exactly what your web visitors focus on the most

Analyze landing pages and improve their

conversion rates

Ask visitors for feedback and connect with users right on your landing page
Hotjar also offers a landing page analyzer tool that gives you recommendations to optimize your landing pages to increase conversions.
Just enter the URL of any landing page into the tool, and let Hotjar analyze its elements, color palette, hotspots, social sharing tools, landing page copy, and more.
Some landing page optimization tips given by Hotjar include:
Using different colors for important calls-to-action (CTAs), so they stand out from other landing page elements.

Including a landing page footer to encourage visitors to share the landing page with colleagues and friends on social media.
Pricing
As you can see, Hotjar is quite affordable and offers a cool free plan that works forever, much like EngageBay.
For growing businesses, the Business plan costs just $99 and offers custom integrations, heat maps, unlimited surveys, and user behavior analytics.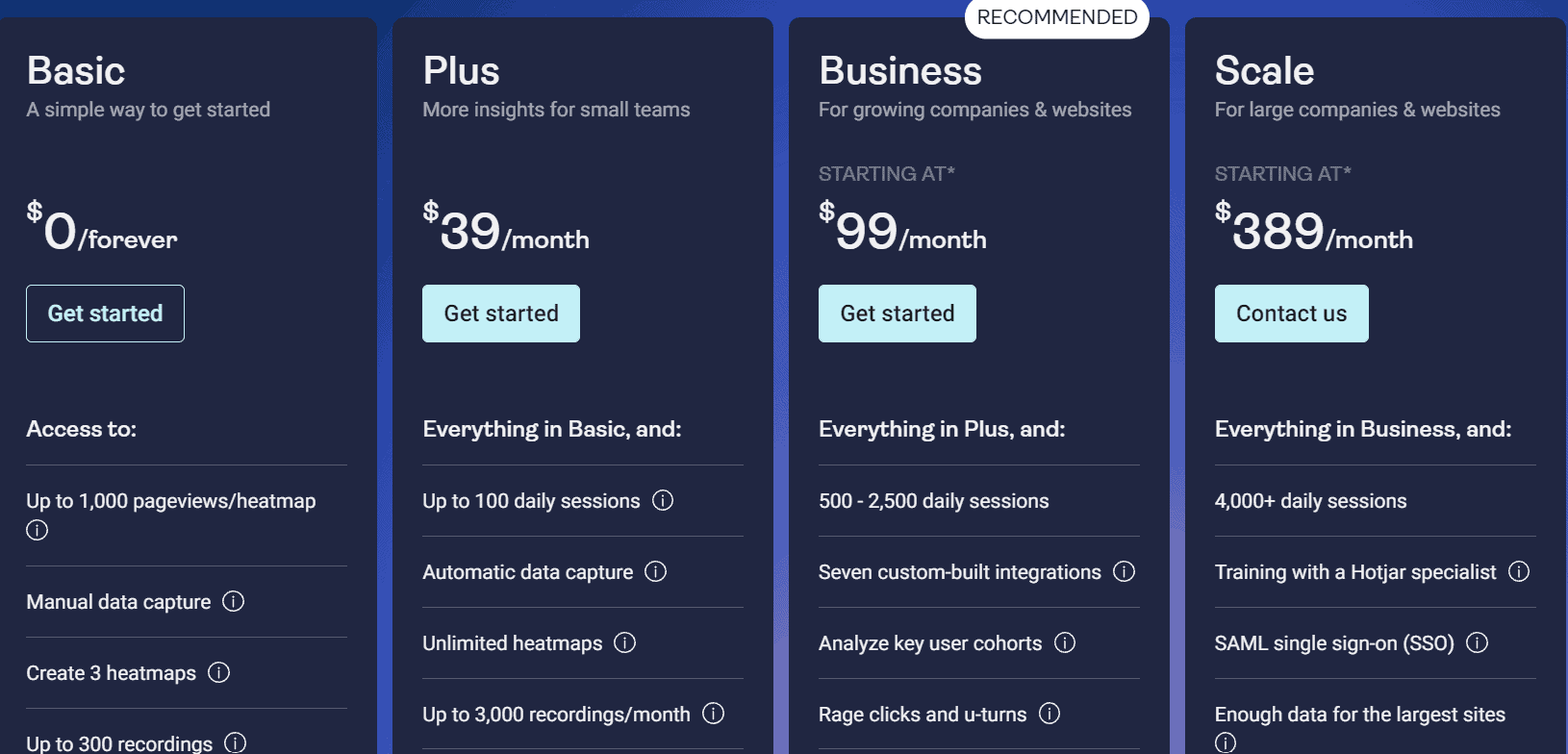 EngageBay is an all-in-one digital marketing software that also offers a landing page tool aimed at increasing conversion rates.
Users can create landing pages easily using the drag-and-drop editor or by using an existing template from EngageBay's templates library.
All templates are easy to use and customize. For the more tech-savvy, you can also code your own template or import from HTML. With EngageBay, it's also very easy to test the performance of all the elements of your landing pages. EngageBay offers a built-in A/B testing tool that you can use to optimize every element of your landing pages.
You can test your CTAs, headers, footers, images, meta tags, and everything else. Users also get access to the EngageBay mobile app for real-time tracking of the performance of their landing pages right on their smartphones.
Two great things about EngageBay are that it is absolutely free to use forever, and that it comes with integrated CRM, marketing, sales, and customer support tools.
In essence, this can be your one-stop solution to myriad marketing and business growth needs. Set automation of workflows triggered from landing page clicks and soon your subscribers are getting drip emails, without you having to ping-pong between dozens of apps.
That way, EngageBay beats every other landing page optimization tool in this list.
Check out this video for awesome tips on how to make a landing page that converts:
Pricing
EngageBay is free to use forever, but if you'd like to contact more than 500 subscribers a month, you can buy a super affordable paid plan.
The popular one is called Growth, where you pay only $17.99 a month and use the A/B testing tool for your landing pages, emails, website pop-up forms, and more.
With the Pro plan, you get a dedicated account manager and 24/5 phone support, with full-fledged marketing automation.

Instapage is next on this list. It's not only an optimization tool, it's also a landing page builder that helps marketers build landing pages from scratch.

It also has plenty of landing page templates (500+) and a drag-and-drop builder that is easy to use.
Other features offered include A/B testing, heatmaps, and advanced analytics. Instapage also has landing page templates that are mobile responsive and industry-specific.
A truly notable feature of Instapage is that it has a real-time visual editor that provides instant previews while creating, editing, and testing on mobile devices right in your browser.
It also enables users to create landing pages for visitors from specific countries or locations. This helps marketers personalize landing pages for different geographic regions.
Another plus point of Instapage is that it allows its users to add a call-to-action button anywhere on the landing page via drag-and-drop functionality.
With a dynamic call-to-action button, the user has the option of directing traffic from their landing page to an email signup page, mobile application download page, etc.
Pricing
You can use Instapage free for 14 days. After that, the 'Building' plan is the starter option, and it costs $299 per month.
This plan offers no limits on landing page conversions. You also get AMP pages for tablet and mobile phone responsiveness, and real-time visual collaboration for your team to edit the same landing page simultaneously.
You also get SSL Encryption, GDPR compliance, and integrations with popular business apps like Zapier.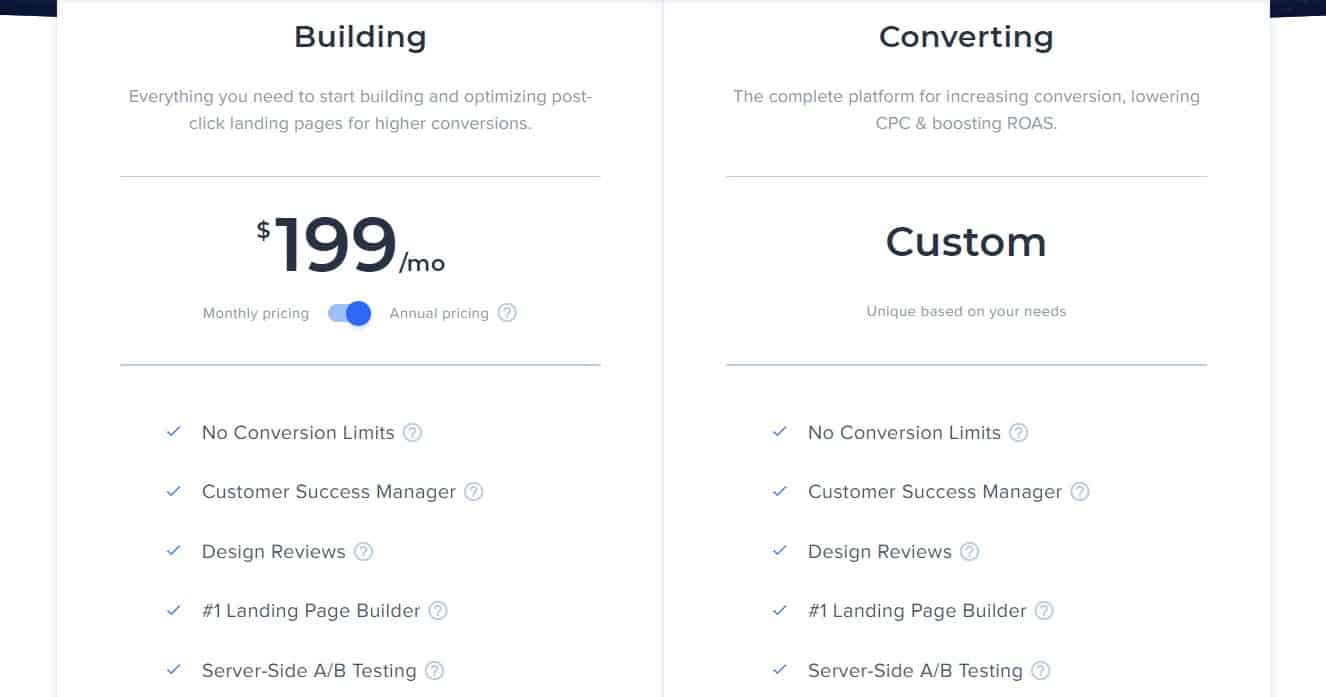 Read also: 14 Stunning eCommerce Landing Page Examples (With Expert Tips)
Visual Website Optimizer (VWO) is a free, easy-to-use conversion rate optimization tool that integrates with Google Analytics.
It offers marketers three ways to test landing pages: A/B Testing, Multivariate Testing, and Split URL Testing. There is a distraction-free code-only mode if you are tech-savvy or have an IT guy to design and modify your landing pages.
Visual Website Optimizer gives you the tools to create banners and ads. It can show real-time heatmaps for them as well.
This way, you'll basically be able to see where people are clicking on your landing pages, banners, or ads. This is a great way to determine whether a certain part of your visual elements is more appealing than others.
Visual Website Optimizer also offers conversion tracking, which can automatically measure how much each click costs you. This way, it will reveal the most cost-effective ads or landing pages for your business.
This is a great tool for beginners and advanced digital marketers alike. It allows you to make changes to your website without having to invest in digital creators or a digital marketing agency.
Visual Website Optimizer has been hailed by digital marketers as one of the easiest tools on the market due to its user-friendly interface and drag-and-drop feature that lets you create customized templates with just a few clicks.
It also offers a mobile app so you can stay on top of things even on the go.
Pricing
VWO offers a 30-day free trial without any credit card details. However, the product gets quite expensive after that.
Each feature costs $199 per month, and you have to pick what you need.
Whichever plan you wish to go for – Growth, Pro, or Enterprise – you need to contact the team at VWO for a price quote.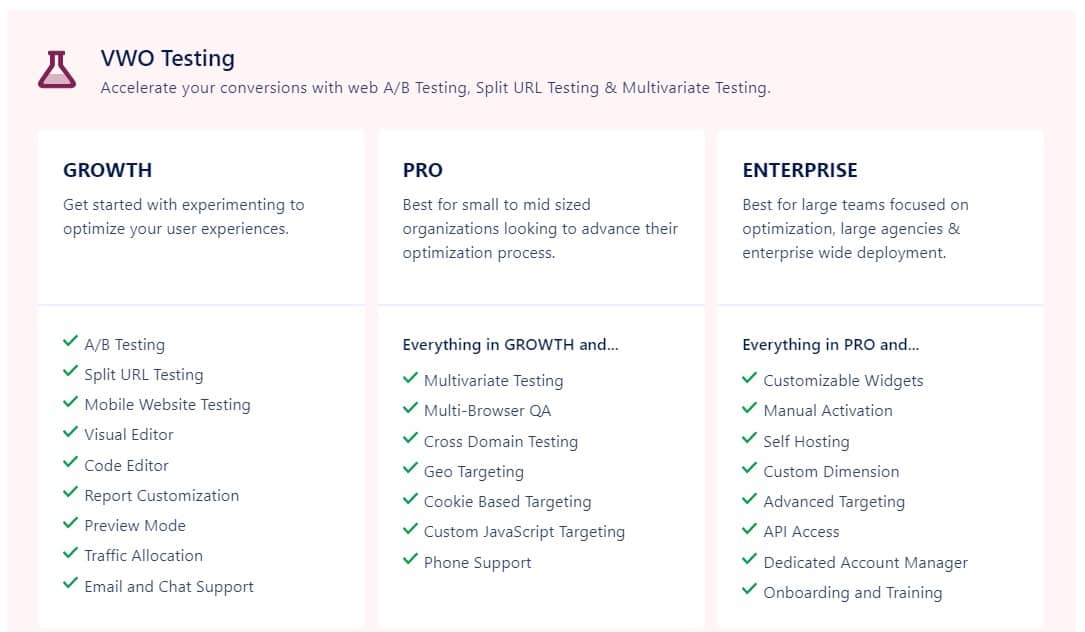 Read also: A Handy Guide to Get Your Inbound Marketing Right
Leadpages is a landing page tool that helps you convert your website visitors with easy-to-build components.
With this software, you get support for A/B testing, SEO elements like meta titles, Google Analytics and Facebook Ad builder, automatic SSL encryption, GDPR compliance, and landing page previews by device type (mobile, tablet).
Leadpages also offers tools to capture email addresses of website visitors, and survey forms that poll customers. You can also build landing pages that display rotating images or videos.
Leadpages offers a drag-and-drop landing page builder as well as tools for adding email capture popups and notification (alert) bars to increase the conversion rates.
It also features a marketplace with hundreds of templates that marketers can customize for their own products. Of course, you have to buy these templates, and pricing usually starts at $10 per template, but it's great to have access to that kind of variety.
Leadpages makes integrations really easy. It integrates with more than 1,000 apps, so it helps to keep things simple and working from one place.
You can sync LeadPages with email marketing software, CRM solutions, and webinar platforms to automatically route all your leads in the right direction. This way, you can see much better efficiency in your sales funnel.
Pricing
You can use Leadpages free for 14 days. After that, we can say it's rather affordable, especially in comparison with some of the other landing page optimization tools that offer such a comprehensive feature set.
Their most popular plan is 'Pro', where you can build landing pages for up to 3 websites, with payment support and notifications for every lead collected.
You also get more than 40 integrations, unlimited A/B testing, and user support over chat and email.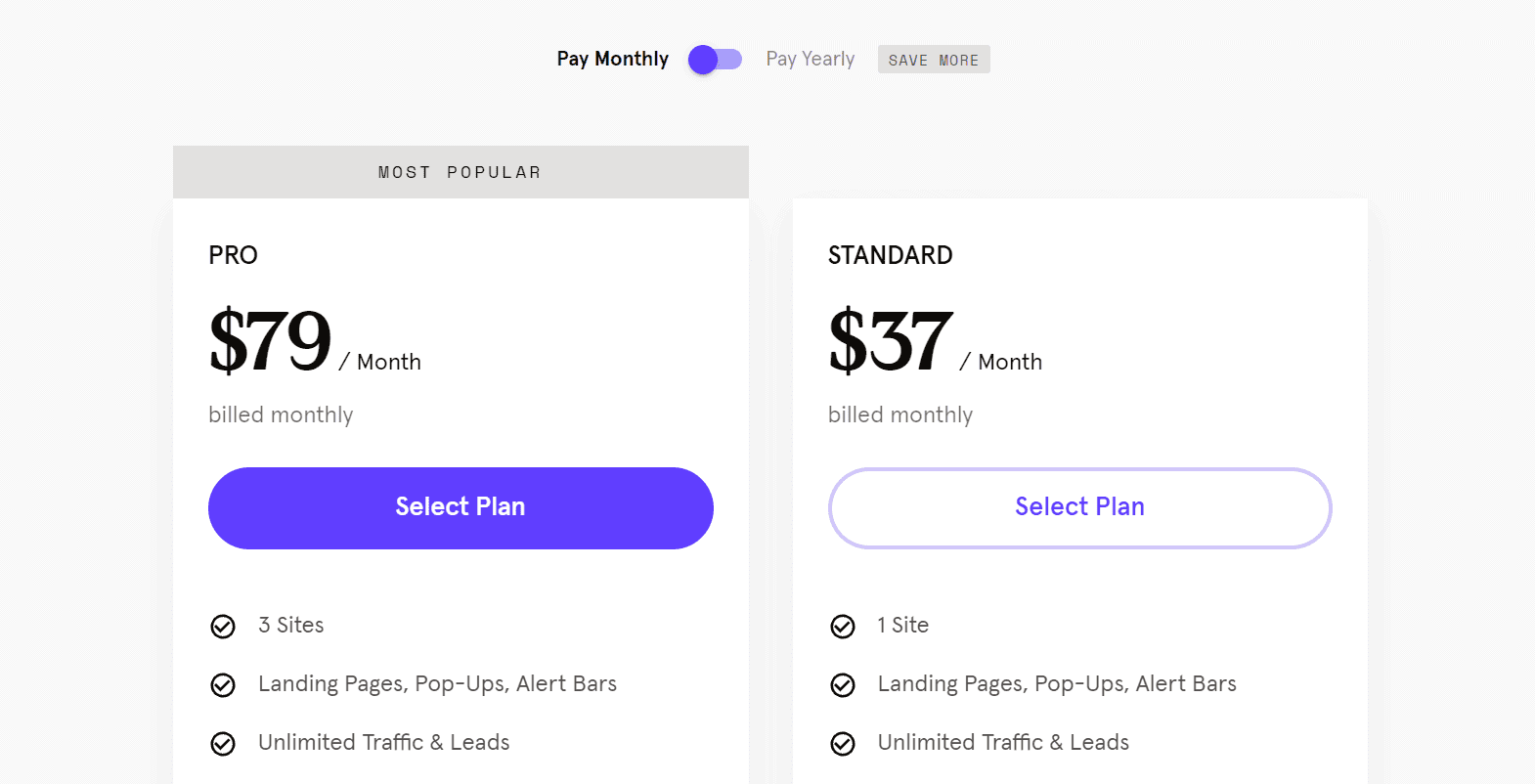 Read also: 10 Customer Service Email Templates for New CRM Users
Unbounce is another landing page optimization tool that we recommend.
No matter if you are an entrepreneur, small business, or large enterprise, Unbounce's drag and drop builder makes it easy to create high-converting landing pages without any technical knowledge.
You can use the platform to build landing pages that convert, optimize your sales funnel, and work as a lead magnet.
You can use the editor to build landing pages for your marketing funnel, webinar registration, or product launch. Unbounce also helps you optimize your landing pages by testing various page layouts, colors, images, text, etc. to see which one performs the best.
The platform offers predesigned templates that you can tweak to suit your purposes. Additionally, Unbounce also lets you integrate pop-up forms with automated triggers for effective lead generation.
In addition to the great drag and drop features, they offer a decent A/B landing page testing tool and split testing option that is simple, intuitive, and easy to use.
Pricing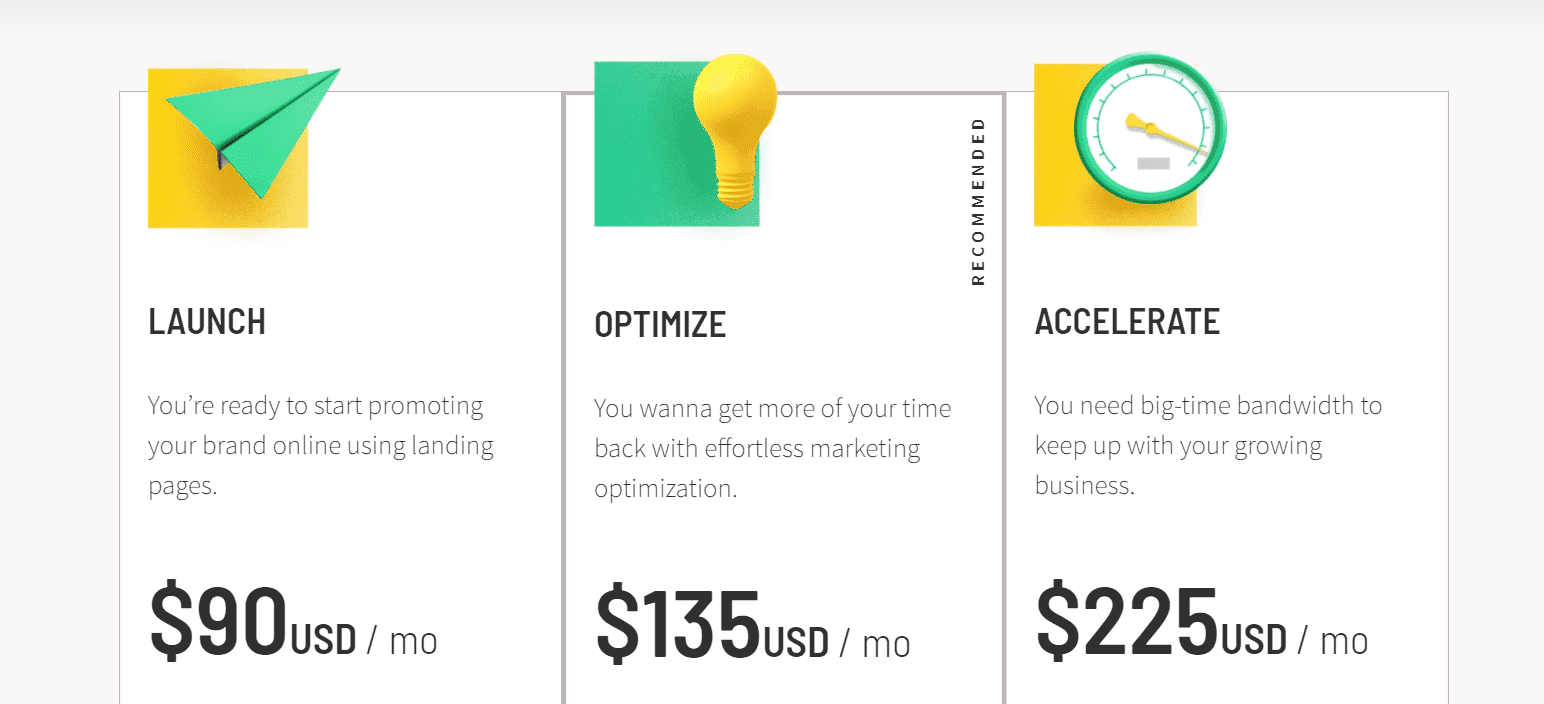 You can try Unbounce free for 14 days. After that, you have the option to select from three pricing plans for the landing page builder:
Launch – $90/month where you can track up to 500 conversions and 20,000 visitors.

Optimize – $135/month – 1,000 conversions and 30,000 visitors. You also get access to 5 custom domains

Accelerate – $225/month – 2,500 conversions, 50,000 visitors, and 10 domains
Unbounce also offers an AI copywriting tool that has a free forever plan that helps you write content for your landing pages, ads, and product descriptions.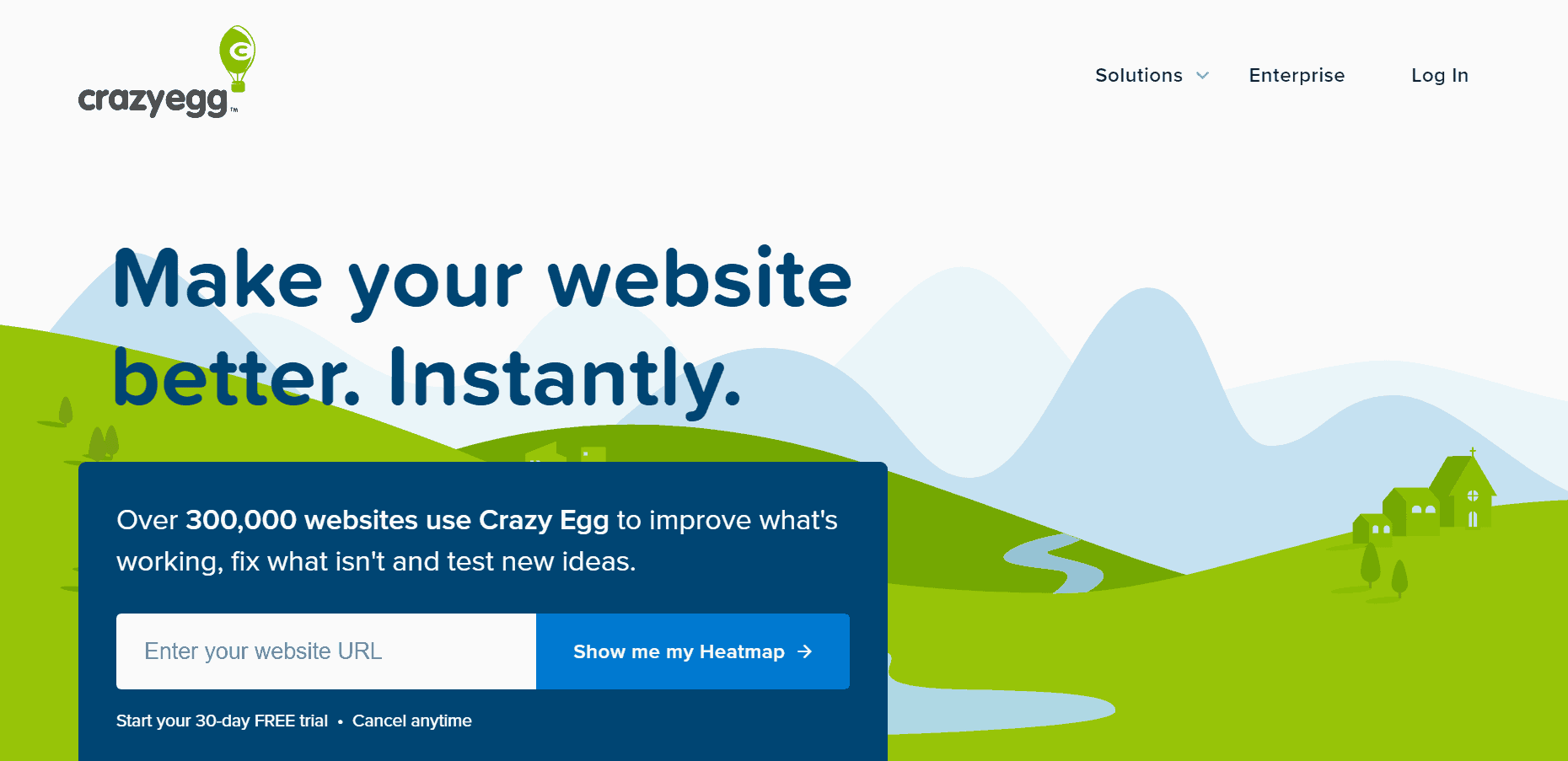 CrazyEgg is a comprehensive landing page optimization tool that can be used to streamline your marketing efforts.
Whether you want to increase your conversion rates, enhance the quality of your content and engage with more users, or test and expand upon new features — CrazyEgg provides you with the tools you need for success.

You can also use its platform to predict customer and visitor behavior, segment your audience into real-time customer profiles, and integrate with third-party apps.
CrazyEgg offers data visualization, heatmaps, and session recordings to enable you to better understand user intentions. It uses customer and visitor analysis to adapt to changing customer behavior to ensure that your landing page content is always relevant and timely.
You can also use its experimental features to test your targeted campaigns and analyze the elements that work for your landing page.
Pricing
CrazyEgg offers a free 30-day trial, after which you can choose from four pricing plans:
Basic: $24/month for 30,000 tracked pageviews, 100 session recordings, 25 snapshots

Standard: $49/mo for 75,000 tracked pageviews, 50 snapshots, and 500 recordings

Plus: $99/mo for 150,000 tracked pageviews, 75 snapshots, and 1000 recordings

Pro: $249/mo for 500,000 tracked pageviews, 100 snapshots, and 5000 recordings
There's also an Enterprise plan with custom pricing for advanced requirements.
Read also: Everything You Need to Know About Product Landing Pages
Conclusion
Your landing page is an important component of your marketing campaign. It needs to be mobile responsive and optimized for conversions because that's where all your customers visit.

The real goal of a landing page is to draw and retain attention; smart marketers take advantage of landing pages to be creative and reach audiences in innovative ways, with high-impact, well-tested elements.
By optimizing landing pages, we can increase conversion rates, lower the cost per customer acquisition, and reinvest more in organic content that gets revenue.
In this blog post, we detailed seven landing page optimization tools, and all of them are wonderful to begin your marketing campaigns with.
We would like to state that these tools, as helpful as they may be, are not a substitute for qualitative research. Successful marketing campaigns need a mix of strategies to be effective. However, they can help us better focus our efforts on improving each landing page for the highest ROI.
Most landing page optimization tools are free to use initially, but if you need advanced optimization features, they can get expensive. The exception is EngageBay.
This all-in-one marketing software offers a wide range of landing page optimization tools, and you can use this software for as little as $1 a day. Just create an account and start building great landing pages!