Customer relationship management software or CRM is a reliable tool for salespeople, marketers, and customer service reps, yet its application extends beyond those job roles.
CRM for mortgage professionals is a great example.
The mortgage industry is incredibly competitive. In fact, it's one of the most cutthroat industries out there. And if you want to succeed in this business, you need a way to keep track of your clients and prospects at all times.
You may have heard about CRM software for other businesses but never thought that it could be useful for loan officers like yourself. However, we can assure you that loan officers need CRM just like any other professional in other industry verticals.
As a loan officer, you may struggle with managing your current workload and trying to grow your client base. With the right CRM, you can win back time and close more deals.
In today's article, we'll detail mortgage CRM by explaining key CRM features and benefits.
We'll also share tips on how to choose a mortgage planner CRM so you can find software that gels best with your needs.
But first, basics.
What Is a Mortgage CRM?
Mortgage CRM software is designed to automate the tasks that hog up the most time of loan officers and other mortgage professionals. From managing clients to following up with partners and tracking deals in progress, with the right CRM, you can do it all.
Rather than sit with mountains of paperwork on your desk that grow ever taller, with CRM for mortgage brokers, you can create digital copies of all your most pertinent paperwork. You can also go back and easily reference these documents anytime without having to sift through files.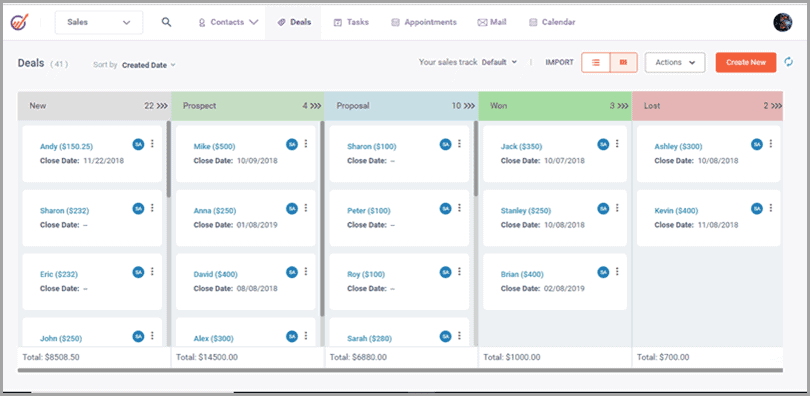 Through CRM, you'll also feel like you have an eye on all your clients. You can monitor their activity in real-time and receive alerts notifying you of what you should do next to guide them through the sales funnels. By automating email follow-ups, meeting scheduling, and more, you're always ready for that next step with a client.
In integrating with many of the software solutions your mortgage company already uses, CRM for mortgage loan officers is easy to add to your daily work routine.
What Are the Benefits of Using a Mortgage CRM?
Although CRM software is another expense of many to add to your mortgage company's overall operations, this one is worth your while. Here are some of the benefits loan officers can enjoy through CRM.
Builds Client Trust
When a person decides they want to buy a home, this is one of the biggest decisions they'll ever make in their lives. All the professionals they work with from the early stages of browsing homes to signing a mortgage must be trusted professionals.
Mortgage broker CRM allows you to better serve your clients.
You'll have all their most pertinent details at the ready anytime you get a call from a client, which will foster their trust in you. They'll learn that they can rely on you for the questions and difficulties they may have in this part of the home-buying process.
Having strong client relationships can benefit you in so many ways. Your clients will remember you and can refer you to other friends or family they know who are interested in buying a house.
Happy customers will also gladly take the time to review your services, leaving you glowing testimonials that can net you even more customers!
Better Compliance and Less Human Error
Your company's compliance risk also drops by using mortgage CRM. Through automation and more efficient and briefer processes, your rate of human error goes down. This keeps you in compliance and prevents detrimental numbers flubbing.
Cost and Time Savings
Who doesn't want to save time and money? It doesn't matter your industry or niche; anyone would say yes.
We talked earlier about the automation features of mortgage CRM software, but we were only scratching the surface. Rather than having to spend time on the phone or sending email after email to confirm appointments, your CRM can automate appointment scheduling.
You can automate follow-up emails, as we mentioned before, so it's like you're at your desk to respond to clients 24/7. CRM can segment customers for you, such as young first-time homebuyers versus second or third-time home buyers in their 40s or 50s.
Okay, but how do you save cash with a CRM? Through reducing instances of mortgage fraud.
Even the most experienced loan officers sometimes can't sniff out a bad deal until it's too late. What's worse is that mortgage fraud is becoming more common than ever in 2021, says Tim & Julie Harris Real Estate Coaching.
Their site mentions a stat from CoreLogic. In the first quarter of 2021, CoreLogic found, mortgage fraud went up by 11.9 percent. That's dangerously high!
Mortgage fraud can be very detrimental for loan officers and their companies. With CRM, you can use risk management calculations to determine buyer risk before giving them a loan. This can reduce instances of fraud.
Consistency and Productivity
The process of receiving a loan request and granting it will never be completely consistent due to outside variables such as processing times, collecting relevant documentation, and more. Yet mortgage CRM software can introduce more consistency to the process, and that makes quite a difference!
When a loan officer has a general idea of what their workflow will be like for the day, it becomes far easier for them to close more deals. This, in turn, enhances productivity.
With less downtime between receiving a loan application and that application being processed, more customers might choose your mortgage company because of your turnaround times.
Predictive Reporting
The analytics of mortgage planner CRM is among the top reasons it's so valuable for loan officers. The frequent reports the CRM produces will showcase more than just earned income but paint a clearer picture of what your loan officers are doing right and wrong.
As the reports identify room for improvement and you make those changes, your loan processes will become smoother. This is another great way to keep your clients happy.
What Can CRM for Mortgage Do?
What specific features might you find in mortgage CRM software? Here are the functionalities that loan officers will use daily.
Cloud Portal
The online cloud portal is for uploading pertinent forms that your clients can then download and fill out with no need to print. This saves paper above all, but your clients will also enjoy saved time and ease of use.
Many mortgage CRMs have a mobile component as well so your clients can fetch the documents they need through the cloud all while on the go. House deals can progress at any point, after all, even when your customers are at work or are otherwise away.
Rather than wait for them to get home and sign the paperwork, which delays the deal by hours, you can keep the pace moving swiftly along for your clients
Social Media Features
Everything and everyone is on social media these days, and that includes your CRM software as well. In between customer loan applications, you can check your mortgage CRM for mentions of your company on social media platforms.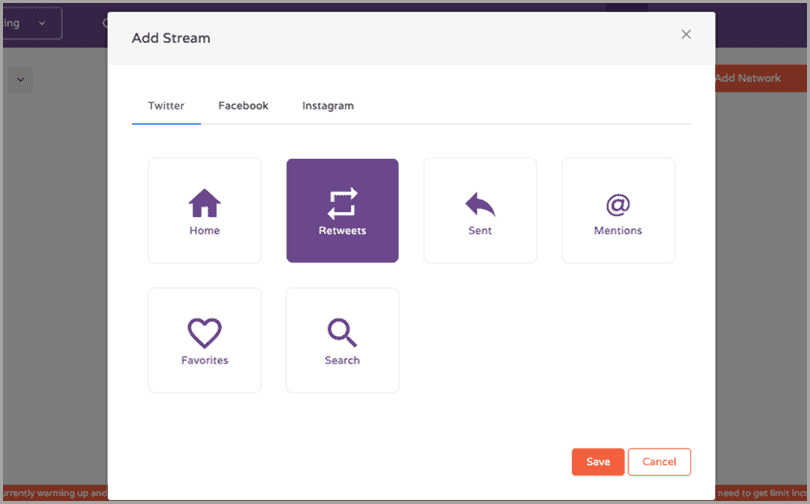 Your CRM will cherry-pick these references on platforms such as Facebook, Twitter, LinkedIn, and more. You'll be able to quickly see what your customers are saying about you, good and bad.
Your company might then decide to implement changes based on this feedback. For instance, if your customers are complaining that their requests aren't being handled expediently enough, you might tweak your automated workflow within your CRM to increase loan processing without sacrificing accuracy.
Integrations
Your mortgage company is likely heavily reliant on a handful of software applications. You could log into one program after another throughout your day depending on which part of the loan process you're in.
You have to wait for the software to load, log in, do what's necessary within the software, log out, and then log into another software. These tasks chew up more of your day than you realize!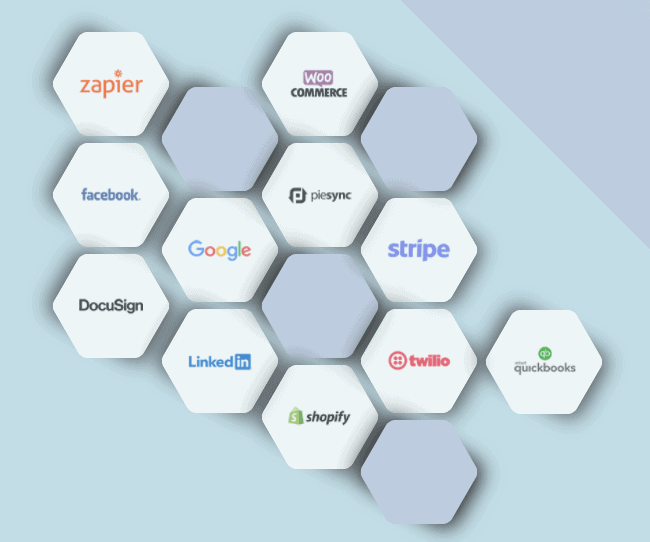 When you can integrate more of your daily software solutions with your CRM, you'll win back hours per week. You'll only sign into the CRM and then you can access your favorite email platform, your social media tools, your eCommerce app, and any other software your mortgage company needs.
Contact and Loan Management
It used to be that to track clients and their current loan status, you had to sift through huge stacks of paperwork. Now everything can be digitized in your CRM for mortgage loan officers.
Many CRM solutions let you import your preexisting contact lists from programs such as Microsoft Excel. You'll have all the pertinent details on your active and past clients in one convenient place, including their contact information and their current loan status.
As you and your fellow loan officers interact with the client, your CRM can log these interactions, including by phone, email, or even in person. This will require the loan officer to take notes and add them to a customer's file.
Having this information is handy for other loan officers who might work with the same client. They can quickly review the information on the client and determine where in the loan process this client is.
Tracking the loan process from its beginning stages until it's eventually closed is easy within CRM, as data is synchronized in real-time.
Drip Marketing Campaigns
As a mortgage company, having an outreach program is integral if you want to increase your leads among your customer base. The best way to send drip emails as part of that campaign is through CRM.
Your mortgage CRM software can help you personalize your emails using the contact information of the clients already within the system. You can rely on email templates or build your own emails with drag and drop features.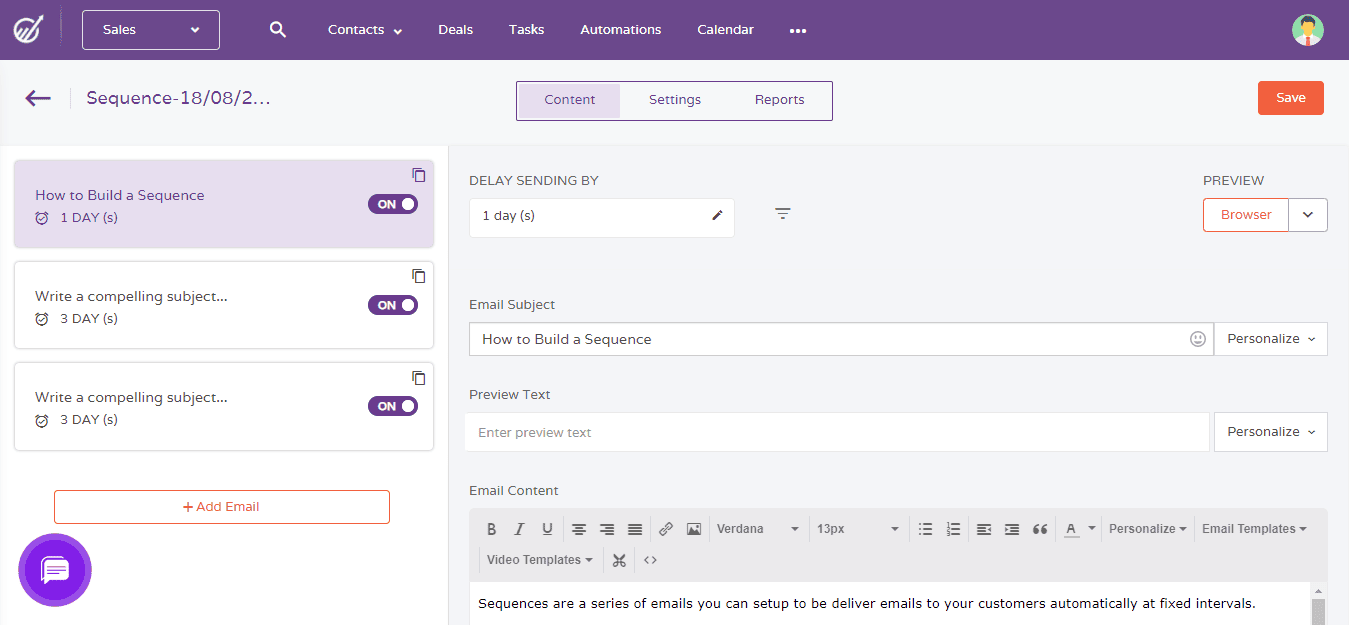 As you'll recall, CRM can segment leads so you can determine which portions of your audience will receive which emails. Once you write your emails, you can schedule them or automate them being sent right then and there. You can also automate follow-up emails to keep the drip campaign moving.
Scalability
Companies tend to outgrow some software solutions as they add more staff and/or customers. Yet the problem with outgrowing the software you use is that you have to spend time researching new software, downloading trials, and determining if this software is for you.
With CRM for mortgage professionals, your software will be scalable enough that you can use the same solution for years even if you experience significant growth.
How to Choose the Right Mortgage CRM
Your mortgage company has decided to purchase CRM. You're in the early stages of researching your options, but how do you choose the best one? Here are some pointers.
Know What You Want
Perhaps your mortgage company decides to start with the CRM features we discussed today, or you decide that you'd rather have others. No matter which features will help your company achieve more of its goals, the CRM you choose must have them all available.
Take Advantage of Free Trials
Free trials or demos are there for you to decide firsthand whether the CRM is the right fit. You can often download a demo for at least a week, sometimes twice that. Take the time to use every feature, especially the ones that will be part of your daily routine as a loan officer.
Choose Software That's Easy to Use
This tip may seem like a no-brainer, but you'd be surprised! Some companies get lured in by low prices or plentiful features and are willing to ignore the fact that their CRM is clunky or confusing.
If you and your team can't easily use the CRM, then all the time-savings benefits we discussed earlier are as good as gone!
Check That It Integrates with Software You Use
You know the tools that are a part of your routine as a mortgage lender. Before you commit to a CRM, double-check that it has as many relevant integrations as possible.
After all, it's great when a CRM solution integrates with Zapier or WordPress or Mailchimp, but if you don't use those tools, then who cares? These integrations won't help you at all.
Have a Budget
Throughout all this, you and your team must have a CRM budget. Then try to stick within that budget, which is sometimes easier said than done. All it takes is some cursory research to discover that a lot of CRM software solutions are quite expensive!
What is the best mortgage CRM? That has to be EngageBay without a doubt. Theirs is a free CRM with features such as appointment scheduling, task management, visual pipelines, contact management, and marketing.
Conclusion
Loan officers spend hours on the phone each day. A lot of this communication and documentation is time-consuming and repetitive.
You can use CRM software like EngageBay to automate daily tasks, reduce human error, boost the loan processing rates, and enhance customer satisfaction.

This will give you an edge over the competition and help grow your bottom line.
The mortgage industry is a competitive one. Not only are you competing with other lenders, but also with real estate agents and title companies for your client's business.
Our free integrated CRM will give your mortgage company the tools you need to shift gears.
EngageBay provides a powerful CRM software that helps close deals faster while reducing costs associated with manual tasks like lead management, follow-up emails, appointment scheduling, and much more!
For as little as your daily coffee spend, you can use a tool that can transform your business.
Sign up today!