Are you a sales professional? Do you spend copious amounts of time on mundane, repetitive tasks? Well, you are not alone.
Studies have shown that, on average, sales representatives spend two-thirds of their time on non-sales activities. Tasks such as sending emails, scheduling meetings, data entry, and prospecting leads take up the majority of a salesperson's workday.
Consequently, they end up spending fewer hours on sales-related activities.
However, the use of sales automation software automates the administrative tasks involved, allowing sales reps to focus more on nurturing leads and delighting customers.
In essence, sales automation tools help streamline the entire sales cycle so that you and your sales team worry less about manual tasks and focus more on maximizing revenue.
This article will discuss the top seven sales automation tools to help you close more deals and boost revenue.
7 Sales Automation Tools That Will Help You Close Deals Faster
Our list of sales tools is not comprehensive and does not have any ranking.
That said, every software listed here has its own pros and cons, and you need to evaluate what fits your business requirements best.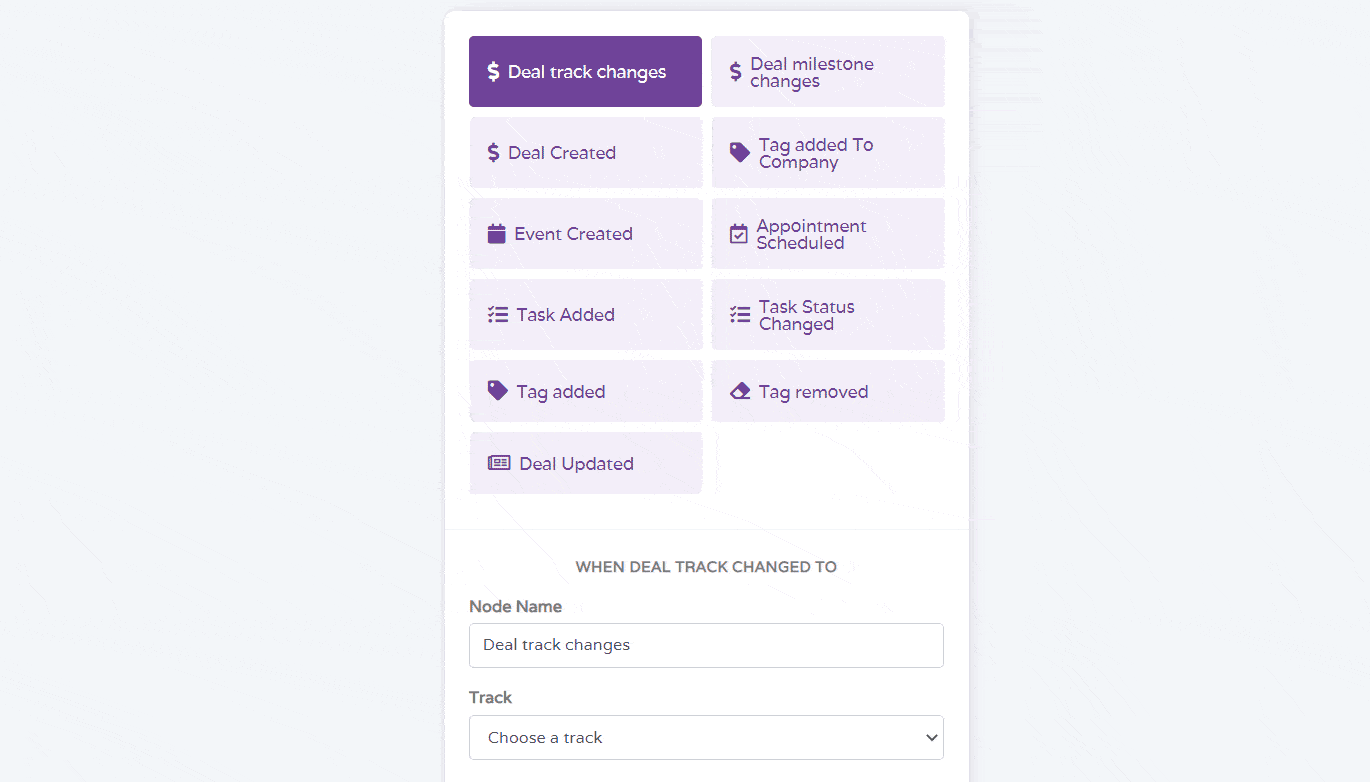 Launched in 2017, EngageBay continues to delight its customers with its powerful sales automation software. Some of its key sales automation features include appointment scheduling, email tracking of your leads, call recording, and providing a 360-degree view of customer data.
EngageBay also helps you segregate your audience based on their behavior, persona, and lead score, enabling you to run targeted campaigns.
Furthermore, it automates the process of communicating with your clients right from the initial contact to payment. This way, your sales and marketing team are aware of their target audience and which stage of the sales pipeline they are in.
Pros
Easy to use and rich interface

Quick and efficient customer service

Customizable according to business needs
Cons
Lack of integration between the sales and marketing templates
Pricing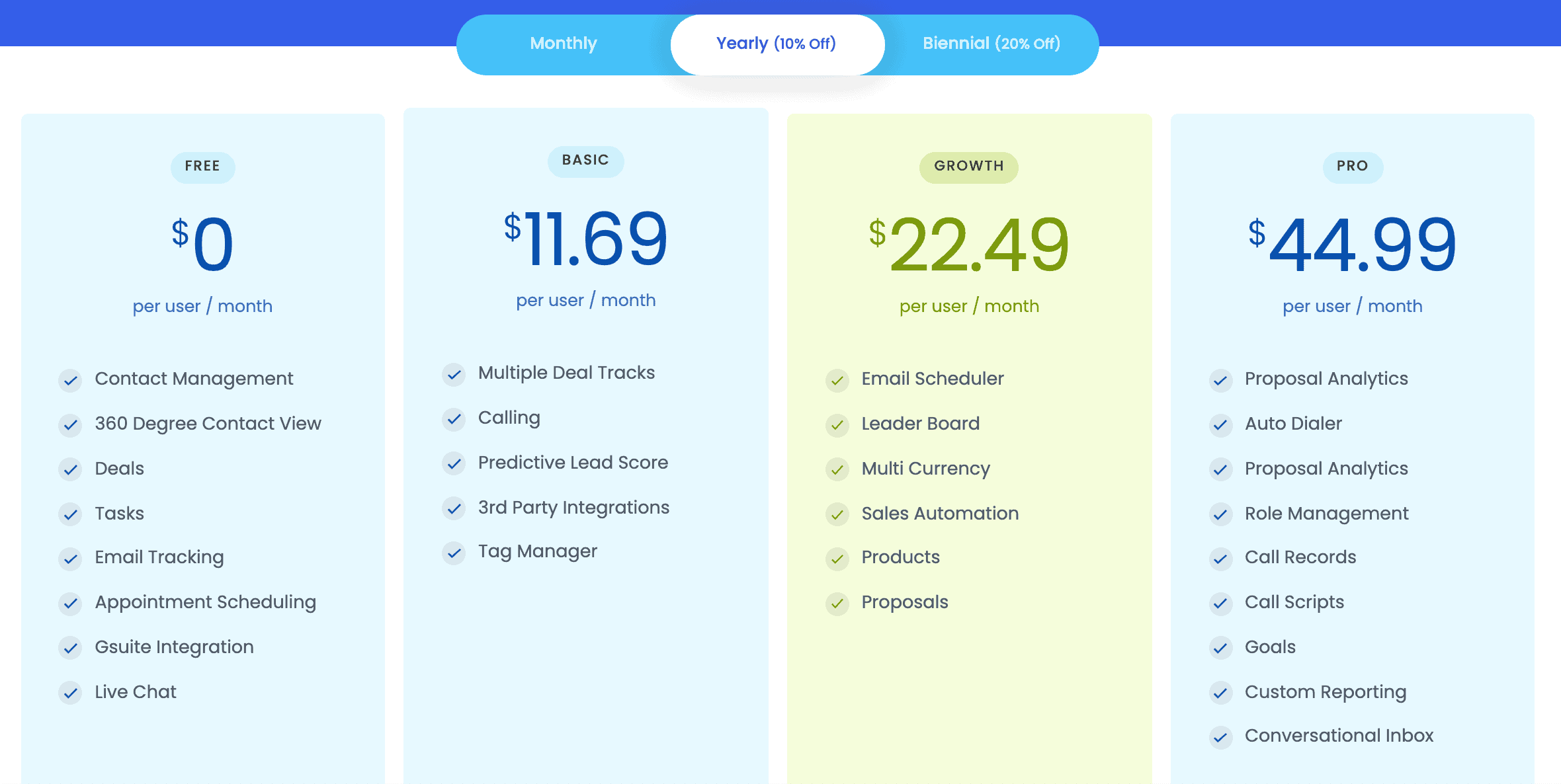 You can start off with a free trial of EngageBay's sales automation platform. The free trial boasts of features such as contact management, 360-degree contact view, email tracking, appointment scheduling, and live chat.
The Basic Plan is the cheapest of all the plans and starts at $11.69 per user per month. It includes key features like multiple deal tracking, tag management, and predictive lead scoring.
For growing businesses, the best option is its Growth Plan – priced at $22.49 per user per month. This plan offers services including email scheduling, leader scoreboard, and multi-currency.
The Pro Plan is the premium of all and costs $44.99 per user per month. It offers advanced functionalities like call recording, proposal analytics, custom reporting, and auto dialing, for better outreach campaigns.
Read also: The Sales Automation Process – All You Need to Know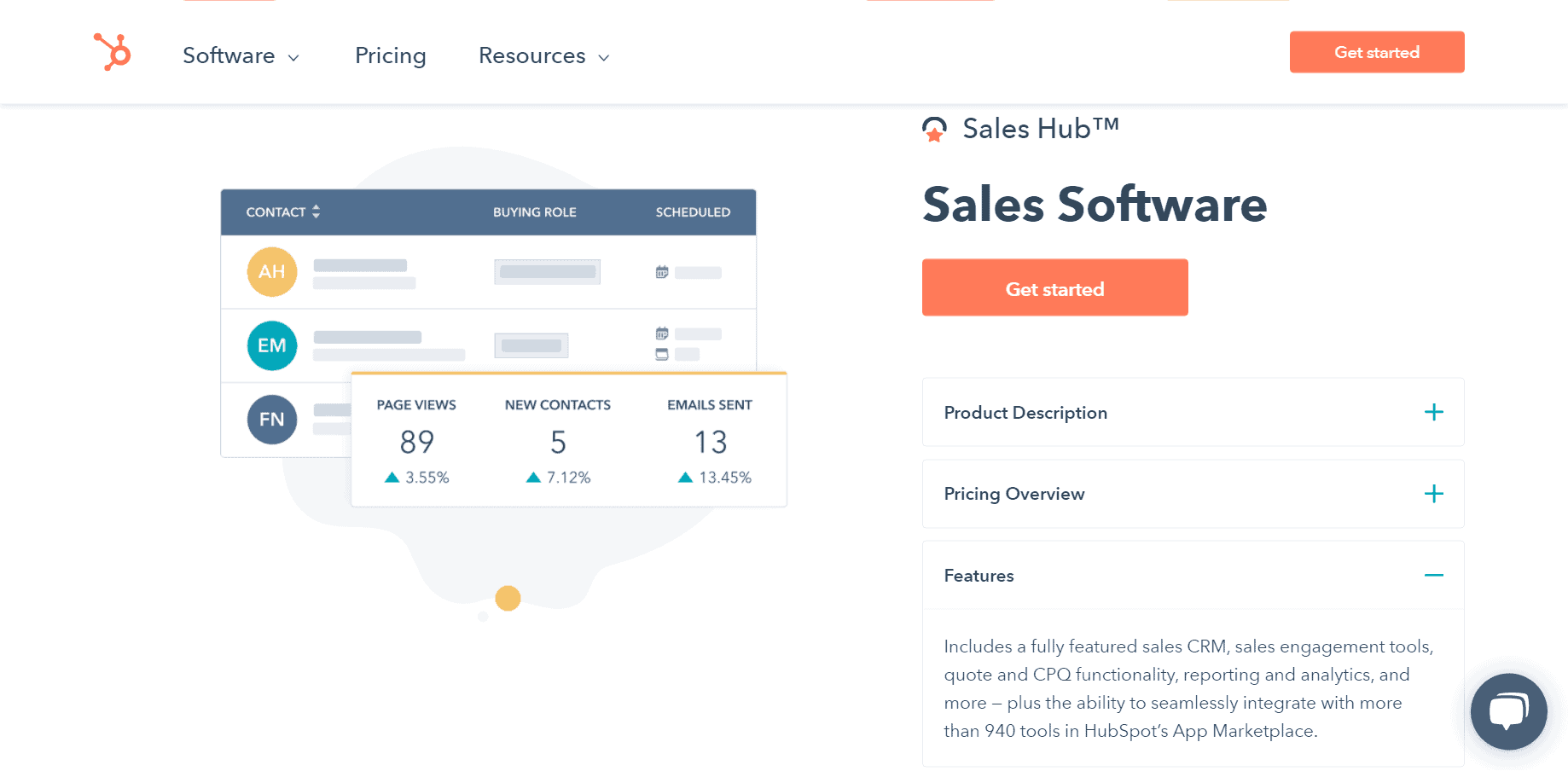 The HubSpot Sales Hub is an all-in-one sales automation platform that comes integrated with a CRM along with CPQ functionality, sales engagement tools, and a reporting and analytics feature.
With HubSpot, you can personalize emails sent to customers and add follow-up tasks for each prospect.
In addition, you can create workflows for new deals, automate your lead nurturing process, and send automatic follow-up reminders to ensure that no leads fall through the crack.
Pros
Customize templates according to customer groups

Provides real-time reporting on sales activities
Cons
Contact list updating affected by frequent glitches

Limited access to certain functions that administrators can only perform
Pricing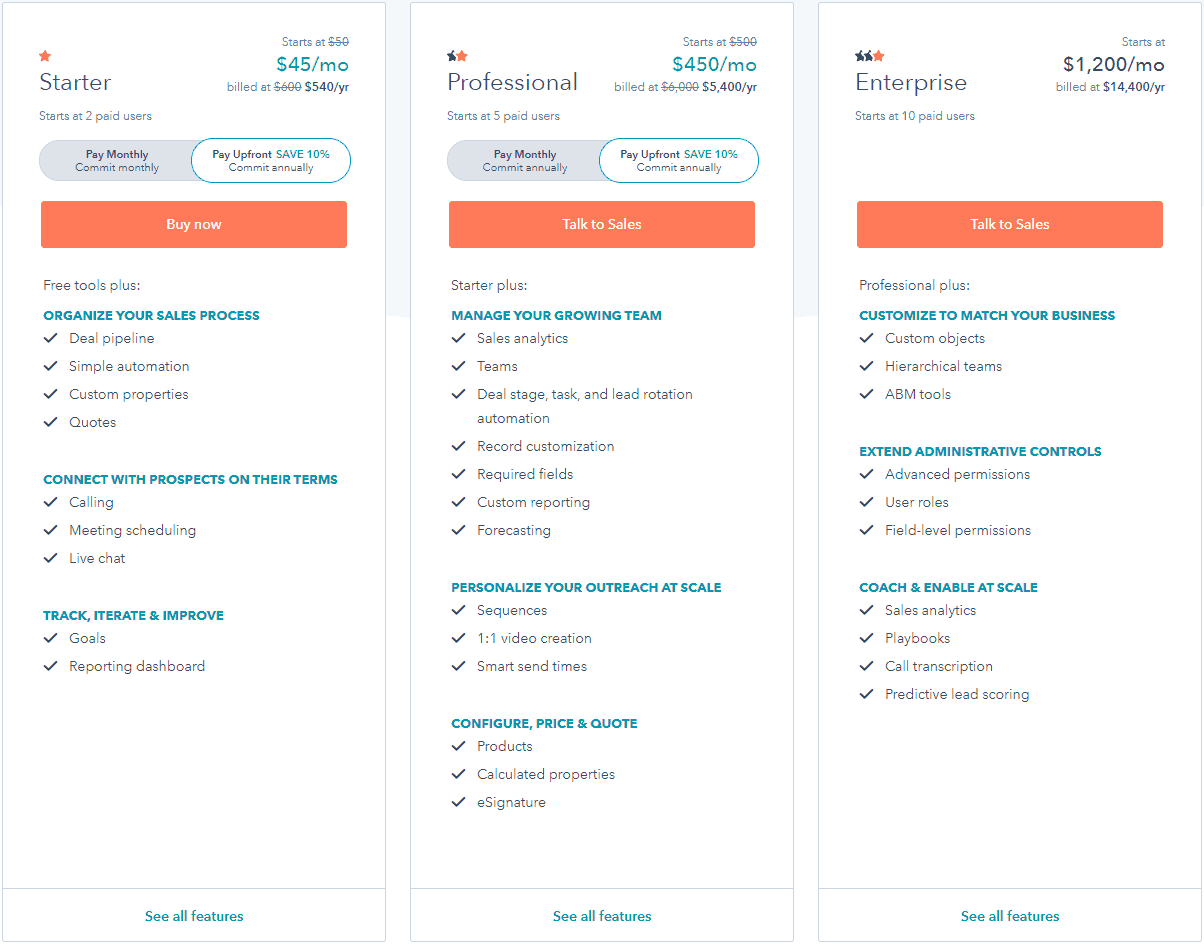 The HubSpot Sales Hub starts off with the Starter Plan. This plan costs $45 per user per month and includes two paid users. With the Starter Plan, you have access to functions like live chat, meeting scheduling, conversation routing, task queueing, and so on.
With the Professional Plan, you can access additional features like sales reporting and forecasting, one-on-one video messaging, and digital signatures. It starts at $450 per user per month with five paid users.
The Enterprise Plan is for expanding businesses and costs $1,200 per user per month. This plan includes ten paid users with features like object customization, predictive lead scoring, and conversation intelligence.

Copper is one of the best sales automation platforms for small businesses. This is because, with Copper, you can simplify seemingly complex sales processes with its drag-and-drop pipelines.
This sales automation platform allows your sales teams to create different stages by business lines, create tasks, automate follow-up emails, record all sales tasks, and get real-time insights on your team's performance.
Moreover, it comes integrated with G Suite, saving your sales professionals time which is otherwise spent on copying and pasting large volumes of data.
Pros
Affordably priced

Easy to use
Cons
Frequent glitches affect the functioning

Difficult to extract data using filters
Pricing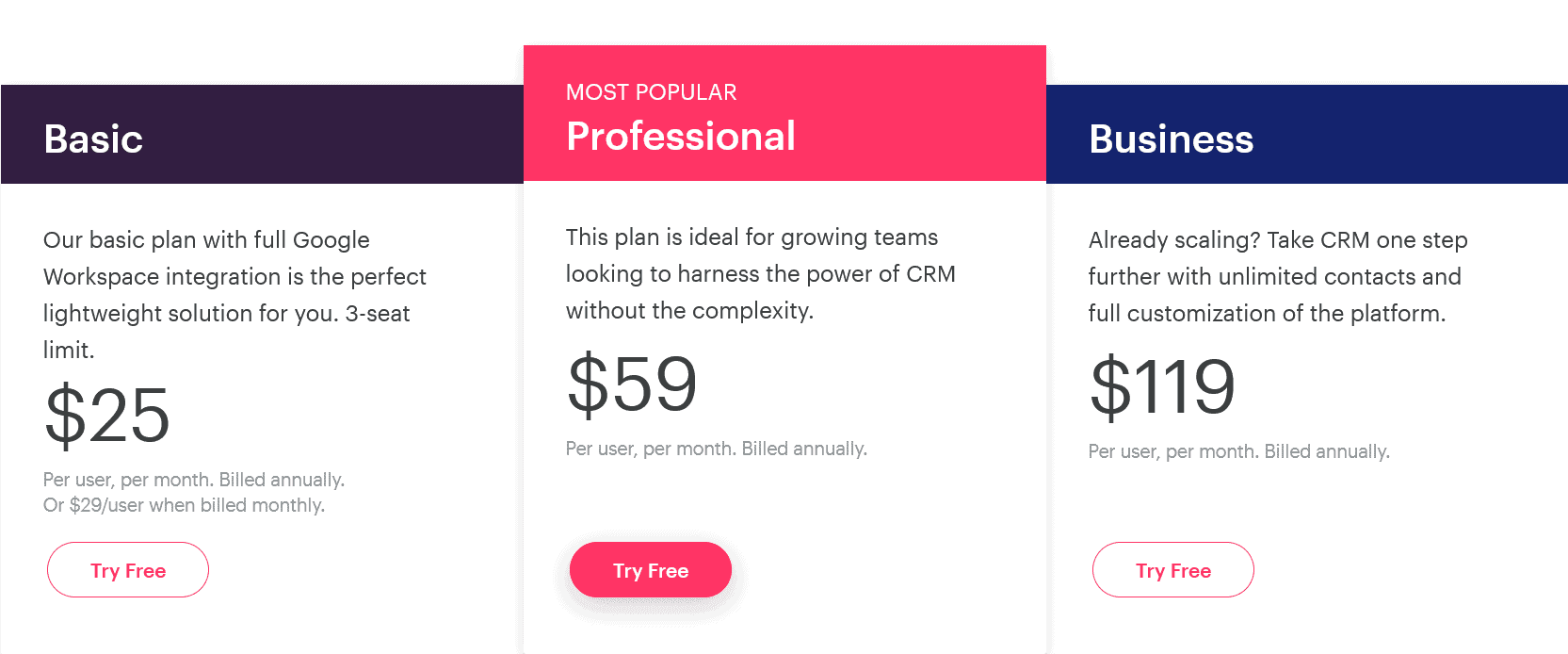 Users have access to a 14-day free trial without providing credit card details.
Copper's Basic Plan is the lowest-priced plan that starts at $25 per user per month. The Basic Plan consists of features like contact enrichment, project management, single sign-on, and legacy reporting.
The Professional Plan is the most popular plan offered by Copper. With this plan, you can get complete G Suite integration, workflow automation, unlimited bulk email templates, custom dashboards, report sharing, and activity reporting.
Furthermore, the plan comes with additional third-party integrations such as DocuSign, Mailchimp, QuickBooks, Slack, and Helpdesk. The Professional Plan starts at $59 per user per month.
If you are looking to access unlimited contacts, the Business Plan is best suited to your needs. The Business Plan starts at $119 per user per month and boasts of integrations with LinkedIn, WordPress, Zapier, and Wix Forms.
It is accompanied by features like leaderboard, goal tracking, lead and sales insights, and email sequencing.

Are you looking for a sales automation platform that shortens your sales cycle? Freshsales is the best option for you.
Freshsales reduces the length of your sales process by finding the best deals using its AI-powered insights feature. As a sales rep, the AI-powered tool will only help you target leads with a high chance of conversion.
In addition, Freshsales helps you understand engagement with the Activity Timeline, provides seamless communication across phone, email, and SMS, improves revenue forecasting, and gives a 360-degree customer view.
Pros
Better targeting of consumers

Customizable according to business needs
Cons
Migration of data is a time-consuming process

Inefficient customer service
Pricing
The Free Plan is accompanied by services such as contact and account management, 24*5 support, built-in chat, email, and phone, and contact lifecycle stages.
The Growth Plan starts at $5 per user per month and boasts of features like sales pipeline visualization, sales sequencing, product catalog, AI-powered predictive scoring, and customized dashboards and reporting.
For those looking to create multiple sales pipelines, the Pro Plan works best. This plan starts at $39 per user per month and offers additional features like time-based workflows, chat campaigns, WhatsApp business integration, and AI-powered deal insights.
Lastly, its Enterprise Plan is available for $69 per user per month with functionalities like auto-profile enrichment, audit logs, a dedicated account manager, and AI-powered forecasting. It is best suited for large companies with multiple product lines.

Keap's sales automation tool does not only help with lead follow-up but also provides information on customer behavior. With Keap, you can get knowledge of consumer preferences and their likeliness to purchase. This will help with effective targeting and conversion of leads.
Keap is integrated with Zapier, providing access to over 2,000 apps. It also sends follow-ups via text and email to potential clients, including updates on offers and promotions.
Pros
Provides affiliate conversion tracking

Provides detailed tutorials and case studies
Cons
More suitable for service-based companies than e-commerce firms

Not an intuitive software; steep learning curve
Pricing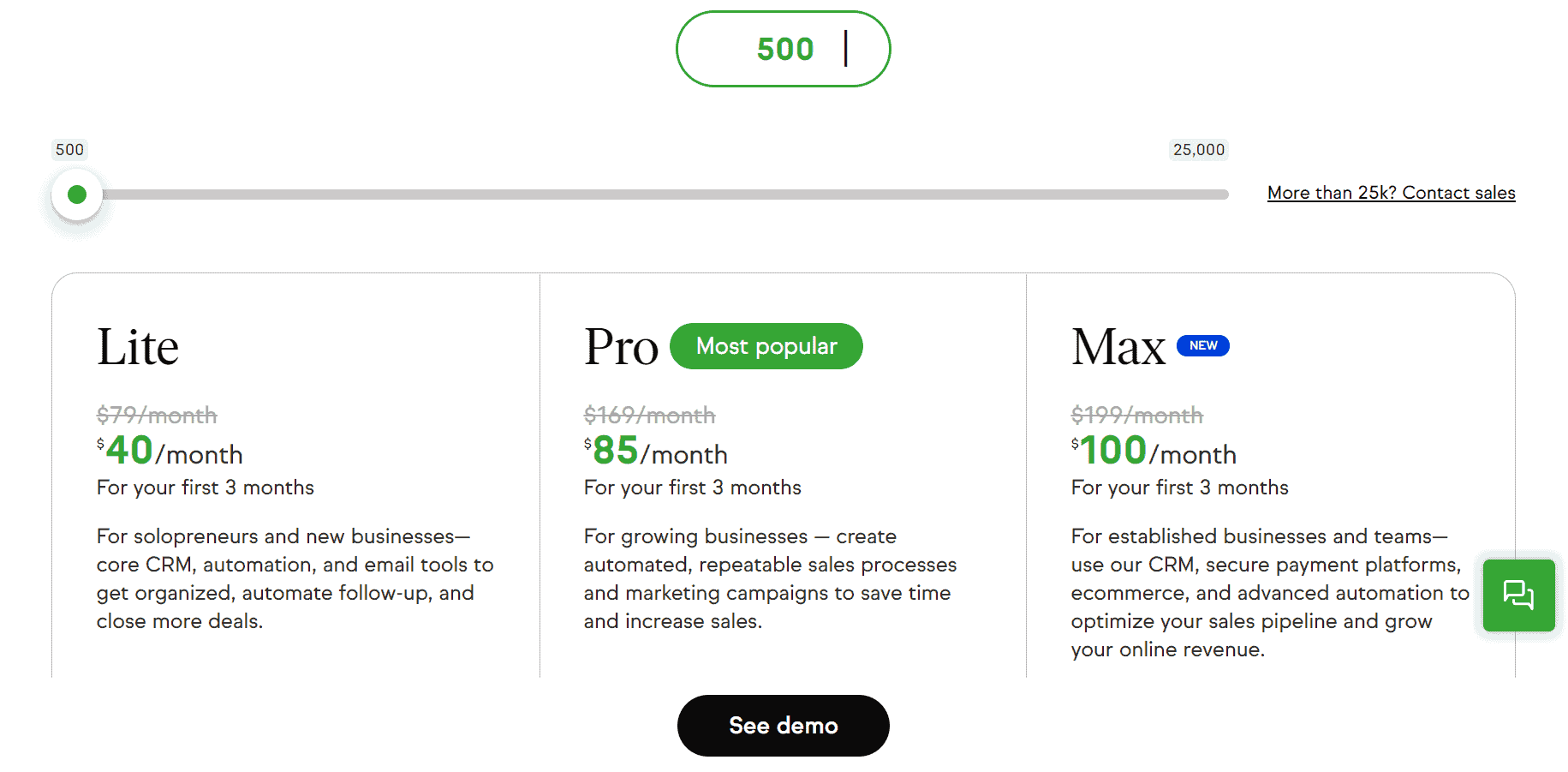 Keap provides three kinds of plans: Lite, Pro, and Max. All the plans include services like one-on-one coaching, 24*7 customer support, unlimited emails, a dedicated migration specialist, and on-demand strategy courses. However, users can take a 14-day free trial before purchasing a plan.
The most basic plan – Lite, costs $40 per user per month. It comes with features such as CRM, lead capture, email marketing, automated text messaging, and invoicing.
Pro Plan is the most popular of the three plans. It costs $85 per user per month and accompanies services including advanced automation, sales pipeline, reporting, A/B testing, and checkout forms.
For those looking for features like lead scoring, sales funnel, and marketing and engagement analytics, the Max Plan works best. The Max Plan, priced at $100 per user per month, also provides integration with Shopify.
The pricing of the above plans is for 500 contacts. Those who have more than 25,000 contacts can reach Keap's sales team for quotes.
Also read: What is Sales Planning? Tips & Downloadable Templates for Beginners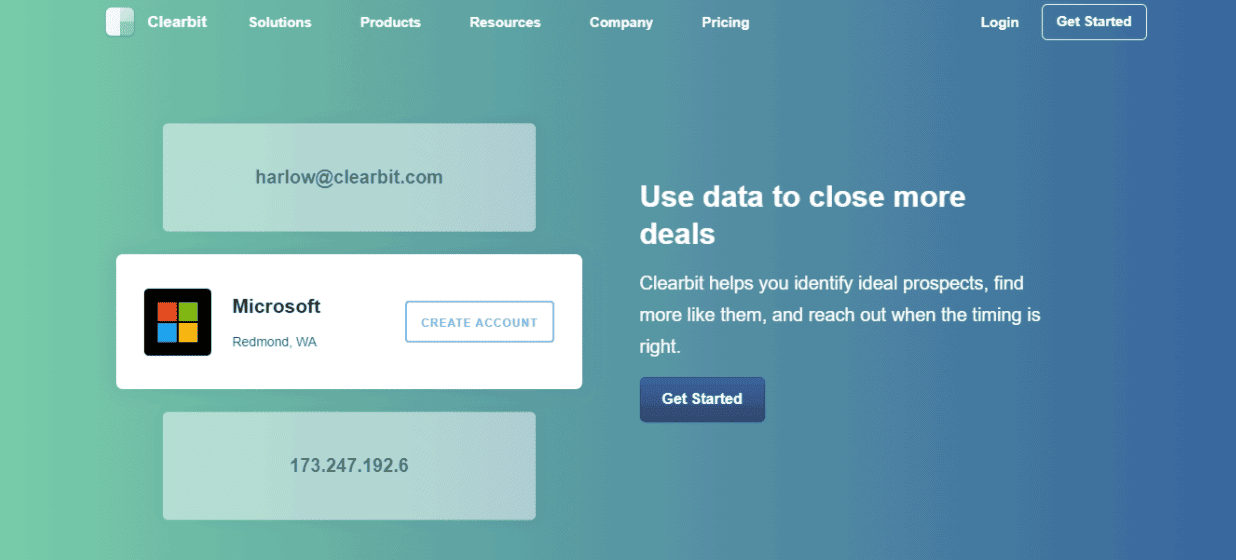 Clearbit not only helps in the automated updation of customer records but also helps you customize lead generation.
With Clearbit, you can have a better understanding of your intended audience as it helps you set parameters like industry, employee count, job title, and so on. These parameters help you reach your prospects faster and more efficiently.
Clearbit also helps you build targeted lists within minutes, gives real-time updates when key accounts visit your website and automate outbound emails. The platform is integrated with third-party applications like Zapier, Salesforce, Segment, and API.
Pros
Quick lead generation

Helps easily access lead information based on different parameters
Cons
Does not offer a free trial

Slow customer service
Pricing
While pricing plans are not available on Clearbit's website, businesses can contact the vendor directly and receive quotes as per requirements.
Read more: 17 Marketing Automation Workflows for Amazing Results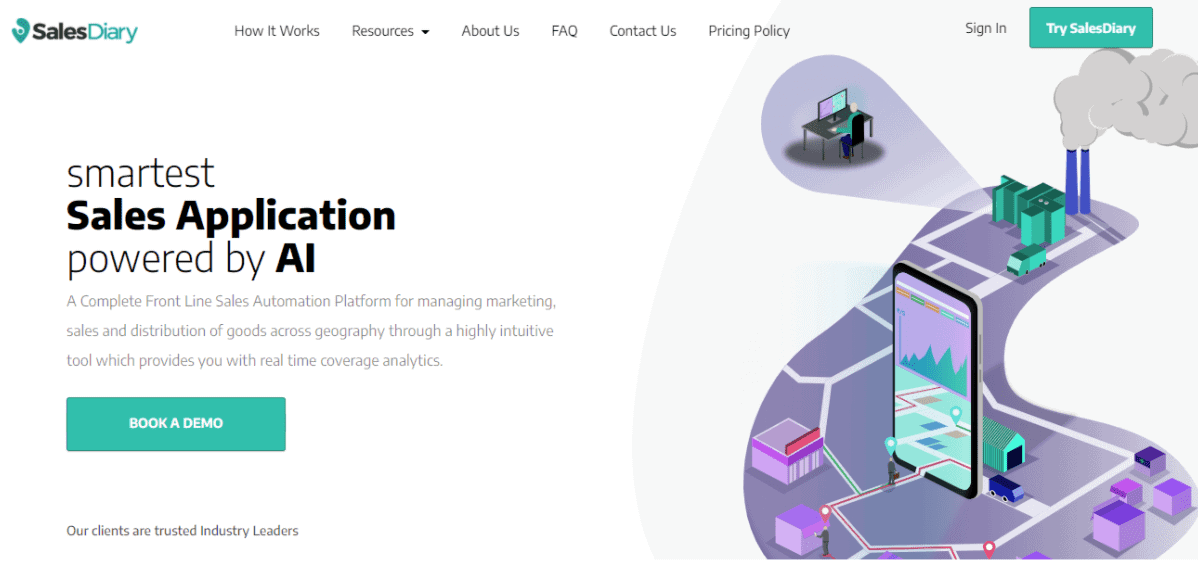 SalesDiary is a sales automation platform that provides solutions for all kinds of sales channels. From primary sales to secondary sales and modern trade, SalesDiary has solutions for all your sales needs.
The platform manages all your orders, payments, expenses, tracks inventory, and classifies prices and schemes, based on your business' potential.
Some of the key features of SalesDiary include AI-powered route management, competition analysis, on-spot billing, and customized pricing.
Pros
Simplifies approach towards repetitive tasks

Easy to navigate user interface

Provides real-time status updates on projects
Cons
Slow customer service

Limited number of features compared to other sales automation tools
Pricing
Details of SalesDiary's pricing can be found by contacting the vendors directly. Prices are customized according to the business' needs.
Read also: 6 Sales Forecasting Tools That Every Business Needs
Conclusion
Often, salespersons are so entangled in administrative tasks that they have very little time left to focus on sales-related activities.
With sales automation tools, sales professionals can say goodbye to worrying about drafting customer emails, following up on leads, and manually updating the list of prospects.
Sales automation systems take care of these tasks so that your sales team can work on their sales strategies and build strong client relationships.
If you want to know how EngageBay can help you grow your sales, just sign up for free and we'll get back to you for a product demo!
👉Discover the top 12 sales database tools and their best features to streamline your sales process! 🎯