As a business, what matters to you the most? Of course, your customers.
Without them, you won't be able to generate any revenue.
That's why it becomes more than necessary to track and convert your prospects into loyal customers.
And what better way to do than using a sales pipeline tool.
A sales pipeline management software helps you track your clients as they proceed through different stages during the buying process. In simple terms, it provides information on where your prospective clients are.
As a sales manager, it helps you determine whether their efforts are going in the right direction.
A sales pipeline tool has a lot of features to offer, including client interaction management, sending quotations, closing deals, and more.
To make it easy for you, we have listed the top nine sales pipeline software for your business that you can consider using.
9 Best Sales Pipeline Tools For Your Business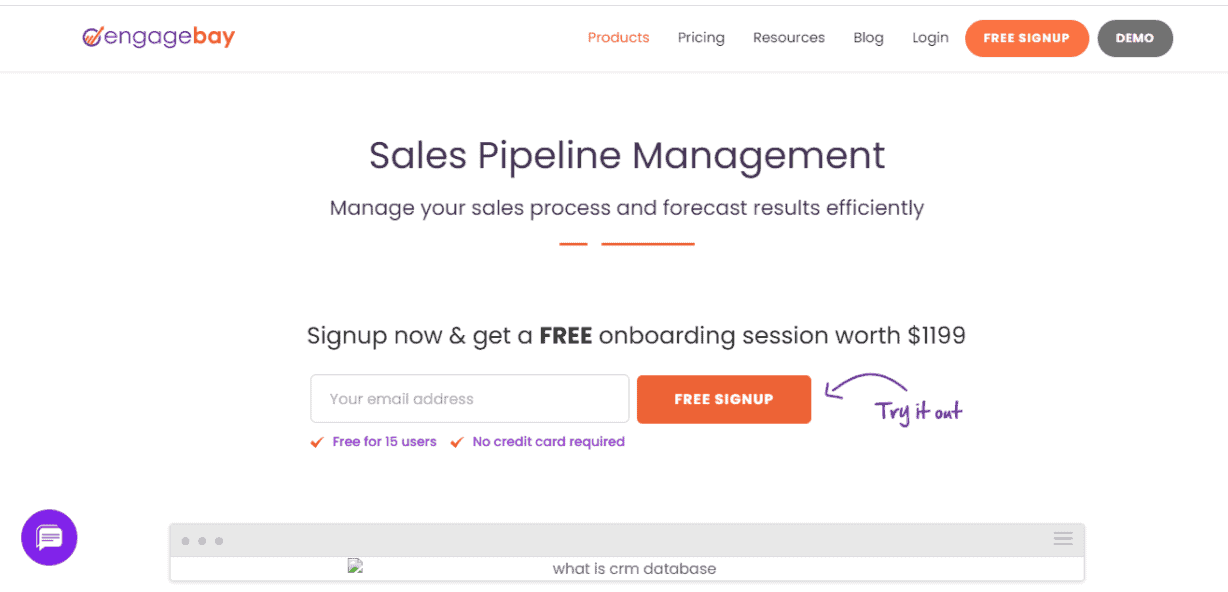 EngageBay is an all-in-one marketing and sales CRM system that is ideal for startups and small businesses. Companies using EngageBay for sales management have witnessed 5x more growth and generated more leads than before.
The key features of EngageBay include AB testing, audience targeting, auto-responding, activity tracking, ROI tracker, and predictive sales forecasting.
Using EngageBay, your sales team can quickly identify the number and type of leads interested in your brand. It can be done through services like location tracker, user interaction tracking, and identification of target accounts.
Pros
Fast, efficient, and easy to use

Built-in templates for sending interactive emails to customers

Coding option for landing pages and email templates

Automated follow-up reminders

Robust reporting dashboard

Super affordable
Cons
Email template library is not huge
Pricing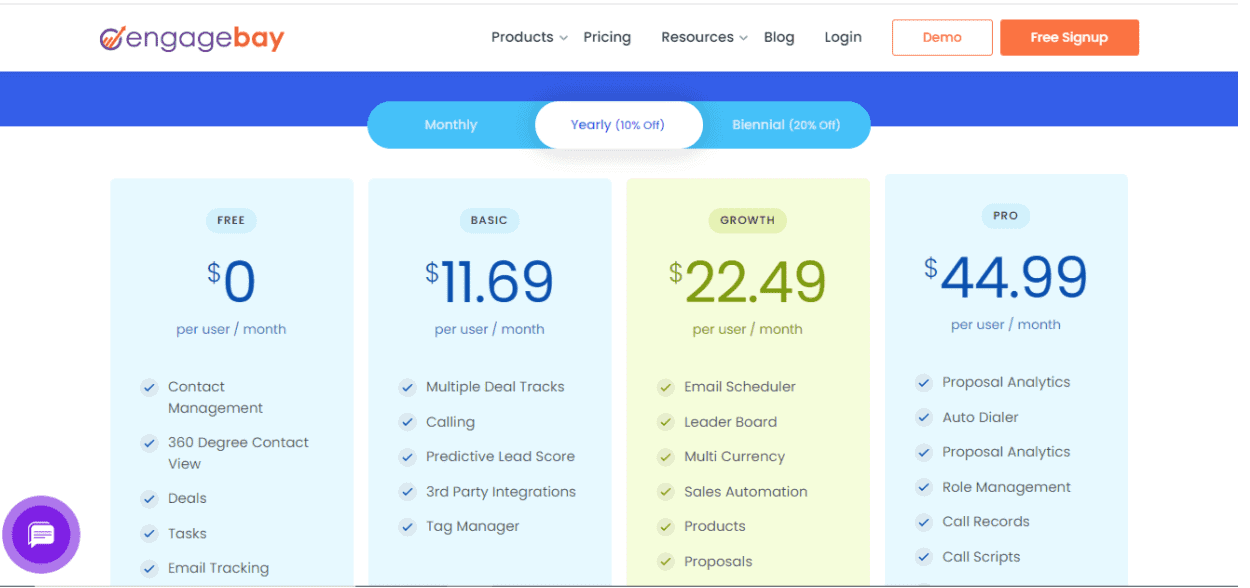 The Free trial offers contact management, 360-degree contact view, email tracking, task scheduling, GSuite integration, and live chat.
You can upgrade to the Basic Plan for $11.69 per user per month that offers additional features like multiple deal tracking, third-party integration, and predictive lead scoring.
Its Growth Plan, available for $22.49 per user per month, provides a leadership board, multi-currency feature, and sales automation.
For enterprises looking for advanced capabilities like call recording, performance analytics, and custom reporting can opt for its Pro Plan – starting at $44.99 per user per month.
Read also: 6 Sales Forecasting Tools That Every Business Needs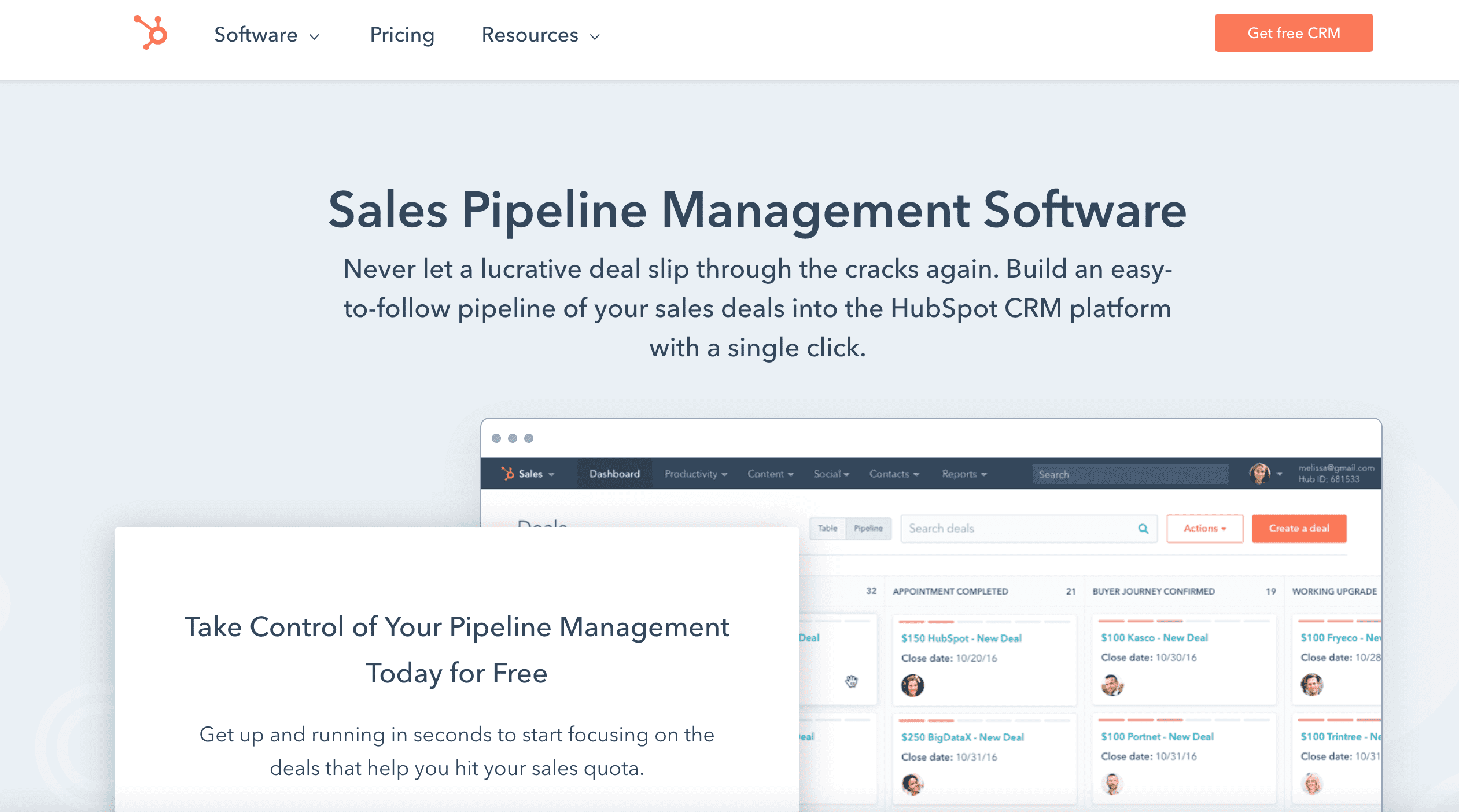 Are you searching for a sales pipeline software that tells you how and which activity generates maximum revenue? Then HubSpot is your best bet.
HubSpot's sales pipeline boasts of features like contact record automation, project management, daily outreach list generation, and revenue attribution. These characteristics are customized to each step in the sales pipeline process.
With the HubSpot sales dashboard, you can receive direct insights into individual and team performance, sales quota updates, and sales activity patterns.
Moreover, you can also get information on where you are generating maximum revenue so that your sales team can seal the right deals with the right team.
What's more, with HubSpot, say goodbye to manual data entry, as new deals can be added directly from contact and company records.
Pros
Ease of navigation

Starter plans are affordable
Cons
Merging of contacts is a difficult and time-consuming process

Can't customize your quotes

Advanced plans are very expensive
No opt-out of annual payment
Pricing

HubSpot offers three types of plans: Starter, Professional, and Enterprise.
Its Starter Plan, starting at $45 per month, offers services like conversation routing, multi-currency integration, email and live chat support, and more.
For expanding business, the Professional Plan works wonders. It provides features like automation of lead rotation and task management, one-on-one video messaging, eSignature, and phone calls.
The Enterprise Plan, starting at $1,200 per user per month, works best for hierarchical teams. It is accompanied by services such as conversation intelligence, predictive lead scoring, and sales analytics.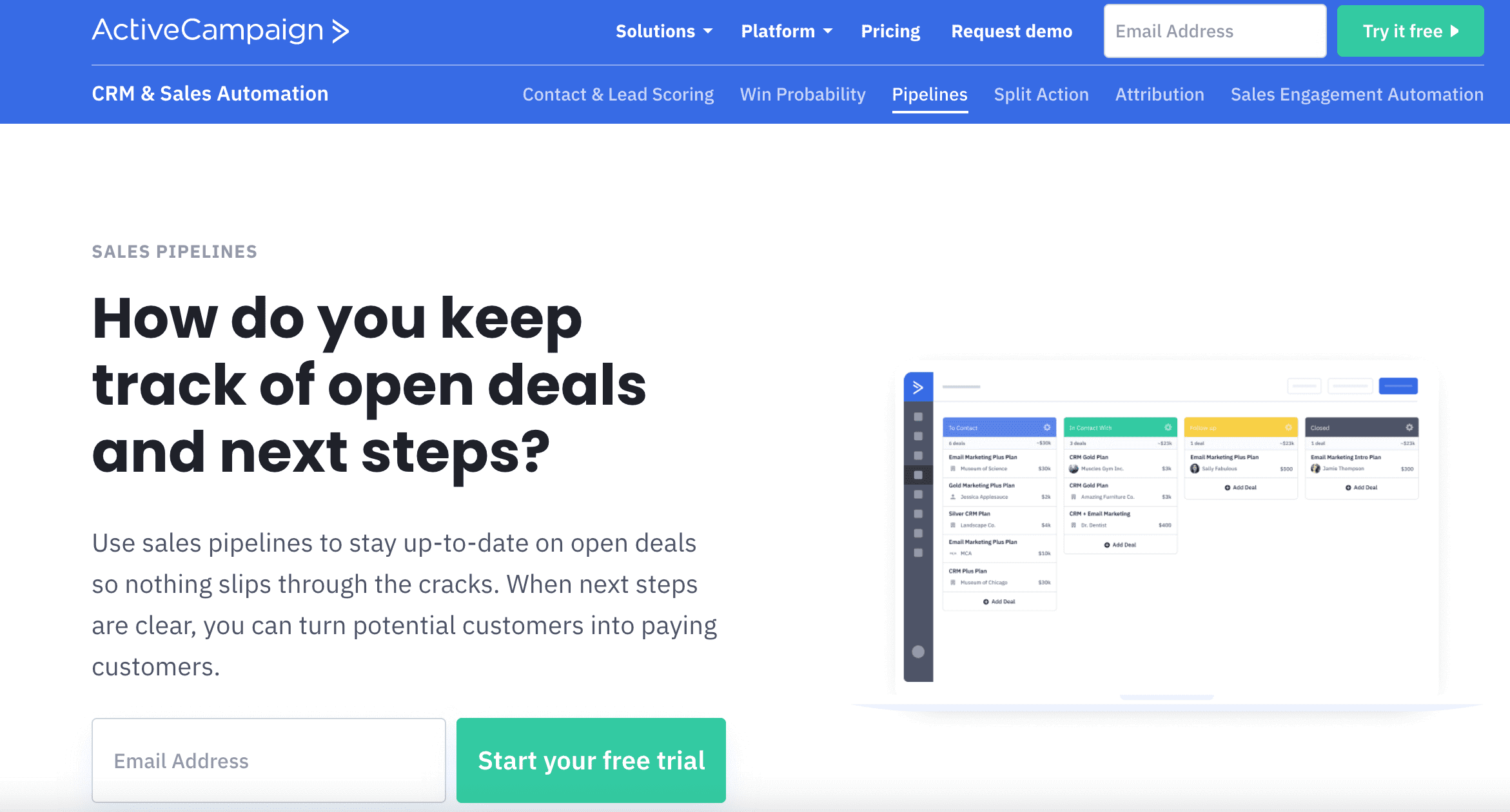 Are you looking for a sales pipeline tool that can convert open leads to loyal clients? Then, ActiveCampaign is here for you.
ActiveCampaign helps you create multiple pipelines as per your client's location, preferences, and the stage they are in. This will help sales professionals understand who your intended audience is.
Moreover, this sales pipeline tool keeps a tab of your leads and forecast revenue to help understand how to improve and make your sales strategy more efficient.
What's more, ActiveCampaign is integrated with well-known third-party applications like Microsoft, Shopify, Square, Salesforce, and Facebook.
Pros
Good customer service

Offers highly optimized campaigns for marketing

Provides features by business type: B2C, B2B, and e-commerce
Cons
Difficult to navigate from one client dashboard to another

Slow interface
Pricing

ActiveCampaign offers four plans: Lite, Plus, Professional, and Enterprise. The Lite Plan, available for $21.75 per month, offers services like marketing automation, newsletter emailing, site and event tracking, and campaign reporting.
The Plus Plan, which costs $36.75 per month, has in-built landing page templates. You also get features like contact scoring, SMS marketing, and customized form creation.
The Professional Plan, beginning at $112.13 per month, boasts of website personalization, attribution reporting, site messaging, and predictive content scoring.
Whereas, the Enterprise Plan includes free design services, social data enhancement, custom reporting, and unlimited email design testing. It is priced at $194 per month.
Read also: 11 Sales Tools for Automation, Prospecting and CRM Integration in 2022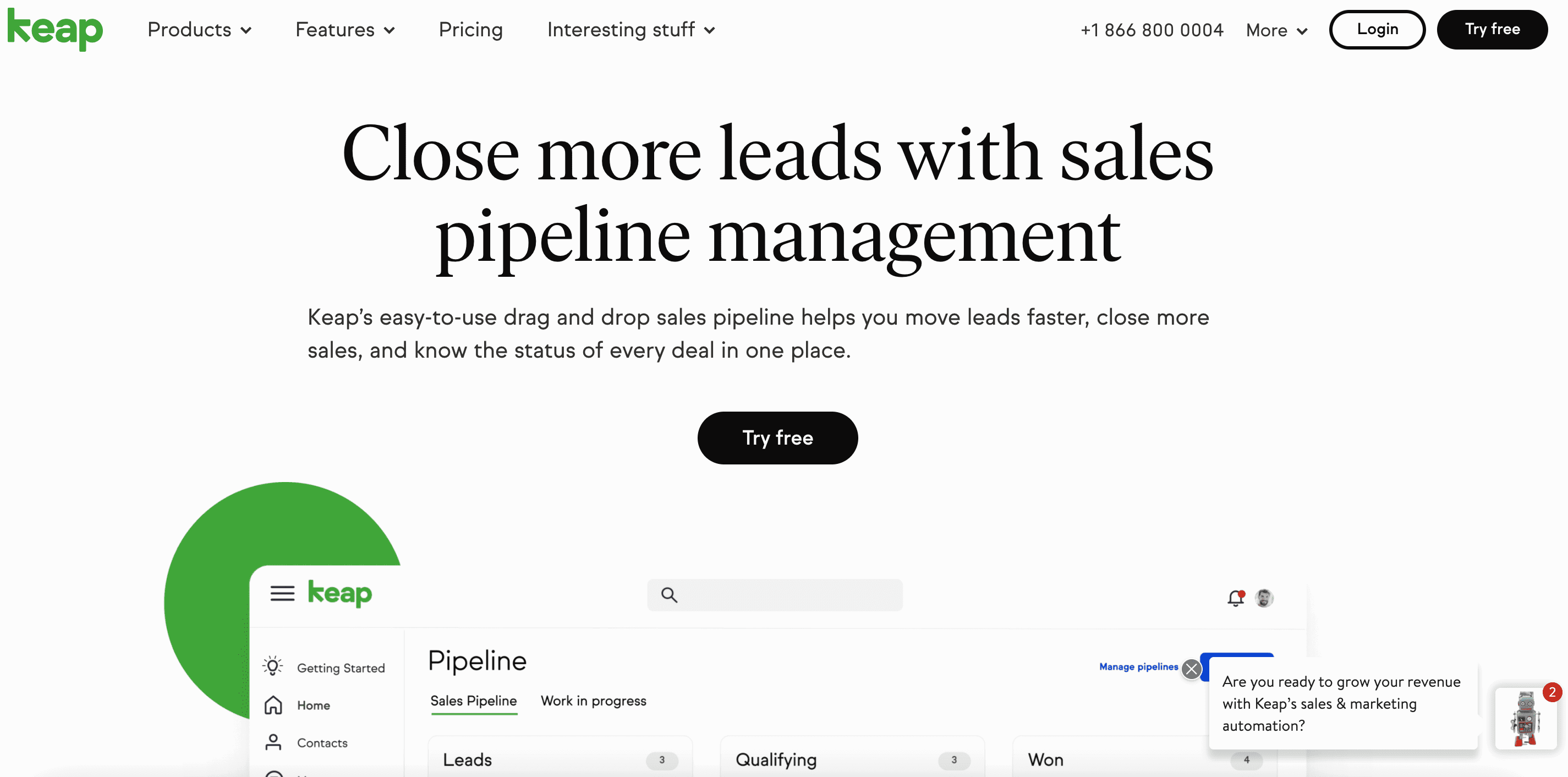 With Keap's sales pipeline tool, you can easily track your clients at various stages in the sales funnel.
Keap's unified dashboard shows you a summary of leads in the sales pipeline versus qualified leads and those who have been converted.
Furthermore, it helps gain insights into your sales team's activities using the pipeline analytics feature.
You can receive real-time reports on parameters such as average duration of deals, revenue forecasting, and deal conversions at different stages.
Additionally, it helps you undertake actions catered to each stage of the pipeline process and accordingly allocate tasks to employees.
Pros
Provides drag and drop feature

Customizable CRM tool as per business needs
Cons
Limited marketing template options

Landing page builder takes time to load

SMS feature is still in the beta stage
Pricing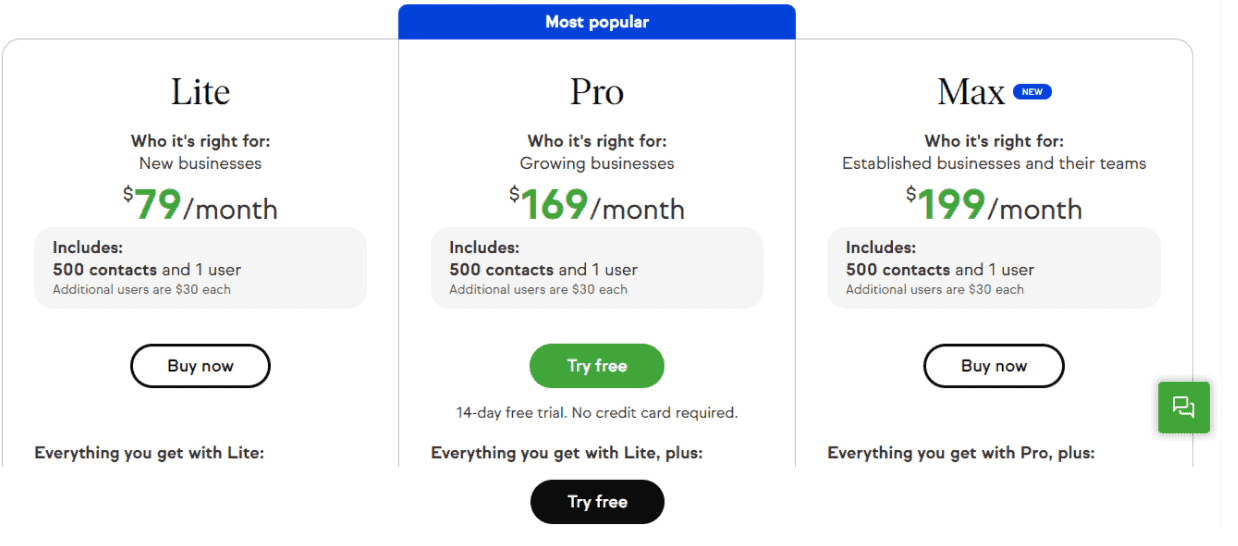 Keap offers three plans: Lite, Pro, and Max. However, you can sign up for a free 14-day plan without providing credit card information.
The Lite Plan (costs $79 per month for one user) includes features like email marketing, lead capturing, appointment scheduling, and automated text messaging. You can add more users for a small fee.
The Pro Plan starts at $169 per month for one user and offers AB testing, pipeline analytics, sales reporting, and much more.
Keap's newly introduced plan – Max, comes with features such as lead scoring, engagement analytics, Shopify integration, and repeated upsells. It only costs $199 per month.
Also read: Sales Pipeline vs Sales Funnel — Yes, They're Two Different Things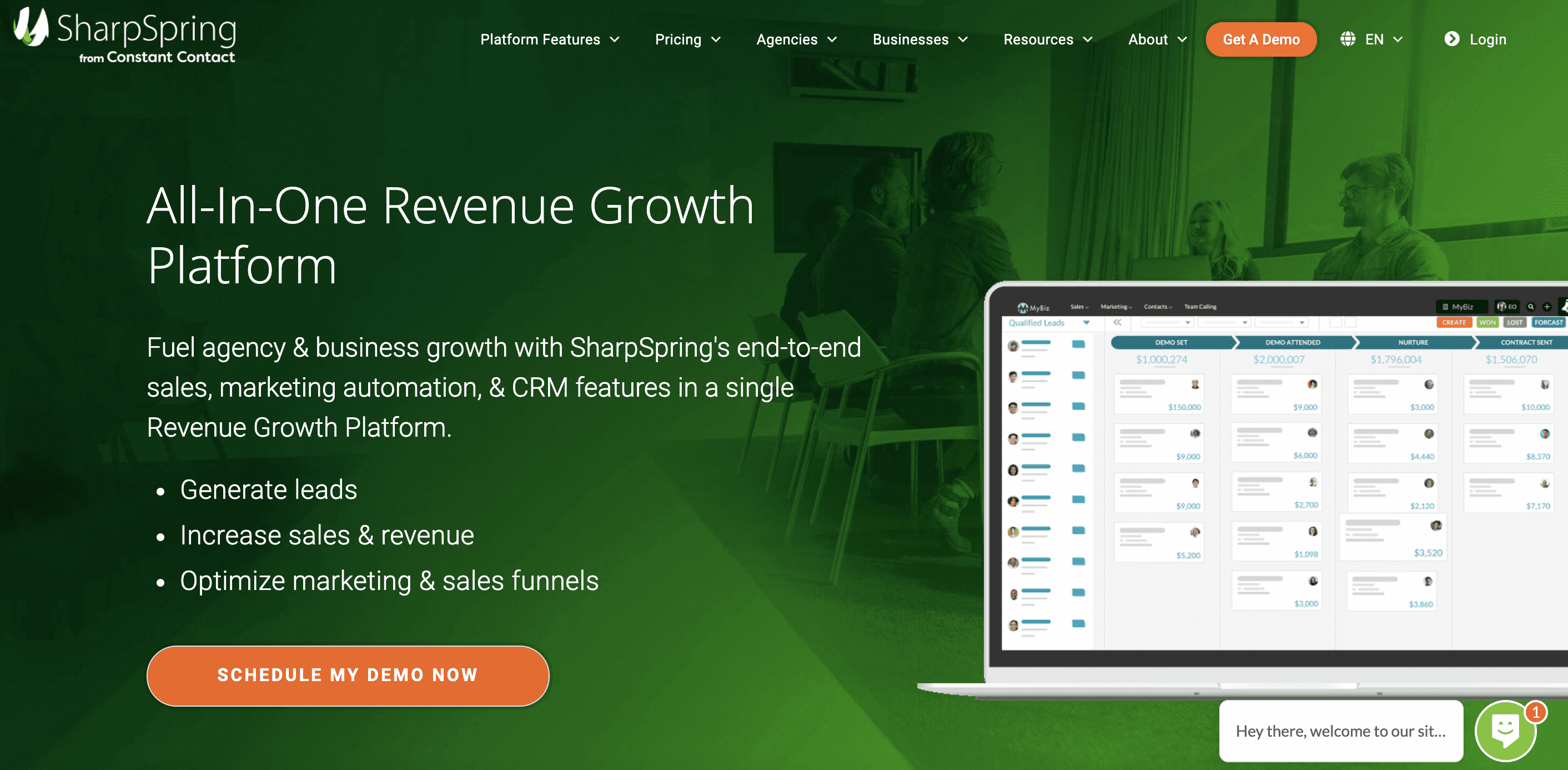 While SharpSpring does not seem to offer a sales pipeline management separately, you can avail it with its CRM software and a range of marketing automation tools.
It offers functionalities dynamic form customization, blog creation, built-in landing page templates, and live marketing report generation.
What's more, SharpSpring gives out personalized reports pertaining to each lead. This makes it possible to send customized messages to your desired audience.
Moreover, it saves time by providing a list of the day's active leads in your inbox. It eliminates the need for manual entry while allowing you to target only qualified leads with a higher chance of conversions.
Pros
Flexible and easy to use platform

New features are added regularly

Provides a helpful and thorough guide on how to use the sales pipeline feature
Cons
Limited tools available for funnel content marketing
Pricing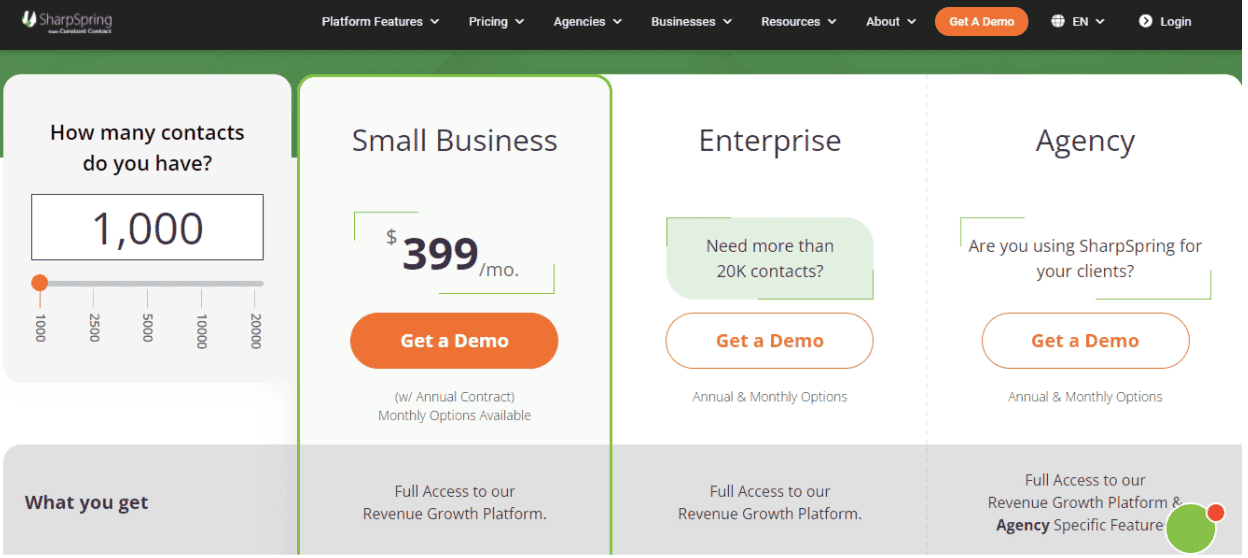 SharpSpring offers pricing plans as per the size of your business. Its cheapest plan – the Small Business Plan, starts at $399 per month and includes all the necessary marketing automation features like email marketing, live chat, and social engagement.
In addition, this plan also boasts of smart emailing, lead scoring, and cloud support services.
The Enterprise Plan is for medium and large-sized firms. It comes with features such as asset tracking, a customizable interface, a sales dialer, campaign tracking, and multi-touch attribution.
The Agency Plan includes all the features offered by the Small Business and Enterprise Plans, along with flexible client pricing, unlimited training, and customer support, strategic onboarding, and partner growth webinars.
Read also: A Beginner's Guide to Win at Sales Lead Management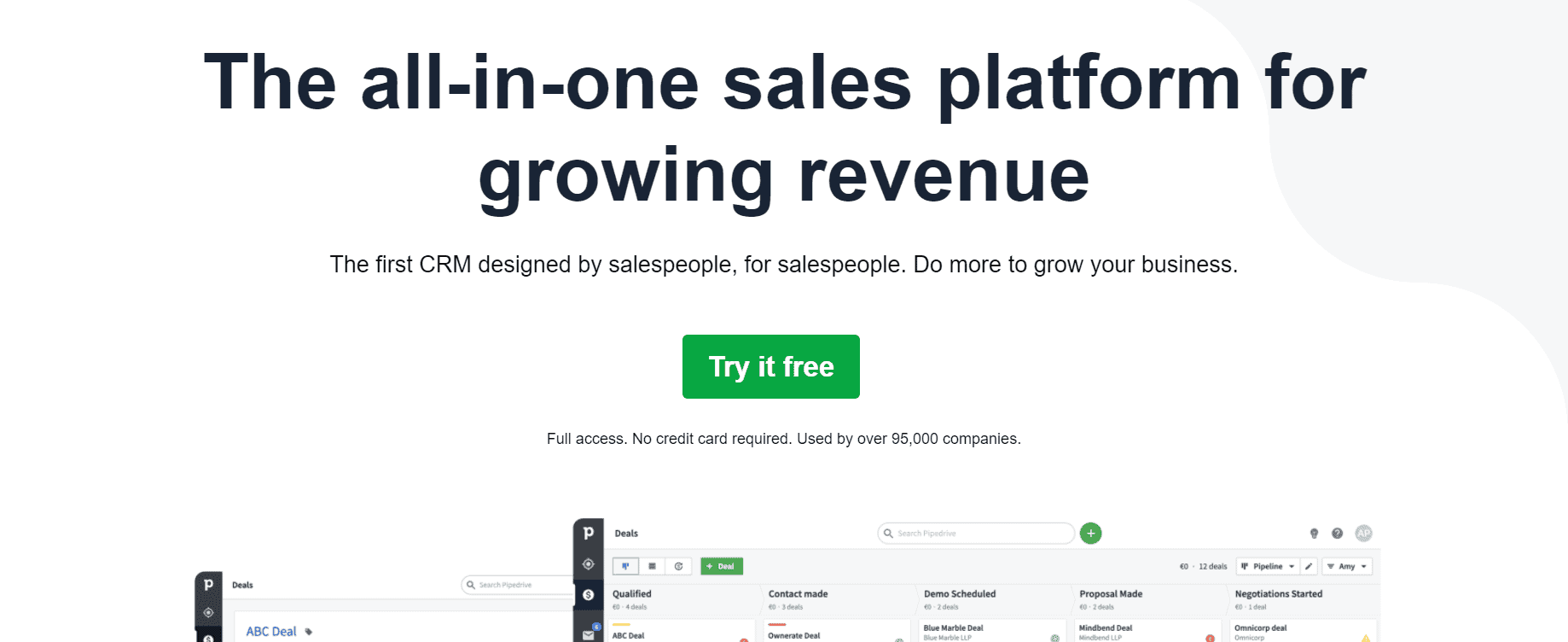 Pipedrive is one of the most well-known sales pipeline management tools.
With Pipedrive, you get a visual representation of where your leads are located, customize the different stages of your sales cycle, get live revenue forecasting, and streamline your sales data as per needs.
Besides, it is quite popular for its deal rotting cues.
These cues show which leads are going cold or are inactive so that your sales department can alter their strategies and convert them into customers.
Pros
Easy to use and intuitive dashboard

Highly responsive support service
Cons
Limited customization features available

Plagued by frequent glitches and interruptions
Pricing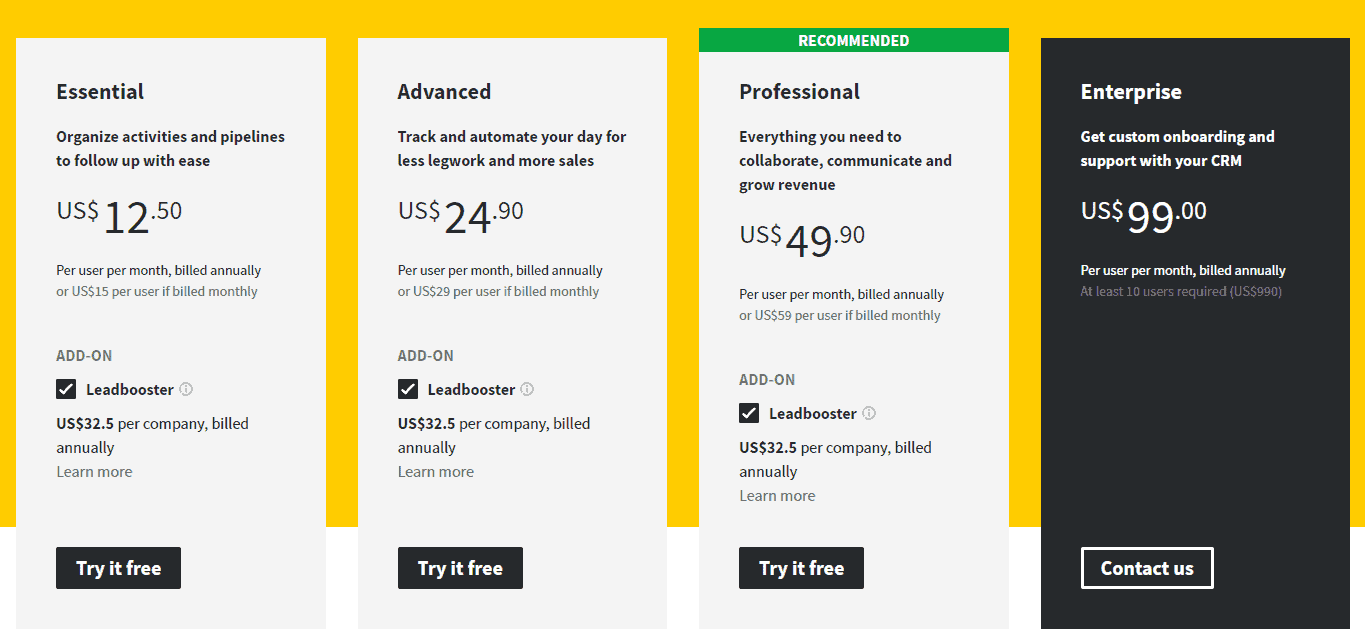 Pipedrive has four types of plans, Essential, Advanced, Professional, and Enterprise.
Its most basic plan named Essential starts at $12.50 per user per month and offers features like lead and deal management, deal targeting, data import and export, and product cataloging.
The Advanced Plan, beginning at $24.90 per user per month, provides additional features such as 24*7 support, task management, signature customization, and built-in email templates.
If you need PDF format support and OneDrive integration, its Professional Plan would be the best. You can get it for $49.90 per user per month.
And the Enterprise Plan, costing $99 per user per month, boasts of services such as two-factor authentication, security integration, customizable pipelines, and an unlimited meeting scheduler.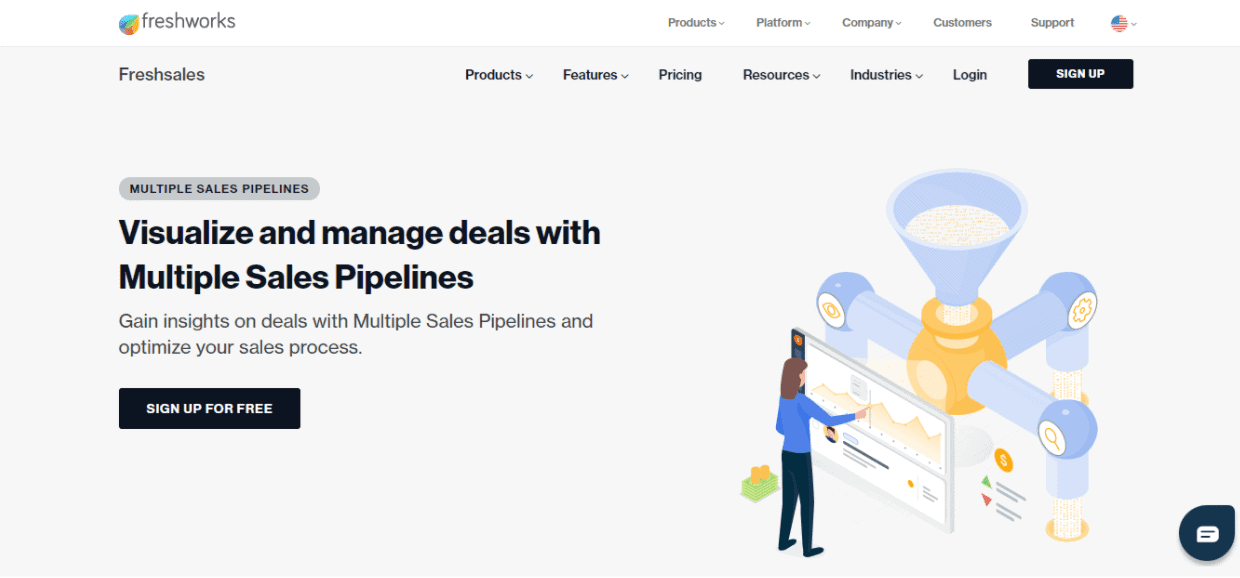 Freshworks offers a sales pipeline platform called Freshsales.
The platform helps streamline your sales processes by tracking your leads from start to finish, providing information on stalled or cold leads and your average sales cycle length.
However, what sets Freshsales apart is its AI-powered insights feature.
With this service, you can live track where your leads are at a certain point in time and identify what factors may be preventing them from getting converted.
This will help your business understand what steps to take and implement more efficient sales activities.
Pros
Convenient access to customer data

Highly efficient and responsive customer service
Cons
A limited number of built-in email templates

The platform is often affected by glitches
Pricing

Freshsales Free Plan includes services such as a contact management feature, 24*5 support, and in-built chat, email, and phone.
You can upgrade to its Growth Plan for $15 per user per month. It includes a visual sales pipeline, product catalog, customized reports and dashboards, and sales sequencing.
Next is the Pro Plan, available for $39 per user per month. It offers services like multiple sales pipelines, time-bound workflows, WhatsApp Business integration, and AI-powered deal insights.
Lastly, the Enterprise Plan is the most premium plan and costs $69 per user per month. The Enterprise Plan has features like auto-profile enrichment, audit logs, a dedicated account manager, and customized modules.
Also read: 6 Easy Ways to Spot (& Create) New Sales Opportunities Like a Boss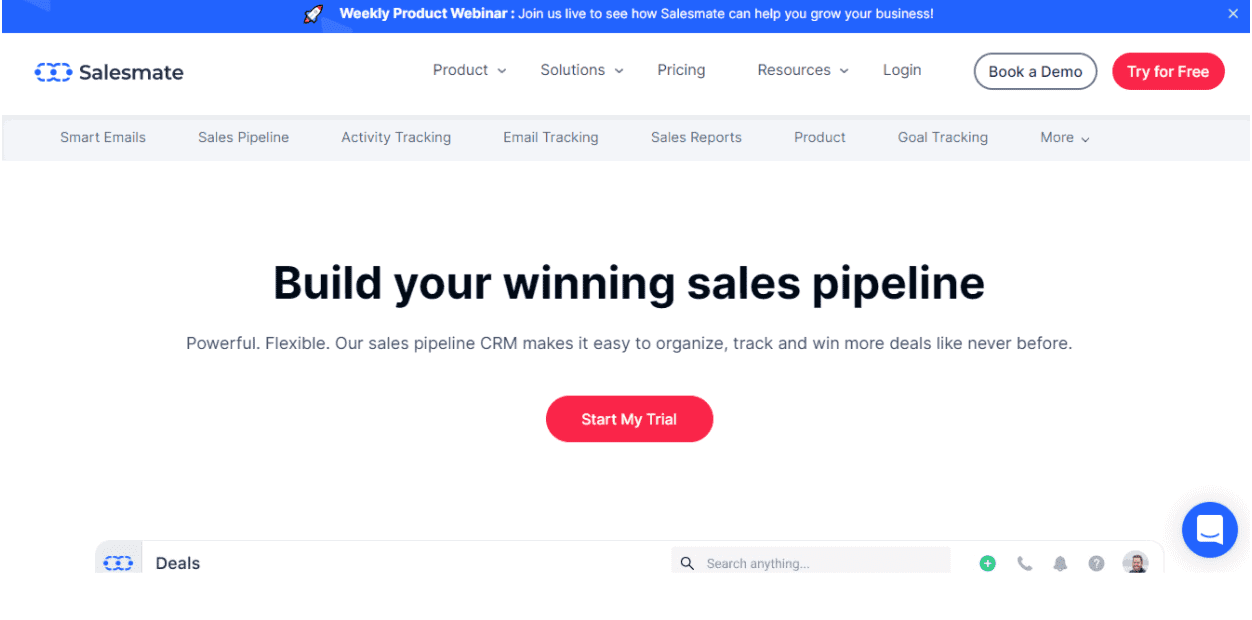 With its easy interface, Salesmate Sales CRM Tool makes a perfect choice for a non-tech savvy person.
Salesmate provides clarity and enhancement to your sales activities by visually depicting your leads, activities, and status of each project undertaken.
Moreover, you can automate tasks at every stage of lead tracking, follow-up with stagnant deals, and get real-time projections of each deal.
And the best part is that you don't need to switch between screens every time you want to send emails, make calls, add notes, or complete an activity.
Pros
Simplified and efficient interface

Can send bulk SMS and text messages to clients
Cons
Reports don't always reflect the correct information

Lengthy process to send emails to multiple contacts
Pricing
Salesmate offers four plans in total. Its Starter Plan starts at $12 per user per month and comes with features like email syncing and tracking, built-in templates, customized web forms and lists, and workflow management.
If you are looking for additional features like goal management, and email scheduling, and reminders, opt for its Growth Plan. It is priced at $24 per user per month.
The Boost Plan, its most popular plan, starts at $40 per user per month. This plan has features including a power dialer, smart activity queuing, IP restriction, voicemail drop, and sequence limitations.
Lastly, its Enterprise Plan is customizable and boasts of personalized onboarding, a dedicated account manager, priority support, and an unlimited number of dashboards.
Read also: 5 Sales Planning Tools For Small Businesses to Grow Revenue Fast

The sales pipeline platform of Zendesk is quite simple and easy to understand.
The dashboard offers you all the information you need regarding your leads, such as the number of incoming deals, qualified leads, closed deals, and quotations offered.
With the help of Zendesk, you can have an active tracker of your sales metrics by seeing the number of active versus closed or inactive leads.
Such actionable insights can be useful in further improving your sales strategy.
Pros
Available in 40 languages

Feature and function-rich software
Cons
Issues with uploading or exporting data

Slow customer service
Pricing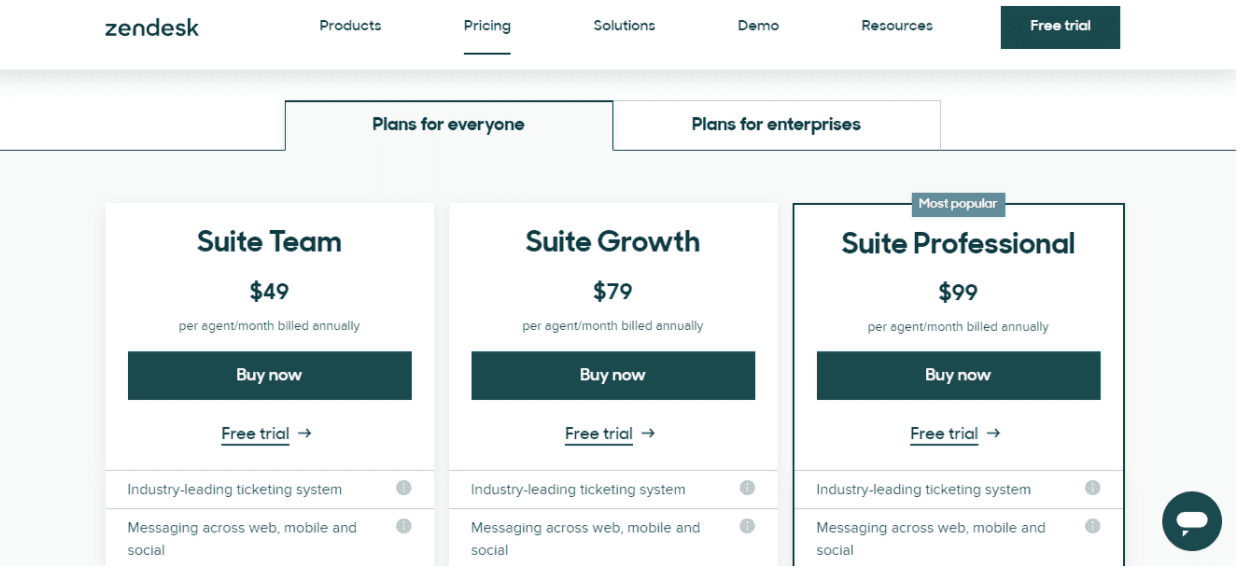 Zendesk offers two pricing categories, Plans for everyone and Plans for enterprises.
Under Plans for everyone, the three kinds of pricing are Suite Team, Suite Growth, and Suite Professional. The Suite Team costs $49 per user per month and includes features like AI-powered support, email, voice, SMS, and live chat, and an industry-leading ticketing system.
Its Suite Growth Plan begins at $79 per user per month and boasts of over 1,000+ app integrations, multiple help centers, data and file storage, and a unified agent workspace.
Lastly, the Suite Professional Plan starts at $99 per user per month and is accompanied by up to 100 light access licenses, multi-language support, integrated community forums, and advanced voice capabilities.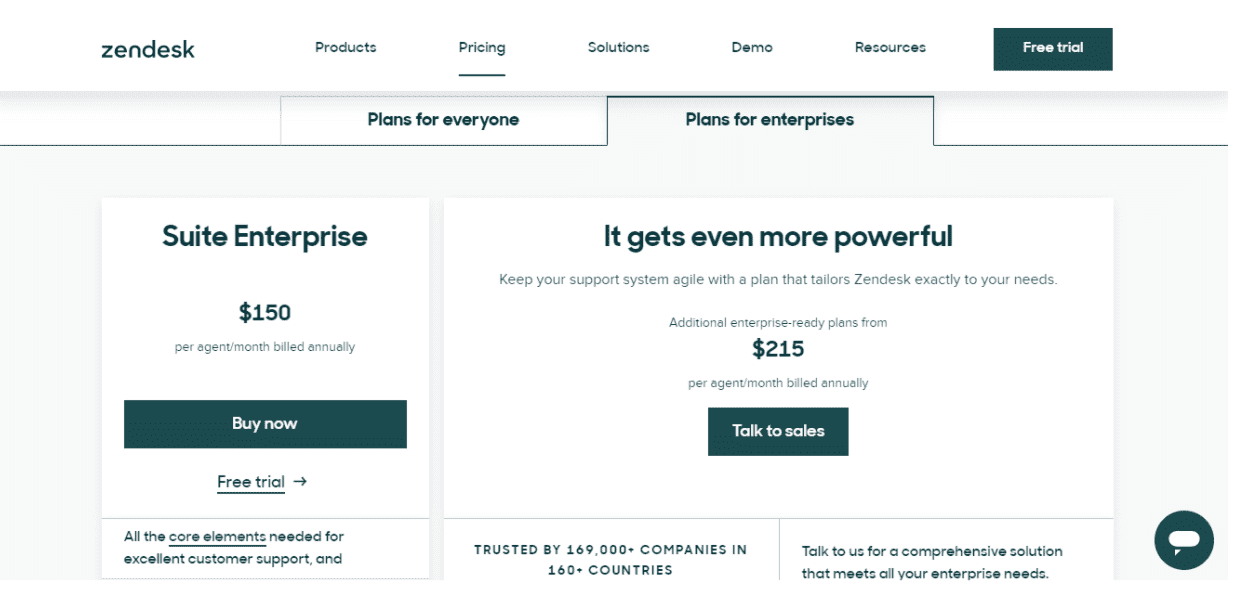 Under Plans for enterprises, you can find the Suite Enterprise that starts at $150 per user per month and additional enterprise-ready plans beginning at $215 per user per month.
Read more: Zendesk Alternatives – 10 Best CRMs for Small Businesses
Conclusion
All businesses want to generate more revenue and get a high number of leads. But most often, the leads get lost in the pipeline due to missed follow-up calls.
However, this can be easily solved by using tools like sales pipeline management software that not only sends out automated follow-up reminders but helps with predictive lead scoring.
Predictive lead scoring helps you prioritize your leads and help you nurture them in the process, resulting in an increased conversion rate.
If you are looking for an affordable solution for your company, EngageBay emerges as a winner. It offers the best-in-functionalities to effectively manage your sales pipeline without burning a hole in your pocket.
Sign up today for free and watch your business grow!
👉Revolutionize your sales efforts with 12 top sales database tools and their game-changing features!