In the recent past, customer expectation has risen way above the bare-bones experience.
With so many brands selling thousands of similar products and services, customers prefer companies that make them feel the most valued.
That's why small business owners today need to focus on improving customer experience to strengthen the customer's loyalty to the brand.
You need to consistently engage with customers to demonstrate that you care about their needs.
In this blog post, we'll share 14 of the most creative and powerful customer engagement strategies for small businesses:
Be a Good Listener
Give Customers Rewards and Incentives
Use Gamification
Make Good Use of Social Media
Engage with Customers via Mobile Apps
Offer Personalization
Focus on Converting Free Trial Users to Paid Ones
Generate Interactive Content
Implement In-product Messaging
Take Surveys and Polls
Use Omnichannel Approach for Consistent User Engagement
Use Live Chat
Maintain Regular Communication
Measure Your User Engagement
Let's dive in!

What is Customer Engagement?
Customer engagement is the process of interacting with your customers through a variety of channels and fostering your relationship with them.
It is focused on value creation rather than revenue generation. It helps build an emotional connection between customers and the brand.
In other words, customer engagement is a collection of processes, tools, and resources that an organization uses to strengthen relationships with its customers.
Here's a great video explaining the basics of customer engagement:
Read also: Sales Engagement — What, Why, and Best Practices Explained
Does My Small Business Need a Customer Engagement Strategy?
Yes, it does!
Regardless of the size and industry, every business owner must develop customer engagement strategies to nurture relationships.
A recent study by Gallup revealed that highly engaged customers generate 23% more revenue than ordinary customers. After all, a customer engagement plan helps build trust and establish better communication with customers.
Need a more comprehensive explanation on why a well-thought customer engagement strategy is important?
Here are some key benefits:
Increased Customer Retention
An effective customer engagement marketing strategy can help you improve customer retention. Acquiring a new customer costs five times more than retaining an old one.
Besides, by increasing your retention rate by 5%, you can improve your profit by 25-95%.
Through customer engagement efforts, you can make your customers feel valued and connected to your brand.
A loyal customer recommends your products to others, interacts with your campaigns, keeps subscribed to your services, or makes frequent purchases — meaning you'll have a customer for life.
Read also: How to Engage with Customers after the eCommerce Checkout
Increased Brand Awareness
Engaged customers are more likely to tell other people about their experience with your brand. However, it requires effort to build a strong rapport with your customers.
Loyal customers will act as brand advocates for your brand, essentially marketing your products and services for you.
Testimonials are key to the success of your business, as people tend to trust their friends and family more than your advertisements and sales pitches.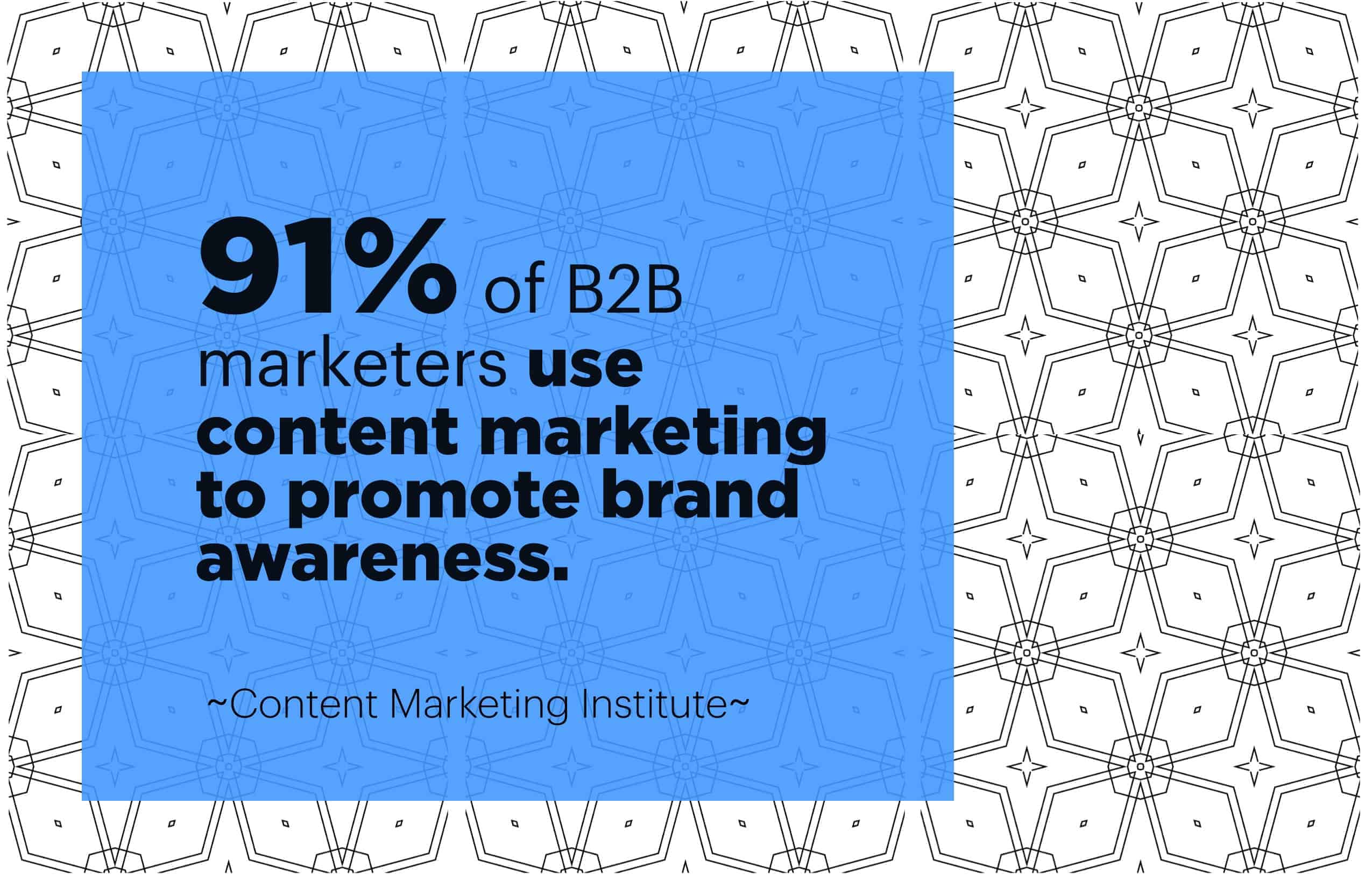 How to Build a Solid Customer Engagement Strategy
While companies' goals may vary depending on the industry and customer base, there are customer engagement methods that work well across industry types.
Here are 14 proven marketing strategies that even a small business can implement.
#1. Be a Good Listener
When any customer contacts you, spend the first few minutes listening to them. Everyone wants to be heard.
And it's not just about listening, but you ought to pay attention to all the fine details and understand them.
Customers are always in a hurry. They want their queries resolved as early as possible. In most cases, your customers don't care about the means, they just want the result.
Engage your customers by listening to their queries and problems and show them that you care. Happy customers tend to buy more.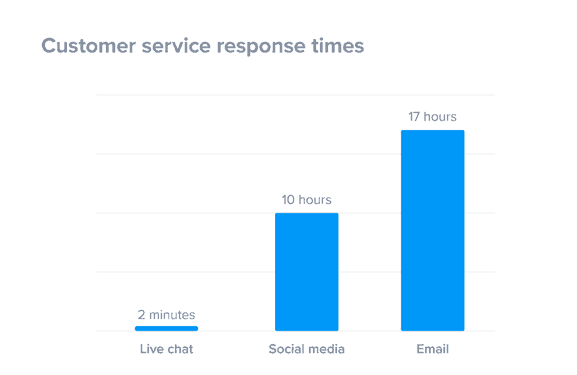 When a customer posts about your company on social media, be it a compliment or a complaint, you must make efforts to respond.
A report from Applied Marketing Service has revealed that customers who receive responses to their tweets are willing to spend 3-20% more on average-priced items.
Read also: 9 CRM Best Practices for Small to Large-Scale Businesses
#2. Give Customers Rewards & Incentives
Offering rewards is a great way to achieve customer loyalty. Consumers are loyal to businesses that understand customer needs and fulfill their expectations.
Rewarding loyal customers should be an integral part of your loyalty programs. Customers who are your frequent buyers certainly deserve some reward from you.
Many businesses even design a loyalty program management platform to offer them points for every purchase. These points can be redeemed later as discounts for the next purchase.
Some other ideas for rewards include early access, invites for special events, and surprises with unadvertised discounts.
To improve engagement, you can give rewards for user-generated content such as reviews, customer feedback, etc.
At the end of the day, reward programs aim to keep customers interested in your products. This will also improve retention and brand awareness, meaning you "kill two birds with one stone."
Also read: Promotional Email – How To Write Emails That Convert
#3. Use Gamification
Gamification is a great way to motivate, influence, and improve the loyalty of customers.
It helps boost client engagement by dealing with people's natural tendencies to socialize, learn, master, compete, and achieve.
Gamification is the process of embedding game mechanics into existing business processes to motivate users' participation and engagement.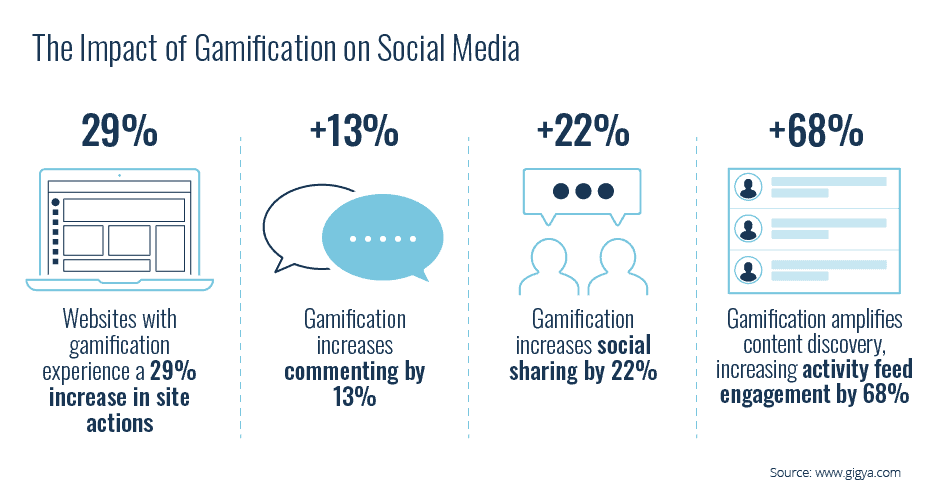 The data-driven techniques used by game designers in many game development companies to engage players are applied to non-game real-world scenarios to produce better results.
Once a user signs up, you can offer them rewards for new referrals. To attract new users, you can host a contest that requires them to register on your site.
The main aim of gamification is to make the loyalty program fun and enticing. It should inspire and motivate customers to take part in the program.
Thus, gamification is not only used in creating new games but also to improve the existing processes that help you achieve high customer satisfaction and better ROI.
Empower your customer management with the best practices – learn more in our expert guide!
#4. Make Good Use of Social Media
You can use social media platforms as an effective engagement tool.
According to a survey by We Are Social, over 2.3 billion people around the world are active social media users.
That's huge!
That's why digital marketing plays a huge role in getting your products and services out in the open, especially in the post-covid era.
Social media platforms can help you connect with a number of users and significantly boost customer satisfaction. It gives you the opportunity to build rapport with your audiences and connect with them on a personal level.
Furthermore, social media is a great platform to host various giveaways, organize contests, and provide customer support. Today, customers also take to social media to share their grievances.
You need to be fully active on social media so that you can respond to them immediately. But it's important to first describe your buyer's persona and find out where they are the most active.
If you are active on Facebook, but your primary audience is on Twitter, you can have a hard time engaging customers. Keep an eye on the platforms your customers are mentioning you the most.
You can even use social media to obtain customer data and then analyze it to get ahead of your competitors. This is called social listening, and will help you understand your customer's needs, expectations, and pain points.
You'll also know why your competitors are performing better (or worse) and learn from them.
Social media is one of the best for content marketing. You can use social media to help your target audience groups, interact with current customers, and figure out what a potential customer looks like.
Read also: 11 Free Marketing Tools to Create Awesome, Engaging B2C Content
#5. Engage with Customers via Mobile Apps
Using websites for improving the customer engagement process is not a new phenomenon.
However, with an extensive increase in smartphones, using apps can give certain additional benefits that can help retain and engage customers.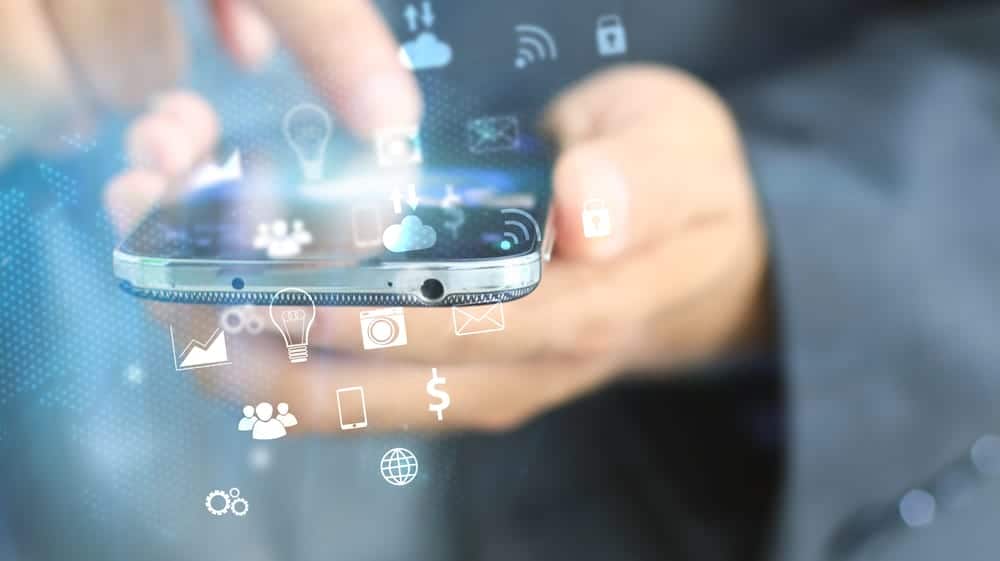 Your app can act as a loyalty card with a points system that sits on a user's phone. To further improve your reach, you can incentivize new app users for any referrals.
The mobile app of your brand should support push notifications, because they're great for interacting with customers and grabbing their attention, even when customers are not using the app.
However, you need to be careful while using push notifications.
If users find them irrelevant or intrusive, they might switch off notifications altogether.
To make their experience with push notifications better, you can include their name or a product in their abandoned cart, or something recently viewed by them.
Looking for a Mobile App Development Agency? You can contact eSearch Logix and can discuss your idea with them free of cost.
#6. Offer Personalization
Another excellent customer engagement strategy is to use personalization to entice users into buying your product.
Despite its proven benefits, not many companies are taking advantage of personalization.
With intelligent use of personalized data, companies can create relevant and unique customer experiences to gain their attention. This will help you improve brand loyalty in the long run.
According to a study by SalesForce, 57% of customers are actually willing to share personal data in exchange for personalized offers and discounts. Creating generic content for all types of users won't produce a great success rate.
People see dozens of advertisements daily. To stand out among others, you ought to offer something that surprises them, and personalization is the way to go.
In fact, the Kelton Global survey revealed that 40% of users had spent more because of personalized shopping experiences.
You can use their location, gender, interests, past purchases, etc., to send personalized offers and messages.
Read also: 5 Great Lifecycle Marketing Software — Pricing & Features Compared
#7. Focus on Converting Free Trial Users to Paid Ones
Even if you are offering your product for free, only the interested ones will actually use it. These days, free trial prospects are more than just onlookers.
They are spending their time on your product to understand how it can be beneficial for their businesses.
A recent study by #8. Generate Interactive Content

Interactive content is a great way to boost consumer engagement by educating users about your products and services.

Once customers know your brand and the value that it will bring to them, they become more engaged and are actually willing to take action.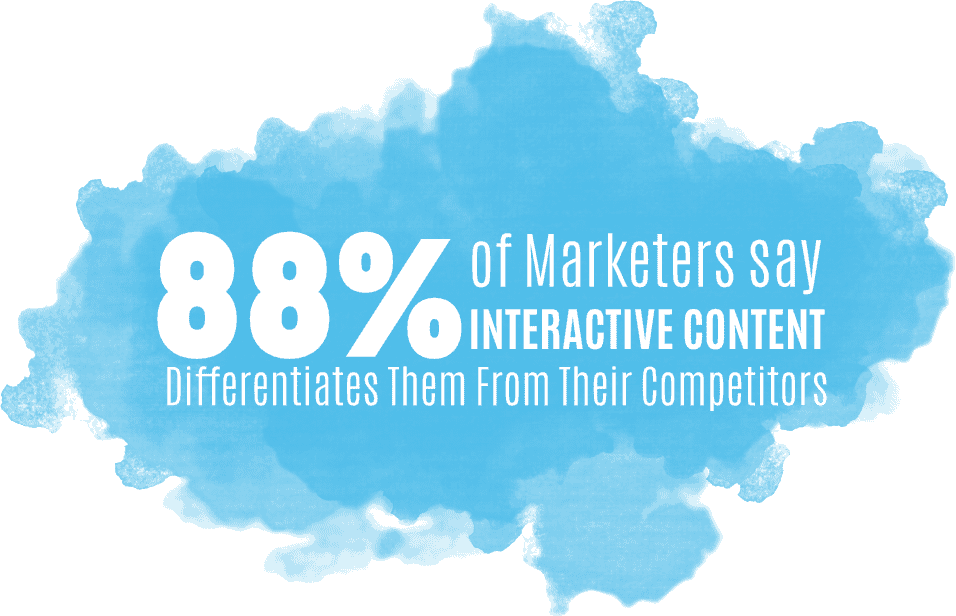 Even if you have a small business, you should try to incorporate the latest technology. For example, you can use Augmented Reality (AR) to give users an immersive walk-through of your products.

Customers love it when brands generate content that is interactive, creative, unconventional, and informative.

Remember, when you bring your products online, content is king. With the right content, you can not only engage better but also generate more leads and sales. An engaged customer is more likely to stay on your websites, read your emails, and follow your content.

Besides, your main focus should be on the quality of content and not the quantity. Improving the quality will get you better results, and interactive content is one of the best customer engagement tactics.
Read also: 7 Great Customer Lifecycle Marketing Strategies to Make More Money
#9. Implement In-product Messaging
Apart from email marketing, a relatively newer communication channel called in-product messaging is slowly gaining popularity.

In-product messages are highly targeted. They are basically messages placed directly on the product and are used to nudge customers to complete an already started action.

In-product messaging is influential in helping new customers get acquainted with the product. You can use it for a variety of things, such as:
Displaying a message with due invoices
Encouraging free-trial prospects to use premium features
Sending personalized offers and discounts
The main motive of using in-product messaging is to improve customer engagement and encourage them to use your product more.
#10. Take Surveys and Polls
Surveys and polls help you engage with your customers and find out if they actually like your product.

Every product or service is intended to cater to the needs of customers and solve their problems. But how would you know if it is working for them or not?

Ask your customers to fill up feedback forms via emails or social media.
Apart from knowing how satisfied people are with your products and services, customer surveys are a great way to understand what needs improvement. Any negative review can help you further improve your products or services — Knowing what NOT to do is as important as knowing what to do.

Conducting polls before customers purchase anything from you is also a great way to gather information about your customers, their behaviors, and their interests.

When customers visit your site, you can just ask them a few questions to know them better and, in turn, improve their customer experience.
Read also: The Extraordinary Power of Customer Needs & How to Solve Them
#11. Use Omnichannel Approach for Consistent User Engagement
Customers today interact with a brand through various channels, including the website, social pages, email, web forms, mobile apps, and retail stores.

Omnichannel customer engagement streamlines customer interactions across multiple communication channels under one platform. Different customer circles prefer different modes of communication, and not having a specific channel means you are losing out on a huge aggregate of customers and leads.

The best way to do that is by using marketing automation software like EngageBay. This can help you get a complete 360-degree view of every interaction you've ever had with your customers.

In other words, delivering a consistent customer journey experience across all touchpoints is a key element of any good customer engagement model.
Read also: Master Omni-channel Marketing – A Definitive Guide in 2021
#12. Use Live Chat
One of the famous customer engagement quotes from Kevin Stirtz says:
Every contact we have with a customer influences whether or not they'll come back. We have to be great every time or we'll lose them.
Live chat is one of the most popular channels for interacting with your customers in real-time. You must use live chat to resolve their queries at the earliest.

A live chat platform allows customer support agents to turn every interaction with visitors or customers into an excellent experience and build strong relationships. Most customer engagement platforms offer a live chat feature.

Did you know that the monthly chat volume has increased by as much as 150% in some industries?

Using the best live chat tool, you can invite your customers to a live chat proactively.

With EngageBay, you can automate and customize chat messages based on various factors like their location, the page they are browsing, and new or returning visitors.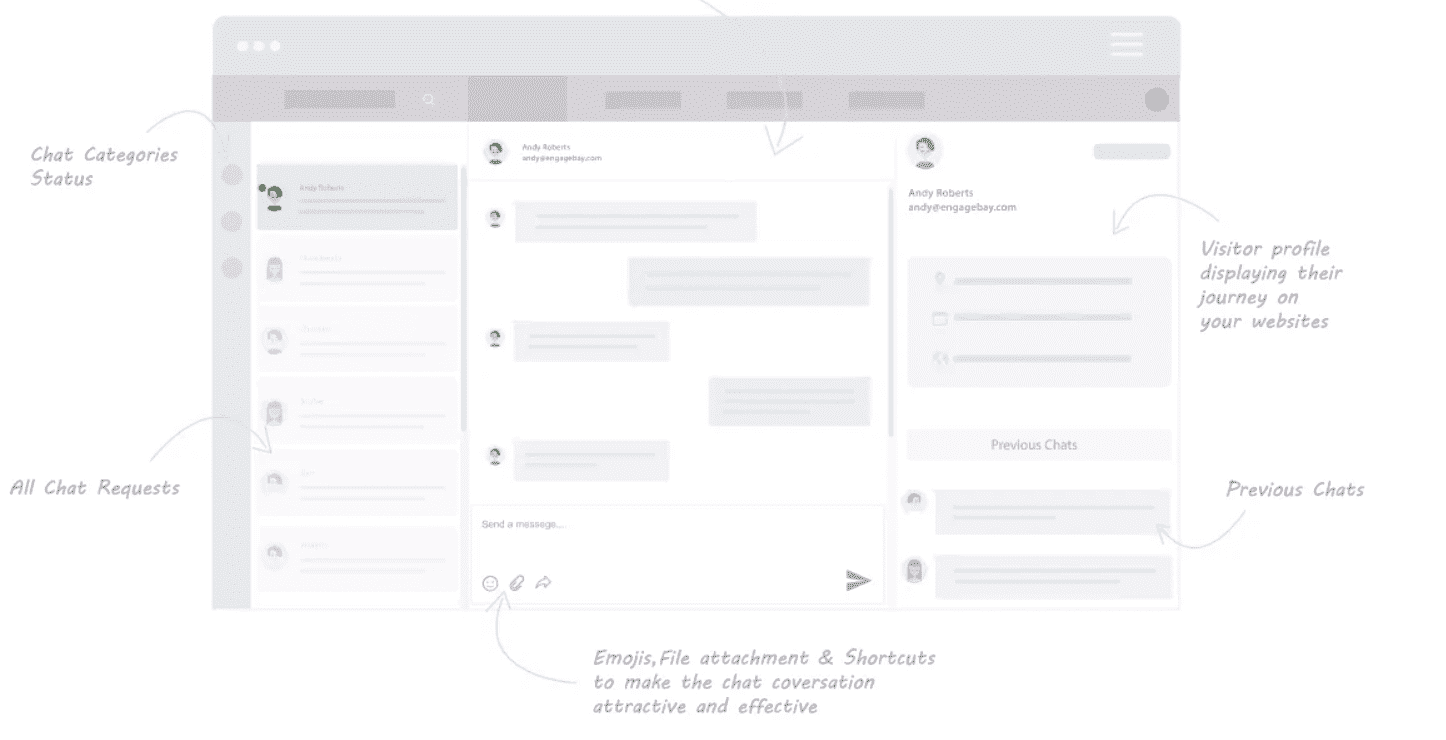 #13. Maintain Regular Communication
Another effective customer engagement strategy is to have regular communication with your customers.

Even after making a purchase, you need to keep delighting your customers to promote repeat buying. In a nutshell, you do not ditch your customers after they make a purchase — instead, you stick with them throughout the customer journey, offering recommendations, post-purchase support, and loyalty programs.

Various ways of delighting your customers include sending personalized recommendations based on their previous purchases. One great customer engagement example is that of the big e-commerce giant Amazon sending out recommendations to all its customers.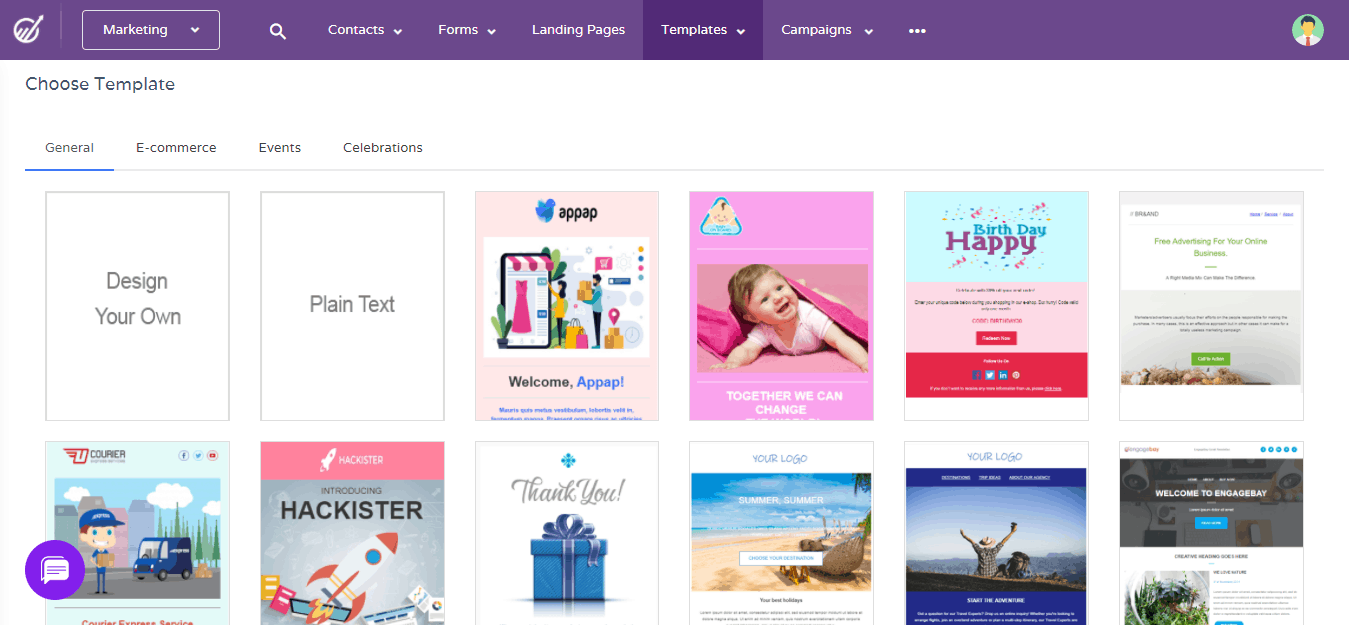 Say, you bought a laptop, the application will then share suggestions like laptop cases or keyboards to buy along with it. This is called cross-selling, and is a great way to maintain communication and improve revenue.

Besides, you can also send out newsletters at regular intervals, offer rewards, and do much more to promote customer engagement.

The best way to make your brand stand out is to stay connected with your customers and prospects.
Use EngageBay's email newsletter templates to send automated, personalized emails and keep delighting your customers
#14. Measure Your User Engagement
All your efforts are meaningless if you do not measure the ROI.

How else would you know whether your customer engagement strategies are working or not?

It's crucial to measure customer engagement using the right metrics as it will offer you actionable insights. You will get a clear picture of what's resonating with your customers and what is not.

Here's a list of key customer engagement metricsthat you can keep track of:
Active users: The percentage of users currently using your product. You can keep a daily, weekly, or monthly tab.
Retention rate: The percentage of old customers still using your product. The high retention rate indicates that users are sticking with your app.
Core user actions: Measures if your customers are using core functionalities. It will show how closely your users are engaging with your product.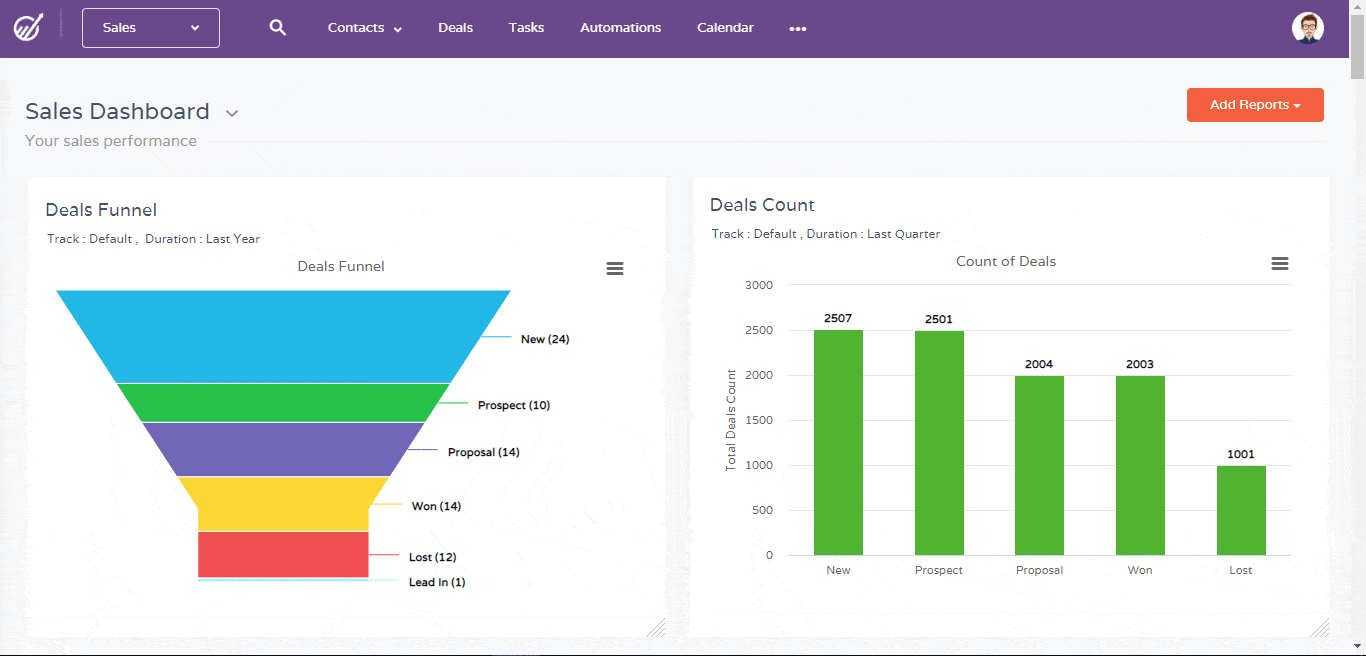 Conclusion

The success of a business is not only determined by an increase in the number of new subscribers but also the retention rate of existing customers.

Have well-defined customer engagement strategies to grab your customers' attention. Engage with them in a way that delights them.

A CRM software offers a host of tools to help you engage with your customers the right way.

There are dozens of excellent CRM software in the market today. For small businesses, EngageBay is the most affordable, comprehensive customer engagement platform.

You get a social suite, segmentation with smart lists, omnichannel marketing, live chat, product landing pages, advanced analytics, custom reports, and so much more.

The best part? It is absolutely free.

You can also upgrade for more features — and even the paid plans cost just about a dollar a day!