Do you spend a substantial amount of time updating your company's customer database?
Earlier, organizations stored client information on spreadsheets, business cards, and folders. However, this was a time-consuming process, with staff spending too much time adding, deleting, and updating data.
Today, a sales database tool, also known as customer database software, takes care of all these tasks and more.
A sales database tool records information about all your past, present, and potential customers. It eliminates the need to manually record contact information as the process of adding and even updating customer data is automated.
In this post, we will discuss the top 12 sales database tools to effectively manage your potential and existing customers and grow your business.
12 Best Sales Database Tools That Can Boost Revenue
Our list of sales tools isn't meant to be comprehensive. These are tools that we've used and liked, and most of them are quite popular in this space already.
Our own all-in-one business software, EngageBay, is a top performer and an emerging favorite.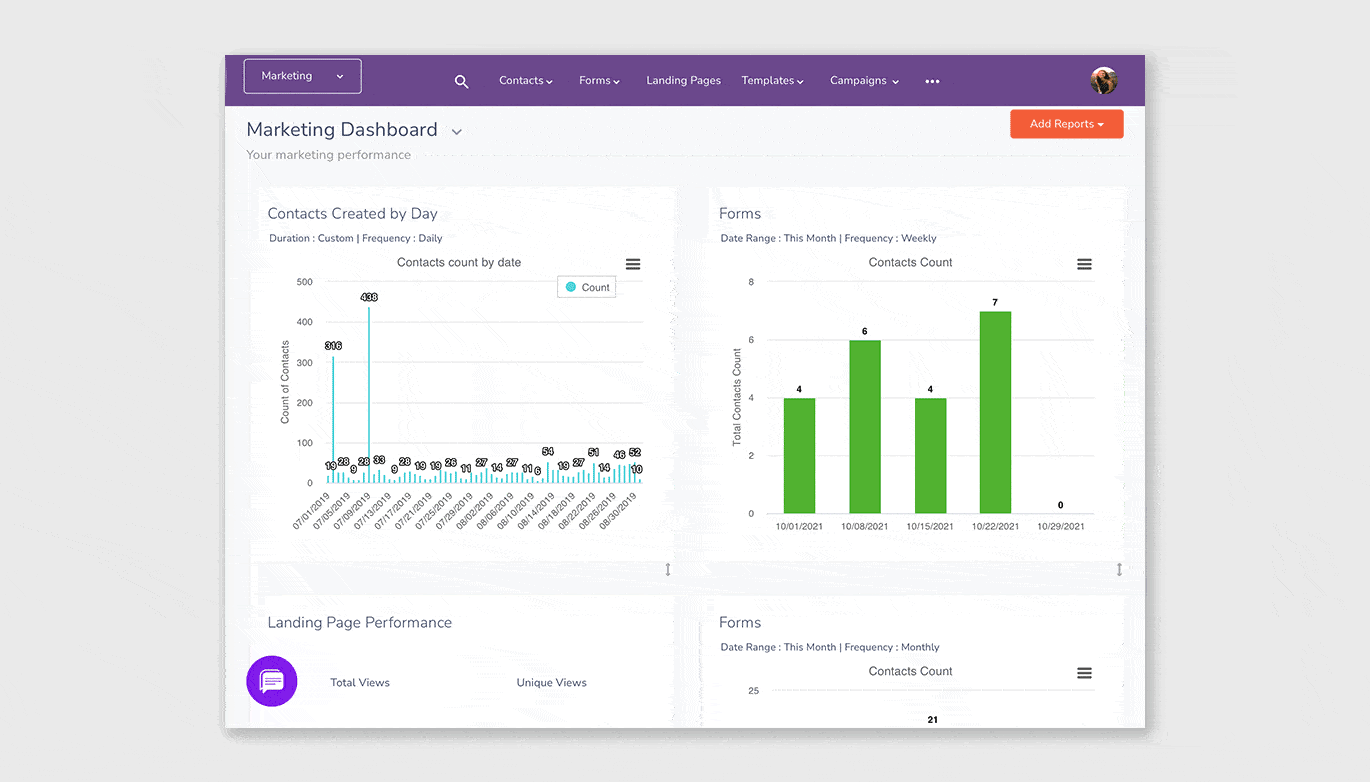 EngageBay offers a robust client database software that can record and segregate customer information, enabling you to send personalized emails to your clients. Its equally powerful reporting system allows you to better personalize your campaigns and increase effectiveness.
Moreover, you can build different work panels for every team, and enable or disable features as you need.
You can access your database from anywhere, as EngageBay's platform adapts to the screen size of the device. This helps provide an optimal and user-friendly experience, making EngageBay among the most popular sales database tools currently.
EngageBay is well integrated with third-party platforms such as GSuite, ERP, Outlook, Facebook, Twitter, and LinkedIn.
Pros
Easy to use

Quick and efficient customer service

Customized sales reports
Drag-and-drop workflow builder

Audience segmentation

Custom automation nodes
In-app telephony
SMS broadcasts
API & SSO
Dedicated account manager

In-depth analytics
Cons
A limited number of landing page templates
Pricing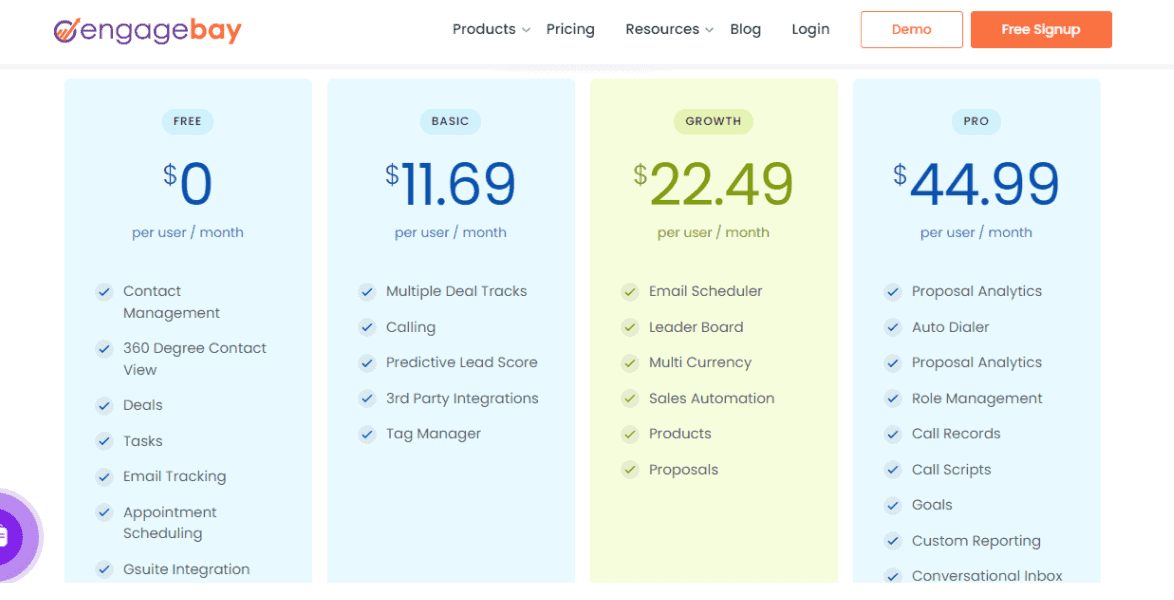 EngageBay has four plans, including Free, Basic, Growth, and Pro.
The Free Plan offers a wide range of features like contact management, email tracking, appointment scheduling, and live chat.
You can purchase the Basic Plan for $11.69 per user per month and get advanced functionalities like multiple deal tracking, calling, and tag manager.
The next plan, the Growth Plan has a price of $22.49 per user per month. It has additional features such as a leader scoreboard, sales automation, and email automation with custom nodes.
If you are looking for services like custom reporting, call recording, proposal analytics, and role management, the Pro Plan works best. It costs $44.99 per user per month.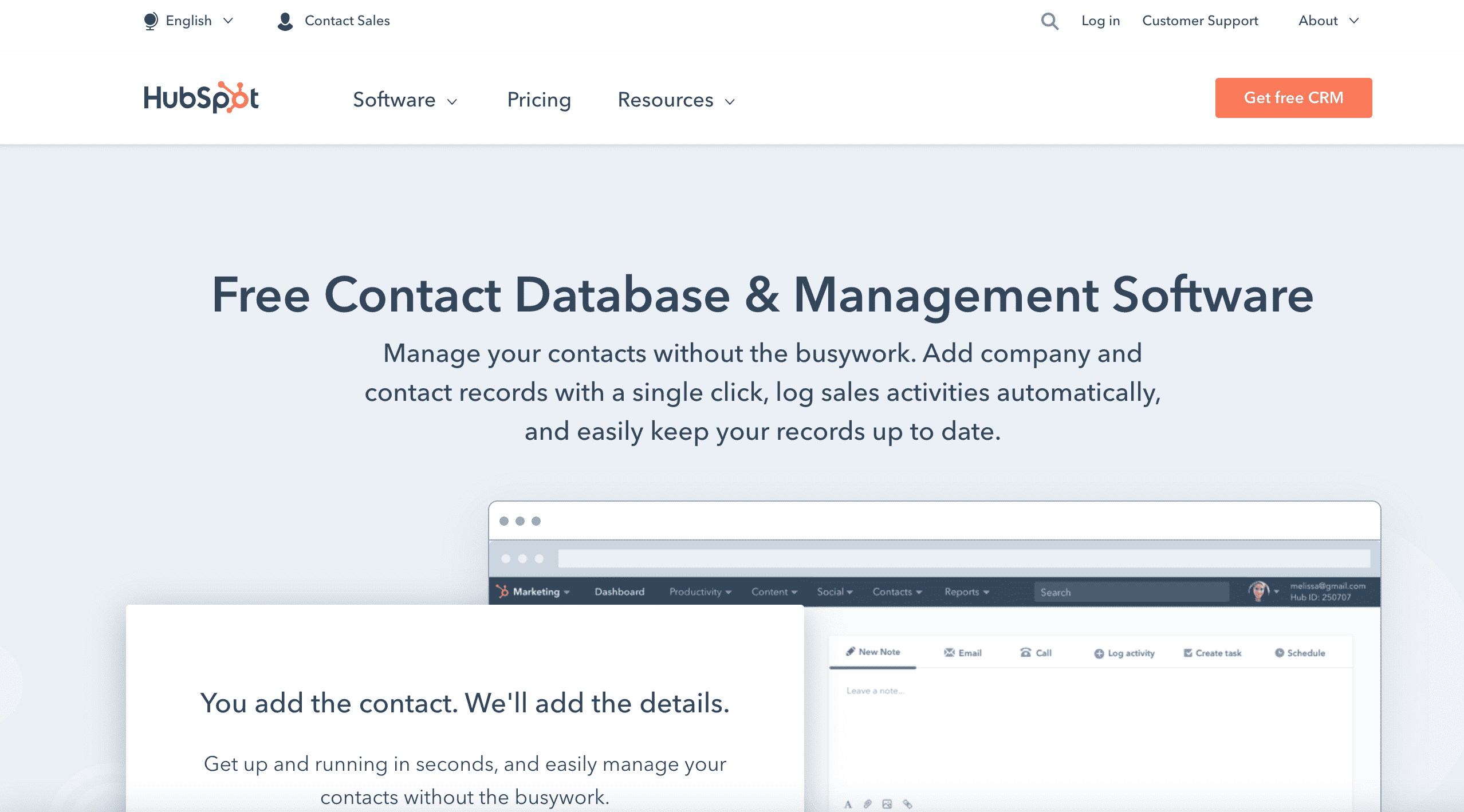 With HubSpot's customer database tool, you can create up to 1,000,000 customer records. The records can either be created through a lead's email address or web forms.
HubSpot will not only store the client's contact details but also include all information related to job title, industry, and revenue.
HubSpot's sales database tool also helps you send emails, make calls, take notes, manage tasks, and add new deals within the contact or company views.
Moreover, any new information is automatically updated to the database as and when a call or email is sent or received.
Pros
Robust dashboard and easy navigation

Gives real-time insights into sales performance
Cons
At times, emails do not reach the desired contacts

Dashboards and reporting can be difficult to understand (learning curve)
Pricing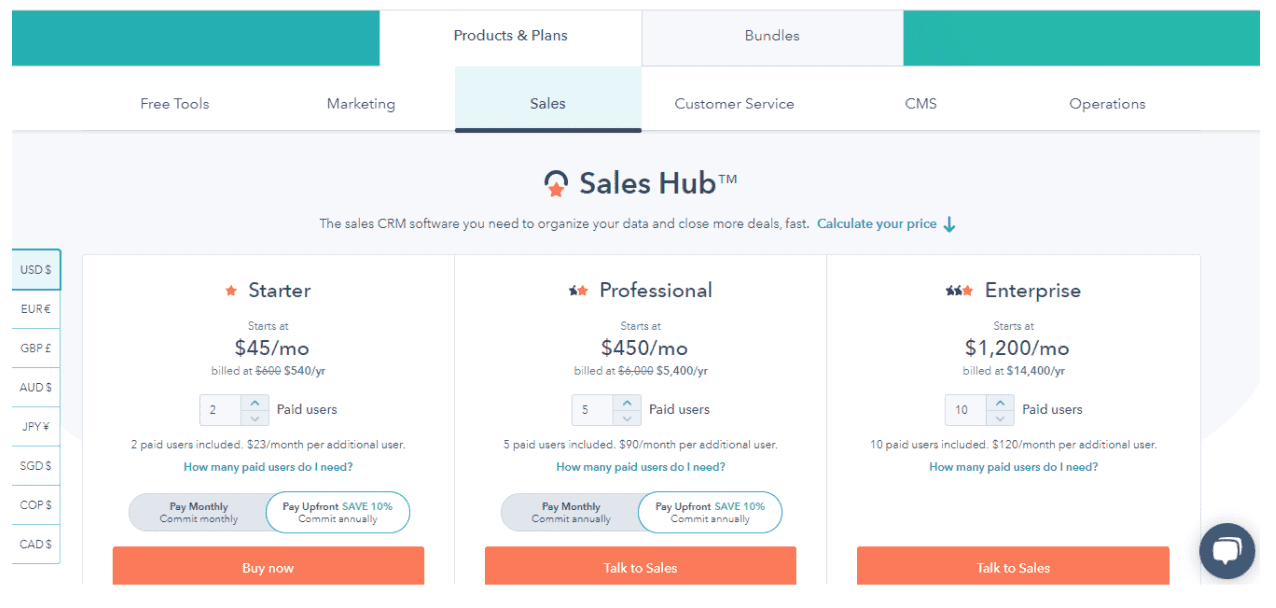 HubSpot provides three kinds of plans: Starter, Professional, and Enterprise.
The Starter Plan costs $45 per month. It accompanies features such as personalized emails, live chat, conversation routing, and email and in-chat app assistance.
If you are looking for a plan that includes sales forecasting, database customization, and video messaging, the Professional Plan is the one for you. It starts at $450 per month.
The Enterprise Plan costs $1,200 per month. With this plan, you can get access to additional services like sales analytics, conversation intelligence, and predictive lead scoring.
Read also: Sales Pipeline vs Sales Funnel — Yes, They're Two Different Things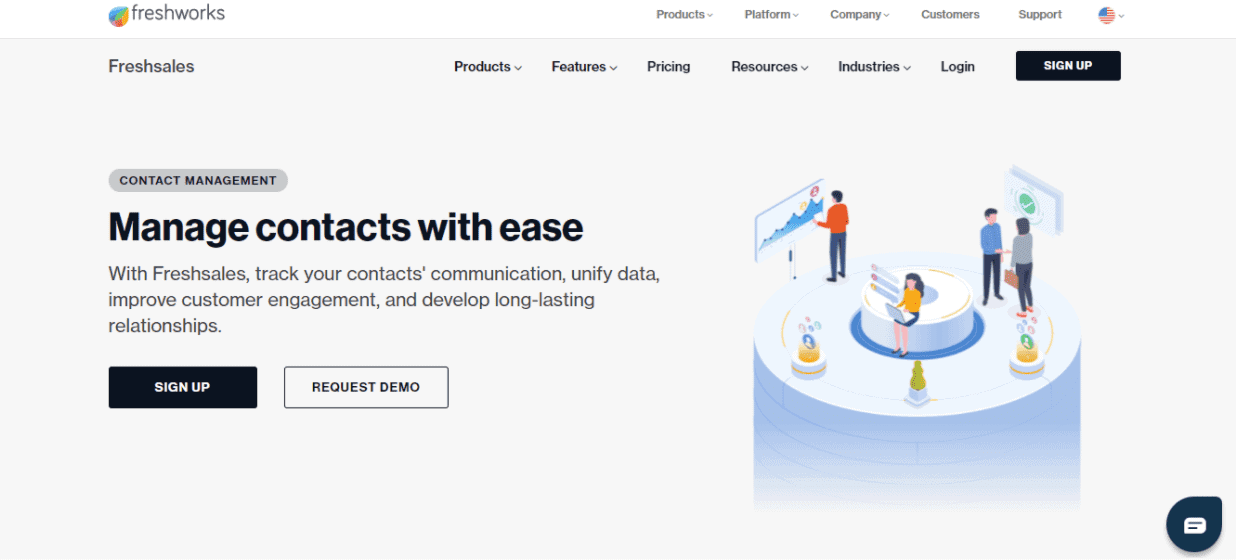 Freshworks' contact management platform, also known as Freshsales, features AI-based contact scoring that helps you identify your target audience based on their engagement levels.
It further helps with predictive lead scoring that prioritizes qualified leads, thereby closing deals faster.
Freshsales also helps create and execute personalized sales campaigns based on customer behavior. It provides real-time alerts whenever a contact performs an action on your website.
In addition, you can automatically convert your contacts by forwarding sales emails from your inbox to the CRM's customized email address.
Pros
Affordably priced

Highly responsive customer support
Cons
No feature to build multiple steps into a single sales sequence

Can take longer than usual to load
Pricing
The Free Plan lasts for a month and comes with features such as contact management, 24*5 support, a mobile app, and in-built chat, phone, and email.
The Growth Plan costs $13.28 per user per month and offers sales sequencing, product cataloging, predictive contact scoring, custom reporting, and more.
For multiple sales teams, the Pro Plan works best. The Pro Plan starts at $37.20 per user per month. It includes all the features of the Growth Plan, plus workflow automation, chat campaigns, and multiple sales pipeline management.
If you are looking for more advanced features like auto-profile enrichment, audit logs, and a dedicated account manager, go for the Enterprise Plan (available for $66.44 per user per month).
Read more: 11 Sales Tools for Automation, Prospecting, and CRM Integration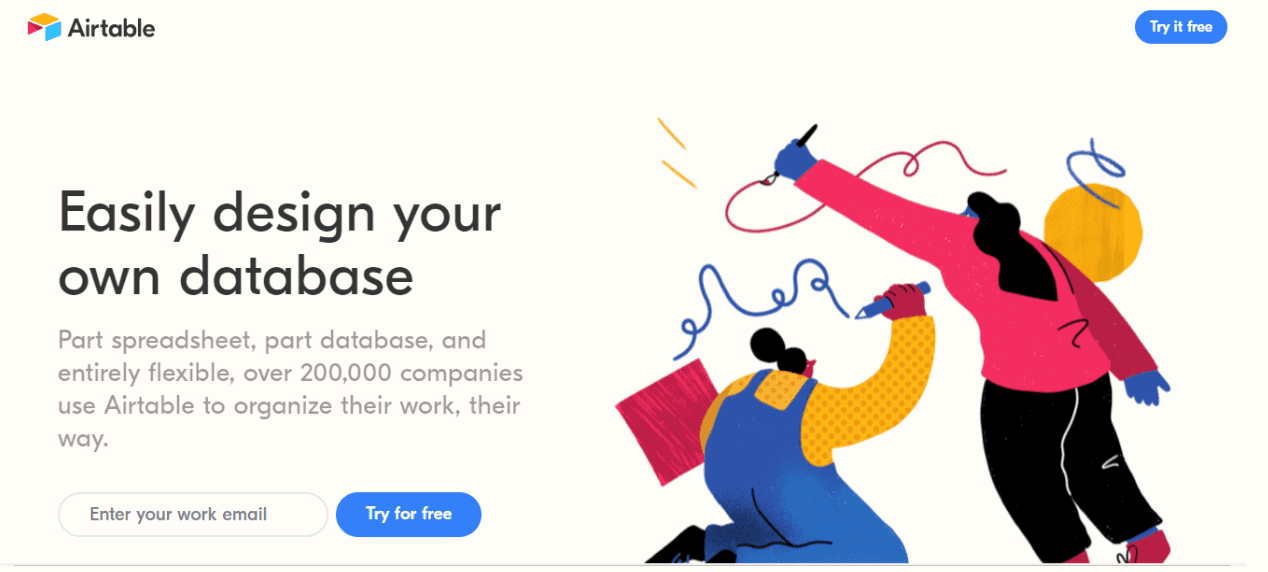 Airtable is one of the best customer database software that allows you to design your database according to your needs and view it from multiple perspectives. These perspectives include a grid-like view, calendar view, kanban view, gallery view, and form-like view.
With Airtable, you can also generate sales insights and visualize records using timelines.
Additionally, this client database software provides a range of templates for event planning, project pipeline management, media CRM, and digital production.
Pros
Helps in collaborative editing of documents

Multiple templates open up options for creativity
Cons
The audit log featured could be improved

Limited advanced functions
Pricing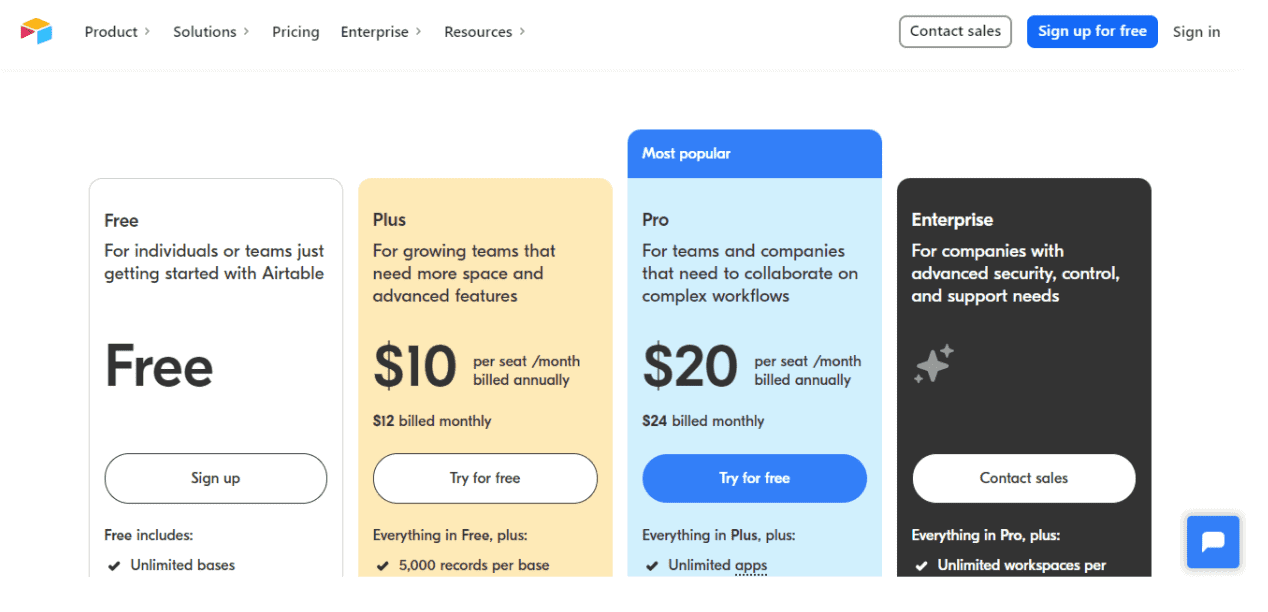 For those just getting started with Airtable, the Free Plan provides unlimited bases, 1,200 records per base, 2 GB of attachments per base, and multiple perspective views of the customer database.
The Plus Plan costs $10 per user per month and comes with features like one synced table per base, six-month revision and snapshot history, and 5,000 records per base.
If you are looking for collaborative editing and more contacts, the Pro Plan is ideal. It starts at $20 per user per month and comes with 50,000 records, unlimited app integration, personal and locked views, and one-year revision and snapshot history.
The most premium plan — Enterprise, provides 100,000 records per base, unlimited workspaces per organization, enterprise-wide admin panel, and Salesforce integration. For quotations, businesses can contact Airtable's sales team directly.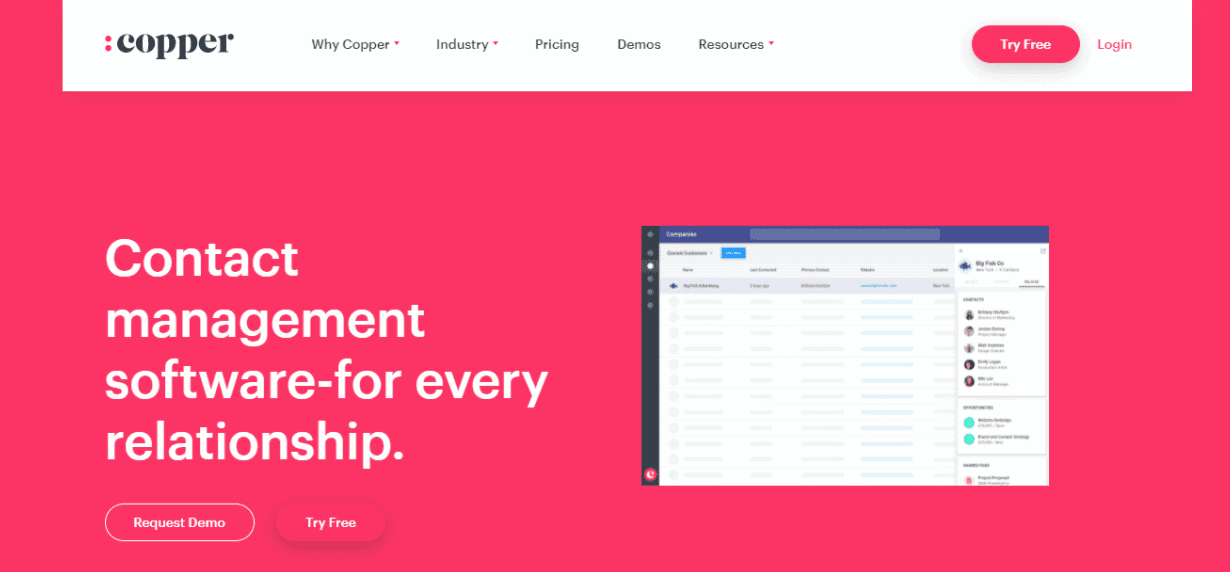 Copper is also a great customer service database tool.
With Copper, you can skip the manual recording of client data and also get complete visibility of your email communication history, sales pipeline information, and any details that could help your sales team design effective strategies.
Copper can be seamlessly integrated with Gmail, Google Calendar, Docs, and Sheets.
Besides, it is quite popular for promoting collaboration among sales teams.
Pros
Helps track client interactions via email integration

Helps track legacy reports of teams in different time frames
Cons
Downsizing is a slow and difficult process

A limited number of email templates
Pricing
The cheapest plan is called the Basic Plan, available for $25 per user per month. It includes 2,500 contacts along with G Suite integration, team collaboration, task management, and pipeline management.
Under the Professional Plan, 15,000 contacts are permitted and include bulk email sending, custom reporting, and integration with top apps like Slack, QuickBooks, Zapier, and more. It costs $59 per user per month.
The Business Plan costs $99 per user per month. It offers additional features like website tracking, lead scoring, goal tracking, activity reporting, and creating personalized embedded integrations.
Read also: 10 Customer Service Email Templates for New CRM Users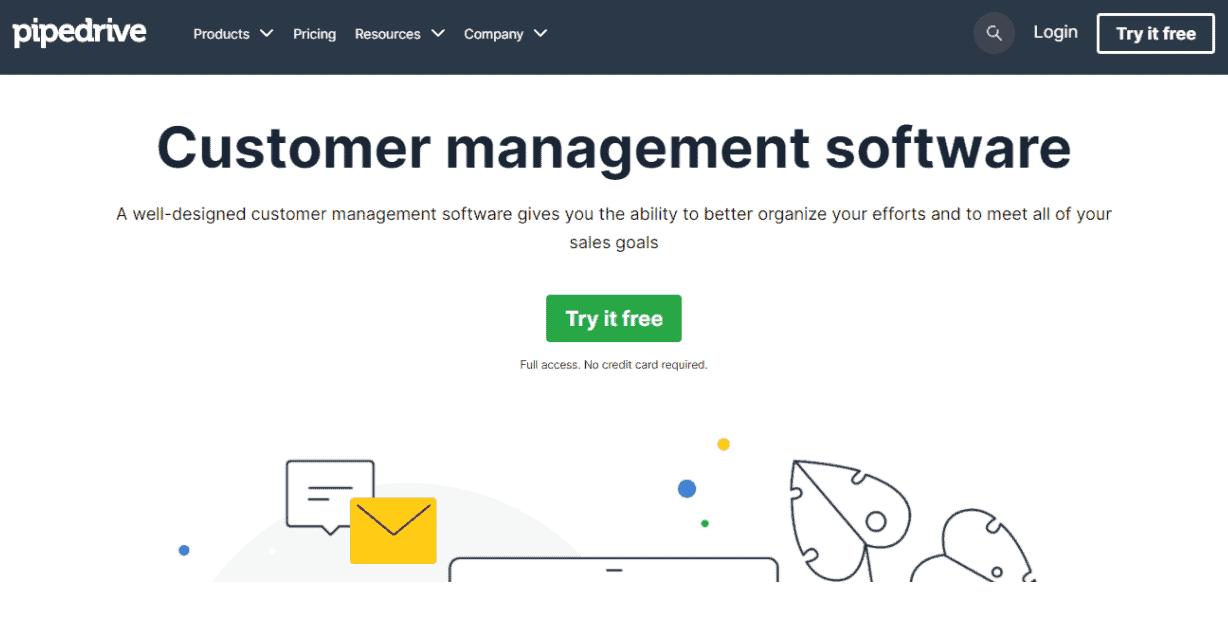 Pipedrive's customer management tool helps you manage your sales pipeline with a single application. You can track the number of leads in a pipeline, the size of a deal, how long a deal stays in the pipeline, and the average rate of conversion.
With Pipedrive, you can see a streamlined view of your sales performance, customize your database as per needs, and access it anytime on your mobile phone.
Pros
Easy and uncomplicated process of adding customer details

Helps add unlimited information for clients
Cons
Limited marketing features

Cannot add hidden fields
Pricing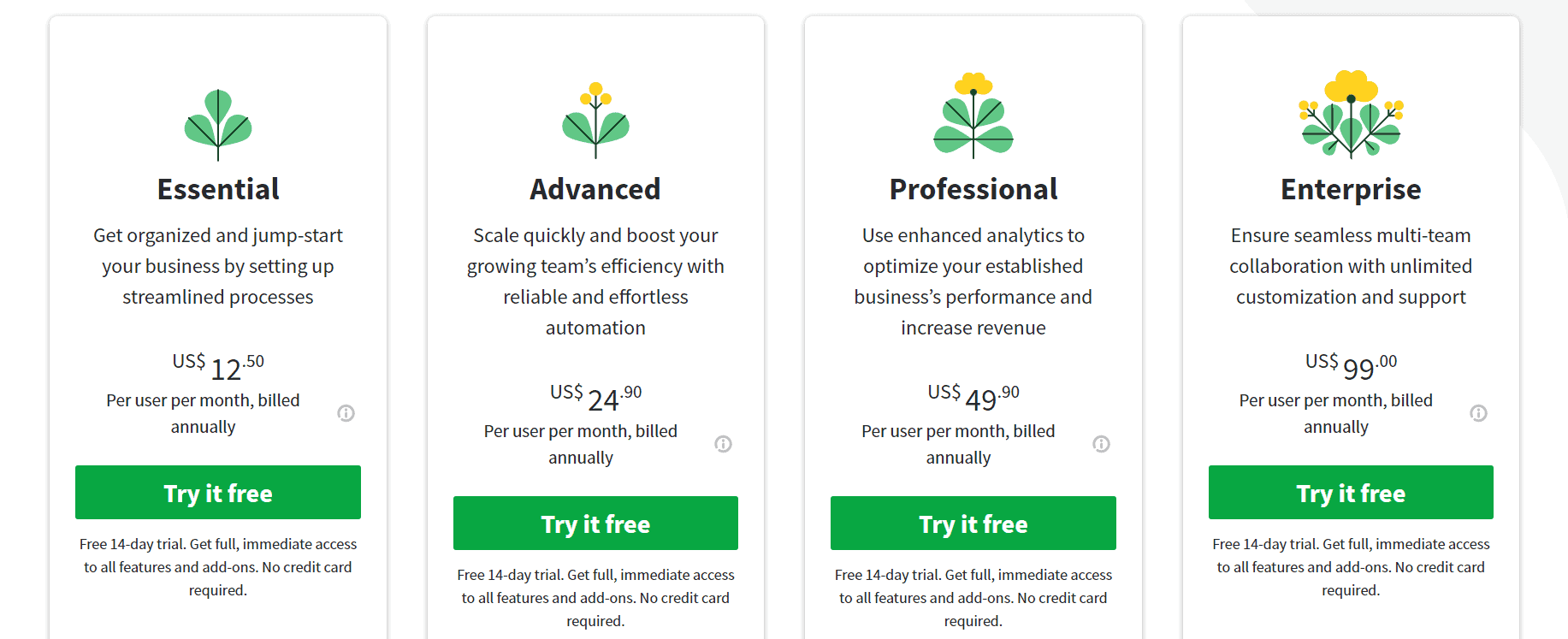 Pipedrive offers four types of plans: Essential, Advanced, Professional, and Enterprise.
The Essential Plan starts at $12.50 per user per month. It includes features such as lead, calendar, and pipeline management, 24*7 support, and seamless data import.
For those looking for more features, the Advanced Plan offers email sync with templates and scheduling, workflow builder, and group emailing. This plan costs $24.90 per user per month.
You can also get services like e-signature of documents, call tracking, and revenue projection, thanks to the Professional Plan. It starts at $49.90 per user per month.
The Enterprise Plan costs $99.90 per user per month. It provides advanced capabilities like increased security preferences, phone support, and no limitation on feature usage.
Read also: Nonprofits CRM – Using Your CRM for Fundraising and More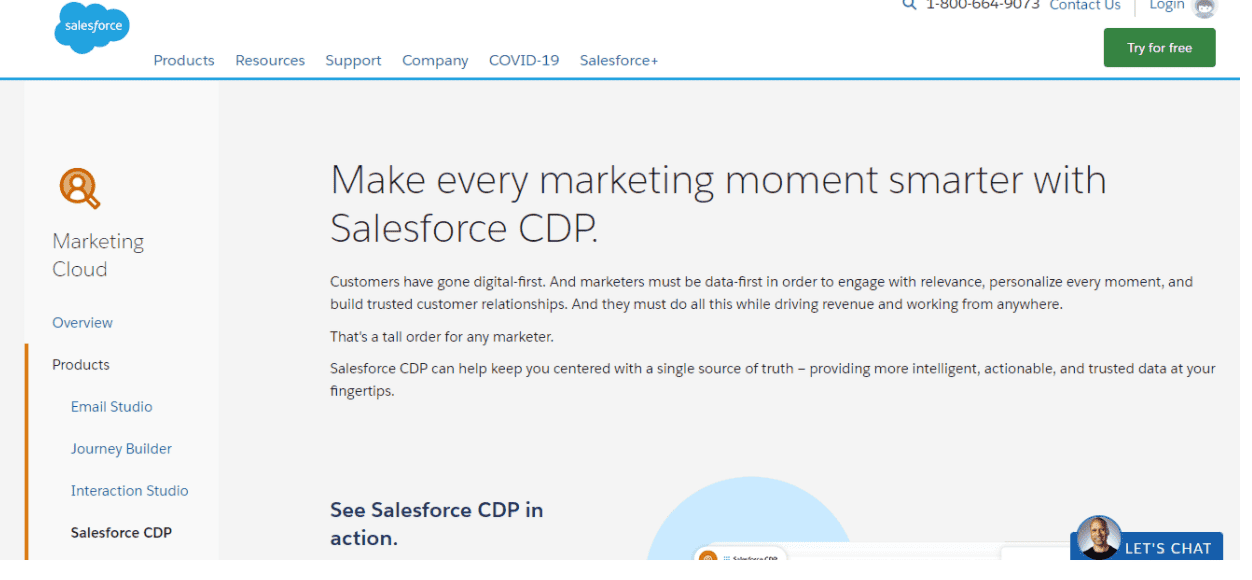 Salesforce helps you unify your customer data on a single platform.
Using Salesforce, you can reconcile client information through advanced resolution capabilities that will help you collect all relevant data.
This feature will enable you to understand your customers better thanks to information on their location, preferences, and job titles.
One of the best customer database software, Salesforce helps you create targeted customer segments using event-level data across departments so that you can send personalized emails.
Pros
Easy customization

Provides a centralized location to track individual customers
Cons
Takes time to load

A large number of sales tools makes it difficult to navigate the platform
Pricing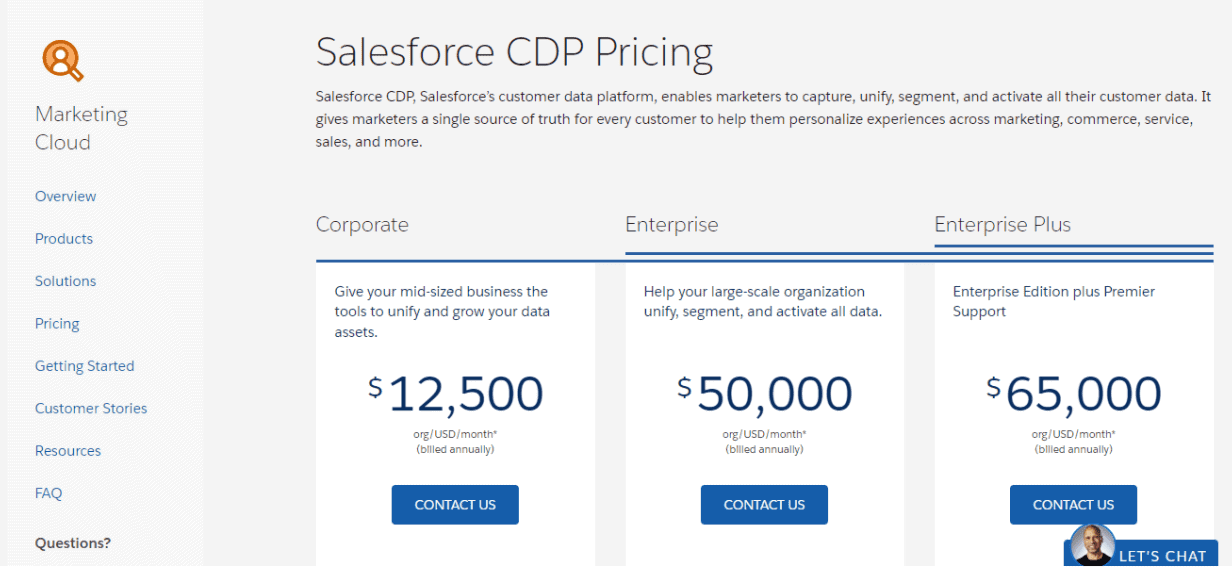 Salesforce has three plans in action. The Corporate Plan costs $12,500 per organization per month. It provides 45,000 unified profiles, 20,000 segment publishes, 10 million super messaging, and 7.5 billion segment events.
The Enterprise Plan costs $50,000 per organization per month and includes 500,000 unified profiles, 150 million super messages, 25 billion engagement events, and 100,000 segment publishing.
The Enterprise Plus Plan starts at $65,000 per organization per month, and comes with all the features of the Enterprise Plan, along with premier support.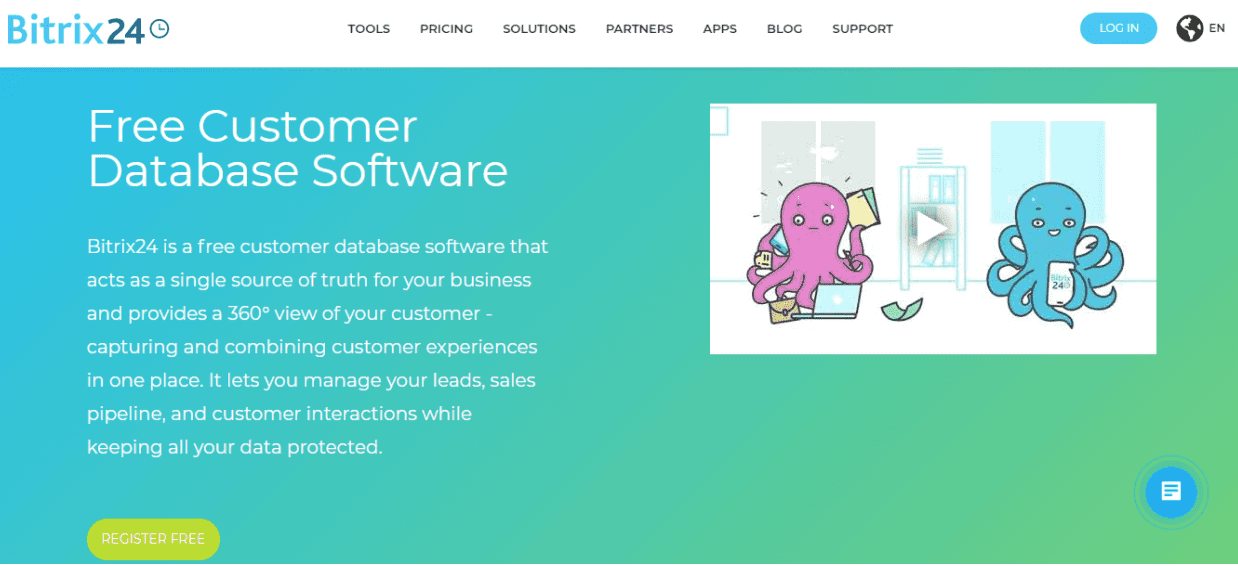 Bitrix24 is a free customer management software that helps gather and combine customer experience in one place. The customer database solution gives you a 360-degree view of your consumer data and sales pipeline.
Often, businesses are concerned about data privacy while executing sales strategies. However, Bitrix24 eliminates all your worries with strong data protection measures, so you can just focus on customer interactions and manage your sales pipeline effectively.
Pros
Helps access modules like CRM, sales management tools, project management, and sales inlays, all in one place

Easy to use once understood
Cons
Not very intuitive, can take some time to learn

The landing page can be cluttered and difficult to navigate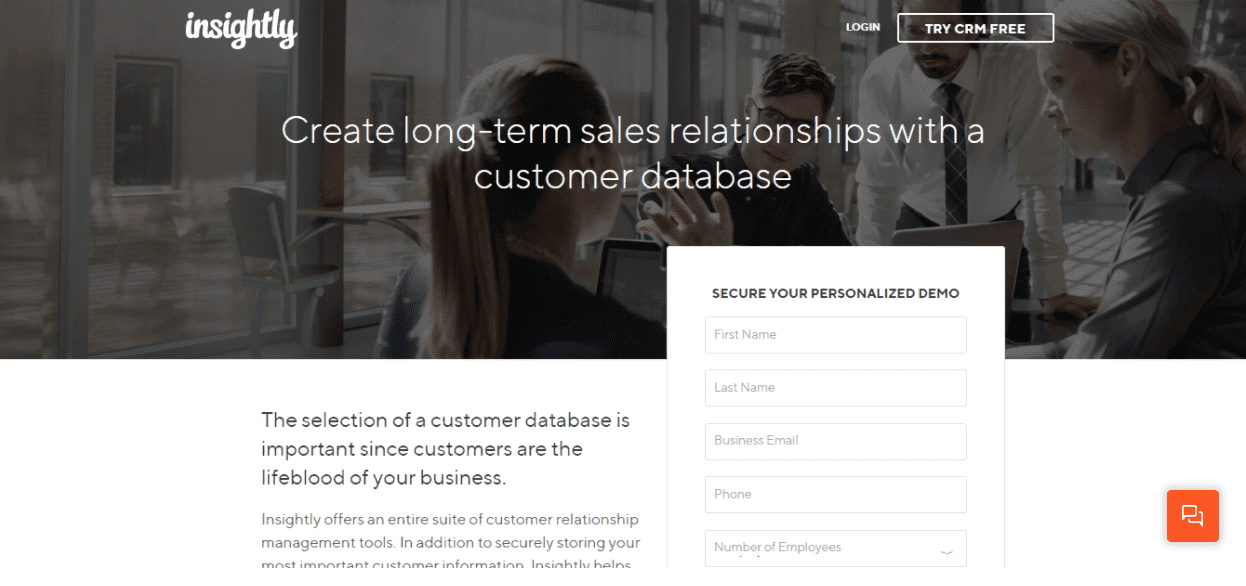 With Insightly, sales managers can store all client information in a secure database. This database helps you put your data into action by engaging with customers without leaving the website.
In addition, Insightly offers a flexible record structure using custom tags, relationship linking via social media accounts, and data modeling through dynamic graphs and charts.
Pros
Can be synced from computer to mobile phone, so customer information is available on the go

Custom tagging helps identify contacts that fit into the desired category or demographic
Cons
The mobile version needs several improvements

More third-party integrations needed
Pricing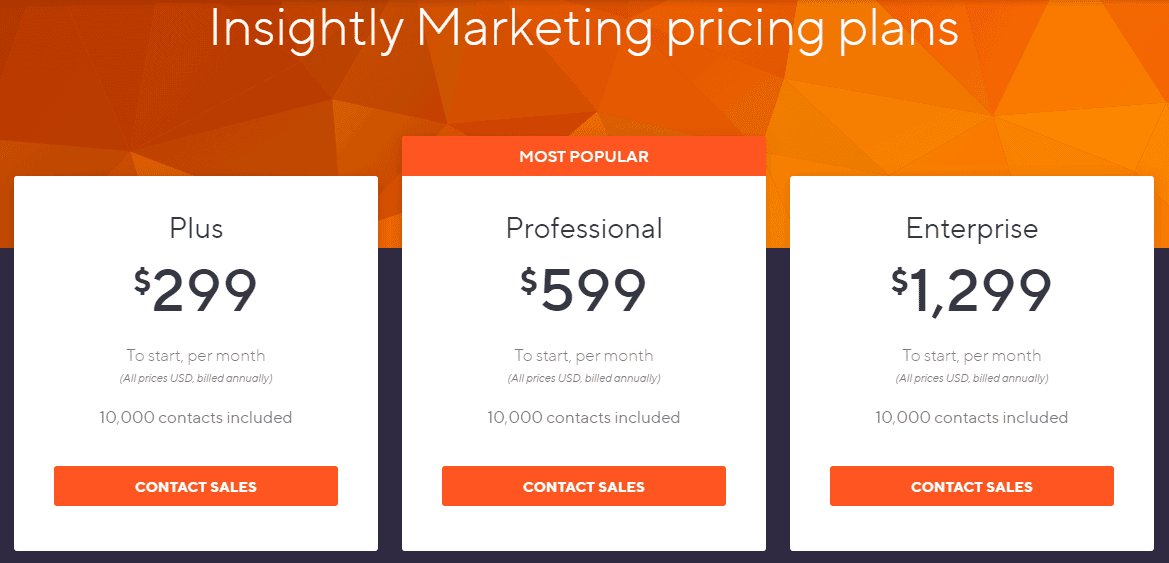 Insightly provides three types of plans: Plus, Professional, and Enterprise.
The Plus Plan starts at $299 per month and includes 10,000 contacts. It offers features like email marketing, dynamic list segmentation, and lead generation.
Its Professional Plan offers mobile-optimized content creation, external form tracking, and advanced email analytics. It costs $599 per month.
If you are looking for unlimited hosted landing pages and event-based segmentation, for its Enterprise Plan. It starts at $1299 per month.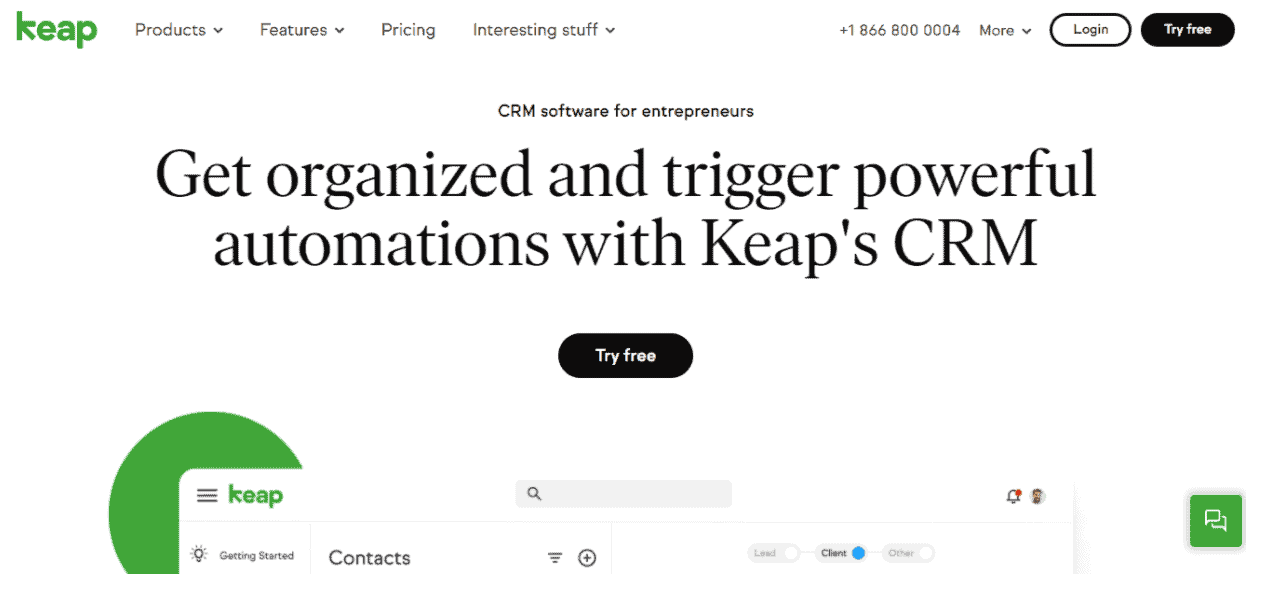 Keap is a fully customizable CRM and client management platform. Using Keap, you can collect and organize contacts automatically through social media, landing pages, and custom lead forms.
You can access the customer database from anywhere, thanks to Keap's mobile app. You can even migrate contacts from MailChimp and Constant Contact directly.
Moreover, it allows you to automatically tag and segregate contacts to trigger personalized automation based on sales conversations.
Pros
Keeps track of all invoices and interactions

Excellent resource for marketing campaigns

Large number of third-party integrations
Cons
More custom fields required

At times, emails land in the junk or spam folder
Pricing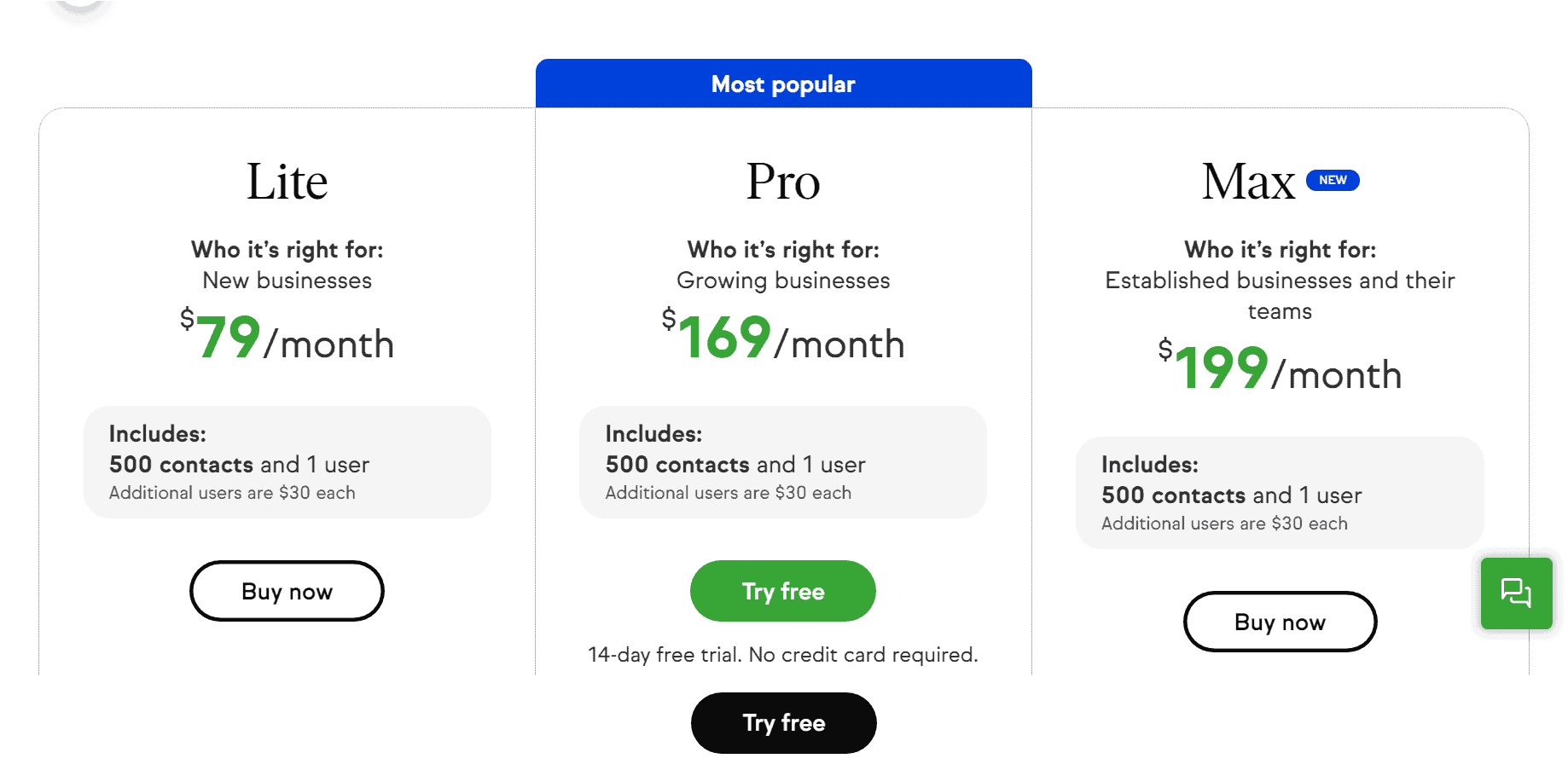 For those who like to try Keap's platform first, a 14-day free trial is offered.
The most basic plan of Keap is the Lite Plan, which starts at $79 per month. It includes email marketing, lead capturing, and automated text messaging.
Its most popular plan, Pro, costs $169 per month and adds advanced sales enablement features like A/B testing, text message broadcasting, sales reporting, and analytics.
The Max Plan ($199 per month) is the most premium and includes services such as lead scoring, sales funnel, promo codes, and Shopify integration.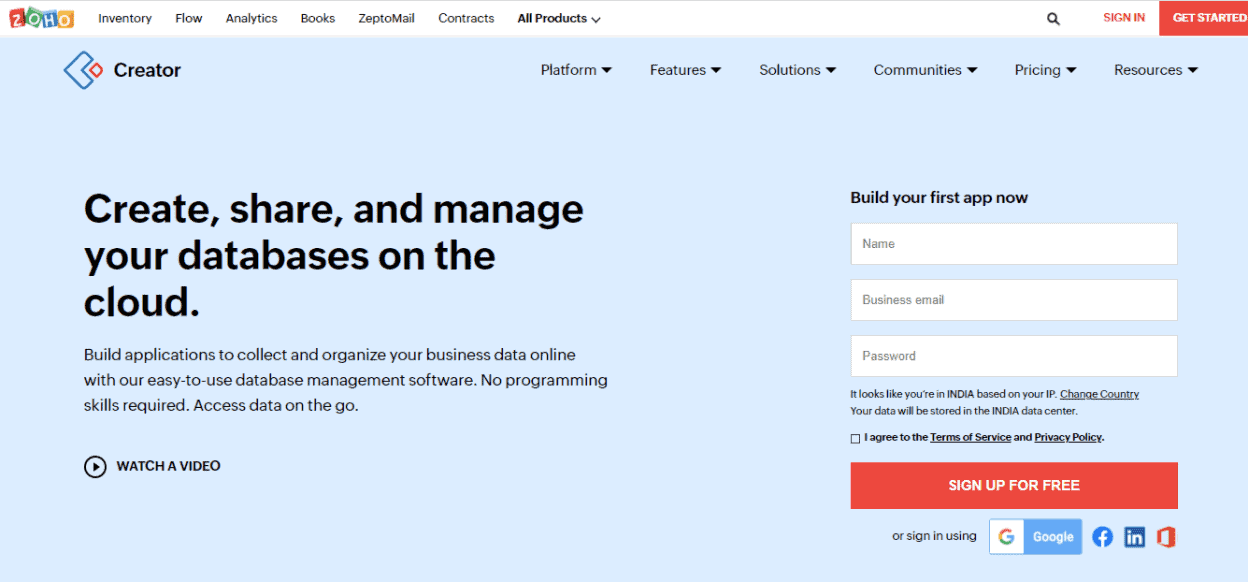 Zoho's easy-to-use database management software helps you record client data in an organized and systematic manner.
Zoho boasts of features like building databases from scratch using the drag and drop builder, publishing your database online, and integrating it seamlessly with several third-party applications.
Pros
Quick customer support

Unlimited customization options
Cons
Delete user or customer option not available

Outdated user interface
Pricing
There are two plans offered by Zoho: Professional and Ultimate.
Zoho's Professional Plan starts at $13.29 per user per month. It provides integration with five third-party apps, 20 integration flows, in-built AI capabilities, and payment gateway integration.
The Ultimate Plan costs $212.65 per user per month. Some of its key features include enhanced sales operations, over 100 integration flows in a private app store, active directory integration, and advanced data preparation.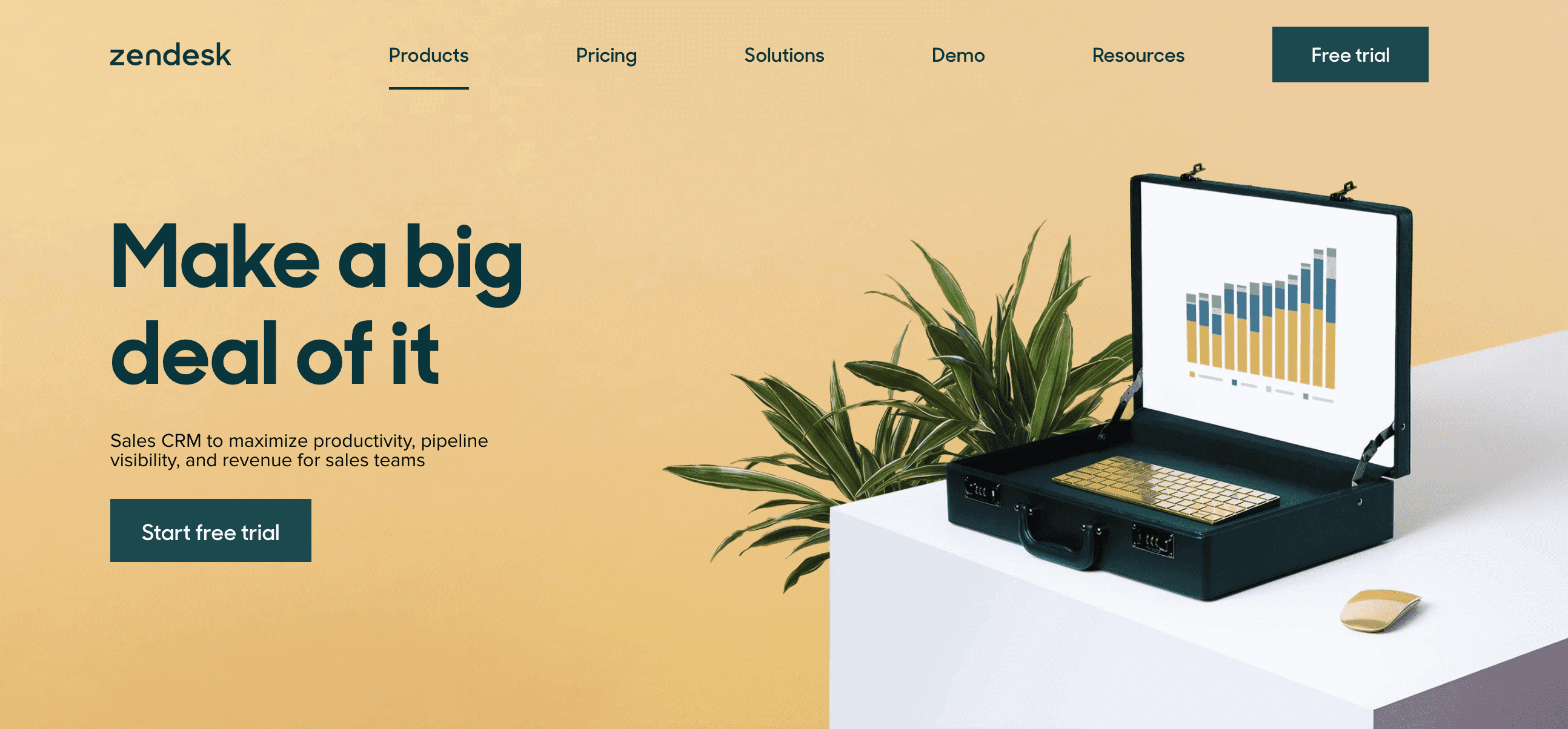 Zendesk is a customer database and sales CRM tool.
With Zendesk, you can save time by automating customer data recording, and you can also customize consumer reports.
This will help your sales and marketing teams gain insights into your customer base, and their behavior and preferences. This, in turn, will help create better and more effective sales campaigns.
Some of Zendesk's well-known clients include ITC, Ola Cabs, Furlenco, and Emeritus.
Pros
Transparent communication tool

Multiple integrations with social media, email, and calendars
Cons
Slow customer support

Lack of accuracy in platform customization and configuration
Pricing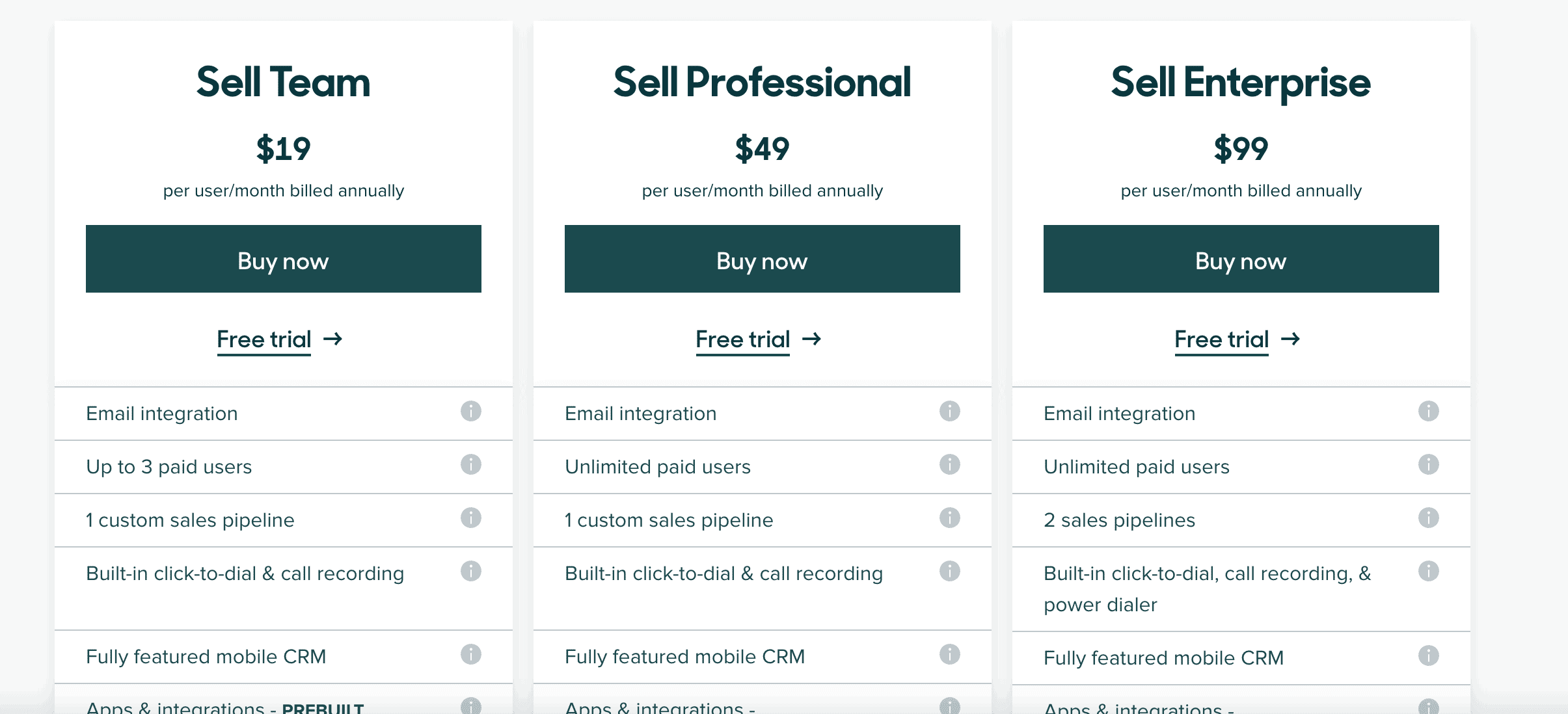 The plans offered by Zendesk are Sell Team, Sell Professional, and Sell Enterprise.
The Sell Team Plan costs $19 per agent per month. It offers email integration, 1 custom sales pipeline, call recording, and more.
Sell Professional Plan starts at $49 per agent per month and offers key services like personalized bulk emailing, advanced call analytics, and more.
In case you are looking for customized notifications, the Sell Enterprise Plan works best. Available for $99 per agent per month, it offers advanced sales automation features like unlimited custom fields, lead and deal scoring, and sales activity reports.
Conclusion
A good sales database tool automatically records and updates all customer information.
Tools like EngageBay offer a vast set of functionalities including sales forecasting, project management, and tagging leads. All these features help sales reps make more sales in less time.
Having everything organized in a single place makes it easy for a sales team to manage their contacts database.
If you'd like to know how EngageBay can help your company, just sign up for free and we'll reach out to you.