Are you wondering whether it is time for you to take a giant leap and invest in a CRM? However, you are not sure about the CRM process and all the complexities?
Read this article to know everything there is to know about CRM processes.
What do you think does a business need the most to sustain itself?
Perhaps, a high-quality product! Or maybe it is the brand name?
Irrespective of what sets a brand apart, ultimately, high sales are the end goal of all businesses.
It is the revenue that fuels the business engine, and did you know that over 86% of surveyed consumers would happily pay a brand more for a richer customer experience?
So, in a way, it is the customer experience that is the real product of your brand. The more supported and nourished your clientele feels, the better your shot at beating your rivals!
The most basic way to improve your customer relationship is to communicate and organize better.
So, how do you do that?
With the help of Customer Relationship Management (CRM) software, that's how!
In this article, we intend to help you understand what a CRM is, what it does, its features and various types, benefits, its utility for your particular business, and everything else that you could know about CRMs.
👉👉Implement CRM, streamline your business process and boost revenue using EngageBay – the simple yet All-in-One marketing and sales CRM for growing companies. Get FREE lifetime access (up to 15 users) from here 🏆🏆
So, let us first start with an understanding of what is CRM!
What is CRM?
To put it as simply as I can, a CRM is a technology used by companies to strategize and implement the steps required to better their relationships with their customers.
A well -designed CRM is what any business needs to manage various aspects.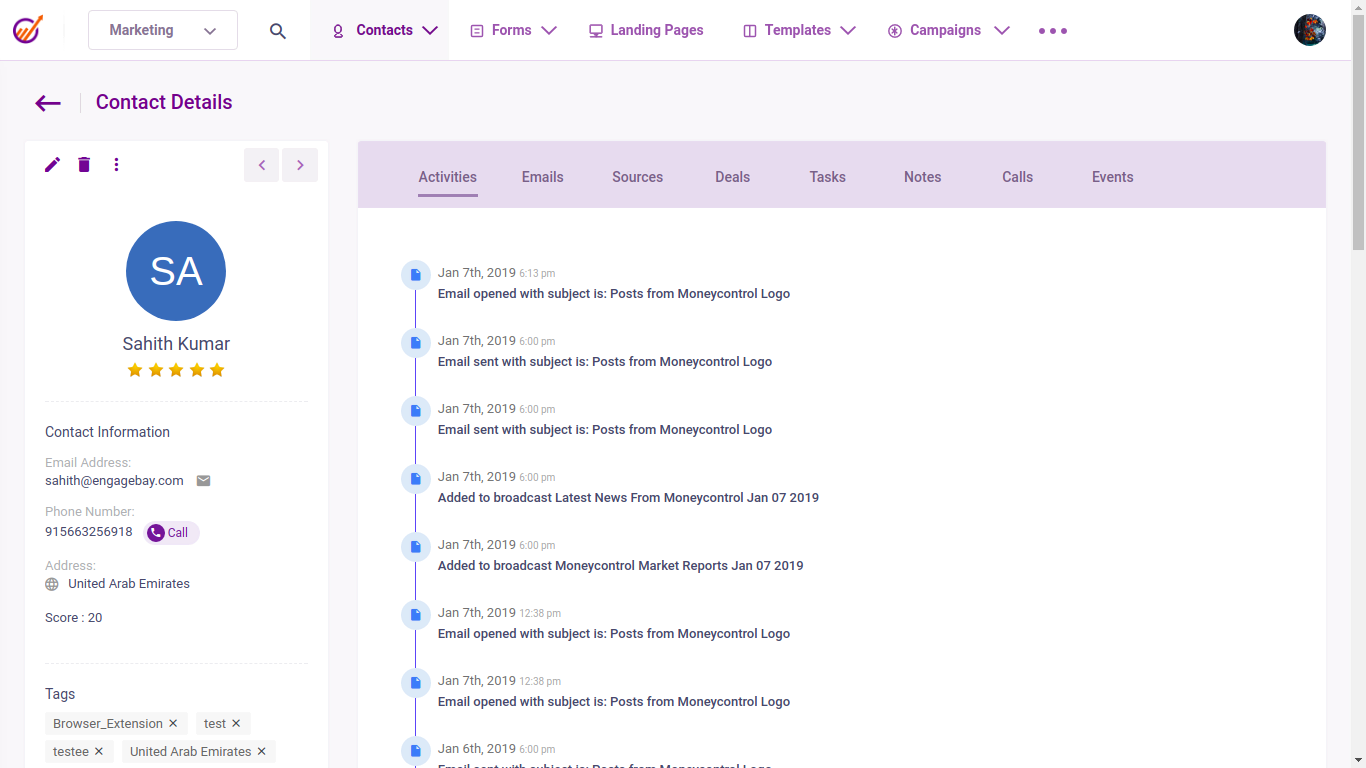 CRM software can help you keep in touch with your consumers, create and track tasks as per their urgency.
CRM tools could help you send out bulk emails, schedule tasks, divide roles, configure your whole team on one channel, provide insights on the customer data, and the right CRM tools could also significantly reduce your manual intervention by providing high automation facilities.
We will discuss the features and perks of using a CRM in detail later in this article, however, for now, it is important to understand that a good CRM for small business can multiply your business's potential and productivity.
The right CRM for your business would be the infrastructure for all your business needs, giving your business processes a better structure.
The market is full of various CRM tools today. Some of these CRM tools specifically cater to sales, while others to marketing.
Most claim to do it all for you! However, we will get into that later in this article.
It is important that you understand a CRM process to choose the best one for yourself.
Thus, in the next section, let us talk about what is a CRM process.
What is a CRM process?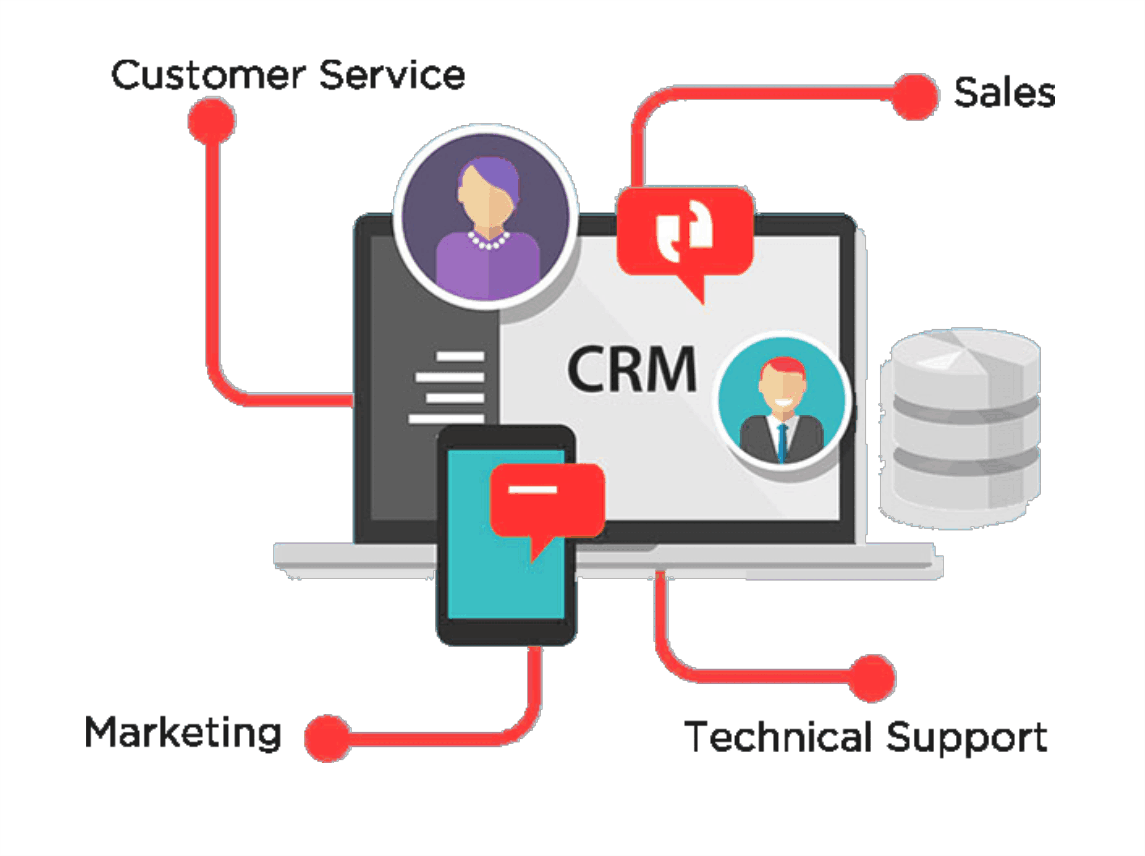 Image Courtesy: Softyug Solutions
CRM process is what puts those strategies at work!
All the plans and activities that you have in mind to better your business, a CRM process would help you execute those.
However, to even begin with the strategizing part, we must understand the CRM process completely.
👉👉Implement CRM, streamline your business process and boost revenue using EngageBay – the simple yet All-in-One marketing and sales CRM for growing companies. Get FREE lifetime access (up to 15 users) from here 🏆🏆
You could divide a CRM process into 4 simple steps. Let us look at the CRM process steps.
What is the first step in the CRM process?
Marketing: This step starts with introspection!
It all starts with you sitting down with a pen and paper (or maybe a laptop in our contemporary times), and plotting your demographics down.
You need to map out the customers your business targets, the core values you are banking on, and what you need from a sales CRM.
At this stage, you would also be contemplating your marketing campaigns, collecting leads and data, and rightfully assessing their utility.
Once the leads have been filtered, it is now on to the next step of your CRM business process.
Depending upon the interest a lead has shown and their willingness to make a purchase, the lead is aligned on a sales pipeline or a sales funnel.
The basic elements of a sales funnel include generating awareness, creating an interest, pitching the product, and hopefully, closing the deal.
However, the work is not done there, my friend!
Once the purchase has been made, we come to the "Products stage". At this stage, you would need to sort out the pricing, the mode of delivery, the product specifications, among others.
After this stage, the customer receives the product.
So, we have converted a lead into a customer, and made a sale! Congratulations! But, this isn't the final stage!
Now, we come to the final step! So, what is the last step in the CRM process?
Track, prioritize, and solve customer support tickets in minutes using a simple help desk software.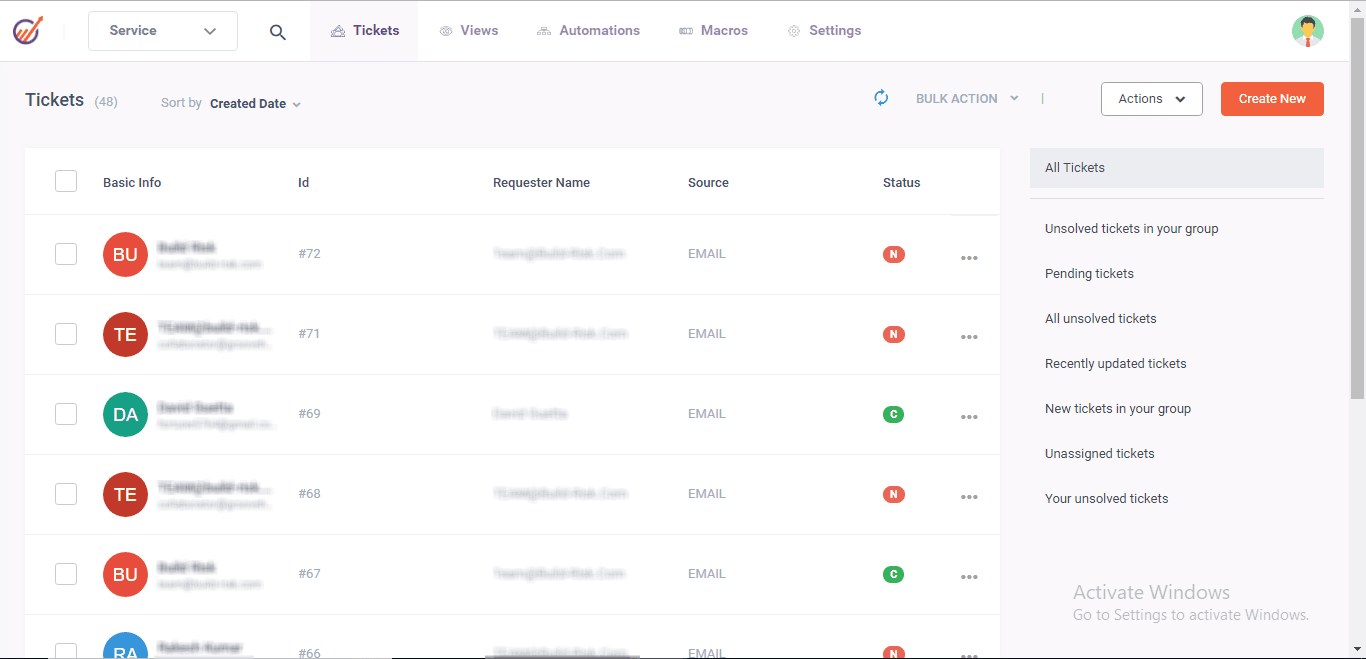 Customer Service: What happens after the product has been delivered? Does your consumer have queries/feedback?
This is where you need to be agile and helpful. Live chatbots or prompt automated messages could put your consumers at ease.
After all, this is the stage that serves the purpose of a CRM!
What is the primary objective of a CRM process? To foster better relationships with your customers!
Now, what we need to establish is that this isn't a one-time process.
The CRM strategy you pick is your long-term game! It is not a linear process, but a circular cycle.
You would need to keep pushing your leads, customers, colleagues, and products through the CRM process cycle constantly.
While it may seem like marketing and sales have the mantle of driving any venture ahead, it may surprise you to know that each element in the customer relationship process has a significant role.
Did you know that over 96% of consumers worldwide say that their perception of a brand and the ultimate purchase depends upon the customer service, which is the very last stage of our CRM business process flow?
Thus, no stage of the CRM processes and systems can be ignored!
Now that we understand the elements of the CRM process and the CRM process flow, let us understand why is CRM needed at all!
Why is CRM important?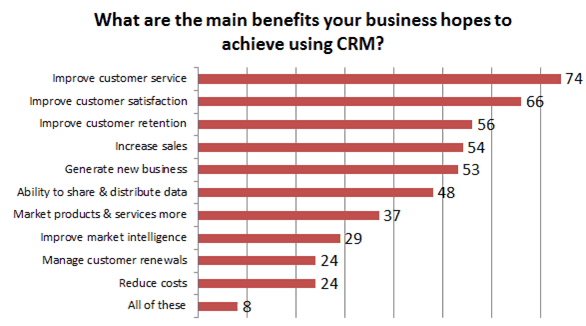 Image Courtesy: Superoffice 
If I were to list down why CRM software is a must-have in the kit of an ambitious businessman, it would be for three basic reasons:
Clarity
Efficiency
It is the future!
To elaborate more on the clarity that comes with CRM tools, let us take the example of a regular CRM sales process. With the help of an elaborate pipeline, you can track a deal at every stage in the sales funnel.
You would have a clear concise overview of your whole business on your dashboard.
Who is dealing with which lead? How many invoices have been sent out? What is your client's purchase or payment status?
Everything can be at your disposal – at a matter of a few clicks!
We understand that as your business expands, it may get messy. Perhaps why, you need a good organizer to keep your needs and demands sorted for you. That's what a CRM does!
On a CRM tool, you get to have a say in who sees what, you get to eliminate the time-consuming tasks, and you get to stay in touch with your consumers effortlessly.
Tell me, if that's not efficient!
One big problem that most businesses suffer from is their departments often work solo.
There happens to be no co-ordination or a fruitful sense of synergy among them! CRM software brings them all together and aids them in growing together.
For example, in a CRM process flow, a Marketing Qualified Lead would naturally be passed down to the sales reps, aiding them to make better sales and quicker conversions!
When the various departments of your organization achieve synergy, your business meets sustainability. At the current times, sustainability is an issue most start-ups and small ventures face.
However, a little organizing and astute execution of CRM strategies could fix that for you!
In this article, we will be touching upon how a CRM tool helps us do exactly that, however, for now, let us just say it out loud: CRM is truly the future!
In this cut-throat competition, you can not afford to miss a meeting or roll out campaigns after your rivals. Besides, data that is manually recorded and saved can be lost.
Database management systems too require arduous entry jobs.
Although CRMs have largely been attached to sales and marketing, they aid data entry and classification too.
Not only does it store the data, but a good CRM software also makes sense of it! It helps you plan out your marketing strategies in line with what attracts your customers.
Did you know that companies that integrate a CRM system into their operations and functioning nearly find a 35% increase in their conversion rates?
If you miss out on such huge numbers, you lag behind your rivals. Thus, to sustain in the cut-throat market in today's age, a CRM is important.
However, not all CRMs available in the market are the same! Let us look into the different types of CRMs.
👉👉Implement CRM, streamline your business process and boost revenue using EngageBay – the simple yet All-in-One marketing and sales CRM for growing companies. Get FREE lifetime access (up to 15 users) from here 🏆🏆
What are the types of CRM?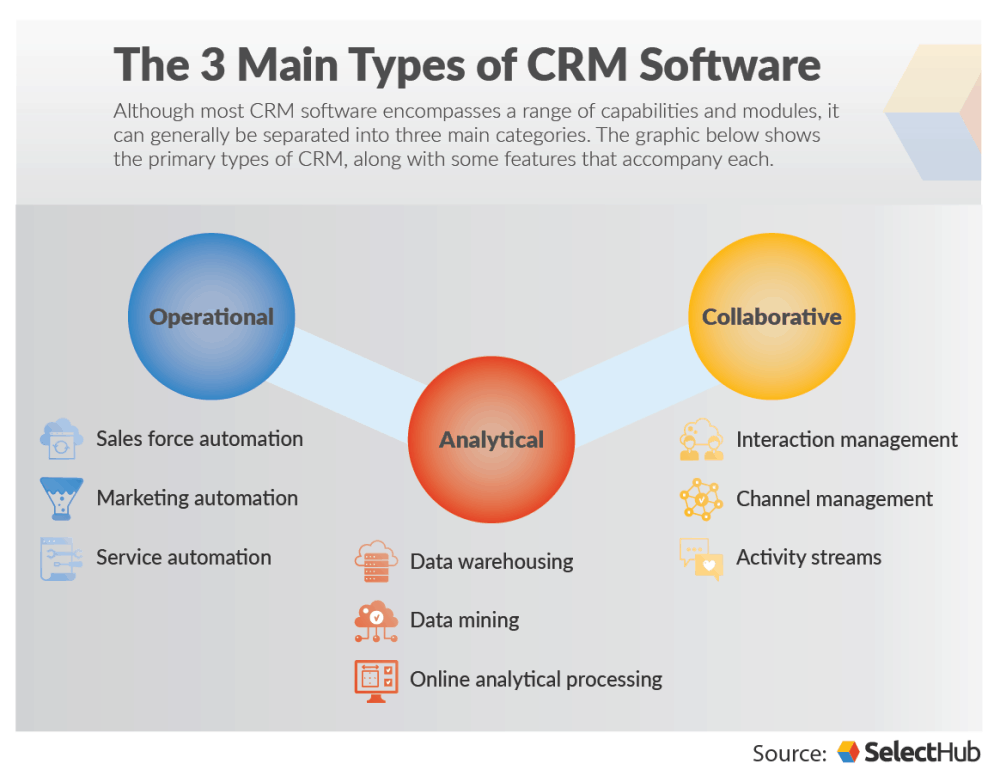 Image Courtesy: SelectHub
Nowadays, you get various CRM tools, which attempt to provide something unique from their rival vendors.
Despite the variety, most CRM tools fall into either one of these three categories:
1. Operational CRM
True to its name, these CRM tools cater specifically to the operational side of your business. These operations could be marketing, sales, customer service, and inventory management.
Anything that happens frequently or on a regular basis could go on this software.
The CRM process in marketing, for example, when you use an operational CRM tool, is about reducing manual labor in repetitive tasks.
For example, if you have an email campaign ready for new clients, then a marketing automation tool would save you the trouble of manually orienting the new members.
It would automatically initiate the command for your ease.
You could send out automated emails, texts, and even filter the specific demographics for your social media marketing campaign using the marketing automation tools.
Sales Automation tools take care of everything related to sales.
From tracking an account history to following up on pending payments, your sales reps can focus on being productive with the automation tool taking care of the secondary tasks.
Service automation tools ensure that your customers get quality support with the usage of automated templates and issue management plans.
2. Analytical CRM
Ideal for those companies that usually deal with a large bundle of data, analytic CRM could be the best data management software you have come across!
They primarily help with:
Converting leads to consumers
Converting consumers into happy and loyal consumers
Collecting consumer data and reports on interactions with consumers to better your prospects.
This data could help you in tailoring your future marketing plans and sales strategies. The data concerned here could range from identifying the spending patterns of your target audience to configure people who click on your paid social media campaigns into your CRM.
Every touchpoint is an opportunity for you to learn more about the audience that can soon become a lead or a customer, better yet!
3. Collaborative CRM
To put it simply, this CRM facilitates the exchange of data between vendors and businesses.
The idea behind these CRM types is to keep all the stakeholders or distributors on the same page.
It is a must-have for larger organizations with global expanse or outreach.
👉👉Implement CRM, streamline your business process and boost revenue using EngageBay – the simple yet All-in-One marketing and sales CRM for growing companies. Get FREE lifetime access (up to 15 users) from here 🏆🏆
Benefits of CRM software includes organizing all your email contacts, tracking deals and the sales pipeline to grow your sales, and building meaningful customer relationships.

What are the benefits of CRM?
1. Saves time
2. Saves money
3. Flexibility
4. Keeps the whole team in one place
5. Happier customers
6. Data Organizing
The market today is a competitive place. While human resources and the best equipment could take you ahead of your rivals, an efficient CRM could affirm your hold in the market, by complimenting your business with the following benefits:
1. Saves time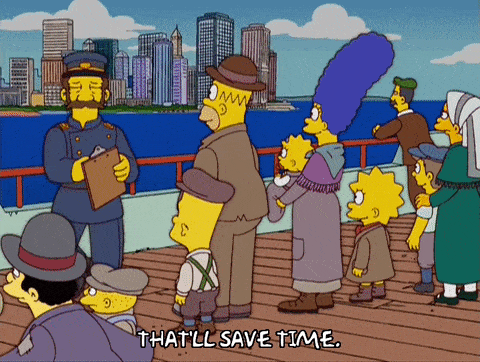 A CRM is the AI push your business needs! Why invest your time, and efforts into something that can be automated on a CRM tool?
From scheduling follow-up emails to allotting assignments, everything can be done in a click.
2. Saves money
Think of CRM software as your digital employee. With CRM software taking care of all your repetitive and regular tasks, you could significantly cut down on the company costs.
3. Flexibility
A highly customizable CRM software gives you plenty of options to make it your own space. You could add custom tables and fields to integrate your requirements onto the software.
4. Keeps the whole team in one place
From sales to marketing to inventory management, you could do it all on the right CRM. Keep an eye on all aspects of your business, and make better informed and faster decisions.
5. Happier customers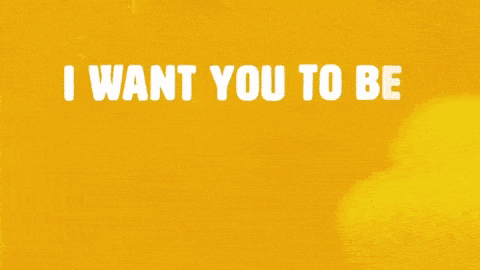 After all, this is what it's all about. Customer Relationship Management Process is about enhancing your relationships with your customers!
Did you know that incorporating a CRM system could increase your sales by 29%?
6. Data Organizing 
There is a reason why the CRM industry overtook Database management systems to become the highest revenue-generating software market in 2018!
CRMs allow easy accessibility anywhere anytime!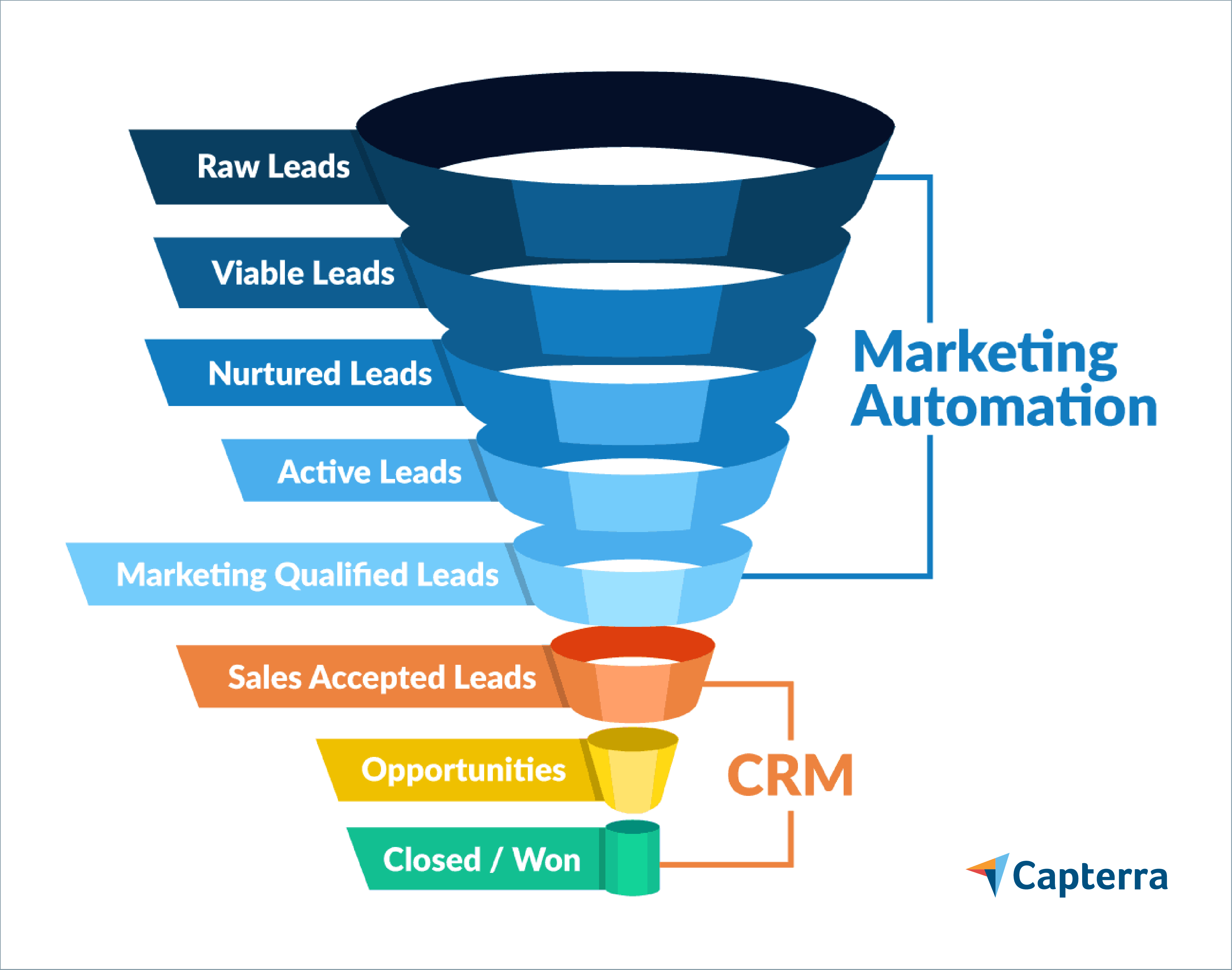 Image Courtesy: Capterra
What are the common features of CRM software?
Sales automation
Marketing automation
Contact center automation
Contact manager
Analytics and reporting
Communication channels
Mobile access
Most CRM software comes equipped with the basic features listed below:
Sales automation: As also discussed under Operational CRM, this tool allows your sales reps to get closer to your consumers. It allows your sales reps to track the invoice status, follow-ups, and send automated reminders or receipts on completion of a process.
Marketing automation: Newsletters, marketing campaigns, sending bulk texts – it can all be automated using the right CRM. Marketing and Sales together comprise the backbone of your business, so you want to choose a CRM that understands both!
Contact center automation: This comes at the rescue of a customer service agent who needs to switch between various applications and modules to help the consumers and may also need to follow up at times. This automation tool takes care of the complexity while leaving the customer with a seamless experience.
Contact manager: As the name hints, this feature allows the users o segregate their contacts, and thus, organizes their utilities better.
Analytics and reporting: Which sales rep is your best performer? How much revenue did you generate last month? Which of your marketing gimmicks are on point? Insightful reports on everything – a good CRM tool can do that for you!
Communication channels: Depending on how many channels your CRM allows you to integrate, you should be able to reach out to your customers via mail, social media, SMS, etc.
Mobile access: Especially useful for those who are always on-site or on the go! This allows you the freedom to look at your data or input more on your phone anywhere anytime!
While these are some of the most basic features that most CRM software offers, you could always look out for better options. Nowadays, CRM software rival with each other on who can offer the best and most diverse features.
However, before you make the switch to a CRM, you would need to evaluate your needs, and understand why do you need it at all!
👉👉Implement CRM, streamline your business process and boost revenue using EngageBay – the simple yet All-in-One marketing and sales CRM for growing companies. Get FREE lifetime access (up to 15 users) from here 🏆🏆
Why should you adopt a CRM system?
Consider the Stats
Get a grip on your business
Enhances customer satisfaction
Improve products and services
1. Consider the Stats
It has been proven now that using CRM increases your sales productivity by up to 35%, which isn't hard to understand how!
When most of the repetitive tasks are automated, your sales reps get plenty of time to ace their art!
A good CRM greatly improves your sales productivity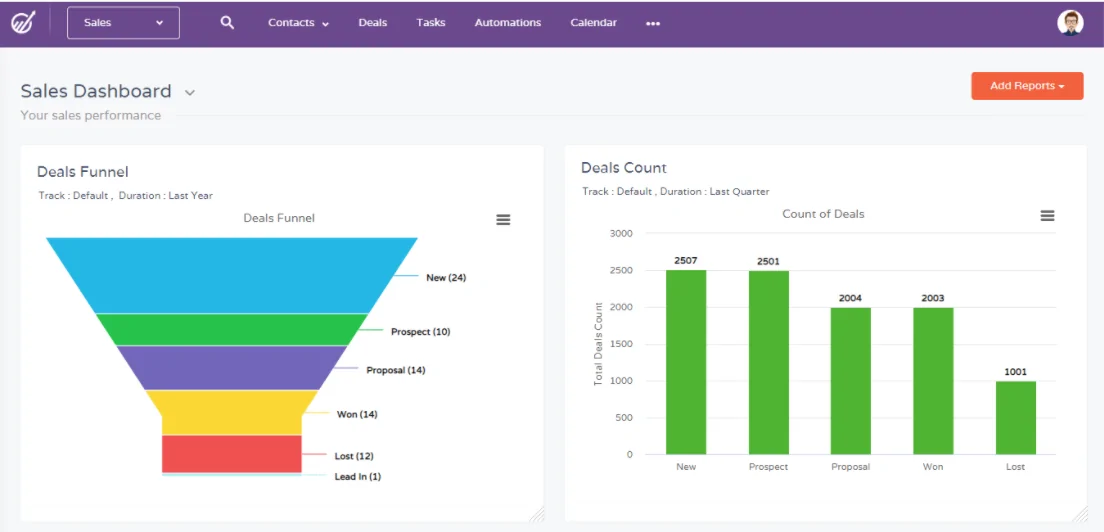 Did you know that CRM directly contributes towards a 25% hike in your revenue? Now, you wouldn't want to miss that! Would you?
2. Get a grip on your business
A CRM software gives you the steering wheel to your business. You may think you have everything in control already, but without a proper structure, it could all go downhill.
As I said, a good CRM tool is the right infrastructure for your business to fall in structure.
Collecting and classifying data, ascertain tasks, setting up reminders, are just a few things that will always keep your organized,
3. Enhances customer satisfaction
Studies indicate that a proper CRM tool could help you achieve 35% more customer satisfaction! When your customers are satisfied, they are more likely to stay.
They are also going to say good things about you to their peers.
This means that by adding a CRM, you add free brand ambassadors for yourself.
4. Improve products and services
A huge part of CRM processes and procedures is to collect data from your consumers.
This data isn't limited to just identifying their age, spending patterns, and demographics, but it also has a lot to do with how your consumers react to your offerings!
CRM process is effective and efficient because of the benefits it provides by collating large user data into one place and providing a means to effectively analyze it.
Companies gather data throughout their life cycle and operations of a customer and analyze it to find effective measures to be implemented on a business level to enhance user experience.
This provides simplified data to all departments in a company and offers them an opportunity to explore business options, needs, and demands to rationalize service inputs.
Good CRM systems could help you identify pain points and plus points. You could then elevate the plus points, and eliminate the pain points.
A good CRM system creates a space for everyone in your professional circuit.
From your colleagues to your customers, there is something for everyone on a CRM. A CRM looks after all of their needs!
How to Choose the Right CRM for yourself?
Since your business is your brainchild, you would understand it well. You should call the final shots on which software do you want to invest in!
Thus, it is important you do not leave this crucial part for your subordinates or employees. In this phase, you should be open to inputs from your team. After all, it is they who would be using the software too.
A CRM doesn't just help you keep in touch with your leads and customers, it also does everything else that could help your rapport among your consumers.
So, even scheduling tasks, fixing roles, and other internal functions of your business can be taken care of on a CRM.
This also brings us to the next step: Understand your team!
It is important that you evaluate the skill set of each of your employees, and understand how can the CRM tool help them particularly.
For instance, your sales team would need the CRM to keep a track of your warm leads, whereas your customer service team would need the CRM to track the complaints or tickets raised.
If yours is a giant business, it is important that you choose a highly customizable CRM tool.
Multiple departments of your organization would be using the same platform, and it needs to be of high utility for everyone for your business to find common digital ground.
Once you have understood how different departments are going to align and even co-work on the tool, it is important that you start with the next step.
Map the Customer Journey
There are various touchpoints or interaction points where a customer interacts with your brand, and you should have all those interaction centers mapped out in your CRM process.
To help you understand better, a CRM process example would include touchpoints such as when a social media user clicks on your paid campaigns. They are configured as leads.
The second touchpoint would be when they receive an email from your sales reps.
Now, depending on the various stages you have from making a lead a closed deal, you would have various steps in this CRM process. In most CRM tools, you can configure those processes into pipelines.
As the consumer moves down the sales funnel, there are several touchpoints, and you should neatly define them on your CRM tool.
Furthermore, you should assign different stages of a deal to the designated people in your team. This not only ensures a fair allocation but also the best use of your team's individual potentials.
The cost factor
Given the various CRM tools available in the market, you would get free as well as paid tools.
Paid tools are usually more premium, and can do much more than the regular unpaid ones. Moreover, with these unpaid tools, there is always a catch.
No tool would offer you all that they have up their sleeves for free. After all, they too are running a business. Think about it! Why would someone offer a sophisticated product such as CRM for absolutely free!
After the trial period or the first few weeks, you would find that the free tool has started demanding payment for their more useful features.
It makes no sense to pay separately and frequently for each service that you would eventually need. Wouldn't it be better if you could just find one premium CRM product and be done with the payment once-and-for-all?
This doesn't imply that all paid CRM tools are premium. Nor does this mean that each of them gets the job done!
We will be soon talking about how you can distinguish an effective CRM tool from all the ineffective ones.
However, it always makes more sense to go for a premium product and not worry about the investment made.
In the paid category too, there are different options available, and you should choose one that doesn't turn out to be a heavy investment without significant returns.
Purchasing a CRM is truly a big investment! A lot many times start-ups and businesses of small or medium scale opt to give it a miss.
One big reason being: the price! Getting a reliable CRM in place doesn't have to be a costly affair!
Regardless of the size of your venture, business growth and customer satisfaction are the two things that I am sure you strive for. CRMs such as EngageBay could help you derive that at reasonable costs!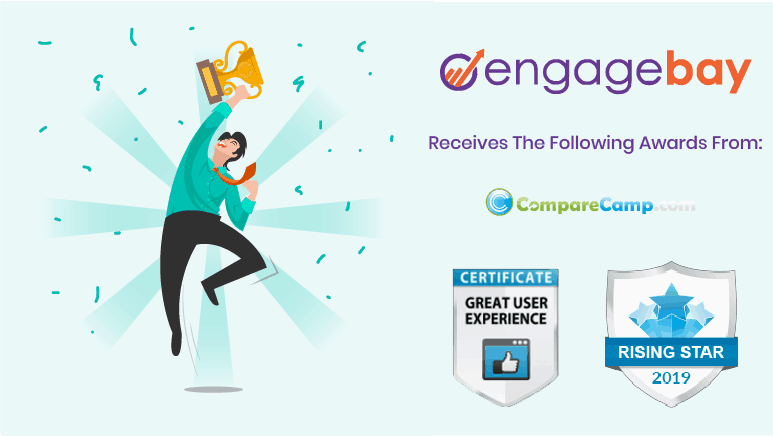 Image courtesy: EngageBay
The most important feature that you should be looking at is the ease of use. There is no use in having an impressive array of premium tools when your team can not use it.
Small businesses that have up to 15 employees often struggle with technical complexities.
Under such circumstances, it is important that there is a negligible learning curve for your team to actually get on board and make the most of your investment.
Small businesses often call CRMs an unnecessary spend or redundant, since they think they could easily handle all these jobs on their own. Of course, you could! But, at the expense of time, efforts, and money!
EngageBay is the solution to all your marketing, sales, and customer service needs. EngageBay's All-in-one suite can take care of everything for your business at a modest price.
You could even sign up for an absolutely free of cost CRM, which is fully equipped with all the marketing, sales, and customer service weaponry you need!
On our website, you could also find easy and comprehensive guides on how to go about picking the right tools for yourself, and what to expect from each one of our offerings!
We understand that you can not just make the switch without a test drive! With EngageBay, you get a trial period of XYZ days, and there is no need for you to enter your credit card details either. It is an absolutely free and safe trial.
Even during the free trial period, your data lies with us safely.
Speaking of safety, since your CRM is going to be dealing with all your data, it is important you only go for a vendor that has an all-clear pass when it comes to data security and privacy.
Especially if you operate out of the EU or you have consumers from the EU, you would need to ensure that your vendor is General Data Protection Regulation or GDPR compliant.
Privacy and data security is no joke. On a platform that claims to enrich your relations with your customers, data privacy can not be handled casually. Thus, it is important that you choose verified partners such as Engage Bay.
If your CRM does not comply with the cybersecurity laws, you may end up paying bulky fines and penalties, or worse, your whole business may even be suspended.
We all heard of Yahoo and Facebook's data privacy breach. This has alarmed people across the globe into thinking if the market is a safe place.
We take extra preventive measures in assuring that our CRM software is indeed a safe place to keep all your data confined.
Not only do you feel assured but also your team and clients whose data you choose to keep in EngageBay's CRM.
It is also important that your vendor helps you understand the software and setting it up is quick and easy too.
The installation process should take a few minutes or at the max a few hours of your busy day, and you should be fairly acquainted with the process.
If you get a new CRM software that doesn't come easy for your team, then what is the point?
EngageBay's easy to understand interface and high functionality applications make it simple for the whole of your team to get on board and actively start using this software.
Moreover, the software is so easy to understand that people from different educational backgrounds and skill sets can all agree on how easy it is to use EngageBay.
While your vendor helps you set it up, you should enquire about the customization aspects too. Scaling up or down is inevitable for any ambitious businessman.
So, would the CRM you have chosen be your friend in the long run? What is its best capacity?
Your vendor should be upfront about these aspects and for your own ease, they must not keep relevant information hidden.
It also helps if you are clear on what exactly are you looking for from a CRM. Setting unrealistic expectations from a basic plan wouldn't help!
Thus, to cater to your different requirements, EngageBay offers different packages.
If our all-in-one suite isn't what you are looking for and you want specialization in specific areas, you could also pick from our marketing bay, sales bay, and service bay, which elaborately cater to marketing, sales, and customer service respectively.
Our award-winning services have helped hundreds of small businesses and ambitious entrepreneurs across the globe.
You could click here to get a demo of EngageBay's impressive array of features, just click here!
All in all, it is important for young entrepreneurs to understand the need for a structure in their ventures. At a nascent stage too, you may need help with organizing and communicating to take your business up a notch.
Better than investing in manual solutions, you could now shake hands with the technology of CRM processes and their tools.
Allow artificial intelligence to intuitively solve all your problems, and join the CRM revolution today!
<<Make faster, informed decisions with our simplest contact management software
<<What Is a CRM database and how to use it the best way
👉👉Implement CRM, streamline your business process and boost revenue using EngageBay – the simple yet All-in-One marketing and sales CRM for growing companies. Get FREE lifetime access (up to 15 users) from here 🏆🏆