What do you think a business needs the most to sustain and grow?
Great products are a must, but did you know that over 86% of consumers would happily pay a brand more for a richer customer experience?
Maybe you've heard of CRM (Customer Relationship Management) tools to improve customer loyalty, but you aren't quite sure what it means or how it can benefit your business.
Fret not, we have you covered!
In this guide blog post, we'll let you know everything you need to know about the CRM process:
What CRM means
The four steps of a CRM process
The different types of CRM software
Benefits of implementing a CRM process
Issues that arise while implementing a CRM process
A list of the best CRM software in the market
Tips for choosing the right CRM software for your business
Let's dive right in!
What is CRM?
Companies use CRM software to implement all the CRM steps for excellent customer lifecycle management.
CRM is an acronym for Customer Relationship Management—a software-based system designed to help businesses manage customer interactions. The CRM process can improve customer engagement, retention, and customer lifetime value. It can also help companies with sales management, marketing automation, contact management, and more.
This software can help you keep in touch with your customers, find new customers, and respond to their queries in no time.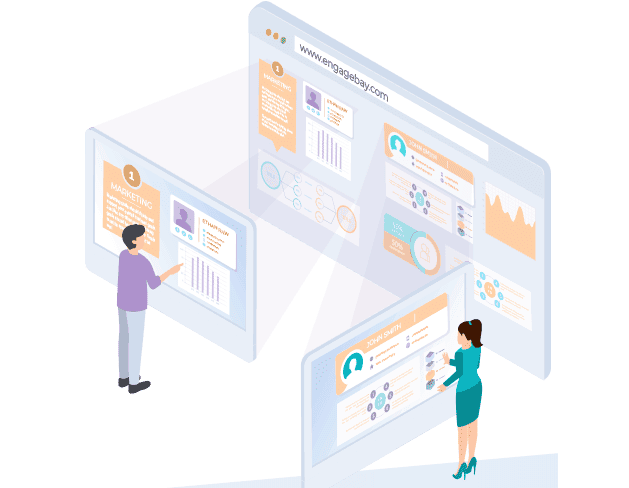 A CRM system can help you send out bulk emails, schedule customer service tasks, manage employee roles, share files securely on the cloud, and get great real-time insights on customer data.
The right CRM tools can help you automate a lot of your daily work, which can help you save hours and boost revenue, apart from improving both employee and customer satisfaction.
A powerful CRM software is what any business needs to improve customer relationships
What is a CRM Process?
The CRM process is a set of strategies to help interact with customers and leads in a meaningful and personalized way.
To implement your CRM strategies, you must understand the CRM cycle completely.
You can divide a CRM process into four simple steps:
Marketing
Sales
Conversion
Customer Service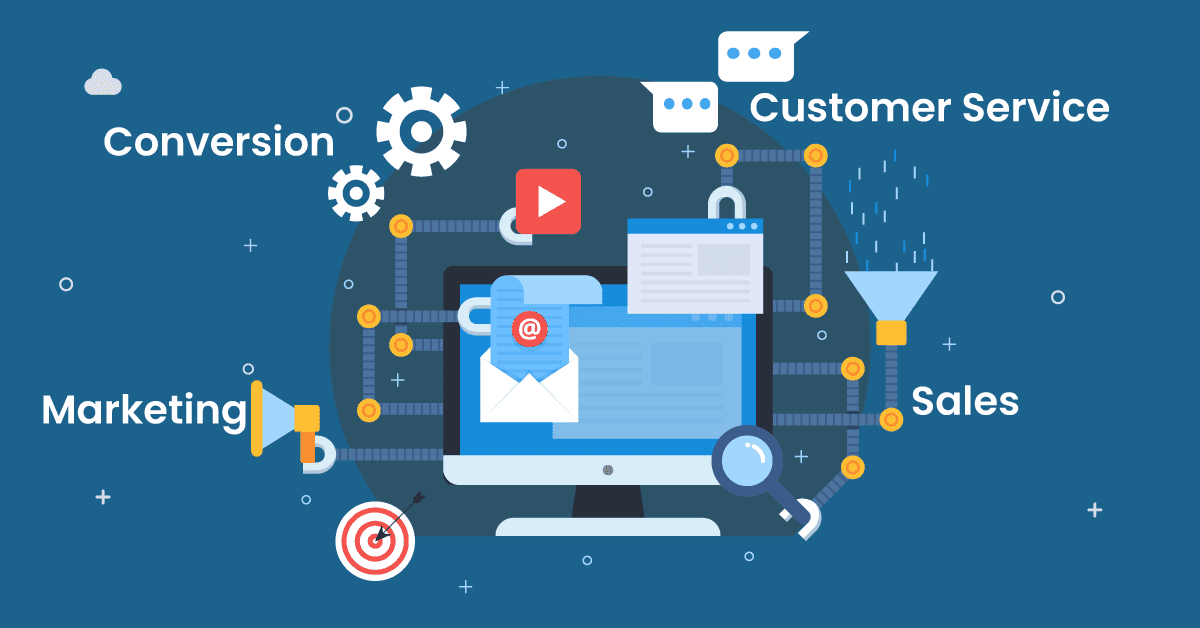 1. Marketing
In this CRM implementation step, you'd be designing your marketing campaigns, collecting leads and customer data, and segmenting your leads into groups for targeted outreach.
Innovative companies, especially the larger ones, use marketing automation software with integrated CRM for this step.
CRM examples are HubSpot and EngageBay, with HubSpot being trusted by huge brands and EngageBay being loved by startups and small businesses.
With this software, you can automate your daily marketing tasks, such as sending marketing emails and keeping track of social media engagement.
Marketing automation technology takes care of tedious marketing tasks and frees up marketing managers and business owners to spend more time on strategic marketing initiatives that will help grow the business.
Read also: 6 Steps to Create Your CRM Strategy (+How to Track It)
2. Sales
Sales automation is one of the key benefits of CRM software.
Automated sales processes in CRM software can significantly simplify and streamline sales, which in turn provides a lot more efficiency for sales reps.
For instance, sales reps no longer need to track leads and deal with follow-ups manually.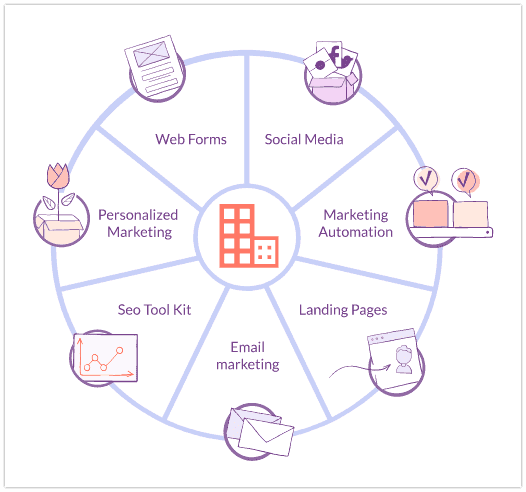 This allows them to focus on what they do best: selling.
Leads automatically pop up on their desktops based on parameters that have been set up by the sales manager or the business owner.
These parameters are usually set up as conditions in the marketing stage itself.
For instance, when leads meet certain conditions like responding to initial offer emails, they reach your company's sales team as qualified leads, ready for follow-up sales pitches.
Read also: CRM Database — Overview, Structure, Strategies & Maintenance Tips
3. Conversion
The next step in CRM implementation is converting customers you've reached out to.
This is easier said than done, but a CRM software can help capture new customers and even retain existing ones.
It can serve as a central repository for all information about your customers.
The software also allows sales reps to know where they stand with each customer, with CRM tools like EngageBay offering 360-degree customer views.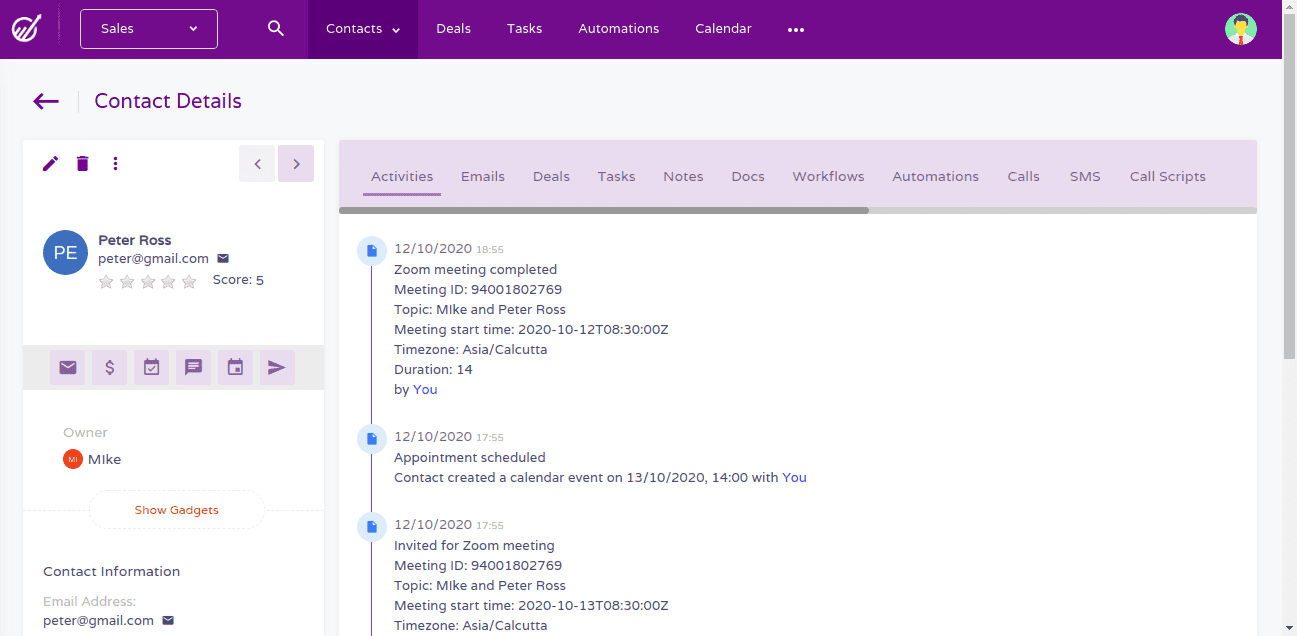 With automated messages and personalized up-sells, sales reps can interact with customers confidently and guide them to a payment gateway when they are ready to buy from your business.
Read also: 9 Challenges of CRM Implementation & How to Dust Them Off
4. Customer Service
This is perhaps the most important step in the CRM procedure for business success.
With the right CRM software, you'll be able to deal with customer service more efficiently than ever before.
For one, a CRM software can help you retain customers and improve customer loyalty.
It allows sales reps to have a single point of reference for all their customer interactions, so they won't need to go through several emails or notes before handling a customer's issues.
With the right CRM solution in place, you can also enable your most valued customers with special privileges that enhance their experience when doing business with your company.
When it comes to customer service, the most important thing is to be able to keep track of all your customer information.
This includes knowing when your customers are due for an upgrade, knowing what they need and how to reach out to them in the right way.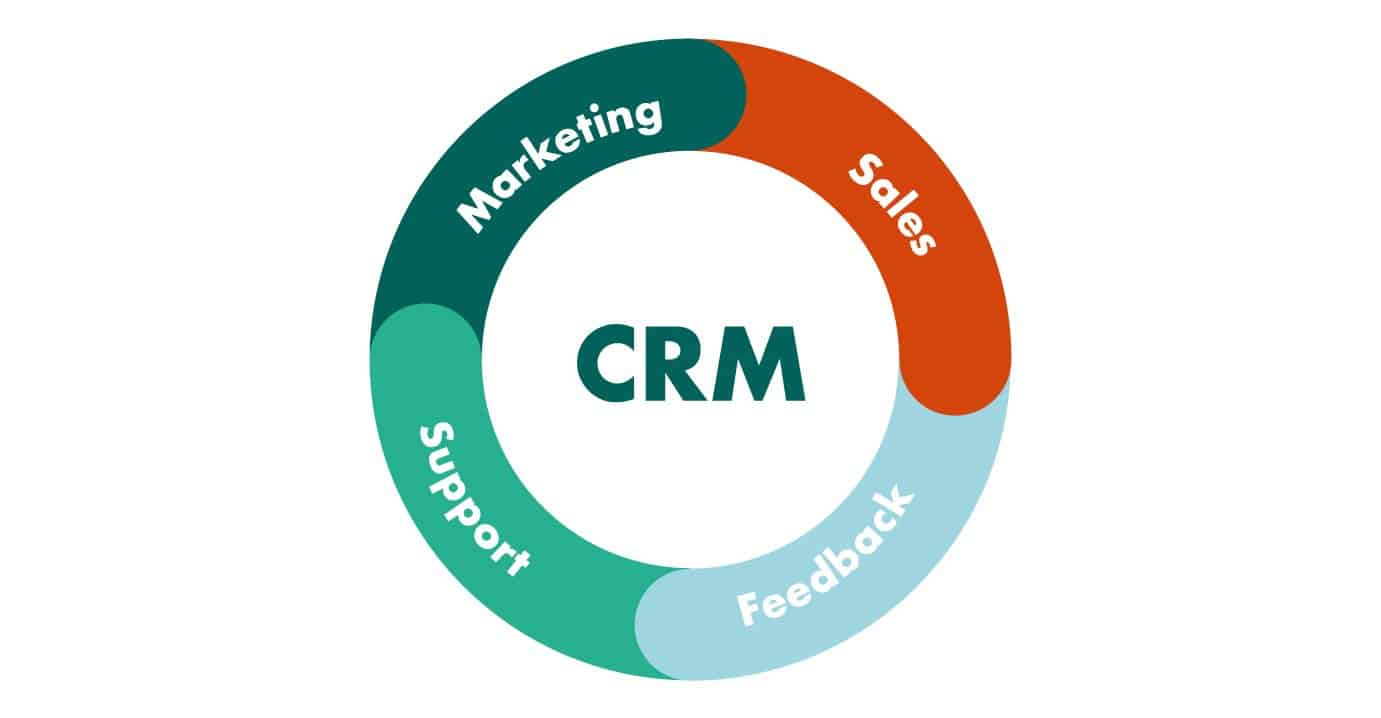 When you can do that with ease and efficiency, it will go a long way in helping you deliver great customer service while also increasing sales.
Every CRM step discussed above actively contributes to making this easier for you.
What are the Different Types of CRM?
The market for CRM software is booming, and you can find CRM solutions tailored for specific business goals.
However, most CRM tools fall into either one of these three categories:
Operational CRM
Analytical CRM
Collaborative CRM
1. Operational CRM
True to the name, these CRMs cater specifically to the operational side of your business.
These operations usually come under marketing, sales, customer service, and inventory management.
Anything that happens frequently or regularly could be done with this software.
For example, if you have an email campaign ready for new prospects, the CRM system will save you the trouble of manually shooting off the emails.
Using these marketing CRM solutions, you can send out automated welcome emails, personalized texts, desktop and mobile notifications, and much more.
Sales automation CRMs take care of everything related to sales.
From tracking a customer account history to following up on pending payments, the CRM system gives key information on time so that your sales reps can be super-efficient at their job.
Customer service automation CRMs ensure that your customers get quality support, with software like EngageBay offering Live Chat, Help Desk, and autoresponders for quick and delightful customer service.
Read also: 7 Fundamental CRM Metrics For Small Business Owners
2. Analytical CRM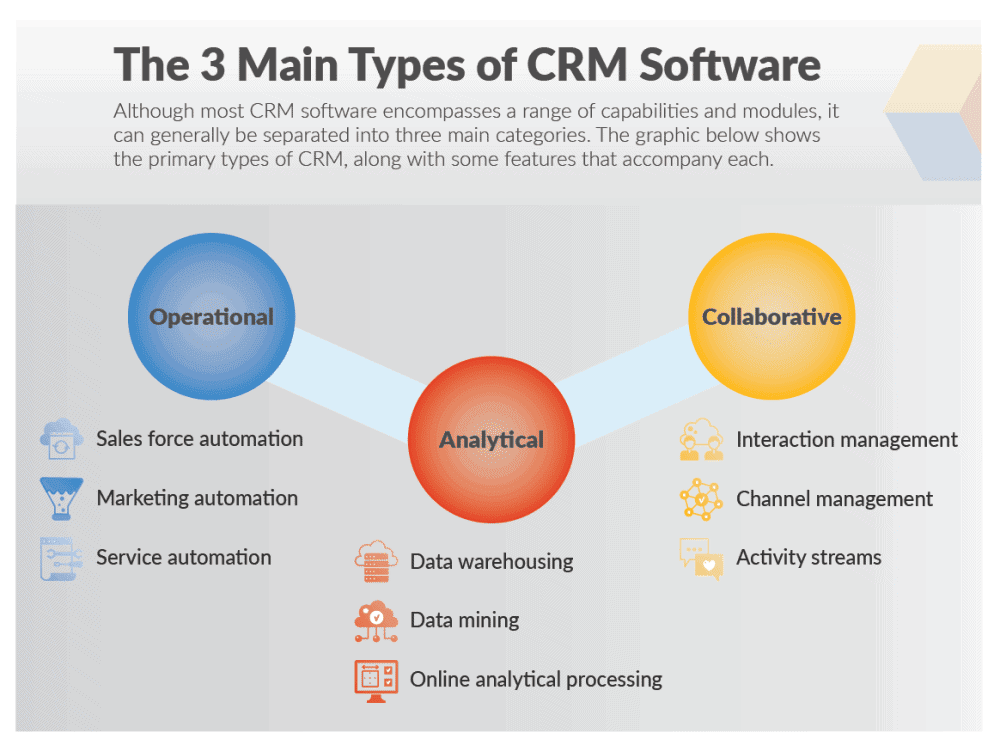 CRMs tailored for an excellent analytics experience can offer you detailed reports on customer behavior.
They primarily help with:
Converting leads into paying customers
Converting customers into happy, loyal brand advocates
Finding new leads based on their online behavior
All this data can help you in improving your future marketing strategies.
The data can range from the spending patterns of your target audience to identifying people who click on your paid social media campaigns.
With EngageBay, you can set custom metrics to generate detailed reports!
Read also: 9 Awesome, Proven CRM Techniques To Improve Your Marketing ROI
3. Collaborative CRM
To put it simply, this type of CRM facilitates the exchange of customer data and other information between vendors and businesses. The idea behind these CRMs is to keep all the stakeholders or distributors on the same page.
It is a must-have for larger organizations with global expanse or outreach.
Related blog: CRM Experience — How Customer Satisfaction Tools Get Business Success
Why Should you Implement a CRM Process?
Benefits of CRM process implementation include organizing your contacts, tracking all the deals and sales with real-time visual reports, and building meaningful customer relationships.
1. Boost sales
It has been proven that CRM implementation increases your sales productivity by up to 35%!
When most of the repetitive tasks are automated, your sales reps get plenty of time to ace their art!
Did you know that CRM implementation directly contributes a 25% hike in your revenue?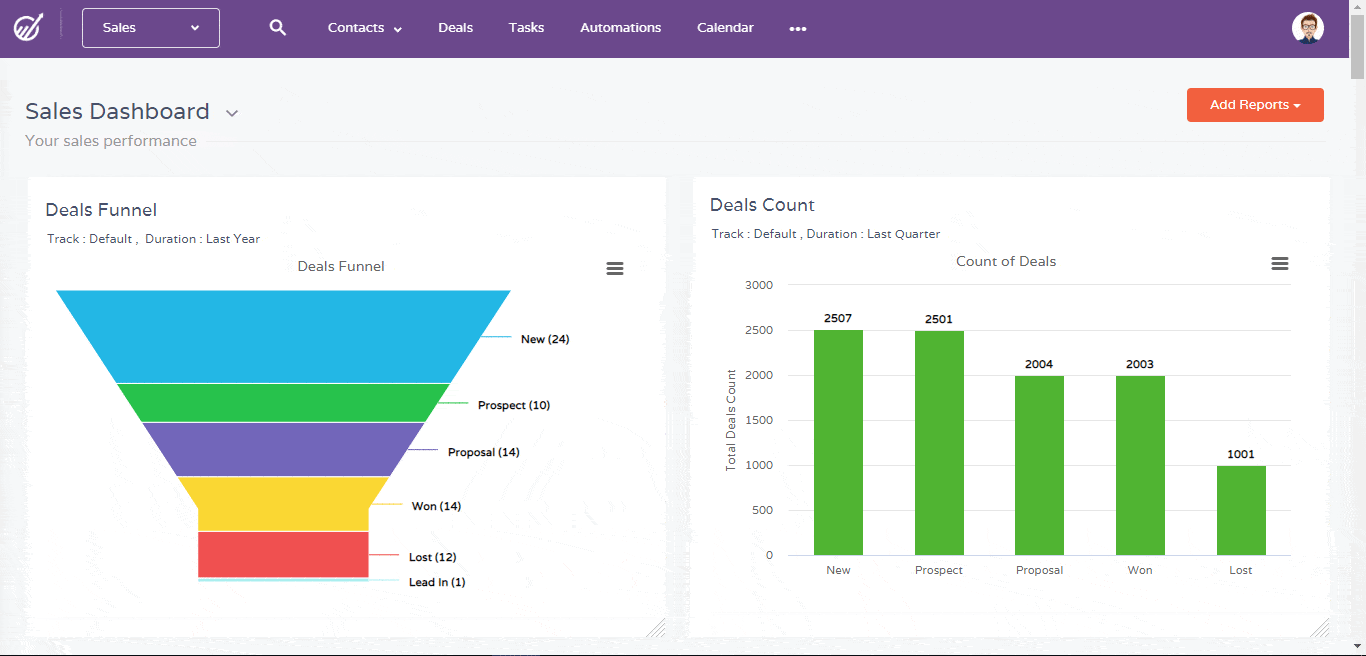 Using a CRM software for your business can also streamline your sales process as it offers tools like deal pipelines, task management, and proposals.
Now, you wouldn't want to miss out on more business, would you?
Read also: What Is CRM Automation? Learn the Basics Here (Guide Blog)
2. Streamline business tasks
CRM software gives you a new steering wheel for your business.
You may think you already have everything in control, but scaling operations can be a disaster without streamlining business tasks.
CRM solutions like EngageBay can help with project management so well that you'll forget about good ol' Excel soon.
No matter how many products and employees you have, you can manage all the projects, coordinate with your teams, and reach out to your customers seamlessly with one comprehensive, integrated software. (We're talking about EngageBay!)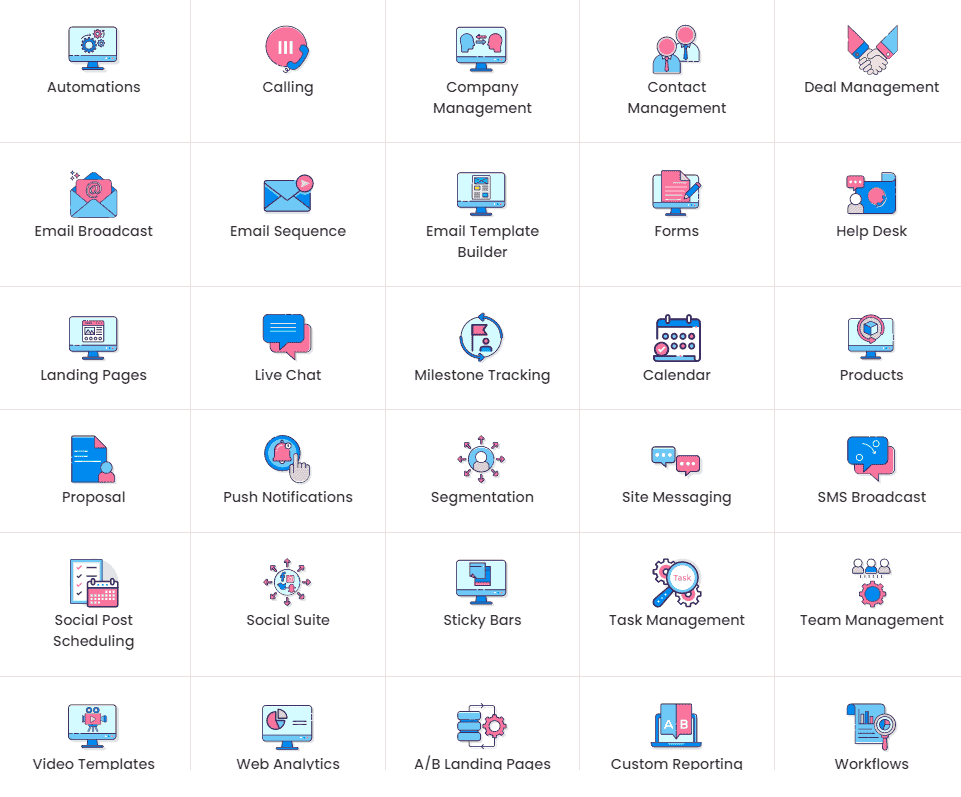 3. Enhance customer satisfaction
Studies indicate that a strong CRM platform can help you achieve 35% more customer satisfaction!
When your customers are satisfied, they are more likely to stay with your business.
They will also say good things about you, both online and offline.
This way, CRM implementation helps you acquire more customers for an incredibly low cost per customer overall.
Read also: CRM Functionality — Top 3 Features and Why You Need Them
4. Improve products & services
Finally, implementing the CRM process can help you improve your products and services.
You can do this without having to invest heavily in customer or product surveys, as an integrated CRM will keep an eye on the social media engagement of your leads, prospects, and customers.
Whatever your customers say about your brand or services online, your CRM can track it and report to you in real-time.
This way, you're not shooting in the dark when you go to the drawing board the next time.
Here's a video that explains how you can successfully implement the CRM process for your business:
Read also: Nonprofits CRM – Using Your CRM for Fundraising and More
Issues Related to the CRM Process
Some problems might arise in the process of implementing the CRM process. Largely, these issues pertain to CRM data.
CRM data can be stored in multiple systems, which can cause some problems when transferring customer data between CRM software and other CRM-related projects.
Some CRMs are created for specific businesses or industries, while others are general. This means that CRMs used across different companies must often share their unique identifiers to represent CRM contacts and companies.
CRM processes may also need to conform to the standards of different CRM software, such as how contact information is recorded and formatted.
Another problem that can arise in CRM implementation is customization. CRM customization occurs when one CRM program is modified for another application or business.
The solution for common problems in CRM process implementation is to find a fully integrated, unified CRM platform with all the related functionalities, so you need not juggle many tools and keep things simple.
Read also: The Sales Automation Process – All You Need to Know in 2021
Top 10 CRM Software to Implement Your CRM Process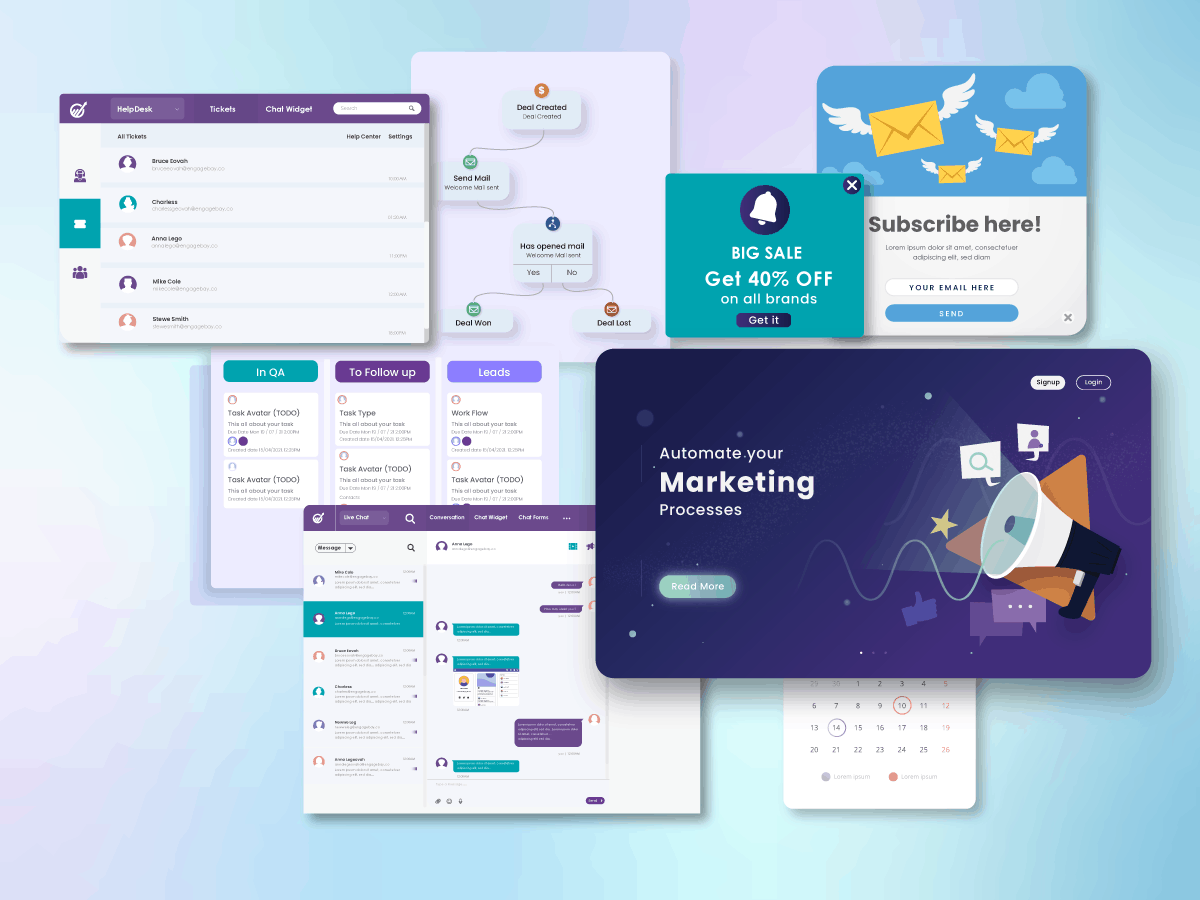 We're sharing with you the ten most popular CRM tools in the market today. The list has no order of rank, but we've mentioned what each one is the best for.
Great for: Solopreneurs, agencies, and small business owners looking to automate their CRM processes and improve customer loyalty by delivering exceptional customer service.
This all-in-one marketing, sales, customer support software can help you launch campaigns, streamline your sales process, and offer tools to improve customer support.
Great for: Large companies looking to automate CRM processes and improve conversion rates.
Great for: Large companies looking for a full-fledged CRM solution with hundreds of tools.
Hubspot offers hundreds of marketing and sales teams tools, including tools for improving customer relations, automating business process workflows, enhancing customer satisfaction, and streamlining the sales cycle.
Great for: Mid-sized companies looking for CRM software with the right mix of automation, useful features, and affordability.
Great for: Freelancers, solopreneurs, and small business owners looking to manage CRM processes with ease on mobile.
Great for: Small business owners looking to quickly dig through CRM data, implement CRM automation, and improve their sales process.
Great for: Large companies with the deepest pockets looking for CRM software with a high level of sales force automation.
Great for: Small companies seeking a CRM solution with a high level of customization ability.
Great for: Small businesses looking for CRM software with a simplified CRM experience.
Great for: Small businesses that want CRM software with pricing customized for their exact needs.
Read also: 15 Customer Service Tools Your Business Needs to Win Customers
How to Pick the Right CRM for Your Business?
How do you know which CRM solution is the right fit for your business? The answer depends on what kind of business you have. For example, if you have a small business, an agency, or a startup, it's best to start with a free plan.
As your business grows, you can upgrade to a paid plan with advanced automation features that can make work easy even for dozens of employees.
You'll need an integrated solution with marketing, sales, and customer support features packed in for true customer delight.
HubSpot is really popular in this space, and it does come with a free CRM, but remember that the full package can cost you upwards of $4,000 a month.
On the other hand, EngageBay is an award-winning, emerging favorite CRM software with all business solutions integrated. Even so, it costs less than $1 a day!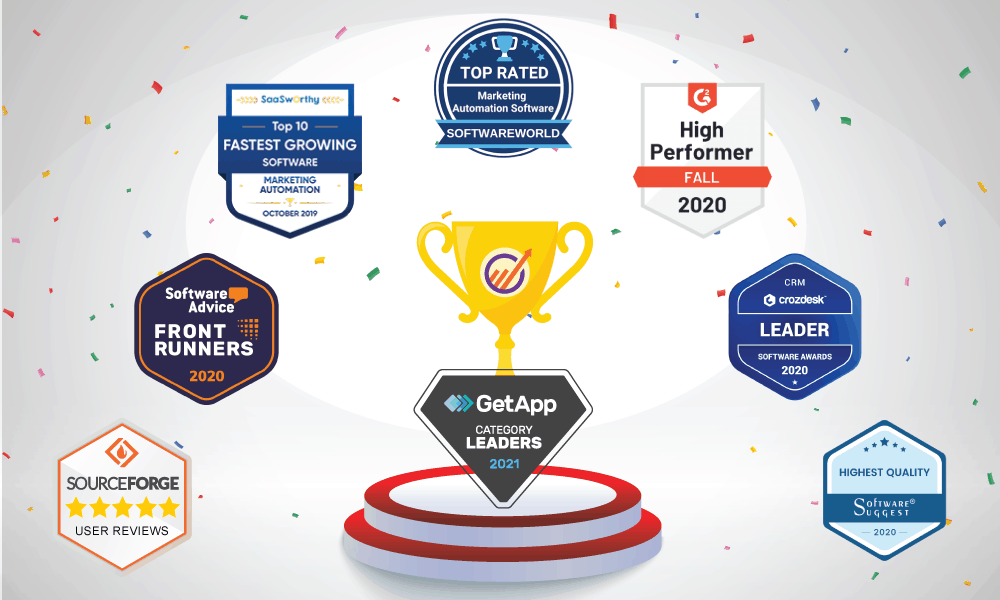 Conclusion
Implementing a CRM (Customer Relationship Management) process doesn't have to be a complicated, intimidating task.
Most of the CRM solutions in the market allow you to automate CRM processes to increase efficiency and improve the quality of customer service.
While manually managing customer relations is a possible scenario, why would you go to such pains when you can have streamlined and automated tools to do the work for you?
Your CRM can become your company's one-point management solution for all business needs, especially when it comes to sales, marketing, and customer engagement.
The CRM solutions listed in this article are all tried-and-tested platforms to help you implement the CRM processes seamlessly. That said, some of them are quite expensive and might even have hidden 'gotcha' fees.
EngageBay, on the other hand, is one of the best CRM process implementation software that is highly affordable for small businesses.
EngageBay was built from the ground up for SMBs — and tens of thousands of businesses have used the platform to grow their companies while saving thousands of dollars every year!
Sign up for a free version and see how EngageBay can help implement the CRM process at your company today.
Master the power of CRM databases with our comprehensive guide – explore the benefits and features now!