What, in your opinion, has the biggest role in business sustenance over the years? You would think it's a synced effort between all the departments – marketing, sales, HR, admin, etc, etc.
However, if we asked you to pick just one, which one would you? Money!
The capital power of a company is what keeps it running, and who brings that in? Your sales reps do!
Sure, it all starts with a good marketing campaign and the sales process extends all the way down till your customer reps, but the majority of that work is simplified by your sales reps.
It is your sales reps who help your leads understand the product and stick the purchase decision. It is they who make a lead a customer.
Irrespective of what your product or service is, your sales numbers going high daily would be your primary goal.
So, to help them bring more revenue in, you should leave no stones unturned, right?
Right!
However, what can you do to accomplish that maximization?
Sales tools.
What are Sales Tools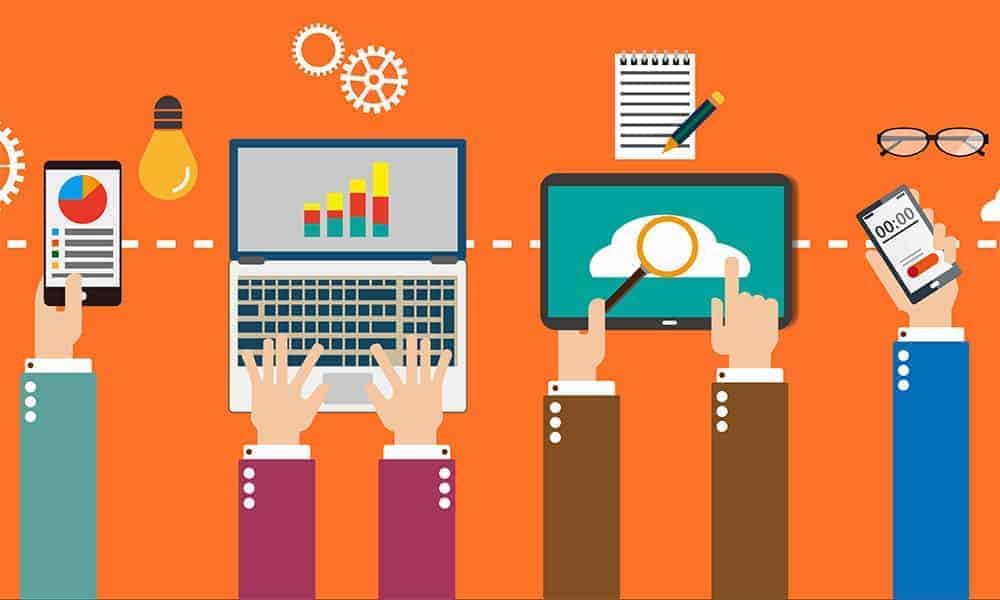 As the name would quite literally suggest, these are tools that your sales process and reps need.
We shall get to why your salespeople need sales tools in the first place, but for now, let us first see the various types of sales tools involved with most businesses.
#1. CRM Tools
A Customer Relationship Management or CRM tool would help you manage your relationships with not just your customers but also your leads.
According to a 2018 research, over 64% of sales professionals reported using  CRM technology.
Depending upon the size of your sales team, you can pick a suitable CRM for your business.
The reason why it has been the foremost entry for our list is that CRMs are usually the first investment a company makes for the enhancement of its sales processes.
Why?
Because you can't make a sale unless your customer really likes you.
There are so many options they could pick from, but for anyone to pick your brand over the rest, you need to give them some good reasons.
An efficient CRM tool like EngageBay would help you deliver those reasons to your leads and clients. You would be able to send automated mails, track progress, keep reminders, view reports, and get an all-rounded feel of where your business rocks and lacks.
This is crucial knowledge for any business wanting to grow. Thus, you should pick a good CRM tool right away.
#2. Sales Prospecting Tools
Did you know that over 47% of sales rapes admit they have a hard time finding prospects?
A prospect is a lead that is more likely to buy your product than other leads. Needless to say, you need to focus here!
Since these people are more relevant for your business and revenue increment, you need tools, which could help you find them.
Woila! Sales prospecting tools analyze a company's and a consumer's data to find a perfect match.
They would go through your contacts' details beyond just emails and phone numbers, they would narrow down on their purchase style, buying capacity, etc. to help you discover more fruitful leads.
#3. Sales Gamification Tools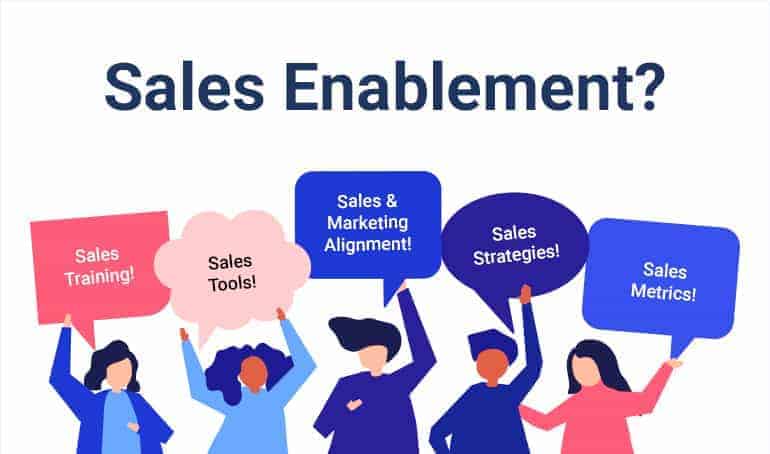 Are you a believer in the competitive spirit? Good, because science agrees that people do better when they have a pressurizing competitor.
Your sales reps would be far more productive and helpful if they knew they were up against someone. You could use sales gamification platforms to keep a live scorecard and rank tally for your sales reps.
This platform works in sync with your other tools as it makes a note of every new sale registered. Also known as Sales enablement tools, since they enable your sales reps to work harder.
When your sales reps can see how they are faring well against the other sales reps, they will naturally come to work more charged and ready to win the day.
#4. Sales Analytical Tools
You have got your sales reps competing but you also need to measure how their performance and goals are doing.
You also want to measure how your previous marketing campaigns have worked. You want to run monthly and weekly diagnosis.
You need these answers to formulate better strategies in the future, and for this very purpose, you have sales analytical tools. These software run checkups on your business and let you know where everything stands.
#5. Sales Acceleration (Sales Automation) Tools
There are various stages to a sales process, and the more the stages, the more manual labor you need. Right?
Not with a sales acceleration tool!
These software would help you automate most of your manual repetitive non-productive tasks so that your sales reps can actually focus on what needs their energy more.
These are the five most useful categories of sales tools, however, a video conferencing platform or marketing automation software would also be helpful tools for sale making.
Now that we know what do most software for sales do, let us see in more detail how they really benefit sales reps
Why Sales People Need Sales Tools
If you have followed us so far, it wouldn't be difficult to understand why 81% of sales reps today use some or the other sales software.
However, there are more perks to using a sales tool than what meets the eye, let us examine some of those perks:
Helps you keep everyone on the same page
When you think of a sales tool, do not think of a platform to be used individually, instead think of a sales team software. With a centralized system for everyone to log their details and track performance, a sales tool becomes a hassle-free collaboration tool as well.
Understand your business effortlessly
You may need a more objective and precise viewpoint while looking at how your business has been performing. Good analytical tools will give you that. From repeat sales to bounce rates to new launches to old customers, track everyone, and everything.
Get reports that genuinely make sense for your business, and results that can help you strengthen your positioning.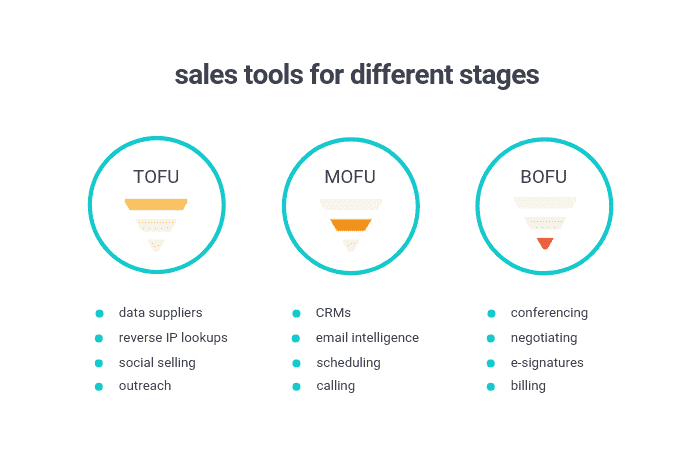 Save time
When you use the right kind of technology, you can save most of your time which had been going in non-important jobs.
For instance, every time a deal is closed, a sales rep has to sit down and write an onboarding mail and it just takes 10 minutes, however, multiply that with all the deal you'll close, you get days of wasted time and resources.
With sales automation tools, things like these can be left for the machine to do, while your people do important activities.
Safe Space
Making sales is a process that involves a lot of communication. Your clients may send their documents; you may send your contracts.
With so much back and forth happening, it gets hectic for you to manage your documents without losing them. A lost document is a huge missing piece in the puzzle of sales and may even lead your prospect to distrust you.
Thus, with the best sales tools, you also get the scope for saving your documents and sharing them in a safe way as and when you need them.
Most sales tools now offer cloud storage too. Furthermore, you could get digital signature enabled contracts that keep everyone on the same page.
Your PA
A sales tool becomes your Personal Assistant reminding you of deadlines, meetings, and helping you stay punctual.
Like a good personal assistant, a robust sales platform will help balance all your duties while also being your contact with the outside world.
Good CRMs like EngageBay will provide you with a single inbox for you to restructure your day-to-day communication with your leads.
These qualities make a sales tool a useful investment. While it may sound a bit too expensive for the first trial, it saves you a lot of money on hiring costs. You may not require as many salespeople as you have now when you get an efficient sales regulating tool.
Moreover, if time is money, you need a sales tool right away! Your sales process can be time-taking, but the right software will help you save time in a lengthy sales process too.
Depending upon the kind of products you sell, your sales process can have its own sales funnel, however, usually, there are 7 stages in an average sales process.
What are the 7 Steps in a Sales Process?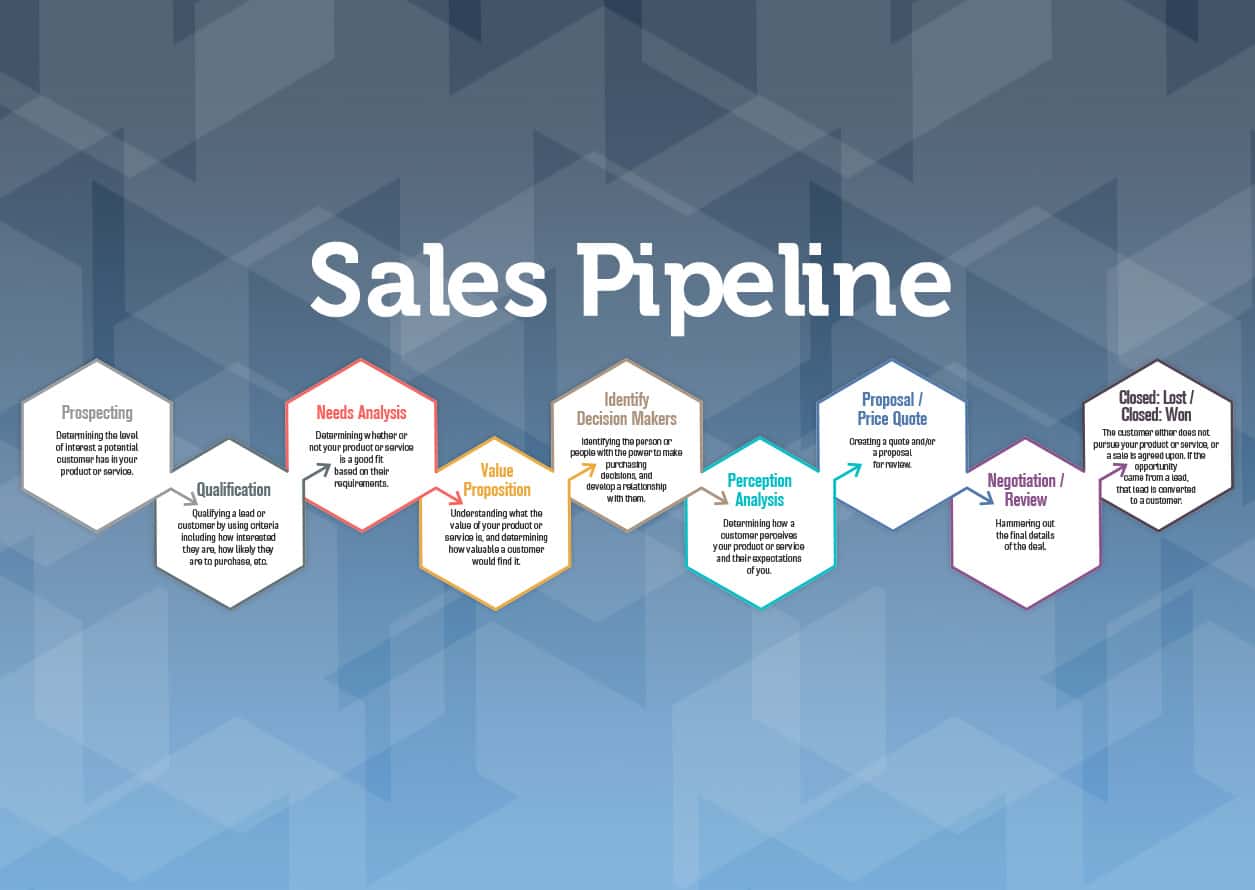 You may think a sales process starts with getting a lead, however, not all leads convert!
Thus, for a sales rep, only the leads which show an inclination towards his product have some relevance.
Moreover, these leads don't just show an inclination, they show a spending capacity too.
This gets us to the first stage of a sales process…
Prospecting
A prospect is a lead that can buy your products or has the need for them. At this stage, you diligently pick this bunch out. You study them and decide whether they can buy your products, and if they qualify, they move to the second step.
Preparation
Now you have a target set for your aim, but you have to reach out to your target in the best way possible. So, at this stage, you prepare your pitch. Your sales pitch doesn't just talk about your product or services, but is also talks TO your prospect about their problems. Make sure it speaks with them in a way they want to be spoken with.
Make Contact
This is where you make your first interaction with the prospect, you could do so over a mail, a call, or a face-to-face meeting.
There are various ways of going about this first interaction – you could offer them a gift to make a good impression, or you could strike a healthy conversation with them and understand their mindset.
You could stick with your sales pitch too and help them understand your product.
There is no one-fits-all; you would need to make changes as per your knowledge of the prospect and deliver how they would be persuaded easily.
Presentations
This comes after your first few interactions, wherein you actively make your case to show how beneficial your product really is.
While most sales reps have a PPT made for this stage, there is no stone-graved rule. You should go for a medium of presentation that strikes a chord with your target.
Road bumps
You thought making a sale is a smooth process? No, you didn't because you know how this really goes!
Your client may have some concerns, questions, change of minds, problems, challenges – through all this, you need to make your sales reps stick with their pitch and not give up.
It can be disheartening when you don't convert just like that, but then again, you would never convert a lead just like that.
You don't just leave the road just because there are some road bumps on the way, right!
Closing
When you stick to your product for so long, you will close the deal. This is the triumphant stage where you will finally make the lead your buyer.
However, your work doesn't end here.
Follow-up
A good salesman works to make happy customers. Thus, after a month of using your product, you should follow-up with the client to know their pain points and positive points regarding your product.
At the end of the funnel, you would have more revenue and helpful insights with respect to how you need to improve your offerings, when you do that, you naturally become more sustainable.
At each of these stages, we could employ a sales tool. So, let us further examine some of the best  sales software you can try from different categories of sales tools
Sales CRM tools: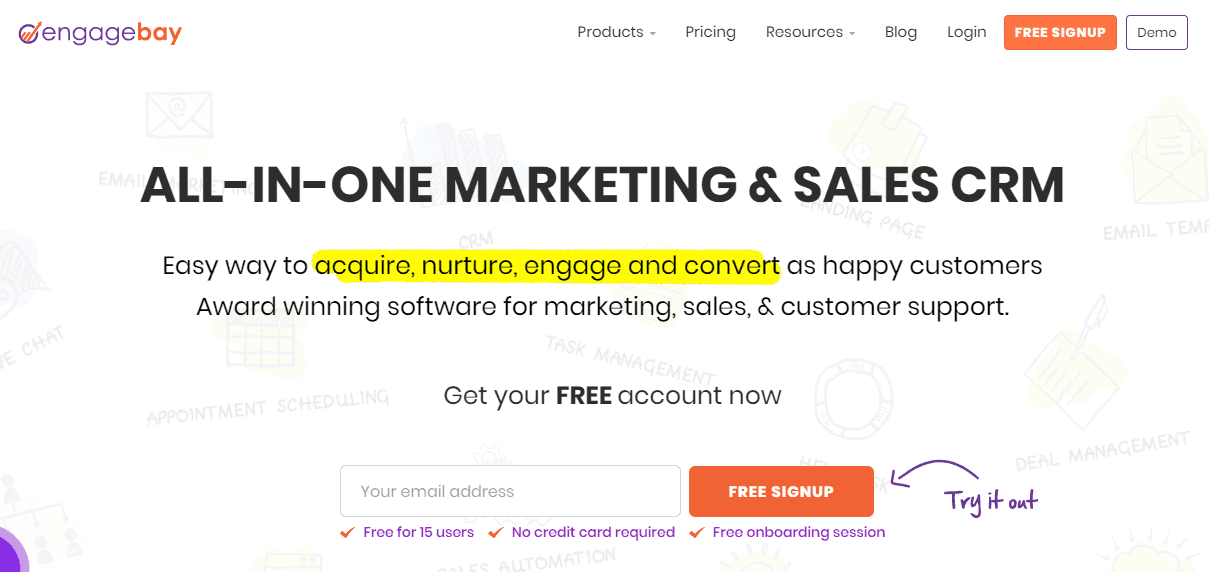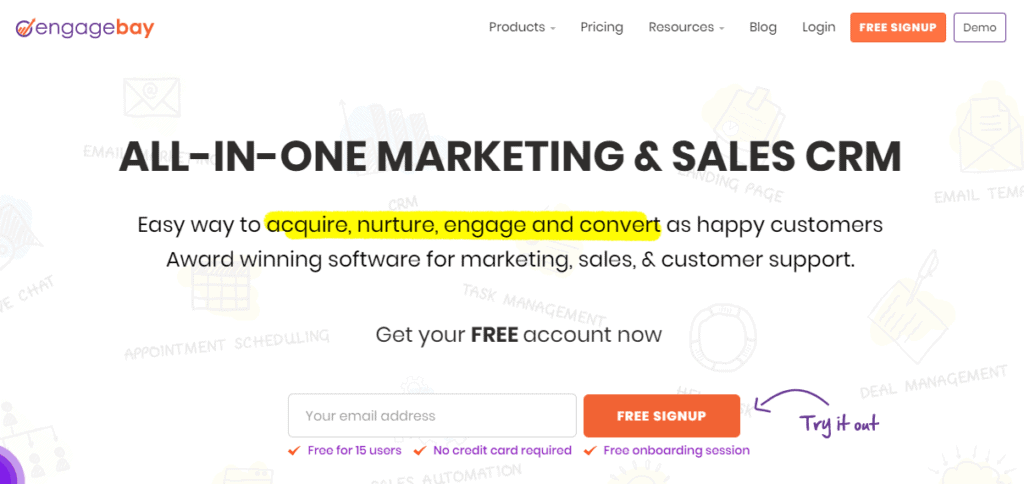 Features
Sales and marketing automation
Effortless autoresponders
Ticket management
Custom reporting tools
Free CRM, live chat
Pricing
Free Plan with 1000 contacts and 1000 branded emails
Basic Plan at $12.99 per user billed monthly
Growth Plan at $24.99 per user billed monthly
Pro Plan at $49.99 per user billed monthly
Pros
Gives you everything
Works brilliantly for businesses of all scales and sizes
Simple but nuanced customer support
Cons
Some features may be a bit too complex for some
ActiveCampaign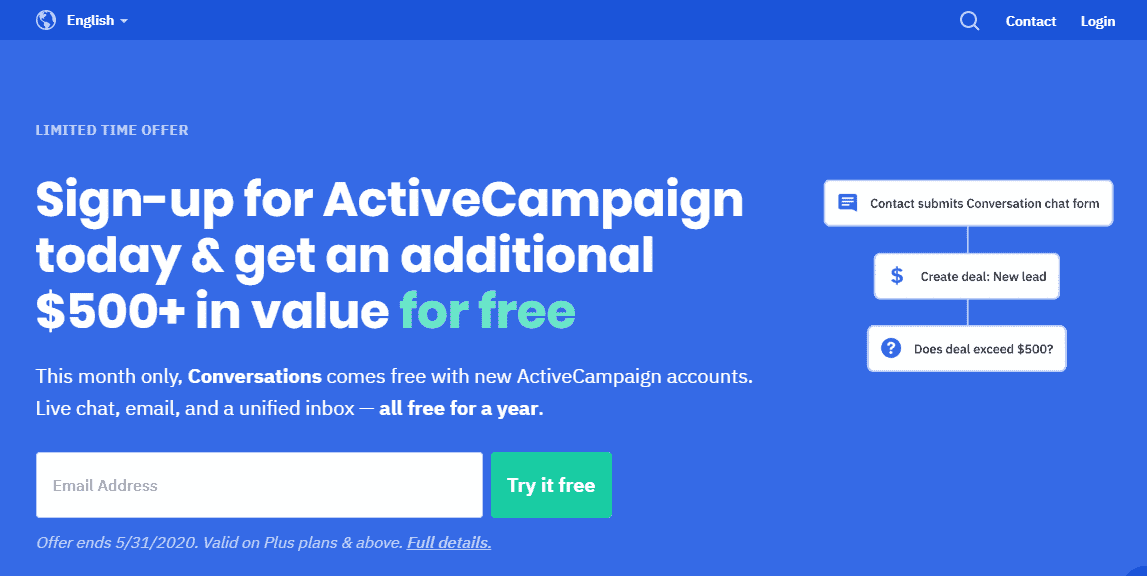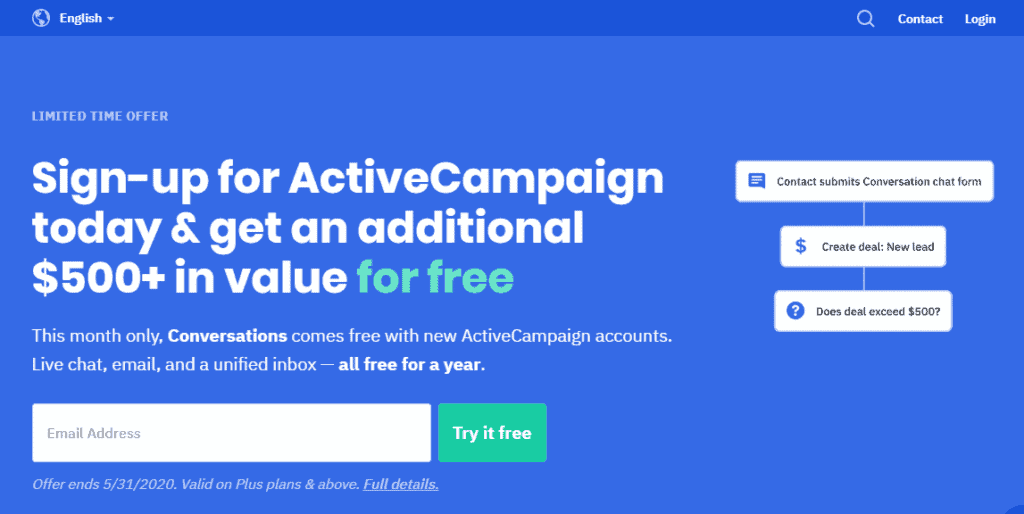 Features
Conditional logic
Drag and drop email editor
A wide number of email templates
Track everything
Integrates with over 100 apps
Pricing
Lite Plan starts at $15 per user billed monthly
Plus Plan starts at $70 per user billed monthly
Professional Plan starts at $159 per user billed monthly
Enterprise Plan starts at $279 per user billed monthly
Pros
Great marketing tool
Easy interface
Cons
Not so much of a utility for sales guys
Sales automation tools:
Growbots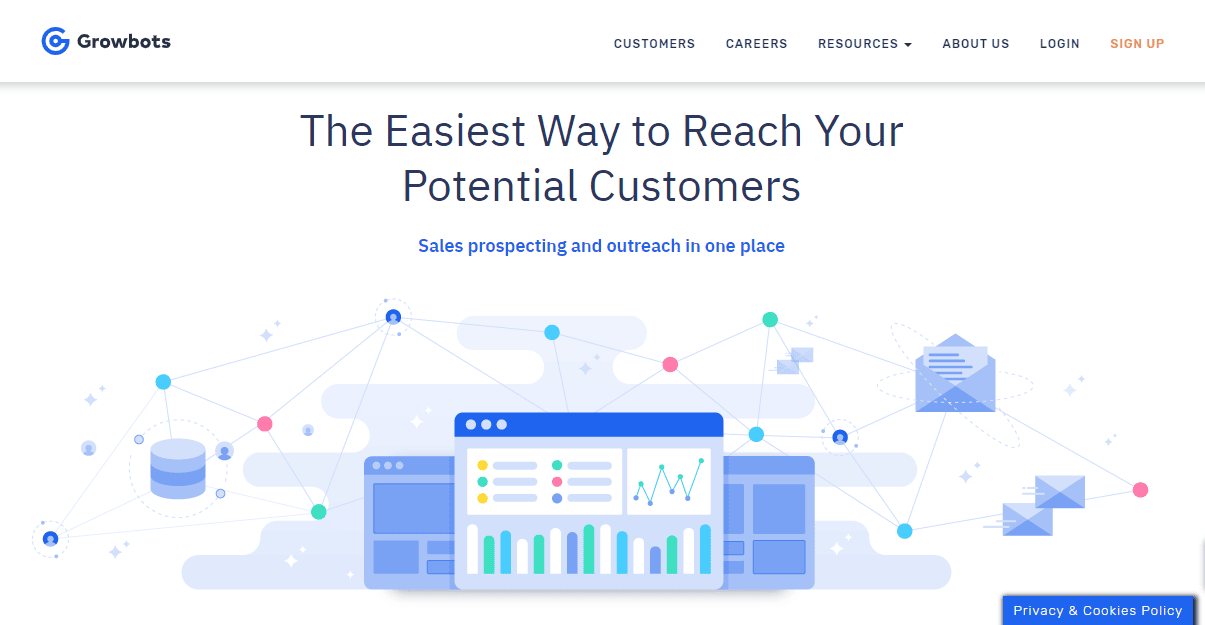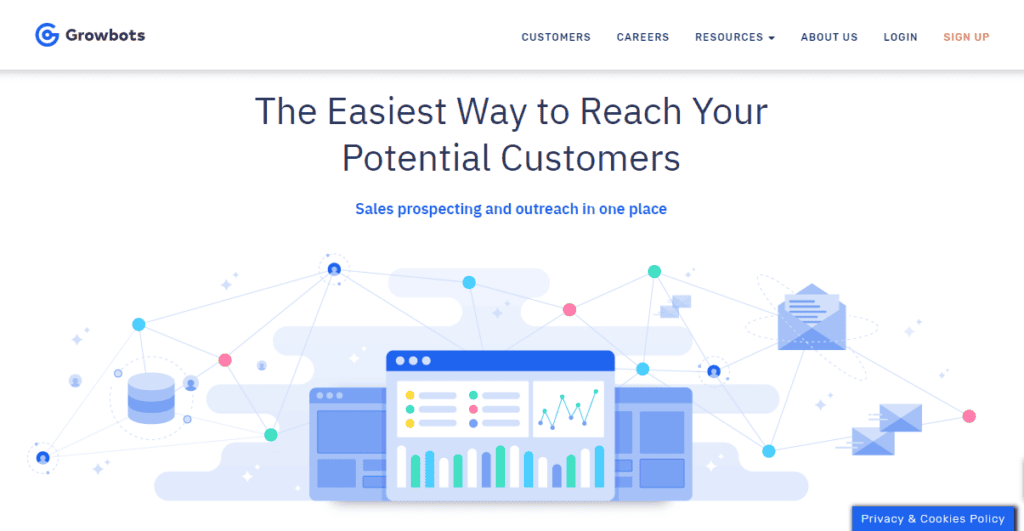 Features
Great for lead generation
No restrictions on follow-ups
Easy scheduling
Automates sales flow
Supplements marketing
Pricing
Growbots offers no free plan. Moreover, their pricing is customized as per your requirements.
Pros
Reduces bounce rate up to 10%
Everything you need for better prospecting
Reduces your sales work
Cons
Not so much of a marketing tool
Reports could get better
Prospect.io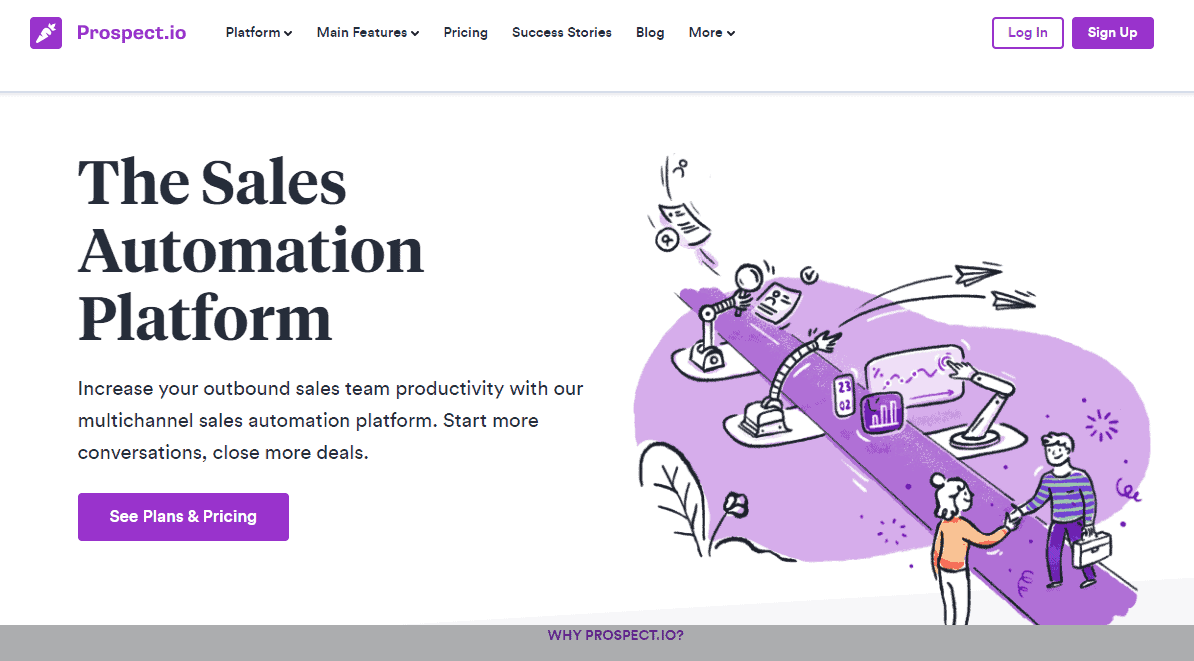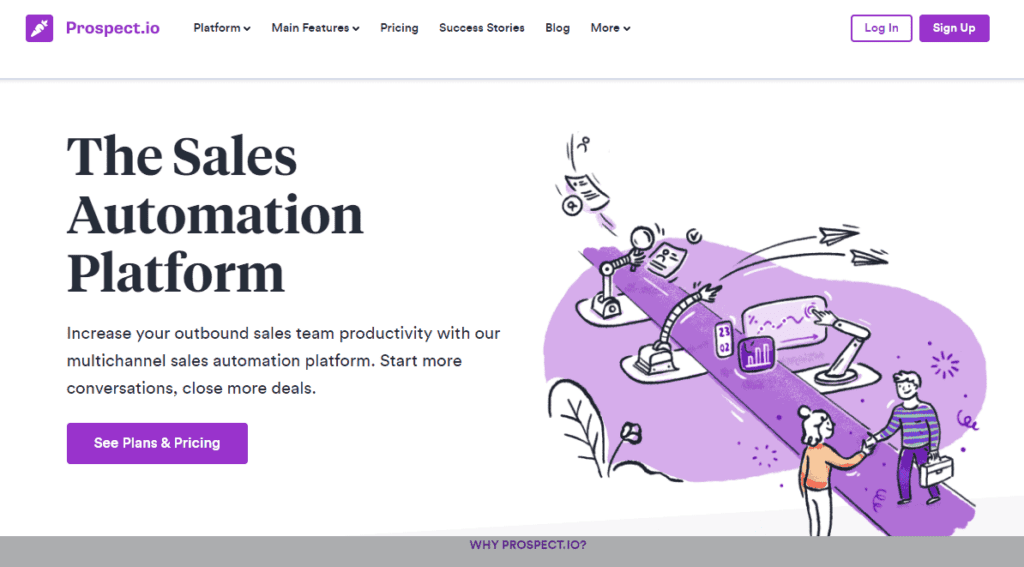 Features
Smooth email campaigns
Highly customizable
Chrome extension, which facilitates adding new prospects from anywhere on the web
Reports that make sense
Bulk personalization
Pricing
Essential Plan starts at $79 per user billed monthly
Business Plan starts at $129 per user billed monthly
Pros
Super Comprehensible
Easy to use
A must-have for email campaign marketing
Cons
Not very helpful beyond SEO and mails
Sales productivity tools:
G Suite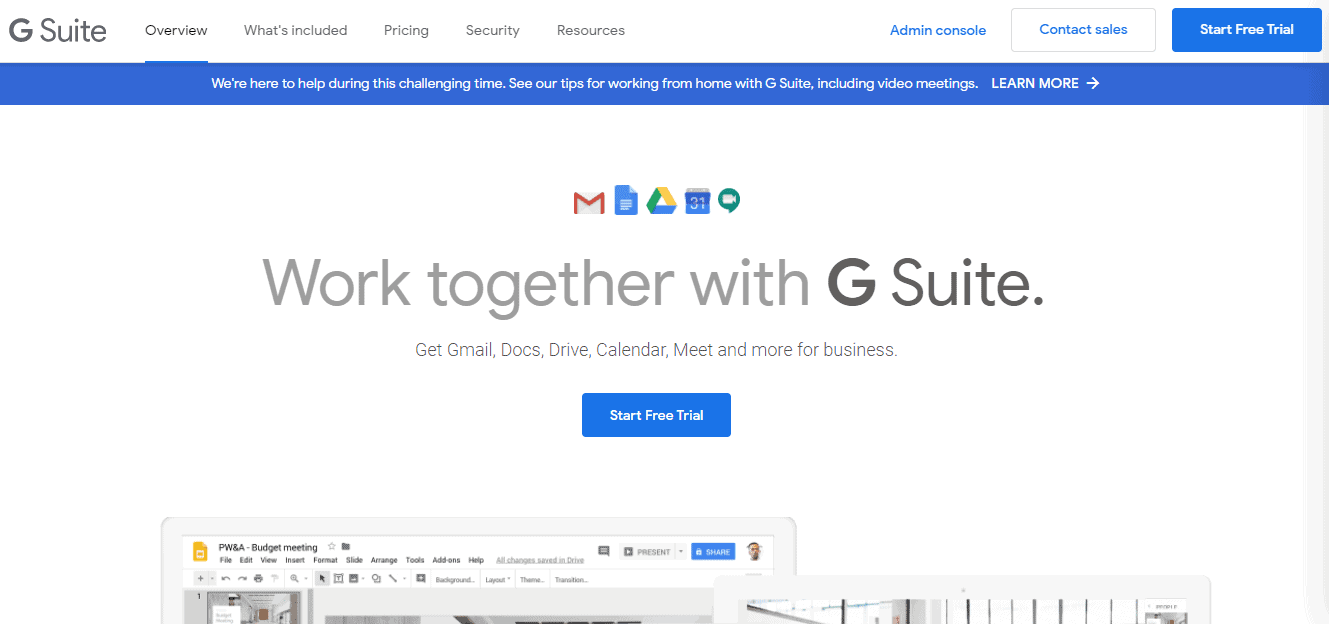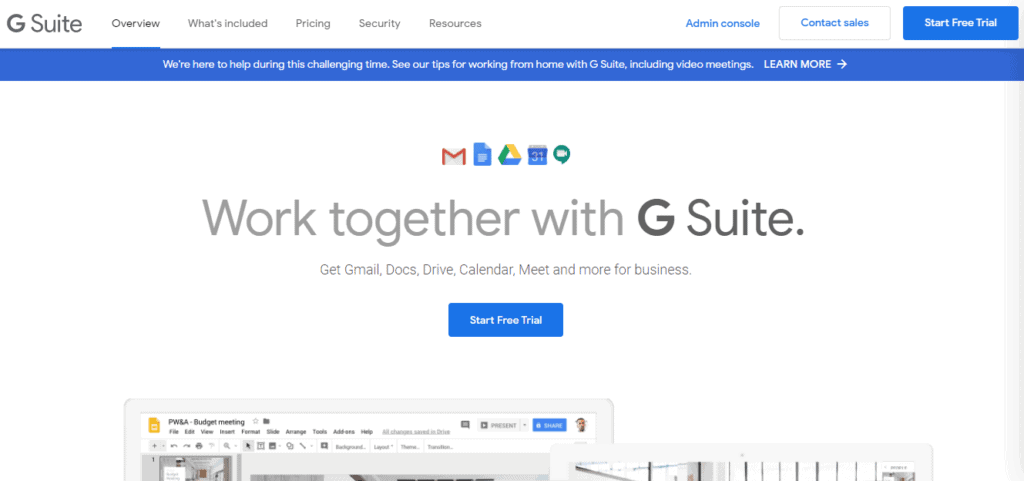 Features
Easy to use mails
Simple calendar
Analytics
The roaster of so many apps!
Storage of up to 17 GB on G Drive in the basic free plan
Pricing
Basic Plan starts at $6 per user per month
Business Plan starts at $12 per user per month
Enterprise Plan starts at $25 per user per month
Pros
1 in 4 people use Gmail making data sharing hassle-free
Very convenient
Easy interface
Cons
Doesn't work as well as Microsoft Office
Relies on the internet to work
Dropbox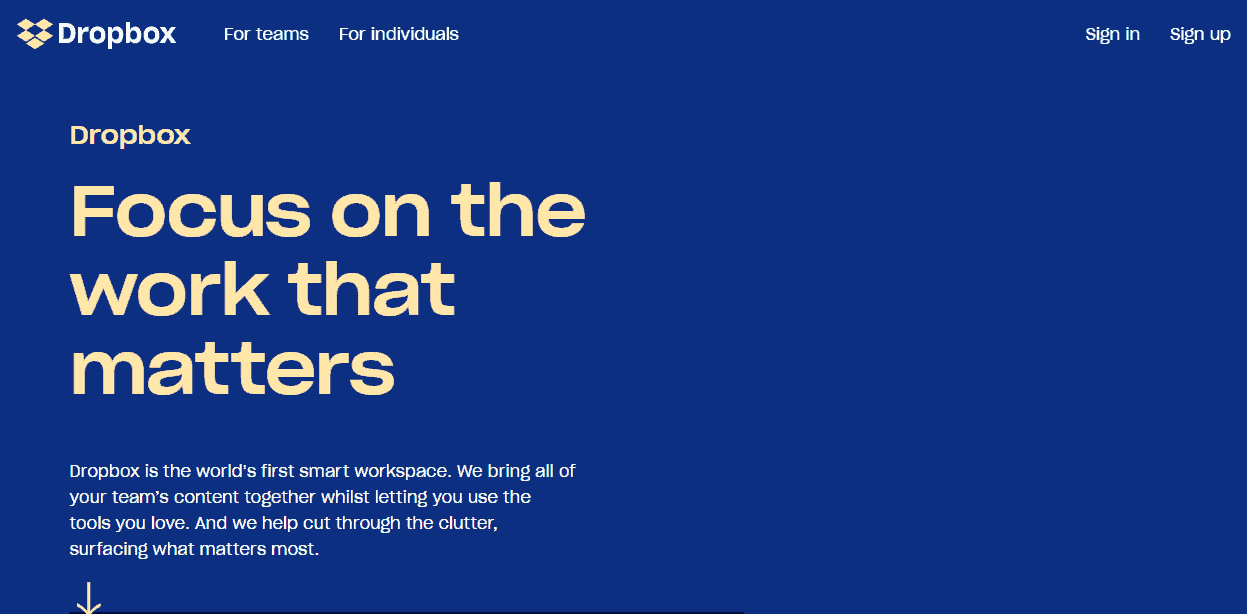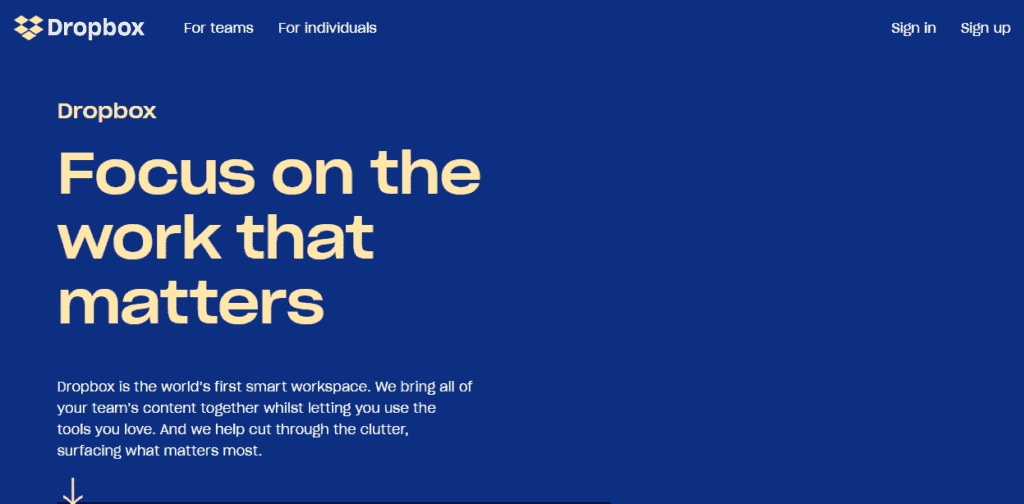 Features
Unlimited storage
Data recovery made possible
Group sharing and seamless collaborations possible
Easy data import and export
Easy ticket management
Pricing
Basic Plan is free
Plus Plan starts at $11.99 per user monthly
Professional Plan starts at $19.99 per user monthly
Pros
 Amazing storage facility
 A hassle-free transferring platform
 Affordable plans
Cons
Sales enablement tools:
Seismic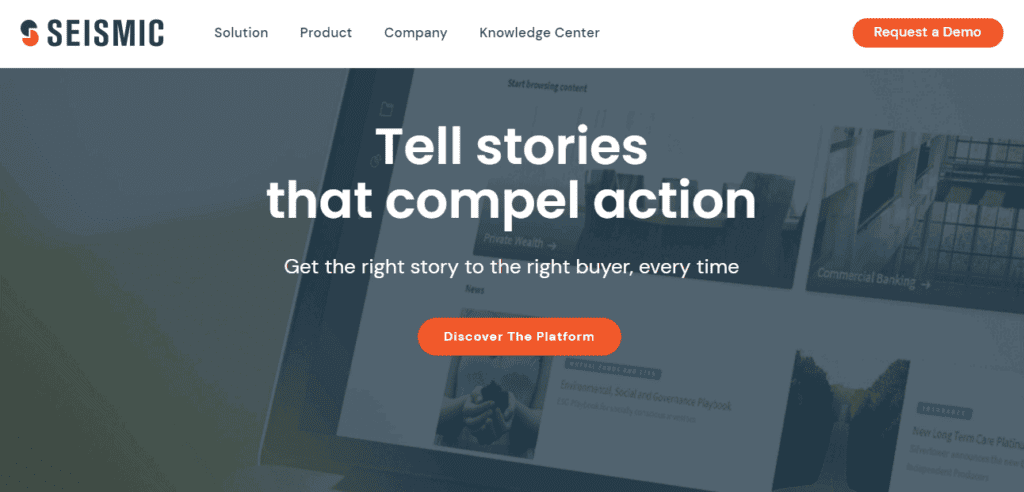 Features
Generate content online
Automated restoration
Third-party integrations
Client management
Live feed
Pricing
You would have to contact the vendor for prices.
Pros
Excellent content management
Simple, without a heavy learning curve
Cons
Ambition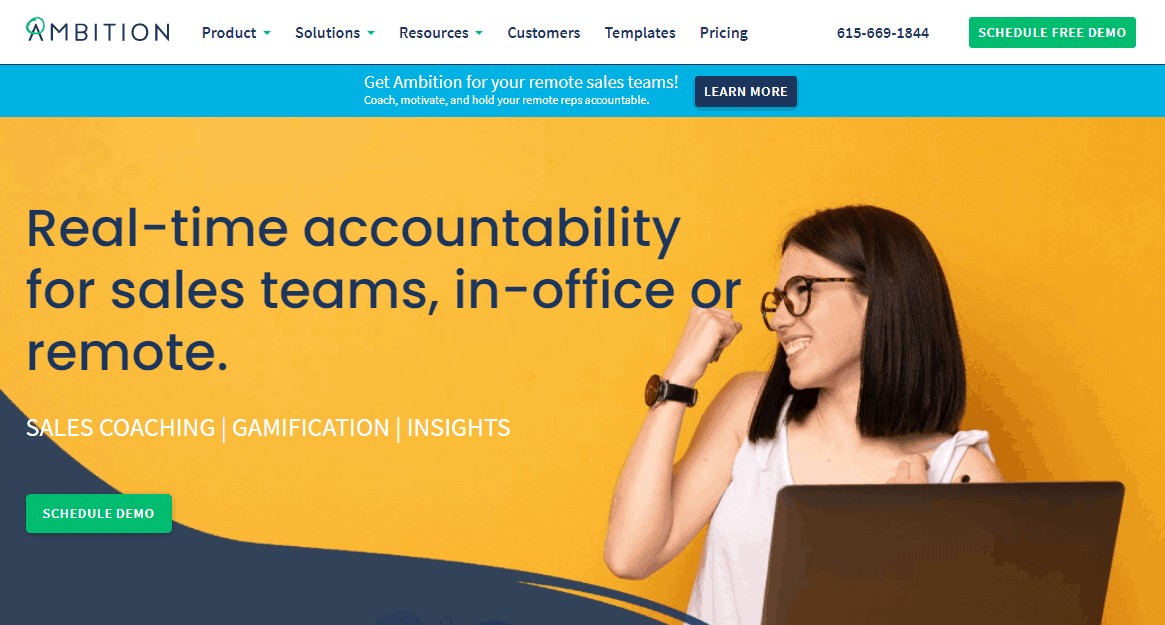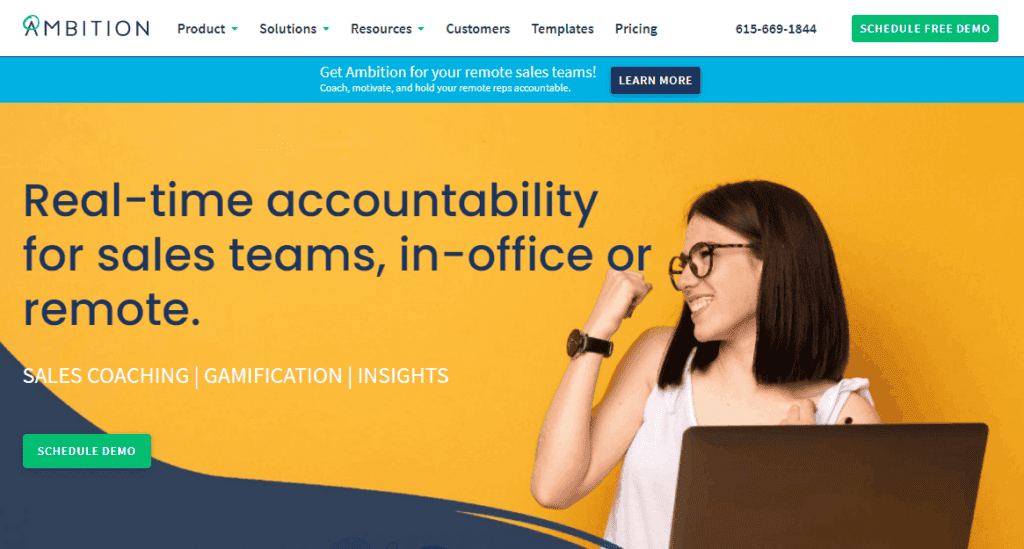 Features
Track and set goals
Sales Gamification
Automated notifications
Smooth Onboarding
Defines hierarchy very flawlessly
Pricing
They do personalized models as per your requirements and they provide free trials.
Pros
Great to keep your sales reps active
Powerful tracking
Cons
Sales prospecting tools:
Leadfeeder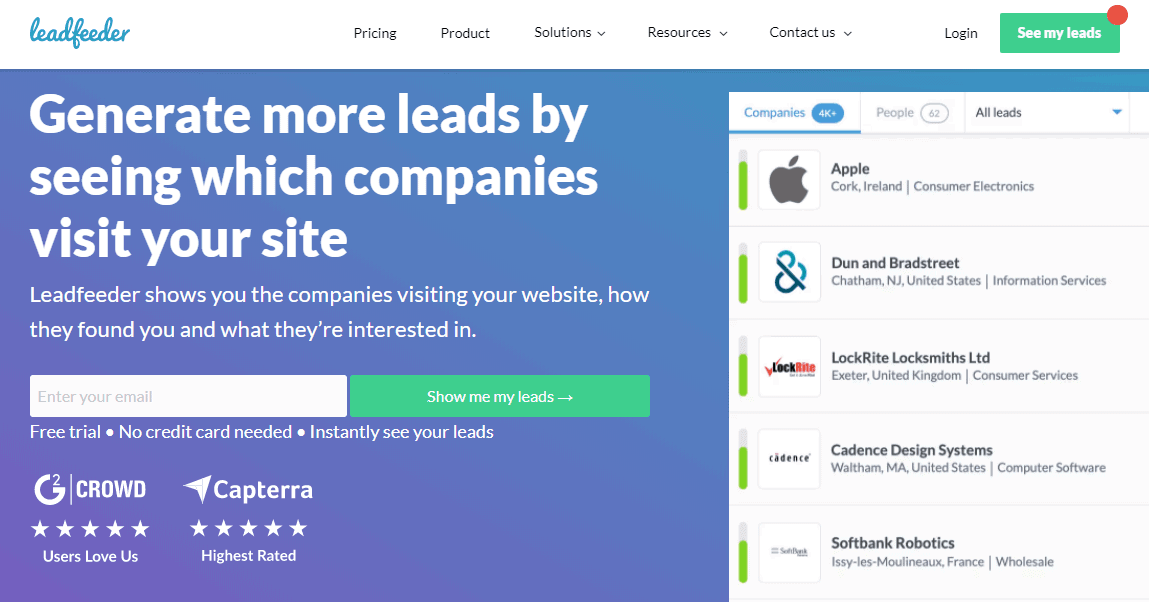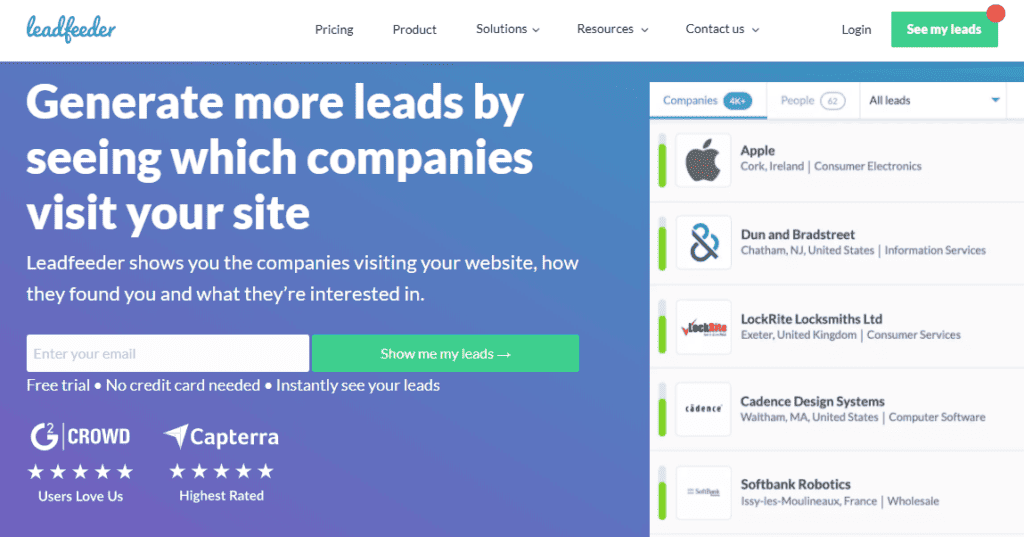 Features
Lead filtering
CRM integration
Email integration
Reminders
Centralized dashboard
Pricing
The Lite Pan is free
The Premium Plan starts at $55 per user monthly
Pros
Cons
Nothing beyond lead management
LinkedIn Sales Navigator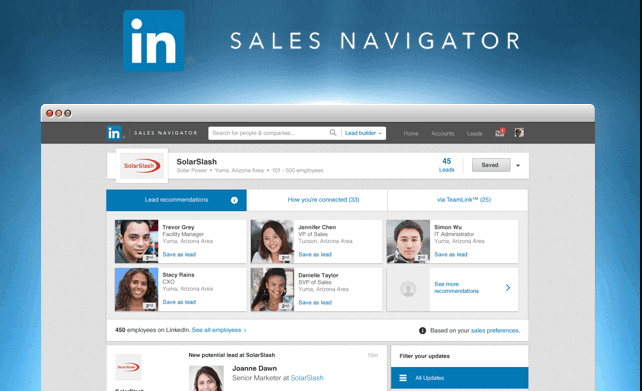 Features
Real-time notifications
Powerful presentations
In most cases, you can see who has viewed your profile
A wide network of companies
CRM integration
Pricing
The Professional Plan starts at $79.99 per month
The Team plan starts at $134.99 per month
Pros
Make great content using PointDrive Presentations and convert more
Doubles up as social media channel
Cons
Too many restrictions with lower plans
Not the most exciting interface too!
Naturally, all our top 10 picks do what they are known for.
However, you would be extremely confused and guilty for your expenses, if you went around buying so many tools, which is why you need to pick one.
One that provides you with everything within your budget – EngageBay!