The sales tools you use have a direct impact on the quality of leads you get, and the kind of deals you close. Obviously, nothing can replace the human connection of sales — but the right stack of software and tech can help you explore more avenues for lead generation.
We know that you may think investing in a sales stack is an expensive process, but it doesn't have to be. There are many affordable sales tools that you can use to achieve great results in sales prospecting, with excellent features like online marketing, automation of sales email campaigns, and leveraging social media networks.
To maximize both efficiency and effectiveness in your business endeavors, it is important to find the right balance between doing things manually and letting technology take care of the rest.
Sales automation has been around for quite some time now, with tools like Salesforce, but there are still plenty of new tools that can help automate various tasks, from lead generation all the way down to closing deals.
In this blog post, we will talk about 11 sales tools and categorize them for features like CRM integration, sales enablement, sales automation, and sales prospecting.
We'll underline some tools and features that can help with sales forecasting as well.
If you don't have the time to read through the article, you can just take a look at this video about the kind of tools that make up a successful sales toolkit.
Sales Automation Tools for Lead Generation
Automation tools can help sales managers automate a lot of the tasks in the sales process, from generating leads to following up and closing deals.
Let's look at three tools that are popular for sales automation.
1. Growbots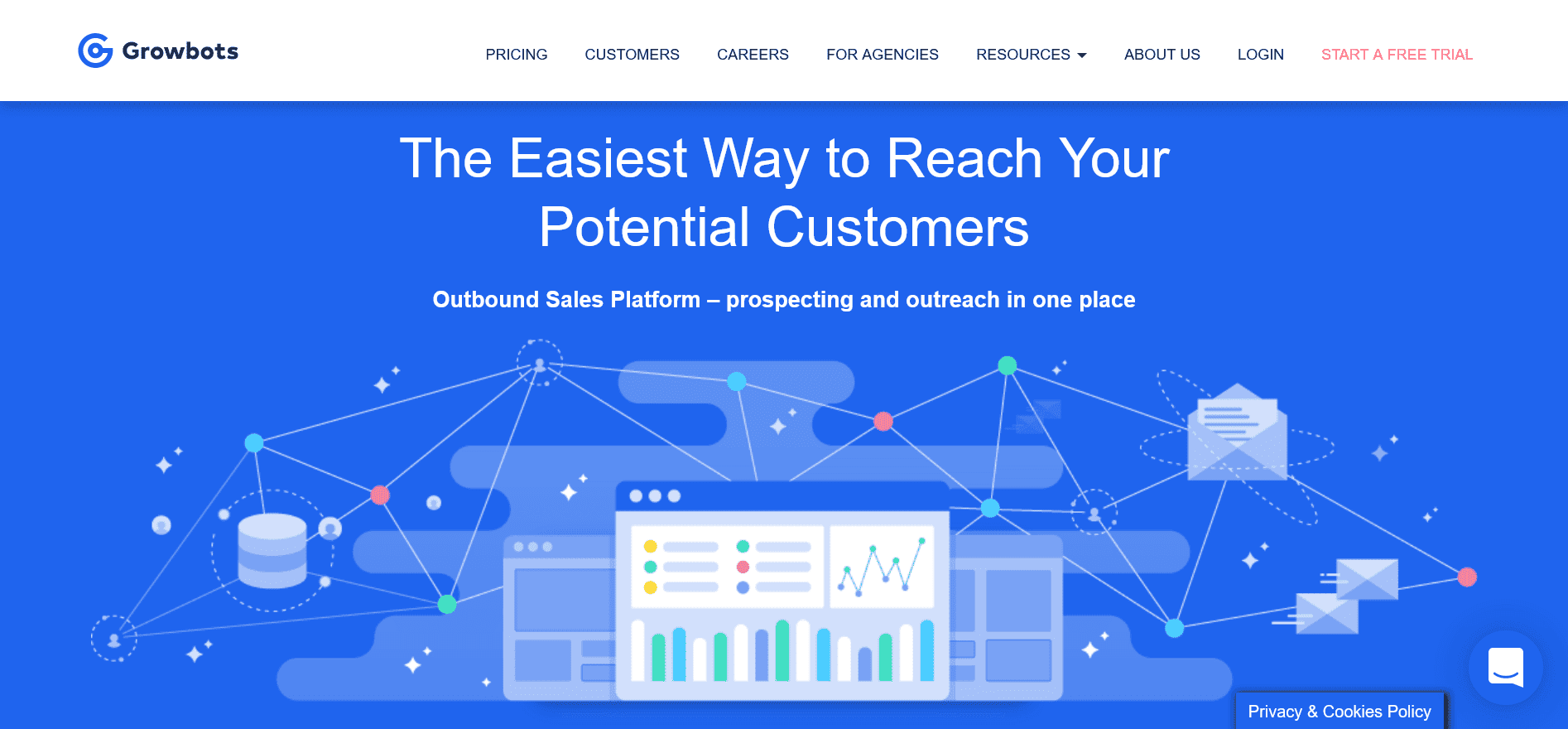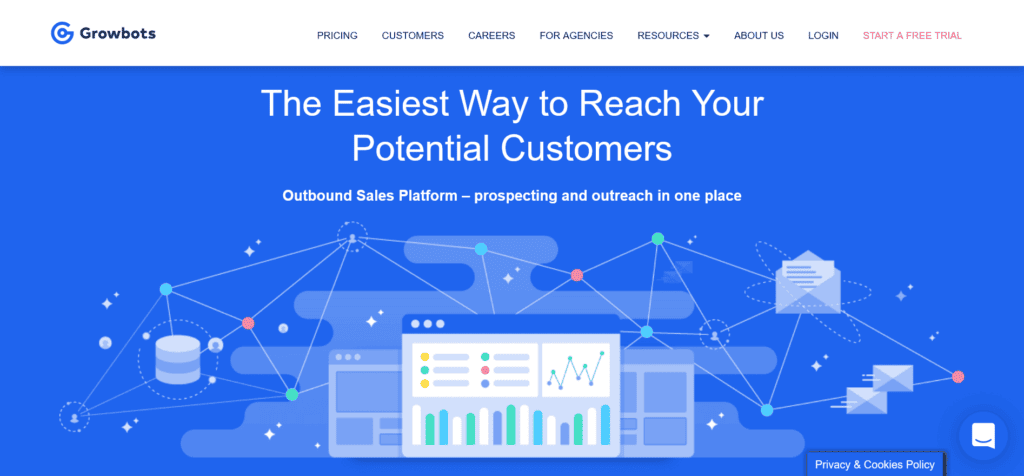 Growbots is a sales automation software that offers the right tools for lead management, customer surveys, and predictive analytics. Their AI-powered bot helps marketers and sales professionals streamline the tedious tasks of lead generation.
Growbots can be easily integrated into CRM and marketing automation tools like Hubspot.
What is Growbots known for?
Lead generation
No restrictions on follow-ups
Easy scheduling
Sales flow automation
What is not great about Growbots?
Not much of a marketing tool
Reports could be better
Growbots Pricing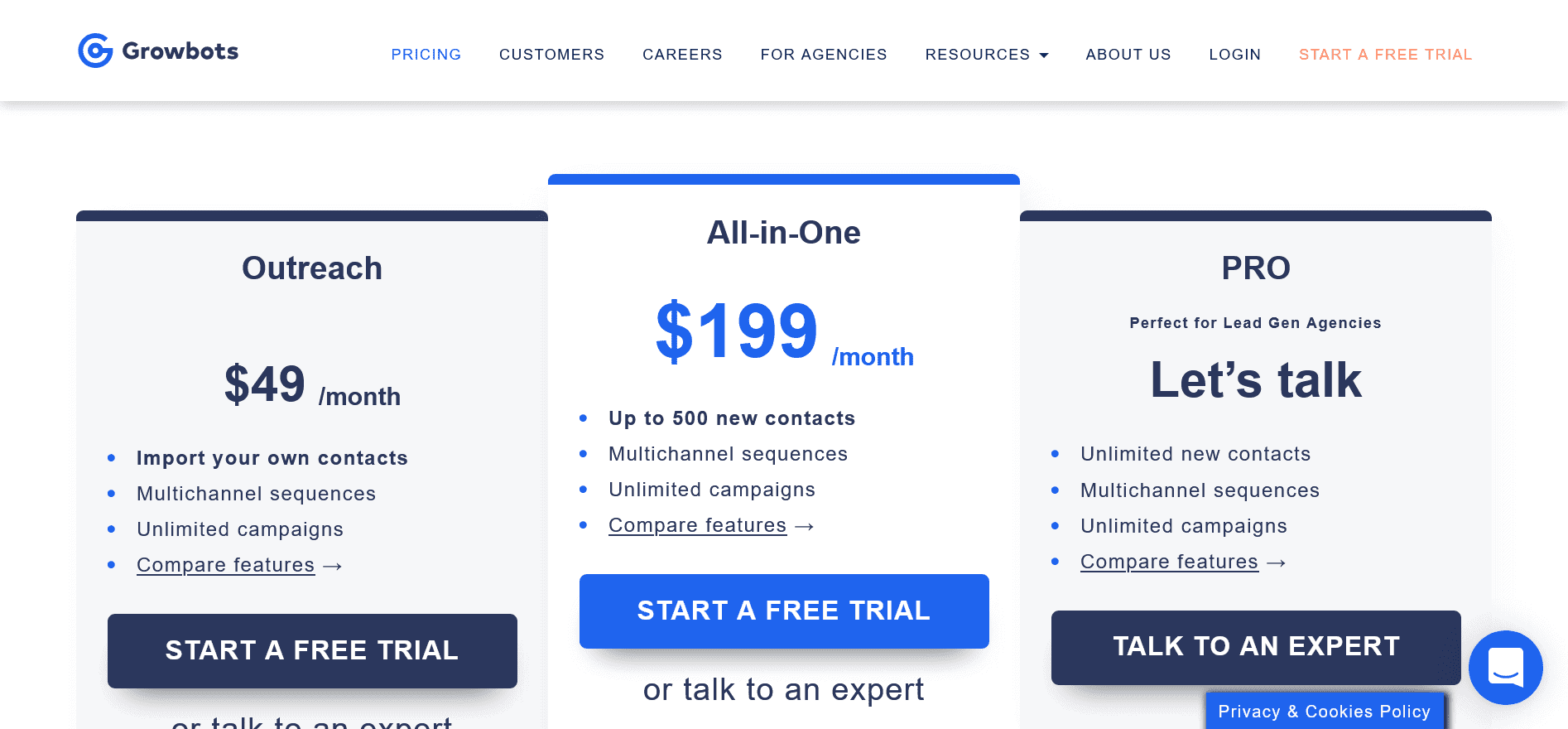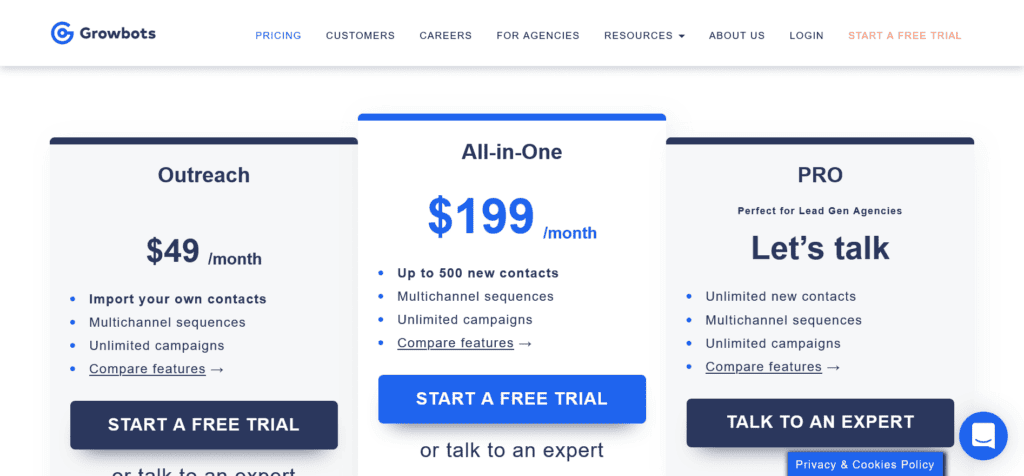 Growbots offers no free plan.
Their pricing starts at $49 per month for the Outreach package and $199 per month for the all-in-one plan.
2. MixMax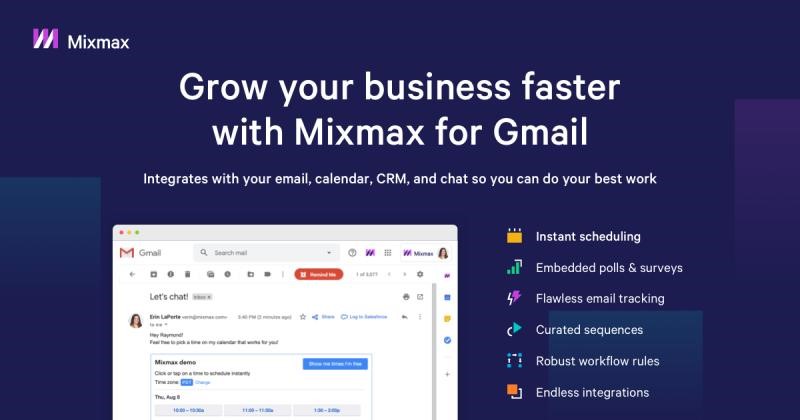 MixMax is an easy-to-use sales automation platform aimed at professionals in sales and marketing.
It is a great tool that can help sales reps in email tracking, call scheduling, follow-ups, and personalized outreach that saves you time and helps get more deals done.
What is MixMax known for?
Lead generation
Improving Conversion rates
Ease of use
Call scheduling
Integration with other apps
What is not great about MixMax?
As it is a newer product, there isn't a lot of information on the internet about how to use MixMax.
You need a paid account before you can start setting up an automation campaign.
MixMax Pricing
MixMax offers a free plan and a 14-day free trial for the paid plans. Pricing starts at $9 a month if billed annually, and the SMB plan is billed at $24 per month.
However, automations come best in the higher packages, i.e., Growth at $49 per month (billed annually) and Enterprise (custom pricing).
3. Closely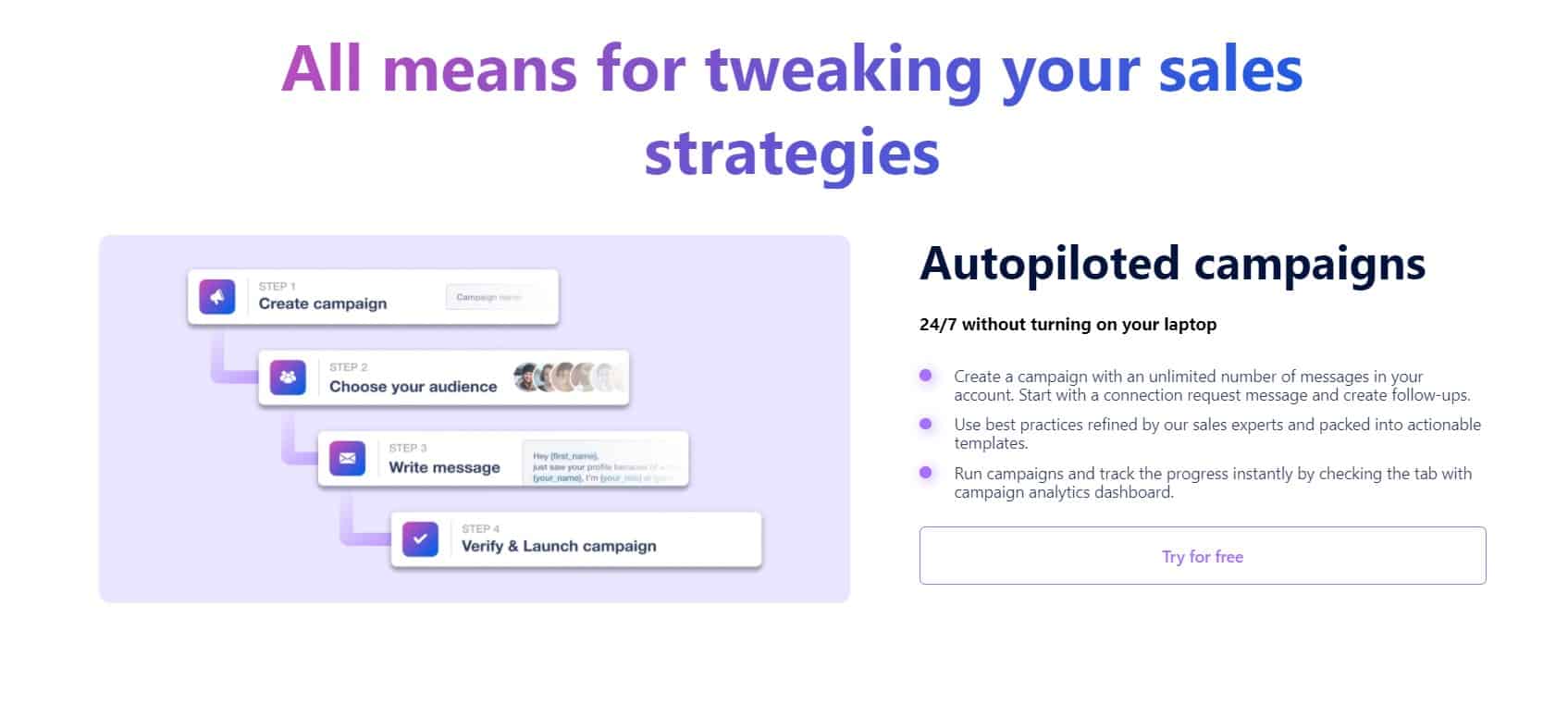 Closely is a sales tool that allows you to keep track of your customer conversations by tracking emails and calls. It also provides the option of automatically following up at the most convenient times.
What is Closely known for?
Customer relationship management
Tracking emails and calls
Automatic follow-ups
Lead generation
What is not great about Closely?
Lacks sales enablement features
Reports could be better
Doesn't integrate with other tools like WebHooks and Zapier.
Closely Pricing
Closely's pricing is divided into two parts, and each costs differently.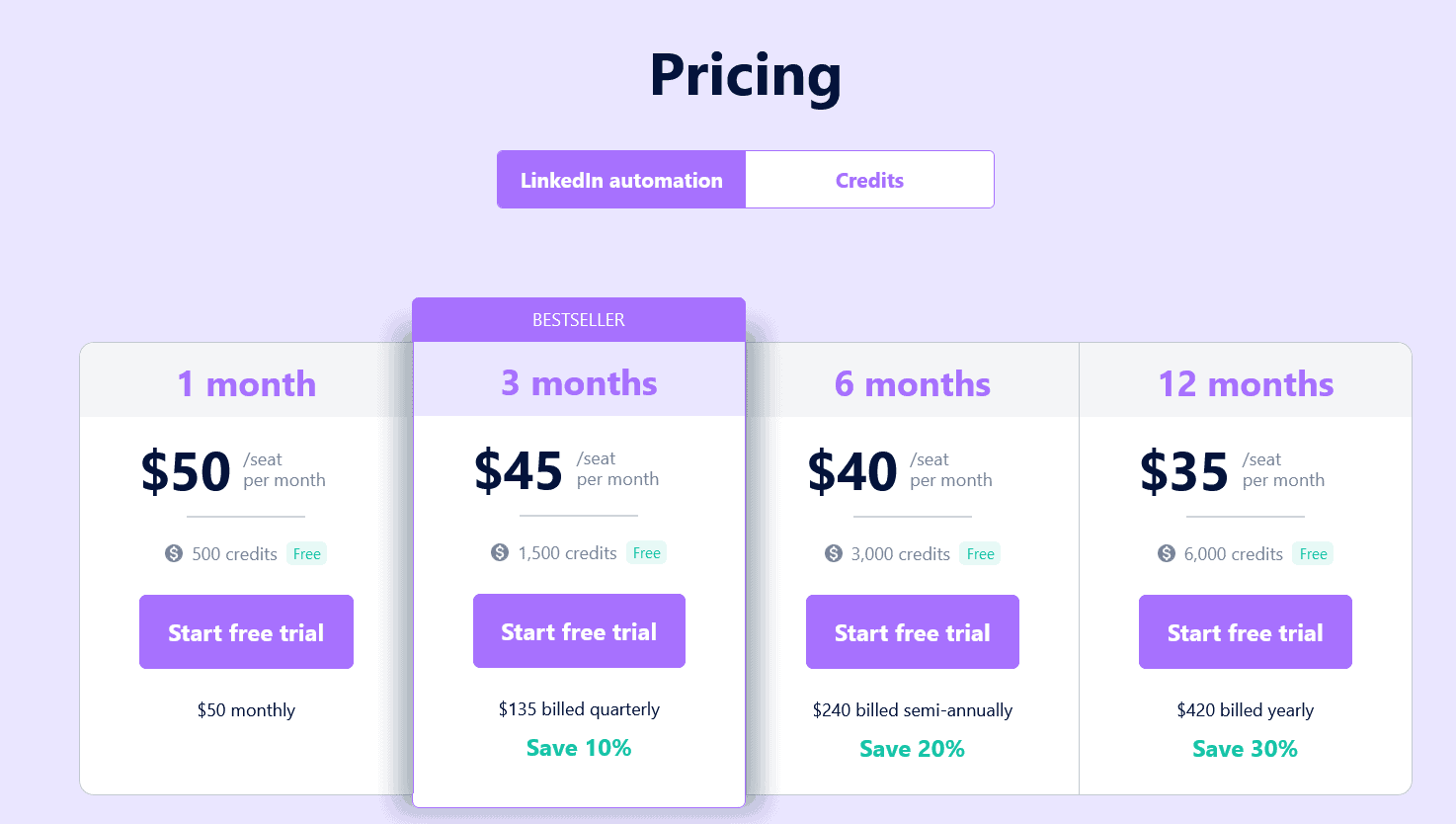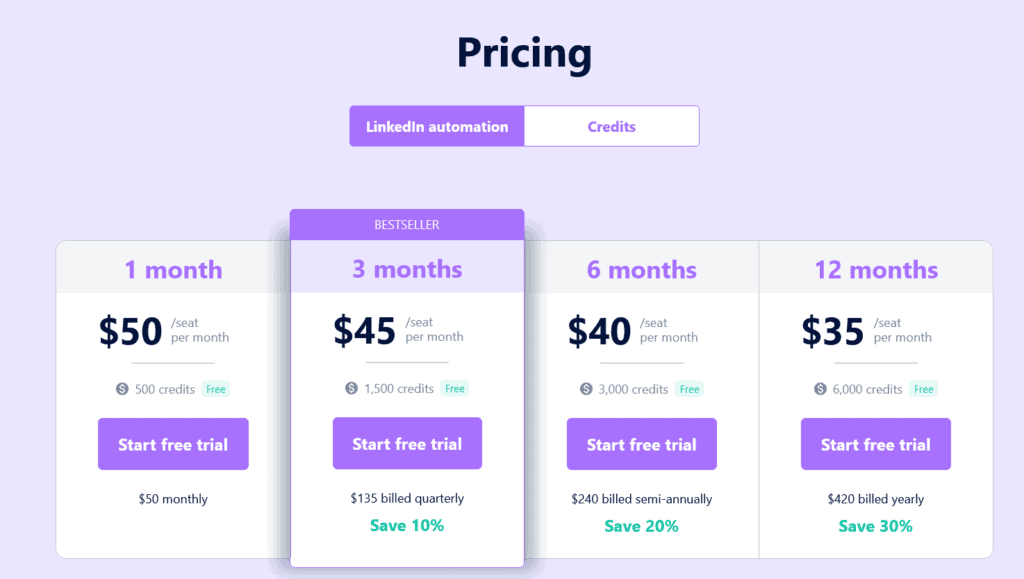 – 1 month: $50 per seat/month with free 500 credits
– 3 months: $45 per seat/month with free 1,500 credits
– 6 months: $40 per seat/month with free 3,000 credits
– 12 months: $35 per seat/month with free 6,000 credits
If you only want to buy credits, the pricing is: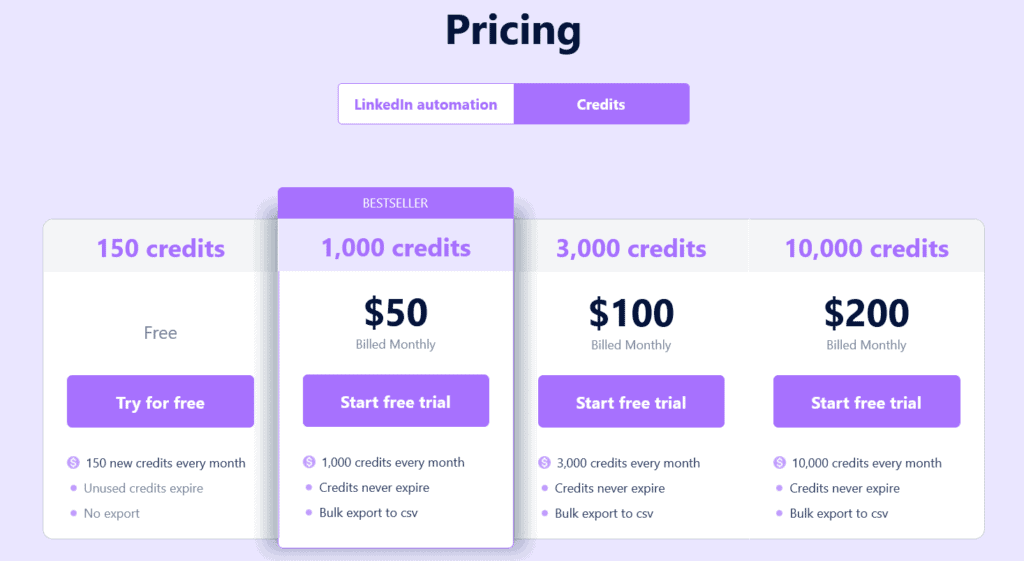 – Free: 150 credits
– $50/month: 1,000 credits
– $100/month: 3,000 credits
– $200/month: 10,000 credits
Sales CRM Tools for Great Customer Relationship Management
Sales CRM tools are extremely useful for a sales team to track correspondences with their contacts, capture important information about them, and generate sales pipelines.
Here are two great options that will help your team do just that.
4. EngageBay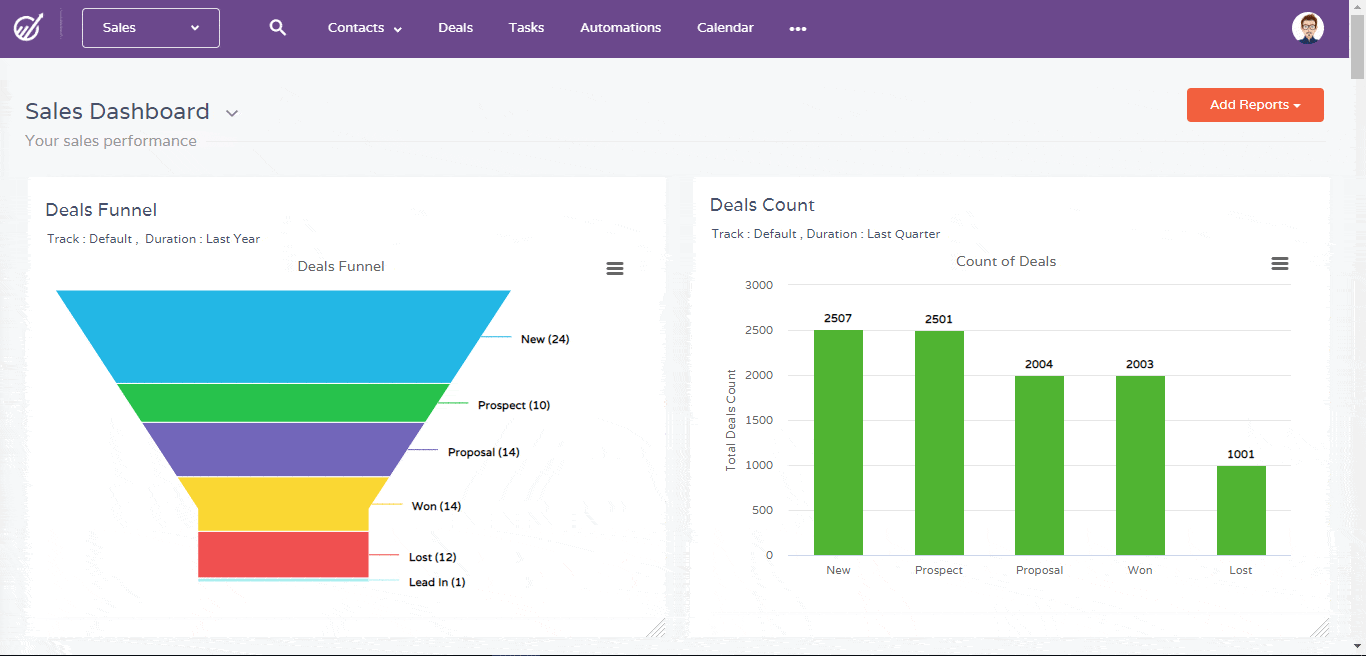 EngageBay is a cloud-based sales CRM tool that integrates with Gmail and Outlook seamlessly, and lets you manage your contacts, email campaigns, and sales tasks all in one place.
Using EngageBay can help a sales representative track emails and attachments to contacts, keep notes on prospects and uncover hidden opportunities, save email templates for future use, and even call customers directly from the CRM itself.
EngageBay's sales intelligence and sales pipeline management tools can help sales reps forecast revenue growth and follow up with leads easily.
What is EngageBay known for?
No credit card required — free forever
Personalized demos at no extra charge
Easy-to-use dashboard, no tech knowledge needed
Simple lead nurturing and lead scoring
Real-time notifications on important updates with your sales prospects and customers
Approval routing to get rid of email clutter from uninterested/unqualified leads without stepping away from your inbox
Contact information at a glance with LinkedIn integration so you can easily view their latest posts or Tweets, etc.
A simple contact search function that serves up the most recent emails, phone calls, meetings, tasks, notes, and even social media interactions all in one place.
Can be accessed from anywhere
You can choose whether to integrate with G Suite or Office 365, and switch between the two without losing any of your data (unlike most other tools)
Great email campaign tool – track email opens and click rates, automate follow-up emails depending on the recipient's behavior, and use dynamic content generation to personalize your outreach.
Integrates with many external apps like Twitter and LinkedIn
Active user community with lots of resources available (FAQs, tutorials)
Full-fledged sales and marketing automation with custom nodes
Effortless autoresponders
Customer support ticket management
Custom reporting tools
Free CRM and Live Chat
What is not great about EngageBay?
Some advanced features are only available in the paid plans.
EngageBay Pricing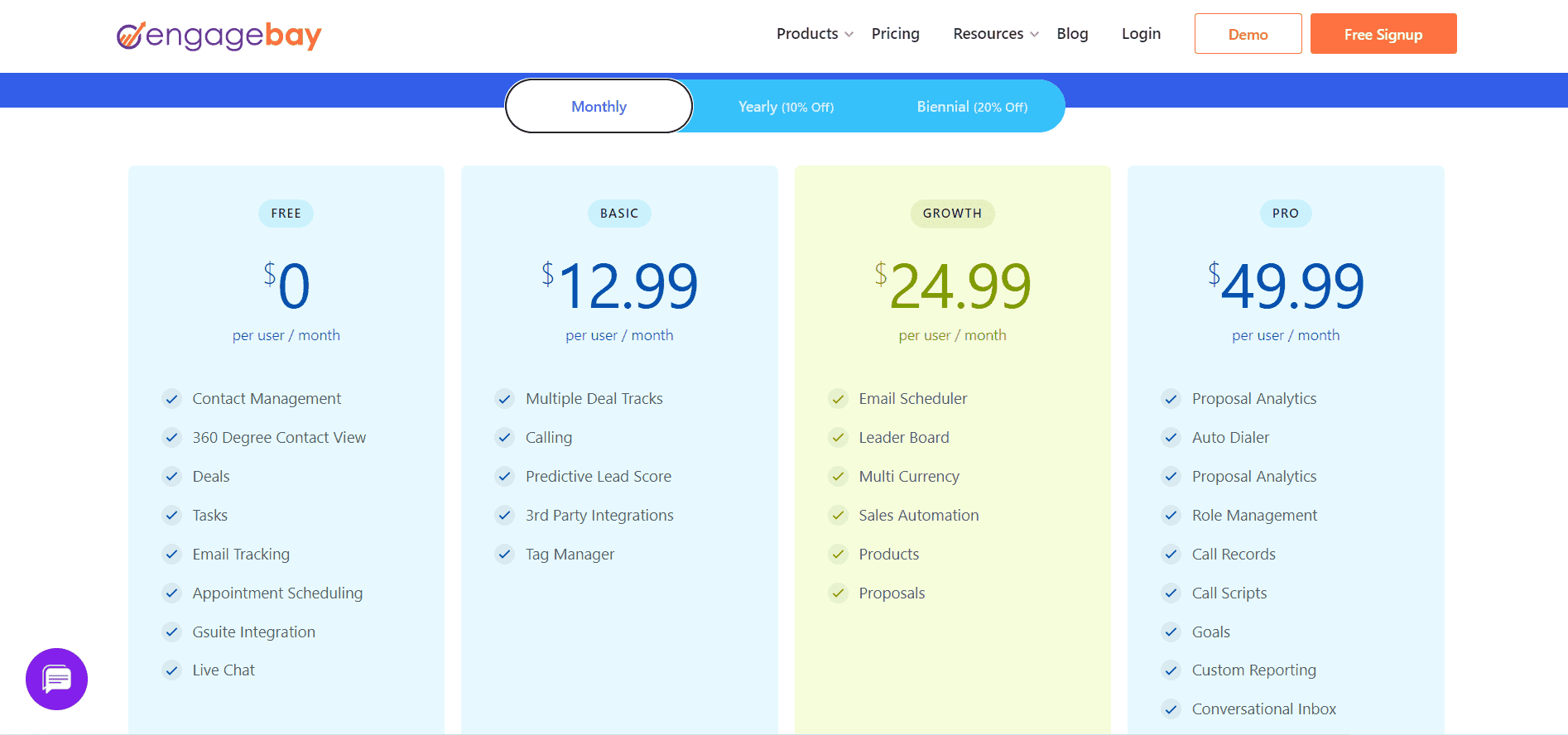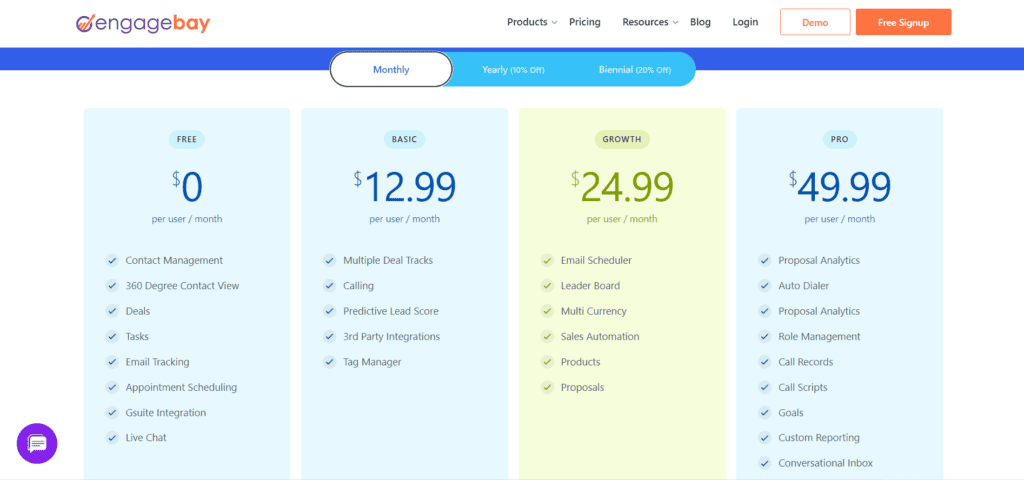 Free Plan with 500 contacts and 1,000 branded emails per month
Basic Plan at $12.99 per user per month
Growth Plan at $24.99 per user per month
Pro Plan at $49.99 per user per month
Read also: 10 Sales Productivity Tools That You'd Want To Buy Today
5. ActiveCampaign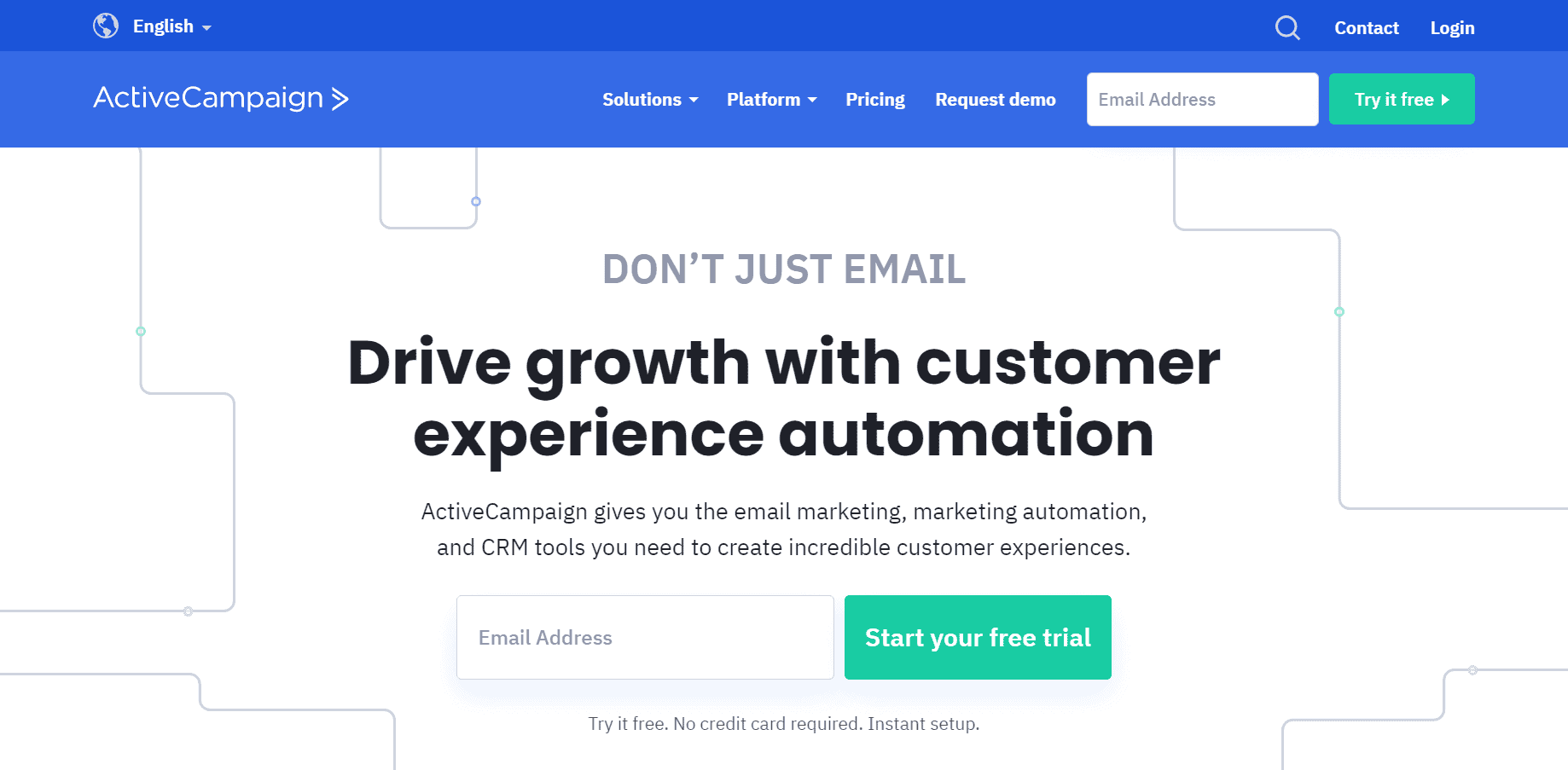 ActiveCampaign is a powerful software that can be used as an all-in-one customer relationship management system and a sales tool.
It takes care of tasks like updating profiles with data from social media sites and web browser cookies, tracking email campaigns, managing your contacts list, making notes on prospects, and uncovering hidden opportunities and actionable insights.
With ActiveCampaign, you'll get access to report generation tools that will allow you to create custom reports ranging from basic KPIs to complete business dashboards easily.
What is ActiveCampaign known for?
Built-in lead scoring — ActiveCampaign assigns a score to your prospect depending on their interests and behavior, which you can use as a criterion for sales follow-up.
Schedule automated email campaigns — ActiveCampaign allows you to schedule text and HTML emails , or import them from CSV. You can even attach files using Google Drive or Dropbox!
Great reporting tools — create reports that include revenue goals, social media interactions, and any other data points your business needs through graphs and charts.
Integrates with many external apps like MailChimp and Constant Contact (for email marketing), Klaviyo (for eCommerce businesses), AWeber (for SMS notifications), Zapier (to sync up with over 600+ web services), etc.
What is not great about ActiveCampaign?
Price — the pricing plans with advanced features are pretty steep for small businesses.
ActiveCampaign Pricing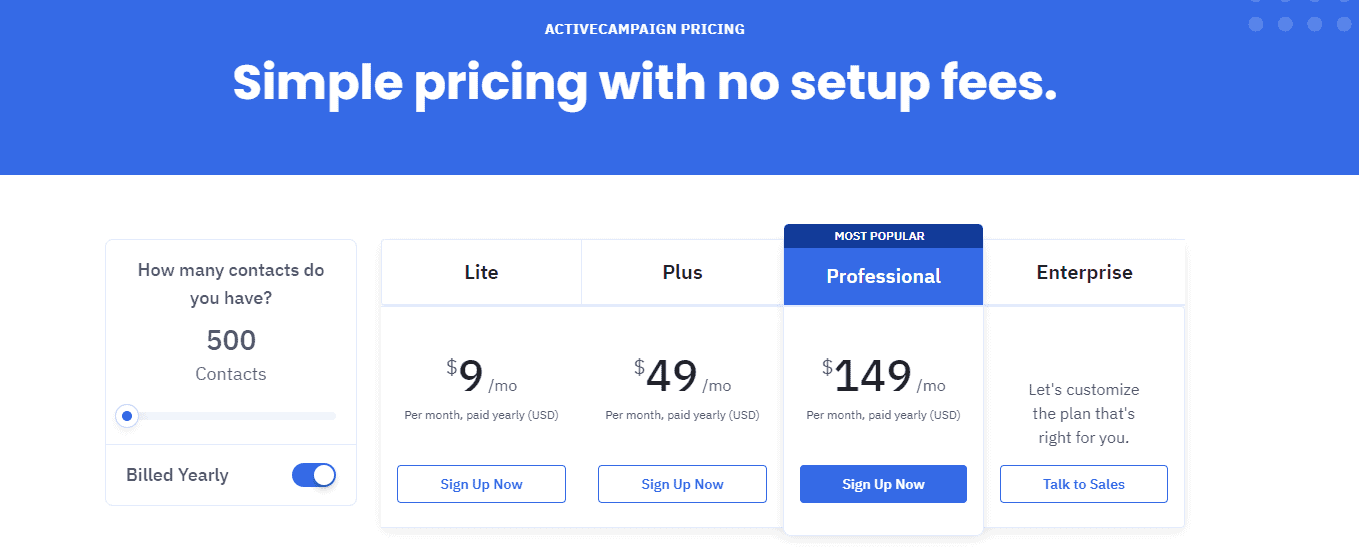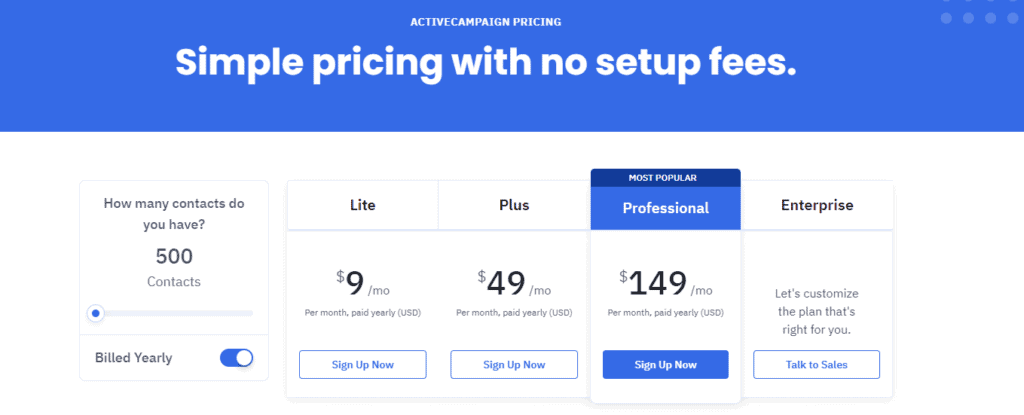 The pricing for each plan depends on the number of contacts. For 500 contacts:
Lite Plan starts at $9 per user billed yearly
Plus Plan starts at $49 per user billed yearly
Professional Plan starts at $149per user billed yearly
Enterprise Plan offers custom pricing
Sales Tools for Effective Prospecting
Sales prospecting tools are different from sales automation tools in that they are meant for finding new leads more than automating the sales process such as follow-up emails and calls.
These three sales tools are quite popular and can help you win at prospecting, especially if you are just starting out and need help with lead generation.
6. Leadfeeder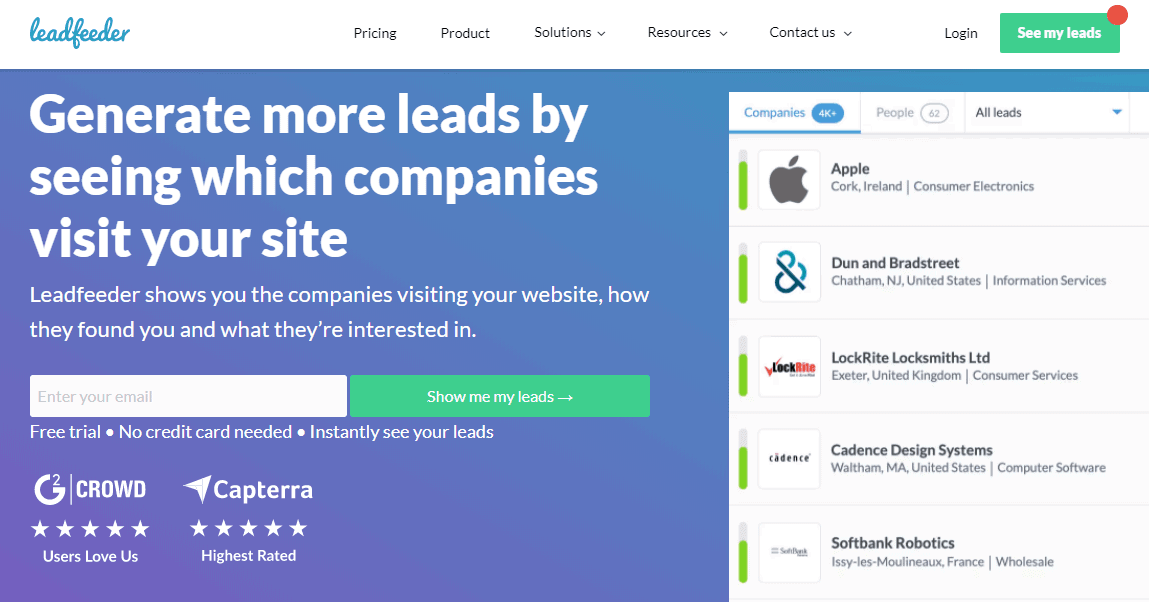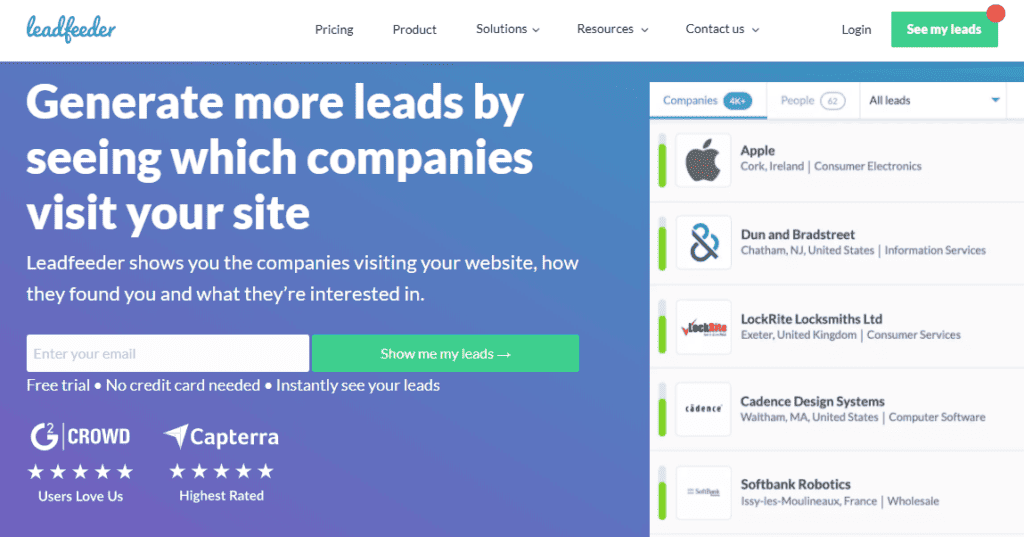 Leadfeeder features a Chrome browser extension that makes prospecting simple. The platform matches your leads to companies on LinkedIn and shows you the best one to contact at the top of your list.
You can also use Leadfeeder's automation platform to automatically follow up with prospects when they show interest in your company or products.
What is Leadfeeder known for?
Automating follow-ups
Simple prospecting
Leads from emails, website visits, social media, blogs, forums, and job sites
Lead filtering
CRM integration
Email integration
Reminders
Centralized dashboard
What is not great about Leadfeeder?
Can be a bit spammy
Requires a paid account to use the full service.
Nothing beyond lead management
Pricing is in Euros, so it can get tricky for US-based businesses.
Leadfeeder Pricing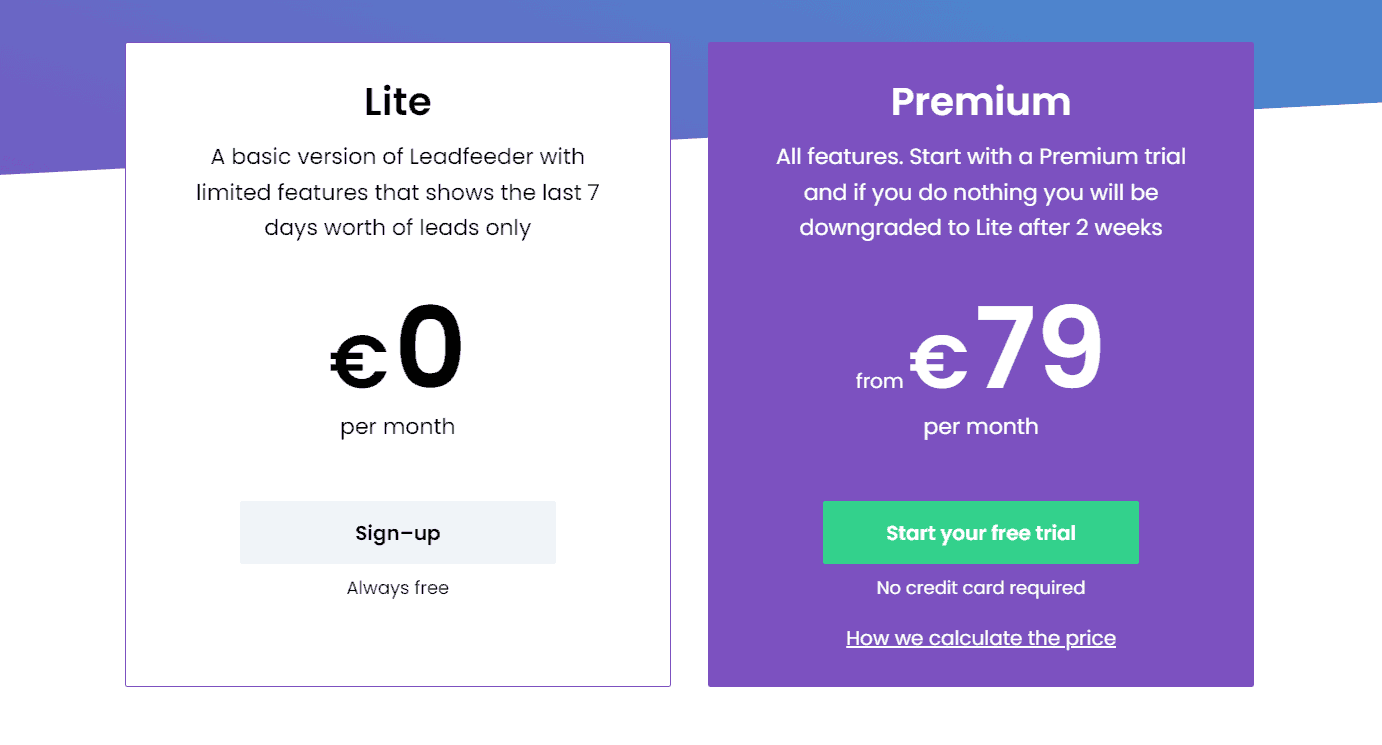 The Lite plan is free
The Premium plan starts €79 at per user, monthly
7. LinkedIn Sales Navigator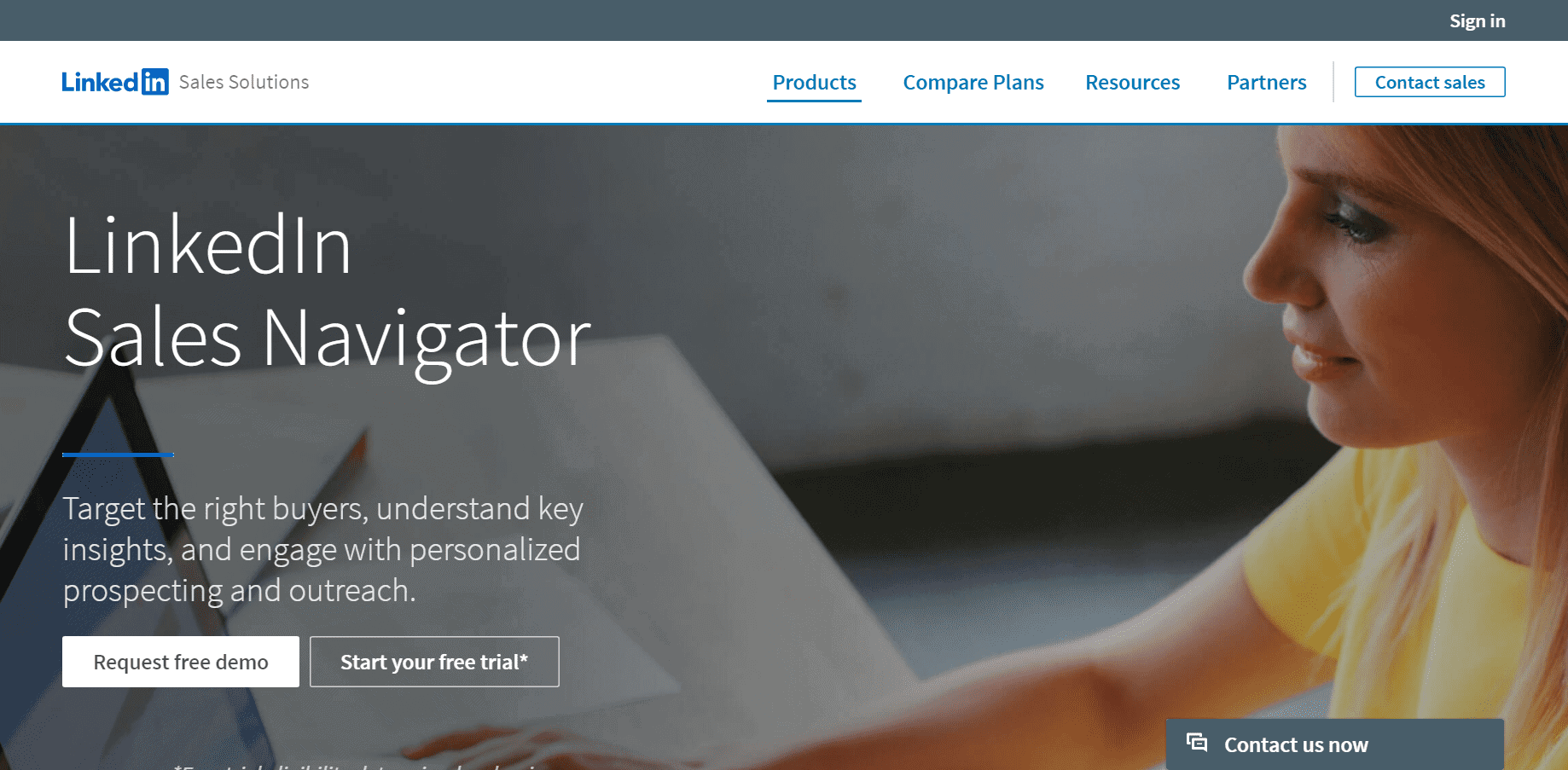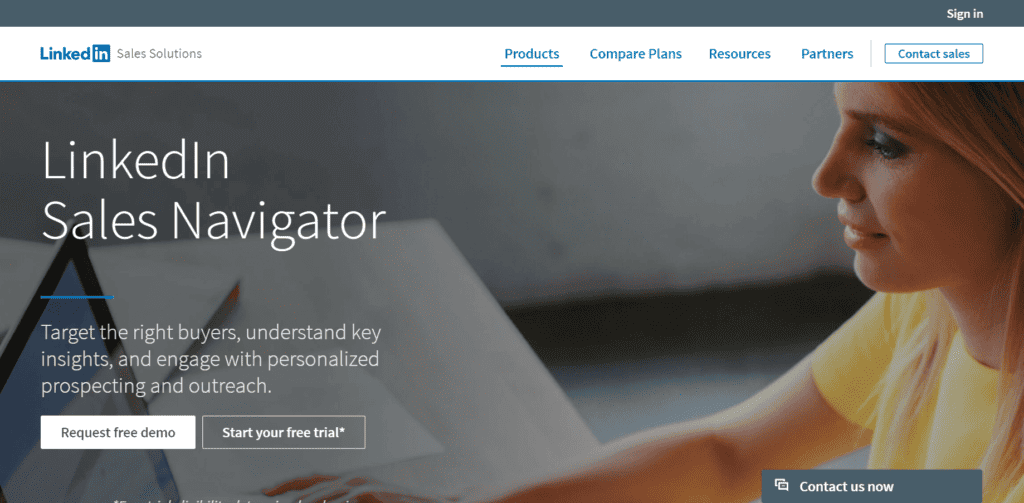 Using LinkedIn Sales Navigator as a sales prospecting tool will help you find new leads on LinkedIn
It is designed so that you can see all of your leads in one place, save time with intelligent lead recommendations, and communicate more effectively with people who might want to buy your product or service.
What is LinkedIn Sales Navigator known for?
LinkedIn-specific leads
Real-time notifications
Powerful PointDrive presentations
In most cases, you can see who has viewed your profile
A wide network of companies
CRM software integration
Email integration
Great content tools
Doubles up as a social media channel
What is not great about LinkedIn Sales Navigator?
Too many restrictions in the affordable plans
Not the most exciting user interface
LinkedIn Sales Navigator Pricing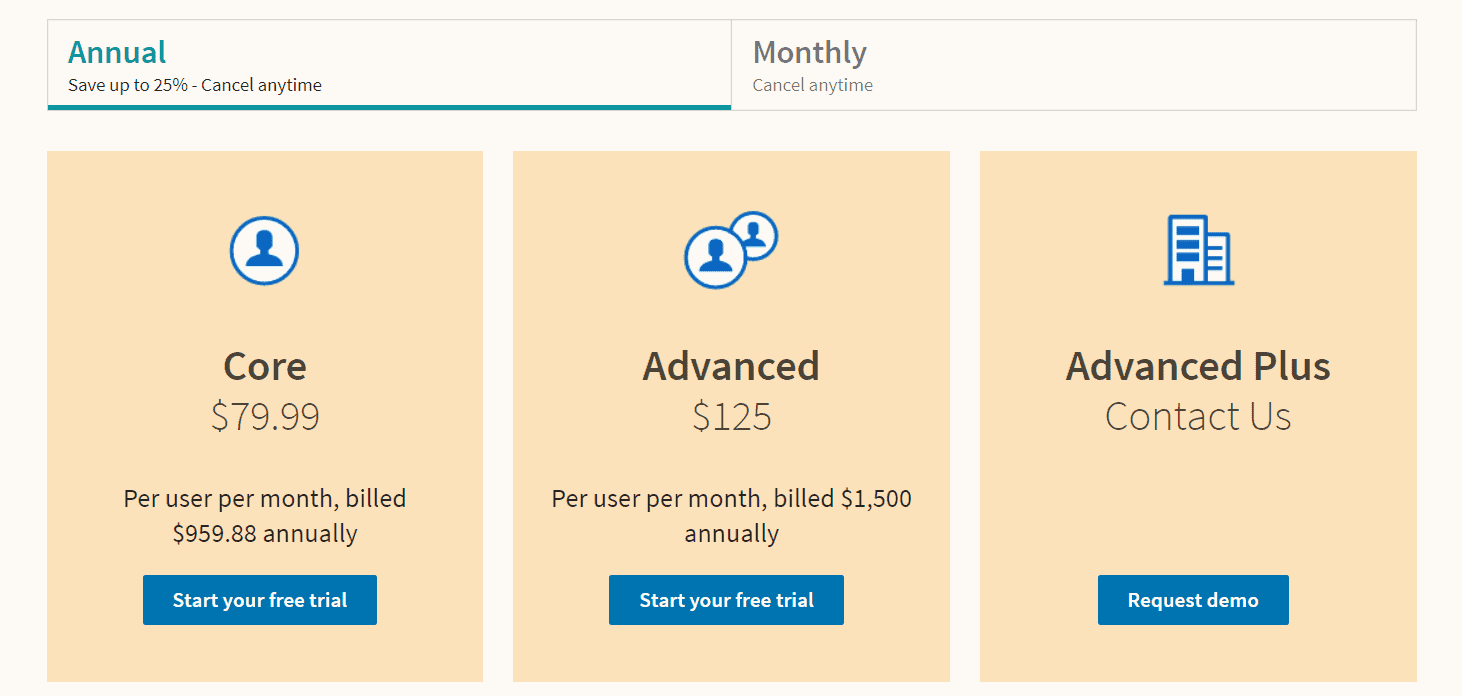 The Core Plan starts at $79.99 per month
The Advanced plan starts at $125 per month
The Advanced Plus plan offers custom pricing
Read more: 8 Best Sales CRM Tools for Tracking Lots of Leads
Sales Productivity Tools
Now, let us look at a couple of sales tools that can help your sales team improve their productivity. Unless you want advanced sales intelligence features and a lot of cloud storage, these tools come free.
8. G Suite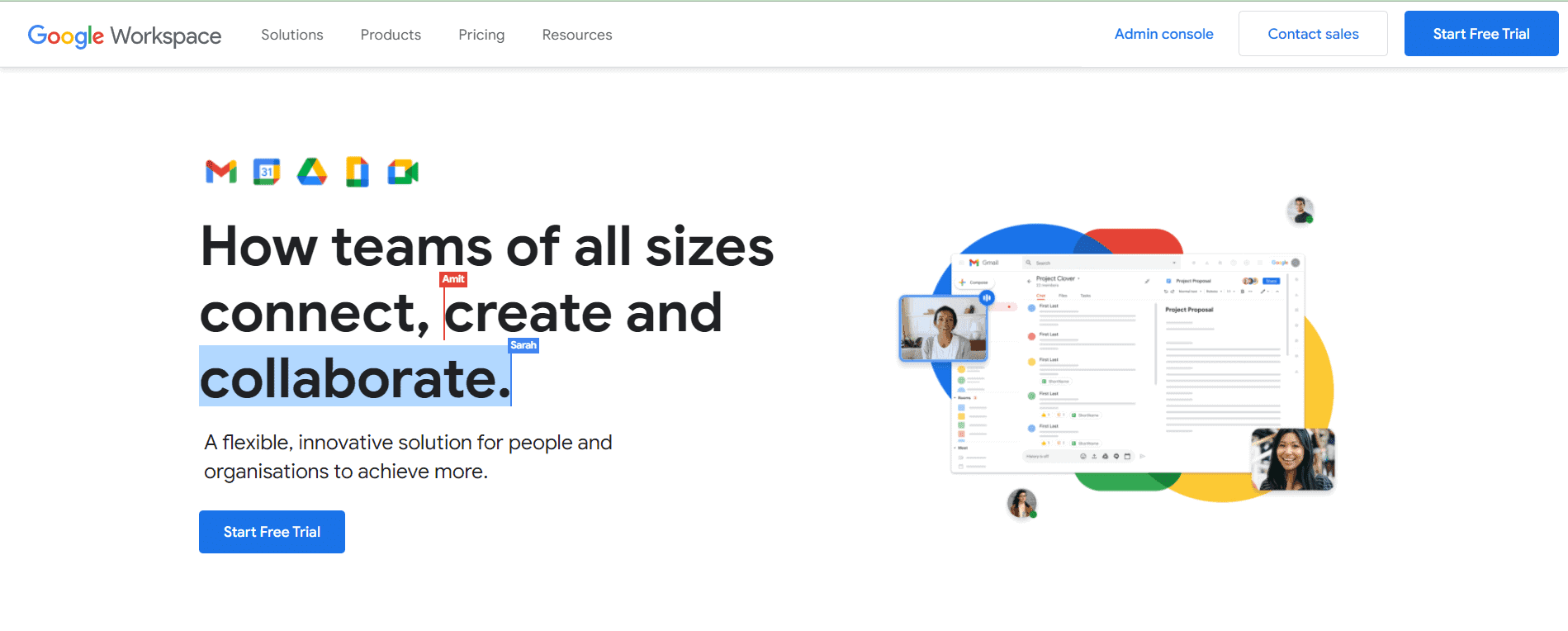 G Suite, now called Google Workspace, is a set of online productivity tools by Google. It includes Gmail, Drive, Docs, Sheets, Slides, Forms, and more.
Using G Suite, a sales team can collaborate on various aspects of the sales process, like sales pitches and presentations, share and edit files in real-time, and communicate effectively through email.
What is G Suite known for?
Ease of use across devices
Increased customer satisfaction through easy sharing of files on Drive
Great Google integration with other tools like Analytics and AdWords
Built-in file sharing with live co-authoring
Chat with your team in chat rooms or voice or video conferencing
Productivity tools for your whole team
What is not great about G Suite?
Google often changes the pricing, making it difficult to plan ahead
No offline access
G Suite Pricing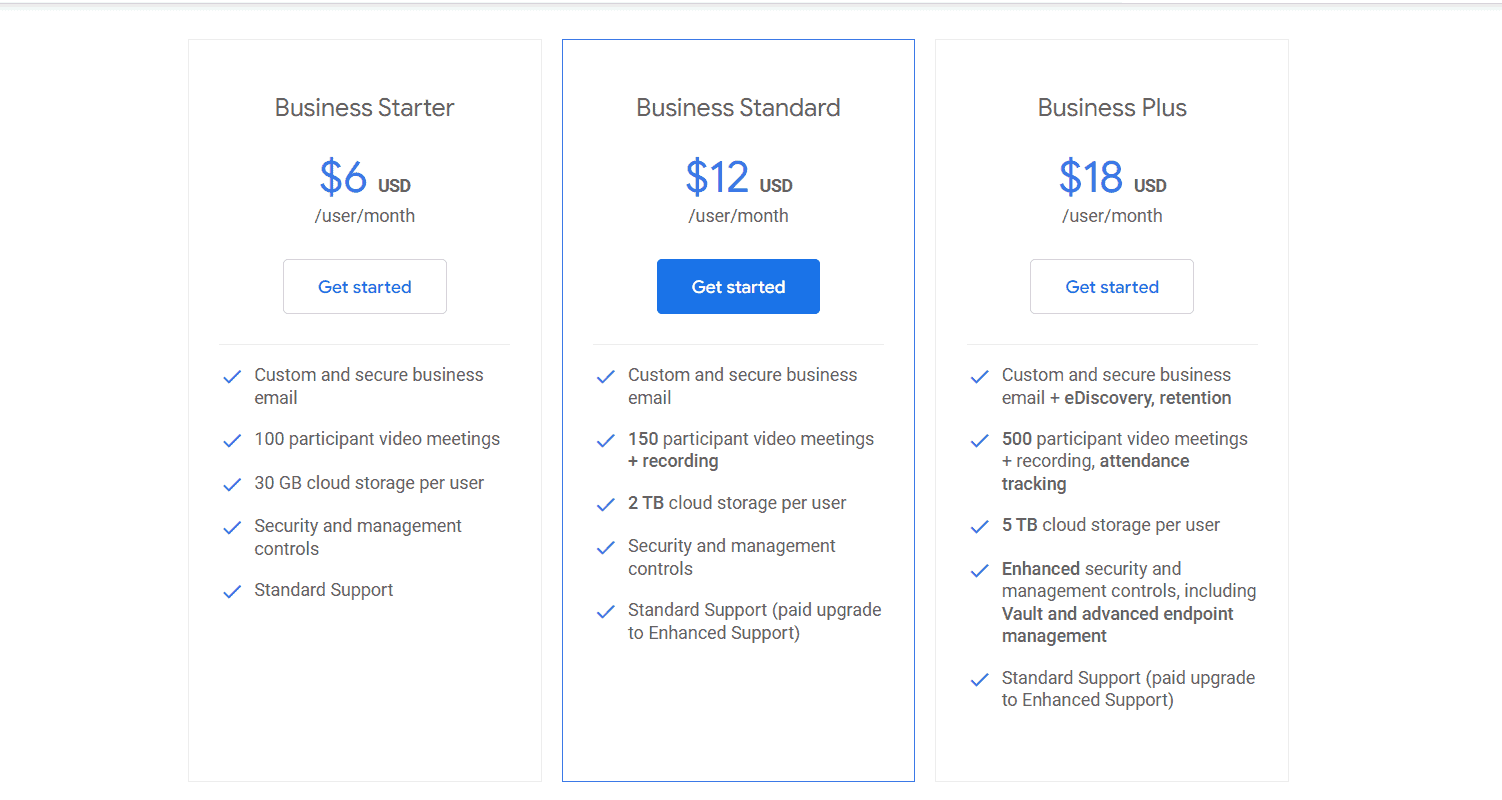 Business Starter plan starts at $6 per user per month
Business Standard plan starts at $12 per user per month
Business Plus plan starts at $18 per user per month
9. Dropbox
Dropbox is a file hosting service that gives you a place to save your files, share them with others, and work on them from any of your devices.
It works great for non-technical sales teams and is a good option if you want to keep things simple.
What is Dropbox known for?
All your files in one place
Sharing made easy
Security and privacy with AES-256 encryption
Enterprise-grade file sharing
Great for exchanging large files quickly through shared folders you can link to in emails
Comes with more storage options than Google Drive — 1 TB — even though it isn't as cheap as G Suite Basic.
Free plan available if you don't need more space
What is not great about Dropbox?
No sales analytics tools
Some key features are available only in the paid plans
Not the most intuitive user interface (learning curve)
Dropbox Pricing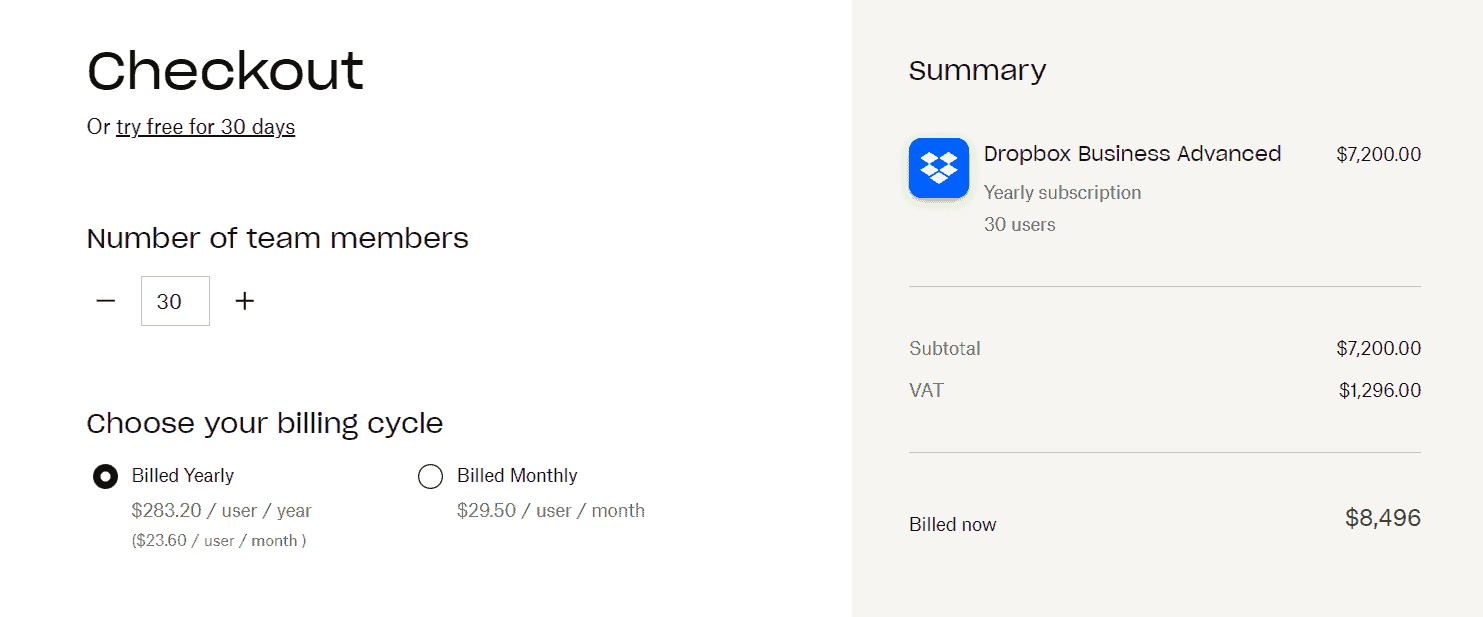 Dropbox offers different pricing plans for individuals and businesses as well as a free trial period.
Plans for individuals:
Basic plan is free
Plus plan starts at $11.99 per user monthly
Family plan starts at $19.99 per user monthly
For businesses:
Standard plan starts at $15 per user/month
Standard + DocSend plan starts at $83 per user/month
Advanced plan starts at $29.50 per user/month
Read more: 13 Free Marketing Tools to Create Awesome, Engaging B2C Content
Sales Enablement Tools to Improve and Track Performance
A sales enablement tool can be used during every stage of the sales cycle, from attracting and nurturing prospects to sending personalized follow-up emails.
They make it easy for salespeople to share information with both their internal teams and external contacts in a secure cloud environment.
10. Seismic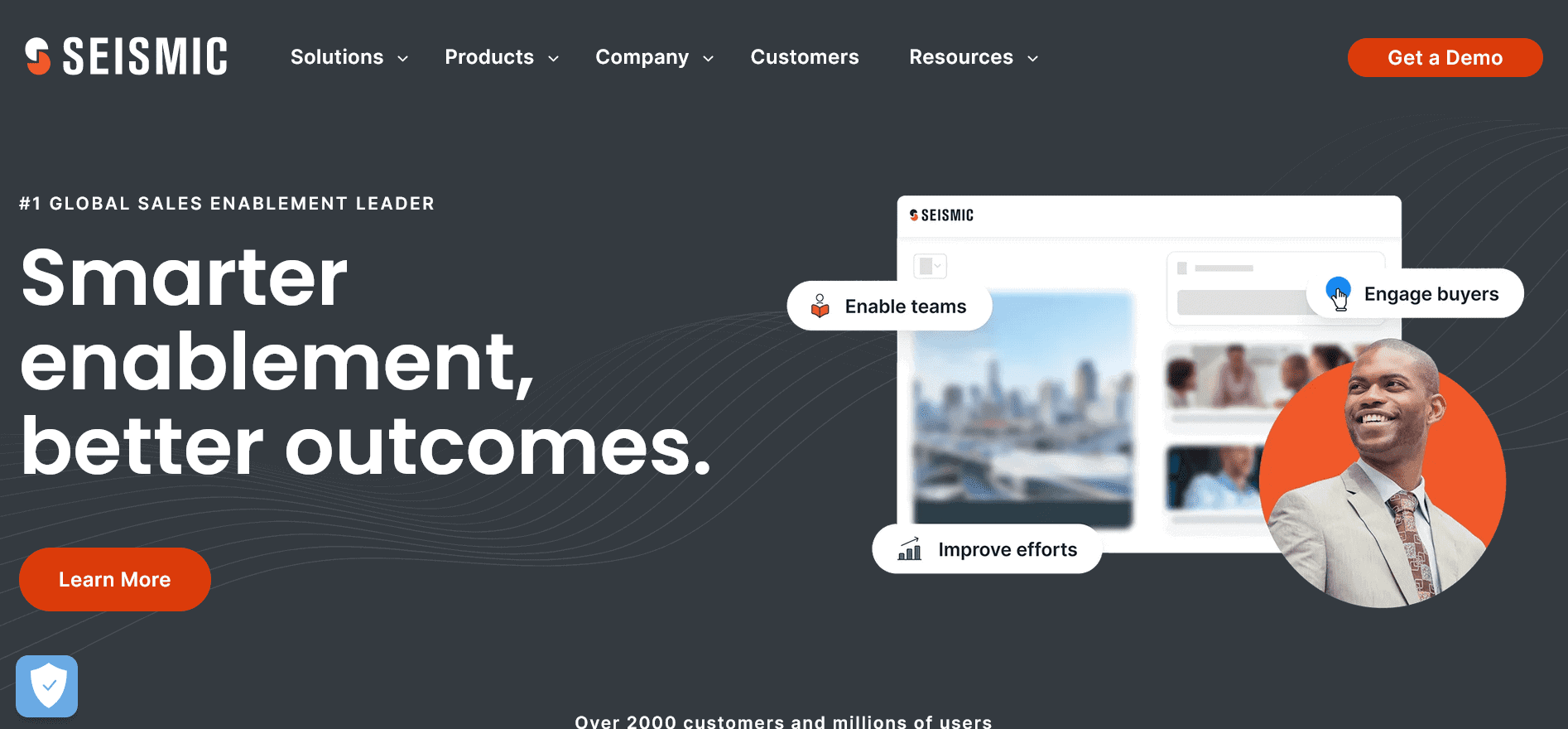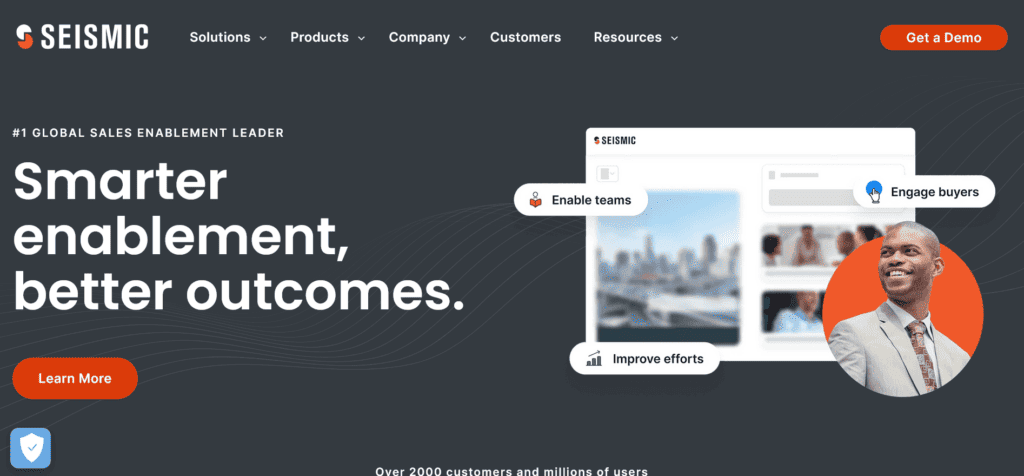 Seismic is a full-fledged sales tool and marketing platform that's accessible from any Internet browser or smartphone. It offers a variety of sales intelligence features, including:
Sales management system for tracking prospects and opportunities
Email, social media and contact management tools
Live webinar event collaboration tools
Sales alerts with automated follow-up via SMS/text messaging
What is Seismic known for?
Great email campaign tools – Seismic has a built-in email designer with an HTML editor, customizable templates to help you achieve the right look for your business, and professional sales analytics.
A sales tech CRM that helps in keeping track of all relevant customer information, from initial contact with a prospect to their last follow-up.
Integrations – Seismic integrates with over 30+ different apps including Salesforce, Zendesk, and Slack.
Great reporting tools – Seismic gives you a complete overview of your sales strategy, from open rates and engagement to the number of active contacts in your database.
Excellent content management.
What is not great about Seismic?
Takes a lot of time to learn how to use.
Seismic Pricing
Seismic does not provide general pricing details, so you have to schedule a call with their team to get your custom pricing plan.
According to contentcamel.io, Seismic charges anywhere between $384 and $780 per user for a year's subscription, which is a must (no monthly plans).
11. Ambition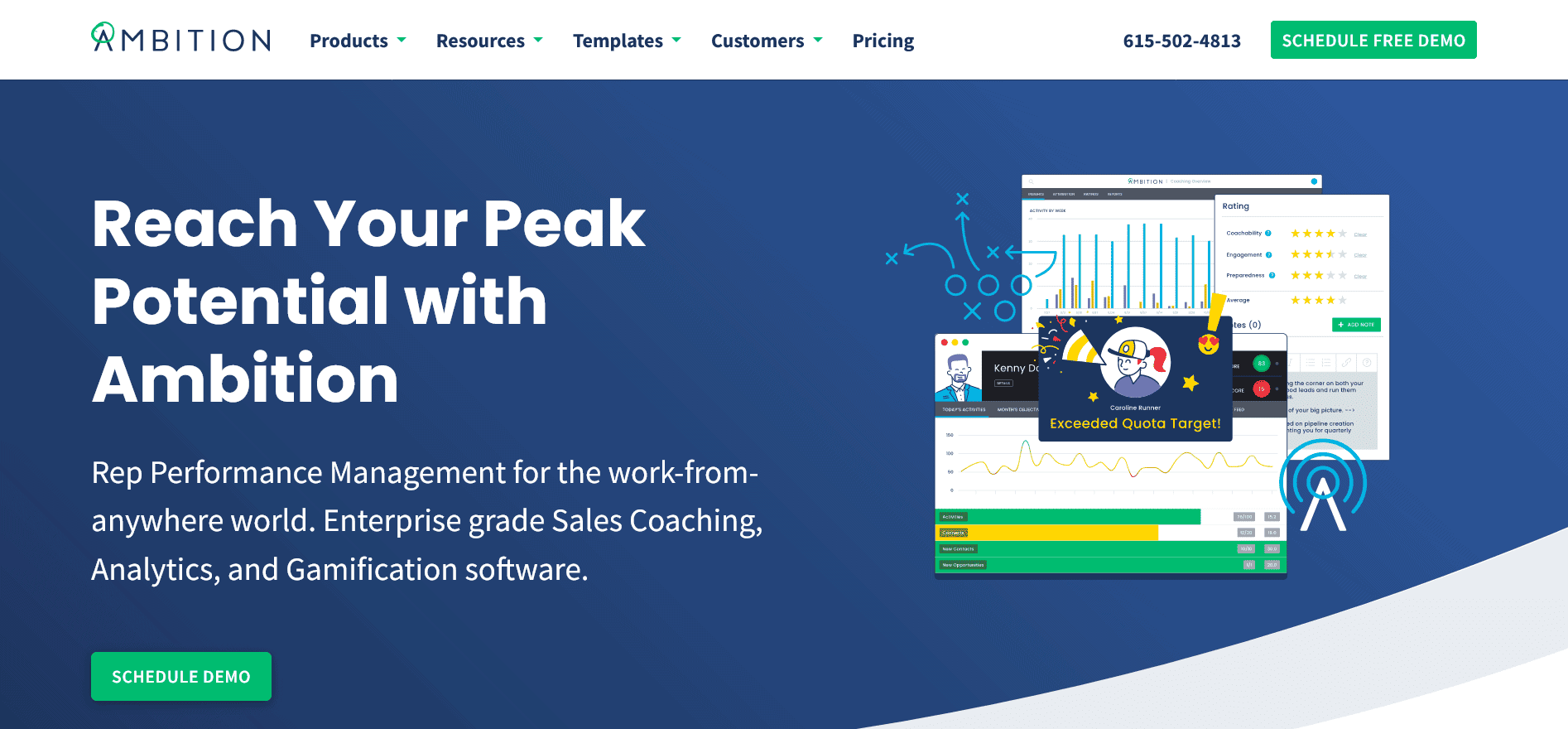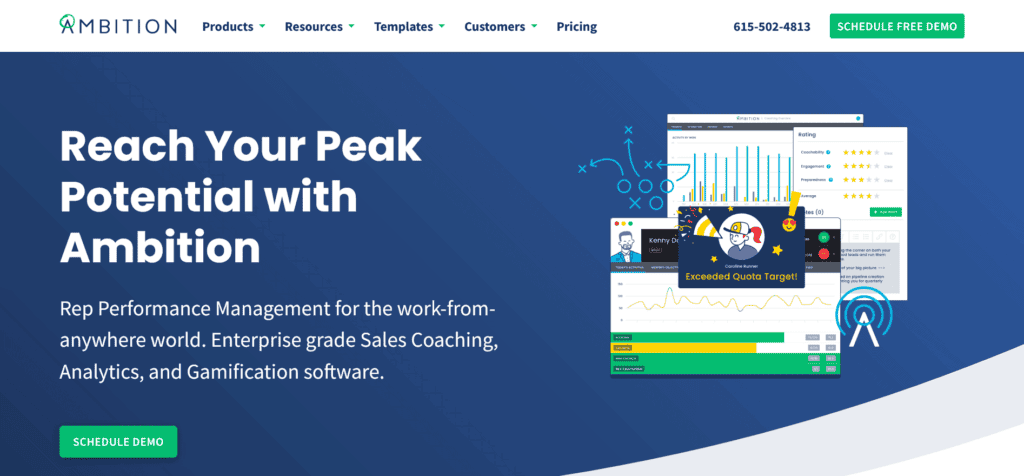 Ambition is a great sales performance platform. It helps you track your business goals, connect with potential customers and grow revenue fast.
With Ambition, sales professionals can see all of their data in one place, easily meet their goals, and coach their juniors on how best to track sales performance.
What is Ambition known for?
Sales CRM tool – Keep track of all your sales data in one place, including email history, pipeline management, and customer communication.
Goal-tracking tools – Know where you stand against your goals with simple visualizations based on revenue, milestones, or user engagement.
Sales analytics – Get real-time access to valuable sales data and actionable insights, including revenue, user engagement, and team communication.
Customer communication – Interact with customers the way you want through email or chat directly from Ambition. All communications are automatically logged to your CRM software for future reference.
Smart automation features – Use smart notifications to reach out automatically when a client is most likely to engage with you.
Lead scoring to help prioritize sales pursuits by forecasting close dates.
Email marketing automation for drip campaigns, follow-ups or lead nurturing based on activity level in Salesforce (or any other CRM software you integrate with Ambition).
What is not great about Ambition?
Time-consuming to set up. Need an experienced user to get the most out of it.
Not affordable for most small business owners.
Ambition Pricing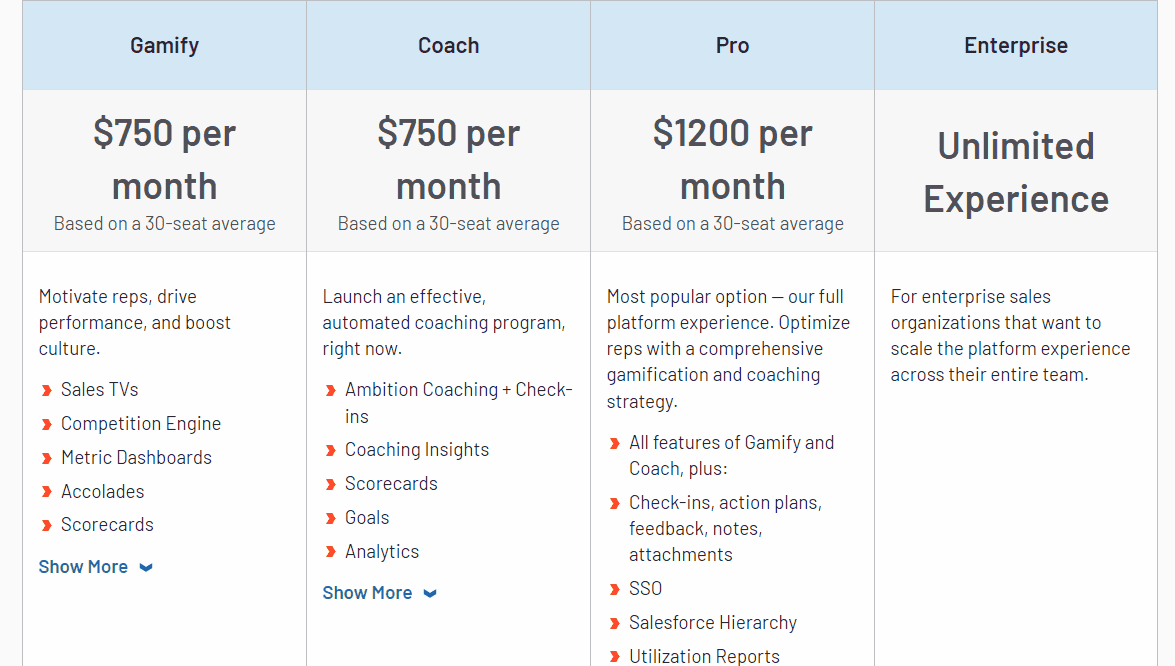 Ambition doesn't have a general pricing plan – they require you to send your details so they can design a custom pricing plan based on your needs. Their website's 'download pricing' CTA isn't working at the time of this writing, but G2 has some details.
Gamify & Coach – $750 per month for 30 users
Pro – $1,200 per month for 30 users
Read more: Top 10 Sales Tools for Effective Lead Generation [2022]
Conclusion
Your sales stack is a toolbox that can help you succeed. Another important point to remember is that your sales tools must be adaptable to your sales process.
Whether you're looking for ways to increase the volume of leads in your marketing funnel or want better sales tracking capabilities, these 11 sales tools can be of great help.
We recommend using them alongside other digital marketing efforts such as SEO or PPC ads so that customers are driven into an automated lead nurturing process from the get-go!
For more information on what is most important when it comes to driving sales with automation and prospecting techniques, sign up for a free EngageBay account and our team will help you understand how you can use this tool to boost your revenue!
👉Supercharge your sales process with these 12 cutting-edge database tools and their standout features!