For sales professionals, their upward career graph indicates becoming a sales director eventually.
They all start as business development representatives or executives and progress to become sales managers.
Once they have successfully managed a sales team and achieved the required goals, the subsequent designation on the ladder is to be a sales director.
But what does a sales director do? And what skills does it take to become a great sales director?
In this guide article, I will tell you:
How sales directors differ from sales managers

The skills and qualifications required to bag a sales director position

The kind of pay a sales director can get

The exact job description of a sales director
Who Is a Sales Director?
A sales director is a person responsible for overseeing the sales operations of a company. They are involved in strategizing and designing plans to achieve sales targets, developing relationships with clients, and evaluating the cost of selling products and services.
Sales directors also have complete control over the sales functions and are a part of an organization's management.
Other responsibilities of a sales director include preparing sales reports, overseeing training programs for new and existing sales reps, and communicating sales strategies to team members.
They typically work with sales managers, sales coordinators, and other senior-level employees.
Based on their responsibilities, they are also named senior sales director, national sales director, global sales director, and more.
On average, a sales director earns between $165,863 and $216,036 per annum.
However, the remuneration depends upon various factors, including their educational qualification, certifications, work experience, and additional skills.
Read also: 7 Sales Management Tools to Build the Perfect Sales Team
Are Sales Managers and Sales Directors the Same?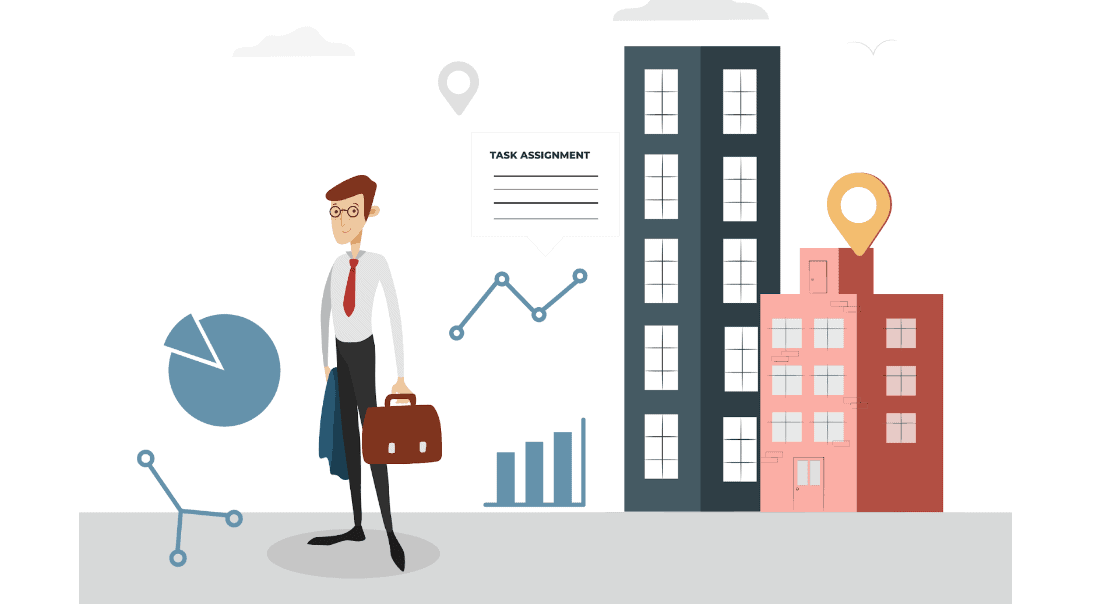 Although people often use the terms 'sales managers' and 'sales directors' interchangeably, they are not the same.
While both of them are in leadership positions, their roles are quite different.
Sales managers manage a team of sales reps, whereas a sales director supervises sales managers.
In addition, a sales director is responsible for coordinating with other members of the senior management and creating sales budgets and strategies for the company.
These strategies are then implemented by the sales managers and their respective teams.
What's more, while the sales manager stays in charge of a single region or territory, a sales director controls all regions under supervision.
Read also: Top 8 Product Manager Certifications: Let's Do This
What Does a Sales Director's Job Description Look Like?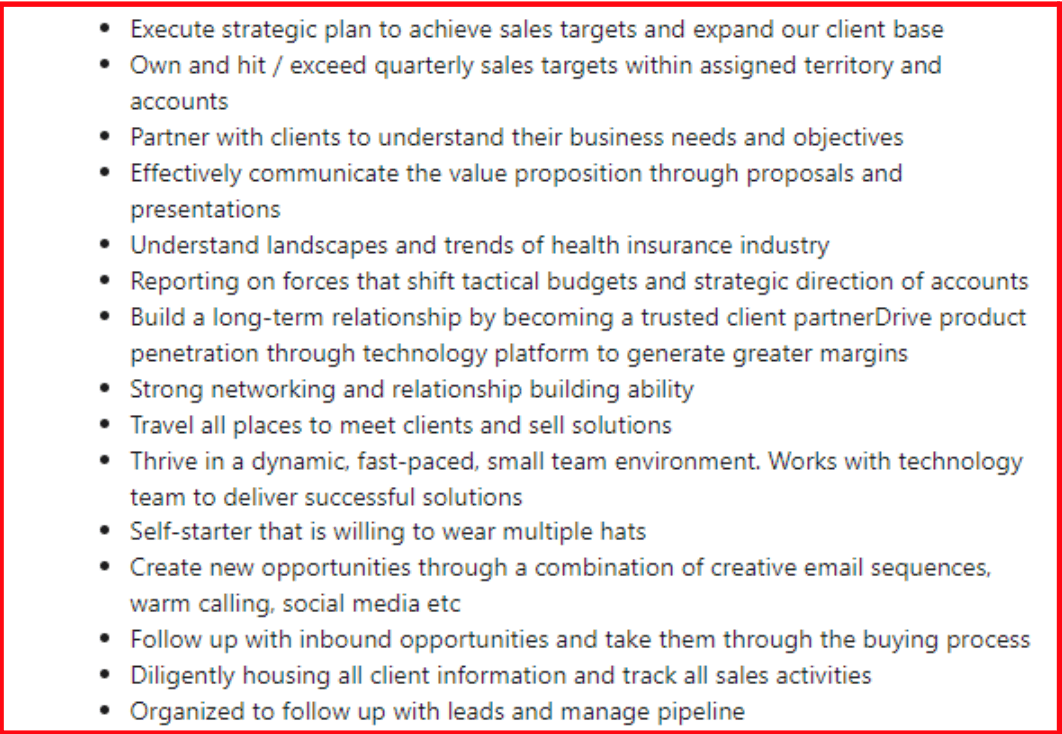 The role of a sales director is not limited to boosting revenue.
Their job primarily involves managing sales teams, coordinating with the leadership, and ensuring that the sales targets or goals are met.
Let us look at the example above to better understand a sales director's job description. Here, the role states some key qualities it expects in an ideal candidate.
These include strong networking and communication skills, a willingness to travel frequently, familiarity with sales software and social media, and an understanding of the industry the company is based in.
In addition, the right candidate should be able to work independently with little or no supervision, understand clients' needs quickly, do regular follow-ups with clients, and aim to exceed the targets set by the organization.
Other duties and responsibilities of a sales director include:
Motivate and encourage sales teams to achieve their targets

Check in weekly or monthly with colleagues regarding performance and discuss feedback on areas of improvement

Prepare and review sales reports before presenting them to the leadership team or shareholders

Establish sales targets and communicate them to your teams

Meet with customers to better understand their needs and feedback on the brand's products and services

Participate in industry conferences and create brand awareness
Create a training or onboarding program for new and existing employees

Determine the prices of products and services to ensure they remain competitive

Find ways to expand the company's customer base

Build a referral network with local businesses and explore opportunities to maximize value from those connections

Evaluate the competitive landscape and assess how to create an effective sales strategy to stay ahead of the competition
Read also: How Best To Get CRM Experience On Your Resume
What Qualifications Do You Need to Become a Sales Director?
There is a multitude of factors that determine your candidature for the position of sales director.
Let us look at the education, skills, and certifications needed to become a sales director.
#1. Education
Ideally, you should have earned a Bachelor's degree in Business Administration (BBA) in marketing, communications, or a related field, from a reputed institution.
You should have a decent academic record as well.
However, many companies prefer candidates who have a Master in Business Administration (MBA) for the role of sales director.
Read also: Who is a Manager? Roles and Responsibilities Defined
#2. Previous work experience
To become a sales director, you need to have a proven record of at least 7-10 years in sales or related professions.
You should have either worked as a sales executive, sales manager, or sales and marketing director before.
Moreover, you should have ideally been trained in management and leadership skills, relevant systems and technologies, and you need to know how to prioritize and delegate tasks and motivate teams.
Internships in a sales or marketing role can also help you build a strong application for a sales director.
Read also: The Challenger Sales Model: A 5-Min Guide to Close More Deals
#3. Certifications
Although not necessary, certifications provide you with additional qualifications, giving you an edge over other candidates.
Moreover, certifications help sales professionals gain further knowledge about their roles and improve their chances of career advancement.
Here are some popular certifications for sales directors.
Sales Management Association Certifications
The Sales Management Association offers certifications such as the Certified Sales Leadership Professional (CSLP) and the Certified Sales Operations Professional (CSOP).
National Association of Sales Professionals Certifications
The National Association of Sales Professionals offers two types of certifications, the Certified Professional Sales Person (CPSP) and the Certified Professional Sales Leader (CPSL).
Both these certifications have a 45-day series that combines proven daily conditioning and effective behavioral training to help you succeed as a sales leader.
Read also: Professional Goal Examples To Build A Dream Career
AIPMM Certified Brand Manager
The Association of International Product Marketing and Management (AIPMM) provides certification in brand management, known as AIPMM Certified Brand Manager.
It is a great addition to your profile, especially if you seek roles requiring proficiency in customer relationship management (CRM) systems and improving brand equity.
Salesforce Certification
Given that Salesforce is one of the leading CRM platforms in the world, boasting a certification proves that you are well-versed with the software and its tools.
Google Certification
Google provides several certifications that help you perform demographic research and maximize search engine optimization (SEO) and digital advertising.
Some examples of these certifications include Google AdWords and Google Analytics.
Read also: These 20 Team-Building Questions Are Pure Gold
#4. Skills
Sales directors require several hard and soft skills to be able to succeed in their jobs.
Let us look at some of them.
Communication
For sales personnel, having strong communication skills is a must.
Sales directors must possess excellent verbal and non-verbal interpersonal skills to be able to work effectively across teams and senior management.
This will help them maintain positive relationships with colleagues and clearly communicate expectations.
Time management
Another must-have skill for sales directors is effective time management.
Given that they spend a large part of their day multi-tasking, sales directors should know how to balance and prioritize their projects such that they can accomplish their tasks on time and maintain a healthy work-life balance.
Want to win at sales? It all starts with effective lead management. Find out more from our comprehensive guide.
Leadership
Being a leader does not mean being authoritative, but encouraging and motivating employees to work efficiently.
As a sales director, you are not only expected to define the company's objectives but also direct your employees to perform their jobs in a productive manner.
Business development
Business development skills involve the ability to analyze a business's current performance and identify areas of improvement.
Sales directors need to find ways to boost their company's customer base, including revenue and profits.
Critical thinking and problem solving
Critical thinking refers to an individual's ability to use knowledge, data, and facts to provide solutions to problems.
As a sales director, you are expected to think and respond quickly in fast-paced and stressful situations.
Computer skills
A hard skill that is a must-have for sales professionals is strong computer knowledge. Sales directors should be well-versed in Microsoft Office and CRM software.
They should also be good at typing, drafting emails and documents, and related tools.

Here is an example of the skills required for a sales director position at a healthcare organization.
The ideal candidate should possess at least seven years of experience in sales, be willing to travel, and show proficiency in GSuite and Microsoft.
Further, they should have worked previously as a sales executive or a sales manager, with a proven record of having achieved or exceeded targets.
Moreover, since the position states that applicants must know how to position products and articulate their features, it indicates that strong communication skills are a must.
Read also: 8 Reasons Why Your Business Needs a Sales Planning Tool
Wrap Up
A sales director, at any company, is in charge of the entire sales operations.
They are expected to formulate and implement sales strategies and motivate employees to achieve the targets on time.
In addition, sales directors are expected to have detailed knowledge of the market and competitors and find ways to overcome challenges quickly.
While education is a must, a sales director must boast excellent communication and time-management skills in order to succeed.
In many cases, they must also be prepared to travel frequently, interact with clients, and be a good leader.
They should be able to perform their job efficiently and, at the same time, try to maintain positive relationships with various stakeholders in the organization.
If you liked this article, please share it 🙂
If you want to try a free version of the world's most affordable all-in-one sales & CRM tool, try EngageBay 👇