Sales productivity tools are the new normal to carry out different sales processes in any business. They not only help you streamline your sales tasks but also come with enhanced scalability, growth, and of course, profits!
Not sure what sales productivity tools you can use for your business? Fret not.
In this article, we have covered all the popular sales productivity tools that you can use for your sales team.
We have also listed down the various sales metrics that you need to keep in mind while using sales productivity tools.
Let's begin.
What are Sales Productivity Tools?
As the name implies, a sales productivity tool is any software that helps sales teams work more effectively and efficiently.
The sales process entails a wide variety of duties. When calculated, a salesperson spends only one-third of their day engaging potential customers (Salesforce data). Other tasks, such as emailing, calling, data accounting, etc., take up the balance of time. Consequently, many software tools are available, and their adoption is only increasing.
CRM solutions, sales intelligence software, document signers, and email automation tools are forms of sales productivity software. In other words, any tool with the end purpose of making sales is a sales productivity tool.
Categories of Sales Productivity Tools
Sales prospecting tools:

This category of tools helps qualify possible clients for further interaction. They help you keep your pipeline clean by avoiding leads who have no buying interest or potential.

Sales CRM tools:

Customer Relationship Management (CRM) software, as the name suggests, helps you understand your customer behavior and improve your customer relations.

Sales intelligence tools: Tools for gathering sales intelligence data can help you better understand your leads. Moreover, they can assist you in arming your sales staff with the data they need to make more informed decisions. All this will allow you to close more deals.
Sales automation tools:

This automation software aims to free salespeople from mundane duties. Data input, following up with leads, reporting, quoting, invoicing, and more daily tasks like these are automated by such tools.

Sales forecasting tools: A company can use sales forecasting software to estimate future sales based on past and present performance.
Email automation tools:

Businesses use email automation tools to keep the flow of emails smooth and easily measurable.

Other categories:

There are numerous other categories, including document signers, workflow managers, and so on – the list is never-ending.
Read also: Top 11 Sales Tools For Effective Lead Generation
Sales Productivity Metrics
Almost half (49%) of businesses have few or no metrics to track sales productivity. They have no idea where to start either (Salesforce data).
That's where you can reap the benefits and stand out in your industry. The potential for maximizing the return on investment for time and energy spent on sales is endless.
If your workflow isn't clearly defined and your inboxes are overflowing with messages, you're wasting valuable time and money.
Taking action is important but measuring the result of your actions is equally important. This is where metrics come into play.
Here, we have listed down some key sales metrics that you should keep in mind. These will help you analyze your sales performance better.
Growth in revenue
Calculate overall revenue and compare it to competitors of your size or your past performance.
Leading and lagging indicators
Meetings scheduled, discovery calls made, proposals made, etc., are all examples of key performance indicators (KPIs) that can be used as leading indications of expected income.
Average response time of a lead
This reveals which salespeople are aggressively following up with leads. Their chances of successfully turning promising leads into profitable prospects increase the quicker they act.
Typical processing time
This is the average time it takes for a representative to deal with a customer: time spent sending an email plus any necessary follow-up steps, time spent on the phone, etc. The average or typical processing time dictates how many interactions a sales rep can manage per day.
Empower your sales team with the best lead management practices – learn more in our expert guide!
Opportunities missed
You can call this 'deals lost' or anything of the sort, but the idea is to measure all the sales opportunities that were pursued but got you no revenue.
If you measure this metric, you can dig a little deeper and understand what is causing low conversion rates. Once that is understood, you can (ideally) reduce the number of opportunities you miss, and save both time and costs.
Win rates
The win rate is the rate (percentage or ratio) at which your sales reps are bringing in revenue, as compared to the number of total sales opportunities they're chasing.
For instance, if your sales guys were following up with 100 leads last month and were able to get 12 sales, your win rate is 12%.
Read also: The ONLY 8 Sales Performance Metrics That Matter
Sales Tools Every Team Needs for Max Productivity
Let's have a look at some sales productivity tools that can help you streamline all your sales processes.
#1. HubSpot
→ For inbound marketing, lead conversion, sales tracking
Hubspot is a full-fledged CRM platform known for providing specialized "Hubs" for different business tasks. It allows users to use all these hubs effortlessly, making them more user-friendly.
Furthermore, this software is very useful for companies that use email marketing and content promotion to attract new clients. The availability of a cost-free version of HubSpot is a big selling point for the program.
However, the premium version offers more features.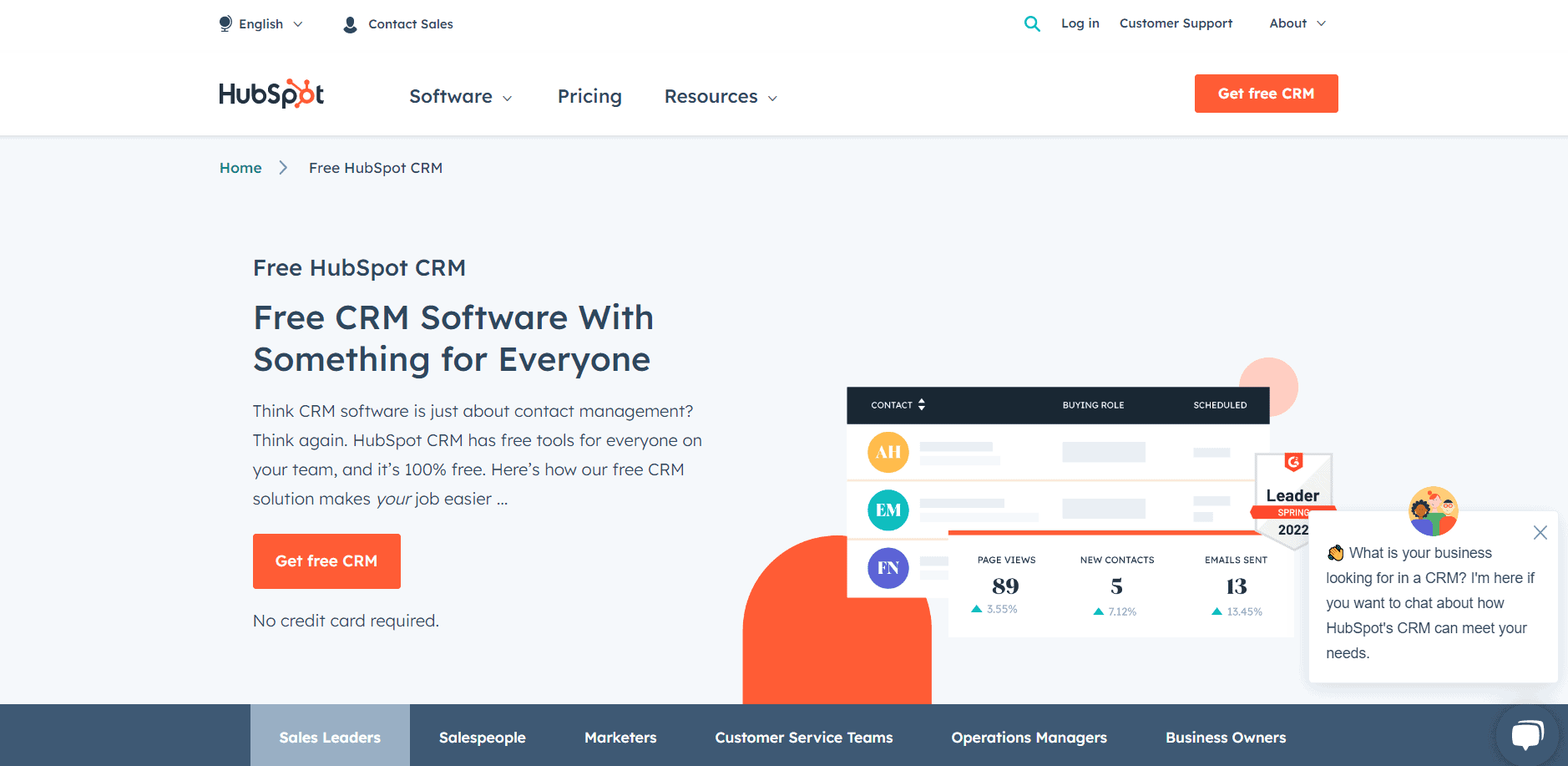 Key Features
It comprises project management, live chat, prospect monitoring, email tracking, and more in addition to the standard CRM cost.

HubSpot CRM may be integrated with official social media accounts such as Twitter, Facebook, and LinkedIn.

Website integration, prospect tracking, and extra insights — Hubspot's premium subscription has numerous features, especially for sales professionals.
| | |
| --- | --- |
| Pros | Cons |
| Hubspot allows split testing | Plans are quite expensive |
| HubSpot users can combine their marketing system with any CRM. This makes sales teams' real-time communication easy. | Features are not flexible, and it may take time for you to learn them. |
Read also: 5 Top HubSpot Competitors That Cost a Lot Less
#2. Salesforce
→ For end-to-end sales management
Salesforce is a gold standard for sales automation and customer relationship management (CRM) platforms. It allows integration with a wide variety of other widely used sales tools. As a result, you may efficiently keep track of your consumer interactions by syncing data from several tools.
Furthermore, Salesforce keeps sales representatives on top of their game by documenting and categorizing their communications, including phone calls, emails, and meetings.
The cloud-based nature of the platform permits extensive personalization and portability. It also features a robust system for generating reports.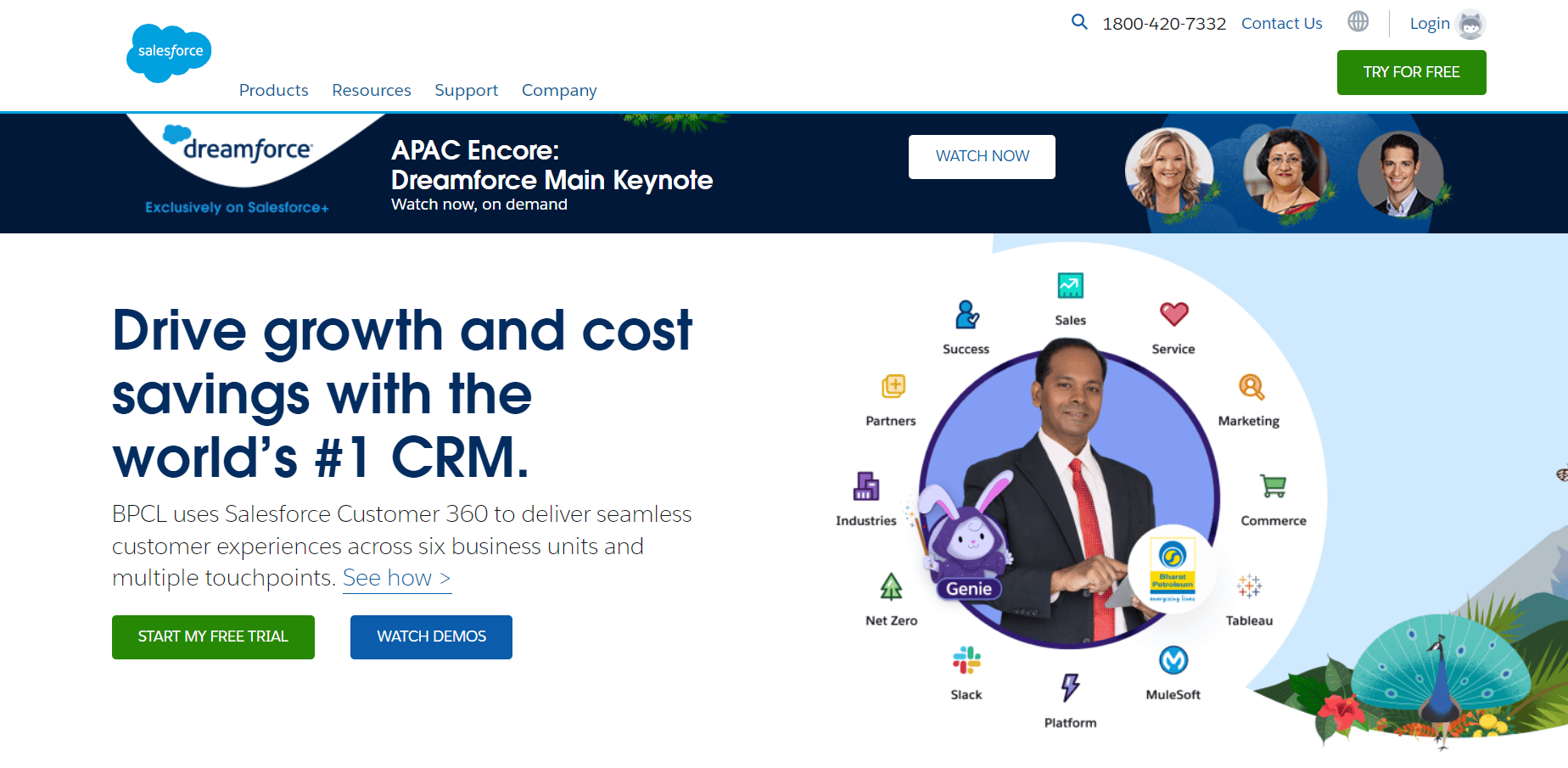 Key Features
Advanced customer relationship management capabilities

Users can elect to automate routine chores to devote more time to making sales.

It collects information and ranks active cases based on their potential.

Helpful in generating reports and analytics
| | |
| --- | --- |
| Pros | Cons |
| The platform can be customized as per needs | Price for good subscriptions are high – but worth the value |
| Cloud-based solution available | The tools selection interface is a bit complex, and it consumes time |
| Technical and Training Support is also provided | Low functionality tool |
#3. EngageBay
→ For marketing automation, sales management, and customer support
With EngageBay it is possible to generate leads, send emails, automate marketing, manage customer relationships, and engage with social media users on a daily basis.
This all-in-one marketing software is designed for small and mid-sized businesses that find it hard to convert website visitors into customers. They also let businesses use marketing tools that help retain customers for a lifetime.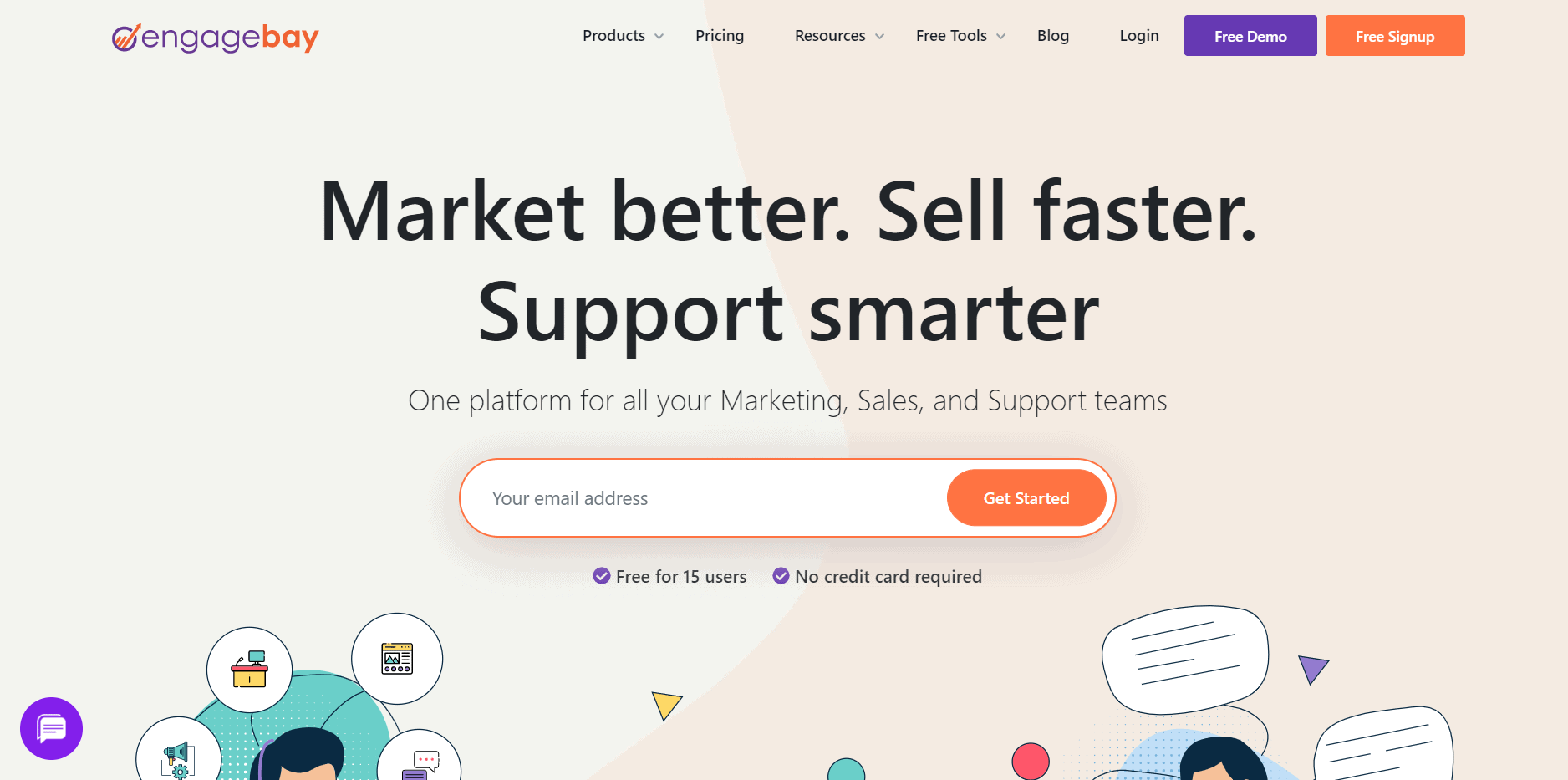 Key Features
Features of EngageBay include email marketing, landing pages, live chat/helpdesk, ticketing, telephony, appointment scheduling, contact management, and more.

CRM comes built-in, allowing firms to track and manage all activities across customers, leads and deals.

Furthermore, it offers marketing capabilities such as automated emails, customizable forms, and social media engagement for users to generate leads.
| | |
| --- | --- |
| Pros | Cons |
| It has a simple interface, and a customizability option makes it more convenient. | Costs a lot of money to buy some email space. |
| Your marketing team can automate several tasks, such as email campaigns with a range of pre-designed email marketing templates | Hard to edit email templates and landing pages |
#4. Hunter.io
→ For targeting and prospecting
Hunter.io is another solution for sales prospecting and lead generation. It helps you find and verify the email address of any expert worldwide.
In addition to searching for specific addresses, you can use the Domain Search function to look up all the email addresses of any specific domain. Then, the email addresses can be sorted accordingly.
You can directly import filtered email lists as a CSV file and instantly upload it to your CRM or other programs effortlessly. To help you prevent email delivery problems like bounces and spam traps, Hunter can additionally help you check the validity of your recipient's email address.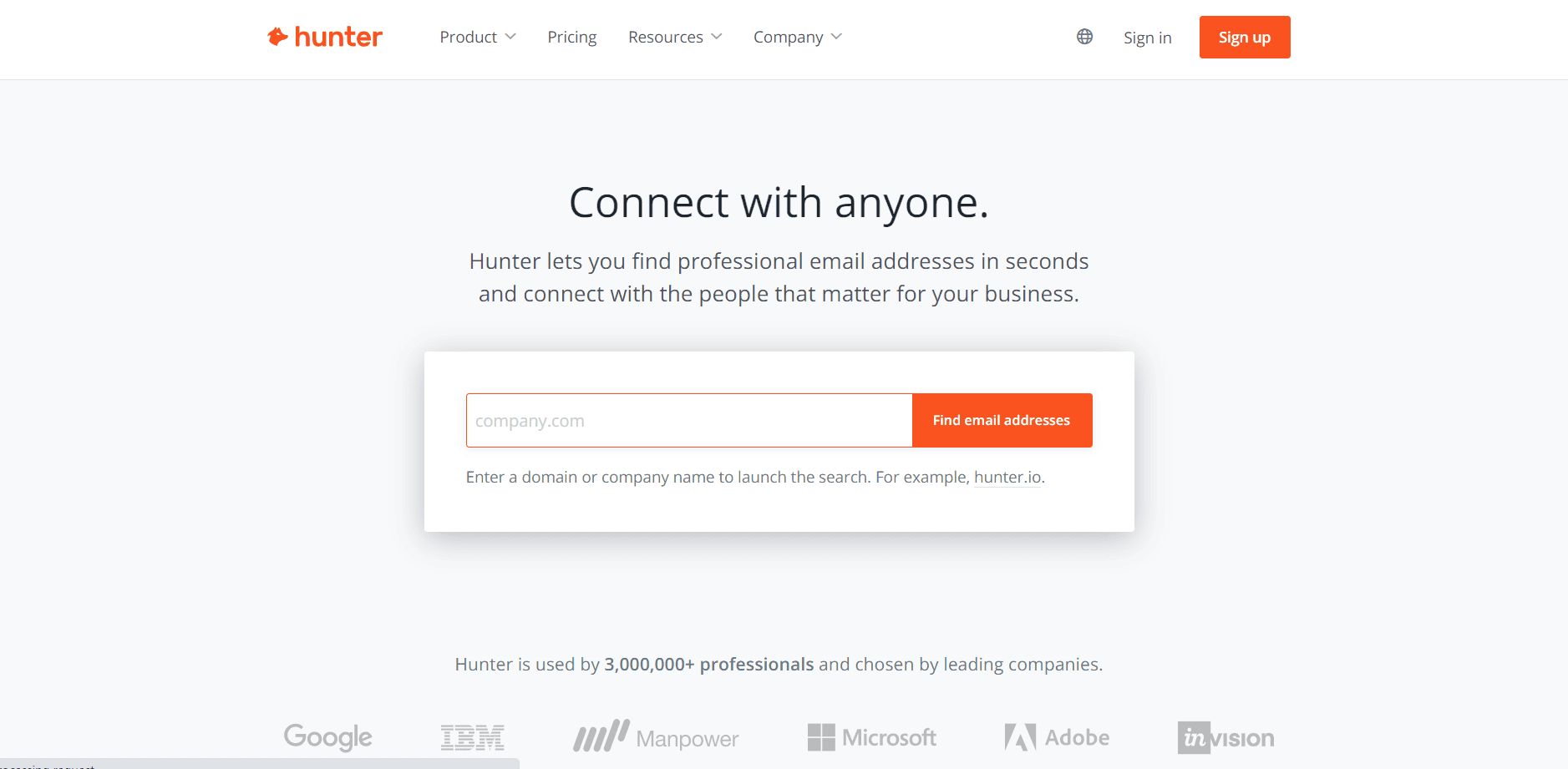 Key Features
Hunter can be used as both a website and a Chrome add-on.

It also provides an add-on for Google Sheets that can be used to search for and validate email addresses directly from within the spreadsheet.

Hunter lets you seamlessly track and verify more than one list of email addresses, saving time for you and your team.
| | |
| --- | --- |
| Pros | Cons |
| Heaps of data are available, and you can easily get an email from any renowned professional. | Hunter only allows one to verify minimal emails for standard subscriptions. |
| It uplifts planning communication between teams | Offered plans are pricey |
| Provides accurate contact info | |
#5. LinkedIn Sales Navigator
→ For prospecting
LinkedIn Sales Navigator helps salespeople find qualified leads, acquire intelligence, and interact with prospects.
Distractions can be incredibly detrimental to the success of a business in the sales and marketing sectors. Sales Navigator's Smart Links function lets you combine and share content across all sales channels in minutes.
Linkedin Sales Navigator can work wonders for you when connecting with decision-makers, sending emails, and locating your ideal audience.
To find the best leads, you may use the filter and profile view functions to narrow down your options. In this way, you can give preference to those with whom you already have some connection.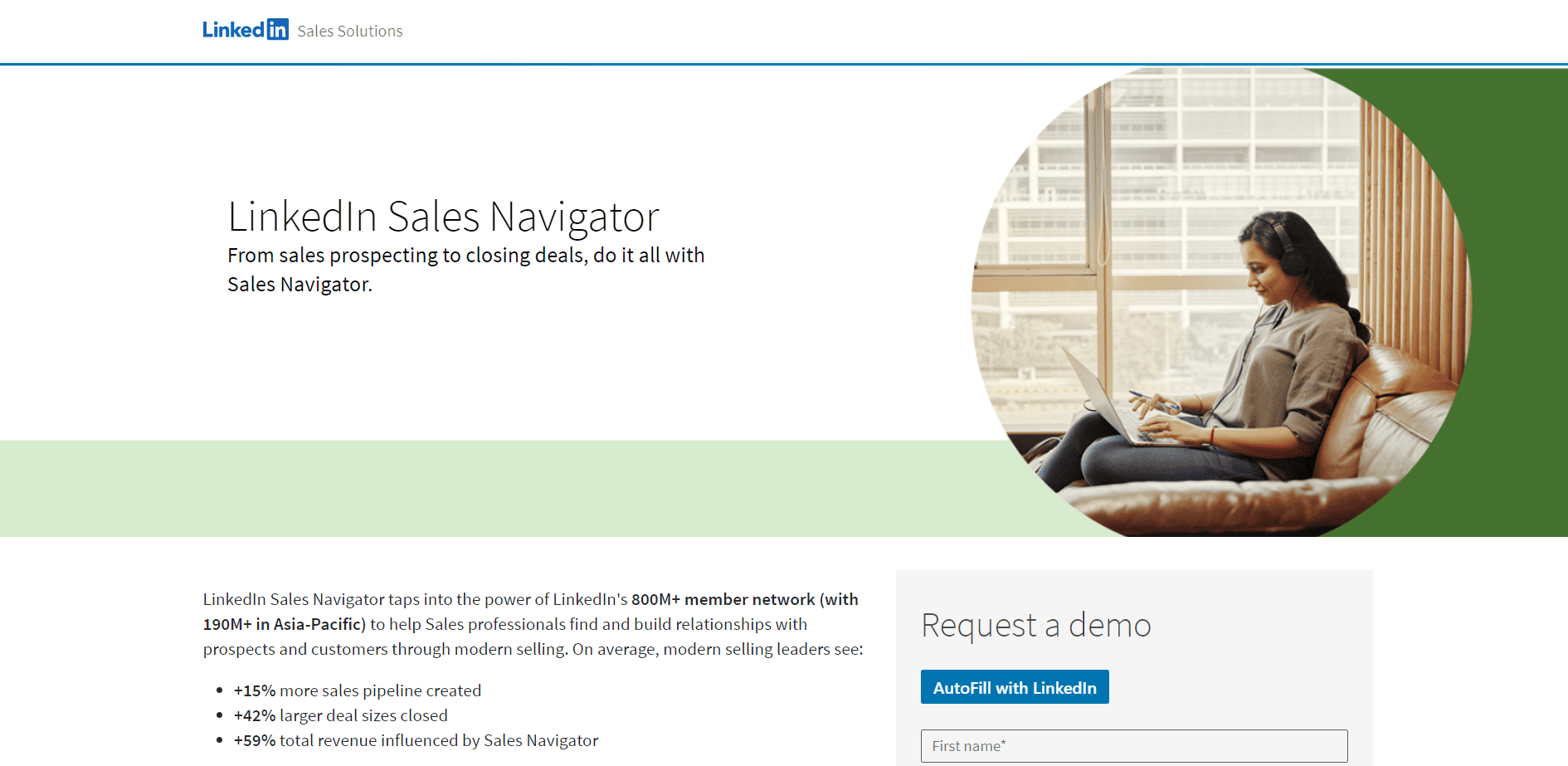 Key Features
Learn who is interested in your content by easily navigating their customer journey.

Get the email or contact information of your target customers directly

You can take as many contacts of your leads with this tool.
| | |
| --- | --- |
| Pros | Cons |
| Allows sales reps to narrow down the research to the exact target audience | You can't export data, and it doesn't work with CRMs. |
| It also displays I, II & III level connection visibility so you can determine your existing relationship with the prospect. | Advanced search options can be improved, and more filters can be added |
| Straightforward and beginner-friendly UI | Expensive subscriptions |
---
---
#6. Calendly
→ For automating the communication workflow (online meetings)
One of a salesperson's primary responsibilities is to arrange, push, and remind clients of appointments. Calendly makes it easy for your sales team to accomplish just that.
It's a straightforward idea. To begin, you'll need to update Calendly with your availability for meetings. You can send this link to targeted users using Calendly's lead generation tools.
Upon following the provided link, the receiver will be taken to a visual calendar where they can schedule a meeting.
This method can reduce the time it takes to plan an email by a significant amount, and it can also save hours of back-and-forth communication.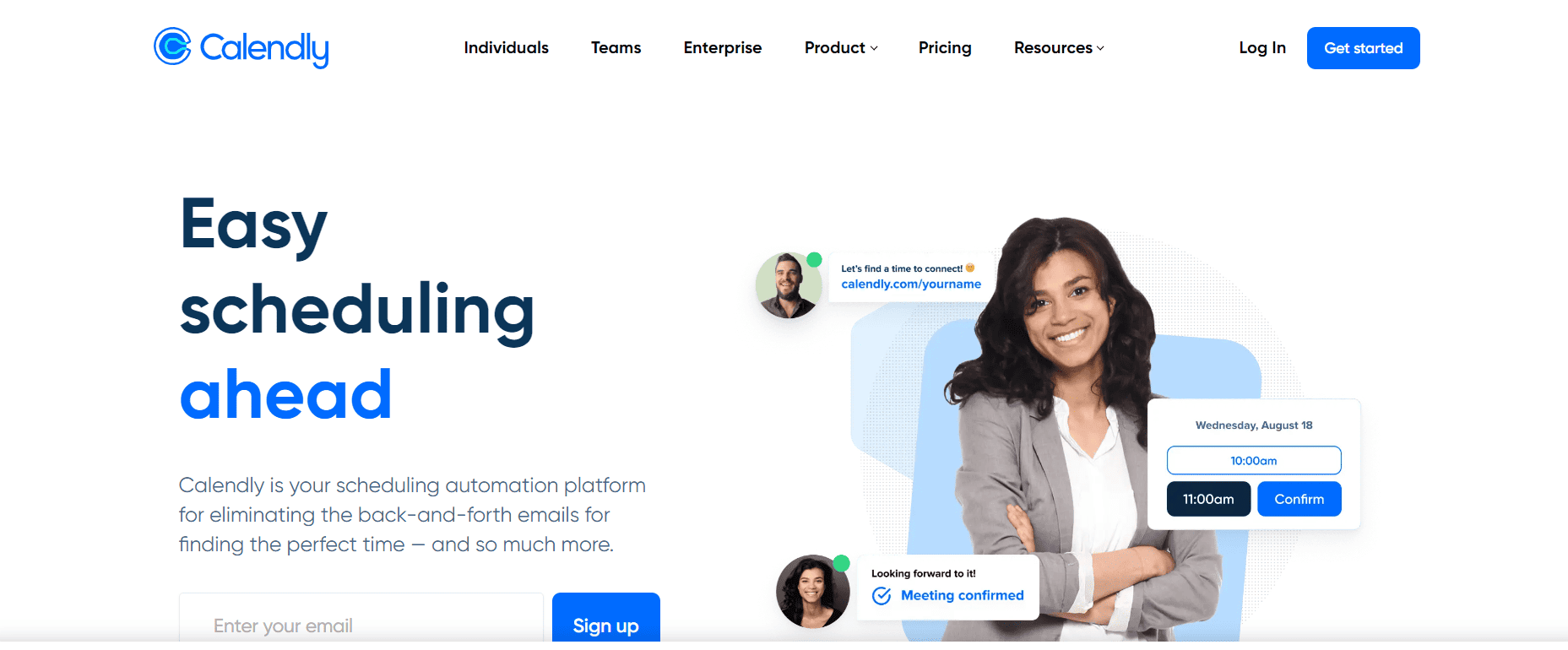 Key Features
It can be added to your website.

Calendly reminders can help you stay more scheduled.

Considering features and alternatives, the Calendly premium version is worth the value.
| | |
| --- | --- |
| Pros | Cons |
| The easy API and extensive features make it value for money | Features are limited to chatting features |
| It is easy to use – one can easily set up urgent meet calls in a matter of minutes. | Supports almost no integrations |
| Active customer support and quick turnaround for any feedback | |
Read also: The Top Sales Analysis Software For Small Companies
#7. Attach.io
→ For tracking lead/customer behavior
Using Attach.io, you can monitor your leads' interaction with the sales papers you send them. Which documents are read and forwarded and how much time they spend on each, when they are seen, are some examples. The best benefit documents can be revised even after they've been sent.
It will help you identify leads who are interested in your content and determine which sales documents work best. Moreover, Attach.io also has an alert feature, which assists you in selecting the right time to connect with a customer.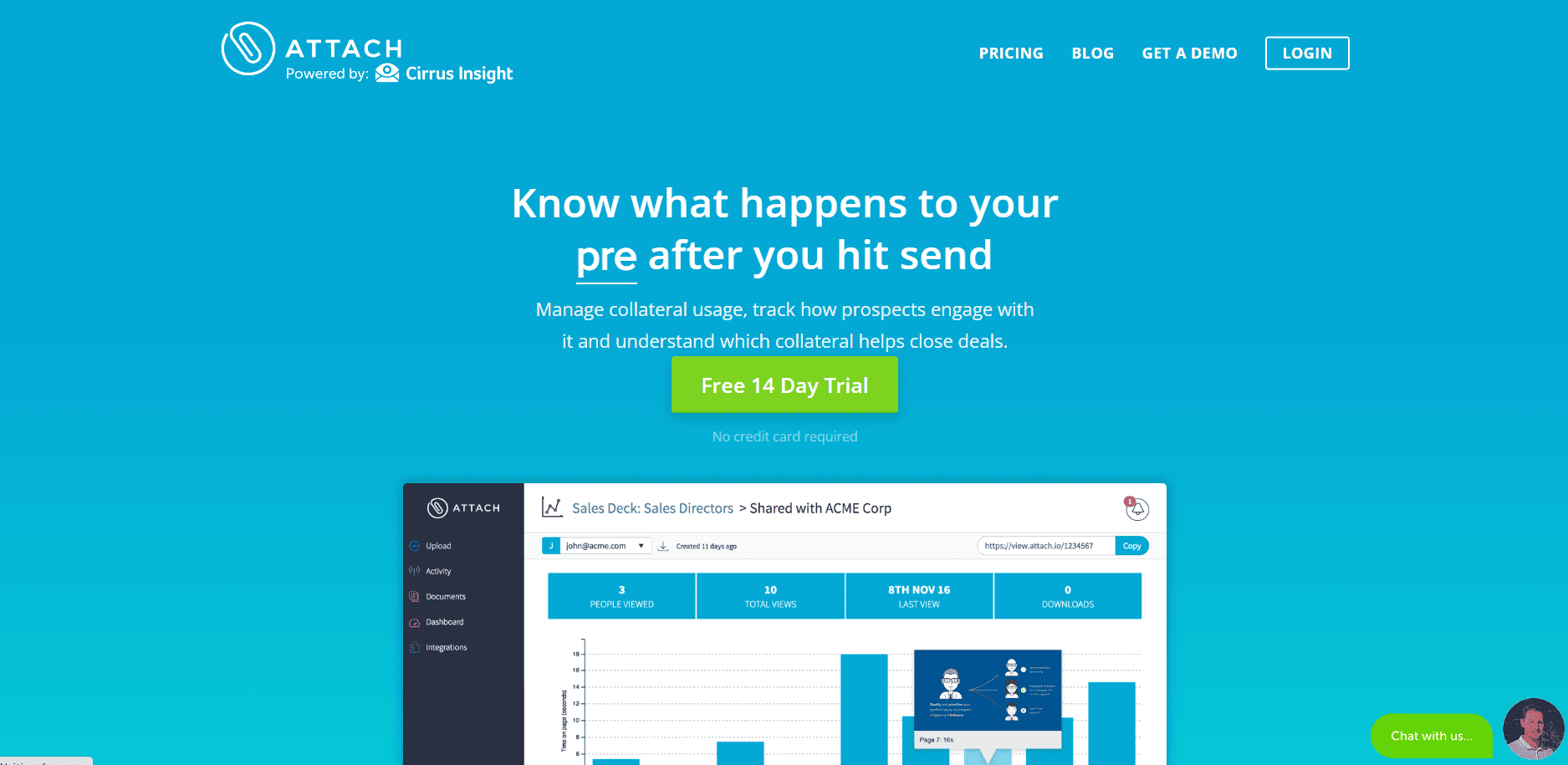 Key Features
You or your team can compile a repository of approved sales content for future usage.

Sales decks, White Papers, Case Studies, Spec Sheets, and so on – Attach.io can be used to create any document.

You can set it up to alert you when your documents are viewed or when they haven't been opened in a certain amount of time. It will help you to follow up with potential clients.
| | |
| --- | --- |
| Pros | Cons |
| As Attach.io allows one to edit documents even after sending, there are no chances for mistakes – they can be revised. | You must manually change the window from Attach.io to mail after you've prepared the document. |
| Document analytics features can take several extra insights into prospects' behavior or approach towards a deal. | Document insights may not matter or can be unwanted in some sales operations. |
#8. UpLead
→ For prospecting (with email verification)
UpLead is a one-stop prospecting solution for sales professionals in the B2B industry. The highlight of the tool is an email verification feature that can be used to create targeted mailing lists and generate qualified leads. It is more helpful for B2B businesses.
Data enrichment is another unique feature. It helps sales teams filter potential clients based on 50+ categories, including location, industry, revenue, and company size.
Moreover, user contact information is readily available, allowing you to get in touch with a lead immediately after discovering them.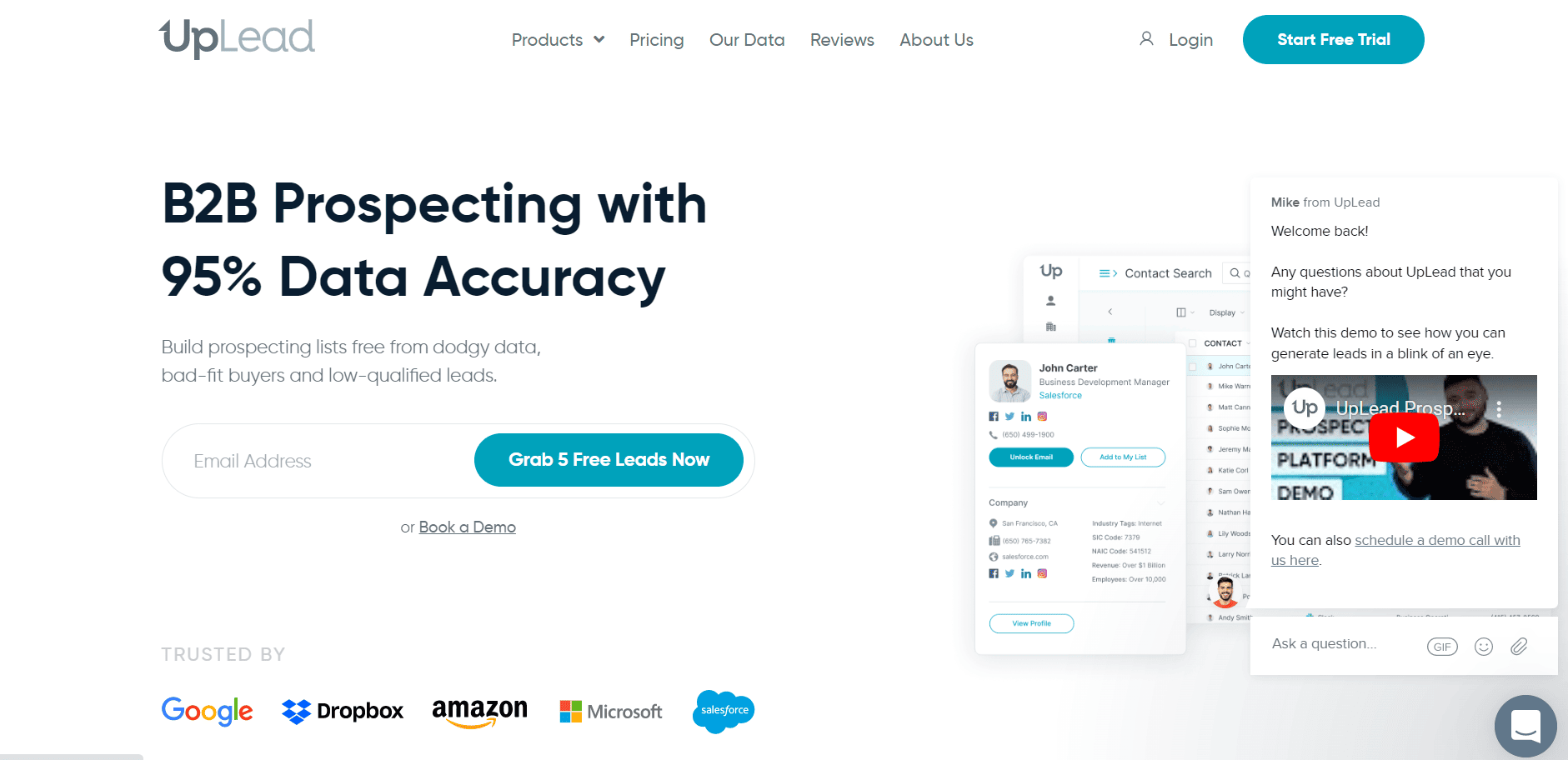 Key Features
It lets you immediately upload research data to their sales CRM software for real-time lead engagement.

UpLead offers numerous other features to help sales reps maximize their productivity. Technographic segmentation, email address finder, bulk downloads, directory building, and contact lists are some of their examples.
| | |
| --- | --- |
| Pros | Cons |
| The search engine under the app comes with filters to make it easier for you to conduct your research. | Not all websites are displayed, and specific email addresses are restricted. |
| Despite being pricey, Uplead offers extensive features and contacts that save sales reps time. | Data is not entirely accurate. Most of the data can be correct, but like any software, it can't keep up with sudden changes. It's usually updated within two days. |
Read also: 6 Sales Planning Tools For Small Businesses to Grow Revenue Fast
#9. Crunchbase
→ For targeting and prospecting (with automations you can save)
Crunchbase can help you upgrade to a more productive lead-generation strategy. Doing preliminary research will help you avoid sending cold emails to potential prospects. Crunchbase allows you to examine an organization's insides to better qualify and target leads.
Crunchbase also displays information about competitors who may be in the same market or appeal to the same kind of consumer. You may add new leads to your pipeline without leaving the research phase.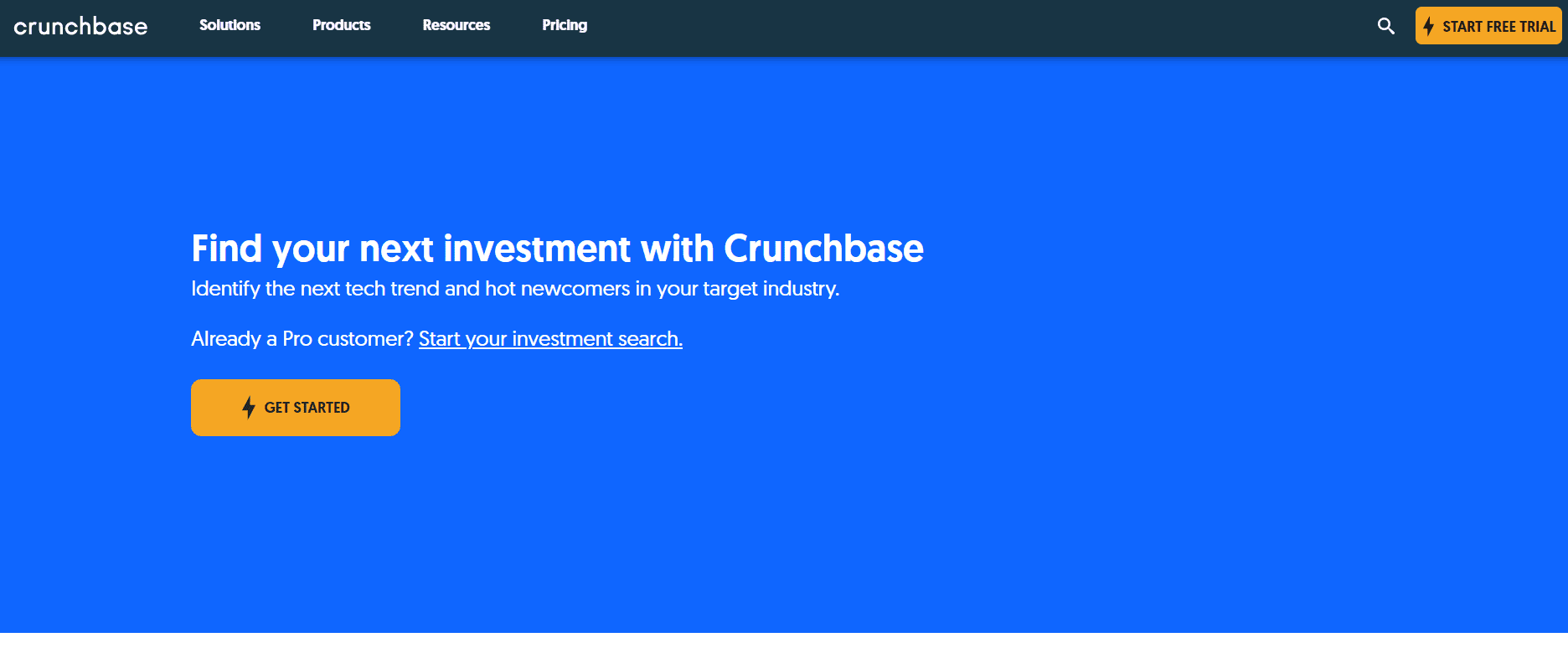 Key Features
Sales professionals can save a lot of time by eliminating unqualified leads and focusing more on proactively converting potential leads.

The premium version opens up some exciting and useful features that can make your or your team's job easier.
| | |
| --- | --- |
| Pros | Cons |
| Crunchbase lets you integrate third-party tools to assist you in carrying out your research more effectively | Information cannot be accurate all the times |
| a powerful tool to find targeted leads, contact information, the current financial standing of the company, funding details, etc. | It has many features and is highly functional – but it can take time for a beginner to learn to leverage it fully. |
| Beginner friendly & easy-to-use UI | The free plan offers minimal features, and premium plans have high prices. |
Read also: The Challenger Sales Model: A 5-Min Guide to Close More Deals
#10. Zoominfo
→ For lead generation
Zoominfo Engage is an interactive sales tool that helps businesses find new customers and close deals faster and more intelligently.
Engage facilitates the automation of sales communications by assisting sales teams. Information such as contacts, accounts, activities, alerts, and tasks may all be managed in one place. As a result, you can build lasting connections with customers after the sale.
Engage can be used to ramp up marketing efforts, establish additional connections with potential customers, and track how well people are participating. To sum up, it helps determine the most effective forms of communication and so forth.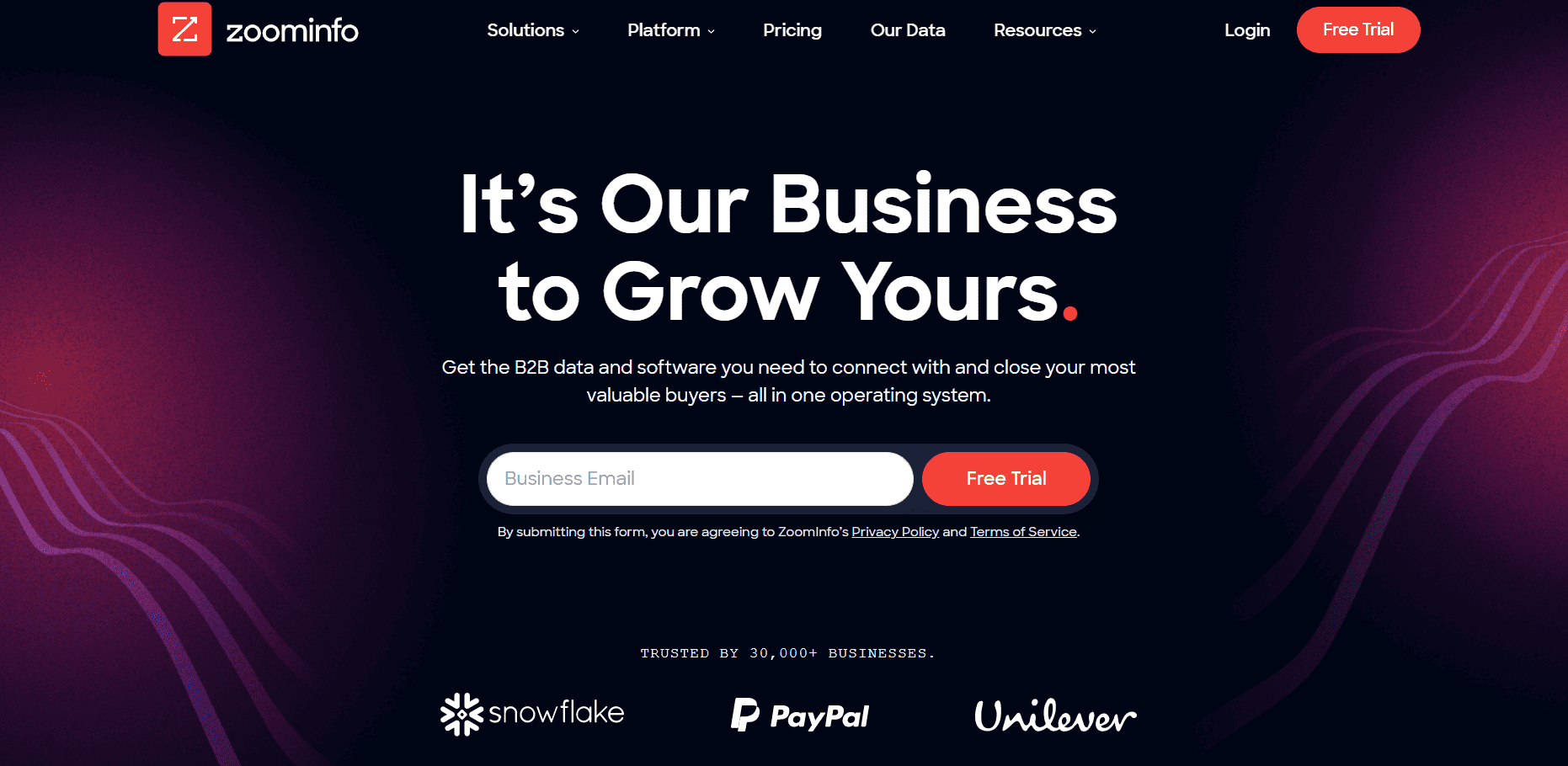 Key Features
Salespeople can save time and streamline their processes by creating and using their own dialing lists and leaving pre-recorded voicemails.

It also offers dialer analytics, which may determine when calling prospects are most likely to be successful.

The Zoominfo platform also allows you to profile your ideal customer.
| | |
| --- | --- |
| Pros | Cons |
| Zoom engage features lots of filters, so you can narrow down your research and get exact results. | Sometimes provided emails can be unverified. However, this con can be avoided if you use any tool that helps you verify emails. |
| The platform can also be used to get the financials of target organizations so that one can plan accordingly. | Pretty clunky and challenging interface. It can take time for one to get used to it. |
| Get deeper insights that can be used to carry out campaigns easily | Sometimes, some profiles can lack information, and there's no option to get it in a short time. |
Read also: 11 Sales Tools To Supercharge Your Sales Stack
Picking The Best Sales Productivity Tools
It might be challenging to figure out which sales tool is best for your team out of the many options available. Here are five considerations to help you select effective sales tools:
Ease of use:

A tool shouldn't slow down your team but rather free up their time. Don't use anything that requires too much of a learning curve. Instead, put more emphasis on self-explanatory ones and won't force you to devote a lot of time to educate your staff.

Your requirements & tool features

: Determine precisely what you hope to accomplish with the software. Collaborate with your team to create a list of features that must be present or can improve workflow.

Customer service:

The software developer should provide several channels for quick contacting support. This way, any problems you have with the tool can be fixed quickly.

Integrations:

Switching to a new tool should not need replacing your entire technology infrastructure. Try to find software that can work in tandem with your current set of programs.
Boost your sales productivity with the best features of these 12 essential sales database tools!
Impact of Sales Productivity Tools
Sales productivity tools have a huge impact on the overall health of the company. Let's have a look at the areas where sales productivity tools help the most.
| | | |
| --- | --- | --- |
| | With Sales Productivity Tools | Without Sales Productivity tools |
| Time spent training new team members | The new employee can start learning the tool and take a grasp of systems in a shorter period (1-3 months) | Most new sales staff require 11 months of training before they can be entirely productive. |
| Tracking activities | Almost all productivity tools come with in-built trackers and keep a record to show you your activity and outcomes. | Recording everything on paper is impossible, and maintaining spreadsheets data can be time-consuming. This can hinder tracking. |
| Scaling | 61% of organizations using automation met revenue goals in 2020. Sales automation minimizes the chances of errors. Hence, more preferred. | It is extremely hard to make a cut from competitors without sales productivity tools, as they already have built bigger brands than you have bigger and productive. |
| Efficiency | Sales productivity tools take away all micromanagement responsibilities, helping teams save time, energy, and money. | For instance, delivering email to a list of 2,000 contacts can take 2-3 days for a 5-person team. At the same time, it can be done in a matter of seconds with sales productivity tools. |
| Focus | These tools can help your employees eliminate distractions and stay focused. | Everyday distractions have a direct impact on the productivity of employees. Without these tools, management can only push employees and make them feel burdened. |
Read also: 9 Best Sales CRM Tools for Tracking Lots of Leads
Measuring the Impact of the Sales Productivity Tool
Management in the sales sector has long recognized the need to measure productivity. In today's data-driven enterprises, it is more important than ever to have an efficient method of tracking sales force productivity.
As sales productivity tools have emerged and are contributing to sales reps' sales productivity, it is necessary to check the best option for you.
The good news is that it doesn't take much effort to measure the impact of such tools every time.
3 factors to consider to measure sales productivity
Positive and negative reviews of your employees, and make sure to consider all aspects. Don't compromise if a tool doesn't land on your expectations.

Track the development of your sales pipeline. Probably an up or down curve will automatically show you the impact.

Make sure you use or try the tool for a reasonable amount of time before interpreting outputs.

Check if you are on track to make your sales goal.
Bottom Line
To summarize, a sales productivity tool is a medium by which businesses can enhance the efficiency and effectiveness of their employees.
There is a range of categories and sales tools that can do the work for you. Your responsibility is to pick the best one by considering several metrics and aspects of your business.